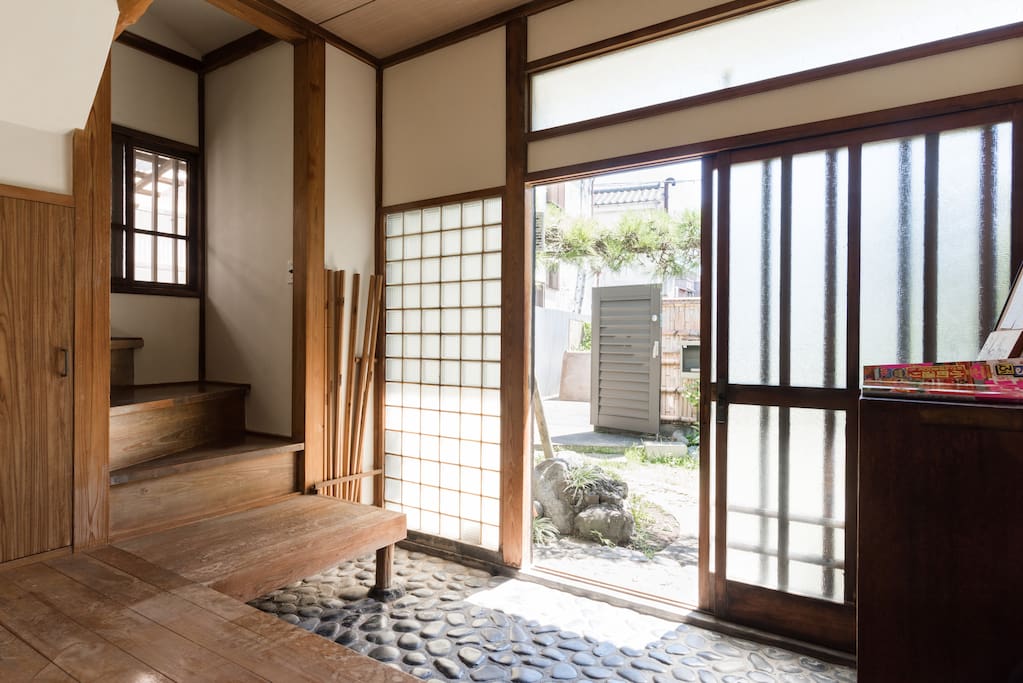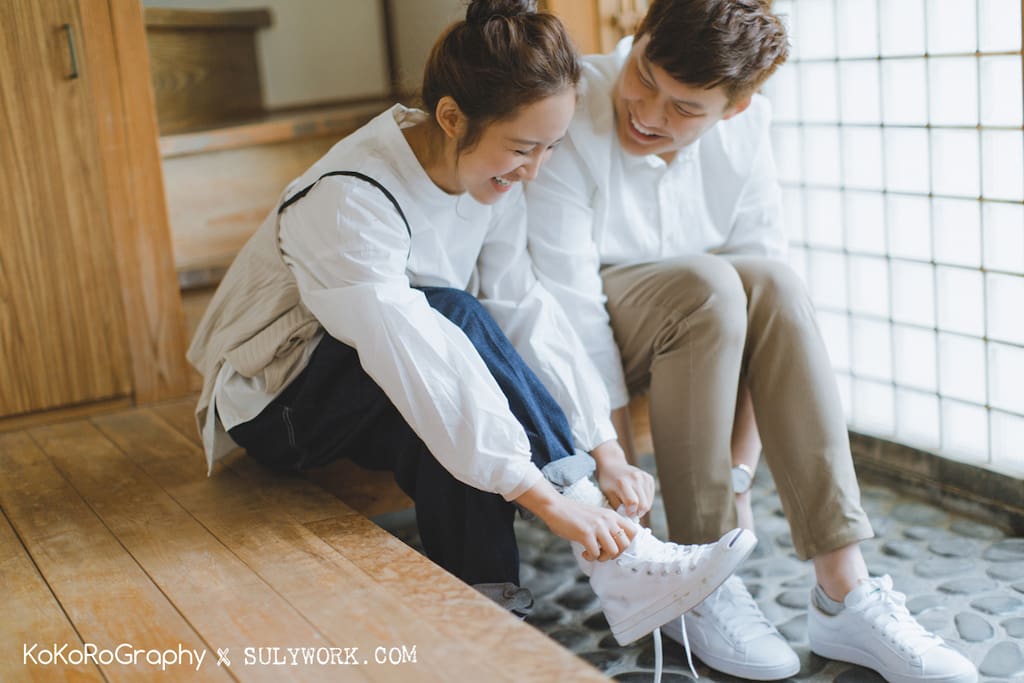 1 casa de banho e meia partilhada
1 casa de banho e meia partilhada
Our house is the 60 years old traditional wooden Japanese house.
It has three bed rooms, two toilets, a shower, a full kitchen, and a garden. The neighborhood is safe, centrally located, and has good public transportation. You will be able to have less touristy and cozy time in the traditional ambiance.
Perfect for visitors, couples and group of friends.
JR Kamakura station: 1.1km (13min walk/10min bus/5min taxi)
Wadazuka station: 1.1km (13min walk)
Zaimokuza Beach: 700m (8min walk)
O Espaço
It is a small Japanese style room and good for solo or 2 guests and is located on the 2nd floor.
The room was recently renovated to the Japanese style room. As you can see in the photos, all parts of the house were made of hand crafted wood. You can feel the warmness of the wooden house.
We will provide futon mats for bedding.
You will be able to observe some old fashioned structure (stone flooring at the entrance, engawa porch, slide doors, etc) and interior (sunakabe, kamidana, nageshi, kamoi, etc), which can be difficult find in the modern houses.
The house comes with the Japanese garden with seasonal flowers. Also, we grow some vegetables which are available for guests to harvest during the season. There is even a small shrine with little Torii gate for the god to protect the house.
If you want to experience the real traditional Japanese house, it might be the perfect option.
On the other hand, I would like to inform you the characteristics (drawbacks) of the old house.
Noise Level
Unlike the modern new house, the sound insulation is not very high as walls are thinner without modern technology. You can notice when someone walks on the hallway. Also, you may also feel that the noise from outside (cars or motor cycles) is louder than average hotels.
Privacy
The room has the traditional slide doors and do not come with any locks. Although nobody will enter your room without reasons, it is your responsibility to look after your valuables.
As I would like to deliver fair and accurate message, I mentioned the both advantages and disadvantages of the house.
That being said, both characteristics can be part of the "experiencing the life in the traditional Japanese house" and I think AirBnB is a perfect opportunity to feel the foreign culture and tradition through home sharing!
Acesso de hóspedes
There are 3 bedrooms in the house and we list 2 rooms on Airbnb. Therefore, some facilities will be on shared basis with us and possibly other guests.
Shared facilities:
- Kitchen
- The dining room
- 2 Toilets
- 1 Shower Room with a tub
- Engawa porch
*There is no private shower or bathroom attached your room.
Interação com hóspedes
We welcome everyone and happy to introduce Kamakura more in depth! I love meeting new people and interact with guests. I am happy to share meals, take you around the neighborhood, etc.
If you prefer less interaction, it is absolutely fine too. Just let us know in advance and don't worry, we never feel bad ; )
Outras coisas a ter em conta
Office use
The house is used as an office for the start-up called KoKoRoGraphy offering wedding or vacation photography services. Although, most of our staff work remotely, there might be some people working in the office area during the daytime. We all speak English and love meeting new people!
Parking:
1 parking slot is available for guests.
It is JPY1000 per night. Please communicate us in advance to reserve the slot as we cannot guarantee the availability.
First time using Airbnb?
- Our house is the home-stay style and some facilities (kitchen or bathroom) will be shared with hosts and possibly other guests.
- This is a residential house and there will be no front desk, concierge, pick up service from the train station and room services.
- We have work during day time and cannot help you to arrange your trip. We generally cannot help you making restaurants reservations, booking tickets, etc. Please search on the web and help yourself.
- To welcome you to our house, we would also like to make sure you are good people and understand who you are. When you request for booking, please introduce yourself and say hi :) Also, please use the photo of yourself for the profile photo. It is difficult for us to welcome unknown stranger :(
Depósito de Segurança €117
Preço de Fim de Semana €55 / noite
Comunique sempre através da Airbnb
Para proteger o seu pagamento, nunca transfira dinheiro nem comunique fora do site ou da aplicação da Airbnb.
Não é adequada para animais de estimação
Não são permitidas festas ou eventos
Não é seguro ou adequado para crianças (0 a 12 anos)
O horário de check-in é 16:00 - 22:00
Check-in autónomo com lockbox
(日本語は英語の下に記載)
For guests with no reviews or first timers:
If you do not have any reviews from past trip or it is your first time using Airbnb, please read below.
- Our house is the home-stay style and facility (kitchen or bathroom) will be shared with me (I live in the house) or other guests (there are two guest rooms).
- Unlike the regular hotels, there will be no front desk, pick up service from the train station or room service.
-We will need your cooperation on keeping the house clean, separating the garbage for recycling, washing the dishes after use, etc. Please read the house rules for details.
- To open our house, we also would like to know who you are. When you request for booking, please introduce yourself and say hi :) Also, please use the photo of yourself for the profile photo. It is difficult for us to welcome unknown strangers :(
As a host, it is my duty to make you feel welcomed and comfortable and am happy to do so. At the same time, we ask our guests to have respect to the house, us and the other guests :)
Here is the list of house rules:
You may feel that there are many house rules. However, if you use the common sense and respect others, none of below rules should impact you. There is a background that we had to set these rules from past experiences. Thank you for your understanding.
Important Rules:
- We have close relationship with our neighbors and expect our guests to respect our neighbors' privacy and maintain the noise level at night. If you want to enjoy the night life or stay up very late, this house may not be the best option for you.
- Please respect others and use our house politely and cleanly.
- Third party booking is not allowed (e.g. You book the room on behalf of your friend)
- Guests cannot bring non-staying guests to our house.
- Please follow the recycling rules for garbages.
Quiet time, curfew, and facility closing time:
- We have curfew at 12am. It would be great if you could try to come back before 11pm as we would start worrying about you!
- Quiet time after 10pm.
- Kitchen closes at 10pm.
- Shower closes at 11pm.
In the guest room:
- If you happen to cause any damages to the room (e.g. breaking furniture, leaving stain on the wall or bedding, etc), please let us know as soon as possible.
- Please enjoy the meal and drink in the dining room. Eating and drinking are not allowed except light snack and soft drinks.
- If you cause any unrecoverable damages such as spillage on the bed, your security deposit may be withheld.
Kitchen:
- Kitchen is open to our guests and light cooking is allowed. Please be extra careful when you use the gas stove.
- Deep flying is not allowed.
- Guests may use our refrigerator. For important items, please mark clearly that the item belongs to you to avoid any misunderstanding and troubles.
- Guests may use our kitchen equipments, dishes, glasses, etc. Please wash them after use and return to where they were.
- Please follow the recycling rules for garbages.
Dining Room:
- The common dining room is used as an office during daytime. Please do not touch the office items (PC, drawers, printer, etc)
Other rules passed due to previous incidents:
- If you come back from the beach, please make sure to wash sand off your body and belongings. If you cause the public area or the guest room to be sandy, we will have to charge additional cleaning fees.
- Please do not take any items belong to the house outside.
- Being topless or nude in the house and yard area is prohibited for both men and women. You are expected to wear cloth for both top and bottom.
Bikes:
- If the bikes are available, we are happy for the guests to use the bike for quick shopping to nearby shops for free. Please return the bikes within half hour. If you need to rent the bikes for longer period, the bike are available for rent (500yen for up to 4hr / 1000yen for full day). If you cause any damages to the bike, your security deposit may be withheld.
BBQ:
- Guests may enjoy the BBQ in the yard area. Please let us know in advance if you are keen to do the BBQ.
- Please be extra careful and keep eyes on the fire.
- BBQ time is from 12pm - 7pm.
- It is the guests' responsibility to clean up all the equipments, items, and garbages after the BBQ. If we have to clean the area, additional cleaning fee will be charged.
Verification:
We would like to know who will be staying our house. We might ask for personal information such as names of the guests, passport number, etc depending on your verification level with AirBnB.
For any exceptions...
We are happy to be flexible and try to help you in anyway : ) If you have any problems with the house rules, please let us know in advance and we will try to find the best solution.
E.g.
- You need early check-in or late check-out.
- Due to the bus schedule or traffic jam, I cannot reach home before shower closing time, but want to take shower before I go to bed.
- You want to go out after midnight for astronomical observation or night fishing.
- Your friend needs to use our toilet urgently.
- I want to use your printer to print some maps.
ハウスルール (House rule in Japanese)
一見たくさんのルールが設定され、窮屈に感じられるかもしれませんが、基本的には一般的なマナーを守って頂ければ全く問題ありません。しかしながら、過去の事例からルールが増えてしまった背景もあり、ご理解頂ければ幸いです。
重要なルール
- 古民家ですので、新しい家と比べ防音性が低くなっております。閑静な住宅地にある一軒家ですので、夜、特に10pm以降は音楽や話し声など周囲の迷惑にならないよう、ご協力ください。夜はお酒を飲みながら皆で盛り上がりたい!、夜型の生活スタイルで深夜以降もアクティブに過ごしたい!、という方には不向きな家です。
- 家の中は全て禁煙です。
- 私も含めた住人や他のゲストのプライバシーを尊重し、共有スペースや備品は清潔に大切にご利用頂くようご協力お願いします。
- 第三者による予約はAirBnBの規定により禁止されております。予約者と宿泊者が違う場合、宿泊をお断りすることがあります。
- 宿泊者以外の方は基本的に(お庭でのBBQ等を除き)家に入ることはできません。もし必要がある場合は事前にご相談ください。
- ゴミの分別(ペットボトル、缶、ビン、プラスチック、紙、燃えるゴミ、燃えないごみ)にご協力ください。
- 部屋、備品に修復の難しい汚れやダメージがあった場合、クリーニング代、修理代を請求する場合があります。
ご利用時間、門限:
- 深夜12時が門限となっております。10時以降に出入りされる場合は、話し声など騒音にお気をつけください。
- キッチンは10pmまでご利用頂けます。
- お風呂は11pmまでご利用頂けます。翌朝は7am~9:00amまでご利用頂けます。
ゲストルーム内のルール:
- 備品を傷つけてしまった、壊してしまった、汚してしまった場合は、すみやかにお知らせください。
- 簡単なスナック、ソフトドリンク以外の飲食は寝室ではお断りしております。飲食はダイニングルームをご利用ください。
キッチン:
- キッチンは規定の時間内にご利用いただけます。基本的な備品は揃っておりますので、料理をして頂く事も可能です。
- キッチン器具、コーヒーメーカー、食器類など、全てご利用いただけます。ご利用後は、洗って元の場所に戻してください。
- 火災防止のため、揚げ物はお断りしております。
- 小さめですが冷蔵庫もご利用頂けます。重要な食材には名前を記載し、勘違い等の防止にご協力ください。
- ゴミの分別にご協力ください。
ダイニングルームでのルール:
- ダイニングルームは日中、ベンチャーオフィスとして使用しております。オフィス備品(パソコン、プリンター、引き出し等)には触らないでください。
過去の事例から設定されたルール:
- ビーチや磯遊びから帰られた際は、足、体、荷物についた砂を全て落としてから家にお入りください。部屋や共有スペースが砂だらけになってしまった場合、追加の清掃費を請求することがあります。
- 銭湯にバスタオル・シャンプーセットを持っていかれる場合を除き、家や部屋の備品は外に持ちださないでください。
- 他のゲストや周囲の方々が不快に思われることがありますので、家や庭では服の着用をお願いしております。下着やビキニ姿等、過度な露出も控えてください。
自転車のご利用:
- シティサイクルを2台ご利用頂くことができます。近くへの買い物や簡単なサイクリングなど、30分以内のご利用は無料です。
- 鎌倉散策や江ノ島へのサイクリングなどへご利用の場合は、1日1000円、半日(4時間)500円でご利用いただけます。
- ご利用は早い者勝ちですが、予約して頂く事もできますので事前にご連絡ください。
- ご利用中に自転車に修理が必要なダメージ(タイヤのパンクを含む)が認められた場合、自費での修理もしくは、修理費の請求をすることがあります。
- 自転車をご利用中に発生した事故、怪我等に関する一切の責任は負いかねます。自己責任、安全第一でご利用ください。
バーベキューのご利用:
- BBQセット(テーブル、イス、コンロ、網、トング、食器等)のレンタルがありますので、手ぶらでBBQを楽しんで頂けます。バーベキューセットは2名2000円、以降一名追加ごとに500円でご利用頂けます。
- 火の扱いにはくれぐれもご注意ください。バケツに水を貯める、消火器の場所を確認するなど、万が一の備えにご協力ください。
- BBQのご利用時間は12pm~7pmです。
- BBQ後の清掃は、必要があればお手伝いしますが、基本的にはゲスト自身で行ってください。清掃が不十分であった場合、追加の清掃費を請求することがあります。
- BBQ中に発生した事故、怪我等に関する一切の責任は負いかねます。自己責任、安全第一でご利用ください。
- ゴミの分別にご協力ください。
本人確認:
- AirBnBでの認証レベルにより、宿泊者の氏名、身分証明書の提示・コピーをお願いする場合があります。
ハウスルールに引っかかってしまいそうな場合は?
沢山のルールでゲストが窮屈に感じてしまうのは私達としても本望ではありません! 快適に過ごして頂けるよう、私達もできる限り柔軟なおもてなしをしたいと思っております。
例えば、下記のようなハウスルールに抵触するような事例も事前にご相談頂ければ、例外としてOKとするなど可能な限りベストな解決策をご提案したいと思います。ご不明な点などありましたら、お気軽にメッセージください。
例)
早めにチェックイン、遅めにチェックアウトしたい。
渋滞やバスの時間等でシャワーが閉まる前の到着が難しいが、就寝前にシャワーを浴びたい。
夜釣りや天体観測で門限後に外出したい。
宿泊者ではないが、仲間にトイレを使わせて欲しい。
地図やクーポンをプリントしたいのでプリンターを使いたい。
Também deve saber
É preciso subir escadas - The room is on the second floor and you will need to use the stairs.
É possível haver barulho - Due to the structure of traditional wooden house, sound insulation is not as good as modern houses. Please refer to the listing page for details.
Alguns espaços são partilhados - This is a home stay style listing and facilities such as kitchen, shower, 2 toilets and dining room will be on shared basis.
1 noite é a estadia mínima.
A partir do dia 27 de Novembro de 2017 - 31 de Janeiro de 2018 a estadia mínima é de 2 noites.
La maison est charmante, calme comme un décor de film à 15 minutes à pied de la gare. Tout est bien pensé tout est traduit avec soin dans la maison par Yui ! De très beaux sites proches à visiter absolument ! Bref notre visite fut trop brève, Yui est adorable, un vrai bonheur. Nous reviendrons l'année prochaine.
---
"Bonsai house" is an old traditional house with all pros and cons that come with it. It really is beautiful inside. The garden is nice. Sleeping in the room is like sleeping in a tent - you hear everything through the paper shoji, wind makes noise, the floor creaks. We loved it, but it may not be for everyone. I would rather call it an experience than a traditional stay. Pity we could only stay one night. Kamakura itself is awesome. I definitely recommend renting bikes (the ones offered by the house are okay), they make it easy to get around.
---
Pros: The house is local Japanese-Style,cozy,pretty and clean. Near bus station. The shower room is nice haha. Shampoo,shower gel and other things are well provided. Householder Yui is nice. Cons: Toilet facilities are broken that day. Sound-proof effect is not good. Trouble to get suitcases upstairs for two girls. In a word, good experience:)
Thank you for staying our house and leaving us a good review :) I am sorry for the issue with toilet. The pipe was stuck due to an non-toilet paper object flashed by a previous guest and we had to call plumber next day to fix the issue. Apologies for the inconveniences cased. I hope we will see you in the near future!
---
My name is Yuiko, just call me Yui!
-------
Moved Kamakura from Tokyo, Japan a few years ago, where makes me feel ALIVE with beautiful ocean, mountains and lovely people.
From July 2017, I started to be an Airbnb host in Kamakura to make friends all over the world and improve my English.
Also I have another job in Tokyo on weekdays. I sale some services for restaurant business owners.

Love surfing, traveling alone, cooking, books and films, and meeting and talking to new people!!
:)
Idiomas:
English, 日本語
Explore outras opções dentro e fora de Kamakura-shi
Mais lugares para ficar em Kamakura-shi: