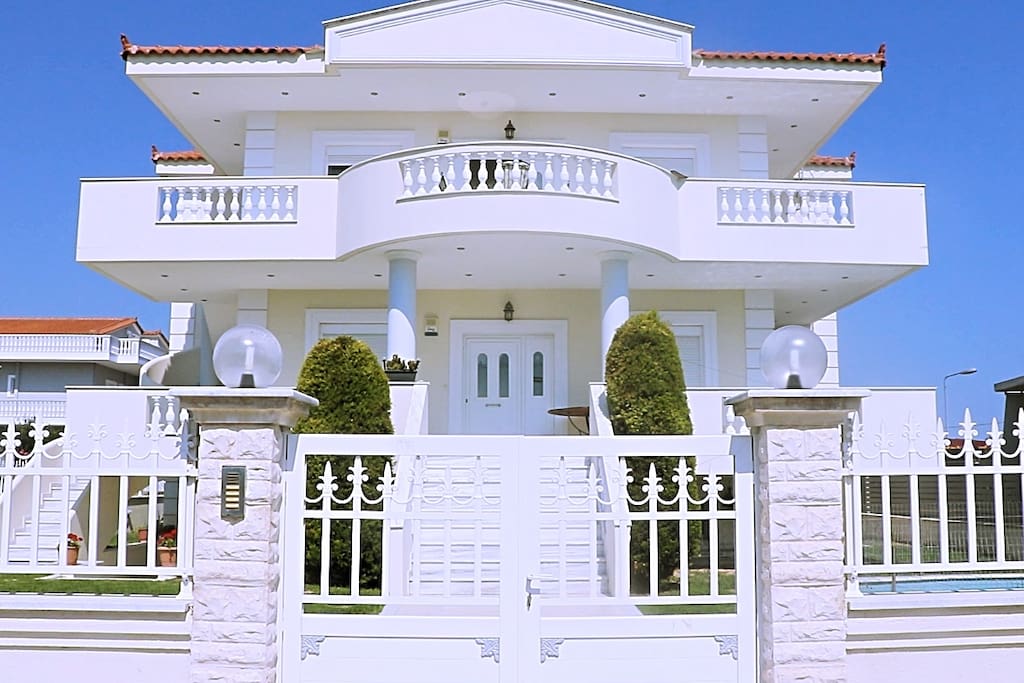 Πανέμορφη, παραθαλάσσια βίλλα
Πανέμορφη, πολυτελής παραθαλάσσια βίλλα 100 μ2, με κήπο και πισίνα ,3 υ/δ, με μπάνιο και wc, full a/c, σε απόσταση 100 μ. από τη θάλασσα ,κοντά σε παιδική χαρά, γήπεδα τέννις, μπάσκετ, γήπεδα ποδοσφαίρου 5Χ5, 11Χ11.
O Espaço
My home is located to a seaside village,near the city of Corinthos,at the northeast Peloponnese(URL HIDDEN) It's an apartment ideal for summer holidays in a very (URL HIDDEN) is the upper floor of a 3-residences building and each of them is (URL HIDDEN) has a balcony with view,garden and a swimming pool(URL HIDDEN)In a distance about
100m you can swim in the water of the Corinthian bay and you have the opportunity of choosing between two beaches,the one with the sand and the other with the pebbles.The sandy beach is ideal for children because is enough shallow and is unique in the length of many kilometers of coast
There are taverns,cafeterias and bars,along the beach.
At the small port of the village,you can buy early in the morning,fresh fish from the fishermen.
.Very close there is a playground,a field of football,a mini soccer,two courts of tennis and one of basketball.
Acesso de hóspedes
The apartment is fully equiped.There are 7 beds(one double and 5 singles),also there is a baby bed(0-3 years old).and a bed/crib.
Outras coisas a ter em conta
Extra services-Upon agreement
Private driver:you can rent a car or a mini van and enjoy small or long trips and discover places that only local people can show you.
Baby sitting
Cooking
---
---
Quarto 3
1 beliche, 1 berço
---
Não é adequada para animais de estimação
Não são permitidas festas ou eventos
O horário de check-in é 12:00 - 21:00.
Please don't use the garden and the pool from three o'clock in the evening till five and thirty and from eleven o'clock in the night till eight and thirty in the morning.
At the arrival day you have to give :
Name and surname
Adress
ID or passport number
Também deve saber
É preciso subir escadas
Alguns espaços são partilhados
---
yioula is a wonderful hostess, the place was equipped with everything we needed for our baby, and she went and got something we asked about (without even asking for it). she was also very accommodating when we had a missed flight nightmare and asked to change our arrival date. all the rooms are very nice and well furnished, the apartment is really comfortable. the balcony is spacious and once it's in the shade in the afternoon, it's where you want to be! when the beach wasn't an option because of the wind, we were happy there was a pool to enjoy. we went off season and the neighbourhood was really quiet, save for the local cats and dogs maybe, and there was no fighting over beach chairs or restaurant tables. so if you are looking to stay somewhere close to athens for a beach vacation, yioula's place is ideal and makes up for the average beaches of the area.
---
We stayed at Yioulas appartment for about 16 days. It was everything as se had informed us except a missunderstanding about the house size (we thought we rent all the house not just an appartment) which I think it s airbnb's platform fault. However, thanks to her kindness and her quick response we solve that issue promptly. The house was airy, completely clean and it was better equipped than we thought and all of them worked properly (except wifi which because of the fact that the router was in the basement we couldn t get a signal. Although, neither that was a problem because firstly, there was a cafe in the beach, 100m furhter than the house were you could find a wifi connection and secondly, we were in vacations with our family!!!). The pool was very clean and the appartment on the first flour has an very nice view both at the sea and at the mountain. I will agree that the stairs and the balcony is a bit dangerous for a small kid because, it is very easy for a kid to reach the stairs and have an accident but personally, I didn t have a problem with my three years old granddaughter. The house was in a very "friendly" and "family" region with a play area, tennis courts, beach, pharmacy and a excellent fish tavern all of them just 150m away from the house. The closest supermarket was 1,5km from the house and you could reach it by bicycle (which mrs Yioula provided us) or by car. Finally, I would like to mention that she permit us to use her house for my daughter marriage and she even helped us to adorn it properly. I could say many more about the pros of the house and the great hospitality that mrs Yioula showed to us (she even made a jam for us!) but i would just say a great "thank you" to her because everything was perfect and mostly because she is a wonderfull hostess.
First of all i would like to say "Thank you" for all your nice words about me,my property and my accomodation.Second i want to express my surprise about the Wi-Fi (URL HIDDEN) your arrival day when i gave you the Wi-Fi code,your wife told me that you had your own connection and you didn't need it.Nevertheless i gave you a cable and you had a connection via your laptop.If you had a problem you could told me and i would gave you a router.Also i would like to inform you that the most of my visitors had little kids and noone of them complain about the stairs. At the end i want to wish to your daughter again,the best to her marriage. It was a honor of mine that she choose my house to prepare her wedding and to get dressed as a bride.Her photos in my property and in the garden are really wonderfull...i'm waiting and the professional photos too.I hope to see you again.
---
I WILL BE BLUNT AND STRAIGHT TO THE POINT WITH Yioula HOUSE OF HORRORS. IF WE WANTED TO LIVE IN A HOUSE THAT MOST ITEMS DIDN'T WORK OR WHERE MISSING LET ALONE DIRTY POOL AND STEPS NEED SCRUBBING FILTERS ONLY COME ON WHEN HOSTS AND FAMILY WANT TO USE AND THE POOR EXCUSE OF THE SAFETY POOL FENCE WHICH CONSISTS OF WIRE AND FEW POLES WHICH NEARLY TOOK OUR 2 AND HALF YEAR OLD LIFE , THEN YOU HAVE ALL THE VILLAGE KIDS PLAYING IN FRONT AND BACK OF PROPERTY AND YOU ASK HOSTS TO DO SOMETHING ABOUT IT YET TELL US ITS OUR ISSUE, OR THE ONSITE PARKING WHICH IS A RD THAT EVERYONE CAN PARK AND YOU HAVE NOWHERE TO PARK LET ALONE MUST PARK MM AGAINST BRICK WALL AND SQUEEZE OUT , IF WE WANTED THIS COULD OF FOUND IT, KITCHEN UTENSILS NOT MANY SO BROUGHT SOME LEFT THEM FOR NEXT PERSON ALONG WITH CUPS, MOP IS OLD AND DIRTY, BACK PATIO NOT WORTH SITTING THERE AS SHE WONT SHOW YOU DIRECTLY BEHIND IS AN OLD ABOUNDED HOUSE THAT HAS LONG DRY GRASS AND IS A DUMPING GROUND, OUTDOOR SETTING NOT COMFY AND WOULDN'T SIT THERE DURING DAY AS SUN WOULD HIT YOU DIRECTLY, STAIRS ARE DIFFICULT DANGEROUS ESPECIALLY WHEN WET AND NOT EVEN A SAFETY GATE TO STOP A CHILD FROM FALLING, THEN VANITY IN BATHROOM ALL THERE PERSONAL ITEMS IN IT SO NOWHERE TO PUT YOUR STUFF, NOT NICE LEAVING YOUR EXTRA LARGE TAMPAX IN THERE YIOULA. 2ND BATHROOM DANGEROUS CLEANING CHEMICALS THAT ARE EASY ACCESS TO CHILDREN , POWER POINTS HAVEN'T CHILD SAFETY COVERS AS SHE CLAIMS, AND 1 WHERE TV IS COMES OUT OF WALL WHAT A JOKE. WE DIDN'T HAVE INTERNET ACCESS UNTIL THE OTHER HOST PUT IT ON FOR HIMSELF THEN GAVE US AN ETHERNET CABLE SO ONLY GOOD FOE LAPTOP USE, WENT TO ISLANDS FOR 7 NIGHTS CAME BACK AND ALL GATES WERE LOCKED WAITED AN HOUR AN PERSON NEXT DOOR CAME UNLOCKED THEM, FOUND PREMISES ENTERED BY HOSTS WITHOUT OUR KNOWLEDGE ON 2 OCCASIONS. I CAN GO ON BUT THIS PLACE IS NOT WORTH RISKING ONES LIFE , BEACH WAS CLOSE BUT NOT 100 METRES AS SHE TOLD US, MORE 300 METRES ONLY A COUPLE OF THINGS LIKE KIOSK AND TAVERN CLOSE REST A GOOD 3 KS DRIVE TO MAIN STRIP OF SHOPS , OH AND BEFORE I FORGET APART FROM BEEN SLUGGED EXTRA 600EU THE MATTRESSES ARE LIKE LUMPY AND SMELLY OURS SMELT LIKE URINE, NOT THAT 2ND HOST CARED, NOW WE HOME OPENED A CLAIM HOWEVER BEFORE RENTING SHE COULD REPLY IN ENGLISH NOW OPENED CLAIM SHE REPLIES IN GREEK WHICH I CANT UNDERSTAND GREEK WRITING.BEWARE FELLOW AIRBNB THAT SEEK GREAT ACCOMMODATION AS IF I COULD PLACE PHOTOS OF THIS HOUSE WAY IT REALLY IS WHEN STAYING I BELIEVE A DOG POUND WOULD BE MUCH BETTER AND MORE COMFY. I CAN GO ON BUT WONT AS MY TIME I VALUE AND I AM BEEN UPFRONT AND HONEST...
Honestly,there aren't words that can reply in a such a sick,fake,perverted,superstitious disgusting text! Questions: Your reservation was from 29 of June,till 9 of August and you stayed at my apartement all these days. Why did you stay so many days in a place that you didn't like? Why all these days you didn't made any reference to Aibnb? Why did you spent your holidays in a place with so many "fake" problems? Why when i was aksing you if everything was OK with my property and my benefits,your answer was "Yes" all are good?(there are also messages that you gave the same reply). Why you didn't leave the house? Finaly i demand to give me explanations about the 600 euros you write on your text.
---
Жили целый месяц. Хозяева великолепные! Место отличное, для семьи с детьми. Пляж рядом. Идти пять минут спокойным шагом.Таверна и детская площадка рядом. Но если ехать надолго стоит учесть что магазин далеко 1,5 км. приблизительно. Т.е. скупиться на семью и надолго- только машина. Но есть велосипеды. Они конечно же очень выручили! Сам дом отличный! Yioula, Вы большая молодец! Немного неудобно отсутствие интернета, особенно если он необходим очень!
---
Wir waren sehr zufrieden mit unserem Aufenthalt. Die Kommunikation mit Yioula lief sowohl vor als auch während des Aufenthalts problemlos und wir haben nichts aus der Wohnungsbeschreibung vermisst. Wir haben dort mit 4 Erwachsenen und unserem 2-jährigen Sohn gewohnt und die 3 Schlafzimmer gut ausgenutzt.
---
I think the star-rating is sufficient to reflect my experience but nevertheless, I'd like to list a few points that aren't addressed there. All the small details that'd usually be annoying when they're missing from a vacation residence are actually there. It's like it's been taken care of everything so you'd enjoy the vacation without the slightest disturbance. There were even two bikes available since the supermarket is a bit far. Beaches varieties are quite good and suitable for any occasion, even bars and restaurants are reachable within a few minutes with taxi. I can go on for many pages but I'll just conclude this review with this: I highly recommend this residence for families or groups who'd like to enjoy a smooth, chilling and quiet vacation under the sun or the moon light..
---
Οι εντυπώσεις μας για το συγκεκριμένο σπίτι είναι οι καλύτερες. Είναι ακριβώς όπως το δείχνουν οι φωτογραφίες. Πλήρως εξοπλισμένο και επιπλωμένο με ωραίο γούστο. Πεντακάθαρο και τακτοποιημένο. Είναι σε ήσυχη περιοχή. Ο Κάτω Άσσος είναι ιδανικό μέρος για οικογένειες με παιδιά. Σε μικρή απόσταση υπάρχει οργανωμένη παραλία με ρηχά νερά, παιδική χαρά, φαρμακείο (αχρείαστο να είναι). Εάν κάποιος επιθυμεί περισσότερη δράση, σε λιγότερο από 10 λεπτά με το αυτοκίνητο φτάνει στο Βραχάτι, που μπορεί να βρει τα πάντα. Η οικοδέσποινα ήταν εξαιρετική. Ευγενική, υπομονετική, πρόθυμη να βοηθήσει και άκρως κατατοπιστική. Ο συνδυασμός λοιπόν ενός τέτοιου σπιτιού και μιας τέτοιας οικοδέσποινας, σίγουρα εξασφαλίζουν μια καλή αρχή στις διακοπές σας.
---
Taxa de resposta:
100%
Tempo de resposta:
dentro de uma hora
Explore outras opções dentro e fora de Kato Assos
Mais lugares para ficar em Kato Assos: