Ferry Port, beside the Bosphorus View
Tipo de Quarto
Quarto privado
---
Tipo de Imóvel
Apartamento
---
Acomoda
2
---
Quartos
Üsküdar, İstanbul, Turquia
Penthouse Studio Byt, 40 m2 ve velikosti a navíc 40m2 a terasou s 180 stupňů západ slunce Pohled přes Bospor a 40 m2 krytá terasa s grilem. Byt: Double Lůžko / gauč, kabelová televize, dvě křesla, Private W / C-WC, sprchový kout, umyvadlo, fén, kávovar, připojení na internet, kuchyně se čtyřmi sedadla Lednička, Trouba / varnou deskou, rychlovarná konvice, nádobí, talíře , nádobí, nádobí, atd .. Istanbul! Konstantinopol! Můžete sledovat Sultan mešita Ahmet (Modrá mešita), Ayasofya (Saint Sophia muzeum), palác Topkapi, Eminonu, Sirkeci (doprava uprostřed), Zlatý roh vodní cesta, Věž Galata Taksim mířidla od jihu k severu. Západy slunce jsou velkolepé! Ottaman říše, Byzanci nádhera před vašima očima! Uvnitř jen pár minut potravin, obchody, kavárny, pozemní a vodní dopravy na všech místech. V bytě se nachází mezi těmito dvěma mezinárodních letišť! Máte-li jakékoli další informace nebo návrhy, neváhejte mě kontaktovat. Já se vrátím k vám co nejdříve pomoci a odpovědět na otázky.
My wife and I stayed at Ali's house and it might have the nicest deck and view of the Bosporus and European part of Istanbul. The house is exactly how it has been described on this page. It is perfect for a couple(Had some problems with the gas burner though!). The other most striking feature is the hospitality extended by Ali. He introduced us to almost the entire neighborhood-Cafes, supermarket, convenient stores. Plus this place is a perfect location for someone who is big fan of exploring and assimilation in the foreign culture. For our next visit, we have have one thing less to worry about-Place to stay!
Aniket
2015-12-20T00:00:00Z
Yavuz was super friendly and helpful, my flight was a by delayed and it took a long time to get to the apartment but Yavuz kept in contact all the way. The apartment is good for a place to sleep, it's comfortable and clean and very accessible. The bathroom gets a bit wet but Yavuz provided special slippers. I left something in the room and the next day Yavuz was kind enough to bring it to me. I do recommend his place
Martin
2016-05-05T00:00:00Z
Merci infiniment à Ali pour son accueil! Nous sommes arrivés tard et pourtant il a été super gentil et nous a fait visiter tout le quartier après nous avoir présenté l'appart et tous les monuments que l'on voit depuis la terrasse! L'appart est super bien situé. En tout cas il n'y a aucune tromperie, la vue est extraordinaire et si on aime prendre le bateau (pour aller sur la rive européenne, un peu obligé;) alors c'est top! Au niveau de l'appartement... il faut savoir qu'il n'y a qu'un rideau pour tout l'appartement (un studio avec avec deux grandes baies vitrées), du coup, si on veut dormir sans avoir le jour qui vous réveille... on l'a dans le baba! (Prévoir donc absolument des masques occultants!) Sinon, la salle de bains est minuscule et honnêtement pas hyper agréable... Quelques fuites à signaler et effet inondation post-douche assuré!... La cuisine n'est pas ultra accueillante et l'éclairage (une lumière franchement assez glauque) ne donne pas envie de rester et de se préparer un bon petit plat home made... On préférera les bouibouis du coin! Le lit est confortable, mais malheureusement la couette qui était là est une couette MINUSCULE (je soupçonne une couette une place) et c'était ambiance guerrière pour défendre son bout de gras toute la nuit si on ne voulait pas finir nu comme un ver! Dommage! Enfin, l'odeur! j'aurais du commencer par ça peut-être... car quand vous entrez dans l'appartement, ça saute au nez! ça sent les remontées d'égouts et l'eau de javel... on finit par s'y habituer mais au début ça prend un peu au coeur! Très bon séjour à Istanbul, pour le prix honnêtement c'est tout à fait honorable. Il fait juste savoir qu'on n'est pas dans un cinq étoiles! Si vous prenez les choses avec le sourire, vous y trouverez votre compte!
Amelie
2014-12-09T00:00:00Z
Ali kedvesen, barátságosan fogadott. Nagyon kellemes élmény volt, ahogy egy rövid séta közben megmutatta a környéket, egy-két kedves szóval bemutatott a környékbeli kis boltokban, ahol mindenütt kedvesen fogadtak, és kóstolót kaphattunk a helyi finomságokból
Anamaria
2015-03-05T00:00:00Z
my girlfriend and i had a good experience. we like the neighborhood and the place is well located. ali is a sweet guy, and he has been responsive and very helpful when we needed him.
karim
2016-11-03T00:00:00Z
Alles war genauso wie beschrieben ,ein sehr schoenes Apartment,ein Rundumblick aud den Bosborus....ein Traum...wahnsinn ..man schaut vom Bett aus aus die Blaue Moschee wenn mann wach wird.Die Verbindung vom Apartment aus zum Herzen
Christian
2014-10-27T00:00:00Z
Thanks to Ali for this apartments. It's fully equipped and perfectly located. I can surely say that this flat has the best view on the Asian side of Istanbul.
Maks
2014-04-22T00:00:00Z
Ali's place is just amazing. i have used airbnb many times and this is definitely the best view i ever experienced. The balcony is huge and has a fantastic view from the asian side to the europe side This is just beyond the value possibility offered by other apartments or hotels. i would highly recommend this place. Ali is a nice and helping person who suggested us many places to go and help us arrange texi to the nearby station for airport shuttle. His sister also helped us a lot with stuff such as opening the stove. I would definitely come back to the same place again if back to istanbul. Just a little bit issue about the toilet. because it is an old apartment, the toilet sometimes smell a little bit funny. i did not feel it a problem but my girlfriend who is very sensitive to smell complained it. People who are very sensitive to smells might be a little bit annoyed but otherwise I think it should not be a big problem.
Xin
2015-12-28T00:00:00Z
Tipo de Quarto
Casa inteira/apto
---
Tipo de Imóvel
Apartamento
---
Acomoda
2
---
Quartos
Istambul, Istanbul, Turquia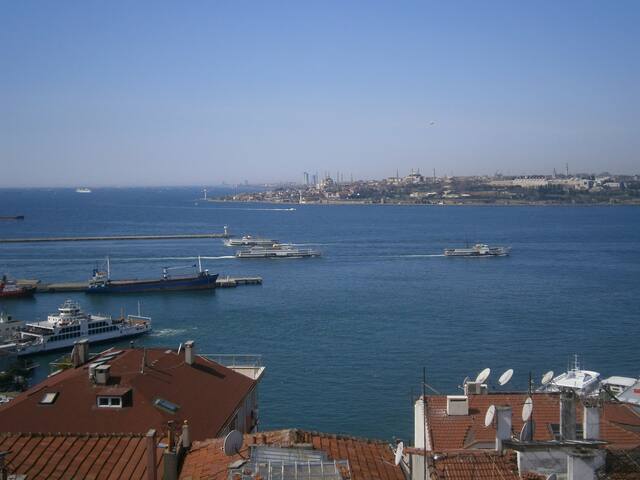 Welcome if you want to stay at a cozy flat in the center of Istanbul. The neighborhood is safe and close to attractions.Transportation is easy. There are many markets,restaurants in the neighborhood.3 min walk to the most famous Street of Istanbul .
Hello, I am 28 years old female, graduated from Bogazici University and working now.. My flat is in Taksim, center of the city, which is a convenient district 3 minutes walking distance to Taksim Square, the center of touristic attraction and nightlife in Istanbul. Metro station: 3 min walk Bus station: 4 min walk Tram Station "Fındıklı": 5 min walk Old city: 15 min Istiklal Street: 3 min walk Easy to access to other touristic areas of Istanbul. You can directly take tram to g oto Sultanahmet area where historical things are. Blue Mosque, Hagia Sofia, Cistern, Grand Bazaar, Spice Bazaar is 15 min. away by bus or tram. You can also walk from here to those places. It's also close to Nisantasi, (15 minutes walk) a chic, famous neighborhood for shopping and dining. It takes 5 min walk to go to the sea coast, Bosphorus and enjoy the nice weather. IT takes about 5 minutes to walk to Dilmer Language Center. Istiklal Street is 3 minutes away. University transportation is easy. Bogazici University, Galatasaray University, Bilgi University, Istanbul Teknik University. Shopping and transportation is really easy in the neighborhood. My neighborhood is very central, safe and there are many small shops restaurants and cafes bars . There are exchange offices too. It is a very lively neighborhood but at the same time quiet in our street. There is a mixture of local life and tourists in this neighborhood. It is a safe place. The flat has 3 bedrooms, 1 living room, 1 kitchen, 1 bathroom and a balcony. There might be other guests staying in the other rooms. It's a newly decorated, cute and cozy flat ... The room has a single bed, drawers and nighttable. It takes sunlight. If you'd like to stay more people, please ask me. The flat is on the 3rd floor and all rooms and kitchen are sunny. **There is an unlimited wireless internet connection, refrigerator, washing machine, oven, kitchen appliances.. **There's 24/7 hot water and heating by natural gas combi. **Clean sheets, towels and blankets will be provided. **Breakfast with cereal and tea/coffee is provided. Other than that, you can feel free to use the fridge and kitchen tools to keep and make your own food at any time. I speak Turkish, English and a little Spanish. I have maps and guide books that you can use during your trip. I can give recommendations about your trip and will be glad to help you with it. I will be happy to welcome you, if you want to feel the local Turkish life and close to the touristic areas... best wishes, Ceylan
A proprietária é ótima, muito amigável. No primeiro dia ela foi me buscar na praça e já eram quase 3 da manhã. A localização também é ótima. Apenas a limpeza do banheiro deixou um pouco a desejar, mas no geral, foi uma boa experiência.
Thaís
2014-08-26T00:00:00Z
It's perfect for those who r traveling on their own!Its an apartment with clean rooms and quiet neighborhood.Instructions given by Ceylan is very clear so I managed to find the place without additional assistance.Thank u Ceylan!I will definitely consider staying there if I visit Istanbul again.
Ruoying
2015-08-03T00:00:00Z
Ceylan was really hospitable and very friendly. The flat is just as described - the room I was in is small but was perfect for what I needed. The location is great. I recommend it all round.
Isabel
2015-03-15T00:00:00Z
I was very happy with my stay and can recommend this place. Nice flat, comfortable bed, very centrally located. The bedroom is small and the bed may be too short for tall people (1.80m), but it was fine for me. I only met Ceylan on the last day as she was visiting her family over the holidays, but her friend let me in and gave me lots of advice.
Sabine
2014-10-06T00:00:00Z
Ceylan was a great host. She was very interactive with her guests. The location is fantastic right near Istiklal Street and very near the Taksim metro. The location is not good for those who may have mobility problems as it is down a steep road, and then up a steep road again to get to the apartment. But if you have no issues with that, then this is fine. The room was small but good enough for a solo traveler like I was.
Ethel
2015-11-01T00:00:00Z
Ceylan was a fantastic host. The place is lovely and she was so helpful. Very accommodating of needs etc. I can highly recommend
Tim
2014-11-02T00:00:00Z
Everything as described, Ceylan is very good, honest and helpful person .. The place is so near to Taksim square and safe, I would like to visit her again. Thanks Ceylan for hosting.
Mohamed
2016-10-02T00:00:00Z
I booked my nice and cozy room on a short notice and Ceylan welcomed me with open arms and a warming smile!! I had everything I needed and she made me feel very comfortable. Although we just met on a short base I can say, I would book my room at her nice place again. Thumbs up!!
Mark
2015-01-02T00:00:00Z
Tipo de Quarto
Quarto privado
---
Tipo de Imóvel
Apartamento
---
Acomoda
1
---
Quartos
Beyoğlu, İstanbul, Turquia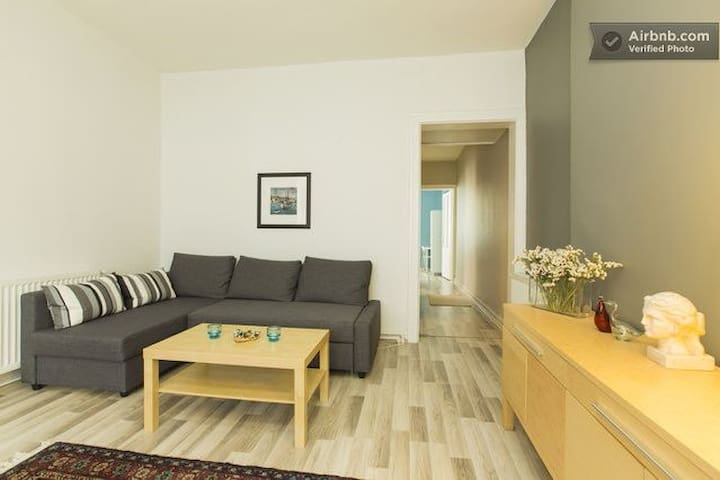 Seus apenas 2 minutos a pé do mercado de peixes. seu próprio centro de beşiktaş. 1 cama de casal com varanda doce. Meu lugar localizado no centro e perto de cafés, bares, restaurantes .... Meu lugar é bom para casais, aventureiro solitário, viajantes de negócios, famílias (crianças) e grupos.
Olá a todos :) Minha casa está localizada no distrito de Besiktas, que é um dos maiores e mais animado centro de Istambul a. A antiga casa grego foi recentemente renovado e tem seu próprio caráter. Você pode encontrar quase tudo a uma curta distância. trânsitos públicos apenas 2 minutos de caminhada. Centenas de restaurantes e cafés cerca de 5 munites a pé. É perto de outros centros de Istambul, como a península histórica, Praça Taksim, Beyoglu, Cihangir, Galata, Karaköy e até mesmo para Asian Parte ... Você pode ir de porta Beşiktaş 5 minutos de caminhada, então você pode pegar um barco ( "Vapur "em turco) para ir Kadiköy ou Uskudar cerca de 15-20 minutos ... Também as principais universidades localizadas ao redor aqui, você pode ver um monte de jovens e animada nas ruas. Você pode chegar à costa em 5 minutos a pé e dar um passeio pelo magnífico Bósforo. Você terá dificuldade em decidir o que comer e aqueles que pretende fazer favorito como existem muitas variedades; representando tudo o que você ouviu falar sobre a cozinha turca e muito mais. Seu apartamento fica no 2º andar. Seu look vintage e sua própria varanda, casa de banho com duche, ar condicionado, wi-fi e TV. Uma cama de casal no meu apartamento. Todas as contas (aquecimento, água, electricidade e Internet sem fios) estão incluídos no preço. Vê-lo em Istambul :) Beşiktaş Você terá seu próprio banheiro e quarto. Se você quiser, pode usar (ação) máquina de lavar roupa e mini-kitchened ... mas por favor deixe limpa depois de você. Por favor, trancar a porta e deixar fora da porta fechar quando você sair. Você pode sempre chamar ou texto me do Airbnb. Estou daytimes trabalhando para que eu não poderia vê-lo na época alta, por vezes ... desculpe por isso :( mas você pode chegar a qualquer momento me :) Há uma abundância de cafés, restaurantes, bares e locais de pequeno-almoço, apenas a 2 minutos a pé distâncias ... Você shuld tentar especialmente "raki" com a comer peixe no jantar e você pode escolher "serpme" na opção de pequeno-almoço :) Não há estação de ônibus a apenas 5 minutos a pé. Você pode ir Taksim cerca de 5 minutos de táxi 10 minutos de autocarro. Além disso, você pode ir Kabatas sua apenas 1 parada e tomar um bonde para ir península histórica ... Ou você pode caminhar 5 minutos para pegar um barco "vapur" para ir parte asiática Se você quiser, pode andar longaway para Bosphorus Aproveite a sua estadia em Istambul. Por favor, escreva seus comentários à Airbnb se você aproveitar a sua estadia. :) Se você não gostava de algo me envie mesage direta vou tentar torná-lo melhor a sua próxima estadia em meu lugar :)
Tipo de Quarto
Casa inteira/apto
---
Tipo de Imóvel
Apartamento
---
Acomoda
2
---
Quartos
Beşiktaş, İstanbul, Turquia
Olá, Estamos multicultural par internacional easygoing que viajar experiências e dispostos a acolher as pessoas e mantê-los felizes no final do dia. Nossa casa está em uma curta distância de Uskudar, onde pode encontrar cidade velha, estilo de vida normal das pessoas e lugares históricos, tais como; Torre nova, Mihrimar Mesquita Sultan, Feti Pasa Grove. Kadıkoy 5, Besiktas 10, Taksim e Sultanahmet é de 20 minutos longe de nossa casa. Nossa neighboured é seguro e pieceful. Nós esperamos vê-lo =).
Nossa casa é um em uma curta distância do centro Uskudar, onde pode apanhar ferries para; Besiktas, Eminönü, em seguida, fácil acesso ao Taksim ou Sultanahmet.Ferries se move em cada 5 minutos e chega ao lado Europen cerca de 8 minutes.Also nossa localização está a uma distância a pé até Seashore e Torre nova. Kadıkoy é de 4-5 minutos de transportes públicos de nossa casa.
Vivemos muito perto do centro Uskudar e beira-mar com 5 minutos de walk.Our local tem bastante fácil acesso a Kadıköy, Sultanahmet, Besiktas, Taksim e Eminönü. Basicamente estamos no meio de tudo com grande vantagem da opção para evitar o tráfego.
Wonderful place near to everywhere (Kadıköy, Üsküdar, Eminönü etc.) the hosts are very kind and nice people. There is nothing much to say just a wonderful place.. :)
Ömer
2016-10-08T00:00:00Z
Hosts were very kind and friendly. Even though I arrived at late night because of flight delay, Oytun came to pick up me. They were always take caring of me that where I was today and where I would be tommorow. The soup they gave to me on dinner was very tasty and could feel kindness. It was great time to interact with hosts. Hosts gave concrete direction to pickup place and touring places. Also to the airport when I get flight to my next trip. Fully recommend to visit here when u r looking for place to live in Istanbul.
Hyeonjin
2017-01-05T00:00:00Z
The room itself is fine, as well as the facilities. Their apartment is central yet, in a calm area. What made the stay amazing is that Nour and Oytun have been the most caring hosts ever. When it comes to running the extra mile, they've been running an extra marathon. They would have delicious food ready upon me returning 'home' during my intern and on the weekends we would have a jolly good time going out together. They have been amazing hosts and I would gladly recommend them to you too!
Marleen
2016-12-24T00:00:00Z
After staying three days with Oytun, I decided to stay more until the end of my trip. The place is good and cozy plus a central location. I would definitely recommend Oytun and his house. This is just pure sense of hospitality. I was very lucky to have the chance of staying with him and his kind girlfriend.
Leonardo
2016-09-09T00:00:00Z
Oytun picked us up from the nearby station and also offered to show us around. It was a great stay and I would definitely recommend him as a perfect host.
Sheraz
2016-12-29T00:00:00Z
The apartment is in a quiet neighborhood yet in a convenient central location. Oytum and Nour are very friendly and kind. They were always willing to help me with whatever I needed. It was a great stay, I would definitely recommend this place specially because of the caring hosts. Thanks for everything.
Marco Vinicio
2017-04-10T00:00:00Z
The apartment is central.Hosts were kind and warm people.I would highly recommend them to you.
uğur
2017-03-31T00:00:00Z
Oytun came and picked me up from my location. A gentle and friendly man, smiling all the time and very easy to communicate, and he helped me with my luggage. His house was just 10 minutes away from Kadikoy where the nightlife spots and also, public transportation located. Plus, buses and minibuses are passing every minute from the street behind his house which was a great advantage for me, so I didn't have to walk too much to get where I want. The room was cosy, and immaculate with new sheets and smelling good. Bathroom and the whole house was clean too. I highly recommend this property with its calm environment full of trees and warm people.
Leonardo
2016-09-01T00:00:00Z
Tipo de Quarto
Quarto privado
---
Tipo de Imóvel
Apartamento
---
Acomoda
1
---
Quartos
Üsküdar, İstanbul, Turquia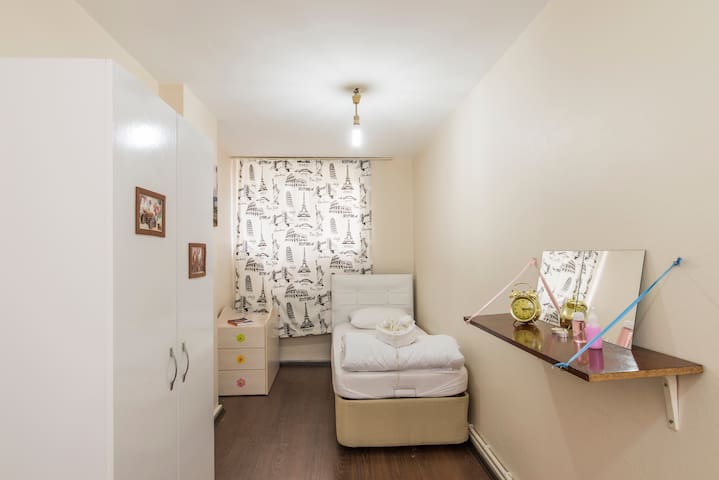 1 bedroom+1 living room very charming luxury apartment with private entrance. Terrace with a Bosphorus view. Fully equipped kitchen. Big comfortable bathroom with bathtub, washing mashine. Towels, linens provided. 2 double 1 single beds. Wifi.
Kuzguncuk, Uskudar, Istanbul
Kuzguncuk is one of the most cosmopolitan historical villages of Istanbul located at the Bosphorus in the Asian side of Istanbul. This very charming neighbourhood is popular among Istanbul intelligentsia and has a colorful character of residents and visitors.
Ev sahibimiz Gazi Bey umduğumuzun çok ötesinde süper ve sıcak bir ev sahipliği yaptı. Kuzguncuk'ta bir evde bulunması gereken tüm gereksinim maddeleri ve ev eşyalarının bulunduğu mükemmel bir evde kaldık. Eve yerleştiğimiz ilk günden itibaren de, Gazi Bey herhangi bir ihtiyacımız olup, olmadığı konusunda gerek telefon gerekse ziyaret ederek bizlerle ilgilendi. Kuzguncuk'a ilk yerleştiğimiz gün, semti ve semtte bulunan tüm restaurant, kafe ve benzeri yerleri tanıtarak bulunduğumuz yere kısa sürede uyum sağlamamıza yardımcı olan Gazi bey için mükemmel bir ev sahibi diyebilirim.
Enver
2014-09-23T00:00:00Z
When we arrived Gazi was there to greet us, he helped us to carry our luggages . We spent only 3 days though , but when we needed anything he was so prompt to reply .. I highly recommend his flat ,the building is very close to the Kuzguncuk Centre where you can find cafes & restaurants , close to the transportation as well So very convenient location !!. The Bosphorus view of his flat is breathtaking ... Thank you Gazi .
Nurcan
2015-08-17T00:00:00Z
There is no better place to stay in Istanbul than Kuzguncuk, and there is no better airbnb place to stay in Kuzguncuk than Gazi's place. I have stayed in many places in Istanbul before finding Gazi's place, and the views of the Bosphorus from his place in Kuzguncuk are the absolute best. The apartment itself has everything - for a short or a long stay. The people in Kuzguncuk are warm and friendly. Simply put, nothing could be better than a stay at Gazi's place. It feels like home, and Gazi always makes sure that you have everything you need. He is a very knowledgable man, and he has a very generous heart. Gazi's place in Kuzguncuk is a place where you can create memories that will last a lifetime.
J. Matthew
2015-05-12T00:00:00Z
Gazi's place is in a very cute neighbourhood, on the Asia side, but reasonably accessible to the Europe side. Loved the local fruit-seller and Kuzgun's Cafe. Really non-touristy spot that had the feel of an old neighbourhood, where locals all know each other. Also, it's quiet at night, which for Istanbul isn't always a given. Gazi met us at a shop nearby and provided us with some gorgeous fresh fruit and a tour of the flat. It's accessible up a hill and then some rickety stairs, so it's not recommended for any mobility-impaired travellers. At the top of the hill and stairs, the view was gorgeous – really peaceful. The terrace is covered so you can sit outside in the rain, and there are outdoor chairs + table. The flat was well equipped and wifi was fast and uninterrupted. A few quibbles: the bed was a sort of futon-type low bed, which was moderately comfortable but not ideal for us. There was also a damp smell in the house and one wall had a mould problem – I think this is something Gazi will be dealing with, but if you are mould-sensitive or have allergies, this may not be a good fit. The bedroom is quite small too, so if you are two people or have a lot of stuff, it could feel cramped. But for one person or two travelling light, it was just fine.
Sara
2015-05-04T00:00:00Z
Gazi's place is perfect! It's in the Asian Side but near the metro and ferry making it perfect to also visit the old city. He has an amazing deck to watch the boats traveling on the Bosphorus and to view the sunset. It was hard to leave! The apartment's amenities are perfect. The bed is heavenly after a long day of walking and is American Style, comply and plush for a good night's sleep. Great kitchen but frankly, there were so many cute restaurants in the area, we just bought breakfast stuff for the frig. Go to Dillams for pastry and say hi! Gazi lives in another apartment upstairs so he's completely available to answer questions. The washer works great, there is a dishwasher and the shower is great too! We can't wait to go back!
Marlene
2016-09-29T00:00:00Z
A wonderful apartment and a wonderful host. The place was spick-and-span, the furniture good as new, and the light - especially in the evening - heavenly. The name of the apartment is well deserved! Gazi was an extremely solicitous host, generous with his time, quick to respond to my requests, and full of good advice on nearby restaurants. Thanks for everything!
Helen
2016-09-12T00:00:00Z
Really nice place, Gazi is absolutely reliable. Recommend to anyone. I will definitely be coming again.
Ian
2014-07-31T00:00:00Z
I can't recommend this place enough. I visited with my daughter and had a fantastic stay. The views of the Bosphorus are breath-taking, and it really is a home from home. I know Istanbul well, and Kuzguncuk is one of my favourite neighbourhoods. It is very charming and friendly and, despite being part of a big city, manages to maintain a village feel. There are great restaurants and cafes nearby, and it is easy to get around by ferry from Uskudar (just a short taxi ride away), which makes it very convenient and means you can avoid the famed Istanbul traffic. It is so much better using this as a base to visit the sights, than staying amidst the hustle and bustle of the old town. Gazi was a perfect host, and did everything possible to make our stay pleasant. Highly recommended!
Joanna
2015-08-14T00:00:00Z
Tipo de Quarto
Casa inteira/apto
---
Tipo de Imóvel
Apartamento
---
Acomoda
5
---
Quartos
Istanbul, İstanbul, Turquia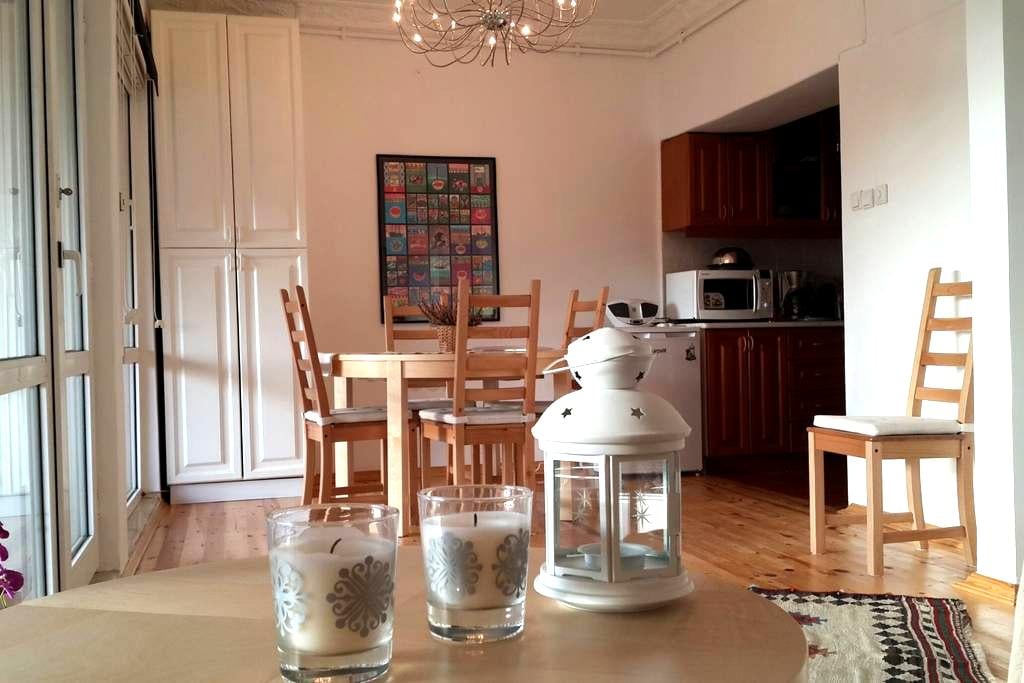 Our private place is on the 3rd floor of our coffee shop, Just Coffee, which is one the most popular and central spot on 24 hours living street in Beşiktaş. Our place's clean, safe and quiet at the same time. We will serve you free breakfast (coffee+croissant/sandwich) during your stay. Easy to access to ferry, buses and other pulic transportations by walk. It takes about 5-20 mins to Taksim, Ortaköy, Kadıköy, Kabataş. Our spot is close to many nice cafes, restaurants & pubs.
Beşiktaş is a unique quarter of İstanbul, being a part of the ancient city. It is the great mix of old and new; a modern experience in the hystorical town.
Beşiktaş is very central and our place is close to main bus station and also to the ferries with which you can easily go to the Asia side of İstanbul and visit popular places like Kadıköy or Kuzguncuk.
This place is a gem in the heart of Besiktas. Munu was great in communicating with us and her team took good care of us. If you are looking for a safe and comfortable spot from which to discover the city, go for it :) The place has everything you need and noise levels are absolutely fine, despite the cafe downstairs.
Ayscha
2017-04-02T00:00:00Z
We stayed at Münevver's place above the coffeeshop in Beşiktaş for 4 nights in November and the apartment was wonderful in every way – it was clean, comfortable, well-equipped, and the location was perfect: just above a cool coffeeshop and a short walk to the bus stop/Kabataş tram stop. It would be a perfect place for younger professional or academic travelers since both the apartment and the cafe have good places for working (the wifi was generally good except when the cafe was filled with other people using it). It might not be the best place for travelers who prefer a completely quiet, isolated location, as the street noise is unavoidable when the windows are open, and reduces to a low murmur during the day when they are closed. Nevertheless, I would definitely stay here again. Münü and her colleagues at the coffeeshop were gracious, hospitable, and kind, and the experience with them made for a perfect first visit to İstanbul. Sağol!
Bill
2016-11-29T00:00:00Z
Beautiful flat, very thoughtfully furnished with all kinds of extras from projectors to spare towels and hair-driers that made it feel extra homely. It's on a party street, so there's always a background throb of noise from downstairs, but it didn't bother us at all. It's a relatively small place, but it was perfect for just two people. Munu and her colleagues were very helpful, and her cafe downstairs was the perfect place to start the day with a coffee and breakfast or do a bit of work on our laptops. The cafe's upstairs room was often full of students working, and we'd have joined them if we'd had more work to do. The wifi was ok, but it sometimes took a while to connect when the cafe was very full. Nice lively area with plenty of bars, restaurants, coffee shops and a market, and easy to get from there to everywhere we wanted to go.
Thomas
2016-12-05T00:00:00Z
Carefully-designed-IKEA-furnished private room which is three stories upstairs of a coffee shop, we loved the design. Very clean and neat. Not very quiet though if you are looking for a spacious place. The avenue where the suit is overlooking is pretty noisy. Perfect place if you are a coffee lover. Our hostess Münevver was very helpful in solving our problems. She owns both coffee shops downstairs. Highly recommended if you are a world explorer and want to stay in Istanbul for a week!
Okan
2016-12-29T00:00:00Z
I've reviewed this place previously. Really comfortable accommodation in a wonderful location.
Anthony
2017-02-13T00:00:00Z
Simply perfect - nothing more to say!
Jacob
2016-12-10T00:00:00Z
Mükemmel ev sahipliği ve rahat bir konaklama, teşekkürler
Gokce
2017-01-21T00:00:00Z
Just/ Suite suited us well If you like finding yourself in a hospitable atmosphere, around young and interesting people, having a tasty cappuccino and a delicious sandwich every morning and waking up in a cosy environment -- this place is just for you. However, if you are an early bird and even while on holidays go to bed before midnight -- better find another place. There are some noise issues you might not like. But we enjoyed greatly and would definitely recommend the place.
Viktoriia
2017-03-10T00:00:00Z
Tipo de Quarto
Casa inteira/apto
---
Tipo de Imóvel
Apartamento
---
Acomoda
2
---
Quartos
Beşiktaş, İstanbul, Turquia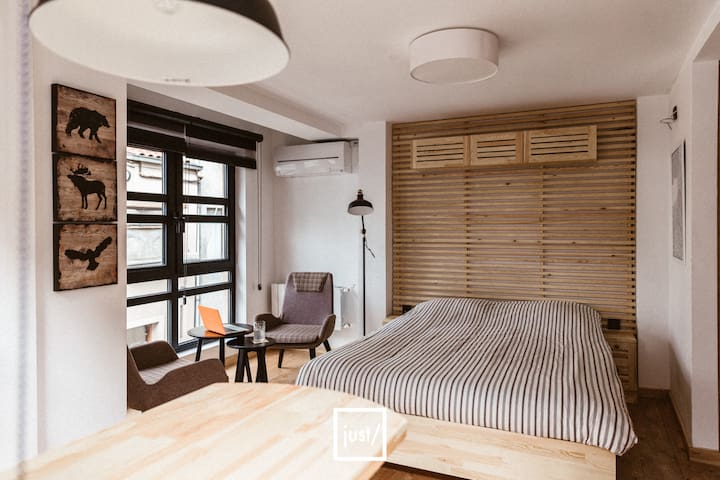 Confortable et bien entretenu appartement avec toutes les commodités situées dans Harbiye, à 10 minutes à pied de la place Taksim. Il se compose de 2 chambres que des chambres confortablement 2-3 personnes, + salon avec un canapé confortable, cuisine, salle de bains et balcon.
Ceci est un sûr et confortable, bien entretenu plat, mais abordable dans un emplacement central. Il y a une chambre avec un lit double et une grande armoire et une chambre / bureau avec un canapé-lit, aussi bien avec les draps et les serviettes. L'appartement s'adapte confortablement 2-3 personnes. Il y a un air conditionné qui va garder la fraîcheur à plat dans les mois d'été, et un système de chauffage, récemment rénové, qui gardera au chaud dans les mois d'hiver. La cuisine est bien équipée, avec micro-ondes, bouilloire, four, vaisselle et ustensiles. Il y a un système stéréo, DVD, TV et Internet sans fil (et une guitare!). Il y a un balcon avec vue sur la ville, qui obtient le soleil d'environ 14 heures jusqu'au soir.
I love my 'capot, et j'espère que vous aussi. Il y a surtout des familles qui vivent ici. Il est calme et tranquille à la nuit, mais animée pendant la journée avec des enfants jouant dans la rue et les vendeurs de rue en passant par. Une excellente façon de commencer la journée est de se réchauffer simit frais (une pâtisserie de sésame turc) à partir du "gars simit" qui passe par le matin. Il vous suffit de crier par la fenêtre pour arrêter le gars de simit, abaisser le panier avec une corde attachée à elle (que vous trouverez dans la chambre d'amis) avec quelques pièces de monnaie, puis hisser le panier avec simit frais ...
I spent three months in Anne's flat. It was the perfect place for my extended stay in Istanbul--comfortable, spacious, and conveniently located. Anne arranged for me to pick up the keys from a nearby business, which went smoothly, and one of the employees showed me to the flat. Due to a bureaucratic snafu (no fault of Anne's!), the water was cut off at one point. Anne quickly arranged for temporary housing just up the street and took care of the issue in a timely manner so that I could finish out my stay in her flat. Indeed, Anne responded to all of my questions quickly. She is an excellent host!
Lydia
2016-04-30T00:00:00Z
Anne is incredible! She is extremely accommodating and easy-going. It was a pleasure to have my first AIRBNB experience be with her. I hope all the hosts are like this. The apt is great. Looks just like the pics. Anne I wish you all the best!
Terri
2016-06-01T00:00:00Z
I stayed in this apartment from July 7-15. The neighborhood is approx 10 minutes walk to Taksim square where all the hustle and bustle are. They are lots and lots of restaurants and shops to choose from. However 95% are Turkish, so if you are looking for variety in cuisine it's hard to come by. The apartment is on the TOP floor (lots of tiny stairs to climb) so if you have lots of luggage beware. Also, the air conditioning was hit or miss. It blew out cool air not cold. Anne advised me after I had been there a few days that the previous guest complained also, and the filter had been changed by the cleaning lady, but to no avail. It still didn't work. So I and my friend were sweating every night in our sleep. The neighborhood is very residential and highly populated and we never felt in danger or afraid. The apartment is a very nice size, with two bedrooms a living room and a small kitchen. The photos are accurate. We could not get the stove to work however. It would be very comfortable if everything worked and after getting used to all the stairs. Also, the cleaning fees is in my opinion much too high. $50 dollars is exorbitant. There were no extra towels to be found anywhere. While the apartment was clean it was not "sparkling and fresh". There is a general strange odor in the building itself that permeates as the day gets hotter.
Carla
2015-07-15T00:00:00Z
We spent Six nights in Anne's apartment. It's a lovely place on a quiet street just fifteen minutes away from the action in Taksim. It was very affordable for a two bed flat including all the amenities one would need for an extended trip yet also very comfortable. We had a nice stay, thank you.
Will
2015-06-30T00:00:00Z
Wir haben zu zweit acht Nächte in Annes Apartment verbracht, das sehr zentral, etwa 15 Min. Fußweg vom Taxim Platz liegt. Wir haben uns in dem gemuetlich eingerichteten und gut ausgestatteten Appartment und der Nachbarschaft sehr wohl gefühlt. Auf Annes Hinweis ließen wir Morgens den Korb mit ein Paar TL zum Simekverkäufer auf der Strasse herunter und bekamen so frische Gebaeckstuecke zum Fruehstueck. Anne hat immer sehr schnell auf unsere Fragen geantwortet und sorgte im Vorfeld dafür, dass wir den Schlüssel zum Appartment ueber die Putzfrau bekamen.
Luise
2015-06-08T00:00:00Z
My boyfriend and i had a great time in Annes cosy flat in the heart of this amazing city! the flat was big ( there is even space for 3 people...) clean, comfortable and had everything we needed. The communication with Anne went very good and she gave us helpful informaion. We can recommend the apartment.
Sophia
2015-08-08T00:00:00Z
Apartment was just as described and even more than that. We were arriving late but Anne had managed to provide us with a key. Kitchen was fully equipped so that we even were able to cook something in the evening. Location is good, not far from Taksim, Metro and shuttles to the airport. There is a local shop just near the apartment that works almost all the time. We stayed in the apartment for the 5 days and are happy with it and Anne as a host. It is really worth to choose this apartment if you need comfortable place to stay with everything you would need and good location. We have never met Anne in person but she was always available by mail and there is the office just near the apartment that can assist with what is needed.
Yuriy
2015-01-05T00:00:00Z
The apartment was comfortable. Only a 10-minute walk to Taksim Square. Plenty of restaurants and grocery stores around. It was convenient to do laundry at the apartment. Nice stay.
Stephen
2015-07-07T00:00:00Z
Tipo de Quarto
Casa inteira/apto
---
Tipo de Imóvel
Apartamento
---
Acomoda
3
---
Quartos
Istambul, Istanbul Province, Turquia
My house is quite safe and I am a nice host:) You can stay in the livingroom or in your private room. You will be very close to the taksim, nisantasi, besiktas
My house is very central. You can easily travel Istanbul. Taksim, Kadıköy, Besiktas... All of them are so close. I can happily explain you.
The best place inIstanbul:)
Burak is an super host, very communicative person and great companion. His English is fluent, so we could talk about everything. I felt like he is my best friend. Telling the truth, Burak is one of the nicest person I ever met. The apartment is in quiet and safe area, very close to Besiktas center with a lots of pubs and restaurants. It is perfect place for students and young people. I highly recomend Burak's apartament and hope to see him again.
Szymon
2017-03-26T00:00:00Z
The host canceled this reservation 2 days before arrival. This is an automated posting.
Anıl
2017-03-01T00:00:00Z
Tipo de Quarto
Quarto privado
---
Tipo de Imóvel
Apartamento
---
Acomoda
2
---
Quartos
Şişli, İstanbul, Turquia
Huset ligger i byens centrum og tæt på alle transport. Det har en stor have, som er speciel for dig med en indgang fra stuen. Vil gerne byde dig velkommen.
Hele huset er til leje. Stedet er i Beşiktaş Grand Bazaar, et sikkert kvarter, hvor hovedsagelig locals bor. Det er 5 minutter til nærmeste færgen til asiatiske side, 10 minutter til Taksim, 10 minutter til Nisantasi og 10 minutter til Ortakoy! Det er også tæt på de vigtigste konference kompleks af Istanbul Harbiye og bussiness zone Levent. ** Huset er rummeligt, cute haven (med gynge :), en stor stue, et badeværelse og et soveværelse. det har alle de tekniske faciliteter som: -Gratis Trådløst internet -Køkken Med gryder, tallerkener og glas -Mikroovn, ovn, opvaskemaskine og køleskab -Vaskemaskine Og tørring maskine Fladskærms-tv og dvd-afspiller -En Stor stue - ** Garden er særligt for dig, træder kun fra stuen - ** Der er en sofa i stuen, der kan udvikle sig til en komfortabel dobbelt seng (den brune sofa åbner som den røde). - Der er vand rensning system, så du kan drikke vand fra hanen Min mand er en musiker og skuespiller, og jeg er et landskab archhitecture.We vil gerne byde dig velkommen i vores home.You kan spørge noget, vil jeg gerne hjælpe dig.
This was my first international Airbnb experience as a guest so far away from home and Purun made our stay a great one. From the moment we booked she was quick to respond and assist with any questions we had. Her apartment is well located to the public transportation and sight seeing attractions that Istanbul has to offer. You'll have all the amenities of a hotel apartment, tastefully decorated in a 1970s theme, and a backyard to enjoy the fresh air and relax on the swing in the afternoon. Purun happened to be away on holiday but her neighbor Tuncer who lived next door was very friendly and greeted us with a warm welcome and was also there when we checked out. I wouldn't hesitate to host Purun and her husband at my apartment in NYC anytime. Thanks!
Jorge and Eleonora
2012-08-21T00:00:00Z
I was nice location and good apartment
David
2016-05-03T00:00:00Z
I only met Anil the last minute before I checked out. The apartment is really nice and spacious and more enough space for one person. They are excellent communicators and made my stay there easy and simple. They left me clean sheets and towels to use. The place was close to transportation and many restaurants. If I come to Istanbul again, I would stay at this apartment. Thanks for everything!
Ricky
2014-07-30T00:00:00Z
Purun and Anil were very responsive to any request we had and the apartment is in a great location!
Candace
2014-10-14T00:00:00Z
Giriş tarihinden çıkış yaptığımız güne kadar herşey dört dörtlüktü.Evin içinde onlarca kitap var ve sanırım okumak serbest.Güzel bir konaklama oldu.ilerde tekrar görüşmek dileğiyle.
Izzettin
2017-03-09T00:00:00Z
Very good location and very friendly host that is easy to communicate with.
Cemre
2017-02-19T00:00:00Z
Check in and communication was good. We were given the wrong phone number for the check in at first, but that was quickly resolved. Furniture was a bit shaky and the bed sofa didn't work properly, but these were also minor issues. Should be listed as an apartment though. Only major problem was that we didn't have any wifi during our whole stat, which unfortunately is one of the most important aspects of communication. Other than that we had a nice stay for a really good price without any communication issues.
Richard
2017-02-27T00:00:00Z
The reservation was canceled 9 days before arrival. This is an automated posting.
Cormac
2014-08-26T00:00:00Z
Tipo de Quarto
Casa inteira/apto
---
Tipo de Imóvel
Apartamento
---
Acomoda
4
---
Quartos
Istambul, Istanbul, Turquia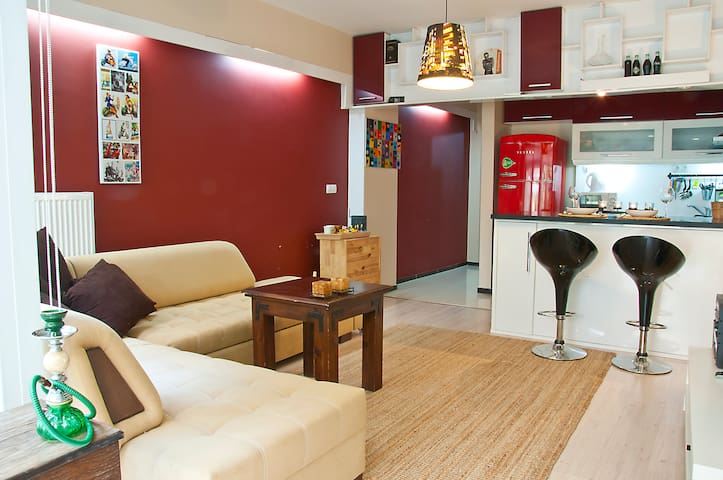 Welcome to our best flat. It's located 2 min. from Taksim Square on a quiet street in Cihangir. It's a 3 min. walk from the metro station and everything you need is very nearby. You will feel very comfortable here. Our place is 70sqm with terrace.
It's a newly renovated 1 bedroom apartment with a beautiful terrace. It's located on a quiet street in the Cihangir area. It's a sunny and peaceful apartment. The apartment is stylish and all of the furniture and appliances are new. It has 2 lovely terraces, one in the front (with a beautiful dining space and an umbrella) and one at the back side. It's on the 4th floor without an elevator. We can accommodate up to 4 people. Two in the bedroom on a real double bed and two on the pull-out couch in the living room. Our apartment has air conditioning, a washing machine, dryer, dish washer, dvd player with 5+1 sound system, central heating, hair dryer, iron, WIFI Internet and Satellite TV. The location is amazing, very central and close to a supermarket, many restaurants, bars, Taksim Square and a metro station and tram station. There are many foreigners and ex-pats in the neighborhood as well as locals. You will feel very safe and comfortable in the area. It's very easy to reach and finding the apartment is effortless. There are taxis everywhere as well as a bus and metro station two minutes away and tram station is five minutes away. This is the center where it all happens and you will immediately realize you have found the perfect place.
There are many restaurants, bars and cafes in the area. I recommend Smyrna Cafe, Whitemill, 5. Kat, Otto Cihangir, Mükellef, 360 Restaurant, Karakoy Lokantası. Our Flat is very close to Istiklal Caddesi, Taksim Square, Cihangir Area, Galata Tower and Karakoy Area that you can find wonderful places.
Berna's place was great. It is furnished nicely and has all of the amenities you would need. It is also in a good location with access to Istikkal Street, but not too close where it can be noisy. Overall, it was a great experience and I won't hesitate staying there again when I go back to Istanbul.
Justin
2016-02-05T00:00:00Z
Berna was a lovely host and made us feel really welcome. Always available on (SENSITIVE CONTENTS HIDDEN) for questions and kindly left a bottle of wine to smooth our arrival :) thanks Berna!
Jonan
2015-12-23T00:00:00Z
Wonderful warm home and great atmosphere in the heart of Istanbul!
Farah
2016-01-28T00:00:00Z
Berna is a great host and met me on agreed time in the flat...The location is very easy to find and every Taxi driver knows the street...She is very helpful, answered all questions promptly and a small issue with the shower head was solved by her immediately... The flat is exactly as shown in the pictures, spotless cleaned and very cozy to spend a few relaxing days in Istanbul... It has all the amenities needed for a short or even longer stay, the kitchen is well equipped if you like cooking basic meals or prepare breakfast to eat at the terrace... The bedroom has a 2nd small balcony which is great to spend time in early hours of the day to have a cup of coffee and the bed itself is very comfortable... The location of the flat is very close to Taksim Square in a cute neighbourhood where also neighbours and residents greet and make you feel welcome. At any time of the day, even in early hours after partying in the area, we felt very safe in the neighbourhood... It has been a real pleasure to stay at this apartment, we could tell that our hosts are well traveled and know the needs of travellers, pay attention to details and are always available to communicate and help... Thank you Berna for a nice experience :)
Oktay
2016-07-25T00:00:00Z
This week was wonderful : very nice and kind persons, beautiful flat ! Thank you so much ! Mathilde & Camille
Mathilde
2015-10-25T00:00:00Z
it's a cosy appartement with everything you need. Berna is a perfect host.
Freddy
2016-10-19T00:00:00Z
The apartment was very well located, very clean and nice The host was very available and helpful during our all stay
Capucine
2016-08-06T00:00:00Z
We loved our stay in their spacious apartment. It felt like home. Communication was perfect.
Beat
2016-07-27T00:00:00Z
Tipo de Quarto
Casa inteira/apto
---
Tipo de Imóvel
Apartamento
---
Acomoda
4
---
Quartos
istanbul, İstanbul, Turquia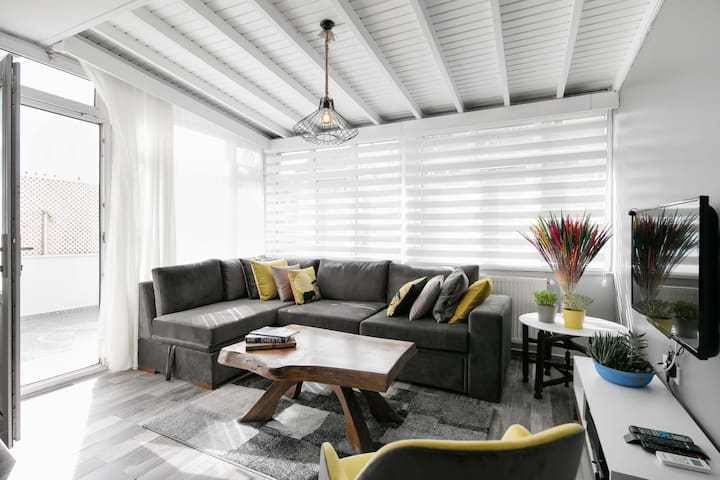 I stayed with Hatira for a month and a half! Hatira is awesome! Best host ever! From the moment I arrived she was kind and very helpful. I had to meet her at her job because I got in too early. She made me feel at home there by getting me a place to sit, giving me access to wifi, offering me coffee, etc. When I told her that I was not feeling well with my throat she offered me some medicine. Very nice of her! Then when I got home I took several naps and later that night she invited me to go hang out for the Gypsy festival in the old city. It was so nice of her and I immediately felt at home and like an Istanbulite. She was always generous and offered me food or to hang out with her friends if she was going out. Thanks Hatira!!! Hatira also helped me find cabs and order food online when I was hungry! She was always super helpful! I also liked that we could have conversations about anything. :) The room was a little small but perfect for me. I had a closet to hang my clothes from and a small table to put my cosmetics on. The view from my room was amazing. I loved waking up to it! :) The neighborhood was great. I always felt safe and the shop owners were usually open late. For me, it was about a 15-minute walk to Taksim because I walk slow, but you pass by so many shops which is great if you're hungry. Overall a great place to stay if you're new in town and don't know anyone. Hatira makes you feel like you're at home. I loved her apartment and the feel. I felt at home and I loved staying there!
Rita
2014-06-15T00:00:00Z
I stayed at Hatiras place two nights in Dezember to do my Christmas shopping in Istanbul, and I had a really great time at her place. The room is small but cute and has a nice view over Istanbul. It is really close to Taksim which makes it easy to get to all the important places in Istanbul. Hatira is really kind and freindly. She showed me a good place to eat baklava and we went out for dinner together where we could talk and get to know each other. I really hope I will meet her again some time and if I am going to Istanbul again Im sure I will stay at her place again.
Laura
2013-12-03T00:00:00Z
I stayed at Hatiras place for 3 nights and my stay could not have been better! It was not like meeting someone you have never seen before it was like meeting an old friend. We went out for Breakfast every morning, she brought me to really nice places and intoduced me to the turkish way of brunch. I can highly recomend Hatiras place, it is close to the city center from where you can get everywhere, the place is super clean and offers everything you need. She has a small information package ready for you, to get information about and what to do in Istanbul. Hope to come back again one day!
Melanie
2014-04-21T00:00:00Z
Hatira is a perfect host. She is very friendly and hospitable and gives tips where to go. Her flat is perfectly located close to the heart of Istanbul. Everything was fine and I can really recommend a stay at her place!
Martin
2014-01-05T00:00:00Z
I spent 3 weeks with Hatira while discovering Istanbul for the first time (for a job), and I couldn't have wished for a better welcome ! Hatira's place is very comfortable, there is everything you need (she even lent me a transport card to help me to move around the city :) ). And the location of the flat is perfect, 10 minutes walk from Taksim Square. And first of all, Hatira is very hospitable and agreeable, she explained me a lot of things about Turkey, Turkish society, the historiy of Istanbul... She also took me to nice spots in the city (bars, concerts..) I sincerely recommend you to come to Hatira's room if you want to have a pleasant time in Istanbul ! J'ai passé 3 semaines chez Hatira, et je ne pouvais espérer un meilleur accueil. L'appartement est très confortable, Hatira accueillante et prévenante, et l'emplacement est idéal pour découvrir la ville (10 minutes à pied de la place Taksim). Je recommande vivement !
Caroline
2014-11-24T00:00:00Z
I stayed at Hatira's place for almost a month and it was such a great time! Hatira is an amazing host- very caring, helpful and fun to be around with. She makes the nicest breakfast and I am more than happy to still meeting up with her on weekends. We went out together a lot and she showed me great places in Istanbul! Her apartment is a very comfortable and cozy place- and I loved the room! I can definitely recommend her as a host. THANK YOU!! xx
Clara
2014-03-01T00:00:00Z
Hatira is the most wonderful host I have ever met! She also happens to be a fantastic human! During my visit to Istanbul, she made me feel like a part of her family. The neighborhood is close to everything and the apartment is very cute and clean. Staying with Hatira made my time in Istanbul one billion times better!
Lisa
2014-07-31T00:00:00Z
Hatira is a great host -unbelievably sweet and caring. She's become a friend in less than one day. I was working in Istanbul, not there for fun and shooting a documentary in a completely new place can be quite distressing sometimes. But She was always there for me, as host, of course, but also as a confident and "consulent", giving me many good advices and even some contacts for my interviews! Living with her was just amazing! I won't forget all our talks, at night, before of going to sleep and the good food she cooked for me, more than once. The house is simple and comfy and full of light. The fridge is always full and everyone can take whatever he/she wants. Same for everything in the bathroom-shampoo, conditioner, hairdryer, whatever you may need is there! Just one more thing: I did a wrong booking and had to add one night. She let me stay in the big room, which was empty, completely free of charge. I strongly recommend Hatira. Really an outstanding realible flatmate and host! ;)
sabrina
2014-02-10T00:00:00Z
Tipo de Quarto
Quarto privado
---
Tipo de Imóvel
Apartamento
---
Acomoda
1
---
Quartos
Istambul, Istanbul Province, Turquia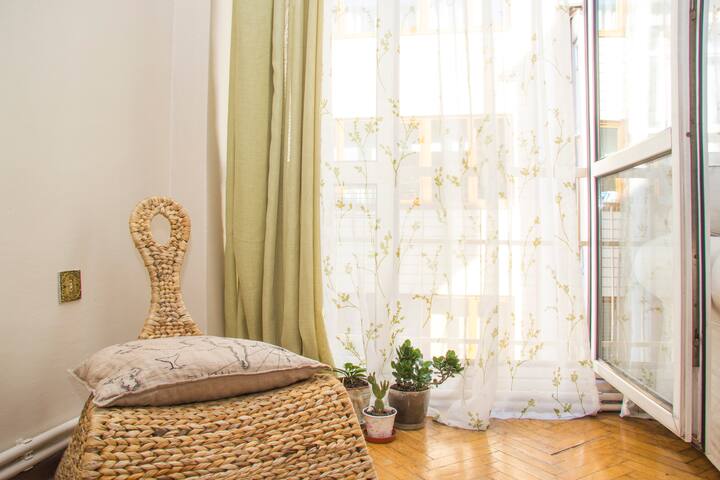 Wohnung auf Beşiktaş, Ihlamurdere Street.Newly restauriert, dekoriert und eingerichtet 80m2, 2. floor.Flat innerhalb von fünf Minuten zu Fuß zum Zentrum von Besiktas und den Bosporus shore.Spacious Wohnzimmer und Essbereich, eine moderne Küche mit voller Ausstattung modernes Bad und 2. WC.
Nur 5 Minuten zum Zentrum von Besiktas zu Fuß mit seinen Massen von Geschäften, Restaurants, Cafés, Bars und Diskotheken. Ein Verkehrsknotenpunkt, können Sie einfach und schnell von hier aus mit dem Bus, Minibus reisen, oder mit dem Taxi, um alle die Stadt der großen Punkte und Attraktionen. Der Kai am Ufer hat sowohl öffentliche und private Fähren, die Sie schnell hinüber zu der asiatischen Seite, auf der historischen Halbinsel, oder bis den Bosporus bis zum Schwarzen Meer zu nehmen. Einzelne Transportarten mit Ursprung in und in der Nähe von Beşiktaş werden Sie schnell in die Innenstadt von Taksim, seinen berühmten begehbaren Weg Avenue Istiklal, der Bohème-Viertel Cihangir, dem historischen Zentrum von Galata mit seinem berühmten Galater Turm tragen, das Hafenviertel von Karaköy spreizt das Marmarameer und das Goldene Horn, der als der beste Ort zum essen in der Stadt bekannt ist, und dann mit seiner Fülle von Palästen, Moscheen die Altstadt und die historische Bäder. Kurze Reisen in den Norden bringen Sie Ortaköy, ein Paradies für Outdoor-Restaurants bis hin zu trendigen und dann Bebek, die eindringliche Ort der türkischen Reichen und Berühmten. Seine Nähe zu einigen der führenden Universitäten des Landes macht Beşiktaş eine lebendige und dynamische Kultur-und Entertainment-Center, wo etwas 24 Stunden am Tag geschieht.
Besiktas ist nicht nur einer der Istanbuler sichersten Viertel, es hat auch Einrichtungen für alles, was nur etwa würde man brauchen. Die meisten Geschäfte sind bis zum Morgen
I have stayed in Mr. Şenol's flat for 5 nights and it was truly a great experience.He was very kind and helpful host. The location of the flat is excellent. It is safe and very quiet, yet 2 -3 mins walk away from the lively parts of Istanbul such as Besiktas. I would strongly recommend this place and I shall return. Şenol bey ve eşi Rukiye hanım çok kibar ve çok yardımcı insanlar.Evin lokasyonu çok güzel Beşiktaş çarşıya 1-2 dakika yürüme mesafesinde.Evin tüm eşyaları yeni ve evin içi çok güzel döşenmiş.Bu semtte birçok evde kaldım ve hiç birinde bukadar memnun olmamıştım .Bir daha ki seyahatimde kesinlikle bu evde kalacağım.
Ersan
2016-01-10T00:00:00Z
The place was exactly as in the pictures. It was a great place to visit, the hosts were very attentive and helpful and helped made my stay very enjoyable. The location is great, in a very lively neighborhood with very easy access to anywhere in the city. I had a great time>
Thanasis
2016-04-26T00:00:00Z
I still feel really lucky that I found this appartement. :) Central location, nice and lively street, clean and comfortable apartement with two absolutely quiet bedrooms. I loved its style. Highly reccomended. Thank you Rukie and Senol
Katalin
2017-03-27T00:00:00Z
This is the cleanest Airbnb I have stayed in. It's a great local cosy neighbourhood that is lively but quiet enough at night for a peaceful sleep. Rukiye was very patient and waited for our late arrival, thank you. Don't hesitate to book, you won't regret it!
Rochelle Del
2017-03-06T00:00:00Z
Great apartment, great location, I will certainly try to come back to that again when in Istanbul.
Thanasis
2016-09-03T00:00:00Z
In a nutshell; this place is excellent by all means. Rukiye and Senol are very attentive and open to communication. I didn't have any problem during my one-month stay but I am hundred percent sure that they would do their best to solve such a problem if one would occur. everything in the flat is as exactly the same as seen in the photos. Location of the flat is heart of Istanbul (for me) yet the surrounding is quiet enough. One just needs a single step out of the building to reach any facilities such as cafes, restaurants, markets, pharmacies etc etc. Although there are plenty of options for meals nearby, the flat itself has very well equipped kitchen where you can enjoy cooking yourself. Wifi internet is very fast and available in every corner of the flat. I would definitely recommend this flat not only for leisure but also business stay as well. I would like to thank Rukiye and Senol very much for being great hosts.
Dina&Bora
2016-11-23T00:00:00Z
Appartement très bien situé (proche du littoral) dans une rue vivante avec tout les restaurants et café à proximité. Les transports en commun sont à 10min à pied (bus bateaux taxi...) rien à dire je recommande.
Mohamed
2017-04-02T00:00:00Z
Was located in a great area. The apartment was all clean and nice. I would totally recommend this place!
Merv
2017-02-19T00:00:00Z
Tipo de Quarto
Casa inteira/apto
---
Tipo de Imóvel
Apartamento
---
Acomoda
4
---
Quartos
Beşiktaş, İstanbul, Turquia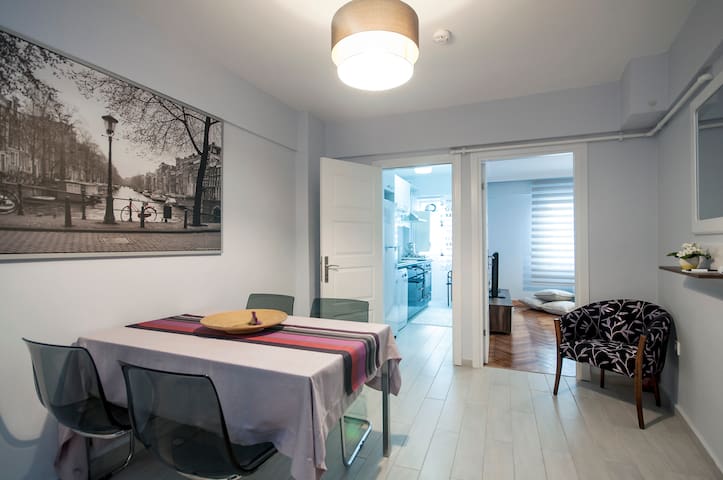 Zentral location.Safe street.Relayable naigberhood.Near Minimarkt und Obst shop.Quıet environment.Clean bed.Comfortable Schlaf.
Safa was really helpful and easy going home was good and comfortable I will recommend him as your host
Seray
2017-04-07T00:00:00Z
This is a lovely little studio a stones throw from Taksim Square. I booked the wrong day but Safa kindly let us stay anyway (though the price went up a fair bit). I'd recommend this studio to those coming to stay in Istanbul.
Kerry
2017-04-08T00:00:00Z
Nice studio, good location
Thomas
2017-03-17T00:00:00Z
Safa Bey çok ilgili bir ev sahibi hiç bir sıkıntı yaşamadık kendisi bize her konuda yardımcı oldu teşekkür ederiz
Tolga
2017-03-26T00:00:00Z
Tipo de Quarto
Casa inteira/apto
---
Tipo de Imóvel
Apartamento
---
Acomoda
2
---
Quartos
İstanbul/Cihangir/Taksim, İstanbul, Turquia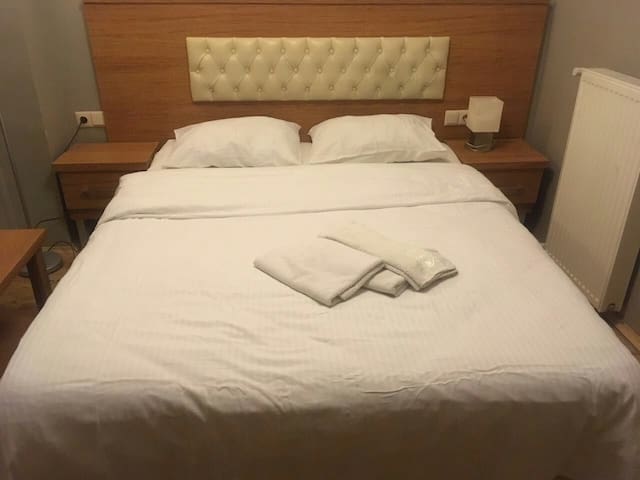 Asya ortak- Üsküdar- ev, tarihi ve modern benzer büyük anıtlarından biridir. İki katlıdır ve bir sessiz yer alan ve İstanbul'un Asya yakasında komşusu. Merkezi yerlerde ve eski şehir bölgesine gitmek için kolaydır.
oda kiralamak: Oda geniş ve rahat. Doğrudan odadan balkona erişebilirsiniz. Bir çift kişilik yatak, bir masa ve dolap ile döşenmiştir .. Evin Üsküdar Zeynep Kamil bulunmaktadır. Üsküdar feribot yürüyerek 15 dk. On dakika. otobüsle Kadıköy'e. turistik yerlere kolay oluyor. Üsküdar feribot kullanarak, Eminönü (Turistik yer merkezi) gidebilirsiniz. Anyguest da feribot 10 dakika ile Beşiktaş'a gidebilirsiniz. (Beşiktaş'tan, TAKSİM gidiş yakın) Üsküdar tarihi yerleri için zengin bir biridir. Mihrimah Sultan camii, Atik Valide Camii, Çinili Camii bazılarıdır. Kız kulesi de Üsküdar'da olduğunu. İstanbul'un sıradan insanları görmek istiyorsanız, burası harika. Evin ailesi oturmuş alanda - güvenli ve sessiz. Biri Üsküdar yollarda yürümek, eski İstanbul'u hissetmek kolaydır. Görmeyi umuyoruz Soner
Yer İstanbul'un en eski şehirlerinden biridir. İnsanlar konuşmak ve ziyaretçilere yardımcı olmak için sever. Ve yerel restoranlar ve hamam çok bulacaksınız
My stay in the apt went just like the prior reviews suggest. Sone helped me by staying in touch with me before my arrival and helping me settle in the first day. The place is slightly way from the ferry and metro stop, but I was able to navigate just fine during my stay and I don't speak the language. Apt was clean and comfortable, perfect for one person on a short visit like me. I averaged about 45 to get to the sultan ahmed from the apt using the metro and about an hour using the ferry. I was very happy with value I received for my money. If you are not big on hotels and don't mind a little walk I would highly recommend Soner's place.
Naitik
2014-04-29T00:00:00Z
Soner was a wonderful host. He met me and my friend at the metro station to lead us to the home on our first, frazzled day in Istanbul, as well as offered to show us around the city and checked on us every few days. He both made sure that we had our bearings in Istanbul and gave us space to live and explore on our own. The home was cozy with great amenities, including an equipped kitchen and a washing machine. It is nestled in a quiet, homey neighborhood on the Asian side of the city and is easily within walking distance of the Uskudar metro station. I would highly recommend anyone stay here who wants a home away from home while traveling.
Katie
2015-07-04T00:00:00Z
We felt very comfortable in Soner's flat and had a good time there. The house is really cosy, has everything you need and is located in a nice, non-touristic area which is intersting to learn more about the life of locals in Istanbul. Soner is very friendly, reliable and helpful. He gave us good recommendations and even showed us some great places. That really made our time in Istanbul unforgettable.
Anne
2015-03-19T00:00:00Z
The room is very cosy, house is nice in a non-touristic area, but it takes quite long to get to the city centre, you also need to walk a while. But in Istanbul everything takes time, it is a huge city! Good WLAN, heating and warm water are also important this time of year :) I could stay only 5 days instead of planned 2 weeks, but I enjoyed it.
Kaisu
2014-11-28T00:00:00Z
Soner ist ein netter hifsbereiter Typ, der allerdings nicht selbst in seinem pittoresken Haus wohnt. So habe ich ihn sehr selten gesehen, aber seinen freund aus USA, der dort lebt. Das Haus ist in der Nähe einer wunderschönen und von Touristen völlig verschonten Moschee, das ist neben dem superguten WLAN und der Ruhe in der Gegend der größte Vorteil. Ein bisschen weit zur nächsten Busstation oder ausgeh-relevanten Orten, aber dafür ist man mitten im normalen Leben, mit spielenden Kindern, vor dem Hauis sitzenden alten Männern und Unmengen von Katzen. Die Wohnung ist ein typisches Junggesellenhaus mit den üblichen Küchen-FAcilities und türkischem Standard in Bad und Küche - aber es wird gerade eine Gasleitung gelegt, dadurch wird es wärmer werden. Also, wem Originales gefällt, der kann sich dort sehr wohl fühlen. Mir hat es gefallen Also, mir hat es gefallen.
Cornelia
2013-10-30T00:00:00Z
Soner, Thank you for meeting me and showed the city. It was very nice to meet you. Your room is really comfortable and I was glad to spend there a week.
Julia
2014-07-26T00:00:00Z
I stayed with Soner for a week, he is a lovely, kind and helpful host. My room was good value for money, very comfortable and with my own little balcony. The house is located in a great part of Istanbul, very near to the ferries and is a perfect area for getting your bearings, learning local transport routes, shopping and eating out. Soner's help was invaluable in enabling me to find yummy and non-touristy places to eat. My visit with Soner was a fantastic introduction to airbnb. I fully recommend his home.
vicky
2013-10-05T00:00:00Z
Soner was exceptionally responsive to my queries, and his house was exactly as described. Tucked into a quiet residential neighborhood, it was great for recharging my batteries after walking around the city.
Ian
2014-06-07T00:00:00Z
Tipo de Quarto
Quarto privado
---
Tipo de Imóvel
Casa
---
Acomoda
2
---
Quartos
Istambul, Istanbul, Turquia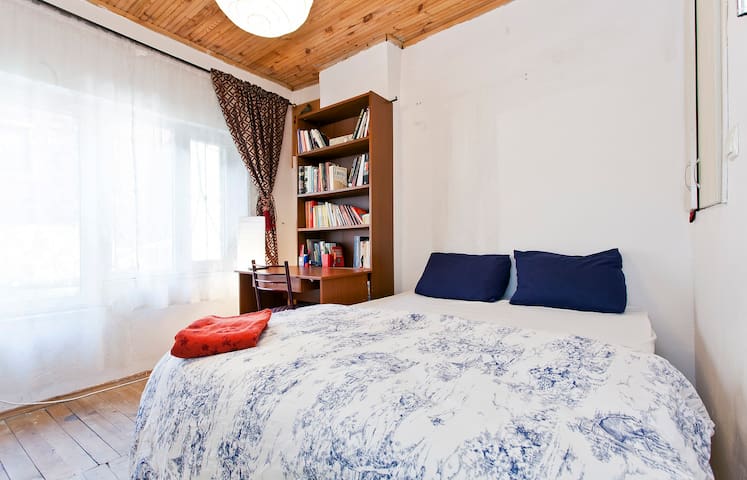 Καλώς ήρθατε, αν θέλετε να μείνετε σε ένα άνετο διαμέρισμα με την τοπική εμπειρία. :) Είναι στο κέντρο της γειτονιάς Istanbul.The είναι ασφαλές και κοντά στο attractions.Transportation είναι εύκολο. Θα σας βοηθήσει πάντα.
Η Κωνσταντινούπολη είναι ένα συναρπαστικό προορισμό για κάθε ταξιδιώτη με εξωτικό μείγμα της Ανατολής και της Δύσης, της αρχαία ιστορία και σύγχρονη ζωή. Στην Κωνσταντινούπολη, οι επισκέπτες έχουν πολλά να ανακαλύψει και ακόμη περισσότερα για να (URL HIDDEN) διαμέρισμα είναι πολύ κοντά στην πλατεία Ταξίμ και την οδό Istiklal 5 λεπτά με τα πόδια. διαμέρισμα διαρκεί 30 λεπτά για να Sultanahmet (Παλιά Πόλη) με τα πόδια. Επίσης μετρό, πλοίο, TRAIM, σταθμούς λεωφορείων και υπηρεσία μεταφοράς με λεωφορείο Havas προς τα αεροδρόμια είναι μόλις 5 λεπτά με τα πόδια πάρα πολύ. Το αεροδρόμιο Ατατούρκ είναι 30 λεπτά, το αεροδρόμιο Sabiha Gokcen απέχει 45 λεπτά παίρνει μαζί Havas Μεταφορά (με κάθε μισή ώρα) .Apartment είναι 95 ΜΤ2 το οποίο είναι πλήρως εξοπλισμένο με 2 υπνοδωμάτια, ένα μεγάλο σαλόνι, κουζίνα και μπάνιο. Παρέχω υπηρεσία ασύρματου internet. Στο καθιστικό, οι επισκέπτες μας μπορούν να απολαύσουν την καλωδιακή τηλεόραση και ταινίες DVD. Κουζίνα, μπάνιο και σαλόνι είναι σε κοινή χρήση. οι επισκέπτες μου μπορούν να χρησιμοποιήσουν την κουζίνα για breakfast.House είναι πολύ κοντά σε όλα τα είδη των μπαρ, καφετέριες και νυχτερινά κέντρα. Με τα αιτήματα μπορώ να παρέχουν οδηγούς για νυχτερινά κέντρα, κλπ Για να βοηθήσει τους επισκέπτες μου απολαύσουν τη διαμονή τους, μεταξύ των οποίων: Διαμονή σε G & L φιλικό πολυκατοικία που βρίσκεται στο Ταξίμ, στην Κωνσταντινούπολη
Nihat has a very confortable place, 5 minutes walking from Taksim Square, in a very quiet street. I stayed in a diferent room, and the bed and heat were good. Wi-fi worked without any problem. Nihat is an EXCELLENT host, very communicative and helpful all the time. Just one thing to consider, it's a smoke place, except the room, if you are too sensitive to this smell it can be an issue.
Lucas
2016-11-23T00:00:00Z
Nihet是个非常好的房东,他对人热情周到,随时为我解决各种问题,使我在伊斯坦布尔玩的非常开心,我的英文不好,如果没有他的帮助,我可能寸步难行。他家的位置描写的非常准确。另外他家的位置相当好,走路几分钟到独立大街,和塔克西姆广场,塔克西姆广场是个交通枢纽,到几个有名的景点非常方便,房东晚上上班,早上凌晨4点下班。我在他家里住的很舒服,他提供房间干净,他的家也干净。Nihet先生还借给我交通卡。在网上为我买机票。我强力推荐住在他家里,尤其是英文不好的人。
宁儿
2016-05-26T00:00:00Z
Nihat was a great host, always helpful and friendly. He really made me feel at home. His apartment is nice, exceedingly clean and in a great location, just behind Taksim square.
Andrés
2015-08-12T00:00:00Z
I recommend staying at Nihat's place. He was polite, friendly and accommodating. And it's very central.
Stefanos
2016-05-19T00:00:00Z
This is a perfect apartment for those who want a place near everything at Taksim. The room & the apartment was clean and modern. The area is quiet and you feel very safe here. The host, Nihat, he realy understand the guests he have and are just the perfect host and make you realy feel welcome & at home.
Harald
2015-07-31T00:00:00Z
Nihat is a fantastic host. So if you are looking for a place to stay in Istanbul: check-in there!
Peter
2016-11-28T00:00:00Z
I was so comfy and happy at Nia ' s home! Easy walking to Taksim yet quiet and calm for sleeping. Nihat is a kind host and I will stay there again. Thanks for a perfect time.
the Birdhouse
2015-05-19T00:00:00Z
Before my leaving this beautiful city , I just want to show my greatest appreciation of Nihat's kind and through accommodation. Every time, when I was tired of traveling the city, I was always feel happy and comfortable going back this " cozy, clean, convenient and cheerful room". Nihat's hospitality has made my first trip to Istanbul very successful and satisfied. Thank you and I look forward to coming back soon!
KAWAGUCHI
2015-10-13T00:00:00Z
Tipo de Quarto
Quarto privado
---
Tipo de Imóvel
Apartamento
---
Acomoda
1
---
Quartos
Cihangir / Taksim, Istanbul , Beyoğlu, Turquia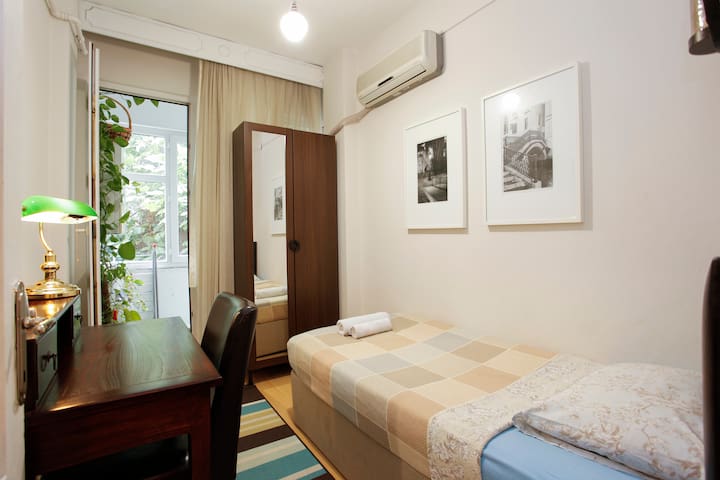 Ich meine neu eingerichtete Wohnung zu mieten. Es ist 55 m2, 1 + 0 Studio Wohnung mit offener Küche. Es hat eine tolle Lage. Als in der Mitte von Besiktas Abbasağa.
zentrierten platziert, nette Leute, Studentenviertel, schön Abendessen und Frühstück Orte, Cafés
Tipo de Quarto
Casa inteira/apto
---
Tipo de Imóvel
Apartamento
---
Acomoda
2
---
Quartos
Beşiktaş, İstanbul, Turquia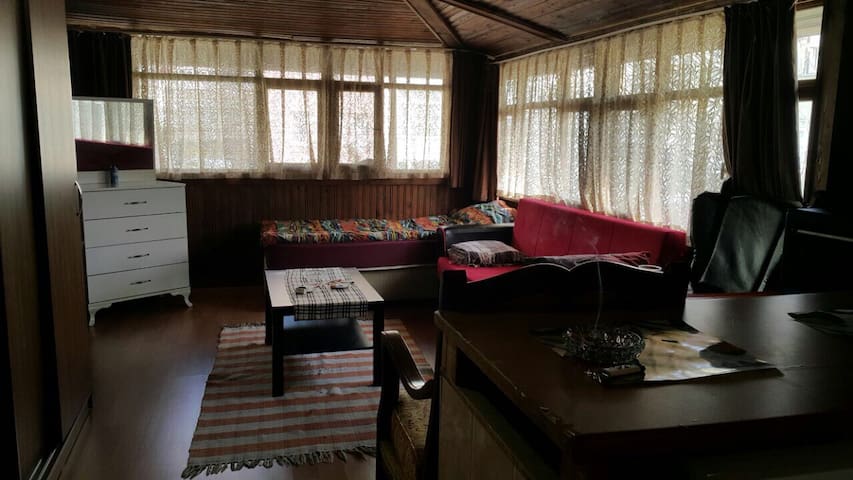 Minha casa é muito próximo ao metrô, Metrobus, microônibus, ônibus e encantadores ferries. É uma curta distância a hospitais e centro de Kadıköy. Há mar do terraço.
Emine Hm. her konuda yardımcı oldu. Anlayışlı ve samimi birisi Kendisine teşekkür ederiz
Levent
2017-04-09T00:00:00Z
Ev konum olarak iyi ve temiz terası gayet güzel çok memnun kaldık teşekkürler.
Tolga
2017-04-07T00:00:00Z
The host canceled this reservation 7 days before arrival. This is an automated posting.
Arkadius
2017-04-05T00:00:00Z
Tipo de Quarto
Casa inteira/apto
---
Tipo de Imóvel
Loft
---
Acomoda
2
---
Quartos
Acıbadem/Kadıköy , İstanbul, Turquia