300+ Alugueres de Apartamentos
The property is located near the famous spa town of Leukerbad, in a quiet village on the southern slope, above the Rhone Valley. The place is an ideal starting point for hiking, skiing, swimming and biking, or simply on the large balcony to relax. The village of Albinen is close to the wellknown hot springs of Leukerbad. The place is quiet, high above the Rhone valley. Perfect location for hiking, skiing, visiting the hot springs, biking or enjoying the sun on the balcony.
The accommodation is comfortably furnished and has a great balcony with a lot of sun, especially in the afternoon. The kitchen has everything you need for comfortable cooking (no dishwasher). The living room has a television, the fireplace is not useable (too much smoke in the apartment). WiFi is not available. Two bedrooms have a double bed, the middle room has a bunk bed. The bathroom was completely renovated a few years ago. Plenty of storage space for clothes and personal items in the closets. The accomodation is very cozy and has a great balcony with a lot of sun in the afternoon. The kitchen Provides everything for decent cooking (no dishwasher). There is a TV in the living room, but no wifi. Unfortunately the chimney can not be used (too much smoke in the flat). Two bedrooms have a double bed each, the third one has a bunk bed. The bathroom was renovated only a few years ago. You'll find enough space for your personal belongings in the warderobes in each room.
The village is very quiet and is perfect to get away from the hectic everyday life. A village shop provides everything necessary for daily life, many more shops in Leukerbad. Great restaurants in the village and the surrounding area, for example: Godswärgjistubu in Albinen Restaurant Flaschen in Albinen (outside the village) Restaurant Pizzeria Sonnenberg in Guttet The village is very quiet and THEREFORE perfect to escape your busy everyday life. The village shop Provides everything you need for daily life, much more shops you find in Leukerbad. There are some very nice restaurants in the village and nearby, please check above.
It's a fantastic chalet with a wonderful view. Perfect for a family holiday. Recommended
Lorenzo
2017-03-05T00:00:00Z
A nice place that with the peaceful environment. But it is hard to get the house if it snow before . The road is quite difficult. However the house is nice to have holiday there and the view is really nice .
韵琦
2017-02-12T00:00:00Z
Merveilleux et décontractant
ELENA
2017-02-23T00:00:00Z
My family and I enjoyed our stay at this nice little chalet with wonderful views and easy access to public transport, and with all the amenities for a quiet and relaxed family vacation. It is a child friendly place, close to the nature. The host Barbara was easily reachable, provided timely responses and made perfect arrangements for the stay. The check-in and check-out was quite easy. I recommend Barbara's place without any hesitation.
Mathew
2017-02-19T00:00:00Z
Tipo de Quarto
Casa inteira/apto
---
Tipo de Imóvel
Apartamento
---
Acomoda
6
---
Quartos
Albinen, Wallis, Suíça
Dreamily beautiful in every season. Here you will find rest for two whether alone or with your children. Go skiing and spa pass, after skiing enjoy the thermal baths total. Beautiful winter hiking paths. In summer and autumn hike through meadows and forests and enjoy the sun with a wonderful Bergpanorama.Atmen the air that is as pure as the nearby brook, the evening you can sit on the balcony with a glass of Fendant cozy and enjoy the fresh air.
The object House Albina On the sunny side of the Valais, the romantic little village of Albinen is situated. Here you will find rest as a couple or with your children. The house Albina is in a very quiet and sunny location. The house from studios to four-room apartment. Each apartment has a large balcony overlooking the Rhone valley and the magnificent Valais mountains. The expansion of wood and comfortable furnishings create a very cozy setting. Right next to a bus stop for the free ski bus. More information: (URL HIDDEN)
ALBINEN is of Wallis in German part, on a sunny Southern slope to 1274 meters altitude. Surrounded by beautiful meadows, pastures and forests. Located near the world-famous spa and resort LEUKERBAD with its many opportunities for thermal baths, Saunas, massages, tennis, golf, shopping and dining. , , and after hiking or skiing to the spa
Tipo de Quarto
Casa inteira/apto
---
Tipo de Imóvel
Apartamento
---
Acomoda
2
---
Quartos
Albinen, Wallis, Suíça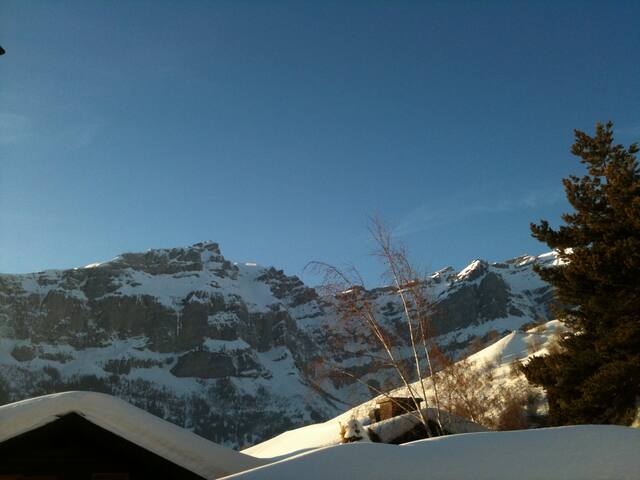 O moderno, brilhante e limpo apartamento de um quarto está localizado no "Fortuna" no coração de Leukerbad. Você vai apreciar este local por causa das instalações modernas, varanda e vista agradável. A cozinha está equipada com microondas, máquina de lavar louça e glas cerâmica cooktop. 2 x Leukerbad Cartões LBC (12 CHF / dia) e parque de estacionamento subterrâneo estão incluídos.
O "Fortuna" está localizado no centro de Leukerbad nas imediações da principal estação de ônibus, Leukerbad Therme, Alpentherme, supermercados e estação do vale dos carros de cabo torrent. Há um parque de estacionamento subterrâneo, lavanderia bar (de Tom Saloon) e uma sala de esqui. Nosso apartamento fica no terceiro andar. A taxa de limpeza abrange a limpeza no final da sua estadia, roupa de cama, toalhas e panos de prato novas.
Mercearia: Migros Bar: Tom Saloon Restaurantes: Giardino & Chucas (crianças sonhos), Römerhof, Balmhorn
We enjoyed our stay a lot. Martin was easy to communicate with and he made sure we got our free LBC-Card (a Discount Card for the baths and and other local attractions). The pictures and description are spot on, the appartment was very clean and is extremely well situated. The kitchen is well equipped and everything works fine, we also like to mention that there is plenty of storage to put away our clothes and shoes. We recommend Martin's place.
Andreas
2016-12-17T00:00:00Z
Alles wunderbar! Meine Frau und ich mit unserem 1.5 jährigen Sohn genossen den Aufenthalt im Leukerbad sehr. Die Wohnung ist bestens ausgestattet und lässt keine Wünsche offen.
Daniel
2017-03-21T00:00:00Z
Wohnung und Gastgeber Top! Sehr modern renovierte Wohnung, direkt im Zentrum, eigentlich genau in der Mitte von Leukerbad, sodass Migros, Thermalbäder, und Bergbahnen immer nur um die Ecke sind :D Der seltsame 60er-jahre Charme vom Gebäude wird durch die moderne Innenausstattung der Wohnung mehr als kompensiert. Martin war unkompliziert, ehrlich, vorbereitet und gut erreichbar.
Nicolas
2017-02-15T00:00:00Z
It was my first booking through Airbnb and it was fantastic! Martin was really easy to contact and with his detailed explanation we could use the apartment with no problems. Very clean and location is perfect. A minute walk from the Leukerbad Therme, Migros, bus station, tourist information office. Apartment is located end of the building so it was really quiet and had a view from 2 sides. One small thing that mattered was the couch sofa, which had a spot where it was worn out and dusts from the material were coming out and sticking to our clothes. But other then that we can really recommend Martin's place and we would definitely come again when we come to Leukerbad!!
Mee Lee
2017-04-12T00:00:00Z
깨끗하고 쾌적한 숙소입니다. 역에서 2-3분 거리로 접근성이 매우 편리하고, 2인 숙소로서 손색이 없었어요. 발코니에서 멋진 뷰를 볼 수 있고, 주변은 조용한 동네입니다. 다만 청소비 때문에 숙박비가 조금 비쌌던 것이 흠입니다.
Tete930
2017-01-29T00:00:00Z
A very nice and spacious apartment. Perfect location and neat place. Had a wonderful and comfortable stay at Martin's place.
Rishi
2016-09-27T00:00:00Z
Wir wurden sofort wieder gehen. Alles hat perfekt funktioniert!
andrea
2017-03-04T00:00:00Z
It's a very very nice trip in this house. I will come here again next time!
kun
2016-10-01T00:00:00Z
Tipo de Quarto
Casa inteira/apto
---
Tipo de Imóvel
Apartamento
---
Acomoda
4
---
Quartos
Leukerbad, Valais, Suíça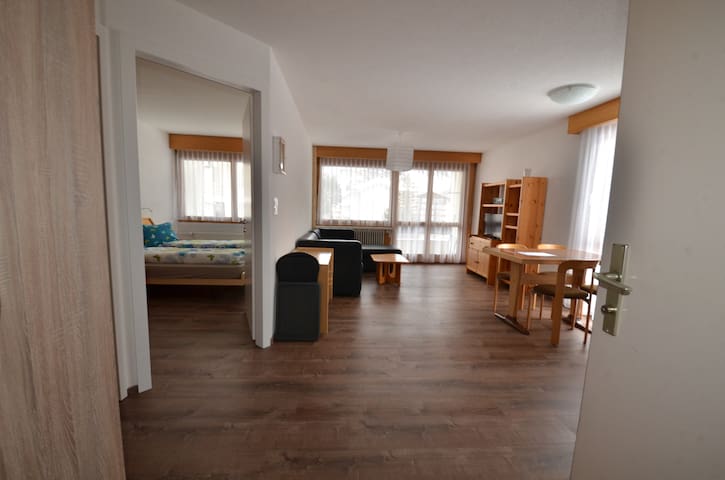 Minha casa fica a 5 min. a partir do barramento local, e 15 minutos a pé. para a estação de. Arte e Cultura Swiss Yodel Festival 2017 em Brig 22-25 junho Esportes e Recreação Excelentes vistas sobre as montanhas Valais. Perto de belas caminhadas e trilhas, mountain bike trilhas Ski Térmica (Leukerbad) teleférico, que leva a uma área de passeio bonito. 15 minutos de carro. skiareas Eischoll e Jeitzinen. 30 minutos de carro. skiareas Lauchneralp e Torrent.
Você vai adorar o meu alojamento para a cama confortável, o conforto e a localização tranquila. Bem-vindo são casais, viajantes aventureiros solo e viajantes de negócios.
Monique et son mari sont des personnes chaleureuses qui ont su nous mettre à l'aise dès notre arrivée. L'appartement et la chambre sont très propres et sont situés dans un quartier calme. Nos hôtes se sont également montrés très disponibles pour répondre à nos questions. Nous ne pouvons donc que recommander cet endroit, situé à seulement 20 minutes de la magnifique vallée du Loetschental.
elham
2016-11-28T00:00:00Z
Monique is very friendly, really good host, very helpful, highly recommended.
Ruchi
2016-07-03T00:00:00Z
Highly recommended
Jaroslav
2016-07-06T00:00:00Z
Monique was very friendly and her place is very clean. Her place is about 1.5 hour away from zermatt by train and is about 15 min walk away from the train station. She always offers to drive us and fetch us from the train station which is very nice. I recommend anyone visiting the Matterhorn to stay with her!
Rui Ting
2016-12-29T00:00:00Z
Very friendly and welcoming! We had a beautiful and very clean room and our own bathroom and shower, and the hosts were great!
Jeremy
2017-01-25T00:00:00Z
Monique and Jean-Marc are very kind people. Welcoming and let you free. For those who look for a nice and cheap place! Thanks Monique and Jean-Marc
Kent
2017-02-12T00:00:00Z
モニクさんと旦那さんはとても親切です。ゲスト専用のトイレとシャワーがあり快適です。 ただ、トルトマン駅は電車が1時間に一本しか来ない事と、駅から徒歩20分弱かかります。近くには食料品店、パン屋さん、美味しいピザ屋さんがあります。
Barrett
2017-03-19T00:00:00Z
Monique und ihr Mann Jean-Marie haben an unzählige Details gedacht, wodurch der Aufenthalt bei Ihnen Hotelübernachtungen topt! Herzlichen Dank, für die Gastfreundschaft.
Sandra
2017-03-12T00:00:00Z
Tipo de Quarto
Quarto privado
---
Tipo de Imóvel
Apartamento
---
Acomoda
2
---
Quartos
Turtmann, Wallis, Suíça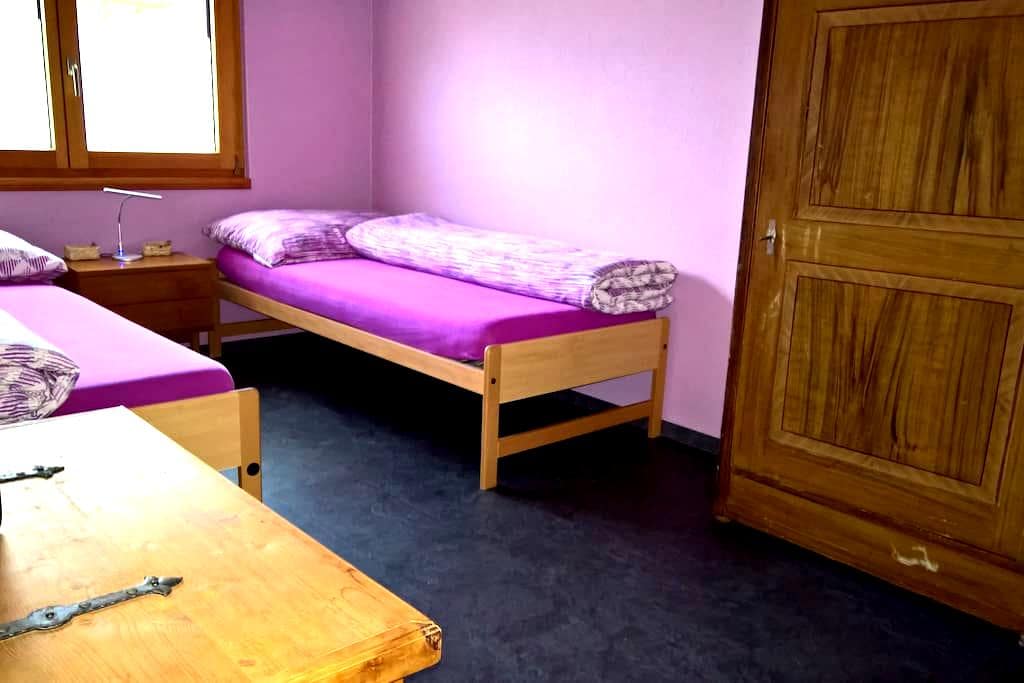 Dreamy beautiful in every season. Offering serenity whether for couples alone or with your children. Go skiing and swimming fun totally, enjoy the thermal springs after skiing. Beautiful winter hiking paths. In summer and autumn hike through meadows and forests and enjoy the sunshine with a wonderful Bergpanorama.Atmen the air that is as pure as the nearby brook, evening you can sit on the balcony with a glass of Fendant comfortably and enjoy the fresh air
The object House Albina On the sunny side of the Valais lies the romantic little village Albinen. Offering serenity as a couple or with your children. The house Albina is in a very quiet and sunny location. The accommodation features from studios to 4 bedroom apartment. Each apartment has a large balcony overlooking the Rhone valley and the magnificent Valais mountains. The expansion of wood and the comfortable furniture create a very cozy setting. Located next to a bus stop for the free ski bus.
ALBINEN located in the German-speaking part of Wallis, on a sunny Southern slope to 1274 meters altitude. Surrounded by beautiful meadows, pasture land and forests. Located near the world-famous spa and resort LEUKERBAD with its numerous possibilities for the thermal baths, Saunas, massages, tennis, golf, shopping and dining. , , and after hiking or skiing to the thermal baths
Tipo de Quarto
Casa inteira/apto
---
Tipo de Imóvel
Apartamento
---
Acomoda
2
---
Quartos
Albinen, Wallis, Suíça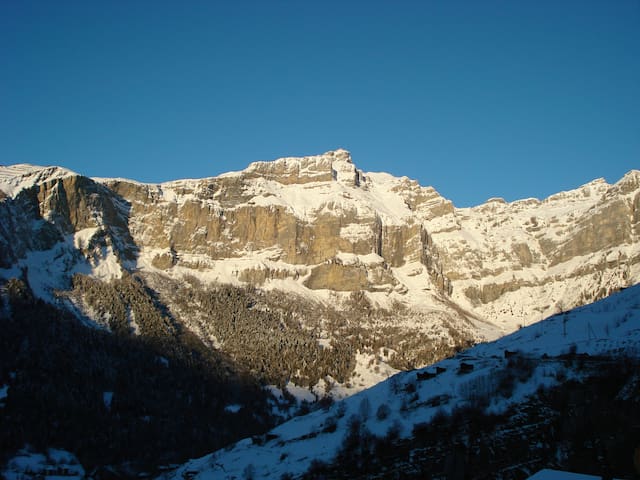 Appartement entièrement refait en 2015 de façon contemporaine. Un coté pratique et agréable avec les remontes pentes littéralement de l'autre coté de la route. Le centre de Montana se trouve à quelques minutes en voiture ou quinze minutes à pied.
L'immeuble se trouve en dehors du village mais en face des télécabines des Violettes. Le quartier est calme et possède une boulangerie. En été, il est facile de partir pour des grandes balades ou des marches dans la montagne directement depuis devant. Une balade par la forêt vous mène en 15 minutes jusqu'au centre.
Nous avons passé un superbe séjour dans ce très joli appartement contemporain et très spacieux récemment rénové avec beaucoup de goût. Fred a tout fait pour nous faciliter l'arrivée et nous a même laissés rester plus longtemps que prévu le dernier jour. On a beaucoup apprécié la communication et la gentillesse de notre hôte. L'appartement est très idéalement situé pour le ski, à quelques pas des remontées. Le quartier est très calme, le grand balcon donne sur une superbe vue, quel plaisir de voir le soleil illuminer les montagnes au petit matin. A recommander chaudement...
Yan
2016-03-30T00:00:00Z
We've just came back from a wonderful stay in Crans. Fred's house is perfect : colse to the ski plants, new and clean. It is perfect for a winter holiday of 4 persons. Many thanks to Fred for his cooperation and assistance. Mario
Mario
2016-01-02T00:00:00Z
Fred is very good host. Always check and care. It was easy to communicate with him. The apartment is in a good location. Everything is near: the hiking trails, the bus station, the bar, kids activities, everything for the perfect vacation. We stayed more than 2 months and had no problems with nothing. The apartment well equipped for a long time. It's very clean, the furniture is new, nice design. If our next vacation will be in Cransmontana, I would like to stay in this place again. Thank you Fred for a good time.
svetlana
2016-08-31T00:00:00Z
We decided really last minute to go to Crans Montana and thanks to Freds quick reaction time we had this great place in a few hours booked. The place is 1 minute walk from the ski rent and the ski lift, the free skibus stops in front and brings you to the Village and back. The place was nice and comfortable, great matrasses and pillows, floor heating, induction cooking, Nespresso, Apple tv, good WIFI. It is al brand-new if you ask me.... And a really nice housekeeper, she was very helpful whit the lock and the washing machine.
Puck Ingrid
2016-01-30T00:00:00Z
Appartement très bien situé au pied des remontées des Violettes! Le séjour s'est passé à merveille. Grandes chambres, belles salles de bain et appartement très propre. On s'y est senti comme à la maison. Vivement la prochaine fois!!
Isabelle
2017-01-09T00:00:00Z
Fred's place is located at central at the Telecabine Les Violettes ans ideal for people who love skiing and staying in a comfortable apartment. The Apartment has 2 bathrooms, with is great, if your traveling with kids or for 2 couples. Everything in Fred's place seems well reflected and chosen with love for details. We didn't miss a thing in this apartment. Even on a stormy day you will find enough space and distraction here: books, iTV, internet. a blueray player and a variety of disc's, nice magazine's (cooking/architecture ...), games and and and... We have stayed allready twice here, and we will go on doing so...
Sebastian
2017-01-21T00:00:00Z
Fred - прекрасный хозяин. Мы не виделись, но получили от него очень подробную инструкцию по проживанию и окрестностям. Апартаменты очень уютные, оригинальный и современный ремонт. Думаю, хозяин любит готовить, потому что кухня оборудована отлично! Там было абсолютно всё! По вечерам к нам приходили "гости" - дикие лисы. На дереве под окном живёт красивая белка. Вокруг - тихий жилой район. Прекрасный вид на горы. Подъёмник - рядом с домом. Это было очень удобно. В нескольких метрах вниз по улице - пекарня и кулинария. Словом, для лыжников и любителей отдыха в горах - рай. Спасибо Fredу за гостеприимство и прекрасный отдых!
Sergej
2016-03-05T00:00:00Z
Un séjour de rêve dans une station merveilleuse , cet appartement à été conçu avec amour et talent , rien n est oublié pour le confort de l œil et du coeur , je m Y suis sentie si douillette dans ce logement ou rien n est laissé au hasard .... Un canapé la hauteur de nos espérances avec plaid moelleux devant un écran sans répit , le mobilier est adapté à une vie harmonieuse je ne peux que vous conseiller ce logement ou j ai passé une semaine magnifique Merci à FRED et CAROLINE.
thelma
2016-01-09T00:00:00Z
Tipo de Quarto
Casa inteira/apto
---
Tipo de Imóvel
Apartamento
---
Acomoda
4
---
Quartos
Montana, Valais, Suíça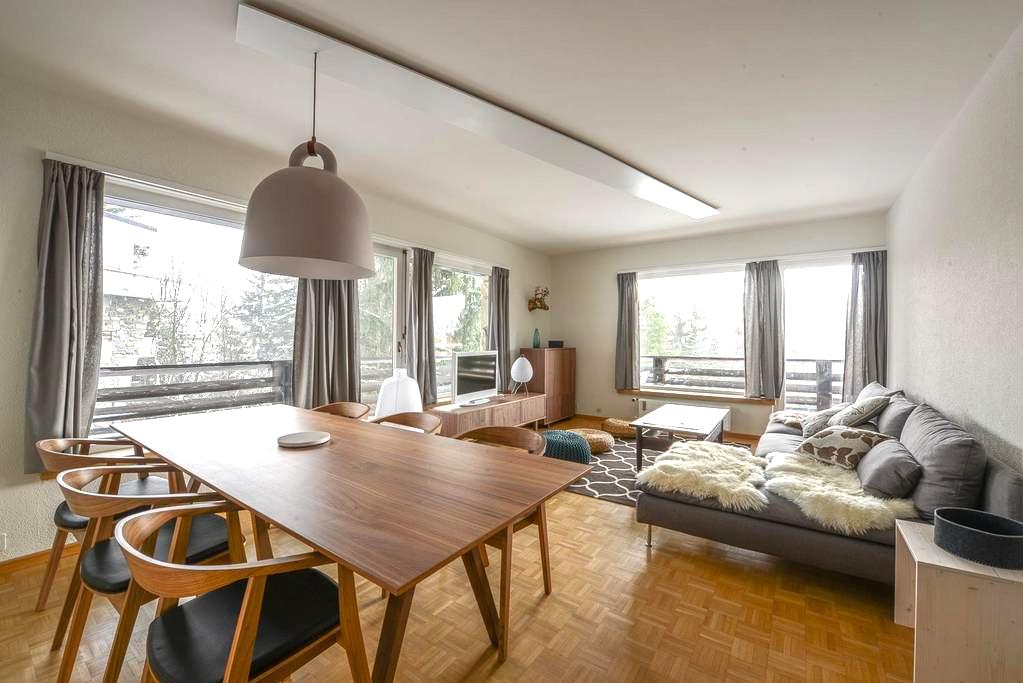 Fantastische Aussicht ins Rhonetal.
Apartment with kitchen, living room, bathroom with towels, bedroom with double bed and a balcony with a wonderful view of the rhonevalley. Car park in a garage Laundry
Eischoll is small skiresort. It has a chairlift, ski lift, lift for childs and beginners and a small mountain restaurant. You can sledding and make beautiful winter walks. In the summer you can make many wonderful hikes, bike tours and mountain climbing. The thermal baths of Leukerbad and Brigerbad you can arrive within 30-40 minutes. Zermatt, Saas Fee, Montana, Verbier, Grande Dixences and Aletschgletscher are reachable within an hour of Eischoll and certainly deserve a visit.
The apartment location in Eischoll is quiet and beautiful, perfect for anyone looking to escape from the hustle and bustle of city life. The view from the bedroom, living room and balcony is gorgeous. Nadine & Christoph's apartment is very well equipped and well stocked-up. They even have an additional powerful heater in the bathroom to ensure we do not feel cold after showering. We really enjoyed our stay in Nadine & Christoph's apartment. Highly recommended for anyone looking a quiet holiday in the Swiss Alps, far away from crowds of tourist.
Steven
2016-03-22T00:00:00Z
What a great find! The apartment is just perfect, with wonderful views of the valley and mountains. The village of Eischoll is delightful. It is just what you would hope a Swiss village would be, the streets in the old part of town are very picturesque and the people are very friendly. Communication with Christoph was easy and, when we had trouble finding the apartment, his wife Nadine came out to show us the way. Great service!
Peter
2015-08-22T00:00:00Z
It was a great place to stay which offered a great view and a very peaceful setting. We loved it there and will visit again next year.
Abhimanyu
2016-12-11T00:00:00Z
Ich konnte 5 Nächte in der Ferienwohnung übernachten. Sie ist mit wunderbarem Blick oben in Eischoll gelegen und bietet eine gemütliche und vor allem saubere Atmospäre. Es hat uns an nichts gefehlt und ein paar Basics zum Kochen waren auch dabei. Nadine war immer hilfsbereit und wir haben uns sehr wohl gefühlt. Vielen Dank für die schönen Tage im Wallis !
Johannes
2016-10-07T00:00:00Z
Sehr unkomplizierte und nette Gastgeber. Die Wohnung ist geräumig und ideal für zwei. Die Ausstattung ist top und der Ausblick einfach grandiose. Wir kommen gerne wieder!
Marcel
2016-05-09T00:00:00Z
Unterkunft ist sehr zu empfehlen.
Silvia
2017-01-22T00:00:00Z
Very specific instructions to get there. Met up with Christoph at the cable station upon arrival. The apartment was well-furnished and clean. Great view of the valley and the alps. The hikes start right at the doorstep !! Greeted by lambs every time I get out of the apartment !! People are friendly too !! A great place for a retreat away from the bustling city.
Wei Kiin
2015-10-13T00:00:00Z
Beautiful place and beautiful house. We didn't get to meet the host but he had done everything in the house to make us feel comfortable. I strongly recommend this place it's got a beautiful view and is a perfect holiday home.
Nikhil
2015-09-22T00:00:00Z
Tipo de Quarto
Casa inteira/apto
---
Tipo de Imóvel
Apartamento
---
Acomoda
2
---
Quartos
Eischoll, Wallis, Suíça

Hearted, simple Altelier apartment for creative work and relax without the hustle and bustle. The small apartment with public transport easily accessible. (Bus stop 50m). Heating with wood stove and cook in the kitchenette. Small equipment with spices, teas and coffee.
Accueil tres sympa logement cosy dans un tres beau Village!
Mathieu
2017-01-08T00:00:00Z
Eine sehr gemütlich, natürlich, einfach und geschmackvoll eingerichtete kleine Wohnung; sehr stimmig in dem verkehrsarmen, wunderschönen Bergtal!
Beatrice
2017-04-09T00:00:00Z
Nous avons passé un magnifique séjour chez Erik et Sabine! L'appartement était parfait lorsque nous sommes arrivés, encore mieux que ce à quoi nous nous attendions! La région du Lötschental est superbe et les gens y sont bien sympathiques. Il y avait peu de touristes, ce que nous avons beaucoup apprécié. Erik et Sabine sont des gens avec qui il est agréable de discuter. Nous nous sommes senti tout de suite à l'aise avec eux. Ils sont généreux et se font un plaisir de répondre aux multiples questions que nous avions sur les environs. Merci à vous deux!
Dona-Lee
2016-01-16T00:00:00Z
Gemütliche Wohnung, super ausgerüstet an einem schönen Ort. Wir haben unseren Aufenthalt sehr genossen & hoffen wieder zu kommen. Danke Erik & Sabine für Alles!!!
Corinne
2016-02-28T00:00:00Z
The apartment was lovely, everything we needed! The train from the airport (GNV) was a lot more expensive than we expected so we were unable to do much while in Switzerland but the apartment is located is a beautiful old town which was perfect for us to not spend much and have some R&R time while enjoying the views and scenery surrounding the town- would recommend if wanting to retreat and relax definitely! Eric and Sabine were lovely
megan
2016-06-07T00:00:00Z
We loved staying at Felden. It is a quaint little village set in the middle of the Swiss alps. Eriks place was a cosy apartment with well equiped kitchen and bathroom. it was fairly peaceful, although close to the church where the bells rang out the hour all day as well as all night. We enjoyed the most magnificent views from our window and went on some amazingly beautiful hikes closeby. Erik was very helpful and friendly and we enjoyed chatting with him and Sabine.
Helen
2016-07-30T00:00:00Z
Erik is a great host, enjoyed the town and loved the place. Thank you for everything, and hope to see you in the near future :-)
Fadi
2017-01-02T00:00:00Z
This place is a dream! Tucked away in the mountains it is very cosy and romantic. Lovely open play layout with a wood burner in the middle, everything you need to cook and a beautiful view up the valley. Erik and his wife were very helpful and friendly. One of my favourite Airbnb places!
Emma
2016-10-04T00:00:00Z
Tipo de Quarto
Casa inteira/apto
---
Tipo de Imóvel
Apartamento
---
Acomoda
2
---
Quartos
Ferden, Valais, Suíça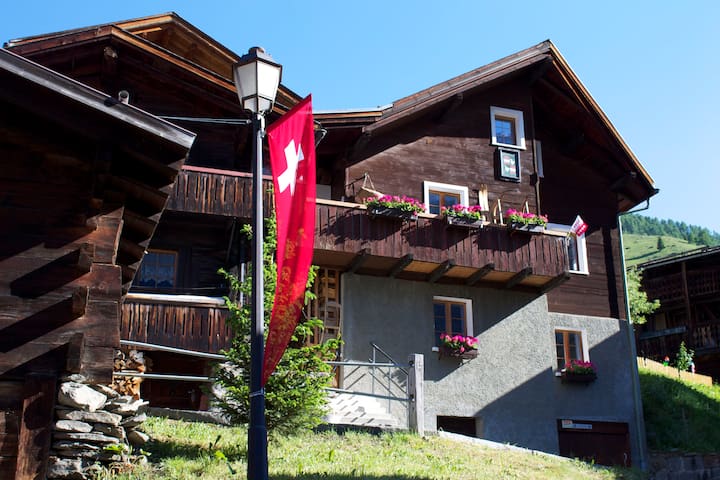 Ideal gelegen im Süden gelegen, mit Blick auf, im Zentrum des Dorfes nur 5 Minuten von den Skiliften (Torrent) zu Fuß, Parkplätze, Geschäfte und Bäder, in einer ruhigen Gegend. Das LBC + Paket, lokale Steuern, Handtücher et Bettwäsche sind im Preis inbegriffen.
In idealer Lage im Zentrum des Dorfes befindet sich nur 5 Minuten vom Bad entfernt, Skilifte (Torrent), Parkplätze und Geschäfte und Restaurants, in einer ruhigen Gegend (Einbahnstraße und Fahrzeug von 22h verboten - 5h) Der Preis beinhaltet die Kurtaxe und LBC + Karte, die Sie Reduzierungen im Dorf gibt (davon 10% für Bäder und Skipass, kostenlose Bus, den freien Zugang zum Sportarena mit Badminton, Tennis, Eislauf und vieles mehr. Die Wohnung ist nach Süden ausgerichtet, es ist sehr hell und verfügt über ein Wohnzimmer mit Etagenbett (140 cm und 90 cm unten nach oben) + extra 90cm Bett. Die Wohnung bietet Platz für bis zu 4 Personen. Es gibt eine voll ausgestattete Küche, ein Badezimmer mit Badewanne und einen großen Balkon nach Süden. Bettwäsche und Badetücher sind vorhanden.
여기 집 이쁘고 버스터미널이랑도 가까워요!! 근처에 온천 많아서 아무데나 갔는데 너무 좋았어요
지원
2016-07-16T00:00:00Z
Sejour absolument parfait. Appartement nickel avec tout ce qu il faut. Carte lbc super intéressante pour les sportifs ! Nous reviendrons!
Agnes
2016-10-23T00:00:00Z
Just great - like the other time :)
Valentina
2016-09-04T00:00:00Z
tifany and deniz are very friendly, they answer quickly on requsets and questions. Further on the appartment is very lovely and proper. in the kitchen is all stuff you need and i've felt the comfort. I just can recommend their appartment!
Caro
2016-12-11T00:00:00Z
Das Haus liegt zentral und entspricht exakt den Bildern. Das Bett ist gemütlich und der Ausblick vom Balkon wirklich toll. Vom Geschirr über den Boden bis zum Bad war alles sauber. War ein unkomplizierter, schöner Urlaub. Sollte ich wieder nach Leukerbad kommen würde ich wieder dieses Zimmer nehmen.
Christian
2016-08-14T00:00:00Z
Tifany & Deniz were great and uncomplicated hosts from the start of the booking to the end and ensured we had everything we needed to make it a stress free stay. We loved the studio, it's very beautiful, comfortable and clean. We enjoyed our stay and we'll defintely come back.
Valentina
2016-04-11T00:00:00Z
Agréable, pratique, propre, bien pensé.
Maud
2017-02-18T00:00:00Z
My stay at Tifany and Deniz's apartment was perfect! It is conveniently located in Leukerbad (less than a five minute walk from the train station and grocery store) and very clean. The kitchen has more than enough utensils/appliances for your cooking needs and the entire apartment is spotless. There is also a gorgeous view from the balcony and Tifany and Deniz even left us some welcome snacks. communicating with Tifany and Deniz was also easy as they always responded immediately and gave detailed instructions that were easy to follow. I would definitely book this apartment again when I get the chance!
Trisha
2016-09-15T00:00:00Z
Tipo de Quarto
Casa inteira/apto
---
Tipo de Imóvel
Apartamento
---
Acomoda
4
---
Quartos
Leukerbad, Wallis, Suíça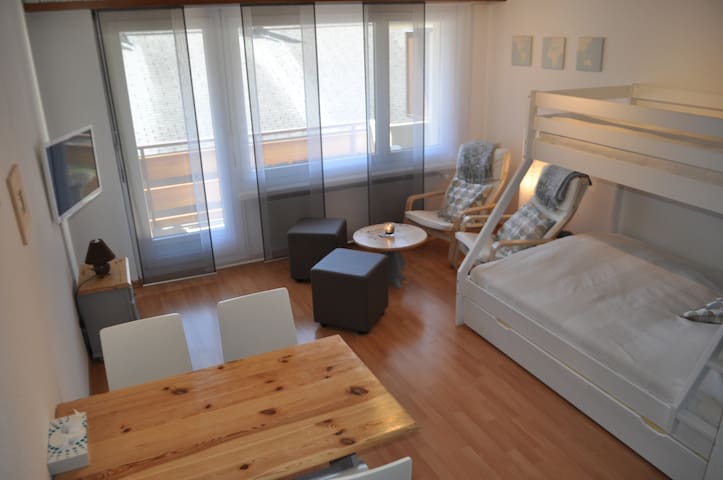 Sala de estar / jantar, cozinha separada com máquina de lavar loiça, 1 quarto com uma cama de casal, 1 quarto com 2 camas individuais, banho de chuveiro WC, estacionamento subterrâneo / / free. Perfeito para um casal com filhos ou dois casais. Varanda para o sul, o acesso direto ao gramado e as crianças brincam canto para o oeste. local ensolarado e tranquilo, no topo da vila, agradável passeio entre 10 e 15 minutos para os diferentes banhos termais e teleféricos, 2 minutos para a paragem de autocarro, 5 para a padaria.
**** Apartamento de acordo com a classificação oficial da Federação de Turismo Suíço (STF). O preço inclui: - Impostos e Leukerbad Card Plus - Roupa de cama - 2 toalhas de banho (1 x pequena, 1 x grande) por pessoa - Produtos de papel de cozinha e de limpeza - Internet sem fio (Wi-Fi) - Lugar de estacionamento reservado no hall garagem - Arrecadação na cave - Berço grátis e cadeira alta disponíveis mediante pedido Uma máquina de lavar e um copo de vidro estão disponíveis na casa (a ser pago com pequena alteração). O apartamento inclui outras: - Uma varanda a sul com mesa e 4 cadeiras - Leitor de DVD e TV de tela plana - Hifi com rádio / CD - Pratos, talheres, aparelhos de fondue e raclonetteoven, .. - cápsulas máquina de café cápsula Delizio (cápsulas podem ser comprados na loja Migros) - Máquina de café de filtro, microondas, forno - Biblioteca de mídia (mais de 150 filmes) - Documentação propondo caminhadas interessantes
local ensolarado e tranquilo na parte superior da aldeia, perto do centro.
Nous ne pouvons que confirmer les commentaires positifs des autres voyageurs. L'appartement est extrêmement bien équipé. Local à skis privatif, équipé d'un déshumidificateur pour avoir les pieds bien au sec lors de la prochaine journée de ski, (URL HIDDEN) de tous les ustensiles nécessaires et plus encore. Pour les accros aux technologies, un wifi et une smart TV. Daniel est très réactif et à souvent répondu à nos emails en moins de 10 minutes. Bref, à recommander !
Virginie
2017-03-05T00:00:00Z
Der Aufenthalt war tipptopp, alles genau wie beschrieben. Alles sauber und unkomplizierte Abwicklung. Herzlichen Dank!
Cornelia
2017-02-04T00:00:00Z
Bonjour, Nous avons passé une agréable semaine dans cet appartement. Il est très bien équipé et bien placé. Il possède d'un parking couvert et sécurise. L'appartement se trouve à la proximité de Sport Aréna ( vous pouvez y faire des luges, des ski, des patins ). Pour allez aux termes il faut compter 15 min à pieds ou 5 min en bus qui passe chaque 20 min et s'arrête à la proximité d'appartement. Ces 15 min de trajet à pieds se font à travers d'un agréable village que vous prendrez plaisir à admirer. Un gros plus est que les cartes LBC+ sont inclus dans le prix de location, avec vous pouvez bénéficier des services gratuites ou bien des réductions. La communication avec Daniel est très rapide et informative. Tout est bien s'est passé. Merci à Daniel.
Alexander
2016-12-24T00:00:00Z
Der Aufenthalt in Leukerbad war sensationell schön. Meine Freundin und ich genossen wundervolle Tage in Leukerbad. Die Wohnung war ebenfalls top! Der Vermieter Daniel war als Gastgeber auch sehr zuvorkommend und äusserst nett. Er hat immer umgehend auf unsere Mails (Anfragen) geantwortet. An dieser Stelle nochmals vielen Dank für alles!
Ralph
2016-09-18T00:00:00Z
The apartment was excellent - very clean and more than what we needed. The view was beautiful and the rooms were sizable with an excellent layout. There is also an extensive DVD collection, large number of dishes and appliances (including fondue set!), beautiful balcony, and many large windows. Three things to be aware of: There is a cleaning fee ($50+ Euro for 3 nights for the 2 of us), the laundry is shared among all apartments in the building, and the building is located up the hill from the town. The last item shouldn't be an issue if you have a car, but it's a 20 minute walk from the bus station if you're on foot, quite steeply uphill. All in all we had a very lovely stay - quiet neighborhood and close to the cable car, and a beautiful walk down town.
Jeff
2014-06-17T00:00:00Z
Great appartement for 2 adults and 2 children. Very clean, well equipped and in very good condition. If you have any question in advance, the host will answer you quickly. A lot of information is provided by the host before your stay. Excellent experience. If you have to come back to Leukerbad, we will certainly rebook this appartement.
David
2014-03-20T00:00:00Z
Thanks Daniel for his fast and detailed reply. Super nice house with everything you needed. You may park your car for free in a private garage and walk downhill to the town centre easily. You can get back to the apartment by bus free of charge (LBC card provided by Daniel) easily too. A nice walking trail just behind the apartment and you can see a waterfall. Highly recommend Daniel's apartment and definitely will get back when visits Leukerbed again.
Michelle
2016-10-11T00:00:00Z
Die Wohnung ist super ausgestattet. Die Aufenthalt verlief reibungslos. Alles Wichtige ist in Laufnähe. Man kann problemlos ins Dorfzentrum zu Fuss gehen. Wir hatten einen super Kurzurlaub. Vielen Dank!
Svenja
2016-10-24T00:00:00Z
Tipo de Quarto
Casa inteira/apto
---
Tipo de Imóvel
Apartamento
---
Acomoda
4
---
Quartos
Leukerbad, Valais, Suíça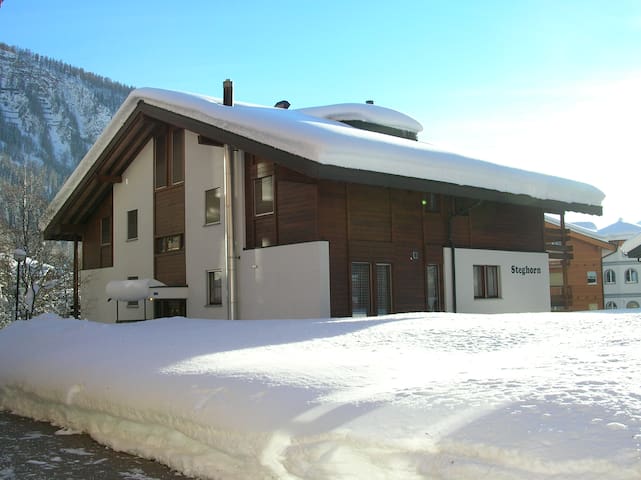 Charme 2 salas de jardim chão em um chalé típico, com vistas deslumbrantes e um grande terraço. 2 passos dos teleféricos e da antiga aldeia. Ideal para 2 (máximo 4) pessoas, este lugar lhe permitirá relaxar e praticar diversas atividades no inverno e verão! espaço de estacionamento fora diretamente na frente do chalé.
Este apartamento com vista deslumbrante sobre o vale inclui: - 1 espaçoso quarto duplo com duas camas lado a lado (90x200) e guarda-roupa. - Sala de estar com sofá-cama (140x200), TV a cabo com DVD e internet (wi-fi). - Sala de jantar com bancada de canto. - Cozinha aberta, 2 vitro-porcelana. - Casa de banho com duche e WC - Um terraço 20m2 magnífico para aproveitar os dias ensolarados no verão e inverno!
A moradia está situada a 100 metros do funicular que leva à estância de esqui de Saint-Luc / Chandolin e 10 minutos a pé da cidade velha. Saint-Luc é uma vila suíça com muitos restaurantes e atividades durante todo o ano. Aldeia Altitude: 1655 metros. Saint-Luc no inverno: • 1 área de esqui (ligado ao Chandolin) escola • 1 ski • caminhadas de neve e passeios de inverno em St-Luc / Chandolin • tobogã pequeno • pista de gelo natural • Huskies St-Luc no verão: • Caminhadas • 1 Bike Park • Off Road Scooters • ténis, bowling, escalada
Cuisine un peu étroite mais emplacement et chalet super! et les hôtes très sympathiques!
Caroline
2017-02-25T00:00:00Z
Très agréable séjour dans l'appartement proposé par Liljana Et Jean-François! L'appartement est idéalement situé: vue magnifique sur la vallée et proche du funiculaire.
Cédric
2017-03-20T00:00:00Z
Petit deux pièces au RDC d'un chalet parfait pour un couple ! Au calme et tout près du funiculaire et des départs de ballade. Accueil très cordial ! MERCI !!!!
Véronique
2017-03-04T00:00:00Z
Petit logement correspondant très bien aux photos et à la description.
Corinne
2017-02-17T00:00:00Z
We had a great time in Saint Luc. The place was spotless and nicely decorated. The kitchen was equiped with good tools to make your own food so the two of us were able to eat with an amazing view in total privacy. Everything in the apartment is well made and maintained. It feels like a cabin in the woods with modern amenities. Exactly what we wanted.
Hilbert
2017-04-01T00:00:00Z
Tipo de Quarto
Casa inteira/apto
---
Tipo de Imóvel
Apartamento
---
Acomoda
4
---
Quartos
Saint-Luc, Valais, Suíça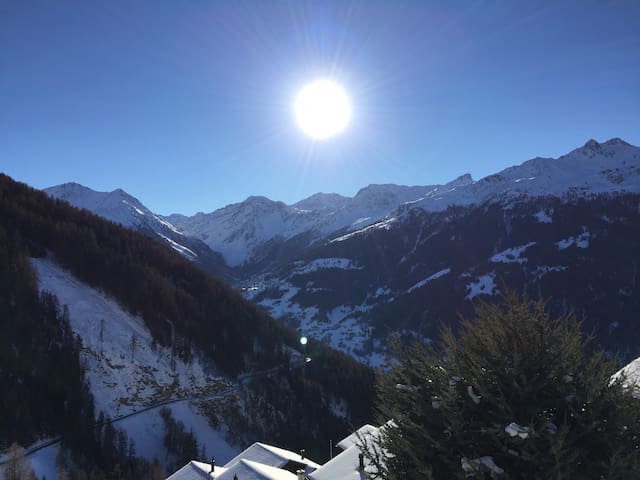 My accommodation is driving near Hiking Ski, Spa. Near bus stop and cable car, which leads into a beautiful walking area. Please write it briefly at your request, who you are and what leads you to the sunny Wallis. A cot (0-2 years) can be booked optionally to a small surcharge of CHF 10.- I'll stand like for any further information.
Pure relaxation in idyllic small Valais village in the middle of the mountains.
Es waren wunder schöne Tage. Ich bin herzlich aufgenommen wurden und habe viele Tips für Ausflüge bekommen, schöne Gespräche geführt und gut geschlafen. Danke
Karin
2016-09-19T00:00:00Z
Silvia is very friendy
Javier
2017-02-28T00:00:00Z
Super!
Anton
2016-12-31T00:00:00Z
Silvia is a very friendly and caring Person. We had everything we needed and enjoyed the stay very much, even thought it was one night only. We were there because we went to the open air Festival in Gampel. Therefore shuttle buses bring you from the Festival area to Turtmann which is very convenient. I can fully recomment to stay at Silvias place.
Martin
2016-08-22T00:00:00Z
We both enjoy the staying with Silvia : )
Ichigo
2017-02-05T00:00:00Z
Die Gastgeberin war sehr sympathisch, flexibel und kommunizierte zeitnah. Ihr Haus ist vis à vis des Friedhofs - ich wurde sogar abgeholt. Das Auto durfte ich auf dem Grundstück parkieren, das Velo konnte ich über Nacht in einem separaten Raum abstellen. Für die Körperpflege standen Handtücher, Seife und Duschmittel bereit. Die Velokleider konnte ich zum Trocknen auf dem Balkon aufhängen. Zum Frühstück gab es leckeren Kaffee, Brot mit Aufstrich und Joghurt. Silvia hatte auch gute Tipps für Restaurants in der Nähe. Ihr Mann kennt einige Wanderrouten und gibt auf Anfrage gerne Ratschläge. Positiv empfand ich auch das mir entgegengebrachte Vertrauen und die Bereitschaft, mir den Hausschlüssel für die Dauer des Aufenthaltes zu überlassen.
Andreas
2016-08-14T00:00:00Z
Wir hatten einen tollen Aufenthalt bei Silvia. Sie war sehr sympathisch und offen, wir haben uns sofort wohl gefühlt. Alles was wir brauchten lag bereit (Sachen zum Duschen, Wasser, Frühstück und sogar ein paar Touristenführer). Das Zimmer ist sehr gemütlich und die Umgebung ruhig. Kann ich nur weiterempfehlen :)
Laila
2016-08-21T00:00:00Z
Silvia was very friendly and her place is nice and quiet with beautiful views
justin
2016-09-04T00:00:00Z
Tipo de Quarto
Quarto privado
---
Tipo de Imóvel
Apartamento
---
Acomoda
2
---
Quartos
Turtmann, Wallis, Suíça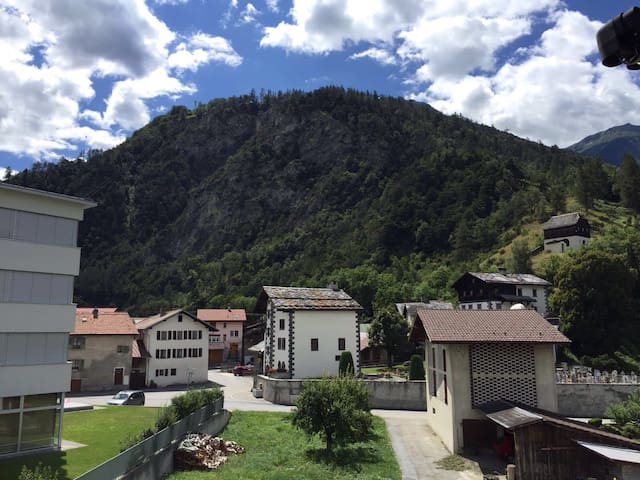 (URL HIDDEN)Chambre avec salle de bain privative dans un 4,5 pièces face aux Alpes valaisannes! Possibilité de lit king size ou lits jumeau avec rangement pouvant accueillir 2 personnes. Profitez du calme sur la terrasse ensoleillée!
L'appartement se situe à 5 minutes du centre du village, dans une rue résidentielle sans issue. Avec sa terrasse en rez-de-jardin et son orientation plein sud, il jouit d'un panorama imprenable sur les Alpes! A 5 minutes de voiture des remontées mécaniques et des splendides parcours de golf de Crans, l'appartement est idéalement placé pour les amateurs de sport. (Possibilité de parking adjacente à l'immeuble) La chambre de 15m2 peut accueillir 2 personnes. Elle dispose d'un grand lit (200x160), d'une armoire et d'étagère de rangement. Alternativement, la deuxième chambre (12m2) propose deux lits jumeaux. La salle de bain est équipée une douche et WC pour votre usage privé. Draps et serviettes de bain vous seront fournis à votre arrivée. ---------------------------------- Die Parterre-Wohnung befindet sich nur 5 Gehminuten vom Dorfzentrum entfernt in einem ruhigen Wohnquartier ohne Durchfahrtsstrasse. Die Terrasse der Wohnung ist nach Süden ausgerichtet und bietet viel Sonne und einen atemberaubenden Ausblick auf die Walliser Alpen. In nur 10 Gehminuten erreichen Sie die Bergbahnen von Crans Montana, in 20 Minuten den berühmten Golfplatz. Das Zimmer ist 15m2 gross und kann max. 2 Personen beherbergen. Es verfügt über ein grosses Bett (200x160), einen Schrank und ein Ablagegestell. Als Alternativ, das zweite Zimmer verfügt über 2 Einzelbette. Ihr privates Badezimmer besteht aus Lavabo, Dusche und WC. Bettwäsche und Handtücher werden ihnen zur Verfügung gestellt.
Route sans issue offrant un calme absolu fqce aux montagnes, à 5 minutes à pied du centre du village ou se trouvent de nombreux magasins, restaurants et bars. --------------------- Ruhiges Wohnquartier ohne Durchfahrtsstrasse, nur 5 Minuten Fussmarsch vom Dorfzentrum und seinen zahlreichen Geschäften, Restaurants und Bars entfernt.
Goede ligging, schone kamer in een mooi appartement van een prachtig appartementencomplex, gevoel van welkom: het waren heerlijke dagen in Crans Montana! Het betreft wel een (enkele) prive-kamer met badkamer. Anne-Marie heeft ons zeer welkom doen voelen. Bedankt Anne-Marie!
Gonny
2016-02-29T00:00:00Z
Le panorama depuis la terrasse est vraiment magnifique. La chambre est spacieuse. Notre hôtesse était charmante.
Dominique
2015-04-26T00:00:00Z
Nous sommes arrivés en cour de journée et Anne-Marie nous avait indiqué comment arrivé chez elle et toutes les informations nécessaires pour les détails comme le code de la porte et les clés de l'appartement. Belle situation en face des montagnes. Le café nous a été offert. Merci AM pour votre accueil.
Magri
2016-07-28T00:00:00Z
A very welcoming host who was very patient with our young son who wanted to play with her cat! A beautiful chalet which is well kept and in a great location for heading up to restaurants or down to the next village and artificial beach. I speak a little French which was essential as Anne-Marie speaks no English which was occasionally difficult. Otherwise, very friendly and trusting. She lives in the house too, so it is not exclusive, but this was not awkward for a night. A good shower, comfy bed and private parking which helped.
Graeme
2015-07-03T00:00:00Z
Anne-Marie nous a accueillis aimablement dans son bel appartement, situé dans un quartier très calme. La vue est très belle et la chambre confortable.
Stéphane
2016-04-01T00:00:00Z
Séjour très agréable à Crans Montana ! Anne Marie est très sympathique. Je vous le recommande !
Clément
2017-01-28T00:00:00Z
Nous avons passe un excellent week-end chez Anne-Marie. L'appartement est tres bien situe (a 5min a pieds du centre ville de Montana et a 10min des remontees mecaniques), tres propre et avec une superbe vue sur les montagnes. Anne-Marie nous a accueillis avec beaucoup de gentillesse et nous reviendrons sans hesiter chez elle lors de notre prochain sejour a Crans Montana.
Clara
2017-02-19T00:00:00Z
perfetto. come da annuncio
Andrea
2016-09-05T00:00:00Z
Tipo de Quarto
Quarto privado
---
Tipo de Imóvel
Apartamento
---
Acomoda
2
---
Quartos
Montana, Valais, Suíça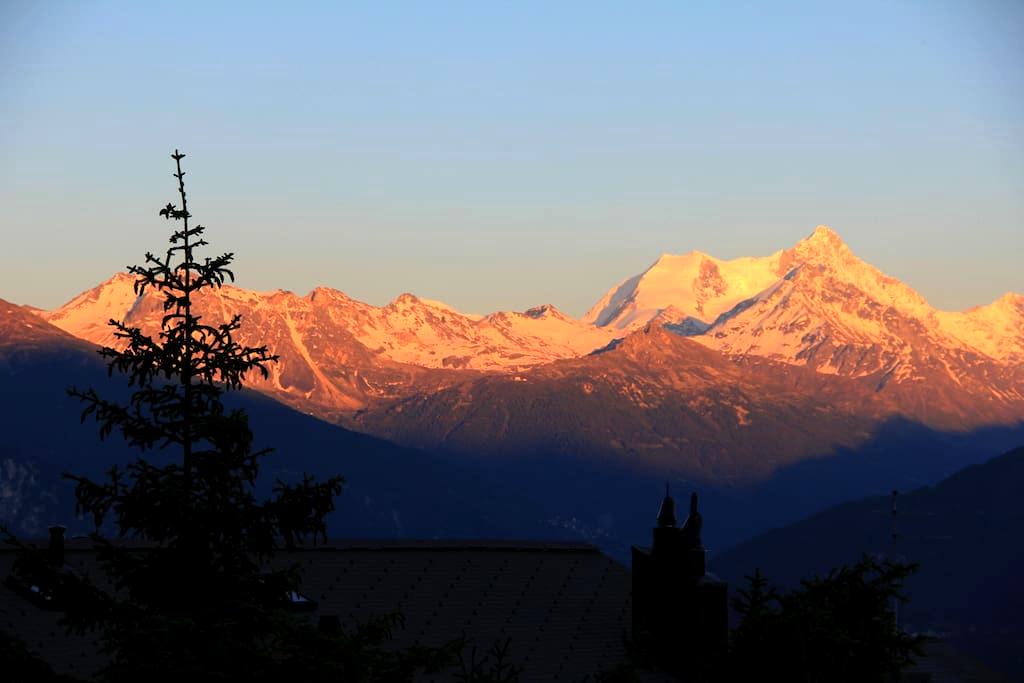 Charming studio of 35 m² with large terrace and stunning views. Located on the 2nd floor of a residence near the center of the village and the ski slopes. Entrance hall, bathroom, living room comprising kitchen, seating area and double bed 160cm.
The studio consists of an entrance hall, a bath-room with bath-shower, toilet and sink, a living room with a kitchenette, seating area and a double bed 160x200. The large terrace of 10 sqm enjoys a sunny and beautiful views of the snowy peaks. Elevator, laundry room, ski room. Saint-Luc is a typical Swiss village. The studio is located a few meters from shops and restaurants. The ski lifts to access the ski slopes are 1 km, bus stop shuttle is 100 m from the residence. Geneva airport: 200 km. Sierre station: 22 km. Shared parking in the residence at the building. Village altitude: 1655 meters. Saint-Luc in winter: • 1 ski area (connected to Chandolin) • 1 ski school • Snow shoe hiking and winter hiking in St-Luc / Chandolin • Small toboggan run • Natural ice rink •Sleigh dogs St-Luc in the summer: •Hiking • 1 Bike Park • Scooters Off Road • Tennis, bowling, climbing
Saint-Luc is a typical Swiss village. The studio is located a few meters from shops and restaurants. The ski lifts to access the ski slopes are 1 km, bus stop shuttle is 100 m from the residence.
Clean, great location, highly recommend
Matthew
2016-06-28T00:00:00Z
Notre séjour à St-Luc s'est très bien passé. Hélène était disponible et flexible. Tout a été très bien organisé. Nous avons apprécié le petit livret fait par notre hôte contenant les divers suggestions et conseils. La résidence est à deux pas de l'arrêt de bus de navettes, pratique pour aller skier! Nous conseillons vivement ce joli studio, très bien équipé et pratique.
Marcelina
2017-03-12T00:00:00Z
Studio super agéable ,fonctionnel et calme, je m'y suis senti comme à la maison dès mon arrivée. Description du studio tout à fait conforme et Hélène est toujours disponible en cas de questions. Petit séjour à renouveler
Marie-Jo
2016-08-03T00:00:00Z
The flat is exactly as shown in the photos and described, in fact better than expected. It has a good open view to mountains and at the start of St Luc from which there are walks and furnicular service to other walks. Apartment very clean, well stocked, modern, well renovated and comfortable for rainy days to stay in. Everything was very comfortable and perfect for a few days of relaxing and walking. Thank you!
Zhan
2016-08-07T00:00:00Z
Très agréable, joli, moderne, bien situé et calme. Parfait pour un petit séjour a St-Luc.
Adrien
2015-01-12T00:00:00Z
Beautiful, serene, and clean accommodation in Saint Luc. My husband and I are on our honeymoon and staying in Helene's apartment has been a major highlight thus far! Although we never met Helene, it was a seamless process checking in and she was available to answer any questions we had. Wifi not included but nice to have a technology detox for a few days. We already miss the mountain views! Highly recommended!
shilpi
2016-07-24T00:00:00Z
Le studio est bien situé, très agréable, avec une belle vue sur la vallée. La communication avec Hélène a été excellente, les instructions très claires. Je reviendrai.
Yann
2016-03-19T00:00:00Z
This was our 2nd time staying at Helen's place. We love her place. This clean, warm, and cozy apartment brings us many peaceful moments. She makes this place so comfortable. The view from the balcony is magical. We strolled through the village of St-Luc and hiked in the beautiful valley of Anniviers. There are more areas to explore…but it is hard to leave this beautiful village and valley. Smooth check in and out, good communication. Everything is perfect! Thank you so much, Helen. (FYI Wi-Fi is available at the tourist office in the village if you must stay connected)
Jason
2016-09-06T00:00:00Z
Tipo de Quarto
Casa inteira/apto
---
Tipo de Imóvel
Apartamento
---
Acomoda
2
---
Quartos
Saint-Luc, Valais, Suíça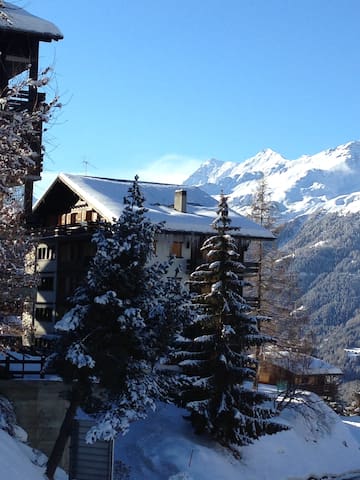 Beau studio bien équiper wifi baignoire DVD TV ...terrasse magnifique bien situer au centre ville de montana
Tipo de Quarto
Casa inteira/apto
---
Tipo de Imóvel
Apartamento
---
Acomoda
2
---
Quartos
Crans-Montana, VS, Suíça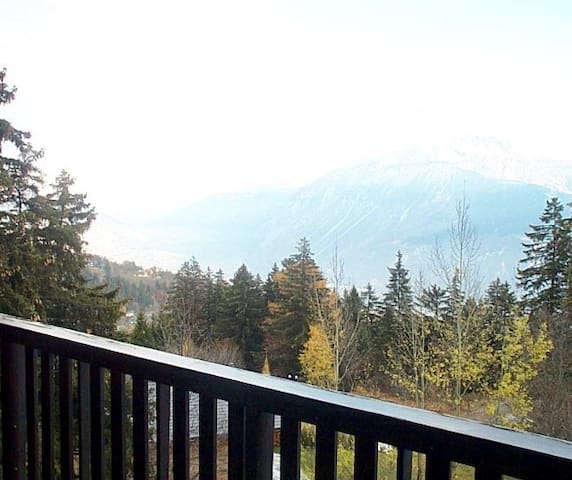 Large, bright 2.5-room apartment on the 1st floor. Near the Gemmibahn, short walk to the village center, is located right next to a local bus stop and the children's ski area 'Erli ".
Tipo de Quarto
Casa inteira/apto
---
Tipo de Imóvel
Apartamento
---
Acomoda
4
---
Quartos
Leukerbad, Wallis, Suíça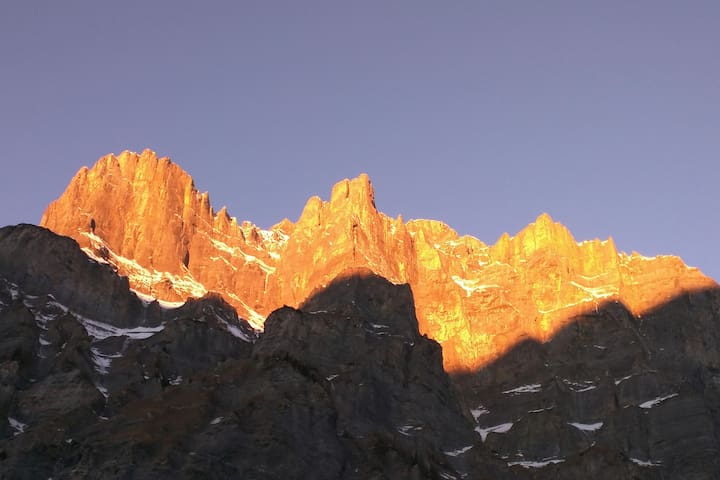 Vercorin, charm and more! Our studio is facing south on the tops of Vercorin, 8 minutes walk from the center. Gateway in the nature reserve of the Vallon de Réchy (deer's bellow discover) Vercorin is surrounded by nature and views of the Alps and the Rhone plain fact the balcony of Valais. Countless hiking, nature trails and irrigation channels available to you from Vercorin. Vercorin is located in one of the sunniest parts of the Alps.
Tipo de Quarto
Casa inteira/apto
---
Tipo de Imóvel
Apartamento
---
Acomoda
2
---
Quartos
Vercorin, Valais, Suíça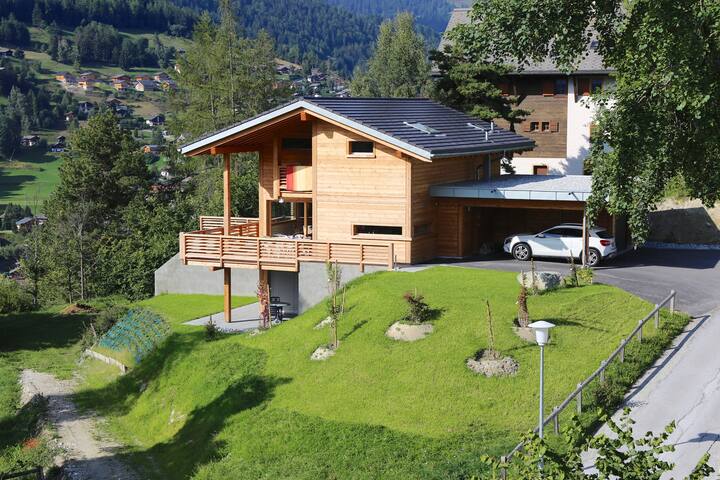 Albinen - Airbnb
:
Média de

4.9

de

5

estrelas, de acordo com

460

avaliações de hóspedes