270 Apartamentos para Alugar
A 400 square feet (37 square meter) studio type Apartment is located in an nice business and commercial district of Filinvest. The unit is completely furnished with all the necessity for a comfortable stay.It is located on the 7th floor of the building with a beautiful view of the area. It is just a 10 minutes walk to the Supermarket, Restaurants serving various International dishes and Malls ( Festival , Ayala Town Center, Metropolis). SM South Mall is a 10 minute ride .Public transportation is just a 50 meters away from the apartment and you can ask the security personnel at the lobby of the apartment to call a taxi for you if you need a ride to take you to other cities. You must try the local transportation using a multicab which brings you to any area close to the apartment for a very cheap price. Most important is the apartment is 30 minutes away from the airport and is accessible via Skyway ( elevated expressway) which is traffic free. So no worry of catching your flight going back home. You will be close to Manila (1 hour drive) where you can visit various historical places like Intramuros, Fort Santiago and Rizal park. While in Manila visit the biggest Mall in Asia which is Mall of Asia and see Ocean Park. If you want to save then cook your own dishes since the apartment has it's own kitchen with complete utensils necessary for cooking.
Tipo de Quarto
Casa inteira/apto
---
Tipo de Imóvel
Apartamento
---
Acomoda
2
---
Quartos
Cidade de Muntinlupa, Metro Manila, Filipinas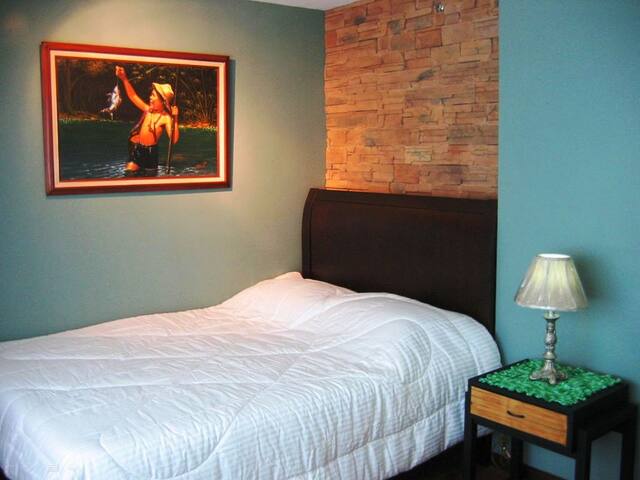 Presidio Da Vinci Tower is located at Lakefron Sucat, Muntinlupa City.
Tipo de Quarto
Quarto privado
---
Tipo de Imóvel
Apartamento
---
Acomoda
4
---
Quartos
Cidade de Muntinlupa, Metro Manila, Filipinas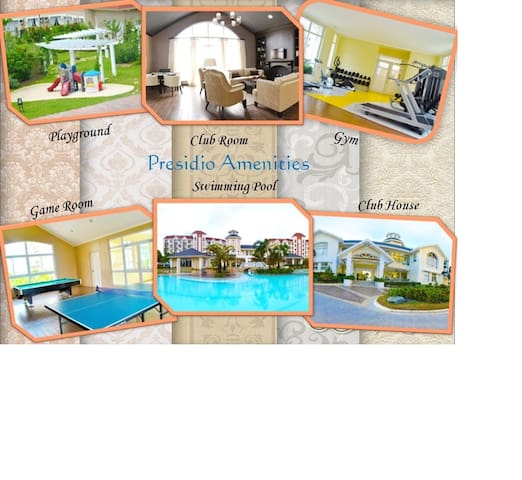 NEST @ Tagaytay is a perfect place if you are looking for a place where you can indulge in a rewarding slumber and relish the company of family and friends while enjoying the perfect weather of Tagaytay. We chose to design our unit with Scandinavian feel that is refreshing and inviting with the airy and spacious feel that is easy on the eyes, perfect for couples, families, barkada and solo adventurers. It is located at Tagaytay Prime Residences by Cityland near Rotonda.
Our unit is furnished to give our clients a cozy feeling and unforgettable staycation. •It is a 25.45sqm 1 bedroom unit •Double Sized Bed ( 54" x 75") •Single Sofa Bed ( 24" x 68" ) •Extra Foldable Mattress •Bedsheets & Blankets •Led TV perfect for all day movie bonding experience •USB loaded with blockbuster movies •Window Type Aircon •ABS-CBN TV Plus •PLDT Wifi Access •Kitchenwares : Microwave, Refrigerator, Electric Kettle, Rice Cooker •Dinnerwares •Bath Towels ( Good for 2pax only ) •Separate Toilet with bidet & shower with heater •Strictly Maximum of 4 Pax (including Kids)
Their place is very nice and homey. You will surely enjoy your staycation at the nest. Lots of movies that you can watch and the internet is super fast . Brice and Brian are really a SUPER HOST!
Kim Alexis
2017-02-05T00:00:00Z
We had a lovely stay at The Nest. True to its concept, it looks just like how it is in the photos. The place is nice, it smells good and it feels very cozy. Location is accessible and looking for a parking space is easy. The hosts are easy to contact and they make sure that everything is going well. :)
Erika Pamela
2017-01-19T00:00:00Z
This place is an awesome find! Just when we thought Tagaytay couldn't get any better in terms of staycations. We've been to Tagaytay countless times already but I must say that this place is now our favorite place to stay in Tagaytay. The place is very clean, homey and the owners really put a lot of heart in it. The TV is huge compared to the usual size you'd see on most B&Bs in Tagaytay. We loved watching movies in Netflix and there's a hard drive containing tons of movies as well for the guests to enjoy. ( I also think you wouldn't find these on other B&Bs /Hotels in Tagaytay) We enjoyed watching movies on the available fold-able mattresses :) We almost slept through the night on it but then I had to enjoy the very cozy bed too! The room also has a few board games and a selfie stick - we used this a lot :D The whole place is just soo lovely and very instagram worthy. My friends keep on gushing on how nice the place looks like in the pictures that I uploaded in my SM accounts. I'm torn on whether I would keep on doing a "pictorial" with my baby or just lounge around and enjoy the cozy place. lol I think I did the latter most. Oh, I also find the balcony very cute. They also designed it in a very cute way instead of leaving it bare. Location is very accessible too as it's near Serin Mall and other famous restaurants. The pool is not crowded during our stay and the entire condo is quiet and secured. Suggestion: I just wish there's a body mirror not just the one on the washroom but if it will only ruin the design of the place, I think they can just leave it like that Overall, this place is worth every penny and worth coming back for:)
Gem
2017-04-01T00:00:00Z
Host was very nice! Location is near the hi-way, room is well maintained, smells good and feels like home. Thank you for the flowers as well. We enjoyed our stay! Will be back soon.
Rose
2017-01-14T00:00:00Z
Really nice place and really nice hosts! Did not have problems checking in and out. Oh, my son and hubby enjoyed netflix so much too! Thank you! :)
Abee
2017-01-15T00:00:00Z
Brice & Brian are indeed super hosts! They are very accommodating and warm. Their unit stood out because of its homey feel and thematic interior design. You won't get bored staying here because they have different games for you to enjoy (jenga, uno, tictactoe board). But the huge flat screen is my favorite! They have netflix and wifi as well. It was unfortunate though that we only get to stay for one night but, their unit will be a special place for me and my partner as this is where we had our prenup shoot. They arranged everything for us for hassle free check in of our suppliers. And the photos we had here are very lovely. Couldnt thank the hosts enough for being kind and supportive. We love to go back to this place for a vacation next time.
Kristine
2017-03-16T00:00:00Z
Sir Brice is a superhost, Everything is perfect, the room is very clean and smells so good! plus he gave us a birthday surprise. The Host is very nice and the unit is superb. Netflix + fast internet connection + Gigantic TV what can we ask for? We will definitely comeback!
Mark Anthony
2017-03-02T00:00:00Z
Brice & Brian's home looks like it was lifted from pinterest! The design inspiration is awesome up to the tiny details. Their home is super cozy and clean - perfect for an out of town staycation : )
Grace
2017-03-03T00:00:00Z
Tipo de Quarto
Casa inteira/apto
---
Tipo de Imóvel
Apartamento
---
Acomoda
4
---
Quartos
Tagaytay, Calabarzon, Filipinas
Fully furnished unit at Scandia Suites, South Forbes, Silang, Cavite near Sta Rosa, Laguna. Nearby malls like Nuvali, Solenad 1-3, S&R, All Home, All Day Supermarket, Robinsons, Shopwise, South Supermarket. Nearby local and international restaurants, church and schools. Approximately 30 minutes away from Tagaytay.
We enjoyed our stay at mam Jennifer's place. The condo was close to Nuvali and Paseo and the host was so helpful and prompt on guiding us how to get from one place to another. We enjoyed our stay and the people at the condo were so nice as well including the 2 manong guards. Highly recommended :)
Glezer
2017-01-08T00:00:00Z
Nice and accommodating host. Clean and comfortable place :)
Marian
2017-03-12T00:00:00Z
Place is nice. Very quite and building is secured. Recommended place to stay near Paseo and Solenad. Wifi connection is good, love it! And Jen replies quickly when you have inquiry.
Adel
2017-02-19T00:00:00Z
Thanks a lot Jen
Kimberly Anne
2016-12-13T00:00:00Z
The place is clean and comfy. We enjoyed our stay. :)
Toni
2017-02-18T00:00:00Z
The place is nice and quiet. Close to Nuvali and Paseo. Complete kitchen utensils, modern room set-up. I really like the sofa in the dining room. Wifi is available. Parking is available just across the street. Communication with Jennifer is great. She made sure that everything was smooth from check-in to check-out. We enjoyed our stay and we'll be back for sure!
Arlene
2017-02-26T00:00:00Z
Good for a place to stay near commercial area suitable for meeting. Ms Jen is a good hostess whos easy to communicate with even though we haven't met in person.
Grace
2017-02-02T00:00:00Z
Ralph
2017-01-07T00:00:00Z
Tipo de Quarto
Casa inteira/apto
---
Tipo de Imóvel
Apartamento
---
Acomoda
2
---
Quartos
PH, Filipinas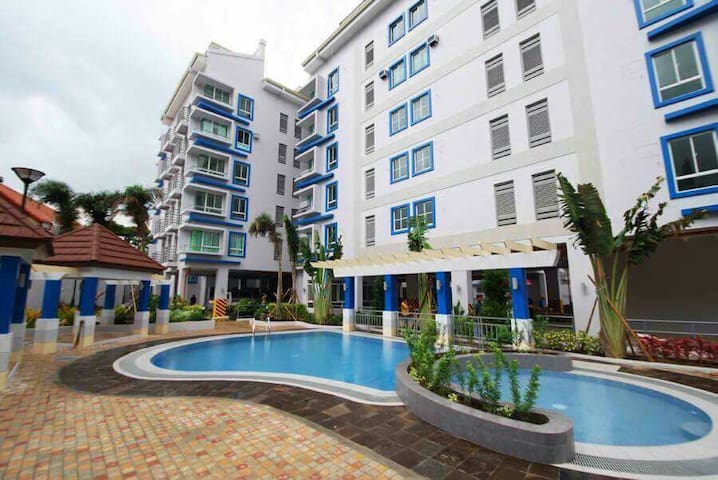 Club Balai Isabel is close to the shores of Taal Lake in Batangas, this lakeside resort is at prime location South of Manila only a 2-hours from the city. You'll love the place because of the magnificence of the world-famous Taal Volcano treat your loved ones and spend your days in harmony with nature, away from the hustle and bustle of the city.. It is good for couples, business travelers, families and big groups. My price rates are LOWER than the published rates of Club Balai Isabel.
Just 2 hours away from Manila! My price rates are LOWER than the published rates of Balai Isabel. Price is INCLUSIVE of entrance, parking, use of swimming pools and room accommodation. •1 Bedroom unit • Two single size bed with pull out • Two queen sized bed • 1 bathroom with heater • Flat screen t.v. • Refrigerator • 2 split-type aircondition • Lavatory area • Cooking Range • 1 pc Pan • 1 pc Pot • 1 pc Turner (syanse) • 1 pc Laddle (sandok) • Basic toiletries: shampoo, soap and lotion • Towels -no pets allowed -no smoking inside the room -wear appropriate swim wear (t-shirts not allowed) -Maximum of 8 persons
Great place to spend your family/barkada bonding. The room was clean and cozy. Spacious bathroom. It was nice to have a kitchen to make our own meals. The place is also near Talisay market. Club Balai Isabel has 4 big pools with nice views including Taal. Basketball and tennis courts are also available for sports enthusiast. Friendly staff. This was such a great place. You should come, too
Edizon
2016-11-13T00:00:00Z
The host canceled this reservation 3 days before arrival. This is an automated posting.
Mark Lester
2016-10-24T00:00:00Z
Princess was very accomodating. We did booked her place just 1 day before our prefferred dates but Princess was able to coordinate with Balai Isabel and confirmed our stay in the morning. She responds to our needs and guides us on what we should do. The place is perfect for big group or family like us. We can cook and bring foods inside. It feels like home. The only thing that we don't like is the smell of the bathroom but its not Princess's fault. The ambience is perfect specially for nature-lovers. Overall our stay is good and we'll definitely go back.
Apryl Pearl
2016-12-23T00:00:00Z
We had an amazing time. Ms Princess is accommodating and constantly checking on us. The staff is very helpful and friendly. I will definitely recommend them with my friends and colleagues.
Sherine
2017-01-30T00:00:00Z
From the inquiries, booking and until our trip, Princess was very accommodating and responsive. There was a slight inconvenience upon check-in due to some errors in the reception but Princess was very quick to contact both the reception and me to help. The room was really nice very spacious and complete with amenities. Kids loved to stay for longer because they felt at home. I highly recommend this place. :)
Krystal
2017-02-19T00:00:00Z
It's very easy to communicate with Princess. She even texted to check if we already checked-in. The place is how it was described
Rosalyn
2017-01-02T00:00:00Z
Princess is very accommodating, especially with our request for room upgrade. We decided to stay at the loft unit instead. The loft is very airy and clean. Thank you, Princess!
Edmund
2016-11-02T00:00:00Z
We are attending a wedding at Club Balai Isabel so we decided to book an accommodation because we are traveling all the way from Bulacan. The unit was good for 8 persons but we are a group of 9. Princess accommodated us all in 1 unit with a minimal fee. The checkin was a breeze, everything was provided for, we were given 8 sets of towels, 8 sets of toiletries, water for all of us and the unit was well equipped and had everything we needed. We were even able to cook breakfast for us all the next morning! The room was big and clean and just as described. And because we are preparing for a wedding by 3 pm, we asked if we could extend our stay until 2 pm and she granted us that too! 100% recommending this place if you are looking for a place to stay at Batangas! Worth our money and definitely looking forward to book again in the future.
Cherry May
2017-01-05T00:00:00Z
Tipo de Quarto
Casa inteira/apto
---
Tipo de Imóvel
Apartamento
---
Acomoda
8
---
Quartos
Talisay, Calabarzon, Filipinas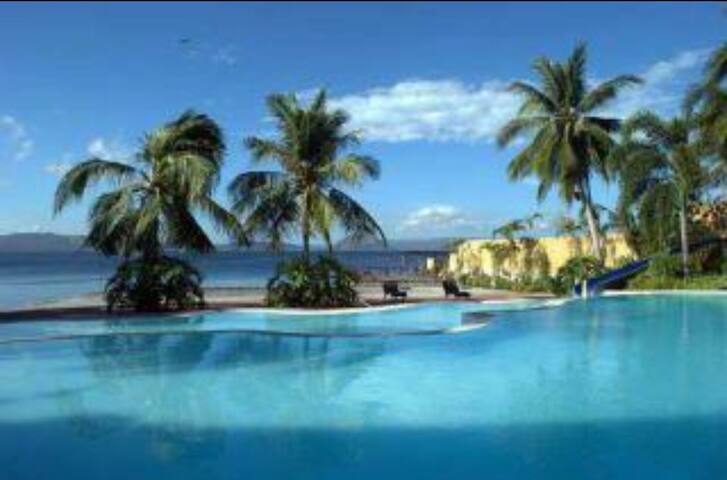 Studio condo (AC, 40'' HD cable TV & Wi-Fi, full kitchen), with balcony & bathroom, located in Jacana building; it is perfect for a couple or a family; it sleeps 5 guests comfortably + kids 0-3 y/o can be accommodated. NOTE: ANOTHER UNIT NEXT DOOR, SAME TYPE, IS ALSO AVAILABLE ! :) See availability of second unit and book at: https://www.airbnb.com/rooms/13445877
We love it here! We spend as much time as we possibly can here at Pico de Loro Cove Beach & Country Club resort :) We believe and hope you will appreciate this condo, compared with other available offers :) NOTE: ANOTHER UNIT NEXT DOOR, SAME TYPE, IS ALSO AVAILABLE ! :) See availability of second unit and book at: https://www.airbnb.com/rooms/13445877
It was a pleasant stay. Thanks to Mae, MJ & Myra. Mae was really helpful with all the details in regards with our stay at Pico. We are able to to access members area. Pico de Loro was a good place to unwind & relax.
Catalina
2016-12-06T00:00:00Z
The sunset in there, I never forget. If I have some time, I am gonna visit there again. and the host was very kind and helped me everything I needed. Thank you Mae!
bongchun
2017-01-22T00:00:00Z
Mae was very responsive and detailed with information.
Roselle Frances
2016-11-25T00:00:00Z
Mae and her hubby were nice and very good host. They were very helpful and they answer all my questions immediately. The room was clean and in addition to that the kitchen was complete so cooking our food was hassle free. Thank you hope we can come back again :)
Christopher
2016-04-17T00:00:00Z
I don't know where to start! Definitely to be recommended first! Although I didn't get to meet Ms. Mae, she was absolutely helpful. After a minor hiccup, (couldn't contact the caretaker) she took over and it was done ASAP. It's a fact that Internet is weak however, that's what vacays are for - so get out of the internet and enjoy the views! It was our home away from home! The listing is maxed at 4 people. Ideal for 3 and romantic for two! Don't look for a dining space. It's best to dine alfresco! (Their veranda) You won't need the a/c. Help save electricity as well :) Keep the screen door closed but curtains open and let nature wake you up NATURE-ally. Take my word for it. Cook your own food and no problem, Mae has them. Cashless restaurants are also available. Pool or beach is up to you. Shuttle or walk. We chose to walk! Shower offers hot and cold. Choose off peak season and the scenery is yours to own. Saving the best for last is the bed! Our favorite hang out. Thank you for the ultra huggable pillows. (Ultra) comfortable sleep. As soon as I got home, I missed them. I want those too. Save for it. It's worth it. Thank you again!
Claire
2016-11-09T00:00:00Z
My experience was great! Everything was so smooth! The room was ready with everything needed from cookwares to extra beddings. I love every bit of the experience.
Edward
2016-05-20T00:00:00Z
Ms Mae's place is very nice. The kitchen and bathroom amenities are complete and hassle free. The bed is very nice and confortable. We love your balcony facing the mountains, it's very relaxing and calming and we stay most of the time there. We also love the beach, one of the best beach near metro manila. Ms Mae and her staff are accommodating and readily answered our queries. Thank you for accommodating us and hoping we can come back again. I will recommend your place to my friends and relatives.
Jonathan
2016-05-06T00:00:00Z
Value for money :-)
Patty
2016-07-16T00:00:00Z
Tipo de Quarto
Casa inteira/apto
---
Tipo de Imóvel
Apartamento
---
Acomoda
5
---
Quartos
Cavite, Calabarzon, Filipinas
My place is close to restaurants and dining and family-friendly activities. You'll love my place because of the coziness and the kitchen. My place is good for couples, solo adventurers, families (with kids), and big groups. It has space for parking cars It is along Aguinaldo highway and easily accessible
- 2 main areas: Kitchen/Dining area and Bedroom. Toilet and Balcony as well.
Place was as advertised - cheap, clean accommodations. Victor communicated really well. Ely the caretaker was helpful and efficient. Check-in and check-out were smooth. Only thing that kept it from a 5-star was the fact that the water ran out around 10PM so we had to wait to shower/use the toilet til 2AM when the water came back. Otherwise, the experience was good. Thanks, Victor!
Anne
2016-12-29T00:00:00Z
The place is near the main road and the price is very affordable!
Jerome
2017-01-16T00:00:00Z
Place is quiet and comfortable. Location is convenient, just a few steps from the highway.
Chadd
2016-12-12T00:00:00Z
Victor's place is in a small, older condo situated near the original Bag of Beans and in Tagaytay. It is just a few meters off the main road via a short dirt road connection and so is a very convenient hub for your Tagaytay exploration. It was very quiet and calm in the area. Some of the fixtures needs a refresh and you might want to bring an extra method of heating water (it rained when we went and the stove couldn't keep up!). Also, there's currently some water rationing thing going on so from about 7pm to 10pm there's no running water. Despite the minor complaints, Victor is such an awesome and caring host! He made sure to keep contact before, during, and after our stay and the caretaker, Ely, is so helpful and very accommodating. Bottom line: it's an economical stay at an older condo unit, a strategic location, and great hosts.
Jhan Michael
2017-01-06T00:00:00Z
The place is very clean :)
Leslie
2017-01-08T00:00:00Z
Victor's place is in an older condominium situated along the highway. There is no air-conditioning as, in our case, it really wasn't necessary. The cool wind blew through the windows at night, allowing us to sleep fairly well. We even turned all the fans off as the outside breeze was more than enough. The neighbors were a bit noisy even after midnight and there was a short water interruption. Still, the place was great value for its price and location.
Adelaine
2017-02-19T00:00:00Z
Victor was a great host, quick to respond and easy to talk to. The place was as described and is very close to establishments.
JohnandRam
2016-12-23T00:00:00Z
Affordable and spacious
Nevelyn
2017-01-21T00:00:00Z
Tipo de Quarto
Casa inteira/apto
---
Tipo de Imóvel
Apartamento
---
Acomoda
5
---
Quartos
Mendez, Calabarzon, Filipinas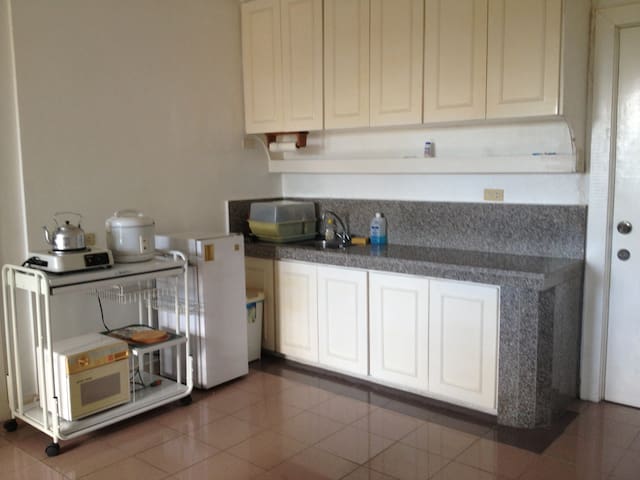 Fully furnished with towels linen and own parking
Super thanks to RJ for being such a kind and wonderful host! We had a comfortable and peaceful vacation in Tagaytay. Great location, parking was for free, everything that was described in the listing was there...awesome value for your money! I will definitely come back! Thanks again RJ! :)
Leideanne
2016-10-17T00:00:00Z
Rj was great though he wasn't around (we communicated mostly through Viber), and the place was even better. There was a bit of confusion with the check in at the beginning but it wasn't anything we couldn't handle. Overall, Rj was very pleasant, the unit was AWESOME, and we are definitely going to be back. Hope we could meet you next time!
April
2017-04-08T00:00:00Z
A very nice host. A very nice place and a very nice view. Everything here in this unit is really nice. When i go to tagaytay again i am gonna stay here again.
Maria Christine
2017-02-10T00:00:00Z
RJ is a very accommodating host. He was able to cater to all my request. The place is complete with basic necessities e.g. shampoo, towels, dish washing liquid, bath soap, hand soap and lotion. You can also cook in Rj's place, they have rice cooker, pan, plates and utensils. We enjoyed our stay at RJ's, the place is quiet and you have a good view of taal lake. The place is very near restaurants and other establishments. We'll definitely stay at RJ's place again. Thanks
Joana
2016-12-19T00:00:00Z
Rj is is easy to talk to and is very helpful. We requested an iron and ironing board as we're attending a wedding, and he provided both for us. :) Beautiful place, beautiful view. Thanks so much!
Samantha Jade
2017-01-22T00:00:00Z
good
Nielsen
2017-03-17T00:00:00Z
Great place and great location. Rj was a good host.
Keith
2017-03-12T00:00:00Z
Rj was vry accomodating. Rj even allowed us to checkin early and have late checkout. His place was good enough. And we really had a great time in their unit. Such a great host.Thanks alot RJ!
Abi
2016-08-06T00:00:00Z
Tipo de Quarto
Casa inteira/apto
---
Tipo de Imóvel
Apartamento
---
Acomoda
3
---
Quartos
Tagaytay, Calabarzon, Filipinas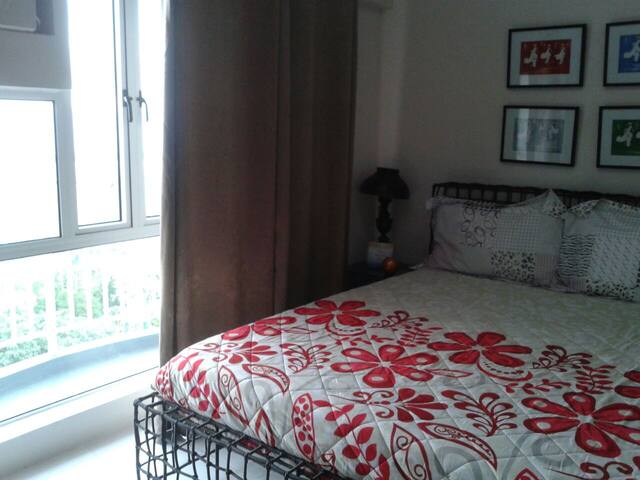 The condo for rent is near Skyranch Tagaytay .
Breathtaking view facing Taal Volcano specially during sunrise.
At the building ground level there are various establishments such as Pizza Hut, ACE hardware, 7/11, and BDO (office/ATM). Robinson's Mall is also roughly 10-15 minutes walk. Wind Residences is very close to popular restaurants around Tagaytay City. We advice to please plan your itinerary ahead.
You'd get to hear vehicles passing through the highway a little bit even if you close the window. The view of Taal is indeed amazing. It shows you a wide and high angle of the volcano and the lake.
Fidel
2017-02-20T00:00:00Z
We enjoyed our stay in SMDC Wind Residences. The place is really clean and comfortable. What I really like is the view of Taal Lake. It's also convenient since we're just near the places where we can buy food when we get hungry. We also like the fact the it's just near Starbucks. We'll definitely recommend the place to our friends.
Cedrick
2017-02-19T00:00:00Z
the unit is great, clean and new, the view is SPECTACULAR 10/10 . abigail (assistant of the owner) is very accomodating. had a wonderful stay...
Christian
2017-01-29T00:00:00Z
The place has a superb view of the Taal Lake and volcano. You will enjoy the full scenery of Taal Volcano because the place is situated at the 18th floor of the building. We give them 5 stars for the location while the rest of the ratings are poor. The poor experience started from our check-in. We were advised that the previous visitors would checkout late thus the cleaning will begin late as well. That is okay; however, the host's representative advised us that they are still fixing the lock and the box for the key (probably because of the previous incident from another guest). We were so nice to wait within the vicinity of Wind residences for another hour and at last, we got to our room by 3:30pm. We asked the host's cousin (the representative) if we could arrange a late check out due to the incident. She affirmative said "Sige po 12:30pm pero kapatid ko na po makikita nyo bukas". We politely asked if she can adjust it to at least 1:00 pm max, she did not confirmed neither refused our request then she left. By the way, the parking area is so far from the building. Guest have to park at the back of the clubhouse. I was hoping we could park at the building itself (as per the pictures on the host's listing) but according to them only unit owners can park there (we understand, admin policies probably). The previous reviews about some of the power outlets not working was accurate. Another downside was the wet bathroom floors, sink and toilet bowl even the bathroom towels are moist. We were actually expecting it to be spick-and-span provided we checked in late. What culminated our disgruntled stay was how the owner treated us when we extended until 12:30pm. She called us and said that late checkout corresponds to a certain fee. We explained what happened during our check-in but she insisted for us to checkout immediately. We even informed her that we asked her cousin's permission for an extension but the host said, "She doesn't have an authority to allow you for an extension". We were surprised to know that her cousin (the representative) did not inform her of our request knowing that what caused the delay was due to her condo/lock maintenance did not inform her. I do not think a guest will initiate an international message saying "Ginagawa ung lock ng pinto mo kaya di pa kami makapasok". I think as the owner of the condo you are and should be aware of what is going on at your place especially if it's a major security maintenance. Furthermore, she even said "Sorry, we have a spare key and we have to open the room to clean it". Alright, we know you have a spare key just like any other hotels (as you said) but NO hotels will open any room without the permission of the guest (with all their personal belongings inside the room)...
Celeste
2017-03-25T00:00:00Z
Good ambience...very nice overlooking taal
Michael
2017-03-21T00:00:00Z
The owner is kind and responsive. Loved that the unit is quiet, family-friendly, and near commercial areas.
Maria Luz
2017-02-18T00:00:00Z
This is my first time to book airbnb... our stay was indeed satisfying! Decent place, clean room, nice view & accessible restaurants. Luiice & Isobel, the great couple host! Estelita, the caretaker was kind & accomodating!Thank you for the wonderful stay! We will definitely be back....
Annie
2017-03-02T00:00:00Z
Nice place. Unit's a bit bare but great value for money. Perfect view of Taal.
Gian
2017-03-24T00:00:00Z
Tipo de Quarto
Quarto privado
---
Tipo de Imóvel
Apartamento
---
Acomoda
5
---
Quartos
Tagaytay, Calabarzon, Filipinas
@ CITYLAND CONDOTEL PRIME RESIDENCES TAGAYTAY ALL CONTACT INFO ARE HIDDEN BY AIRBNB UNTIL CONFIRMATION OF YOUR BOOKING. Fully furnished condo. Near the famous Olivarez Rotunda. Includes towels, shampoo, soap, toothpaste, toothbrush, & H2O all for 2pax Our WiFi connection is yet to be installed We currently have 3 units in Cityland should you need more than 1 unit for your stay.
We have a Full size Salem bed (54" x 6") with extra foldable Uratex double size bed (48" x 2") for additional 2 guest FREE. Our WiFi connection is yet to be installed. Extension of stay is fine, however, it is subject to availability. Rate is @ Php 100.00 per hour succeeding the 1st hour extension. Note: Romantic arrangement upon request (no additional service charge, you just have to pay for the flowers, chocolates, & wine).
Partial view of taal from the balcony as shown in the photo. Cityland is the only high-rise bldg in the area, thus, easily located. Serin Ayala Mall is a 10 min walk from the condo. Several restaurants are in the vicinity as well.
Ms. Noemi's place was clean and neat. Carafe, microwave, and kitchenwares were available if one opts not to have an early breakfast out in the cold Tagaytay weather. Otherwise, Mcdonald's was just right across the road, and 7-eleven right beside their building. Basic toiletries and towels were provided. Hot shower and hairdryer were also available. The room would be perfect for a couple or backpackers just needing a place for the night. However, just a hint, there's only one queen sized bed and an extra foam matress. So unless one or two of a group of 3 adults don't mind sleeping on the floor, then this place would suffice. :-) Overall, the experience was good, given our short itinerary. If asked to go back, I still would, considering that the host was gracious in assisting us with our needs.
Hazele
2017-03-13T00:00:00Z
Will definitely go back! ☺️
Jamara
2016-08-13T00:00:00Z
Provide an al fresco option, possibly put some screen on the window and close out the open hole near the ac unit.
Raf
2016-11-27T00:00:00Z
The unit was clean, complete with bath amenities and dining utensils. The bed was comfortable and and we've had a good sleep. Hopefully they can have cooking utensils for some guests who are in a budget and just opt to prepare their own food but all in all it was a smooth stay and we truly enjoyed our vacation.
Mel
2015-10-09T00:00:00Z
It was a nice place to stay. We stayed there overnight and we can't seem to find any negative comments to the place at all even to Ate Mai (The caretaker) she was so nice and did a good job cleaning the room because the room looks and smells clean we came. Noemi was very nice though we didn't meet, we just talked thru text. The place was so nice, everything's complete and my boyfriend really loved the place plus we get to cook our breakfast and dinner. We'll recommend this 100%.
Anne
2016-05-18T00:00:00Z
Strongly recommended. Noemi was very flexible and understanding to our needs. She allowed me to bring my bike in her unit and even shouldered the re-entries in the parking. The place was nice, it has all the basic stuff you need, very clean and well maintained. The only minor concern I have is the location of the microwave because the power cable is not long enough to reach the nearest outlet. Nevertheless, I'll still definitely choose her unit again should we travel again to tagaytay.
Vonx
2015-11-29T00:00:00Z
We really had a great time during our stay at Ms. Noemi's condo unit. The place was very clean and nice. On our way back to Manila, my son kept on telling me to go back. Ms. Noemi and her husband was very helpful too, they assist us to drop off in the bus terminal which really a big help to us. Thanks! Ms. Noemi we will definitely choose to stay in your place next time.
Janice
2015-10-24T00:00:00Z
It was a great experience! For 3-4 persons the room is enough. Complete amenities except for wifi. We are willing to pay extra for wifi in case they will add it in the future. But overall towels, bedsheets, comforter, utensils, cooking ware, toiletries, free water. It's superb! The place is very convenient. Near stores and main road. Highly recommended! Will definitely comeback! Thank you
RR
2016-01-16T00:00:00Z
Tipo de Quarto
Casa inteira/apto
---
Tipo de Imóvel
Apartamento
---
Acomoda
4
---
Quartos
Tagaytay, Calabarzon, Filipinas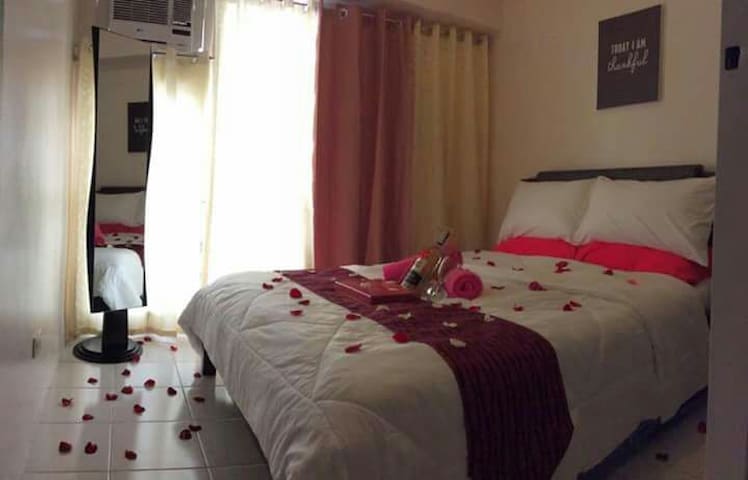 A Cool and Comfortable Resort Condominium at the Heart of Tagaytay consist of 2 Full Bed with 55" LED internet TV with Air-condition, includes a Small Kitchen with Refrigerator, Microwave Oven, and Rice Cooker. Indulge in Hotshower with a towels and basic toiletries. Maximum of 4pax. Additional Charges: Parking FeeP150 per day, Pool Fee P150/day/person odinary day P300 on Holidays.
Tipo de Quarto
Casa inteira/apto
---
Tipo de Imóvel
Apartamento
---
Acomoda
4
---
Quartos
Tagaytay, Cavite, Filipinas
You will love how quiet and safe the neighborhood is. But you will also love how near it is to where the action is.
The unit and its amenities Are you looking for a place to relax, or maybe do business? Do want to stay where the air is fresh and all places are just within your fingertips? If so, then this is the perfect place for you! The two bedroom condominium unit that fits four (4) people will provide you the most beautiful, safe and convenient place to stay at a very affordable cost. Here, you will immediately feel right at home. One room contains a double bed, and the other room has a single bed with a pull out bed. For utmost comfort, both bedrooms have air conditioning and are supplied with cabinets. The bathroom has a hot and cold shower. Bed linens and towels are also provided for you. No need to worry about the kitchen – there are already basic kitchen appliances, utensils, dishes and glasses. You can stay connected 24/7 with a new WiFi connection. This building is very secure, with 24-hour security and 2 elevators. A Laundromat and convenience store are just located on the ground floor. For renters with cars, parking is available for a minimal fee of One Hundred Pesos per day (Php 100.00/ day). The security guard will assist you in finding it. The opportunities are spectacular – Scandia suites has its own swimming pool. There, you will have a breathtaking view of Mt. Makiling, one of the most, if not the most famous mountains in Luzon, which has inspired a number of poets, writers and lyricists for a long time. Another bonus- right outside is a jogging path, where you can finally enjoy a smooth, peaceful run with only the cleanest air. But wait, it gets better! If you are a golf lover, an 18-hole world class South Forbes Golf Course and Leisure Club is just a five minute walk away! . This kind of opportunity won't come up again in a long time, so take it now, while you can! Location Scandia Suites is situated in a laidback atmosphere in South Boulevard, South Forbes Golf City, Sta Rosa City, Laguna, about 45 minutes south of Makati. It is of the 5- story buildings in the area. If you want action, several malls, namely Solenad 1, 2 and 3 in Nuvali and Paseo de Sta. Rosa are just five minutes away by pedicab, which is the mode of transportation to the malls. The newest one, Solenad 3 is a mall with more open spaces than buildings, and perfect as a weekend get away for people who are sick and tired of the concrete jungle. If you wish to rent a car with a driver, I can provide you one at a reasonable cost but this has to be pre- arranged. Things to do in the malls include but are not limited to: fish feeding in Nuvali, shopping, dining out, strolling, biking, and boat ride.Experience the thrill of a lifetime! The world-class Republic Wakeboard awaits you just 10 minutes away from Nuvali. International competitions are being held here on a regular basis. Enchanted Kingdom, the Philippines' premier entertainment park is just 10 minutes away from the condo.Why not let the magic begin? Do you want to see the world's smallest volcano, the Taal volcano? It's just 20- minutes away. Do you want to go swimming in natural hot springs? It's also a 20-minute ride to nearby Calamba City. Truly, Sta Rosa is an amalgam of everything. Laidback, fresh cool air and yet surrounded by all things that make life comfortable. And yes, an added bonus; since the host owns several Skin care centers, renters are given a special privilege of 50% discount on published price in the service menu at Skintrends Paseo branch which is about 5 minutes away from the condominium unit(URL HIDDEN) " That's a treat you can't find anywhere else"…
it's a quiet neighborhood
Excellent stay. The apartment was clean and beautifully decorated and furnished. Felt like a home from home.
Erlend
2015-08-31T00:00:00Z
We luckily booked this place in time for Mother's day weekend. We stroll around nuvali on day 1 then we had a quick swimming on day2 and attended the mass at St. benedict church which is just 5 mins away. What a convenient place to stay in Sta. Rosa! The location is perfect for a mini getaway. Complete utensils, condiments & everything else that you will need for a quick stay. We look forward in booking this place again really soon!
Ymeriza
2016-05-09T00:00:00Z
If you are looking for a quiet and secure place to stay but convenient to several shops and restaurants, this is a great place to stay. Just a tricycle ride to Paseo or Nuvali. Joy is a joy to deal with as a host!
n. enrico
2015-02-22T00:00:00Z
Herbia Joy, made us feel very welcome, we was greeted with fruit water and mango pastrys. Due to no wifi Herbia gave us the loan of her own smartbro broadband which we loaded with 700ph it lasted 10 days, and on two occasions she sent her staff to help with this. I would say the condos is good for the price, the bedrooms are good with aircon. Bathroom is ok but a small bowl to close to the door makes it dificult to shave. The kitchen is fine but watch the electrics. The sitting room is pleasent but a new ariel need for tv very poor reception. The reception security are helpful. Cleaners good. Swimming pool nice. Shops on front are good. A nice friendly place good value i would / will visit again it is just a little far out of town with the traffic and taxi fairs are high. Thank you for looking after us. Stewart Smith
stewart
2015-06-09T00:00:00Z
This was my first airbnb booking and Doc Joy was a very accomodating host and answered our questions right away. She made sure everything was in order when we got to the unit. The place was clean. The condominium manager was also helpful and helped us find parking area nearer to the condo (the usual parking slot is an open area across the street). Just a few details re: the unit No aircon in the common area just a fan/humidifier but the two bedrooms had ample air conditioning. The aircon in one of the rooms stopped working in the middle of the night. But other than that, I'd say it was okay for my first airbnb booking.
Deandra
2016-11-26T00:00:00Z
Clean and quiet flat in a beautiful location. With Nuvali being a stone's throw away, grocery stores, sports shops, lots of restaurants and coffee shops are a short drive. Amazingly, 20 minutes from the cool breeze of Tagaytay and 10 minutes from Republic Wake Park where the action is. We were lucky to have such gracious hosts.There were some nice touches like fresh white orchids, toiletries, coffee & tea, even special sardines:) We'd love to go back soon!
Lyn
2012-10-24T00:00:00Z
Location is good. Space is enough for our group of 4 adults and 2 kids. It's good enough for a few hours of stop-over. Parking availability listed is not actually in the condominium parking area but rather an empty lot a few meters away from the condo. The wireless internet is not readily available in the unit. It's a pocket wifi that still needs to be picked up somewhere else if we need it. Bathroom is relatively clean but may need some updating. On the other hand, the unit owner is easy to contact. She replies promptly through private message here in airbnb or through text.
Joyce
2016-04-07T00:00:00Z
Accommodating host. Highly-recommended place to stay when in Nuvali area.
Frederico Paolo
2017-03-26T00:00:00Z
Tipo de Quarto
Casa inteira/apto
---
Tipo de Imóvel
Apartamento
---
Acomoda
4
---
Quartos
Santa Rosa, Calabarzon, Filipinas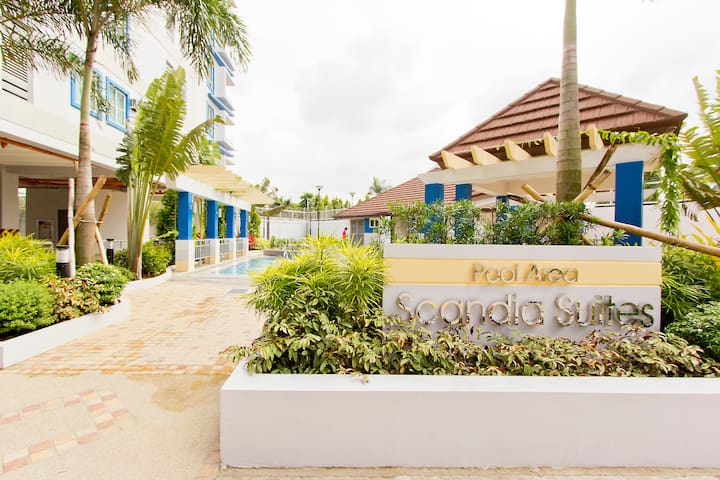 Escape the hustle and bustle and enjoy the cool breeze In Tagaytay. Our apartment offers: * EXCELLENT Location!! * NO WEEKEND / PEAK SEASON rate!! * AMAZING and RELAXING VIEW!! * COMPLIMENTARY Flavoured and Herbal tea!! * FREE WI-FI!! !!! For first-time airbnb users, contact details are hidden by airbnb until the booking is confirmed.
Traveling with your buddies or family can be tricky when you are on a budget. Our studio unit is perfect for small families and friends who are looking for a budget-friendly relaxation in the heart of Tagaytay City. Enjoy the amazing and windy view from the 20th floor of Wind Residences. Our space is furnished with a double bed and a sofa bed that sleeps 2 pax each. I also have a floor mattress that sleeps an additional pax who wants to cozy up on the floor. The apartment has a split-type air-con, fridge, microwave, electric stove, electric kettle, cooking and dining wares and a shower heater. We have installed cove lighting onto the ceiling to set a relaxing mood and atmosphere. The sliding window can also be opened to experience the natural cool breeze of Tagaytay flowing freely inside the apartment. We do not have Weekend / Peak Season or additional guests surcharges because we want our guests to enjoy our relaxing and budget-friendly cozy space.
You can enjoy other recreational activities in Tagaytay like Zipline and horseback riding at Picnic Grove. You can also have fun at Sky Ranch which is just walking distance from the condo. You can also enjoy food tripping since the condo is just across a strip of restaurants such as Josephine's and Gerry's Grill. Starbucks and Robinson's Supermarket are walking distance. BDO, 7-11 (Tower 1) and ACE Hardware are located on the ground floor of the building.
It was nice and cozy. The caretaker is very accomodating, while the owner Jean replies fast and answers any questions that I had. I will come back to this place and recommend to my friends.
Maria
2016-06-12T00:00:00Z
Jean's unit is perfect for anyone who wants to spend their weekend in Tagaytay on a budget. We will definitely rent her place again. Thanks Jean!!!
Ron
2016-01-20T00:00:00Z
Jean is an excellent host. Very considerate and easy to deal with. Her condo is well maintained and in a great location. Will definitely recommend to my friends and relatives. Thank you Jean for your cooperation. We will be back soon.
Gie
2015-04-22T00:00:00Z
The studio type unit is clean and cozy with a good view of Taal Lake and sunrise on your bedside! The double bed can comfortably fit two people but we managed to squeeze all three of us in:) Easy access to restaurants. Josephine's, Gerry's grill, as well as the restaurants in Summit Ridge are within walking distance. There is a 7-eleven store and Ersao cafe at the ground floor of the building too! We enjoyed our stay and would definitely choose to stay here again next time!
Pam
2015-05-24T00:00:00Z
we had an overnight stay at jean's place this past weekend and the unit was clean and had the amenities as describe in the site. kids enjoyed amenities of the clubhouse as we were not able to go around tagaytay due to bad weather. will consider booking again with jean's unit next time.
michael
2015-08-23T00:00:00Z
We stayed 3 days and 2 nights. We had an amazing time staying here. We requested to check in early so we can have time to change clothes before an event that we had to attend (Friday). Good thing there was no booking in the previous night (Thursday), and we were able to go early. She was easy to deal with and was able to answer all my makulit queries :)
Rico
2015-07-27T00:00:00Z
Jean responds promptly to inquiries. Assistant Gina was polite and very helpful. Place is clean and easy to find. One thing to improve on is the distance of the parking area from the unit. Other than that, the place is a great option when staying in Tagaytay.
Erico
2016-03-07T00:00:00Z
It was my first time using Airbnb and it amazed me because its very convenient to restaurants, bank, robinson mall, sky ranch and transportation. the place is so modern and smells great and neat and clean. loving the view of taal lake and volcano on window. I highly recommended jean's place for relaxation and i won't hesitate to book whenever i visit tagaytay again. Thank you Jean and Gina the accommodating and nice caretaker. :)
Frances
2015-03-23T00:00:00Z
Tipo de Quarto
Casa inteira/apto
---
Tipo de Imóvel
Apartamento
---
Acomoda
4
---
Quartos
Tagaytay, Calabarzon, Filipinas
My place is close to ; 25mins away from Skyranch, restaurants and dining , nightlife 20mins away from Ayala Serin Malls 15mins away from Tagaytay Market 10mins away from Picnic Grove 10mins Away from Lourdes, family-friendly activities, great views. You'll love my place because of Its Clean and New , the coziness, the kitchen, the views, the location. My place is good for couples, families (with kids), and big groups.
2 full Double Size Bed
Very great place and relaxing.
Monaliza
2017-04-02T00:00:00Z
Tipo de Quarto
Casa inteira/apto
---
Tipo de Imóvel
Apartamento
---
Acomoda
4
---
Quartos
Tagaytay, Calabarzon, Filipinas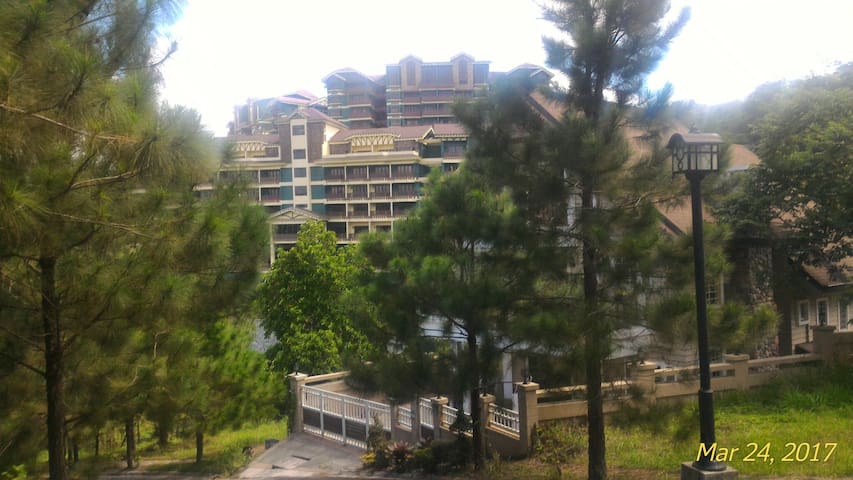 You'll love my place because of the ambiance & cleanliness. My place is good for families (with kids). My place has a hotel vibe with cozy queen size beds (3 in total). It has a provision for a working desk. To provide entertainment & relaxation while inside the apartment, we have a television with cable channels. The place has a balcony (with a mountain view) which can be used as place for dining & socialization. The kitchen has a ref, microwave, cooking range, among others.
The place was carefully planned to allow for comfort & more space within the apartment for people to freely move around.
My apartment is located in Jacana A which is adjacent to the Main clubhouse. So if you love swimming, access to the beautiful landscaped pool areas of the clubhouse is very easy (by less than 5 mins walk)
Your place is clean, exactly like the pictures posted. Thanks a lot for being so responsive to my questions. We'll surely recommend to friends and family.
Lynn
2016-11-28T00:00:00Z
Nice place to stay
Jon
2017-01-22T00:00:00Z
Dan's place was simple yet spacious and clean. The 6 of us were able to sleep comfortably in the unit. We had a great time. Thanks Dan.
Mariel
2017-03-19T00:00:00Z
My family and I love this place! We're a family of four (no kids) and we had space to move! You just know that the place is well kept and well maintained! They ready the place for you -- aircon,lights,etc; that it literally just welcomes you in a very zen atmosphere. My Dad can't stop talking about the place --- so we're staying here again the next time we visit Pico de Loro. Daniel was very accomodating, replies ALWAYS in less than 10 minutes! The caretaker is also very helpful This is not my first time renting a place in Pico, and by far this is my favorite. Good thing I bumped into this gem!
Hannah
2017-01-19T00:00:00Z
The place is great. It is exactly how it is seen in the pictures Dan posted. We enjoyed our stay here and would love to go back. Dan's place is highly recommended. It is really a hotel like feel place and even better because you can cook your own food.
Diana
2017-01-29T00:00:00Z
I recommended Dan's place to my friend and she wanted to bring her family for a holiday vacation. I booked for them and on the last minute they wanted to add one more guest, I informed Dan and he replied right away and accepted the additional person. I know that this is such a hassle in Dan's part but he's so awesome and fixed the endorsement letter right away. Their experience wouldn't be that happy if the last person will not be added as it was a family vacation, so thanks again Dan for being so AWESOME! My friend and her family would like to extend their appreciation and stated that they had a great time, place was clean as last time we went there. Al was helpful as usual. Will continue recommending Dan's palce. Thanks again!
Jaesa
2016-12-29T00:00:00Z
Thank you so much Dan. We had a great time. The place is very clean and everything we need is there. Thank you for being very responsive in our queries. We will surely come back. :)
Joseph
2017-01-02T00:00:00Z
We had an overall awesome experience. From booking our airbnb, to arranging our arrival and up to our departure. We had a smooth communication with the owner, who entertained our concerns promptly. We have been to Pico de Loro and we knew what to expect but upon reaching our airbnb unit, the room really blew us away. It immediately felt like entering a hotel room (Plus the bed was extremely comfortable). People would usually say that you get what you see, in our case we experienced more than what we expected. Everything about the unit is top-of-the-line and we were so happy to score an availability. We'll definitely book the room again and again, also we'll surely recommend the unit to our family and friends. We wish to extend a big thank you to the owner, we loved every second staying at your airbnb unit.
Gian
2016-10-04T00:00:00Z
Tipo de Quarto
Casa inteira/apto
---
Tipo de Imóvel
Apartamento
---
Acomoda
6
---
Quartos
Batangas, Calabarzon, Filipinas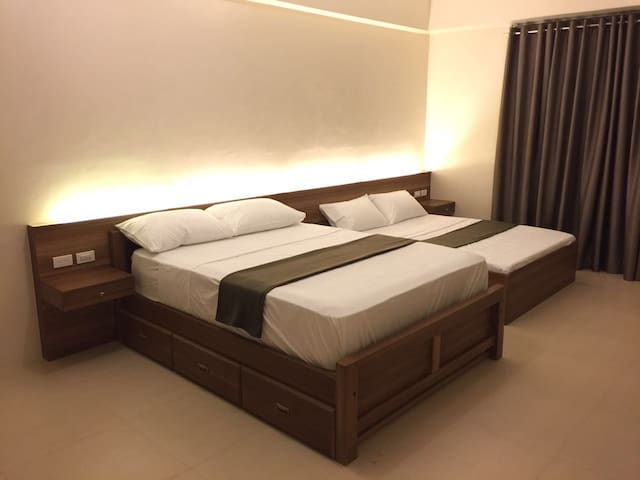 The unit is in Tagaytay Prime Residences situated near the rotonda of the beautiful city of Tagaytay. It offers a beautiful view of Tagaytay Lake and breathtaking sunrise in the mornings. It is equipped with high speed internet and other appliances for your needs. The bus that travels to and from Manila is located at Olivarez Bus Terminal and is just a few minutes away from the place. Restaurants and places of interest can be found nearby and is accessible via public transportation.
The unit is 25 sq. meter with one bedroom and a balcony that has a beautiful view of Taal Lake and breathtaking sunrise in the mornings. Being located on the 17th floor, the area provides a view that you can easily appreciate the wonderful beauty that Tagaytay provides. Bed sheets and comforters are provided for your comfort, along with towels (for two persons) and tissue paper. The bedroom has one double-bed with a single bed pull-out. The unit accommodates 4 persons, this number includes children. Toiletries, blankets and towels will be provided for 2persons only. Additional person is P250 per night. The unit is provided with 42 inch LED TV with cable channels. Airconditioning unit and a ceiling fan will provide comfort on warmer days. The shower has hot and cold. Provided also are refrigerator, rice cooker, electronic kettle, microwave oven and induction cooker. Cooking foods that releases strong odors (i.e. daing, tuyo etc) is strictly prohibited. Please ensure that hood is turned on when cooking to avoid accumulation of smoke in the unit. A penalty of Php1,000.00 will be given for violators. Smoking is also a no-no, penalty of Php2,000 will be charged. The living room has a sofa bed that can accommodate 2 persons as additional. Dining table is big enough for four persons to eat comfortably. Utensils for eating and cooking are provided for your convenience.
As it is conveniently located near Tagaytay Rotunda, places to see are accessible via public transportation. Jeepneys are available until 10pm. Family favorites such as Picnic Grove, People's Park, Sky Ranch and the like are just a few minutes ride away from the place. Individuals who offer a package tour to explore Tagaytay Lake and volcano are in the area. We are not responsible anymore for dealings made with these groups.
Grace and her staff is very accomodating! I have additional request for some stuff and they didnt have second thoughts to help me out. we will definitely come back!
Selle
2017-04-01T00:00:00Z
The place is new, spacious & clean. Grace was very accommodating and replied promptly despite the fact the she was on a trip during our actual stay. The place brought comfort after a tiring day :)
Sharlene
2017-02-25T00:00:00Z
The host is very accommodating, she ensures that we have a great stay in their place. All things you need is there. Got the nice view up there especially the sunrise. Thumbs up for this place aside from the cozy unit, and instagrammable stuffs, the location will give you peace of mind and a worth it staycation. We'll surely go back :)
Jasmine Carmela
2017-03-19T00:00:00Z
We had such a great time during our stay in Ms. Mary Grace's place! It has such a great view from her balcony plus her place is complete with everything you need. It is close to everything from coffee shops, convenience stores, restaurants and malls. Such great location. Thanks, Ms. Mary Grace! Looking forward to our next stay!
Grace
2017-03-07T00:00:00Z
The place is convenient for all our needs and is very accessible. Grace went beyond what we expected, had things prepared without even us asking for it. The free HD movies were a big plus. Worth every buck. Looking forward to our next stay, will definitely come back!
Marco
2017-02-23T00:00:00Z
Cozy, comfortable and accessible This place is absolutely awesome!! It is not only furnished with furniture but is also has 42 inch tv and Wifi. To top it all off, there is also a Mediabox with 300 movies to choose from. More importantly, I never got hungry as there are several restaurants nearby. I can live here forever!!!
Patrick
2017-02-28T00:00:00Z
The place is very homey and clean. We had no trouble communicating with Ms. Mary Grace because she's very responsive and nice. We had a really great time and I'll surely recommend it to my friends whenever they need a place to stay in Tagaytay :)
Katherine
2017-03-11T00:00:00Z
Mary Grace (the host) was very responsive even before I got to book my stay. This was the reason I chose to book with her even if there were similar places in the same area. The residence was as advertised on the pictures. It had everything one needed including a refrigerator, an electric hot water kettle, an induction cooker, a rice cooker and a hair dryer. The bathroom was simple but modern. It had a water heater and two kinds of showers - a rainshower and a telephone shower. Check-in and check-out were both easy thanks to her efficient assistant. The location of the place is very convenient as it was very near a McDonald's and a 7-11. A five minute walk will bring you to a Puregold supermarket, a KFC and a lot of commercial establishments. If you're a Churchgoer, the building is beside a church which has early morning and evening masses. Overall, it's a good place to stay at.
Victor
2017-03-22T00:00:00Z
Tipo de Quarto
Casa inteira/apto
---
Tipo de Imóvel
Apartamento
---
Acomoda
4
---
Quartos
Tagaytay, Calabarzon, Filipinas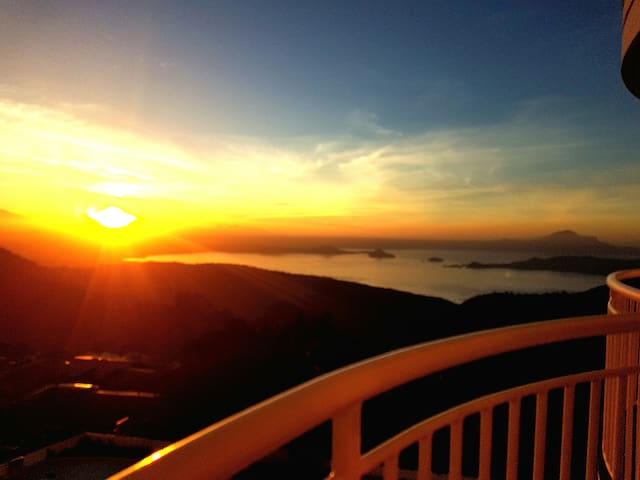 Tagaytay Prime Residences, Cityland B-NEW, 25sqm 1 bedroom condo, The unit is on the high floor, Facing taal lake view. Furnished. Airconditions Family -kid friendly. Free use of swimming pool. Bedroom has a Queen size bed 60x9x75 with 32 inches LED TV. 42 LCD TV in the living room with **1 double bed 48x6x75 **1 super single 36x6x75 Maximum 4 persons only. Walking distance to Churches, Public transport, groceries stores, Resto, fast food, Starbucks and ayala malls.
The space is perfect for solo adventures, students preparing for exam or reviews, romantic couples to celebrate anniversaries, birthdays, or families on vacations, group of friends, looking for memorable experiences, to chillax and unwind. Relax......you're at HOME ***Swimming pool closed every monday, cleaning day. Welcome to tagaytay and to my unit. ***Pay Parking of 50 pesos from Monday to thursday, payable to the guard on duty inside the condo. ***50 pesos per entry from Friday to Sunday HOW TO COMMUTE FROM THE AIRPORT/ MANILA / BATANGAS 1. From the Airport take a taxi to Coastal Mall, (Manila) From Coastal mall, ride a bus to Tagaytay Mendez or Nasugbo Route, alight at Olivarez Terminal and take a tricycle to Cityland Condo. 2. From Batangas city, Ride a bus from Turbina or SM calamba. from SMcalamba, ride a van going to Olivarez Tagaytay and from Olivarez terminal take a tricycle to Cityland Condo Enjoy your Trip and Have a great day to all of you.
during your stay, you can choose a place to eat, like Inasal, Mc donald Kfc, Jollibbe, gerrys grill, and so many others good resto, and grocery stores like pure gold which is at the back of the condo. the place is near to sky ranch, or you can walk at ayala malls. have coffe at starbucks. or If you want to attend masses, there's a church in front of the condo. the church of our lady of lourdes and pink sisters are also near.
It was a great experience. The view from our room's veranda was awesome. It was clean and quite. Perfect from those who want a peaceful stay-cation. And I really love the internet connection, it was freakin' fast :) The host was really accommodating. Probably will stay here again when I get back in Tagaytay.
Eris
2016-09-26T00:00:00Z
Joyce' brother was our main contact (which Joyce had advised us of prior to arrival) and he was a great communicator - both for arrival and departure. The location is very nice - easily accessible to better restaurants and shops Ayala, and also local street with other shops and foods. Also good access to trike transportation. The building complex is very nice and Joyce's place is quiet and pleasant with good net access. We also availed of the swim pool, which is very good. I was very pleased with staying here, and the morning and evening views to wonderful Lake Taal will make for memorable moments. Thank you Joyce and Robert!
John
2016-10-12T00:00:00Z
I had a good experience staying at this unit. The owner, Ms. Joyce and his brother Sir Robert were both accommodating. All my questions were answered promptly considering the location of Ms. Joyce. She works in SG while Sir Robert manages the unit. The place is clean and cozy with balcony facing the lake. The only downside is the AC unit is yet to install when I was there which according to Sir Robert is up for installation already this March. I had no problem all in all and will definitely consider coming back. Cheers to Ms. Joyce and Sir Robert. :)
Shirley
2016-03-09T00:00:00Z
At the very beggining of planning this trip Miss Joyce was very communicative. She answered all my questions that's why I immediately confirmed the booking. Then, his brother, Sir Robert was very kind. He even arranged early check in for me and my family. My lola was very happy all throughout our stay because the place is very nice. The hosts are really accommodating.
Divine Grace
2016-10-06T00:00:00Z
Joyce responds promptly to every inquiry and concerns. She is very accommodating and nice. Her brother Robert who assisted us during our stay in her unit is also very nice and accommodating. He made sure our stay in their unit will be very comfortable. Robert even accommodated my request that's no longer supposed to be part of their service. I requested him to buy a cake for a friend who is celebrating her birthday that's why we went to Tagaytay. He was readily game and willingly purchased the cake for us and placed in the ref to surprise my friend. It was a successful surprise. Thanks to Joyce and Robert! Highly recommended place for a small family. Their wifi connection is excellent because we were able to make video calls to friends as we were singing happy birthday! Thank you so much. Definitely worth coming back. You've made our stay in Tagaytay worth remembering and my friend's birthday very memorable to her.
Elizabeth
2016-07-24T00:00:00Z
The room is exactly what it is stated in the listing. It is clean and complete of all items. And have a beautiful view. The building is conveniently located and secured. We never encounter any problem going around Tagaytay. Thank you to the host and her brother who were very helpful and easy to talk with. I will definitely stay here again.
Marie Del
2016-08-05T00:00:00Z
Everything went well smoothly except for the fact the the internet connection went off but it is understandable because of the bad weather condition. As usual, Sir Robert was very accomodating and responsive. Even the guards are very helpful because during Friday night the unit next to us was very noisy we texted the guards and they were very responsive and took necessary action.s Thank Miss Joyce & Sir Robert! :)
Divine Grace
2016-11-06T00:00:00Z
It was a pleasant stay @Ms Joyce place. The location is a minute walk to shops, the pool is refreshing. The unit/room nicely decorated and clean.a good view of Taal lake, and most of all Kuya Robert is the best host very friendly accomodating we felt at home and treated like a family/relative thank you we"ll surely be back :)
Dar
2016-04-21T00:00:00Z
Tipo de Quarto
Casa inteira/apto
---
Tipo de Imóvel
Apartamento
---
Acomoda
4
---
Quartos
Tagaytay, Calabarzon, Filipinas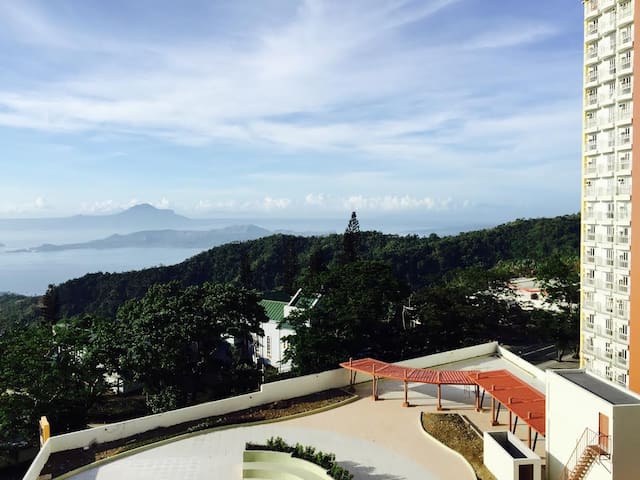 NEW, FULLY FURNISHED, HOLLYWOOD-INSPIRED, OVERLOOKING TAAL Condo unit. It's 2-3min drive to Starbucks, Ayala Mall-Serin, many overlooking restaurants, and 10-20min drive to Picnic Grove, Palace in the Sky, Skyranch. Fora Mall, which is a 5min walk to the condo, is soon to open. Can accommodate up to 4-5 guests. This themed condo is conceptualized with our love for films. Just the perfect place to escape Manila. Not your typical boring unit...makes you feel your part of the movie studio =)
This uniquely designed condo is home away from home. Feel like a star in a film studio and with an overlooking of the Taal Lake
An overlooking condo so near from Starbucks, McDonald's, Ayala Mall-Serin, parks, many restaurants.
very clean. the room looked very nice too
Ciar
2017-04-02T00:00:00Z
Communication was good as host was very responsive to my messages. Unit was functional and well designed.
Marielle
2017-03-30T00:00:00Z
Fermil and Patricia's place is awesome! Our stay was definitely memorable. Our kids love the decor and the amenities. Perfect view of the Taal! We really enjoyed our stay! Will definitely book again! Thank you Fermil and Patricia! :)
Donna
2017-04-03T00:00:00Z
I highly recommend their place. The place is lovely and perfect to stay and relax.
Elmer
2017-03-26T00:00:00Z
Highly recommended.
Theresa
2017-03-25T00:00:00Z
Tipo de Quarto
Casa inteira/apto
---
Tipo de Imóvel
Apartamento
---
Acomoda
5
---
Quartos
Tagaytay City , Cavite, Filipinas
1

–

18

de

270 Apartamentos para Alugar
Insira as datas para ver o preço total. Taxas adicionais aplicáveis. Podem ser adicionados impostos.