10 Apartamentos para Alugar
Cute 2/1 cottage on the beach. Located in a quiet residential area and sits behind main house. Easy access to a beautiful beach. Has mini kitchen, cable and parking. 150m walk thru the dunes to the ocean. No oceanview. 3 day minimum. No smoking
The apartment is cozy and private (625 Sq ft). There is 1 king and 1 queen bed. It is a nice place to just relax, decompress and unplug...although there is WiFi, the Internet can be spotty on the beach.
The island is very special and a great place to get away for some rest and relaxation. Easy access to beach restaurants so you can enjoy a sunset and some live music and a cocktail or two! The Surf restaurant and Sliders are both within walking distance. Close access to bike path that extends south to Big Talbot state park where you can take a kayak or SUP tour. You can head to the beach and catch some rays, look for sharks teeth, surf or SUP. Explore Fort Clinch or historic downtown, both 4-5 miles north.
I was renting for my adult children and wanted to see the cottage before they came. Joy was most gracious in meeting me and showing me around. The children loved it an said it was very comfortable & cozy. Would rent it again if we ever had an overflow of guests.
Rosann
2016-01-12T00:00:00Z
We had a wonderful time during our stay. The hosts were very friendly and helpful. The house is beautifully furnished and decorated and was clean.
Claudia
2015-05-12T00:00:00Z
Ideally located for a beach stay. The two bedrooms are comfortably furnished. There is one restaurant in walking distance. It is a quiet location.
Shiela
2017-01-02T00:00:00Z
Excellent location, right next to the beach. Walk out the door and down the boardwalk onto a beautiful beach that you can walk on for miles literally. Its located centrally on the island which is very convenient. Very private and quiet. Joy and Pedro are there if you need them but totally respect your privacy. Clean and simple apartment, perfect for a stay at the beach. 10 minutes from town and golf and state parks on both ends of the island. All of the restaurants on Joy's list in the apartment were good choices. Nice to have someone else do the leg work for you so you don't have to experiment and have a bad meal. All in all a great place to stay for a beach vacation.
mark
2017-02-28T00:00:00Z
Joy's place was perfect! We really enjoyed the backyard beach access, the adorable decor, Joy's awesome list of recommendations, and her responsiveness and flexibility throughout. Would highly recommend!
Marissa
2015-08-06T00:00:00Z
My family so enjoyed their stay. The accommodations were very comfortable and the hosts friendly and helpful. Loved being just steps away from the beach. Particularly enjoyed The Surf restaurant that Joy suggested. We will definitely be staying here again in the future and recommend Joy's place for a comfortable, restful vacation.
kathryn
2015-06-20T00:00:00Z
This is a great place to stay! Literally, so close to the beach. Joy left us a nice bottle of wine and a list of her favorites places to eat and things to do, which was extremely helpful. My husband and I were only in over the holiday weekend, and Joy let us have a late check out Sunday since our flight was later. We loved watching fireworks on the beach for the 4th and eating/visiting the local restaurants and bars in town! Such a cute place! The cottage was perfect for us - spacious, clean and comfortable. We slept great and enjoyed having the kitchen area for breakfast and lunches. Definitely recommend this place!
Erin
2015-07-05T00:00:00Z
Terrific time at the beach. The location was even better than expected and the unit was in excellent condition. Joy did a great job of providing local restaurant recommendations. I expect to be a repeat guest. Thank you Joy.
Alan
2016-05-02T00:00:00Z
Tipo de Quarto
Casa inteira/apto
---
Tipo de Imóvel
Apartamento
---
Acomoda
3
---
Quartos
Fernandina Beach, Flórida 32034, Estados Unidos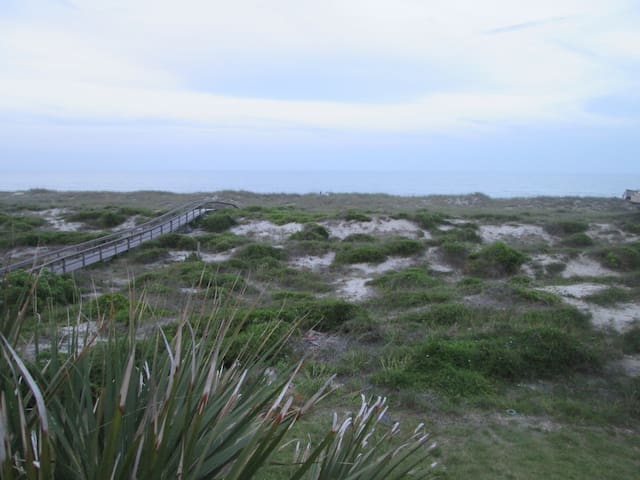 New remodeled townhouse, five minutes walk to one of the most pretty beaches in Fernandina. Secluded in a woody beautiful and peaceful area. The complex has a pool, tennis courts and kids area. It has all you need for a great worries free vacation.
Everything has been remodelled and all is new.
A beautiful and peaceful area.
The host canceled this reservation 17 days before arrival. This is an automated posting.
Frank
Just as advertised. Four of us stayed and it was very comfortable and clean. 5 minute walk to the beach, 5 minute drive to shops and Starbucks and 10 minutes down town. Check in was a breeze and they were very accommodating. We really enjoyed our mini-vacation. Thanks Maria
Matthew
2017-03-09T00:00:00Z
Maria kept in touch with us thru texts & emails during our stay. She encouraged us to communicate anything we needed to during our stay. We enjoyed our long weekend at Amelia Island. The beach was within walking distance. We felt safe. People are friendly.
Divina
2016-06-14T00:00:00Z
Very nice property in a nice, quiet neighborhood. Home was pretty much as advertised. Nice kitchen appliances and very clean. Wifi was super fast. Also liked this location because it was in walking distance to the beach and close to a couple of restaurants. It's also just a five-minute drive into town. Maria and the rental agency were a pleasure to deal with.
Dennis
2015-04-06T00:00:00Z
Maria's apartment was just what we needed for our family vacation. We arrived to a clean and well kept apartment with enough room for the three of us. The appliances seemed new and worked well. I did not recall seeing "pool" in the description, so when we were handed a pool pass everyone got excited. The pool was also well kept and inviting. The walk to the beach is easy and it will take you five to ten minutes depending on your pace. During the week we visited the beach a few times and it was nice and quiet. The location of this property is really convenient, being so close to the beach and near many amenities. Overall this property delivers a great experience. We would rent again. My family and I felt right at home.
John
2016-05-01T00:00:00Z
We loved this condo! It had everything we needed and plenty of room. It had a very nice deck and pool area too. Very close to the beach!
Joleen
2015-05-26T00:00:00Z
The space is bright and airy, and very convenient to the beach: walking time is perhaps three minutes. The pool is great for tired kids, or for when they simply want a quick dip. Grocery stores and dining are convenient; no more than five minutes drive, and the business/shoping district is no more than 8 minutes by car, if that.
Marc
2016-08-09T00:00:00Z
The place was as great as advertised! It was easy to access the beach and was in a cozy development that included a pool and playground that were great for children. I would definitely recommend this to a friend.
Emily
2015-04-20T00:00:00Z
Tipo de Quarto
Casa inteira/apto
---
Tipo de Imóvel
Apartamento
---
Acomoda
6
---
Quartos
Fernandina Beach, Flórida 32034, Estados Unidos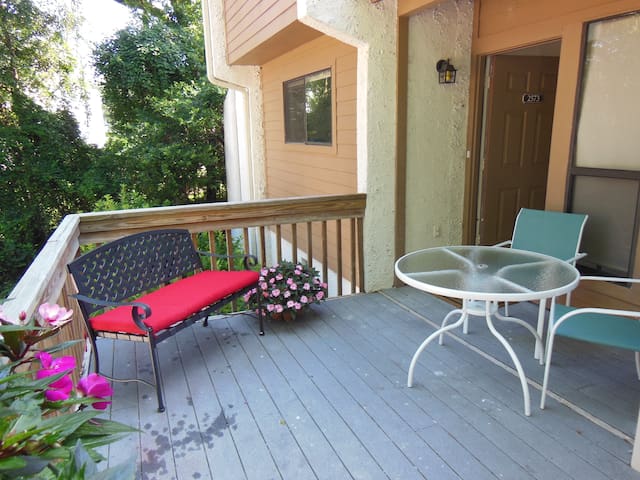 Our home is a quick walk from the beach, with lots of fun stuff to do all around town. The room offers a queen bed, which also functions as two twins, with your own full bathroom just down the stairs.
Downstairs you'll find your bathroom and kitchen. Your bedroom will be upstairs with either a twin, two twin or a queen size bed. In case you have an additional person we also could provide a cot. You will also have access to a tropical backyard with a grill/firepit for a relaxing evening at home.
We enjoyed our stay. Our hosts were very nice and the lodging was clean and comfortable.
Stacey
2016-10-24T00:00:00Z
Linda made me feel welcome. She was really nice and made sure I had everything I needed.
Matthew
2016-08-08T00:00:00Z
Linda and Scott were more hospitable and welcome than I could have imagined. This was my first Airbnb stay, and they made it great. I would love to stay with them again if the opportunity ever arises. Their dog is pretty awesome too.
Brian
2016-08-17T00:00:00Z
We've had a realy great time at Linda and Scott's place, just felt like home. They are a realy flexible and relaxed couple and also very helpfull. Their home is a one-minute drive to the beach and the Island has a lovely little city centre. We enjoyed to stay at their place! Btw, their dog (Max) is realy sweet.
Chris
2016-09-17T00:00:00Z
They were very hospitable, respectful and even better - very responsive and helpful. The place is a short walk from the beach and I felt just fine walking down there after dark. It was a good experience.
Jeffrey
2016-08-19T00:00:00Z
Charming well-decorated and just a short walk to the beach! Linda is a gracious host and the space is lovely!
Lauren
2016-12-05T00:00:00Z
Close to the beach. The description was right on exactly what I expected.She met me ,introduced Max and showed me all I would need. The accommodations were good and private. When Scott arrived later and I met him, he was as delightful as Linda. They continued to be so helpful and kind. They were my first experience with Airb&b and made a wonderful impression. I will use them and other airb&b places again.
Doris
2016-11-07T00:00:00Z
We felt comfortable and welcomed from the moment we arrived. There description of the house and location was spot on and Linda was more than helpful with her time and energy. We would certainly stay again.
Richard
2016-09-06T00:00:00Z
Tipo de Quarto
Quarto privado
---
Tipo de Imóvel
Apartamento
---
Acomoda
2
---
Quartos
Fernandina Beach, Flórida 32034, Estados Unidos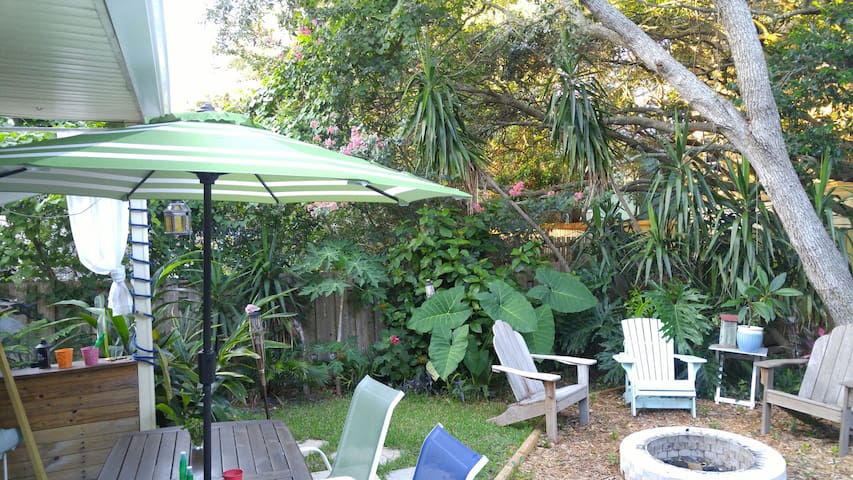 Beautifully re-modeled Ground Floor 2 bedroom 2 bath condo with split bedroom floor plan and over-sized covered and furnished deck accessible from both living room and master bedroom. Forget the stairs! Bring the kids to our gorgeous family-friendly home, steps from the pool and only a few minutes stroll from the most wonderful beach. Our condo sleeps five, and is primarily set up for 2 adults and up to 3 children. It is beautifully furnished with the family in-mind and comes with a 42' flat panel TV in the living room and a 19' flat panel TV in the master bedroom. Enjoy free high-speed wi-fi internet, cable TV and free nationwide long-distance telephone. We also have a stroller, booster chair, high-chair, porta-crib, kiddie plates and accessories. So there is no need to pack all that extra stuff that you usually have to drag through the airport or pack into your trunk. Amelia Landings Beach and Racquet Resort is surrounded by tall shade trees and offers peace and quiet close to all the amenities you and your family might want. We love our home there and look forward to sharing it with other families who want to explore Amelia Island and make those memories that stay with you long after your vacation has finished. You can leave the island but the island never really leaves you. If you are searching for that perfect place for your family's vacation, that offers everything you might need and so much more at an exceptional value, then we invite you to come stay at our home-away-from-home and make it your home-away-from-home.
We just arrived back home and already wish we were back at Amelia Island staying at Audrey's Condo. When I say, there was absolutely nothing lacking, I mean there was nothing lacking! From all the emails, to the directions, to the binder full of local recommendations, etc etc. We were traveling with our 5 year old, to squeeze in one more vacation before his school started back up. We could not have asked for a better experience. The condo is a short walk from the beach, which you can access via a private foot path! There was a cool little "soft serve" ice cream place that we hit up, which is just a 2 minute walk from the condo. The "historic downtown" Amelia Island is a short 10 minute car ride. We are already planning the next time we visit, and hope that Audrey's place is available again! On a scale of 1-10, I'd give this place a Spinal Tap "This one goes to 11" rating
Vic
2016-08-15T00:00:00Z
This is a great space in a great location. Audrey's attention to little details made the stay that much better. I enjoyed the extensive documentation on the locality. After so much rain in Virginia, I especially appreciated the weather Audrey so graciously supplied:) We will definitely be back and recommend this condo.
Kevin
2015-10-08T00:00:00Z
An easy to find condo unit in a quiet neighborhood.
Ole
2015-12-01T00:00:00Z
This sweet little condo was even better than I expected. It was nestled into a wonderful quiet and safe community. My husband was supposed to accompany us and then that fell through. I felt safe and secure staying there the whole time. She was so accommodating with our stay. We go down to the Jacksonville area twice a year and we will try and stay here every time. Just as an FYI the Beach Access is right by the Bikes once we found that we were good to go.
Tricia
2016-07-26T00:00:00Z
Check in was good. We used the code provided by Audrey, inside we found a beautiful and spotless place that we enjoyed during our three night stay. Location was great and we felt perfectly safe
Miryam and Martin
2016-08-29T00:00:00Z
I can't say enough about how welcoming and homey Audrey's place was. It felt like a home away from home. It served our family perfectly. We will definitely choose to stay here again should we be in the area.
cynthia
2016-04-20T00:00:00Z
Very lovely quiet getaway. Nice pathway to the beach, keeps you off major roads. We stayed over Thanksgiving holiday and the temps were nice enough to open windows and provided great sleeping. Never needed the air conditioning. Private porch was perfect for morning coffee.
Judy
2016-11-26T00:00:00Z
Value, value value!! We spent a week at Audrey's home away from home with a 10 month old and 4 adults, and have nothing but great things to say. From walking in the first time and being surprised with how large the condo is, to hearing the ocean and being able to search for shells after a 3 minute walk to the beach. You can tell Audrey has thought of everything, from her crystal clear instructions for when you arrive, to having a crib and stroller so you don't have to use precious cargo space! 5 stars all around!
William
2017-02-25T00:00:00Z
Tipo de Quarto
Casa inteira/apto
---
Tipo de Imóvel
Apartamento
---
Acomoda
5
---
Quartos
Fernandina Beach, Flórida 32034, Estados Unidos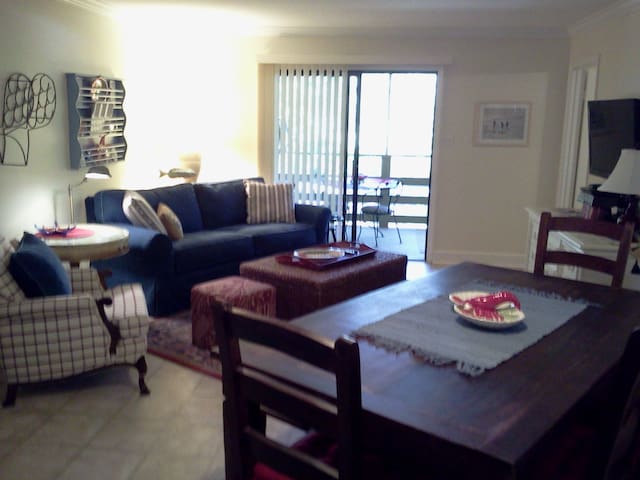 This first story condo is three blocks from the Atlantic Ocean--an easy walk in less than 200 yards. Forest Ridge has a centrally located pool, plus tennis courts and a playground. The grounds contain peaceful ponds, fountains, and a wandering creek!
Very quite and comfortable
This was a great place to stay! Just a short walk from the beach. The only problem we had was getting the code for the door upon check in.
Ashley
2017-02-01T00:00:00Z
Make sure you get the door key code as soon as possible or you might find yourself waiting for some time for the owner to send it to you. Nice location near the beach but would not rent again due to bad communication mostly.
Nate
2017-01-17T00:00:00Z
Tipo de Quarto
Casa inteira/apto
---
Tipo de Imóvel
Apartamento
---
Acomoda
6
---
Quartos
Fernandina Beach, Flórida 32034, Estados Unidos
Great 2 bedroom 2/bath condo w/screen porch, sleeps 6 with sleeper. Linens and beach equipment provided, cable, phone, Wifi. Large pool, tennis court, picnic areas w/grills, "catch & release" fishing pond. Close to beach, restaurants and shopping.
Great value close to the beach. Tastefully furnished with beach theme. Linens, beach equipment all provided. Close to shopping and restaurants and entertainment. Accommodates up to six with sleeper sofa in living room.
The condo is located in a small 60 unit complex, nestled in lovely grounds with beautiful oak canopy and lush tropical plants. Private screen porch is great for relaxing. Walk two blocks to beach, restaurants and shopping. Short drive to larger shopping areas and great little Victorian downtown.
Jessie responded immediately after I requested to stay in the condo. The reservation was booked and she provided all the information for check in. We were there for my son's beach wedding, and the accommodations were perfect for our family, and the location was very convenient to everything. The condo was nicely furnished and very clean. She provided everything you need. Loved the screened in patio and the privacy of the corner unit. It was a pleasure working with her. Will definitely stay there again when coming down to visit my Navy son and his new wife stationed in Kings Bay! Thank you
joey
2016-09-08T00:00:00Z
We really enjoyed our stay here. The house was spacious, clean , and conveniently located. Jessie was easy to work with and was very prompt was responding to any questions we had. It was a pleasure staying here and I definitely recommend it!
JoAnn & Thalamus
2016-11-05T00:00:00Z
Jessie provided all the information we needed to get into her condo in a very timely fashion. The condo had everything we needed for our very brief, one night stay. Although the weather upon arrival was wet and windy, her place was warm and inviting and provided a great start for our week of vacation in the Southeast.
Craig
2015-11-17T00:00:00Z
Location was amazing. Jessie was more than helpful. The condo was perfect the amenities were plentiful. I thoroughly enjoyed my stay an will be staying again very soon.
Michael
2015-11-10T00:00:00Z
Condo was perfect for our girls weekend. We really enjoyed all of the accommodations and beach accessories. I would definitely recommend staying here over any hotel.
Jordan
2016-06-21T00:00:00Z
Jessie's place is a home away from home, it has everything you need, cozy, conformable, in a tree-canopy-covered (so not too hot), relaxed, quiet complex, where you can hear ocean waves and enjoy natural in the condo's screened porch. The large pool is also very nice! Easy to get to, easy to walk to the beach, or drive to downtown. Jessie is also an awesome host. We loved every minutes when we were there. Would love to come back one day!
Xin
2016-09-19T00:00:00Z
Jessie and her husband were excellent Host. They both went out of their way to make us feel welcome. They gave us recommendation on restaurants and when our TV and wifi did not work came over immediately to repair the issue. The condo is beautiful, clean, comfortable and quiet. We enjoyed our stay very much
Terry
2016-03-24T00:00:00Z
Jessie was a great communicator prior to our visit and the condo was just as described- very nice ! Everything was very clean and she even has beach chairs and a cart to use to make the trip to the beach an easy one. I wish we could have stayed longer :)
Martha
2015-10-02T00:00:00Z
Tipo de Quarto
Casa inteira/apto
---
Tipo de Imóvel
Apartamento
---
Acomoda
6
---
Quartos
Fernandina Beach, Flórida 32034, Estados Unidos
Spacious entire top floor apt. with 2 bedrooms/2 full baths and huge balcony with rockers facing ocean. 1 Queen bed in Master, en suite bathroom, opens to balcony. 1 King bed in other room and bath in adjacent hall. Pullout Queen sofa bed in living room.
Gorgeous view of the Atlantic Ocean! Newly renovated apartment with hardwood floors, fully stocked for vacationers. Luxury quality sheets and towels are included. The living and dining area is spacious and great for groups.
Centrally located on S. Fletcher Ave (beach road) and close to Fort Clinch, Main Beach, downtown Fernandina Beach, etc.
We had a wonderful time at this condo! The place is beautifully decorated and was fully stocked with everything we needed to make our stay comfortable. For any incidentals that we needed, we just went to the grocery store which was a quick few minutes away. The condo was also very clean! The location was great as we had a wonderful view of the beach right across the street and the beach itself was easy to get to. The description and pictures were exactly as portrayed. The only cons were the that the mattress on the bed in the bedroom facing the ocean was hard as a rock and my husband and I on separate occasions woke up with numb hands and feet. The pillows also did not provide very much support causing some back pain. We also noticed that some of the fixtures on the wall such as the toilet paper holders and towel holders were starting to come out of the wall. We made that known upon checkout and they indicated they would repair them right away. Check-in was at the Elizabeth Pointe Lodge right down the street. The staff was great and check-in and check-out were a breeze. We would return here but we would pick a different bedroom to stay in or even sleep on the pullout couch. Thank you, Amelia Island Vacations for accomodating us on our vacation! We made wonderful memories!
Sandy
2016-07-17T00:00:00Z
Tipo de Quarto
Casa inteira/apto
---
Tipo de Imóvel
Apartamento
---
Acomoda
6
---
Quartos
Fernandina Beach, Flórida 32034, Estados Unidos
Lovely two bedroom/2 bath condo, sleeps six with sleeper. All linens and beach equipment provided, cable TV, phone, Wifi. Large outdoor pool, tennis court, picnic areas w/grills, "catch & release" fishing pond. Close to beach, restaurants, shops.
Great value, tastefully furnished beach theme condo provides guests with everything they need for a great beach vacation. Just brings personal items and purchase groceries!
The condo is located in a small 60 unit complex, nestled in lovely grounds with beautiful oak canopy and lush tropical plants. Private screen porch is great for relaxing. Walk two blocks to beach, restaurants and shopping. Short drive to larger shopping areas and great little Victorian downtown.
Absolutely lovely, so quite and peaceful I will definitely go again.
Jasmine
2015-05-01T00:00:00Z
This was a beautiful place with lovely furnishings and close to the beach. I enjoyed it thoroughly and hope to return.
Alison
2014-10-29T00:00:00Z
Jessie was a great communicator, getting back to us in a very short period of time. This was a last minute emergency business trip and had to make our plans in just a few short hours. Jessie answered our messages promptly. The condo was clean and as described. Because this was a business trip we were unable to use the amenities Jessie had to offer with her condo, they were all there, available and ready to be used. Thank you for being a great host for our crew Jessie!
Rodney
2016-08-17T00:00:00Z
Jessie answered our inquiry right away and offered to answer any questions we had. Our correspondence was cordial, and she was extremely helpful.
Linda
2016-03-21T00:00:00Z
Jessie was very kind to us even before we ever arrived to Florida! My family and I stayed at her condo in October and were concerned about beach time during our stay. Jessie was very helpful and gave me information on the surrounding beaches as well as the water temperature. The condo itself was very nice, comfortable, and well equipped with both bath and beach towels, water toys, and everything else we needed. We were visiting my family and were concerned about location but the condo is only about a half hour to river city marketplace which served as our meeting place. It is also very close to Peters Point where my family and I love to have our reunions. Great place to stay!
Sarah
2014-10-14T00:00:00Z
The accommodation and amenities were more than adequate. . . Our only regret was that we didn't have anytime to enjoy the condo and area; overall. However, the team and I did rest quite comfortably and would book with Jessie again.
SLYM
2015-08-21T00:00:00Z
We never met Jessie, but she was very helpful. She even helped us find a second place so that we could extend our visit beyond our initial plans. The unit was well located - less than a quarter mile walk down a path to the beach. The unit was very well equipped with everything we needed or wanted. She even had boogie boards, beach chairs, beach towels and a beach cart we could use. The unit is impeccable - clean and well-decorated. The price was very reasonable - a great balance of price and location. I would definitely stay there again.
Gina
2014-06-12T00:00:00Z
The condo had everything you would need, even a lobster pot for a shrimp boil. The grounds were beautiful with live oaks and palms. We found many wonderful things about Amelia Island and will be back.
Marcia
2015-05-27T00:00:00Z
Tipo de Quarto
Casa inteira/apto
---
Tipo de Imóvel
Apartamento
---
Acomoda
6
---
Quartos
Fernandina Beach, Flórida 32034, Estados Unidos
This condo is light, bright, and airy and wonderfully located within a minute's walk of the beach.
Welcome to our Fernandina Beach retreat. Whether traveling with children or a fun adult-only get away, our inviting home is can be your ideal location from which to enjoy all that Amelia Island has to offer. The Location: You will enjoy the best location in Fernandina Beach at one of the quietest and most private units in our development. You can be on the beach within 2 minutes of stepping out the front door, or at one of the nearby restaurants that cater to a wide variety of tastes. There is a great breakfast buffet, the best bbq on island, and a great places for a quiet drink overlooking the water all within a short stroll. By car you can get to everything the island offers in minutes, the vibrant historic downtown and waterfront, shopping, Fort Clinch State Park, and so many other great places. The Condo: You will love our condo! The living room and bedrooms boast cathedral ceilings that lend a spacious light-filled feel that so many vacation condos lack. Skylights in the living room provide great natural lighting, while the entire apartment has been recently remodeled and oozes a modern feel mixed with island charm and decor provided by an eclectic mix of old and new furniture throughout, including artwork by locally known artists. Kick back and listen to the breakers hit the beach through the open windows at night, or watch your favorite tv show on the new 42" flat panel tv from the oh so comfy sofas. Our community is wonderfully maintained, clean and quiet with a lovely pool, a fantastic playground, tennis courts, and a great wooden walkway and sidewalks all around. The Family Advantage: We make it easy for you to travel with your children and only bring clothes. We provide beach towels, beach chairs (2), beach toys, travel size sunscreens, child sized life jackets (2), and a fantastic beach cart to carry it all in so your hands are free to hold little hands as you walk to the beach. We have a single stroller, a high chair, a booster seat, children's bowls, plates, cutlery, sippy cups, bibs, and a bottle warmer. You are going to love Amelia Island and you will love our little haven away from home...
This place is amazing! It is clean, comfortable, equipped with family necessities, affordable and so close to the beach. My family was so impressed. Quiet neighborhood too. Loved the stay! We will surely come back!
Leticia
2016-06-12T00:00:00Z
Tipo de Quarto
Casa inteira/apto
---
Tipo de Imóvel
Apartamento
---
Acomoda
5
---
Quartos
Fernandina Beach, Flórida 32034, Estados Unidos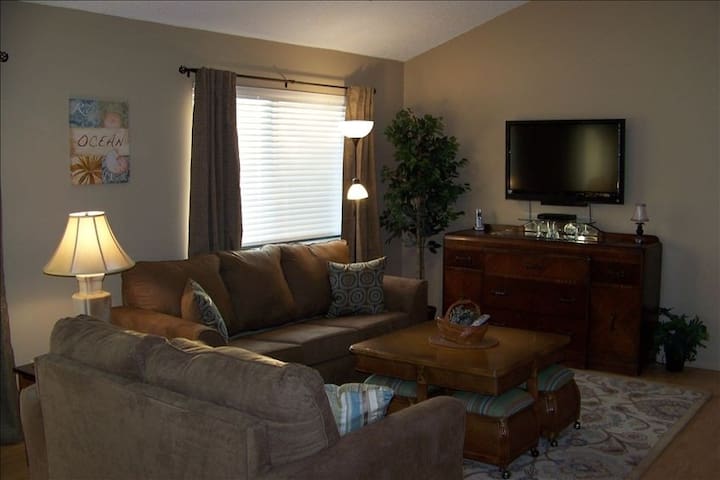 This newly renovated downstairs apartment is furnished and equipped for vacation. The two bedrooms both have Queen beds with luxury linens and share a bathroom located in the hall. Sliding glass doors from living room open to patio.
Tipo de Quarto
Casa inteira/apto
---
Tipo de Imóvel
Apartamento
---
Acomoda
4
---
Quartos
Fernandina Beach, Flórida 32034, Estados Unidos
1

–

10

de

10 Apartamentos para Alugar
Insira as datas para ver o preço total. Taxas adicionais aplicáveis. Podem ser adicionados impostos.