184 Apartamentos para Alugar
Studio apartment with own entrance in a fabulous 1900 Farmhouse. Adjacent 3-seasons room. A nice full kitchen, and bath with antique tub. Amazing grounds and gardens. Great for biking, hiking, getaways. 2 hours from NYC. 25 minutes to Hudson.
Charming, private studio apartment with adjacent enclosed 3 seasons/porch room. Kitchen area has nice refrigerator and cooking stove. Beautiful grounds and lots of space. In village but quiet and relaxing.
In a village with farms and views of hills. Very pretty. Walking distance to diner, pizza, general store.
Very spacious & sunny room, with a big comfy bed, access to a beautiful outdoorsy room, and a kitchen with basic supplies (or more upon request; I was given a french press too). Both the house & neighborhood are generally quiet. Great for staying solo or with guests, although bathroom may be a bit cramped for taller/larger people. It can feel a bit drafty in the winter even with the hest on, but it's nothing an extra layer & blanket can't fix. I'm sure the temperature would be beautiful in warmer weather. Moss is very accommodating, kind, and easy to relax around. I would definitely recommend this place as a getaway while enjoying the convenience of food within walking distance.
Eliza
2017-03-21T00:00:00Z
Tipo de Quarto
Quarto privado
---
Tipo de Imóvel
Apartamento
---
Acomoda
2
---
Quartos
Copake, Nova Iorque, Estados Unidos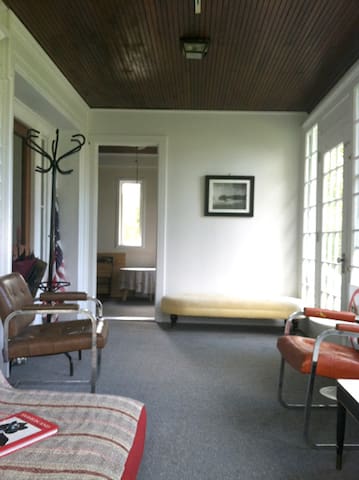 A great getaway in the country. Relax and Enjoy this country setting apartment done with impeccable taste. The apt. has high vaulted ceilings with old beams. Owner is an avid hunter so walls are filled with mounts. Views are amazing.
Vaulted ceilings, lots of natural light. Kitchen and private bath.
We are at the end of a long driveway in the woods, very remote and quiet.
Wonderful home, in a lovely location! We had a lovely stay, Heidi is great, and we would definitely return here. One of the best Airbnb experiences we've had!
Jake
2016-08-15T00:00:00Z
The house and view, were beyond our expectations, the pictures are just a mere glimpse of what you will be experiencing upon your arrival. The town, only a 5-10 breathtaking view drive, is the cutest thing ever and you can find anything fresh and locally grown. And last but certainly not least, Heidi and family catered to our needs and were only a phone call away. We would highly recommend this lovely place to anyone who wants a quick, yet beautiful, peaceful, and extremely quiet get away. Artur&Uzzie
Artur
2016-09-06T00:00:00Z
Tipo de Quarto
Quarto privado
---
Tipo de Imóvel
Apartamento
---
Acomoda
2
---
Quartos
Copake, Nova Iorque, Estados Unidos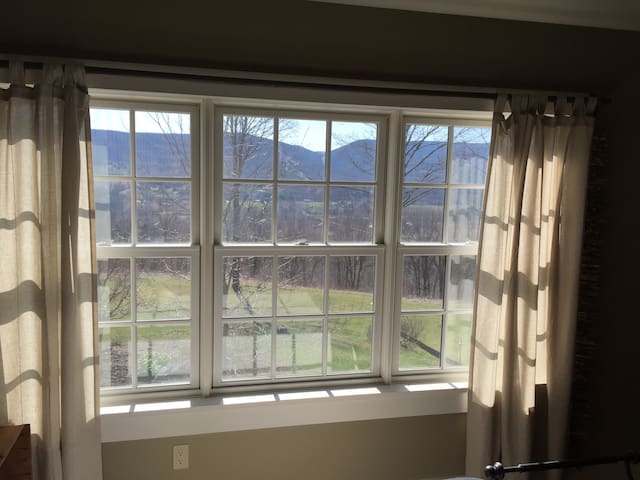 Large one-bedroom apartment on the second floor of a well cared for Victorian house in the village of Sharon, CT. Located across the street from JP Giffords cafe and down the street from Sharon Hospital, the apartment has been recently renovated with a new kitchen, appliances, and a fresh coat of paint. The interior is an eclectic mix of mid-century modern, Shaker, and contemporary furnishings.
Located at the top of one flight of stairs, the private apartment has one-bedroom with a queen-size bed and desk,a large living room, a washer/dryer, and a fully equipped kitchen stocked with coffee and tea. The bathroom includes a shower/tub and is stocked with fresh towels and bath soap. A twin size cot is available upon request.
Heide is a great host and the apartment is incredibly charming and right in the center of Sharon, CT. We were there to be near a family member in the Sharon Health Center rehab, which is a block away (as well as Sharon Hospital), but this would also make an amazing getaway rental for a New England escape. I fully recommend Sharon, Heide, and the apartment.
Mark
2017-03-17T00:00:00Z
The host canceled this reservation 129 days before arrival. This is an automated posting.
aash
2017-02-14T00:00:00Z
Beautiful Airbnb in Sharon, CT. Spacious, 2nd floor apt. in gorgeous antique home right in town. Every amenity you can think of. Uber comfortable bed, down comforter, lovely kitchen, spotless!
Alexandria
2017-02-27T00:00:00Z
A very comfortable and well appointed interior. The town of Sharon is very lovely with lot's of history. Great coffee shop across the street.
Peter
2017-01-31T00:00:00Z
Tipo de Quarto
Casa inteira/apto
---
Tipo de Imóvel
Apartamento
---
Acomoda
2
---
Quartos
Sharon, Connecticut, Estados Unidos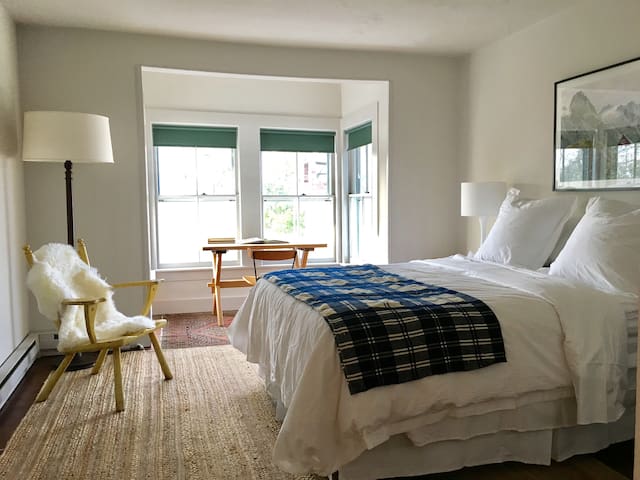 The Artists' Apartment is a relaxing home away from home for guest actors and musicians when appearing on stage at the Ancram Opera House, a rural performance hall in Columbia County. When not in use, we offer the apartment to travelers to enjoy the area and artists seeking retreat space to create, rehearse or meet with collaborators.
The garden level apartment is a quiet, private and comfortable space for 2-4 people. There are two small bedrooms--one with a double bed and another with a queen. The wood-burning fireplace is ideal for a chilly evening and the gazebo makes for a great spot for reading, hanging out or enjoying a drink. Take your morning coffee or use the charcoal grill on the patio. Located in southeast Columbia County, NY, the apartment is surrounded by some of the most beautiful countryside in the Hudson Valley. Wonderful hiking, country drives, cycling just outside your door. Lovely swimming is also nearby. Hudson, Great Barrington, Hillsdale, Millerton—all between 15-30 minutes away—offer excellent dining, shopping, galleries. Performances at Bard and the Berkshires are also close-by. A few details to note—the open kitchen, living area and bath are all new, recently renovated; the bedrooms and den are charming but need a fresh coat of paint. The bedrooms were once used as music studios with exterior facing windows so there is plenty of light, however, between the rooms there are interior windows which are curtained for privacy. With additional arrangement, the Ancram Opera House's intimate performance hall, equipped with a baby grand piano, may be available for rehearsals, retreats, meetings, celebrations and parties.
This is a delightful place to rest, recharge, and pamper yourself. Quaint setting with amenities to feel as if you had never left the comfort of your own home. A gem, curated by Jeff and Paul who love theatre, the arts, and the town they call home. As host, Jeff provides precise and clear information, has great knowledge of the area (including surrounding towns), makes himself available whenever necessary. We are looking forward to visiting again.
Pedro
2016-12-30T00:00:00Z
Paul was a great host (Jeff was out of town at the time). Everything was communicated clearly ahead of time, and even though we moved around our arrival time a little they were very accommodating. A unique feature of this place is that the apartment/house that's for rent is actually at the lower level of a little Opera house in a small town (Ancram), which the couple have recently restored. With little back doors to lead up to the stage and wonderful furniture, art and books all around, our experience was fantastic!
Kiran
2016-07-05T00:00:00Z
Amazing stay at an amazing place! Especially loved the bathtub! Would come again for sure! Thanks Jeff!
Frankie
2016-09-18T00:00:00Z
Pictures didn't do the place justice. Jeff/Paul were extremely welcoming and helpful. The place is well appointed with everything you'd need, and things you didn't even know you wanted, like locally made soap and a bevy of kitchen appliances (hello, waffle maker!) The only issue we ran into was that it is very hard to regulate the temperature in the bedrooms. Especially if you want to close the doors.
Cassidy and Kyle
2017-01-01T00:00:00Z
Jeff's place is amazing. We had everything we needed and Jeff couldn't be more helpful. We will definitely return. Can highly recommend.
Jordan
2017-04-09T00:00:00Z
I enjoyed meeting Jeff and Paul, and talking about the performing arts in NYC and the Hudson Valley. They are doing a wonderful job of bringing theater to a bucolic haven: Ancram. The apartment was very spacious and very clean. The kitchen was better equipped than my home kitchen. They thoughtfully left milk, cereal, and coffee to get me started. The furnishings are eclectic and fun and comfortable. The gazebo and hammock were definite pluses. Jeff communicated immediately with me. I plan to return.
Joanna
2016-08-25T00:00:00Z
Jeff was very communicative and hospitable. They place was exactly as advertised and a great location and value. We'd love to come again.
Seth
2016-10-10T00:00:00Z
Wonderful. Jeff was incredibly responsive and thoughtful. He supplied the apartment with everything we'd need (and more!) for what was a truly relaxing weekend in a lovely corner of the world. The apartment was the cleanest I've ever seen in an Airbnb. Clawfoot tub!
Jacob
2016-10-30T00:00:00Z
Tipo de Quarto
Casa inteira/apto
---
Tipo de Imóvel
Apartamento
---
Acomoda
4
---
Quartos
Ancram, Nova Iorque, Estados Unidos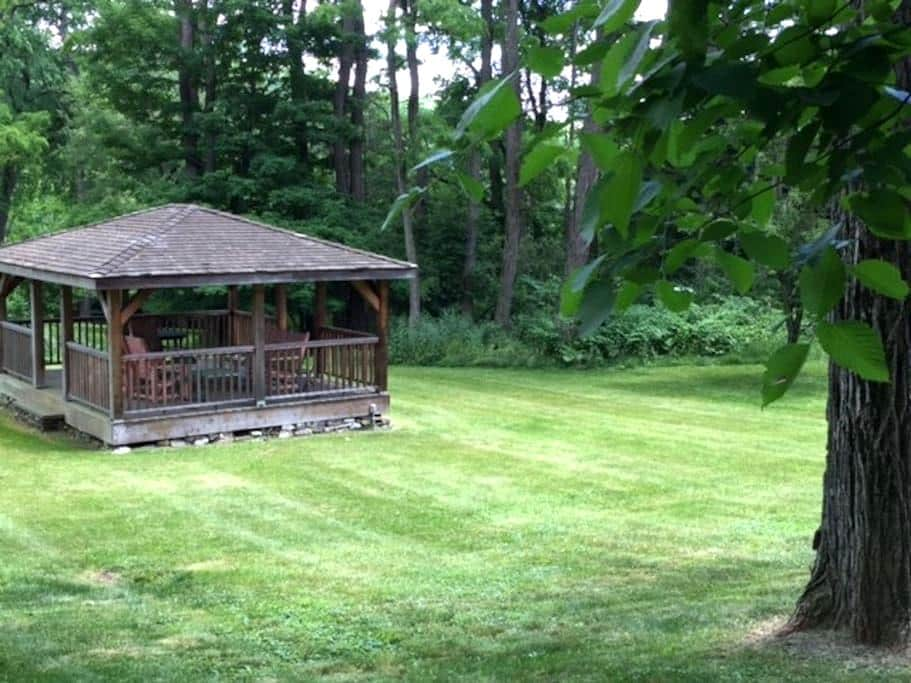 The room is light and airy with morning sun and the shade of the large front porch in the afternoon. This is a place to enjoy a meal or just lounge and relax with a view of the gardens and surrounding woods. This space features a private entrance, a kitchenette and full bathroom and very comfortable queen bed.
Our newly created studio bedroom ensuite (with it's own private entrance) is situated in a peaceful cul-du-sac, on 'the hill', overlooking the town of Great Barrrington(URL HIDDEN) The room is artfully appointed with a comfy French Country queen sized bed. There is a simple kitchenette suitable for continental breakfasts, snacks like wine and cheese, or heating leftovers from one of our excellent local restaurants. Our new bathroom features an oversized walk-in shower stall. The table and chairs sit beside a large picture window where 'early risers' can enjoy a lovely Berkshire sunrise. This also doubles as a useful work surface for e-mailing, writing, etc. The large victorian porch is actually a garden room with views of colorful perennial beds, woods, and in three seasons a glimpse of the mountain range beyond - the perfect place to read, to talk, or just to relax and enjoy. This large home was designed and built by a well known Berkshire fine arts painter and has been his home and studio space for over 25 years.
The Airbnb is perfect for those wanting a comfortable, clean, pleasant, and convenient place to stay while visiting the Berkshires. Stephen is a wonderful host.
Rita
2016-10-10T00:00:00Z
Beautiful peaceful neighbourhood & setting. Most comfortable & clean suite. Very accommodating hosts. Thank you Stephen & Eileen. All the best Lock & Roz
Roz
2016-08-12T00:00:00Z
This Air bnb is perfect in many ways for a get away to Great Barrington area. Stephen was in contact with us & met us there. He offered good information about the area. The room is beautifully decorated and quite comfortable. We would stay again when in the area.
kathy
2016-10-23T00:00:00Z
Wonderful place! Stephen is an excellent communicator and was very accommodating with our arrival time. He met me and showed me around the room. Everything in this newly renovated room is spotlessly clean. Plenty of room for 2, great bedside lighting for reading, stocked kitchen/bar, mini-fridge, etc. Best part was the lovely porch for late afternoon cocktails. Close to lake, town of Great Barrington a 1 mile, 20 minute walk, down and up hill. Highly recommended!
Patricia
2016-09-07T00:00:00Z
First off, the location was terrific - within walking distance of Main St to get to bars, restaurant and shops. Second, Stephen was very prompt in replies and easy to communicate regarding our arrival. He greeted us and gave us a tour of the room. The home is lovely and the room, fully equipped with a small kitchen, table, bed, bathroom and closet area was perfect. The hosts were kind enough to leave coffee and tea for use as well as bathroom products. Third, coming and going was a breeze. We were able to chat with our hosts but had our own entrance and light. Eileen and Stephen left information on places and things to do and, had we asked more questions, I can tell they would be happy to help. Overall, a wonderful spot to stay with friendly guests and a lovely spot.
Susie
2016-07-11T00:00:00Z
This was a great trip! Stephen was an excellent host, the space was perfect, and we loved the location right in the middle of all the best Berkshire activities.
Ben
2016-08-07T00:00:00Z
Stephen and Eileen welcomed us warmly and were extremely accommodating as we had a delayed and very late check in after attending the beginning of our workshop at Kripalu on Friday evening. We enjoyed the less than 30-minute drive to and from Kripalu which allowed for exploration of the beautiful surrounding towns (e.g. Great Barrington, Stockbridge and Lennox). Great Barrington was our favorite town to stroll, shop, eat, and chat with locals. It was a privilege to be the first guests in Stephen's charming studio, which was built with much passion, pride, attention to detail, and a design intent to maximize comfort and convenience. The stunning location was everything that we envisioned for a tranquil getaway. Waking up to the birds chirping and enjoying coffee and tea on the cozy porch were a perfect start of the day. Stephen and Eileen were amazing and caring hosts who made every attempt to make our stay as pleasant as possible by providing amenities such as tea, coffee, beach towels, fresh shower towels, a list of eating/activity recommendations, etc. We would definitely stay here again on our next visit to Massachusetts.
Olivia
2016-06-22T00:00:00Z
Stephen was a very welcoming and kind host, and we enjoyed coming home both nights to this lovely, quiet place. It's in a beautiful area. Loved the porch and the gardens.
lynn
2016-08-29T00:00:00Z
Tipo de Quarto
Casa inteira/apto
---
Tipo de Imóvel
Apartamento
---
Acomoda
2
---
Quartos
Great Barrington, Massachusetts, Estados Unidos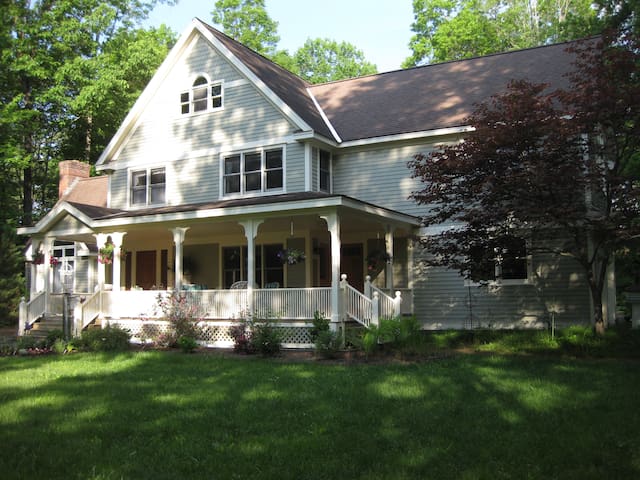 1825 historical building on the Williams River, grounds of original Van Deusenville PO. .7 mi from Downtown Great Barrington. Handy to Berkshires amenities. Totally private, very cozy, private deck with grille, flowering plants, enormous trees and great views. OK for couples, solo adventurers, business travelers, and furry friends (dogs OK--though leash is mandatory; people with allergies, please note). A freight train goes by 2x/day (at most), gone in under 30 seconds, usually daytime hours.
The Airbnb apartment is the second red door on the left as you follow the gravel path. I will have the right side of the driveway open for you. Please let yourself in and make yourselves at home if I don't happen to be around. The key will be on the table inside. There are a few lounge chairs out back for you to use as well, and extra blankets if you need them in the closet. Any other problems, please text or give me a call. (PHONE NUMBER HIDDEN)
This is a quiet, old New England road with a lot of history. (Iron works literally in the lot next door 150+ years ago.) Many of the houses along Rt 41 (North Plain Road) are 1800s era Greek Revivals like mine, and it's very lush and wooded with some large cleared fields off to the East. The house is not too far from the road, so dogs really should not be off-leash anywhere in the yard. Cars are generally moving around 35 or 40 when they pass, since they have to slow down for an intersection and traffic is fairly light most of the time. Experienced bike riders do use the road a fair bit but I personally try to avoid it (avid cyclist) since there are zero shoulders and once past my house cars get up to 50 or so. However, if you came here to road ride, you can get off of Rt 41 in a few hundred feet and hit some of the best riding in the Berkshires right off of Division Street, toward Alford (including but not exclusive to The Alford Loop on Map My Ride) It's a very short drive to town, under 5 minutes. The Guthrie Center for folk music is only about 1000 feet from the house, and Taft Farms for produce, cider, sandwiches, etc is a two minute drive, or a nice walk. Otherwise, everything is in GB proper. The Williams River runs about 300 feet from the house but unfortunately, there is no access from here (though you can certainly hear it at night)
Dave's home had a Rustic feel. We were in the side house. It was as described. We got in late and hit the bed for an early departure to Boston. It worked perfectly.
Tammi
2016-10-06T00:00:00Z
The host canceled this reservation 47 days before arrival. This is an automated posting.
Kristen
2016-11-13T00:00:00Z
Our stay in Grt Barrington was perfect. We were just a few miles from the wedding we had to go to, it was a perfect spot. Dave was very nice and helpful. The apartment was just as described and cozy and clean. we enjoyed the outside deck having a nice lunch outside and enjoying our space before we had to go to the wedding. If I ever need to stay in Grt Barrington again, I will definately stay there!
JAMIE
2016-10-09T00:00:00Z
Dave's place included everything needed for out stay including lots of great brochures about the area! The location is peaceful and relaxing - very quiet even though it is on a main road and the apartment itself is well kept and the perfect size for a couple.
Sarah
2016-07-18T00:00:00Z
Dave was very friendly and welcoming. The location was very close to campus, so can certainly see us staying here as long as our son is a student in Great Barrington.
Kathy
2016-10-30T00:00:00Z
Dave kept in constant contact to make everything clear.
Brianna
2016-08-18T00:00:00Z
Dave provided a great space to relax during my visit with my daughter. Comfortable bed and nice amount of room. Dave was a great host.
Paddy
2016-07-27T00:00:00Z
Dave's house is perfect for a weekend getaway. Quiet, clean and in a beautiful little town. The porch that looks out onto the wooded backyard is just gorgeous! The house itself was warm and well-stocked. Would love to come back in summer.
Sonali
2016-10-16T00:00:00Z
Tipo de Quarto
Casa inteira/apto
---
Tipo de Imóvel
Apartamento
---
Acomoda
2
---
Quartos
Great Barrington, Massachusetts, Estados Unidos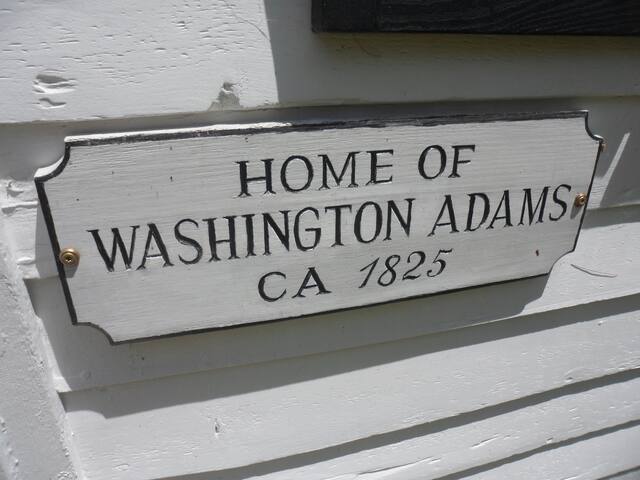 Cozy one bedroom apartment is perfect for a couple or single person who wants to be within walking distance to downtown a Great Barrington.
Tipo de Quarto
Casa inteira/apto
---
Tipo de Imóvel
Apartamento
---
Acomoda
3
---
Quartos
Great Barrington, Massachusetts, Estados Unidos
If you're looking for quiet, character & a touch of class that's cheap, then you've found it. My flat is cozy & open. Enjoy off street parking; a 5 minute walk to the grooviness of Great Barrington proper; chill on my back deck as the Housy drifts by; take a 25 minute drive to Berkshire culture (Tanglewood, Jacob's Pillow etc) or hit the outdoors & hike & ski. I know the area well & can point you in various directions or leave you alone. My dog Lucy will happily welcome you then fall asleep!
Tom was a delightful host. He gave us a FABULOUS dinner recommendation, helped us navigate the town and find things to do in the evening, and let us hang with his sweet pup, Lucy. The apartment is nestled right next to the river and is a very short walk to anything you could need to get to. The space is cozy and charming and we would definitely recommend to friends.
Allison
2017-02-19T00:00:00Z
Tom was a caring and helpful host! We had one of the best meals of our lives following his restaurant tip. His home is cozy and unique.
Alexandra
2017-01-22T00:00:00Z
Tom was an excellent host, very reliable and helpful. the place is a super cute and eclectic centrally located house right next to the river. he also provided great local restaurant recommendations.
Mauricio
2017-02-04T00:00:00Z
Tom was very communitive and welcoming. His place was clean and inviting. Had no problems at all.
Samuel
2016-12-11T00:00:00Z
Tipo de Quarto
Quarto privado
---
Tipo de Imóvel
Apartamento
---
Acomoda
2
---
Quartos
Great Barrington, Massachusetts, Estados Unidos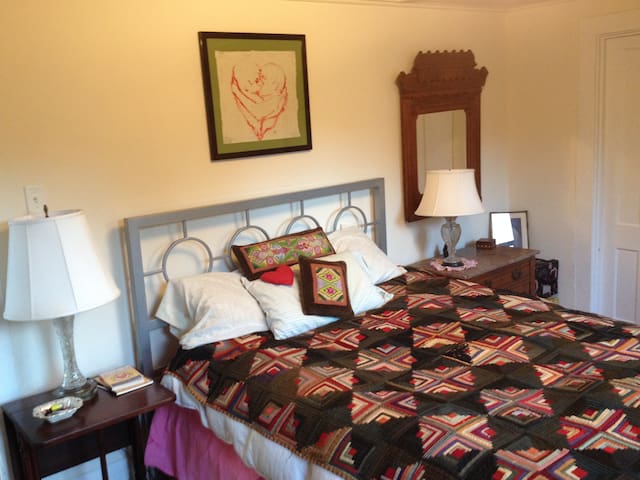 A large studio apartment with a queen bed, daybed, kitchen and bath that opens on one of the loveliest 4 acres of private gardens in the Berkshires. Enjoy walking our woodland trails, rest a while by the brook or take a sauna under the stars. A piece of heaven.
Created by a designer of interiors and gardens & her master builder husband, the country cottage at RavenTree offers a wonderful setting for rest, reflection and enjoying nature. Our brook is a perennial stream feeding the Green River and the woodland trails and occasional benches encourage lingering. We are about 35 minutes from Tangelwood and Kripalu and 50 mintues from Jacobs Pillow.
We are located in an area with light farming, just over the the Massachusetts/New York border. There are many wonderful hikes, world class museums, festivals, country fairs and things to see and do nearby in New York as well as in Massachusetts. Connecticut is less than 30 minutes away and you can be in Vermont in an hour.
This lovely cottage in Great Barrington of MA surpassed our expectation. My boyfriend and I stayed here for three days and we were surprised how convenient the location was -- close to the town with big markets and delicious restaurants while secluded with beautiful private garden. The house had everything you need for a short stay, however, it is attached to a bigger house so be aware that you are not renting the "entire" home. No Tmobile reception on the area so relying on GPS can be quite tricky. Overall, it was a nice, quiet getaway.
Sylvia
2016-09-05T00:00:00Z
Despite being the rainiest weekend of the year, our stay with Priscilla and Bruce was amazing. Their greeting was warm and they made us feel comfortable and at home instantly. The apartment was the perfect base to explore the Berkshires from. The space is completely private, and no detail was spared in making us feel comfortable and relaxed during our stay. The space is as quaint and clean as it looks in the photos, the bed was very comfortable, and the garden was beautiful, and a very nice view to wake up to in the morning. I highly recommend staying here if you are looking for a nice relaxing trip to the Berkshires, or even upstate NY (they are only a minute or so from the NYS border). We were in the Berkshires celebrating my girlfriend's birthday and they made it extremely special - Thank you Priscilla and Bruce, we can't wait to come back.
Rami
2016-10-23T00:00:00Z
Our stay at Priscilla and Bruce's place was wonderful. The small apartment was perfect for our needs, and Priscilla's gardens out back were magical. The place is located close to Great Barrington center, Hudson and Chatham, NY, and an easy drive to just about anything the Bershires and Columbia county have to offer!
Hanna
2016-06-11T00:00:00Z
Pricilla's cottage was simply lovely. It is like being in a little garden oasis. Par ills was attentive and welcoming and truly cared about our guest experience. I will definitely be returning!
susye
2016-05-02T00:00:00Z
It was the perfect getaway while dropping my daughter off to school. Tranquil, no outside noise, comfortable beds and beautifully decorated. Wish I had more time to explore the yard and gardens! Easy access to both Pittsfield and Great Barrington. Would stay here again in a minute.
Kimberly
2016-09-03T00:00:00Z
Priscilla and her husband are very warm and had lots of recommendations for the area. It's on a beautiful plot of land that is fun to explore. The cabin is beautiful and the coffee was a perk... Keep in mind that the cabin is an apartment right off the main house, so if you want to be secluded a lot it's probably not for you, but we really enjoyed it. Thank you for a great stay!
Emily
2016-10-30T00:00:00Z
This studio apartment is delightful! We would highly recommend it to anyone who is looking for a quiet country retreat. It is beautifully and thoughtfully designed, both inside and out! Pricilla, her husband and their very friendly dog were very accommodating, thorough and thoughtful. If you stay here, you'll be able to enjoy peace and quiet, a beautifully landscaped garden with walking trails in the woods, and be in very close proximity to some of the most charming areas of the Southern Berkshires, like Great Barrington (and one of our all time favorite restaurants, Allium, (URL HIDDEN) Stockbridge, Tanglewood and Jacobs Pillow. We will definitely look to stay here again when our travels take us back to the Southern Berkshires!
Colin
2015-07-26T00:00:00Z
Priscilla and her husband Bruce met us at the door as we arrived. They were very kind, gracious, accommodating, and thoughtful in all of their interactions with us. They were immediately available whenever we had questions or needs. The accommodations were absolutely wonderful; well-appointed, very inviting, and extremely tidy. The location is amazing. Just a few minutes from Stockbridge and the center of Great Barrington. The backyard and surrounding woods are beautiful. We will be back...
Patrick
2015-10-12T00:00:00Z
Tipo de Quarto
Casa inteira/apto
---
Tipo de Imóvel
Apartamento
---
Acomoda
3
---
Quartos
Great Barrington, Massachusetts, Estados Unidos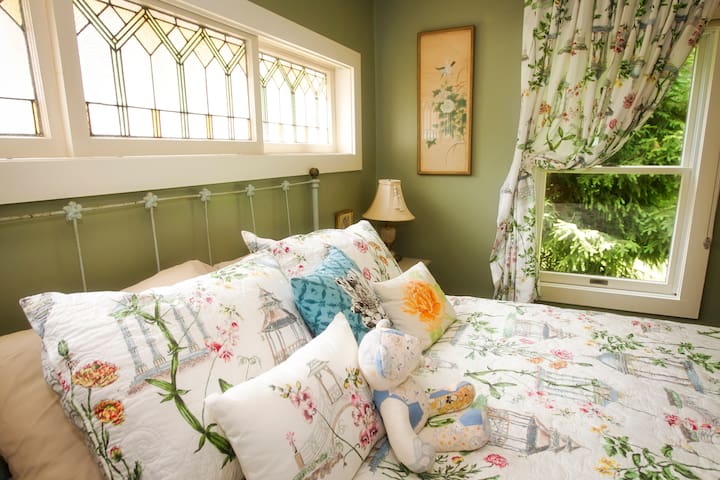 First floor renovated mini victorian with patio and garage . Deep soaker tub and glass shower stall. Brand new kitchen with gas stove. 2 Miles from Butternut Ski area and 10 to Catamount. Close to downtown, no pets, no smokers seasonal rental option
My trip to Lynne's place was fabulous. Her place is comfortable and beautiful and the perfect mix of staying in a GB cabin but having all the comfort and style of a modern apartment
CJ
2016-12-10T00:00:00Z
House was fully equipped and perfect for what we needed. Lynn was a great host!
Lorraine
2016-12-27T00:00:00Z
We had a great time in Great Barrington at Lynne's house- it very clean, centrally located and the décor is fabulous!
anna
2017-01-15T00:00:00Z
Lynne's place was perfect for our 4 night ski trip with two kids. It's 5 minutes from Butternut, 5 minutes to SoCo ice cream. We cooked our meals and found the kitchen to be well-stocked with all we needed. Thanks, Lynne!
Christina
2017-03-20T00:00:00Z
Nice central location. Lovely totally renovated first floor or an older home. Would stay again.
Allen
2017-03-05T00:00:00Z
Very comfortable home with stylish furnishings. Highly recommended. Great host!
Geoffrey
2017-02-12T00:00:00Z
My boyfriend and I stayed at Lynne's place for a winter getaway. The house was beautiful and was very welcoming. There were plenty of high end amenities and it felt like we were staying in a luxury hotel. Lynne even left a bottle of champagne for us to enjoy during our stay. It was a great location off the main strip. It was less than 5 minute drive to the downtown restaurants and shops, and very walkable in nice weather. The neighborhood was quiet. We will definitely be back!
Alanna
2016-12-31T00:00:00Z
Super close to butternut making for an awesome place for a ski weekend!
Dylan
2017-01-04T00:00:00Z
Tipo de Quarto
Casa inteira/apto
---
Tipo de Imóvel
Apartamento
---
Acomoda
4
---
Quartos
Great Barrington, Massachusetts, Estados Unidos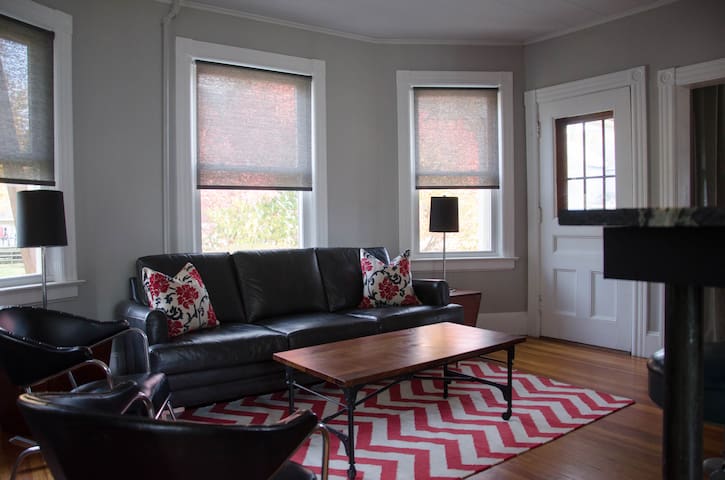 This is a lovely private apartment, attached to our house with its own separate entrance. It's newly built, with an excellent use of space and offers a beautiful retreat just minutes walk from downtown Great Barrington. We welcome families!
Beautiful, new studio Apartment, 5 minutes walking distance from downtown, on the hill in Great Barrington. This apartment is a newly built addition to a lovely house situated on a private, wooded property with separate entrance, and a grassy, shaded backyard. The apartment has a fully equipped kitchen, dining space, living area, and bedroom. It gets great light due to huge floor to ceiling windows and a large skylight. 10 minute walk to Lake Mansfield beach. Apartment sleeps 4 and is a perfect get away for a couple or family who wants to enjoy Great Barrington and the surounding attractions. 15 mins from Tanglewood, 15 minutes to Stockbridge. Volleyball and badminton net set up in the back yard. Owned by a French/American family. We welcome all, especially families! We know that kids are often turned down from typical Bed and Breakfasts and we know how hard it is to stay in a hotel without a kitchen. And we are super easy going about child related noise (or any noise for that matter). This apartment is great for families looking for a home away from home.
The neighborhood is called "The Hill" and it's considered the best location in Great Barrington from a real estate standpoint. Very close to downtown, it's a lovely secluded neighborhood with beautiful old houses.
I was almost afraid to write a review because if too many people know about this place, it will never be available. But anyway, Molly and Aurélian have a beautiful, artistic, well designed studio in a central but quiet location. We loved the light, the creative touches to the unit, and did not have any problems with noise or finding the location. Molly and Aurélian are very nice although our paths did not cross a lot during this stay; they seem very interesting and welcoming. I think this place is suitable for most people; however it is on a hillside. This is a private space, so if you like to interact with people a lot it might feel quiet. I liked that aspect though.
Erik
2015-10-13T00:00:00Z
We appreciated very much staying at Molly & Aurelien's. Very warm welcome, very cosy place, close to great barrington center and to Butternut ski (where we wanted to spend ou days). As somebody said, place is not very well noise-insulated, but we've been much noisier than our hosts. Aurelien, thanks again for the cheese. Delicious.
Laurent
2015-03-02T00:00:00Z
Staying with Molly and Aurélien at their beautiful place was a joy. Clean, quiet, modern, and highly functional space, and hearing about their design work was extremely interesting. Thanks again! Hope you enjoyed the music :)
Dave
2014-09-21T00:00:00Z
I loved Molly & Aurelien's apt. They were a pleasure to have as a host. The apartment was clean and very comfortable and private. They were very considerate to giving me privacy. Molly was wonderful to talk to gave me sugeestions on where to eat and they were all great. I look forward to going back again!
Hema
2014-09-08T00:00:00Z
My wife and I were delighted with the experience staying in this lovely apartment. We were welcomed warmly by Molly, the hostess. It was quiet and really beautiful, with windows to the ceiling, looking out to forested back area. It is just far enough from town to be special, but close enough to get right to town easily.
daniel
2015-09-28T00:00:00Z
This apartment was charming, private, clean and welcoming with its modern eclectic vibe and peaceful views of the woods and garden. Loved the super efficient kitchen and the sink's gorgeous Rube Goldberg-like faucet. Great location - near the center of Great Barrington and close to Berkshire attractions. Thanks for a great stay.
Kathryn
2015-08-28T00:00:00Z
We loved our stay! Molly and Aurelien were wonderful hosts and their apartment is lovely. Super cozy, bright and wonderfully designed. The location is perfect, a quick walk to Great Barrington which is filled with quaint cafes/restaurants/shops. We were charmed and hope to be back soon.
Susanne
2016-11-06T00:00:00Z
We loved our Airbnb with Molly & Aurelien - The apartment is super cute + cozy and they provided detailed helpful instructions for check-in etc.! The apartment is peaceful and close to town - quite convenient - A great stay, thank you!!
Winnie
2016-12-23T00:00:00Z
Tipo de Quarto
Casa inteira/apto
---
Tipo de Imóvel
Apartamento
---
Acomoda
4
---
Quartos
Great Barrington, Massachusetts, Estados Unidos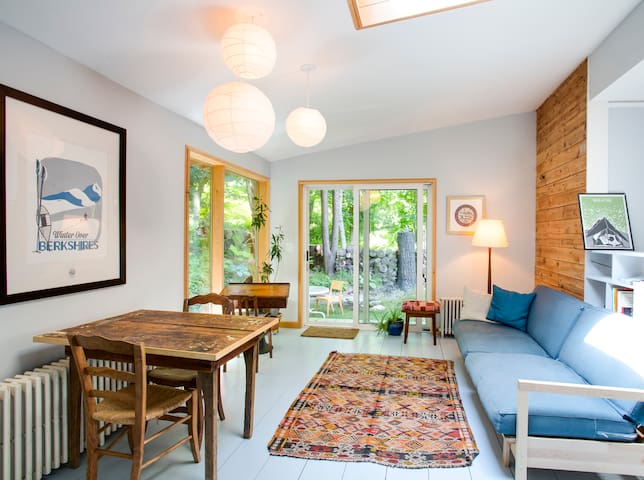 This homely nook is located on a private road in Lakeville, CT within walking or riding distance from our local lake and restaurants. This cozy accommodation is a short proximity from boarding schools, wedding venues, Lime Rock Race Park, wineries, golf club's, scenic routes, New England's falls foliage, several waterfalls, ski jump festival, fresh farm products and the Appalachian Trail's. The fresh air is always FREE but no guarantee on the cell services.
***This Hideaway*** If you love the four seasons and you're looking to disconnect from the city's hustle and bustle lifestyle then we've got a quiet getaway apartment for you, come on over and relax to the babbling brook and become one with nature again. This fully furnished mother - in - law apartment is below owner's home, it houses all the accommodations for you to cook, eat, entertain and dream, it is an open concept with combination Full Kitchen, Living space, Dining area, and King size Bedroom with sitting area. We do not carry a land line, but if you need to make a call just step out into the fresh air and go for it. Limited WiFi Access is available, (stream one movie at a time) but you're welcome to disconnect and enjoy peace and tranquility at your own discretion. ***Something about the Country outdoors*** If you love walking, running, cycling, camping and hiking then this is the place to be, but if you need to visit our area events and attractions you'll need a car, again If you need something just ask. ***NOTE:*** *A car is necessary to get around, *Space available for Bikes/Skis *Access to Netflix on flat screen TV in Living area *Sleeps 4 : 2 on the King bed and 2 on a air mattress if needed *This is the country life, don't be alarmed by spiders, insects, squirrels, and birds.*
***Welcome to the Neighborhood*** We are located just off a dirt road with friendly neighbors. Depending on the season you might hear an occasional lawn mower or snow blower.
My hosts both Troy and Toni were fantastic, the most perfect host I could have asked for, very polite, helpful and great company. They took care of all my requirements, and it always felt like home away from home. Would love to come here again and again, will miss them a lot:(
Jyoti
2016-09-15T00:00:00Z
It is apparent that Troy cares for this property meticulously as it was very clean and welcoming upon our arrival. Everything we needed from snacks to toiletries to a local guide for restaurants and other activities was provided. The location is great, just a few minutes from the restaurants and parks located in downtown Lakeville. Would definitely stay here again upon our next visit.
Thomas
2016-05-15T00:00:00Z
It was relaxed and pleasant stay. Very clean and well managed, so I have recommended Troy's place to my friends. We have stayed only one night for my son's graduation at Hotchkiss, so location was perfect, only 10 min. from school! We didn't use kitchen but it is big and clean. Thanks!
Janice
2016-05-28T00:00:00Z
Troy was very nice and accomadating!
Ellen
2016-08-20T00:00:00Z
Troy was a great host who welcomed us as we arrived and helped us with some heavy luggage. The living space was equipped with all sorts of goodies: Kuerig drinks, snacks, fresh fruit and more which we took advantage of as we spent our free time at the Lime Rock race track for two days. The bed was super comfortable and best of all - we made new friends!!
Dot
2016-07-25T00:00:00Z
Troy made sure that we had all the necessary information well before our arrival and arranged for us to get the key independent of his schedule. If we had any questions during our stay, he was quick to respond. When we met Troy, he was personally welcoming and kindly introduced us to his wife and daughter. The apartment was spotless and complete with welcoming provisions. Our hosts have thought of everything that one is likely to need (and more) when traveling away from home. We felt we were at "a home away from home" the four days we were there. This would be an excellent place for an extended stay because of all the conveniences nearby. The fully set-up kitchen would have easily allowed to us to do all our own meals. The variety of quality eating establishments nearby is also good and worked well for us during our short stay. The house is located in a nice quiet residential neighborhood that has no through traffic. The outdoor setting is a serene wooded area with a brook flowing through the backyard; a hammock calls for a leisurely nap.
Renate
2016-06-03T00:00:00Z
My girlfriend and I have been described as "Thelma & Louise" on this road trip to Connecticut!! Lol! With no crazy issues!! Our accommodation with Troy and Toni was perfect! Apartment with private access, fully equipped with the yard set right beside a babbling brook. Just perfect! The weather was crazy hot, but the apartment was cool and comfortable. Lovely welcome snacks and a toiletry basket full of items you may have forgotten. Our hosts were over the top friendly and helpful! Would highly recommend this spot!! Thanks Troy and Toni! PS. We really enjoyed the turntable and playing some vinyls!!! A fun surprise!!
Virginia
2016-08-15T00:00:00Z
Troy did a great job of making me feel welcome. I asked about AC and an outside grill and both were available. The unit was good size. Wifi, full kitchen, great bath and a large very comfortable king bed. Nice touches such as a picnic basket, juicer, snacks, water and soda. Great bath toiletries and a basket of items available in case you forget something. Great hammock by a small stream. Quiet location. Very clean and comfortable. It was exactly as described.
Peter
2016-08-08T00:00:00Z
Tipo de Quarto
Casa inteira/apto
---
Tipo de Imóvel
Apartamento
---
Acomoda
6
---
Quartos
Lakeville , Connecticut, Estados Unidos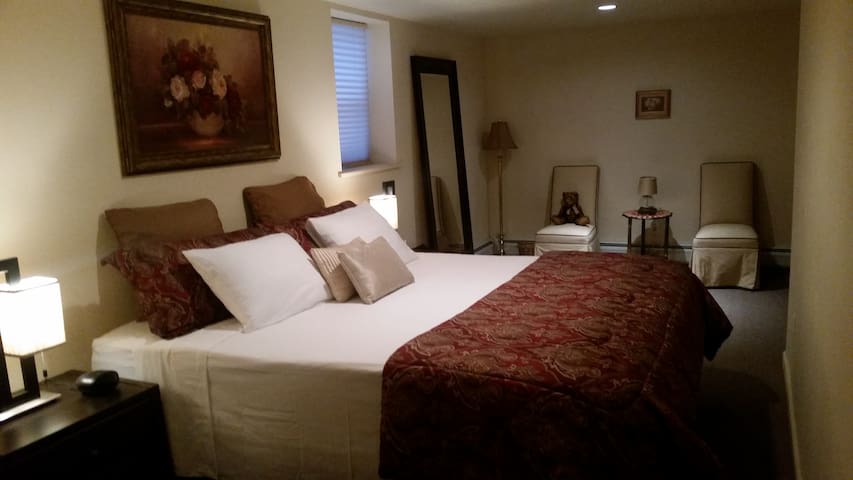 Suite 2 is an artist owned and operated retreat located in Historic Catskill Village. Enjoy your own private entrance full apartment with designated off street parking. Full kitchen, bath, bedroom (with new super comfy queen sized bed), living room and dining area. Light, airy, cozy, vintage pieces and art. Steps to restaurants, shops, Catskill Creek and the Hudson River. 10 minutes to Warren Street in Hudson, 3 minutes to Ramshorn-Livingston Sanctuary and 15 minutes to Kaaterskill Falls.
Second Floor with own private entrance right on Main Street.
Marc and Joe were fantastic hosts! They provided a very accommodating place while giving us the perfect recommendations .
Kim
2017-03-26T00:00:00Z
Great clean home with stylish interior! Lovely hosts.
Jessica
2017-01-15T00:00:00Z
We had a wonderful weekend in Catskill! This apartment is as beautiful as shown in the pictures. Parking was easy and the local area was great to explore. Marc and Joe are great hosts.
Ruth
2016-08-30T00:00:00Z
Suite 2 was perfect and exactly as advertised. A clean and well-appointed apartment on Main Street in Catskill, a cute commercial block with places to eat, cinema & stores. Parks a quick walk away. The hosts met us quickly for check in and gave wonderful recommendations for restaurants and nearby towns to visit. They were available to give tips via message during our stay. Hudson, NY was a 10 min drive and a very cute town with great shopping, restaurants and culture. Woodstock was just a 30 min drive. We plan to and can't wait to come back and stay at Suite 2 again.
Degi
2016-09-19T00:00:00Z
Amazing centrally located apartment to all the local treasures and hikes as well as a quick drive to warren street for even more antiquing! Marc and Joe were wonderful hosts every part of our trip. Once we booked the trip- a list of recommendations was sent for food, hiking and all other activities. Check in and check out we're a breeze. Special touches of having tea and coffee as well as shampoo/ soaps and guide books for easy use made this an extra great place to stay. Don't miss exploring the Catskills/Hudson valley from this location.
Erin
2017-03-12T00:00:00Z
We had a great time, the apartment is very nice. The town is close to Kaaterskill Falls which we enjoyed. Would definitely stay here again.
Corey
2016-10-20T00:00:00Z
Perfect for our needs. Clean and private.
David
2016-09-12T00:00:00Z
Mark and Joe's apartment was clean, cute and spacious. It's located on Main Street with easy access to parking and around some great shops. All of the suggestions provided were fantastic. What a nice weekend away!
Madeleine
2016-11-06T00:00:00Z
Tipo de Quarto
Casa inteira/apto
---
Tipo de Imóvel
Apartamento
---
Acomoda
2
---
Quartos
Catskill, Nova Iorque, Estados Unidos
A vintage apartment above a sweet little teashop cafe with a private entrance. The brick Victorian building on Main Street has wonderful windows with lots of light. It's a short walk to restaurant and marinas.
The apartment is spacious light and airy, with a large kitchen dining area, bedroom, bathroom and small den.
Catskill is a lovely little town that is starting to experience a resurgence of visitors and economic development. It is at the gateway to the Catskill mountains with lots of hiking and artistic opportunities. It is home to the Thomas Cole House, which should be visited during your stay.
Awesome place, great location, had everything I needed. I was in town for 3 days on business.
Ryan
2017-01-11T00:00:00Z
The apartment was a perfect weekend stay for the Catskill mountains. It has all the amenities and space you could need. Kim was helpful and kind and her space was clean!
Eva
2016-11-02T00:00:00Z
Clean. Quiet. Sunny. Good for the nervous system!
andrew
2017-03-06T00:00:00Z
My boyfriend and I only stayed at Kim's apartment for a night but we felt right at home. Every room was tidy and well-decorated. Our favorite part was the adorable little town! I would definitely recommend a stay here.
Laura
2016-05-15T00:00:00Z
The Catskill apartment was absolutely perfect for my brief stay in town. I was visiting relatives and just wanted a little place to escape to. The top floor of a row house - it has a good size kitchen with two seating areas, then a short hallway leads into a large bedroom with a gorgeous bay window and an adjoining cozy tv room. Many windows let a ton of natural light in. The flat is well appointed with just the right furniture, warm and interesting art on the walls, and all the comforts of home - plenty of fresh towels, comfy bedding, housewares in the kitchen, etc. The place was spotlessly clean and very quiet. The tea shop is super cute and I enjoyed the coffee very much! Kim was in touch with me before I arrived and available at all times. One thing: the bathroom is just outside the apartment in the hallway of the row home. This was not even remotely a problem- I never saw another person around, and the lower floor has its own bathroom; it is just something to be aware of. I will definitely book again the next time I'm in town!
Jennifer
2016-11-17T00:00:00Z
I had a lovely stay at Kim's apartment. It's a sweet space, I'd say even warmer than the photos capture. It was very clean and the bed super comfortable. In the morning I spent a few hours working at Kim's tea shop downstairs, which is lovely (complimentary cup of tea much appreciated!) Kim was quick to respond to my very last minute request and was easy to communicate with throughout. Thanks Kim!
Adina
2016-03-12T00:00:00Z
The apartment was charming and spacious and a wonderful respite at the end of a long day. Kim was detailed in her communication and left easy to follow instructions for us upon our arrival. Would enthusiastically recommend!
Lauren
2016-10-17T00:00:00Z
Kim's apartment felt like a wonderfully welcoming home the minute we walked through the door. It's in quiet area of Saugerties and the hot chocolate with magic in the tea shop downstairs is ohhhhhh so good :-)
Rob
2016-04-18T00:00:00Z
Tipo de Quarto
Casa inteira/apto
---
Tipo de Imóvel
Apartamento
---
Acomoda
2
---
Quartos
Catskill, Nova Iorque, Estados Unidos
1.5 bedroom 1.5 bath self contained apartment (approx. 950 sq ft ) attached to the main house set on a secluded 5.5 acre lot 2.9 miles from downtown Great Barrington . There is a CB2 day bed in the living room that sleeps an additional 2 people comfortably. No surcharge for 1st child under 12. Approx. 7,2/6.3 miles from Catamount/Butternut If heating is required apartment is not suitable for children under 5 years since there is wood pellet stove that is very hot to the touch when on. .
We don't charge a cleaning fee because we don't like being charged one. In exchange we ask that guests leave the apartment clean- wipe down the bathroom, strip the beds, wash the dishes and vacuum the apartment. If you are here during the heating season please be advised that there is a wood pellet stove. It gets very hot to the touch when running.
Quiet and comfortable. Close to town.
Stanley
2016-10-16T00:00:00Z
We had a wonderful experience. Everything was just perfect from the lovely house to the friendly, charming hosts. Anita and her husband definitely know how to host people. We will be back!
roberta
2016-07-17T00:00:00Z
Anita was very flexible our late arrival and warm and welcoming. The neighborhood is a beautiful country location. The main house is quite large and we were surprised because it's not shown in photos. The property is way more beautiful than pictured with flowers and perennials everywhere. Inside living rm and kitchen is very spacious also w/ a washer & dryer avail as well.
Susan
2016-07-25T00:00:00Z
My friend and I had a great Fourth of July weekend at this apartment and Anita and her husband were gracious and welcoming hosts. We loved exploring the area and the apartment's convenient location made it easy to do so. The house is just as it is described and pictured here. All rooms were well appointed, spacious, and comfortable. Like much of the Berkshires, you could feel the history. All in all, we had a great stay and would highly recommend!
Meredith
2016-07-05T00:00:00Z
We had a wonderful weekend at Anita's place. Anita and her husband are kind and generous hosts. We appreciated their knowledge of the area. The house was as described-it was perfect for our family. The yard and patio are lovely. We hope to return for another long weekend in the future.
Laura
2016-05-31T00:00:00Z
Lots of space in this simply but nicely furnished apartment, close to everything in the beautiful Berkshires. The beds were comfortable- the hosts were a pleasure to get to know. We would love to stay again!
Mary
2016-11-20T00:00:00Z
Alina was an amazing host! The apartment was as advertised - the place is very spacious and in a getaway location. We were supplied with nearly everything we needed, and our hosts were generous enough to give us a ride for groceries when we asked. We really enjoyed our stay!
Ryan
2016-07-10T00:00:00Z
We really enjoyed out stay at the house. Everything was neat and clean when we arrived. There were milk and eggs in the fridge. There was plenty of room for us and our two young sons. Our sons enjoyed playing on the swing set. The house was an easy drive into Great Barrington.
Alyson
2016-09-05T00:00:00Z
Tipo de Quarto
Casa inteira/apto
---
Tipo de Imóvel
Apartamento
---
Acomoda
5
---
Quartos
Great Barrington, Massachusetts, Estados Unidos
The new 600 Sq. Ft Studio with skylights has a sitting area with sofa-bed, flat screen TV/DVD, sleep area with queen-size bed, dining area, fully equipped kitchen and full bath with shower. Views overlook a farm to the south and mountains to the east. The studio is in a separate building with a private entrance. The quiet four acre property has gardens, an orchard and pathways down to a beaver pond and easy access to biking, hiking, swimming, Great Barrington, and numerous cultural attractions.
The studio is in a lovely town with a historic center and no commercial establishments. Tangelwood, Kripalu, Berkshire Theater Festival and Jacob's Pillow are a short drive. For outdoor enthusiasts, canoeing, kayaking, hiking, and biking are all available.
Tipo de Quarto
Casa inteira/apto
---
Tipo de Imóvel
Apartamento
---
Acomoda
2
---
Quartos
Great Barrington, Massachusetts, Estados Unidos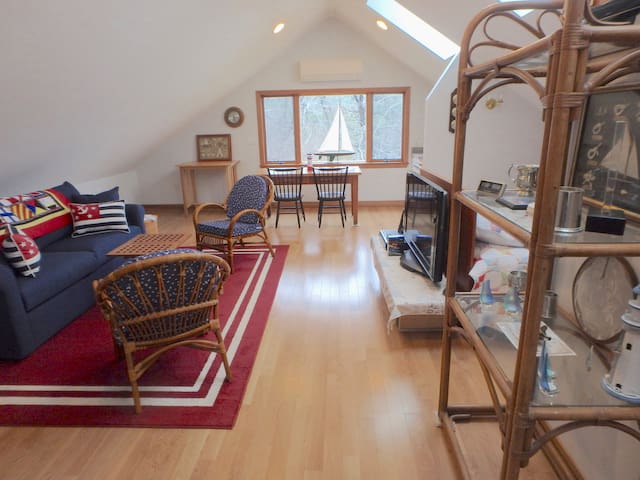 This is a very special old farmhouse that has been renovated into two separate, private apartments with care and sensitivity to it's history. On the banks of Rising Pond of the Housatonic river, it has a unique and convenient location to all summer and winter Berkshire activities
In the heart of the Berkshires, this Riverhouse is conveniently located between Stockbridge and Great Barrington. Most unique property located on the bank of Rising Pond of the Housatonic River! Spectacular views from the deck and picture window of this upstairs artist's aerie, filled with original art by local artists. Built in 1860, the Riverhouse has been updated and outfitted for modern-day convenience but retains it's charm and unique appeal. The only house located on the banks of Rising Pond, it offers spectacular views of fall foliage, wildlife, and catch-and-release fishing from the deck. Easy access from the bank of the property for small boating and sculling. Located in the heart of the Berkshires, Tanglewood, Shakespeare and Co., the Rockwell Museum, Chesterfield, summer stock theatre, music, and dance are all just minutes away. Fully equipped kitchen with all cooking utensils and serving dishes make eating on the deck and entertaining a delight. Walking distance to Berkshire Mountain Bakery for delicious french pastries, bread and take away pizza! Taft Organic Farms is right down the road 1.25 miles. Local loop bus stops right outside the door. The open floor plan and lovely views makes this efficient upstairs apartment seem much larger than it's 700 square feet. The two private bedrooms include twin beds (that can be made into a king) in the first and a queen-size bed in the second. The large bathroom features an antique full-size claw foot bathtub with shower. Complete kitchen with full size appliances and all cooking and serving utensils.Full laundry facilities available. Accommodates a maximum of 4 people. If your party is larger, consider also renting in addition our sister properties downstairs, The River's Edge airbnb.com/rooms/(PHONE NUMBER HIDDEN) AND/OR The Rock Garden apartment located just 300 yards down the road. airbnb.com/rooms/(PHONE NUMBER HIDDEN) See these listings under my full profile and reviews at right. High Season: $1300/week June-September (one week minimum rental) Shorter stays possible depending on availability at $200/night in high season $4500/month $75 cleaning fee Off Season: $150/night OR $750/ week September-July (2 night minimum) $2250/month all utilities included Please inquire about discount for longer term stays. $75 cleaning fee
The Riverhouse is secluded and peaceful but very centrally located to all winter and summer activities. Taft Farms for local products and produce is just 1 mile down the road and the Berkshire Mountain Bakery is within walking distance for fantastic baked goods, pizza, soups and delicious tapenades.
We loved Bee's place. The view of the lake was fantastic! The place was cozy and roomy enough for 4 of us to share comfortably. Highly recommended! Thank you
Grace
2015-10-04T00:00:00Z
Lovely welcome from Peg when we arrived. The house couldn't be more perfectly located and the view from the deck unsurpassable in its fall colours. We've loved the area, so much to see and do from hiking, visiting art galleries, the Hancock Shaker village and lovely historic houses. Breakfast from the bakery or in Housatonic and delicious meals all around. Recommend the Old Inn on the Green in New Marlborough for a special occasion and more relaxed dining at the Alium or Babba Louie's in Great Barrington. A trip to the theatre at Shakespeare and Co was good too. A great shower, relaxing bath, very comfortable bed...what more does a holiday home require. Hope we'll make our way back one day Heather and Ken
Heather
2014-10-25T00:00:00Z
Stayed at the Riverhouse while showing my family around the Berkshires and we loved it! Very cozy and conveniently located, the view of the Housatonic was gorgeous and we were never too far from our planned activities. All of the guidelines and amenities were clearly described and Bee was always easy to contact. We will definitely keep the Riverhouse in mind for return trips!
Sarah
2015-08-21T00:00:00Z
Had a great time at this lovely location! Bee was wonderful and the apartment was terrific. Highly recommended!
Jason
2015-09-07T00:00:00Z
Thanks to Bee for the comfortable and cozy farmhouse in the Berkshire ! we had wonderful time there during Thanksgiving and location by the river was perfect for a breathtaking sunset !
walfredo
2015-11-28T00:00:00Z
Everything you could want for a comfy weekend starting with a real comfortable bed, nice linens and towels. The apartment is spotlessly clean with a great view of the lake. Even though it was Fall we were able to sit outside and enjoy the view. And the location was exceptional to what we wanted to see: The Mount (Edith Wharton's house) and the Norman Rockwell museum. So many great restaurants around as well. The only drawback is that the house is on a country road and you can really hear the cars whizzing by. That dies down for sleeping time.
Shari
2016-10-16T00:00:00Z
We had such a lovely time at the Riverhouse. Bee greeted us upon our arrival, was friendly, personable and was happy to answer any questions. The space met every expectation. The deck and the view were outstanding. The space as a whole was comfortable and lovely to spend time in. The kitchen was easy to cook in, and well appointed. Bee highly recommended the bakery down the street--she's right, those almond croissants are crazy delicious. We also went to the Prairie Whale in nearby Great Barrington, which was fantastic. There was a good hiking book provided, which we also found very useful. A lovely trip overall. We hope to return soon.
Jennifer
2015-05-31T00:00:00Z
We stayed there with our 2 children and had a great time. It's very nice and comfortable. The hosts are really charming and the view stunning! It's a great place and we hope to visit again!
Stephanie
2014-02-24T00:00:00Z
Tipo de Quarto
Casa inteira/apto
---
Tipo de Imóvel
Apartamento
---
Acomoda
4
---
Quartos
Great Barrington, Massachusetts, Estados Unidos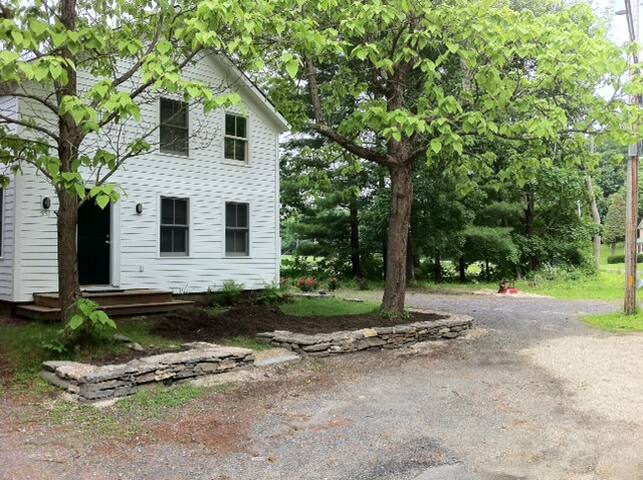 4-NIGHT MINIMUM STAY! Sleeps 2: Beds accommodate occupancy Kitchen: Partial Bathrooms: 1 Max Occupancy: 2 **See "Description" Below for ALL Details**
***See "Description" Below for ALL Details*** **THERE IS A FOUR NIGHT MINIMUM STAY** ! For best rates I am accepting booking from today through 2 months out. Each individual unit's size, floor plan, floor level, resort site location, building placement, unit placement within buildings, view, privacy, number of beds and type of beds, bathroom size & amenities, kitchen size & amenities, deck/balcony, and ALL other characteristics MAY VARY. SPECIAL NEEDS UNITS may also be available upon request! Onsite management of each resort will require a security deposit against a major credit card of a minimum of $100, up to a $250 maximum (varies at each resort location). Such security deposit is scheduled to be released on day of departure. The resort MAY charge a fee for internet, wifi, and/or parking. ABSOLUTELY NO PETS ALLOWED! If you have a service animal, you must let us know in writing prior to booking. Regardless of what is stated; In unit Washer & Dryer may vary. Resorts have common area Washer & Dryer facilities a very high percentage of the time, but there are instances that they do not. Multi-floor buildings with no elevator access Resort is not suitable for handicapped people, elderly, or people with walking difficulties. Resort cannot honor unit upgrades or moves. Furnishing Video player/Recorder Kitchen Features Microwave Check-in and Check-out Check In Time: 17:00 Check Out Time: 10:00 Weeks Resort check in days: Thursday , Friday Off-site Horseback Riding (10.0 mi) Lake (15.0 mi) Boating (15.0 mi) Entertainment / Nightlife (7.0 mi) Golf (3.0 mi) Tennis Ski School (5.0 mi) Beach (15.0 mi) Cross Country Skiing (10.0 mi) Fishing (15.0 mi) Playground (3.0 mi) Casino / Gambling (135.0 mi) Downhill Skiing (5.0 mi) On-site Swimming pool Off-site Spa (13.0 mi) Salon (3.0 mi) On-site Laundry facilities Off-site Conference facilities (10.0 mi) Car Rental (2.0 mi) Medical facility (3.0 mi) Off-site Restaurant/Dining(Nearby)
Year-round, a stay at Wind in the Pines offers a variety of cultural performances, outdoor activities, antiquing, shopping, and fine dining. Nearby you can visit Tanglewood, the summer home of the Boston Symphony and Boston Pops, Norman Rockwell Museum, Williamstown Theatre Festival, and dance theater at Jacobs Pillow. Its location in the Berkshires offers many sight-seeing opportunities such as Mount Greylock, Appalachain Trail, and the main street of Stockbridge. Boston and New York City are within a three-hour drive. For more information, please visit (URL HIDDEN)
Tipo de Quarto
Casa inteira/apto
---
Tipo de Imóvel
Apartamento
---
Acomoda
1
---
Quartos
Great Barrington, Massachusetts, Estados Unidos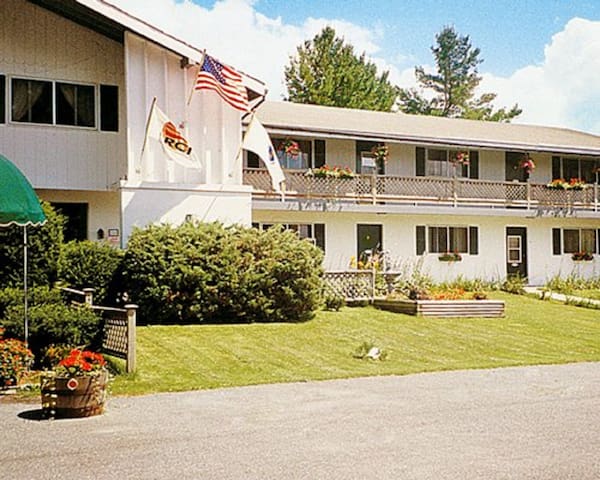 Ancramdale - Airbnb
:
Média de

4.88

de

5

estrelas, de acordo com

367

avaliações de hóspedes
1

–

18

de

184 Apartamentos para Alugar
Insira as datas para ver o preço total. Taxas adicionais aplicáveis. Podem ser adicionados impostos.