"# 1 mais desejado-FOR lista mundial!" DO Airbnb para 2016 Conjunto de três quartos bem decorados, situado entre as árvores. A poucos minutos do centro da cidade, esta propriedade isolada é um retiro urbano como nenhum outro. A casa da árvore é o tema de artigos inumeráveis, blogs e foi recentemente apresentado na Treehouse senhores últimos Treehouses.
Estamos honrados de ter sido nomeado em 2016 como "# 1 mais propriedade listada-vontade no mundo" do Airbnb !!! Obrigado! Com uma localização central no coração de Atlanta intown, os treehouses são um tesouro escondido. O objecto de numerosos TV e de revistas (incluindo "Treehouse Mestres: Ultimate Treehouse IV"), são muitas vezes descrito como sendo o mais relaxante, romântico, sonhador e único lugar que você vai ficar. O que poderia ser melhor do que adormecer nas árvores e acordar com o canto dos pássaros em torno de você - tudo dentro dos limites da cidade? A casa da árvore consiste em 3 quartos separados, cada um deles ligado por pontes de corda. As descrições dos 3 quartos estão abaixo. Sala: mobiliário antigo, incluindo janelas de 80 anos cheio de borboleta; mobiliário antigo e uma varanda com vista para um acre de floresta exuberante. Quarto: Acomoda 2. A cama Loblolly duplo está equipado com a melhor cama do mundo -, roupa de cama orgânicos acolhedores de pára-quedas. A cama está equipada com rodas de modo que pode ser implementado para uma plataforma com vista para o fluxo abaixo ou dentro da sala. decoração vintage e artefatos naturais adicionar tanto para o conforto do ambiente como eles fazem para o seu encanto. Deck: aberto aos elementos e imerso na vegetação espessa, o deck rodeia o "Old Man", uma folha de Curto-árvore Southern 150 anos Pine - o maior dos 7 árvores que suportam a suíte casa na árvore - que vigia o propriedade e seus convidados. Casa de banho está localizado na cave / BAIXO NÍVEL DE NOSSA CASA PRIVATE. Os hóspedes terão acesso exclusivo a TI durante sua estadia. Os treehouses e casa principal compartilhar muito e estão dentro de uma caminhada de 30 segundo para o outro.
O bairro é um lugar tranquilo e residencial. Enquanto nosso lote está localizado numa zona bastante tranquila, privado e exuberante da área, é importante lembrar que é no meio de Atlanta intown. E, embora muito particular, você pode ver outros edifícios residenciais dos treehouses .. Enquanto você pode ouvir a sirene ocasionais, ruído de vizinhança normal, ou apito do trem durante a sua estadia, o som mais comum é a do silêncio quebrado apenas por pássaros, sapos e do vento nas árvores.
Staying at Katie's and Peter's treehouse was the highlight of our trip. Peter was a gracious host and showed us around the treehouse when we arrived. The pictures does this treehouse no justice. Even though it rained the whole night, it made the experience more memorable. The treehouse was beautifully decorated. The wine, snacks, and coffee in the morning was also a nice touch. It was hard leaving in the morning, but we will for sure book again in the future. Thanks Peter and Katie!!!
Gina
2014-09-05T00:00:00Z
Katie and Peter's tree houses are truly unique and beautiful. If you want a quiet retreat in nature that is close to everything in Atlanta, do not hesitate to book their tree houses! Our favorite part of the experience was laying on the bed, relaxing, and looking up into the trees. It also rained during one of the days of our stay, and it was just wonderful to listen to the rain on the tin roof.
Wanda
2014-04-24T00:00:00Z
We had a lovely weekend at the treehouse. I was greeted by Daisy and Peter on day one; it was like seeing an old friend (even though we had never met before). What wonderful energy from the hosts, the space, and the surroundings. We didn't want to leave, and I seriously considered looking into squatter's rights. We will continue to return to the treehouse even though it's only 15 minutes from our home/s. It was an amazing experience; one we won't soon forget.
stacie
2015-09-07T00:00:00Z
I cant express how wonderful our trip was to the tree house. Katie and peter both have beautiful souls and it shows with all the hard work they have put in. We had our privacy and decided to stay in instead of go out and explore atlanta and were so glad we did. We will be making trips back!!! Make sure you read the guest book! It really makes you appreciate this place even more.
carly
2015-06-22T00:00:00Z
Both my wife and I had a relaxing and peaceful time in the treehouse. A wonderful place to spend an anniversary or surprise the one you love.
Jose
2015-05-04T00:00:00Z
This place was magical! My boyfriend loves camping, but I don't... I booked this for his birthday, and we both absolutely loved it! It had all of the freshness and charm of being outdoors, along with a very comfortable bed and electricity! It made us feel like little kids again! Also, the hosts were wonderful and accommodating :) I highly recommend this experience!
Elizabeth
2014-09-14T00:00:00Z
We had a fabulous time and the treehouses exceeded expectation. Peter was a wonderful host as well and we felt right at home. Definitely would like to stay there again one day!
Kathryn
2014-07-13T00:00:00Z
Wow what an experience! I only got to meet peter during our trip but he was such a great host. Provided coffee in the mornings and always made sure we had all we needed. The treehouse was absolutely beautiful. Just magical. Thank you so much for your hospitality!
Jackie
2014-08-06T00:00:00Z
Tipo de Quarto
Casa inteira/apto
---
Tipo de Imóvel
Casa na árvore
---
Acomoda
2
---
Quartos
Atlanta, Georgia, Estados Unidos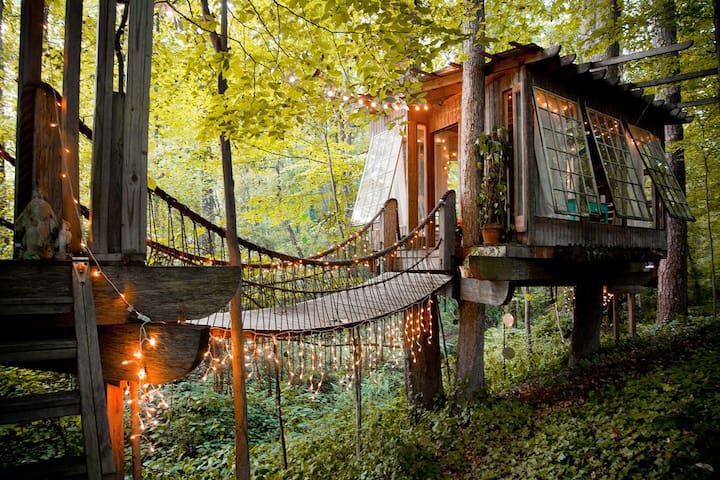 , Cottage encantador e romântico 'Round' no Santarella Estate em Berkshires em Massachusetts ocidental. Anteriormente, a casa foi estúdio de verão do escultor Henry Hudson Kitson na Santarella Estate. A casa de dois andares tem um quarto encantador com 35 pés teto alto cônico com cama de dossel no andar de cima com vistas através de maciças, "janelas moinho" com vários painéis para as árvores e do céu e para o lago de lírios. A sala de baixo sentado olha para fora sobre o riacho murmurante e belos jardins.
Agora aberto o ano todo! Charming, Uma Cottage Quarto, antigo estúdio de escultura na Santarella Estate em Tyringham, MA. Conhecido como o "Silo Studio" Cottage. Há um quarto com cama de casal com dossel no andar de cima e uma sala de estar com janela banco lugares, mesa de café, mesa e cadeiras, quitinete com bar molhado com Micro / Frigorífico cafeteira, torradeira e banheiro com chuveiro estão lá embaixo. Adormecer ao som do riacho murmurante e vista para lago e floresta a partir das grandes aberturas selecionados no andar de cima, como viver em uma "casa da árvore". Acomoda apenas dois, totalmente mobiliados, todos os lençóis, toalhas incluídas. Há Satellite DTV e Internet sem fios no local. A casa está situada em quatro acres, incluindo belos jardins, bela lagoa do lírio, riachos correndo e 2 madeiras Acre. Absolutamente único, one-of-a-kind experiência! Atenção, a casa tem sido tradicionalmente um alojamento terceira temporada de cerca de Março- novembro, no entanto, devido ao grande interesse e demanda, temos adicionado recentemente uma maior fogão capacidade de pellet e fez winterizing esforços e plano em mantê-la aberta para hóspedes interessados em uma experiência de inverno na casa de campo! Por favor, tenha em mente que o acesso aos nossos motivos podem ser limitadas com a acumulação de neve nos meses de inverno. Durante os eventos climáticos extremos previstos, teremos o prazer de trabalhar com os clientes para alterar reservas, estamos sempre em causa para o seu conforto! Nossos jardins encantadores estão abertas para os nossos hóspedes. Há caminhos do jardim, um ribeiro agitado com pontes de pedra, mais bela das lagoas lírio, banco de pedra área com 'chiminea' e lenha para uso dos hóspedes de estar. Há dois acres de floresta com uma fuga do laço bem. A cidade tem uma excepcionalmente bela Swimming Pond cerca de 2 milhas de distância, que os nossos hóspedes podem utilizar. Há churrascos e mesas de piquenique e muitas vezes é deserta. Enquanto nós temos uma política de animais de estimação, a aprovação prévia e aceitação das nossas regras e políticas é necessária antes de um animal de estimação pode ficar com você em nossas acomodações. Há também uma taxa de limpeza de estimação adicional de US $ 25,00. A casa está localizada na Estate Santarella rodeado por jardins e arquitetura de contos de fadas. Santarella está localizado no Vale de Tyringham, escondido 3,5 milhas de Mass. I-90, um lindo e mágico lugar onde se sente como eles em degraus de volta no tempo. Este é definitivamente um lugar para "ficar longe de tudo ', aprecie, calmo ambiente rural perto da Appalachian Trail e Tyringham Cobble para caminhadas e muitas lagoas linda para a natação ou andar de caiaque. é necessário veículo. Mercearia e outras lojas em 3,5 milhas.
Tyringham Valley foi um dos assentamentos originais no oeste de Massachusetts. É área conservada predominantemente agrícola dando-lhe um caráter muito rural, bucólico e idílico. A adorável 'Hop Brook' passa pelo meio do vale que é pouco povoada, com casas na maior parte históricas, fazendo com que se sinta como se em degraus de volta no tempo. Uma, a liquidação Shaker originais maravilhosamente preservado fica no topo da encosta oposta Santarella, com vista para ele. Na outra extremidade do vale, as colunas graciosas da mansão Ashintully queimado ignorar todo o vale e são tudo o que resta da propriedade dourado-idade que tem belos jardins formais preservados, ótimo para visitar e caminhada. O Appalachian Trail é 2,25 milhas a partir da casa de campo.
Ever wanted to know what it's like to be in a real life fairy tale? Stantarella Estates is the place. This place is magical, the grounds are exquisite and pristine. A babbling brook runs behind the Silo where we stayed which is all you hear other than the birds. Denise and her husband were wonderful, giving us a tour of the property and being helpful with recommendations for things to do in the area. The silo is something out of a dream, warm, cozy but with modern amendments, and best of all there's a friendly, rotund cat named Bidi who runs the place :-) Perfect for a romantic getaway!
Naama
2014-04-14T00:00:00Z
I have to give this place my highest recommendation. It is a truly amazing building with beautiful grounds and is the perfect place for a retreat from everything. Do it. You will not regret it.
Lee
2014-06-16T00:00:00Z
It is one of the most beautiful and romantic place I have ever stayed at. There is no doubt that I will go back when I get a chance. Lee is a quiet fascinating place to live where makes me want to settle down. I spent a birthday with my partner there and had a truly memorable time. Denis even prepared us a Champaign in the fridge for celebration. The cottage is super cozy and intimate. It's a place people only see in their dream. You will be able to enjoy the pretty private garden outside of the cottage and wake up with the bird singing outside of your windows. Denis showed us around the Santarella house, which is a wonderful place for wedding choice. Everything is perfect during the stay. The only thing that makes me feel bad is that the two-day stay was too short for me! Cannot wait to revisit Denis!
Sylvia
2014-05-25T00:00:00Z
This stay at the Silo was one of my absolute favorite places to stay in...ever! Not only were the owners kind, friendly and helpful, but they even left me fresh flowers and a bottle of icy cold white wine to enjoy. To say that the space is magical is an understatement. It felt like a cross between a Hobbit and Gnome house. The downstairs is both cozy and practical with a pellet stove for a cold evening and a wonderful little bathroom. There's a microwave, fridge and makings of a little kitchenette. Heading up the staircase you look up at an impossibly tall cone of a ceiling before the incredible bed and windows come into view. The windows reach up several feet and 4 large wooden shutters were open to let both the clean, fresh air and the sound of the babbling brook in. I was completely enamored! I slept on a comfy bed with those windows wide open. I can't wait to come back!
Nancy
2015-07-06T00:00:00Z
What a beautiful place! The cottage was charming and clean, and very cozy - just like the picture. We loved our stay!
Erin
2016-05-02T00:00:00Z
Denise was lovely and the silo and surrounding areas were just perfect. Everything was as described in the listing. Would love to return. Recommended!
matthew
2015-08-03T00:00:00Z
Magical! Peaceful and relaxing stay in the cottage; perfect for a weekend getaway. Denise is very accommodating ; instructed on late check in, gave a knowledgable tour of the property in the morning and welcomed you left fresh flowers and a bottle of wine. Location is great, close to villages and hikes. Make sure to visit the Starving Artist cafe which was one of Denise's recommendations.
kristina
2016-03-15T00:00:00Z
Denise was very welcoming! Greeted us personally, gave us a tour of the other buildings and the grounds, and made us feel very welcome! The silo was lovely - the bedroom was unique and a wonderful place to spend two nights - we felt like we were in a tree house! The first floor is fine - ok to hang out in but we didn't stay on-site much as we spent most of our waking hours exploring the Berkshires.
Andy
2016-08-12T00:00:00Z
Tipo de Quarto
Casa inteira/apto
---
Tipo de Imóvel
Casa de hóspedes
---
Acomoda
2
---
Quartos
Tyringham, Massachusetts, Estados Unidos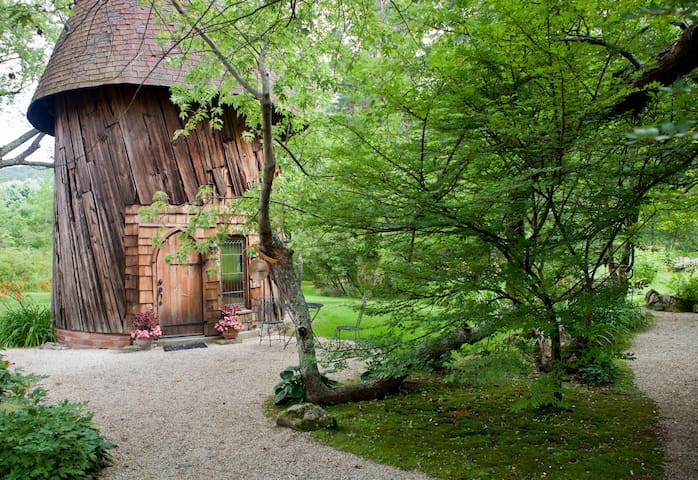 In our beautiful screened Pondhouse - feel the breeze as you sleep - see the stars at night while comfy in your cozy warm bed, with candles burning nearby. Hike nearby trails, sit by the fire, unplug from the world! Relax & Rejuvenate! AND - If you have friendly dogs who get along with other dogs you can bring your dog! (s) This is screened only - this is why we are only open from mid April - Nov. 1. It is a 'glamping' experience, perfect for those who like to camp but want to be more comfy!
As you can see from our stellar reviews - the pond house has been a fantastic, transforming, magical vacation for many people! It is much more than just a rustic get away in the country. It is actually an EXPERIENCE. I will save some of you time right here, by saying this is not for everyone. No electricity. It is screened only. No walls! You will hear animals in the woods. The bathroom is a 2 min walk. No kitchen. No stove. There is an outdoor fire pit. It's glamping! You take chances with the weather. We've had guests love a cozy rainy weekend and guests book an extra day in Oct. when it was 30 degrees. Still interested...? Read on! Oh and if you are planning this as a surprise? I strongly suggest that you KNOW that your partner will love this. I've seen a few surprises not work very well. Glamping is not for everyone! A fire pit (stocked with paper & chopped wood or chop your own! ) a few steps from your door is a great place to hang out and enjoy the feeling of camping - and then you get into a super warm cozy bed with a down comforter, and lots of warm blankets. People arrive from the city and seem transformed the next day, after breathing fresh air all night, and being lulled to sleep by the sounds of nature. This is a step up from camping. It's Glamping! Dogs (that are well behaved! ) are WELCOME! We love dogs and our dog Charlie is a fantastic host. But your dog must get along with other dogs. GLAMPING means - Glamour Camping! And that is just what you are doing when you stay in our beautiful Pond House. Even with cooler temps it's still fantastic and I am more willing to book single nights. Please just ask! I had a family of 5 last year who had booked 2 nights Oct 30, and stayed an extra night! The water in their water bottles was frozen at night. That's how cold it got. They still LOVED it! This amazing screened pond house sleeps 5 or more with a queen bed, single couch bed, and queen futon couch, and we can put out more pads/sleeping bags as well. It does not have a bathroom, but you have the use of a full bathroom & shower in our studio building, a 2 min. walk away. (You might share this bathroom if we have guests in our guest room in the studio building.) It works great to book both rooms so you can leave all your stuff in the studio and not mess up the pond house with stuff. Happy to give discounts for both. Just ask. This gorgeous space is extremely special, some say even magical! Handmade out of Hemlock trees from our woods by my husband - artist Peter Kitchell, the pond house is surrounded by beautiful grasses and trees. The frogs and peepers will lull you to sleep at night, ( if they are too loud we have earplugs! ) and the stargazing is amazing. It is a completely dark sky with no light from nearby towns or cities. Just you, the stars and the planets. There is a row of long linen curtains on one side to give your more privacy, but that really is more for effect & comfort as no one is around to see or bother you. There is no electricity - but plenty of candles! Make a fire outside to roast marshmallows or cook a whole meal, there is a grill over the fire. Recycled paper plates & utensils, small fridge, electric teapot, coffee press, coffee & tea for your use are in the hallway by the bathroom. All you need for the fire is provided. Comfortable warm bedding and towels are provided. Even if it is chilly at night, snuggled in your warm bed you will be just fine! Like camping, this is really for heartier folks. No Wi-Fi or cell service in the pond house! Come to unplug! Board games and cards are great to bring. But there is wifi and a land line you can use at the studio. No nearby transit. Sorry! It's the boonies. You need a car. The 'neighborhood' is very quiet - the peepers at our nearby pond and sounds of the woods will be the only thing you will hear at night. Peter and I are both artists with our home and studios in 3 buildings about a 2 minute walk from the pond house. We are good at respecting our guests privacy but are also happy to chat with you and answer any questions. I've made a great list of places to eat ( includes notes on which are dog friendly & vegan!) If you are a dog person, our dog Charlie will be happy to go for walks with you, and will provide lots of love and affection. It you bring a dog you may not leave it in the pond house while you are gone. This is truly an amazing place. Come check it out! Ashfield about 8 min away. You MUST go to Elmer's for breakfast! The best pancakes in New England. Country Pie for Pizza The Lakehouse - Ashfield - Right on the lake. Great scene at night at the bar or hang on on the deck overlooking the lake. Shelburne Falls is about 12 minutes away. WHERE TO EAT ( fancy and amazing) Gypsy Apple Bistro, 65 Bridge Street, ((PHONE NUMBER HIDDEN); Blue Rock Restaurant, Sh Falls ((PHONE NUMBER HIDDEN), SO good. Vegan options. theblu(URL HIDDEN) Mocha Maya's, ( good coffee) 47 Bridge Street, ((PHONE NUMBER HIDDEN), (URL HIDDEN) Enjoy the beauty of the woods on our property of 40 acres or the many nearby trails and parks. We are located within 30-45 minutes of six colleges and many attractions in the Pioneer Valley, as well as North Adams and Williamstown. There are a few amazing restaurants nearby in Shelburne Falls and great pizza in Ashfield. We will be happy to give you all kinds of info on the best places. Check out galleries and artists studios in Shelburne Falls, walk across the gorgeous Bridge of Flowers, take a raft trip down the Deerfield River with Zoar outdoor (possibly guided by our son who works there! ) Check out the amazing glacial formations the "Potholes." In the summer swim and sun at Ashfield Lake, check out the Ashfield Farmers market on Saturday, or see amazing summer theater at Double Edge Theater.
It's quiet. It's the country. Ashfield is closest town about 8 min away. Sh Falls is about 12 min away. Great site for hikes. (URL HIDDEN)
Amazing experience! What a beautiful getaway, the perfect setting for a complete break from it all. The pond house was super cosy and spacious. Fire pit provided all the evening entertainment we needed. Fantastic hosts too who kindly helped with anything we needed over the course of our stay. Charlie the dog was the cherry on the cake! We would love to come back one day.
Jessica
2015-05-23T00:00:00Z
The listing description was extremely accurate. There's no power in the pond house, but you can charge laptops, phones etc up where the bathroom is. It's a beautiful place, and we slept well. FIREFLIES! Gayle was extremely friendly, showed us the sights of Shelburne Falls (including yoga) and Charlie checked in on us from time to time, just to make sure we were OK.
jenni
2015-06-20T00:00:00Z
We had a great weekend! It is a great place to bring a dog, I wouldn't come later than early/mid October though as it gets chilly. The town's fall festival was the weekend we came and it was a lot of fun. It's a beautiful cabin.
Lane
2016-10-10T00:00:00Z
Gayle was a wonderful host -- both helpful and generous. The Pondhouse is truly wonderful -- a beautiful structure set in gorgeous surroundings. It was a relaxing and enjoyable experience. And a wonderful dog named Charlie! In total, this is a special place.
Michael
2014-07-07T00:00:00Z
This place is fantastic!! I have already recommended it to several friends. It is super relaxing, laid back and peaceful. Gayle and her husband are super welcoming and Charlie hung out with us all weekend and we loved it.
Sheryl
2016-09-19T00:00:00Z
Words can't express the beauty of staying in the Pond House . Fall foliage surrounded us, the barred owl called to us in the evening and the red fox greeted us in the morning. We whole heatedly recommend staying here.
john
2013-10-08T00:00:00Z
The country escape rustic pondhouse was a perfect getaway for me -- and being able to take my 8 year old golden retriever with me was a wonderful bonus. The pondhouse is exactly as described only better -- simply beautiful and peaceful! Gayle and Peter were wonderful hosts, as well as their friendly and sweet dog, Charlie. I was able to book last minute with Gayle, who was very responsive and kind -- warning me that it might be a bit muddy and chilly, but that didn't keep me away. When I arrived, Peter even built a quick "boardwalk ramp" so we wouldn't get too muddy walking from the bathroom to the pondhouse. The two nights that I stayed were wonderfully relaxing and incredibly peaceful -- not just because I was surrounded by such a beautiful setting, but because Gayle and Peter provided a great balance of privacy and service. A wonderful place to stay for anyone looking to enjoy sleeping outdoors, listening to the frogs and crickets, and sipping cocoa by the fire-pit, while also feeling at home. Thank you Gayle, Peter and Charlie. Hope to see you all again soon this summer.
Marybeth
2014-04-22T00:00:00Z
The Pondhouse was my girlfriend and I's first experience using Airbnb, and it went above and beyond what we imagined! We were looking for someplace unique and memorable to spend our anniversary, and Gayle was quick to respond and was wonderfully accommodating. Just as the name suggests, the Pondhouse truly felt like a country escape. Coming up the driveway of the property, we were greeted by Charlie (the friendliest dog... ever!), and Gayle gave us a tour of the Pondhouse and the rest of the property. Luckily we packed some food to bring with us, because once we got there we didn't want to leave! The Pondhouse itself was even more stunning in person than it was in the pictures, and it felt nice and secluded so you really got the sense that you had your own space to enjoy in privacy. We got a fire going with the wood that was provided, where we grilled some food as the sun went down. The Pondhouse was stocked with all of the essentials that you would need for the night, and all of the furniture was super comfortable! We couldn't believe how relaxing the Pondhouse was, we felt like we were in another world. As sad as we were to have to leave, we were already planning when we would make it back! It was the perfect couple's getaway for a romantic retreat, but it could also be a great place to stay with others who share a passion for nature and camping, but would like to do it in a unique way! It feels like we haven't been able to stop talking about it since we came back, so we'll certainly have to make a trip back sometime in the near future! The Pondhouse is a place that we'll never forget, and it was the perfect place that made our anniversary even more of a day to remember. We highly recommend visiting the Pondhouse, its the kind of place that makes Airbnb such a great resource, to find hidden gems like this!
John
2015-05-20T00:00:00Z
Tipo de Quarto
Quarto privado
---
Tipo de Imóvel
Cabana
---
Acomoda
5
---
Quartos
Ashfield, Massachusetts, Estados Unidos
Destaque em Hunters pequena casa, mas longe de ser pequena! Permanece confortável e acolhedor nos meses de inverno e refrescante fresco no verão. Esta residência flutuante foi demolido e totalmente reconstruído usando recuperada materiais, suor, & amor. Você vai encontrá-la espaçoso, confortável e tranquilo. A localização deste barco é para pessoas que procuram refúgio tranquilo, privado e tranquilo. Desfrute de café e cocktails no deck com vista para o porto.
Destaque em FYI House Hunters minúsculos da Rede! barco muito espaçoso, com teto '12 abobadados na cabine principal (sala de estar) a. Acomoda 3 pessoas confortavelmente. Lotes de espaço para se movimentar com uma cama queen-size no alojamento do capitão (quarto) e uma cama de solteiro na sala de estar, que é uma cama de dia. O barco está localizado no centro em um deslizamento privada no Seabreeze Marina. Este alojamento é para pessoas que procuram paz e tranquilidade em um barco único e belo. A configuração da marina é tranquila e isolada. Em seu boletim privada, você terá uma vista deslumbrante do porto de Charleston ea Ponte Ravenel. PERGUNTAS FREQUENTES: Q: Banheiro, explicar! A: O barco está equipado com uma casa de tamanho aquecedor de água garantindo-lhe água quente durante todo o barco. Sabe, no entanto, que você estiver hospedado em um barco. chuveiros quentes longos pode ser difícil. Mas você sempre tem água quente o suficiente para desfrutar de um 10 - duche de 15 minutos. O barco tem um banheiro de tamanho completo e pedimos que você só utilize sempre papel higiênico grau marinho (incluído) para garantir que nunca entope. Q: Calor? AC? A: Nossos barcos são equipados com o calor e AC. Não importa a época do ano você visita você pode ter certeza que você vai ficar em um ambiente agradável e confortável! Q: O que esperar que é diferente de um hotel? R: É um barco, é uma experiência única FUN. Pode haver ruídos e cheiros que você esperaria de um barco. Bombas, motores, água do mar, etc. Q: A ação das ondas? A: A marina tem uma parede de mar que dilui as ondas. Há ainda uma pequena quantidade de ação das ondas e você vai sentir uma ligeira rocha, de tempos a tempos. Se houver uma tempestade ou a ação das ondas chega a um ponto que a sua estadia não é mais agradável, vamos trabalhar para acomodações alternativas para você. Seu conforto é a nossa prioridade. Esta oferta é somente se houver ondas anormais devido a grandes tempestades. 99% do tempo da marina é quase totalmente plana e calma. Q: Handicap acessíveis? A: Não. Você precisa entrar no barco que exige um passo 1-2 'e há passos no barco. As escadas da plataforma são íngremes e você precisa ter certeza de pés. Q: Space? A: Você vai encontrar o layout do barco extremamente espaçoso e confortável.
Extremamente seguro e marina privada no centro de Charleston. A entrada para a marina é compartilhada com a Autoridade Portuária, que tem um guarda 24/7. Há um trem que bloqueia a estrada para a marina que conduz a autoridade portuária, mas ele só vem 1-2X por dia. Às vezes, ele pode bloquear a estrada para até 20 minutos, mas isso é pouco frequente.
Had a great time on the boat! Beautiful sunrise over water. Easy access to city with a car. Power works if don't use too many appliances at once.
Linn
2016-12-29T00:00:00Z
I booked the boathouse as a getaway for my parents. They loved the boat and the whole experience. They got to see Dolphins and watch the sunset and sunrise from the deck. They found it to be neat, clean and cozy. Plenty of towels and nice bedding. They have lived in an RV so they were not bothered by the lack of wifi or being careful with the space heaters as some other reviewers have commented on. They had no issues. This isn't the Ritz. You are paying to stay there to have an authentic houseboat experience so keep that in mind. They loved it and would come back again! Also the hosts were very prompt in responding to us. Justin's partner sent very accurate detailed instructions as to getting there and using all of the facilities on the boat. Justin also stopped by and checked in with them. He was very welcoming! Thank you for helping them have a great getaway Justin!
Amy
2017-02-13T00:00:00Z
The houseboat was beautiful and easy to get to. Justin made checking in super easy. I would definitely stay here again.
Jessica
2017-03-22T00:00:00Z
This place was amazing! The host was awesome!
Ariana
2016-07-01T00:00:00Z
Lovely getaway if you have sea water in your veins.... Get ready to develop your sea legs and gently rock to sleep at night! Train near by adds real town ambience. Great views and location
Lucy
2016-08-19T00:00:00Z
We spent 2 night aboard the great houseboat and found it's location very private yet close to downtown Charleston with bikes made available which really made it so much fun
Anne
2015-09-01T00:00:00Z
The vessel was lovely and as described, except that some of the internet services were not functional the first day. Justin quickly remedied the issue, though, and we appreciated it. The location is certainly private (as mentioned in the description), but please note that there is limited access by road and immediately before the entrance there is a busy train track where trains frequently stall. While some people will relish feeling isolated, others (such as myself) may not be quite as comfortable being cut off from the mainland.
Annie
2015-07-31T00:00:00Z
We enjoyed our stay on the boat. The view of the bridge is pretty. The boat is exactly as pictured however the wifi didn't work and the marina was a bit isolated. Overall, we appreciated the experience.
Nick
2015-12-23T00:00:00Z
Tipo de Quarto
Casa inteira/apto
---
Tipo de Imóvel
Barco
---
Acomoda
3
---
Quartos
Charleston, Carolina do Sul, Estados Unidos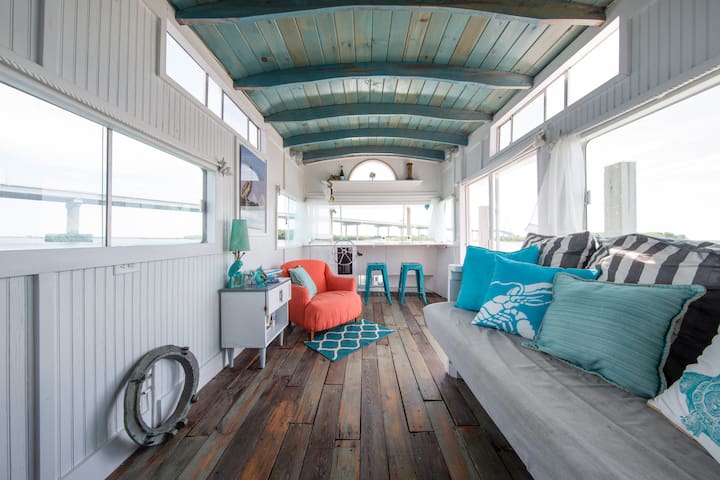 Cair Paravel Farmstead transports you into another realm. Come experience living in a round structure filled with amenities- fully equipped kitchen, deep tub, heating and AC, shared hot tub and seasonal salt water pool. Great for couples, friends, and families. A ten minute hike gets you into Shenandoah National Park Back Country or explore our 58 acres on numerous walking trails. Visit Charlottesville,historical sites, explore caves, or play in rivers in central Virginia.
- SAVOR THE PEACE AND QUIET - CELEBRATE NATURE - Welcome to Cair Paravel Farmstead! Located 2000 feet up in the Blue Ridge Mountains up a mile and a half state maintained gravel road, our 30 ft. diameter Blue Ridge Yurt Company yurt has everything you could ask for: a romantic getaway for two or an escape for friends and family up to six. Perched on the mountainside above the barn you are able to see and listen to the farm creatures. It is a delightful experience to try to identify the various sounds coming from the barn and the surrounding forest. Amenities in the yurt include full kitchen, bathroom with separate shower and bath, HD TV with local stations, Blu-ray DVD player, iPod dock in the bedroom, handicap accessibility including a ramp onto decking, gas grill, fire pit, and outdoor charcoal grate. Please note that though child-friendly (Baby Bliss cloth baby chair, sippy cups, child's plates, Gerber Graduates eating utensils) the yurt is not child proof (a safety kit provided for your use). For your convenience a Pack N Play set-up and baby monitor are available for an additional charge. Cair Paravel is a sustainable farm that seeks to apply the principles of permaculture and biodynamic agriculture with the goal to maintain a minimal footprint upon the earth. Our water is supplied from two artesian deep wells and is clear, pure mountain water which is amazing, right from the tap. The posted standard rate is $185/night/one bed. Additional guests are $30 per person. Weekends we have a two night minimum. Maximum occupancy 6 persons including infants. Rates may vary dependent upon season, holidays, and/or special events. NO SMOKING PERMITTED. We are sorry but NO PETS due to the livestock located on the property as well as allergens being trapped in the cloth inner structure. For more information about our farm keep up with us ...friend us at....Cair Paravel Farmstead.
There are many area attractions and activities- hiking in the Shenandoah National Park, visiting Monticello or Montpelier, following the Monticello Wine Trail or the Brew Ridge Trail, and checking out the work of Virginia Artisans in the local shop: Noon Whistle Pottery. We are close to both Charlottesville and Harrisonburg. For other activities and attractions check out our guidebook. If you are considering hiking take a look at Hiking Upward. The site has great maps and descriptions of the trails as wells as a great rating system.
Our hosts were gracious and accomplished at making us feel welcome to share their beautiful mountain view and the Yurt. Shortly after we got settled and were relaxing on the deck, Whitt brought us a yummy appetizer tray of hummus, vegies, and cheese. The accommodations were lovely and as pictured. We enjoyed delicious breakfasts and a dinner of fresh veggies, fruit, and eggs, etc right from the farm. We enjoyed pretending we were off the grid and plan to return.
e laura
2014-10-10T00:00:00Z
Wonderful place to stay. You get exactly what is in the pictures and we thought that was wonderful. Surprised (in a good way) about the amount of cooking materials and spices that were available. If you eat poultry, buying the fresh chicken is a must!
Nathan
2017-03-27T00:00:00Z
We planned a motorcycle outing to see the autumn foliage along Skyline Drive for this past weekend, and after searching through all the lodging up on the drive and finding everything booked already, we decided to rely on airbnb to help us find a nice place to stay. This place is amazing, it's tucked in the woods way up on the side of the mountain, but not too far away from access to Skyline. We loved everything the yurt had to offer, and enjoyed being able to soak our sore muscles at the end of each day in the hot tub and enjoy viewing an awesome view of the stars. Annabelle came to visit us one afternoon, she was very friendly and playful. Breakfast was delicious each morning, and Brendan was very helpful and courteous with us. The only thing we regret is not being able to tour the farm and hike in the woods, so we will definitely be back for a visit! On a side note, my boyfriend would like to mention that if you do cycle and plan on staying here to bring your A game, traversing the gravel road up the side of the mountain isn't for the light hearted.
Wendy
2011-10-24T00:00:00Z
We had a wonderful stay at Whitt and Martha's Yurt. The Yurt is a tiny piece of paradise--not at all like roughing it, but with all the wonderful benefits of being in a natural retreat. The Yurt was spotless when we arrived, and we enjoyed a warm greeting from Whitt, who made sure we felt at home. The kitchen was perfectly outfitted for cooking our own dinners during our stay, but the real treat was the morning breakfasts delivered by Whitt--especially the quiche and fresh fruit! We enjoyed relaxing on the porch while one or the other of the farm dogs stopped by to check in on us. But the highlight, for certain, was looking at the stars from the hot tub at night! Whitt was also kind enough to take time to tell us about the farm and introduce us to the animals. We loved helping out with gathering eggs, and feeding the baby goat! We will definitely be back to this amazing yurt!
Rebecca
2012-04-15T00:00:00Z
After travelling to US cities for the past few weeks, the yurt was just the thing we needed! Lush forest, private pool and jacuzzi, exceptionally clean and beautifully decorated - This place is a true gem. We really wish we booked for more than one night. The breakfast served by Whitt was absolutely delicious and the farm tour was super fun. The best airbnb experience so far for us. We loved the tranquility of the yurt and the hospitable and friendly hosts. Everything is thought of - cooking equipment, towels, toothpaste, bug spray. A great set up! Thank you Whitt! :)
Bonnie
2012-08-18T00:00:00Z
The yurt definitely lives up to expectations! It is perfect for a relaxing weekend away from the city. Whitt was a gracious host, the farm tour was fabulous (All the animals are VERY friendly), and the breakfasts were delicious.
Julia
2012-09-04T00:00:00Z
We decided to do a mini-honeymoon in VA and the Yurt was the perfect place to be! It was secluded enough to be absolutely peaceful, but also served as great jumping off point to Charlottesville and Shenandoah National Park. Whitt was such a great host and we would definitely like to stay here again in the future :)
Kellie
2012-10-06T00:00:00Z
The yurt was definitely a unique destination. My girlfriend and I thoroughly enjoyed the nearby animals and the location close to Shenandoah NP. We brought groceries and made a delicious meal Saturday night... bonus points for the well-appointed kitchen! When you leave you'll be thinking, "I should build one too".
Brian
2014-03-03T00:00:00Z
Tipo de Quarto
Casa inteira/apto
---
Tipo de Imóvel
Tenda
---
Acomoda
6
---
Quartos
Stanardsville, Virgínia, Estados Unidos
Coastal Maine farm and cottage very close to the ocean. Scenic views, less than 1 hour from Bar Harbor and Acadia National Park. Great area for hiking, biking, boating, arts, etc.. Small kitchenette, private building, nice shower and bathroom.
Beautiful coastal area - very good biking, hiking and kayaking. Sailing crusies on the bay are also available. Interesting and stimulating cultural events and some great places to eat and shop. The cottage is private and includes a sleeping loft, futon couch on the ground floor, small kitchenette, bathroom with hot shower, and a baby grand piano. This is a musician's perfect getaway to practice, compose, record, and delve into the music within.
Please click on this link - 30 Stunning Photos and Great Reasons to Experience the Maine Coast: (URL HIDDEN)
Perfect! This cute studio was everything we needed to come home to after a day exploring at Acadia. Sweet loft setup and breathtaking sunrises are some of the highlights. Had an excellent stay here.
Shantal
2017-04-01T00:00:00Z
What a delightful cottage. Warm and cozy with spectacular views. Alan is a very caring and helpful host.
Jenny
2017-03-19T00:00:00Z
Cabin is as cozy as it looks, and not too far from the nearest town.
Vitor
2017-03-08T00:00:00Z
Great place to get away for a period of time. As a musician I spent most of my time relaxing or working on things, and this was the perfect place to do so.
Chris
2016-12-24T00:00:00Z
Unforgettable experience! The best Airbnb experience we've ever had. Alan is a wonderful host, he took care of all of our needs and provided us with all the information needed in order for us to travel around Surry, Acadia National Park, and the surrounding area. Alan's coastal Maine cottage is exactly as described, the pictures are accurate, it is an amazing clean cottage with a very hot shower, small kitchen, with music instruments and books. The atmosphere at Alan's place is extremely unique, Alan was such an amazing & fascinating host, he showed us magical places near his cottage, visiting Surry Arts at the Barn (guided by Alan) was impressive and meaningful. Even though our visit was off-season there were plenty of interesting activities, beautiful places to visit and attractions. We will definitely come back again.
Uri
2017-01-06T00:00:00Z
Great cabin!
Emily
2017-01-09T00:00:00Z
Adorable cottage with a great location and amazing scenery.
Kaylee
2017-03-12T00:00:00Z
Alan was a wonderful host. He was easy to communicate with and had lots of great information about local things to do and places to see. The cabin was warm and cozy. We had everything we needed and really enjoyed our stay.
Susan
2016-03-26T00:00:00Z
Tipo de Quarto
Casa inteira/apto
---
Tipo de Imóvel
Casa
---
Acomoda
4
---
Quartos
Surry, Maine, Estados Unidos

Walk to Belle Isle, 6 min drive to downtown! A spacious 1BR corner loft overlooking the river and two parks. Lots of light and beautiful view. Convenient location off Jefferson Ave and Detroit's Riverwalk. Gated parking for one car. First time visitors to Detroit and city regulars will enjoy using my loft as a base of operations. I've been a contributing author to Wildsam Field Guides, an eclectic guidebook publisher, and have great recommendations for most cravings in this unique city.
[This loft is often booked. If it is, have a look at my three other spaces near by, including my sailboat. Just click on my profile picture to find them.] This loft is beautiful, open, and full of light. A perfect retreat in Detroit. I grew up in Montana, lived in India for a few years, and ran a journalism startup in Detroit called Jaunt, so I have decorated my place with remnants of my travels. I also contributed to a Detroit guidebook called WildSam Field Guides, so I can help you put together a good itinerary or fill any holes you might have. I mostly live on my sailboat during the summer and I teach Marine Science on a sailing school vessel. The loft is all open except for the bathroom. The bedroom is separated by a wall without a ceiling. The kitchen has all the basic essentials and utensils plus coffee, tea, cereal, oatmeal, etc. for breakfast. I have an HDTV with Blu-Ray, Roku, Netflix, Amazon Prime, and an HD OTR antennae for NBC, ABC, FOX, etc. Then there's the bed. Queen and super comfortable - I splurged on the bed because good sleep is really important to me. For extra guests, there is a queen pull-out sofa in the common area. The apartment can accommodate up to four (two in each queen bed) but you're starting to get a little cramped. I will decline requests for greater than four people unless you have a special circumstance. There are two A/C units: one window-mounted right next to the bed and the other in the living room space. They do a good job on the loft 90% of the time, but if the sun is glaring and it is scorching hot, they won't be able to create the refrigerated A/C frigidity we are used to with central air. The bedroom unit works perfectly if you shut the door to the common area. In the winter, you can turn the heat up as much as you like and make it toasty warm.
I moved here in October, 2014 from the nearby West Village area where there are a few great new restaurants, like Craft Work, Detroit Vegan Soul, and Red Hook Coffee. The loft is on the Riverwalk, which is a bike/walk trail connecting you to downtown and Eastern Market via the Dequindre Cut, a converted rail line that runs off of the Riverwalk. I am also walking distance to the Belle Isle bridge. The building is kitty corner to a Coast Guard base, a U.S. Federal building, and the offices of a private security firm. The streets are lit and other residents of the building are frequently coming and going. I have always felt that the area around where I live is quite safe.
We had a great time staying at the loft. Very good location, close to Belle Isle. Great restaurants in the area. Very nice place and Karen was very accommodating. We will visit again.
Joe
2016-10-12T00:00:00Z
We are regular visitors to Detroit. Finding new territories and enjoying the different styles of neighborhoods, and living spaces is what makes the airbnb experience so unique. Iron Street was as "Banksy" in person as it was in the photos. Thane...you did an awesome job my friend, with the art-deco, Just walking up the stairs and down the brick hallways put us right in the heart of Greenwich Village, Downtown Capetown South Africa, and London all while walking down the hall to Visit Miles Davis..All rolled into one experience. The Visitor-Contact, was a polite woman who knew a lot about everything. ..which was a great amenity in itself. Thane was quite accessible and the loft was impeccably clean and neat. Great heat, plenty of linens and one of the Best 2 pillows, I have ever laid my head on. Only a few miles from everything,UBER was definitely the way to go. Heck, there's even a gym, barbershop and hair salon right downstairs. Areas of opportunity to really have made a better experience, would be to have more modern Television equipment. Yes, there was a "working" television, but it took quite an effort to operate it and get even the most local television stations. (4 channels just didn't cut it, and ROKU...was non-existant. The home is so nice, that we wanted to just stay there and work and watch tv...which was part of our work...and we had major issues until the Host-Contact person came to assist to find us 4 channels. Laundry could not be done, because the washing machines that are available in the building are obsolete, rusted and not very sanitary. This isn't an issue if you are only staying a couple of nights, but I would bring extra garments if you plan to stay more than a few days. Last but not least, the walls and flooring in this unit are virtually paper thin, and we could hear phone conversations, of the neighbors above us and below us. We could hear every conversation, every laugh, every cough, every Song, every toilet flush a as late as 2am, and as early as 3am. We were deprived of sleep every night. Unless you are a party animal, a heavy sleeper who has plenty of clothes, and a great imagination (who doesn't like tv), I would not recommend stay here until some of these things are addressed. I can't say enough that Thane was awesome and his efforts to make us feel comfortable under all of these circumstances deserve much applause because had it not been for his professionalism and gracious efforts, we would have left. Instead, we made it work, Because we really think none of these things were in Thanes control. He totally made his loft a super cool hang out. And if it were a way to ask the neighbors to quiet it down a little, we'd definitely stay again. Because of THANE.
AJ
2016-02-22T00:00:00Z
The appartment is really nice and spacious. We were provided with fresh towels and sheets at our arrival. Although Thane wasn't available when we arrived, which was late in the evening, he arranged for someone to open the appartement for us and to show us everything. It is located near to the river and to bell isle which is a lovely place to go jogging or have a nice view of Detroit. Thane was a perfect host and provided us with good recommendations in advance. The only negative thing is that the heating can be loud at some times and you can also hear the neighbours so take some earplugs with you.
Ulrich
2016-04-16T00:00:00Z
Thane was very helpful. He has researched the area thoroughly and is very generous - offering specific ideas for our family. Detroit has lots of gems that he can help you find.
Mary-Ann
2016-07-22T00:00:00Z
A huge thank you to Karen (Thane's Mother) for taking great care with every detail of booking, check-in, follow-up, etc. And then an even bigger thank you to Thane, the loft's owner. His space is well appointed, of course. But beyond that, it is personal, smart, even thought provoking. (After a quick glance at his accumulated books, artwork, collected maps and displayed photos, you realize you are a houseguest of a guy you want to know.) I used uber to get me everywhere. Eater Detroit to point me to the right bites (I am a chef in Charleston.) And Thane's "guide" to get me to some places I wouldn't have found on my own. Please consider this your Detroit base if you value authenticity and character. And of course a good place to rest your head at the end of the long day.
Wendy
2016-09-07T00:00:00Z
Loved the place. Thane has good taste.
Felicia
2016-07-17T00:00:00Z
We couldn't have been happier with our stay at Thane's loft. It looks and feels exactly as pictured and really added to our overall Detroit experience. A few earlier reviews mentioned concerns with soundproofing, but we didn't have any issue with this (especially given this is a corner unit). Thane prepared a great list of recommendations for us, which we took full advantage of. We wouldn't hesitate to stay here again and would recommend this listing to any family, friend, or fellow Airbnb members. Thanks for sharing this space with the Airbnb community Thane!
Corey
2016-05-09T00:00:00Z
Thane was really helpful with telling us about good restaurants and bars to visit in Detroit, and he had some great guide books there for us to use as well. I will say that the upstairs neighbors were somewhat loud the nights we were there (a Friday and Saturday night), and because it's an old building, you can hear them walking around and talking upstairs. Thane has a huge window in his bedroom, which is great to get the morning sun, but is also quite bright, so don't plan on sleeping in late :) Parking was easy, and we parked on the street and didn't have any issues finding a space. The building is a cool old factory-looking building right on the water, very close to Belle Isle. Unfortunately we didn't make it out there, but it's also fairly close to the downtown area.
Marika
2015-05-03T00:00:00Z
Tipo de Quarto
Casa inteira/apto
---
Tipo de Imóvel
Loft
---
Acomoda
4
---
Quartos
Detroit, Michigan, Estados Unidos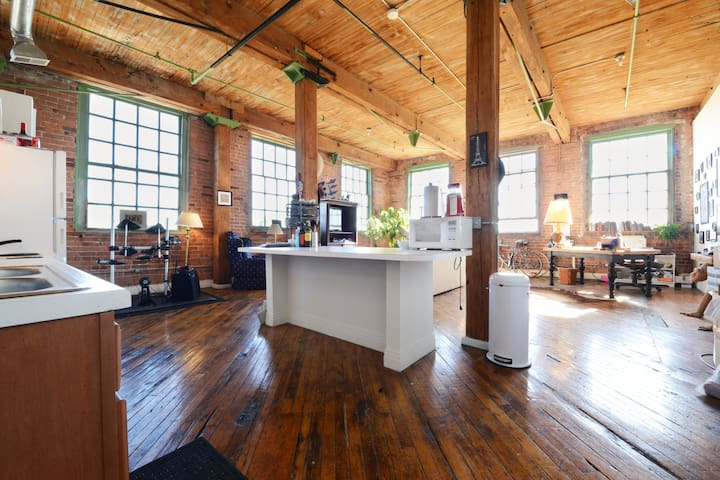 A beautiful, open, airy loft space housed within a completely renovated 1926 industrial building. Centrally located on Woodward Avenue in New Center to tons of local restaurants, bars, and coffee shops in New Center and Midtown. Relax, you're home.
This is a modern loft apartment housed within a completely renovated 1926 building that originally housed graphic artists for General Motors, and other companies. Designed by famed-Detroit architect Albert Kahn, you'll notice the signature art-deco front-facade and incredible lobby of the building. All the character of the loft is still intact, from the concrete floors, brick exterior wall, and the mushroom columns Albert Kahn was known for. Home includes a large kitchen, front load washer and dryer, incredibly fast internet with wifi and one bedroom with a queen-sized bed. This building is incredibly peaceful, quiet, and relaxing; while being just blocks away from anything you'd want to do in the city. Kitchen includes gas stove/oven, stainless steel sink, refrigerator, toaster, pots, pans, coffee maker, and any other utensils you need to call Detroit home for a few days. You'll find a single bedroom (this was originally a studio unit, but has been converted into a completely-walled one bedroom unit). Beautifully comfortable queen bed, small dresser, and chair. The main bathroom includes a subway tile shower/tub, sink, and any towels and amenities you'll need to make your stay perfect. Awesomely comfy white cotton sheets are included in the bedroom. The living room includes a couch (can be used for extra sleeping space, but isn't a pull-out), coffee table, and two chairs. 50" HDTV is hooked up to an Apple TV with Netflix. Outdoor space includes a small patio (which you'll enter from) with two bistro chairs and table. Enjoy the sunny back-alley of the building with a drink of your choice from the fridge. Local spots within walking/biking distance include the incredibly beautiful art-deco Fisher and Albert Kahn buildings; Midtown Shopping (Shinola, Willys, Nora, Hugh, Carhartt, Fellow Barber, City Bird, Nest, and more); the mid-century gardens and campus at Wayne State, and more. Local attractions include the city and public art, Belle Isle with its beaches, waterpark, Albert Kahn designed conservatory and aquarium, and trails. The world is your oyster. Restaurants nearby including fast food, Northern Lights Lounge, Falafill, Dangerously Delicious Pies, City Wings, Motor City Brewing Works, Jolly Pumpkin, and more. The loft is all yours while you're here. Enjoy, relax, and hang out. I prefer text and AirBnB message for communication. Taking photos during your stay? Make sure you #thatdetroitloft.
Awesome location right on Woodward at the Midtown/New Center border. Just a few blocks either way to a ridiculous amount of inspiration, character, activities, and restaurants. Take in the Detroit Institute of Arts, or check out the art-deco skyscrapers of New Center.
Jesse was very accommodating, flexible and understanding for our booking. Would highly recommend staying with Jesse! The loft was gorgeous and next to the police station, which made us feel very safe.
Joanna
2016-01-31T00:00:00Z
Loved staying in the beautiful space! Great location and easy to Uber to and from.
Alyssa
2016-09-17T00:00:00Z
Easy communication with Jesse and very nice and trendy place in the Spirit of new Detroit
stephane
2016-07-21T00:00:00Z
Had another great visit to Jesse's loft. Just like my previous visits, Jesse was a great host and communicator.
Gary
2016-08-13T00:00:00Z
Jesse's place was great - well decorated, comfortable, quiet, and easily accessible to everything downtown. Communication was easy from the start and continued throughout our stay. You're a superb host, Jesse. Thanks for making our return home to Detroit a good one!
Ashley
2016-05-29T00:00:00Z
This space is awesome and cozy! Jesse was very easy to communicate with for anything we needed!
Ashley
2015-12-15T00:00:00Z
Solid, beautiful loft space with tasteful decor. The host was very helpful and supportive via communications. The location is busy and central, but the loft itself is quiet and comfortable. It was a great environment to get work done, which I had to do on this trip.
Gary
2016-03-12T00:00:00Z
Jesse's loft was perfect for our trip in so many ways! Clean, attractively decorated, easy to get to, on a safe block, free parking and a short uber ride away from downtown! Jesse responded promptly to every contact and was thorough and helpful. We loved our stay here and would recommend it to anyone looking for a great place in Detroit!
Jordan
2016-09-19T00:00:00Z
Tipo de Quarto
Casa inteira/apto
---
Tipo de Imóvel
Loft
---
Acomoda
4
---
Quartos
Detroit, Michigan, Estados Unidos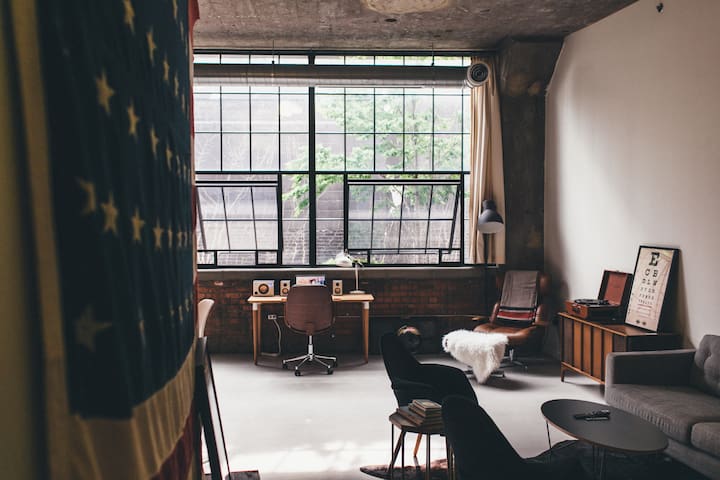 Welcome to Woodbridge Farm! ...a friendly, spacious & quiet neighborhood, close to all of the happenings in/around Detroit. Enjoy the newly renovated 2nd floor of our 1884 Historic house. The apt is cozy w/ yummy architectural/design details.
WOODBRIDGE FARM: We love it here! ...very special and unique. The street is filled with Urban Pioneers and creative types; artists, musicians, gardeners, and makers. You will find that most homes sit on larger pieces of land, giving Woodbridge Farms a unique feel. Many of the houses in the area have undergone impressive renovations, and for the others the renovation is underway. We have completed the interior renovations of this home, and soon we will start renovation on the house next door, which we also own. From the outside they look a little rough, but keep coming back and you will be able to witness the transformation! US & OUR RENOVATION PROJECTS: We are longtime Detroiter's. We are committed to the City, and we are so happy to have been a part of the revitalization of Detroit. We love old homes …and we love to renovate them! Zac is a general contractor, and Renee is an Interior Designer. Together, we have been restoring old homes in Woodbridge for the last 15 years. LOCATION: You are a short walk/drive from Detroit's midtown area, where you will find a variety of restaurants and shopping. Both Corktown and Downtown are within a few miles. It is a very quiet neighborhood, conveniently located to all major freeways. Lots of parking. THE LISTING: Newly renovated, with the best of care. Open plan kitchen, dining, and living. King size bed with fine linens and nice pillows. The bedroom windows are opposite the sun rise. It is a very peaceful space, bright, open and fresh. We are sure you will love the apartment. It is clean and private. We have an office on the first floor that is completely separate from the space. Zac is typically there M-F 9-5 should you need to fax ,copy or have any questions. If you have any special requests we will do our best to accommodate you, if given a bit of notice. We live 2 blocks away from the apartment should anything urgent come up.
Zac & Renee where helpful from the reservation to checkout. The space surpassed any expectations. It is an amazing and comfortable space and you cannot beat the price against quality ratio. They allowed our small pet to accompany us. Thank you for a great stay!!.
Sergio
2016-04-16T00:00:00Z
It was a wonderful stay with a charmant couples (Zac & Renee) The appartement is Perfect all was perfect
Thibaud
2016-08-15T00:00:00Z
We had a wonderful weekend at Zac and Renee's. Their place was so well designed and a perfect retreat from city life when you wanted to come back and rest. I can't say enough how much we would recommend coming here if you are visiting Detroit. If you appreciate the beauty in antiques and reusing the old instead of buying brand new this place is wonderful. Perfectly paired down as well so you could just come in and not feel overwhelmed by personal items. The perfect rental that makes it easy for you to bring your belongings and have it feel more like home. Restaurant recommendations were really helpful and appreciated as well.
Fran
2016-08-08T00:00:00Z
First of all, the place is absolutely stunning! Don't let the slightly rough neighborhood and exterior fool you; this place is gorgeous and so well thought-out inside. We spent the first half-hour just walking around saying "wow!" They were super responsive and helpful, even though we were too busy on this trip to stop by and meet them. We will definitely try to stay again next time we go to the D!!!!!
Jennifer
2016-04-08T00:00:00Z
My husband and I stayed at Zac and Renee's apartment for 3 nights. I've been AirBnBing for a number of years, and this was one of my favourite experiences so far. The apartment is located on a quiet, tree-lined street, full of beautiful old homes (some renovated, some not, some actively being worked on). It is such a peaceful and green location that its hard to believe you are just a couple of miles (an easy car or bike ride) from downtown and midtown. The apartment itself is beautiful. It is *full* of light, clean, spacious, and tastefully, thoughtfully decorated. Some things we loved the most: Taco the cat hanging on the front porch, welcoming us home each day; the view over the wildflowers blooming in the side yard; morning coffee on the sofa, soaking up the light in the living room; restful deep sleeps in a hotel comfy, king-sized bed. Zac and Renee were lovely, responsive hosts. It was a great experience from beginning to end, and we'd stay again in a heartbeat.
Sophie
2016-08-03T00:00:00Z
If you are looking for a beautiful and well-located place to stay in Detroit, you've found it! Zac & Renee have a very unique place here, beautifully designed and with plenty of space. I was in Detroit for business and it was great to be able to cook, with space to just hang out as well. There was even chocolate, wine, and other goodies awaiting my arrival! Seriously, this place and these hosts are amazing.
Monet
2016-06-02T00:00:00Z
The house is spacious yet cozy, and very well furnished with great interior design! It's in a great location that's super close to everywhere we needed to be. Zac and Renee were great hosts and checked in to make sure everything was to our liking. And taco cat is adorable and friendly. Can't wait to come back next time we're in town! :)
Izabella
2016-04-09T00:00:00Z
Great hosts! Thank you to them for accommodating me through my stay. Absolutely loved the amazing light that came into this space. It's very refreshing. Great location as it states in the description. Close to everything, but tucked away just enough. The hosts also provided very good and detailed instructions before and during your stay. I had the pleasure of meeting Zac and he was pleasant and super chill. If they'll have me, I'll certainly be back to visit!
Melissa
2016-05-11T00:00:00Z
Tipo de Quarto
Casa inteira/apto
---
Tipo de Imóvel
Apartamento
---
Acomoda
2
---
Quartos
Detroit, Michigan, Estados Unidos
Upstairs from Slows BBQ and on the same block as Astro, Sugar House and Gold Cash Gold, this two-bedroom neighborhood inn provides an immersive, welcoming travel experience in the heart Corktown, Detroit's oldest neighborhood.
A small-scale, design-focused Detroit inn, Honor & Folly is reminiscent of the way folks used to travel: a few beds above the village pub or restaurant. You'll be immersed in this historical neighborhood that's also at the forefront of the city's current revitalization. Featured in Martha Stewart Living, Food & Wine, Bon Appetit (made the 40 "Best Food Lovers Hotels in America" Awards), The Globe and Mail, Details Magazine, Conde Nast Traveller UK, and Afar. With a prime Corktown location, you'll be situated smack into the middle of one of the most thriving, charming and walk-able neighborhoods in the city—right across from the city's most beautiful icon of urban decay: the old train station. Admire it up-close or enjoy the beautiful view through the big living room windows—you can even see the Ambassador Bridge! Sharing a block with Slows, Astro, Gold Cash Gold and Sugar House, Honor & Folly also offers plenty of other nearby bars, shops and restaurants within a quick stroll (I provide guests with a list of my favorite recommendations), as well as easy access to downtown. The well-appointed space is decorated with goods made by Detroit and Midwest-based designers and artisans—much of which is also for sale. There are two bedrooms, each with a queen bed and its own bathroom, for a capacity of four people, with additional possible sleeping arrangements for kids. From time to time, Honor & Folly is used as a community space, hosting workshops or events, but you will have the space entirely to yourself during your stay. OTHER AMENITIES: outdoor balcony | local design | fully stocked cooking kitchen | potential to arrange custom catering, private dinner parties, etc.
A wonderful flat and location.
Clynton
2015-03-14T00:00:00Z
This apartment is beautiful! It rained (a lot!) during our stay but this didn't really matter as Meghan had thoughtfully provided us with information including cab numbers and the apartment itself is above a row of trendy bars, restaurants and coffee shops. Detroit seems like a fascinating and buzzy place and we'd love to come back to explore some of those places we didn't get to see.
hazy
2014-08-13T00:00:00Z
Amazing appartment and very nicely furbished !
Ludovic
2016-01-20T00:00:00Z
Honor and Folly is every bit as beautiful as it looks on-line. Restaurants just downstairs serve great food. It is Detroit so the neighborhood beyond the immediate area feels desolate, but you can feel a devoted, friendly community working hard to fix that. One comment: there is no number on the door and the mailboxes right there are for a different address, but it becomes pretty obvious that only one door has the right kind of lock and that's the door to Honor and Folly.
Alicia
2015-09-08T00:00:00Z
From my first inquiry on the listing Meghan was extremely responsive. The place was even better than described and we had the best time. I hosted a group of 8 clients for a pop-up salon before Fash Bash and the space was plenty roomy enough for 8 women to get hair/makeup done and move about with ease. We didn't stay the night there so I can speak to the comfort of beds but the living space was incredibly charming and clean! We will be renting avian hopefully in the near future. Thanks for everything, Meghan!
Julia
2016-08-12T00:00:00Z
Meghan's place is really nice. It's on a lively block with restaurants & bars right outside the door. It's across from the old train station which we found fascinating. It's easy to get to and a fine location for exploring the rest of the city.
amy
2016-09-11T00:00:00Z
What a find. I was lucky to have this beautiful space available for a short business trip during the Detroit Auto Show. The "loft" is beautifully done, tasteful and comfortable. I felt the proximity to other parts of the city was great. Meghan had all the info I needed, when I needed it, so my arrival was totally painless. The location was perfect for me to discover what Detroit has to offer in areas like Corktown. In fact, great restaurant and drinking options right downstairs. A total bonus when the snow finally came, and temperatures dropped. I will be checking with Meghan first on all my return visits to Detroit. You must check it out.
Bruce
2016-01-13T00:00:00Z
Meghan is a welcoming host. This was our first experience with airbnb and she helped us along the way. We got great information about the area and places to visit. The location was perfect for us, very close to the places we wanted to visit and easy to get around the city.
Leisa
2016-02-06T00:00:00Z
Tipo de Quarto
Casa inteira/apto
---
Tipo de Imóvel
Apartamento
---
Acomoda
4
---
Quartos
Detroit, Michigan, Estados Unidos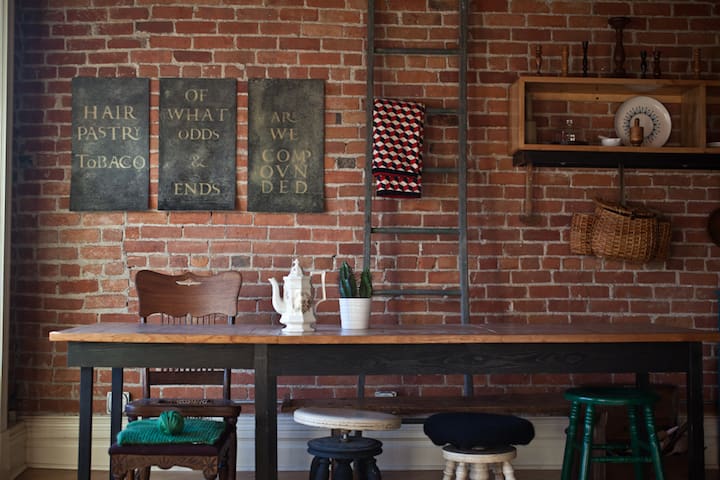 This building is a "soft-landing" for creative professionals seeking a home-base while filming movies, producing albums or making culturally relevant contribution. We love to host large groups from across the globe. Last year we hosted 1000+ guests!
This 12 unit lofts building offers panoramic views of the city! Located in the Albert Kahn designed warehouse district, this building sits in the cradle of America's Industrial Design Revolution. Each unit ranges from (PHONE NUMBER HIDDEN)SF. First floor units are two story lofts and second floor units are three story lofts with private roof terraces. The units are fully furnished and include items such as: 50 inch flatscreen tv's, Keurig coffee maker, tea distiller, pots, pans, plates, towel and WIFI of course!
This two story warehouse was constructed in 1914 by Jam Handy. After a successful career as an Olympian athlete, Handy pioneered visual learning and contributed immensely to the areas of motion picture production, film technology, and telecommunications. Many of the building on this block were part of his film production complex that produced 7,000+ films. This building and neighborhood continues to be a welcoming place for industrial design thinking. Henry Ford invented the Model T two blocks away, Motown's Hitsville 8 blocks away, Shinola headquarters 5 blocks away, and the list goes on…
the loft was beautiful! Kyle came and unlocked the balcony as well. very great host!
Ashlee
2016-06-25T00:00:00Z
I enjoyed the loft it was big and beautiful I will always book with this location.
Ciara
2016-05-16T00:00:00Z
This is my second time at the loft's and it's a cool experience, especially for our work group to stay together. Only warning is that it's SUPER bright at night with street lights and in the morning the minute the sun comes up. Love love love those windows, but I don't love not having curtains.
Rachel
2016-05-20T00:00:00Z
Great space, awesome instructions, and good amenities. Unfortunately, however, all marred by the wifi going out during our first night. I contacted the host several times through airbnb, text, and even by phone, but never received a response. The wifi was never fixed.
Sam
2016-07-07T00:00:00Z
We used Kyle's loft for a design team outing. The loft was amazing and we will definitely use it again! No issues and the loft was exactly as shown in the pictures! Thanks Kyle for a wonderful stay!
Anne
2016-11-11T00:00:00Z
Amazing space to stay in an amazing city. Would definitely stay there again.
Martin
2016-05-24T00:00:00Z
Super great stay at Kyle's place
Chris
2016-09-15T00:00:00Z
Great place, great location, great value
Donovan
2017-02-03T00:00:00Z
Tipo de Quarto
Casa inteira/apto
---
Tipo de Imóvel
Loft
---
Acomoda
16
---
Quartos
Detroit, Michigan, Estados Unidos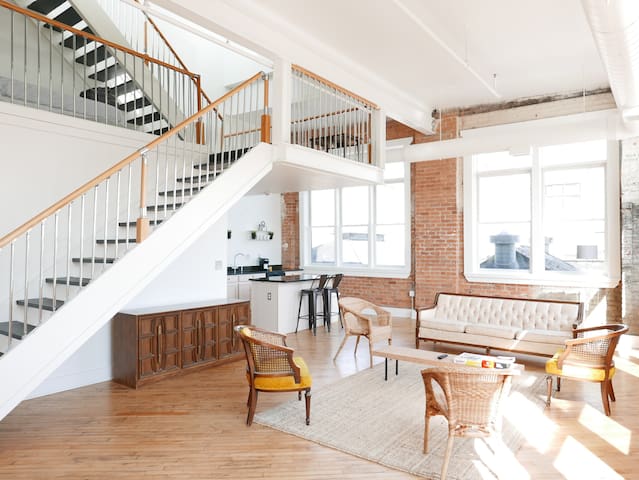 Beautiful, inspiring and peaceful. 5 minutes to town and a world away.
A peaceful retreat awaits you in the trees just outside of West Asheville's "locals" downtown! Walkable to Haywood Rd and all our excellent neighborhood restaurants, art and yoga studios, farmers market and pubs. Or you can borrow a bike from us and zip into town. This is a quiet place to write and rest or just commune with the big oaks around your private deck. The studio apartment is below the main house which has its own entrance and outdoor space. Our family lives above and we are very respectful of your privacy. The studio is SMALL one room space (12x15) but well equipped with a hot plate, under counter fridge, small table and 2 chairs and a queen size bed. You have your own small bathroom with 3x3 shower and toilet. Bathroom sink is in kitchenette. A laundry room is right next door and is also available. If you are looking for an unique space that is peaceful and quiet but part of a vibrant creative community you will enjoy staying with us and we will enjoy hosting you!
West Asheville is the best! Quiet and neighborly, it's not like downtown Asheville with hotels and so many tourists but you can get there or the parkway or the Biltmore very quickly by car. Downtown, five minutes, everywhere else, ten minutes. We have our own downtown in West Asheville and there's many excellent restaurants and music venues within walking or biking distance.
Maria and Jakub were wonderful. My husband and I could not have asked for a better getaway on our honeymoon! They surprised us with a little welcome/celebration gift, checked in frequently, and were readily available if needed. Thank you both for sharing your beautiful, unique home with us!
Molly
2016-09-11T00:00:00Z
The reservation was canceled the day before arrival. This is an automated posting.
Chad
2015-04-11T00:00:00Z
Michelle and Lisa were great hosts and the studio is in a marvelous area..very peaceful!
Madeleine
2014-05-08T00:00:00Z
Jakub and Maria's home is lovely and welcoming. The accommodations are cozy and clean...a perfect place for a long weekend getaway. The view is beautiful and sitting on the porch with a good book is hard to beat. Bars, restaurants and shops are a quick hop away. I would certainly stay here again. Michele, who is coordinating visitors at this time, provided us with everything we needed and was always quick to respond to questions etc. Thank you!
Amelia
2014-08-11T00:00:00Z
Such an incredible experience, so cozy and quiet! Perfect getaway, Jakob & Maria are such great hosts, great communication! The place is everything and more than we expected, in a great part of Asheville, very close to some great restaurants.
Caleb
2016-01-12T00:00:00Z
We had a great time at Maria and Jakub's tree house. It was the perfect location for what we wanted to do in Asheville. The hosts are super kind and friendly. Thank you for accommodating our requests, and for the freshly picked blueberries. We'll be back!
Analia
2016-08-10T00:00:00Z
Even though our stay coincided with some really dreary weather, this place was beautiful. The view out the window into the forest is a great way to wake up! Although we didn't arrive until late, Jakub greeted us and showed us to our room. The house is beautifully designed. Thank you, Jakub and Maria!
Philip
2015-11-18T00:00:00Z
Such a sweet spot! We slept well in this little nook, a gorgeous window on Asheville. Our hosts were generous and communicative. And come on, there's a backyard zipline!
Addie
2015-08-17T00:00:00Z
Tipo de Quarto
Casa inteira/apto
---
Tipo de Imóvel
Apartamento
---
Acomoda
2
---
Quartos
Asheville, Carolina do Norte, Estados Unidos
Situada no sopé da Adirondack Mtns. e apenas 9 milhas de Saratoga Springs, Nova Iorque, ostentando solidão tranquila. A escada em espiral leva à área de dormir e varanda coberta, que oferece um excelente local para leitura, escrita ou refletir. Tenha em mente que a nossa casa na árvore é concebida como um retiro tranquilo para 1-2 pessoas.
Este ambiente privado arborizado oferece muitas características únicas, tais como: estacionamento privado, cozinha ao ar livre e de jantar com churrasqueira a carvão, água quente e fria corrente e iluminação exterior. A caixa da escada circular leva a uma área de dormir confortável, incluindo uma cama de casal e de solteiro, mais um loft acima. Apenas fora dos quartos de dormir é um alpendre coberto para leitura, escrita ou refletir. aquecedor elétrico e ventilador estão incluídos. Por favor, traga seus próprios lençóis (1 de tamanho completo, 2 camas de solteiro) e fronhas. Cobertores e travesseiros são fornecidos. Casa de banho completa está a poucos passos de distância. Por favor, traga suas próprias toalhas e produtos de higiene pessoal. (Bens de papel e shampoo são fornecidos) A cozinha ao ar livre está fechado de 15 novembro - 15 abril. No entanto, a geladeira e microondas estarão disponíveis. Água durante este tempo ainda pode ser obtida através do banho interior a poucos passos da casa na árvore.
Saratoga Springs é uma cidade eclética que oferece algo para todos. No Spa State Park Saratoga é de natação público, banhos minerais, golfe e trilhas para caminhada. Os concertos são realizados no Centro de Artes Performativas de Saratoga. Há muitos museus na área, incluindo o Museu das Crianças em Saratoga, Museu de Corrida de Cavalos, Museu de Carros. O autódromo de Saratoga, também está na cidade com tanto uma pista plana e corridas de cavalos pista arnês. Yaddo jardins é um retiro artista, onde os belos jardins são abertos ao público. Congresso Park é um parque pequeno e belo e a casa do carousal interior. O famoso Café Lena está localizado no coração da cidade, famosa por seus artistas e poetas conhecidos.
Thomas was very nice to deal with and flexible with our arrival time. We were on a Honeymoon road trip and both are outdoor enthusiasts. Our 2 night stay at this cute tree fort was refreshing from our hotel stays the other 4 nights. It was a little chilly weather but the sleeping area was very warm and cozy. We also liked the convenient location of Middle Grove. Wednesday morning we headed south and 3 hours later we were having a spontaneous seafood lunch in Connecticut overlooking the ocean. Definitely a highlight of our Honeymoon and will return for an Anniversary get-away!
Jane
2016-10-14T00:00:00Z
A rare, delightful physical setting, fifteen feet up in the woods. And a very responsive and kind host. Loved the outdoor kitchen and the wooded privacy. Very special place.
Ann
2014-08-26T00:00:00Z
A fantastic and tranquil trip! Tom was an excellent host; he showed us around the property and gave us recommendations for fun things to do during our stay. Middle Grove is a welcome quiet with Saratoga nearby for more of a bustle and also close to the Mohawk River and smaller creeks for clandestine in-nature swimming. The tree house itself is everything the photos promise plus a new screened in platform for protection from mosquitoes. Can't wait to come back again!
Marisa
2015-07-13T00:00:00Z
Tom was a great host. We enjoyed his tree house and would definitely recommend visiting!
Kathleen
2016-04-16T00:00:00Z
The treehouse exceded our expectations and our host Thomas was very helpful and warm and inviting. The location was peaceful and beautiful and very relaxing. A truly amazing experience
Brandy
2016-04-09T00:00:00Z
So the tree house beyond exceeded our expectations in many ways. It is so artfully constructed. The Windows are plexiglass for instance so when open its like you are seeing right outside so clearly. Then there's insulation panels which can be used as needed. I just had fun looking outside and taking it all in. The heaters keep the tree house very cozy. I feel like Tom thought of everything. The bathrooms are just outside and also warm and comfortable. Tom was also available if needed and communicative. We had no problems with getting in touch. We were super excited about our stay there until we tried to sleep that night and were disrupted by a mouse or mice or other rodents scurrying and squeaking all night. This issue was disclosed directly to Tom throughout our stay and in fact he seemed to know about it prior to renting to us as he said "there may be a mouse up there" pointing to the loft. Indeed there is a mouse infestation somewhere in or near the tree house. Besides the scurrying and squeaking, perhaps more disturning, we came home and woke up to mouse droppings on the bed. I told Tom directly that he really shouldn't rent his tree house in these conditions. Wilderness is to be expected, as it is sort of outdooors/camping/cabin, but I feel that a rodent problem should be addressed.
Nicole
2015-12-12T00:00:00Z
at our arrival he met with us and gave us a tour and described how he and his boys built the treehouse. IT is located in a well developed area. The only thing that surprised us was the location of the bathroom.
JAMES
2016-08-20T00:00:00Z
The treehouse is absolutely incredible! We took full advantage of the covered porch and fire pit during our stay and checked out some of the hiking trails and restaurants Thomas recommended in the handy guide he put together. He's also thought of everything you might need during your stay: corkscrew, lighter, board games, mugs, salt and pepper, etc. You really just need to show up with sheets, towels and toiletries and you're good to go! And even though the treehouse is located near the main house (where the bathroom is) it still feels wonderfully secluded and peaceful.
Sadie
2016-11-04T00:00:00Z
Tipo de Quarto
Casa inteira/apto
---
Tipo de Imóvel
Casa na árvore
---
Acomoda
4
---
Quartos
Middle Grove, Nova Iorque, Estados Unidos
A cabine é um ótimo lugar para escapar de tudo isso! O ofurô de cedro personalizado feito é quente e pronto todo o inverno. Frios, noites de neve para fazer excelente momento banheira !! Dentro da cabine é aconchegante e tem o conforto de casa. Quer esquiar? Duas estações de esqui estão a 30 minutos de nós.
Situado na floresta hilled atrás de nossa casa, o Cabin Vermont da árvore (16 'por 12', 190 pés quadrados) é um ótimo lugar calmo para ficar longe da agitação da vida diária. Enquanto relaxam no deck ou banheira de água quente, você será capaz de desfrutar da calma e serenidade do exterior, mas ainda tem o conforto de casa no nosso autêntico alojamento cabine. Construído em 2004, a cabine foi temporariamente usado como uma casa para a família enquanto nós construímos a nossa casa. A cabine foi completamente renovado com chuveiro costume de azulejos, pisos de nogueira rústico, knotty paredes de pinho / tecto, uma área de cozinha, incluindo uma pia, frigobar, microondas, máquina de waffle, máquina de café, TV HD, DVD player com pequena seleção de filmes, bom serviço celular (ATT & Verizon), 500 litros personalizado cedro banheira de hidromassagem, internet sem fio, churrasqueira a gás, rock fogo pit, mesa de piquenique e uma 250 sq. ft. deck que é construído em e ao redor de árvores de carvalho. Um dos nossos maiores comodidades da cabine é o costume construído, banheira de hidromassagem cedro branco. Mantida a 100- 104F graus, a banheira de hidromassagem está pronto para seu uso durante todo o ano, 24 horas por dia; tudo o que você precisa fazer é deslizar a tampa para fora, relaxar e desfrutar. Enquanto relaxa na banheira, não deixe de desfrutar assistindo as chamas de um fogo do poço do fogo para a direita fora do baralho. Nossas outras comodidades e serviços são os seguintes: Cama - Um tamanho completo cama de espuma de memória e um único berço que pode ser incluído em cima do pedido. Alimentos - Café, chá, waffle mistura (fazer o seu próprio), Vermont xarope de bordo e cereal quente instantânea incluído Estacionamento - garagem privada e área de estacionamento para os hóspedes cabine. A cabine está completamente isolado e aquecido, por isso, convidamos você para apreciá-la em qualquer época do ano. O serviço de limpeza - Nós não fornecemos serviço de abertura ou arrumação na cabine durante a sua visita, mas fará ajustes mediante solicitação. Como estamos localizados no Nordeste Reino de Vermont, a área oferece muitas atividades e eventos para sua diversão. Nossa área é conhecida por algumas das nossas montanhas e estâncias de esqui, incluindo Burke Mountain e Jay Peak. Há muitas outras actividades ao ar livre, incluindo passeios de barco e remo, pesca, caminhadas, snowmobiling, etc. Mas não se esqueça de verificar algumas das pontes de Vermont conhecidos cobertos, sugarhouses, cervejarias, e fazendas também. PS, É ótimo exercício de caminhada da área de estacionamento para a cabine. É apenas 150 pés de distância, mas um belo passeio subida em uma mistura de caminhos e escadas bem iluminados.
The Vermont Tree Cabin was a fabulous place for a cosy away-from-it-all week-end. The neighbourhood was peaceful and we had a great time.
Ingrid
2015-08-22T00:00:00Z
My wife and I had a glorious honeymoon here. Andrew and Marilou are wonderful hosts and we greatly enjoyed the space, a perfect cozy retreat. The waffle mixes were a real treat as was the hot tub. Thank you!!
Jesse
2014-06-23T00:00:00Z
We loved our time at the Vermont Tree Cabin. It was clean, comfortable, and they supplied many simple amenities that we didn't even know we'd miss if they weren't there. We loved the hot tub, being surrounded by nature, and we loved the waffles!
Lindsey
2014-06-25T00:00:00Z
This was the perfect escape. We had the most amazing time relaxing by the fire. We felt completely surrounded by nature. Thank you
Adam
2014-08-16T00:00:00Z
My wife and I had a great time in the cabin. I was impressed with how well and nice the place was built. The accommodations were great and the waffles turned out to be a surprise touch that were so good. I am so happy we came and stayed here. It was so nice and quiet each night and just a very relaxing time. Would recommend this place in a heart beat. Thank you again for the opportunity to share our time with you.
Joshua
2014-08-14T00:00:00Z
Words cannot describe how incredible this trip was. Andrew and Marilou are both very welcoming and kind. Always making sure we have what we need, if we are enjoying ourselves. It was a beautiful experience, being in nature, just getting away from work and the daily routines. They made this vacation feel like a home away from home. Definitely want to come back, for the view and the waffles!
Shelby
2016-07-10T00:00:00Z
Beautiful place just as described here. Andrew was fantastic and made us feel very welcomed.
Va
2016-05-25T00:00:00Z
The treehouse was perfect. Andrew and Marilou had thought of everything, every detail was perfect. We will be returning and recommending to friends.
Grace
2014-12-24T00:00:00Z
Tipo de Quarto
Casa inteira/apto
---
Tipo de Imóvel
Cabana
---
Acomoda
3
---
Quartos
Waterford, Vermont, Estados Unidos
Aproveite o luxuoso condomínio de estar e a cidade e vista para o lago deslumbrante no coração de Toronto, com estacionamento gratuito. Mesmo ao lado do CN Tower, Rogers Center, TIFF, e ACC. 55 "TV a cabo e Netflix, ginásio, ioga quente, squash, banheira de hidromassagem, piscina de 25m colo, salas de vapor, spa, churrasqueira e salão ao ar livre.
Um luxuoso, novo de um quarto, no coração da cidade! Todas as lojas que você precisa para comida e bebida são a minutos de caminhada. Bancos, restaurantes e bares estão a uma curta distância também. Há uma linha carro de rua dentro de blocos para levá-lo tanto quanto você precisa ir. - Grande, conceito aberto cozinha com electrodomésticos topo de gama e toneladas de espaço no balcão - Sala de estar com assentos confortáveis que se transforma em um duplo tamanho sofá-cama - Wifi grátis - Quarto com uma confortável cama queen size - Casa de banho totalmente equipada com tudo que você precisa - Em-suite uma lavadora e secadora unidade
Uma animada, área de entretenimento, onde há sempre alguma coisa acontecendo. - Localizado em torno de alguns dos melhores restaurantes, bares e atracções da cidade - Passos para uma tonelada de comodidades (mercearia, farmácia, cafés, loja de conveniência, cinemas, parques, etc)
The view from the balcony is amazing! I love it!!! The room is clean and equipped with everything we need just like a hotel. I would definitely come back again!
Jocelyne
2016-11-06T00:00:00Z
Alper was very responsive & helpful during my stay. His condo looks exactly like it did in the pictures. Only important thing missing is a TV in the living room but I'm sure people can look past that. Overall great stay.
Erica
2016-07-05T00:00:00Z
First time using Airbnb ant the place was great and the location as well. Only 1 night but everything is well explained by Alper. We are a family of four and worked great for a one night stay. Would stay again!
gabriel
2016-07-03T00:00:00Z
The apartment was clean and tastefully decorated, perfectly located and convenient to get to. Alper was very professional and I enjoyed working with him.
Brendan
2016-05-28T00:00:00Z
Alper was very helpful from the first time we started communicating. Kept me updated before we got there. Gave us great directions, met us at the front door. The place was very comfortable, clean, new, well decorated and so close to Rogers Stadium. We will defiantly rent this apartment again.
Gaby
2016-06-11T00:00:00Z
Alper was a great host. We planned to visit Toronto for 2 days and he was very accommodating and responsive. He even sent me a reminder email explaining all the details in case I had no Wifi. His place is recently refurnished and looks amazing. His place is in a luxury sky-rise called ice towers, and is near King street for all those of you looking to visit Toronto's night life. It's also walking distance to the CN tower and there is a nice Bar down stairs called Hunters Landing, in case you're don't want to venture off too far. I highly recommend Alper and his place, which is city living in a contemporary setting. AAA
Ranny
2016-07-02T00:00:00Z
Alper's place was exactly as described. Apartment was very clean, had fresh towels and bedding, toiletries and even snacks and coffee. It had terrific views of downtown Toronto in the day and even better at night. We used free underground parking. It is a walking distance from all the major attractions, restaurants and shops. We would definitely recommend Alper's place to anyone!
Olga & John
2016-09-24T00:00:00Z
Great communication, great location, great apartment, great view! Thanks!
BRIAN
2016-12-20T00:00:00Z
Tipo de Quarto
Casa inteira/apto
---
Tipo de Imóvel
Condomínio
---
Acomoda
4
---
Quartos
Toronto, Ontário, Canadá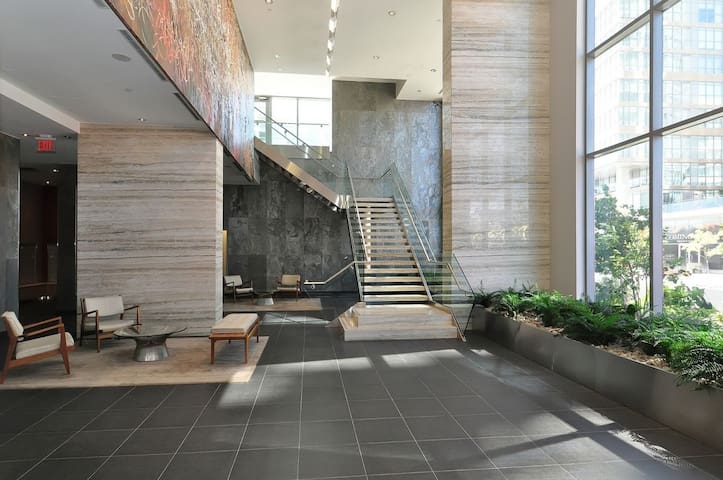 This is a studio apartment across the street from Detroit's Selden Standard where Head Chef Andy has recently been nominated, for the third year, a James Beard semi-finalist. We are walking distance from the DIA, Wayne State campus, and the Charles H. Wright Museum of African American History.
This 1880s Gothic-Victorian Mansion was renovated in 2015. Everything is new, clean and modern. There is a queen sized bed, ample closet space, a full kitchen and private bathroom. The space gets great light.
We have a great location in Midtown Detroit, many great bars, restaurants, and shops are within walking distance. Popular nearby attractions include the DIA, MOCAD, Chartreuse, Jolly Pumpkin, Hop Cat, Motor City Brewing Works, Great Lakes Coffee and Whole Foods.
The studio is nice and cozy and located in a great neighborhood. Sarah is a great host and very accommodating.
Tanisha
2016-10-17T00:00:00Z
Sarah's place was well appointed and very comfortable. Great location for exploring the city. I always forget little things like shampoo or Kleenex so it was lovely to find that these details were covered. Too bad about the very loud frat party across the street that ran into the wee hours on Friday night but my guess is its an infrequent occurrence and we just got unlucky.
Tara
2016-09-19T00:00:00Z
A clean and bright little haven that is so close to so many great restaurants and shops! I would stay here again.
Teresa
2015-06-26T00:00:00Z
We were stuck for a place to stay and Sarah accepted us at the last minute, which was a huge. It is an older building but the renovation is brand new and was perfectly laid out. The communication was top notch and the access the property was very well thought out as well.
Mark
2015-07-17T00:00:00Z
Had a great experience at the Alexandrine Studio. We really liked the location since it was close to downtown Detroit and was in walking distance of Whole Foods and restaurants. The keyless entry was so useful and Sarah was extremely quick in getting back to us about any questions that we had. She provided recommendations for everything that we asked for. Because we were traveling a lot after our stay in Detroit it was super helpful to have the in-unit washer and dryer. The a/c unit works well but it is a little loud but nothing that we didn't get used to, however if you are sensitive to noise it might bother you. Overall, it's a great place in a great location.
Jessica
2016-07-15T00:00:00Z
As usual, Sarah's place is fantastic. Perfectly located and really comfortable. I will definitely be back.
Jamie
2016-10-14T00:00:00Z
The cleanest + simplest AirBNB we've ever stayed in; and we've stayed in many. Has everything you need and literally nothing you don't. Keyless entry was incredibly convenient, location central and communication with Sarah was hassle-free. ***** out of *****
Ryan
2016-06-06T00:00:00Z
This studio was great-cute location near restaurants and shops and nicely redone and decorated. Sarah was quick to respond and was always helpful. Recommend highly
Lauren
2015-09-03T00:00:00Z
Tipo de Quarto
Casa inteira/apto
---
Tipo de Imóvel
Apartamento
---
Acomoda
2
---
Quartos
Detroit, Michigan, Estados Unidos
Enjoy a brand new basement apartment in DC with free parking! Amenities include a spacious bedroom with queen bed, living area with TV and Netflix, modern marble bathroom, washer/dryer, and kitchenette (no stove). A guest parking permit for on-street parking is included upon request!
Hardwood floors, exposed brick walls, marble bath, full washer-dryer, and privately controlled AC. A huge comfy couch is in the living area. Kitchenette does not include a stove. The bathroom is small but functional. A double air mattress with linens is provided for a 3rd/4th guest. A baby crib with sheets is available, too!
Bloomingdale is just north of the US Capitol building. You can see the Capitol dome from the driveway.
Kevin was an exceptionally attentive and intelligent host. I stayed in his apartment with my mother and we both felt at home. The decoration of the place is exquisite, arrangements very practical, the bed comfortable, and the environment quiet and harmonious. Simply go ahead and make your reservation!
Cerni
2016-05-21T00:00:00Z
The apartment is really lovely and had some lovely furnishings. You will feel very relaxed and comfortable here. Another plus is that the host provides bottled water for his guests. The value is very good, however you may need to get a couple taxis when you are staying there so bear that in mind. Overall I would definitely recommend.
Mary
2016-08-27T00:00:00Z
Kevin was super nice n the place was super rad
Clint
2016-07-24T00:00:00Z
Great place! Updated, clean and thoughtful. Kevin made the whole experience easy and enjoyable.
Nate
2016-10-11T00:00:00Z
Amazing experience ! Our trip to DC was fabulous, Kevin's apartment is just perfect! everything is clean, beautiful and tastefully done! It's very well positioned and easily accessible by bus to visit the main monuments of DC! Kevin again thank you for this experience ! It was really easy to communicate with Kevin . I fell in love decorating your house and I will inspire me for mine :). ps: I hope you liked the French specialties that we left you. Notre voyage à DC a été fabuleux , l'appartement de Kevin est tout simplement parfait ! tout est propre , beau et fait avec goût ! Il est très bien placé et accessible en bus très facilement pour visiter les principaux monuments de DC ! encore merci Kevin pour cette expérience ! Il a été très simple de communiquer avec Kevin. Je suis tombé amoureux de la décoration de ton appartement et je vais m'en inspirer pour le miens :) ps : j'espère que tu as aimé les spécialités françaises que nous t'avons laissées .
Jordan
2016-09-22T00:00:00Z
Kevin was a super gracious host and the place was beyond clean - it was immaculate. Really sweet to be greeted with some nice touches like a bottle of wine and essentials such as coffees for the Keurig as well as Greek yogurts and soft drinks. Kevin was very accommodating and dealt with any issues immediately. For example, the internet went down and Kevin ran out and replaced the router right away... The apartment is actually better than the pictures (which were what sold me in the first place lol). Everything was new, shiny, and well appointed with lovely design elements that worked well with the space. A great bedroom with the big Japanese screen type feel, fantastic bathroom (love the lighting IN the tiles). Electronic security keyed entry was super easy to use and separate entrance in the back was very private. I didn't have a car but there were numerous transit options. I found the bus system to be quite comprehensive with the #80bus right out the door to union square/Metro Center/Kennedy Ctr and points in between, or you can walk down Capitol two blocks to Rhode Island and catch the G8 to Shaw Howard Metro stop. Bloomingdale is a nice, real DC neighborhood. I found a number of nice restaurants close by (Rhode Island and 1st). All in all a great stay at a super nice pad in an AMAZING city... Thanks Kevin!
Tracy
2016-05-09T00:00:00Z
One of the best AirBnB experiences to date. Thoughtfully equipped, immaculately kept, and immediately responsive. A great little home in a wonderful neighborhood.
Bryce
2016-06-07T00:00:00Z
We had a great experience at Kevin's basement apartment. It's exactly as shown in the pictures. Quiet neighborhood, A/C works great. Having the full-size washer and dryer available to use was a big plus as well. Thanks Kevin!
Tony
2016-09-30T00:00:00Z
Tipo de Quarto
Casa inteira/apto
---
Tipo de Imóvel
Complexo de Casas
---
Acomoda
3
---
Quartos
Washington, District of Columbia, Estados Unidos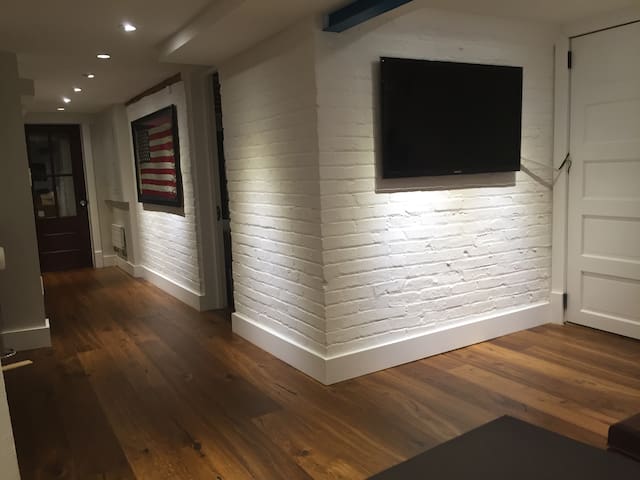 Se você gosta de cozinhar, caminhar, nadar, visitar os mercados de agricultores e estar rodeado por animais, este é o lugar para você. Woodridge é uma comunidade rural localizada nas montanhas de Catskill do sul. É o lugar para ficar longe de tudo.
A cúpula é uma incrível "Glamping" o espaço e os hóspedes são obrigados a BYOBed. Traga colchões de ar, acampar almofadas de ar, sacos de dormir, travesseiros e toalhas. Existe um piso de madeira na cúpula e de tela do Windows para o fluxo de ar e impedir a entrada de insetos. Por uma taxa extra a cúpula pode ser usado para espaço da oficina, tiros, espaço de ensaio, ou o sono por partes :) Para os hóspedes que ficam na cúpula, há exteriores duplas chuveiros quentes, uma pia e uma banheira com pés. Além disso, uma cozinha completa ao ar livre e churrasqueira, geladeira, pia, e grande fogueira estão disponíveis para seu uso. Estamos localizados em uma fazenda em bela Sullivan County, perto de Bethel Woods, o Parque Catskill, Neversink única área e Ponto de Sam. Há muitos animais na fazenda. Merino ovelhas, cabras angorá, coelhos angorá, cabras leiteiras Oberhasli, galinhas (que executam Então, por favor cães trela grátis!), Um gato e um cachorro chamado Lali. Temos uma estufa e horta, uma lagoa de cachorrinhos para ir nadar, e um lago do outro lado da rua. Há um estúdio de gravação de serviço completo no local, bem como um espaço de oficina de artes fibra. A fibra de nossos coelhos angorá é privada e mão-girado em acessórios de inverno. Em junho, uma loja de roupas vintage é a abertura na propriedade. Venha e navegar através de coleção de roupas vintage, sapatos, bolsas e chapéus de Ambika Boutique. Check-out é o mais tardar até ao meio-dia no domingo, quando há uma aula de ioga por semana, às 12:30. É doação de base e qualquer pessoa pode participar. Traga uma esteira!
Sullivan County foi o local de centenas de hotéis e resorts Borscht Belt, que teve seu auge a partir da década de 1920 até a década de 1970. Quando as viagens aéreas tornou-se mais acessível, a indústria turística da região diminuiu e deixou muitos acampamentos e resorts vago. Recentemente, muitos artistas e pequenos agricultores mudaram-se para a área e estão trabalhando para trazer de volta cultural e economicamente. O concelho é bastante diversificada, com uma população mista que é semelhante ao da área de South Williamsburg de Brooklyn. As ofertas naturais dadas por esta área são apreciados pelos moradores. Há caminhadas que vão levar você para rios, cachoeiras e pontos de vigia. Lagos estão em toda parte e oferecem grande piscina de água doce. O pantanal Basha Mate é a maior zona húmida (mais de 3.000 acres), no sudeste de Nova York e é o lar de uma população diversificada de animais e plantas. Muitas fazendas belas e sustentáveis estão bem perto e visitantes bem-vindos. A informação pode ser encontrado no guia.
The geo Dome was very cool! and Joshua was great.. we had everything we needed. the outdoor kitchen was super awesome!
Rebecca
2016-10-31T00:00:00Z
Grounds beautiful. Perfect place for a peaceful getaway.
Jenday
2016-10-13T00:00:00Z
Joshua was wonderful. He really made us feel like home while still being on a retreat. his property is beautiful, and so was the energy. Thank you so much, Josh! hope to come back soon.
christina
2015-06-09T00:00:00Z
It was such a nice experience!
Panthita
2016-07-26T00:00:00Z
The Geodesic Dome was fantastic! The farm is a beautiful piece of property and well maintained. Josh was helpful and organized from the beginning, he answered all questions in a timely manner and even picked up some delicious meat for our group from a local farm. The outdoor kitchen was well equipped for cooking, but the oven did not work. The outdoor shower was a big hit, as was the nearby waterfall and swimming hole. Highly recommended.
Alexander
2016-05-31T00:00:00Z
Joshua was a great host and has an amazing piece of property just outside of the city. Awesome experience staying in the geodome.
Jonathan
2016-07-11T00:00:00Z
Joshua was very welcoming and showed us around when we first arrived -- he explained where everything was and how things worked. We were allowed to interact freely with all the animals on the property; the outside kitchen was well stocked. We went in early November, so it was a tad cold, but there was a radiator inside the dome. Still, bring warm sleeping bags and lots of blankets if you go then! Overall, great stay.
Jessica
2016-11-04T00:00:00Z
Our stay at Joshua and Ambika's geodesic dome was even better than we anticipated. My boyfriend and I were looking forward to a weekend escape from the city and found that and more. Joshua and Ambika were very welcoming, super helpful and friendly yet gave us space whenever we wanted. The property was lovely, the animals were adorable and having meals in the outdoor kitchen was charming at any hour (whether it be cooking up a storm with the free range animals running around by day or snacking over wine and cheese while listening to the crickets by night). Waking up in the dome was fantastic and really felt private even though there were many others staying in other parts of the property that weekend. By the second night, we stopped using the screen that Joshua gave us to shield for privacy. It was a little chilly one night but nothing unbearable. Some musts: groceries purchased on the way up and/or a few basics that can be bought at the farmers market (I enjoyed eating on the property more than at local restaurants), foam pads for sleeping, organic bug spray and biodegradable toiletries for the outdoor shower - though Ambika supplied the latter. I don't usually frequent the same travel spots but would definitely return here!
Sophia
2014-08-25T00:00:00Z
Tipo de Quarto
Casa inteira/apto
---
Tipo de Imóvel
Tenda
---
Acomoda
16
---
Quartos
Woodridge, Nova Iorque, Estados Unidos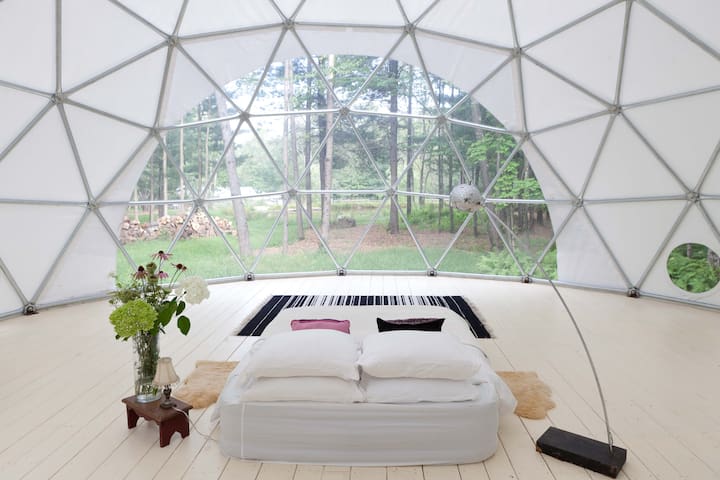 Insira as datas para ver o preço total. Taxas adicionais aplicáveis. Podem ser adicionados impostos.