2 Apartamentos para Alugar
The location of the Welcome Inn is fantastic, literally right across the street from the lake. The place itself was cozy, beds were made, and we enjoyed watching some TV before we turned in for the night. The living room was good, TV had plenty of channels for the kids. We had the unit above the general store, so we had no issues with the bar music that others reported. The heater worked well, which is a must up there. Green Valley Lake is not far from Big Bear and Lake Arrowhead. There was a strange smell that I assumed was from cleaner, but not sure. Check the smoke detector to make sure batteries are in. Overall, I enjoyed my stay.
Jason
2015-11-14T00:00:00Z
This was our second visit to Green Valley Lake and the second time we stayed at the Welcome Inn. I have nothing but good things to say about the place most of all the hosts' hospitality. We are definitely coming back again.
Carlo
2015-08-16T00:00:00Z
The room is very clean and nicely decorated. The host Michael is extremely nice. Very pleasant visit! Highly recommended!
Juan
2015-10-18T00:00:00Z
We just returned from our 2 day stay in Green Valley and could not have been more impressed. The home was exactly as listed and included a delicious quiche for breakfast. The town is very small and the people are very inviting. I suggest grabbing a boat for an hour and relax in the water. We will definitely be returning to Green Valley Lake and thank everyone at the Welcome Inn for making a pleasant first impression.
Jerry
2014-08-31T00:00:00Z
My family and I had an absolutely fabulous time at the Welcome Inn. the place was lovely and well kept. Internet access was great, and there were even some DVDs for our viewing pleasure! The snow was so much fun to play in, and although it was cold outside, the place was warm. We will definately be back! The hosts were so kind and sweet to us! It was very convenient to be located right atop the little country store too... wine was never far away! Thanks again!
Lynze
2014-12-26T00:00:00Z
The place wasnt clean, there is not enough items to stay 2-3 days. Location is good but still not worth it to rent this place. We did rent for 2 nights, but only stay 1 night and we almost didnt sleep, becouse of beds wasnt clean. There is also no A/c and apartmant super hot. Also on picture shows flat screen tv, but there is tv from 90s.
Martin
2016-07-11T00:00:00Z
My friends and I had a great time here in green valley lake. There was still some snow on the mountain and the lake was partially covered by ice( unlike lake arrowhead). We got there early and played in the snow which was walking distance from the place. We loved the little town and everyone was really friendly. One thing that wasn't clear to us is that this place is right upstairs from the market and checkin place. We didn't find it uncomfortable we were just not expecting it. Besides that everything was great! We had a great view of the lake and it was so cozy such a cabin feel. I would definitely recommend this place to anyone.
Xochitl
2016-02-15T00:00:00Z
The place was right above a bar where we get to meet the locals (they have good brunch). Downstairs is also a market which was very convenient if we need anything. It was right across from the lake so we can take a stroll. The host was helpful and easy going. We had a great time.
Bidan
2016-06-20T00:00:00Z
Tipo de Quarto
Casa inteira/apto
---
Tipo de Imóvel
Apartamento
---
Acomoda
6
---
Quartos
Green Valley Lake, Califórnia, Estados Unidos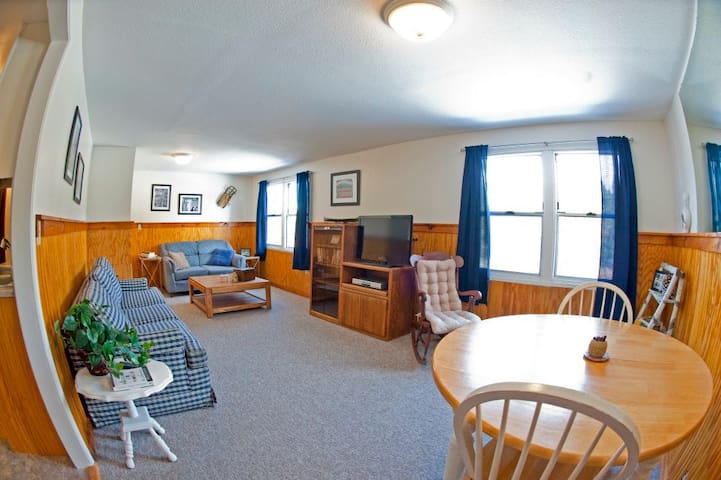 The space was spacious yet cozy, with a view of the lake. The general store is conveniently located downstairs, so you can get food or anything you forgot. I believe the owners are also the owners and operators of the store and are very friendly and helpful and can give you lots of great local knowledge. We stayed here with 4 kids, and found that there was plenty of room for everyone, and all enjoyed it very much. We'll be back again for sure!
Vincent
2014-12-30T00:00:00Z
We arrived at the place three hours after the scheduled check-in time. Krystal and Jess were so great and awesome. They came in and opened up the place for us. Overall, the place is very clean. The beds are very comfy. The area is very nice and quiet. My friends and I had a great experience staying at the Welcome Inn.
V. Dear
2013-12-26T00:00:00Z
We came in around evening time and the hosts were very welcoming. There was a $32 tax that we had to pay upon our arrival for our weekend trip. The place was nice and cozy, and it was nice that there were plates and cups in the kitchen. We were a little disappointed that the DVD player didn't work because we rented a movie in the general store downstairs believing that the DVD player worked. If it's broken, it really should be taken out. However, there was cable TV so we still had something to watch. The place is located above a tavern but it closes around 10pm so there weren't any noise problems when it was bedtime. All in all, it was a great trip.
Irene
2016-01-17T00:00:00Z
My second time here. Great for a one night stay in the mountains.
FRANK
2016-01-10T00:00:00Z
They made me feel like family here! Great people that would give the shirt off their back. The band was amazing, the food even better. This was an adventure leaving me wanting to come back for more.
Jonathan
2016-09-06T00:00:00Z
My family and I really enjoyed our stay. The kitchen was well stocked with everything we needed to cook breakfast. The rooms were nice and cozy. we will definitely consider staying here again
Agustin
2014-11-25T00:00:00Z
Everyone was so nice at the front desk. The place was great for 4 of us and the location was great to go to Arrowhead and Big Bear. The lake is such a gorgeous view and nice trail for a morning hike!!
Mallory
2015-01-19T00:00:00Z
When I arrived 2 hours after the check-in time the room was not ready. The place was a bit dirty and it was obvious that they were not prepared for any guests. Later in the day we find that the bathroom didn't have any backup toilet paper roll and had to drive miles to find a gas station that was open to purchase more toilet paper. The staff was very friendly and they seemed like good people but I don't think the price was worth the experience of going through all that.
Chris
2015-05-25T00:00:00Z
Tipo de Quarto
Casa inteira/apto
---
Tipo de Imóvel
Apartamento
---
Acomoda
6
---
Quartos
Green Valley Lake, Califórnia, Estados Unidos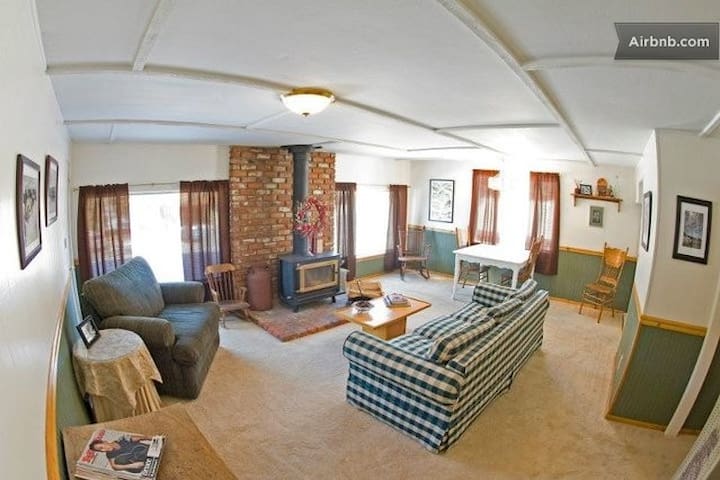 1

–

2

de

2 Apartamentos para Alugar
Insira as datas para ver o preço total. Taxas adicionais aplicáveis. Podem ser adicionados impostos.