Our cabin called Spælbu, has a great view, located at Valdres ski and ski tracks are right outside. Our cabin is suitable for couples, families (with children), large groups and furry friends (pets). There are restaurant and lodge nearby. It has three bedrooms and 2 lofts.
The cottage is in a great walking area both summer and winter. One can go on cross-country, on legs or downhill skiing, suitable for both large and small. There is a lodge and restaurant nearby.
Tipo de Quarto
Casa inteira/apto
---
Tipo de Imóvel
Cabana
---
Acomoda
12
---
Quartos
Aurdal, Oppland, Noruega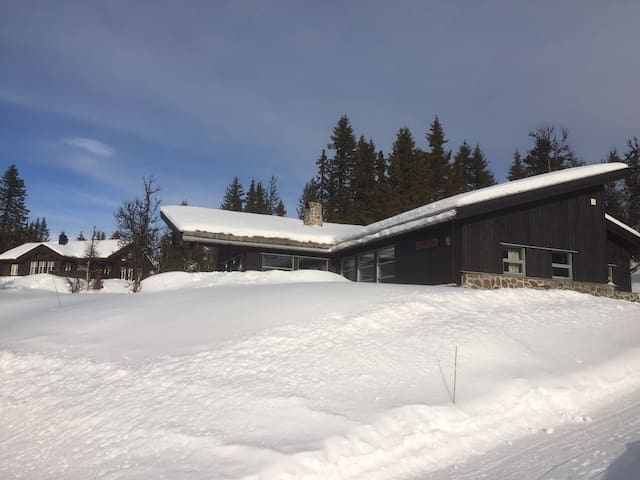 Nydelig hytte til leie i ferier og helger. Hytta ligger rett ved Valdres alpinsenter med kort vei til slalombakken og flott langrennsterreng på Danebu. Hytta er fullt utstyrt med nyoppsusset kjøkken med oppvaskmaskin. Det er tre soverom og hems.
Hytta som ligger ved Valdres alpinsenter og Danebu kongsgård har alt en familie kan drømme om av vinter- og sommertilbud. Tømmerhytta ligger nydelig til midt i dalen med utsikt over hele søndre Valdres. Her kan du nyte stillhet og ro, eller et stort tilbud av ulike aktiviteter året rundt.
(URL HIDDEN)
Denne hytten har virkelig sjel. Den har utsikt over dalen, koselige rom som har varme på, oppvaskmaskin
Per Steinar, Ingvil and Alfred
2016-03-09T00:00:00Z
Tipo de Quarto
Casa inteira/apto
---
Tipo de Imóvel
Cabana
---
Acomoda
10
---
Quartos
Aurdal, Oppland, Noruega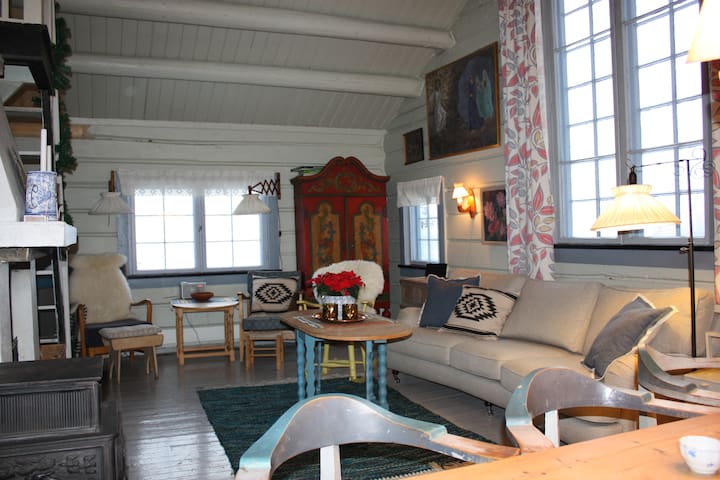 High-quality cabin, ideal for alpine and cross-country skiing in winter and mountain hikes in summer. Nice view of the valley below and the mountains beyond. Sleeps 10, family friendly, 920 meters above sea-level. Ski-in/out.
The cabin is located quite close to Valdres Alpinsenter which has nice slopes for alpine skiing - both for beginners and the more experienced skier. You can ski directly from the cabin to the slopes, and back again (ski-in/out). On the way back you have to use your ski-poles a bit as there is a flat part. The cross-country ski tracks are located just a few meters from the cabin.
Tipo de Quarto
Casa inteira/apto
---
Tipo de Imóvel
Cabana
---
Acomoda
10
---
Quartos
Aurdal, Oppland, Noruega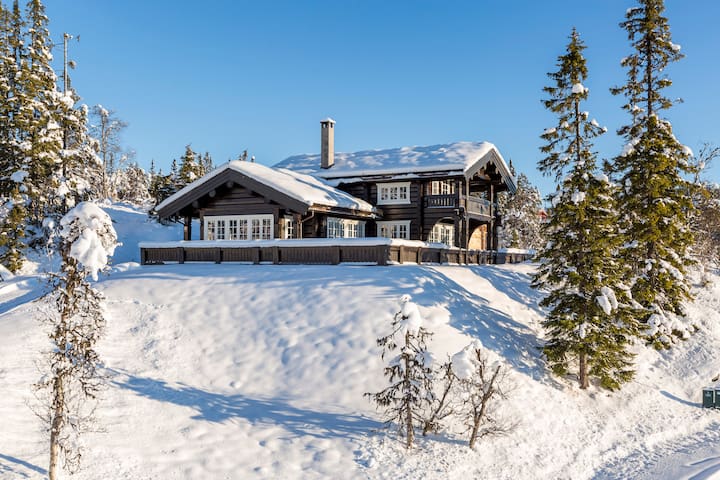 Nybygd nøktern hytte beliggende i flott natur ca 950 moh, i et område med spredt hyttebebyggelse. Området ligger solrikt, rett opp for en stølsvoll. Rett utenfor døra er merkede turstier, milevis av oppkjørte skiløyper bla. til Bjørgovarden, Etnedal og Beitostølen og fiskevann. Kort veg til Valdres alpinsenter. Strøm får vi fra et solcelleanlegg og aggregat til å lade batteriene. Vann pumpes inn fra den borete brønnen rett på utsiden til vanndunken, herfra pumpes vannet til kranene i hytta.
Kort veg til merkede turstier og milevis av oppkjørte skiløyper bla. til Bjørgovarden, Etnedal og Beitostølen. Kort veg til Engtjernet og ca 10 min kjøring til Valdres Alpinsenter. Sesongåpen kiosk, samt servering på Danebu Kongsgård og Aurdal (website hidden) 16 km til Valdres Storsenter på Leira, og ca 2 mil til Fagernes sentrum med et rikt utvalg av butikker, apotek, servering, lege etc. Og 15 minutters kjøretur til søndagsåpen butikk. Aurdalsåsen er kun ca 2,5 timers kjøring fra Oslo. Det er en nøktern hytte bygd i 2012 uten overdreven komfort. Strøm får vi fra et solcelleanlegg, om batteriene går tomme bruker vi aggregattet til å lade batteriene. Vann pumpes inn fra kranen på den borete brønnen rett på utsiden med en hageslange inn til en 50 liter vanndunk. Fra denne pumpes vannet til kranene i hytta. Det er også en humørsyk gassvannvarmer i hytta. Denne fungerer dessverre med ujevne mellomrom. Kjøleskap og komfyr går på gass. Varme får vi primært fra den vedfyrteovnen i stuen, men det er også gass varmere i hytta som kan være kjekt om man kommer opp til kald hytte på vinteren. Hytta består av 3 soverom, stue med åpen kjøkken løsning, bad, toalett og hems. Det er to soverom med køyeseng og et soverom med familiekøyeseng. Det er også mulig å sove to personer på karnapphemsen i stuen og 1-2 på hemsen. Toalettet er en snurredass med en to delt toalettskål hvor tørt og vått skilles slik at det blir minimalt med lukt. Det er også et dusjkabinett på badet, men gassvannvarmeren fungerer ikke alltid optimalt. Dette er en familiehytte som vi bruker mye selv og har en del av våre egne ting og utstyr liggende fremme. Det er viktig at dette respekteres.
Sommer Tur Varierte merkede turstier opp mot 1164 m.o.h. Samt mange fjellveier som er fine å trille barnevogn på. Gå rett ut fra hytta ut i uberørte fjellområder. Sykkelturer Sykkelturer på hyggelige stølsveier. Valdres er et eldorado for syklister. Vi har detaljerte sykkelkart med merkede turer i hele regionen. Stølsbesøk Besøk en av de aktive stølene som finnes i Valdres. I perioden 2. juli til 13. august kan dere komme på besøk til en støl som er i full drift. Her kan dere være med på fjøsstell, lære å yste og smake god stølskost. Fiske «Fisking i Valdres» er et begrep. Mange fine fjellvann og elver der man kan prøve fiskelykken. Undli besøksgård Ta turen til Venke og alle dyrene hennes. Her finnes både vanlige husdyr samt gamle norske utrydningstruede husdyr. Tennis Flotte baner på Leira. Golf Valdres Golf ligger 15 minutter unna. Spill på en av Norges flotteste baner! Bilturer Beliggenheten er meget god for dagsuflukter til: Jotunheimen, ca. 70km. Der en kan ta Nord-Europas høyest-kjørende rutebåt. Besseggen Flåm De norske fjordene, ved Sognefjorden, 140 km. Hunderfossen De olympiske byene Lillehammer, 108km. og Gjøvik, 90km (Fjellhallen og Skibladner).
Flott hytte i veldig fint turterreng, både barn og voksne koste seg veldig her! Hyggelig vert som gav oss detaljert og god informasjon før ankomst. På hytta gjør en behagelig sofa og store vinduer hytta til et fint sted å slappe av. Anbefales på det varmeste til familier som vil ut på små toppturer!
Ragnhild
2016-07-11T00:00:00Z
A lovely cabin in the mountain wilderness of Valdres. We were always warm and cosy even when it was -16 degrees outside . The listing described the place very well, accurate photos and description. The cabin is far enough from neighbours to afford plenty of privacy. There are cross country ski trails nearby and I'm sure if there was a little more snow you could ski right from the doorstep. Inside, the wood stove was excellent and the beds were comfortable. The kitchen is also very well equipped. The solar power lasted out entire stay, though we were careful with electricity: reading by candle and firelight is nice. Karsten was an excellent host, he answered our questions about how to work the cabin extremely well and quickly and was always just a phone call away I would gladly stay In His fjellhytte again!
Tom
2015-12-29T00:00:00Z
Great experience at Karsten mountain hut. Karsten was very arranging from the beginning to the end. The place was very nice and clean and looking alike the pictures. One little remark: the pictures are a little bit misleading because on then you think you'll have a top view on the mountains and it's not exactly the case. Still, I highly recommend this place!
Fabrice
2016-08-21T00:00:00Z
Спасибо Karsten за возможность побывать в вашем доме! Это был очень интересный опыт проживания в таком доме. Было заметно как вы любите этот дом и строите его для себя и своей семьи. Очень красивое место! Какие сумасшедшие виды!
Tatiana
2015-09-05T00:00:00Z
Hadde en kjempe flott helg Hytta var godt utstyrt for store og små Eieren var veldig behjelpelig og hyggelig anbefales på det sterkeste videre.. Mvh T Johansen/m fam
Thomas
2017-03-26T00:00:00Z
Enkel moderne greit utstyrt hytte med toppturmuligheter rett ut fra døra. Funket veldig fint for vår familie på fire. Karsten svarte kjapt og var opptatt av at vi skulle ha ett så bra opphold som mulig.
Alexander
2015-09-29T00:00:00Z
Helt fantastisk område om man vill bo lugnt och avskilt med fiske och natur runt knuten. Nybyggd fräsch och bra planerad stuga med en mycket bra engagerad tillmötesgående värd.
Kristin
2016-07-31T00:00:00Z
Place is perfect for those who wants just relax and take walks around - several beautiful paths are so close that no need to drive a car there. We stayed with two boys - 5 and 8. Paths in mountains were safe enough to go with kids. House itself is new, very eco . And there is fireplace! Which is nice after walks in rain. Not the best view from window but perfect views just after 10 - 15 minutes walk from home. You need to have quite good english to understand instructions. There are games, legos. Owner is very available for online help! Our family trully recomends this place.
Sandis
2016-07-28T00:00:00Z
Tipo de Quarto
Casa inteira/apto
---
Tipo de Imóvel
Cabana
---
Acomoda
7
---
Quartos
Aurdal, Oppland, Noruega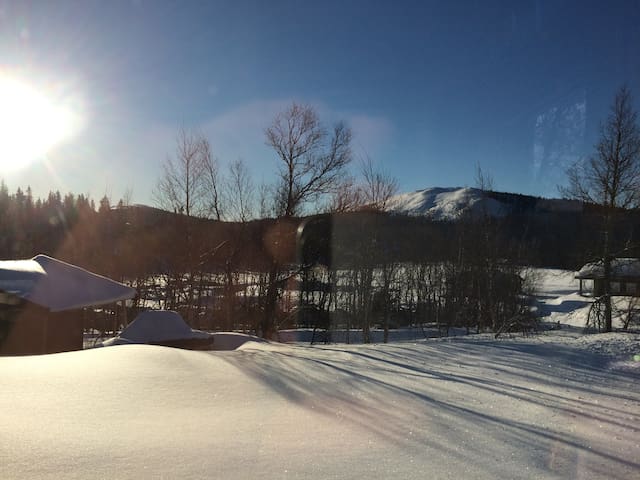 High standard mountain house of 120m2 built 2008, situated by a lake in Valdres, Norway. Beautiful view. All amenities incl dishwasher, washing machine, dryer, sauna, fireplace, garage etc. Cross country, downhill skiing and water activities.
En utrolig lækker familievenlig hytte med flot og stort opholdsrum, masser af plads til hygge samtidig med at der laves med i køkkenet. Udsigten var fantastisk og der er ikke langt til langrendsløjperne, så man hurtigt kunne komme på ski. Skøn hytte med god mulighed for at være flere par eller en stor familie sammen.
Lars Bo
2016-02-21T00:00:00Z
Tipo de Quarto
Casa inteira/apto
---
Tipo de Imóvel
Cabana
---
Acomoda
12
---
Quartos
Aurdal, Oppland, Noruega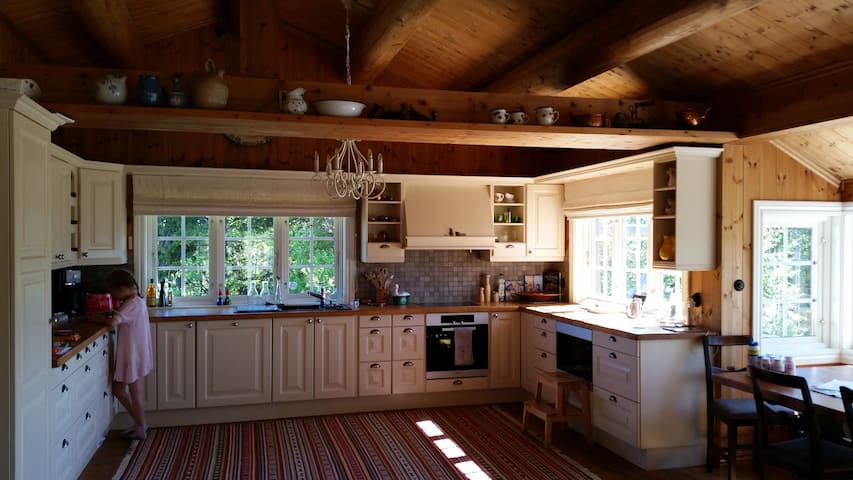 A very nice place, perfect place if you like the nature and the mountains in Norway.
Nice and cozy cottage located on 900 metres above sea level with nice views to the mountains in the South. This cabin is in a calm and idyllic mountain area. On the terrace you can enjoy your coffee in the morning sun and have the Sun until late in the evening! Both in the summer and winter you can park your car beside the cabin. Its a nice view. You really feel that Norway and its great nature is just outside the door. An attractive location for the summer to stay with perfect sunny conditions. During the summer there are good hiking opportunities on selected paths and also fine conditions for cycling, golf, fishing and swimming in the area. The cottage is newly renovated in 2016, the standard and very well maintained. Fully equipped kitchen. Bathroom with shower, hot and cold water, and freeze. Outside there are fireplace with BBQ facilities, sitting area and a shelter around the bonfire site. In the winter ski trails leading to beautiful mountain areas with panoramic views. Cross country ski tracks are 100 meters from the lodge and ski slopes are 5-15 min driving from the cabin. This cabin is located 2 hours and 40 minuts north from Oslo.
Peacefully suroundings
Veldig hyggelig hytte!
Wenche
2016-12-02T00:00:00Z
Vi tilbrakte en flott helg på hytten til Hans Henrik sammen med våre to små barn. Hytten var varmet opp på forhånd og godt utstyrt med alt vi trengte. Det er også god plass til å være ute rundt hytten. Hans Henrik var rask til å svare og sendte oss masse nyttig info om området. Skiløypene rundt hytten var kjempefine og veldig barnevennlige. Kanelbollene på den lokale butikken anbefales også!
Christina
2017-03-26T00:00:00Z
Anbefaler!
Aneta
2017-01-22T00:00:00Z
Tipo de Quarto
Casa inteira/apto
---
Tipo de Imóvel
Cabana
---
Acomoda
7
---
Quartos
Aurdal, Oppland, Noruega
Tømmerhytta fra 1914 har det man trenger for et hyggelig opphold vinter som sommer. Hytta er perfekt plassert om man liker både langrenn og alpint om vinteren eller sykling/turterreng om sommeren. Langrennsløype krysser tomten slik at man kan gå fra hytta. Går man over veien med slalomski er det tilbringerløype til bakken. Hytta ble bygget på i 2012 og det ble installert nytt bad, dusj og vakuumtoalett.
The traditional lumber cabin from 1914 combines a rustic experience with modern accessories: dishwasher, new bathroom, fridge, freezer and a combination of electric and wood heating. The cabin only 2,5 hours from Oslo and next to alpine skiing slopes (Valdres Alpinsenter) with ski rentals and instructors. Cross country tracks cross the property and there are miles and miles of tracks in beautiful surroundings. In summer hiking and biking are recommended activities. Visit the nearby Danebu Kongsgaard Hotell for a nice meal or a hot drink by the fireplace.
Super hytte med alt du trenger! Virker større enn på bildene. Hjelpsom vert og flott område
Helge
2017-01-01T00:00:00Z
Beautiful hytta inside and outside. Has everything for a perfect weekend or holiday celebration with family and friends. Clean, cozy,comfortable. 10/10 Valdres alpine center has great slopes and is not more than 10min drive. We enjoyed every minute!
aiste
2016-12-28T00:00:00Z
The host canceled this reservation 7 days before arrival. This is an automated posting.
Mona
2017-02-24T00:00:00Z
Koselig hytte
Annette
2017-02-26T00:00:00Z
Veldig koselig hytte :-)
Torunn
2016-11-06T00:00:00Z
Tipo de Quarto
Casa inteira/apto
---
Tipo de Imóvel
Cabana
---
Acomoda
9
---
Quartos
Nord-Aurdal, Oppland, Noruega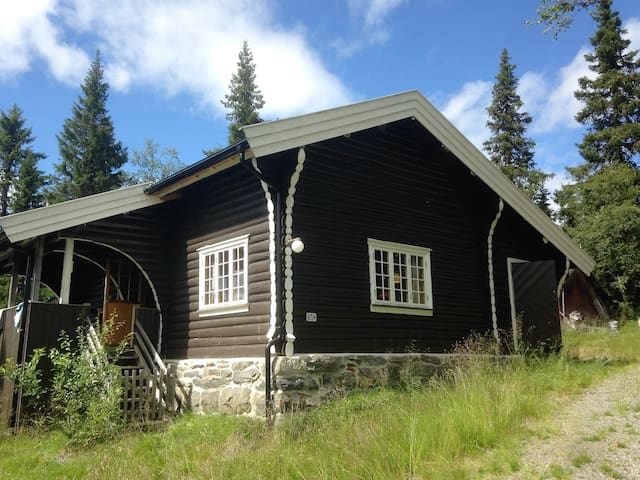 Hus i Valdres med egen inngang og privat moderne bad, moderne kjøkken, stor stue/spisestue, parkeringsplass og 3 store soverom med hver sin dobbeltseng. Huset ligger til med fantastisk utsikt på Leira. 5 min med bil til Leira sentrum (storsenter, flere større matbutikker) og 10 min med bil til Fagernes. Fantastisk utsikt, rolig område og gode turmuligheter. Perfekt som base for turer i Jotunheimen.
Tipo de Quarto
Casa inteira/apto
---
Tipo de Imóvel
Casa
---
Acomoda
6
---
Quartos
Nord-Aurdal, Oppland, Noruega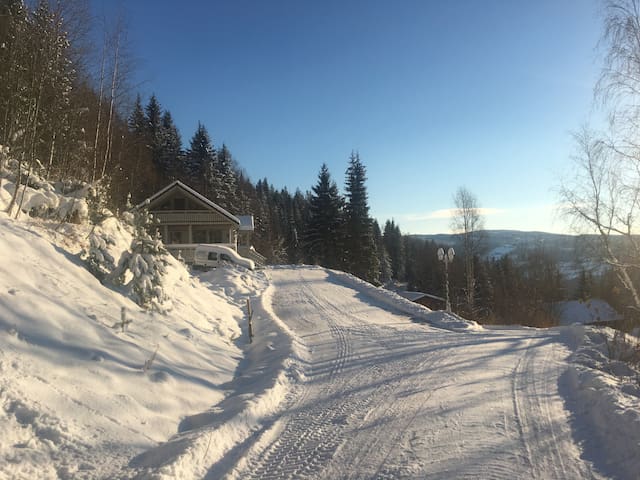 Apartment with view over Lake Strandefjorden. Peaceful and quiet, 800 m from Fagernes town centre. Pedestrian path along the shore of Lake Strandefjorden. The apartment features two bedrooms, one with a double bed, for 4 to 5 persons total. Fully equipped kitchen. Large living room with open fire place. Bathroom with toilet, shower and sauna. Non smoking. Possibilities for hire of two kayaks.
Idyllisk, nyoppusset, strand med bademuligheter rett utenfor døren,
Tipo de Quarto
Casa inteira/apto
---
Tipo de Imóvel
Apartamento
---
Acomoda
4
---
Quartos
Nord-Aurdal, Oppland, Noruega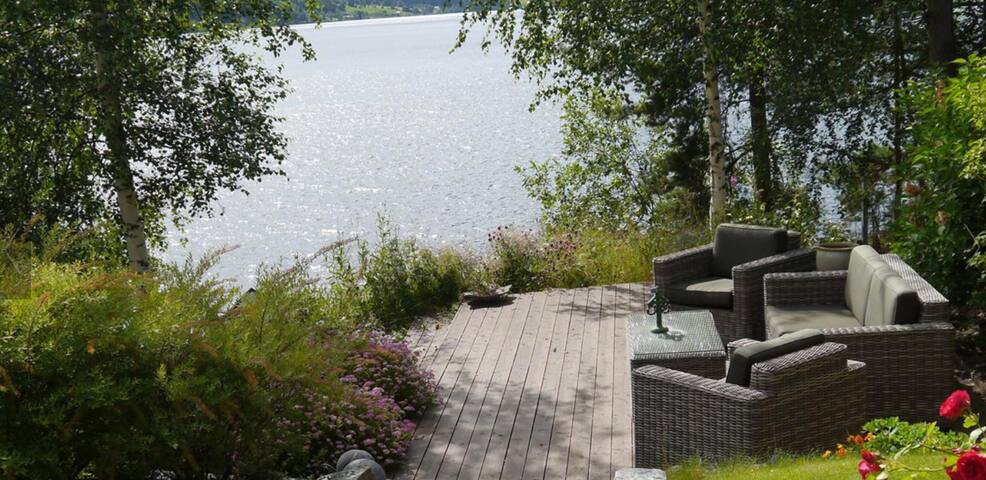 Vil du oppleve vintereventyret med lange skiturer i kritthvitt landskap, eller søker du fart og spenning i slalombakken? Vil du nyte naturen fra tindrende topper eller vandre i beroligende stølsmiljø? Ja, da leier vi gjerne ut huset vårt til deg.
Huset ligger stille og fredelig til, samtidig som det er sentralt i bygda. Kort vei til golfbane, fjellet, slalombakke og matbutikk. Lang og fin sykkelvei like ved. Solrik tomt.
We had a wonderful few days staying at Renate´s beautiful home. We, a party of 8 including 4 children aged 3-7, had plenty of space and all the comforts we needed. An excellent hill for sledging right outside, and just a 5 minute drive up to the downhill skiing centre made Renate´s home the perfect location for a family winter holiday.
Ben
2017-02-25T00:00:00Z
Vi feiret en flott påske i huset til Renate. Beligghenheten er fin, med kort vei til Valdres alpinsenter og skiløyper for de turglade. Vi hadde et hyggelig møte Renate og familien ved ankomst. Vi fikk beksjed om å føle oss som hjemme, og det gjorde vi raskt. Huset var stort, rent og fint. Kjøkkenet, stuen, spisestuen og uteområdene bruke vi mye og gjorde påsken til en suksess. Vi anbefaler dette flotte huset i vakre Valdres.
Juni
2016-03-27T00:00:00Z
We needed a central place to stay 6 days in Nord-Aurdal to explore the Valdres Valley and Jotunheimen National Park. Renate's home provided everything we needed and more. The great photos she provided for this home easily confirmed it's description as a country villa, but we found this large "farmhouse" to be more comfortable and convenient to use than we could ever imagine. We found it located in a safe and quiet community with beautiful grounds. Inside was also super neat and clean with two baths, large kitchen, and large living area with great beds for our family of 5 adults traveling together to find our Norwegian roots. The wonderful kitchen allowed calm pace to make hearty meals and conversation to plan our daily travel through the area. Plus Renate and her husband helped us locate the places we needed for groceries, emergency services, and added side-trip recommendations and great running paths around the neighborhood. We arrived unexpectedly late the first night, but that never stopped their thoughtful attention to us. We are so grateful to them and that we were able to find their listing to use - we would recommend this "Villa i ville" in Valdres to anyone in need of a beautiful stay in a lovely country home in the gorgeous Valdres Valley.
Marcia
2016-08-04T00:00:00Z
Tipo de Quarto
Casa inteira/apto
---
Tipo de Imóvel
Casa
---
Acomoda
10
---
Quartos
Nord-Aurdal, Oppland, Noruega
* Location Our cabin is located in the Valdres Mountains, a couple hundred meters above a small town called Aurdal. Although it lies completely undisturbed surrounded by 3 acres of ground, one of the regions biggest ski resorts lies only a 3 minute walk away. * Activities The cabin is the perfect getaway for one or two families. For the alpine enthusiast, Valdres Alpinsenter is a perfect resort for the beginner / intermediate skier, and houses a big ski-rental shop for both slalom, snowboard and cross country equipment. For the cross country enthusiast, there are vast areas of prepped slopes on the top of the mountain. These are accessible either by skilift or car. While a passion for wintersports is a plus, people with pure recreational needs will enjoy their stay just as fine… or perhaps even better; When the sun hits the porch, the best relaxation and tan you ever had is obtained sitting in one of our deck chairs… with a toddy in your hand… and just that. I mean it. I have tried it. It works miracles. * During the Summer Although the cabins greatest potential is in the winter, it is also a nice location for a summer trip. Being on the main road for going to the west coast of Norway, it has been a nice pitstop for many of people during the years, and mountain hiking is just as great as skiiing in the winter, only slower. * Accessibility Accessibility is good, there is a private parking lot with access for two-three cars only 40 meters from the cabin. (But bring long boots! In perfect winter wonderland condition, the snow can be over a meter deep.) * Standard There is built-in electricity, warm water and shower. During the winter, toilet is avaliable inside. Apart from a radio + TV two/three channels and a DVD player, the cabin is simple and spartan. All the comfort you need, none of that you could be without. We can even hide the TV for you, should you chose to do so. :) Getting There: The best way of getting here is by car, but there are also buses several times a day. Second possibility is taking the plane to Fagernes Lufthavn / Leirin. Disclaimer / booking We will only accept inqueries from persons with complete AirBnB profiles; this means social networks like (SENSITIVE CONTENTS HIDDEN), LinkedIn and (SENSITIVE CONTENTS HIDDEN) and a registred official ID.
Lykkja, som den fantastiske hytte hedder, levede fuldt op til sit navn. Vi har været meget tilfredse og glade for at bo i hytten, som har "stor personlighed". Stedet emmer af atmosfære og hygge - og udenfor den fantastiske natur. Det lidt primitive og oprindelige over stedet tiltalte os meget, og muligheden for at sidde udenfor på terrasserne og spise frokost og lægge puslespil i solskin i februar er helt formidabelt. Ilden knitrede i brændeovnen om aftenen, suppen simrede på komfuret, og nymånen stod så fint på himlen. Der er intet som at sove i en seng i knitrende frost med lyden af vandfaldet udenfor - og intet som at stå op i solskin og gå lige over på pisterne - eller at tage på isfisketur til Rennsen - eller at tage en langrendstur fra Danebu! Mulighederne er mange for at nyde naturen - og vi benyttede os både af udendørslivet og indendørslivet - og havde egentlig lyst til at blive en uge mere! Bjørn og Karen var vældigt opmærksomme og venlige værter, som hurtigt svarede på alle spørgsmål og løste småproblemer for os, så vi følte os i trygge hænder. Der er lavet en god og informativ husmanual, hvilket også er nødvendigt til "sådan en gammel dame med masser af personlighed", som skal behandles på en lidt særlig måde. Der er masser af stemning, atmosfære, ro, hygge, varme og fantastiske udsigter fra hytten. Lykkja er en funktionel bolig som både ligger helt afsondret i naturen, så man føler sig alene med fjeld-troldene og elverne - og meget central, i forhold til skipister og parkering. Vi havde en formidabel ferie i Lykkja, og er vist blevet forelskede!
Solveig
2015-02-24T00:00:00Z
Tipo de Quarto
Casa inteira/apto
---
Tipo de Imóvel
Cabana
---
Acomoda
8
---
Quartos
Nord-Aurdal, Oppland, Noruega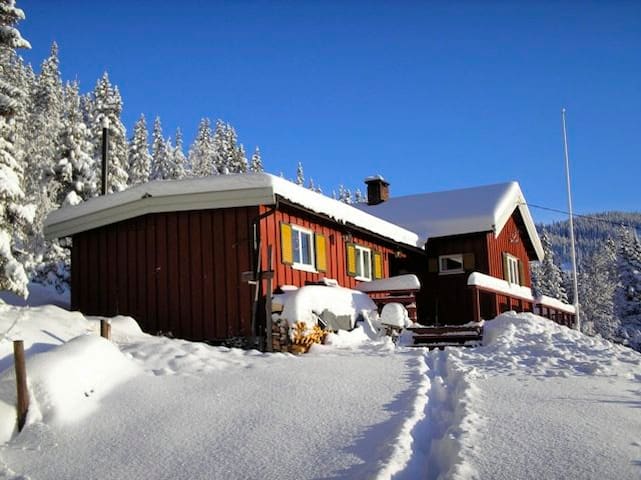 Stedet mitt er nærme Danebu Kongsgaard, på vinteren er det skiløyper rett utenfor og ski-in/out til Valdres alpinanlegg. Du vil elske stedet mitt på grunn av utsikten, tilgjengeligheten til turer rett uten for inngangsdøren. Stedet mitt er bra for par og familier (med barn).
Tipo de Quarto
Casa inteira/apto
---
Tipo de Imóvel
Apartamento
---
Acomoda
6
---
Quartos
Nord-Aurdal, Oppland, Noruega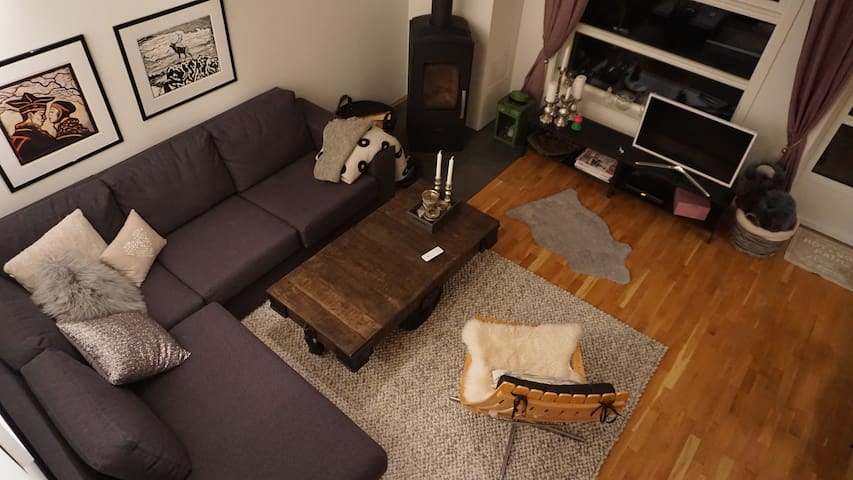 Flott nytt hus (bygd i 2014) i idyllisk vinterland leies ut. Huset ligger 3 km fra Valdres alpinsenter og 700 meter til langrennsløyper. Huset har 4 soverom, 2 med dobbelseng og 2 soverom med køyeseng med totalt 4 soveplasser egnet for barn.
Aurdal ligger nydelig til mellom strandefjorden og fjellet. Det er kort vei til alpinanlegg og langrennsløyper. Fra november til april er det nydelig vinterføre. Om sommeren er det mulighet for for fjellturer, fisketurer på fjorden og gårdsbesøk med rideturer og lokal mat.
Sara Katrine made us feel very welcome in her house. The house was fantastic and every thing was as expected. We had a great time in Aurdal and went skiing every day. The snow and the weather was perfect like the place we stayed in! We give our best recommendations for Sara Katrine and her house!
Reno
2016-02-20T00:00:00Z
Vi var heldige med været og vår lille vinterferie ble fantastisk. Ikke minst pga huset til Sara Katrine. Det er vakkert innredet og inneholder alt man trenger for både korte og lange opphold. Det er kort vei til dagligvareforretning og til kjøpesenter i Leira eller Fagernes. Tusen takk for oss!
Bent Ole
2016-02-29T00:00:00Z
The host canceled this reservation 25 days before arrival. This is an automated posting.
Ben
2017-01-27T00:00:00Z
Listing was very accurate, a lovely recently refurbished farmhouse. Nice and clean, perfect for our two families with 4 children. The house is in a beautiful area close to cross-country and downhill ski tracks. The hosts were perfect, communicated quickly and helped with our queries.
Ben
2016-02-25T00:00:00Z
The kids loved the house, especially the kids bedrooms with the rope etc. Also the trampoline and little house outside were great for them. Lovely, clean house. Enough space.
Christiane
2016-08-02T00:00:00Z
Tipo de Quarto
Casa inteira/apto
---
Tipo de Imóvel
Casa
---
Acomoda
8
---
Quartos
Nord-Aurdal, Oppland, Noruega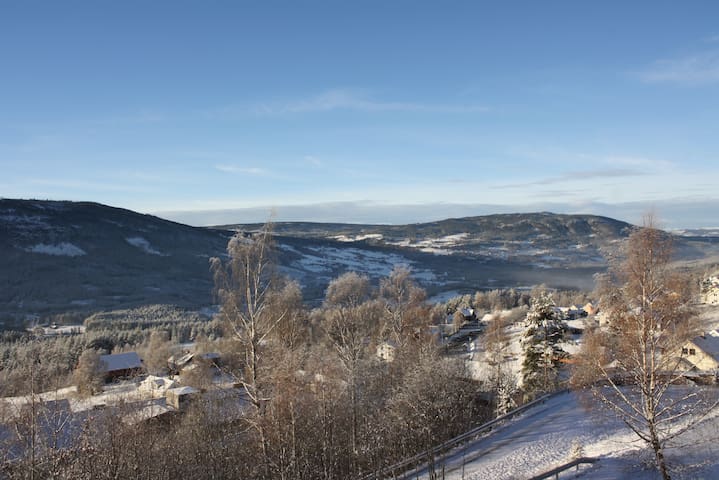 Cabin at 1000m.a.s.l. In beautiful surroundings. Easy access to alpine and crosscountry skiing, hiking, swimming and golf. Near Danebu mountain restaurant. Golf at Valdres Golf just 15min drive away. Cabin is fully furnished apart from towels and bed linen; quilts and pillows are included.
A beautiful area for relatively easy trekking, super cross country ski trails for all levels. Varied Alpine runs for slalom.
The nature
Vi hadde en veldig fin opplevelse av vårt opphold, både når det gjelder hytta og omgivelser og turmuligheter.
Steinar
2016-10-03T00:00:00Z
Tipo de Quarto
Casa inteira/apto
---
Tipo de Imóvel
Cabana
---
Acomoda
8
---
Quartos
Nord Aurdal, Oppland, Noruega
Utleie av hele eneboligen eller ett enkelt rom. Bor i perioder selv i huset. 4 egne soverom. 1 bad med dusj og toalett, samt 1 bad med toalett. Nytt kjøkken med nødvendig utstyr. Sentralt - fin utsikt - peis - fin ute plass -tv - Internett
The host canceled this reservation 2 days before arrival. This is an automated posting.
Agnes
2016-07-19T00:00:00Z
Tipo de Quarto
Casa inteira/apto
---
Tipo de Imóvel
Casa
---
Acomoda
8
---
Quartos
Nord-Aurdal, Oppland, Noruega
Our plesant Cabin is for hire for You and your family. 2 bedrooms with 2 beds on each, kitchen with cooking possibilities and also electrician power and internet. Only 10 km from Aurdal wintersportcenter and about 20 Km from Leirin.
Tipo de Quarto
Casa inteira/apto
---
Tipo de Imóvel
Cabana
---
Acomoda
4
---
Quartos
Nord Aurdal, Oppland, Noruega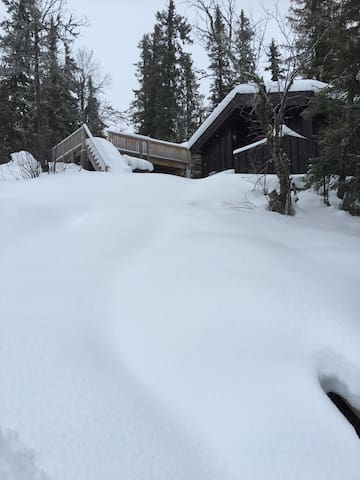 This room is in the house where we are living, so you have to share the bathroom with us. Our house is situated on a former farm with a beautiful view of a part of the valley Valdres. Perfect if you love nature and peacefulness and beautiful scenery.
Our house is situated in a typical Norwegian farm area. Our neighbours are mostly farmers with cows and sheep. To the two closest village it is 6 km, but there is no busses to take you there. In Fagernes you will find lots of restaurants, 2 hotels, library, cinema, bus-stop, doctor, dentist, taxi and tourist information. In the other one, Leira, you will find groceries, 2 cafees.
The room was warm, cozy and a very nice place to stay. Liza provided everything we needed for our stay and made us feel very welcome. Breakfast was excellent, as was our entire stay. We especially liked the dogs and would definitely stay here again.
Alfred
2016-03-20T00:00:00Z
Lisa ist wirklich der perfekte Gastgeber. Das Haus hat einen wunderbaren Garten mit traumhaften Ausblick und vor allem das Frühstück war wirklich unbeschreiblich gut mit allem was das Herz begehrt. Sollten wir wieder in diese Gegend kommen werden wir auf jeden Fall in Lisas Almenhytta übernachten, die sie ebenfalls hier anbietet. Sie hat uns abends noch dort hochgefahren und diesen wunderbaren einsamen Platz gezeigt in den man sich sofort verliebt! Absolut empfehlenswert wenn man Ruhe und Erholung sucht!
Michael
2016-07-06T00:00:00Z
Liza was a great hostess. The home was quiet, her dogs were well mannered, and the view is spectacular. Really a nice quiet spot. Thanks!
Arlo
2016-07-16T00:00:00Z
Nous avons été charmés par l'accueil et la générosité de Liza. Une nuit passée dans une maison chaleureuse avec un jardin magnifique et un panorama à couper le souffle laissant un souvenir inoubliable. Et, cerise sur le gâteau, un petit déjeuner norvégien tellement copieux qu'impossible à terminer, préparé avec soin par Liza. N'hésitez pas à séjourner chez Liza et son mari, c'est un vrai plaisir.
andre
2016-07-25T00:00:00Z
Our stay with Liza has been one of the highlights of our holiday. Liza is such a warm, friendly and generous host. Her house is lovely (and her dogs are unbelievably cute - we wanted to take them with us :) ). Liza cooked an amazing Norweigan breakfast for us that was restaurant quality, and gave us lots of recommendations for our stay in Oslo. We will book again if back in Norway.
Sarah
2016-08-14T00:00:00Z
It's a beautiful house with an amazing view, a caring host and a very tasteful and abundant breakfast!
Han
2016-08-15T00:00:00Z
L'accueil, l'accueil et encore l'accueil :-). Tout à vraiment été parfait. Liza et son mari sont des personnes exceptionnelles. Le petit déjeuner traditionnel est royal et fait avec beaucoup d'amour. Merci Liza !
Nicolas
2016-07-17T00:00:00Z
Fantastic hosts ! The room was spacious and cosy and you get an amazing view on the valley from the window. With a big bonus for a splendid breakfast in the morning. Thanks for everything
Raphael
2016-03-26T00:00:00Z
Tipo de Quarto
Quarto privado
---
Tipo de Imóvel
Bed & Breakfast
---
Acomoda
2
---
Quartos
Fagernes, Oppland, Noruega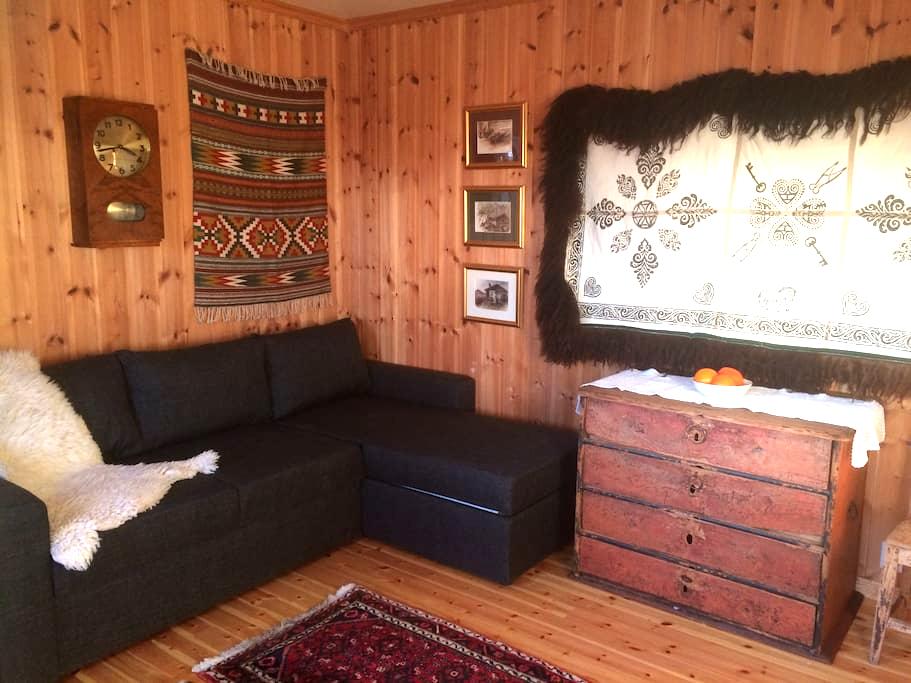 A tiny loghouse (15m2) at Undli farm (705 mos) included a fully equiped kitchen, a pretty comfy sofabed and if necessary an airmatress, a "humanure" composting toilet at the barn, running (cold) water outside the house, no bathroom in the loghouse, but you can shower at mine when I am home (contact me to find out if I am gonna be there or not). I can offer breakfast if you wish (50 Kr./pers vegan, organic), I can do your laundry (50Kr./wash) with homemade laundry detergent!
Very quiet place at the same time not very far from Glenna and Gamlestølen with miles and miles with skitrails, and close to a alpine resort. Synnfjellet and Lenningen for even more skiing and lovely bicycle paths. A supermarked and gas station is 15 km away, approx. 45 km drive to Dokka town or Fagernes. A bus once a day to Bergen.
My neighborhood is the woods and the river. 150 km from majestic Jotunheimen (URL HIDDEN) The riverand other activities: (URL HIDDEN) Visit: (URL HIDDEN) (URL HIDDEN) (URL HIDDEN) (URL HIDDEN)
We really enjoyed our stay. The place is really beautiful. One can see all the stars by night and a nice little valley by day. But it's also a little bit extreme. The place is hard to find. The road down to the house is very steep and slippery (at winter). The toilet is outside in the shed. But as long as you are ok with these little inconveniences, the place is perfect.
Grigori
2016-03-27T00:00:00Z
Very cosy and nice cabin.
kaarel
2016-08-13T00:00:00Z
Staid at Molly's place for one night together with my friend. Very quick and easy communication before we arrived at the longhouse. Molly met us with a great smile and served us coffee. The longhouse was very cosy and small but had everything you needed. In the morning the day after we enjoyed a cup of coffee and breakfast in the sun outside the house. Great view and peaceful surroundings. Will highly recommend this place!
Madeleine
2016-10-07T00:00:00Z
We had a great experience at Molly's house. The place has great views and a long field to relax there and have a great time, we watched the sunset and it was amazing. Also, we have to say that the hospitality that she have us was really good. The house was really comfortable and we had everything that we needed. The place was really clean and she offered us a lot of things, she also gave us breakfast and coffee for the next day, and we had a really good kitchen to cook everything that we wanted. She was really nice with us and she offered a lot of stuff to us, she was really worried about our needs and she cared about everything that we wanted. We had two big rooms, a good kitchen, a big bathroom, and the exterior of the house was fantastic. At night we watched a movie and we went to sleep. We had a great night sleeping, everything was quiet, the room was warm, and we had everything that we needed at any moment(URL HIDDEN)a(URL HIDDEN)a(URL HIDDEN)a(URL HIDDEN)aa a a a a(URL HIDDEN)aa a a aa aa a a aa aa a(URL HIDDEN)a(URL HIDDEN)a(URL HIDDEN)aa a aa a a(URL HIDDEN)a(URL HIDDEN)a(URL HIDDEN)a...aa a a a aa a a(URL HIDDEN)aa a(URL HIDDEN)a(URL HIDDEN)a(URL HIDDEN)a...
Santiago
2016-04-07T00:00:00Z
Molly was very helpful and welcoming. We spent a really nice evening and night at her cabin and she offered us a delicious breakfast. You will find everything that you need as described and will have a relaxing time at Urli-farm. We might come back in winter time to go skiing :-) Thank you, Molly!
Katharina
2016-08-06T00:00:00Z
We had a nice time in the little cosy cabin of Molly. Molly is very friendly an helpful. We could use her shower and she helpt me with a nasty insectbite I had on my face. The surrounding is very beautiful. The sofabed is a little bit small for two people, but the price is reasonable. We would go back again if we are in the area.
Samantha
2016-08-17T00:00:00Z
Endroit très calme et très reposant. Molly est très sympathique et à tout fait pour que le séjour se soit bien passé. Disponible pour des renseignements sur le coin, ou pour tout aide.
Julius
2016-10-25T00:00:00Z
They were so nice, and you felt so welcome. Its a lovely place
Jassy
2016-07-22T00:00:00Z
Tipo de Quarto
Casa inteira/apto
---
Tipo de Imóvel
Cabana
---
Acomoda
2
---
Quartos
Etnedal, Oppland, Noruega