Newly Renovated, Self-Serve House, Furnished with Mid-Century Antiques, 3 BD, 2 BA, Full Kitchen, Breakfast Room, Living/Dining Room, Fireplace, Utility Rm with W/D, Terrace, Garage, Wildlife, Forests, Orchards, Pastures - Private, Quite & Peaceful.
The Guest House is located on a Historic Farm within the Plantation Trace Region of Georgia. The Guest House is completely renovated and restored with new fixtures and furnished with Mid-Century Antiques. The grounds are open and spacious with pastoral views. The Guest House is surrounded by a Wildlife refuge where Wild Deer, Turkey and Quail roam. Conveniently located 5 minutes from the Town of Bainbridge where entertainment, dining and shopping can be found. Visit the many Plantations in the area. World Class Bass Fishing is only 15 minutes away at Lake Seminole. Day trip to Florida's Beautiful Gulf Coast in only 2 hours.
The Guest House is Private, Quiet and Peaceful. There are Open Spaces, Pastoral Views and Lush Forest Surrounding The Guest House.
Franklin's place was great. It's nicely decorated and a peaceful location. He checked in with us during our stay. We appreciate his hospitality.
Michael
2017-01-15T00:00:00Z
Franklin was readily available and his guest house operation is very well managed. The home is in a convenient location and a beautiful pastoral setting. It was very clean and check-in and out was very efficient. I would highly recommend staying there if you're in the area. Franklin is a very thoughtful host.
Kathy
2017-02-12T00:00:00Z
On April 29th we visited Franklins lovely home in Bainbridge, Georgia. Myself and 3 relatives traveled to north Florida for a college graduation. Franklin was an excellent host. Upon check in he greeted us cordially and showed us around the property. He even allowed us to check in a few hours early. His home is simple, quaint and very comfortable. We truly enjoyed our stay.
Jennifer
2016-05-02T00:00:00Z
I did not meet the host. We arrived in the late evening. The description of the property was accurate. The property is spacious and quiet. The rooms were clean. It was a better value than the neighboring hotels. If it is available in March 2017, I would stay there again.
Gary
2016-10-16T00:00:00Z
We had a wonderful stay, and the house was beautifully furnished in mid-century modern decor, with fantastic attention to detail. I felt very comfortable and at home at the Guest House on Ten Horse Farm and Franklin was a most accommodating host. The house had just about every amenity of my own house, which makes travelling quite enjoyable. Would most definitely stay here again if business brings us back to Georgia!
Allison
2015-07-17T00:00:00Z
This house was so charming! The pictures, while accurate, don't begin to capture the charm of this Southern gem! Everything in the house was very easy to find, and the layout was great. Franklin was attentive to needs and easy to get in touch with. Highly recommend!
Carlene
2016-08-01T00:00:00Z
This guest house is absolutely adorable. It is furnished in a retro style. I could stay there a month and just read all the books Frank has. The kitchen was well equipped. Dishwasher did a great job. The washer and dryer were amazingly quick. Detergent for both was supplied. The beds were firm, there were plenty of towels, and the sheets were soft. Loved the quilts and chenille bedspreads. It is on a farm, so it was very quiet and secluded, yet close to everything we needed. We originally booked 3 nights and needed to extend. Frank was very helpful allowing us to do that. He was also quite responsive to any question we had. We enjoyed the house, and would not hesitate to stay there again if we needed to.
Carolyn
2016-01-06T00:00:00Z
Frank is a gracious host. He couldn't have been more accommodating. We made Ten Horse Farm our home base over a football weekend at Florida State and Bainbridge is pretty accessible to Tallahassee; it seemed like we were there and back in no time. Bainbridge has a bunch of great restaurants and Frank's reviews of each were very helpful as we made our selections. It is clear that Ten Horse Farm is a labor of love; visible in the careful planning he's put into color selection and appointing this charming house with mid-century modern furnishings. At sunrise, the subtle color tones lit up and almost seemed to glow, filling the space with an ethereal light. The grounds are like a pristine savannah with a pecan tree canopy. At night we could see so many stars, it was hard to find the constellations. Frank, thank you for making our stay a memorable experience.
Kurt
2014-10-19T00:00:00Z
Tipo de Quarto
Casa inteira/apto
---
Tipo de Imóvel
Casa
---
Acomoda
6
---
Quartos
Bainbridge, Georgia, Estados Unidos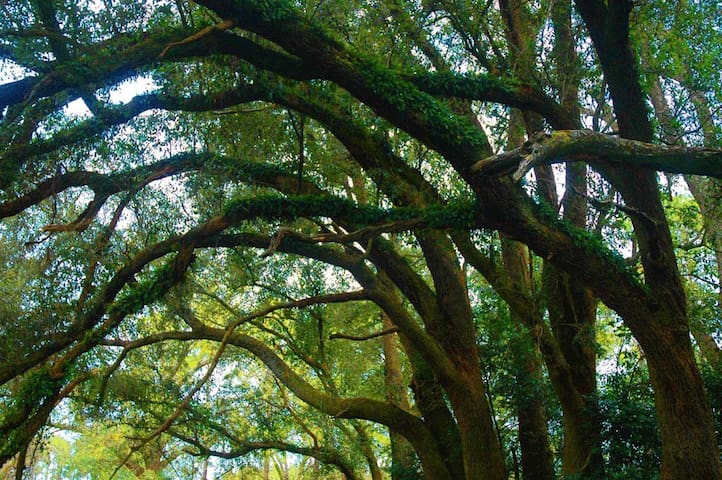 Three bedroom, two bath brick home, fully furnished home away from home. Renters have use of dock and covered slip within 200ft, right across street. Creek is tributary of Flint and Chattahoochee Rivers and Lake Seminole. Easily sleeps eight with queen sofa bed in Florida Room. Fire pit. Dogs welcome. Fenced in Back yard. Two large side yards for parking vehicles and boats. Electrical hook up also available. MONTHLY RATES ARE NEGOTIABLE.
Large area for off road parking of vehicles and trailers for tournament fishermen. Launch Ramp at Spring Creek/Big Jims and Reynolds Landing Ramp within two miles. Great fenced in back yard with fire pit and chuck wagon grill. Access to the dock and covered boat slip within 200 ft of rental. Good fishing off dock. Nice windowed porch on rear of house. Friendly, safe neighborhood with many full time residents. Several local food establishments within a few miles. Dollar General Store for necessities with a few miles. Twenty miles to Donalsonville and Bainbridge with good selection of grocery stores, Walmart (Bainbridge) and restaurants. Hospitals in both towns.
Very friendly neighbors and many full time residents and safe environment.
We arrived to south Georgia for my work.....and we found Me. Georgia....really.
Peter
2017-02-15T00:00:00Z
We only stayed for one quick night to celebrate Christmas with my children from Alabama. I was disappointed that I had misread the description as I was expecting 4 beds, not including the sleeper sofa. The sofa bed may work for kids, but was uncomfortable for adults. The fire pit in the back yard made up for any disappointment though. Had great family time making s'mores. Unfortunately it was unusually warm this December, the home is weatherized with storm windows in place. Our night was warm and humid due to the AC being shut off at the breaker. Did not discover this until the AM. Never the less, we had a wonderful night and would stay here again. Georgia was very accomodating
Jody
2016-12-18T00:00:00Z
Excellent hosts!
Lisa
2017-02-26T00:00:00Z
Georgia was very kind and her home was very comfortable. She let my kids fish with her, which they loved. The birds over at the lake were great fun to see, especially the nesting osprey.
Liz
2016-04-02T00:00:00Z
This is very nice house , we love so much to stay here. Thank you very much!
ZHAOLONG
2016-11-24T00:00:00Z
My brief stay in Georgia was blighted by weather so thank goodness i was not in a hotel but this lovely 3 bed family home. This was perfect for my break. Quiet neighbourhood, safe and friendly. House was a home from home. Big house at that, two large lounges and three big bwdrooms. Would highly reccomend. Joe
Joseph
2016-04-01T00:00:00Z
Georgia was very polite and more than helpful in giving us directions to the property. We loved the space on and in the property as well as the fact that there was a lake you can see from the front door. The location was very quiet and private and the house was clean and comfortable.
LeVar
2016-05-02T00:00:00Z
We were welcomed very kindly :)
Charles
2016-08-17T00:00:00Z
Tipo de Quarto
Casa inteira/apto
---
Tipo de Imóvel
Casa
---
Acomoda
8
---
Quartos
Donalsonville, Georgia, Estados Unidos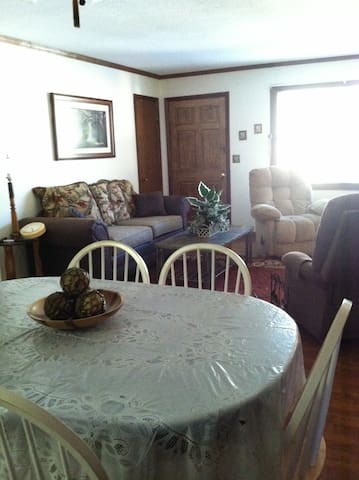 Our home is located in Havana Fl, 12 miles North of Tallahassee and I 10 and 3 miles to the Ga/Fl border and is a great get-away from the hustle and bustle of the fast paced life. We are on a small lake with great fishing and use of the canoe. Our miniature horse will greet you at the entrance. My partner and I love to meet and host travelers. Havana is known for it's great antique and gift shops and a short drive to Quincy and Tallahassee. Please come and enjoy your stay.
The host canceled this reservation 27 days before arrival. This is an automated posting.
Ellie
2017-02-26T00:00:00Z
Mike and Earl are extremely friendly and hospitable hosts. We felt very welcome. Beautiful country house. Amazing location on the lake. "Fudge" the pony was a great addition to our stay! We absolutely enjoyed it. Thank you very much!
Joanna
2016-10-13T00:00:00Z
Maya Angelou wrote "Each person deserves a day away in which no problems are confronted, no solutions searched for." This is the perfect spot to just be. Whether sitting on the deck or the dock, you can open your senses to enjoy the view, the wind in the trees, the songs of the birds or the splash of a fish. If you like, Flynn, the resident dog, will join you. Mike and Earl were the perfect hosts. Their greeting was warm and friendly. They were solicitous but not hovering. I was free to do as I pleased. My room was lovely and visually appealing. The bed was very comfortable. The site was easy to get to, traveling on good, well marked roads.
Linda
2016-11-12T00:00:00Z
As two girls traveling alone, we were obviously concerned as to where we'd end up, but we worried for no reason! Mike and Earl were sweethearts!!! The amazing care and comfort they provided was beyond anything we expected. Their house is so beautiful and the view left me and my sister in awe. We spent most of our time out by the deck staring at the lake in tranquility. We also enjoyed the intriguing and meaningful conversation about travel and life we had. The morning walk with Flynn around the lake (and our visit with Fudge) was great. We will definitely be back!
Gaby
2017-02-26T00:00:00Z
Mike and Earl are wonderful! They were gracious and welcoming hosts. This airbnb is everything you could ask for and we would definitely stay here again.
Simon
2016-12-31T00:00:00Z
I was trying to find where I could give this listing 100 stars, as it so rightly deserves, but I could only give the maximum of five stars. WARNING: the photo's that are posted do not due this listing justice. The place is so much nicer than the photos reveal. The lake is what appealed to us initially to choose this location, it certainly was everything we hoped it would be, but better yet was the awesome hospitality from Mike, Earl, and Flynn. Book this location with Confidence! We've decided we will have to visit this place 19 more times to award it the 100 stars it truly deserves.
Christopher
2017-02-05T00:00:00Z
Tipo de Quarto
Quarto privado
---
Tipo de Imóvel
Casa
---
Acomoda
2
---
Quartos
Havana, Flórida, Estados Unidos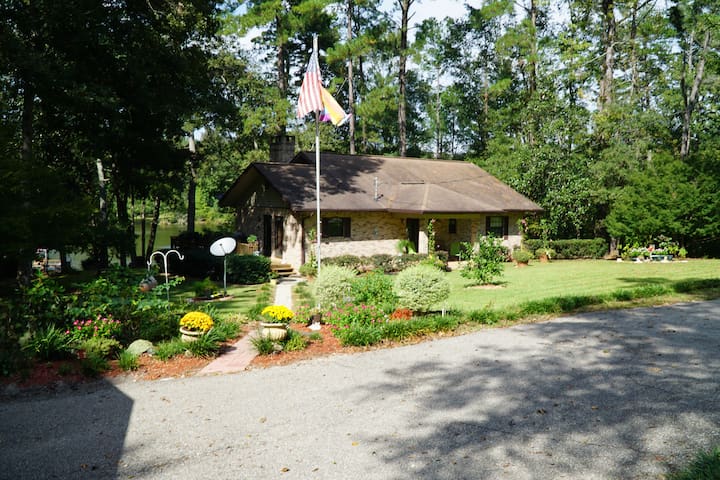 1940' s charm of hardwood floors and large windows. Rest well in your private room with queen bed. AC/ ceiling fans. New bathroom across hall , in the sitting room. Full assess to kitchen and living/ dining room. Enjoy the porches, hammock or find solitude in the fenced yard under shade.
My home feels like a quiet retreat. Full of light and family memories.
Our street is quiet like most in a small town. There is a city park with a playground just a block away. Neighbors walk, jog and bike past my house mornings and evenings.
This place is super cute and homey. ME is so nice. It was such a peaceful stay.
Lori
2016-10-12T00:00:00Z
Wonderful place to stay and M.E. is an incredibly gracious and prepared host.
Mary
2016-10-07T00:00:00Z
AMAZING! This is the perfect place to stay if you are looking for a peaceful, quiet, relaxing, cozy escape. The house was so beautiful. The pictures don't do it justice. Its better in person! M E was very welcoming and friendly. I felt very comfortable and at home. bedroom and private bathroom are very clean and spacious. I will absolutely stay here again!
Jen
2016-10-27T00:00:00Z
My husband and I stayed one night to break up a long trip across the panhandle. M.E.'s home is so lovely, quiet and clean! Her communication was excellent. She was very accommodating, as we arrived pretty late and left very early the next morning. She was sweet and hospitable, and has an adorable dog!
Kathleen
2017-03-17T00:00:00Z
M.E. is a delightful person. And her cozy cottage is just that. I felt very safe a comfortable and knew that if I had any needs that M.E. would accommodate. I highly recommend this Cozy Cottage in Quincy.
Kristen
2017-01-28T00:00:00Z
Our room was cozy and comfortable, and M.E. was very accommodating and made us feel welcome. We will be back!
Lisa
2016-10-02T00:00:00Z
Tipo de Quarto
Quarto privado
---
Tipo de Imóvel
Casa
---
Acomoda
2
---
Quartos
Quincy, Flórida, Estados Unidos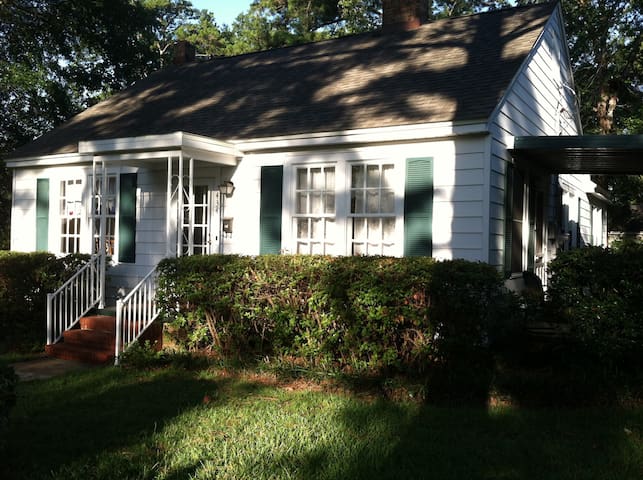 The Master suite includes its own private bathroom with Jacuzzi tub, stand- alone shower and his and her sinks. There is even an extra living room in the house with a fire place you are welcome to use to watch Directv or movies. I have an abundance of movies of your choosing. I have two dogs in the house. Please do not book if you are afraid of big dogs. He is very sweet and docile and my puppy is a bit hyper.
The house is in a quiet neighborhood about 15 minutest outside Tallahassee, and about 25ish minutes from FSU. You will have comfort and privacy staying at my place.
Our neighborhood is a quiet subdivision.
It was good
Glenn
2016-06-27T00:00:00Z
That is a quiet place. The room and bed is as described large and clean. Dawana is friendly. We strongly recommended this place.
Chang
2016-05-31T00:00:00Z
Dawana was a great host. Her place was clean and tidy. She was respectful To our need for rest. :) If I was ever in Tallahassee, I'd seek to stay with her again! Great time.
Damon
2016-07-10T00:00:00Z
I have a great experience there! Thank you Dawana and Matt! The room is large and clean. Also, there are lots of DVDs of Dawana's personal collection. If you are a movie person, there should be your best choice!
Shengchen
2016-05-01T00:00:00Z
The room was spacious and the neighborhood was quiet. Even the dogs were quiet so we were able to sleep very well. The hosts were warm & inviting and tolerant of our coming in past midnight from the FSU football game. This was our first experience with AirBNB and it will not be the last.
Vicki
2016-11-27T00:00:00Z
Comfortable stay for a night after traveling. Comfortable bed, clean and cute puppy too!
Jennifer
2016-08-24T00:00:00Z
Dwana welcomed us at the door on arrival. King bed was very comfortable. Room and adjoining bathroom were very spacious.
Patty
2016-10-02T00:00:00Z
Tipo de Quarto
Quarto privado
---
Tipo de Imóvel
Casa
---
Acomoda
2
---
Quartos
Havana, Flórida, Estados Unidos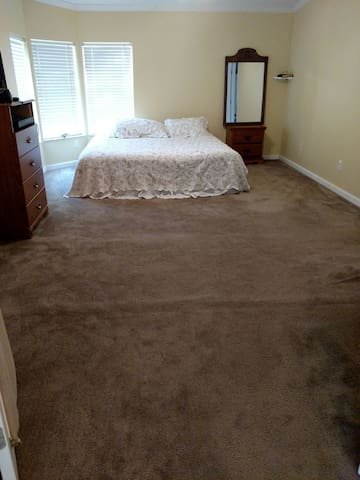 Beautiful Custom built Home located deep in the serene woods. Private room with Queen sized bed, fully furnished. Private bath and parlor attached. Large deck with glass door entrance from room for wildlife viewing and sunbathing.
Beautiful custom wood working throughout home, River recovered antique Heart Pine floors and Cypress Beams and Trusses. Sunlight infused living space. Brunswick Tournament Pool table. Ceiling fans throughout home and in bedroom. Bamboo foam mattress. Travertine Limestone tile work in guest bath with stand in shower.
Extremely Bio-diverse ecosystem. Peaceful and quiet, far from major roads.
Kevin was a wonderful host. The home is very beautiful and comfortable. Hope to do this trip again.
Andrea
2016-10-02T00:00:00Z
Kevin's beautiful home is privately tucked away in a woods alive with birds and native plants that are special to this region of Florida. We visited with the intent of searching out interesting plants and animals, which we found both on Kevin's property, and at nearby Torreya State Park and Florida Caverns State Park in Marianna. Kevin's home is absolutely amazing, and he will share stories of how he came to put it all together if you are interested. He treated us to organic fruit and bagel breakfasts, and even fixed us a fish dinner with fish he caught himself. He made space for us in the refrigerator and freezer, which was very helpful as we had food packed for our next destination as well. We were very comfortable. Kevin was attentive to accommodating all of our needs while still giving us plenty of personal space and privacy. We finished off our visit with chair massages; just lovely. Although Kevin's place is pleasantly secluded, it is not far from the freeway, and (SENSITIVE CONTENTS HIDDEN) Maps had no trouble leading us there. We would not hesitate booking with him again, especially at a different time of year to see different plants in this species-rich area. It's the perfect spot for naturalist-nerds like ourselves!
Susan
2017-02-21T00:00:00Z
My wife and I a great time at Kevin's. Very secluded and situated on a remarkable property. Kevin was kind enough to offer a tour of his land and home upon our arrival, and the dense forest that is his backyard was a sight to behold. Thanks again, Kevin.
Winston
2016-12-05T00:00:00Z
Another fantastic stay at Kevin's home! Kevin is a gracious host who'll give you a great massage and fresh fruit breakfast.
Ralph
2016-10-30T00:00:00Z
We had a great time staying here and we will definitely recommend it to others. The cabin layout, materials, and build quality are all top notch. Kevin walked us around his land, showed us his garden, took us to his friends private swimming hole (spring), cut us fruit for breakfast and even made us a nice organic dinner! We had plenty of privacy, although, we found ourselves calling Kevin's name in order to challenge him to a game of pool or ask him questions. If you have bicycles, we recommend bringing them, there's plenty of trails. We saw lots of wildlife. We enjoyed eating blueberries & blackberries fresh off his trees. Close proximity to some very nice parks, a Walmart, and not too far from Tallahassee, which has everything. We'd like to visit again.
Jeremy
2016-07-05T00:00:00Z
Driving down a couple dirt roads and then a grassy field we wondered if we were in the right spot, but after a turn or two the home came in sight and 'Woodland Escape' is a perfect description. We had an awesome bedroom/bathroom and foyer type room to ourselves, the bed was very comfortable and we had our own door to the deck and use of the kitchen. Kevin was very welcoming and accommodating of our coming and going and in arranging a wide arrival time window. The wood work in the house is incredible, and we loved sitting on the deck at night and hearing the owls and seeing the deer walk thru in the morning. Access to I-10 was easy and quick with our GPS. Kevin was great in suggesting local places to visit in the little free time we had. He fed us a plentiful fruit and bagel breakfasts and made us coffee even tho he doesn't drink it himself. We had a hard time pulling ourselves away after our massages out on the deck. This home is great if you are looking for a quiet, relaxing and comfortable stay with easy access and yet remote at the same time. There are several draws to staying here, the intriguing wood work, Kevin's knowledge of local areas for Mtn. biking, the quiet natural beauty, the easy access to the Interstate. When we come back to the area we will be staying here again.
Lynn
2015-10-26T00:00:00Z
This place is a great getaway. House is amazing.
Christopher
2016-10-29T00:00:00Z
Kevin was a personable and gracious host. His home is very nice with interesting artifacts, art, and pool table. The property is as described on the site. The home is on 14 acres of woodland, very quiet and peaceful. Kevin made us a breakfast of fresh fruit and coffee with some of the fruit (pears and parsimmons) grown on property. He also provides complimentary chair massages for his guests. After breakfast he took us on a pleasurable hike around his property. A wonderful stay!
Ralph
2015-10-12T00:00:00Z
Tipo de Quarto
Quarto privado
---
Tipo de Imóvel
Casa
---
Acomoda
2
---
Quartos
Quincy, Flórida, Estados Unidos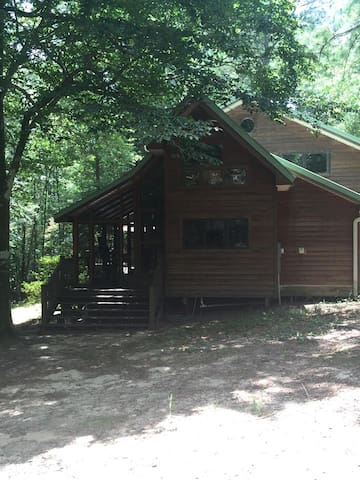 1

–

6

de

6 Casas para Alugar
Insira as datas para ver o preço total. Taxas adicionais aplicáveis. Podem ser adicionados impostos.