300+ Alugueres de Apartamentos
Cet appartement de 2 chambres lumineux et spacieux entièrement meublé est une maison parfaite loin de la maison pour les hôtes dans Ramat Beit Shemesh, en particulier les parents et les grands-parents en visite. Il est équipé avec tout ce dont vous avez besoin et situé dans un immeuble calme.
Cet appartement de 2 chambres est situé dans un immeuble calme à la lisière du quartier. Il y a assez d'espace pour 4 adultes. Il est plein de lumière naturelle et a de belles brises. Par temps clair, la vue depuis le porche étend tout le chemin à Tel Aviv! L'appartement est une grande retraite après une journée de randonnée, de randonnée ou de visiter en famille.
Les contacts que nous avions eus avec Marla au préalable avaient été très chaleureux. Le jour de notre arrivée, elle nous a guidés vers son logement. En effet, Ramat Ben Shemesh est une ville nouvelle dont les quartiers se ressemblent beaucoup !! Elle a été très ponctuelle pour notre arrivée. Elle nous a accueillis avec des gâteaux et des fruits, thé, café pour des produits de première nécessité. Lorsque nous avons eu besoin d'elle au cours du séjour, Marla a toujours été disponible et a répondu à nos attentes. L'appartement est tel qu'il est décrit sur le site. A noter qu'il était également très propre. Serviettes et draps impeccables. Adresse à recommander. La ville est à 40 mn de Jérusalem. Deux chemins possibles : la route n° 1 (directe mais souvent encombrée) et la route de montagne par Nes Harim qui est magnifique.
Didier
2015-08-01T00:00:00Z
L'appartement a répondu à notre attente. Madame Marla Braun a toujours répondu à nos demandes. Nous avons été satisfait de la prestation fournie.
Daniel
2016-10-14T00:00:00Z
הבית מאד נעים ונוח תודה על הגמישות
רפאלה
2016-08-15T00:00:00Z
Our stay in the apartment for 5 days in March was very nice. We found the listing to be accurate and pictures true. The master bedroom was small for two people, but the bed was very comfortable and the second bedroom would be great for kids. The kitchen did not have any pots for cooking, and just plastic flatware, which was fine for us, but if you plan on cooking anything, or even just boiling water, that's not possible, even if there is a stove there. We used the washer and dryer a lot, and really appreciated them, but it takes a lot of time to dry clothes in the dryer.
Daniel
2017-03-05T00:00:00Z
Above and beyond the advertised accommodations, Marla reached out to me in the weeks prior to my stay asking if there was anything specific she could get for me to make my stay more comfortable. She was incredibly hospitable, quick to respond and a pleasure to deal with. The apartment was precisely as advertised with plenty of room and a balcony with a beautiful view. I visit family in this town every year or two and am so happy that I found a GREAT place that I can look forward to returning to.
Dov
2016-07-05T00:00:00Z
Marla's apartment is great!!!!! My wife and I enjoyed our 3 days in Bet Shemesh and found the apartment easy to get too. It was clean, well equipped and had everything we needed including the washing machine. Supermarket is 5 minutes away and their are a number of great historic and tourist sit s close by. I can highly recommend booking Marla's apartment.
Ian
2016-05-23T00:00:00Z
Tipo de Quarto
Casa inteira/apto
---
Tipo de Imóvel
Apartamento
---
Acomoda
4
---
Quartos
Ramat Bet Shemesh Alef, Distrito de Jerusalém, Israel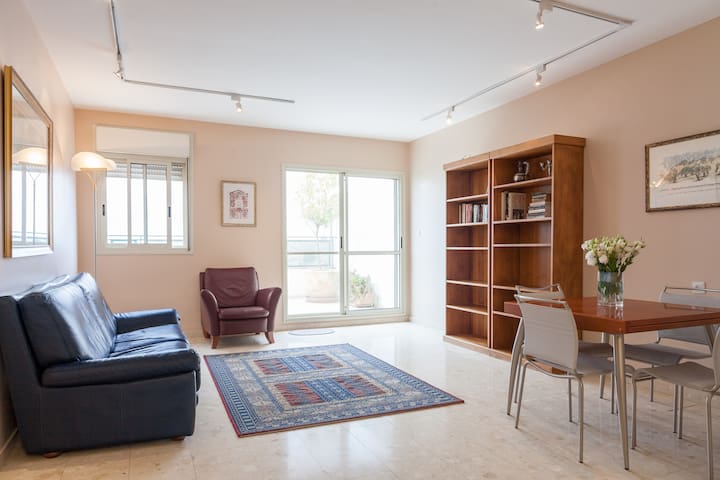 Lakis 9b Entrance Floor - Pas Steps. Sleeps 2-6 (ONE Family!) Chambre - 2, Canapé-lit - 2, lit d'appoint - 1, Lit pliant - 1, (+ lit de bébé). STRICTEMENT CACHER - La cuisine est MILKY - plats charnus peuvent être à double enveloppé pour le four et mangé sur throw-aways. Entièrement meublé et équipé. AC. Wifi. Près de magasin, Bus & Park. 7 shuls dans la rue. Centre commercial 6-7 minutes à pied. QUOTIDIENS PRIX HEBDOMADAIRES MENSUELLES (Surcharge Haute Saison)
L'appartement est spécialement conçu pour les clients, et est maintenu à un haut niveau de propreté, avec tout ce que un client peut exiger. Le blanchiment des draps et serviettes est fait régulièrement pendant votre séjour (en fonction de la durée du séjour). Il y a climatisation centrale / chauffage, et WiFI est disponible pour ceux qui en ont besoin, pour lesquels il n'y a pas de frais supplémentaires. Il y a aussi une machine à laver, fer et planche à repasser, et un porche privé.
Ramat Bet Shemesh est un quartier religieux, englobant tous les types et styles, et il y a des shuls pour tous les goûts. La région a une foule de shuls, Botei midroshim, et les écoles, ainsi que mikvos (pour les hommes et pour les femmes), et la principale shul Anglo est situé à Lakis, à quelques pas de l'appartement. Sur le côté opposé de la rue est l'entrée de la grande et agréable Ayalon Park, qui se prolonge tout au long de la rue centrale de RBS, Nahal Ayalon Road. Toute la région de Ramat Alef est assez compact, avec Lakis étant dans le centre de la ville, donc la plupart des endroits sont facilement accessibles à pied avec 10-15 minutes.
Was a nice and grate place to stay, clean and safe, however we think the rate was a bit high for the area and the place is bit small for a couple with a baby, but Arye was really nice and friendly.
Hed
2015-12-25T00:00:00Z
Apartment was pretty much as described - compact (it's a bit tight opening the door from the living room to bedroom) but all we needed was there. Plenty of essentials, like toilet paper, towels and bedcovers. Some useful extras, like Shabbat kettle, soaps, shower gel. Aryeh was helpful and available. He kept in touch well once we had confirmed the booking and found us a driver to ferry us to the airport. Convenient location in RBS, easily walkable to shuls and shops. Would stay again.
Edward
2015-09-07T00:00:00Z
The host canceled this reservation 18 days before arrival. This is an automated posting.
Pearl
2016-09-28T00:00:00Z
Aryeh was great. Extremely helpful. The apartment was nice and the location worked great for us.
Dany
2016-10-31T00:00:00Z
HIGHLY RECOMMENDED!! Aryeh was an amazing host! The apartment looked so much better than the photos! The space came with everything you could possibly need! From towels to a hot water urn for Shabbos- could not have asked for better accommodations while visiting my family in Ramat Bet shemesh. The apt is located just 2 minutes away from the center of town which has a ton of great Israeli style restaurants! The price and location all added up. I had to go back to America early so I cut my visit 3 days short- Aryeh said he would honor a discount my next visit- looking forward to my next stay!
Daniel
2016-01-27T00:00:00Z
We enjoyed our stay. The apartment was comfortable and clean and Aryeh is hospitable and helpful!
Pearl
2016-10-13T00:00:00Z
Tipo de Quarto
Casa inteira/apto
---
Tipo de Imóvel
Apartamento
---
Acomoda
6
---
Quartos
Bet Shemesh, Distrito de Jerusalém, Israel
L'appartement a été récemment rénové luxueux et confortable. Il dispose de 3 chambres (7 couchages), grande salle de séjour avec la suite de salle à manger, unité murale, canapés en cuir. La cuisine est équipée avec réfrigérateur, four, micro-ondes, urne, plaque chauffante, des pots et des ustensiles. Il y a une laveuse, sécheuse et lits de matelas orthopédiques, draps et serviettes abondance et bien plus encore. Aussi il est au troisième étage avec ascenseur (Shabbat ascenseur aussi), WIFI gratuit. Près d'un supermarché, café et synagogues.
Tipo de Quarto
Casa inteira/apto
---
Tipo de Imóvel
Apartamento
---
Acomoda
7
---
Quartos
Bet Shemesh, Distrito de Jerusalém, Israel
Great place. Owners were accessible and sweet. Will stay here again.
Ezra
2016-10-09T00:00:00Z
Excellent place with very friendly and hospitable hosts. Perfect for those visiting RBS.
Raphael
2016-11-27T00:00:00Z
The apartment was exactly as described, the host was extremely gracious, and the apartment and city location were great. If you don't mind using stairs but are looking for an inexpensive and functional place, I highly recommend this place.
Yosef
2015-07-28T00:00:00Z
Arieh was such an incredible host--extremely friendly and welcoming. The apartment was better than described; immaculately clean, safe and very secure. I was very pleased with my stay here and highly recommend Arieh's apartment to others. Thank you so much!
Linda
2015-09-21T00:00:00Z
We had a great time at Arieh's appartment, after a long roadtrip. The appartment is really clean & calm & we had everyting we needed : even a crib for our baby. We recommend to other guests.
Célia
2016-09-23T00:00:00Z
We stayed in this beautiful and immaculate apartment in Ramat Beit Shemesh A while visiting family close by. Arieh answered our questions in advance promptly by e-mail, and once in Israel called us to arrange for us to get the keys. A full bowl of fruit that was left on the table for us was a nice touch. Our stay surpassed our expectations and we look forward to staying here again.
Judith
2015-01-24T00:00:00Z
Tipo de Quarto
Casa inteira/apto
---
Tipo de Imóvel
Apartamento
---
Acomoda
4
---
Quartos
Ramat Shilo, Ramat Bet Shemesh Aleph, Israel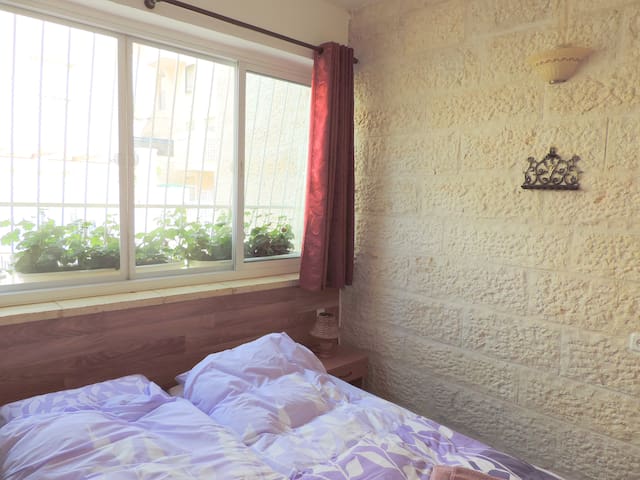 Arrivés, børnevenligt, nye lejlighed. 2 enkeltsenge, der kan blev dobbeltseng, kitchennet og badeværelse, gratis hurtig Wi-Fi, air con, el-komfur, IPTV, mikroovn, vaskemaskine, køleskab, egen indgang udefra. For mere end 2 voksne - normalt tilgængelige andre gæster mellemrum. Vores sted er i et dejligt, roligt kvarter i Beit Shemesh byen præmieindtægterne Jerusalem og Tel Aviv (ca. 40 minutter på bil eller bus til dette både centrale byer)
Hvis du er mere end 2 voksne - det er ikke anbefalet at gøre instant booking. Kontakt os for at tjekke tilgængeligheden af forskellige gæster rum i denne tid. Engang tilgængelige gæst rum op til 8 gæster. I fredag aften og lørdag morgen kan du slutte sig til os for vores traditionelle jødiske sabbat måltid (50 NIS for person). Også vi kan arrangere for dig gratis personlig vandretur til ultra ortodox jødiske kvarter - en lokal antropologisk "naturreservat" :) IPTV: Kodi med mange tv-kanaler, YouTube, torrent-tv med mange russiske kanaler. Du kan også bruge personlige køleskab, komfur og vaskemaskine for ekstra 5 $ per dag for alt dette.
Sobre Beit Shemesh: (URL HIDDEN) (URL HIDDEN) Turismo na região: (URL HIDDEN) (URL HIDDEN)
Excelente acomodacao e hospitalidade por Elina e toda sua familia.
Denise
2017-02-18T00:00:00Z
We thoroughly enjoyed the week we spent at this apartment. The hosts were very kind and helpful, making sure we had all we needed. There was a cake & fresh fruit from the trees in the yard to welcome us. We joined their family for the lighting of a Hanukkah candle and met their delightful children. Elina and Baruck were very helpful with information about the area, and the house was very close to bus stops. We would love to visit again and continue exploring the country from this convenient, comfortable location.
Shelly
2017-01-05T00:00:00Z
Good place to stay a night.
Алексей
2017-03-07T00:00:00Z
Host is a very sweet lady, helpful and easy to get in contact with. Room was as describes, nice and clean. Will stay again
Bo
2017-04-03T00:00:00Z
Hello really enjoyed staying at this property. The space is very clean, comfortable and with everything we need. The best were the hosts who left me as if I were among friends. I recommend everyone, including Brazilian friends who visit ancestors. Honestly, thank you
Paulo
2017-03-12T00:00:00Z
Excellent value.
Jacob
2017-04-07T00:00:00Z
Exelent hospitality.don't miss your chance
Edward
2017-02-05T00:00:00Z
The hosting at Elina's house was very good. She and her family received us very well, and invited us to join them in a traditional Jewish dinner to celebrate the Shabbath. The dinner was excellent! I recommend the place.
Jéssica
2017-03-25T00:00:00Z
Tipo de Quarto
Casa inteira/apto
---
Tipo de Imóvel
Apartamento
---
Acomoda
6
---
Quartos
Bet Shemesh, Distrito de Jerusalém, Israel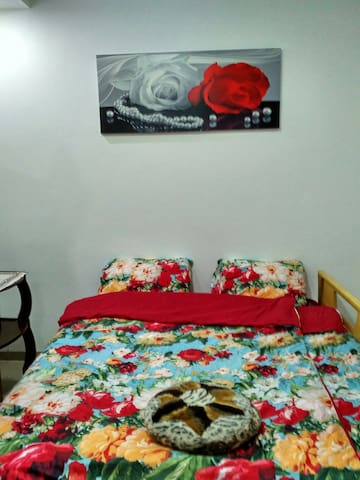 Mein Platz ist in der Nähe jerusalem (15-20 Min.), In den kühlen Bergen Sie den perfekten Ort finden jerusalem Tour, besuchen Sie die natürlichen Quellen in den mountians und die VIBs eines peacfull Villege das Leben genießen. Sie werden meinen Platz wegen der Atmosphäre lieben und zum Schweigen bringen es bietet, die natürliche Gestaltung des Hauses voller Holz und Pastellfarben. Mein Platz ist gut für Paare, Solo-Abenteurer, Geschäftsreisende, Familien (mit 2 Kindern)
The host canceled this reservation 70 days before arrival. This is an automated posting.
Mari-Vivian
2017-01-09T00:00:00Z
quiet place in the Jerusalem mountains. place was clean and communicaton was easy. thanks Shay and Einat
Hanoch
2017-04-14T00:00:00Z
The host canceled this reservation 33 days before arrival. This is an automated posting.
Pierre
2016-11-14T00:00:00Z
The host canceled this reservation 2 days before arrival. This is an automated posting.
Nitzan
2017-04-13T00:00:00Z
Tipo de Quarto
Casa inteira/apto
---
Tipo de Imóvel
Apartamento
---
Acomoda
6
---
Quartos
Giv'at Ye'arim, Distrito de Jerusalém, Israel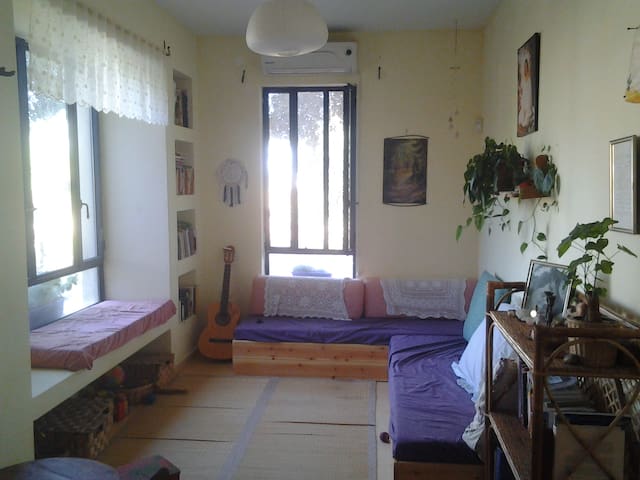 Notre belle suite de deux chambres d'hôtes est entièrement meublé et équipé, nous avons pensé à tout ce dont vous pourriez avoir besoin pendant votre séjour. Téléphone portable, laveuse, sécheuse, WiFi et plus encore! Situé au centre ville près de shuls nombreuses, des écoles, des parcs et des magasins.
L'appartement dispose de deux chambres entièrement meublés situés au rez-de-chaussée. Peut accueillir confortablement deux avec la possibilité d'ajouter un lit de bébé berceau ou pliant pour dormir un de plus.
Idéalement situé dans le quartier de Revivim, dans une rue calme.
Die Gastgeber waren sofort da, als wir ankamen. Die Wohnung war genau wie beschrieben. Die Gastgeber hatte in Willkommenskorb bereitgestellt. In einer Mappe teilten sie Informationen und wichtige Telefonnummern mit und haben betont, dass wir jeterzeit anrufen könnten, wenn etwas wäre. Die Gegend war ruhig. Wir haben die Nachbarn nie gesehen.
Laura
2015-09-01T00:00:00Z
Ben and Tova were great hosts and the place was excellent.
David
2016-04-05T00:00:00Z
Ben and Tova were excellent hosts. They communicated well with me in advance of the visit and provided me with good suggestions for where to visit in the vicinity. The unit itself was clean, bright, and well-maintained. I enjoyed a long conversation with Ben who enlightened me about the community and engaged me in an interesting discussion about his religious connections.
Aaron
2015-10-22T00:00:00Z
We needed a place within walking distance of my son's home. For us it was very convenient. Really appreciated the washer and dryer located in the apartment. There is parking on the premises. The unit was located in a quiet residential area. Really enjoyed the exchanges I had with Ben. Ben was very accommodating any time I had a question. He even translated a document written in Hebrew. I would highly recommend staying at Ben and Tova's AirBnb unit.
Art
2017-03-25T00:00:00Z
Ben and Tova were the perfect example of exceeding expectations. We were socked at the amount of consideration that Ben and Tova have towards ensuring their guests are comfortable and happy. Little details like having a bedside lamp, clean towels, slippers, mini bar, microwave ... among other things, show how much they really care. The apartment was sparkling clean and we felt right at home. Thank you Ben and Tova and we wish you much success, Daniel and Lorren Gefen
Daniel
2015-05-07T00:00:00Z
Ben and Tova's guest suite is a wonderful place to stay in RBS-A. It is just a few minutes walk to the shopping area, and public transportation, and located next to several Orthodox synagogue's. The entire area is conservative and religious and modest attire is expected. Many people speak English but overall the area is Hebrew speaking. The apartment is clean and comfortable with everything needed provided by the host; toiletries, linens (clean!), washer and dryer, iron, hair dryer, air conditioning/heater for winter. After a long flight and trip it was very nice to arrive to a welcome basket with snacks and drinks available. Ben was very kind to answer all of our questions with patience and kindness. The phone available for use while staying here was very incredibly important in helping our trip be successful and functional. I would recommend this apartment to anyone wishing to stay in RBS-A.
Toviele
2016-09-06T00:00:00Z
Everything was as expected. This is religious neighborhood. Shabbat is observed. The hosts were eager to satisfy our need, and most cordial. The unit was clean and set up upon our arrival. They provided unexpected extras, snacks, soap etc. I would stay here again.
David
2016-03-29T00:00:00Z
Tipo de Quarto
Casa inteira/apto
---
Tipo de Imóvel
Apartamento
---
Acomoda
2
---
Quartos
Bet Shemesh, Distrito de Jerusalém, Israel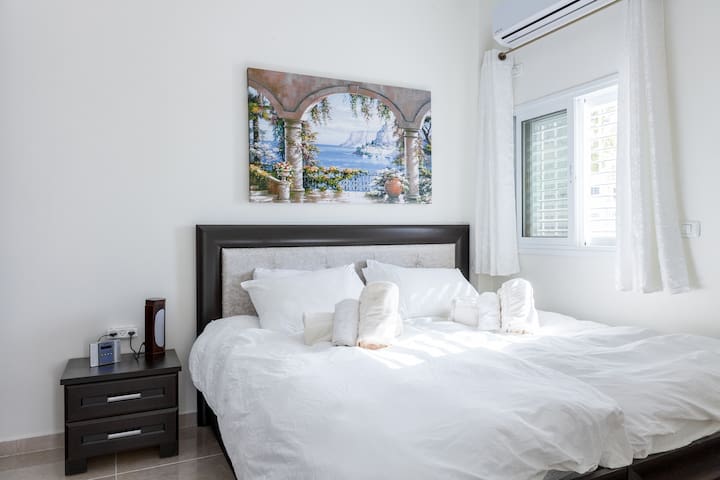 Host was responsive. Good Location. Great for our needs.
Michael
2016-08-17T00:00:00Z
Tipo de Quarto
Casa inteira/apto
---
Tipo de Imóvel
Apartamento
---
Acomoda
6
---
Quartos
Bet Shemesh, Distrito de Jerusalém, Israel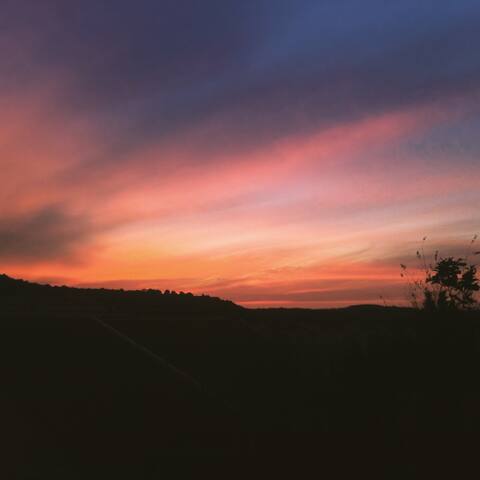 Unser Haus liegt ca. 30 min entfernt. weg von Jerusalem, von der Natur und Kulturlandschaft der Judeah Hills umgeben. Die ländliche Gemeinde bietet Weingüter, ethnische Nahrungsmittel, Wandern, Radfahren, Reiten, und viele ruhig.
Wir bieten eine separate Wohnung in unserem Haus, mit viel Privatsphäre und Blick auf die umliegenden Hügel. Die Zimmer sind geräumig und kann bis zu 10 Gäste beherbergen. Die Küche ist gut ausgestattet mit einem großen Kühlschrank für komfortables Zuhause Kochen ausgestattet.
Das Dorf Matta ist die Heimat von lokalen Künstlern, Therapeuten, Weingüter und viele interesing und freundliche Menschen.
We were visiting family in Mata, one of the most picturesque villages surrounding Jerusalem, and Gilat's place was just everything we asked for - a quiet place nearby our family's home to lay our heads in for the night. This is a second story 3 bedroom with lots of the famous Jerusalem hills pure air coming in the windows and lots of view to soak in, situated at the outskirts of Mata. Gilat was very friendly and helpful to us. We recommend her place to anyone looking for a friendly place in the area.
Elad
2016-05-22T00:00:00Z
The host canceled this reservation 5 days before arrival. This is an automated posting.
david
2016-12-24T00:00:00Z
היה נהדר! בית מאוד אישי, ספרים נהדרים. חפצים מרתקים. והמרפסת נהדרת.. ושקט נהדר..בילינו זמן נהדר כל המשפחה.. וגילת היתה מארחת נפלאה!! נעימה ומעניינת. תודה גילת!
Yael
2016-08-29T00:00:00Z
Beautiful home and pleseant surroundings offered a great stay.
Dorit
2016-10-22T00:00:00Z
גילת המארחת דאגה להיות איתנו בקשר לכל אורך השהות ולספק לנו בנדיבות כל מה שביקשנו. הבית עצמו והמטבח כל כך מאובזר שכמעט לא נזקקנו לבקש דבר מלבד מחצלת או קצת בזיליקום טרי מגינת הירק שלה. בכלל הבית מעוצב מקסים באופן כפרי ואומנותי והוא מרווח ונעים. התארחנו אצל גילת בחום של אוגוסט והיה קשה בשעות הצהריים ללא מזגן, אבל כל שאר שעות היום מזג האויר היה נעים להפליא. החווה האקולוגית היא ירוקה ומלאה גינון מקסים, כלב חמוד, חתולים ואפילו סוס שריגש מאוד את הילדים . האזור עצמו קצת חסר פעילויות לילדים או מקומות בילוי אבל מלא במסלולי טיול ומעיינות. נהנינו מאוד בחופשה הזאת. תודה!
Vered
2016-08-23T00:00:00Z
Gilats Wohnung ist hell und ruhig, mit einem tollen sonnigen Balkon vor der offenen und inspirierenden Landschaft der Jerusalemer Gebirge. Die Wohnung ist sehr bequem und bietet viele Schlafmöglichkeiten. Sie ist durch künstlerisch dekorierten Fenstern geschmückt. Die Küche war gut ausgestattet (außer Spülmaschine). Gilat, die Gastgeberin, war sehr freundlich und hat uns mit Grundnahrungsmittel und sogar selbstgemachten Oliven (!) willkommen gehießen. Sie war hilfsbereit bei jeder Angelegenheit. Der Ort ist wunderbar als Ausgangspunkt für Wanderungen in der inspirierenden Natur der Region. Im Ort gibt es sogar eine Boutique Weinkellerei, die besonderen Weinsorten der Region herstellt, und Besucher Ankostungen anbietet. Von Matta ist man gut gelegen, und schnell in Jerusalem oder Tel Aviv und das Meer.
Shulamit
2017-04-03T00:00:00Z
We were 3 couples with two babies. Gilat was very kind to us, when we arrived she told us about the area, nearby places we can visit and even gave us a bottle of wine after we told her we want to go and buy. The house was comfortable, the balcony was large and it suited all our needs. I really recommend to everyone who wants a weekend in a relaxed atmosphere.
Omer
2016-10-29T00:00:00Z
The host made us feel very welcome. The place is so much better than the pictures. It's a beautiful, authentic, rustic with a gorgeously designed kitchen. Very clean. Very peaceful.
marcelle
2016-05-09T00:00:00Z
Tipo de Quarto
Casa inteira/apto
---
Tipo de Imóvel
Apartamento
---
Acomoda
8
---
Quartos
Mata, Distrito de Jerusalém, Israel
Green Heart- A great artistic ecological garden apartment with all facilities to feel at home. Alternative treatments, guided walks and eco-art gallery near by. Artists shai zakai & Eran Spitzer are friendly hosts and created this wonderful place.
Green Heart- a place for contemplation near the forest, in Sarigim, a charming village right between Jerusalem and Tel-Aviv. Perfect spot to see Israel. A garden apartment designed by artists, environmental friendly, 2 rooms, lots of space, equipped kitchen, Espresso machine, bathroom with washing machine, a comfortable sofa in the living room, a comfortable double bed in the bedroom, original photographs on the walls, wi fi and cable t.v. , a contemporary art library, and a garden sitting place on a wooden deck, with hand made palm furniture. Most exciting, it is near the main forest secret path for walkers, bikers etc. Near by- you might want to reserve from the owners, a guided tour at the eco-art & photography Centre & unique gallery, or a guided walk through hidden paths in the British park, or a workshop in the near by cave, or get a unique body treatment in "Ilan Lev" method. A perfect romantic vacation for a couple or a family. see above quiet, pristine nature, places to walk bike and reflect. shops near by. from the airport is only a twenty minutes drive. recommended to rent a car at the airport.
Tipo de Quarto
Casa inteira/apto
---
Tipo de Imóvel
Apartamento
---
Acomoda
5
---
Quartos
Srigim, Israel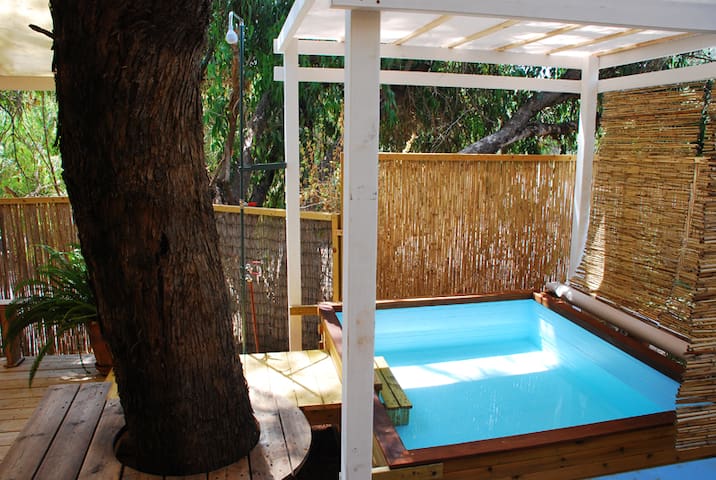 Amazing place. Perfect location. Gracious host.
Mehran
2017-03-20T00:00:00Z
Tipo de Quarto
Casa inteira/apto
---
Tipo de Imóvel
Apartamento
---
Acomoda
4
---
Quartos
Bet Shemesh, Distrito de Jerusalém, Israel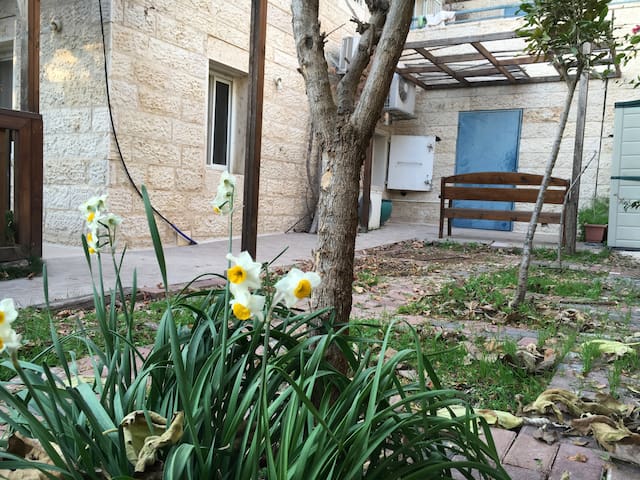 Salut-end & grande location à court terme dans le coeur de Ramat Beit Shemesh - distance de marche de toutes les principales communautés. Niché dans le quartier calme Sun Gardens, Slingshot Séjours comprend une cuisine complète, 2 grandes chambres, jardin, plein air conditionné et la chaleur, et plus encore!
Tipo de Quarto
Casa inteira/apto
---
Tipo de Imóvel
Apartamento
---
Acomoda
6
---
Quartos
Bet Shemesh, Distrito de Jerusalém, Israel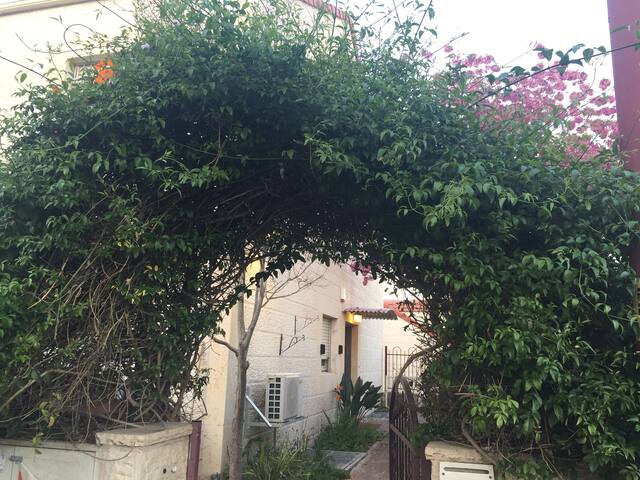 Accommodation unit on the roof with a large terrace over looking to pastoral view, situated in a family boutique winery. A quiet place with an atmosphere of home, close to park Britania, in Ella Vally (close to Jerusalem and Tel-Aviv). Board fee.
There is a boutique winery and a brewery next to the place. Park Britannia that offer lots of romantic tracks.
Tipo de Quarto
Casa inteira/apto
---
Tipo de Imóvel
Apartamento
---
Acomoda
2
---
Quartos
Agur, Distrito de Jerusalém, Israel
Confortable, familienfreundlich, neue Wohnung. mit Doppelbett , IPTV, Klimaanlage, eine kleine Küche und Bad, kostenloses WLAN, E-Herd, Mikrowelle, Kühlschrank, eigenem Eingang von außen. Für mehr als 2 Erwachsene - in der Regel zur Verfügung anderen Gästen Plätze. Unser Platz ist in einem schönen, ruhigen Viertel in B.SH. Stadt Betwen Jerusalem und Tel Aviv (ca. 40 Minuten auf dem Auto oder Bus zu beiden zentralen Städten)
Wenn Sie mehr als 2 Erwachsene sind - es ist nicht zu tun, sofortige Buchung empfohlen. Kontakt Verfügbarkeit der verschiedenen Gäste Räume in dieser Zeit zu überprüfen. Einige Zeit verfügbar Gasträume für bis zu 8 Gäste. In Freitagabend und Samstagmorgen können Sie uns für unsere traditionellen jüdischen Sabbatmahl beitreten (50 NIS für Person). eine lokale anthropogenen "Naturschutzgebiet" :) - Auch können wir für Sie kostenlose persönliche Wanderung zu extrem ortodox jüdischen Nachbarschaft organisieren Iptv: Kodi mit vielen TV-Kanälen, YouTube, torrent-TV mit vielen russischen Kanälen. Sie können auch persönliche Kühlschrank, Herd und Waschmaschine für zusätzlichen $ 5 pro Tag für all dies nutzen. Wir können Familien mit Kindern Gastgeber, die auch im ajacent Haus schlafen können. Wir Familie mit Kindern in verschiedenen Altersstufen (5-17).
Sobre Beit Shemesh: (URL HIDDEN) (URL HIDDEN) Turismo na região: (URL HIDDEN) (URL HIDDEN) (URL HIDDEN)
I needed a clean, comfortable place to sleep, shower and eat breakfast; and this space was perfect for that. I didn't do any cooking; just coffee and cold cereal. Apartment is like a new, modern, large dorm room. It is easy walking distance to grocery store. Bring plastic silverware, bowls and paper towels. No closet to hang clothes. A few shelves open. Perfect for #10 & #18 busses. I will eagerly recommend this and plan to stay again
Adrienne
2017-03-17T00:00:00Z
The hosts are very kind and hospitable. They picked us up at the train station, left us food as we arrived just before Shabbath and showed us Jerusalem. The location is good if you want to stay in a quiet place. Although there isn't much happening in Bet Shemesh, it's easy to reach Jerusalem by bus.
Lija
2017-01-23T00:00:00Z
As described. Great price and almost everything was new...I will be back!
Gary
2017-02-03T00:00:00Z
Apartment was perfect for my needs and just as described. Everything was handled well and hosts even had a cake waiting for me. Would gladly work with Elin again.
Mark
2017-01-20T00:00:00Z
Приятные люди. Хороший дом. Пунктуальны и готовы помочь при обращении. Много знают. Делятся знаниями и информацией.
Valeri
2017-03-05T00:00:00Z
Recomended. Quiet. We had all we need. Good shower and kitchen. Good for the price.
אסף
2017-02-11T00:00:00Z
Alina and Baruck is a very sweet couple. We had a welcome cake when we arrived and they were very helpefull if we need anything. The smallest problem was taking care of almost immediately. We spend a really nice time in the appartment. Well located, bus station close by. Buses close by for Jérusalem and to the train station for Tel aviv or even Jérusalem. The place is really quiet and lucky us, we even could enjoy the fruits tree such as lemon, orange, chinese orange and more.. I'll surely be back if I need to.
Véronique
2016-12-16T00:00:00Z
Хозяева очень приветливые, отзывчивые и интеллигентные люди. Жилье даже лучше чем на фото. Барух самый лучший эксурсовод. Новый год отпраздновали с фруктами из личного сада, которые выростила хозяйка Элина с любовью. Все детки замечательные помощники. Проживание в этом доме оставило только позитивные впечатления. Very very good! Recommended!
Alex
2017-01-03T00:00:00Z
Tipo de Quarto
Casa inteira/apto
---
Tipo de Imóvel
Apartamento
---
Acomoda
6
---
Quartos
Bet Shemesh, Distrito de Jerusalém, Israel
Náš domov je v náboženském * vesnice v údolí Ajalon, s výhledem na krásný park Kanada, vhodný pro pěší turistiku nebo cykloturistiku. Je umístěn ve středu mezi Tel Aviv a Jeruzalém (asi 5 minut od dálnice D1, 20 minut od mezinárodního letiště TLV). * Auta nemůže vstoupit v sobotu
Je to nová jednotka v klidné části obce, kteří chtějí kopce Judea, místo je ve venkovské atmosféry.
I really enjoyed the stay at Shoshana and Igal's House. Very good and happy people, always ready to explain and talk. The village is very friendly and quiet. Its a rural place and at the same time very central for all the directions in Israel. Thank you very much for all the reception and help.
Daniel
2016-12-01T00:00:00Z
I wasn't so sure what the floor plan would look like before we got there, but when we arrived we were pleasantly surprised. You walk in from an outdoor patio into a room with a table, mini fridge, couch that folds into a bed, and sink. To the right is a bedroom with a door and two beds, to the left is another room with one bed, and then the bathroom. I wouldn't call it a 3 room apartment because some of the rooms are small, but it is definitely nice having separate areas, especially if you have more then 2 people. Shoshana and her husband were very friendly. We joined them for havdalah, talked for a bit, and she also gave us some cookies/pastries. Mevo Horon is a nice neighborhood. It is rural, and has a wide range of shuls. There is a restaurant within walking distance of this apartment. The food is cheap and good, but a bit oily, so I wouldn't recommend eating there if you just landed.
aryeh
2016-01-25T00:00:00Z
Tipo de Quarto
Casa inteira/apto
---
Tipo de Imóvel
Apartamento
---
Acomoda
4
---
Quartos
Mevo Horon, mevo horon mevi horon mevo horon, Israel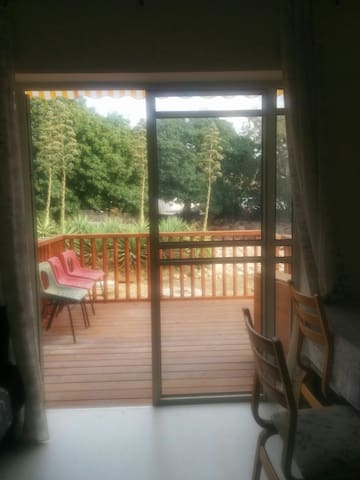 아름다운 예루살렘 언덕에 직면 마을에서 매우 조용한 위치에 사랑스러운 아늑한 아파트. 넓은 거실 + 식당 공간 + 주방, 침실, 2 개 야외 휴식 공간 + 산 풍경을 마주 근처 마당. 시설이 완비 된 주방, 빠른 와이파이, 아름다운 자연 경로 근처
Tipo de Quarto
Casa inteira/apto
---
Tipo de Imóvel
Apartamento
---
Acomoda
3
---
Quartos
Giv'at Ye'arim, Distrito de Jerusalém, Israel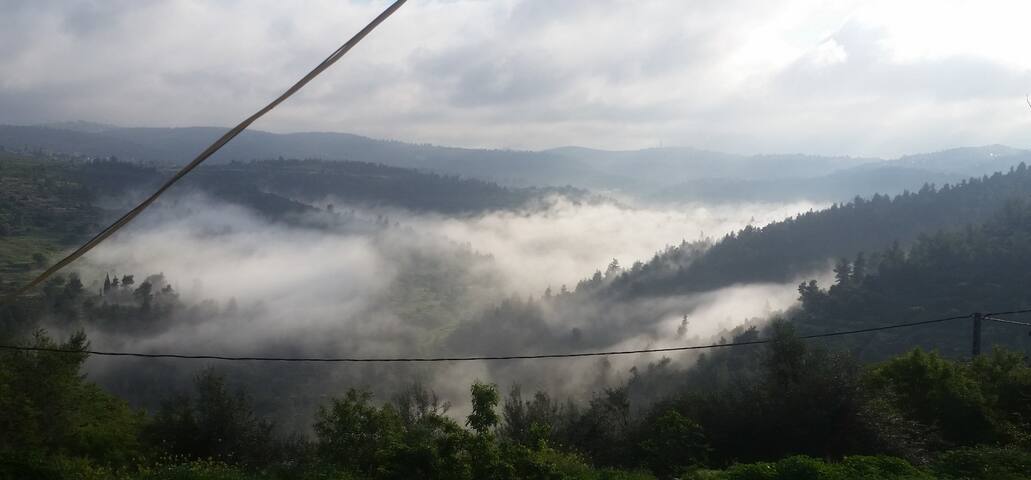 Nosso lugar está localizado a 20 km de Jeruasalem. É uma pequena aldeia da comunidade, que é perto de duas fontes naturais. Você vai amar o nosso lugar porque é aconchegante, muito calmo e tranquilo. você pode sentar-se no banco no deck exterior, e aproveitar o tempo do sol na frente das colinas de Jerusalém e arredores. Nosso lugar é bom para casais e aventureiros de solo. Nataf tem um dos melhores restaurantes de Israel - "a cozinha de Rama" - é ativo somente nos fins de semana e requer reserva.
É personalizado construído pelo proprietário, em uma área que costumava ser cavalos fazenda, e agora é nosso apartamento e um grande estúdio beautuful. O apartamento é muito doce e bem equipado.
Nataf é uma vila pequena e calma, com população de todas as idades. é considerada uma das aldeias mais agradáveis em Israel, tendo boas vibrações e ocasionalmente suas próprias festas e reuniões.
Charming Appartment with a nice view from the Jerusalem Hills to the Sea. Heating is a problem when you travel in Winter but summer should be great. Bathroom is small has only a shower and not for luxury bath lovers ;-)
Veit
2017-02-19T00:00:00Z
Tipo de Quarto
Casa inteira/apto
---
Tipo de Imóvel
Apartamento
---
Acomoda
2
---
Quartos
Nataf, Distrito de Jerusalém, Israel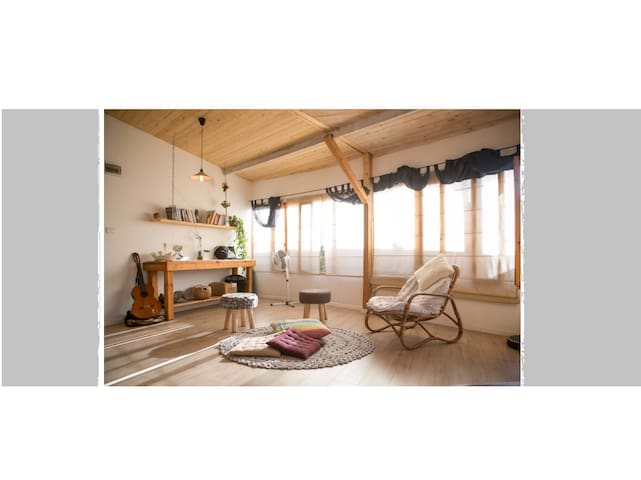 Mé místo se nachází 20kms z Jeruzaléma. Obklopen přírodou a klidem. Odtud můžete cestovat do mnoha dalších měst / přírodních oblastí, daleko i blízko. Veřejná doprava není tak časté, takže možná budete chtít mít auto, pokud máte v plánu cestovat během svého pobytu. Berte prosím na vědomí domovní řád. doby Check-in a check-out jsou pružné, pokud žádné jiné rezervace byly dělány pro ty dny.
Pro co nejlepší dojem jste adviced sledovat virtuální prohlídky: (URL HIDDEN) (Některé nábytek, stejně jako klavír, neexistují).
Givat Yearim je malá vesnice. Byt se nachází v odlehlé, slepé uličky, v poklidné surroubndings. Čerstvý vzduch a pohled jsou zdarma a blahobytný :-) Tam je grocerry obchod v pěší vzdálenosti (15 minut chůze) a dvou velkých nákupních center v blízkosti města (15 minut drive).
Very nice host and the apartment is perfect! everything is clean and beautiful. the apartment is big and has everything in it and most of the things are new. the only thing is that you need a car to get there. the neighborhood is quiet. we had a very good time and we thank you, David for that amazing stay. VERY RECOMMENDED!!!
Elena
2017-04-02T00:00:00Z
Tipo de Quarto
Casa inteira/apto
---
Tipo de Imóvel
Apartamento
---
Acomoda
4
---
Quartos
Giv'at Ye'arim, Distrito de Jerusalém, Israel
1

–

18

de

300+ Alugueres de Apartamentos
Insira as datas para ver o preço total. Taxas adicionais aplicáveis. Podem ser adicionados impostos.