Wir wurden, nachdem wir telefonisch unsere Ankunft mitgeteilt hatten, sehr herzlich von der Besitzerin des Hauses empfangen und mit den Gegebenheiten vertraut gemacht. Bei unserer Ankunft befanden sich als Geste der Aufmerksamkeit eine gut gekühlte Flache Wasser und eine Flasche Weißwein im Kühlschrank. Das Haus entsprciht genau der Beschreibung, alles ist vorhanden und auch in ausreichendemMaß. Wer mit Hund oder kleinen Kindern verreist, sollte wissen, dass das kleine Grundstück nicht eingezäunt ist. Die Gastgeberin wohnt in unmittelbarer Nachbarschaft und steht jederzeit, wenn Hilfe benötigt wird, zur Verfügung. Wer ABSOLUTE Ruhe sucht, ist hier goldrichtig. Das Umfeld ist recht hügelig, wer nicht gut zu Fuß ist oder schweißtreibend Rad fahren möchte, muss sich darüber im Klaren sein, dass man die Wege z.B. zum Market bei der Wärme doch eher mit dem Auto zurücklegt. Allles in allem haben wir uns sehr willkommen und wohl gefühlt! Und kommen gerne wieder.
Kerstin
2016-07-23T00:00:00Z
Tipo de Quarto
Casa inteira/apto
---
Tipo de Imóvel
Casa
---
Acomoda
4
---
Quartos
Tadini, Istarska županija, Croácia
Mé místo je v blízkosti aquaparků - Istralandia a Aquacolours, centra, nočních klubů, a letiště. Zamilujete si své místo kvůli názorům, lidem, a umístění. Casa Ulika je dobrý pro rodiny s dětmi (), velké skupiny, a chlupatými kamarády (zvířata).
The host canceled this reservation 44 days before arrival. This is an automated posting.
khalid & Jeannette
2016-06-28T00:00:00Z
Very nice house and host. Everything was perfect and clean. We would love to come back one day. Perfect for groups and families. It is a bright in the star in the mountains. :D
Manna Louise Schreiner
2016-07-11T00:00:00Z
The host canceled this reservation 21 days before arrival. This is an automated posting.
Franka
2016-06-27T00:00:00Z
Tipo de Quarto
Casa inteira/apto
---
Tipo de Imóvel
Casa
---
Acomoda
6
---
Quartos
Brnobići, Istarska županija, Croácia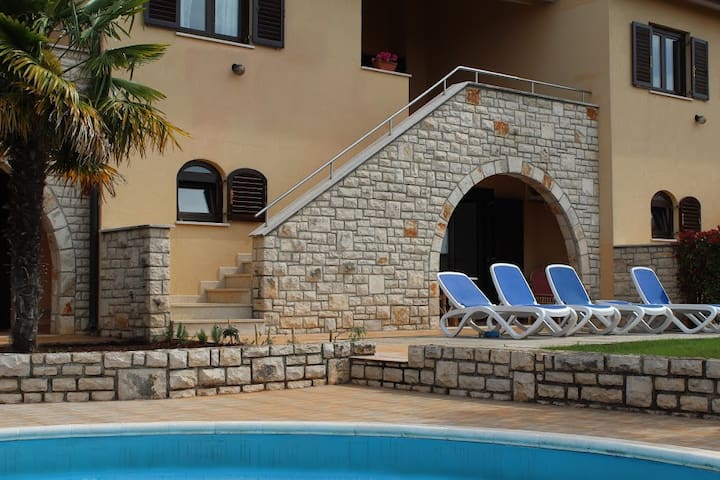 собственность состоит из 2-х домов, 6 - 9 человек, 5 комнаты / с, 3 спальни / с, 2 ванных комнат / с, прибл. 96 m², 2 этаж / с, после ремонта 2013. Пожалуйста, обратите внимание: нет внутренней смежной двери между главным домом и флигелем. Владелец живет в отдельном двухквартирный дом.
собственность состоит из 2-х домов, 6 - 9 человек, 5 комнаты / с, 3 спальни / с, 2 ванных комнат / с, прибл. 96 m², 2 этажа / с, с ремонтом 2013., Пожалуйста, обратите внимание: нет внутренней смежной двери между главным домом и флигелем. Владелец живет в отдельном двухквартирный дом. Характеристика: Недвижимость на имущество. Обстановка: стандартный праздник, простодушный, кафельный пол, деревянный пол, ламинат. Оборудование: спутниковое телевидение (2 TV (s)); DVD, CD-плеер; доступ в Интернет Wi-Fi (в комплекте); комбенированный / кондиционер (не во всех номерах). Гостиная / спальня: (пристройка / цокольный этаж):. Диван-кровать, с лестницей гостиной (крутой) до верхних уровней. Гостиный / спальня 2: (главный дом / цокольный этаж): двуспальный диван-кровать (ширина 1,60 м), с лестницей гостиной (крутой) до верхних уровней.. Столовая: в гостиной (флигель / цокольный этаж). Столовая 2: в гостиной (главный дом / цокольный этаж). Кухня:. В гостиной (флигель / этаж), кухня / оборудование для приготовления пищи: 3 газовые кольца, 1 электрическая плита, печь, холодильник, кофеварка, бойлер, тостер. Кухня 2: в гостиной (главный дом / цокольный этаж), Кухня / кухонное оборудование:. 4 электрические плиты, духовка, посудомоечная машина, холодильник, кофеварка, бойлер, тостер. Спальня 1: (пристройка / верхний этаж): двуспальная кровать. Спальня 2: (главный дом / верхний этаж): двуспальная кровать. Спальня 3: (главный дом / верхний этаж): 2 х отдельные постели. Санитарные 1: (пристройка / цокольный этаж): душ, туалет. Санитарные 2: (главный дом / цокольный этаж): душ, туалет. Ситуация: центр города. Доступ / парковка: 4 х парковка на имущество. Недвижимость: (совместное использование с владельцем): прибл. 4200 m², закрытый участок (забор, изгородь, стены, входные ворота), помечено пол, фруктовые деревья, оливковые деревья. На улице: (частного использования): терраса 27 m² (под деревьями), зарезервированных открытое пространство (под навесом), мебель при условии, переносимый барбекю. Бассейн: (частное использование): Ø глубиной 5,0 м, 1,00 м, 01.05.17-28.10.17, рамка бассейн. Площадь бассейна: 9 шезлонга, 2 маркизы.
Следующее село / город: Центр Kastelir в ках. 100 м Пореч прибл. 10 км Покупка: Следующая торговая возможность в ках. 200 м Следующий супермаркет (Пореч) прибл. 10 км Гавань / марин: гавань / гавань Пореч прибл. 13 км Пляж / вода: Каменистый пляж в ках. 10 км
Tipo de Quarto
Casa inteira/apto
---
Tipo de Imóvel
Casa
---
Acomoda
9
---
Quartos
Kastelir, Istria, Croácia
The house "Malia" is a traditional istrian stone house situated in the centre of the village Kastelir. The house was bulit in 1900, and comletly renovated in 2015/2016. The house consist of two floors. On the upper floor there are two bedrooms and a bathroom. The upper floor is connected with the ground floor by wooden stairs. On the ground floor is a kitchen equipped with a fridge, sink, oven, electric stove and coffee machine. Near the kitchen is a dining room and a living room
El apartamento de Dina, es magnifico, està bien situado , facil de encontrar, es nuevo y muy bien equipado. Nuestra estancia ha sido perfecta. Ha habido muy buena comunicación y ella y su madre son encantadoras. Sin duda lugar muy recomendable, nosotros seguro que repetiremos.
Ana
2016-07-23T00:00:00Z
We stayed 5 days in this beautiful old house and we had a realy pleasant stay. The house is confortable, you have everything that you need. The village is calm and not far of Porec. Dina is probably the better host we had: she was very friendly, considerate and reactive. She even took the time to take a ride in the car to show us the shops and restaurants near the house. we highly recommend the house !
Marie
2016-07-28T00:00:00Z
Tipo de Quarto
Casa inteira/apto
---
Tipo de Imóvel
Casa
---
Acomoda
5
---
Quartos
Kaštelir, Istarska županija, Croácia
V malém městečku KASTELIR jmen, se nachází v sérii vil, výhled na moře a vzdálenosti od centra města (Poreč) pouhých 10 minut jízdy autem, a pouhých 6 km od moře, Villa Marina. Villa obohacuje velký společný bazén (PHONE NUMBER HIDDEN) privátní pěstěné zahradě. V prvním patře je samostatná bytová jednotka 100m2 skládající se z kuchyně obývací pokoj, 2 dvoulůžkové ložnice, 2 koupelny a krytou terasou, zatímco přízemí se nachází taverna s krbem.
We had a wonderfull time staying at kristians' place. Very clean and large appartement with a Great view. We had a warm welcome with fresh fruits and vegetables from their garden. They even had Some Great ideas About What to visit in istrie. Great for kids with the pool and quiet environment. We loved it.
Nicky
2016-08-30T00:00:00Z
Tipo de Quarto
Casa inteira/apto
---
Tipo de Imóvel
Casa
---
Acomoda
6
---
Quartos
Brnobići, Istarska županija, Croácia
Villa is situated in beautiful small village Kaštelir(Poreč), 5 km from the sea. House consist 2 bedrooms, 2 bathrooms, living room, kitchen, big terasse with stunning sea view. Free parking,free wifi and aircondition. Dogs are available on request.
Perfect fo family with children, and groups. Dogs are available on request.
Neighborhood is very quiet and coisy, perfect for your dream vacation with friends and family.
Tipo de Quarto
Casa inteira/apto
---
Tipo de Imóvel
Casa
---
Acomoda
7
---
Quartos
Brnobići, Istarska županija, Croácia
Cozy, new holiday home in a quiet location. Shops, restaurants, a health club, among others in the immediate vicinity. Large, bright living space, nice kitchen, nice terrace with barbecue and everything your heart desires ...
Living area 130 square meters, ample parking, surrounded by wine field-grown fruits and vegetables right next door.
Ein schönes und ruhiges Haus, gut ausgestattet und sehr sauber. Wir haben uns wohl gefühlt. Die Gastgeber waren sehr freundlich und haben bei Fragen sofort geholfen.
Konrad
2015-08-15T00:00:00Z
Tipo de Quarto
Casa inteira/apto
---
Tipo de Imóvel
Casa
---
Acomoda
5
---
Quartos
Općina Kaštelir - Labinci, Istria County, Croácia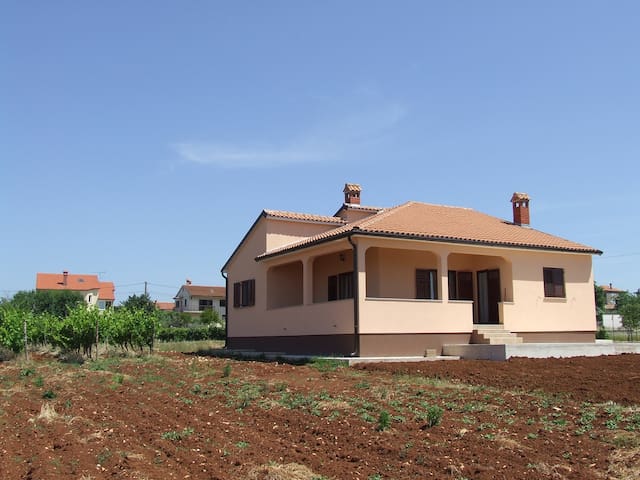 A well equipped family home. A mix of Istrian stone, reclaimed materials and modern fixtures its a perfect ambience for a relaxed holiday. WiFi, TV, private pool, garden. 3 bedrooms in the main house and separate ensuite studio room with sofabed.
Wir waren verzaubert von dem schönen Haus und haben uns sehr sehr wohl gefühlt. Die Lage war perfekt und wir kommen auf jedenfall wieder. Caroline war eine sehr nette Gastgeberin und wir können sie besten Gewissens weiterempfehlen. Alles in Allem ein perfekter Urlaub.
Nicole
2016-09-10T00:00:00Z
Caroline was helpful and nice. The house was very affordable. The house was nice. The basement sofa bedroom was very humid. I have suggested a dehumidifier to Caroline . I think it would fix it. The location was much better than expected. Felt very close to every thing in istra (with car), 40 min to Pula, 30 min to umag and 15 min to porec. Minimarket 200m away. We had a great holiday here.
Max
2016-08-07T00:00:00Z
We spent 10 days here in July 2016, three couples with two toddlers, the house is child friendly, the pool is fantastic, the mosquitos are annoying but that's part of the holiday adventure :) The kitchen was well equipped and we were even welcomed by a few cold beers and a watermelon in the fridge! We were pleasantly surprised after 6 days that someone showed up to bring fresh sheets and changed the beds and towels in the whole house! There was also a washing machine in the house which we hadn't expected but turned out to be great!! We loved the house, we both fish at the fish shop (less than 2 min walk) almost every morning and bbqed them in the evening, the lady there was lovely and always tried to find German/English names for the fish. Two musts within walking distance of the house were the restaurant Zardin (steak with truffels was AMAZING) and the vineyard Cossetto- the most lovely old married couple and a fab wine tasting room, we weren't able to communicate beyond school level Italian but we left the place with four cases of wine!! The communication with Caroline prior to our stay was great, she answered emails quickly and was very helpful, arranging a travel cot for us and being flexible about our arrival time. When we arrived (later than planned) Caroline gave us the keys and even gave us a few good tips about different local vineyards you can visit which was a total hit for us!! She explained that we were the first guests in the house in the season so if there were any hiccups (as the house hadn't been used in a while) to let her know straight away. We had two minor issues, a toilet where the flush didn't work and a lack of hot water one morning. On both occasions I sent Caroline a text and they were dealt with on the same day by a lovely man!! Altogether a great experience!!
Leah
2016-07-23T00:00:00Z
Tipo de Quarto
Casa inteira/apto
---
Tipo de Imóvel
Casa
---
Acomoda
8
---
Quartos
Kaštelir, Istarska županija, Croácia
Zapanjujući pogled s velikom terasom nudi oboje, more i umirujući ruralnog krajolika Istre. Kuća se nalazi na samoj Parenzane ceste, biciklističke rute po Istri. Jedini stan u kući ima sve za veliki odmor. Ona je obnovljena 2015. godine, a sastoji se od dvije velike spavaće sobe - svaka ima jedan bračni i jedan krevet za jednu osobu. Tu je i udoban dnevni boravak i blagovaonicu, te potpuno opremljenu kuhinju. To je super za parove, obitelji i krzneni prijatelji (kućne ljubimce).
Tipo de Quarto
Casa inteira/apto
---
Tipo de Imóvel
Casa
---
Acomoda
6
---
Quartos
Markovac, Istarska županija, Croácia
3 Bedroom, 2 Bathrooms, views to Sea, walking distance to shops and restaurants, 10km from Porec to the south and 9km from the Adriatic sea and the Lanterna beach resort with snorkelling, boating, tennis,
Accoglienza più che soddisfacente e bella e tranquilla la location
Daniela
2016-08-29T00:00:00Z
Caroline met us at her office nearby the house to give us the keys, and was very welcoming and helpful. She recommended local beaches and restaurants and some nearby hill towns to visit. The house itself was immaculate. Simply furnished, but with every appliance and convenience you would need for a longer stay, even though we were just there for a long weekend. The beds were comfortable and the 2 AC units kept the place cool. The pool was very clean as well, and a godsend during the hot days. We ate dinner on the back terrace using the gas-fired barbecue there, which was really nice. Take some candles! Despite being quite close to nearby houses, there was a good amount of privacy and quiet. Walking distance from the house are some shops where groceries can be bought until late.
Jonathan
2015-07-20T00:00:00Z
Tipo de Quarto
Casa inteira/apto
---
Tipo de Imóvel
Casa
---
Acomoda
6
---
Quartos
Kaštelir, Istarska županija, Croácia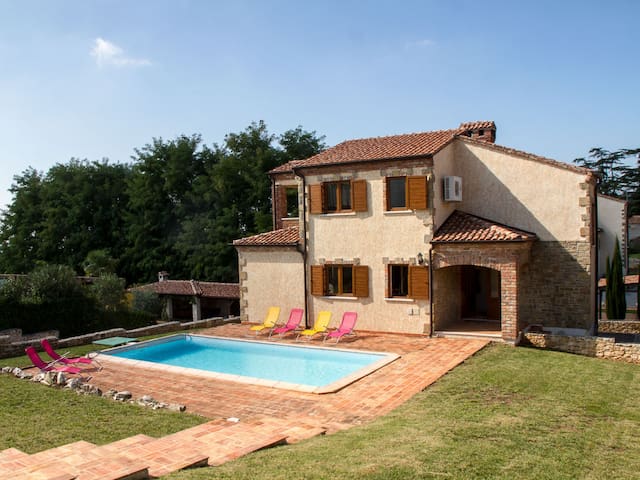 Tento krásný vyzdobený dům se nachází jen 10 km severně od Poreče a je obklopen olivovníky a vinicemi. Je to ideální místo k prozkoumání krajinu Istrie.
Dům je distribuován ve dvou patrech: První patro tvoří prostorná kuchyň s jídelním stolem, pohovkou postradatelný, klimatizací a TV. K dispozici jsou dva dvoulůžkové pokoje s manželskou manželskou postelí a dvěma samostatnými lůžky, dvě koupelny se sprchou / toalety a pračkou. Na terase si můžete najít jinou jídelní stůl, včetně krásným výhledem na Jadranu pobřeží a istrijské svahu. Spodní patro je vybaven rozkládací pohovkou, krbem a kuchyňským koutem. Tam je další koupelna se sprchou / toaleta a vstup na soukromou zahradou a bazénem komunity. K dalšímu vybavení patří soukromé parkoviště, Wi-Fi, klimatizaci a TV s plochou obrazovkou TV se satelitním příjmem.
The hosts are very nice and supportive. The place is very comfortable, clean and relatively close to the sea. We had everything what we needed. I would definately recommend it!
Julia
2016-08-06T00:00:00Z
Tipo de Quarto
Casa inteira/apto
---
Tipo de Imóvel
Casa
---
Acomoda
7
---
Quartos
Brnobići, Istarska županija, Croácia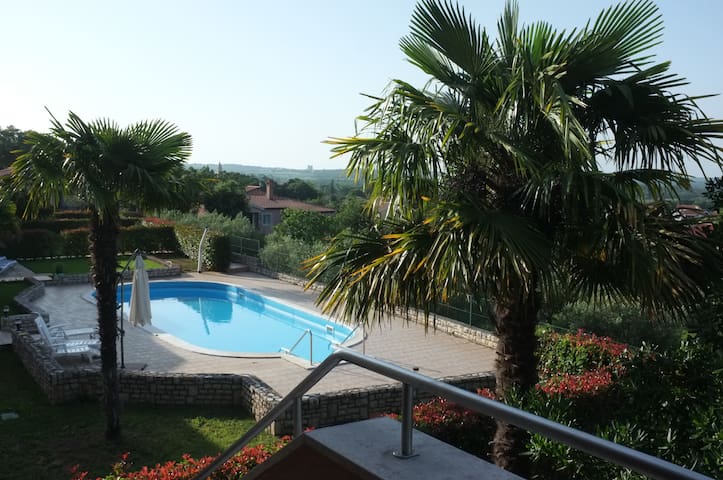 Casal di Livia is a beautiful traditional Istrian stone house with magnificent garden and a the pool near Poreč, in Diklići, Kastelir. The garden is large with olive trees, lavender and other Mediterranean plants, terraces are perfect to enjoy ''al fresco'' dinners. Great sea view provided from the bedroom window.
Tipo de Quarto
Casa inteira/apto
---
Tipo de Imóvel
Casa
---
Acomoda
6
---
Quartos
Diklići, Istarska županija, Croácia
Villa for 6 persons with covered terrace with sitting set, summer kitchen with barbecue and sitting set, separate toilet, well-kept lawn and two parking places, air conditioning, satellite TV, wireless LAN Internet (WLAN). Pets allowed.
Villa for 6 persons with a living area of 163 sqm on two fully air-conditioned floors, consists of the ground floor on which there's a lovely living room with fireplace and large glass walls to the terrace and the pool, fully equipped kitchen with dining table for 6 persons, one double bedroom with SAT-TV and shower/toilet, and separate toilet. On the first floor there are two double rooms with SAT-TV, and own shower/toilet, one of them with a double bed and terrace and the other one with two separate beds and also with own terrace.
Villa Manuela is a newly built luxurious villa located at the borders of the village Kastelir with a lovely panoramic view on the fields and the sea. The villa is located at approx. 12 km from Porec and Novigrad and their beaches. The house has been built in the year 2015, it's fully air-conditioned and furnished with attractive furniture. On the enclosed property of approx. 760 sqm, the guests of the villa have at their disposal an outdoor pool of 40 sqm, covered terrace with sitting set, summer kitchen with barbecue and sitting set, separate toilet, well-kept lawn and two parking places.
Very nice house, quality made, design and very convenient. More beautiful in real than the pictures. Everything was clean and perfect for our arrival. The 3 double rooms are well equipped with AC, TV and private bathroom. We were 2 kids in the ground level room with garden access and 4 adults at the first floor, 2 rooms with 2 big terrace. Outside you have 2 places to relax and eat. An outside kitchen an Bbq and toilet after the good pool, very useful. 15 minute by car ( 10 km ) from 2 really nice old town by the sea, Porec and Novigrad. In the village, Kastelir, a good little market, wine by the producer ( slivovic too ) and 2 restaurants to stay quiet without a way by car to the city. Of course it's not totally by the sea, but the beach in the area are not the nicest of Croatia so ... I hope they will not build other house juste around the villa, to keep the nature, land and sea view. The agency Istria Home was a very good support for all our questions before and during our stay, they came to catch us just after the highway on our arrival. And the owner we met the last day was nice too. Enjoy Kastelir and this nice house.
Naofel
2016-07-31T00:00:00Z
Tipo de Quarto
Casa inteira/apto
---
Tipo de Imóvel
Casa
---
Acomoda
6
---
Quartos
Kaštelir, Istarska županija, Croácia
Enjoy the holiday of a lifetime in our unique villa. Casa Campobello is a beautifully restored, traditional stone house offering the luxury, space and privacy expected by discerning guests . The striking interior space is complemented with terraces with Adriatic views; large pergola for outdoor eating; a choice of lounging areas: beside the pool, in the quiet of the courtyard. Situated on the edge of a village in beautiful countryside and with easy access to the Adriatic beaches, 7 km away.
This beautiful stone house with pool, terraces, courtyard and olive grove is ideal for parties of 10-12. 5 spacious bedrooms, a large living area, a large, fully equipped kitchen ensures well appointed space for all. Situated close to a village it is within easy walking or driving reach of many holiday facilities, good barsand restaurants, beaches, beautiful views, and historic hill villages.
Kastelir is situated in a beautiful rural area famed for walks, cycle routes and hang gliding. It is 7 km from the Adriatic and there are many convenient beaches. Restaurants, bars and shops are within walking distance. In summer a daily sailing leaves Porec, a picturesque local town, for Venice. Pula's ancient amphitheatre (60km) is a wonder.
The house is very big and really nice. This is the second time we have rented it. The pool suits children fine, and the little village of Kastelir is pleasant with a few local restaurants.
Olav
2015-08-02T00:00:00Z
Tipo de Quarto
Casa inteira/apto
---
Tipo de Imóvel
Casa
---
Acomoda
10
---
Quartos
Kaštelir, Istarska županija, Croácia
Unser 1999 restauriertes Natursteinhaus mit Grillterrasse, Garten u. Pool liegt am Rande von Labinci, einem kleinen, ruhigen Weindorf ca. 9km vor Porec/Meer. Gut zu Fuß erreichbar gibt's div. Restaurants und gute Einkaufsmöglichkeiten.
Unser Haus mit seinem unverwechselbaren, rustikal-mediterranen Flair bietet auf ca. 125qm viel herzliche Urlaubsatmosphäre. Der große Garten mit duftenden Rosen, Oleandern und Lavendeln, die überdachte Terrasse mit großzügigem Essplatz und Grillküche und der Pool mit Sonnen- u. Schattenplätzen schenken beschauliche, erholsame Ruhe. Die Adriaküste mit ihren Badebuchten ist bequem in ca. 20 Min. mit dem Auto erreichbar. Zahlreiche beschilderte Radwanderrouten ermöglichen zudem abwechslungsreichen Aktivurlaub.
Tipo de Quarto
Casa inteira/apto
---
Tipo de Imóvel
Casa
---
Acomoda
6
---
Quartos
52464 Kastelir, Istria County, Croácia
Beautiful, old stone house in sleepy village. Set on sun-drenched hillside with panoramic sea views from living room balcony. Garden has private pool and al fresco dining. There's air-con, wi-fi and parking. A selection of restaurants are close by.
Beautifully restored, old stone house with old wood beams, stone stairs and polished wood floors. A traditional, Istrian home, the house is built on three floors. On the ground floor there is a kitchen-diner, small double bedroom & bathroom with shower. On the 1st floor there is a large living room with 40" LCD TV, stone fireplace and balcony with awning (and stunning views). On the top floor there are 2 double bedrooms and bathroom with bath. Outside there is a small garden with a 6x3m2 pool, a covered dining area with a stone table and a sun terrace with sea views. Parking is private, at the start of the property & screened from the garden by wrought iron gates. Friendly Croatian neighbours. There is a restaurant a minute's walk away and others close by. There's also a mini-supermarket and ATM a short walk away.
Lying on a south-facing, sun-drenched hillside the hillside of sleepy Brnobici, the house has panoramic views of the Istrian coast. From Brnobici, it is a pleasant stroll through country lanes to the adjoining villages of Kastelir and Labinci. In the area there are plenty of locals selling their own wine, olive oil and rakija (grappa), as well as several shops for all your supplies, and several good restaurants. For such a small area there is an amazingly large amount to do in Istria. As well as all the usual seaside attractions there are numerous attractive coastal towns and unspoilt hill-top, stone villages. Here are a few: Porec – the main local centre has a 12th Century Basilica which is a world heritage site in the lovely old centre. Also plenty of restaurants and beaches (about 10 minutes drive). Rovinj – Rovinj is one of the jewels of the Adriatic. It is a beautiful, old coastal town which is totally unspoilt. Many of our guests have also gone for dinner in the evening and said it is magical. Groznjan – this lovely hill-top village is a musicians and handicraft enclave. It has charming handicraft shops, no modern development and fantastic views. Novigrad – just up the coast is a lovely coastal town, much sleepier than Porec. Motovun – is a perfect hill-top, walled town. It's a steep walk up from the parking, but if you park in the car park at the bottom there is a bus. Limski Canal – this flooded gorge is a wooded inlet from the sea. It lies between Porec and Rovinj and the drive beside it is beautiful. If you like mussels, it is the place to go as they are grown in the gorge and served fresh from the sea. It is also possible to visit by boat on one of the many boat trips available in Porec. Pula – the biggest town in Istria, is home to the 6th largest amphitheatre in the world. It is perfectly preserved and hosts concerts in the summer (we've seen Tom Jones and Nora Jones (honest a coincidence of surname) there and they were wonderful nights out). There are various other Roman ruins in Pula. Vrsar – between Porec and Rovinj is another lovely coastal town. The town cascades down the hillside to the sea. Make sure you get right to the top as the views are spectacular. In-land hill villages – totally unspoilt and a beautiful drive away are several other beautiful inland hill-top villages including Roc, Hum, Draguc and Gracisce. For me these are the best bit of Istria. They look as if time's stood still and even in high summer you'll often have them all to yourselves. Just over the border in Slovenia, there's the delightful seaside town of Piran. You can also visit the world famous Lipanja horses and the Plitvise caves (the largest in the world). Ljubljana, the capital, is worth a visit, but it's 2.5 hours away. Apart from sightseeing, Baredine Caves is only a few minutes drive away. Also close-by are paragliding, horse riding, karting and paint-balling. On the coast there are the usual amusements - banana boat, parasailing, boat hire and trips, diving etc. Istria's great for bike riding and the area round Kastelir has lots of quiet lanes. Bike hire can be arranged before you come (just let me know) and bikes can be delivered to the property for you, or there are plenty of places for bike hire in Porec.
Tipo de Quarto
Casa inteira/apto
---
Tipo de Imóvel
Casa
---
Acomoda
6
---
Quartos
Kaštelir, Istarska županija, Croácia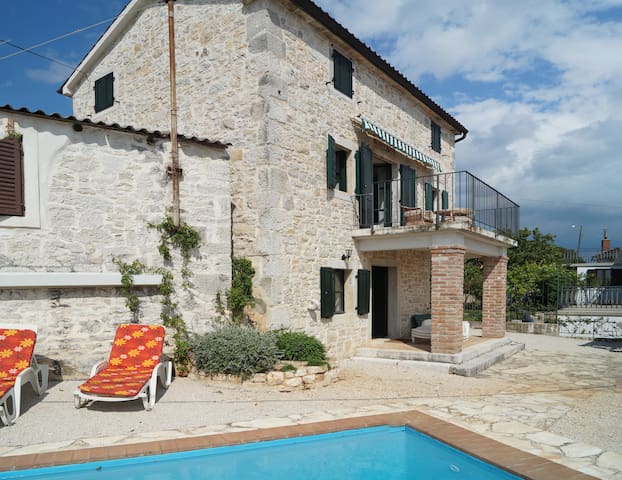 1

–

18

de

176 Casas para Alugar
Insira as datas para ver o preço total. Taxas adicionais aplicáveis. Podem ser adicionados impostos.