300+ Alugueres de Apartamentos
Private 2 rooms can host up to 3 people who can use my 3 bikes (30 min to get to town). 5 min to the bus stop, 6 min by bike to get to the train st.-you can travel with a bike in S-trains ;-)
The 3-rooms apartment will be shared with me. 2 rooms can be used by you but the 3rd is my workshop that I might use, in this case I will have to pass by the living room that is for your use too. I hope it won't be a problem. I will sleep in my cosy attic room so you are going to have prity much the whole apartment :-)
Quiet area where mostly Danes live :-)
Thanks for Estera giving me such an unforgettable experience. Everything in her place is well organised. I like every decoration. Although it is not around the city centre, the public transportation is quite convenient. If I have chance to visit Copenhagen again, I will still leave here for sure.
文笛
2016-09-29T00:00:00Z
Estera was charming and made me very welcome. The room was as described, clean and accomodating for what any traveller would need and easily accessed from main bus routes. I would not hesitate to use the facility again.
Adam
2016-10-11T00:00:00Z
Estera war ein wundervoller Gastgeber. Ihr Zimmer ist sehr geräumig, sauber und perfekt für einen Urlaub geeignet. Die Kommunikation war sehr angenehm und ich würde das Zimmer jedem wärmstens weiterempfehlen. Auch der Rest der Wohnung war sehr sauber und schön eingerichtet. Esteras Mitbewohnerin ist freundlich und sehr flexibel. Die drei Fahrräder sind dazu noch ein toller Bonus.
Jasmin
2016-04-05T00:00:00Z
We enjoyed to stay. A bit far from central but she offers three bicycles so you can enjoy cycling in the town. Very nice city to cycle around.
Phill
2016-11-25T00:00:00Z
Me and my sister had a really nice and short stay at Esteras place. It's very clean and pretty. The handing over of the keys was very uncomplicadet as well as the communication with our host. Estera welcomed us very friendly and left us a lot of free space in her appartement. We brought our own food and cooked dinner in her nice small kitchen. The bedroom was comfi and perfect for two persons. We would definetely stay at Esteras place again. Thank you, Estera! Best regards from Germany :-)
Lina
2016-09-07T00:00:00Z
Nice and Cosy, close to the city and the bikes are a big advantage :)
Cristian
2016-09-02T00:00:00Z
Estera is very nice. We arrived Copenhagen around midnight and she stayed awake to let us check in. The flat was clean and tidy. It was easy to reach Estera during our stay. The flat has lovely decoration. We had a good time in Estera's flat.
Keisha
2016-09-06T00:00:00Z
Estera's place was a beautiful stay, everything was neat and tidy and key pickup and drop off was well organised. Travelling by bike was the best way to see the city and it was really helpful having 3 bikes to choose from and there is a bike shop just 10m from her place where you can pump the tires up for free. There is a supermarket right across the road and bus stops are also on the street too. Estera was a lovely and very helpful host we had a great stay thank you!
Lisa
2016-10-28T00:00:00Z
Tipo de Quarto
Quarto privado
---
Tipo de Imóvel
Apartamento
---
Acomoda
3
---
Quartos
Copenhaga, Dinamarca
My place is close to public transport and parks. My place is good for couples and solo adventurers.
Yosey var meget imødekommende og værelset var rent og pænt. Vi ankom sent, men han var oppe for at tage imod os. Jeg kan stærkt anbefale dette værelse.
Josephine
2016-09-04T00:00:00Z
I spent 1 night at Yosey's place while traveling to Ko for business. The place is 20-25 min by bus from city center. The room is nice and cosy, towels and bed sheets are clean. Yosey is a great host, attentive and kind. This a perfect quality to price ration and a good place to stay when exploring the city.
Maxim
2016-11-26T00:00:00Z
Ottimo rapporto qualità prezzo. L'appartamento è perfetto per visitare la città, ben collegato con il centro , vicino a supermercati e alla fermata del bus. I proprietari sono molto gentili mettendoti a tuo agio e cercando di rendere il soggiorno il più piacevole possibile.
efraim
2016-06-23T00:00:00Z
Nardos, Josie and their daughter are the kindest people on earth. When we first come in, we were being served with water & foods. My baby got his first pasta there. Josie even went to the supermarket to help us to get a card. Our room was super clean, brand new washed towel, chocolates & complete toiletries. Nardos even provide us her baby's baby cot. Josie even had a chat with us on our first night, got a few drinks. Honestly, they are the kindest person we've met so far. It feels like a family. The house is clean & everything is near. They even help us to locate where's the nearest town. Thank you! We would love to see u in the near future
Farah
2016-06-04T00:00:00Z
Wonderful host. Very courteous, and helpful. Easy to find, and easy to get to airport . Quiet neighborhood, close to shops. Good value. Good bed...slept well. Use of kitchen.
kari
2017-03-11T00:00:00Z
This was our first experience using Airbnb, and it was great! Yosey and his family are very friendly and helpful, and we felt very welcome. We even tried Ethiopian food for the first time. Spoiler alert: it was delicious.
Udoka Maya
2017-01-08T00:00:00Z
Great host! Very accommodating and friendly!
Preetal
2016-12-10T00:00:00Z
Yosey is very friendly and helped me alot. He provided everything. Thank you.
Holger
2016-12-30T00:00:00Z
Tipo de Quarto
Quarto inteiro
---
Tipo de Imóvel
Apartamento
---
Acomoda
2
---
Quartos
Copenhague, Dinamarca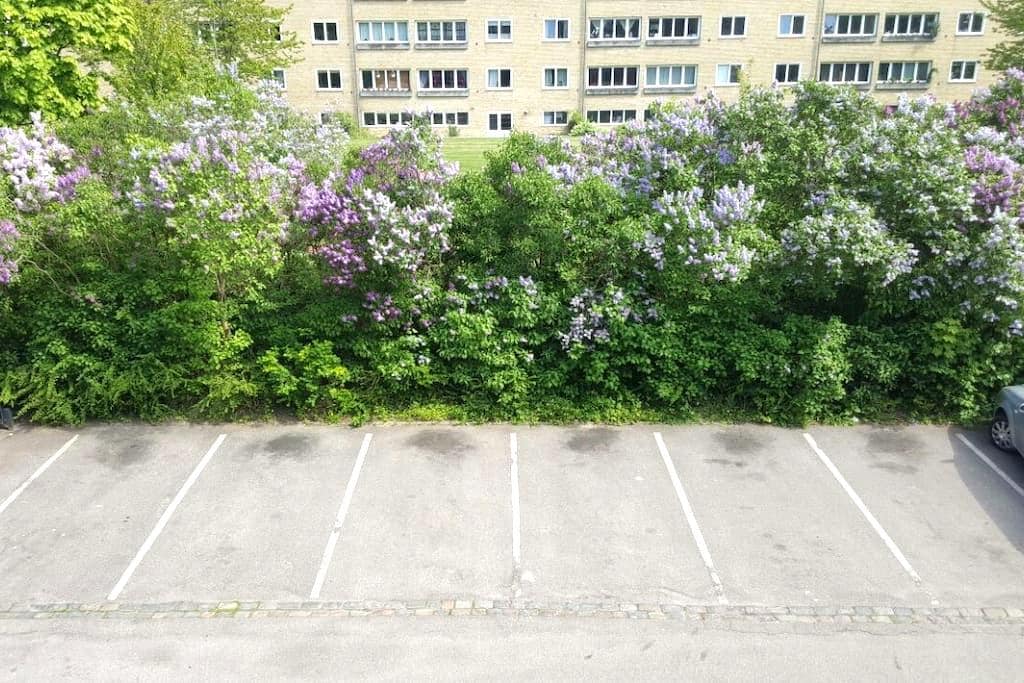 I rent out a bright room with enough space for two people in my apartment of 90 m2. A third person can sleep on a mattress on the floor.
It is located on 12th floor in a residential complex 9 km north of Copenhagen. The apartment has great views from every window. When the weather is clear, you can even see the Baltic Sea and the coast of Sweden. Information about the apartment: Bathroom and kitchen is shared with me and occasionally my boyfriend The Private room: Two comfortable beds, armchair, dining table and two chairs. Free and fast Wifi Towels and linen included Hairdryer and electric converter Kitchen: SMALL meals can be prepared. Your own space for food in the refrigerator and freezer, will be available. Tea, coffee and cocoa powder is free Transportation: Transfer from the airport (50 minutes) and Central Station (25 minutes). Easy access to the highway. I will send you detailed guidance on the transportation system a week before arrival. Bus stop: 100 meters from the apartment. Here you can catch busses departing every 10 minutes to different areas of Copenhagen (20-25 minutes) Other facilities: Elevator and free parking. Two large supermarkets and takeaways found within walking distance (5 minutes). Check-in: 16:00 (possibly earlier by arrangement) Check-out: 11.00 No children under 5 years old I ask you to read my house rules too, so we both agree on the condition. Be aware that the living room is not included in the booking agreement I look forward to see you
Two food shop (Netto and LIDL). Within 5 minutes walk
Apartamento em excelente (URL HIDDEN) um único ônibus se chega ao centro de Copenhagen em 20 minutos. O apartamento tem uma vista maravilhosa e possui toda a infraestrutura que um viajante necessita. A Jytte Foi uma excelente anfitriã nos deixando confortáveis e a vontade. Recomendo a todos!
raphael
2015-10-26T00:00:00Z
Wonderful host and beautiful apartment. Clean, cosy, and amazing bed. Highly recommended.
Jesper
2013-11-08T00:00:00Z
Second stay with Jytte. Clean, comfortable, and quiet room. Highly recommended.
Jesper
2013-11-21T00:00:00Z
My friend and I had a lovely 5 night stay at this apartment. It was smart, clean, modern and stylish. Our host allowed us to use her balcony to enjoy leisurely breakfasts looking out to central Copenhagen in the distance. We saw her occaisonally and she was friendly, helpful and welcoming. She provides brilliant written directions to and from the airport / centre of town and apartment as well as a display of helpful tourist leaflets and city maps. Although the apartment is out of town, there are a variety of direct buses which take between 15 - 40 minutes into the centre. The accommodation was as described and I happily recommend it to you. Have fun!
Judith
2014-08-17T00:00:00Z
Jytte was a great host! She awaited us with a nice and clean apartmant, just like you can see on the pictures, and she helpd us with whatever she could. We felt like for the whole time like the house would only be ours, it was great. I can only recomend her! Thank you again Jytte!
Balázs
2016-02-28T00:00:00Z
Jyette's place was nice and cozy. Everything was clean and just as they are in the pictures. Although the place itself is a bit off center, the detailed instructions from her made it easy to travel in and out of the city. Overall, I recommend the place.
Paul
2014-09-28T00:00:00Z
Jytte er en super vært. Lige fra velkommen til, til tak for nu har det fungeret helt perfekt.
søren
2014-10-23T00:00:00Z
Jytte was very nice and welcoming. I arrived at an unexpected late time, but she did not mind waiting for me to check in. The experience was great and stress free as she was professional and reliable in her way to host. The place was clean and it was easy to access the center by Bus. It was also comfortable even if it would have been nice to have window curtains to not be woken up by the early Danish sunlight. That the only advice I could give to Jytte, otherwise everything was perfect. Copenhagen is a great city and you ll enjoy staying at Jytte's place!
Gauthier
2015-06-05T00:00:00Z
Tipo de Quarto
Quarto inteiro
---
Tipo de Imóvel
Apartamento
---
Acomoda
2
---
Quartos
Copenhague, Dinamarca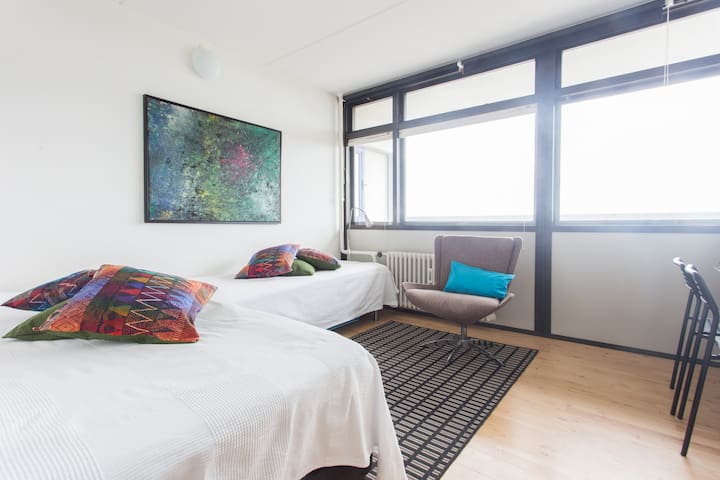 Spacious and bright room in the central yet green and quiet area of Lyngby. Bike will be at your disposal, and Lyngby station is only 6 minutes away.
- Well equipped kitchen (oven, stove, fridge, freezer, dishwasher) - Bathroom with toilet and shower
Jeg fik ikke brug for værelse, men Thomas var meget flexibel og god kommunikation forud.
Dorthe
2017-01-16T00:00:00Z
Apartment near the public transport.
Anna
2017-01-28T00:00:00Z
Good room. Sofa-bed maybe short for some but was good for me. All according to the agreed. Good communication. Thanks Thomas!
Francisco
2017-04-01T00:00:00Z
The place is well located, close to the city center. Thomas is very friendly, available and helpful. I highly recommend !
Sabrina
2017-04-02T00:00:00Z
Thomas was a very friendly and welcoming host, he was ready to solve any problem. The place is well located, close to Lyngby train station, close to supermarkets, easy to approach by bus. The room is bright and big, kitchen is good. I would stay again for my next trip!
Ayse Dilan
2017-02-25T00:00:00Z
This was a great stay to a fair price!
Espen
2017-01-19T00:00:00Z
The place was nice. Thomas was unfortunately not in Copenhagen over the weekend, which let to bit of miscommunication. But at the end we manage to arrange my arrive and his friend opened me the door and gave me keys. The place is nice and close to a train station, which takes you directly to Copenhagen in 20 minutes.
Eduard
2016-08-29T00:00:00Z
Overall, I had a fantastic experience, and I would highly recommend Thomas as a host. The room was as described - simply furnished but very clean and spacious. The location of the apartment is situated in a safe neighborhood outside of Copenhagen, and it took about 30 minutes to arrive in the center of Copenhagen the second I left the apartment. The apartment was also easy to access from the airport using public transportation (just requires one transfer at Nørreport station). As for Thomas, he was incredibly helpful. Upon arrival, he acquainted me with the layout of Copenhagen and provided suggestions for things to do and see.
Jacob
2016-09-17T00:00:00Z
Tipo de Quarto
Quarto inteiro
---
Tipo de Imóvel
Apartamento
---
Acomoda
1
---
Quartos
Kongens Lyngby, Dinamarca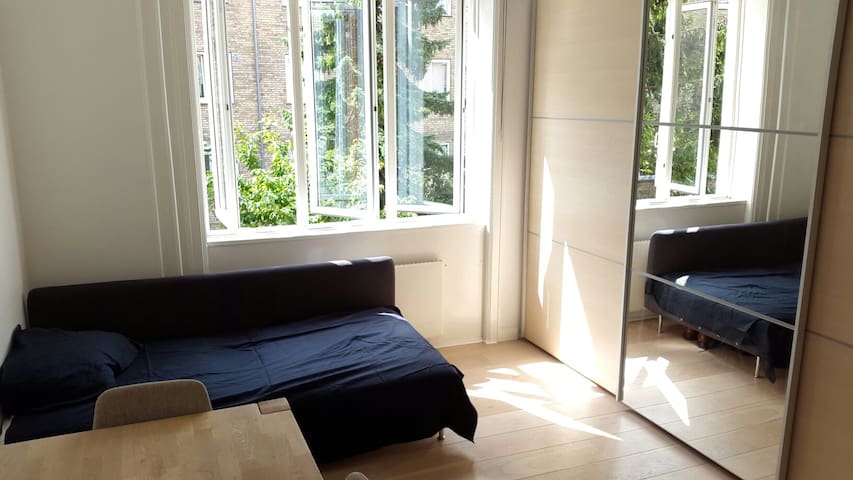 Nice and quiet situated. Green views with French balconies. The apartment contains: Good entrance with closet space, and room for the clothes and shoes. Large living room with plenty of space to share the bedroom and living room up. The living room has good design options. Nice fitted kitchen, with plenty of space. The living room has a view of the green area. Bathroom in good size and with a nice big shower. find the apartment in Kallerupgaard in quiet surroundings near Søborg and the Lake.
Location in northern Cppenhagenin peaceful surroundings withhout the trafik noice near Soborg Main Street with lot of shops.Natural park Utterslev Mose. Easy public transport to the center of Copenhagen 20 min. Bus 42
Peaceful without trafik noice an only 20 min to center.
Amazing !!
Warren
2017-03-01T00:00:00Z
Tres bon rapport qualité prix. John est adorable et la communication est facile. Il est simple de rejoindre l'appartement depuis le centre ville. Environs 20 bonne min. À prévoir hors prix du séjour le ménage et l électricité. Super logement je conseils.
clément
2017-02-05T00:00:00Z
Good place. The host is not as he is shown on the profile picture.
Thu Hang
2017-01-01T00:00:00Z
We enjoyed the staying in John's appartment, and the staying in Copenhagen. The appartment is located in Gladsaxe, in the neighborhood of a beautiful meadow. Don't hesitate to use the city bycyles to ride to the city center, it's a nice trip every day.
Sophie
2017-02-23T00:00:00Z
Great place for the price. Easy to get to city and room is very comfortable. No wifi available
Mackenzie
2017-03-24T00:00:00Z
Very nice place, close to the city center (around 30min by bus).Great place to stay if you are sightseeing, but note that there is no WiFi. There was a request for some additional fee for electricity & heating in cash which was stated as included in the description.
Marina
2017-03-05T00:00:00Z
John was great. He gave useful tips and was easy about the check in/out. His place is tidy and inviting. If you don't need to be in the center and accept a bit of a commute ... John s place is a good alternative.
jana
2017-01-19T00:00:00Z
Schöne, geräumige und ruhige Unterkunft. Vielen Dank lieber John&Frederik, Yilmaz
Yilmaz
2017-01-27T00:00:00Z
Tipo de Quarto
Casa inteira/apto
---
Tipo de Imóvel
Apartamento
---
Acomoda
3
---
Quartos
Søborg, Danmark, Dinamarca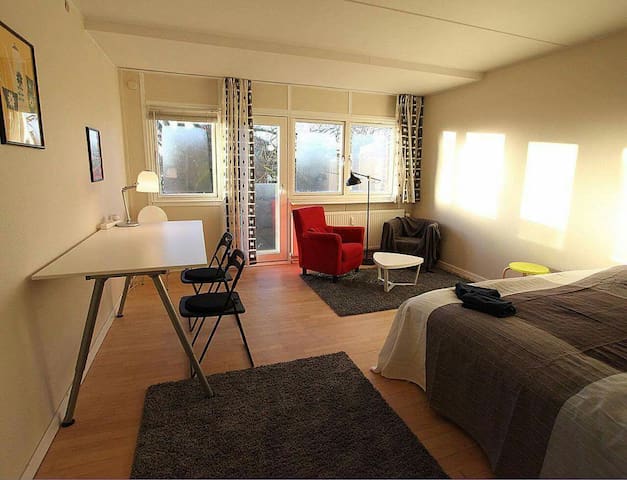 Second floor (1. sals) 2 bedroom apartment situated in a quiet neighborhood, 700 M from the nearest train station. By train, the city center is only 20 minutes away. 312 m to the nearest grocery store. Free parking in the street.
The apartment has one 140 by 200 cm bed and to single beds. A full kitchen, with a regular and a microwawe oven.
The neighborhood is quit and child friendly.
A great place to stay. Spacious and located in a quiet neighbourhood, our host gave us a warm welcome and some useful tips. We felt instantly at home. Very practical, easy to park and then 10 min walk to the train station; it is direct to the centre with a good frequency. We loved it!
Yann
2017-02-16T00:00:00Z
The apartment is charming and well furnished. It is a little outside the city but close to a train station. It was perfect for our needs (3 adults), and would also be good for a family.
Ruth
2017-04-02T00:00:00Z
Meget hyggeligt sted i godt belliggende og roligt kvarter. Værten var ikke til stede da vi kom, men vi fik en godt og velforklarende guide hvordan vi kan komme ind. Vi kan godt anbefale Majas bolig.
Oleksander
2017-03-12T00:00:00Z
Tipo de Quarto
Casa/apto inteiro
---
Tipo de Imóvel
Apartamento
---
Acomoda
4
---
Quartos
Søborg, Dinamarca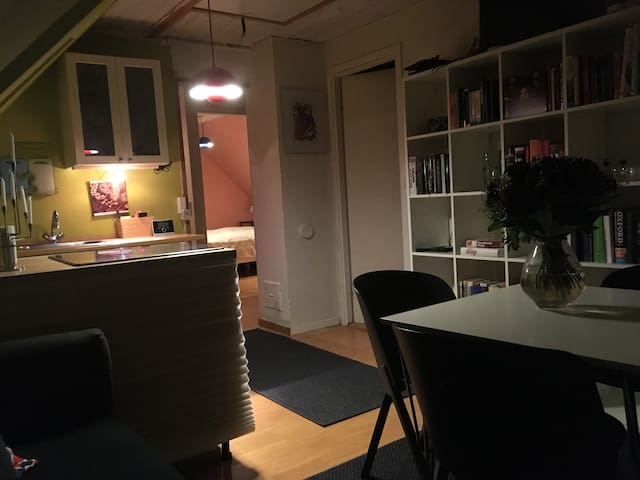 Small room with bunk bed and writing table in an 80 m² apartment with a nice big living room and a nice new kitchen. 15 mins from Copenhagen City. Quiet, green neighbourhood. Access to wifi, kitchen, living room and balcony.
Nice, big and cosy apartment with free wifi, kitchen, tv, etc. nice and quiet neighborhood, good for kids
Very nice, green and quiet neighborhood with several playgrounds. Great for kids. Close to city center and good transport possibilities and grocery store close by, open 7-24
Very nice, very good value. Maybe the prototypical airbnb-experience: a nice little familiy opening their home with hospitality and respectfulnes for my needs
Michael
2016-11-14T00:00:00Z
Even though we stayed a short time, our stay was a great one. David and his wife are great hosts!
Reaksmey
2016-10-31T00:00:00Z
Karina
Abbas
2016-12-11T00:00:00Z
It was a great stay at Davids apartment, the apartment itself and the location was nice. He and his girlfried we're really friendly, and helped me a lot with everything! Highly recommended!
Philipp
2016-08-19T00:00:00Z
David and his girlfriend were very helpful and welcoming hosts! They let us feel as home in their apartment, providing us with all that we needed. The place is in a suburb (some 20m from center, 5eur ticket) so have that in mind when planning.
Georgi
2016-11-27T00:00:00Z
Nice place, very quiet in the night. Good communication with David.
Jiri
2016-08-26T00:00:00Z
David and Lidia are very nice people. I only stayed one night but i felt good and i practiced my english and my spanish. Room is good and very quiet.
Ludovic
2016-09-14T00:00:00Z
David and his girlfriend are very nice hosts. It's a small children's bedroom, but the living room is big and comfortable. Not very centrally located but close to the train station, so it was fine.
Dalel
2016-08-23T00:00:00Z
Tipo de Quarto
Quarto privado
---
Tipo de Imóvel
Apartamento
---
Acomoda
2
---
Quartos
Søborg, O, Dinamarca
Hello , I offer place for short-term in Kongens Lyngby town, here is very silent clean place which is very near Danish Technical University, grocery, bus stops, shopping mall and is about half hour by public transportation from Copenhagen downtown
silent, greeny area, close to bus stops
lot of green areas like Jægersborg Dyrehave, open air museum, lakes...
Dusan was warm and welcome, he maintains the place nicely and it's clean, he has explained me everything up on my arrival, had enjoyed the stay.
Bala
2016-11-28T00:00:00Z
The host canceled this reservation 67 days before arrival. This is an automated posting.
Ignacio
2015-06-03T00:00:00Z
Ivan's place was neat, clean and has enough room for solo travelers. The apartment is very close to the city centre of Copenhagen as well, 20 mins via a direct bus line. Ivan was prompt in replying queries and was a great host as well.
Alicia
2017-03-18T00:00:00Z
I really liked the room and Ivan is so friendly person.
Vahid
2017-03-29T00:00:00Z
Nice and cleaned place. Very close to DTU
Pablo
2017-02-01T00:00:00Z
Nice place. Perfect
christina
2016-12-03T00:00:00Z
Iván has a great apartment, clean and very friendly. Good place to stay cheaply for a few days to see Copenhagen A++
Neil
2017-02-03T00:00:00Z
The host canceled this reservation 64 days before arrival. This is an automated posting.
Konstantin
2015-06-18T00:00:00Z
Tipo de Quarto
Quarto inteiro
---
Tipo de Imóvel
Apartamento
---
Acomoda
2
---
Quartos
Kongens Lyngby, Dinamarca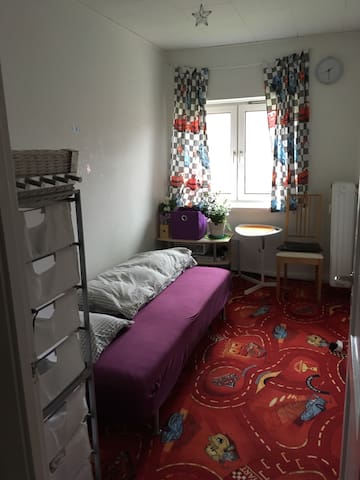 Nice apartment on 7th floor with elevator. Good transportation nearby, to get the Center of Copenhagen. Supermarkets 5 minutes walking from the apartment. Fin lejlighed på 7. etage i boligbyggeri med elevator. Lidt udenfor København, men god offentlig transport tæt på. Dagligvarebutikker 5 minutters gang fra lejligheden.
Dansk version nedenfor. Good view. Lovely balcony. In the kitchen we have stove, refrigerator, microwave oven, electric kettle. God udsigt. Dejlig altan. I køkkenet er komfur, køleskab, mikrobølgeovn, elkoger.
Dansk version nedenfor Located close to Copenhagen, with many attractions such as Tivoli, Zoo, National Gallery of Art, beaches and The Little Mermaid. Many playgrounds close to the apartment. Ligger tæt på København, med mange attraktioner, som f.eks. Tivoli, Zoo, Statens Museum for Kunst, strande og Den Lille Havfrue. Mange legepladser tæt på lejligheden.
The host canceled this reservation 39 days before arrival. This is an automated posting.
Ignacio
2017-01-31T00:00:00Z
We were VERY happy and satisfied staying for a few days in Michael's flat. Michael is an OUTSTANDING host. He came to Copenhagen Airport and picked us with his car because we arrived just before midnight. Then Michael brought us to the flat in Høje Gladsaxe. Thanks so much for your kindness and hospitality. The flat is situated in a quiet area close to supermarkets etc. a little out of the Copenhagen city center. However, the place = Høje Gladsaxe is easy to reach with the efficient and fast public transport. I HIGHLY recommend all kinds of travelers and tourists to stay at Michael's flat in Høje Gladsaxe.
Martin
2016-10-28T00:00:00Z
Au vue des prix éléments du centre ville , j ai opté pour une formule location voiture +logement à l extérieur de la ville . Un solution que je recommande car cela nous a permis de visiter les alentours. Mons, (URL HIDDEN) ce rbnb était génial grand propre, calme et à côté de supermarché pour le repas du soir . Seul petit point au Danemark, les volets ne sont pas très répandu... et cette appartement en ai dépourvu... pas de lit double et 3e couchage sur une banquette qui ne faut pas lit double mais confortable .. et parfait pour moi qui voyageait avec mes 2 filles . En résumé je conseille ce rbnb.!
luc
2017-02-28T00:00:00Z
Michael er en dejlig vært, der gør alt for en god velkomst. Han sørgede for alt, vi havde brug for og stillede sig til rådighed, skulle der opstå et problem. Boligen var ren og større, end vi troede. Det eneste, vi kunne klage over, var, at vi blev vækket kl.6 af byggearbejde. Ellers kan vi klart anbefale denne bolig, hvis man ikke har så mange penge, men skal være i København i nogle dage.
Esther
2016-09-15T00:00:00Z
The host canceled this reservation 11 days before arrival. This is an automated posting.
Robert
2016-12-04T00:00:00Z
Michael is a wonderful guest and has a lovely apartment. I recomend to go there people who want to rest comfortable not so far from the city.
Maria
2017-03-26T00:00:00Z
Dejlig rolig og fint område og lejligheden var så meget mere end vi forventede. Tak for det. Vi kommer gerne igen. Tak for et super godt værtsskab .
Line
2016-11-06T00:00:00Z
Very nice apartment and really nice view. Michael is a great host and he made every thing easy for me. Apartment is very spacious and there is lot of room for small kids to walk around. There are stores close by and a nice shawarma place too.
Adnan
2016-09-26T00:00:00Z
Tipo de Quarto
Casa inteira/apto
---
Tipo de Imóvel
Apartamento
---
Acomoda
2
---
Quartos
Søborg, København, Dinamarca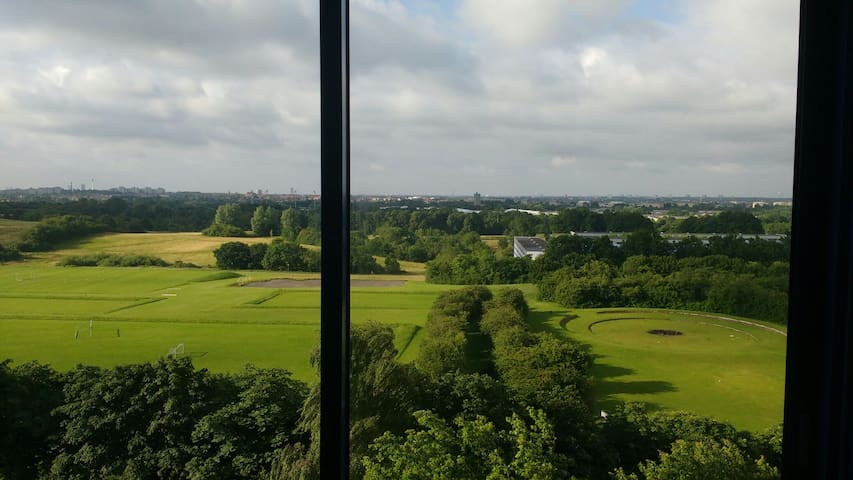 Still and light room with access to a large bathroom with shower and washing machine and a kitchen, only a little outside Copenhagen, 100 metres to public transport. Approximately 40 minutes from Kastrup Airport and 20 minutes from Copenhagen City Centre
This place has everything needed for the weary traveler to feel restored; comfy bed, cable tv, laundry, in-room heater, and windows for fresh air. Exceptional location - less than a minute walk to the bus/train station, plenty of cafes and shops on the same block, and even a couple gyms just a 3 minute walk away! It is about 30 mins. from Copenhagen central station which ended up providing a much needed relief from the bustle of downtown. -Kristine Tom
Gordon
2016-11-20T00:00:00Z
Stayed with Troels while working close by. Both the room and apartment were very clean and had everything I needed. Apartment was very close to public transport so easy to get to central Copenhagen. Would recommend.
Dave
2017-02-24T00:00:00Z
It's a nice clean cosy private bedroom in a lovely flat. Bedroom has a good double bed with a good TV on the wall. Bathroom and kitchen are shared and are very clean and tidy. Bathroom has a good shower. Troels the host is very welcoming and helpful. I was working in the area whilst staying and the flat is 3-4 mins walk from the main Lyngby bus pickup and train station (S train). Makes getting places very easy if you don't have a car.
John
2017-03-09T00:00:00Z
Welcoming and friendly host. Very nice flat and the bed was very comfortable.
Sunnvor
2017-01-20T00:00:00Z
5 min walk from train station, straightforward 5 min check-in by Troels, and helas, settled into Lyngby! 5 min walk to restaurants and shops and 20 min walk to DTU. Great clean room in large flat and simple and easy stay. Worked very well for me.
Martin
2017-03-31T00:00:00Z
Troels was a welcoming and friendly host. The location is very close to Lyngby station and convenient for getting around by public transport. The room is a good size with a large comfortable bed.
Adrian
2016-10-13T00:00:00Z
Troels is a very nice host.
Adérito
2016-11-12T00:00:00Z
Great location in Lyngby. I really enjoyed my stay here. One of the nicest little flats I have stayed in.
Bjorn
2016-10-06T00:00:00Z
Tipo de Quarto
Quarto inteiro
---
Tipo de Imóvel
Apartamento
---
Acomoda
2
---
Quartos
Kongens Lyngby, Danmark, Dinamarca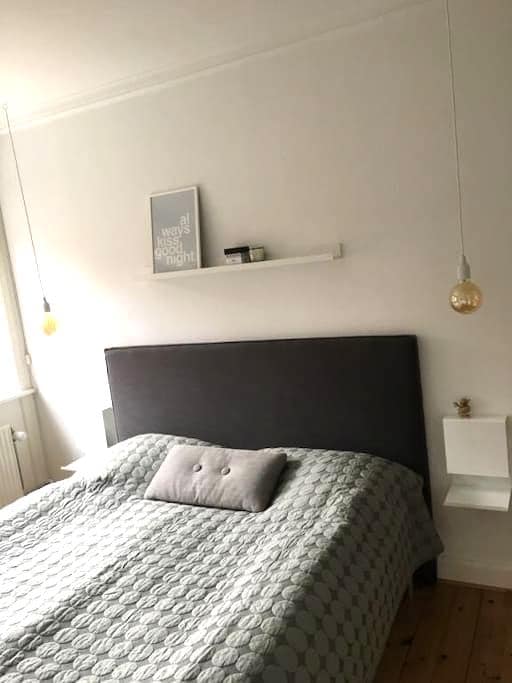 My place is good for couples and solo adventurers. Bus 42 leaves 50m from the front door and drops you off at Nørreport St. (center of Copenhagen) with a 20min ride. Easy!
Honestly, it is a room with a bed. However, you may use the kitchen or the living room if you want to.
Jan
2017-01-31T00:00:00Z
Nice place, and Martin is a friedly young mand.
Jan
2016-11-17T00:00:00Z
Tipo de Quarto
Quarto privado
---
Tipo de Imóvel
Apartamento
---
Acomoda
2
---
Quartos
Søborg, Dinamarca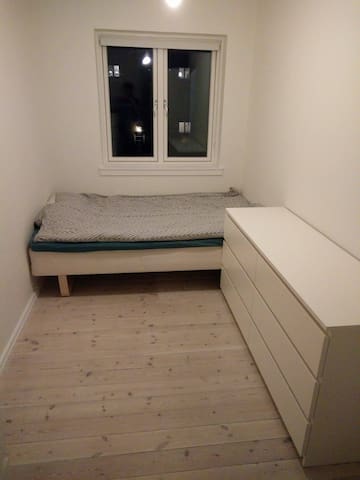 Spacious basement apartment with plenty of daylight. you have the whole apartment to yourself. located next to a beautifull lake which is good for a jog around or a nice walk. Supermarkets,shops, within 5 min walk. 7 min walk to train station with easy and fast connection to the center of copenhagen (15min train trip). free and easy parking on the street.
there is a smaller double bed where you can sleep two people if you dont mind laying a bit close, and a sofa which also can be used to sleep on if need be. tv is not hooked up too the cable network, but has hdmi and can be used for connecting your phone or computer etc...
It's pretty much as described a basement flat. Consists of a large room that acts as bedroom and living space, a toilet and shower room, a kitchen and a hallway. Bed is comfortable and useful desk to set a laptop on.
John
2017-03-23T00:00:00Z
God oplevelse og en flink vert
willy
2017-01-26T00:00:00Z
The aprtament is really spacious
Constantin
2017-03-18T00:00:00Z
Tipo de Quarto
Casa/apto inteiro
---
Tipo de Imóvel
Apartamento
---
Acomoda
1
---
Quartos
Gentofte, Dinamarca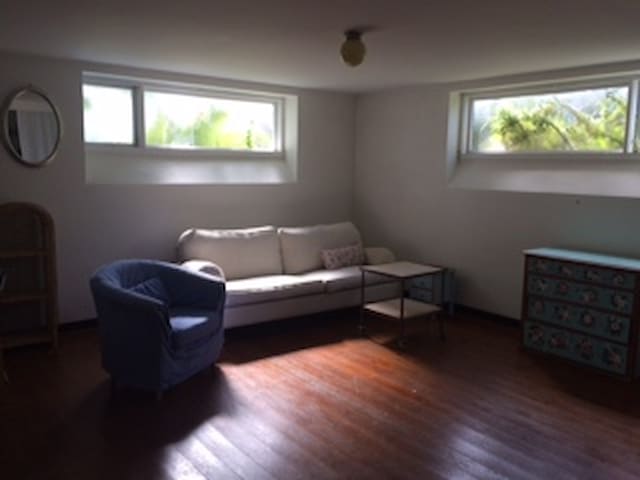 A nice and cozy studio apartment right next to Jægersborg Station and only 15min away by train from Copenhagen center. You will have a comfortable pull-out sofa as your bed, a small but well-equipped kitchen and a bathroom. Check-in time can be flexible for specific dates, so just send me a message and I will see if we can arrange a different time. I will show up for the check-in and key delivery as well as to pick up the keys for check-out, but otherwise the guests can enjoy their privacy.
It is a cozy studio apartment. It has a lovely view through the glass wall with plenty of storage and shelves for your stuff.
It is a nice and peaceful neighborhood. 15-20min walk or one train stop to Lyngby where you have a lot of shopping facilities and restaurant options.
Darko is nice and polite, great host. Room is clean, comfortable, very great place to stay. Apartment is really cozy, one shared room with host.
Rita
2016-12-04T00:00:00Z
Darko is a really nice man who give us so many exact imformation before we arrive his house. The apartment is really cozy and clean. we have a good night in there. really recommend!
瑶
2016-11-13T00:00:00Z
Darko was really a nice person. He let us check-in early in the morn as we reached few hours before check-in time. Place was cozy n comfortable. We were there just to sleep infact. It is next to the S-tog train station. He was good at providing accurate information and suggested the very good place for Pizza. :). Very much recommended for backpackers. Thanks.
Vinay Kumar
2016-11-20T00:00:00Z
Darko is a very polite and hospitable person! He always makes sure everything is alright and that his hosts are not missing anything! We had a great time staying at his place and we will definitely recommend that host for everybody else! The studio is very spacious and bright, located just next to the station so it makes it easy to transfer. Everything is super clean!
Natalia
2016-11-18T00:00:00Z
Tipo de Quarto
Casa/apto inteiro
---
Tipo de Imóvel
Apartamento
---
Acomoda
2
---
Quartos
Gentofte, Dinamarca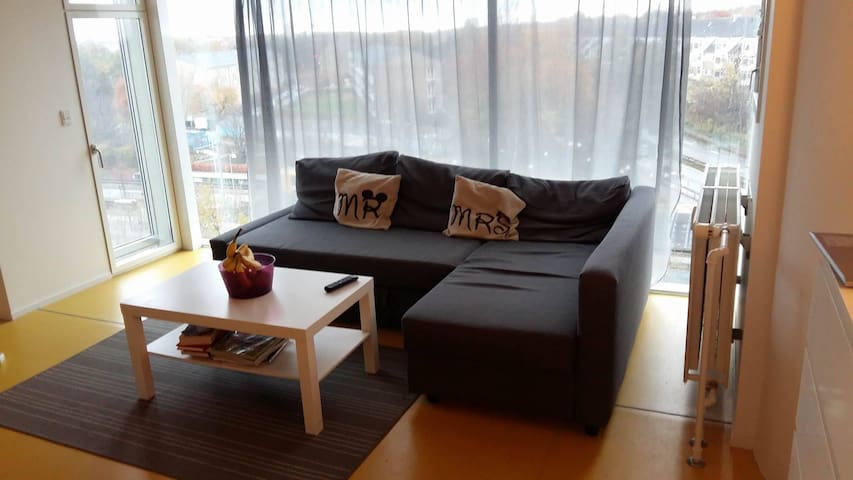 The ideal little place for two - with extra bed if needed. Great and peaceful neighbourhood with lots of stores. Located just 20 minutes from Nørreport by bus. Lots of green areas around, as well. Wifi.
Always perfectly prepared and a pleasure to stay in.
Paddy
2017-03-02T00:00:00Z
Communicating with Cathrine was so easy. It's really nice and sweet place for staying.
Artem
2017-03-26T00:00:00Z
Meget fint. rent, hyggeligt og godt indretted
Ines
2016-01-30T00:00:00Z
Lovely excellent apartment. Very clean, great amenities close by (3 supermarkets within a 2'minute walk) Cathrina was an excellent host, flexible on check in/out. And reachable at the end of the phone.
Richard
2016-03-30T00:00:00Z
Muy buena anfitriona. Se preocupó de que todo estuviera listo a mi llegada. Zona tranquila y bien conectada.
Isabel
2016-03-08T00:00:00Z
Super hyggelig lejl. og meget gæstfri vært. Det er ikke sidste gang jeg vil booke igennem hos Cathrina.
Sabina
2016-02-10T00:00:00Z
Cathrina is a nice host! The apartment is realy cozy and comfortabal, there are 3 supermarkets around within 100 meters, next time visit we will stay in here again!
Frank
2016-06-21T00:00:00Z
Nice, clean apartment. Cathrina is very lovely and flexible at check in and out.
Ines
2016-03-12T00:00:00Z
Tipo de Quarto
Casa inteira/apto
---
Tipo de Imóvel
Apartamento
---
Acomoda
2
---
Quartos
Gentofte, Dinamarca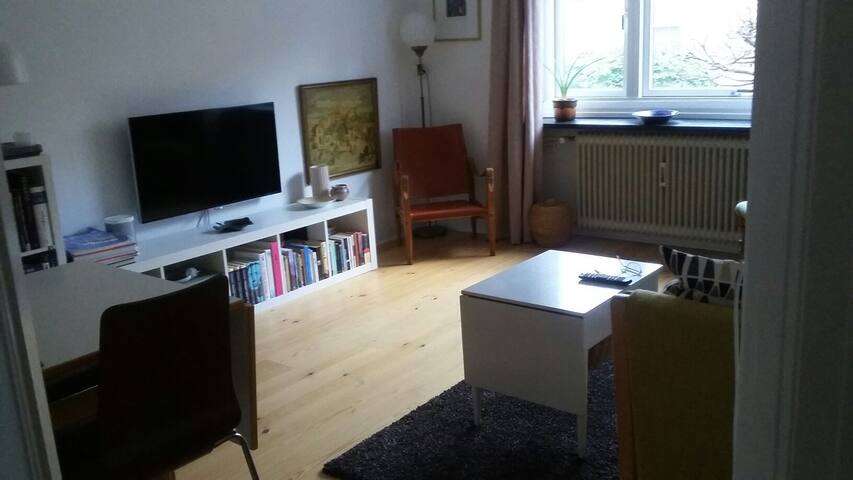 Min bolig ligger 15min til Rådhuspladsen i bil, 25min med bus (som går 4min fra boligen). Du vil elske min bolig på grund af omgivelserne, det udendørs område og den komfortable seng. Min bolig er god til par, soleeventyrere, forretningsrejsende og familier (med børn). Lejligheden er placeret i et roligt og familievenligt område. Parkering er lige udenfor bygningen
Beliggende i stille kvarter trukket væk fra ringvejen
Dejlig lejlighed med alt hvad der er brug for. God kontakt, hurtig svar med information om alt hvad vi havde brug for af oplysninger både med ejer og kontaktperson på stedet.
Hanne
2017-02-28T00:00:00Z
Tipo de Quarto
Casa inteira/apto
---
Tipo de Imóvel
Apartamento
---
Acomoda
4
---
Quartos
Søborg, Dinamarca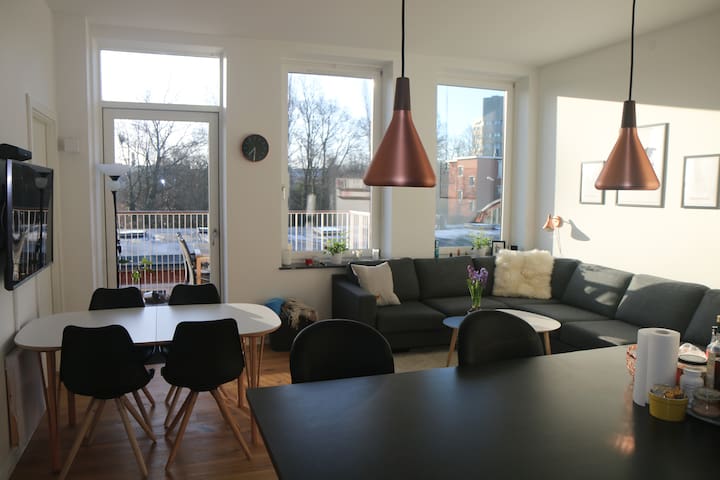 **Dansk nedenunder** Small, cozy apartment in the outskirts of Copenhagen, only a stone's throw away from the s-train! This is the perfect low-cost place to stay with only 17-21 minutes to the city centre by train. ________________________________________ Lille, hyggelig lejlighed i udkanten af København, blot et stenkast fra s-toget! Dette er det perfekte sted at overnatte med kun 17-21 minutter til centrum med s-toget.
Our apartment has 1.5 rooms, in total approximately 45m2. The bedroom is, as shown on the pictures, in the corner of the livingroom, hidden behind a wall without a door. The apartment is on what we would call 1st floor, even though it's actually the 2nd floor because you enter the basement-level from the street. We have a rather spacious balcony turned south/west meaning there is sun from about 11-7pm in the summer :-) ________________________________________ Vores lejlighed er på 1.5 værelser, med omkring 45m2. Soveværelset er, som vist på billederne, i hjørnet af stuen gemt væk bag en skillevæg uden dør. Lejligheden er på 1. sal, men i virkeligheden er det 2. sal, da man går ind i kælderplan. Vi har en rummelig altan der er syd-vest vendt, hvilket betyder at der er sol mellem 11 og 19 om sommeren :-)
It is situated on a blind road in a quiet neighborhood, only disturbed to a small degree by the s-train. _________________ Ligger på en blind vej i et stille kvarter, kun minimalt forstyrret af s-toget.
Tabitha and her husband have a lovely appartement. It is easy to reach and it is near the central of copenhagen. The communication with the hosts were great!
Karsten
2017-03-19T00:00:00Z
Staying in this apartment was one of our best experiences in air-bnb! :) Our hosts helped us everystep in our vacation. The apartmen was super-clean which was located just next to the train. By taking this train you can easily reach city center in 20mins. Thanks for being friendly, looking forward to come Kopenhagen again! :)
Özlem
2017-04-02T00:00:00Z
Rigtig hyggelig lejlighed, meget tæt på S-toget Vil klart anbefale Tabitha som vært
Kristina
2017-01-26T00:00:00Z
The flat was exactly how it looked on the pictures. Well designed, clean and comfortable with a Well-equipped kitchen. Tabitha was kind and flexible with the appointment of the arriveing and leaving. We are really satisfied.
János
2017-01-29T00:00:00Z
Tabitha og Lean var de perfekte udlejere! Vi havde super god og hurtig kommunikation inden ankomst og en perfekt overdragelse af nøgler og lejlighed. Lejligheden var super lækker og vi blev overraskede over den skønne altan, som vi ikke havde regnet med - Super lækkert! De havde en cykel til rådighed så vi kunne cykle hen og handle, men man ville også sagtens kunne have gået. Så beligenheden var rigtig god, lige ved siden af stationen, som overraskende nok ikke forstyrede os særlig meget :) Vi ville helt sikkert vende tilbage en anden gang!
Marie-Louise
2017-03-12T00:00:00Z
Rent og pænt. Tæt på S tog station. God kommunikatio. Hyggelig lejlighed.
steen
2017-02-04T00:00:00Z
Tipo de Quarto
Casa inteira/apto
---
Tipo de Imóvel
Apartamento
---
Acomoda
2
---
Quartos
Gentofte, Dinamarca

You'll love my place because of the comfy bed, the coziness, and the views. My place is good for couples and solo adventurers.
There are a lot of shops,restaurants, pizzerias and a ice cream shop near our place. There are a few supermarkets as well for any shopping you might need done.
Todirca was a very nice, pleasant and helpful host. He gave us a lot of info about the city and the transportation. He was very thoughtful with all the small details in the room as well, such as we got small brochures with the main attractions in CPH. The room itself was tidy and neat, with a good looking decoration as well.
Eva
2017-03-31T00:00:00Z
Good
Vytautas
2017-03-19T00:00:00Z
Very nice and comfortable place to stay! Close to the city center, the room was clean as well as everything else. And the family who is there is so friendly ! Highly recommended !
Valentin
2017-03-12T00:00:00Z
The room was very nice and clean with a comfortable bed and Alexadru and his Family are very kind and helpful. Thank you for such a warm welcome and for making us feel comfortable.
Monika
2017-01-02T00:00:00Z
Todrica was a great host. The room was kept clean and everything was in good condition. A bit far from the city but there is a bus stop just a couple minutes away.
Alec
2017-03-26T00:00:00Z
We had a great stay there, the hosts were so kind and welcoming and everything was clean and bright. Easy to get there on a bus from Norreport Station and had the most wonderful 50's style ice cream palour close by!
Maya
2017-03-10T00:00:00Z
Prima, verwacht er niet teveel van, Mar het kost ook weinig.
Paul
2017-02-06T00:00:00Z
Venlige og hjælpsomme værter, som vil gå lagt for at sikre dig et godt ophold
Lars
2017-02-09T00:00:00Z
Tipo de Quarto
Quarto privado
---
Tipo de Imóvel
Apartamento
---
Acomoda
2
---
Quartos
Dyssegård, Dinamarca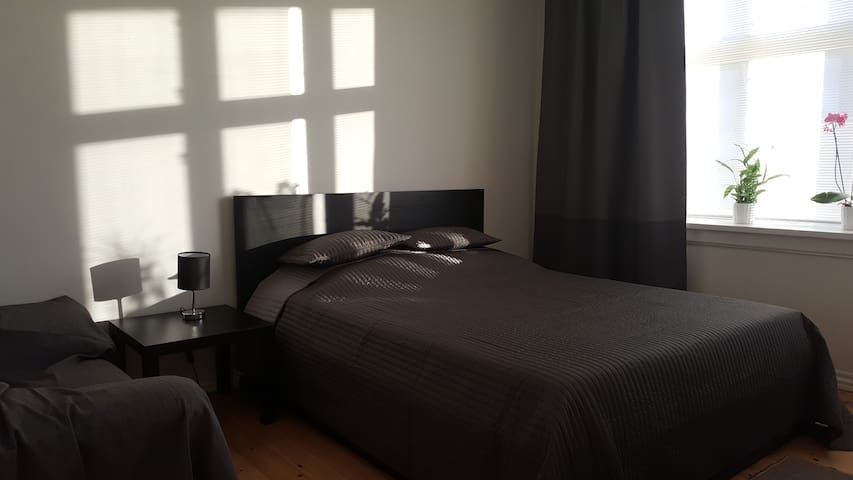 My home puts close to parks and 1 km from S-train, we have one loan cycle. It takes 15 minutes to take the commuter train to downtown. You will love my home because of the people, the outdoor area and the location. My accommodation is good for couples, suns adventurers, families (with children) and furry friends (pets). Use any direct booking English: 1 km from S-train, 15 min to center, piano, good for kids. its best if you use direct booking.
The host canceled this reservation the day before arrival. This is an automated posting.
jørgen nygaard
2016-07-18T00:00:00Z
Bon contact avec Jacob .maison agréable confortable. Merci Jacob
salim
2016-08-02T00:00:00Z
l'appartement est à la limite de l'insalubrité! Inhabitable , une pagaille généralisée, sale, mauvais odeurs enfin juste horrible!! Compte tenu l'heure tardive nous avons dû sortir nos sacs de couchages pour passer la nuit à meme le sol avec les fenêtres ouvertes en raison des odeurs!!! Il faut bannir ce genre de location du site!!
Thomas
2016-08-15T00:00:00Z
Okay lejlighed god beliggenhed. Sov der kun 5 timer intet andet. Så ren overnatning kan sagtens anbefales.
Jan
2016-07-19T00:00:00Z
Goodt
Rezwan
2016-09-04T00:00:00Z
nice hostel
성준
2016-08-16T00:00:00Z
Preis-Leistungsverhältnis stimmt. Spontane Buchung und gute Kommunikation möglich. Auto von Vorteil.
Klara
2016-08-06T00:00:00Z
We jad a pleasant stay. Calm and nice environment, our son enjoyed the toys.
Antje
2016-08-07T00:00:00Z
Tipo de Quarto
Casa/apto inteiro
---
Tipo de Imóvel
Apartamento
---
Acomoda
4
---
Quartos
Herlev, Dinamarca
Buddinge - Airbnb
:
Média de

4.73

de

5

estrelas, de acordo com

430

avaliações de hóspedes
1

–

18

de

300+ Alugueres de Apartamentos
Insira as datas para ver o preço total. Taxas adicionais aplicáveis. Podem ser adicionados impostos.