Hi, I have a comfy room available with 2 single beds that would suit a single or a couple. The house is next to a beautiful park and situated 10 mins from a mainline station (Waddon to London Victoria) which takes you to the heart of London in 25 mins,(in total from house 35mins) you can reach East Croydon station by bus (410 , 15mins) or tram, previous guests preferred the tram, 10 mins walk from my house, behind sainsburys supermarket . 5 minutes walk across the park you can get to London bridge in 25mins VIA Waddon. You can also take the tram link from wandle park to mitcham junction, 4 or 5 stops I believe, from there the train to Victoria, 15 mins if you catch the fast train. The tram link also takes you into Wimbledon. Parking is no problem, and I have a large garden which is there to use if you would like. Wimbledon is 10mins drive, or take a tram journey. Croydon town is 10 minutes away Via tram. Carshalton Village is also 5 mins away , very pretty little village with shops, church, ponds, parks and charming little pubs. Sutton and Wallington are also nearby with good transport links to both towns Occasionally I have teenage students staying from all over Europe, Spain, France, Germany, Nederlands, Czech republic , Slovakia, they are site seeing and out all day so on the whole no trouble. I would like to suggest an app that is very useful for travelling in London, it is called CITY MAPPER , it's a free app for all Apple devices and android phones. If you need to research further local travel I would suggest using the TFL (travel for London) site . Also an Oyster card for travelling around London, you can pick these up at the airport or shops or stations, you can top these up in shops .
I love the situation of my house, adjacent to a pretty park which makes me feel more like I'm in the countryside where I grew up, inasmuch as it can!! It's fairly quiet and a little oasis in the middle of a busy area, with good links to central London and Wimbledon .
Foi tudo melhor do que o esperado. A casa é linda, o acesso é fácil e a Francesca é ótima, nos tratou muito bem, com toda. Atenção do mundo. Everthing was perfect. Francesca was increadible, helped us so much. The house is amazing, comfortable an very organized. Perfect!
José
2015-04-14T00:00:00Z
Wonderful stay, and a thoroughly relaxing affair. A beautiful warming property and host! Many thanks
Tony
2016-09-16T00:00:00Z
Francesca's home was such a delightful surprise! Beautifully landscaped near a lovely park, we were thrilled to find such a pretty, clean and comfortable room. Appreciated her flexibility as well. Even though it was located outside of central London the train station was close. Try the Spread Eagle pub just a short walk away!
Robin
2015-08-25T00:00:00Z
Wonderful surrounding environment, with pond view and park by the house, suitable for nature loving people while staying in urban areas.
Priscilla
2016-09-16T00:00:00Z
Francesca's place was very clean and comfortable. She was nice and easy to communicate with, would recommend.
Madi
2016-09-25T00:00:00Z
Had a delightful experience at Francesca's place. Francesca and her partner are very hospitable and helpful. Great people. Francesca's home is lovely, clean and well appointed. the bed was comfortable and the garden beautiful, in a great corner position overlooking the local park, which in itself is lovely too with its lake and ducks. Only a 10 minute walk from the train station (and local McDs!). The pub and shops are 15 minutes walk. Very nice, comfortable and welcoming experience. Easily recommend!
Paul
2015-09-30T00:00:00Z
Great comfy space and location. Beautiful interiors. Friendly environment + Francesca's communication: A+.
Giancarlos
2016-08-30T00:00:00Z
Francesca was obviously a very experienced host who made me feel very welcome and comfortable. For example, she responded very quickly, helped me make my Australian power plugs work even though I brought the wrong adaptor, helped me find my way around and made helpful suggestions for things to see nearby. The main attraction of this home for me is the atmosphere - it backs onto a really lovely park and each day I spent time finding some peace - a real oasis! Francesca's home itself is warm, calm and charming. Highly recommended!
Flick
2016-02-08T00:00:00Z
Tipo de Quarto
Quarto privado
---
Tipo de Imóvel
Casa
---
Acomoda
2
---
Quartos
Croydon, Reino Unido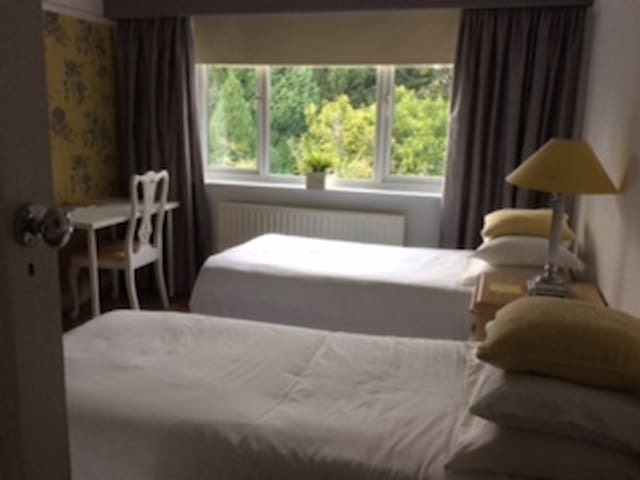 Lovely single room in pretty Victorian house within walking distance of Reigate train station and also with easy access to Redhill train station. Gatwick airport is 15 minutes away by taxi (so perfect for those early morning flights). Local taxi companies charge approx £9-11. Fast commute into London Victoria (or London Bridge) via train. Reigate town centre is 5 mins walk away and is a lovely little town full of character and attractive shops and lots of restaurants. Priory Park is just at the bottom of the road - it's a lovely green space with a pond and a cafe. Perfect for a walk. The house has wifi and you can park on the road just outside. I love my house it's typically Victorian. I've still got pretty Victorian fireplaces, sash windows etc. The single room is nice and quiet with a desk, tv, radio, easy-chair and single bed - which is very comfy. There is a small south-facing private garden. Oh and of course there's Tommy. He's my gorgeous ginger cat. (He's only got 3 legs but it doesn't bother him, he's still out and about). Please note this house is NOT in London but with easy access to London.. (Train from Reigate 45mins or train from Redhill 30mins). Reigate is in the County of Surrey. Update: I have recently set the internet/wifi to automatically switch off between midnight and 0600hrs. This is an attempt at better sleep hygiene. If you need the internet during these hours please let me know and I will not set the timer !
Heidi is very efficient at helping you settle in straightaway.
Haley
2014-10-30T00:00:00Z
My partner stayed here for business travel. Heidi was an accomodating host. My partner found the room very comfortable and house was complete with a cute cat. He would recommend this stay.
katherine
2016-04-06T00:00:00Z
Heidi hosted me at the last minute for a friend's wedding up the road. She was really hospitable, her house was super homely and the room was clean and tidy and right by the bathroom. I really enjoyed chatting to her, and she even gave me a lift to the station the next day. I'd definitely recommend her to other Airbnb members. Thanks Heidi!
Katie
2012-07-30T00:00:00Z
Heidi was helpful and welcoming and the room charming. Communication was excellent. She offered clear information so I had everything I needed. I enjoyed the short walk into town for dinner - plenty of attractive choices of where to eat.
Caroline
2016-01-15T00:00:00Z
Great place, as described. Tidy and organized room. Very helpful host as well. It was a great place for me to spend overnight to catch my flight next morning from Gatwick. PS - very lovely and friendly cat as well.
Esen
2015-02-20T00:00:00Z
De kamer is netjes en heidi is heel gastvrij. Zelfs mogelijkheid tot een lekker ontbijt!
Sophie
2016-09-21T00:00:00Z
Stayed there for work second time. It was very nice as before!
Boram
2017-03-02T00:00:00Z
Thank you for your nice and comfortable accommodation. I would come back any time.
ANTAL
2016-10-28T00:00:00Z
Tipo de Quarto
Quarto privado
---
Tipo de Imóvel
Casa
---
Acomoda
1
---
Quartos
Reigate, Reino Unido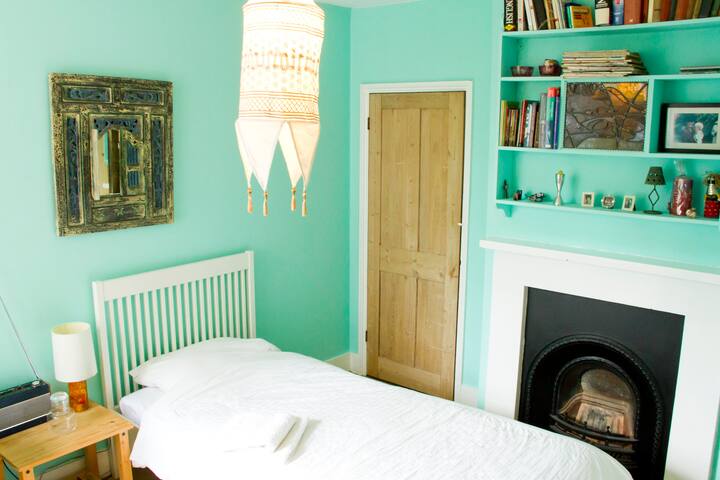 adorável área, tranquila e pacífica de S. Croydon. Paragem de autocarro a porta da frente fora da direita e excelente estacionamento disponível. O centro de Londres 15 minutos no trem da estação de Croydon E..
Você está convidado a sentar-se no jardim encantador. Você pode usar a cozinha para preparar refeições ligeiras. I pode acomodar crianças e pessoas adicionais se necessário. Wi-fi disponível.
Joan is the most welcoming and friendly host I've ever seen. Our stay was perfect. Thanks Joan!
Julie
2016-12-09T00:00:00Z
Lovely host and nice and clean accommodation! A bit further away from the city centre than we expected. It takes a little more than half an hour to reach London Bridge.
Rasmus
2017-01-04T00:00:00Z
Superb Airbnb. We loved our stay at Joan's place. She is a super host and made us feel very welcome right from the start, and kept us happy throughout our stay. The room is homely and comfortable, and spotlessly clean, and this was the best Airbnb breakfast we have ever had. Excellent value all round and we would highly recommend staying here.
Chris
2017-03-11T00:00:00Z
Hi Joan , staying with you was an experience to remember! You are an amazing lady and you made us feel right at home . I thoroughly enjoyed our "little" chats . Having our own "private bathroom" was brilliant and our room was very comfortable . You went over and above for us making tea and getting us to the train station. Thank you for everything and we will see you again!! Ingrid and Carly ,Pickering, Ontario, Canada
Ingrid
2015-10-29T00:00:00Z
Our stay with Joan was way beyond our expectations. Joan was so welcoming and so helpful. Nothing was a bother. Breakfast was wonderful and everything was as described. Thoroughly enjoyed our stay and would highly recommend staying with Joan. Thank you Joan for making our stay so pleasurable.
Jenny
2016-11-12T00:00:00Z
Joan is a very convivial host and made us feel very welcome from the moment we arrived. She is a most engaging conversationalist with no shortage of amusing (URL HIDDEN) and interesting stories from her life. She is also very thorough in providing guests with information on travel, shopping and dining. The accommodation was very clean and the bedroom looks on to a beautiful garden which is Joan's passion. Overall, we thoroughly enjoyed our stay and would not hesitate to recommend a stay here and I will definitely check her availability for my next visit.
Philip
2016-07-29T00:00:00Z
We had a lovely time With Joan, we stayed in her twin room which was spacious and comfortable with enough space for our travel cot.
Alyssa
2015-12-29T00:00:00Z
Very nice stay! Joan made us feel welcome and comfortable. Delightful home and lovely garden!
Darryl
2016-05-28T00:00:00Z
Tipo de Quarto
Quarto privado
---
Tipo de Imóvel
Casa
---
Acomoda
2
---
Quartos
South Croydon, London, Reino Unido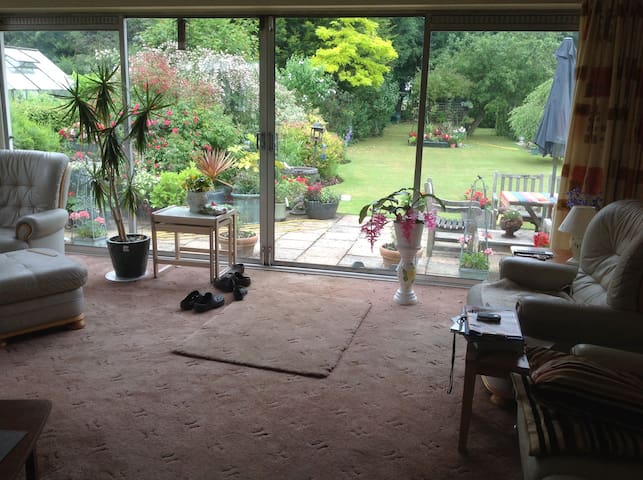 Nós temos 3 grandes quartos disponíveis em nossa bela casa Edwardian. Estes 3 quartos duplos podem dormir 6 no entanto, que pode acomodar mais 2 pessoas dormindo em colchões, se necessário. A casa é muito bem situado e extremamente acolhedor.
A nossa casa tem um design único, situado no subúrbio de Carshalton Beeches, dentro de cinco minutos a pé da estação de comboios Carshalton Beeches, restaurantes e lojas locais. A propriedade tem estacionamento fora da rua e um grande jardim para relaxar. Muitos parques estão a uma curta caminhada tornando a propriedade ideal para famílias.
Carshalton é um subúrbio tranquilo e muito localizado a uma curta distância de Londres e da bela paisagem Surrey. Há alguns bons restaurantes, cafés locais e parques para crianças nas proximidades.
A very nice and speechless experience. just in small words, : home away from home. Ms. Casey is a very nice person and host, and friendly. She explained the ways to go to london center and other places. i personally like to stay once more whenever i visit london. My recommendation for families travelling London. (5 Stars)
Ahsan Awan
2014-10-07T00:00:00Z
Une charmante maison à recommander vivement. On s'y sent comme à la maison. Et Jackie est juste adorable. Tout est pensé pour que les visiteurs ne manquent de rien!!!!!
Elsie
2017-04-07T00:00:00Z
Jackie´s house a verry cosy place to stay we used two bedrooms including an in-suite bathroom Jackie made us feel at home during the moments we were there, she helped out where possible with advice, breakfast and transportation tips. This was our first airbnb experience and hope there are more of these cosy, pleasant places around :)
Tom
2017-04-05T00:00:00Z
We had a very nice time with our children. Jackie was very kind and helpfull. Thank you
Emmanuel
2016-10-27T00:00:00Z
The hosts went out of their way to make you feel at home. The house had a nice garden on a quiet street. There was a train station to London Victoria about 800 meters away so we could hop on and get to downtown London in 35 minutes.
Shawn
2016-07-12T00:00:00Z
We had a very comfortable stay with Jacqueline in her lovely home close to Carshalton! She was incredibly thoughtful in all of her little extra touches that made our stay extra lovely. We will definitely recommend this to our family & friends!
Kylie
2016-05-26T00:00:00Z
Wir wurden sehr freundlich von Jaqueline empfangen. Alles war, wie wir es uns gewünscht haben. Ruhige Gegend, Bus/Bahn trotzdem gut erreichbar. Zimmer sehr geräumig. Besonders gut hat uns gefallen, dass Jaqueline uns Sightseeing-Tipps gegegeben hat und wir jeden Tag frisches Obst und wunderbar schmeckendes Brot hatten. Danke! Wir haben uns sehr wohl bei Jaqueline gefühlt.
Susan
2016-08-19T00:00:00Z
Jackie was a perfect host. The five of us had three spacious bedrooms, one private bathroom, the use of another bathroom, the kitchen and a livingroom. There was plenty of food to make breakfast. And she offered a perfect balance of conversation, advice and giving privacy. We all enjoyed our four nights stay at her lovely house!
Flora
2015-10-22T00:00:00Z
Tipo de Quarto
Quarto privado
---
Tipo de Imóvel
Casa
---
Acomoda
8
---
Quartos
Carshalton, Reino Unido
Super location 5 minutes walk from Wallington train station & bus routes. Lovely peaceful place to stay. Visit amazing London or Brighton, then return home for a good nights sleep. Discover leafy Beddington Park and have a pint in the lovely Duke's Head, eat delicious fish & chips at Chipsmith. There are plenty cafes, shops & pubs here and some really good Indian restaurants close by that offer takeaway. Help yourself to tea & coffee in the kitchen, and also breakfast.
Elegantly decorated, spacious double bedroom with private bathroom (sink, shower and toilet) in shabby chic Regency town house. I will give you a set of keys so you can come & go as you please and lock your bedroom door too. The guest room is a 'cat free zone', with a television for you to watch. We offer free high speed wifi and you are welcome to enjoy our secluded garden. This is peaceful suburban living, there are lots of parks nearby. Local shops are close too, more extensive shopping can be had 15 minutes away by train in Croydon or Central London in under an hour. My husband commutes to London daily, trains run regularly from 6am until midnight The room price includes; - Double bed - Bath & hand towels - En suite bathroom (toilet, shower & sink) - new shower unit fitted by qualified plumber November 2016 - Continental Breakfast -cereal, fruit, toast & juice, please help yourself - you are welcome to make tea & coffee during your stay in our kitchen too - free Wi-fi - We know you'll be out and about after breakfast and we won't see much of you, that's fine. You can still keep in touch by email or text if you need anything. This house is quite unique, over a few floors so hope you won't mind taking some stairs! We live next to the fire station, though rarely hear the sirens as the fireman don't turn them on until they reach the main road. The firemen are always helpful and we feel extra safe having them just next door. Street parking is free in this area. We have two easy going house cats who are shy but curious. I work locally and am usually available to answer any questions in person, by email or text if necessary. There are four of us living here (my two teenage children, husband Chris and me). So you will hear the usual sounds of a family home. Our home is in a great location for local shops, travel into London or South East. Wallington Train Station fantastically close, we have some great pubs and restaurants nearby too. There's everything you could need on our doorstep. We know you'll be out and about after breakfast and we won't see much of you, that's fine. You can still keep in touch by email or text if you need anything. Our home is in a great location for local shops, travel into London or South East. Wallington Train Station fantastically close, we have some great pubs and restaurants nearby too. There's everything you could need on our doorstep.
Peaceful suburban area with lots of excellent parks nearby. Local shops are close too, extensive shopping can be had 10 minutes away by train in Croydon or 35 minutes in Central London.
Lovely house to stay in. Room was very comfortable and quiet. Verity was very friendly and welcoming.
Michael
2016-07-09T00:00:00Z
This stay was the best I've ever had via AirBnb. Verity was so warm, friendly, and helpful. The room was really beautiful and very clean with a large comfortable bed and a small, private bathroom. It was lovely to go do my business in London and then come back to this sweet home in Wallington. Verity lent me maps, gave me navigational advice, checked up on me regularly and was very generous and wonderful.
Kjerstin
2015-05-04T00:00:00Z
This is a repeat visit, and again made very welcome, and allowed to freely come and go as I pleased - even a very early morning departure. Lovely clean comfotable room
Mary
2016-02-07T00:00:00Z
Verity's place was true to description. She made us feel very welcome in her home. I loved our room and especially the bathroom attached with toilet sink and power shower! Her home is located in a very covenient location in Wallington, next to lots of shops and cafes and also the train station (5 min walk) that connects you to London for a short commute, which is what we did. Verity was very friendly and provides breakfast with cereals and fruits. Also had very fast WiFi. Verity was extremely helpful in accomodating our stay as it was booked last minute. Thanks again!
Norka
2015-07-19T00:00:00Z
Pleasant welcome from Verity and supplemented by young daughter. Good room with reasonable facilities. Excellent location for surrounding areas, shops and quick access to London by train. As I am a first time airbnb user it was an interesting experience to occupy a room in a family house of a total stranger. Some photos of the actual bedroom and bathroom would be very helpful.
Veen
2014-09-29T00:00:00Z
Me and my partner stayed in Verity and Chris house this passed weekend and we had an amazing time visiting London. The location of the house is close to the train station also there are shops and coffee shops if you need something. The room was very clean and spacious and we slept really well. In the mornings our lovely hosts were leaving breakfast products on the kitchen counter for us. We would definitely stay here again when we visit London, because we really felt at home and welcomed by Verity and her family :)
Magdalena
2016-05-17T00:00:00Z
Very welcoming , would recommend to anyone looking for a pleasant nights sleep.
Andrea
2016-06-30T00:00:00Z
Although Verity was away while we are at her home in Wallington, she had a friend meet us on arrival and advise us on the area and answer questions about the accommodations. Room was super clean with our own ensuite. Verity messaged us several times to make sure we were doing okay and always responded promptly. Location is about equidistant from Gatwick and Victoria Station. No worries if you opt for a stay here. Thanks again Verity.
Marty
2016-04-09T00:00:00Z
Tipo de Quarto
Quarto privado
---
Tipo de Imóvel
Casa
---
Acomoda
2
---
Quartos
Wallington, Reino Unido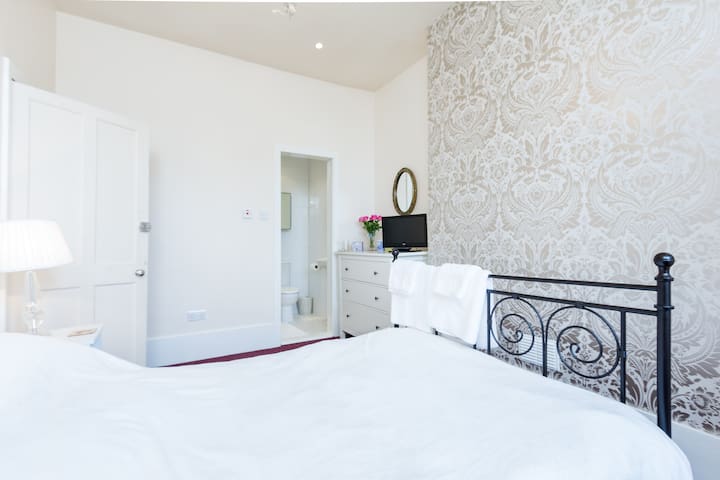 Quarto duplo, bem no centro de Redhill e 5 minutos a pé da estação de Redhill. Trem para Londres leva cerca de meia hora, para o aeroporto de Gatwick leva dez minutos.
Confortável, grande apartamento com cozinha, sala, banheiro, WC e um quarto de casal com roupeiro e cômoda. O quarto tem uma televisão com um Playstation 3. Não temos uma licença de TV, mas temos Netflix que você vai ser capaz de usar tanto em seu quarto ea sala de estar bem. Sala, cozinha, banheiro e lavabo é compartilhado com os anfitriões.
O apartamento está localizado perto da estação de Redhill (5 minutos) ao lado da linha de trem (você deve esperar ruído de trem) e perto do centro da cidade (5 minutos) e ao lado de um grande parque. Há uma abundância de lojas, bares, cafés ao redor.
I was comfortable staying with Sassi & Nick & have booked to stay with them again on my way back through Redhill.
Julie
2016-10-06T00:00:00Z
Sassi and Nick were amazing. We were tired from a long flight and had to leave the next day but they made sure everything was good and helped us with transportation to and from airports! Wish we could have talked to them more and got to know them. The area is awesome and walk able, really close to Gatwick as well. Thanks guys! :)
Amanda
2017-01-11T00:00:00Z
Great location, easily accessible from Gatwick and to town. Redhill has some great little pubs and restaurants too which made exploring fun. Easy check in and all your essentials immediately available. Thanks again!
Amanda
2017-03-23T00:00:00Z
This is a good airbnb - the room is a decent size, clean and everything is explained (I didn't find the trains too loud). Good value too.
Manish
2017-02-21T00:00:00Z
Lovely and nice. Thank you for having me
Brit
2017-02-26T00:00:00Z
.
Monika
2017-02-18T00:00:00Z
Located within an easy walk to public transit, in a quiet neighborhood (some train noises, but these were easily eliminated with earplugs). Super comfortable bed; very clean overall. Happy I stayed here and would recommend.
Drea
2017-02-13T00:00:00Z
The room was cozy and clean. We just stayed for 1 night, we arrived to Heathrow and the next day we left. Is easy to get there is located few block from the train station. The town is very nice. The only issue was that I had problems to sleep because my sleep is not heavy and the train runs all night near from the house
David
2017-04-05T00:00:00Z
Tipo de Quarto
Quarto privado
---
Tipo de Imóvel
Apartamento
---
Acomoda
2
---
Quartos
Redhill, Reino Unido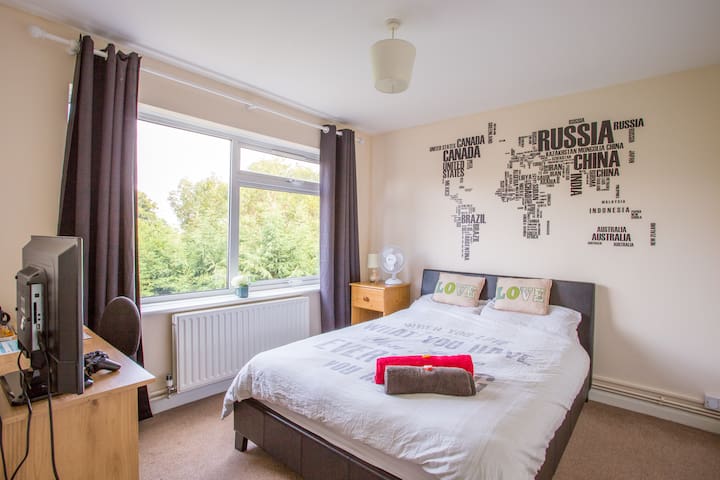 Nosso quarto duplo é luminoso e arejado e perfeito para até duas pessoas. Localizado em uma estrada tranquila, mas apenas a 2 minutos a pé da principal lojas / restaurantes / supermercados e ligações de autocarro. Estacionamento gratuito na estrada e menos de 2 milhas para treinar links diretos para Londres.
Um recentemente decorado quarto duplo privado, perfeito para até duas pessoas. De armazenamento (guarda-roupa e cômoda) é fornecido para os hóspedes, juntamente com artigos de higiene necessários e chá e café. road estacionamento gratuito está disponível fora da propriedade para os hóspedes.
Caterham é uma cidade tranquila e amigável, com muitas ligações através South East England. Vivemos dois minutos de um supermercado Tesco e uma caminhada de dez minutos lotes de bares e restaurantes locais. As atracções locais incluem: Surrey National Golf Club (1km) Go Zorbing & Paintball Londres (1,1 km) Godstone Farm (6km) Chessington World of Adventures (15km) Atrações Londres (20km)
I really loved staying at Tina's place. Tina and Ross are amazing hosts and make you feel like you're at home! Reaching London is easy with the bus! And even the neighborhood is really nice!
Sunaina
2016-12-07T00:00:00Z
All good. I enjoyed my stay. Tina and Ross are very nice and they have a very cute puppy!! You do need a car here ideally, unless of course you are happy to rely on buses. Train station a good half hour walk away. Nice location up on the hill in Caterham. A few shops, pubs and restos within 10-15 minute walk.
Richard
2017-01-15T00:00:00Z
Nice area, easy to find, lovely hosts, nice clean private bedroom and a pup up the road that serves shipyard beer so, it's a win win for me! Classic Air BnB at a reasonable price.
Gregory
2017-02-17T00:00:00Z
Me and my partner had such a lovely stay here. Tina and Russ were fantastic hosts, not to mention their lovely dog! They were always very helpful, and the room was fresh and clean. Our stay was even better than we had hoped for, and I'm so glad we decided to stay here instead of an hotel!
Solveig Lovise
2016-10-24T00:00:00Z
Tina's place was very welcoming and the hosts were lovely, The house was very warm and cosy with a cute little dog! :)
Susie
2017-03-31T00:00:00Z
I needed quiet, privacy and comfort for my sabbatical; Tina's place fulfilled my expectations.
james
2017-03-24T00:00:00Z
I stayed at Tina's for 3 nights, and I'm very glad that I did. Both Tina and Ross have always been available to answer my questions. I arrived in London at the Gatwick Airport on March 1st at 9 AM. Yet, Wow Air which I flew with lost my Carry on bag. I had to stay searching for it until around 2:30 pm before taking the London Bridge Train to Tina's. She wasn't home and she suggested that Ross would received me. Ross had to go to work, and ended up arriving to there place very late, because of the train. I missed getting off of the Train at the stop Tina suggested and since it was my first time to London, it took me very long to get home. Plus, I had no phone in order to reach them out and let them know why I'm arriving late, even though I emailed Tina earlier letting her know about my luggage situation. Anyway, Ross ended up risking to go to work late, so he could let me in. That was kind of Ross and Tina. I 100% recommend this place, and I mean it.
Hadja Habi
2017-03-04T00:00:00Z
Tina (and Ross) have a great little room available to share. They were very welcoming and hospitable. Lionel the dog was a nice bonus. He's got tons of character.
Alan
2017-01-25T00:00:00Z
Tipo de Quarto
Quarto privado
---
Tipo de Imóvel
Casa
---
Acomoda
2
---
Quartos
Caterham, England, Reino Unido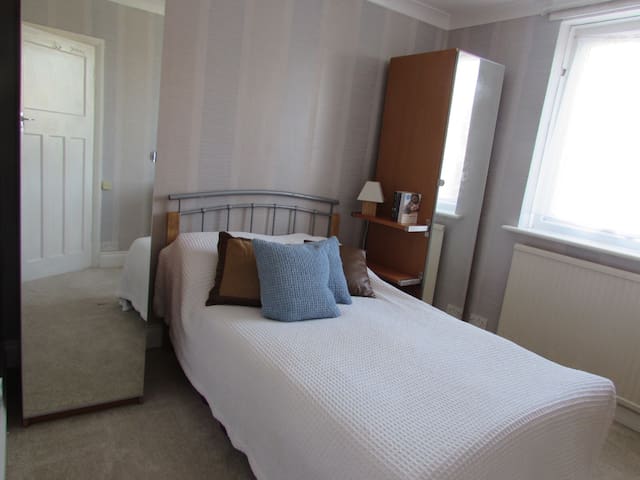 We'd love you to come and stay. An hour from central London, 25 mins from Gatwick. Our large family house has plenty of space. En-suite bathroom to main guest room. Private living room can be made available for guest use + garden & car parking. Few mins from village shops.
Double bed guest bedroom with en-suite shower room. (Additional rooms also available in this property.)
While easily accessible from M25 (10 mins away) and a train ride to the heart of London or the coast at Brighton, we are in the heart of the Surrey hills with some beautiful country walks right on our doorstep.
The house is big and clean, and the room is cozy. Chris and Karen were very friendly and welcoming and did make us feel at home!
yun
2016-06-06T00:00:00Z
Beautiful, spacious house with very comfortable, clean double room and ensuite. Hosts were very welcoming and flexible with check in and timings. Lovely place to stay. Would recommend a walk in Happy Valley and pub lunch at the Fox too.
Robbie
2016-11-20T00:00:00Z
Thank you for a wonderful stay! Karen and Chris were excellent hosts and it was a pleasure to meet them. I was made to feel very welcome throughout my stay. A beautiful home, with very comfortable and clean en-suite room. Thanks again!
Aileen
2015-11-27T00:00:00Z
Chris and Karen were very friendly and easygoing ,and this is a wonderful home with a relaxed atmosphere. The room is exactly as described. It's beautiful and private and the open kitchen is wonderful !! really enjoy the night here.
雨欣
2016-09-15T00:00:00Z
This is my third time staying here. Karen and Chris we're welcoming and friendly as ever! Absolutely felt at home!
yun
2017-02-19T00:00:00Z
Totally enjoyed staying at their house!
Zhongzheng
2017-02-20T00:00:00Z
Bellissima esperienza,persone squisite cordiali e molto disponibili,anche se lontano dal centro di Londra è comunque fornita di mezzi pubblici per raggiungere facilmente sia londra che l aeroporto di gatwick. La casa è bellissima e la stanza è confortevole e pulita,chris e Karen mettono a disposizione degli ospiti anche una brochure con indicazioni per ristoranti stazione dei treni autobus taxi del Città di Cateram e cosa ancora più bella hai la possibilità di farti te o Caffe in camera. Se si vuole visitare Londra e conoscere i dintorni di questo è il posto giusto.
Elisa
2017-03-05T00:00:00Z
Karen & Chris were amazing. The house is absolutely beautiful and I could not have felt more at home. I would definitely stay again and I recommend to anybody!!!
Mario
2016-09-24T00:00:00Z
Tipo de Quarto
Quarto privado
---
Tipo de Imóvel
Casa
---
Acomoda
2
---
Quartos
Caterham, Surrey, Reino Unido
We have one double bedroom (en-suite) with sole use of the bathroom.
Our old cottage has lots of stairs! You have sole use of our double bedroom and bathroom with bath and shower. Single bedroom also available with nearby bathroom (not sole use). We have three cats so you must be tolerant of cats.
Caterham is a small town in Zone 6. We are 4 minutes walk from Waitrose and the station/town centre. A few restaurants etc in the town but not a great selection I'm afraid. For pubs you would probably have to drive.
Very homely and great location for me.
Stephen
2017-04-05T00:00:00Z
Had a great stay at Clare's home. The room was lovely and clean and well equipped. Would highly recommend
Richard and Sarah
2016-10-11T00:00:00Z
friendly host
Ashley
2016-12-01T00:00:00Z
Ideally located and in a very nice area with an extremely comfortable bed and a superb bathroom.
Stephen
2017-03-29T00:00:00Z
L' Host e' stata impeccabile dall'inizio della prenotazione a quando siamo partiti per finito soggiorno. Ospitalità massima senza urtare privacy di nessuno. Hanno fatto di tutto per consentirci un soggiorno più gradevole possibile venendoci incontro perfino sulla tipologia del cibo e aiutandoci negli spostamenti. Il marito ci ha fatto addirittura da Guida turistica portandoci a visitare un bellissimo museo vicino. Come stare in famiglia, meglio è veramente difficile da trovare!
Valeria
2016-08-01T00:00:00Z
It was our first airbnb and we hade a wondeful expérience. Thanks a lot that it was perfect don't change anythink. Very good hosting.
sonia
2016-07-25T00:00:00Z
Tipo de Quarto
Quarto privado
---
Tipo de Imóvel
Bed & Breakfast
---
Acomoda
2
---
Quartos
Caterham, Reino Unido
Access to London is fairly easy to the nearest Station; Caterham with a train ride for about40-45 mins. Purley Station has fast trains (20mins) + bus ride (20mins) to Purley. Sushi class/dinner/lunch available on request. Close to all amenities.
This room is on the ground floor, currently used as Dining Room/Bed Room. When booked the room is completely private use for the guest(s), with a lock for security. Sleeping accommodation is with double size Sofa bed, a fitted wardrobe space with a mirror door. Additionally, we can fit a folding bed for 3rd person to sleep in, with a bit of squeeze (see photos). For the upstairs bedroom (accommodates 2 persons), please refer to the other listing : https://www.airbnb.co.uk/rooms/5543557
Neighbourhood in my road is very friendly and helpful. The guests will feel very safe, and homely.
Tammy and Tony were warm and welcoming hosts. My room was spacious, warm and comfortable and was a great place to study for my upcoming exam. There was a huge Tesco less than 10 minutes away and the area was very safe and quiet. The breakfast that Tammy prepared was lovely and served in a really beautiful conservatory with a nice view of the garden. I recommend their home to anyone.
Sarah
2016-01-29T00:00:00Z
Both Tammy and Tony are extremely warm and welcoming. Tony was so helpful, gave quite useful advise and insight as needed some guidance on personal front. Even if I try hard would not be able to find minor fault even. Do highly recommend the stay at their place!!!
Nitin
2016-07-31T00:00:00Z
Really lovely couple and very welcoming. The shops and takeaways are nearby so easy to get what you need. Really nice garden if you wan't to sit outside. Thanks for having me! (I passed my motorcycle test!)
Nicolas
2015-06-25T00:00:00Z
Tammy und Toni sind sehr nett und hilfsbereit. Alles war, wie Tammy es beschrieben hat. ( Das Zimmer ist für zwei Personen gut. Für drei Personen eng, aber nur zum Übernachten ging es. ) Super Frühstück im schönen Wintergarten. Mit Auto waren es 15 Minuten zum Bahnhof und von dort waren wir in ca. 30 Minuten in London. Für uns war Tammy eine gute Adresse Danke Tammy und Toni !
Brigitte
2016-07-20T00:00:00Z
The room was very nice and tidy.
Maja
2016-10-14T00:00:00Z
Tammy and her husband Tony were excellent hosts for my very short stay, making me feel very welcome. I would definitely stay over if I were to visit the area again and would them recommend to my friends too. In the morning Tammy served me breakfast and it really made me feel as if I was at home. Thanks Tammy and Tony once again.
Asim
2016-10-08T00:00:00Z
My second stay s just as enjoyable as my first. Thank you tammy and Tony
Alex
2015-12-08T00:00:00Z
I was very welcomed throughout the stay and fully satisfied ! I arrived late by rent-a-car driving all the way from Stonehenge and I didn't have dinner. They were kind enough to tell me some food stores nearby. I took away fillets and chips at a local fish-and-chips shop which they also told me. They were absolutely delicious ! After dinner, I had a nice talk with them. I'm actually not a good English speaker, but they listened to me well and read what I meant. I found their true hospitality in there. I asked them any recommended place for sightseeing and they informed me a lot. Thanks to the advice, I successfully got what I needed. The listing are perfect, as far as I know. They kept the house spotless everywhere. What I like best is morning view from the garden. Under the sunlight shower through window, I enjoyed the lovely sight over breakfast with tea. I didn't expect this, so it was just wonderful...
Ken
2016-08-18T00:00:00Z
Tipo de Quarto
Quarto privado
---
Tipo de Imóvel
Casa
---
Acomoda
3
---
Quartos
Caterham, Surrey, Reino Unido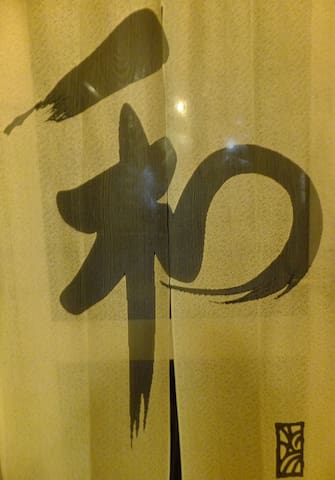 You will be welcome in a full of character old army flat with high ceilings in a quiet, peaceful, convenient Village area, with all amenities nearby. You will have a separate bathroom Excellent location if you are traveling by car-just five miles from junction 6 of the M25 and half an hour away to London and Gatwick airport. Buses run every half hour from the Village to Caterham station.
Hassan was a very helpful host and made me very welcome in his home which worked well for my 2-night stay. Comfortable bed in private room and with private bathroom. Close to local pub, village green and food outlets
Colin
2017-03-15T00:00:00Z
Single room with comfortable bed and a desk. Private bathroom with bath immediately adjacent. Provided just what I needed for overnight stay whilst working late. Lovely residential area close to shops, pub and food outlets. Hassan very friendly and helpful.
Colin
2017-02-07T00:00:00Z
Tipo de Quarto
Quarto privado
---
Tipo de Imóvel
Apartamento
---
Acomoda
1
---
Quartos
Caterham, England, Reino Unido
Stunning one bedroom modern apartment in Caterham, Surrey. This little town contains lots of little local amenities and boutiques. Just 40mins to London by train, and less than ten minutes until you are in countryside! 20-30 mins from London Gatwick
The town of Caterham is beautiful: with plenty of restaurants, pubs and a local theatre to entertain you all within a 5-10 minute walk.
The host canceled this reservation 79 days before arrival. This is an automated posting.
Joel
2015-09-30T00:00:00Z
We stayed here just on a long layover as we arrived at Heathrow and departed from Gatwick. Pete was out of town while we were staying so he arranged for his neighbor, Lucy, to meet us. We got a little lost and arrived 40 minutes late, but Lucy was gracious and showed us around the flat. Pete and Hannah had left us a book with all the information we would need. It was a great place to stay and we really enjoyed the location. Also, the big bathtub was a plus!! After traveling around Europe and mostly having stand up showers, it was a welcome amenity. Pete is very quick with communication and we had a great time during our short stay. Thank you so much!!!
Jenna
2016-05-08T00:00:00Z
We had a great stay. The flat was bigger than I was expecting, nicely done and very clean. Pete and Hannah were very hospitable. We had everything that we needed and enjoyed our stay, perfect location right in the centre of Caterham. Thank you, would recommend and come and stay again.
Melanie
2016-02-13T00:00:00Z
Excellent little place to stay! Great contact with the host and everything was as promised! Would highly recommend and will be back! Thank you
Matthew
2015-11-17T00:00:00Z
Lovely one night stay before our trip abroad. Had a little trouble with the key for the external door but with a bit of a wiggle we got in! Lovely flat had everything we needed, our hosts were great at communicating with us and all instructions were clear. Thank you for having us. We will be in contact again if we need to stay over your way : )
Selina
2016-08-03T00:00:00Z
Hannah and Pete were really fantastic. They are very friendly and helpful and welcoming. We did a instat booking and everything was perfect, the house is a cozy nest, clean and tidy in a new building, equipped with everything you need. When we arrived we felt at home immediately. The location of the house is great, walking distance there are shops and the town center with some nice pubs and restaurants. I recommend to book by Hannah and Pete, I am sure that your stay will be very pleasant.
stefano
2015-08-31T00:00:00Z
We had a wonderful stay in this beautiful flat located less than 1 hour by train to London. We really had the feeling lo live here !!!. The kitchen is useful, the sofa and bed are comfortable. Thank you so much !!!
Sylvain
2016-08-18T00:00:00Z
Comfortable house, well communicated. Hanna was very flexible, open, welcoming, a genuine airbnb host!
SANDRA
2015-07-26T00:00:00Z
Tipo de Quarto
Casa inteira/apto
---
Tipo de Imóvel
Apartamento
---
Acomoda
4
---
Quartos
Caterham, England, Reino Unido

Charming Victorian, double fronted house with lawn garden and off road parking situated in a Conservation Area in Caterham, Surrey. Enjoy the tranquility of this peaceful home with delicious continental breakfast. Travel to the city in 30 minutes.
From the minute we walked through the front door, Majorie was extremely welcoming and hospitable. She very kindly showed us to our room, gave us the wifi code and made us a cup of tea. She even offered us dinner which was delicious! The room was particularly comfortable and had a lovely little en suite. Perfect for a couple. In the morning, Majorie made us a full english breakfast and allowed us to stay as long as we wanted. We had a lovely stay in Caterham and would recommend staying with Majorie in her beautiful home. Thanks you, we hope to see you again. Love Ryan and Melissa x
Melissa
2015-07-05T00:00:00Z
Marjorie is very friendly and helpful. the room is clean and comfortable with a big ,clean and private (URL HIDDEN) house location is very good, it is very close to the centre of the town and the train station.
charlene
2016-03-11T00:00:00Z
Marjorie greeted me when I first arrived and kindly took the time to sit down and have a nice chat with me over a drink, to get to know each other a bit as I was staying for 5 days. Marjorie was an incredibly attentive host and her and her family were very friendly and welcoming, making me feel right at home. Even though I wasn't expecting it she offered me dinner whenever she could, which was always delicious and wholesome! I was given my own kitchen cupboard and fridge which were filled with a variety of really nice breakfast materials I could choose from and make every morning. My bedroom was really comfortable and I also had a bathroom to myself! Generally the area was also very safe and quiet with shops 10 minutes away if you needed to buy anything. I really enjoyed my stay, would come back and would recommend it to anyone else.
Sarah
2016-02-12T00:00:00Z
Tipo de Quarto
Quarto privado
---
Tipo de Imóvel
Bed & Breakfast
---
Acomoda
2
---
Quartos
Caterham, Reino Unido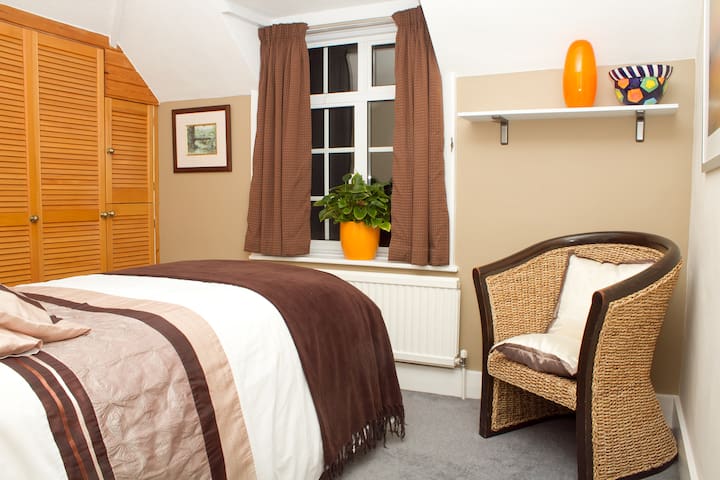 Main railway station is Caterham, accessible by a bus-ride for 10-15 mins. Caterham to London main station is about 45 mins away. Direct line is every 30 mins. Sushi class/dinner/lunch available on request. Close to all amenities.
The house is airy, and bright throughout. The owner is very much interested to communicate with the guests from all over the world. We have 2 rooms and 2 separate bathrooms(both bathrooms are co-used with the owner) with showers to offer to the guests . Please refer to the other listing for details on another room and bathroom : https://www.airbnb.co.uk/rooms/5731814
Neighbourhood in my road is very friendly and helpful. The guests will feel very safe, and homely.
Wow 5 star better than a hotel. ☺
Bongani
2015-09-18T00:00:00Z
Tammy made me feel right at home as soon as I arrived The house is spotlessly clean and the room was light,airy and the bathroom was very clean. She made my breakfast every morning at 6.30am which was really good as it saved time for me to get to work
steve
2015-06-18T00:00:00Z
I had a very nice overnight stay at Takako-san's place. We had interesting conversations about gardening and Japan - two topics I like a lot! Would love to stay again.
Nadia
2016-09-04T00:00:00Z
Takako and Toni are amazing people and I definitely had good time with them. Caterham is a nice little town, quiet and clean. The room was super clean and well-maintained, as well as the bathroom. The house is nice and clean, and has a sweet garden in the back. Internet was available and really good as well. Takako makes decent breakfast for you to enjoy in the mornings. Logistics are as follows: Tesco store is just 5 min away so you can always buy some snacks. There are pubs and food nearby as well. However, commuting to London will be quite an adventure. Additionally, getting around on weekend evenings is very tough - make sure you are up to date with schedules. Nearest train station is whytleafe south, and it is quite walkable if you have no heavy items.
Alex
2015-06-12T00:00:00Z
Made extremely welcome, very helpful and friendly. It was a lovely home and room - breakfast on the veranda was fantastic! I would certainly stay again.
Mary
2015-05-16T00:00:00Z
Tammy and Tony were great hosts and made me feel very welcome during my stay with them. The room and the bathroom were clean and tidy and they had a lovely garden. Continental breakfast too was an added bonus. I recommend this place to anybody considering the area.
Trevor
2015-04-22T00:00:00Z
All good. Quitet. Clean. Good strong wifi. I recommend it.
simon
2016-11-05T00:00:00Z
Tammy and Tony made me feel very welcome from the moment I arrived, filling the evening with enjoyable conversation. The single bedroom was clean bright and very comfortable and the bathroom clean and airy with a great shower. I was on a flying visit, arriving late in the evening and leaving first thing so didn't have the opportunity of seeing the place in the daylight. I'd certainly recommend this B&B and would happily book in again when in the area.
Ian
2015-12-06T00:00:00Z
Tipo de Quarto
Quarto privado
---
Tipo de Imóvel
Casa
---
Acomoda
2
---
Quartos
Caterham, Surrey, Reino Unido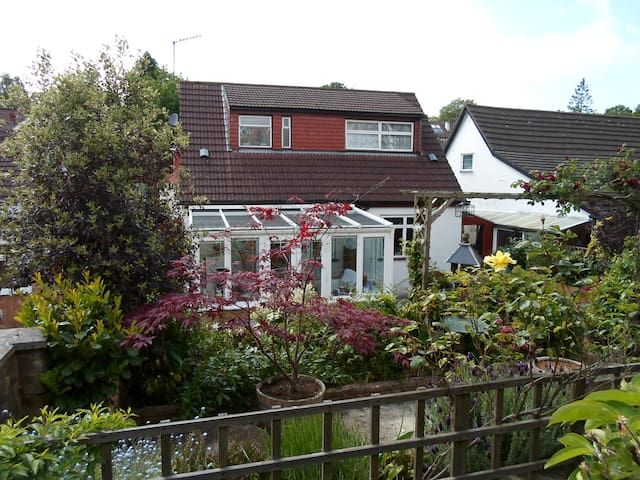 Deliciosamente localizado a 3 quartos casa, bem espaçoso, acesso de alta velocidade Fibre & WiFi. Recém-construído 2003, recentemente remodelado de alto padrão, a conveniência de Londres à sua porta, mas colocado em impressionante premiado configuração, apenas quilômetros de Coulsdon Common que se abre para bela Happy Valley, corredor de, ciclista do & paraíso para os caminhantes. Bons transportes para Londres City, Gatwick, M23, M25 e Brighton, excelentes instalações: Ginásio, Spa, Golf, Tesco, Farmácia, Veterinário, quiroprático, barbeiro, cabeleireiro
A casa em si beneficia de estacionamento privado gratuito para vários veículos por meio de uma calçada localizada na frente da propriedade; internamente a propriedade possui uma área de estar iluminada e espaçosa, com uma cozinha moderna e equipada com todos os aparelhos. A grande sala de estar tem TV de tela plana 'inteligente' conectado a canais Wi-Fi e de satélite livres, esta sala oferece uma área de dormir extra na forma de um confortável sofá-cama, a pedido, a propriedade também tem uma sala de jantar totalmente equipada para jantar up para seis pessoas. No andar de cima tem dois quartos duplos, juntamente com uma casa de banho moderna e quarto principal com cama de casal e casa de banho, todos os quartos dispõem de camas resistentes e memória colchão de espuma, roupeiros, No exterior existe um pequeno jardim principalmente posto para gramado, alguns decked área com mobiliário de jardim, mesa de jantar para 6 e grande guarda-sol. Cada quarto tem um espaço de trabalho amigável laptop.
Se você está olhando para manter as crianças entretidas por fazer uma viagem para a vizinha Godstone Farm, ou se você preferir jogar uma partida de golfe, ou simplesmente relaxar com uma boa refeição, Caterham e da área circundante tem muito para oferecer. Localmente você pode encontrar uma grande variedade de lojas de varejo e de serviços, há também uma grande variedade de centros de fitness e spas de beleza para se dedicar. Surrey National Golf Course é literalmente na porta com muitos outros na localidade; Há uma grande área de lazer para as crianças é apenas a 2 minutos a pé da propriedade; Valley Park bonita feliz é certo fora da casa vinhedos locais oferecem degustação de vinhos; Há uma escola de equitação nas proximidades, com áreas terras agrícolas;
Tipo de Quarto
Casa inteira/apto
---
Tipo de Imóvel
Casa
---
Acomoda
8
---
Quartos
Caterham, England, Reino Unido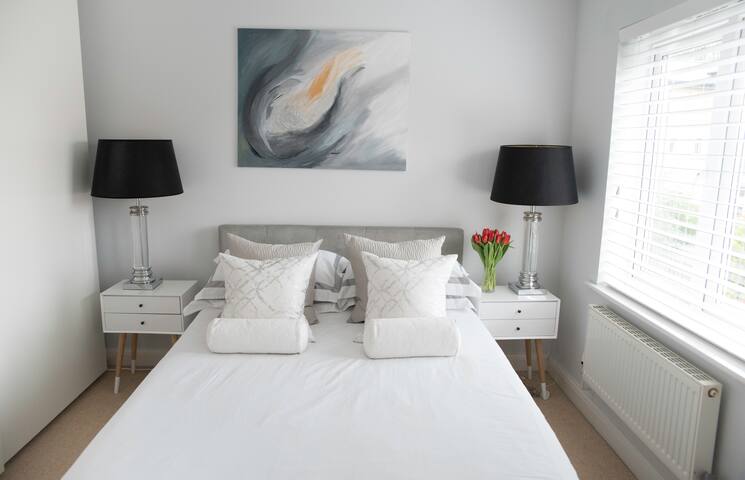 I have 2 spare double rooms in a detached house with 3 bedrooms, 3 reception rooms, a large contemporary kitchen, so my home is suitable for up to 4 visitors. I am well located near to Caterham BR station and within 2 miles of the M25.
Tipo de Quarto
Quarto privado
---
Tipo de Imóvel
Casa
---
Acomoda
2
---
Quartos
Caterham, Surrey, Reino Unido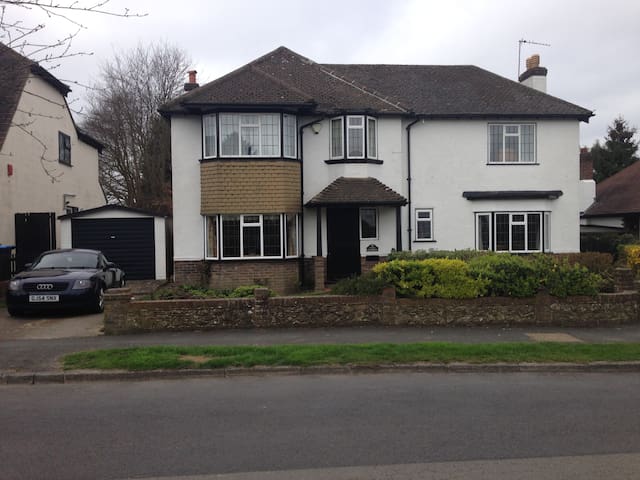 Hi Everyone, If you fancy great county walks and beautiful country side with magnificent views across Happy Valley as well, then this is for you, come to relax in Caterham on the Hill in Surrey, with easy and swift connections into the heart of London or to Brighton by the Seaside. I have a double room to rent in my 3 bed semi-detached house. The house comes with a big garden, kitchen, bathroom and a large open dining/living room space. The room is upstairs to the back of the house overlooking the garden and has a wardrobe, desk and a single bed in it. Its very clean and comfortable. The house is in perfect condition and offers fantastic comfort. It is completely furnished and equipped with everything that makes life easier - dishwasher, washing machine, microwave, TV, etc. Location - this property is based in the heart of Caterham on the Hill with just a very short walk to beautiful woodlands and Happy Valley. Caterham Station has very easy connections to East Croydon, London or Gatwick Airport and Brighton, is just 5-10 minutes away by car or public transport and there also is a bus stop right in front of the house. Free parking is available outside, for those who commute it might be good to know that the M25 is less than 10 minutes away and Gatwick Airport is 20 minutes away by car. I provide clean linens and towels and a continental breakfast with Tea / Coffee if required. There is a wardrobe, desk and a chest of drawers for you to put your things into. The bed is a remarkably comfortable it can sleep 1 but if bed for 2 is required I am sure I can arrange something. A little about me, I am a professional musician / Opera Singer and Teacher also Director of an Opera Company. I have a practically new, beautiful Steingraeber & Sohne upright Piano so if you know how to play then you are welcome to sit and have a go. I am a great host and very considerate person. As, I am sharing my home I ask that you be considerate, clean, clean up after yourselves. I expect only the people authorized to rent the room to come into, and stay over in the house. I will respect your space and privacy as I expect you to respect mine. I am flexible so if you need to check in or out at odd times and provided no one is waiting to take over the room, just let me know. This is a beautiful place and I am looking for someone to come and enjoy being here. You are a professional, honest and trustworthy. Very Best Wishes, Lloyd
Tipo de Quarto
Quarto privado
---
Tipo de Imóvel
Casa
---
Acomoda
1
---
Quartos
Caterham, Reino Unido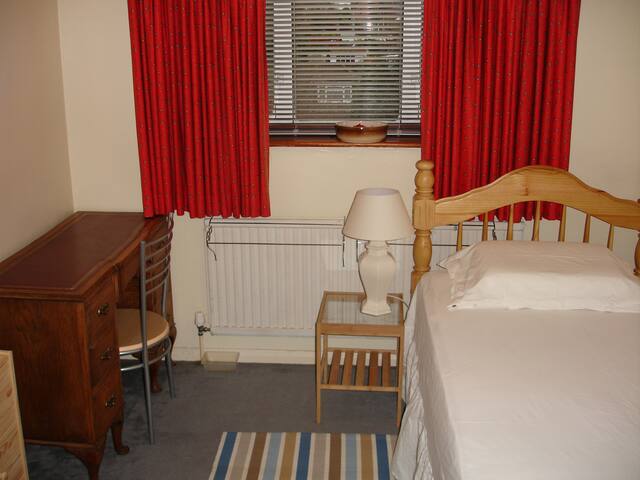 Anexo com sala, quarto de casal, cozinha, banheiro e estacionamento. localização tranquila na estrada particular, apenas a 0,8 milhas para o centro da cidade Caterham e da estação (45 minutos para Londres, zona 6). M25 Jct 6 é de três milhas, a apenas 20 minutos do aeroporto de Gatwick.
Adequado para casais ou apenas solteira, sem filhos ou animais de estimação. Razoavelmente equipada cozinha, mas não máquina de lavar. espaço de estacionamento off-road própria. estrada privada tranquila, com bosques e campos a menos de 200 metros, a apenas dez minutos a pé do centro da cidade Caterham e da estação.
localização ideal em um bairro seguro e tranquilo, com ambos os benefícios urbanos e rurais. Ótimo para os viajantes e visitantes. O centro da cidade com restaurantes e supermercados é apenas uma caminhada de dez minutos.
Where to start!!! This annex is nestled in what might be the most perfect little town outside of London Proper, train service was just a quick 15 min walk through gorgeous tree and house lined streets, and if you go the other direction through the woods you come out to this beautiful mountain top overlooking a picturesque valley (many a cuppa had sat on the park bench just taking in the view). Onto the accommodations! The bed was incredibly comfortable, they had stocked the fridge with essentials which was a nice surprise as I didna arrive until late. The hosts were always available to answer questions or advice but it still felt like a private quiet haven. Their gardens were amazing, the sitting area and dining nook were perfect for me... I hope to be able to visit again soon. Thanks for the amazing stay.
Brigette
2016-10-14T00:00:00Z
Accueil sympathique et hôtes serviables. Quartier calme et arboré. Logement spacieux avec un équipement à améliorer, particulièrement dans la cuisine...
catherine
2016-09-22T00:00:00Z
Second time around was even better!!!! Love staying here and hope to return again soon. Can't speak highly enough of the value, location and hosts. Thank you Charles!
Brigette
2017-01-29T00:00:00Z
The place is amazing. It has all you need for a lovely trip. He was really helpful.
Naiara
2017-02-19T00:00:00Z
Charles and his wife made us feel very welcome, very accommodating. The listing was exactly as described, lovely peaceful area and plenty of space
Hinal
2016-06-01T00:00:00Z
The area is very nice and quiet in a lovely little town. Charles and Deborah very nice and help where they can, the flat is a good size and has all we needed. Unfortunately it was cold and the heating is on a timer controlled by the main house. Chris has allergies and with mould in a couple of the rooms this caused Chris to seek medical advice and take further medication. Charles says he is aware of this and is in the process of dealing with it ..
Anna
2016-09-30T00:00:00Z
An overall good experience in a quiet and picturesque location. We didn't get to see too much though as we were working all week. Charles was a good host, who made us feel welcome.
Ziggi
2016-04-18T00:00:00Z
Charles and Deborah made us feel very welcome. The photos didn't do it justice, it's lovely. The location is very peaceful. Would love to stay again.
Sophie
2016-08-31T00:00:00Z
Tipo de Quarto
Casa inteira/apto
---
Tipo de Imóvel
Apartamento
---
Acomoda
2
---
Quartos
Caterham, Surrey, Reino Unido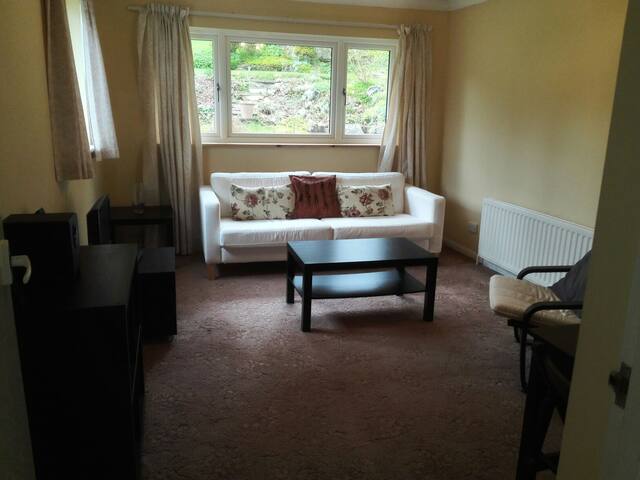 Caterham - Airbnb
:
Média de

4.88

de

5

estrelas, de acordo com

864

avaliações de hóspedes
Insira as datas para ver o preço total. Taxas adicionais aplicáveis. Podem ser adicionados impostos.