Private bedroom with a twin bed. Perfect for students. Adjacent to a 1/2 bath and near to a full modern kitchen. House features a sunroom, large livingroom, full bath with shower and huge back yard. Close to the metra and shopping malls.
Tipo de Quarto
Quarto privado
---
Tipo de Imóvel
Casa
---
Acomoda
1
---
Quartos
Chicago Heights, Illinois, Estados Unidos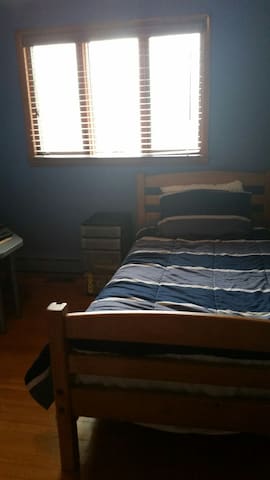 TEST DO NOT DELTE>
Tipo de Quarto
Quarto privado
---
Tipo de Imóvel
Apartamento
---
Acomoda
1
---
Quartos
Chicago, Illinois, Estados Unidos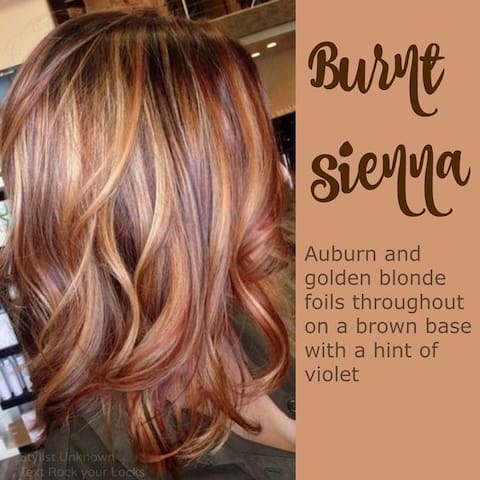 Bed , closet , bathroom , kitchen , the essentials
Samuel was a great host!
Anthony
2017-03-21T00:00:00Z
Tipo de Quarto
Quarto privado
---
Tipo de Imóvel
Casa
---
Acomoda
2
---
Quartos
Chicago, Illinois, Estados Unidos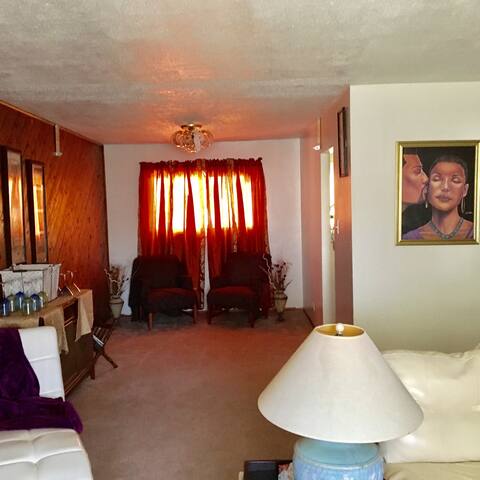 im 1. Stock privaten bedrm mit bathrm komfortabel für zwei Schlafsofa. Auf sicheren, ruhigen Straße w / kostenfreie Parkplätze. Der Zugang zu Wäscherei und Küche. 2 Meilen von Metra Zug, kurze Fahrt in die Innenstadt von Chicago. Der Nähe der wichtigsten Autobahn. Raum mehr ppl zu schlafen.
Ruhig, sicher, freundlichen Nachbarn, familienfreundlich, in der Nähe von Geschäften, Restaurants, Autobahnen und Züge nach Stadt
Anna made me feel right at home for my night stay! Very accommodating!
Cullen
2016-11-29T00:00:00Z
The reviews were spot on. She made my first booking with AIRBNB such a success. I had no worries or concerns. She provides so much information and is so willing to assist. She's sweet and kind and the room itself is wonderful. Very comfortable stay, very peaceful sleep. Thumbs up!!
Kristelle
2017-02-13T00:00:00Z
Anna and her husband are very kind. But it is up to the guest to provide her own breakfast, coffee, etc. I got mine from McDonald's.
Kristina
2017-03-05T00:00:00Z
Anna was very friendly and knowledgeable about exploring the city. She was available to answer any and all questions and it was a pleasure to stay with her. The room did get a bit colder but the extra blankets and freedom to adjust the thermostat helped with that. Would recommend her place for sure!
Debra
2016-12-06T00:00:00Z
Anna offers a comfortable private room on the first-floor of her south suburban Chicago home. She made room for us in the kitchen, and the house was extremely clean, with a modern, earthy pleasant decor. Anna was a genial host, both accommodating to changes in our travel plans and sincere in her desire to help us in any way. The house is conveniently located in a quiet residential neighborhood adjacent to a large park perfect for a run, to play with children, or to get fresh air. If you are looking for a pleasant and uncomplicated place to stay, this is the perfect place.
Anya
2017-02-03T00:00:00Z
This was my first experience with Airbnb and it was a great one. The room was clean and comfortable. The bed was so comfy, I didn't want to leave. The room had it own private bathroom. A great selection of toiletries were provided, as well as towels. There was plenty of privacy which was a plus. The host were great! It was close to all my destinations while I was on vacation. It was a great experience.
Josey
2017-03-27T00:00:00Z
Our hosts were terrific and extremely accommodating. Very comfy bed and secluded bedroom. Easy access to what we needed. Will be sure to stay again when passing through in future.
Mark
2017-04-05T00:00:00Z
Anna and her husband are very kind, helpful and friendly. The accommodations are very comfortable and clean, and the bathroom is clean and has everything a traveler needs! I will see if they are available next time I'm in Chicago!
Kristina
2017-01-17T00:00:00Z
Tipo de Quarto
Quarto privado
---
Tipo de Imóvel
Casa
---
Acomoda
4
---
Quartos
Park Forest, Illinois, Estados Unidos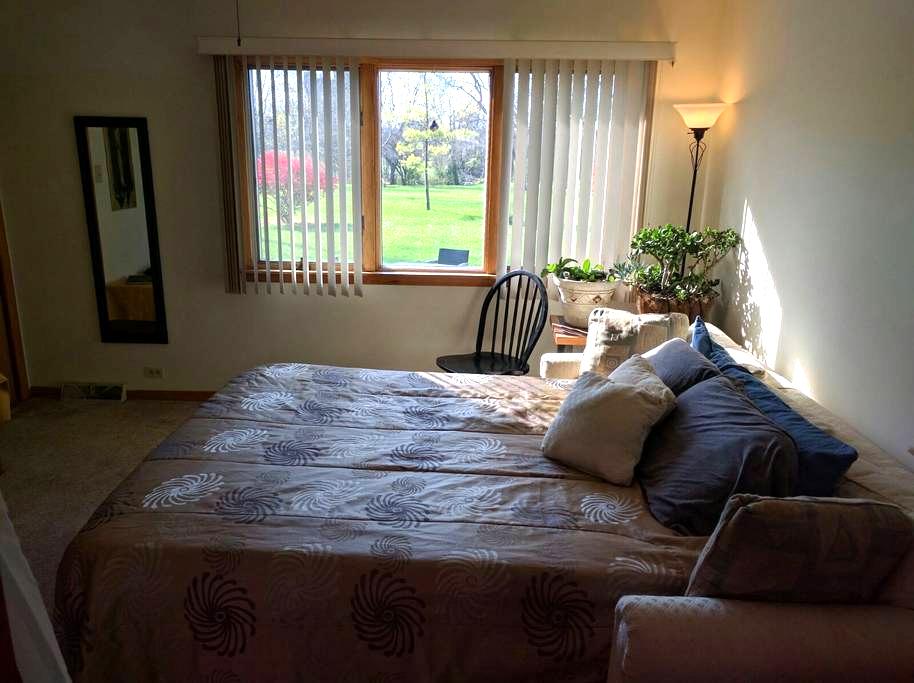 Clásica decoración de estilo victoriano, en un entorno de ciudad pequeña. Cerca de hospitales, grandes almacenes. Wi-Fi gratuito, Tivo gratuitas a través de la televisión de aire con el uso de DVR. Y vapor de programación. Aparcamiento en la calle de sentido Drive. pleno uso de la cocina y el cuarto de lavado. Gran armario y baño compartido con otra persona con ducha y bañera. Su es un descuento del 50% si se alquila mensualmente en $ 450.00 al mes.
Tipo de Quarto
Quarto privado
---
Tipo de Imóvel
Casa
---
Acomoda
2
---
Quartos
Steger, Illinois, Estados Unidos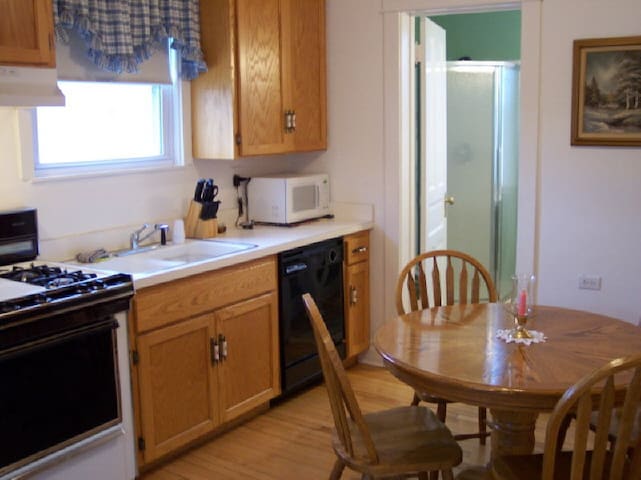 Un canapé-lit canapé extrêmement confortable que certains me ont dit est le sommeil de la meilleure nuit, ils ont jamais eu! Super endroit si vous ne devez passer la nuit en passant par mais j'ai eu un certain séjour pendant des semaines aussi.
Les cerfs sont une partie très spéciale d'être ici. Les hautes fenêtres sont parfaits pour les regarder dans la cour arrière.
Nous avons un merveilleux voisin nommé Kathy qui garde un œil sur la maison donc nous aurons besoin de lui faire savoir quand vous serez logés à la maison. Avant que nous avons fait Airbnb une fois qu'elle a appelé la police parce que nous ne la laissa pas connaître un ami qui nous a dit de venir juste à la maison quand nous étions pas encore là! Elle est utilisée pour le changement Airbnb des voitures maintenant bien! Elle est un bijou.
It was surprised that the house was location in the forest (my feeling)! The suite looked like a camping area with a huge back yard, Ruth was quite nice and she helped me set up the soft bed, I should admit that she was right because it was the most comfortable soft bed I have ever slept on!
Gavin
2016-08-08T00:00:00Z
Only stayed to sleep. Very comfortable. It was exactly what was promised. No issues or complaints.
Alex
2016-03-23T00:00:00Z
The place was exactly what was advertised and worked great for us as we were looking for somewhere cheap to crash for the night. The only hiccup was the other airbnb rentals- the other people decided to leave at 3 in the morning and were very loud getting to the front door. Ruth however, was great, and very accommodating of our late arrival and our early start time.
Caroline
2016-02-16T00:00:00Z
Ruth was so kind. There was a small miscommunication about our arrival but she was quick to get us settled in immediately. The location was nestled in a wooded area - it was nice being nearish to the city while feeling like you're in the country.
Brian
2016-07-17T00:00:00Z
Very nice place to stay away from the hustle and bustle of the city, bed was comfortable as advertised. Ruth was exceedingly accommodating and provided excellent directions on how to find her driveway.
Kurtis
2016-09-25T00:00:00Z
The place is "in the woods" - which took me by surprise being so close to Chicago. Couch is comfy. Ruth and family very welcoming and hospitable. If you want privacy, be sure and ask for he office room. This particular space is the living room in an open floor plan home. If you have issues sleeping in "public" (i.e. not behind closed doors) this might not be a great fit. But as a great place to feel welcomed and rest, it tics the boxes.
Richard
2016-08-07T00:00:00Z
Ruth made me feel very welcome and the neighborhood was very nice!
Peter
2016-10-02T00:00:00Z
Ruth's place is everything that was communicated to me via airbnb prior to my arrival. Check in and the entire family environment exceeded my expectations and I'll surely look forward to staying in this "sack in the woods" again! The pull out bed is very comfortable and sharing the bathroom worked very well. Coffee and offers of snacks (even Ruth's fathers evening meals) was an added bonus along with all of the shared life stories and laughter! Biggest hugs to all!
Marilyn
2017-01-22T00:00:00Z
Tipo de Quarto
Quarto partilhado
---
Tipo de Imóvel
Casa
---
Acomoda
2
---
Quartos
Steger, Illinois, Estados Unidos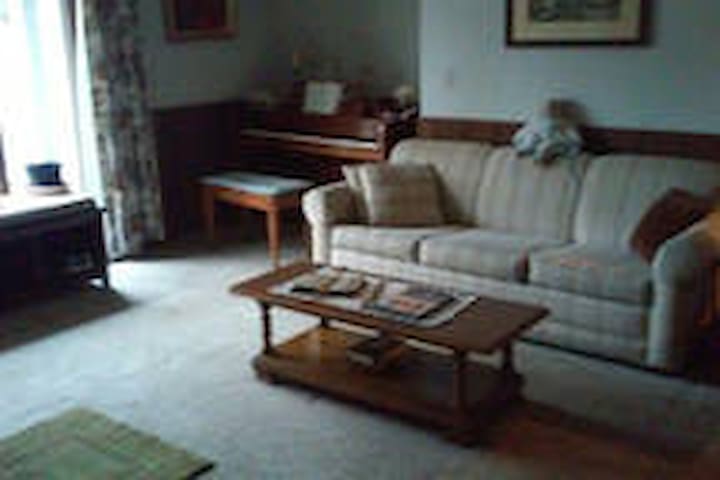 Hermosa suite en la casa de lujo de estilo ejecutivo. Invitado tiene uso de sótano terminado que incluye plato de ducha. También incluye zona de estar situado y cómodo televisión de 50 pulgadas rodeada de cuero sección. cama de aire reina prevista del sueño
Tipo de Quarto
Quarto privado
---
Tipo de Imóvel
Casa
---
Acomoda
3
---
Quartos
Olympia Fields, Illinois, Estados Unidos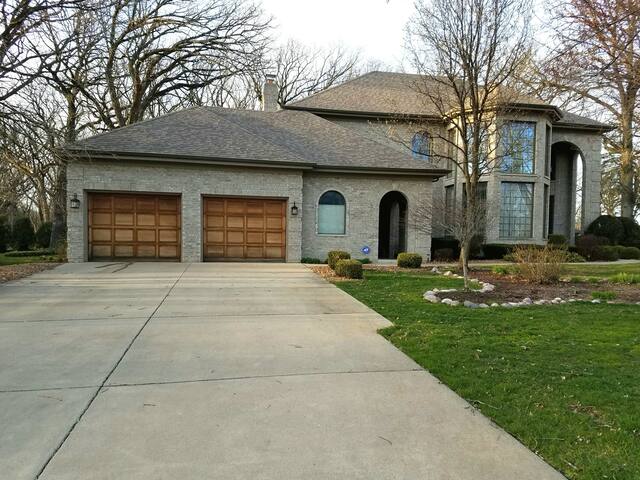 Tipo de Quarto
Casa inteira/apto
---
Tipo de Imóvel
Casa
---
Acomoda
2
---
Quartos
Park Forest, Illinois, Estados Unidos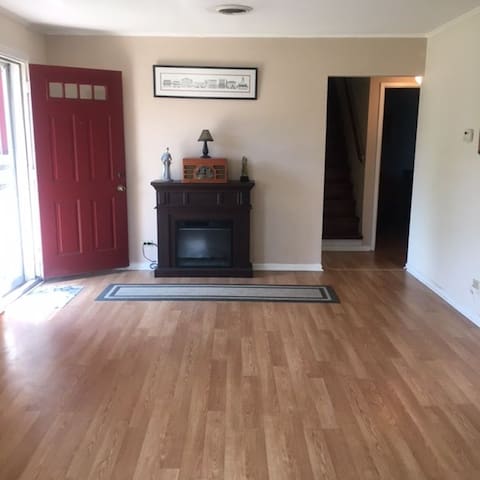 This quaint loft style apt features a full kitchen and living area downstairs and cozy bed and bath upstairs. Includes cable and Internet. Two blocks from train to downtown Chicago. Also near shopping and expressway.
This rental space has a unique layout. The bedroom with full size bed and bathroom are located upstairs while the kitchen and living area are (URL HIDDEN) space includes a sofa with a fold out bed for visiting or addtional guests.
Located in the quiet old downtown area of Matteson, IL. Nearby Old Plank Trail for biking, running or walking.
I so enjoyed my stay...I was here for a project and when I explained what I needed they were right on it and made everything come together so perfectly. When my schedule deviated they were more then happy to accomadate me. It was my first time being so far away from home on my own and they really made me feel comfortable. The neighborhood was quiet, peaceful and yet the neighbors were so helpful and very kind.
Cynthia
2015-11-09T00:00:00Z
Harvest was very easy to communicate with leading up to and during our stay. The accommodations were quaint and sufficient for our length of stay. A kitchen with pots, pans, utensils, toaster oven, microwave, coffee pot and more made it just like home. Access to the rental from the interstate is simple and the Metra is less than a block away. Plenty of space for two with the loft style bedroom upstairs with seating area and TV in living room downstairs.
Justin
2016-04-16T00:00:00Z
Quiet and comfortable. Fully furnished down to kitchen utensils. Great communication and flexibility on owners part as well. Easy access to Metra.
Jonathan
2015-12-19T00:00:00Z
I and my mum enjoyed our stay. The train station is just around the corner. There's a mini grocery shop not far too. Overall it's a very safe neighborhood. The heating is more than perfect. I loved my stay there alot. My son and baby enjoyed their stay there too.
Jovita
2017-03-29T00:00:00Z
Great Place to stay with everything you need included. I would highly recommend.
Alexander
2016-12-25T00:00:00Z
Tipo de Quarto
Casa inteira/apto
---
Tipo de Imóvel
Apartamento
---
Acomoda
2
---
Quartos
Matteson, Illinois, Estados Unidos
habitación privada para 2, 5 minutos a pie de tren, 25 minutos en coche del centro. Conversor de sofá
Samuel was a friendly and helping person. He was responsive to messages. He even upgraded the internet speed for us, as I needed a fast connection. But unfortunately we had issues with the cleanness and odor and the kitchen. There is no sink in the kitchen, it is a bowl where he washes the hair of his costumers (he is a hairstylist). During our stay there were costumers who came in to his saloon for hair cut, which was not mentioned on the website. The saloon is divided from the living area by a curtain. Despite he put deodorants everywhere in the house, the bathroom odor was annoying. The carpets were not clean and were dusty and I found lots of hairs on it (perhaps from the saloon). The kitchen dishes were old and smelly. The refrigerator stopped working after a power outage, but he let us use the one upstairs. We planned to stay in his place for a month, but left after a week, despite he did not consent to refund even the smallest part of our money. Overall this place is fine for a one or two day stay, but it is not recommended for longer stays.
Roshanak
2017-04-02T00:00:00Z
Sam was a nice host, no complaints about him. The bed provided was just a bit uncomfortable for my friend and I. The main sleeping area for guests is a closet, so just be prepared for that. If you are okay with sacrificing comfortability for a relatively short drive to the city, then I would say you should stay here.
Blake
2016-10-09T00:00:00Z
Samuel was friendly and communicative, and the location is great for an affordable room near Chicago and its train system. We were a little cold in the night especially because it was an air mattress, but perhaps we could have asked for more blankets and by the time we realized we did not want to bother. Otherwise it was a comfortable, decent place to stay.
Sari
2016-11-05T00:00:00Z
Samuel was very hospitable. Just be aware that the room is a large closet with an air mattress. Good price and location.
Maryselle
2016-11-30T00:00:00Z
He was nice, and did what he could to help us.
Natasja
2016-10-16T00:00:00Z
The place was clean and comfortable. Samuel was very, friendly, helpful, kind and care even though he wasn't at the house. He has a huge screen and an xbox that my bro enjoyed. Hehehe Important to say that the distance to downtown is farer, be aware of that.
Deyanira
2016-10-14T00:00:00Z
The Host was very hospitable. Place was clean and allowed for privacy. Will definitely stay there in the future
Russell
2016-09-30T00:00:00Z
Samuel was very nice i saw him just one time but by text he was very helpful for transport and indication for the house
Megan
2016-11-06T00:00:00Z
Tipo de Quarto
Quarto privado
---
Tipo de Imóvel
Casa
---
Acomoda
2
---
Quartos
Chicago , Illinois, Estados Unidos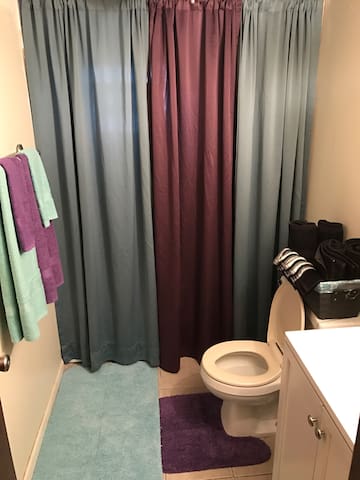 Confortable appartement dans notre garage avec entrée privée. coin cuisine avec réfrigérateur, micro, plaque de cuisson, des ustensiles. Salle de douche. Petit placard pour suspendre les vêtements et construit dans raboteuses pour les longs séjours. L'accès à une laverie
Avec une entrée privée et tout ce dont vous avez besoin pour votre séjour, notre studio est un endroit peu coûteux à déballer vos affaires, obtenir une bonne nuit de repos et un accès facile à Chicago. Nous fournissons normalement l'espace avec un lit double. Nous pouvons ajouter un autre double pour un deuxième adulte ou un enfant, mais cela peut faire sentir l'espace plus petit
Notre voisinage immédiat est une rue en forme longue U- avec des maisons sur de grands terrains. L'accès à une forêt de préserver et de voisins amicaux font un excellent endroit pour vivre. Vous pouvez conduire en ville en quelques minutes et trouver une grande variété d'endroits pour manger, y compris une micro brasserie et un excellent café.
The RV was clean and complete equipment. The people we spoke with are nice and and to make everything okay. It was a nice new experience.
Erwin
2015-04-27T00:00:00Z
This was our second time staying with John and Sheryl . They were very flexible with our late arrival and early departure times. The apartment was quiet and cozy, and had everything we needed.
Sandrah
2016-05-22T00:00:00Z
Very welcoming and easy access. Did not matter that I was arriving late. The upstairs unit was private and comfortable for the most part... At home I have a really great bed, so hard to compare that, but it had everything I needed and I felt taken care of.
Jeannie
2016-08-03T00:00:00Z
Loved it!
Matt
2016-09-05T00:00:00Z
All was good. Could use a little more parking. It's tight. Secure quiet area. Would stay again with a TV.
Chris
2016-10-06T00:00:00Z
Great place
John
2016-11-19T00:00:00Z
Tipo de Quarto
Quarto privado
---
Tipo de Imóvel
Casa
---
Acomoda
2
---
Quartos
Crete, Illinois, Estados Unidos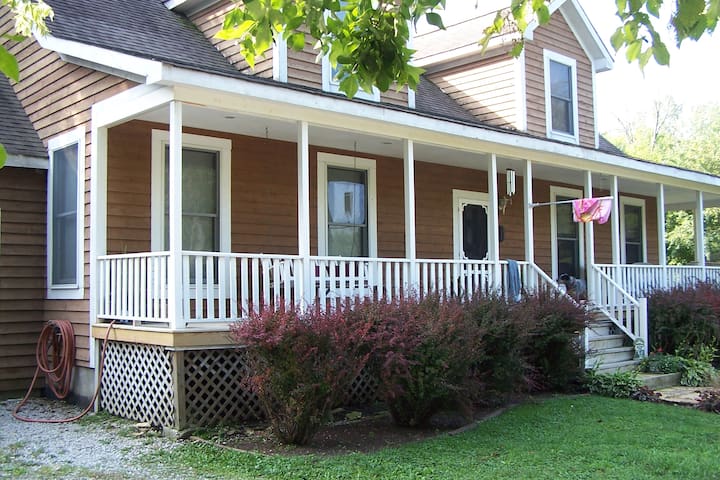 Tipo de Quarto
Quarto partilhado
---
Tipo de Imóvel
Casa
---
Acomoda
2
---
Quartos
Park Forest, Illinois, Estados Unidos
Ce que j'aime notre maison comprend un certain nombre de choses. Les trois premiers serait le style ranch de la maison, donc tout est sur un seul niveau. Deuxième serait la cheminée en pierre, baie vitrée avec un cerf occasionnel à l'extérieur! Troisième serait les bois!
Les cerfs sont une partie très spéciale d'être ici. Les hautes fenêtres sont parfaits pour les regarder dans la cour arrière.
Nous avons un merveilleux voisin nommé Kathy qui garde un œil sur la maison donc nous aurons besoin de lui faire savoir quand vous serez logés à la maison. Une fois, elle a appelé la police parce que nous ne la laissa pas connaître quelqu'un qui nous dit de venir juste pour la maison quand nous étions pas encore là!
Ruth was a wonderful host! Clean, spacious house, made everything available to me, welcomed me like one of her sons with energy and a smile. I felt very comfortable and would definitely recommend Ruth's listing :)
Mohammad
2015-12-12T00:00:00Z
Ruth was so considerate and flexible. I felt very welcomed! The room was nice and comfortable, as was the waterbed. I had a lot of fun getting to know Ruth and her husband and having breakfast with them! I definitely recommend staying here. It felt like home.
Heidi
2016-10-28T00:00:00Z
I was a guest at Ruth's place for almost 7 months. I never felt away from home and my family. I was treated as their own son. The house was clean. The room gives total privacy. The bathroom is very clean. Ruth and Donny helped me out if I had any difficulty locating places around. Overall it's was an awesome stay and I couldn't have completed my internship and courses successful without their help.
Taher Ammar
2016-07-31T00:00:00Z
Tipo de Quarto
Quarto privado
---
Tipo de Imóvel
Casa
---
Acomoda
2
---
Quartos
Steger, Illinois, Estados Unidos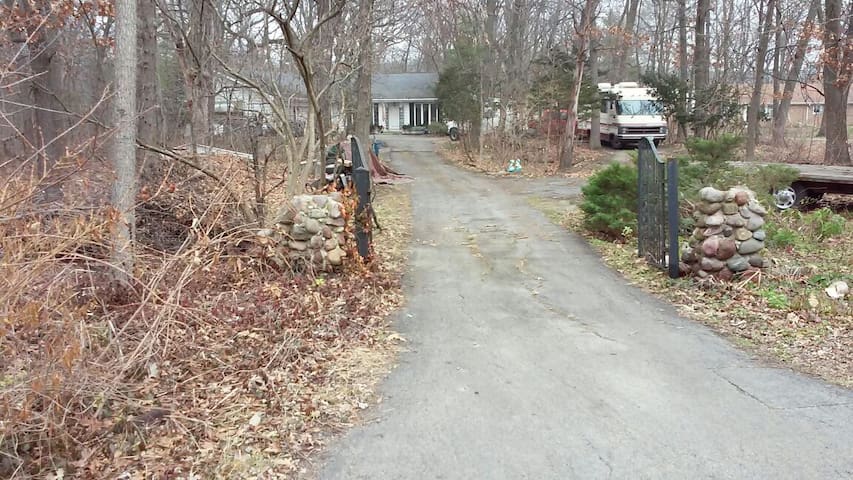 I had a fantastic stay. Ken and Julie were wonderful hosts. The room was perfect and very nice! Every morning, Ken and Julie provided me with freshly cut fruit and a wonderful breakfast. I was playing in a tennis tournament so I was gone a lot during the day, but when I came home, I got to meet some of their friends and they made me feel like part of the family. I had a fantastic time and hope to come back again next year!
Cindy
2016-05-24T00:00:00Z
We had a terrific experience staying at Ken and Julie's home! The room is actually bigger than it looks on the (URL HIDDEN) is a very quiet neighborhood and a comfortable walking distance to the train which makes a trip to/from Chicago very easy. We especially enjoyed having coffee/breakfast in the very comfortable kitchen area that overlooks some woods in the backyard...we thoroughly enjoyed visiting with Julie. Mike loved the homemade bread! We look forward to staying again in the future.
Elizabeth
2016-05-16T00:00:00Z
Quiet, nice, and lovely room in a beautiful house. With the bath room inside the guest room (so it's a private bathroom actually), very convenient with 100% privacy. Hosts are friendly and outgoing.
xin
2016-07-18T00:00:00Z
A lovely private room with full bath tucked away in a quiet neighborhood in close proximity to Chicago
Patrick
2016-10-23T00:00:00Z
My room was quiet and clean and the bed is very comfortable. The neighborhood is peaceful, and the host family is thoughtful and kind. For breakfast they offered a bowl of fresh fruit - excellent and tasty, plus several choices of toast and good coffee! When I return to Homewood, IL I hope their room will be available for me to stay in again!
Kristina
2016-09-05T00:00:00Z
Ken was a gracious host. He and his wife were delightful people. We had trouble finding his place due to our Garmin problem. Ken stayed with me on the phone and was standing in the driveway upon our arrival. The neighborhood was great. The home was beautiful and clean and neat. The room was very spacious and very clean. It was like you would keep you own. The bathroom was inside the bedroom. It was like a suite. Quite large and very clean. It made it nice not having to go out of your room. The breakfast was great homemade granola, a bowl of fresh fruit an homemade muffins. We also had available; coffee, tea,juice toast & homemade jellies and jams. It was delightful. Ken and his wife were so kind and helpful. If ever in the area again I would hope the room would be available. This place was a winner.
Jackie
2016-08-20T00:00:00Z
Our hosts were very friendly! The room was great. They even made breakfast for us!
John
2016-06-27T00:00:00Z
Ken and Julie are wonderful hosts! Warm, welcoming, and accommodating. I would definitely recommend!
Karyn
2015-11-21T00:00:00Z
Tipo de Quarto
Quarto privado
---
Tipo de Imóvel
Casa
---
Acomoda
2
---
Quartos
Homewood, Illinois, Estados Unidos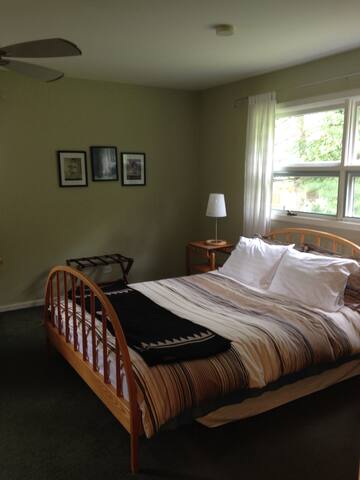 A klasszikus lakás kerekeken kezdődött az élet 1965-ben, mint egy Trailways busz Kanadában. Miután csökkenő utáni nyugdíjba, azt kimentették és lelkiismeretesen felújított és átalakított egy osztályban egy lakóautó. Ez a kompakt, mégis kényelmes ház a kerekeken van egy saját kis otthonos ..... kerekeken.
Valaha csoda, milyen lenne, mint az utazás egy szép RV? Ez lehet a lehetőséget, hogy mi RV élő, mint anélkül, hogy a szükséges pénzügyi befektetés. Minden kényelmi az otthon, teljesen berendezett. Queen ágy, fürdőszoba zuhanyzóval, konyha konvekciós mikrohullámú sütő, szakács top, és hűtőszekrény. Kis asztal és székek. Kemence és a klíma. Törölköző és ágynemű biztosított. Felhívjuk figyelmét, hogy a konvertált busz a mennyezet alacsony. 6 láb 1 hüvelyk magas. Ha több, mint 6 m magas, akkor lehet találni a busz egy kicsit kényelmetlen.
A ház található egy U alakú utca kis forgalmú. A legtöbb lakás épül egy és 2 hektáros sok. Mi egy rövid sétára erdő megőrzése, ahol élvezheti a nagy szabadban, és ha úgy tetszik, hogy a kutya egy elszabadult séta. Downtown Kréta 2 mérföldre van: szombat termelői piac (május keresztül október), antik üzletek, és a régi város varázsát. Az Edge kávézó friss sült bab kávék, turmixok szendvicsek és sütemények, helyi híres Aurelios Pizza, Cals csirke City, kömény kávézó, The Old Town Tap, Jasons Pub és a Rossz ló Brewery annak állandóan változó élelmiszer teherautók, kínálnak a különböző étkezési lehetőség.
This is a great place to stay! My brother and I rented John's RV for a week and really enjoyed it. It was a nice, clean place to come home to after work. John is very accommodating and puts a lot of effort into helping his guests feel welcomed. I am currently renting a room in his home and love it as well. They're both great deals. I highly recommend either one.
jeff
2015-05-24T00:00:00Z
John and Sheryl were great. They went through the extra trouble to shuffle around their current tenants in order to host my wife and I (which we appreciate so much!). We arrived a bit late in the evening and drove down their gravel driveway to find their RV tucked away at the very back of the stretch, perfectly secluded from the street and the main house. It is exactly as described if not better! For an RV it's quite spacious with a queen sized bed (in a bedroom which you can close off from the RV), a bathroom complete with shower and toilet (also able to be closed off for privacy) and a kitchen complete with stove, sink and microwave/oven. I would definitely recommend their RV to anyone looking for a nice and quiet getaway. As for Sheryl and John, they are such friendly and welcoming people. I find it's rare to meet people as genuinely kind and generous as they are these days, it really was a refreshing experience. On one of the colder days I messaged John and asked him how to work the heater, as it turns out the RV does not have a heater; less than 5 minutes later Sheryl was knocking at our door, she had walked through the pouring rain to bring us a space heater! Just awesome people! Also, It says in John's description that he's an avid gardener, we can attest to that! Sheryl offered us some of the arugula that was growing in one of their garden beds and it was so fresh and delicious I put it everything from our salads, wraps and even some soup! Last but certainly not least, on the day that we left John brought us a "going away gift", some artisanal soap from the farmer's market! How amazing is that?! Again, I would recommend this RV to anyone! And if ever I feel the need to get out of Chicago I would not hesitate to stay at John and Sheryl's again!
Dawn
2015-05-31T00:00:00Z
John and Sheryl are marvelous hosts! I stayed with them from May until August, and would have stayed longer with pleasure. Their generosity and willingness to make my living there more and more comfortable was truly remarkable. On top of this too, they are the most friendly people you could hope to meet. The RV itself was a blast to stay in. It is clean, cozy, and completely equipped with everything one could think resourceful. I hold John and Sheryl in my highest of recommendations. So what are you still thinking about? Book and enjoy!!
Sean
2016-08-06T00:00:00Z
We loved it! John and his wife Sheryl have made this RV really functional, practical, and very comfortable to live in. Its interior is quite tidy and has plenty storage spaces. It's perfect for two people or a small family. A short drive from University Park, the Metra train station, this RV nestled between bushes and the host's beautiful house. John and his wife are superb hosts. They are very polite, easy-going, friendly, and communicate really well. They prepared filtered water for us, showed us around, and then left their fully equipped RV for us to enjoy. There are CD/radio with nice sound system and movie DVDs with a decent-sized flat panel screen. We loved having breakfast next to the window, while listening to Sarah McLachlan's performance. There are many wonderful things about this place, but we could not drive their RV away, though it would be very nice to :), on the way back...
Kevin
2015-07-05T00:00:00Z
So much fun! We thought it would be a hoot to stay on a renovated bus during our trip to visit family. The bed was extremely comfortable and we had plenty of space. Great water pressure in the shower. We didn't get to spend much time there other than sleeping, but it was in a great location for us and very economical. Thanks for hosting us!
Stacey
2016-06-05T00:00:00Z
Everything was top notch. I stayed on the bus for a couple weeks when I was between homes. The RV conversion of the bus is very nice, and it offers everything anyone needs. John and Sheryl are very gracious hosts, and the setting is in a quiet, wooded neighborhood. I'd definitely recommend staying here.
Jason
2016-05-24T00:00:00Z
John and Sheryl were very accommodating to our busy schedule and late arrival. A handwritten welcome note awaited us, with all the information we needed. The bus was cozy and comfy for our 2 night stay. It was great to have an alternative to the truck-stop motels in Monee when visiting family in Crete.
Sandrah
2016-04-17T00:00:00Z
What a gem! Superbly renovated. Very clean. John and Sheryl made us feel very welcome.
Susan
2016-10-30T00:00:00Z
Tipo de Quarto
Quarto privado
---
Tipo de Imóvel
Autocaravana
---
Acomoda
3
---
Quartos
Crete, Illinois, Estados Unidos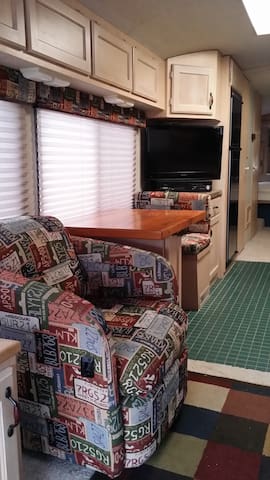 This is a 3 bedroom house with 2 bathrooms. There are 2 full beds, one queen, and one twin day bed. You have full access to the kitchen pantry, refrigerator and bathroom accessories. Games and books throughout. Luxuriate in stunning views of gardens!
Our homestead, Willowthorne, is situated on 9 acres of wooded property featuring a large pond surrounded by willows. Delightful gardens dot the property, with sitting areas for chatting over sweet-smelling herbs or meditating upon the flowers. "Like" our social media page under Willowthorne and check out photos of Willowthorne grounds throughout the seasons.
Quiet neighborhood with easy access to surrounding towns. Take a walk by the pond, discover hidden gardens or meditate seated in our bower. This sleepy neighborhood is very safe and generally very quiet. Just east of us you will find a Polish smorgasbord restaurant, great for kids. There is also mini golf and a roller skating rink within walking distance. Many people go to 3Floyds Brewery to try their famous beer and delicious food, just over the border in IN, about 15 minutes drive. There are antiquing opportunities in several town surrounding Lynwood.
Amazing spot! Jill was incredibly communicative and a pleasure to deal with. Highly recommend!
Andrew
2015-05-19T00:00:00Z
Jill really went above and beyond for us! Our travel timing kept changing and she was incredibly flexible -- and gracious -- which really reduced our stress levels! Her property is just as beautiful as it seemed in the pictures, and we just wish we'd had time to stay longer to enjoy it. The bedrooms were spacious and beautifully decorated. The kitchen was well-stocked and she even left us fresh eggs from the ducks she is raising for our breakfast! (She also left stale bread so our kids could feed her chickens....) The home had board games and books everywhere to enjoy. We were so touched that Jill took the time to meet us on arrival and give us a tour of the property. This truly is an urban oasis and we recommend it highly!
Jen
2015-07-02T00:00:00Z
Jill was so easy to work with throughout the entire process! The house was in a great location and was a great alternative to a hotel for getting a big group together. Very convenient all around!
Andrea
2016-09-12T00:00:00Z
The host was very welcoming as soon as we got there! She gave us a tour of the house and the backyard and was very nice. The location and neighborhood was beautiful and quiet. I would definitely stay here again (:
Samantha
2015-06-01T00:00:00Z
Jill was a great host. She was very accommodating, provided everything that we needed, and was very responsive and flexible. The home really is an urban oasis with great views in the back by the pond. We had a nice time relaxing outdoors and walking around the property. It is an active farm though, with chickens and crowing. The roosters didn't bother me but a few members of our party had a hard time sleeping in the early hours of the morning. Also some noise from the road was fairly noticeable. Again, didn't bother me but affected a few in our party. Overall, the place was nice and tidy and we enjoyed our stay.
Eric
2016-07-04T00:00:00Z
Very welcoming nice neighborhood
Vick
2015-06-28T00:00:00Z
Jill made me feel incredibly welcome and while the listing looks great it actually was even better than anticipated. This place is a true gem! You feel completely transported to a bucolic and beautiful world that is crazy how close it is to the actual city. Felt at peace here. Was able to relax, meditate and get a ton of work done. Love the setting of vegetable gardens, chickens, ducks and beautiful flowers. Can't forget the Blueberry bushes, weeping willows and great pond. Made for great running early in the morning. It's the little things that also count and add to a cumulative incredible experience. Farm fresh eggs, nice soaps, lots of towels, this place was set up perfectly. Could not have been happier.
Mark
2015-08-10T00:00:00Z
Looked just like the pictures, no surprised. clean, quiet, beautiful surroundings. Felt like I was in a beautiful oasis. Great place to stay, highly recommend it.
sandy
2015-11-15T00:00:00Z
Tipo de Quarto
Quarto privado
---
Tipo de Imóvel
Casa
---
Acomoda
4
---
Quartos
Lynwood, Illinois, Estados Unidos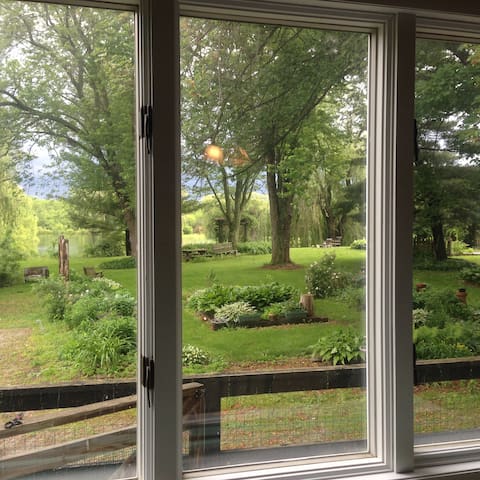 You drive to an upscale neighborhood with spacious well manicured lawn's. Then a woman with a smile, greets you at the door. That is how night started and it just got better by the minute. Well cleaned home, full bed, tv, soft bedding, and well decorated room. The next thing I knew it was morning and I was off on my journey, rested and ready to take on the world. Thank you Miss
James
2016-01-29T00:00:00Z
I am so glad to be back and I plan to stay more with Airbnb more often because of the people like Miss who care so much and deliver a caring experence.
James
2016-03-19T00:00:00Z
Tipo de Quarto
Quarto privado
---
Tipo de Imóvel
Casa
---
Acomoda
2
---
Quartos
Flossmoor, Illinois, Estados Unidos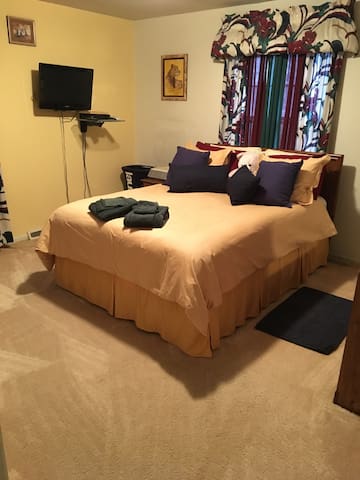 Insira as datas para ver o preço total. Taxas adicionais aplicáveis. Podem ser adicionados impostos.