39 Apartamentos para Alugar
New studio apartment with separate entrance nestled on the Shepaug River minutes from the Village of Litchfield, two hours from NYC. Property has 100 year old trees river & ponds. Close proximity to summer/winter activities, hiking trails, and the magnificent colors the New England fall foliage. Amenities are finished beautifully. Entire property has charm and warmth along walkways, the river and ponds are amazing and tranquil. A perfect escape to decompress or a couples romantic getaway.
The apartment has white angular ceilings. The space is immaculate, quaint, with plenty of storage for your belongings, perfect for two people. There is a large desk to spread out any task with wifi. The T.V. pulls out from the wall can be angled anywhere. The bathroom has an open spa shower with a seat and bath essentials. Soft white linens for the queen bed covered with pillows and a duvet for a comfy quiet nights rest. The air here is a recipe for a great nights sleep. A full kitchen, everything from utensils to cookware. A satisfying breakfast of coffee, fruit, juice, yogurt, & baked goods, provided by local farms and bakery, and small snacks for hungry arrivals.
A Brief History of Milton This beautiful section of Litchfield, CT was originally settled about 1740. In its earliest days it was known as the "Northwest Section," but soon was called "Blue Swamp" because of the blue gentian wild flowers that grew beneath the many tamarack trees which flourished in the swampy area. The name Milton was chosen in 1795, probably in honor of John Milton, the English poet.
This rental was everything it was advertised to be. The location was scenic and peaceful. The space was beautiful and inviting. Antonia was welcoming, and she provided more than we expected. It's an absolute "must visit" in our book. We would love to return someday.
William
2017-02-20T00:00:00Z
We loved every bit of Antonia's apartment -- the space itself, Antonia's warmth, the surrounding grounds, the city of Litchfield, and the proximity to amazing hikes (literally 10-20minutes door to door for 3-4 exceptional hikes). When we arrived Antonia greeted us, showed us around, and had already stocked the kitchen with fresh baked goods, fruit, yogurt, milk, juice, soda, etc -- much more than we expected. The apartment is beautifully designed and furnished, cheers to her husband for such incredible attention to detail. I recommend Antonia's place (and Antonia!) without hesitation. In the spirit of full disclosure, there was a slight miscommunication when we left -- we had requested a late afternoon checkout (3-4pm) and Antonia had confirmed but turns out the cleaners were arriving at 130pm and we had to rush our lunch & head out. All in all no big deal, just wish we could have cleaned the place a bit better before leaving!
Kyle
2016-10-16T00:00:00Z
Antonia and her husband were gracious hosts! We weren't sure exactly what time we were going to arrive so Antonia left our door open with the key inside so we wouldn't feel any pressure to arrive at a certain time. We were driving from Boston and wanted to make stops along the way. The room was immaculate and had all the amenities we could ever need. Antonia even had snacks and breakfast for us in the fridge! The property was gorgeous and we spent time walking all around and enjoying the views. Antonia was helpful in giving us suggestions on places to hike and things to do in the area. Her and her husband are such a lovely couple and had a great energy. We didn't want to leave! We will definitely be back and I highly recommend staying in this beautiful home!
Lauren
2016-10-22T00:00:00Z
Words can't describe how special Antonia's retreat in Litchfield is-and what a wonderful and accommodating host she was. Her communication was easy and helpful before and throughout our stay. The studio is newly renovated and beautifully decorated giving the feel of a luxury boutique hotel. In addition to the attention to detail with the decor, she also thoughtfully provides everything one might need for a short stay including milk, juice, coffee, fruit, snacks and pastries from the local Bantam Bread- highly recommended. The property was beautiful covered in a blanket of snow but I am sure it's even more breathtaking in the spring, summer, and fall seasons. Her studio is a perfect sanctuary and we only wish we could have stayed longer. An excellent experience, and a place we hope to visit again. Thank you, Antonia!
Natasha
2017-03-19T00:00:00Z
wonderful hosts, lovely people, truly beautiful location. thank you
Rafe
2016-11-26T00:00:00Z
Thank you for this great hospitality Beautifull and cosy in the forest near a river
Xavier
2016-10-30T00:00:00Z
Great hosts and great place!
Terry
2016-10-29T00:00:00Z
When I got there, Antonia was sitting on a bench by the river waiting to welcome me with open arms. I was in the area visiting family and we had a full house (plus I hate staying with my mother when I visit).... Anyway - enough about me - The place was immaculate - central AC, gorgeous desk and every amenity. Antonia's husband is a French chef - so, for an apt - the kitchen amenities were over the top - especially for a smaller space. The nature and the warmth of the apt was amazing I'm from the area - but that said - the location is great, everything is 10 minutes from the front door Big thumbs up from me - Jon
Jonathan
2016-09-13T00:00:00Z
Tipo de Quarto
Casa inteira/apto
---
Tipo de Imóvel
Apartamento
---
Acomoda
2
---
Quartos
Litchfield, Connecticut, Estados Unidos
Large one-bedroom apartment on the second floor of a well cared for Victorian house in the village of Sharon, CT. Located across the street from JP Giffords cafe and down the street from Sharon Hospital, the apartment has been recently renovated with a new kitchen, appliances, and a fresh coat of paint. The interior is an eclectic mix of mid-century modern, Shaker, and contemporary furnishings.
Located at the top of one flight of stairs, the private apartment has one-bedroom with a queen-size bed and desk,a large living room, a washer/dryer, and a fully equipped kitchen stocked with coffee and tea. The bathroom includes a shower/tub and is stocked with fresh towels and bath soap. A twin size cot is available upon request.
Beautiful Airbnb in Sharon, CT. Spacious, 2nd floor apt. in gorgeous antique home right in town. Every amenity you can think of. Uber comfortable bed, down comforter, lovely kitchen, spotless!
Alexandria
2017-02-27T00:00:00Z
The host canceled this reservation 129 days before arrival. This is an automated posting.
aash
2017-02-14T00:00:00Z
Heide is a great host and the apartment is incredibly charming and right in the center of Sharon, CT. We were there to be near a family member in the Sharon Health Center rehab, which is a block away (as well as Sharon Hospital), but this would also make an amazing getaway rental for a New England escape. I fully recommend Sharon, Heide, and the apartment.
Mark
2017-03-17T00:00:00Z
A very comfortable and well appointed interior. The town of Sharon is very lovely with lot's of history. Great coffee shop across the street.
Peter
2017-01-31T00:00:00Z
Tipo de Quarto
Casa/apto inteiro
---
Tipo de Imóvel
Apartamento
---
Acomoda
2
---
Quartos
Sharon, Connecticut, Estados Unidos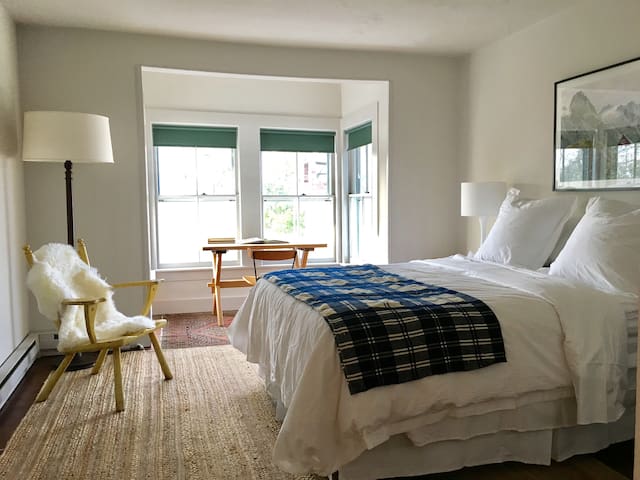 Tastefully remodeled space, featuring antique & vintage furniture throughout. Has vaulted ceilings, hardwood floors and granite tile in the bath. Kitchen has stainless appliances. There's also a 55 inch flat screen as well as high speed wifi!!!!!!
UPDATES: Granite slab peninsula section of countertop recently installed. MARCH 2017: Smoke detector replaced and tested. Cabinet knobs also installed and ceiling fans deep cleaned!!!
Up and coming arts community in an older city with lots to offer.
Gabby and her father are both good communicators, very friendly and welcoming. The apartment is charming and nicely furnished. We came on a freezing March weekend and it took us a little while to figure out the heat situation, but once we did, we were able to make the space cozy. My only real complaint, which for me is a serious one, is that the apartment smells strongly of cigarette smoke. No smoking is allowed inside the apt and it smelled fresh and strong throughout our visit so I think it must have been coming up from downstairs units. It's not the hosts' fault but I think it's important information for guests who are sensitive to smoke.
Loran
2017-03-05T00:00:00Z
Highly recommended awesome host!! Available and reliable. Gabby will do anything to make you & your guests feel at home.
Eric
2017-03-13T00:00:00Z
Gabrielle and her dad, David were extremely cordial, helpful and responsive. The apartment is very cozy and cute, a great TV (best I've even seen in fact)
Daniel
2016-12-23T00:00:00Z
Very nice and lovely home. My stay was very pleasant and quiet. I would advise if you are single person traveling in that area perfect place to stay to relax. Thank you to Gabby & Father
Jamie
2016-10-04T00:00:00Z
The apartment was as it was depicted and Gabrielle and her father were very accommodating. My husband stayed here weeknights during a job in Torrington for several weeks. It was a quiet street and cozy space, comfortable bed, and the kitchen was well equipped.
Lachele
2016-12-07T00:00:00Z
Honestly I don't know what these people are complaining about at this airbnb. This is the best one I have stayed at so far! First of all Gabrielle was waiting for me in front of the house at about 930 at night to show me around the place and tell me where everything is because I had a very late check in. She had fresh sheets, towels and plenty of toiletries. The kitchen is very big and has a large dining room table to sit and eat. There is a coffee machine and K-cup coffee machine as well. (Coffee was also provided), she has lots of tea as well for the tea drinkers. She had juice and some other beverages in the fridge as well as a Brita water filter jug in the fridge too. LOTS of seasonings that I used to cook me and my girlfriend a steak dinner with. There is no stove, just a hot plate, but I cooked a whole steak and pasta dinner so it shouldn't be a problem for a basic meal. Huge flat screen Samsung smart tv and even a Playstation to play, I brought my own xbox anyway lol. FREE WIFI as well so you can surf the Web and play online video games. Gorgeous little bedroom with plenty a hangers to hang your stuff up a well as hampers for dirty laundry. Washer and dryer too. Fire and monoxide alarm installed as well since that was a complaint. Also there is a dish washer which is a big plus. Over all the place is awesome. I've stayed at places for the same price and had no TV or wifi and was almost the same price. I definitely would say here again on my weekly and sometimes bi weekly trips to CT. If you think this place is bad and even in a bad neighborhood, you need to get out more. Will be back for sure.
Julian
2017-02-26T00:00:00Z
My stay at this apartment was the first place I've ever booked with Airbnb and I must say I loved staying at this apartment! First, I appreciate that Gabrielle honored my lately-placed request with ease and pleasantness and I can't thank her enough. The apartment itself looks just like the pictures and the kitchen is very nice. The apartment is smoke friendly so if you do mind the left-behind smell, there are several stores nearby to purchase air fresheners or candles that will quickly remediate the issue. Nevertheless, the apartment was cleaned and with brand new towels when we arrived. Gabrielle's dad was actually the point of contact for this stay since Gabrielle was gone and he was extremely accommodating and friendly. He answered all of my questions thoroughly and in a timely manner. The sitting area is very nice, with an awesome television with good quality and the wifi worked well. Additionally, if you don't prefer to cook, there are so many places to eat in the surrounding area with delicious food. I wholeheartedly enjoyed my stay and I would most certainly book again. Thank you so much!
TaNia
2016-02-22T00:00:00Z
This was my second stay at Gabby's place; the first time was scheduled by my boyfriend. He left a great review of the property and I could not agree more! We were once again welcomed by her friendly father and had a hassle-free check-in. Although I did not meet Gabby physically, I could easily communicate with her and she accommodated all of our needs. The bedroom had fresh sheets and towels and the kitchen was fully stocked with all the cookware you could possibly need. The wifi, TV and the heat worked perfectly as well. For such an affordable price, this hospitality and the property is really great!
Olivia
2017-02-20T00:00:00Z
Tipo de Quarto
Casa/apto inteiro
---
Tipo de Imóvel
Apartamento
---
Acomoda
2
---
Quartos
Torrington, Connecticut, Estados Unidos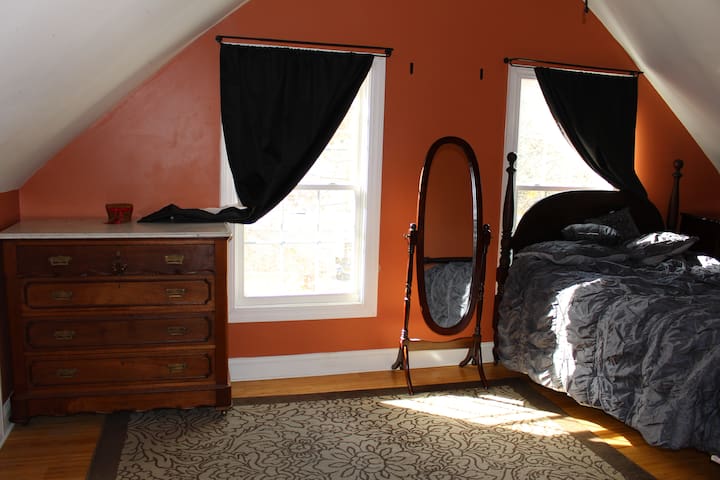 Great shared apartment walking distance to all of downtowns activities. Warner Theater and Nutmeg Ballet. Walking distance from Peter Pan bus stop from NYC and Pittsfield MA. Enjoy beautiful Northwest Connecticut and all it has to offer.
Jason was a gracious host and his cat is adorable no matter what he says.
Robert
2015-07-10T00:00:00Z
Jason was very accommodating and considerate. Air conditioning was exceptional and the bed was comfortable. There was nothing wrong with the bathroom/shower.
James
2016-07-07T00:00:00Z
We enjoyed our stay with Jason. He was very flexible about our arrival time and he was knowledgable and helpful about the Torrington area and its history. His place had everything we needed and the bed was comfortable, too.
Carolyn (Lyn)
2016-08-12T00:00:00Z
Jason stood outside his house to help me find it when I couldn't spot the house #. He then shared his only beer with me when I commented on wishing I had a beer. He was friendly and willing to converse or not as I desired. The room was great; big, with a place to hang your clothes, lamp by bed, etc.
Randy
2016-08-16T00:00:00Z
Jason was a great host. His home peaceful and radiated positive energy. The neighborhood is quiet and I felt comfortable and safe. I am extremely happy with my first Airbnb reservation. I highly recommend staying with Jason and the nightly rate is inexpensive .
Brooke
2016-07-16T00:00:00Z
Jason was a welcoming and helpful host. The location was quite good and certainly safe.
Fred
2016-07-24T00:00:00Z
Jason is an awesome, thoughtful host. He responds professionally any questions about the stay. He is a walking dictionary and knows everything on local. The room, the kitchen, and bathroom are clean as described. Wi-Fi works great, too. Than you very much for the juicy pineapple chunks, Jason.
David
2016-08-27T00:00:00Z
I enjoyed my stay. Jason's place was clean and quiet, near to shopping and restaurants. He recommended things to do in the area, and was interesting to talk to.
Barbara
2016-08-10T00:00:00Z
Tipo de Quarto
Quarto inteiro
---
Tipo de Imóvel
Apartamento
---
Acomoda
2
---
Quartos
Torrington, Connecticut, Estados Unidos
Huge modern apartment, walking distance from the center of Torrington. Big space, fully furnished with fully equipped kitchen & bathroom with tub, queen size bed, central air/heating, free wi-fi and private parking. All utilities are included
Unique building. It used to be a school until they converted into apartments. You have this 13 feet tall ceilings and windows from one wall to the other. The windows along are 9feet tall!!! Extra bright, located on the second floor.
My host was so kind and welcoming, the unit was clean, and smelled amazing! Excellent location close to center of town!
Janese
2014-10-17T00:00:00Z
Katerina was an amazing host and we has a wonderful stay. The place was well furnished and spotless when we arrived. She provided more amenities than we can ask and would definitely come back again
anthony
2014-08-04T00:00:00Z
Katerina's appartment is lovely, confortable and well furnished. Katerina herself is very nice and available and her back up also. We enjoyed a lot our stay there.
camille
2014-06-02T00:00:00Z
This was my first time trying out Airbnb and I couldn't have had a better experience. I had to travel on a last minute trip to Torrington and Katerina couldn't have been more helpful and accommodating. Her place is everything that is advertised and more...very beautifully decorated, extremely clean and comfortable, and just perfect. Katerina has a beautiful home and it felt like I was staying at a friend's place. It is everything you could ask for, including close to everything, secure, quiet building, and available parking. Also Katerina was the perfect host and was available at a minute's notice, although there was no need for any assistance. I would definitely look forward to staying here when I visit Torrington again. Thanks for sharing your great place and for such a great experience. Len
Len
2015-11-21T00:00:00Z
Katerina has a beautiful apartment on the third floor of a wonderful old industrial building - it's a special place. The unit was clean and beautifully decorated. Everything worked as advertised and the welcome document was easy to understand. There was one small problem that was dealt with immediately and graciously. We had a great stay and would gladly be Katerina's guests the next time we're in the area.
Miles
2015-01-02T00:00:00Z
Katerina was a wonderful host. It was a very nice space, quiet, exactly what I needed.
Jesse
2014-07-08T00:00:00Z
Katerina was very welcoming and helpful. Her space was exactly as advertised: sparkling clean and beautifully decorated. Very close to the center of town too.
thea
2014-06-23T00:00:00Z
The host was really nice and the place was in pristine condition.
Andy
2014-06-16T00:00:00Z
Tipo de Quarto
Casa/apto inteiro
---
Tipo de Imóvel
Apartamento
---
Acomoda
2
---
Quartos
Torrington, Connecticut, Estados Unidos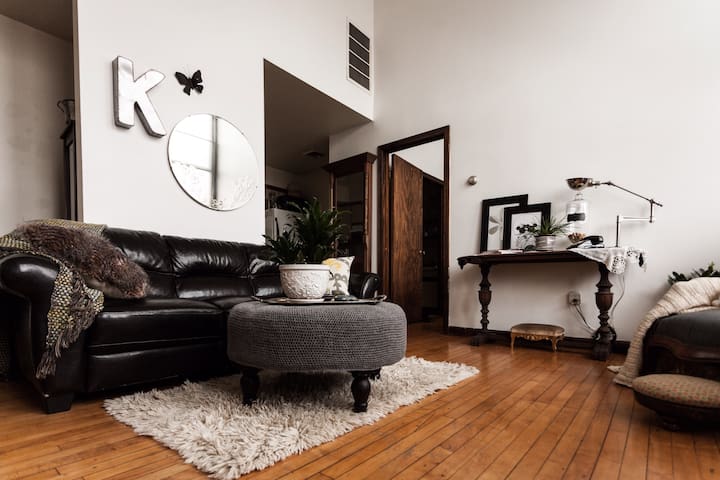 Beautiful river view! This all new spacious basement apartment, private entrance, queen in BR, and futon and couch in large living room will provided a unbelievable relaxing atmosphere. Full kitchen and large private deck with grill. Hiking from back door or Appalachian Trail head 1/4 mile walk. Go dipping in the river, Or just relax on the river front deck. Will be available mid May . Complete set of pictures soon. You'll love it!! And I bet you'll come back!
sleeps 4 ,or 5 if you'd like an additional air mattress. Nice and roomy with high ceilings. Huge private deck to yourself for relaxing river front, doing yoga, or reading a book. NOTE: there is no wifi access here.
The famous covered Bulls Bridge is 1/4 mile around the corner. AT trail heads at the bridge and hiking trails from our back yard. 4 miles down the road is the quaint town of Kent with many unique shops and restaurants.
Tipo de Quarto
Casa inteira/apto
---
Tipo de Imóvel
Apartamento
---
Acomoda
4
---
Quartos
Kent, Connecticut, Estados Unidos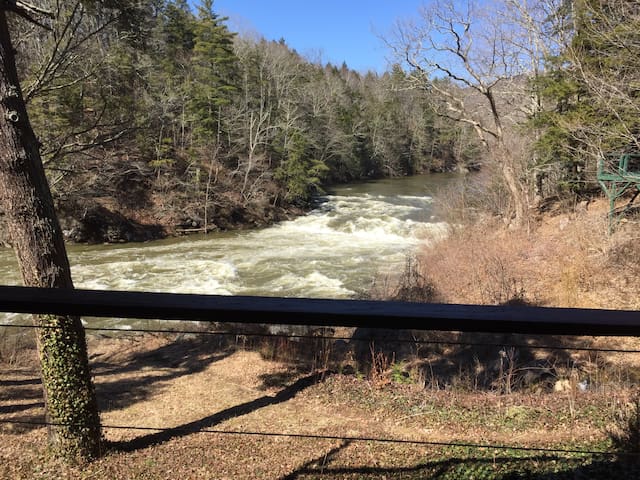 Private guest quarters in a classic CT farmhouse, sitting on an acre of land with an open expanse of lawn facing two antique barns. The house is ideally located between the popular towns of Kent and New Milford, in the heart of Litchfield County, which was recently featured in Vogue Magazine as "the Perfect Weekend Getaway."
Please note that this listing is an open floorpan "studio" space with full en suite bath. Within the space is a queen-size bed and queen-size pull-out sofa bed. If guests plan to sleep in different beds, they will be sharing one open space, although curtains between the spaces can be drawn for visual privacy. **Updated photos coming soon once floors are re-finished and suite is fully-furnished. Now pre-booking, starting in April - prices will go up once updated photos are added, so book now to get lowest pricing! And if you are nervous about booking an "unknown" space, please refer to reviews of my previous space (in Brooklyn) to get an idea of my hosting and decor style (relaxed, but modern and eclectic).**
New Milford is a town in southern Litchfield County, Connecticut, north of Danbury, on the Housatonic River. It is the largest town in the state in terms of land area at nearly 62 square miles, but with a population only around 25,000. The northern portion of the town is situated in the region considered Northwestern CT and the far eastern portions are part of the Litchfield Hills region. Our home is located along Route 7, just north of the town center of New Milford, and is roughly 85 miles north of NYC, 60 miles south of the Berkshires, and about 40 miles east of Beacon and the Hudson River. Kingston and the Catskills are also located just 50 miles northwest.
Tipo de Quarto
Casa/apto inteiro
---
Tipo de Imóvel
Apartamento
---
Acomoda
4
---
Quartos
New Milford, Connecticut, Estados Unidos
Huge independent loft overlooking the beautiful ALPACAS At Bella Alpacas Farm Sanctuary
Have a private view of the animals all day long
Hiking,skiing,wine trails,antics trails,swimming ,boating and so much more
Tipo de Quarto
Quarto inteiro
---
Tipo de Imóvel
Apartamento
---
Acomoda
2
---
Quartos
New Milford, Connecticut, Estados Unidos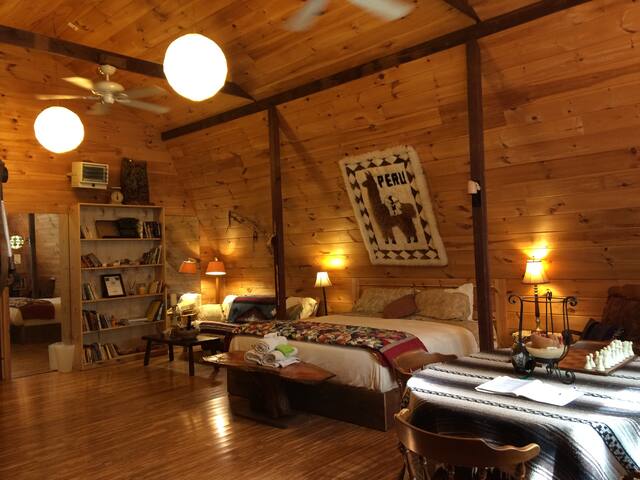 Coming Soon.
Tipo de Quarto
Casa/apto inteiro
---
Tipo de Imóvel
Apartamento
---
Acomoda
1
---
Quartos
New Hartford, Connecticut, Estados Unidos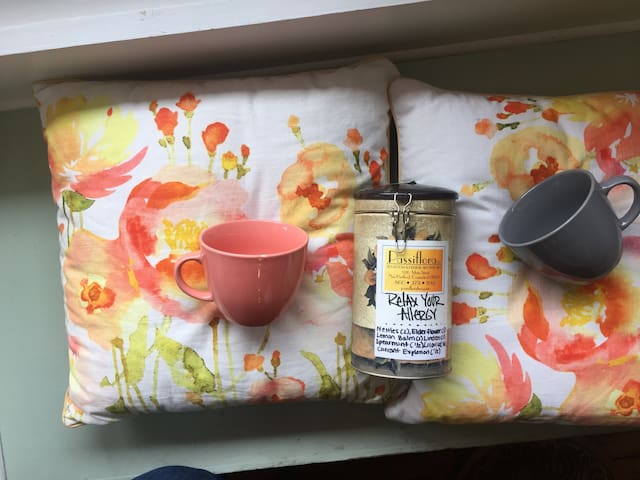 Enjoy some time away from NYC in this gut-renovated, top-floor apartment at the Roxy, a historic guesthouse on a quiet country road in the foothills of the Berkshires. Beautiful light and views throughout; loft-like living and dining space with full kitchen; sleeps 4 or 5. Use of front porch and side lawn. Away from all bustle, but right between the popular towns of Millerton and Amenia. Property adjacent to the Harlem Valley Rail Trail. 2 hours north of NYC, 10 minutes by cab from Metro North.
Staying at the Roxy is almost like going back in time. Built in 1906, it served as a guesthouse to vacationers arriving from the city for several decades. But while you will be staying in some of the same rooms as guests did 100 years ago, we have updated the top floor to add contemporary comfort. And while those guests arrived by train, we recommend that you bring a car to get around (you can park on our property). You can, however, also take Metro North to Wassaic and take a cab (10 min). Bring your bikes, or rent some while you are here. The Roxy is on a quiet country road, surrounded by farmland and marshes, but the cute and very popular town of Millerton to the north as well as Amenia and the art hub Wassaic to the south are within bicycling distance on the Harlem Valley Rail Trail, the former railroad line converted into a path for biking, walking, and jogging. It runs just past our property. In the morning, bring your cup of coffee or tea downstairs to the front porch of the Roxy. After your excursion of the day, go for a game of bocce or badminton on the lawn outside the old Dance Hall. Return to the porch for a glass of wine or a nap in the hammock. Or, on a rainy afternoon, retire to the living room sofa with a book. Cook dinner in the brand new kitchen with produce, meat or cheese picked up from one of the local farm stands or treat yourselves to a nice dinner at Serevan or Monte's in Amenia or pizza at The Lantern in Wassaic. Not too far from the New York City, very close to countless attractions, and yet very quiet. We look forward to welcoming you to the Roxy.
The Roxy is located between the small towns of Amenia and Millerton, two hours north of NYC and a 10-minute taxi ride from the Metro North Station in Wassaic. Amenia has good restaurants and a drive-in theater in the summer, Millerton sports a movie theater, a book store, a big antiques mall and lots of small eateries and quaint shops. Other fun outings are to Millbrook, Rhinebeck, Hudson, Great Barrington, the Book Barn in Hillsdale, MoCa, and local wineries. In season, check out art exhibitions at the Wassaic Project, theater and music festivals from Shakespeare on the Hudson to Tanglewood. Skiing, horseback riding, ponds and lakes for swimming and ample hiking possibilities are within easy reach. The Appalachian trail is just a few miles away. Our property borders on the Harlem Valley Rail Trail. We are very close to schools like Hotchkiss and Millbrook and also a good base for a college tour in the area.
Tipo de Quarto
Casa inteira/apto
---
Tipo de Imóvel
Apartamento
---
Acomoda
4
---
Quartos
Amenia, Nova Iorque, Estados Unidos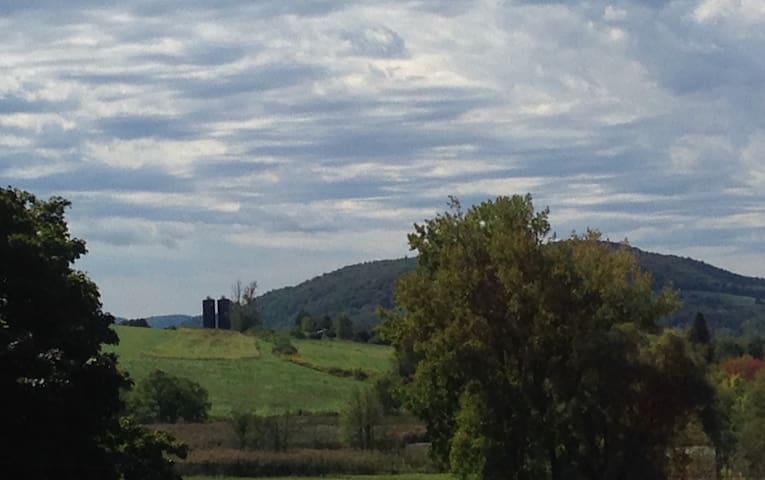 This apartment sits over one of the most charming Main Streets in the Hudson Valley…Budget Traveller listed it in the top 10 Best Small Towns in the country. NYC's Irving Farm Coffee Roasters, a top rate movie house, wonderful dining & shopping, and amazing location…
Main street offers wonderful restaurants, a book store, antique shopping, and our cafe downstairs. Irving Farm Coffee Roasters: Coffee roasted 5 mins away. Espresso drinks, breakfast & lunch, pastries, beer & wine. Your stay includes a bag of coffee and a breakfast voucher! 52 Main: Tapas restaurant. Chef Tommy Stevens recently won an episode of Cutthroat Kitchen on the Food Network. Manna Dew: Creative seasonal offerings. May need reservations! No9: Upscale seasonal, farm fresh dining in the hotel across the street.
This is a perfect little apartment! We loved staying in the heart of town. Our host even supplied a $20 gift certificate for breakfast at Irving Farm right downstairs. Very appreciated and delicious. The apartment is an IKEA dream with an extremely comfortable bed. There is some nighttime noise from the street but we travel with a sound machine so it wasn't a problem for us. Street parking is extremely easy. Just wish we had more time to explore all of the shops. Thank you, Jaime, for a perfect layover.
Jo
2015-09-21T00:00:00Z
Loved the apartment, felt right at home. Great location and will book again in the future.
Brigid
2015-12-26T00:00:00Z
The place was cozy, comfortable, well-furnished and well-located. It was a PERFECT way to stay in Millerton. The host was organized, the combination code and accessing the space was easy and seamless. The place was clean and tidy when we arrived. While the animal skin rugs were not our taste (as non-meat-eaters) it was otherwise well furnished and comfortable. We especially appreciated the extra blankets.
Meg
2017-01-02T00:00:00Z
This was our second stay at Irving Farm, and once again everything was just perfect. The apartment is modern, clean, well provisioned, and comfortable. The location could not be better, especially since we eat many of our meals right there at Irving farm. All the other good restaurants, shops and the theater are within a one to two minute walk. We've stayed at a number of places in and around Millerton over the past 20 years when visiting our daughter, and while we most were nice, none really compare with Irving Farm for comfort, modern appliances and convenience. Needless to say, we will be returning
James
2016-11-30T00:00:00Z
This apartment has it all. Amazing location, awesome amenities, and not to mention it's really nice! Check in was easy and Jamie could not have been a more welcoming and responsive host. Would definitely stay here again.
Kellen
2017-03-19T00:00:00Z
Excellent host, home and location. Highly recommend it. Very spacious, super clean, comfortable (very warm on cold winter days) and convienent for any trip to the surrounding Millerton area (NY, CT, MA).
Nancy
2017-02-27T00:00:00Z
If you are looking for a place to stay in Millerton, New York, this Irving Farm apartment is an ideal location and a charming place to stay. The apartment seems to be designed for visitors so you will not be staying in someone else's home which appeals to me. As photos show, the apartment is nicely decorated in a modern minimalist style with rustic country touches. There is a wonderful porch overlooking the main street which we didn't use during our February visit, but it was nice to crack open the door for fresh air. You will have everything you need in terms of linens and cooking supplies and if anything's missing, the owner is easily reachable and very accommodating. The owner thoughtfully provides night lights, a hair dryer, and cable television and wifi among other things such as a coupon on coffee from Irving Farm. The owner's business, Irving Farm, runs a cafe below with amazing coffee and delicious pastries, sandwiches, and salads. If you like cafes, you will love spending time there and staying above it. It seems to draw a friendly crowd of Millerton locals, weekenders, and tourists.
Justine
2017-02-19T00:00:00Z
Beautiful apartment, right in the heart of town. We sat on the balcony and watched the evening slip away. Apartment has EVERYTHING you could think of for cooking and relaxing. and it was very nice to be able to walk to restaurants and coffee and antique shops right from our front door. and a rocking chair on the balcony can't be beat. hosts are every responsive and generous with the coffee!
Teresa
2015-07-02T00:00:00Z
Tipo de Quarto
Casa inteira/apto
---
Tipo de Imóvel
Apartamento
---
Acomoda
2
---
Quartos
Millerton, Nova Iorque, Estados Unidos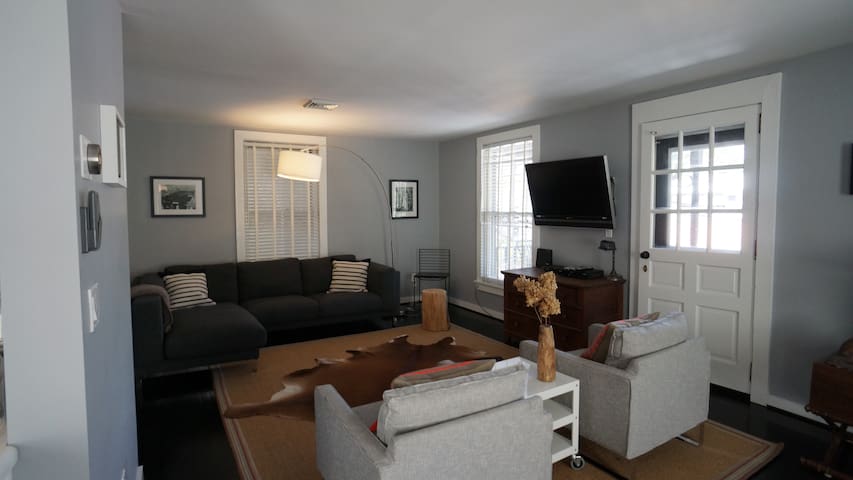 My place is close to restaurants and dining, the city center, and parks. My place is good for couples, solo adventurers, business travelers, and families (with kids).
The host was home when we arrived and showed us the apartment. The space was larger than it seemed in the photos. It was a quick 5 min walk to downtown where there were great restaurants and shops. Our only complaint is the bed was too short for my husband who is 6'2".
Caitlin
2016-10-11T00:00:00Z
Very lovely flat in a quiet environment. Brand new and well equipped. Very easy communication with Lisa. I recommend it to anyone.
sylvie
2016-08-14T00:00:00Z
We really enjoyed our time at Lisa's air B and B. It is perfectly located on a quiet road just a block from the center of town. The hosts were out of town. However, they were responsive and accommodating. I would highly recommend their place if you are looking for an affordable place to stay in a lovely and low key town in upstate New York.
Robert
2016-10-16T00:00:00Z
My husband and father in law stayed at Lisa's place while they were working on a house near by. It was exactly what they needed and Lisa was very responsive and helpful. Only two things to note, there is no TV, but I guess I should have checked that before booking, and secondly the guys did note that if you are a light sleeper then it may not be ideal. Other than that the apartment made a fantastic spot to crash and the beautiful gardens and area did not go unappreciated. Thank you Lisa!
elisabeth
2016-09-03T00:00:00Z
Thanks Lisa - we loved staying so close to the great Millerton village!
Doug
2017-02-21T00:00:00Z
Had a great time staying here a second time.
Linnea
2017-02-10T00:00:00Z
Cozy place! The little downtown is really nice too!
Bertrand
2016-12-06T00:00:00Z
Modern and clean apartment, footsteps from Millerton's Main Street shops and restaurants. Very quiet spot, perfect for resting up in between enjoying the area. Parking was easy and check in was flexible. My wife and I would definitely stay here again!
Andrew
2016-12-31T00:00:00Z
Tipo de Quarto
Casa inteira/apto
---
Tipo de Imóvel
Apartamento
---
Acomoda
4
---
Quartos
Millerton, Nova Iorque, Estados Unidos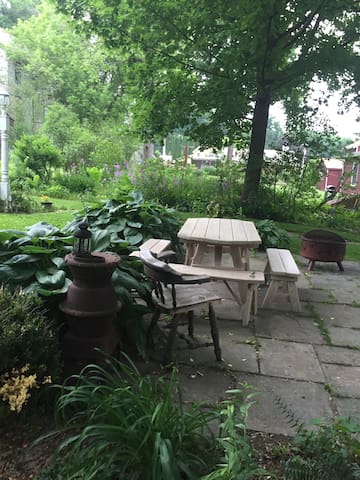 THE APARTMENT: Fully furnished garage apartment , separate from owner's house. Full bath with a tiled stall shower. Kitchenette with sink, under-counter fridge, one burner induction cooktop, Breville smart oven (basically a large & fancy toaster oven), and a microwave. There is a small chest freezer in the garage for your use. There is no full size range/cooktop/oven. Silverware, plates, glasses, etc. are all provided. There is one large combination bedroom/dining area/living area with a queen size bed and a pull out couch. Radiant heat with window air conditioner & ceiling fan during the summer. There is access to both hardwired and wireless internet, and basic cable on a 32" Sony TV and a DVD player. Phone needs to be your cell phone, although land line can be available in an emergency. ** Sleeps 4: here's how. 2 in Queen bed, 2 in pull out couch ** No pets , please. Garage space available for bikes and/or skis. Owner does not use the garage for vehicles, but owner does need access so the garage door may be opening and closing. We will be considerate about time of day for access. The only real downside is that there is no deck or terrace attached to this apartment, although there is lawn space. Of course if we get along, there could be an invitation to use our outdoor spaces. **NOTE THAT WE ARE IN THE COUNTRY, A MILE FROM ANY TOWN. A CAR IS A NECESSITY** ACCESS: 2 hour drive from NY and 2 1/2 hrs from Boston. Twenty minutes from Metro North Wassaic train station from NYC Train (URL HIDDEN) Taximan (PHONE NUMBER HIDDEN) ACTIVITIES: 5 minutes from Lake Wononscopomuc, one of Connecticut's premier deep water lakes with swimming and boating. 10 minutes from the Appalachian Trail. 30 minutes from Catamount Ski Area. 45 minutes from SkiButternut. 45 minutes from Tanglewood Music. 30 minutes from Norfolk's Infinity Music Hall. If you hit it right there are the US Eastern Ski Jumping Championships in nearby Salisbury every February. 5 minutes up the road takes you to hiking or snowshoeing by our local reservoir. THE AREA: Lakeville is home to The Hotchkiss School and The Salisbury School, two top preparatory schools. Also nearby is The Lime Rock Park, Road Racing Center of the East. There are many fine restaurants in the area, multiple art galleries, and the Scoville Memorial Library, the oldest publicly funded library in the country. As well as local galleries and shops, a 10 minute drive takes you to Millerton, NY with a movie theater, art galleries, bookstore, an old fashioned diner (with updated menu) and the Rail Trail for walking and biking. A 30 minute drive takes you to Great Barrington , MA for even more shops, restaurants and movie theater.
I like John apartment very much which is tidy and bright. During my stay at John apartment, it got a heavy snow. When i were going to leave there early morning at 7:00am, I am very concerned the slippery road to connect to main road from John apartment. John is very nice and he drove his car first and then drove my car to make sure it is safe for me. I appreciated it very much and would like to stay there if i have opportunities to go to Likeville in the future.
Xueen
2016-02-16T00:00:00Z
John & Linda's apartment is peaceful, spotless, spacious, and has lots of warm natural light. From my previous Airbnb experiences, usually the pictures were rosy and nicer, but these pictures accurately show the place. Actually, i think the place was bigger and even nicer than what's shown. There was plenty of room for the four of us (4 adults) and our stay was comfortable. We were surrounded by perfectly maintained lush green grass and tall trees. We all forgot shampoo and they generously provided us with a big bottle. Thank you John and Linda!
Janet
2015-08-02T00:00:00Z
Wonderful stay in beautiful Salisbury. Apartment is perfect ... Very clean, private, nicely furnished and all the comforts of home. John and Linda are welcoming and available if needed but don't hover. I'm always happy staying at their property!
haden
2016-04-21T00:00:00Z
Outstanding accommodation. Wonderful quiet location near charming small town around lake. Perfect if you are visiting the Lime Rock track and I am sure a much better experience than the few local hotels. Charming and helpful hosts, new, fresh, clean and spacious over garage appartment separate from main house. Would love to stay again and would highly recommend to anybody.
Steve
2014-05-01T00:00:00Z
My boyfriend and I were in dire need of a last minute relaxing weekend getaway. We had stayed at the Atchley's place last year, so we immediately decided to book. As it had been last time we were there, the place was so, so clean. John and Linda really made the place feel like our second home, and it was probably THE most relaxing weekend of my life. The highlight of our trip was when our car died while we were parked in the driveway, and this is when I found out that this is probably the most considerate and kind family, ever. Their son spent lots of time with us trying to fix the car, and Linda later came by and asked if we needed anything to eat since we were somewhat stranded for the time being. I would not hesitate going here a third fourth or even fifth time for our next trip!
Cathy
2014-07-22T00:00:00Z
The home was lovely, recently renovated and very clean. The scones provided in the morning were a lovely touch! the home sits on a peaceful property and the hosts were very welcoming. highly recommend!
chris
2014-09-28T00:00:00Z
John was a gracious host who welcomed me with delicious muffins and was on call when I accidentally locked myself out of the home. The home was well kept and I look forward to returning in a month. Highly recommended!
Audrey
2012-09-04T00:00:00Z
The apartment is spotless, airy, bright and roomy. The area is very quiet and pleasant. The kitchen and bathroom were generously sized, nicely outfitted, and nearly new. We had a lovely stay.
K & L
2016-10-22T00:00:00Z
Tipo de Quarto
Casa inteira/apto
---
Tipo de Imóvel
Apartamento
---
Acomoda
4
---
Quartos
Salisbury, Connecticut, Estados Unidos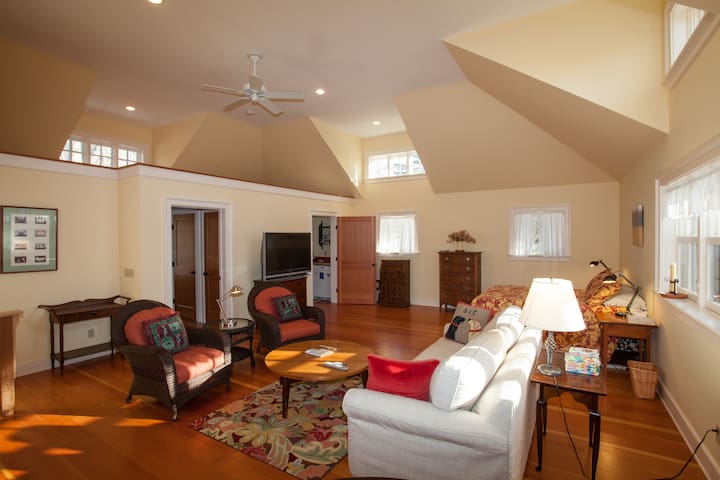 2 miles from the Metro North Station and great huge loft apt with a fun bar and Great Farm to Table Restaurant right below. No drinking and driving!!! Fun City get away!!!
Tipo de Quarto
Casa inteira/apto
---
Tipo de Imóvel
Apartamento
---
Acomoda
8
---
Quartos
Amenia, Nova Iorque, Estados Unidos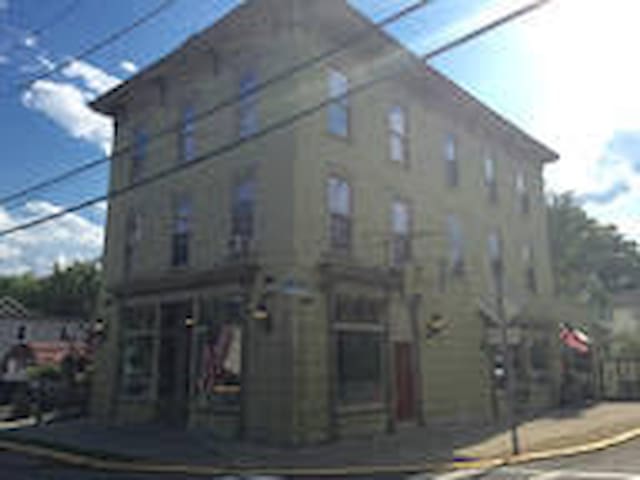 Tranquil, serene, romantic natural garden setting with magnificent view 50 miles westward, overlooking the Hudson. Huge private pond, with paddle boat, fire pit and picnic table and fresh flowers.Contemporary furnishings, up to 5 adults. Recharge in 12 acres of wooded paradise. Quiet and private. Dogs and cats ok. (Two night minimum on Fridays, Saturdays and Holidays.)
Atop Silver Mountain 2 hours north of New York City, this mountaintop retreat includes a private lake, dock, picnicking facilities. Many of the same farm markets that travel to New York Union square are nearby offering fresh fruits, vegetables. Fish delivered daily from New York's Hunts Point Market to Sharon farm market.
A 50 mile view atop Silver mountain, near Amenia, Rhinbeck, Millbrook, Pine Plains, Millerton, New York; Lakeville, Salisbury and Sharon, CT.
Our family enjoyed our stay at Paul and Juliana's house. We were 4 adults and 2 small children( 1 and 3 year old). Paul tried his best to accommodate all of our needs. He gave us an extra mattress for the older one, and we had a pack-and-play for the little one. The view is amazing. Also they have a lot of land, so plenty of place to hang out. Our main concern was the privacy, as we knew from other reviews, Paul lived upstairs with his family. Let me tell you, we have never seen anyone, we felt like the place was all ours; we only saw Paul when we needed something, or when he stopped by to offer us some fresh picked farm tomatoes or help with something. Hope to be back soon!
Hanna
2016-09-05T00:00:00Z
There is no question why Paul and Juliana hold the crown of Superhosts. Although we did not have the opportunity to meet Juliana, Paul welcomed us with genuine, exceptional charm. We arrived much later than we originally planned but Paul was extremely kind and flexible. Even though it was late in the evening, Paul greeted us with a warm hug and a smile as we drove up. An actual real hug, not a just a handshake. It was as if we arrived at the home of friends who were excitedly anticipating our arrival. We had not even seen the room yet and were already thrilled. When we walked into the rental we were immediately in awe. It was as perfect if not even better than the beautiful pictures. The place was spotless, immaculately clean and beautifully designed. Paul was even kind enough to set a fire for us, all we had to do was light it. AND he brought us oranges and toast for the morning since it was so late. He was kind enough to give us a quick tour of the place to make sure we understood how everything worked and assured us that we could reach him at any time day or night - no matter what we needed. Yet he also gave us complete privacy. No detail was left forgotten. Even our nightstands were adorned with fresh flowers. Paul is amazing. The property is beautiful. The views are gorgeous. The pond is like escaping into a movie of one's childhood, filled with all kind of wonder. There are multiple places to relax and unwind. The drive up is a pure delight, and very easy. It is the definition of peacefulness. Coming from Brooklyn, this place brought us back to calm and serenity. We loved this place so much we are already planning our return. Thank you Paul & Juliana!
Shaun & Brooke
2016-06-01T00:00:00Z
such a lovely place to be spending a few days - wish we stayed longer! we were greeted by an amazing sunset (everyday) and paul's smile upon arrival. so relaxing, rural, and full of things to do - blueberry, plum & peach picking, beautiful scenery, nice restaurants, etc. the host family is beautiful with paul being very charming, attentive, and quick in answering the tiniest request. it's funny to actually hear myself say i'm glad the host family lives above us :) oh, and fido certainly approved having such a huge place to roam and sniff!
christina
2015-09-02T00:00:00Z
We loved this place! The apartment was beautiful and we loved the french wine and the fireplace. Paul is one of the nicest people we've met. We spend thanksgiving there and made a delicious dinner in the outside grill while enjoying the view. There are also a lot of cool places to go around the area. Restaurants and hiking trails, even our dog had a lot of fun out there! Paul and Juliana are amazing hosts
Brian
2016-11-26T00:00:00Z
Such a gem of a spot!! The apartment was beautiful, clean, and had a calming spa like aesthetic. The view right from the front door was incredible! We had the good fortune to catch both a beautiful day and a rainstorm rolling in, both of which were awesome to see while lounging in the adirondack chairs and grilling. Paul met us with such a warm welcome, and even had wine and roses in our room upon arrival. He was more than happy to point is in the direction of great local hikes that were appropriate for us to bring our baby and dog. A fabulous host! Thank you for everything - we will certainly be back again.
Samantha
2016-09-11T00:00:00Z
We had an incredible experience! Such great hosts in a beautiful area.
Anna
2016-04-18T00:00:00Z
Paul and Juliana definitely go out of their way to make their guests feel welcome! Paul met us immediately upon arrival to give a tour of the property and suggestions on where to go in the surrounding area. We spent a lovely weekend relaxing in the backyard and grilling all of our meals. We had a bit of rain on Saturday, but Paul and his family were thoughtful enough to move the grill under a protective awning so we could still cook and eat outside! Paul even walked over some home grown tomatoes for us to enjoy with dinner. Truly a wonderful, relaxing getaway. We hope to stay in this warm and inviting space again soon!
Emily
2015-09-14T00:00:00Z
We enjoyed staying at Paul's lovely house/apartment . it is the perfect place to relax and declutter your mind. The apartment was clean, cozy and (URL HIDDEN) was stocked with everything you want-towels, blankets. etc. The property is beautiful and large. Paul is a great host ! Thank you ! We definitely plan to return
Tatianna
2015-07-25T00:00:00Z
Tipo de Quarto
Casa inteira/apto
---
Tipo de Imóvel
Apartamento
---
Acomoda
5
---
Quartos
Millerton, Nova Iorque, Estados Unidos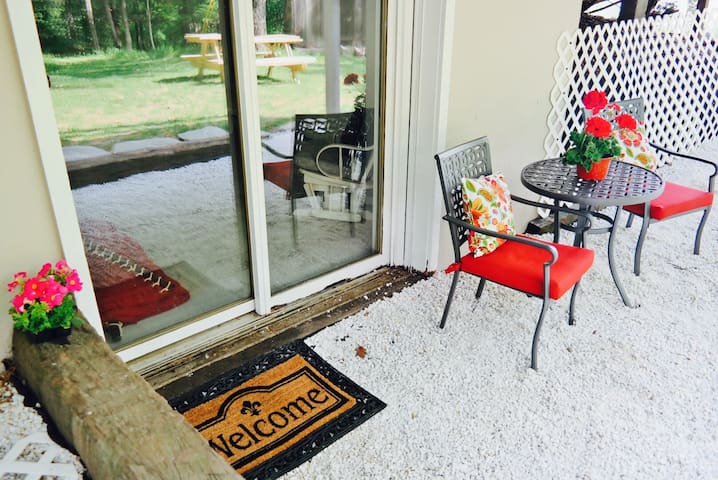 Remodeled apartment on 2nd floor of a 1910 Victorian house near the center of Winsted, CT. The apartment is unique and cozy, with large windows, some stained glass, tin ceilings, hand painted kitchen cabinets, and plants. Close proximity to all Litchfield County and the Berkshires have to offer, in all seasons. A bus ride or easy drive from NYC or Boston. Great weekend get-away place.
Rooms include a full kitchen, one bedroom with one queen bed and one full sized bed, living room with a pull out bed, and a full bath. Cable hook-up, wireless internet connection. Sleeps up to 6 people. All new kitchen appliances, and updated bathroom. Private entrance with yard.
Walking distance to some of the best antique shops in CT, The Gilson Movie/Dinner Theatre, a grocery store, a health food store, duck pin bowling alley, historical sites, Northwestern Connecticut Community College, some great restaurants, downtown Winsted, and the largest natural lake in Connecticut. Activities available nearby include hiking, biking, canoeing, kayaking, river tubing, fresh water fishing, cross-country & downhill skiing, snowboarding, and snowshoeing.
John and Alla were above and beyond amazing. The home was beautiful, there were food, beverages, amenities waiting for us, an amazing collection of 80s and 90s VHS tapes, everything was perfect. We would definitely stay here again. P.S.- if you are a Gilmore Girls fan, this is the perfect escape for a Gilmore Roadtrip. Stars Hollow (err... Washington Depot) is just a short hop away, as well as Kent, Litchfield, New Milford, and a handful of other charming small CT towns. John and Alla went above and beyond to help us have the perfect Gilmore trip.
Sarah
2016-12-11T00:00:00Z
John and Alla's place was the perfect spot for us while our VW Vanagon was in the shop nearby. It's spacious and comfortable with a good-sized collection of classic VHS tapes [we totally watched a few of them :)]. John was super responsive and a wealth of knowledge on local hiking and biking. Communication was a breeze. He was an extremely kind and generous host and we would absolutely stay again.
Andriana
2015-11-19T00:00:00Z
John was very communicative and helpful. He and Alla were both waiting for us when we arrived to show us around the apartment. The apartment was super clean and cozy. We would stay again.
Jonathan
2016-03-30T00:00:00Z
John and Alla are excellent hosts, welcoming and helpful. The apartment at their Victorian house has views to treetops and a mountain ridge in the distance. The rooms are clean and spacious, prepared with color, imagination, pleasure and comfort in mind. (Ah! There is that wonderful couch by the turret windows.) Winsted was well-located for our trips to gardens at Hollister House and Hill-Stead Farm. We LOVED staying here. Highly recommended!
Gary & Nancy
2016-07-04T00:00:00Z
The apartment was spacious and well appointed. The area is quiet and convenient. We had everything we needed, the check in/out process was easy. Great hosts!
Kimberly
2016-06-28T00:00:00Z
Everything was great! The apartment was clean and had everything we needed. The location was perfect, within walking distance of a supermarket, a few places to eat, and even a duckpin bowling alley. We didn't meet our host, but he gave very clear directions about how to get to the apartment and where to find the key. Highly recommended!
Joshua
2015-08-10T00:00:00Z
My Husband and I were treated like Family from the moment we arrived. John and Alla are very sincere, soft-spoken people, and incredibly gracious Hosts. Every inch of their Home is immaculate. The upstairs Apartment is very spacious, and has a private Entrance. They were both so very helpful; provided us with Maps and Information on local Restaurants, etc., and answered all our questions. (John even offered to drive us to a particular area so that we wouldn't get lost ... You can't ask for better care than that now, can you?) We would definitely recommend their Home. Ronnie and Stan
Ron (Veronica)
2015-09-27T00:00:00Z
We loved our weekend at John and Alla's place. Everything was as described. The apartment is nice and cozy.There are plenty of board games and movies to watch, as an added bonus. We loved being able to walk into town for meals. Great location! Thanks for a wonderful weekend. We hope to be back in the future.
Heather
2016-11-12T00:00:00Z
Tipo de Quarto
Casa/apto inteiro
---
Tipo de Imóvel
Apartamento
---
Acomoda
6
---
Quartos
Winchester, Connecticut, Estados Unidos
This beautiful one bedroom apartment is the perfect weekend getaway! It is located in Millbrook, NY, in an old mill which was originally built in the late 1800's. It is within walking distance to the village, where you will find restaurants, a grocery store, antique shops and more. This peaceful retreat is great place for couples, solo adventurers, and business travelers. The apartment consists of a full kitchen, living room, bedroom and bath.
Danielle was so easy to be in touch with and just made staying at her apt 100% easy. Everything you could need was provided and it was just a super great experience.
Babette
2016-08-08T00:00:00Z
My family and I enjoyed our stay at the Dragonfly Retreat during the Thanksgiving holiday. The space was as advertised, very well maintained and clean, and conveniently located to explore Millbrook and the surrounding area. Danielle was very flexible regarding our check in which was much appreciated and responsive to any questions we had. I would certainly recommend staying here.
James
2016-11-25T00:00:00Z
Great apartment in Millbrook! I blew a fuse with my hair dryer and she had it fixed right away! Would definitely recommend this spot and Danielle.
Kathryn
2016-07-25T00:00:00Z
Danielle was very friendly and welcoming. We arrived early but the apartment was ready and she gave us the key immediately although we were just going to leave our bags and then come back later to check in. She was right there if we had any questions or problems . The location was within walking distance of the village which was lovely. The town green was beautiful, restaurants excellent. The apartment was very comfortable and had everything we needed. We definitely plan to go back again.
Mary
2016-05-31T00:00:00Z
Very comfortable and clean as advertised. Convenient and walkable from village of Millbrook.
Samuel
2016-06-20T00:00:00Z
Danielle was a great host. The apartment is clean, well organized and uptodate with amenities. It's in a good location, if you plan to be around Milbrook. We enjoyed out stay and would come back, if we are in the area again.
Badal
2016-07-05T00:00:00Z
Nice place and Danielle was very easy to communicate with.
Laura
2016-08-22T00:00:00Z
Clean and well maintained apartment within walking distance of lovely Millbrook village. Danielle was a great host and very accommodating of my schedule.
Mark
2016-10-16T00:00:00Z
Tipo de Quarto
Casa inteira/apto
---
Tipo de Imóvel
Apartamento
---
Acomoda
4
---
Quartos
Millbrook, Nova Iorque, Estados Unidos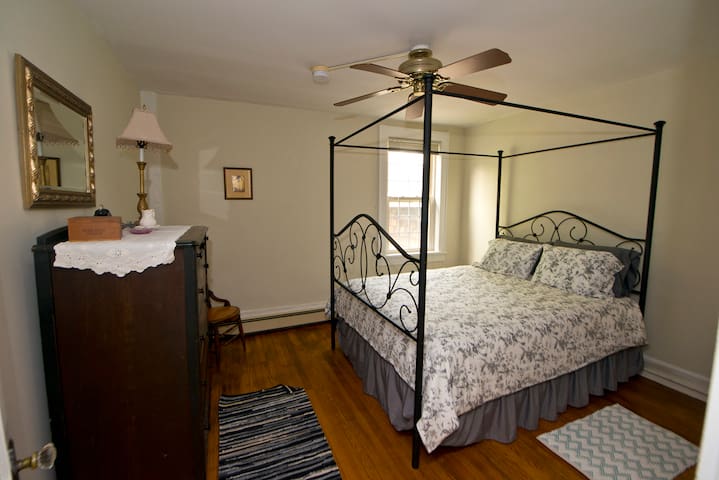 Right up the hill from the Washington Depot and it's numerous places to dine. Close to Steep Rock and plenty of hiking trails. Full kitchen, clawfoot tub, wi-fi, comfy queen bed, private entrance and terrace.
Extremely cozy and adorable.
Nazorine
2017-03-05T00:00:00Z
Great location with pretty views of the surrounding hills. The unit was larger than expected and lots of windows which was a bonus for us...loved seeing out across the valley. The unit is basic in furnishings(photos are accurate, no TV though, just VCR monitor) but for an extended stay, its spacious and it fit our needs perfectly. Frankie is easy to get a hold if you have any questions or concerns.
Siobhan
2017-02-22T00:00:00Z
Great little apartment with a wonderful view and close to town.
Colleen
2016-12-30T00:00:00Z
I really enjoyed the apartment, I wish I could live here! The bed is comfortable, the apartment is clean and more spacious then I expected. I loved the claw foot tub in the bathroom. I had a relaxing stay and the host was communicative and incredibly hospitable.
Holly
2017-01-01T00:00:00Z
Frankie communicated with us and made certain everything was as expected.
Dennis
2016-10-09T00:00:00Z
This was my first visit to Washington Depot, and Frankie was a kind and gracious host. She was responsive and helpful, both in the trip planning stage and during our stay. When an issue arose with the water line - one she couldn't have anticipated - she went out of her way to ensure we were still comfortable and had everything we needed. I would definitely stay there again if I have the chance to return to the idyllic town.
Chela
2016-10-23T00:00:00Z
Wonderful cozy apartment with a great view! Easy to find and super friendly! Frankie went out of her way to make us comfortable, with coffe and cream ready for the morning! Very communicative, easy to find and a super comfortable bed!
David
2016-10-30T00:00:00Z
Frankie provides a lovely and quiet space. It's an easy walk to the village, and a beautiful view from the apartment. Very quiet and private. It will be our first choice in the future.
Jampa
2016-11-05T00:00:00Z
Tipo de Quarto
Casa inteira/apto
---
Tipo de Imóvel
Apartamento
---
Acomoda
2
---
Quartos
Washington, Connecticut, Estados Unidos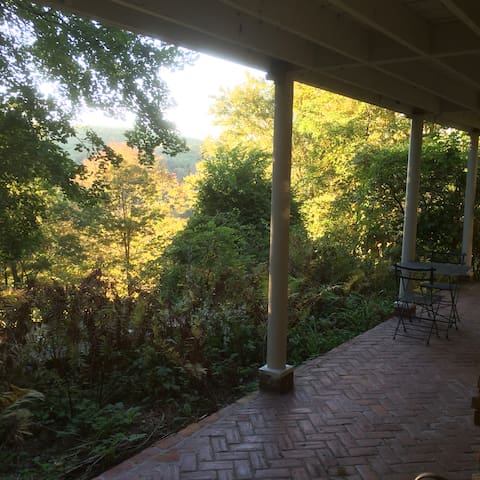 1

–

18

de

39 Apartamentos para Alugar
Insira as datas para ver o preço total. Taxas adicionais aplicáveis. Podem ser adicionados impostos.