Přijďte vychutnat hory a znovu s přírodou v době jejich pobytu v krásném 15 'jurtě se spoustou oken obklopené divokou zvěř. Usnout při pohledu na hvězdy skrz kopuli a probudit za zvuku ptáků švitoření. Navržený milovníky jurta, postavený milovníky jurta, pro milovníky jurta.
U zult genieten van een rustige en vredige nacht in een one of a kind yurt kleurrijk ingericht met uw ervaring in het achterhoofd. Dit yurt is licht, helder en warm! Outdoor gebieden voor zitten en genieten van de bossen, kampvuur, waar u kunt genieten van de prachtige sterrenhemel terwijl het roosteren marshmallows. Sanctuary voorzieningen zijn onder andere outdoor labyrint, een tennisbaan, overdekte groep eetgedeelte, groep picknickplaats en een vuurplaats, volleybal, een fitnessruimte, een basketbalveld, en rustige, besloten ontspanning plekken. De gasten kunnen een Reiki-sessie of energiewerk te vragen over een monetaire liefdesoffer basis om de balans, harmonie en welzijn aan het lichaam en geest te herstellen. De yurt is slechts een slaapkamer. De badkamers zijn beschikbaar in de gymzaal een korte wandeling langs het labyrint. Er is een haven Een potje beschikbaar in de buurt bij de yurt. Dit is echt primitieve camping met comfort! De yurt heeft geen elektriciteit. Andere activiteiten in het gebied zijn: raften, varen, vissen, kajakken, mountainbiken, wandelingen en rondleidingen door het gebied, waaronder The Smoky Mountains National Park, Joyce Kilmer Memorial Forest, Cherohala Skyway, de staart van de draak en Fontana Dam. Dit is een ongelooflijk mooi gebied, zeer ongerept en vol avontuur voor de natuurliefhebber, autoliefhebber, motorrijder en avonturier. Dit gebied moet zeker goed, betrouwbaar vervoer. De meeste mensen rijden of een ritje motorfietsen. Er is een pendeldienst vanaf de luchthaven, dat is niet erg duur. Parkeren is mogelijk net buiten de yurt. ** Prijs is inclusief belastingen en schoonmaak kosten!
Přírodní krásy kouřové hory a Nantahala národní lesy je to, co mě zamiloval, nemluvě, mnoho jezer, řek a vodopádů. K dispozici jsou turistické stezky všude, včetně slavného Appalachian Trail, 20 Mile Ranger nádraží, Fontana Dam, Joyce Kilmer pamětní les a Slick Rock, abychom zmínili alespoň některé. Také Tail of the Dragon je jen několik minut! Cesta do Cherohala Skyway a kochat se výhledem dech beroucí!
Liz was an AMAZING hostess. She is more than thoughtful and set us up for the best stay possible. The campground is really nice and the yurt was one of the best places I've ever stayed!!! The location is beautiful and peaceful.
Alisa
2016-12-29T00:00:00Z
Heavenly cozy space, surround by the most amazing sounds of nature, on top the host Liz is an wonderful human been, she makes extra sure you feel at home, 100% satisfaction guarantee !!! will go back again!!!
Hector Alfonso
2016-12-26T00:00:00Z
Liz was awesome! Made sure we had everything we needed and was very easy to work with. I would highly recommend her property if you are looking to experience peace and quiet right next to the famous Tail of the Dragon. Best location!
Darius
2017-03-29T00:00:00Z
would stay again.
Brad
2017-02-27T00:00:00Z
Had a very positive experience during my stay. The yurt is super cute and cozy, and Liz is really wonderful! I received a very relaxing reiki session from Liz during my stay, which I definitely recommend! There's plenty of beautiful things to do and see, the Joyce Kilmer Memorial Forest was my favorite!
Gina
2017-04-04T00:00:00Z
Very nice and private place. Great to get away from city life and recharge. The only downside is that the bathroom and bath house is a bit of a walk. But There's a portable toilet right outside. We loved the yurt, very nice and clean.
Maikhanh
2016-11-11T00:00:00Z
The Heart Center was a lovely place to finish up our NC trip. Liz was super responsive before arrival and answered several questions we had. The grounds are beautiful and her dog is hilarious and fun. The yurt itself is beautifully setup and very comfortable - only warning would be to bring layers if going when it is cold out. The yurt has no power or heat and can get very cold at night. There is a nice bathroom setup in the gym (the grounds are a former school) with hot water and amenities, and also a porta-potty right next to the yurt. You can drive right up to the yurt making loading and unloading easy, and there is even a grill / fireplace with a picnic table outside. Liz, her friend Dakota and her hilarious wonderful dog Wya were all super nice and helpful with anything we needed.
Anthony
2017-03-19T00:00:00Z
I loved my stay at Liz's place. It was exactly the peaceful experience I was hoping for. The Yurt was even nicer than the pictures. The gym bathroom and shower facility were fantastic. The location offers you so many different hiking, fishing and other activities within minutes. I will definitely be going back.
Brad
2016-11-26T00:00:00Z
Tipo de Quarto
Casa inteira/apto
---
Tipo de Imóvel
Tenda
---
Acomoda
2
---
Quartos
Robbinsville, Carolina do Norte, Estados Unidos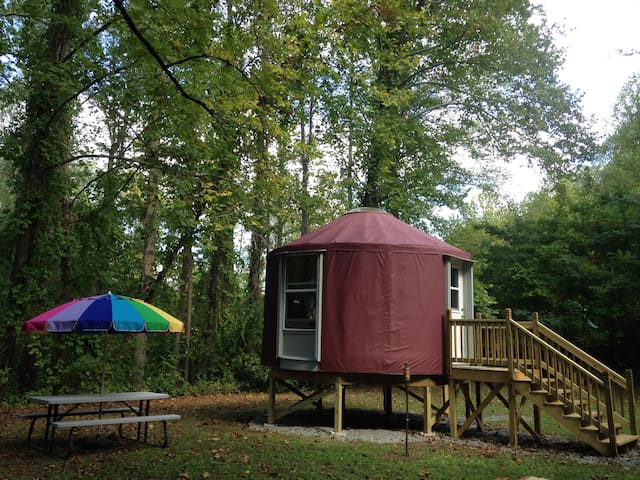 Tipo de Quarto
Casa inteira/apto
---
Tipo de Imóvel
Cabana
---
Acomoda
6
---
Quartos
Robbinsville, Carolina do Norte, Estados Unidos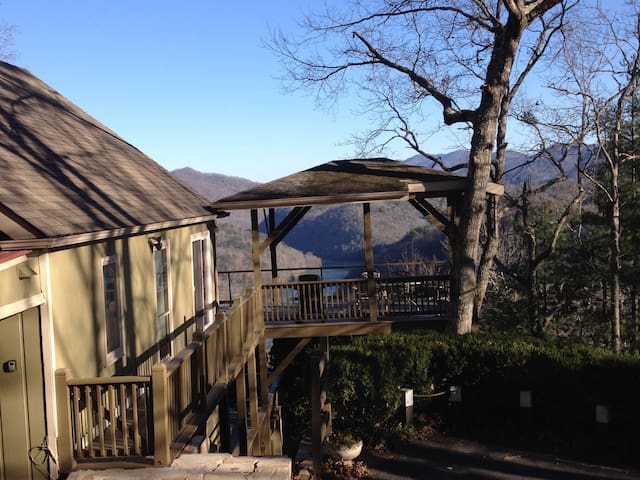 Este é um verdadeiro cabana de madeira muito confortável e espaçoso, com a peculiaridade ea sensação do país - grande loft no andar superior, lareira de pedra, pisos de madeira, tectos catedral, enrole em torno da plataforma. Ele é isolado e rodeado por árvores, mas perto de todas as principais atracções da área! A cabine está bem equipado com roupa de cama / toalhas e mais tudo que você precisa na cozinha para preparar uma refeição. Tudo que você precisa trazer é seus mantimentos e itens pessoais. Impostos e taxas de limpeza estão incluídos no preço!
Este "2010" como novo, costume Log Cabin aninhado em 30 santuário acre cercado por floresta nacional, apresenta um loft espaçoso e privado no andar de cima, quarto andar de baixo, e sala grande com tetos de catedral, lareira de pedra, janelas, portas francesas, pisos de madeira, espaçosas casas de banho, ventiladores de teto e eletrodomésticos. No exterior tem varandas cobertas, deck, churrasqueira e fogueira, mesa de piquenique, cadeiras ao ar livre, e de estrada pavimentada para garagem. As comodidades incluem Santuário labirinto ao ar livre, quadra de tênis, área de alimentação grupo coberto, área para piquenique e fogueira, vôlei, segurança fechado e pacíficas, pontos de relaxamento privadas. Os hóspedes podem solicitar uma sessão de Reiki ou trabalho de energia em uma base oferta de amor, para restabelecer o equilíbrio, harmonia e bem-estar para o corpo e mente. Outras atividades disponíveis na área são: rafting, canoagem, pesca, canoagem, mountain bike, caminhadas e passeios da região, incluindo o Parque Smoky Mountains National, Joyce Kilmer Memorial Forest, Cherohala Skyway, o Rabo do Dragão e Fontana Dam . Esta é uma área incrivelmente bela, muito puro e cheio de aventura para os pilotos amante de natureza, carros e motos e aventureiros. ** Os preços incluem impostos e taxas de limpeza !!
A beleza natural das Montanhas Smoky e as Florestas Nacionais Nantahala é o que fez eu me apaixonar, para não mencionar, os lagos muitos, rios e cachoeiras. Há trilhas para caminhadas em todos os lugares, incluindo o famoso Appalachian Trail, 20 Ranger Station Mile, Fontana Dam, Joyce Kilmer Memoria Floresta e Slick Rock, só para mencionar alguns. Além disso, a Cauda do Dragão está a poucos minutos de distância!
This was a wonderful and perfect destination for our first big family road trip! It is way up at the end of a long winding mountain road on a beautiful plot of land. You can hear nothing but the streams and birds with an occasional plane overhead. The best part (for us) was that we were totally disconnected from both cell service and internet! (internet was available with a 100yd. walk down to the main office, but we avoided it). Liz was very welcoming, kind, thoughtful and attentive host. She offered wonderful suggestions for our daily activities and she would always check in with us. The cabin was clean and comfortable. The water in the cabin was from a fresh mountain stream, so it was as clean and fresh. Our two young kids loved playing in the woods and Liz helped them to feel comfortable with their surroundings. She even offered to take them for an hour at the end of our trip to give my wife and I some down time in the wilderness. It was great! If you are looking to get away from the screens and unplug, this is the perfect place.
John
2015-04-09T00:00:00Z
Liz is a wonderful host. We had a great time with a lot to discover via trips as well as on the property itself. Great fun for my young son, I had to promise him that we will come back soon.
Marta
2016-11-10T00:00:00Z
It was great cabin and the owner she was kind and lovely we really loved it thank you (Liz)
Ahmed
2017-03-05T00:00:00Z
I stayed here with a few friends on short notice for a weekend, and the location was perfect for us as motorcyclists. The cabin is near Tapoco Lodge, a great restaurant that serves alcohol in a dry county, as well as Deal's Gap and a fun, twisty road that leads to Fontana Dam. Liz was incredibly helpful and thorough with her directions in finding the place. Everything was just as described. We were surprised by the steep driveway from the retreat center to the cabin though since we were pulling the trailer, but Liz was very sweet about letting us park off the road. We did the same with our motorcycles too since parking at the cabin wasn't level and the surface is gravel. Liz also helped us accommodate a couple of extra last-minute guests and arranged payments with them for the extra fee. All in all, it was a great experience at a really good price. I would definitely stay here again!
abby
2016-07-24T00:00:00Z
We were met by Liz's sons. Very accomadating and informative
Kay
2016-08-15T00:00:00Z
Wow, what a trip! We randomly chose Liz's place to get away and plan for a retreat we're running. Little did we know, her retreat center is perfect for our next location! It's tranquil, warm, private, and simply incredible. I highly recommend playing tennis, simply for fun and movement. We LOVED everything about it and couldn't have been more pleased. I'm rejuvenated! Liz is a fabulous person.
Danielle
2015-02-08T00:00:00Z
Our experience was awesome! We loved how remote the cabin is. The space was perfect for two couples. Lots of great hiking opportunities available. Definatley recommend the Tail of the Dragon, Joyce Kilmer National Forrest, Fontana Dam, and Wesser Bald Lookout Tower. Just a heads up... its a dry county.
Samantha
2016-01-02T00:00:00Z
Liz welcomed us within minutes of our arrival to our beautiful new home for the holiday weekend. The cabin was even more spectacular in person. It was spotless, secluded, and the perfect getaway from it all. All of the indigenous wildlife and fauna was breathtaking. The location was ideal as well, within minutes of Lake Santeetlah, Fontana Lake, the Snowbird Backcountry, Joyce Kilmer, Robbinsville, Scenic Byways, etc... We hope to be back one day soon. Thank you kindly, Liz.
Stacy
2015-07-05T00:00:00Z
Tipo de Quarto
Casa inteira/apto
---
Tipo de Imóvel
Cabana
---
Acomoda
6
---
Quartos
Robbinsville, Carolina do Norte, Estados Unidos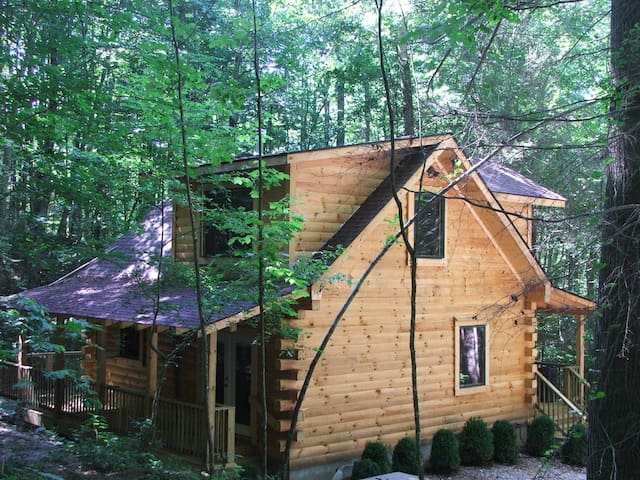 Celui-ci d'un genre, comme neuf, le pin blanc, 2/2 cabane en rondins est absolument parfait dans tous les sens! plafonds cathédrale, cheminée en pierre, chambres confortables, de grandes salles de bains, planchers de bois, cuisine entièrement équipée, une grande chambre avec baie vitrée, enroulent autour du pont! La cabine est bien équipée avec des draps / serviettes et plus tout ce dont vous aurez besoin dans la cuisine pour préparer un repas. Tout ce que vous devez apporter votre épicerie et des articles personnels. ** Taxes et frais de nettoyage sont inclus dans le prix!
Vous pourrez profiter d'une nuit calme et paisible dans un unique en son genre, confortable et douillet chalet en bois rond avec grande mezzanine, une chambre en bas, de grandes salles de bains, salon / salle à manger avec plafond cathédrale, ventilateurs, de grandes fenêtres offrant la nature tout autour, les planchers de bois , armoires de cuisine en pin, et une cheminée en pierre. Cette cabine est clair, lumineux et chaleureux! ponts couverts en plein air pour s'asseoir et profiter de la forêt, zone de foyer où vous pouvez prendre dans le magnifique ciel nocturne pendant la torréfaction guimauves. Les infrastructures de Sanctuary comprennent labyrinthe extérieure, court de tennis, couverte coin repas de groupe, un groupe de pique-nique et d'un foyer, volley-ball, sécurité fermée et pacifiques, des taches de relaxation privées. Les clients peuvent demander une séance de Reiki ou de travail de l'énergie sur une offre base de l'amour, pour rétablir l'équilibre, l'harmonie et le bien-être du corps et de l'esprit. Autres activités disponibles dans la région sont: le rafting, le canotage, la pêche, le kayak, le VTT, des randonnées et des visites de la région, y compris le parc Smoky Mountains National, Joyce Kilmer Memorial Forest, Cherohala Skyway, la Queue du Dragon et Fontana Dam . Ceci est une très belle région, très vierge et plein d'aventures pour les coureurs amant de nature, voiture et moto et les amateurs d'aventure. ** Le prix comprend les taxes et les frais de nettoyage! Les clients pourront profiter du parc tout entier, le labyrinthe, aire de pique-nique et un court de tennis. Dans la maison, ils peuvent utiliser la salle de séjour, profiter d'un feu, le cas échéant. J'aime interagir avec tous mes invités et leur faire sentir à la maison, mais je suis également conscient de leur permettre d'avoir leur vie privée, le temps calme et de détente. Ce domaine nécessite certainement bon, transport fiable. La plupart des gens en voiture ou en moto. Il y a une navette de l'aéroport qui est pas très cher. Un parking est disponible juste à l'extérieur de la cabine.
La beauté naturelle des Smoky Mountains et les forêts nationales Nantahala est ce qui m'a fait tomber en amour, pour ne pas mentionner, les lacs nombreux, rivières et cascades. Il y a des sentiers de randonnée partout, y compris la célèbre Appalachian Trail, 20 Ranger Station Mile, Fontana Dam, Joyce Kilmer Memorial Forest et Slick Rock, pour ne citer que quelques-uns. En outre, la Queue du Dragon est à seulement quelques minutes! Montez à l'Cherohala Skyway et profiter d'une vue à couper le souffle!
Fantastic new house!! Loved the layout, spaciousness, porches. Nice towels. Loved looking at the stars when we got home and Liz was great about checking in to see if we needed anything. Pick up supplies before you go - it's remote - but wonderful! You'll love seeing the stars!
Debora
2016-09-25T00:00:00Z
Wonderful experience. Everything was perfect!
Christina
2017-03-13T00:00:00Z
2nd year in a row and it was a great stay per usual. Great private cabin, if you need wifi is a short distance away. Liz is a great host and makes sure you feel at home!
Arturo
2017-04-09T00:00:00Z
The cabin was such a great space to serve as our home base as we hiked in the Great Smoky National Park. It was in a beautiful location, so well-equipped, and gorgeous over all. This cozy, log-cabin in the woods still seems too good to be true - we had such a great time in the area and such a comfortable stay with Liz! She was great throughout the process and we won't soon forget our trip!
Lorey-Eileen
2016-03-11T00:00:00Z
The Cabin was so beautiful, clean and spacious. It was our memorable visit and the stay was very enjoyable. We advise visitor to plan to reach the location in daylight will be advisable because of its location is interior. Ravi
RAVIKUMAR
2016-02-29T00:00:00Z
Liz gave us a lot of space and was able to recommend a few great hikes and scenic views in the area. The cabin was beautiful and spacious.
Henry
2017-03-09T00:00:00Z
Had another amazing stay at this cabin. Just got back from my second trip and already planning my next. I will only book with Liz when I come up.
Jorgie
2016-11-09T00:00:00Z
Liz was at our door almost as soon as we arrived to welcome us. She was a great host and genuinely cares about our well being and hospitality. Very friendly. The cabin was exactly as described. Up in the mountains and away from it all. No cell or wifi as we expected for that area. Yet only 3 miles away and your back on US 129 and three more miles to Tail of the Dragon. Very happy and would highly recommend. Cabin itself is very new and very clean. No wifi, no big screen TV, no hot tub, and that was fine as that was what we expected. Beyond that it was perfect.
Dave
2016-11-07T00:00:00Z
Tipo de Quarto
Casa inteira/apto
---
Tipo de Imóvel
Cabana
---
Acomoda
6
---
Quartos
Robbinsville, Carolina do Norte, Estados Unidos
Deals Gap - Airbnb
:
Média de

5

de

5

estrelas, de acordo com

178

avaliações de hóspedes
Insira as datas para ver o preço total. Taxas adicionais aplicáveis. Podem ser adicionados impostos.