Well it's a very cozy apartment! It's on the main street of Ankawa, the Christian suburb of Erbil. I love my city and I hope you have a good time here too! This is an apartment on the 3rd floor [2nd if you consider first to be 0], with only the stairs to access it [no elevator sorry, but that means good exercise for you!]
The apartment is in the heart of the Christian suburb of Erbil, named Ankawa. Thus alcohol shops are available nearby. Ankawa is great to just walk around,but only when it's not ridiculously hot outside.
Contrary to popular belief, this part of the middle east is very peaceful with little/no terror threat or even crime. Westerners should feel very comfortably to be out and about without their security on their mind.
Tipo de Quarto
Casa inteira/apto
---
Tipo de Imóvel
Apartamento
---
Acomoda
3
---
Quartos
Erbil, Kurdistan Region, Iraque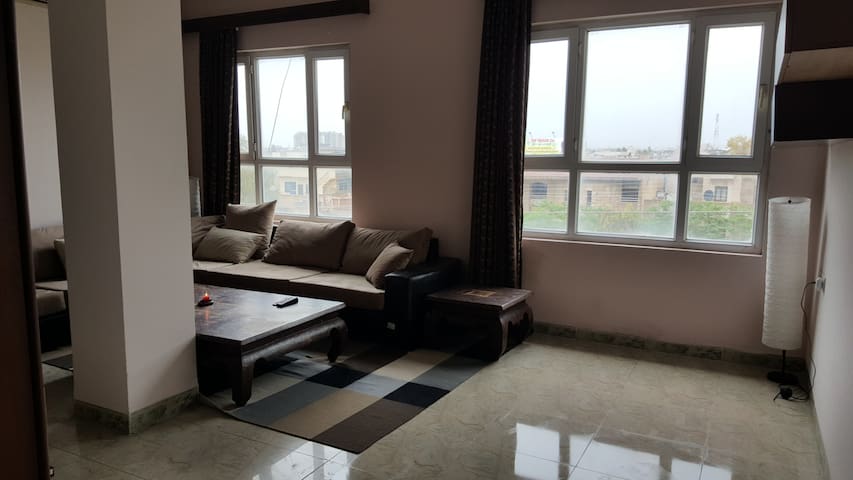 Quarto privado com cama de casal. É apropriado para casais.
Acolhedora sala privada para ser alugado. Esta é perto do centro e tem boas ligações de transportes e muitos supermercados ao redor. Apenas 30 minutos acordou a Cidadela. Eu sou amigável e útil .Verificar em anytime- mesmo durante a noite -24 horas por dia, enquanto o quarto é vago. A sua estadia inclui wi-fi, toalhas, roupa de cama e, com chá disponível a qualquer momento. Utilização gratuita do gel e condicionador shampoo no banheiro (para poupar embalagem qualquer toalete !!) As mudanças de roupa de cama, dependendo da duração da estadia, mas eu tenho a abundância de lençóis de reposição e cobertores. Alguns anfitriões adicionar taxas de limpeza que fazem a tarifa do quarto parecem mais barato. Eu não cobra nenhuma taxa de limpeza. O hotel mais próximo de mim cobra US $ 100 por noite ou US $ 650 por semana para o seu quarto mais barato. Espero ouvir de você
Jaza was a great host. He went above and beyond to make me feel welcome. He helped arrange a driver to pick me up from the airport and drive me around the region the next day. The space is comfortable, and there was a good heater to keep it warm. It's a short cab ride (about $3-4) to the center of town. Definitely a better option that the hotels I looked at.
ward
2014-11-08T00:00:00Z
Jaza is a great host. The bedroom he offers is very nice and clean, as well as the bathroom and the kitchen. At Jaza's place you get everything you need, he even provides breakfast. Moreover, he is very helpful. For example, we wanted to do a day trip to another city – but since we did not speak Kurdish, Jaza organised a driver for us. Also, he picks you up at the airport in the middle of the night. We can recommend to stay at Jaza's house without hesitation.
Stefan
2014-04-02T00:00:00Z
Great stay, perfect host, amazing Kurdish hospitality. Perfect place to stay with fast internet too, many thanks again.
Uta
2014-01-11T00:00:00Z
Clean house and room. A good breakfast and awesome hospitality.
Oner
2016-11-29T00:00:00Z
The host canceled this reservation 3 days before arrival. This is an automated posting.
Abhinav
2016-01-15T00:00:00Z
I can highly recommend both Jaza's place, as well as Jaza himself as a host. It was a great base for what was, for me, a business trip. Jaza's help was above and beyond what I expected. He picked me up from the airport, wrote down myriad addresses in Kurdish to help with taxis, and provided much interesting conversation and perspective on Kurdistan - even taking me out to meet his friends. Nothing seemed too much for him. The house is on Kirkuk Road, very central, although in Erbil you don't walk anywhere. It is very safe, quiet and clean. Internet was fast, water was hot and the bed was very comfortable. There was even real coffee - a God-send, believe me, in Iraqi Kurdistan. Lastly, Jaza is right to note that his place is half the price of a hotel and - having stayed in a few hotels out here - much, much better.
Orlando
2013-10-24T00:00:00Z
The reservation was canceled 28 days before arrival. This is an automated posting.
Patrick
2015-02-27T00:00:00Z
The reservation was canceled 30 days before arrival. This is an automated posting.
Barbara
2015-02-27T00:00:00Z
Tipo de Quarto
Quarto privado
---
Tipo de Imóvel
Casa
---
Acomoda
2
---
Quartos
Rasti St., Kurdistan Region, Iraque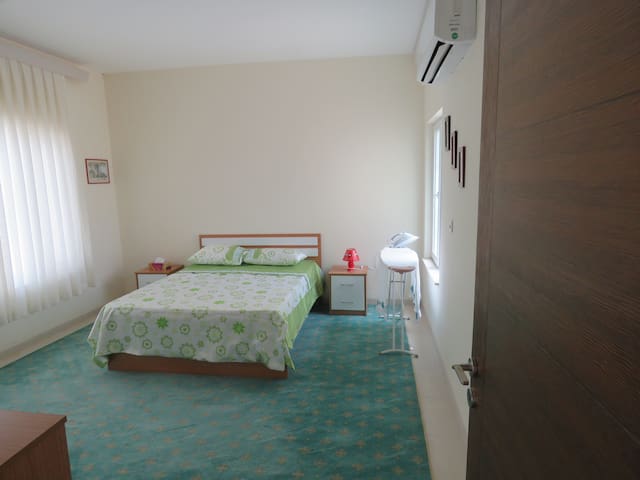 Insira as datas para ver o preço total. Taxas adicionais aplicáveis. Podem ser adicionados impostos.