Located conveniently off the A2 motorway, this is an ideal place to stay if you enjoy walking and prefer a restful, quiet place.
Your room has a desk, fridge, wardrobe and huge bed on pallets. There are two deckchairs on the sizeable balcony allowing you to view the mountain throughout the day. I've been here two years and truly the view is spectacular and seems to change day by day (except summer when it is permanently warm and sunny!) You share the bathroom with only myself. Although there are two more housemates, they live in an attic conversion and have a private bathroom.
If you're looking for somewhere to sleep soundly, this is it. It is always quiet here, the neighbourhood is just old people but it is really easy to walk to the centre for the superb restaurants, additionally there are a couple of bars in the neighbourhood although they are nothing special. Out here it is SUPER catalan, although everyone is bilingual, if you're wanting to experience Catalonia this is what you want.
Great host with the sense of hosting people ! Also a nice place where you can rest a bit and visit Montserrat. The room and the furniture are clean and new. We recommend this place for every lovers, friends and family.
Koen
2017-02-10T00:00:00Z
Patrick is everything a host should be. Although his listing is new to Airbnb, he understands the concept behind Airbnb much better than some that have been hosting for years. He provided us a very clean room, towels, tea and even some natural bath soap. We had been on the road for a while and needed to do some laundry and he allowed us. He helped me with some natural medication when I was sick and was kind enough to walk me through the town; which is lovely by the way. In short, he' a super host with a very nice place.
Bilal
2017-03-02T00:00:00Z
Todo muy limpio e igual que en las fotos. Lugar muy tranquilo y con un sendero abajo de casa para salir a despejarse.
Micaela
2017-02-19T00:00:00Z
Mi viaje era de turismo por la zona de Montsserrat, el pueblo esta en un punto muy céntrico y de fácil acceso al monasterio. Los anfitriones muy amables, nos dieron informaciones muy útiles y claras de donde comer y por donde moverse en el pueblo. Todo muy ordenado y limpio. Muy recomendable.
Luciana
2017-03-19T00:00:00Z
Lovely equipped room with a perfect host. 100% recommendation.
Nils
2017-03-30T00:00:00Z
Super large bed- so great after a day of travel. Patrick stayed up late as our journey was delayed. It was great to find a comfortable, clean and stylish room. Great private balcony view of Montserrat. Patrick was helpful and provide great advice of the surrounding area. Thanks again Patrick! Can highly recommend.
Zac
2017-03-29T00:00:00Z
Tipo de Quarto
Quarto privado
---
Tipo de Imóvel
Casa
---
Acomoda
2
---
Quartos
Esparreguera, Catalunya, Espanha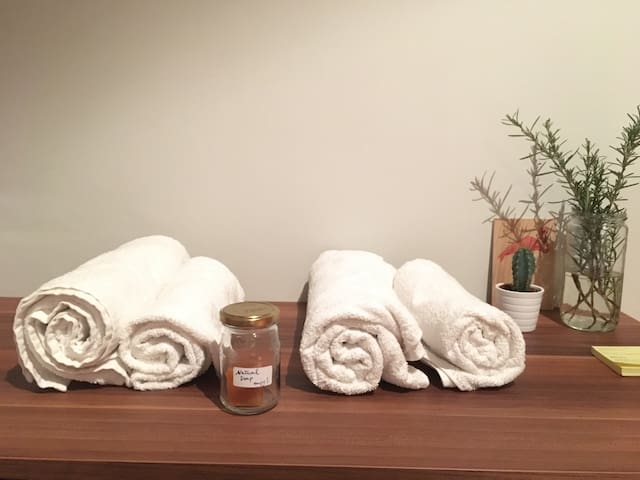 Welcome Home in Esparreguera, is a new concept based on all those who are traveling for work, or during the holiday time, available to a larger space, feeling as well as in their own home. It 'a nice area. The ideal targets are: families, groups. I can accommodate up to 5 people. For more information, send me a message!
It's a large house divided into 2 levels. On the ground floor the main entrance, a large living room with 42 "TV, a kitchen useful hallway to the laundry room. There is also a convenient half bath. In the 1st floor there are different types of rooms, 1 single, 1 double and 1 double room, the latter with an outdoor balcony. At least but not the last, there is a large bathroom with tub. first necessity services are provided by me during your entire stay. It's a very nice house, you can relax pleasantly during your stay. At 25 minutes from Barcelona, the happiest cities in Europe, astonishing. . . What are you waiting for? Breakfast is under request, 4,90 € per person per day.
Very quiet neighborhood with many services available! If you need recommendations, you can ask us without problems!
Thank you for your kindness.
Guillaume
2016-06-26T00:00:00Z
Tipo de Quarto
Casa inteira/apto
---
Tipo de Imóvel
Casa de hóspedes
---
Acomoda
5
---
Quartos
Esparreguera, Catalunya, Espanha
Casa con piscina cerca de tiendas, cafeterias y restaurantes. Estamos al lado de la plaza del centro, donde se celebran fiestas populares.
This is a detached house with spacious housing adapted to accommodate up to 21 guests. It features a large room with 4 bunk beds and 1 double bed; a room with two bunk beds and a double bed; two double bedrooms and a single bedroom. The property features a generously sized kitchen with laundry room and a small terrace where you can see the street where the dwelling is located. On the same floor as the kitchen is the dining room, which overlooks the garden. The property has a garden of 600 m2 with private saltwater pool (no chlorine treatment).
Belle maison pres de la Barcelone et Salou. Tres tres bien pour une famille nombreuse. Pas de probleme au niveau de la securité. Parking pour 3 voitures possibilité pour 4. Tout est a coté (restaurant, boulangerie...). Juste la piscine est un peu salé.
Nishanth
2016-08-15T00:00:00Z
Tipo de Quarto
Casa inteira/apto
---
Tipo de Imóvel
Casa
---
Acomoda
16
---
Quartos
Esparreguera, CT, Espanha
Piso luminoso. En zona tranquila. Gran terraza. Cerca de Montserrat. Rutas de para la práctica de running. Cerca de Barcelona. Servicio de masaje si quieres.
Tipo de Quarto
Quarto privado
---
Tipo de Imóvel
Apartamento
---
Acomoda
1
---
Quartos
Esparreguera, Catalunya, Espanha
Habitación de 14 m2 para 1 o 2 personas, con baño privado vistas a la montaña de Montserrat. Casa con jardín. Amplio salón con chimenea. A 15' de Montserrat. Ideal para escaladores y amantes de la naturaleza. Estamos a 30' de Bcn y sus playas.
Room 14 m2 for 1 or 2 people with private bathroom. Overlooking the mountain of Montserrat. House with garden and private swimmingpool. Spacious living room with fireplace. A 15 'of Montserrat.
Super, Ana, merci pour ces quelques jours d'hospitalité! Logement parfaitement situé tout proche d'El Bruc et du Montserrat pour l'escalade et les balades, et il permet des escapades à la journée ou 1/2 journée à Barcelone. La chambre est très bien, dans une partie tranquille de la maison, propre, avec une très belle vue. Votre accueil chaleureux, les discussions sympas, et tous les petits conseils pratiques pour découvrir le coin, c'était ce qu'il nous fallait ! On a déjà envie de revenir!
Albane
2015-04-14T00:00:00Z
I stayed a few nights with Ana and Raul in their beautiful home with a view of Montserrat greeting me each morning from my window! Raul met me the first day with a hug and a greeting as though we had been old friends. I felt very welcome there and the house had everything I needed and more. It was so easy to reach Montserrat by car, and the drives around the area were beautiful. I would recommend this place to anyone who wants a comfortable place to stay with very nice people! Thanks so much Ana and Raul!
scott
2015-10-11T00:00:00Z
Tipo de Quarto
Quarto privado
---
Tipo de Imóvel
Casa
---
Acomoda
2
---
Quartos
Esparreguera, Catalonia, Espanha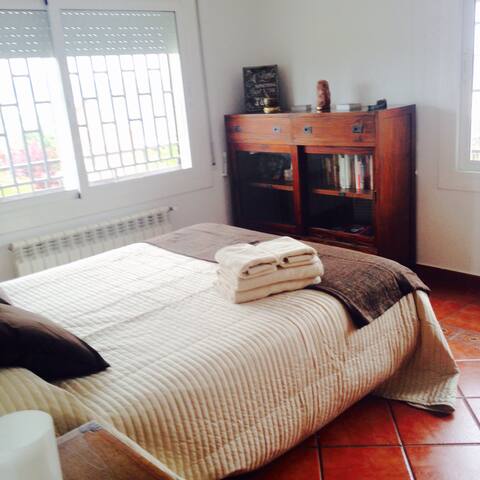 Just 45 km away from Barcelona, near the symbolic Montserrat, hidden in between vineyards, olive tree fields and forest hills, you'll find a very high standard eco finca whith a natural pool, chillout-terraces, trampolín, underfloor heating etc...
LA ISLA VERDE is following the ideas of permaculture: -the energy supply is 100% of renewable energy -the harmonious integration of the building in the landscape -economical use of materials and the most possible recycling -agriculture that requires minimal human intervention and which is based on the optimization of processes instead of a maximum revenue The 400 m2 eco country house offers you: • 6 bedrooms with double beds that can accommodate up to 12 people • 4 of the bedrooms have their own bathroom, the other 2 share a bathroom • a large kitchen with a spacious dining area to side where they can easily eat up to 16 people • 50m2 room with fireplace, TV and projector, so you can take advantage of to various types of meetings • floor heating throughout the house The old restored farmers cottage has already a long history, since it was first buildt in the 9th century and rebuilt in the 18th century. Self-catering rural house is located in an isolated place but close to the village of Els Hospitalet de Pierola. Everything is just nice and clean, because the owners just finished remodeling and refurbishing it. A place to relax, go for a walk or get refreshed next to the spring water pool. Underfloor heating, large common rooms, chill-out terrace… Check it out yourself! On the property you will find: • picnic tables under a pergola close to the kitchen • a chill out area, built with bamboo and large banks • a space 'workshop' multipurpose • Balsa with spring water, perfect for chilling the summer sun • a shower outside in the middle of nature • a 'Tipi "with the possibility of fire • 15 acres of farmland, vegetable gardens and over 80 newly planted fruit trees • a conservatory of 40m2 • a pond where frogs will give you a welcome concert (not heard from the house) • The land includes 100 acres of mixed forest of oak and pine with a series of forest roads. Official REGISTRATION NUMBER of this touristic lodging: in process
Wie in vielen anderen Dörfern aus dieser Gegend widmen sich die meisten örtlichen Betriebe von Els Hostalets de Pierola dem Trockenlandbau, also Getreide-, Mandel- oder Olivenanbau oder dem Weinbau. Neben seiner Burg und einer romanischen Kirche fällt Pierola besonders durch einen sehr berühmten ehemaligen "Einwohner" aus dem Rahmen, ein Vorfahre, der heute etwa 12,5 oder 13 Millionen Jahre alt wäre! Es handelt sich um ein kleines Dorf innerhalb der Provinz Barcelona mit weniger als dreitausend Einwohnern.
A really lovely place with lots of spaces for children to play and explore. Beatrice and Felix were extremely helpful and lovely hosts. All the kids loved playing with Otto the dog. The views are spectacular and the house is beautiful.
Andrew
2015-04-12T00:00:00Z
Het was elke dag weer een leuke spannende rit naar het huis door de droge rivierbedding. Prachtige plek met een fijn ruim huis zo middenin het groen. Lekker zwembad en diverse hang- en ontspanningsplekken. Lieve gastvrije ontvangst en je kon er zo terecht met vragen. En de kinderen waren dol op hond Otto. Het enige dat soms wat minder prettig was waren de geuren van het nabije ecoparc. Een wierookstokje doet wonderen! We hebben genoten en raden het huis zeker aan.
Judith
2014-08-04T00:00:00Z
We had an amazing week-end in the "Green Island"! The house is precious, very welcoming, a lot of space and chill outs to rest, read or just have a great time with friends! The views are awesome, in the middle of the nature, that's exactly what we were looking for! Also, Bea and Felix are the best hosts ever, always here if we needed something, and always with the smile! We want to go back already!! :)
Camille
2014-09-21T00:00:00Z
Really remote and beautiful location with views overlooking a valley, loads of space inside and out, there was only four of us but a group of 8-10 would be fine. The house has been renovated to a high standard and the hosts are very welcoming and provided everything we needed over the weekend. The pool is small but perfect for cooling off. Loads of places relax outside, a BBQ and outdoor sofa area which is all really well done. Close enough to local shops (10min drive) and to Montserrat 20mins, if you know the way, 30mins if you don't! One thing I would have brought along is some outdoor lights.
Rob
2014-09-14T00:00:00Z
The host made us feel very welcome. The house is far from the nearest shops, about 40 mins tough driving.
Jenni
2015-08-01T00:00:00Z
Un entorno fantástico muy cerca de Barcelona, la casa espaciosa y cuidada con muchos detalles de muy buen gusto. La cocina esta super preparada para cocinar para muchos, muy práctica. Los niños se lo pasaron en grande saltando en la cama elástica y los mayores aprovechamos los distintos momentos del día en las zonas del exterior que son muy agradables. Bea nos recibió estupendamente y siempre estuvo muy atenta para cualquier cosa que necesitábamos. Muchas gracias! pasamos un fin de semana genial en familia.
Laura
2015-05-17T00:00:00Z
Nuestra estancia con nuestros amigos en La Isla Verde ha sido estupenda. Un lugar mágico en el que perderse y desconectar al máximo en medio de la naturaleza. Gracias a Bea y a su familia por su hospitalidad que han hecho la estancia muy fácil. Ya estamos deseando repetir la experiencia.
CRISTINA
2013-11-04T00:00:00Z
Our Hosts Beatrice and Felix were most welcoming & very helpful with organising transport to our friends nearby wedding. Thank you Jutta for forwarding us detailed info & images on how to find the Finca it was much appreciated, as was all you help with the booking & all our extra guests & changes etc!. The last few Kilometres were along a dried up river bed & with the photos we were reassured we were heading in the right direction. This is a stunning & sensitively restored historic property, we much admired the hard work & devotion that had clearly gone into this project. If you are looking for the 5 star air con, all mod cons this would not suit you, but we weren't & so it did. We were a party of 11 people inc kids & there was plenty of room for all. Stock up enroute in one of the bigger towns & enjoy the stunning surroundings & relative peace, not to mention the natural pool which was a wonderful retreat from the heat of the day. Thank you so much Laurel, Tom & All
Laurel
2015-07-12T00:00:00Z
Tipo de Quarto
Casa inteira/apto
---
Tipo de Imóvel
Casa
---
Acomoda
11
---
Quartos
Esparreguera, Catalonia, Espanha
20 '바르셀로나와 10'몬세 라트의 산. 해변 30km. 공항 20km. 매우 조용. 가능성은 전체 집 또는 방 임대 (방으로 표시된 가격. 자세한 문의 사항은 소유자에게 문의). 그들을 방문의 가능성과 인근 주요 와이너리, 이상적인 골퍼 (골프 MASIA 바흐) 또는 양조 학의. 1 2 인 10 명에도 전체 집까지에 대한 다른 객실을 보유하고 있습니다. 국가 전화 (아무 모바일 또는 특수 번호)를 포함하여 와이파이 서비스. 에어컨과 난방, 벽난로. 공용 공간, 식당 및 주방. 요청 및 가용성에 따라, 당신은 식사를 제공 할 수 있습니다. (최대 7 석에) 임대 차량의 가능성. 요청 및 가용성, 공항 픽업 서비스시. 개인 정원. 작은 농장, 이상적인 어린이. 하우스 조심 세부 사항. 문 시내 버스. FFCC 10 '산책입니다. RENFE 3km. 바르셀로나에서 20 분, 몬세 라트 산 10 분. 해변 30km. 공항 20km. 매우 조용. 가능성은 전체 집 또는 방 (도시 객실당 가격. 기타 문의 사항은, 소유자에게 문의하시기 바랍니다) 임대. 이상적인 골프를 치는 사람 (골프 MASIA 바흐) 또는 그들을 방문 할 수있는 가능성과 인근 주요 와이너리와 enology. 최대 10 명 1 또는 2 사람이나 심지어 집 전체를위한 다른 방 .. 무선 서비스, 국가 전화 (안 모바일 또는 특수 번호)를 포함하여 취급합니다. 에어컨과 난방, 벽난로. 공용 공간, 식당 및 주방. 요청 및 가용성에, 우리는 식사를 제공 할 수 있습니다. 가능성 (최대 7 석에) 차량을 임대. 요청 및 가용성, 공항 픽업 서비스에. 개인 정원. 작은 농장, 완벽한 아이. 주의 세부 하우스. 문 버스. 10 '발에 FFCC. 3km에 RENFE.
Toni nous a accueillis à l'heure exacte convenue ensemble, avec le sourire, la maison était prête à nous accueillir. Le logement était conforme à sa description. Le quartier est résidentiel, très calme. Notre hôte nous a renseignés spontanément sur les commerces de proximité, les sites de visite appuyées par une carte de la région. Nos enfants ont particulièrement apprécié, dans le jardin, la compagnie d'animaux domestiques (chats, lapins...).
Christophe
2014-09-08T00:00:00Z
Todo genial, la casa limpísima y espaciosa. Fuimos un grupo de 12 personas, 4 de ellos niñ@s. Estuvimos muy a gusto, como es casa. El jardín se disfruta mucho y tiene una zona con gallinas, pollitos y conejos...hasta cojimos unos huevos fresquisimos para hacer unos flanes. La atención y comunicación de Toñi es ideal, te ayuda en todo lo que necesitas.
Encarni
2013-10-28T00:00:00Z
We had a wonderful stay here! Toni was helpful and easy to work with regarding any questions we had. We used the entire house and it suited us well. Our kids enjoyed playing in the yard and having space to move around.
Missy
2012-06-16T00:00:00Z
Tipo de Quarto
Quarto privado
---
Tipo de Imóvel
Dormitório
---
Acomoda
2
---
Quartos
St Esteve Sesrovires, Catalonia, Espanha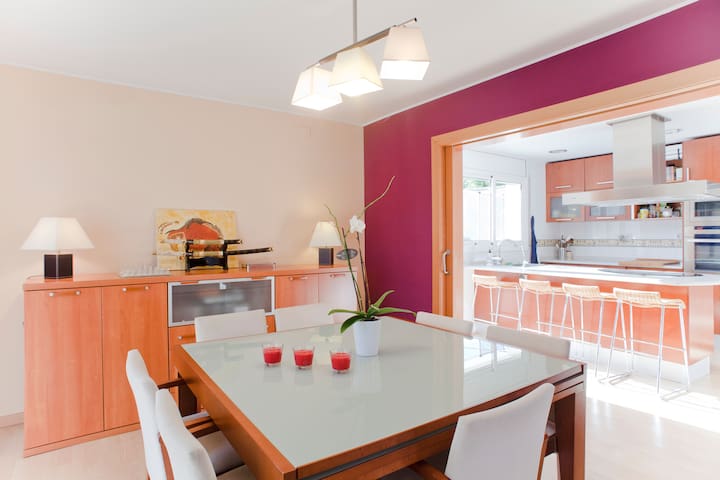 Nice modern house in the countryside. In a small city (Olesa de Montserrat) few Km. away from Montserrat and other touristp.,just 40 meters to all kinds of tracks in the country. Very close to Barcelona (30 minutes by car, 45 by bus or traint. Quiet.
My place offers a good starting point to see ALL tourist points in Catalonia, we're right in the middle: (URL HIDDEN) What's outside Barcelona? How about the Pyrenees mountains, with plenty of quaint villages, or miles of coastline with charming coves and white villas. Cities that have preserved great monuments, and hidden corners that seem rooted in medieval times. Not to mention natural parks and World Heritage Sites in abundance. With this wealth all around, it wasn't easy to choose just 50 must-see places in Catalonia (and a few are in Barcelona), but we took the challenge head-on, and this is our selection to help you get out and explore.
Joan and his family are fantastic hosts, extremely helpful, friendly and open-minded. I stayed 12 nights with them and enjoyed every single moment in their marvelous house. A perfect mixture of feeling free and easy and at the same time very welcomed and cared. Everything your heart desires you may ask for and Joan will gladly organize for you. The house is gorgeous, exactly as shown on the photos, with a great view to Montserrat and fabulous facilities. Best home base for wonderful excursions to Montserrat, Barcelona and nice beaches and villages around. Joans family provided me with equipment for the beach, with maps and tips for special places and hiking paths in Montserrat, with ecological fruits and vegetables from the grandparents garden, with happy good-morning-smiles and good coffee… I simply felt at home! This was my first Airbnb experience and I got the jackpot :) I highly recommend this house to anyone! Thank you again so much for all, Joan and Montse! P.S. If you happen to come end of August you also will enjoy a wonderful historic fiesta and spectacle in Olesa and see Joan acting as the mayor of town 300 years ago :)
Christine
2016-09-09T00:00:00Z
Joan and his lovely family make such excellent hosts. Their new family addition (Leiya) their lovely little dog is full of character and very well behaved. Feel welcome into this warm Catalan home and explore the many mountain villages of the area, or pop into Barcelona - or climb a mountain: Montserrat has so many options. Definitely recommend!
Deanna
2017-01-04T00:00:00Z
Después de un largo día caminando, la casa de Joan ha sido el lugar perfecto para descansar. Es un sitio precioso, elegante y al mismo tiempo acogedor, con una vistas magnificas y una habitación de ensueño. Joan y su mujer han sido muy amables y disponibles: es sin duda un sitio al que volver cuando se busque un momento de paz.
Laura
2017-01-07T00:00:00Z
Fue como llegar a casa de unos familiares. Muy atentos y educados. Las fotos son exactas a la realidad. Dormí muy bien. Todo muy bien.
Javier Cesar
2017-04-06T00:00:00Z
We can't speak highly enough about Joan and his family. We were made to feel welcome from the time we arrived to the time we left. Everyone went far beyond what we expected. Beautiful home, beautiful family, fabulous facilities. Highly recommended to anyone. 11 out of 10.
Geoff and Maureen
2015-09-06T00:00:00Z
Uitstekende Airbnb. Kamer zelf is klein, maar huis en tuin zijn groot, met op het balkon een prachtig uitzicht op Montserrat berg + klooster. Elke dag een heerlijk en verzorgd ontbijt! Fijn gezin die je alle ruimte en vrijheid geeft en leuke/prettige interactie met ouders en kids. Privacy is daarbij goed geborgd. Een echte Airbnb lokatie, dichtbij Barcelona met de rust van de Montserrat rots.
J-G
2016-11-14T00:00:00Z
Great location! View of the mountain massive Montserrat. Very nice people! Knowledgeable about the environment. Very helpful. Great house :-)
Freek
2016-01-06T00:00:00Z
It was the best stay I've ever had. And it's not because of the place (though it's gorgeous, with a wonderful view and a cozy garden). It's not about the guest room, which is a great place to have rest. It's about people. A wonderful and cheerful people you will definitely love to spend some time talking with. Thank you!
Maksym
2016-11-06T00:00:00Z
Tipo de Quarto
Quarto privado
---
Tipo de Imóvel
Chalé
---
Acomoda
2
---
Quartos
Olesa de Montserrat, Catalunya, Espanha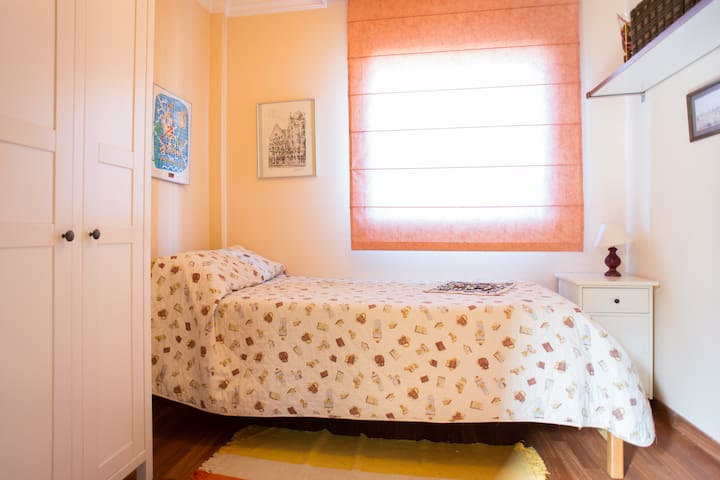 Um apartamento em uma pequena e tranquila cidade, muito perto da famosa montanha de Montserrat. Ideal para passar algumas noites confortáveis longe do Barcelona lotado, que pode ser diretamente atingido por ônibus ou carro (25 minutos). Paragem de autocarro a 50 ms de plana.
O apartamento tem tudo para tornar sua estadia mais confortável: 2 quartos (um único e uma cama de casal), banheiro limpo, e uma cozinha totalmente equipada. O preço inclui pequeno-almoço, bem como, tais como pão torradas, suco de laranja fresco, geléia, manteiga, queijo-creme, café, leite, etc.
O apartamento está situado numa rua pequena e tranquila, mas lojas, restaurantes, uma farmácia, e o ponto de ônibus estão dentro de 3 minutos a pé. A cidade tem excelentes ligações de transportes com o Barcelona, bem como Montserrat, que é um lugar com monumentos únicos religiosos, rotas de caminhadas, e ambiente natural único. O estacionamento é gratuito em frente, ou perto do apartamento.
Francesca é uma excelente anfitriã, sempre gentil e sorridente. Tudo super limpo, lindamente decorado e aconchegante. Foi ótimo! Super recomendo!
Giselle
2016-06-27T00:00:00Z
Maravilhosa!!!!! Não tem outra palavra para descrever a nossa estada com a Francesca. Como sou intolerante a Glúten ela já nos recebeu com um delicioso bolo preparado especialmente para mim, e também um carinho a mais com uma massa sem glúten. Ela deixou eu e meu marido totalmente a vontade em sua casa, compartilhamos um belo jantas, muita conversa e risadas. A localização nos permitiu conhecer o Monastério de Montserrat e a animadíssima Barcelona. Francesca é uma pessoa de coração enorme e de uma energia contagiante. Obrigada por tudo querida. Beijos saudosos.
Giovana
2016-06-05T00:00:00Z
Excelente lugar, muito simpática a anfitriã. Ficamos muito a vontade no seu lindo apartemento!!! Indico esse lugar que foi uma das melhores acomodações do AIRBNB!!!
adriano
2017-01-31T00:00:00Z
Франческа очень гостеприимно женщина. Заранее написала мне, сказала что не работает звонок и дала пароль от wi-fi, чтобы я смог написать ей смс. Она сразу же встретила меня и помогла с парковкой. Также подсказала с помощью переводчика как добраться до Монсеррата. Франческа говорит по-испански. Есть кошка, может для кого-то это важно. Очень милый дом, все чисто, аккуратно.отдельная комната - она на фото, удобная кровать, теплое одеяло, что особенно актуально в это время года. Кухня - огромная и удобная, можно пользоваться ей. Есть также терраса на крыше, можно перекусить на свежем воздухе.С утра Франчески не было, но она оставила мне завтрак и записку с пожеланиями хорошего пути.Очень тихий и спокойный район. Идеально для заселения, чтобы потом отправиться в Монсеррат. Около 12 км и 10 минут в пути на машине. В самом городке тоже можно кое-что посмотреть.До Барселоны тоже не далеко, около 20 минут на машине. Если вы нашли это жилье, не раздумывайте, заселяйтесь. Спасибо, Франческа за гостеприимство.
Grigory
2016-05-02T00:00:00Z
바르셀로나 외곽에있지만 바르셀로나까지 바로가는 버스있어서 교통 크게나쁘진않구요 주인분이 되게 친절하세요! 진짜 가족처럼 반갑게 맞아주셨어요 나중에 또 가면 또 머물생각입니당 아그리고 귀여운고양이 한마리 키우고 계세요
소연
2016-06-15T00:00:00Z
Even I'm stranger for Francesca I felt like at home. Thank you
Peter
2016-11-07T00:00:00Z
My wife and I had intended to honeymoon in Greece, but months of planning went out the window at the last minute due to an air traffic controller strike. We decided to spend time in Barcelona and Catalunya, including Montserrat, instead. It was all very last minute, so we had to find somewhere near Montserrat the night before we left Barcelona. We were attracted to Francesca's strong reviews, location, and, of course, Patty. It was a little stressful getting here, since I'd never driven in Europe before, and it was a downpour outside. But once we got here, Francesca made us feel extremely welcome, despite the language barrier. We had a great time over dinner speaking in broken Spanglish via (SENSITIVE CONTENTS HIDDEN) Translate, and Patty was as funny as we'd hoped, which helped make up for missing our cats at home. I would highly recommend staying here if you're looking for a place in the area.
Tim
2016-10-14T00:00:00Z
Even though I don't speak good spanish, our stay there was great! Francesca took care of us like her own children :). She welcomed us with tortilla de patatas for dinner and the trip there was worth it alone because of fresh zumo de naranjas in the morning! Recommend!
Tarmo
2016-01-14T00:00:00Z
Tipo de Quarto
Quarto privado
---
Tipo de Imóvel
Casa
---
Acomoda
3
---
Quartos
esparraguera, barceloma, Espanha
Located in a small town (Olesa de Montserrat) very close to the mountain of Montserrat and ideally located to see all catalonian tourist attractions. Very close toBarcelona (30' by car, 45' with Bus or train. Area is very quiet and well communicated.
Ours is a nice modern house with two advantages: it's very close to Barcelona but far enough to be in the tranquility of the country. That means you can rest here in the calm after a day full of activities everywhere o just enjoying the peace of a quiet day. The house is very big with plenty of space. My place offers a good starting point to see ALL tourist points in Catalonia, we're right in the middle: (URL HIDDEN) What's outside Barcelona? How about the Pyrenees mountains, with plenty of quaint villages, or miles of coastline with charming coves and white villas. Cities that have preserved great monuments, and hidden corners that seem rooted in medieval times. Not to mention natural parks and World Heritage Sites in abundance. With this wealth all around, it wasn't easy to choose just 50 must-see places in Catalonia (and a few are in Barcelona), but we took the challenge head-on, and this is our selection to help you get out and explore.
Our place is a good starting point to get to know Catalonia or for a nice rest with losts of day-long walking, cycling or horse riding excursions if you want. You have lots of country tracks for walking starting just 10 meters away from the house (and they even get into Montserrat monastery if you want). Our guidance will help you. The views from the house are very nice. There are only two neighbours in a highly secure environment.
Accueil très sympathique,très arrangeant et disponible. Maison spacieuse, tout confort , beau jardin très belle vue, quartier calme! Bien placée pour les visites de Montserrat. Très agréable pour une famille nombreuse. Je la recommande chaleureusement. Merci beaucoup.
Patricia
2015-08-02T00:00:00Z
Magnifique maison, famille chaleureuse et disponible. Très agréable séjour, merci encore!! Nous recommandons sans hésitation!
Famille Andriamanantsoa
2015-08-10T00:00:00Z
La casa de Joan es perfecta tal y como pone en la descripción. Es muy acogedora y tiene unas vistas preciosas. Pasamos el fin de año allí y fue estupendo. Joan es muy amable; nos recibió para enseñarnos la casa y siempre estuvo muy atento para que nos faltará de nada.
carola
2016-01-01T00:00:00Z
Beautiful house where we stayed for a week and enjoyed every minute. The view from the house is great: the mineral mountain of Montserrat. Beautiful walks from the Monastery and we also enjoyed visiting the colonia Guell, which is only 20minutes drive and is very interesting from a social, historical and artistic point of view. We travelled with our teenage kids and the enjoyed the stay. Thank you for the great hospitality.
Nathalie
2016-08-28T00:00:00Z
Todo muy bien!, la casa estupenda.
Paloma
2015-12-30T00:00:00Z
Tipo de Quarto
Casa inteira/apto
---
Tipo de Imóvel
Chalé
---
Acomoda
7
---
Quartos
Olesa de Montserrat, Catalunya, Espanha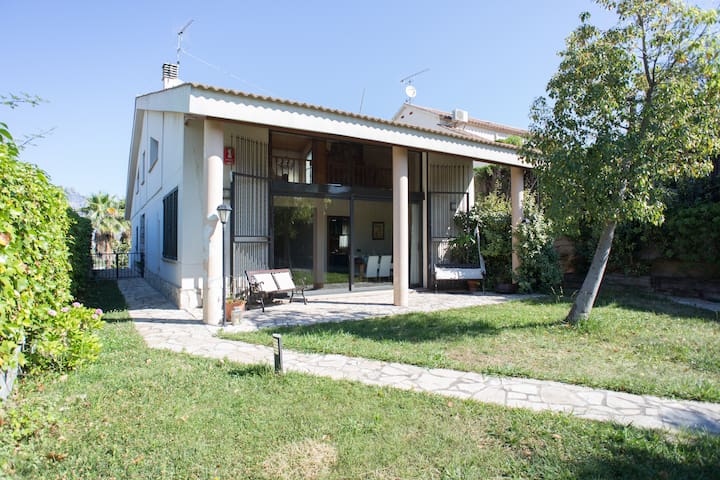 Attractions: Near Montserrat and the route of the caves. A 20-minute drive from the center of Barcelona .. My accommodation is good for couples.
The ubación is ideal for people who quiren visit other areas or places of Catalunya outside the big cities. 15 min from the magnificent and special mountain of Montserrat. 15 min from the Penedes area where visit the best cellars and wineries. 20 minutes from Barcelona city. 30 min from the beaches of Gava and Castelldefels
It is a very quiet residential neighborhood of houses. It is next to several industrial areas and business parks. Just behind the SEAT car factory.
Pepi et Miguel sont très accueillants, chaleureux et d'une gentillesse exceptionnelle. La maison est super propre. C'est surtout un lieu permettant d'aller à Barcelone ou à Montserrat rapidement mais l'environnement ne présente pas d'intérêt majeur. La piscine est bien agréable.
Ethel
2016-08-14T00:00:00Z
Nous sommes arrivés très tard du a des problèmes sur la route. Miguel était la a nous attendre avec le sourire. Ma fille et moi venions pour nous reposer, et visiter Barcelone, nous avons trouver des gens merveilleux que nous considérons comme des amis maintenant. Disponibles, souriants, chaleureux, il n'y a pas de mots pour décrire le moment inoubliable vécu chez Pepi et Miguel. La chambre a dispo avec sa sdb privée grand luxe, un salon avec tv a dispo pour nous tout seuls, la piscine a volonté, toujours propre, le matin jus d'orange frais et café espresso de grande qualité. Mon meilleur Airbnb et de loin, même si j'ai découvert beaucoup de gens merveilleux et attachants au cours de mes voyages. Miguel et Pepi ont une place particulière dans notre coeur. Je recommande ! Ha oui, ne soyez pas désorientés ou déçus en approchant du but, car il faut traverser une zone industrielle... la maison au bout du chemin vaut le détour. je mets 10/10 sur l'accueil, propreté, sympathie... Todo bueno !
Marc
2016-07-26T00:00:00Z
Tipo de Quarto
Quarto privado
---
Tipo de Imóvel
Casa
---
Acomoda
2
---
Quartos
Sant Esteve Sesrovires, Catalunya, Espanha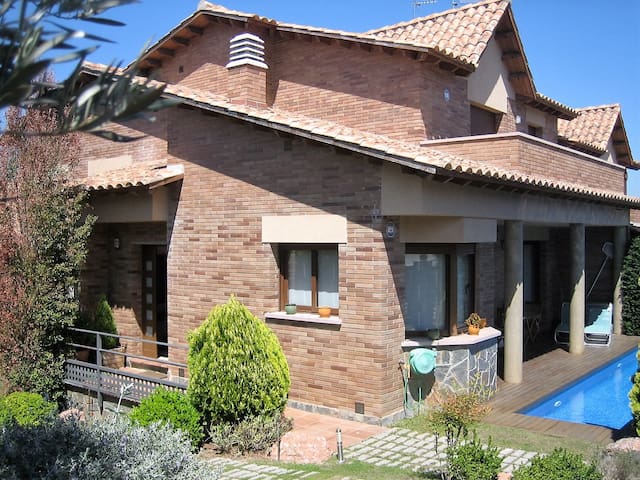 House located in a quiet residential area, ideal to enjoy nature, silence and relaxation. It has three bedrooms, two doubles and one suite with bathroom. It has two full bathrooms and a toilet. The house has air conditioning and heating, as well as full kitchen, laundry and ironing room. It also has WI-FI. Ideal for families with children.
House of two plants. On the first floor is the office and bedrooms; a suite with bathroom and two double bedrooms all with access to the upper terrace and views of Montserrat. On the second floor is the fully equipped kitchen, a shower room, iron and washing machine, and a large dining room, both the kitchen and dining room have access to the large garden with pool ideal for children. whole house is south facing so there is sun all day.
It is located in a residential, very quiet and nature.
Todo ha pasado muy bien, la casa es muy bonita, y susana y jordi son muy simpaticos!!
Ferial-Louisa
2016-08-26T00:00:00Z
The host canceled this reservation 24 days before arrival. This is an automated posting.
Maya
2016-07-13T00:00:00Z
Nice house Owner arent verry honest about the damage when you check out. When we check out i received about a bill about damage we didn't made. Like dent in the concrete wall etc..
Antoine
2016-08-02T00:00:00Z
Tipo de Quarto
Casa inteira/apto
---
Tipo de Imóvel
Chalé
---
Acomoda
6
---
Quartos
Ca n'Amat, Catalunya, Espanha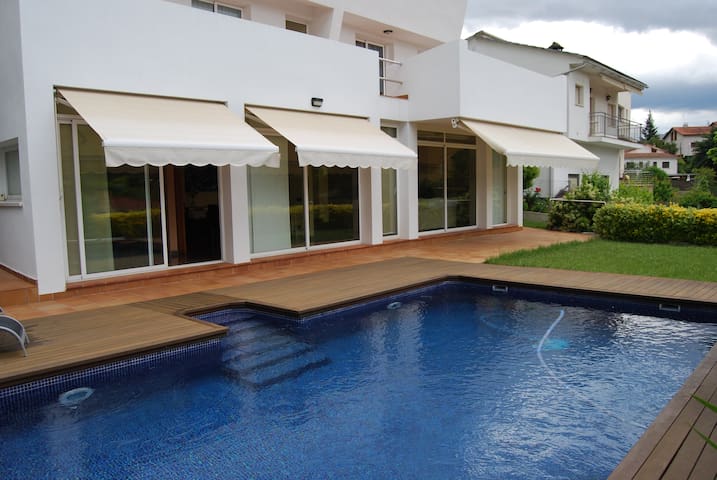 Apartamento para duas pessoas em um muito acolhedor, localizado no coração da cidade velha, a 100 metros da praça da igreja .. construção de novas de alta qualidade, confortável, espaçoso e muita luz natural .. O meu alojamento é perfeito para casais, viajantes aventureiros solo e viajantes de negócios.
Apartamento duas pessoas do novo edifício de alta qualidade no centro da cidade
Our stay at Jordi&Montse's place was fantastic. The apartment is located in the heart of Collbató right next to the Montserrat mountain and has everything that one needs for even a longer stay: well-equipped kitchen, comfortable bathroom and all the amenities. Montse was so wonderful friendly and helpful giving us hints about the apartment and tips for our journey, so we felt like home during our stay.
Diana
2016-10-23T00:00:00Z
Maravilloso apartamento en el centro de Collbató, a los pies de la montaña de Montserrat. Idóneo para excursiones y escaladas por el macizo. A destacar la amabilidad de los propietarios.
Jose
2016-09-26T00:00:00Z
The host canceled this reservation 19 days before arrival. This is an automated posting.
Javier
2017-01-31T00:00:00Z
Hôtesse très accueillante. Appartement très bien et très propre. Que du bon!
Aude
2017-03-20T00:00:00Z
La recepción tanto de Montse como de Jordi fue estupenda. Realmente el apartamento superó mis expectativas y las vistas de las montañas es de mucha belleza. Por supuesto que lo recomendaría. Como primera experiencia me resultó excelente.
Alberto
2016-07-28T00:00:00Z
We enjoyed our stay in this warm and spacious apartment. Comfortable beds and great location within the old part of town. We found free parking each day about 80 meters from the apartment which Jordi pointed out to us. Very kind hosts. Kitchen has basic equipment, tea and coffee, but bring your own breakfast and seasoning. Thanks for having us Jordi and Montse
alex + andrea (dad and daughter)
2017-02-01T00:00:00Z
Jordi and Montse's flat is great, warm (in the winter), well equipped and homely . Perfect for hiking in Montserrat. The beds are comfortable, there are lots of handmade pieces of wooden furniture. The hosts are friendly and helpful. We'd love to stay again.
Emmanuelle
2017-02-09T00:00:00Z
Tipo de Quarto
Casa inteira/apto
---
Tipo de Imóvel
Condomínio
---
Acomoda
2
---
Quartos
Collbató, Catalunya, Espanha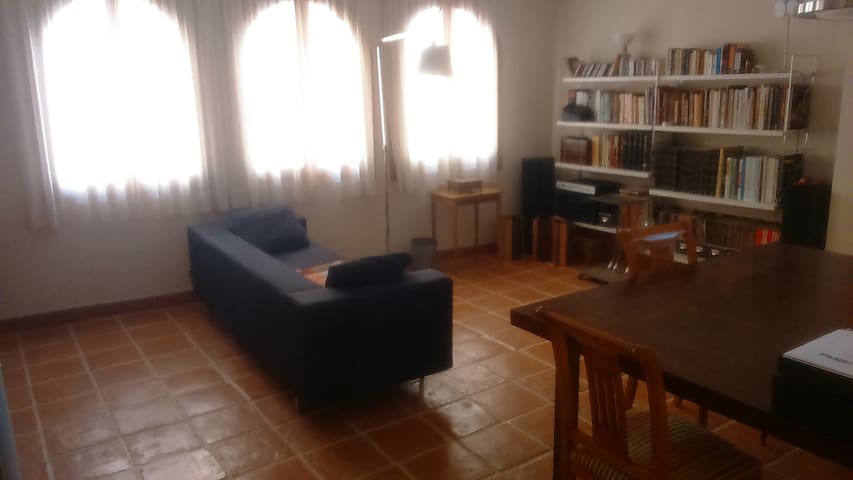 Cozy villa Abrera for 10 guests, only 8 km to Club de Golf Masía Bach!
Villa for 10 guests, only 8 km to Club de Golf Masía Bach! This wonderful villa with mountain views is located in an idyllic setting and is equipped with a splendid swimming pool, billiards, and ping-pong for guaranteed fun! On the ground floor there is a comfortable and cozy living room, decorated in traditional style, with a fireplace providing a romantic touch for the cooler evenings. On this floor you will also find a bathroom with a shower and a living room with a TV. The bright and fully equipped kitchen has appliances and tools for all your cooking and dining needs. The first floor has 5 bedrooms: (1) one double bed (2) one double bed (3) two single beds (4) one double bed and ensuite bathroom (5) one double bed and ensuite bathroom One extra bed can be added for an additional supplement. On the second floor there is a loft with a pool table, and in the basement there is a ping-pong table, and a bathroom with a shower for the pool. Please note that we offer a variety of optional services for your convenience and vacation enjoyment. Below are just a few options that can be booked after your reservation is confirmed: In-villa catering (paella, tapas, Spanish BBQ) Flamenco lessons In-villa tastings of locals cheeses, wines, cavas, chocolate, deli meats. Airport transfer Car rental Towels and linens (these are not included in your reservation fee) Excursions/tours Massage Horse riding Air conditioning/Heating (if available) Please feel free to ask for more information on any of the above! Departure cleaning and maintenance fee: 160 EUR Department of Tourism registration number: 013345 *This property does not allow groups under 25 years of age. * Pets are allowed with prior authorisation and for an additional fee per pet. Please inquire for more information.
Tipo de Quarto
Casa inteira/apto
---
Tipo de Imóvel
Casa de campo
---
Acomoda
10
---
Quartos
Barcelona Region, Ca n´Amat, Abrera, Espanha
20'de house with pool overlooking Montserrat Barcelona, spacious, bright, ideal families.
all very spacious large house, 300 m2, gym, living room of 50 m2, 4 bedrooms, terraces, porch, garden, pool, chillout area. Ideal for families or groups of friends. Very close to the mountain of Montserrat just 10 'and 20' of Barcelona, very quiet playa.Zona airport and near important field have golf.Importante vehicle.
Amplitude, large gardens, quiet, one minute from the village residential area.
Tipo de Quarto
Casa inteira/apto
---
Tipo de Imóvel
Casa
---
Acomoda
9
---
Quartos
Sant Esteve Sesrovires, Barcelona, Espanha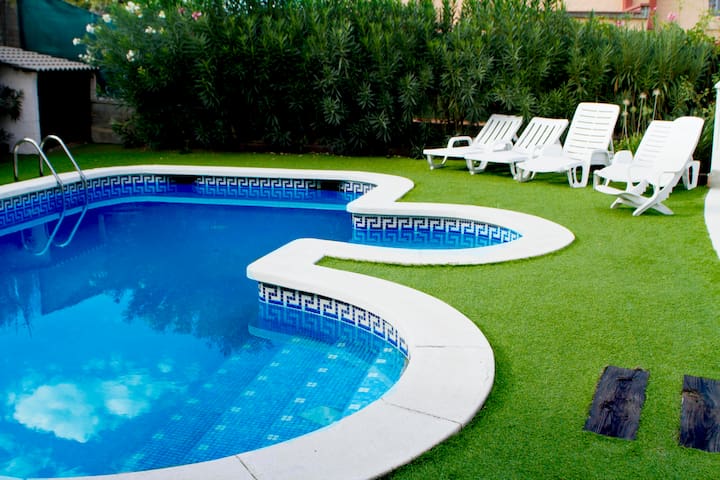 Insira as datas para ver o preço total. Taxas adicionais aplicáveis. Podem ser adicionados impostos.