Piso recién renovado ( Junio 2015 ), 3 habitaciones ( 1 cama matrimonio y 4 camas individuales ), 1 baño, cocina y salón. Baños, mobiliario y cocina a estrenar. Ubicado en un paraje muy bonito y tranquilo, como es el valle de Sakana
Ubicado en un paraje muy bonito y tranquilo como es el Valle de Sakana, entre las sierras de Aralar y de Andia-Urbasa, donde se pueden realizar una gran variedad de actividades, y ocio entre ellos: senderismo, hípica, cuevas, artesanía agroalimentaria.... A sólo 50 min de la playa de Donostia-San Sebastian.
La casa perfectamente situada para la sierra de Urbasa, y la de Aralar que era lo que necesitábamos. además Iolanda nos informó de sitios y nos comunico como hacerlo. Recién acondicionada como dice el anuncio y limpio como muestran las fotos. todo correcto.
Iñigo
2015-08-02T00:00:00Z
Appartement conforme à la description, intérieur refait avec goût, agréable pour un couple avec 2 enfants. Situation intéressante pour découvrir les vallées qui se situent autours.
Céline
2015-08-15T00:00:00Z
El piso esta muy bien, completamente reformado y cumple con las expectativas que buscábamos. Es un cuarto sin ascensor, hay que tenerlo en cuenta.
Loli
2015-08-13T00:00:00Z
Iolanda nos tenia prepara un par de listas con lugares para visitar,el pueblo donde esta el apartamento es muy tranquilo y la gente muy acogedora. El barrio proximo al centro del pueblo por lo que te puedes desplazar a pie.
Ramon
2015-07-27T00:00:00Z
Hemos estado muy a gusto en el piso de Yolanda , muy nuevo y espacioso , gracias
Lola
2015-08-23T00:00:00Z
Yolanda es muy simpática y agradable, nos ayudó a encontrar el piso y nos recomendó sitios de por la zona. Hubo un problema con la ducha y lo solucionó ese mismo día. La vivienda está toda nueva y es muy amplia. Nos encontramos muy a gusto. La zona es preciosa, todo el parque natural Urbasa-Andia merece la pena.
Eugenia
2015-08-09T00:00:00Z
Tipo de Quarto
Casa inteira/apto
---
Tipo de Imóvel
Apartamento
---
Acomoda
6
---
Quartos
Etxarri-Aranatz, Navarra, Espanha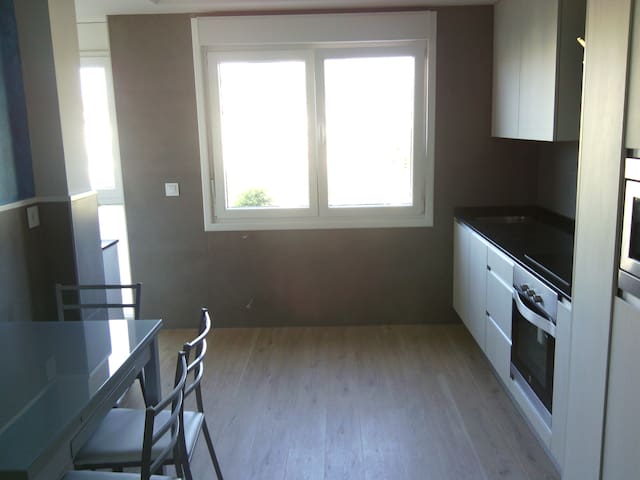 Entre los parques naturales de Urbasa-Andia y Aralar. Apartamento Arluzepe, con 70 m2 , está en la planta baja de un edificio construido en 2010. Con capacidad para 4 personas y posibilidad de sumarle una cama supletoria. Pais Vasco y Navarra
apartment for 5 people situated Etxarri, Navarre alongside Urbasa, Andia and Aralar mountains Arluzepe is: 40 kilometers from Pamplona (URL HIDDEN)80 kilometers from San Sebastian (URL HIDDEN)120 kilometers from Bilbao (URL HIDDEN) 125 kilometers from Bayonne
Amaia our host was very sweet. She was so helpful and gave us information about Fiesta De San Fermin. The area we stayed was a nice small quiet town and really beautiful. It was about a half hour outside of Pamplona. The apartment was very nice and had 4 beds with a little patio deck.
Josh
2014-07-09T00:00:00Z
Amaia was amazing! She was such a great host and provided us with all of the information we needed and even more in regards to our stay and us attending San Fermines. The apartment is about 30 minutes from Pamplona and the bus station is 2 mins away from it. The town is small and quiet but very peaceful. The apartment is very spacious, 2 rooms and the living room, it also has a large balcony which you can see the country side. We loved staying here and would definitely recommend it to anyone thinking of going to San Fermines or just looking for a peaceful place to stay. It is close enough and also far enough to get away from the chaos if desired. Wifi was the only thing we missed having but aside from that our experience was amazing and Amaia made sure it was great.
Alejandra
2015-07-12T00:00:00Z
Gracias Amaia por tu hospitalidad, nos dejaste i distes información de varias actividades que se podían hacer i siempre es de agradecer cuando vas a un lugar desconocido. El apartamento perfecto i la hospitalidad de los habitantes del lugar muy agradable. Un rincón esplendido para pasar unas vacaciones muy agradables. Anna
Anna
2014-06-13T00:00:00Z
The host canceled this reservation 187 days before arrival. This is an automated posting.
Josu
2017-01-21T00:00:00Z
Tipo de Quarto
Casa inteira/apto
---
Tipo de Imóvel
Apartamento
---
Acomoda
5
---
Quartos
Etxarri-Aranatz, Navarre, Espanha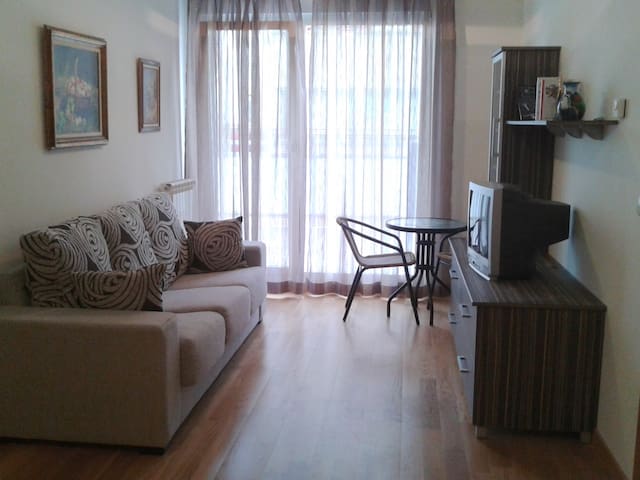 Casa Rural Reparaz es luminosa, espaciosa y agradable con jardín, barbacoa y aparcamiento privado, dos balcones y terraza. Se encuentra en la parte vieja del pueblo de Arbizu situado en el centro de Sakana (Navarra), valle del rio Arakil. El pueblo esta abrazado por dos Parques naturales; Sierra de Urbasa-Andia y Sierra de Aralar, a 30 Km de Pamplona y los Pirineos Navarros, a 80 Km de San Sebastian y de la Costa Vasca de distancia. Ideal para acceder a todas las ciudades desde la autovia.
La descripción del anuncio se corresponde completamente con la realidad, la casa esta en muy buen estado, muy limpia, acogedora, equipada, todo funciona perfectamente, la zona y el barrio muy tranquilos y muy bonitos.
Carolina
2016-12-26T00:00:00Z
mila est une hôte particulièrement sympathique ,qui a su nous mettre à l'aise et nous faire partager sa culture.nous avons passé quatre jours merveilleux !!! la découverte de la région et du village nous ont vraiment séduit. quant aux hôtes ils ont été très chaleureux , très au plus près de nos besoins. merci
Vero
2016-11-01T00:00:00Z
Tipo de Quarto
Casa inteira/apto
---
Tipo de Imóvel
Complexo de Casas
---
Acomoda
6
---
Quartos
Arbizu, Navarra, Espanha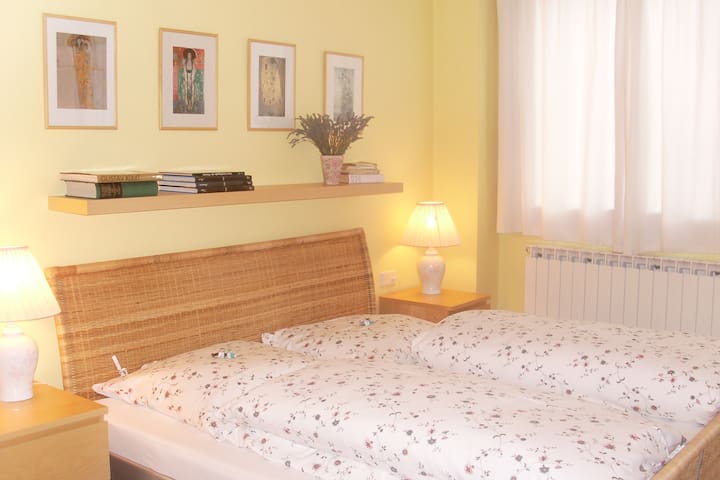 Hola soy Amaia y estaré encantada de atenderos. Angoiko Etxea es una casa rural de alquiler completo en la sierra de Urbasa. Tiene capacidad para 10 personas y por sus características es ideal para grandes familias o para grupos de amigos.
Casa rural de alquiler completo en las faldas de la sierra de Urbasa en Navarra. Con capacidad hasta 12 personas es ideal para reuniones de familia y para grupos de amigos. Casa rural Angoiko Etxea es un edificio de tres plantas edificado en 2001 sobre las ruinas de un viejo caserón. En la planta baja encontramos el garaje con capacidad para 2 ó 3 coches, un servicio y un espacioso "txoko" con fuego bajo y una espléndida mesa ideal para organizar cualquier celebración y que tiene acceso directo a un pequeño jardín donde se puede usar la barbacoa. En el primer piso tenemos una habitación con cama de matrimonio y otra habitación doble, un baño completo, un amplio salón con juegos, T.V. y mini cadena musical y una cocina bien equipada (sin lavavajillas). Tanto cocina como salón dan a un hermoso balcón. En el segundo piso tenemos otro baño completo, una habitación con cama de matrimonio y dos habitaciones dobles que tienen acceso al balcón superior. Existe la posibilidad de colocar dos camas supletorias. La casa tiene calefacción a gasoil que se regula en cada planta con sencillos termostatos y en el garaje se dispone de leña para encender el fuego. QUE HACER Y A DONDE IR CUANDO ESTÁS EN ANGOIKO ETXEA:Recorrido de montaña de 7 kilómetros desde Bakaiku hasta la cima de la sierra de UrbasaRuta de los Dólmenes en Etxarri Aranatz (a 4 kilómetros de Angoiko Etxea)Ruta de los robles singulares en Etxarri Aranatz (a 4 kilómetros de Angoiko Etxea)Visita al parque natural de la sierra de Aralar desde el centro de interpretación de Lizarrusti (a 12 kilómetros de Angoiko Etxea) y ruta al embalse de Lareo.El parque natural de Urbasa-Andia y un paseo al nacedero del río Urederra.Excursión a la nieve en el alto de Lizarraga Se pueden contratar los servicios de un guía de la zona (conocedor de la fauna y flora autóctonas) para que nos acompañe a realizar estas rutas o cualquier otra que nos interese realizar por el valle. visitas muy cerca de Angoiko Etxea:Visita al centro de interpretación de producción de leche integrada Lacturale en Etxeberri (a 20 kilómetros de Angoiko Etxea)Visita al taller y museo forjas Brun en Izurdiaga (a 30 kilómetros de Angoiko Etxea) con su tradicional fragua y donde incluso puedes realizar algún curso de iniciación.En verano, escapada a las piscinas municipales de Etxarri Aranatz, situadas en pleno robledal en un marco incomparable (a 4 kilómetros de Angoiko Etxea)Visita al santuario de San Miguel de Aralar (a 25 kilómetros de Angoiko Etxea)actividades rurales muy cerca de Angoiko Etxea:Ofrecemos la posibilidad de contactar con ganaderos de la zona para realizar visitas a sus instalaciones. Ademas de poder conocer nuestros huertos y la pequeña granja familiar que se encuentra en Etxarri Aranatz (a 3 kilómetros de Angoiko Etxea). También podemos enseñaros tradicionales labores del campo y las elaboración de productos gastronómicos rurales. Lugares de interés cerca de Angoiko Etxea:Iruña - Pamplona (a 45 kilómetros de Angoiko Etxea) Gasteiz - Vitoria (a 45 kilómetros de Angoiko Etxea) Donostia - San Sebastian (a 80 kilómetros de Angoiko Etxea) Bilbo - Bilbao (a 120 kilómetros de Angoiko Etxea) Bayona (a 125 kilómetros de Angoiko Etxea) Santuario de Arantzazu en la sierra de Aizkorri (a 50 kilómetros de Angoiko Etxea)
Bakaiku es un municipio 340 habitantes de la Comunidad Foral de Navarra, dentro de la zona geográfica denominada Montaña de Navarra. Bakaiku está situada en las faldas de la sierra de Urbasa, rodeada prados verdes y de frondosos bosques de robles y hayas, al noroeste de Navarra, en la comarca de la Barranca, en el valle de la Sakana a 44 km de la capital, Pamplona. PUEDES VISITAR EN EL PUEBLO: Iglesia parroquial de San Juan Bautista: Es un edificio barroco del siglo XVII, aunque se cree que proviene de la temprana Edad Media, ya que hay inscripciones de 1216. Ermita de Santiago: Situada en el casco urbano del pueblo. Ermita de San Benito: Situada en la parte baja de la Barga se cree que es el único resto que queda de un posible poblado que como tantos otros de la Burunda desapareció a consecuencia de la Peste Negra en el año 1348. En su interior cabe destacar las pinturas murales. El 21 de marzo se realiza su romería. Ermita de Santa Marina: Se encuentra en la Sierra de Urbasa, como privilegiado mirador del Valle de la Burunda Restos de la antigua ferrería: Construida a mediados del siglo XIX. Dos lavaderos tradicionales que han sido conservados en perfectas condiciones.
Amaia was very responsive and provided us with good advice about the area and gave us pages and pages of information and maps about Pamplona and the San Fermin festival (Running of the Bulls) which we attended while staying at the Casa Rural. It's a quick 20-25 Minute drive to Pamplona and the house itself is immaculate and was perfect for our group of 11 (6 adults and 5 kids). Plenty of space and we felt very safe and peaceful in the small town of Bakaiku. It was tough to leave because the views were great and we didn't get to go hiking in the hills above the house. We were hesitant about staying outside the city, but it turned out to be one of the highlights of our three week trip to France and Spain. You must eat at the nearby restaurant Amaia recommended called BORDA. Again a highlight on our trip. Better than expected and would totally recommend this house for relaxing in the country.
George
2014-07-08T00:00:00Z
Tipo de Quarto
Casa inteira/apto
---
Tipo de Imóvel
Casa
---
Acomoda
12
---
Quartos
Bakaiku, Navarre, Espanha