Meine Unterkunft liegt 300 m entfernt von der S-Bahn-Station. Du fährst 16 Min. zum Marienplatz und 20 Min. zum Flughafen oder zur Messe. Es gibt Läden und Lokale sowie einen Biergarten in der Umgebung. Du wirst meine Unterkunft lieben wegen des Blicks in den Garten. Meine Unterkunft ist gut für alleinreisende Abenteurer und Geschäftsreisende.
In der Umgebung gibt es viele Möglichkeiten zum Joggen. In wenigen Busstationen Entfernung liegt der Englische Garten. Die Nähe zur Bahn hat zur Folge, dass man die vorbeifahrenden Züge hört.
Ich durfte 2 wunderschöne Wochen bei einer sehr musikalischen, aufgeschlossenen & herzlichen Familie verbringen. Es hat nichts gefehlt, sehr zuvorkommend, hilfsbereit, sowie lustig. Wenn ich wieder nach München fahre & dort übernachte wird meine erste Anlaufstelle Matthias & seine tolle Familie sein. Mir hat auch besonders gefallen das es etwas außerhalb lag, man aber trotzdem in 15min direkt in der Innenstadt ist. Es fahren alle paar Minuten Bahn oder Bus. Es sind nur 2-3 min Fußweg bis zur Bahn. In der Beschreibung wurde ja bereits darauf hingewiesen das man die S-Bahn hört. Mich persönlich hat es nicht gestört. Es gibt Einkaufsmöglichkeiten. Es ist alles da... Ich kann Matthias & seine herzliche Familie nur empfehlen, wer in München eine Unterkunft sucht, mit gelegentlich Abendlichen Musikstücken. Das Preisleistungsverhältnis ist sehr gut & die Herzlichkeit unbezahlbar. Immer wieder gerne... LG René
René
2017-02-10T00:00:00Z
Ich wurde sehr herzlich aufgenommen und hab mich dort sehr wohl gefühlt. Immer wieder gerne ; )
Veronica
2016-12-13T00:00:00Z
Eine wunderschönes Zimmer in top Lage, und mit top Ausstattung, man ist mit Bus und Bahn wirklich schnell überall. Sehr herzlicher Empfang durch die Gastgeber, die mir während des gesamten Aufenthalts gerne mit Rat und Tat zur Seite standen, und mir stets das Gefühl gaben, zur Familie zu gehören. Ich kann diese Unterkunft nur wärmstens weiter empfehlen und würde jederzeit wieder hier übernachten. Nochmals herzlichen Dank für alles!
Nadine
2017-01-29T00:00:00Z
Extrem (!) nette Familie! Ich hab mich selten so willkommen gefühlt. Alles bestens. Tolle Lage, tolle Umgebung, super Anbindung, sehr flexibel. Ich komme sehr gerne wieder!
Imme
2017-02-19T00:00:00Z
Matthias und seine Familie waren sehr freundliche Gastgeber. Die Unterkunft bietet alles was man benötigt. Die Lage ist ideal und auch die Anbindung an den ÖPNV ist sehr gut. Einkaufsmöglichkeiten (Rewe/Lidl) sind fußläufig erreichbar. Insgesamt habe ich sehr angenehme Tage in München verbracht.
Manuel
2016-12-17T00:00:00Z
Ich habe mich bei Matthias und seiner Familie sehr willkommen gefühlt. Alle waren freundlich, hilfsbereit und interessiert. Die Unterkunft liegt sehr nahe am S-Bahnanschluss und ist daher sehr gut geeignet, um die Stadt zu erkunden.
Andy
2017-01-08T00:00:00Z
Great stay! 2 min walk from the train station which is good to access central Munich.
Emily
2017-01-12T00:00:00Z
Upon my arrival I was kindly welcomed with a tea and Matthias and his family have remained great hosts throughout my stay. The room is just as described and I've been able to sleep very well on the bed. The room can be reached easily by public transport and is located a bit outside of the city centre, making you forget you're in such a large city. It has been nice to meet Matthias and his family, who have all been really nice to talk to. The room offers great value for money and I would surely book it again!
Wouter
2016-12-15T00:00:00Z
Tipo de Quarto
Quarto privado
---
Tipo de Imóvel
Casa
---
Acomoda
1
---
Quartos
Munique, Bayern, Alemanha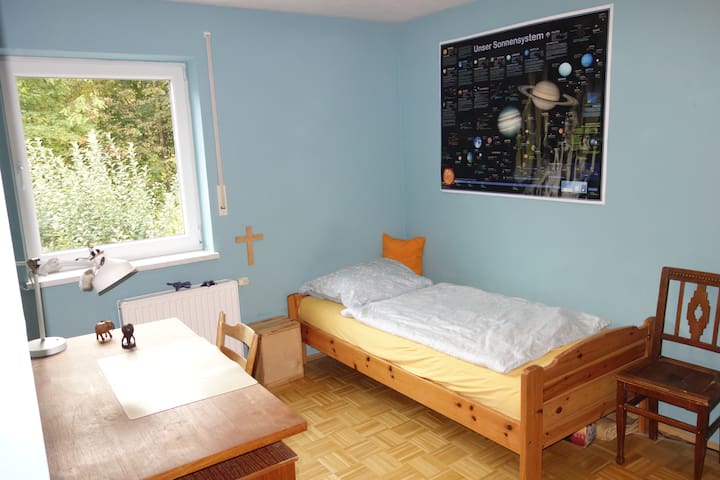 Nice modern en suite room (large bathroom for exclusive use by guests) near Munich ICM exhibition centre. Room with two single beds and full amenities. There is a very good connection to the public transport network, the airport and the city center. Messe München can be reached in 5 minutes by foot. 3 minute walk from the apartment there is a big shopping center with restaurants and cafes. Optinal, a second room (with one double bed) can also be booked.
Modern 1-2 rooms with bathroom. Very close subway and konference center.
In unmittelbarer Nähe befindet sich Landschaftspark und Badesee. Tolle Möglichkeiten zum Spazieren und Joggen, Restaurants und Einkaufzentrum.
Me gustó mucho quedarme en la casa de Margarethe. Ella es una persona muy querida y es muy atenta con sus huéspedes. La casa está muy bien ubicada, el barrio es lindo y hay muchas opciones de restaurantes al lado. El cuarto es muy cómodo y el baño es muy limpio. Recomiendo mucho tomar esta opción si van a visitar Munchen
Camila
2016-09-26T00:00:00Z
she is very kind and patient. I really love her house, it is very comfortable.
zhiyan
2016-10-17T00:00:00Z
Convenient location to conference centre. 10mins walk. Welcoming host. Accommodation clean. Wifi internet a plus.
Eddie
2016-09-16T00:00:00Z
Good room with sunshine comes to room in the morning . Room is clean and with good wifi signal, and with big independent bathroom. Thanks a lot Landlord is nice and helpful. Location is convenient for shopping mall and subway station. We went Munich for exhibition and it is close to entrance West of Messe.
Hk
2016-04-22T00:00:00Z
Best hostel I have ever had the pleasure of staying at. Even accommodating a late check-in, all our needs were exceeded and met with friendliness and hospitality. Placed in a quiet, family-friendly district, the subway is within a 5 minute walk. There were no issues with staying here, and I highly recommend anyone to stay here if given the opportunity.
Steve
2017-04-09T00:00:00Z
Pensaba que había cocina. Solo un microondas y un hervidor de agua. No volveré
Prabhu
2017-02-21T00:00:00Z
War hier schon mal zu Gast und muss sagen so wie beim letzten mal einfach TOP. Auf jeden Fall weiterzuempfehlen. Sehr schönes Zimmer mit eigenen Bad, sehr modern und gemütlich eingerichtet. Sehr, sehr nette, kommunikative und freundliche Dame.
Natascha
2016-12-16T00:00:00Z
situé proche des restaurants, à pieds, calme, nickel, stationnement facile.sympathique.
Serge
2016-12-18T00:00:00Z
Tipo de Quarto
Quarto privado
---
Tipo de Imóvel
Apartamento
---
Acomoda
2
---
Quartos
Munique, Bayern, Alemanha
nice and bright room with one single bed and one king size bed near the New Trade Fair Munich
Sonja was very nice. Staying with her didn't feel like sharing a room at her apartment - it was quite private. I would certainly stay again.
Jeff
2017-02-09T00:00:00Z
Sonja is a great host, with a lot of will to help and always with a huge smile on her face. The room was totally nice decorated, clean and comfortable. Recommended!
Marco
2016-12-17T00:00:00Z
Sonja ist eine zuverlässige Gastgeberin. Es hat alles reibungslos funktioniert. Vielen Dank
Danja
2017-01-21T00:00:00Z
.
Nils
2017-02-11T00:00:00Z
We had a wonderful stay at Sonja's. She went out of her way to help us. I would totally recommend her.
Adelphia
2017-02-14T00:00:00Z
Great location, Great room. I really recommend to stay Sonja's house.
Kentaro
2017-03-13T00:00:00Z
Der Raum war sauber und ruhig. Sonja war Freundlich. Insgesamt kann man sagen, dass es für übernachten geeignet ist. Ich glaube, es lohnt sich hier gut zu übernachten.
Sana
2017-02-27T00:00:00Z
Guter Standort bei Messebesuch. Einfach, aber sauber und für mich in jeder Hinsicht ausreichend.
Jens
2017-03-24T00:00:00Z
Tipo de Quarto
Quarto privado
---
Tipo de Imóvel
Apartamento
---
Acomoda
3
---
Quartos
Munique, Bayern, Alemanha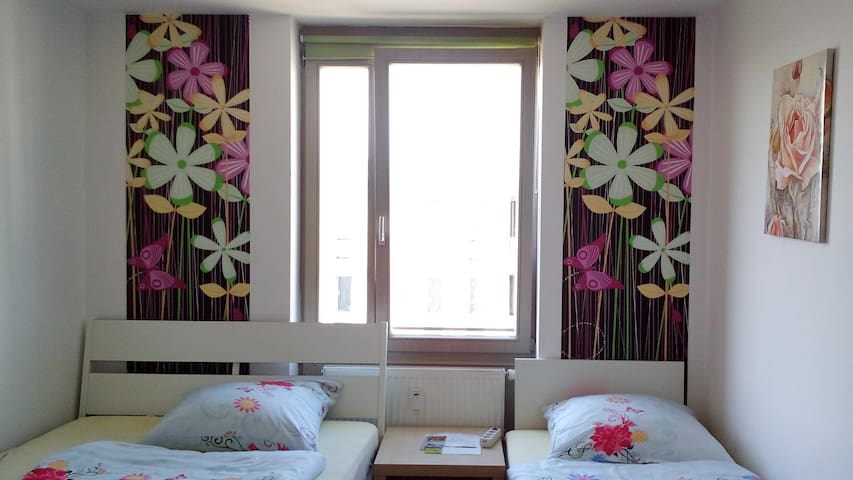 Das Haus (Garten/Dachterasse) befindet sich in einem grünen Wohngebiet in der Messestadt 200 m entfernt zum Badesee und Parkanlage (ehemalige Buga). Die Messe München ist fußläufig (10 min) erreichbar. U-Bahnanschluss zur Innenstadt (20 Min).
Das Haus (Garten/Dachterasse) befindet sich in einem grünen Wohngebiet in der Messestadt, 100 m entfernt zum Badesee und Parkanlage (ehemalige Buga). Die Messe München ist fußläufig (10 min) erreichbar. U-Bahnanschluss zur Innenstadt (20 Min). Die Unterkunft befindet sich in einer familienfreundlichen Anlage mit hohem Freizeitwert und bietet alles für einen entspannten, aber auch unternehmungslustigen Urlaub. Die Unterbringung erfolgt i.R. (mit Ausnahmen) im Hobbyraum (Untergeschoss), dort können maximal 3 Personen übernachten. Das WC befindet sich im Erdgeschoss und das Bad im 1. Stock. Wir vermieten nur zimmerweise, keine ganze Unterkunft. Unser Kater Silvester bewohnt außerdem noch das Haus.
Umgeben von Parkanlage (ehemalige Bundesgartenschau 2005 direkt vor der Haustür - drittgrößte Parkanlage Münchens) mit Wäldchen hinterm Bugaberg In unmittelbarer Nähe liegt ein toller Badesee (keine 200 m), der Rodel/Aussichtshügel (ca. 150 m) mit Alpenblick, mehrere tolle Abenteuerspielplätze im Umkreis von 500 m, Samstags immer Flohmarkt, Freitags Wochenmarkt vor den Riem Arcaden (großes Shoppingcenter eine U- Bahnstation entfernt), wenig Autoverkehr und mit der UBahn nur 20 Minuten in die Stadt, mit dem Rad in ca. 35-40 Minuten erreichbar. Öffentliche Parkplätze sind vorhanden
It was in a lovely area & public transport near by. There made us feel most welcome the house was very nice if i go to Munich would stay there again.
max
2015-10-05T00:00:00Z
Nicola und ihre Familie waren sehr nett und dort hatte ich viel Spaß. Ihr Haus liegt in der Nähe von Messestadt, deswegen ist es einfach zu Fuß zu besuchen. Sie hat erlaubt mir sogar ihres Küche zu benutzen. Zukünftig würde ich wieder bei eurer zu Haus zu bleiben. 일렉트로니카 출장으로 니콜라 집에 머물렀는데, 동쪽 출구에서 도보로 7분이라 편했습니다. 전 니콜라와 독일어로 대화했는데, 집에 귀여운 실베스타라는 고양이도 있어서 낮에 일찍 집에 와도 심심하지 않았어요. 특히 주방을 언제나 쓸수 있었고 빵 치즈 과일 커피 등등을 먹을수 있게 해줘서 아침을 간단히 해결할수 있어 좋았습니다. 특히 유라 커피머신의 커피맛이 참 좋았습니다. 방이 지하에 있어 통풍이 좀 그렇긴 한데 낮에 방열어놓으면 괜찮고 방도 엄청 큼니다. 젤 불편했던건 욕실이 이층에 있어서 두층을 올라가야 한다는점? 참 샤워하고 물기 제거를 해줘야 하는데 샤워기 근처에 제거기가 있어 딱히 힘들진 않았어요. 주위 슈퍼가 거의 없지만 냉장고및 식료품을 쓸수 있으니 경비아낀 것 같네요.
Sam
2016-11-12T00:00:00Z
Meine Gastgeberin hat nun wirklich alles dafür getan, dass ich mich bei ihr ganz wohl und aufgenommen fühlte. Ich habe es speziell geschätzt, mit der Gastgeberin auszutauschen und von îhr immer wieder Kaffee und Kuchen zu erhalten. In der Küche fühlte ich mich ganz wohl und habe diese Küche und speziell die ausgezeichnte Kaffeemaschine immer wieder benützt. Es war auch toll, den Kühlschrank voll benützen zu dürfen. Na ja, ich war in dieser Wohnung nun wirklich ganz zu Hause.
ARVIND
2016-06-25T00:00:00Z
很温馨的家,好喜欢有猫咪的行程。
Bonnie
2017-02-09T00:00:00Z
Nicola was very welcoming and helpful with information about how to best get around Munich. The room was very clean, we felt very comfortable, the location was perfect very family friendly and close to metro. Nicola was very kind and went about expectations. Would definitely recommend to other couples/family's.
Justin
2016-10-02T00:00:00Z
Die Unterkunft war sehr sauber. Unsere Gastgeber waren sehr freundliche und zuverlässig. Da wir nur für einen Messetag angereist waren, war die wirklich kurze Entfernung zur Messe für uns das entscheidende Buchungskriterium. Wer nach langem Messetag abends noch mal raus will, ohne das Auto zu bewegen, kann das T-Bone-Steakhouse, in Haar, als Empfehlung nehmen. Zu Fuß ein netter Spaziergang von 15 Minuten.
Thomas
2017-01-19T00:00:00Z
Sehr nette Gastgeber und eine sehr saubere und gemütliche Unterkunft. Empfehlenswert
Martin
2017-01-21T00:00:00Z
Beatutiful, clean house and close to Messe Munich, perfect for working days. Nicola and her family are kind and friendly, I recommend to stay in their house!
Maria
2017-02-22T00:00:00Z
Tipo de Quarto
Quarto privado
---
Tipo de Imóvel
Casa
---
Acomoda
4
---
Quartos
Munique, Bayern, Alemanha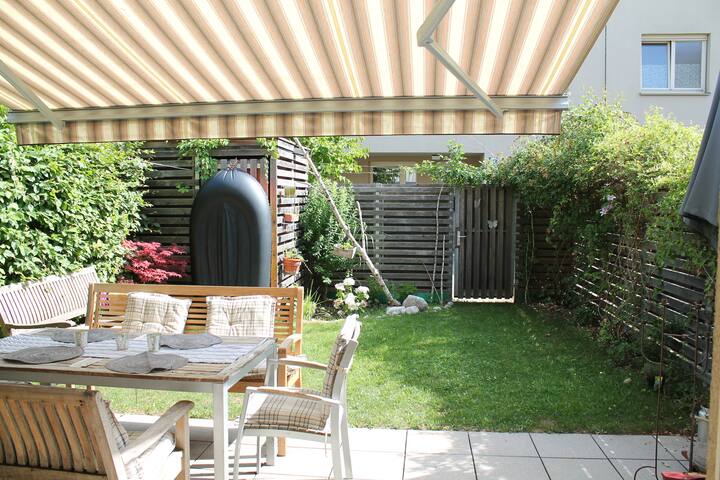 Ich biete mein Schlafzimmer im ersten Stock eines Hauses an. Meine zwei Kinder 7 und 9 sorgen dafür das immer was los ist. Im Zimmer ist man für sich.
Die Nachbarschaft Supermarkt und Bäcker 5 min. zu Fuß erreichbar. Der Bäcker hat auch am Sonntag geöffnet. Ein kleiner Park ist in der Nähe und joggen oder spazieren gehen
Empfehlenswert!
Martin
2017-01-18T00:00:00Z
Frank's place was clean and nice! No problem whit Frank about arrival or departure time.
Marin
2017-02-17T00:00:00Z
Great place to stay. Most suitable for couple but need to travel 20min to central via bus and train. Nice and friendly host. He offered to pick us up to check despite he's celebrating NYE. Thank you Frank.
Jeff Chia
2017-01-03T00:00:00Z
Alles bestens! Mehr gibt es nicht zu sagen
Wjatscheslaw
2017-04-08T00:00:00Z
Everything was just great, hospitality and very friendly! Thanks, Frank
Petar
2017-02-25T00:00:00Z
뮌헨 중앙역에서는 거리가 조금멀다.그대신 교통편이 편리하다. 주인아저씨가 친절하다.
주녕
2016-12-12T00:00:00Z
Es war alles Top und hat super geklappt
Michael
2017-03-14T00:00:00Z
It is a good location, close to good places to eat, something away from downtown Munich but with access to train and bus to move easily in the city
Jorge Mario
2016-09-17T00:00:00Z
Tipo de Quarto
Quarto privado
---
Tipo de Imóvel
Complexo de Casas
---
Acomoda
2
---
Quartos
Munique, Bayern, Alemanha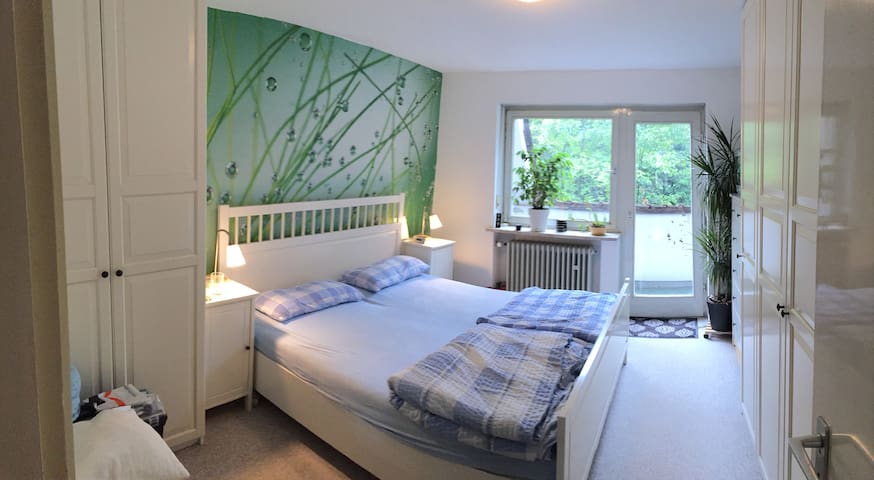 Eastern part of Munich called Waldtrudering is known for lot of trees and great jogging, Munich Messe (fair) is 10 min away by bike, like the Bugasee (lake) to swin in summer
Tipo de Quarto
Casa inteira/apto
---
Tipo de Imóvel
Casa
---
Acomoda
2
---
Quartos
Munique, Bayern, Alemanha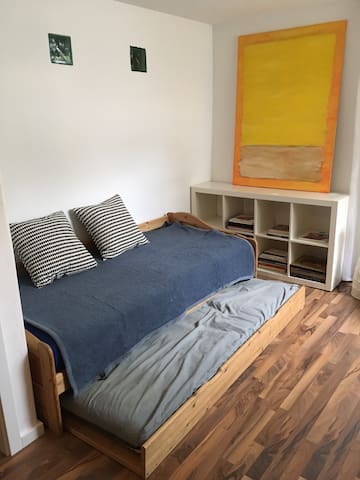 I rent a modern double room in my new flat which is very close to the Munich fairground as well as to a beautiful park with a lake and a big shopping center (Riem Arcaden). The room has a high-quality double bed (200 x 200 cm). There is a tile-floor with underfloor heating in the whole apartment. The windows of the guest room have shutters. Free internet access (DSL/WLAN), bathroom for sharing with bath tub and separated shower. 5 minutes walk to the fairground (east entrance), 12 minutes walk to the fairground (west entrance), 5 minutes walk to the park with lake (swimming is possible in summer), 10 minutes walk to the shopping center with many restaurants. I speak German, English and Spanish. Bedding, towels, shampoo, shower gel, soap, toilet paper, kleenex tissues as well as information regarding the city, subway maps etc. will be provided. I know Munich and its suburbs very well and can give a lot of insider tips regarding shopping, restaurants etc., please see also my guide book. Sometimes I organize culinary world tours as business networking events in Munich. Therefore, I have a quite good overview regarding restaurants in Munich. Underground parking on request (fee 8 EUR/day, including 19 % VAT). Free parking in the street from 18 to 9 and between 9 and 18: 2 hours free parking with parking disk. All prices include VAT. Special offer only during Oktoberfest: The price for the garage is included during Oktoberfest. During the rest of the year the price for the garage is 8,00 EUR/day.
I created a guestbook where you can see all important places close to my house, e. g. shops, places where you can have breakfast, restaurants etc. I especially recommend the beautiful park (Riemer Park) which is very close to my house where you can relax, walk, swim, play beach volley ball etc. I think my room is perfect for trade fair visitors, because they can walk to the Munich fairground. But if you are a tourist you are also welcome. You need only approx. 15 minutes to go to the center of the city by subway. On the one hand you can stay in a very quiet region of Munich, where you can relax (e. g. go to the park and walk and swim there) and sleep well and on the other hand you need only 15 minutes to go to the center of the city by subway where you can visit the important sights.
Nice and well organized. Very clean. Sonja was very accommodating of our crazy schedule and her place was easy to find. If you need quiet then her place is perfect.
Eva
2014-09-27T00:00:00Z
The room was very nice and clean. Sonja was a great host with advice on how to travel around the city and great communication. The apartment was quite a bit farther from Oktoberfest then I was told. It was about a 20 min subway ride instead of walking distance. All and all a great experience and great place to stay.
Kristen
2013-10-07T00:00:00Z
Very nice and super clean apartment, Sonja is very caring, well prepared. the apartment is in a new built complex, about 800m from a shopping/restaurant complex, lake and recreation close by, Subway station to commute quickly to all Munich.
Tilmann
2014-05-20T00:00:00Z
Very good experience. Nice and clean apartment in a great location just a short walk away from the Munich Messe. Sonja is a good host, kind & helpful, providing local tips and useful information.
Ildiko
2016-06-25T00:00:00Z
I've been in Munich for attending at a congress at Munich messe. Since Sonja was out for work, I've been received by her friend Gaby that is a very welcoming and pleasant lady. Sonja is a very helpful person that makes anything to make you feel home and gives very useful information to have an easy stay in Munich. Her home organization is perfect and thought in every little detail, the room and the bathroom are very clean and comfortable. The neigbourhood is quite and very near to the fair, so Sonja's room is the ideal location for partecipation at events at the Munich Messe. However, it's only 3 minutes to the underground station that takes you to the city center in 30 minutes. Higlhy recommended.
Raffaella
2016-09-17T00:00:00Z
Sonja war sehr gastfreundlich und das Zimmer war sehr sauber und an einer ruhigen Lage jedoch war alles mit der Metro super erreichbar. Zum empfehlen :)
Kyra
2015-10-05T00:00:00Z
Sonja hat uns freundlich erwartet und uns in unser Zimmer geführt. Da es Freitag, der 22.7.16 (Terroranschlag im OEZ) war, haben wir uns sehr schnell sehr freundschaftlich zusammengesetzt und die laufend neu eingegangenen (SENSITIVE CONTENTS HIDDEN)-Meldungen ausgetauscht. Wir fühlten uns sicher.
Rosemarie
2016-07-26T00:00:00Z
I wrote in Korean cuz I wanted to say in detail. You can read follow things by using translation option! Sonjna and her house are awesome!! I definitely recommend her house ! IFAT 전시회를 관람하기 위해 숙소를 찾고 있었는데, 근처 호텔은 너무 비싸고, 시내에 있는 호텔에서 자려고 하니 왔다갔다 시간이 많이 걸려서 에어비앤비 숙소를 찾게 됐습니다. 전시회를 방문하는 사람에게 소냐의 집을 200% 추천합니다. 1. 최적의 장소 소냐의 집은 지하철역에서 2분 거리에 있고, 전시회장 동쪽 출입구까지 5분거리 입니다. 또한, 쇼핑몰(쇼핑+식사)은 10분거리에 있습니다. 말 그대로 최적의 장소입니다. 2. 친절한 호스트 소냐는 뮌헨에 가기 전부터 먼저 연락을 해주었고, 빠른 시간 안에 답장을 해주었습니다. 그리고 직접 만났을때도 아버지와 저를 따뜻하게 맞아주었어요. 맛있는 레스토랑과 쇼핑몰 위치도 자세하게 안내해주었어요. 마지막 날에는 선물도 줬습니다. 저희는 미처 준비하지 못했는데 너무 미안하고 감사했습니다. 3. 쾌적하고 예쁜 집 사진과 같이 너무 예쁜 집입니다. 색감도 너무 예쁘고, 침대도 너무 편안했습니다. 공동욕실이라 불편하지 않을까 했지만, 소냐의 배려로 편하게 사용할 수 있었어요.
Lira
2016-06-03T00:00:00Z
Tipo de Quarto
Quarto privado
---
Tipo de Imóvel
Apartamento
---
Acomoda
2
---
Quartos
Munique, Bavaria, Alemanha
Your private room which is part of a 2-rooms apartment is furnished with all basic furniture (working desk, wardrobe, etc.) The apartment has a fully-equipped kitchen that you can use. Additionally, the bathroom has a bathtub and a washing machine. Washing liquid is on the house! Clean and fresh towels are provided. There are lots of restaurants and shopping malls in the neighbourhood. With the underground train, you are just 18 minutes from the city centre and 20 mins from the Oktoberfest!
The room is large enough to host three people - two on the double mattress and one on a mattress. I have a new wardrobe where you can store your clothes, a desk and a night lamp. The room has large windows facing the morning sun.
My apartment is located at just a 5-minutes walk from the the U-bahn (underground) station "Messestadt West". The trade fair (or Messe, in German) is right at the exit of that underground station. There is a huge shopping mall (Riem Arcaden) at the Messestadt West. There, you have access to a large variety of international food in the Food Court. There are many shops that sell a range of good ranging from clothes, shoes, perfume, chocolates to jewelry. There is also a grocery store (Edeka) inside the shopping mall. Just round the corner of my apartment, there is a bakery where you can get fresh pastry and coffee for breakfast in the morning. Behind my apartment is the Riemer Park where there is the Riemer See (lake). If you fancy a little quiet walk in the evening, the Riemer Park is a the place to go.
Shailens apartment is excellent - in particular if you are attending the Munich Exhibition Centre. It is situated only 10 minutes walk from the main doors to the convention centre - or only 7 minutes walk to the Messestadt West U-Bahn station. The apartment is very clean and Shailen is a very organised and attentive host.
Gavin
2017-02-07T00:00:00Z
Shaileen is a great host, everything was very clean. He is nice to talk to, perfect place to stay for a short business trip!
Piero
2016-09-17T00:00:00Z
If you are going to the Messe and want a clean, spacious, friendly place close by, look no further. Great guy, great flat, great stay. Thanks
Alex
2016-11-08T00:00:00Z
Very good place, close to train station and a shopping center. The house is clean, organized and comfortable. The host was extremely nice and fascinating. He also had a great collection of tea! ;)
Alon
2016-09-28T00:00:00Z
Shailen is a great host. He was helpful and made me feel at home. We hung out a bit but he was sure to give me my own space. The apartment is home-y and the room is large. I would stay here again. Thanks!
Christina
2016-07-16T00:00:00Z
Hi, Mr Shailen was a nice person he was always there for help. I enjoyed as a guest completely no disturbance. He stayed with me a lot of time, we had dinner together, and a breakfast, and he also assist me for a short shopping instead of his busy schedule. best place to stay for those attending the fairs in messe munchen. nice place.
Syed
2016-06-04T00:00:00Z
Room was clean, hosts were friendly and instructions to reach the house were extremely detailed. The stay was great, thanks a lot!
Giorgio
2017-01-17T00:00:00Z
The host is a friendly, intelligent, professional who is eager to help in any way in which he can. The room was much bigger than the pictures showed. The place is modern, has good security, and we felt safe. There is a shopping centre with a food court, train station, exhibition centre etc, all within a 5 minutes walk; and a bus station right outside the apartment. My wife and I had a baby with us, and he was very accommodating.
Shahzad
2016-06-26T00:00:00Z
Tipo de Quarto
Quarto privado
---
Tipo de Imóvel
Apartamento
---
Acomoda
3
---
Quartos
Munique, Bayern, Alemanha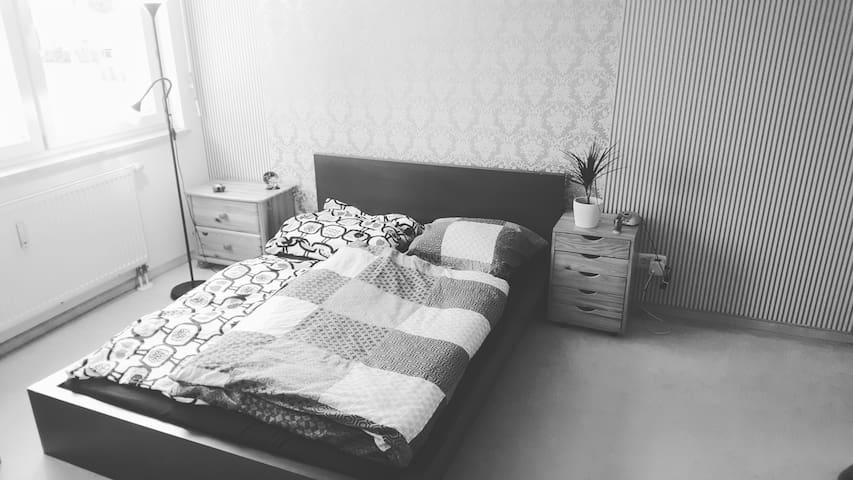 Direkt an der Messe München! Nahe U-Bahn! Sehr ruhige Lage! Moderne, helle, gepflegte, geschmackvoll eigerichtete Unterkunft mit eigenem Bad, eigenem Eingang. Inkl.: Bettwäsche, Handtücher, Internet, Getränke, Garage im Haus. Zweites Zi.auf Anfrage
Modern, very quiet and clean accommodation with private entrance, private bathroom and garage. Directly at the Munich Trade Fair! Bright, tastefully decorated rooms, equipped with high quality furniture, flooring and floor heating. An electric massage chair with ottoman for relaxation is also in the room. Has a separate entrance, private bathroom light and friendly, characterized apartment also has character. The double bed is 140 x 200 cm tall and has a comfortable mattress. Refrigerator with mini-bar (cold and hot drinks are provided free), Coffeemaker incl coffee, TV cable TV, CD player, radio. Internet via Wi-Fi is available to guests free of charge. Daily cleaning. Free garage parking in the building. Shops and restaurants are within walking distance. Owner speaks: German, French, Italian and some English. The subway is only 5 minutes walk to the entrance and fair East-MMI-6 Minut walk). Front of the house as there is a bus to the entrance of Messe West (MMI) or is it 12 minutes on foot. During the so-called big fairs only the daily rates, not the weekly rates apply. The second room (held in the gallery in sunny yellow) will be provided if needed. Please consult us. The house is next to a park with a lake. This is a Non smoking apartment. Guests are invited to share the balcony and smoke here. Welcome!
-Park With bathing lake right outside the house. -Very Quiet. -Large Shopping center nearby. -U-Bahn very close
Grazia ist eine nette und zuvorkommende Gastgeberin! Das Zimmer und Bad sind sehr sauber und gepflegt. Sogar ein kleiner Kühlschrank mit ausreichend Wasser ist vorhanden. Der Weg zur Messe ist in ca 10 min erledigt. Ich fühlte mich wohler als in einem Hotelzimmer. Gerne wieder.
Ralf
2016-07-13T00:00:00Z
Es war vom ersten bis letzten Tag einfach nur super. Gute Zimmer, gute Betten (auch für große Menschen ). Wir waren sehr zufrieden und fahren wieder hin.
Nikolajs
2015-01-02T00:00:00Z
Es war alles genauso wie angegeben bzw. noch besser. Es gab kostenlose Getränke, Stadtpläne und W-LAN. Badezimmer war sehr sauber und Betten sehr bequem :).
Sven
2015-09-29T00:00:00Z
Grazia was a very lovely host, although she couldn't be there in person, she was available via mobile and email all the time. The flat was very tidy. There was a coffee machine, and also water and juice was offered. Within 10 Minutes walk from the Munich fair, a bus stop in the street and the underground nearby, this is an ideal place to stay when you're visiting a fair! Very recommended!
Lena-Yuki
2013-03-25T00:00:00Z
Mrs Kunz looked after everything i might need. She had drinks ready, maps, information about the area. She explained where the messe, restaurants, food stores were. Nice. The foto is exact as the room is in reality. The building is in a built up area of low apartment buildings, and it is quiet place good for sleeping. There is parking in a covered underground garage. The location is perfect for the messe.
mike
2015-01-11T00:00:00Z
Grazia was the perfect hostess - she kindly allowed me to check-in, in the early morning, to suit my travel plans. The accommodation was first-class - self-contained and spotlessly clean. The neighbourhood was quiet and peaceful, with a comfortable walking distance to the Congress Centre.
Enda
2015-11-04T00:00:00Z
Hello Grazia is a nice host via a ultra-clean room and bathroom. The area is very quiet near the subway U2. Perfect location for visiting the ICM like me. Great place.
Nicolas
2016-09-27T00:00:00Z
Grazia is a very nice and friendly lady, and she makes us feel like home after a long day work in the exhibition. Her place is super clean and super tidy, she looks after us very well and take care of every single details. We will definitely stay in her place again next time when we visit Munich again. THANKS GRAZIA!!!! Cheers, Jill
Jill
2015-02-09T00:00:00Z
Tipo de Quarto
Quarto privado
---
Tipo de Imóvel
Apartamento
---
Acomoda
2
---
Quartos
Munique, Bavaria, Alemanha
Double room in a 3 Rooms apartament
The flat was very clean, people in the flat and the host were very friendly and helpful. It is comfortable and warm place. The experience was great!
Ege Idil
2016-10-07T00:00:00Z
He and his friends are very friendly. He provides us with some information about travelling. What's more, it is convenient to transportations.
Qin
2017-01-17T00:00:00Z
Gion ist sehr freundlich und hilfsbereit. Das Zimmer entsprach der Beschreibung/den Fotos. Wir waren nur für eine Nacht da, wegen eines Konzerts in der Kulturhalle Zenith - dafür ist die Lage ideal; ruhig und gut zu erreichen (Auto, hat jedoch auch ÖV-Anschluss in der Nähe). Gion is very friendly and helpful. The room was like in the desription/the Pictures. We stayed only for one night, by reason of a concert in "Zenith die Kulturhalle". The flat was well situated for this. It's a quiet place and easy to reach (by car and also by public transport).
Sabine
2016-11-09T00:00:00Z
Host was very polite and helpful. Place is great, near the shops and the town center. Price was fair and everything was good.
Matija
2016-10-02T00:00:00Z
We were one night in Gion's Room. It was ok for one night, clean, comfortable and what we expected for the price. There is no Wi-Fi, and no other special services, so it is ok just for one day. In the Apartment it is allow to smoke, so there is a smoke smell (when you will be there, you should not have problem with that). There is no a personalized Airbnb, also there is no too many touch with the host. About location, you take a bus and then the U-Bahn, so it is approximately 30 minutes, but you should consider that for the price is the best that you can take in Munich. Thank you Gion for hosting us!
Andrea
2017-03-18T00:00:00Z
Schönes sauberes Zimmer und reibungsloser Ablauf bei Check In & Out
Ni
2017-02-08T00:00:00Z
Alles super!
Gyde
2017-03-16T00:00:00Z
All good, as described
Apoorva
2017-02-06T00:00:00Z
Tipo de Quarto
Quarto privado
---
Tipo de Imóvel
Apartamento
---
Acomoda
2
---
Quartos
Munique, BY, Alemanha
Good equipped house with 3 bed rooms, 2 bath rooms and luxerous living room. Nearby are supermarketss, bio stores, banks, pharmaphies and restaurents. The bus station is at a distance of 1 min and the S-Bahn in 5 min. You will love my house because it offers much space and is comfortable.
You will get the keys and you are undisturbed in the whole house which is to your disposition.
The house well locted but is not directly on the steet. Therefore it is quiet
Spacious house with 3 big rooms upstairs and a comfortable and quiet living and dining room with kitchen downstairs. It is just 3-4 min walking distance from many restaurants (Greek, Italian, Indian, German...), supermarket and other services. Being only 15 minutes driving from Messe Munich, it is the ideal place to stay if you are travelling to Munich to attend an exhibition.
Enric
2017-01-22T00:00:00Z
Thomas is very kind and helpful person. He allowed us for early checking and late check out. Grocery items were arranged in the house while check-in which was very big help as we were travelling with kids. House was well maintained and very spacious. Public transport was at walkable distance. Supermarket is next to house. If someone is travelling with family or in group then I would recommend to stay at this place.
Darshan
2016-12-19T00:00:00Z
sehr schöne und saubere Unterkunft, nette Gastgeber, schnelle Antwortzeit, sehr gastfreundlich. Haben uns rundum wohl gefühlt. Wir würden gerne Thomas wieder besuchen! Danke!
George
2017-01-27T00:00:00Z
Thank you for your hospitality, Thomas. Kind regards, Inês
Ines
2017-03-30T00:00:00Z
Goed appartement. Alles netjes schoon en zeer goed ontvangen door Thomas. Er stond zelfs wat fruit en koek voor ons klaar. Verder werkt alles goed. Wij zijn er weinig geweest omdat we vooral aan het werk waren op de beur s (welke echt vlakbij is). Maar je kan hier prima vertoeven. Het enige minpunt is dat het bed in 1 van de slaapkamers kapot was.
Chris
2017-01-30T00:00:00Z
In Thoma's Wohnung findet man alles was man braucht und sie hat eine gute Lage. Das besondere ist jedoch der sehr nette und offene Kontakt mit der Familie Korselt. Da kann man sich nur wohl fühlen. Vielen Dank für alles und vielleicht bis bald. Lieben Gruß das Flashy Stars Team
Mirko
2017-02-08T00:00:00Z
Grazie a Thomas per averci ospitato nella sua bella e spaziosa casa. Solo una nota negativa :le stoviglie della cucina erano sporche e usurate.
enzo
2017-01-05T00:00:00Z
Wir hatten ein tolles Wochenende in der Unterkunft. Viel Platz für alle und gute Verkehrsanbindung in die Stadt.
Lena
2017-04-02T00:00:00Z
Tipo de Quarto
Casa inteira/apto
---
Tipo de Imóvel
Casa
---
Acomoda
7
---
Quartos
Munique, Bayern, Alemanha
Schönes helles Zimmer (11m²) in unmittelbarer Nähe zur Messe, zur U-Bahnstation (Messestadt West) und zum Shopping Center Riem Arcaden. Dort gibt es einen Supermarket und ein Paar Restaurants. Es gibt eine Backerei, wo man sich was zum Frühstück kann
Die Wohnug (75m²) befindet sich in einer ruhigen Lage im Erdgeschoss mit einer großen Terrasse. Die Wohnung ist sehr hell und gemütlich. Verfügt über Parkettboden, Bodenheizung, große Küche inkl. Kaffeemaschine und Spülmaschine.
Lena is a great host and the location is perfect for visiting the Munich Messe
David
2016-11-10T00:00:00Z
Everything is exactly same as mentioned by Lena. Very close to Messe. The area around Lena's house is very quite but there is a Arcaden Riem in 5 minutes away. There are many restaurants, shops, supermarket and so on. Lena is a very friendly and nice host. Communication was perfect. Definitely I will stay again if there's a chance.
HYUNSUNG
2017-02-10T00:00:00Z
Lena is a super friendly host and really cares for her guests. The location is ideally suited for visiting the Munich trade fair centre while being only a short ride on the tube for the city. Thank you for an enjoyable stay.
Wolf
2016-02-04T00:00:00Z
Lena hat mich sehr nett begrüßt und das Zimmer war schön und sauber. Die Wohnung ist ebenso gepflegt und nett eingerichtet.
Marie-Line
2016-03-02T00:00:00Z
Sehr nette Begrüßung, sehr angenehme Atmosphäre, sehr schöne Wohnung, perfekte Nähe zur Messe - nur zu empfehlen!!!
Thorsten
2016-01-13T00:00:00Z
Lena's flat is really nice, clean and she's a super helpful host! Everything was good organized! Danke Lena!
Paolo
2016-06-04T00:00:00Z
Für Messebesucher optimal
Johannes
2017-01-20T00:00:00Z
Die Wohnung ist sehr schön, modern und sauber! Ein paar Minuten zu Fuß zu Messestadt. Lena ist sehr sympathisch + Kommunikation war perfekt.
Judith
2016-02-08T00:00:00Z
Tipo de Quarto
Quarto privado
---
Tipo de Imóvel
Bed & Breakfast
---
Acomoda
1
---
Quartos
Munique, Bayern, Alemanha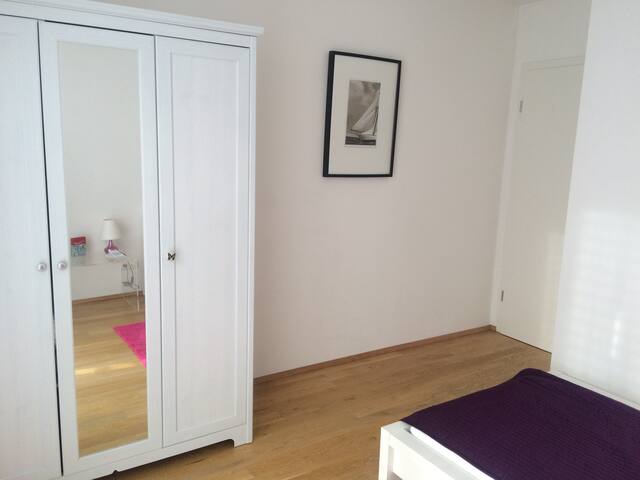 Lage direkt an der Messe und einem Shopping-Center. Einfache U-Bahn-Anbindung ans Zentrum, nahe am Flughafen. Zur Verfügung steht ein Zimmer für zwei, ein Bad (Toilette und Dusche zur Eigennutzung) und eine gut ausgestattete Küche zu Mitbenutzung.
Nur ab zwei Nächten buchbar, gerne auch unter der Woche
Netter Kontakt, passende Beschreibung, absolut problemloser Aufenthalt.
Ralf
2015-10-09T00:00:00Z
Very nice person, her hospitality was nice. Apartment is neat and comfortable. Few minutes walt to Metro and bus stop is right outside. She arrived so late, we only got in at 7pm which was very annoying and she let us now about her late arrival in less than 24 hours. We had to wait outside with our luggage and could not do anything at all on our 1st day of visit. Apart from her late arrival and late notice we did not have any other issues. She is nice, her place is nice so I recommend it.
Bertan
2015-02-07T00:00:00Z
Lucid is a phenomenal host and extremely kind. You won't regret using her!
Dustin
2015-10-05T00:00:00Z
I had a great time with Lucie. Her flat is 5mn from underground, there is a big shopping centre close by along with restaurants and cafes.
Sephora
2015-08-11T00:00:00Z
Era la mia prima esperienza e sono rimasto piacevolmente sorpreso dalla accoglienza e il pieno rispetto della privacy. dal primo momento mi sono sentito completamente a mio agio e il soggiorno è stato molto gradevole. la descrizione dell'ambiente è fedele e rispecchia tutte le promesse.da consigliare. Un Grazie particolare a Lucie
PIER LUIGI
2015-03-13T00:00:00Z
Freundlicher Empfang, Erreichbarkeit per Mobiltel., sehr unkomplizierte Einweisung in den Hausbrauch
Wolfgang
2016-10-07T00:00:00Z
Hat alles sehr gut geklappt - wir hatten keine Probleme um dort hinzukommen. Alle Infos hatte Lucy mir vorab gegeben. Für 1 EUR konnten wir uns Getränke und Snacks nehmen. Zum Frühstück gab es einige Aufschnitte. Handtücher wurden gestellt - das gab uns ein kleines Hotelfeeling :-) Alles in allen haben wir uns sehr wohl gefühlt. Vielen Dank
Daniela
2014-10-05T00:00:00Z
Lucie was very welcoming host. Had no problems during my stay. I would recommend her place to everyone.
Giorgi
2016-10-31T00:00:00Z
Tipo de Quarto
Quarto privado
---
Tipo de Imóvel
Apartamento
---
Acomoda
2
---
Quartos
Munique, Bavaria, Alemanha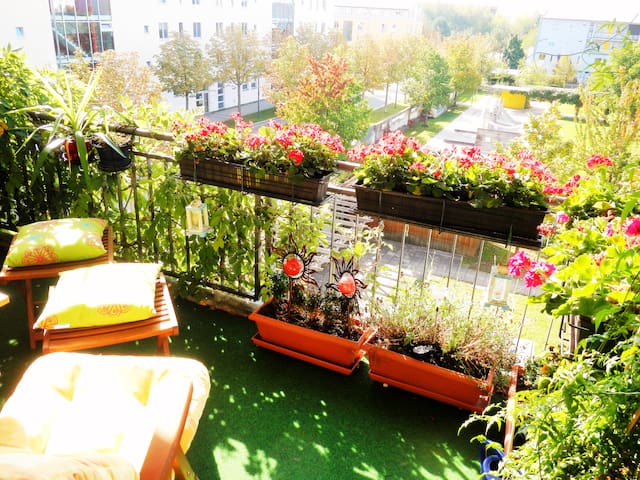 My place is close to Riem Arcaden Mall , Kulturzentrum Messestadt. You'll love my place because of the outdoors space, the comfy bed, and the light. My place is good for couples, solo adventurers, business travelers, and families (with kids).
Tipo de Quarto
Casa inteira/apto
---
Tipo de Imóvel
Apartamento
---
Acomoda
2
---
Quartos
Munique, Bayern, Alemanha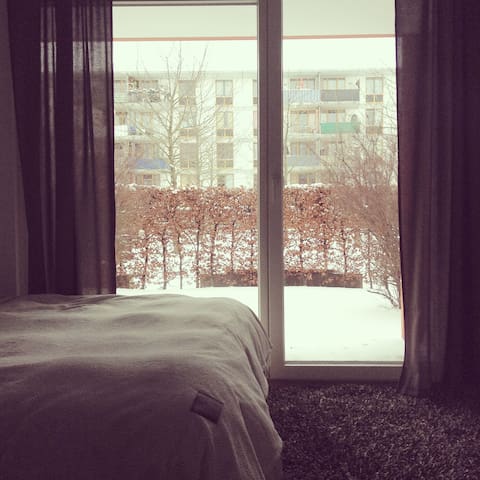 Room for max 2 people. If you are looking for a clean budget room 20 minutes away from the city center. Good means of transportation Towels and sheets are provided. We are an easy going family. If you want to use free internet, you are request to sign a paper with your identity card, that you agree not to download illegal software as for movies etc..the German law is vey tough and the fines around 1000 euro.
Dear all We are offering a nice accomodation in the area of Johanneskirchen/Munich. A short description: 15 qm2 room full furnished with a double bed,, desk, W-lan acces, 15 minutes Breakfast included.. Bed sheets and towels included. The room is for maximum 2 person. Great means of transportation are available in the whole area. Restaurants, shopping center, surpermarkets, a great Fitness Studio Sport Scheck Allwetteranlage as well as tennis courts outdoor and indoor at a few minute ride by car/bus or bike. We mainly host people working on projects for companies located in the eastern part of Munich (Unterföhring, Ismaning and area) and Holiday makers. The Location is closed to the Highway A8 and A99, parking slots are available in the street. If longer stay is wished, the kitchen can be used for preparation of simple meals. A microvawe is available and a separate fridge. We are a none smoking family. If you are a smoker we would ask you to smoke outside. Please take the rate from the calendar
Ich habe mich gefreuert, weil es ein angenehmer Aufenthalt war: gemütliche Wohnung, ruhige Umgebung und warme Familie, oh, natütlich noch ein süßer und liebvoller Hund. Wir haben uns viel und einwandfrei geredet. Nur die Wohnung ist ein bisschen weit weg von der Stadt.
Luqing
2017-01-05T00:00:00Z
Sabine was a warm-hearted and very friendly host. Everything went smoothly because of her knowledge, experience and positive attitude. The house was lovely adorned and clean. My room was spacious and comfortable and I loved her sweet dog. Sabine is caring and a very friendly character! I would suggest to anyone with the same attitude to go and find out for themselves. Very recommendable and all over a perfect trip!
Ren
2017-01-29T00:00:00Z
Ich war für drei Nächte bei Sabine und ihrem Mann und habe mich rundum wohl gefühlt. Ruhige Nachbarschaft, Busverbindung fußnah, genug kostenlose Parkmöglichkeiten in der Nähe. Unterkunft ist wie beschrieben. Bei einem weiteren München-Aufenthalt würde ich dort wieder buchen :)
Petra
2017-02-07T00:00:00Z
Airbnb as it has to be- I was very warmly welcomed by Sabine and her dog, friends and family. It was also very nice to share dinner together in the evenings. Communication was super easy. I felt very welcomed and enjoyed staying at their place. Also did Sabines son Patrick give me a ride to city centre on my last day- thank you very much!
Karry
2016-12-11T00:00:00Z
Sabine war eine großartige Gastgeberin. Wir haben uns in der herzlichen und familiären Atmosphäre gut aufgehoben gefühlt. Da wir morgens recht früh aus dem Haus mussten, wurden wir sogar mit einem kleinen Frühstück überrascht. Airbnb at it's best. ☆☆☆☆☆
Christina
2017-02-10T00:00:00Z
We had a wonderful time at Sabine's house. The house is perfect, clean, cozy, warm! And Sabine has a beautiful family. Sabine is a very inteligent woman and she speaks many languages what makes the conversation allways interesting. We would love to meet them again. I hope one day they can come to visit us in Brasil!
Janette
2014-01-16T00:00:00Z
Sehr freundlich und nett, problemloser Aufenthalt. Danke.
Ralf
2013-11-16T00:00:00Z
Sabine und ihre Familie haben sich toll um mich gekümmert. Sie wohnen wirklich schön und ich habe mich echt wohlgefühlt. Highlight war ein Spaziergang im englischen Garten, der trotz der Jahreszeit wirklich toll wirkt =)
Ingo
2017-02-21T00:00:00Z
Tipo de Quarto
Quarto privado
---
Tipo de Imóvel
Casa
---
Acomoda
2
---
Quartos
Munique, Bavaria, Alemanha
A flat (33 sqm) with kitchen, big bath and a living room. The bus station (Drosselweg) is about 4 minutes from here. You need 4 minutes when you want to enter S-Bahn. Munich´s inner city is about 15 minutes from here with S-Bahn; the fair´s also. Free Internet. In case you are also looking for a supermarket - its about 6 minutes from the flat. Around the corner there is also a nice bar where you can have dinner or drink some cocktails... Have fun and enjoy your stay!
Really nice apartment that is in fact bigger than on the photos. Harry was very attentionate and made me feel welcome. Munich center is about 20/30 min away with the metro. I definitely recommend staying at this place
Cédric
2017-04-09T00:00:00Z
Tipo de Quarto
Casa inteira/apto
---
Tipo de Imóvel
Apartamento
---
Acomoda
2
---
Quartos
Munique, Bayern, Alemanha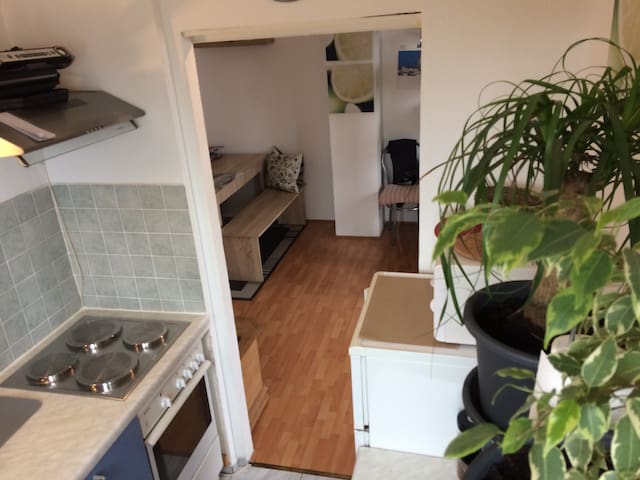 3室1厅2卫1厨,建筑面积130平方,1张双人床,4张单人床,另外根据需求可加床,三间独立卧室,两间独立卫生间含淋浴。 室内日常生活设施齐全,有电磁炉、微波炉、电饭煲、烤箱、冰箱、餐具、洗衣机等。 工作便利含免费Wifi上网,有写字台,4合1多功能打印机,是商务理想居住场所。 周围有小孩的游乐场所,100以南有跑步、散步休闲森林和湖畔。 免费地下车库一个。 有阳台,可满足吸烟者需求。 周围环境优雅,十分安静,交通很方便,生活很便利。 50米内有公交车站。 距离德国慕尼黑国际展览中心只有300米。 大型购物中心400米。 地铁站400米,地铁2号线25分钟直达市中心,30分钟直达火车总站,30分钟左右到达慕尼黑十月啤酒节。 高速公路口2公里,驱车45分钟左右到达慕尼黑机场,近期99号公路扩建,注意提前出行。 本套房屋是商务和旅游居住的理想场所。
三间独立卧室,一间客厅,两个卫生间,有阳台,二楼(无电梯),阳台上允许抽烟,免费地下车库一个。
购物中心距离400米,生活方便。 购物中心内商店齐全,大型电器商场、衣物鞋、书籍、化妆品、百货店等等,日常生活所需品均可以在此得到满足,还有各种风味餐厅,中餐、泰国、德国、意大利、日本、美国等等。 从吃到用,样样齐全。
The host canceled this reservation 288 days before arrival. This is an automated posting.
Ruth
2017-03-23T00:00:00Z
Tipo de Quarto
Casa inteira/apto
---
Tipo de Imóvel
Apartamento
---
Acomoda
7
---
Quartos
Munique, Bayern, Alemanha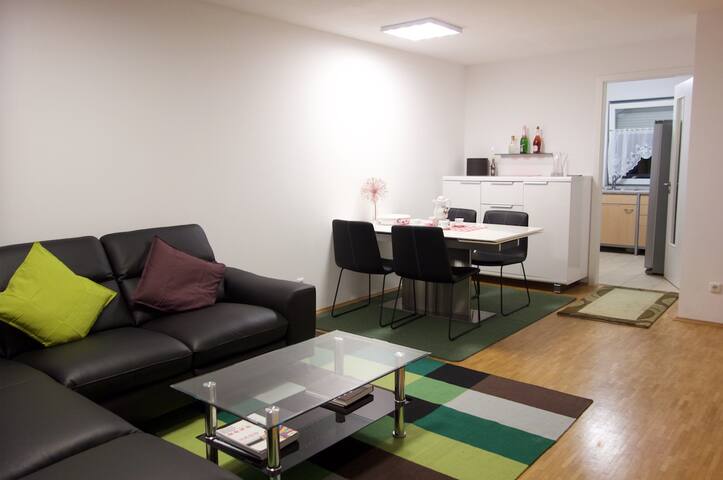 Our cool penthouse with a large roof terrace offers space for 6 to 7 people. All of our three bedrooms have their own bathroom, the kitchen is equipped with all necessary utensils. From the terrace you have a great view in our quiet garden.
The four of us (one couple and two singles) had a wonderful time staying in Gabi & Christina's penthouse apartment. Climbing the two flights of spiral external staircase to our very own door made us feel like we were entering our own castle. The apartment was clean and spacious with a well-equipped kitchen. We all appreciated having our own bedrooms with en suite bathrooms. The Lidl supermarket was a 10 minute walk away, the train station was 5 minutes walk. We also ate out one evening at Dicke Sophie's for genuine Bavarian cuisine. We were able to park outside the gate on the side of the road and had easy access to various motorways for our day trips to explore the Bavarian countryside. The property is on the edge of a suburb set amongst trees over looking meadows. Definitely recommend this peaceful private hide away with easy access to both Munich town centre and the Bavarian countryside.
Vikki
2016-04-05T00:00:00Z
Nice apartment for a family. Close to train and easy access to city. Would rebook.
Paul
2015-03-24T00:00:00Z
Wir, eine internationale Gruppe, hatten eine super Zeit in dem wundervollen Appartment. Ruhig gelegen mit perfekter Anbindung an S-Bahn ist dieses tolle Domizil nur zu empfehlen. Joe und Gabi waren sehr nette und umgängliche Gastgeber, die uns das Leben sehr vereinfacht haben. Dankeschön :)
Alexander
2015-06-28T00:00:00Z
Joe and Gabi have a beautiful home. It was light and airy, large, and very clean. The neighborhood is quiet and conveniently located close to public transportation.
Darlynn
2015-08-15T00:00:00Z
only a few km from the Messe very convenient location for attending exhibitions. Five minutes walking to train station that right to the center of city. Apartment has three bedrooms with three full bath. Clean.
Winston
2016-05-15T00:00:00Z
The atmosphere was very relaxing and a perfect way to end our European trip that included two very busy cities. Our taxi driver had a little trouble finding the place, but Gabi was waiting for us at the main entrance to the property, which helped us pinpoint the place. Her English was good enough to explain the all house details and provide tips for the local landscape, i.e. train, grocery store, beer-garden, etc. We loved the recommended beer garden with its delicious Bavarian fare and ended up stopping by daily for beer and wine, since it was open so late. Would definitely love to stay there again, since you are not too far from the city, but it seems very far with its greenery and corn fields.
Gina
2016-09-12T00:00:00Z
There was good communication before and during our stay. We enjoyed each having our own bedroom and bathroom. It was very cleaned and had everything we needed, umbrella, hair dryers, well stocked kitchen, etc. The hosts were very helpful. It was very close to the trains into town.
Frankie
2016-06-13T00:00:00Z
Das Penthouse ist perfekt eingerichtet und hat unseren Vorstellungen und Bedürfnissen genau entsprochen. Drei Schlafzimmer mit drei Badezimmern waren für unsere fünfköpfige Familie sehr komfortabel. Die Kommunikation mit den Gastgeberinnen sowie die Wohnungsübergabe waren sehr unkompliziert und sympathisch. Die Hin- und Rückreise mit der S-Bahn ins Stadtzentrum dauern zwar 20 Minuten, sind aber unproblematisch und lösen das Parkplatzproblem in der Innenstadt. Wir haben München genossen und bedanken uns sehr für die Gastfreundschaft. Bettina aus der Schweiz
Bettina
2016-07-06T00:00:00Z
Tipo de Quarto
Casa inteira/apto
---
Tipo de Imóvel
Apartamento
---
Acomoda
7
---
Quartos
Munique, Bavaria, Alemanha