300+ Alugueres de Apartamentos
Apartamento situado no 2º andar de um maisonnette no lago com acesso directo ao terraço comum. Cozinha e sala de jantar são privado, mediante pedido, mas geralmente são compartilhados com os hóspedes no 1 ° andar 'Suite com varanda partilhada ", se ambas as partes concordam. Na antiga cidade de Vevey, 10 min a pé da estação, a 5 minutos para o desembarque do navio.
O lago (Le Léman), a vista ea história fazem desta unidade única, bem como a integração no local de Léman2 com uso misto incluindo um restaurante, lojas e escritórios. O terraço é compartilhada ocasionalmente, com outros hosts e os inquilinos da Léman2 complexo B & B. Mas desde Construído em 1840, autêntico estruturas, materiais e design. aquecimento de parede em argila. Dois quartos separados, um com cama 210x200cm cama e outro com única 200x120cm. cama de criança disponível. Banheiro compartilhado entre os dois quartos.
Leman2 está situado no share qui mais antiga da cidade remonta aos Romanos. Localizado no bairro mais antigo de Vevey, Old Mazel, perto do Alimentarium, o Hotel des Trois Couronnes e kju (Q). Situado na parcela mais antiga da cidade, Vieux Mazel. A área é muito antiga, o centro da antiga aldeia Vibiscum no tempo dos romanos. Localizado entre o Hotel de 3 Crowns. Pequenas lojas, restaurante Ze Fork ', a loja' Garden Side ', o Alimentarium ea situação do lago torná-lo único.
I booked this Airbnb listing for the view, and the view did not disappoint. It's breathtaking, and I would highly recommend this listing to anyone who is looking for that experience. The shared kitchen with the accordion patio doors is also great. The location right on the lake is perfect. If you are looking for a getaway that is quiet and without any disruption, then this is not the place for you; however, I knew that going in to it. The furniture is a bit worn. Overall, it was a good stay.
Tia
2016-08-07T00:00:00Z
A unique opportunity in Vevey! Gorgeous view over the beautiful lake and mountains and direct access from the larger bedroom onto the spacious terrace, a privileged spot to relax or have dinner. The apartment has charming old wooden floors and windows and is tastefully decorated. Kitchen (shared) is modern and sunny; enjoy the breakfast buffet at the bar or tables with the view over lake and mountains - kitchen opens onto the terrace as well. Great place to stay, or reserve 2-3 of the places available here and come with friends and family. Any questions? The host, Hans-Jürg, is very helpful and knowledgeable.
Michele
2015-06-11T00:00:00Z
This was one of those quintessential stays where things are better than one hoped them to be. As we lounged on the veranda and assimilate the view, the sunshine, the atmosphere, we couldn't believe our luck in finding Hans-Jürg's place. The situation is ideal; set above a lovely restaurant (Ze Fork) along the promenade, one looks out onto the incomparable view of Lac Lèman and the mountains beyond. Vevey itself is a lovely small spot, preferable by us to the larger more commercial Montreaux, and our stay here provided great access to the Vaud and Valais while giving easy access to GVA for ease of departure. While the proprietor was not on hand, he responded quickly to the one small problem we had and was great with communication. The rooms were comfortable and the small kitchen and dining area were well stocked and perfect for preparing a coffee or spritzer to enjoy on the verandah. The building itself has some idiosyncrasies, as mentioned before the shared area is accessible to anyone with building access as there is no security to the stairway leading to the area, and the wonderful verandah (adjacent to main bedroom and living area) is open to the whole building, which has both good and bad points. Know yourself - if you enjoy social interaction, local atmosphere, and bonhomie along with spectacular views, then this is the place for you. If you are looking for peace, quiet, and retrospection ... then this is STILL the place for you, but maybe bring some earplugs :) Thank you HJ for making this space available.
sylvia
2016-07-19T00:00:00Z
We had an absolutely lovely stay at Hans' apartment! The location is wonderful, right across from the lake, just under a 10 minute walk from the train station and right above the number one rated restaurant on tripadvisor. What makes this place so special is the very large terrace. It was so nice to sit outside and have coffee (there is an excellent coffee maker in the kitchen) or a glass of wine. We had a candle lit dinner on the terrace our last night that was so enjoyable, the views are incredible. The beds were quite comfortable as well. We arrived on a Friday and left on a Tuesday. There was some noise at night from the nightlife in the restaurants close by on Friday and Saturday, but Sunday and Monday nights were quiet. My brother and his girlfriend joined us on Sunday, occupying the suite downstairs (a separate rental) and it was such a nice set up, perfect to have the two spaces for a larger family. Hans is a gracious host, very helpful if we needed anything. We hope to return to Vevey and stay at the apartment again!
Amanda
2016-09-07T00:00:00Z
Wir hatten einen sehr schönen und angenehmen Aufenthalt. Die Appartements sind wunderschön gelegen. Die Kommunikation mit Hans-Jürg war sehr angenehm. Wir würden jederzeit gerne wiederkommen. Vielen Dank an Hans-Jürg.
Zoe
2017-03-24T00:00:00Z
A fantastic apartment with Switzerland's best balcony. arrival and communication was very good with Hans-Jürg. Just to note that the kitchen is a shared space so privacy was not ideal, but neighbors are wonderful.
Tyler
2015-12-01T00:00:00Z
Acceuil très sympatique de la part de HJ. Appartement fidèle a la description : terrasse immense face au lac et aux Alpes, calme car devant un zone piétonne. Un peu de bruit du aux travaux dans le musée voisin mais qui ont l'air de se terminer. Quartier pieton de centre ville très agréable avec tout les commerces a proximité, mais également avec ses problèmes de stationnement.
Nina
2015-08-28T00:00:00Z
Tolle Aussicht auf den See und die Berge direkt vom Bett aus! Wunderbare Dachterrasse und ein super Restaurant gleich unten im Gebäude. Vevey und der See ist ein wunderbarer Ort.
Melanie
2017-02-12T00:00:00Z
Tipo de Quarto
Casa inteira/apto
---
Tipo de Imóvel
Apartamento
---
Acomoda
3
---
Quartos
Vevey, Vaud, Suíça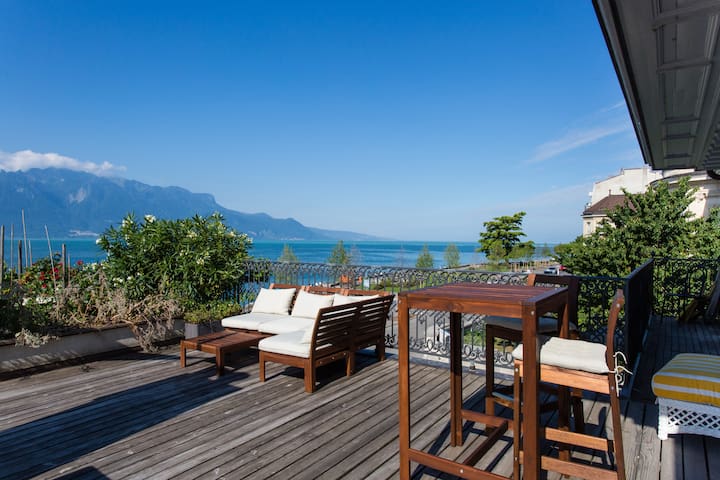 Este lindo apartamento, localizado no centro da cidade de Lausanne, é de 5 minutos a pé da parte antiga da cidade e da catedral. Em um edifício classificado, com vista para a famosa Rue de Bourg, tem uma lareira de época e vigas expostas. Uma localização ideal no coração da cidade, perto de lojas, museus, cinemas, restaurantes e discotecas. Perto de transportes públicos: paragens de autocarro, estação de táxi e estação de metrô estão dentro de 50m. De acordo com os seus desejos, irá transportá-lo em poucos minutos na estação ou no lago, perto do Museu Olímpico. Cozinhar, bastante compacto, vem com máquina de café Nespresso e seus deliciosos cápsulas high-end, cafeteira, espremedor de sumos e liquidificador. Toalhas e roupa de cama estão incluídas. Aproveitar a sua estadia!
Maira has a lovely appartment near the cathedral, very centrally located next to metro Bergieres. From there it is only three stops to the central station and 10 minutes down to the waterfront of Ouchy. The appartment is not luxurious, but contains everything you need, is cosy, homely and light. Due to the location in the center, it can get a bit noisy at night, we just closed the shutters and slept well! As Maira was travelling, her mum met us at the appartment and really made us feel welcome. Fresh flowers on the table and soap on our towels, we can see where Maira gets her sense of hospitality. Don´t miss out on the local market on Saturday (and don´t eat before)!.
Susan
2014-05-19T00:00:00Z
Maira's place was great - exactly as she said it would be
Steven
2016-06-01T00:00:00Z
Maira was a wonderful host. She replied to all emails really quickly and when there was a hot water issue (with the entire building, not her fault!) she kept us in the loop, got it resolved super fast. She gave us lots of useful info about the place and how to get there too. The apartment is very cozy, warm, and clean. The kitchenette includes an electric stovetop, a microwave and a portable mini oven which was really handy. The couch is also the comfiest thing ever. Overall a fabulous stay and would highly recommend it to most - only exception would be those with disability/ trouble with stairs as you have to climb two flights of reasonably steep stairs (no lift). For us it was no issue at all. Thanks Maira!!!
Alyssa
2016-01-22T00:00:00Z
This was the best experience I've ever had at an Airbnb (or even a hotel for that matter). Amazing location, clean and beautifully furnished apartment. Maira was such a great host, very kind and constantly available for communication. I highly recommend staying here.
Zach
2015-11-01T00:00:00Z
Maira's studio is very cosy and with a lot of little details that welcome you (coffee, tea, oil, vinegar,...) and make you feel home. We appreciated the fresh flowers on the table :-) and the flexibility of Maira according to our needs. The studio is very well situated in Lausanne in an old house with lot of charm.
Laura
2015-11-30T00:00:00Z
Super séjour au centre de Lausanne dans la vieille ville (bâtiment historique), grand 1 pièce plein de charme et nous avons apprécié les efforts de Maira pour se sentir a l'aise: place dans les armoires, rangements dans la salle de bain,etc. A recommander !
Nicolas
2015-03-05T00:00:00Z
L'appartement de Mara est très confortable. Je me suis senti comme chez moi pendant mon séjour chez elle. Merci Mara!
Hassen
2013-11-30T00:00:00Z
The apartment is tastefully decorated and in a very convenient location with public transportation, shops, restaurants nearby. Maira is a helpful host, communication was easy and pleasant. I recommend Maira's place!
Helen
2016-07-12T00:00:00Z
Tipo de Quarto
Casa inteira/apto
---
Tipo de Imóvel
Apartamento
---
Acomoda
3
---
Quartos
Lausanne, Vaud, Suíça
Perto de amenidades: ônibus, comércio. 10 minutos de autocarro do centro da cidade de Freiburg. Apresenta um quarto principal e um segundo quarto com sofá-cama. Cozinha, geladeira, máquina de lavar louça e layout da coluna de lavagem. Perto do centro (10 minutos de autocarro). 2 quartos, cozinha, lavar máquina.
visão aberta sobre uma grande praça com fonte
bairro moderno
Ottima esperienza: appartamento bello e curato in zona tranquilla alle porte di Friburgo. Nello stabile accanto c'è un piccolo centro commerciale. Disponibilità di parcheggio libero in zona. Consigliatissimo
Mirella
2017-03-19T00:00:00Z
Deuxième voyage chez Myriam toujours aussi bien ! Une hôte aux petits soins, tout était prêt à notre arrivée. Appartement parfaitement meublé. Nous recommandons vivement l'appartement. Nous reviendron(URL HIDDEN)
Marine
2017-01-07T00:00:00Z
Logement bien situé et agréable. Les produits de bases sont un vrai plus. Je recommande
Céline
2017-03-26T00:00:00Z
Appartement propre et dans lequel il fait bon vivre. Nous le recommandons.
Françoise
2017-01-17T00:00:00Z
Appartement très propre, cosy et fonctionnel. La propriétaire laisse à disposition plans de la ville, des parkings gratuits à proximité et des pass offrant des réductions pour les principales attractions de la région, comme le Château de Gruyères et la chocolaterie Cailler. Beaucoup de petites attentions très appréciées. Une adresse de qualité à Fribourg.
Melina
2016-01-11T00:00:00Z
The host canceled this reservation 40 days before arrival. This is an automated posting.
Ismael
2017-03-20T00:00:00Z
La communication avec Myriam est tip top. Tout s'est très bien passé. L'appartement est très charmant et pratique. Tout ce qu'il faut est à disposition des locataires. Je conseil fortement ce logement pour quelques nuits à Fribourg.
Patrick
2017-01-29T00:00:00Z
Myriam is an excellent host, don't hesitate to book this apartment if you have such an opportunity, it is big, spacious and definitely value for money. We traveled across Switzerland and stayed in many apartments/hotels in the area. This one is the best
Igor
2016-07-20T00:00:00Z
Tipo de Quarto
Casa inteira/apto
---
Tipo de Imóvel
Apartamento
---
Acomoda
4
---
Quartos
Villars-sur-Glâne, Fribourg, Suíça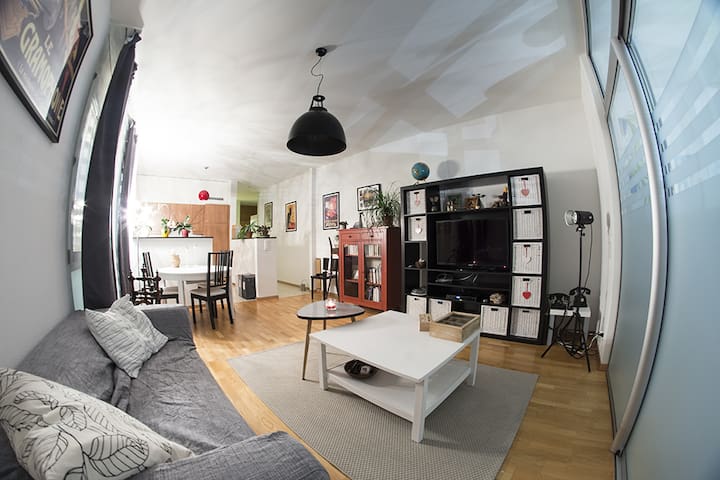 estúdio encantador no coração da cidade olímpica O apartamento está localizado a 100 m do belo parque de Mon Repos. É composto por uma cama de verdade para 2 pessoas e um sofá-cama confortável e uma grande varanda fantástica com uma bela vista da catedral. A cozinha tem uma geladeira, 2 fogões, microondas combinado uma máquina de café Nespresso. Lençóis e toalhas limpas são fornecidos. Wifi é de curso livre. Bessière estação de metro (M2) está a 1 minutos a pé. As lojas estão perto do edifício (lojas exclusivas da rua pedonal, supermercados, padarias, restaurantes, bares).
O estúdio pode acomodar até 4 pessoas. uma piscina coberta é de 200 m.
Desfrute do bairro quarta-feira e sábado mercado. uma piscina interior fica a 200 metros do estúdio
Host was very responsive to emails and made sure we found the apartment. The basket of fruit and cookies started us out well when we first got there. Everything was as described and the shower was great. The rooftop view was beautiful and the neighborhood placed us near a metro and many tourist locations. We enjoyed our stay.
marian
2016-05-29T00:00:00Z
The apartment was really nice, modern, and very central with a lovely balcony. Highly recommended to stay there.
Ryan
2015-03-16T00:00:00Z
Moncef est un hôte très sympathique et attentionné. Son appartement est propre et très bien situé (coeur de la ville). Ma famille y a passe un très agréable séjour
Carole
2014-05-28T00:00:00Z
This was our first experience with an Airbnb booking at it was fantastic! Saoud was very welcoming and the apartment is in a prime location, close to Lake Geneva, shopping, cafes and the metro - all in walking distance. The metro was super easy to take from the train station which made the trip even better. The apartment was clean and comfortable and the balcony/deck was a nice size. The stay was fantastic and I highly recommend it.
Fada
2015-06-30T00:00:00Z
Super appartement, en plein centre ville avec tout commerce, transport à proximité. Super accueil ;)
Yassine
2016-03-11T00:00:00Z
Nice place very centrally located. Everything was in order. Enjoyed it!
Jessica
2014-08-25T00:00:00Z
Sauds place was in a Perfect location and plenty big and comfortable. The balcony was also huge, much bigger than we were expecting. We were very happy with our choice!
Summer
2015-04-22T00:00:00Z
Very convenient location, right at city center and just 3 stops from Lausanne central train station. The bed was comfortable and the house is clean. Though the kitchen is small but it is well-equipped with all cooking ware and utensils. The best part is the apartment comes with a lift so you don't have to carry your heavy baggage and climb the stairs. Coops supermarket is nearby. Thanks for the heart-shaped chocolates and they are nice :)
May
2016-06-02T00:00:00Z
Tipo de Quarto
Casa inteira/apto
---
Tipo de Imóvel
Apartamento
---
Acomoda
4
---
Quartos
Lausanne, Vaud, Suíça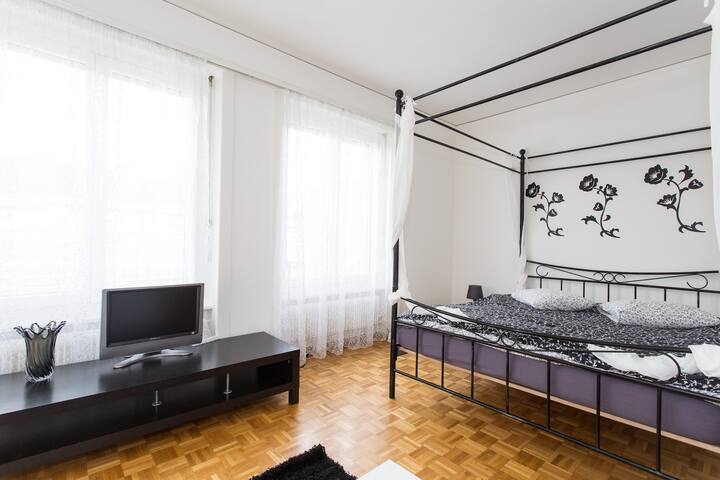 Un joli petit 2 pièces appartement avec une cuisine spacieuse et la meilleure terrasse de airbnb à Lausanne. Minimaliste, simple, artistique et chaleureux. Vous obtiendrez un guide des meilleurs endroits de Lausanne pour manger, avoir du plaisir, voir les meilleurs endroits artistiques choisis par moi.
l'appartement se compose de 3 chambres différentes. 1 chambre avec un lit Kingsize pour 2 personnes. Un salon avec un canapé qui peut être transformé en un lit pour 2 personnes, mais plus petits et, enfin, un hall d'entrée où vous trouverez un ordinateur si nécessaire.
Very nice and centrally located flat, easy communication. Julien's recommandations are incredibly good, no matter what you're looking for, restaurant, brunch, bar... Thanks!
Dersu
2016-04-11T00:00:00Z
Very nice flat - Julien is very attentive to getting you settled
Kim
2017-03-21T00:00:00Z
Appartement très bien placé, spacieux avec une très belle vu. Propriétaire sérieux et organisé.
Ulysse
2017-04-02T00:00:00Z
Hi!!! Julien is a special host.. Thanks for the Check in, for the very nice apartment.. It is at 10 minutes from the town center.. And have a beautifull view.. A beautifull terrace in Lausanne..
Giu
2016-04-09T00:00:00Z
L'appartement est très bien situé, nous avons eut un très beau temps lors de notre séjour. On a donc profité pleinement de la terrasse et sa vue magnifique ! :) Si je reviens à Lausanne, je reprendrai l'appartement.
Greg
2016-05-17T00:00:00Z
Julien's place is fantastic! It is centrally located and has a great view. Do be prepared for the 5 floor walk up if you are carrying heavy bags. The decor is unique and the apartment isn comfortable. Julien was attentive and easy to communicate with throughout the entire process. I would not hesitate to book this apartment again.
Zach
2016-06-05T00:00:00Z
Had a really good stay at Julien's appartment! Well furnished, equiped and clean! Julien also has always been helpfull and cautious for any kind of question and needs. The terrasse makes all just awesome! Hope to stay there again = )
guillaume
2015-06-15T00:00:00Z
Appartment is great - clean, very well equipped, everything is there what you can need. A GREAT balcony with gorgerous view above the roofs of Lausane. Julian is a pery kind and helpful person.
Ilja
2016-06-04T00:00:00Z
Tipo de Quarto
Casa inteira/apto
---
Tipo de Imóvel
Apartamento
---
Acomoda
4
---
Quartos
Lausanne, VD, Suíça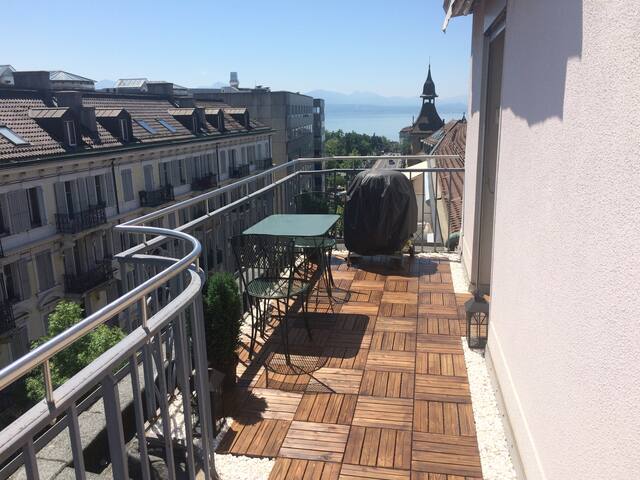 loft indépendant sur trois niveaux,calme pouvant accueillir jusque 4/5 personnes, 2 couchages sont des canapés-lits confortables, un clic clac supplémentaire pour des enfants si besoin. nous proposons l'équipement pour les enfants de moins de 2ans. idéalement situé pour le tourisme : 8km de salins les bains,des thermes, et au pied du vignoble d Arbois.Le mont Poupet pour le parapente est en face, 45min de Besançon et de sa citadelle. lac de Vouglans, randonnée,...vous aurez l'embarras du choix
zákaz kouření, domácí mazlíčci nejsou
premier village du vignoble, calme retiré de la route principale
Very nice host. Very comfortable apartment with everything one needs. We enjoyed meeting Eric and Véronique very much and the area is beautiful.
Barbara
2016-08-27T00:00:00Z
Gîte très agréable,les hôtes sont sympas et disponible
Lamine
2016-07-09T00:00:00Z
Tout a été dit dans les commentaires précédents, accueil, confort, propreté et bien sur la situation géographique pour visiter cette jolie région, Merci encore à vous deux et je m'empresse de partager votre adresse à toutes mes clientes avec lesquelles je partage mes coups de cœur !
NADIA
2016-06-12T00:00:00Z
Nous avons été très agréablement reçu par nos hôtes, un couple fort sympathique et disponible. La maison est très chaleureuse et bien entretenue. Il ne manque rien. Le lit au second étage et très confortable. Le quartier est très calme idéal pour passer un séjour reposant.
Fabienne
2016-03-30T00:00:00Z
Outstanding stay overnight; made to feel very welcome and place very well equipped with even a couple of beers in the fridge waiting after a long drive which was hugely appreciated. Lots of lovely little touches. Very charming place. Beautiful spot. Great hosts. Excellent experience.
Jean-Pierre
2016-02-14T00:00:00Z
Eric and Veroniques place was absolutely amazing! it was very beautiful, cozy and comfortable. Their pictures don't do the place any justice. They were amazing hosts me and Andy felt very welcomed :D they had the place decorated and were extremely helpful and nice :D They have been the best hosts and the best placeI have stayed in with Airbnb:D
Cindy & Andy
2015-12-26T00:00:00Z
Logement qui répondait à mes attentes, un accueil super, un environnement calme et apaisant!! des hôtes charmants et adorables je recommande et reviendrai avec grand plaisir!
Louise
2016-03-25T00:00:00Z
Excellent accueil de la prise de contact via le site au jour de la remise des clés. Les lits étaient prêts donc parfait. Il y a tout ce qu'il faut ou presque il manque une petite télé La vue du salon est très agreable. Un passage dans ma région je vous recommande cette maison
Lucie
2017-03-26T00:00:00Z
Tipo de Quarto
Casa inteira/apto
---
Tipo de Imóvel
Apartamento
---
Acomoda
5
---
Quartos
Aiglepierre, Franche-Comté, França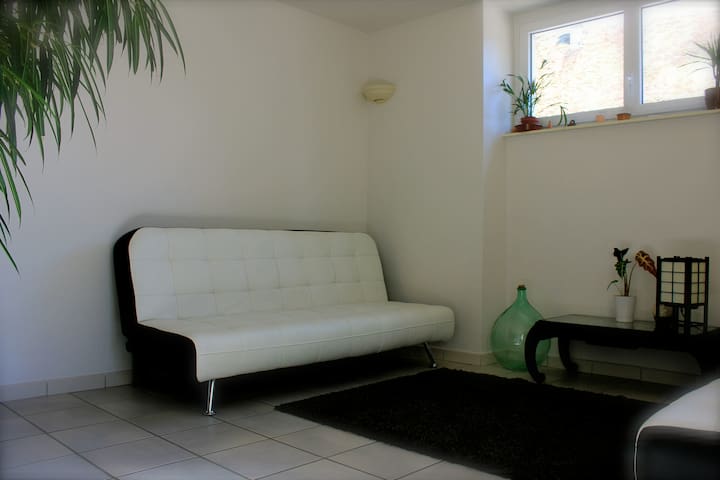 This apartment, located in a family house in the heart of the Vosges, sleeps up to 4 people. In the hillside village, waking with the birds singing is assured, for a relaxing holiday in beautiful nature!
The apartment is located on the first floor of a house. Access is via a private balcony with unobstructed views of the Vosges Mountains. Parking is free and independent. The apartment has a large living area, a kitchen (oven, microwave, coffee maker, kettle, pots, dishes, ...), a bathroom and two bedrooms ( a double bed and two bunk beds). Sheets and towels provided.
Near the forest, the house is located in a very quiet area, the birds will be your only alarm clock!
Très beau logement, très bien organisé! Bernard nous a sympathiquement accueillis à notre arrivée! Tout était parfait!
Charline
2017-01-29T00:00:00Z
Petit appartement propre et moderne. Les propriétaires sont discrets et l'accueil chaleureux.
tryss
2017-03-05T00:00:00Z
Logement tres bien équipé
Anne
2016-12-11T00:00:00Z
Un cadre apaisant , un petit appartement très. Une conçu et complet ! Les hôtes sont adorables , nous sommes ravis c'est une magnifique Région .
Delphine
2017-02-16T00:00:00Z
Nous (famille de 4 personnes) avons passé un très agréable séjours dans cet appartement cosy. Il est chaleureusement décoré ; très bien équipé et bien situé. Au top . Nous le conseillons à 200%. Merci à Rosario et Bernard pour leur accueil
Lila
2017-02-25T00:00:00Z
Nous avons passer un super séjour, l'appartement correspondait exactement à la description et à nos attentes. Bernard et Rosario sont des gens très charment et acceuillant. Nous conseillons ce séjour dans les Vosges et chez Bernard et Rosario. Ne manquerons pas dit retourner. A bientôt Franck, Géraldine, Nael et Elie
Franck
2015-03-08T00:00:00Z
Logement correspondant parfaitement à la description. Accueil très sympathique. Nous étions 4 amies et nous avons passé un excellent week-end. Merci.
Catherine
2015-03-23T00:00:00Z
Wir haben 3 wunderbare Tage bei Rosario und Bernard verbracht. Wir wurden sehr freundlich empfangen, alles wurde uns ausreichend erklärt und die Wohnung entspricht völlig den Angaben auf der Webseite. Sie ist klein, aber sehr fein. Sehr sauber, sehr modern und platzsparend ausgebaut. Alles, was man braucht ist da. Die kleine Terrasse mit dem Tisch für 4 Personen ist perfekt für ein Abendessen im Sonnenuntergang mit Blick auf die Berge. Es ist ruhig, nah an den Bergen, aber auch Vecoux ist schnell erreicht. Vor allem die Gastgeber sind sehr nette und herzliche Menschen und wir freuen uns sehr auf das nächste Mal!
Catherine
2016-07-27T00:00:00Z
Tipo de Quarto
Casa/apto inteiro
---
Tipo de Imóvel
Apartamento
---
Acomoda
4
---
Quartos
Vecoux, Lorena, França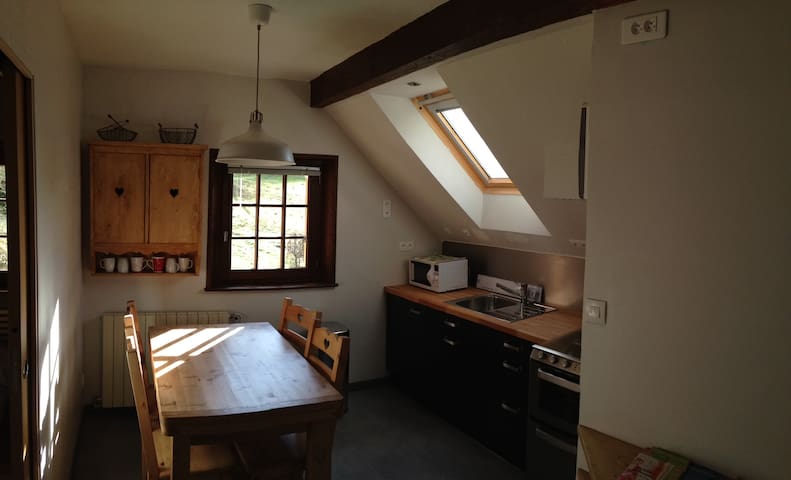 My flat has big terrace where you can enjoy "apéros" with friends. You will also find a king size bed very comfy. The bathroom has a washer and a dryer witch is very convenient. The kitchen is fully equipped with coffee nespresso and teas! Welcome :)
very good apartment recommended
louise
2016-09-14T00:00:00Z
Informative communication, accurate description of property. Overall enjoyable experience.
brian
2016-08-16T00:00:00Z
Très jolie appartement, confort ++, tres bien situé et très bonne communication avec Martha !
Sonia
2016-11-13T00:00:00Z
This is a very clean, well-furnished apartment that has a lot of helpful amenities like soap and coffee. The location was great; about 15 minutes walking from the historical center of town. Note that there is a bus stop in front of the building. It helps a lot to close the windows before going to bed to sleep through the night! Martha was very responsive and made our stay very easy. She even gave us travel recommendations about how to do wine tasting and rent bikes in the city. Great experience! Would definitely recommend to you.
Anthony
2016-08-26T00:00:00Z
These two nights were just perfect in this cozy and tidy apartment. I am so happy we chose this place, in a superb location. If I return to Lausanne for another trip, I would definitely book Martha's flat again! Thanks!!
Nadine
2016-02-13T00:00:00Z
Very nice, nothing more to say. Thanks Martha!
Joel
2016-09-18T00:00:00Z
Martha's apartment is super clean and very comfortable to stay. Especially, washing and dry machine is very useful. Her apartment is located centrally and just 10 min walk for Lausanne main railway station and Lausanne Flon Metro station. Communication and check-in/out are very easy. Her mother is very kind to pick up me at the railway station and show the apartment. I highly recommend to stay at Martha's apartment.
YASUO
2017-02-24T00:00:00Z
Die Wohnung ist sehr gemütlich und hat alles was man braucht. Ich war 3 Wochen dort und habe es sehr genossen. Wenn ich eine Frage hatte, erhielt ich umgehend eine Antwort von Martha. Sie ist sehr hilfsbereit. Die Lage der Wohnung ist gut, da man in nur 10 Minuten zu Fuss in der Altstadt oder am Bahnhof ist. Aber die Wohnung liegt an einer stark befahrenen Strasse mit einer Busstation. Ich schlafe normalerweise mit offenem Fenster, was hier leider nicht möglich war. Abgesehen davon war alles top!
Christine
2016-12-03T00:00:00Z
Tipo de Quarto
Casa/apto inteiro
---
Tipo de Imóvel
Apartamento
---
Acomoda
3
---
Quartos
Lausanne, Vaud, Suíça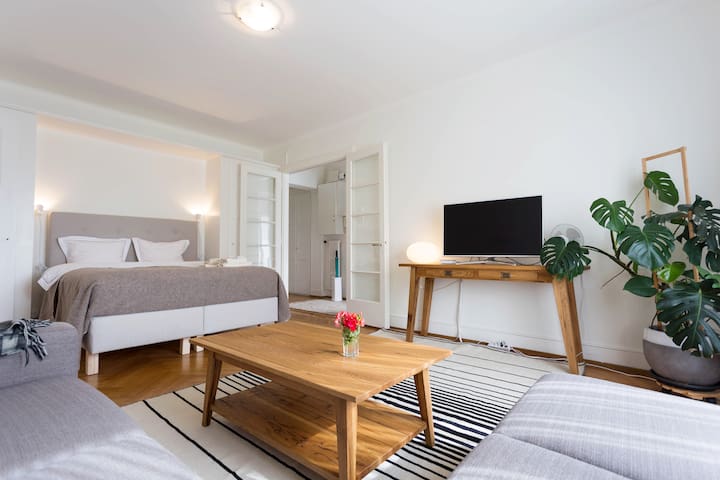 Appartement 4 étoiles 30m2 en rez de chaussée de chalet. Idéal 2 personnes, 4 max (1 lit double + canapé convertible 140x190).Calme et randonnée, ski de fond ou balades raquettes à proximité, ski alpin à 5km. Logement neuf tout confort et commodités.
Votre gîte se trouve au cœur du parc naturel régional du haut Jura. Parfaitement équipé, ce petit nid douillet saura vous séduire par son confort et sa décoration soignée... Tout est fait pour rendre votre séjour reposant. La cuisine vous offre toute la modernité nécessaire. En plus de l'équipement de base (frigo, congélateur, plaques vitrocéramiques, four et four à micro-ondes), vous trouverez un lave vaisselle, une bouilloire, un grille pain, un auto-cuiseur, une cafetière à l'italienne ainsi qu'une machine Nespresso (pour les inconditionnels, n'hésitez pas à ramener vos dosettes !). Côté salon, vous disposez d'un canapé convertible, d'une télévision écran plat et d'un lecteur DVD. Dans la salle de bain, vous profiterez de la spacieuse douche à l'italienne. Vous y trouverez également un lavabo, des toilettes suspendues, un lave linge, un sèche cheveux, un sèche serviette. La chambre à coucher saura vous séduire par son confort et son ambiance montagne raffinée. Aux beaux jours, vous pourrez vous relaxer sur la terrasse, exposée plein sud, vous avez à votre disposition une salon de jardin, des transats bien confortables et un barbecue ! Nous vous précisons que nous fournissons le linge de toilettes, les draps ainsi qu'un torchon.
Superbe logement refait à neuf et ac goût. Anne et Philippe sont disponibles et très accueillant. Tout est réuni pour passer un très bon séjour. Ns étions ac notre fille en bas âge le lit parapluie et baignoire étaient mis à notre disposition. Encore merci pour le séjour et le cadeau d'accueil !
Christopher
2016-08-19T00:00:00Z
We can highly recommend "Le Lynx Farceur" for anyone looking for a great place to stay in the beautiful Jura region. Located very conveniently to start hikes directly or after a short drive, this nicely furnished place is perfectly equipped with everything you need and more. Plus, Anne and Philippe were very nice hosts, making us feel comfortable and welcomed. We simply loved our stay and would be so happy to return again one day!
Christoph
2016-06-23T00:00:00Z
Logement conforme aux photos et description. Cadeau de bienvenue présent dans le logement
Florence
2016-02-12T00:00:00Z
Logement très propre et très bien décoré avec goût. Très bien situé au pied de nombreux chemins de randonnées avec vue sur les monts du Jura. En arrivant ça fait plaisir de trouver du Comté et son vin blanc dans la cuisine. Je conseille vivement ce logement et ce village.
Fabienne
2017-03-11T00:00:00Z
Superbe petit logement neuf, propre et fonctionnel au cœur du Jura ! Très bon accueil de Philippe (merci pour le bon morceau de fromage !), l'appartement est très bien équipé en plus d'être joliment décoré. Parfait ! La proximité de Lamoura à pied est un atout supplémentaire. Idéal pour les amoureux de la nature et du calme. Nous avons passé un court séjour très agréable, nous recommandons chaudement ce logement !
Carole
2016-03-27T00:00:00Z
Si vous cherchez le calme et la sérénité, vous trouverez tout cela ici. Départ de randonnée à proximité immédiate, très pratique
romain
2016-04-10T00:00:00Z
Tout était parfait au Lynx Farceur : l'appartement est très agréable, paisible, bien équipé et moderne. Malgré un temps maussade (on regrette de ne pas avoir pu profiter de la terrasse avec sa belle vue sur les sapins), nous y avons passé un bon séjour et nous sommes sentis comme chez nous !
Alexandre
2016-06-02T00:00:00Z
Très bon accueil de la part de Anne. Logement chaleureux, fonctionnel, confortable. Quartier calme.
Nathalie
2016-12-17T00:00:00Z
Tipo de Quarto
Casa inteira/apto
---
Tipo de Imóvel
Apartamento
---
Acomoda
4
---
Quartos
Lamoura, Franche-Comté, França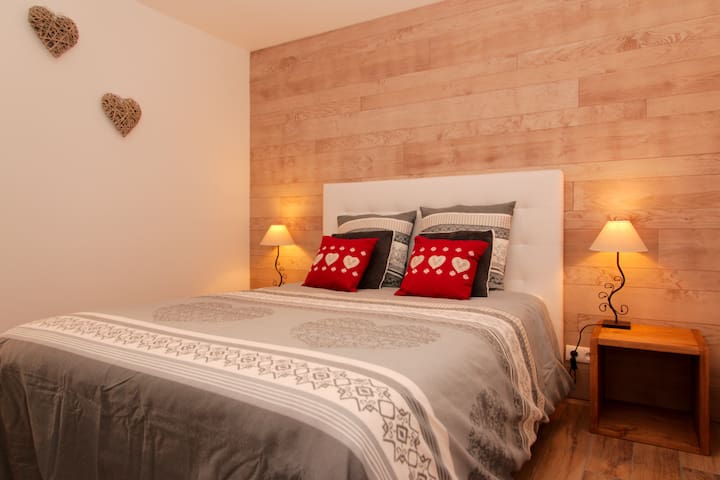 Gîte charmant et authentique, labellisé 3 étoiles, situé à Ivrey (10' de Salins les Bains et 3km de l'école de parapente du mont Poupet) dans une ancienne ferme de caractère. Lieu calme, idéal pour les amateurs de nature et de randonnées.
Situé au rez de chaussée d'une ancienne ferme de caractère entièrement rénovée dans une démarche écologique. La façade en vieilles pierres exposée plein Sud, les dalles en pierre, les plafonds à la vigneronne, le parquet en sapin vous feront retrouver le charme de l'authentique. Ivrey est un joli petit village (50 habitants) niché sur les flancs du Mont Poupet. C'est un endroit calme et un lieu privilégié pour les vacanciers amoureux des chemins forestiers et des sentiers de randonnée (GR59, Grand Huit). Les routes sinueuses et pentues qui y conduisent, offrent d'ailleurs un terrain idéal à différentes manifestations sportives de renommée : Tour cycliste du Poupet, randonnée cyclo 'Louis Pasteur', Montée pédestre du Poupet.
A l'image du reste du Jura, ce petit coin de nature regorge de cascades et de grandes rivières jaillissant de grottes souterraines, permettant de belles baignades sauvages (vallée de la Loue, source du Lison, vallée de la Furieuse, Gour de Conche, Cascade des Tuffes, vallée de la Cuisance, Cascades du hérisson...) Non loin de là, on trouve également des lacs tranquilles et préservés où il est possible de nager en toute quiétude à l'abri de collines vallonnées (région des 4 lacs, lac de Chalain, lac de Vouglans, de l'Abbaye, d'Etival...) Vous pourrez également profiter des Thermes de Salins les Bains pour vous relaxer. Les eaux naturellement salées de cette petite cité comtoise de caractère sont en effet souveraines pour le traitement des rhumatismes, la remise en forme et la détente. Ivrey est également un point de départ idéal pour découvrir le vignoble et la gastronomie jurassienne (vignobles d'Arbois et de Château-Chalon, Poligny capitale du Comté, ...) et pour des visites plus historiques et culturelles (Grande Saline de Salins les bains et Salines Royales d'Arc et Senans classées au patrimoine mondial de l'Unesco, Musée du sel, Maison Pasteur, cité historique d'Ornans, Besançon et ses fortifications de Vauban inscrites au patrimoine mondial de l'Unesco...) Sans oublier les belles balades en forêts pour les amateurs de champignons... Activités à proximité (moins de 10 km) : - Rivières, la Furieuse et la Loue (baignade, canoë, pêche) - Le Mont Poupet (parapente, randonnées à pied ou en VTT) - Salins les Bains (Grande Saline inscrite à l'UNESCO, Thermes, Casino, accrobranche, Fort Belin et Fort Saint-André), - Arc et Senans (Salines Royales site classé UNESCO, chemin des Gabelous) - Nans-sous-Sainte-Anne (reculée, cascades, via ferrata, escalade, spéléologie...) Un peu plus loin - Arbois et Poligny (vignoble et gastronomie jurassienne, Comté, reculées des Planches, musée de la vigne et du vin, Maison Pasteur...) - lacs du Jura (région des 4 lacs, lacs de Chalain et de Vouglans, lac de l'Abbaye et d'Etival…) - Cascade du ruisseau d'Ivrey, cascade du gour de Conche, source du Lison, Cascades du Hérisson, - Grottes des Moidons, d'Osselle... - Besançon (Citadelle, zoo, cité Vauban...) - Vallée de la Loue et Ornans (cité de caractère, musée Courbet...) Chèques vacances acceptés.
excellent accueil de Caroline qui nous a tout de suite mis à l'(URL HIDDEN) bons conseils pour une super randonnée à la source de Lison...ainsi qu'un lieu de baignade dans la Loue bien sympatique... merci pour le barbecue et le bois de "luxe"...
Céline
2015-06-06T00:00:00Z
Nous avons passé un excellent séjour dans ce petit village du Jura. Le cadre ainsi que le logement sont magnifiques !
Antoine
2016-12-11T00:00:00Z
We enjoyed the location - away from the cities/towns/traffic. Peaceful surrounds yet access to nearby areas was not a problem. Flo and Caroline were great in speaking/learning English giving us all some good laughs and we enjoyed chatting about the area they live in.
John
2016-10-08T00:00:00Z
We loved our stay with Caro and Flo. They are wonderful hosts and we had some great discussions! Our B&B was lovely, clean, cozy & peaceful. We highly recommend this lovely place. The Jura region is so beautiful, with so much to discover!
Jennie
2016-12-25T00:00:00Z
Nous avons passé un séjour absolument fantastique avec nos 2 enfants dans le charmant village d'Ivrey ! Le son des cloches des vaches voisines nous berçaient, les moutons nous tenaient compagnie et un félin très gourmand nous rendait visite tous les soirs...le tout dans un cadre très agréable et confortable ! Que dire de cette région superbe, aux paysages verdoyants et sauvages, des petits coins de paradis où l'on déconnecte enfin du quotidien ! Bref nous recommandons vivement le repaire de la Salamandre aux plus jeunes et/ou plus vieux et encore merci aux propriétaires pour leur gentillesse et hospitalité !!! Nous sommes partis avec la certitude de revenir un jour prochain ! La Famille Boubou
Niala
2016-08-28T00:00:00Z
Amazing property, in a truly idyllic location. Flo & Caroline offered brilliant hospitality, and are great people too. For touring the wine region & the local countryside the property is perfect. We are already looking for an excuse to go back...
Rachael
2016-03-03T00:00:00Z
Accueil parfait par Florent, qui nous a servi un verre de son cru et offert du Comté, un attention très appréciable après la route et un chouette premier pas dans le Jura! Il nous a ensuite fait faire le tour des lieux, nous expliquant au passage quelles balades nous pouvions prévoir. Ses conseils nous ont permis de faire trois balades magnifiques dans les environs. Le gîte est spacieux, confortable et vraiment charmant. De belles pièces, les moutons en façe, le petit clocher qu'on aperçoit par la fenêtre et même des chats qui viennent se faire caresser, tout était parfait. On reviendra avec plaisir.
Aline
2015-05-29T00:00:00Z
Charmant petit gite chaleureux et convivial dans un cadre pittoresque !
Guillaume
2015-05-26T00:00:00Z
Tipo de Quarto
Casa/apto inteiro
---
Tipo de Imóvel
Apartamento
---
Acomoda
4
---
Quartos
Ivrey, Franco-Condado, França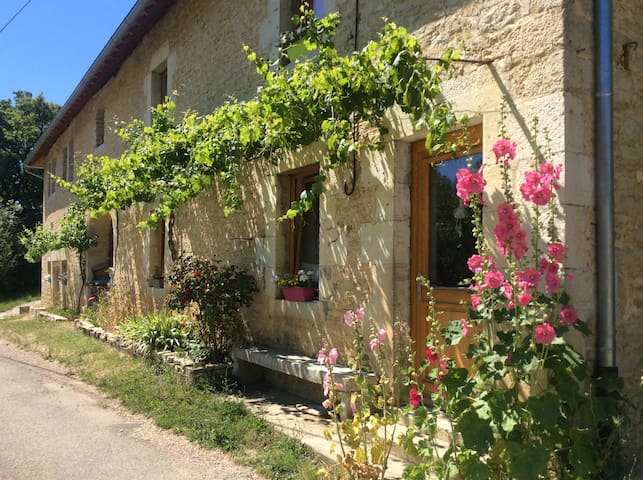 quarto grande, grandes janelas, pisos de madeira, um sofá-cama para 2 pessoas, roupeiro e varanda privada. acesso wi-fi. cozinha equipada, microondas, máquina de lavar roupa, casa de banho máquina dishes.Bathroom com banho de chuveiro, WC separado. paragem de autocarro 100m.
Acomodações espaçosas e iluminadas, tectos altos.
Padaria e supermercado à direita em frente ao apartamento. Catering também oposto. Quiosque 50 metros
Room is pretty spacious and is as on the pictures. Hosts are super nice and flexible. Area is quiet, approx 1.5km from train station, we walked without problems. On the opposite side of the street there is a small grocery store to buy breakfast. Only setback is that bed is pretty small for 2.
Istvan
2016-11-19T00:00:00Z
Very nice location. Not far from the city center. Green space in the neighborhood. Not far from the Olympic Museum. Nice room.
Nik
2016-11-01T00:00:00Z
Nous n'avons vu qu'André : très sympa et accueillant.
Léna
2016-12-23T00:00:00Z
Mon séjour chez Roxana s'est très bien passé, appartement agréable et calme.
Clara
2016-12-14T00:00:00Z
Roxana et André sont très sympathiques et agréables. Je recommande vivement cet endroit pour la gentillesse et le confort de cet appartement d'artistes.
Christophe
2017-01-10T00:00:00Z
Roxana et André sont des super host qui aiment recevoir les gens. Roxana est une excellente peintre / artiste. Le séjour chez eux c'était comme visiter des amies de long date. Je reviendrai avec plaisir. A
Arno
2017-02-28T00:00:00Z
Nice location, Roxana is very friendly and showed me around as soon as I arrived, and everything was just as described.
Dom
2017-01-28T00:00:00Z
Superbe acceuil de Roxana et André, arrivé à 21h nous avions passionnément discuté de Lausanne et bien d'autres choses jusqu'à plus de minuit. Un couple adorable que je recommande!
Edouard
2017-01-18T00:00:00Z
Tipo de Quarto
Quarto inteiro
---
Tipo de Imóvel
Apartamento
---
Acomoda
2
---
Quartos
Lausanne, Vaud, Suíça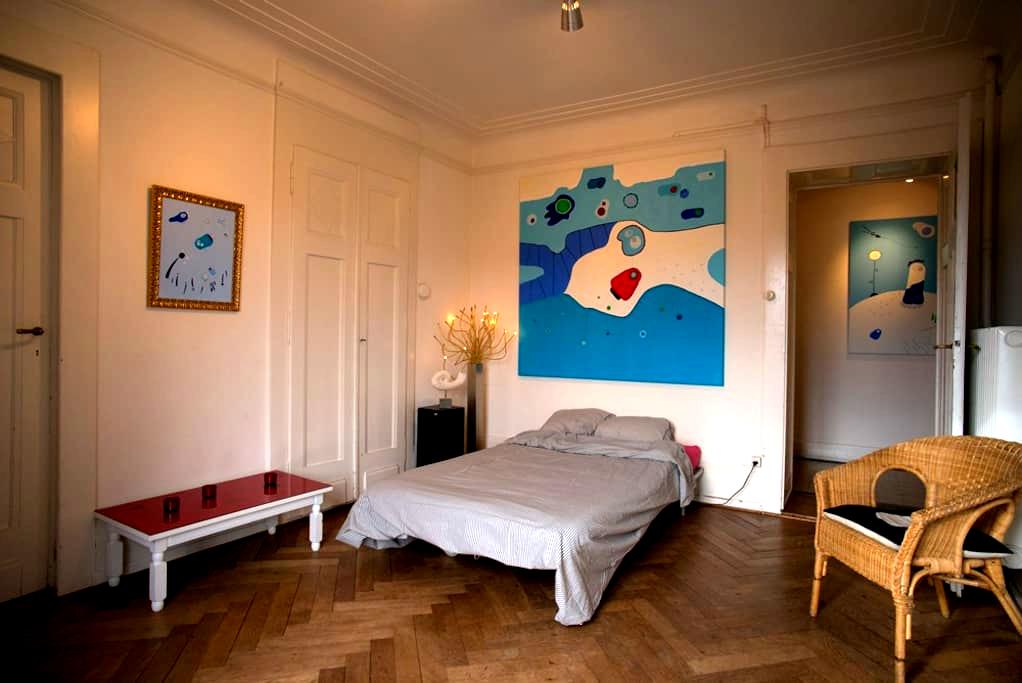 Called "Another World" this unusual place is in a former printing house, near the city center. You have over 150 m2 of fully equipped and personalized spaces with unique furniture that I create. You also have a game room and an infrared sauna for two.
You come in Haut-Jura for the first time? Let me describe it ... A free and wild nature in the hollow of which water has shaped the landscape varied that they satisfy the most demanding of you. Saint-Claude is ideally situated between lakes, mountains, ski slopes, hiking trails or bike trails, but also many cultural activities offered by the association Fraternal: movies, concerts, theater, art, bar, without forgetting the Abbey Museum that exhibits real treasures. Possible activities are so varied that I advise you to prepare your stay before arriving. The center of the town of St. Claude and shops are within minutes of the apartment. Looking for an unusual accommodation to enjoy your holidays differently? Let me guide you to visit ... This unusual place of over 150 m2 surprise you. Nature is omnipresent, materials used for the manufacture of furniture that I created, the Recycling objects., Installed here and there, warmly mixing wood and metal. You chose the Haut-Jura for its open spaces? You will be at home in this apartment where one of the rooms is not less than 90 m2 4 beds, 2 beds 90 in a glasshouse and 1 double canopy bed in 160 and a bed "trampoline" in 160. The other two rooms have a double bed 140 and a double bed 160. An open plan kitchen-living room - dining room with large screen for movie nights, a large library by the fireplace for relaxing evenings after a hard day of hiking, a fully equipped kitchen where you can try some local specialties, not to mention the games room with pool table, table football and table tennis for children and adults. Guests can also enjoy a relaxation area with an infrared sauna for two people and a massage area (massages on reservation). Everything in this home is designed for you to spend an unforgettable stay, balancing relaxation, recreation and discovery. You also have a portable barbecue (charcoal), a cot and a highchair. Breakfast and meal trays can be served on request when booking. Depending on the periods, courses can also be held on site: DIY, introduction to poker, kitchen, detox, photo ... and we are at your disposal to help you organize tours and outdoor activities: skiing, hiking, mountain biking, snowshoeing, boat ....
Near the city center (5 minutes drive), the district has no particular interest. This is a residential area, no shops, on a steep street. An attraction though: a river (The Bienne) flows at the foot of the building.
Merci à Isabelle et Nadine de nous avoir si bien accueillis ! Le loft est géant, grand et dément, mais l'ambiance est douce et feutrée. L'aménagement et la déco handmade sont superbes. Ce lieu n'est pas qu'un showroom d'une artiste talentueuse mais un lieu de vie où l'on s'y sent bien ** Le week s'est fini avec "un p'ti goût de reviens y" mais sous le soleil cette fois ci ! à bientôt,
anne
2016-04-25T00:00:00Z
Superbe Loft , personnes de grandes qualités ! Que du bon je vous dirais du loft d'Isabelle . Nous venons de passer une semaine parfaite avec nos 3 enfants dans cette région magnifique . Le loft était au delà de nos attentes , parfaitement équipé , les lits sont super confortables , cuisines top pour nous qui adorons cuisinés ! Magnifiquement décoré , vous en reviendrais plein d'images dans la tête .Un sauna , deux salles de bain, salle de jeux tellement cool ! j'ai presque envie de ne pas trop en dire pour vous laisser la surprise . L'emplacement est idéal , nous pouvons facilement se garer devant . les commercent sont facilement accessibles . Nous reviendrons !
virginie
2016-08-03T00:00:00Z
Un appartement au delà de nos attentes. Certainement un des plus beaux appartements de la région. Des hôtes très sympathiques et disponibles (réponses rapides, flexibilité dans les horaires d'accueil et de départ). Nous ne pouvons que fortement vous recommander ce logement. Vous pouvez réserver les yeux fermés (mais pensez à les rouvrir en arrivant, ça vaut le coup :) )
Julien
2016-05-30T00:00:00Z
Un séjour parfait dans un environnement atypique ! Merci à Isabelle pour son accueil.
Marek
2017-01-29T00:00:00Z
The master of the house is an artist, are very warm and very thoughtful, the exterior of the house was unremarkable, but the layout inside the very artistic features, the facilities are complete room also has the several, room was clean, and billiards table and table tennis table, is a very good house! It's worth living, it's great! Must recommend!
雁
2016-08-12T00:00:00Z
Merci pour votre accueil chaleureux dans ce lieu pittoresque, magique et surtout magnifique :) Chaque pièce, chaque objet de ce loft est une invitation au rêve et à la détente. Si vous souhaitez être dépaysés en plein Jura, nous vous recommandons d'y faire un séjour !
Arthur
2016-02-01T00:00:00Z
Espace très agréable pour se retrouver en famille ou entre amis voir pour travailler sur de la création.
Py
2017-02-16T00:00:00Z
Isabelle's flat really stands out from a design point of view- it is quirky, stylish. It has lots of different rooms, making it ideal for a big family gathering or for a friends' get-together. The kitchen is very well-equipped allowing you to cook some food and eat at the large communal table. The communal areas are very pleasant. The games room was fab. Isabelle was a delightful and helpful host, giving us suggestions on excursions in the area. L'appartement d'Isabelle est hors du commun d'un point de vue design- original et plein de style. Toutes les pièces le rendent idéal pour des vacances en famille ou entre amis. La cuisine est très bien équipée vous permettant de faire de la bonne cuisine. De plus, manger à la grande table familiale est très agréable. Les pièces de vie sont très agréables aussi. De plus, la salle de jeu est top! Isabelle est une hôtesse agréable et serviable. Elle nous a donné beaucoup de suggestions de sorties dans la région.
Nathalie
2017-01-22T00:00:00Z
Tipo de Quarto
Casa/apto inteiro
---
Tipo de Imóvel
Apartamento
---
Acomoda
10
---
Quartos
Saint-Claude, Franco-Condado, França
Magnifique appartement au centre ville de Lausanne à coté du Palais de Beaulieu, proche des transports en commun et des commerces. Vous apprécierez la terrace pour la vue, le calme, l'emplacement, l'ambiance. Parfait pour les couples, les voyageurs en solo, les voyageurs d'affaires et les familles (avec enfants). Une chambre double et canapé lit pour deux, une cuisine, salle de bain, grand salon et salle à manger, terrace avec vue sur le lac. Parfait pour vivre un instant comme un Lausannois.
Magnifique appartement dans les combles, d'environs 80m2 avec terrace et vue sur le lac. Situé dans un petit immeuble résidentiel, au 3ème étage sans ascenseur, juste à coté de Palais de Beaulieu. Facilité d'accès et situation très centrale. Une chambre à coucher avec lit double 160 Un belle cuisine équipée Salle de bain avec baignoire Salle à manger avec petite cheminée ouverte sur la terrace et le salon. Canapé-lit pour 2 personnes, 160 par 200 Idéal pour vivre comme un Lausannois le temps d'un séjour.
Le Palais de Beaulieu accueille de très belles manifestations, c'est un quartier calme proche du centre, des commerces et des bons restaurants.
Anfitrião sempre disponível, espaço agradável, limpo, central e luminoso.
Hel
2016-08-14T00:00:00Z
Great apartment, clean and spacious, great value for money - definitely recommended!
Paul
2016-10-03T00:00:00Z
The apartment is beautiful and very comfortable, amazing lake view !
Manuel
2016-11-25T00:00:00Z
Nice apartment with beautiful view over the lake. Public transportation to the city center just 20m away. We highly recommend it when staying in Lausanne.
Thilo
2016-10-01T00:00:00Z
Nice apartment, clean and spacious - I will stay again !
Su
2016-12-10T00:00:00Z
Appartement très agréable! A deux pas du centre soit à pied (15mn), soit en bus. Nous avons passé un très agréable séjour dans cet appartement très chaleureux. A recommander sans hésitation!
julien
2017-01-31T00:00:00Z
Un bel appartamento, lo consiglio
Rosanna
2017-02-08T00:00:00Z
Nice roof-apartment with which is quite roomy.
Stefano
2017-04-06T00:00:00Z
Tipo de Quarto
Casa inteira/apto
---
Tipo de Imóvel
Apartamento
---
Acomoda
4
---
Quartos
Lausanne, Vaud, Suíça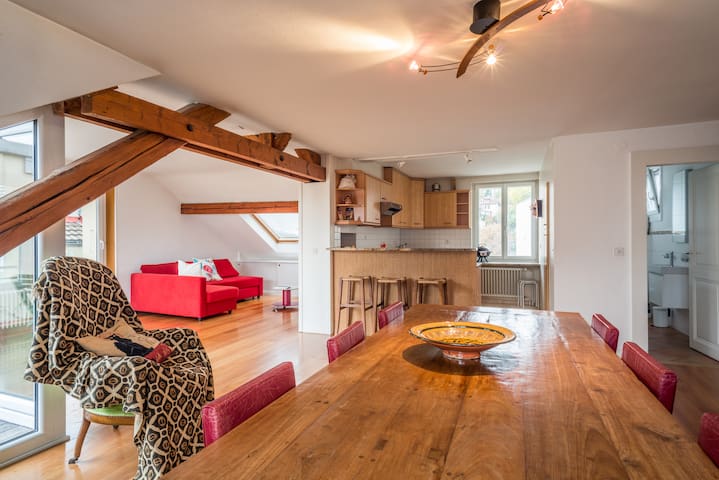 Este lindo apartamento brilhante, localizado no centro da cidade de Lausanne, é de 5 minutos a pé da parte antiga da cidade e da catedral. Num edifício de 1914, localizado no 4º andar com elevador, é ideal para um casal ou solteiro. A cozinha está totalmente equipada e habitável. Você vai encontrar forno com quatro pratos quentes, utensílios, máquina de café Nespresso e chaleira. A sala de estar voltada para o sul faz você desfrutar do sol durante todo o dia. Há também uma cama muito confortável, com um canto de leitura. A TV tem mais de cem canais e você terá internet Wi-Fi de banda larga. A localização no coração da cidade, perto de lojas, fitness, museus, cinemas, restaurantes e vida noturna faz deste apartamento um local ideal para explorar a cidade. Transportes públicos: paragens de autocarro, estação de táxi e estação de metrô estão dentro de 50m. Toalhas e roupa de cama estão incluídas. Aproveitar a sua estadia!
O apartamento é bem localizado, fica a dois minutos do metrô Ours. O ponto positivo do apartamento é que possui máquina de lavar roupa e o ponto negativo é ouvir o barulho da descarga do vizinho. A Elena é muito atenciosa e te ajuda no que for preciso em relação a sua estadia. Recomendo esse apartamento.
Sergio
2017-02-25T00:00:00Z
Elena's apartment is just perfect! Beautiful, very tasteful, very well equipped: there's everything you need to full enjoy your holiday in Losanne! It's also near the centre, you just go out and enjoy the beauties of the city: I warmly reccommend it!
alessandra
2016-01-21T00:00:00Z
The reservation was canceled 116 days before arrival. This is an automated posting.
Robert and Wendy
2014-05-11T00:00:00Z
Very clean and comfortable flat. Central and convenient. Mara was lovely and helpful. Quiet even though on drive through street ( although not a Main Street). I had a good 3 weeks there. Very nice bed! Good wifi. Double glazed Windows.
anna
2016-03-01T00:00:00Z
Elena est très sympathique ! Réactive et arrangeante. L'appartement est idéalement situé et vraiment très sympa ! Merci encore pour l'accueil
Benjamin
2015-10-22T00:00:00Z
The apartment is centrally located and very near the Ours metro station, which makes it very easy to get around Lausanne. Also within a beautiful walk to all the action in the city centre. The apartment was very clean and well furnished as advertised. Would stay there again.
Andre
2015-11-14T00:00:00Z
The property is centrally located in the heart of Lausanne and well served by local amenities. Public transport is only a few minutes away (Ours station - metro line M2) with a direct connection to Lausanne mainline railway station. A large ocal supermarket (coop) is located on the same street with numerous restaurants and cafe's close by. The property itself is very nice with a lovely view of the mountains. The property as a large television; washing machine; microwave; coffee machine etc so is comfortable for both long and short stays. The property is on the 4th floor, however the building does have a lift for those that do not want to take the stairs. Elena was an excellent host during my stay and most accommodating. Highly recommended.
Darren
2017-03-01T00:00:00Z
Très belle endroit ! Tout était parfait ! Comme d'habitude !
julie
2016-01-09T00:00:00Z
Tipo de Quarto
Casa inteira/apto
---
Tipo de Imóvel
Apartamento
---
Acomoda
2
---
Quartos
Lausanne, Vaud, Suíça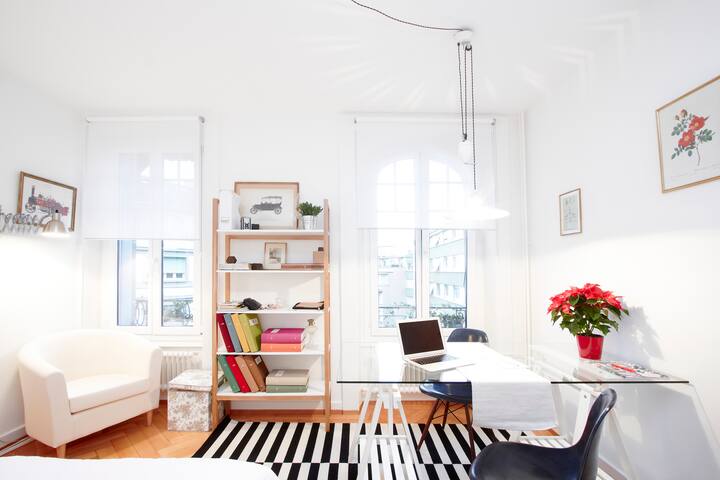 Meu lugar está localizado no coração de Lausanne, no bairro vibrante e autêntica de Palud. Recentemente remodelado e totalmente equipado é um minuto a pé de transportes públicos, restaurantes / bares, a catedral e todas as atracções turísticas.
É um apartamento de dois quartos no 1º andar do edifício, sem elevador. É totalmente equipada e tem tudo que você precisa para desfrutar de uma confortável férias. roupa de cama Quarto 1: cama de casal, TV HD Quarto 2: cama de casal e duplo sofá-cama, TV HD padrão de hotel, limpo e mudado pela empresa de limpeza profissional, mudou após cada check-outs Cozinha: fogão, geladeira, microondas, máquina de café, torradeira, máquina de lavar loiça, máquina de lavar roupa e todos os utensílios de cozinha Casa de banho: banheira, recém-toalhas para cada hóspede, sabonete líquido, shampoo e gel de banho para lavar limpo Hall: lugar para a bagagem, um guarda-roupa, frigorífico vinho
Appartement calme agréable, très propre et proche de toute commidités.
Reboulet
2017-01-01T00:00:00Z
Die Kommunikation vor der Reise war super. Alles war klar und die Wohnung selber auch super. Alles in allem ist die Wohnung sehr zu empfehlen um einen stressfreien und tollen Aufenthalt zu haben.
Lars
2017-03-26T00:00:00Z
Lovely apartment. Great location for getting around the city. Hassle free check in and check out. Recommended without hesitation.
Marcus
2017-03-03T00:00:00Z
Situation confort et propreté
pascale
2017-02-05T00:00:00Z
Maris's apartment was really comfortable, cosy and perfect for our family holiday in Lausanne. It was extremely well located and we were a 5 minute walk from great dining options, shops and cafes right in the town center and only a 15 minute walk from the train station. I'd definitely stay here again and recommend others to!
Jiun Yi
2017-02-20T00:00:00Z
The check-in process upon arrival was smooth and we found the listing very comfortable and accurate. Maria even went so far as to personally deliver the tissue paper that her cleaning lady forgot to provide. An overall amazing experience and stay.
Calvin
2016-12-07T00:00:00Z
Maria was a great host! Easy communication and easy check in. Great central location not far from metro (But the street is a bit hard to pull luggage on.) The apartment is spacious and beautiful. The beds and sofa were comfy. Kitchen well equipped. Wifi works great. The shower would be too small for someone over 80-90 Kg ( I'm 80kg and the shower is almost too small for me.) Would definitely come back.
Perapong
2017-03-25T00:00:00Z
Good
Yangchuan
2016-12-27T00:00:00Z
Tipo de Quarto
Casa inteira/apto
---
Tipo de Imóvel
Apartamento
---
Acomoda
6
---
Quartos
Lausanne, Vaud, Suíça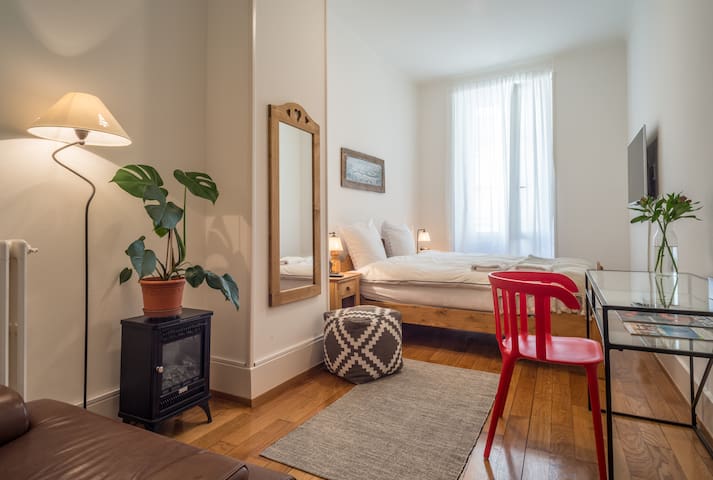 Bom para duas pessoas para estadia e tem uma bela vista para o lago na varanda. Perto do centro, Resto Bar, Compras andando pela rua. 10 minutos para Museu Olímpico por perto no lago e você pode montar um grande destation barco para Vevey, Montreux, Genebra e Evian.
Residence centro da cidade, vista para o lago, o comércio centro comercial perto etc ..
bairro residencial, a oeste de Lausanne, perto do lago paragem de autocarro No. 9 ou 12 é de 50 m para chegar ao centro da cidade
Jack and his lovely wife were terrific host. The room was bright with a little balcony and a view. We had our own private bath for our use. Walkable to the center of the city. Make sure you take a paddleboat ride on Lake Geneva and don't miss Chaplin's World.
Jeff and Donna
2016-10-17T00:00:00Z
prévenance et disponibilité.
Solnon
2016-10-23T00:00:00Z
A very quiet and nice place, well situated! Jack and his wife were great hosts.
Margot
2016-11-08T00:00:00Z
Super séjour d'une nuit à Lausanne ! La chambre louée par Jack et Melrose, est très agréable, bien aménagée, avec un petit balcon vu sur le lac. Le logement est proche du centre, nous y sommes allés à pied et nous avons pu se garer proche ! Nous recommandons vivement ce logement pour séjourner sur Lausanne, les hôtes sont très sympathiques, très beau quartier.
Julie
2016-08-23T00:00:00Z
Jake and his wife is very nice, we have a good stay here, the view is great.
Yadong
2016-09-15T00:00:00Z
Jack and Rose are very friendly and accommodating. They helped me a lot during my first days in Lausanne and made me feel at home. The apartment is kept very clean and tidy. I had my own bathroom and I could use the kitchen to cook - which was very handy, since I stayed there for two weeks. Superb view over the lake, spent hours at the balcony! Highly recommended!
Stella
2016-10-02T00:00:00Z
This room n host are amazing! They have small balcony with beautiful view of the lake! The room is clean n cozy! Jack n Rose are both friendly n helpful! Their little cat is also cute! It's not far from city center, but you have to change once if taking bus. It's a small disadvantage, otherwise their place is perfect!
Albee
2016-08-12T00:00:00Z
Melrose and Jack provide a pretty view from a peaceful clean bedroom with a small balcony. Melrose was available to answer our questions and show us around the apartment and she graciously helped us use their washing machine. Their cat Molly was a bit shy and stayed away from our room but she let both of us pet her, a big plus for us animal-lovers. Highly recommended. Thank you Jack and Melrose!
Becca
2016-08-26T00:00:00Z
Tipo de Quarto
Quarto inteiro
---
Tipo de Imóvel
Apartamento
---
Acomoda
2
---
Quartos
Lausanne, Vaud, Suíça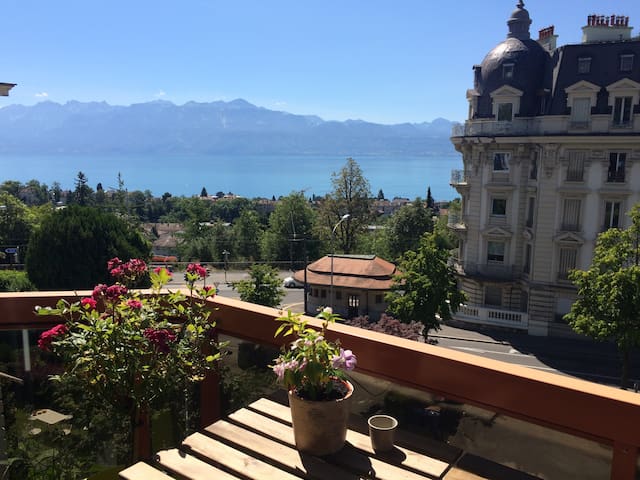 In ons vrijstaande huis aan de rivier de Doubs en fietsroute, hebben we een complete etage voor u ingericht. U kunt er comfortabel leven met max. 5 personen. Van alle gemakken voorzien. Uw huisdier is van harte welkom samen met u. (geen extra kosten) Eigen opgang en een adembenemend uitzicht over het doubsdal vanaf uw terras. Inbegrepen in de prijs: lakens, handdoeken, belastingen, verwarming, schoonmaak, gratis parkeren, glasvezel internet. Graag tot ziens in ons "maison imparfaite" .
Ruime vakantiewoning voor max. 5 personen en uw huisdier in de bovenste etage van ons huis. 2 slaapkamers, 1 woonkamer, goed ingerichte keuken, badkamer met inloopdouche, grote tuin met terras, internet en parkeerplaats. Uitzicht op de rivier de Doubs en fietspad euro6. Lakens, handdoeken en schoonmaak bij de prijs inbegrepen. U kunt ontbijt en /of diner door ons laten verzorgen. Ontbijt 12 euro per persoon, diner 25 euro ( 4 gangen, koffie en wijn inbegrepen) per persoon.
Aan de rivier de doubs en fietsroute Nantes- Budapest. Achter ons huis een spannende grot om te ontdekken. We hebben geen eigen zwembad maar we zwemmen in de Doubs.
We hebben genoten van ons verblijf in La Maison Imparfaite. Het appartement was van alle gemakken voorzien, de omgeving was prachtig en de gastheer en - vrouw waren enorm gastvrij. We hebben de grot nog niet kunnen bezoeken, dus we moeten nog eens terugkomen, maar dat is zeker geen straf!
Belinda
2014-05-03T00:00:00Z
La maison imparfaite ist idyllisch gelegen mit einem wunderschönen Blick über den Garten direkt auf den Doubs. Die Wohnung selbst ist perfekt ausgestattet und sehr gemütlich und geschmackvoll eingerichtet. Die Gastgeber sind ausgesprochen herzlich, wir haben uns dort sofort wohl gefühlt und würden auch jederzeit sehr gerne wiederkommen. Ganz herzlichen Dank!
Annette
2014-09-10T00:00:00Z
Net een nachtje met het hele gezin in la maison imparfait gelogeerd. Een hele mooie, rustige plek met een mooi uitzicht. Voor ons een perfect overnachtingsplekje op weg naar zuid-frankrijk. Alles was er: een campingbedje, kinderstoel, vermaak door de kippen en een heerlijk ontbijt!
Sanne
2016-08-09T00:00:00Z
Sehr angenehmer Aufenthalt an einem tollen Ort – alles abdere als «imparfaite». Pauline ist eine offene, freundliche, unkomplizierte ubd sehr grosszügige Gastgeberin. Besten Dank für alles!
Kristján
2015-10-02T00:00:00Z
très bon acceuil , la location correspond au photos. a refaire très vite
Gerard
2016-10-09T00:00:00Z
Accueil parfait, logement agréable et bien équipé, très calme. Emplacement rêvé proche d'une grande ville mais quand même isolé de la fréquentation, beaucoup de possibilité de ballades et de visites.
Alain
2014-12-28T00:00:00Z
Très bon accueil, logement parfait, quartier agréable, en face du doubs pour les balades.
Cedric
2015-10-20T00:00:00Z
Un petit appartement charmant et très fonctionnel avec une cuisine super bien équipée! La propriétaire nous a accueilli très gentiment et donné plein de bons conseils (dont un excellent resto pour le soir : le charleston à Beaume les dames ... elle nous a aussi fait découvrir des gourmandises de son jardin : pâtés de fruits etc. Bref une excellente étape pour les cyclistes, la maison est à deux tours de roue de la veloroute
Laurent
2016-10-23T00:00:00Z
Tipo de Quarto
Casa inteira/apto
---
Tipo de Imóvel
Apartamento
---
Acomoda
4
---
Quartos
Fourbanne, Franche-Comté, França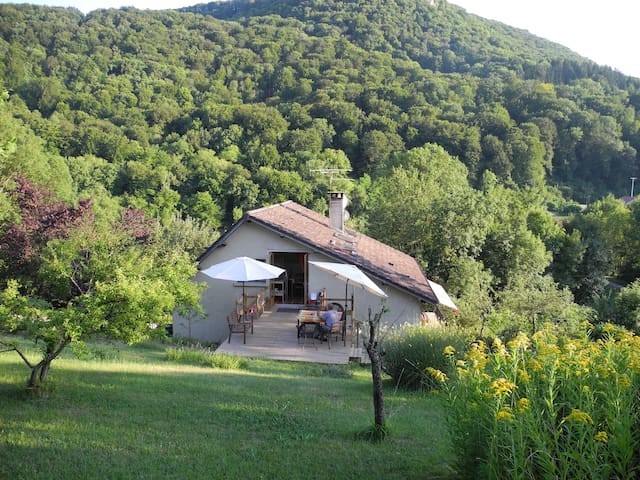 Appartement neuf pour 2 à 3 personnes, dans vieille grange en pierre avec vue panoramique sur le lac Léman et sur le château d'Allaman. Cuisine toute équipée, baignoire balnéo, wifi, T.V, machine à laver, sèche linge garage. Calme et confort. Plage à 500 m, Evian à 3km, pistes de ski à 10 min , golf 18 trous 3 km termes 3km, piscine 4km , acros branche 14 km, frontiere suisse 15 km,... New apartment for 2 to 3 people, in old stone barn with panoramic view on the Lake Léman and on the castle
Le charme du mélange de vieilles pierres, de bois et d'aluminium dans un cadre enchanteur entre lac et montagne.
Petit village à proximité d'Evian, la Vieille Eglise est un quartier résidentiel calme et en bord de lac pres d une petite eglise . Un Intermarché est à 500m. Small village close to Evian, Vielle Eglise is a quiet residential neighbourhood on the lake. A supermarket is less than 500m away.
房东非常的热情。房间是新装修的非常的干净。离依云小镇很近。非常非常棒的房子。
学诚 rey
2016-09-11T00:00:00Z
Ghislaine and Eric where outstanding hosts. The place is beautiful and they had everything ready for us. I would love to stay there again but for longer next time. Thanks again, your place is a piece of paradise. Chris
Chris
2016-09-26T00:00:00Z
Eric en Ghislaine zijn twee warme mensen en hebben met hart en ziel aan dit appartement gewerkt. We hadden een prachtig uitzicht over het meer en de locatie is rustig en heel landelijk. Ideaal voor wie houdt van de echte natuur en landbouwomgeving in combinatie met de grootsteden zoals Evian en Montreux . Op enkele minuten van lokale haventjes waar je altijd vriendelijk bediend wordt. Bedankt voor de lekkere attenties die ons verblijf een special touch gaven.
Patrick
2016-07-29T00:00:00Z
Séjour court très agréable. Appartement refait à neuf, couple d'hôtes très sympathique. Peut-être notre meilleur experience Airbnb, merci encore!
Philippe
2016-09-20T00:00:00Z
Wir hatten eine super Übernachtung bei Ghislaine & Eric. Sie haben uns nett in Empfang genommen und alles erklärt, alles war sehr unkompliziert. Die Unterkunft ist noch gemütlicher als auf den Bildern zu erkennen ist. Wir kommen gerne wieder!
Caren
2016-09-19T00:00:00Z
Very walm welcome from the host who took the time to explain everything needed. The view is as beautiful as in the pictures and the house very cosy as well. An overall very pleasant stay. Thank you.
Eileen
2016-08-29T00:00:00Z
Nous avons inauguré l'appartement de Ghislaine et Eric. Cet appartement est très bien agencé et fait avec beaucoup de goût et d'idées, on s'y est senti vraiment bien. Nous avions une vue sur le lac c'était superbe . Les propriétaires sont d'une immense gentillesse, on a l'impression d'arriver chez des amis de toujours. Ce sera mon adresse lorsque je vais revenir à Evian.
Charles-William
2016-06-22T00:00:00Z
We loved our stay with Ghislaine and Eric! They were super helpful and friendly. The location was amazing, outside of town, close to beaches, a great restaurant nearby, and a general feeling of peacefulness while we were there. We would not hesitate to recommend their place or stay there again ourselves.
Jonathan
2016-07-10T00:00:00Z
Tipo de Quarto
Casa/apto inteiro
---
Tipo de Imóvel
Apartamento
---
Acomoda
3
---
Quartos
Lugrin, Auvergne Rhône-Alpes, França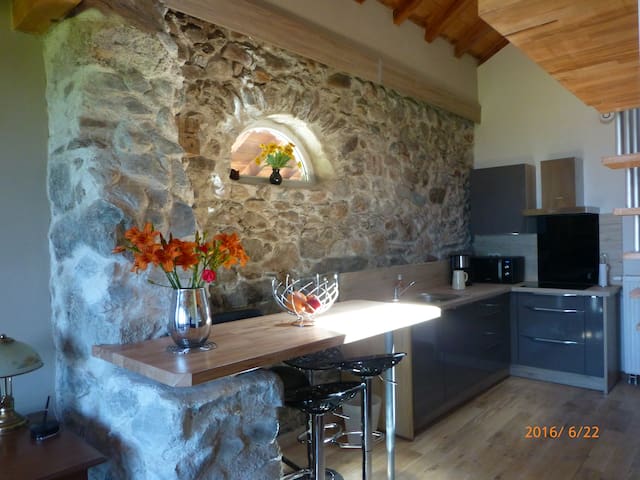 Franche-Comté - Airbnb
:
Média de

4.78

de

5

estrelas, de acordo com

1119

avaliações de hóspedes
1

–

18

de

300+ Alugueres de Apartamentos
Insira as datas para ver o preço total. Taxas adicionais aplicáveis. Podem ser adicionados impostos.