Our clean, comfortable cabin in Pioneer has everything you need to enjoy your time in the Sierra Nevada Foothills. Our cabin is a great place to relax and enjoy many activities including hiking, skiing, golfing, gambling, wine tasting and much more. Yosemite is approximately three hour drive from my cabin.
Our cabin in Pioneer is at a perfect location to enjoy both the Foothills and the High Sierra. The elevation of the cabin is 3,100 feet. The elevation is high enough to escape the valley heat but low enough so travel to the cabin in the winter is usually easy. During the winter the cabin occasionally receives significant snowfall. The cabin is close to snow parks and world class skiing at Kirkwood. Gambling at Jackson Rancheria Casino is a short twenty minute drive. The cute towns of Sutter Creek and Plymouth are close by and both have excellent wine tasting. Volcano is a fifteen minute drive, the town has restaurants and live performances in the evenings. Volcano is also close to Black Chasm Cave and Indian Grinding Rock State Park. Finally, Bear River Reservoir and Silver Lake are close by. Both offer excellent boating and fishing opportunities. Yosemite national Park is approximately a 3 Hour Drive from my cabin. We have satellite TV in the living room and the bedroom. The kitchen is stocked with everything you need to cook and barbecue. The washer and dryer works great for your laundry. The upstairs loft/bedroom has an air conditioner and heater that works great for creating ideal sleeping conditions. Downstairs the cabin can be heated using the wood burning stove or cooled using fans. Sleds are in the shed for recreational use. There are videos and games to play as well located near the TV sets. We will not be present during the stay. Our property manager will greet you and show you around the cabin. Please be sure to read the house rules as there's information about bedding and laundry expectations that you will need to know before checking in. Thank you. The neighborhood is peaceful and quiet. Deer and wild turkey have been seen frequently from the deck in the afternoon and evenings while relaxing on the deck. You'll need your car to get around because there's no public transportation close by. There is a taxi service available.There are many things to visit within half an hour drive or closer. Bring your cell phones, there is no connected land line. Cell phone reception is marginal at times but Pinegrove just down the road at the Post Office gets cell reception. I get reception a lot of times on the deck or by the kitchen window inside the cabin. There is no Wi-Fi.
The neighborhood is peaceful and quiet. Deer and wild turkey have been seen frequently from the deck in the afternoon and evenings while relaxing on the deck.
My and my daughter returned to our favorite place near Kirkwood. When we came to the lodge after a long day of skiing my daughter said "Home sweet home" - need I say more!
Sameer
2015-02-08T00:00:00Z
The cabin was exactly what I wanted! The seclusion and privacy was what I had been looking for, between "city" trips to Marin and the Bay Area. Amy the property manager was welcoming; the homemade frittatas she provided at check-out were wonderful and the gesture was so thoughtful. The beds were very comfortable; the shower was great. It was like a home away from home. The HDTV should be mentioned, as well, because it was great to be able to watch TV in the evenings. Also, the cabin is air conditioned and has ceiling fans, which is important in the summer when the daytime temps are quite toasty! In the evenings the temps cooled down, and I opened the windows and enjoyed the mountain air. I would recommend the cabin to anyone who appreciates the quiet of the mountains, and wants a little "home away from home."
Pamela
2015-06-16T00:00:00Z
Amy was wonderful and helpful in pointing out what we needed to know about the house. The house was perfect for our relatives coming from Australia with their 3 children...yes! They all were comfortable in the little house. It may be a small house but it was far, far more comfortable and charming than the local motel room. It was clean and perfect for their stay.
Donna
2015-10-11T00:00:00Z
We had a wonderful and relaxing time at the Peaceful Pioneer Cabin. It was just as described, with a well-equipped kitchen (full of cooking utensils/equipment) and a lovely wrap-around deck. It was fairly secluded, and I found a great running route on the back roads up above the cabin. The pups were also comfortable and had fun sniffing around the backyard and lounging on the porch. We found quaint towns and dog-friendly wineries nearby. Cheryl (the owner) was extremely friendly and responsive via email/text and Ann (the greeter) was equally friendly and accommodating! We would definitely recommend this cabin to dog-people! A great find and very affordable!
Kelly
2015-04-19T00:00:00Z
It was so nice to go back to Cheryl's cabin! She was very helpful with our very last minute booking. My partner and I wanted a place to relax and enjoy time with a dear friend before she moved away to Australia and this place was perfect. Amy greeted us and made sure we had everything we needed. She is lovely. Can't wait to go back
Aaron
2016-01-28T00:00:00Z
This was a fantastic place to relax and disconnect! The place looked even better than it does in the pictures! Amy the greeter is super nice and welcoming. Once you get the wood stove going the whole first floor gets nice and toasty. If you're lucky enough to see it snowed like me, it is absolutely stunning. As long as you leave the place like you found it check out was a breeze! I would definitely recommend this place to anyone! Can't wait to come back!
Eric
2017-01-13T00:00:00Z
This cabin is perfect for a outdoor family getaway. Close to the slopes and to the trails. No real complaints being that there is no wifi and a scant movie collection. Nice deck comes with a grill.
John
2016-11-23T00:00:00Z
My husband, 2 large dogs and I had a wonderful time at the cabin. It was very clean and fully stocked with any item you may need while vacationing in the woods. The area is beautiful with mature trees and a stream that runs through the property. We were even lucky enough to see snow while we were there. Cheryl is always very helpful and prompt with her responses and Amy couldn't be more helpful and accommodating onsite. As a note: Please read the information provided by Cheryl and Amy online about the cabin. There is not a wi-fi connection or cell phone service while on the property. With that said, they make that very clear in their description and if you are going to spend time in the woods, then you should not be worried about wi-fi or your cell phone. Enjoy the nature!!! Thank you both Amy and Cheryl! We had a wonderful time and look forward to coming back again soon. :)
Jackie
2016-11-28T00:00:00Z
Tipo de Quarto
Casa/apto inteiro
---
Tipo de Imóvel
---
Acomoda
6
---
Quartos
Pioneer, Califórnia 95666, Estados Unidos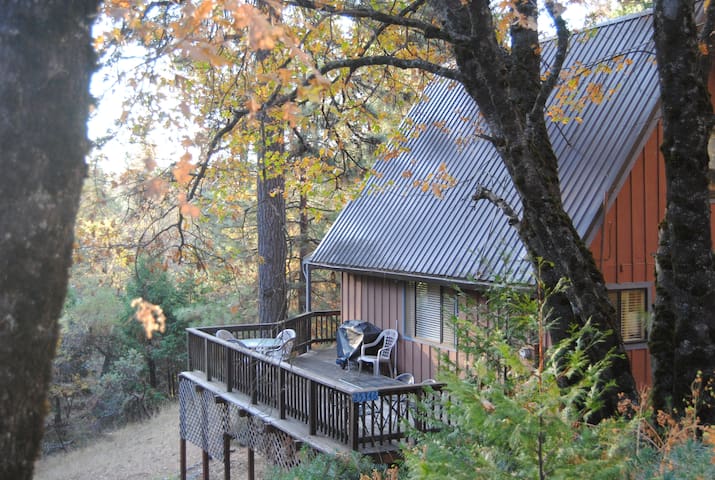 Discover a quiet retreat within Amador County California: the Pioneer Inn & Suites. You'll enjoy a relaxing 10-acre getaway in the town of Pioneer inside the El Dorado National Forest, centrally located near Sutter Creek and Jackson, as well as Kirkwood resorts and skiing. Clean and affordable, the Pioneer Inn & Suites offers a full range of amenities to accommodate everything from weekend getaways to family vacations and reunions. Our Amador Wine Country hotel offers select pet-friendly room.
This a a rustic inn with amenities like complimentary internet connection, an outdoor pool and a spa to enjoy from 10:30 AM till 9:30 PM.
The inn is located in an idyllic location that is calm, quiet and very serene. The pool area is a great place to relax and the open meadows and the hillock is a great place to hike. There is an on-site pub that serves beer and wine and some food too.
I was pleasantly surprised by this place. My room was large and for the most part well kept (carpet could have used a vacuum). The area is beautiful. Sitting on the back patio I had a view of the pool/hot tub (which we really enjoyed) and wonderful trees. Felt really isolated even though it is right off the highway. You really can't beat it for the price. I think the restaurant was not open when I was there. Not sure if out of season or just shut down. Regardless ended up going to a cute pub in nearby Volcano. All in all: a great location for a weekend getaway.
Spencer
2016-10-11T00:00:00Z
Excellent communication, incredibly genteel people, great location. Amazing experience.
Bruce
2016-10-05T00:00:00Z
Rick was a great host-super communications and the room and property were very much as described. I had a brief but enjoyable stay.
Don
2016-11-01T00:00:00Z
Rick is such a great communicator loved how quickly he had answers for you prior to your arrival. Thanks Rick
Ana
2016-10-28T00:00:00Z
From the moment I booked our room, Rick was wonderful! He followed up with a phone call immidiately after I booked, even though I am fairly convinced he was on the East Coast at the time.. 3 hour time difference and I booked at 8pm PDT. Super friendly and accommodating. I rated the accuracy of photos a 5, but it was actually inaccurate. The rooms were so much NICER than the photos published. The managers live on-site and everyone at the front desk were so nice. My daughter managed to lock us out of our bathroom and I didn't notice until I needed it, and it was 9:30pm. Stacey (sp?) at the front desk was awesome! She let me use her bathroom and then walked to our room and got us back into the bathroom with a paperclip! She was wonderful! I did try to duplicate locking ourselves out and was unable to do so, so I believe this is not a common occurrence. The pool and spa were amazing and very clean. The Inn is right on Hwy. 88, so di expect some traffic noise. It was not noisy enough to keep my two children up, one of whom is a very light sleeper. Do note that this is an Inn with multiple rooms. I needed 2 rooms and Air BnB would only allow me to book one room for the same specified dates. This was one of the reasons why Rick called me after booking.. he was able to make sure that I received the 2 rooms that I actually needed. This trip was a Moms trip only, but with my living only an hour away, I will definitely be back on a regular basis with my husband... I loved this place that much! I will only add that on the second day of our stay, Rick emailed me to make sure that we had everything we needed and were enjoying our stay! I highly recommend! A real GEM!
ChinaBlue
2016-09-07T00:00:00Z
Tipo de Quarto
Quarto privado
---
Tipo de Imóvel
---
Acomoda
4
---
Quartos
Pioneer, Califórnia 95666, Estados Unidos
35 miles to Kirkwood Ski Resort 11 miles Jackson Rancheria casino, 2 min. Mace Meadow golf, explore the mountains, high Sierra lakes, streams and many wineries all within minutes away. Tour the caves, gold mines and historic Gold rush towns
Check out cleaning instruction All floors should be vacuumed and at least spot clean any spills. Kitchen should be left as you found it. Please clean the sink and wipe the counters. Take out all garbage from kitchen and bathrooms. Clean the barbeque if you used it.
We were welcomed to a cozy home with its amazing structure which made the entire space very enjoyable. Hardly any walls separated the guests from each other and the interactions just became more meaningful. Thoroughly enjoyed the patio with its ample shade. It is perfect to enjoy a book or simply lounge out. Thank you,
Nishant
2016-08-07T00:00:00Z
Had a very relaxing and enjoyable stay at the Magical Dome. Loved reading and having coffee outside on the wrap around deck and watching the hummingbirds and turkeys. Rodica was accommodating and communicative about check in/check out times. Our dog really loved the outdoor area as well and was a big fan of the plush carpet in the master bedroom. Just a really cool house that feels very spacious and the location is a great halfway point between Lake Tahoe and Lodi/Sutter Creek. Felt like I was on a yoga retreat without having to do any yoga, would totally come here again with a couple friends. In short: the Magical Dome is magical.
Margaux
2016-07-08T00:00:00Z
The name says it all! We spent three glorious nights at the Dome and had such an amazing time as a family. We played games. Sat together at the booth for meals. We loved, loved, loved the deck. NO shortage of deer, wild turkeys, or hummingbirds. Location close to caverns and Tiger Creek swimming hole. We are already planning our return. Thank you for sharing your lovely home.
Dawnne
2016-07-19T00:00:00Z
The magical Dome was wonderful! My girlfriends and I enjoyed it for a weekend, it was perfect for my bachelorette get together. Super cozy and clean. The deck was awesome, really enjoyed hanging out on it. Rodica is a great, attentive host. Thanks again! Can't wait to come back :)
Jamie
2016-09-19T00:00:00Z
Nous avons été très enthousiasmés par notre séjour au Magical Dome. Cette maison très unique se situe dans un endroit très calme et est propice au repos. La cuisine est bien équipée et fonction à l'entraide mutuelle, on remplace ce qu'on utilise. La maison est bien entretenue et fonctionnelle. Nous avons pu nous déplacer jusqu'au Lac Tahoe et au Yosemite en quelques heures de voitures. Ce logement est à recommander sans réserve.
Frederic
2016-06-28T00:00:00Z
The magic dome was perfect for my family get away. The dome is perfectly arranged-cozy, yet has everything you need. Can't wait to go back again!
Nicole
2017-01-17T00:00:00Z
Cozy place in a quiet, wooded setting. Perfect for a getaway.
David
2016-10-02T00:00:00Z
Cabin is freezing, we had to wear coats and blankets the entire time. There are 2 space heaters, but if you plug them in at the same time it will blow the fuse. There was supposed to be a table that could accomadate 10 people, but it was broken. Host later blamed us and charged for something we had not damaged.
Cordelia
2016-12-22T00:00:00Z
Tipo de Quarto
Casa/apto inteiro
---
Tipo de Imóvel
---
Acomoda
10
---
Quartos
Pioneer, Califórnia 95666, Estados Unidos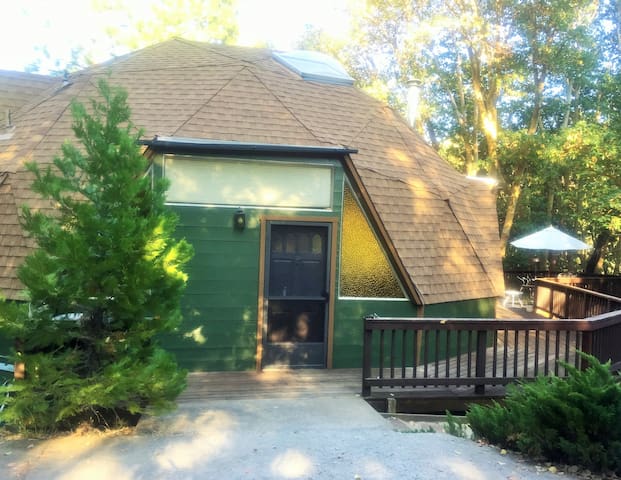 My place sits on Mace Meadows golf course and is close to Kirkwood Ski Resort, South Lake Tahoe, Carson City, Reno, Historic Amador County, Fishing, Camping, Jackson Rancheria Casino, Community Theater, gold mining and more. You'll love my place because the views are beautiful, the home is custom and beautiful yet comfortable and cozy. There is enough room to not be on top of each other. It's an amazing home. My place is good for business travelers, families (with kids), and big groups..
High speed internet is on site. Beautiful custom designed home with all the amenities you need for your stay. Large dining room table in the custom kitchen for large groups to eat together. Relax in the upstairs living room. Spend time on the 2 level decks Play some board/card games on the poker table or simply enjoy some tv on the large and comfy couch, all located in the spacious downstairs family room.
Beautiful and quiet golf course neighborhood. Great place for taking walks down to the beautiful pond on the golf course or just enjoying the tall trees and nature that surrounds this neighborhood. Golf course restaurant is open just down the street or enjoy other small town restaurants in Pioneer. Local grocery store about 3 minutes away. Great place to relax and enjoy the quiet surroundings.
Tipo de Quarto
Casa/apto inteiro
---
Tipo de Imóvel
---
Acomoda
9
---
Quartos
Pioneer, Califórnia 95666, Estados Unidos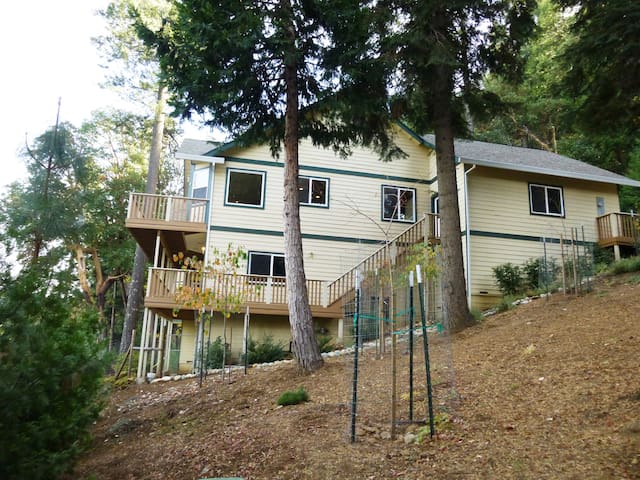 Discover a quiet retreat within Amador County California: the Pioneer Inn & Suites. Enjoy a relaxing 10-acre getaway in the town of Pioneer inside the El Dorado National Forest, centrally located near Sutter Creek and Jackson, as well as Kirkwood resorts and skiing. Area attractions include Kirkwood Mountain, Indian Grinding Rock, Jackson Rancheria Casino, Vineyards etc. Being just 45 minutes away from Kirkwood Mountain Resort, this is the perfect skiing trip lodging option.
We are a rustic inn. Guests will have full access to the apartment and will enjoy full benefits of the large space and full kitchen. Other amenities include daily housekeeping, great internet access and the use of the outdoor pool (not heated) and hot tub. We are also pet-friendly. There is an extra pet fee. The office has staff on-site from 10 AM till 10 PM and will always be of help with any guest needs.
We are located on California's scenic highway 88. Pioneer is a small town with very limited eating options and the town goes to bed early. So please plan everything accordingly.
Tipo de Quarto
Casa/apto inteiro
---
Tipo de Imóvel
---
Acomoda
6
---
Quartos
Pioneer, Califórnia 95666, Estados Unidos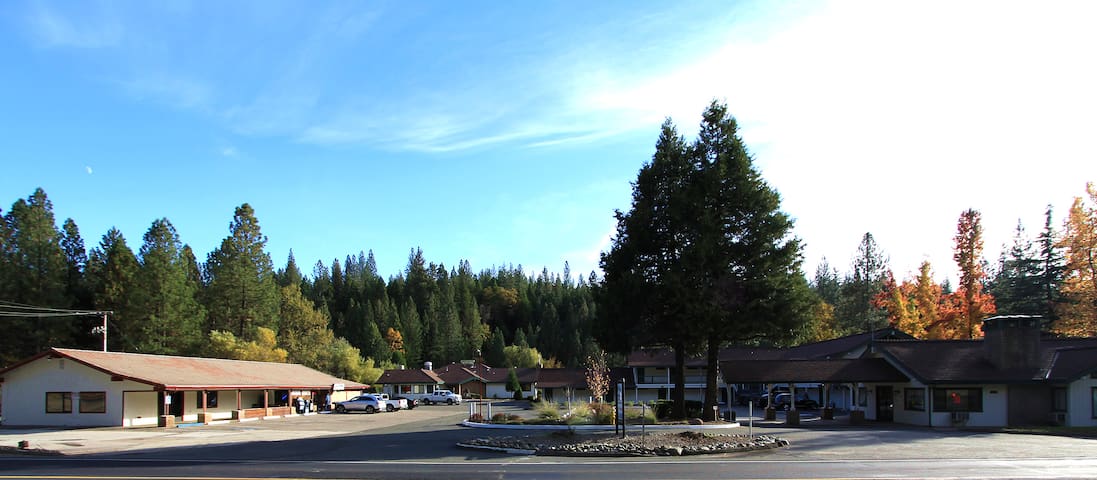 Gorgeous Gold Country Retreat located between the Wineries of Shenandoah Valley and Kirkwood Ski Resort. Created for those who expect the best in quality, Imagine getting away from it all but still enjoying the lap of luxury.
4 very comfortable bedrooms with all pillow top mattresses. All bedrooms are beautifully furnished and good size. 1 ex large master suite 2 king beds 2 queen beds 3 full bathrooms. *single daybed sofa in master suite /media room ( for child ) Fully Equiped Gourmet Kitchen with Wolf Range. Round Dining Table with 8 chairs weekend getaway far from the hustle bustle of the city. Come sleep among cedars, maples and pines and take a deep fresh breath of mountatin air. A romantic getaway for couples or family retreat . Once you get here...you won't want to leave. The Charming Towns of Sutter Creek and Volcano are only 25min away . These towns are ideally situated in the heart of the Sierra Foothill Wine Country. Sutter Creek is Amador County's most walkable town with wonderful outdoor restaurants and shops along the main street. Sutter Creek is the perfect hub to begin exploring the Sierra Foothill Wine regions, including Amador's own Shenandoah Valley. The Wineries of Shendandoah Valley are 40 min away. The Stunning Caples Lake is only 30 min away. In 2006, Amador County was voted by Frommer's as one of the top 10 places to visit. The area is rich in history, small friendly towns, bucolic settings, outdoor adventures, underground tours, award winning wines and so much more. Come see for yourself why Amador is the best place to call your own private escape. Only 2-1/2 hour drive from the San Francisco Bay Area and just over an 1 hour- 1/2 from Sacramento. A host of activities await you in Amador County. The rolling foothills are dotted with quaint communities offering shopping, outdoor cafes, antiquing, and cultural events… answering the call of those looking for a slower-paced experience. The rolling hills can answer the call of those looking for more action with the likes of mine tours, hiking, golfing and biking. These hills are inner-twined with streams and lakes for fishing, swimming and water sports. The rolling hills aggressively convert to the towering cliffs and summits of the Sierras, answering yet the final call to those hooked on more extreme experiences, such as climbing, spelunking, skiing and off-road adventures.sorry - 25 min to Caples Lake ,Silver Lake or Bear River , take a swim or hike amongst California's most beautiful Sierra Mountains. Solar Heated~ Resort Size Pool. May thru September pool temp is 82-92 degrees Solar turned off in winter Standing Heaters down by the pool so you can still enjoy We can get a light snow December - January. Cleaning fee is for deep cleaning , laundry etc , we still expect the house to be left as it was found. Thank you We require you to complete Verified ID before you book with us Thank You PLEASE RESPECT OUR PROPERTY AND HOME If you're interested in having a small gathering, you must inquire within/ host . Limited parking at property This would also have to be approved and there is an event fee
country setting..surrounded by trees and other country properties. we have a private road shared by 2 properties. Now there's a new surge of interest in the area. The overcrowding of Napa has tasting groups in Plymouth — spread languidly across the bar at the Plymouth Hotel, which serves Vino Noceto on tap — lamenting. "You can't even get in on a Monday in winter," says one patron. There is a flurry of new wineries with different attitudes (and altitudes) focusing on different wines — from California heritage zinfandels to Iberian, Rhone and Italian varietals — being championed by roguish and talented winemakers and growers teeming with personality.
We had a great time at this property. The house is beautifully furnished with an artistic flair and impeccably maintained. The pool is wonderful - large and not too chlorinated, just a few steps from the house. This place is perfect if you are looking for a secluded private retreat. We had a great time wine tasting in the Shenandoah valley which is around 1/2 an hour from the house. The host was very gracious.
Addy
2015-09-08T00:00:00Z
Fantastic place, impeccably designed for a feeling of solitude with luxury. This is a beautiful house - even better than the pics. Tricia was helpful while we were planning my husband's birthday, recommended a private chef who we ended up hiring to cook the birthday meal in the house. Her kitchen is designed for cooking and there are plenty of places to just hang out on the property.
Parita
2016-08-22T00:00:00Z
The photos do not do this home justice. It is an extraordinary place and Tricia was a gracious host. We will definitely return, hopefully many times.
Robert
2016-07-11T00:00:00Z
We stayed at this lovely house with our toddler son and 2 other families. It was a perfect getaway--the pool feels like an exclusive resort, the kitchen has everything you need to prepare meals, and the bedrooms are very comfortable. The master bedroom has a fabulous tub that the kids loved! Additionally, Tricia gave us two great restaurant recommendations in the area!
Elizabeth
2015-07-28T00:00:00Z
The photos of the property don't do the actual home justice. The home is beautifully decorated and very warm and inviting. The property itself is very large and nestled away into the mountains. This home had everything you could possibly need in the kitchen to cook, the pool area was fantastic and the art work all over the house was amazing. Tricia through out the process was very friendly and helpful, very much a gracious host.
Mike
2015-10-13T00:00:00Z
Tricia's home is absolutely beautiful. Our group of 8 thoroughly enjoyed our weekend here over the 4 of July. Tricia was flexible on check in and check out times which meant we got to enjoy the amazing pool longer! Our group brought a bunch of food, and enjoyed the property for 2 days. We didn't do much exploring in the area but did stop in at Sutter Creek and some local wineries both of which were great. I would definitely recommend this home and would book again in the future.
Julia
2015-07-13T00:00:00Z
This house is just stunning! Tastefully decorated, spacious and very well appointed. We cooked and there was not one thing that we needed that wasn't there. Lots of pots, pans, glassware, everything! And the pool was stunning! I would definitely recommend this home. The owner was very responsive and easy to work with. Thank you!
Jill
2016-09-27T00:00:00Z
My two kids, their grandmother and I had a great weekend at this very special place between wedding activities at a nearly winery. The house is great: very comfortable for a family gathering. The gardens and landscaping surrounding the house and pool are truly spectacular. Bringing the two together were the fresh-cut roses (no doubt, recently harvested from the mature bushes that surround the house) in vases in the kitchen, family room . . . it felt like a rental "home," rather than a rental "house." My kids loved picking and eating grapes from the vine. I can't wait to return and put the mini-amphitheater to work! Tricia was a terrific host, providing all the information we needed and following up to ensure a comfortable stay. My first airbnb experience left a terrific taste in my mouth. We'll definitely be back.
Aaron
2014-10-15T00:00:00Z
Tipo de Quarto
Casa/apto inteiro
---
Tipo de Imóvel
---
Acomoda
8
---
Quartos
Pioneer, Califórnia 95666, Estados Unidos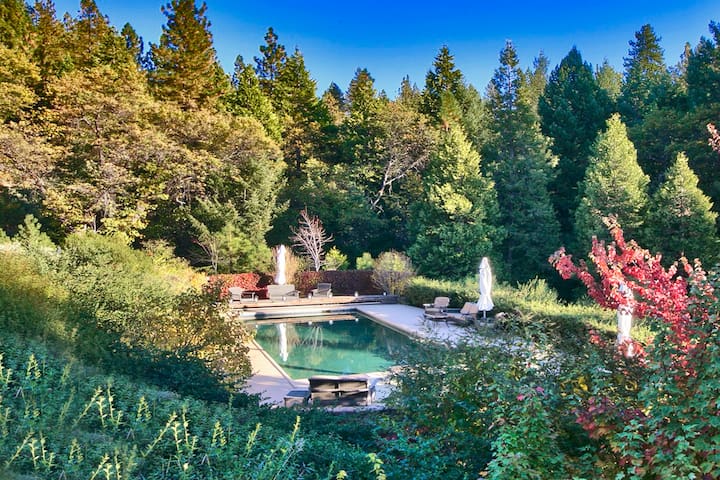 Insira as datas para ver o preço total. Taxas adicionais aplicáveis. Podem ser adicionados impostos.