Stunning 800 sq ft guesthouse on half acre mid-century modern estate. Private pool area and balcony with golf course views. Well stocked kitchenette includes a light breakfast. Quiet and cozy with 3 nearby freeways to access all LA has to offer.
Private, spacious, comfortable and luxurious 800 sq. ft guesthouse retreat on mid-century modern estate in the San Fernando Valley part of Los Angeles. This Kazumi Adachi (renowned Japanese architect) custom built home is perfectly situated on a hill above the 1st hole of the Knollwood Country Club. Extremely quiet and secluded. Private entrance includes secure access directly from off street parking. No stairs to navigate anywhere on property. Kitchenette features full-size refrigerator, coffee maker, electric kettle, toaster and microwave. There is no stove or oven. There is however a top of the line outdoor BBQ that is available for guest use. TWO bathrooms both with showers (no bathtub). Lots of storage and hanging space for clothing. New 48" Samsung flat screen TV with premium cable, Netflix, TiVo (stocked with our favorites), free WiFi throughout the property, quiet central AC and heat. Recently added a Sonos 5 speaker, bring some music to enjoy! Super cozy queen bed with luxurious linens. Direct access to swimming pool. Patio includes a ping pong table, BBQ, sitting areas, lounge chairs and large umbrellas. There even is a filtered water fountain! Amenities galore such as bath and pool towels, individual soap, shampoo, conditioner, lotion, ear plugs and more! Close to CSUN, Hollywood, Magic Mountain and public 18 hole golf course with driving range. Great for walking and exploring the unique architecture of 60's and 70's Los Angeles including the largest collection of Eichler homes in the western states. Situated within a public golf course community, the clubhouse is a 5 minute drive from property. A quick 10 minute drive to Cal State Northridge and several local hospitals. Local airports include Bob Hope Airport (BUR or Burbank) approximately 15 minutes drive, LAX is 30 - 45 minutes drive depending on traffic. There is also a direct bus from LAX that gets you very close to our home, the bus cost is less than $10.
Very quiet neighborhood in close proximity to the best the San Fernando Valley has to offer. Located near to Cal State Northridge and several local hospitals. Surrounded by mature trees and outside of the usual Los Angeles mayhem, but close enough to drive to all the tourist attractions daily if desired.
The neighbourhood was quiet and peaceful and the studio is even lovelier than described! The studio is beautifully decorated, from the gorgeous bed linen to the leather lounger chair in the corner. It was nice to have some extra space by having two shower rooms and toilets - we thoroughly appreciated the two hair dryers! Natali was so thoughtful with the things she left, mini toiletries, beach towels, toothbrushes, eye masks, yoghurt's and milk in the fridge, coffee, cereals and even home-grown grapefruit's. There was also a welcome pack with some ideas for restaurants, activities and maps for the area which were really handy. The pool area was beautiful and we made good use of the table tennis table too! The wi-fi is quick and reliable and can also be accessed from the pool area. Natali responded very quickly to any queries we had and she was super helpful, I'd recommend this gorgeous studio to anybody, we'll certainly be staying there again if we're in the area again. We really felt at home in the spacious yet cosy pool house. We loved it so much that we booked it again for a couple of nights right before the end of our trip!
Hannah
2015-04-10T00:00:00Z
Beautiful pool house nestled in the hills in a quiet and safe neighbourhood. Natali & Brian were very welcoming & provided us with lots of little extras which made our stay special, we especially enjoyed the shortbread which reminded us of home :) it was a spotless place & the dual bathrooms were fab. Lovely couple with a lovely home, we would recommend to anyone wishing a place away from the hustle & bustle of the city to relax :)
Hazel
2015-08-30T00:00:00Z
Natali's place was pretty cool. I was in LA for 24 hours, but I spent as much of it as I could in this studio. It was clean, separate, private, and had a very cool layout. I had a few hours to kill after checkout but before my flight and she let me stick around, use her WiFi, and drink the beer in the fridge. That beats an airport terminal any day. I would recommend this place and will look to stay here again next time I'm in town.
Dave
2015-01-23T00:00:00Z
Lovely and quiet... This mid-century modern getaway was a welcome refuge during a long wedding weekend. The host was welcoming and the property was sparkling.
Jim
2015-10-19T00:00:00Z
We absolutely loved our stay! The house looked even better than it does in the pictures, and the owners were generous and communicative yet gave us 100% privacy - perfect hosts. The neighborhood was lovely and peaceful. Honestly it felt like a replenishing spa retreat and we definitely want to come back. Thank you!
Sylvia
2015-02-16T00:00:00Z
Natali communicated so well with us about expectations, check-in and check-out. She made certain the fridge and cupboards were full of things we might like - AND WE DID! How did she know pop-corn was my favorite snack! The space was SUPER CLEAN and nice and cool (it was a very warm day). We had all of the toiletries we needed. We had to go to a wedding and it was the perfect place to get ready. AND it was a nice place to land after a super long day on Saturday. When it was time to leave, since no one was checking in after us, they let us take our time to vacate. It was SO QUIET and peaceful - just what we needed. We want to go back for a week in the fall to unwind!
Sherry
2016-02-29T00:00:00Z
Beautiful guest house in a perfect location. If you need a place to stay, this is the one to choose. Very quiet neighborhood and hosts were great. Thanks Natali and family!
Michael
2016-07-24T00:00:00Z
Natali was all that I could have imagined for in a host. She had an amazing welcome basket on arrival with a few bits to make it feel like home straight away! The house is perfect and the pool was great for the slightly lazier mornings! Natali was always on hand to answer questions and give delightful food tips, next time I am in LA again it will definately be to come back here.
William
2015-05-20T00:00:00Z
Tipo de Quarto
Casa inteira/apto
---
Tipo de Imóvel
Casa
---
Acomoda
2
---
Quartos
Los Angeles, Califórnia, Estados Unidos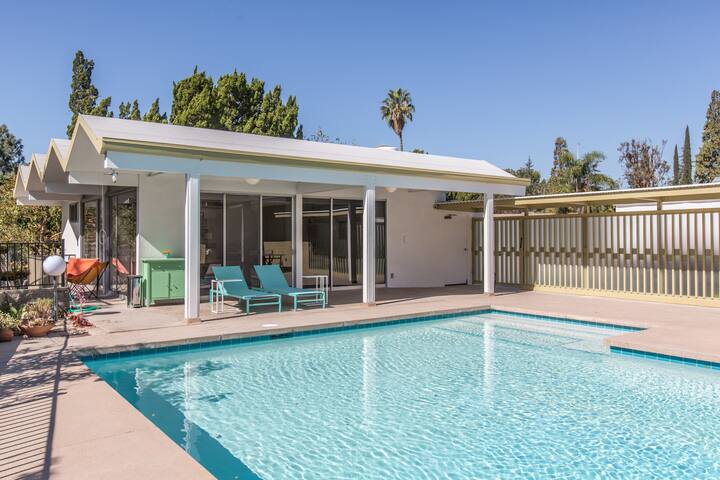 We would love to welcome all guest to Granada Oasis. A completely private, peaceful, comfortable, and newly remodeled Guest House. We are located in Granada Hills about 10 minutes from Cal state Northridge, blocks away from main freeways.
This private studio has everything you need while vacationing. Has a separate entrance and accommodates 3 with a Queen sized bed and a futon that folds down into a queen sized bed. Clean linens and towels will be provided for each arriving guest. There's a small fully equipped kitchenette so you can cook/prepare your own meals. Located in North San Fernando Valley in a very pleasant neighborhood. Some distances: Northridge Mall, 10 minutes California State University (CSUN), 10 minutes LAX, 40 minutes Burbank Airport, 15 minutes Universal Studios, 20 minutes Magic Mountain, 20 minutes Hollywood, 25 minutes Beaches: Santa Monica, Malibu, Venice: 35 minutes There is no charge for kids under 4
Very quiet neighborhood. There are convenient places nearby. Restaurants, fast food, grocery stores, theater, Costco and convenient stores within 2 miles ratio. Laundry mat is 1.5 miles away an the closest shopping mall is 5 miles away.
This is a convenient location if you are in the San Fernando Valley for business or personal reasons. The nicely-decorated apartment is very quiet. There is a comfortable bed with nice linens. All was very clean and neat and uncluttered.
Charlotte
2016-09-06T00:00:00Z
Had a good time:) Nice people and prompt to help or answer any questions that might come up. Would stay again if in town. Thank you:)
Karen
2016-12-26T00:00:00Z
Great experience at Vickys place. The room was clean. The bed and pillows were comfy. Even the towels were super soft. All amenities you could need, was available. We even had our own parking space. I liked how quiet the neighborhood was. Vicky herself was very nice, and told us we could reach out to her if we needed anything. Definitely recommend this place for families.
Mark
2016-06-13T00:00:00Z
This place is perfect for a Getaway if you know you just want a place to relax and see the city. There is Netflix automatically connected to the TV which was great for the rainy days we had during our stay. We were able to make our own breakfast because our host had utensils available. The only negative I have about this place was that the bathroom is a bit tight but honestly it wasn't really a big deal to me but might be a problem for some people. The location was great anywhere we were going we were always against traffic and within 20-35 minutes from any major spots. Thank you so much for a beautiful vacation. Next time I'm in LA I will definitely want to stay here again
Abby
2016-11-01T00:00:00Z
We were very happy with the space and was so convenient to our granchild's home.
Roberta
2016-10-19T00:00:00Z
Second time using airbnb and couldn't be happier. Had my family in town and they were extremely happy AND comfortable. Vicky's place is conveniently located near multiple freeways and nestled in charming Granada Hills. Thanks Vicky!
Jesse
2016-06-27T00:00:00Z
Our stay was very comfortable and relaxing. The place was very convenient. We were close to everything we needed. From Walgreens to Costco, anytime we needed anything, we were minutes away. In addition, the house was in a very safe and quiet neighborhood, which made our stay even more pleasant. The host family was very welcoming and made us feel right at home. The room had everything we needed, from wifi to a tv with an added Netflix account, we were covered. We had four of us in the room, and we never felt crowded or closed in, there was plenty of space for everyone. We made this trip to go to six flags, and having this place to come back to make our trip very smooth and stress- free. Highly recommend this place for any trips with the family or some friends.
David
2016-05-22T00:00:00Z
Vicky was extremely helpful in assisting me with all of my questions prior to my arrival. The unit itself was clean and looked brand new. Great little neighborhood right across the street from the school and close freeway access. The description given here is very accurate but does not convey enough on the owners of the unit. I would highly recommend this place.
Lane
2016-06-10T00:00:00Z
Tipo de Quarto
Casa inteira/apto
---
Tipo de Imóvel
Casa de hóspedes
---
Acomoda
3
---
Quartos
GRANADA HILLS, Califórnia, Estados Unidos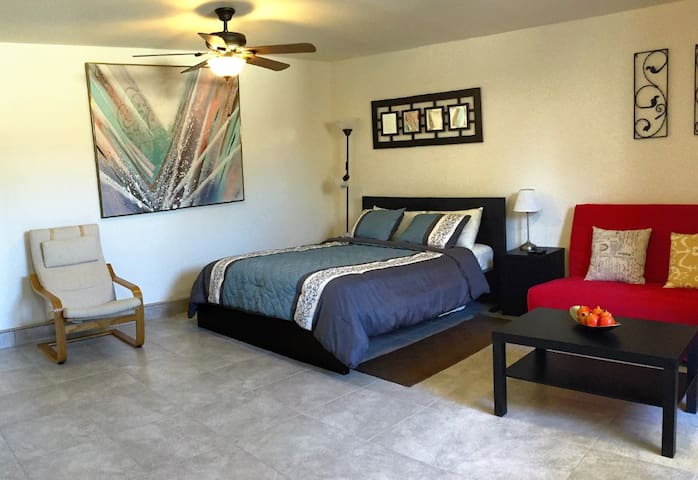 Centrally located and near valley freeway's the Toibox is a great place to stay if you are looking for privacy and comfort. This one bedroom guest unit has an open floor plan with plenty of space. The bedroom has a comfy queen bed and a full bathroom. There is a spacious living room/dining room combo and kitchenette. If you over-pack like we do you'll love the walk in closet! It's better than any hotel suite. Plenty of parking is available as well!
This eclectic space is warm, cozy and very quiet. Dual pained windows, eco friendly accessories and smart home features will help to make you comfortable. We are always working on upgrades so visit often, we love repeat guests! We live on the other side of the property but this space is completely private, if you require adjustments or have a special request just send a text, chances are we will never meet cross paths.
This property is 30-45 minutes from most everything! We have great freeway access.. If you don't have a car never fear, food, shopping, farmers market and even a food trucks are a short walk away. Its a super safe neighborhood so enjoy. I have some travel guides in the unit but am happy to help you plan your stay. REMEMBER, the map will take you to the wrong place so one day before check in you will be given the exact address and check in information.
I enjoyed my stay at Kim's very much. The place is huge, cozy, and very private. I loved the beautiful neighborhood and plentiful parking. Kim is so nice and helpful. She made sure I was comfortable and happy. I would definitely LOVE to stay here again soon!!
Alana
2016-04-01T00:00:00Z
Kimberley was in constant communication with me and my fellow guest and was very responsive. The place is great and very spacious!
Paul
2016-11-30T00:00:00Z
The place overall was great. The bed was so comfortable and the space was great. The only thing that wasn't available to us was a microwave.
Ricky & Chou
2016-10-17T00:00:00Z
A great place to stay. Comfortable and quiet. Very clean.
Tricia
2016-10-12T00:00:00Z
Toybox? More like toy mansion! Kim's place is huge! It's also in a super quiet neighborhood, so it was the perfect place to grab a night's sleep while on the road. She was very accommodating to my last minute request. Will definitely stay next time I'm in the valley!
William
2016-05-07T00:00:00Z
Kim was very warm and welcoming. She was happy to answer any questions we had prior to traveling and was there to meet us when we arrived. The place was in a nice, quiet neighborhood that was accessible to freeways and shopping.
Beth
2016-06-06T00:00:00Z
Wir blieben eine Nacht bei Kimberly, die Wohnung ist Groß. Die Kommunikation lief ohne große Probleme und der Weg zur Wohnung wurde klar Beschrieben. Würde wieder eine Nacht dort verbringen.
Sophie
2017-03-26T00:00:00Z
It's a cozy, quiet place. Great for staying after a day at Universal Studios. Less than a $20 Uber ride to Universal Studios, after you take into account parking and gas that's a pretty good deal.
Luisa
2016-07-09T00:00:00Z
Tipo de Quarto
Casa inteira/apto
---
Tipo de Imóvel
Casa
---
Acomoda
4
---
Quartos
Los Angeles, Califórnia, Estados Unidos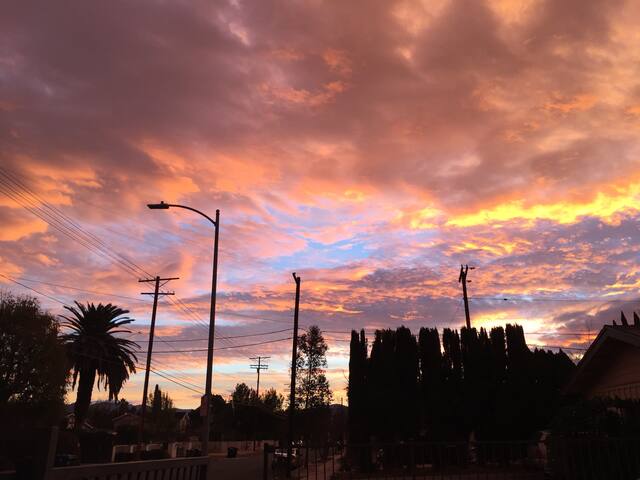 Private room with a queen bed in a 4 bedroom house. Bathroom is right next to the bedroom. Full access to the house included. Many amenities. Very quiet neighborhood. My place is in the city of Granada Hills close to the 118 freeway. Conveniently located close to many shopping centers, hiking trails, and Northridge mall.
great vibes. very clean. offered breakfast and was very hospitable. recommend!!
Brian
2016-09-11T00:00:00Z
Great hostess!!
Yvonne
2016-09-23T00:00:00Z
Really nice family. Very caring! Quiet and safe neighbourhood. Very close to LA by car. Would definitely come back!
Sandra
2016-09-20T00:00:00Z
Moje was a great host!! It was a great Airbnb experience. The house is very cute and clean. We got there late and she was very accommodating and friendly! She offered breakfast in the morning and the room has a nice view of the pool!
Elle
2016-09-15T00:00:00Z
It was nice night with my friend. Had comfy night. Thanks!!
Hae Min
2017-03-31T00:00:00Z
Great experience, awesome host.
gerardo
2017-01-23T00:00:00Z
The room in Mojgan's house was just what we needed for our thanksgiving trip. It was clean, in a quiet neighborhood and centrally located to all the Granada hills restaurants and locations. It was very lovely and even though we weren't there too much, as we were with family, I would definitely stay again if in the area! Thank you for your hospitality
Michelle
2016-11-25T00:00:00Z
amazing host. she made me feel like her son and felt like its my house. clean and organized. beautiful pool !
Dheiab
2016-09-10T00:00:00Z
Tipo de Quarto
Quarto privado
---
Tipo de Imóvel
Casa
---
Acomoda
2
---
Quartos
San Fernando, Califórnia, Estados Unidos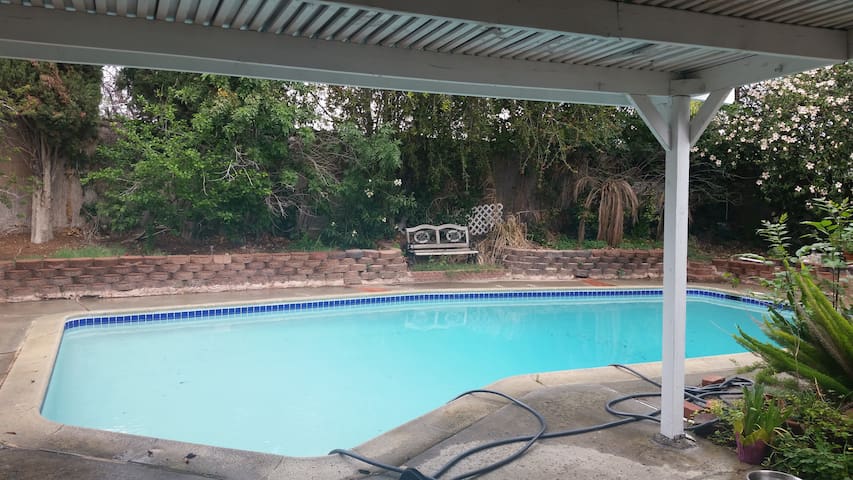 My place is close to IHOP, Chipotle Mexican Grill, RALPHS, Gas Stations. You'll love my place because of the comfy bed, the kitchen, the ease.. My place is good for solo adventurers.
The room was actually for my husband, he told me that everything was clean and the apartment have a good vibe, he sleep very good!
Gabriela
2017-02-11T00:00:00Z
Shaqib was a superb host and super helpful. I really enjoyed my stay there.
Scott
2017-02-15T00:00:00Z
I was working in the area for a week and decided to do AirBnB to shorten my commute. All I needed was a bed and shower and Shaqib's place provided it. When I arrived, Shaqib gave me a quick rundown of the place, provided me with a towel and WiFi, and he when to work his night shift. I worked for most of the day and Shaqib was gone at night, so I had the place to myself when I arrive back after work. He ran out of toilet paper at one point, so I texted him about it and it was replenished by the time I got back.
Minh-Triet Anthony
2016-08-05T00:00:00Z
The place is not that clean and it is a little noisy. Anyway, Shaqib is a decent host.
Wanxin
2017-03-25T00:00:00Z
I hardly saw Shaqib all week. Room is actually the living room, if travelling on a budget then it's great
Daniel
2017-04-01T00:00:00Z
I enjoyed very much comfortable days. Shaqib was very reliable and friendly person and has a lot of consideration. I appreciated very much.
Chin Ok
2016-07-21T00:00:00Z
affordable, accesible
Edwin
2017-02-04T00:00:00Z
Only thing I must say is that it's listed as a private room, and it's the living room. He was gone most of the time which was cool. But he's also just an interesting guy seems to be up on anything u talk or know (URL HIDDEN) having him there sometimes wasn't a bad deal.
Johnathan
2017-02-13T00:00:00Z
Tipo de Quarto
Quarto privado
---
Tipo de Imóvel
Apartamento
---
Acomoda
1
---
Quartos
Los Angeles, Califórnia, Estados Unidos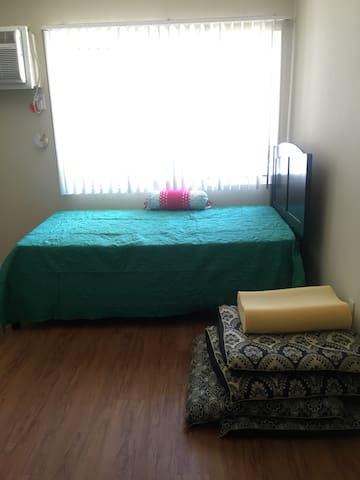 One bedroom and bathroom in home in Granada Hills. A hop skip and a jump to all major freeways. Pool, BBQ and patio with view. Short drive to Six Flags, Drive to Disney, Lego land and beaches. Full size bed with dresser and a bathroom.
The home is a 2 story with the bedroom and bathroom located on the first floor. Use of bottom level of home only. Backyard patio and pool with view accessible. Bathroom has a shower. Quiet room. Laundry room included. Bedroom has a full size bed with linens, pillows, towels, Cable TV, Wifi Access.
Very quiet neighborhood. Home resides in the mountain side.
The host canceled this reservation 77 days before arrival. This is an automated posting.
candice
2017-02-28T00:00:00Z
I stayed at Kim and Oscar's place for 12 weeks while I was doing a rotation for school. Overall I had a great experience with them. Their home was clean, nice, and I had access to the amenities I needed, including my own bathroom. More importantly, Kim and Oscar are kind and friendly people who not only were accessible when I needed them, but genuine people I could have conversations with. Oscar and i talked about GOT, sports and everything in between. They have 2 great dogs, who I'll also miss! If you are staying in the valley, I would recommend their place. If I'm ever back in the valley, I know who I'll be calling.
Bryan
2016-06-28T00:00:00Z
Thanks so much Kim & Oscar for your superb hospitality. I really appreciate your efforts to make my stay as pleasant as possible!
Irit
2016-03-20T00:00:00Z
Kims house suited our needs and it was nice and quiet. Kim and Oscar was friendly and even though we came very late on arrival it was no problem. We would not have any problem staying there again
Erik
2016-10-01T00:00:00Z
As soon as I arrived, Kim and her awesome dogs were there to welcome me. The room was clean and perfect for my short stay. The full bathroom was conveniently across from the room and was just as presentable and clean. Overall, the house was beautiful and my experience was excellent. Looking forward to my next trip!
Jared
2016-03-07T00:00:00Z
Kim's place was great. Her and her husband were upper welcoming and helpful with getting around California. Really convenient trader joes and target about a five minute drive from the house. Easy access to the freeway's. Her home was beautiful and the pool and view was definitely a plus. Would definitely recommend!
Kimberly
2016-07-29T00:00:00Z
Kim and Oscar are very friendly host. They are there to answer any questions you have and the room is very comfortable.
Ardoza11
2016-08-07T00:00:00Z
Nice and easy. Everything as described. Wonderful neighborhood.
Jeannette
2016-03-23T00:00:00Z
Tipo de Quarto
Quarto privado
---
Tipo de Imóvel
Casa
---
Acomoda
2
---
Quartos
Los Angeles, Califórnia, Estados Unidos
Clearly and comfortable,one bedroom with one bathroom and have wifi(一间主卧带卫生间,有Wi-Fi)
Room and bath as listen. Simple, clean, quiet, great location. They have central air/heat and kept it at a great temp. We were able to put our icepacks in their freezer ☺. Very nice family
Natashja
2017-04-08T00:00:00Z
My experience here was really good. The house was very clean and nice. The room was exactly as pictured. Diana was very accommodating and even offered me breakfast. I will recommend this place and would come back again!
Peter
2016-09-15T00:00:00Z
Host was very generous and kind. Quick communication. Room was clean and bed was comfortable. Liked that it was the "master" bedroom and had the attached personal bathroom.
Alexa
2017-04-09T00:00:00Z
Host very nice and accommodating...we needed 2-separate beds and Diana made a 2nd bed available. Location was very close to our work site and just we needed a place to sleep. All good and very clean residence. Would book again!
Tom
2017-04-02T00:00:00Z
Had a wonderful stay, accommodated my super late check in (10pm), as I was driving into the area. Place was clean, very friendly and would totally stay again!
Daniel
2016-11-10T00:00:00Z
Wonderful place! The room is clean and airy, neighborhood feels safe. Diana and her family is very accommodating and good hostess. Has AC in the house if needed. They even offered us breakfast even if it wasn't included in our stay! Would come back here again! Thank you!
Jessa
2016-09-04T00:00:00Z
Diana was very welcoming and flexible even we had a late checkin. She was very nice, friendly and accommodating host. We really enjoyed to stay at Diana's place. The room and bathroom were clean and neat as described in the photo. Quiet neighborhood. Diana provided us with great breakfast and even ride. Wonderful host!
Marat
2016-08-10T00:00:00Z
Excellent host! I wasn't at home much, but she was very accommodating and friendly.
Crawford
2016-10-05T00:00:00Z
Tipo de Quarto
Quarto privado
---
Tipo de Imóvel
Apartamento
---
Acomoda
2
---
Quartos
Los Angeles, Califórnia, Estados Unidos
Good value in a safe neighborhood. Centrally located near Magic Mountain, Universal Studios, SF Mission, Hollywood,and Getty Center. The beaches are realativly close as long as you have a car. Everything is close in LA as long as you have a car. Nobody walks in LA!!!
Granada Hills, a L.A suburb, situated in the North San Fernando Valley is close to Studio City , Universal Studios, Six Flags Magic Mountain , Hollywood Walk of Fame, Santa Monica and Venice Beach . Relatively close to buses and trains. Let this home be your main base to explore Southern California . Swimming pool, Jacuzzi, bbq. fireplace. We can assist you and make suggestions for excursions to Ventura, Santa Barbara and San Diego. It is highly recommended that one obtain a rental vehicle due to the vastness of the Los Angeles area. This is a comfortable home with wi-fi, in a quiet residential neighborhood. We speak Spanish and English. Breakfast is included with each night's stay. We want you to enjoy the pleasure of living in Southern California. This is a private bedroom with a Queen-size bed and a private bathroom. This will be a safer and more comfortable experience than a hotel. Courtesy and cleanliness are of utmost importance.
This is a safe and quiet neighborhood with plenty of free parking.
Sandra and Pam were very warm and welcoming people right from the start. We enjoyed staying in their beautiful house and spending time relaxing by the pool and eating delicious breakfasts! The guest room was the perfect size and the bed was very comfortable. Also, the shower in the private bathroom makes you feel as if you're in a spa! Both Sandra and Pam are easy to talk to, accommodating, and helpful. If we're ever back in the area, we will book with them again in a heartbeat! Thanks so much to Sandra, Pam, Polka, and Buddy!
Lydia
2012-07-21T00:00:00Z
Очень гостеприимный, чистый красивый дом. Хороший бассейн. Хороший интернет. В доме есть милая маленькая собачка. Спасибо, Памела! Мы еще вернемся.
Dmitry
2014-11-10T00:00:00Z
wonderful host and home... Pamela is a welcoming hostess!
Paul Ramana Das
2015-09-13T00:00:00Z
Pam is a great host. The room was clean and cozy, the area is quiet and easly accessible. Breakfast was delicious (fresh bagles!). the swimming pool and the back yard is a great private place for relaxation. Pam was very friendly, we shared stories, she really let us feel at home. we recommend "Valley Oasis" for anyone Looking for a place to stay around LA.
Tal
2012-10-02T00:00:00Z
The reservation was canceled 20 days before arrival. This is an automated posting.
Nora
2013-07-13T00:00:00Z
We had a great stay with Pam & Sandra. They are great host, and breakfast was wonderful each morning. We left feeling like family, and would stay with them any time we are in the area.
Mary
2011-05-23T00:00:00Z
Our days at Sandra and Pam were so perfect, yes really everything. Sandra and Pam are very friendly hosts. Sandra's breakfast was never the same, but every day other. She realized all of our wishes. Here you can stay and live in a really american family and learn a lot of this way of live. We enjoyed every hour and we'll never forget this fantastic time. Five stars from us for Sandra and Pam. Thanks for all !!! Peter and Brigitte from Germany
Peter
2011-09-08T00:00:00Z
As a first time user, I initially had my reservations about staying in a personal home rather than a hotel. Now after my experience, I could not have had a more FANTASTIC experience at Valley Oasis OR host than Pam! Whomever my hosts are going forward - they have very large shoes to fill and I will completely hold Pam accountable for it haha! I would highly recommend a stay with Pam whether you're a first time airbnb.com user like I was, or an experienced one! Pam was wonderfully kind and you would be sure to have an amazing time at her place. She invested the time long before my stay in getting back to me about the details of my trip, and we communicated often before I had even checked in! Upon arriving in Burbank, Pam called me immediately to see how my trip was going and was speedy in getting me settled in for a long weekend! During my stay, I enjoyed not only a hot home-cooked meal, but also her delightful personality and sense of humor. It was as if Pam and I had been friends for years, and I had dropped by after a long period of no contact, and we picked up where we left off! How cool is that? While there, the pool was very refreshing and I enjoyed laying out in the Southern California sun! I had the opportunity to meet her neighbors and a few members of her family and it was a great time! When I return to the north LA area, I will most certainly be staying with Pam again! Don't miss an opportunity to be in her company while in Granada Hills! Thanks, Pam!
Rob
2013-05-14T00:00:00Z
Tipo de Quarto
Quarto privado
---
Tipo de Imóvel
Bed & Breakfast
---
Acomoda
2
---
Quartos
Granada Hills, (Los Angeles), Califórnia, Estados Unidos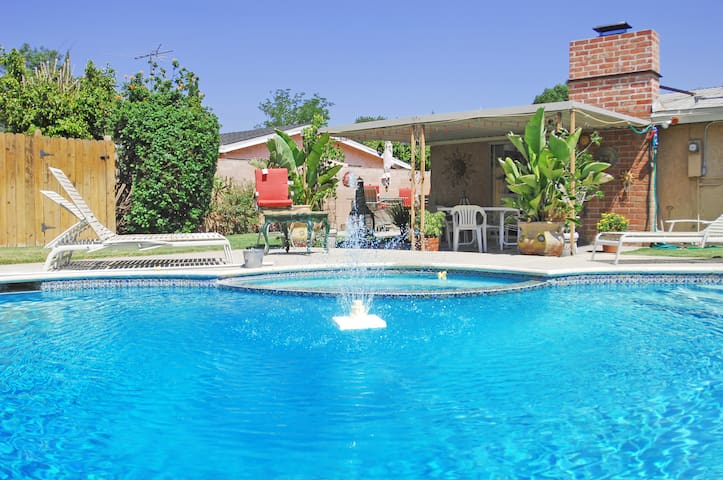 Mi alojamiento es bueno para visitantes, turitas y viajeros de negocios.
I was pleasantly surprised when I arrived to meet Sara because the neighborhood was very nice and in a great location. Even though it was near major freeways, it was quiet and peaceful. It was truly a great place to stay! By far my favorite Airbnb place!! This was not just a private room, this is a studio/guest house! It's decorated beautifully, very clean and the patio is so pretty and peaceful. Included is your very own private bathroom with stand up shower and an A/C unit in studio but since the weather had been great, I didn't have to use it as much as I thought. Also, the guest house includes your private entry way with lock on the fence in the patio area. I never had any problems finding parking right in front of the house every single day. The place also has a larger mini fridge for plenty of space for food, a microwave, a small table with two chairs, great TV with cable and plenty of closet space and of course the full size bed. I absolutely loved the place! Sara and her husband were so nice and accomodating. They made sure I had everything I needed. I highly recommend this place!!
Leticia
2016-09-04T00:00:00Z
The host canceled this reservation 21 days before arrival. This is an automated posting.
Tyson
2016-11-18T00:00:00Z
Tipo de Quarto
Quarto privado
---
Tipo de Imóvel
Casa
---
Acomoda
2
---
Quartos
Los Angeles, Califórnia, Estados Unidos
Enjoy this private bedroom in Granada Hills [Los Angeles Valley]. This private room is just 15 mins from Noho, 35 mins from Downtown LA, 47 mins from Malibu and 30 mins from Santa Monica through Lyft or Uber!
Tipo de Quarto
Quarto privado
---
Tipo de Imóvel
Casa
---
Acomoda
1
---
Quartos
Los Angeles, Califórnia, Estados Unidos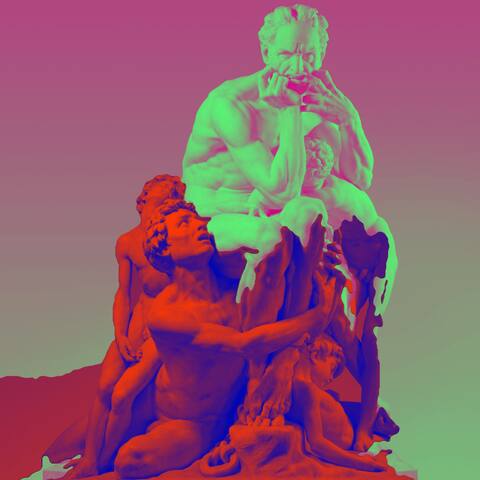 Our names are Camillo & Mirna. One of us hailing from Italy & the other from Argentina. Mirna works as a nanny with 3 small kids & Camillo is a respiratory therapist. We are avid travelers; taking a trip to a new place every year. Our place is close to CSUN, and 20 min. to all Sights(traffic willing). You'll love our place because of the comfy bed, the safety, & quiet neighborhood. The place is good for couples, solo travelers, business travelers, & families. Tons of permit free street parking!
DirecTV with HBO, Showtime, Starz, and Cinemax Roku's filled with: Netflix Hulu Amazon Instant Video HBOGO ESPN App Pandora Pro FuboTV(live soccer channels) EPIX Movies
This place was perfect for my parents, brother, and myself visiting family in northridge. Very comfortable and quiet with plenty of space for the four of us. We had a very restful stay.
Greg
2016-12-19T00:00:00Z
Warm and comfortable, beautiful neighbourhood. Owners were friendly and available as needed. We would be happy to return in the future.
Toby
2017-02-14T00:00:00Z
The hosts responded to our inquiry/request to book right away. They provided very clear, concise instructions about locating the guesthouse and there was a sign posted in two places that were very helpful and made us feel instantly welcomed.
Caroline
2017-01-01T00:00:00Z
A wonderful guest house at a quiet cul-de-sac in the Valley, close to freeways and where we needed to be (Northridge/North Hills). Signage was good and plenty of street parking. Many supermarkets and restaurants nearby. The two A/Cs helped a lot as it was very hot when the week we were visiting. Beds were very comfortable and there were a lot of games in the closet that the kids were able to play with. Camillo and Mirna responded right away when we had questions (we couldn't find the WIFI password; asked about recycling/compost) and even said hello to our family one morning as we were loading up in our car! Will definitely stay again in the future.
Jora
2016-07-27T00:00:00Z
Like having your own apartment, complete with kitchen, washing machine, entertainment, and internet. Quiet community. Close to shopping. Safe neighborhood to walk in. Everything we needed.
Cheryl
2017-02-25T00:00:00Z
A lovely place, thank you!
Kina
2017-02-01T00:00:00Z
Camillo and Mirna were incredible hosts! Anything and everything we needed was available for us. The place was very clean and will be using in the future!
Nick
2017-04-10T00:00:00Z
Great hosts thanks for everything
Josh
2016-10-16T00:00:00Z
Tipo de Quarto
Casa inteira/apto
---
Tipo de Imóvel
Casa
---
Acomoda
4
---
Quartos
Los Angeles, Califórnia, Estados Unidos
Safe and quiet residential neighborhood of Porter Ranch. It is easily accessible to many attractions such as: Hollywood, Universal Studios, Beverly Hills, Malibu , Venice Beach and Santa Monica Beach.
1800 sq ft house with 4 bedrooms, 3 bathrooms, large kitchen and open floor plan in the living room with sliding glass doors that overlook the picturesque private backyard with pool. The property is gated with a 2 car garage. 3 Bedrooms and 2 full Bathrooms are available for guest.
Super safe and quiet neighborhood.
Stephanie welcomed our family to this Porter Ranch home, giving us a complete tour of the home and all its amenities upon our arrival. The list of amenities provided our family with everything we needed to make our 10 day stay more than comfortable, it was a home away from home. It helped us not to worry about the daily essentials and enabled us to do the things we wanted to do. The value of the home was well within our price range and provided room for our entire family. Stores and restaurants were close by. The neighborhood was pleasant and quiet, which gave the backyard pool a peaceful setting to relax. Waking up every morning for a swim was just amazing. We were able to entertain our family guests we were visiting for a wonderful evening together, grilling out by the pool. There were plenty of pool towels and linens, and having a washer and dryer at our disposal was huge, allowing us to pack a little lighter. Overall our stay was amazing, and hopefully when we schedule a family stay again, this home will be tops on our list.
Steven
2016-08-13T00:00:00Z
The home was exactly as described and the host was excellent at communicating with us.
Gabriel
2016-10-15T00:00:00Z
This is a really nice place to stay if you're in the west end of the San Fernando Valley. Comfortable, clean, quiet and convenient to everything - freeways, shopping and local attractions. Stephanie is easy to deal with and at your beck and call if you need her. Thanks!
Jeffrey
2016-05-31T00:00:00Z
We had a wonderful stay at the house. We had the house to ourselves and thoroughly enjoyed our time there. The house is spacious and well laid out. Good size bedrooms, bathrooms and kitchen. Nice open living space. The backyard and pool is very nice. Stephanie was very responsive and accommodating, and made sure we had everything we needed. She even dropped off a new grill so we could BBQ. The house is conveniently located just off the Freeway 118 and is close to amenities, grocery stores and restaurants.
Laura
2016-05-09T00:00:00Z
Good location close to 118-beautiful home but could use a good cleaning. Black bugs on kitchen counters-front gates don't secure property. Both my friend and I experienced sinus and headache issues while there, possibly from dirty furnace filter. It was cold and damp due to recent rains-could have been cause. Furnace did not seem to be cycling correctly-I did let Stephanie know that. She was a very nice host and waited graciously for us as we had a late arrival. Plenty of space with room to spare.
Linda
2017-01-31T00:00:00Z
The house was wonderful, quite, safety, comfortable, and everything convenience. Stephanie was very kind to us, she almost do everything for us, cause we arrived late, she was waiting for us till we arrived and then teach how to use the things in the house. Clean the pool repair the AC.she made everything to make us feel like home. I love her very much, we had 3 awesome days at LA, thank you so much. This is my first time using Airbnb, so I review late, but I will come back to Stephanie 'house again when I come to LA. 我们全家五个人,还有个小男孩。英文又不好,Stephanie非常友好。房子位置很方便,近超市。去环球影城和好莱坞标志,比弗利山都很近。30分钟左右车程。
Wei
2016-10-02T00:00:00Z
Just what we were looking for. The pool was nice too! Stephanie greeted us and show us around the house. Great value for 3 or 4 people.
Mckinley
2016-06-08T00:00:00Z
Logement très bien situé par rapport aux centres d'intérêt de los angeles (universal studio, santa Monica, hollywood boulevard...). Commerces proches en voiture. Logement très propre et spacieux. Grande piscine privée profonde, sans vis à vis, très agréable après une journée de visite à 40°C.
jean-denis
2016-06-30T00:00:00Z
Tipo de Quarto
Casa inteira/apto
---
Tipo de Imóvel
Casa
---
Acomoda
5
---
Quartos
Los Angeles, Califórnia, Estados Unidos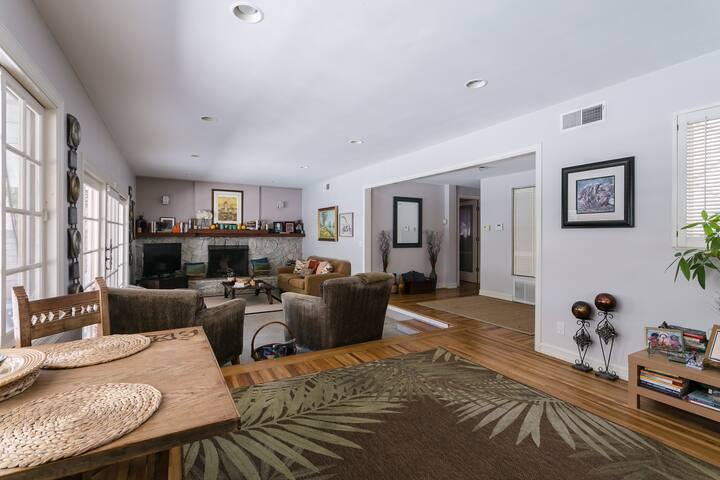 The place is very cozy and private with beautiful trendy colors. Sit at the private patio and enjoy your morning coffee.Close to major freeways: 5, 405 and 210. Located close to historical San Fernando Mission, and a short drive to Universal Studios, Hollywood, Magic Mountain, Griffith Observatory, Getty Center, and more. Beaches a 45 minutes away. 5 Minute drive to AMTRAK station which drops you off at Union Station Downtown, Downtown Burbank, and connects to NOHO red line to Hollywood.
This is a private 1 bedroom guest house with private patio and entrance can accommodate 2 persons.
Many restaurants in the area close by famous Odyssey 5 minute away with beautiful view and fireplaces on the patio. San Fernando mission 8 minutes away and the Nethercutt classic car free museum 5 minutes away. and many more.Also
The place was much bigger than expected with almost every amenities you could think of. He was very nice with waiting for me to arrive and showing me the place. It was clean and I'd definitely come here again.
Baruschs
2017-02-15T00:00:00Z
Tipo de Quarto
Quarto privado
---
Tipo de Imóvel
Casa de hóspedes
---
Acomoda
2
---
Quartos
Los Angeles, Califórnia, Estados Unidos
Americas Best Value Inn & Suites - Granada Hills/Los Angeles, is a small stylish getaway nestled beside the Santa Susana Mountains that overlook greater LA. Super clean, quiet, and comfortable, its rooms inspired by an Asian sense of minimalist artistic elegance, ABVI - Granada Hills offers great prices along with family-style hospitality to make your stay a first-class pleasure.
Americas Best Value Inn & Suites Granada Hills offers great prices for super nice, super clean, spacious rooms along with family-style hospitality to make your stay a first-class pleasure. All 27 guestrooms feature Free Wi-Fi, Free Flat screen HD TV, cable channels including HBO + movies on demand, refrigerator, microwave, and an Outdoor Pool. Free continental breakfast. One space per room Free Parking subject to availability. All rooms non-smoking. Sorry, NO PETS.
Tipo de Quarto
Quarto privado
---
Tipo de Imóvel
Hotel boutique
---
Acomoda
2
---
Quartos
Los Angeles, Califórnia, Estados Unidos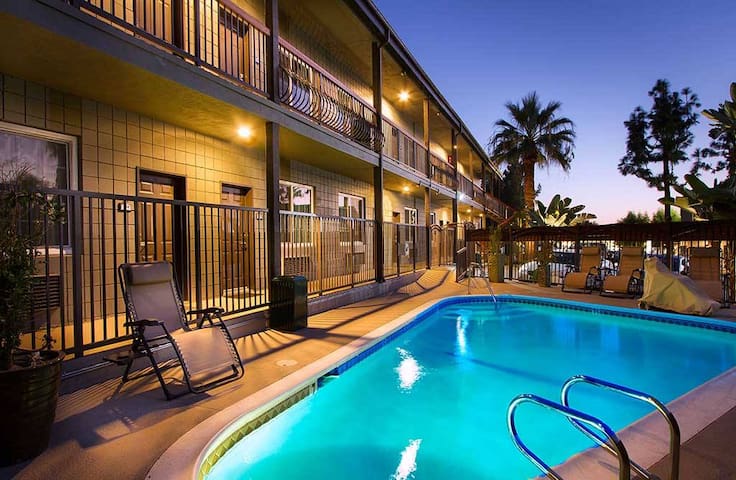 The first bedroom comes with full furniture, a queen bed, a mirror, a dresser and a closet. The house has a big backyard with lots of trees and a beautiful pool. My house is 4.7 miles to CSUN University .
Tipo de Quarto
Quarto privado
---
Tipo de Imóvel
Casa
---
Acomoda
4
---
Quartos
Los Angeles, Califórnia, Estados Unidos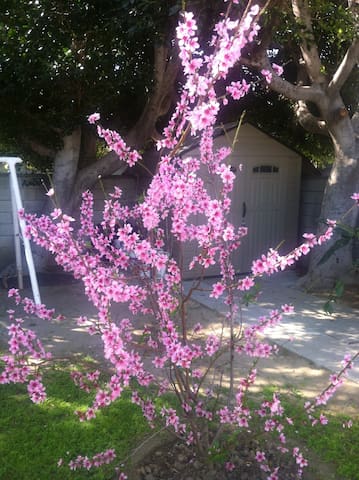 prices are firm...easy going people here at the house!! Very quiet and clean professionals. We welcome anyone!!
Granada Hills, a L.A suburb, situated in the North San Fernando Valley is close to Studio City , Universal Studios, Six Flags Magic Mountain , Hollywood Walk of Fame, Santa Monica and Venice Beach . Relatively close to buses and trains. Let this home be your main base to explore Southern California . Swimming pool, Jacuzzi, bbq. fireplace. We can assist you and make suggestions for excursions to Ventura, Santa Barbara and San Diego. It is highly recommended that one obtain a rental vehicle due to the vastness of the Los Angeles area. This is a comfortable home with wi-fi, in a quiet residential neighborhood. This is a private bedroom with a Queen-size bed and a bathroom to share.This will be a safer and more comfortable experience than a hotel. Courtesy and cleanliness are of utmost importance.
quiet neighborhood, with a park, and library a block away. Restaurant and stores a 5 min or less drive. 118 and the 405 are less than 5 min away. Great location!
Fantastic place and area, great roommates! I stayed for over a month and had a great time!
Emily
2016-07-28T00:00:00Z
Brian was very nice, I gave him very short notice of my arrival and he made arrangements to receive me anyways. His roommates are also very kind :)
Celia
2015-02-23T00:00:00Z
I stayed with Bian and his roommates for four months while I was working in Northridge. I needed something on the inexpensive side, check. I needed someplace close to where I worked (about 8 minutes), check. I work a lot of nights, so the most important thing I needed which I stressed to Brian was I needed quiet so I could sleep. CHECK!! Brian is a very cool guy who loves sports and is very easy to be around. All the roommates keep to themselves, but would probably be up for anything social if you presented the opportunity. Location is awesome with lots of resturaunts and entertainment nearby. The bed was comfortable and I had a big TV in my room with cable. The kitchen is well stocked for cooking, and the laundry works great. If you don't mind sharing a bathroom with 2 other dudes, you will be ok here. mornings can require a wait if everyone has the same schedule. I would not hesitate to stay here again, thanks Brian!
Matthew
2015-12-20T00:00:00Z
Had a great time, can't complain about anything. Would recommend.
Yoni
2016-06-25T00:00:00Z
Brian is a gentleman, very nice and warm-hearted. His roommates are very friendly. The room is clean and comfortable. So I lived very freely and securely.
jiaxi
2016-08-15T00:00:00Z
My stay was great! It was the first time he hosted and the first time I was a guest so it was funny. Great nights sleep with private bathroom. Really cool roommate that ironically went to College in upstate New York where I'm from so we have a lot to talk about and he was extremely accommodating I highly recommend
Jennifer
2015-01-26T00:00:00Z
Brian was a very nice and gracious host. The house was very quite, the roommates usually kept to themselves or were very respectable in terms of noise. Would definitely stay here again if I'm in the area.
Paul
2015-08-02T00:00:00Z
Tipo de Quarto
Quarto privado
---
Tipo de Imóvel
Casa
---
Acomoda
1
---
Quartos
Los Angeles, Califórnia, Estados Unidos
-Private room in a spacious house in safe neighborhood -Driveway parking -Pool -Newly renovated kitchen -Walking distance from awesome thai food, bar, and grocery store -Very flexible check-in and out times -Guests are free to come and go, and use the home's amenities any hour of the day or night -Folding cots available upon request, allowing the room to sleep up to three total We have three different rooms available in this home, check out our other listings for more available dates!
The room was very spacious and the bed was confortable. Quiet room and neighborhood and overall it was a nice experience, they really made us feel at home. The external area was not very clean, but the pool itself and the interior of the home were flawless. A lot of options nearby for whatever you need.
Ana
2016-09-10T00:00:00Z
We really enjoyed our stay with Blaine. It was a lovely house, very clean and very welcoming. When we arrived Blaine was waiting for us and immediately made us feel at home. Both the bedroom and bathroom were clean and ready to use. The bed was just the right balance of firm and soft, and there were 2 fans in the room to use for sleeping if that is important to you. Our only regret is that we did not get to spend nearly as much time with Blaine as we would have liked (busy trip) and check out that awesome pool! I would definitely recommend Blaine and his listing to anyone looking for a clean and welcoming place to stay.
Fred
2016-05-09T00:00:00Z
Blaine stayed up to receive me on night I checked in. He was honest about his availability and flexible in terms of check in times. He made me feel welcome and quickly gave me access to his amenities. All I needed was a bed to crash in and of course some good wifi, which was readily available. Overall, great!
Jorge
2016-09-11T00:00:00Z
Blaine and his wife, Jennifer, were very nice! We didn't get to interact much, with my weekend being already booked with plans, but they were very helpful when we did have questions. Over all, I really enjoyed my stay, I was able to come and go whenever I please, with no worries, which was very nice!
Van
2016-07-24T00:00:00Z
Really nice house, well received by Jen. Haven't seen them for the rest of the stay as we were enjoying out as much as we could but really nice time.
Arnaud
2017-02-15T00:00:00Z
Awesome and quiet place to stay, Blaine was very welcoming and room was comfortable size.
Adriauna
2017-03-19T00:00:00Z
Blaine was very responsive and flexible when I was planing my visit. His home was quiet, clean, safe, and adequately furnished. Totally recommended!
Paris
2016-06-06T00:00:00Z
Nice house, safe surrounding. Close to hollywood and universal studios. I recommend
Ondrej
2016-09-21T00:00:00Z
Tipo de Quarto
Quarto privado
---
Tipo de Imóvel
Casa
---
Acomoda
3
---
Quartos
Los Angeles, Califórnia, Estados Unidos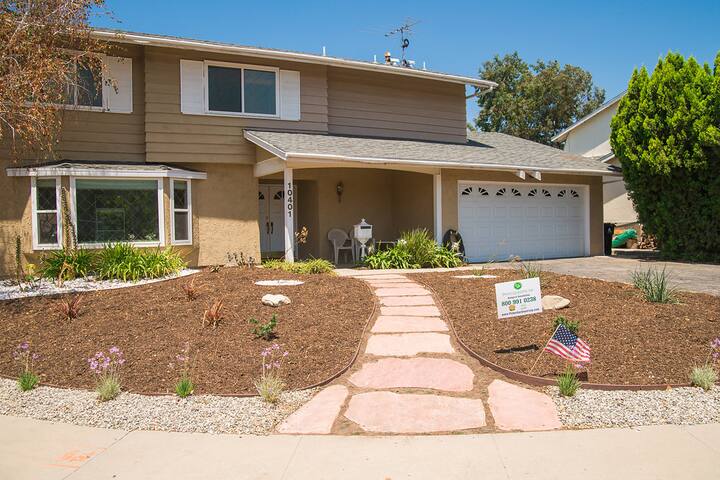 Newly Constructed Private Studio guesthouse with its own entrance on a gated property. Unit includes a full kitchen, 1 bath (shower only), and a double bed. Small living room with wifi enabled TV also included.
Private studio guesthouse in a quiet neighborhood in the San Fernando Valley. Car is needed for transportation around town.
Quiet neighborhood and easy access to local hiking trails.
I liked the fact that the guest house was very private. You have your own entrance. The place was clean. And I had no issues with the internet at all.
Abdulaziz
2015-07-25T00:00:00Z
Shannon was a great host. She and her husband made me feel welcome, were very accommodating, and offered neighborhood suggestions. The only issue was the internet connection was very poor and often disconnected in the guesthouse, but Shannon has gotten a new modem and the problem has been fixed. Overall a good stay and a very nice home!
Mary
2015-07-20T00:00:00Z
The place is attached to their home and is basically one room and a bathroom. It was very clean. The kitchen is nice, there is a large fridge, the bed is large and comfortable, there is a couch and easy chair, the TV gets two movie channels. I was given an information sheet with contact information and info on local places to get food etc. The hosts kept in touch via text and made sure that I had everything that I might need.
Dan
2016-01-09T00:00:00Z
Wonderful place to stay! I live in Airbnbs and this was one of my favorites. Very spacious and had all amenities needed. Was easy to find, and very quiet. Shannon was a great host!
Kathleen
2015-12-12T00:00:00Z
Cute studio guesthouse! It was clean, quiet and safe. Getting in and out was easy and it was close to stores and the freeway. The queen bed was firm but comfortable. Shannon greeted me at check-in and was courteous and accommodating. It has a small bathroom with shower-only, and very limited counter space. Television has no cable but has Netflix and Hulu. Wi-Fi was fast. This is a converted garage so you will hear the hosts occasionally, but for the most part it was quiet, as the house is set back from the suburban Granada Hills street.
Jennifer
2015-09-26T00:00:00Z
Shannon's guesthouse was just as described. Off street gated parking was perfect, I wasn't there much, but the Internet was fast and reliable. There wasn't much counter space in the bathroom, but if that's the only problem you know the place was excellent!
Will
2015-10-24T00:00:00Z
The Guest House is private and spacious... The area was very nice! Shannon was really kind everytime we needed something...
Loretta
2015-09-16T00:00:00Z
I was welcomed by Shannon and her husband upon arrival. They had everything I needed at the guest house upon arrival. It is exactly as pictured. Shannon was very accommodating, always responded with any questions. The guest house was very private with little interaction beside passing Shannon or her family in the driveway. Occasionally during peek hours, the internet would stop working, but usually had no problem & occasionally couldn't get cell phone service (I have T-mobile). There were some spiders seen up in the high ceilings but were harmless. Located in a very safe location in the valley. Many great hiking trails in the area, if you like to hike, this is the place for you!
Amanda
2015-06-01T00:00:00Z
Tipo de Quarto
Casa inteira/apto
---
Tipo de Imóvel
Casa
---
Acomoda
1
---
Quartos
Granada Hills, Califórnia, Estados Unidos
Los Angeles - Airbnb
:
Média de

4.75

de

5

estrelas, de acordo com

525

avaliações de hóspedes
Insira as datas para ver o preço total. Taxas adicionais aplicáveis. Podem ser adicionados impostos.