Das Hotel liegt in der Moränenhügel del Garda. "Casa Nostra" ist am besten geeignet für Paare, die schöne Wanderungen, Radtouren oder einfach nur einen erholsamen Pause von der Arbeit und der Stadt. Komfort, Ruhe ehrliche Land Gastfreundschaft - Du wirst "Casa Nostra" lieben. Ein Gebiet reich an Natur, Ansichten, Kunst, Kultur, Parks, Restaurants, Wein und Essen. POI - Castellaro Lagusello (UNESCO) 5km, Borghetto sul Mincio 7km, Verona 44 km, Mantova 28km, Pescheira del Garda 15km, Sirmione und Desenzano del Garda 23km.
1. Ein schönes Schlafzimmer komplett mit eigenem Bad. 2. Ein kleines Land Küchentisch, Kaffeemaschine, Minibar. 3. Ein kleines Wohnzimmer mit TV / DVD und Schlafsofa zum Entspannen ein. 4. Casa Nostra durch den Busch umgeben ist, genießen Sie die Garten Aussicht, an klaren Tagen kann man den Gardasee zu sehen.
Cavriana ist eine ruhige, freundliche italienische Landdorf, stolz auf ihre Geschichte und kulturellen Traditionen.
Tipo de Quarto
Quarto privado
---
Tipo de Imóvel
Casa
---
Acomoda
2
---
Quartos
Campagnolo, Lombardia, Itália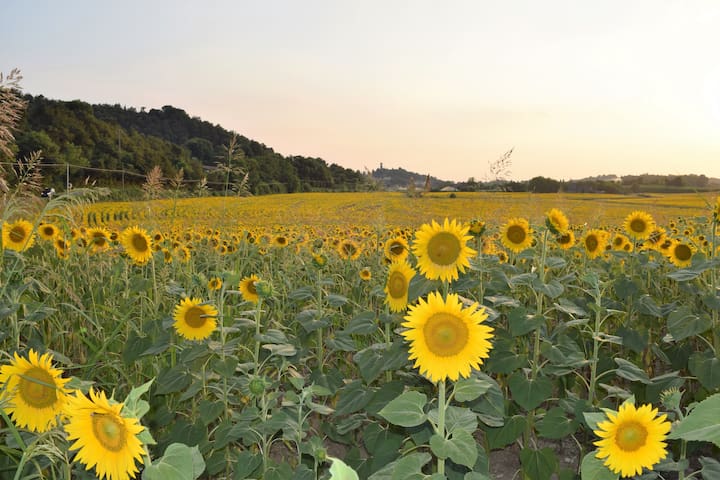 The house is in the historical center of Volta Mantovana It can comfortably accommodate up to 6 people ( in 2 double beds and a sofa bed ) and is located 20 minutes from Lake Garda . The kitchen is equipped with every comfort and all the accessories needed for cooking .
Nice apartment next to Lake Garda. My apartment is a 4centuries old building in the heart of the historical centre of Volta Mantovana, 20 minutes from the Lake Garda. The apartment has 2 floors, it is thus very bright and well lit. A heating system is available in case it gets cold. The bedroom is on the 2nd floor and it has 3 large windows and a private bathroom. The apartment is equipped with a kitchen and a living room. On the ground floor there is also a room to store your bikes . I will provide clean sheets and clean towels, and I can also add an extra double bed upon request. If necessary I can also provide a cot for children up to 3 years. WI-FI Internet is available with a modem WI-FI Mobile you can take with you anywhere, with 1 GB of traffic data available for each day of use . - CHECK IN: after 14:00 p.m. - CHECK OUT: before 10.00 p.m. Please note that you can leave your luggages here and pick them up at your convenience. I confirm check-in in advance, so please be punctual and reliable. Thank you. I will make sure your stay is as comfortable as possible and provide the information you require to make the most of your stay in this wonderful city.
My apartment is very central so I recommend walking everywhere. The apartment is 5 minutes by foot from the Historical Gardens of Palazzo Gonzaga, the church and the castle and a 15 minutes drive to the lake.
My family and I had a lovely stay at Nicola's place! It is a perfect house for 4 people. Clean, comfortable, located in a very nice small town. Supermarket, reataurants, ice cream place, bigger cities and Lake Garda are all very close. Nicola and Alberto went out of their way to help with everything. They are very easy to communicate with and super helpful. We came through bad traffic and had to text them we were running late but they had no problem with it. They also recommended a few places to visit. We did and were not disappointed! (Go to the gelateria they recommend!! You'll thank them later!) I would absolutely give a big thumbs up for them and their place!
Janka
2016-07-23T00:00:00Z
We had a great time in Volta and in Nicolas apartment. Apartment was realy great, and even better than on pictures. It had everything, and his brother greeted us when we came, and spent nerly and half an hour to describe everything about house and near it, for us to visit and try. Realy a great experience.
Nikola
2016-09-26T00:00:00Z
Both Nicola and his brother Alberto were very welcoming and helpful. The house was all it said and very comfortable, especially the bed.
Susie
2015-09-28T00:00:00Z
L'accoglienza di Nicola è stata molto puntuale e professionale. Siamo stati anche accompagnati presso il Palazzo Gonzaga per poterlo poi visitare. Casa grande e funzionale. Il sito è particolarmente strategico per chi volesse affrontare percorsi cicloturistici di notevole interesse. Grazie e...a risentirci. Ciao Ancilla e Fabrizio
Fabrizio
2015-04-04T00:00:00Z
The house is in a very peaceful town, and we throughly enjoyed our stay. It's close to incredible restaurants and 20 minute drive to the lake. I would definitely recommend this to anyone looking for some r&r.
Elisabeth
2016-05-18T00:00:00Z
This place is awesome and the family that run it is about the most helpful, friendly, genuinely caring hosts you could hope for. The location is perfect but stay longer. I only got to stay a couple of days but now I know where to return to next time for a decent stay. Cannot recommend highly enough
Ben
2015-07-03T00:00:00Z
Notre séjour à été très agréable, la maison correspond parfaitement aux photos et le village est très joli. Nicolas est disponible accueillant et d'une grande aide!
Marjorie
2015-08-18T00:00:00Z
I stayed with my boyfriend in Volta Mantovana for one week and everything was just perfect! Nicola was very nice and helpful and answered every message immediately. The apartment was clean and spacious and the old building is renovated lovely. I would recommend this apartment to everybody who wants to spend nice holidays near Lake Garda.
Nadine
2015-08-25T00:00:00Z
Tipo de Quarto
Casa inteira/apto
---
Tipo de Imóvel
Casa
---
Acomoda
6
---
Quartos
Volta Mantovana, Lombardia, Itália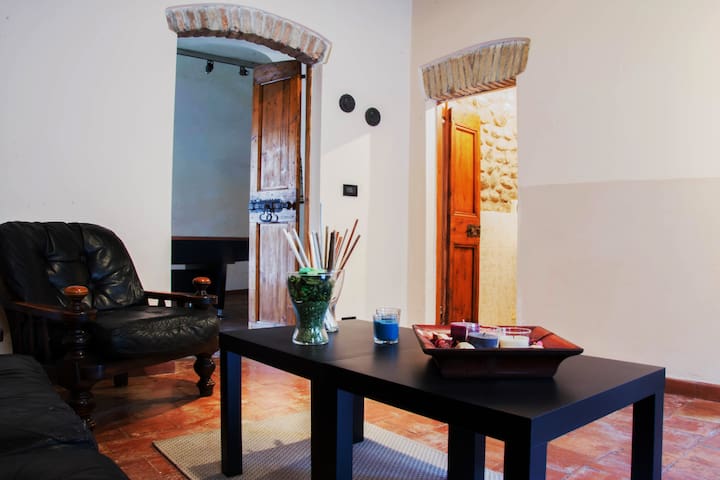 Maison spacieuse de 15 minutes du lac de Garde et à 35 minutes à Gardaland. La maison avec salon-cuisine deux salles de bains spacieuses et bien rangé et 2 chambres avec deux lits par chambre. Chambre double sur demande de supplément de prix. La maison est située dans un endroit calme et paisible.
L' annuncio prometteva l'appartamento intero, ma all' arrivo ho scoperto che Roberto abitava lì. Grossissima inesattezza. A nessuno farebbe piacere scoprire di dover convivere con un estraneo. Nonostante il primo impatto traumatico, non si è rivelato poi un grosso problema visto che per la maggior parte del tempo era a lavoro, ma di sicuro è una cosa che andrebbe specificata in grassetto e in stampatello nel titolo. Non era presente una connessione Wireless. Per il resto c'è da dire che la casa era tenuta davvero pulita, Roberto è stato davvero gentile, ospitale e disponibile in tutto. Per chi non avesse problemi di "convivenza" mi sento comunque di consigliare il soggiorno qui.
Alessio
2016-07-28T00:00:00Z
L'accoglienza del mio host è stata buona, Roberto si è dimostrato molto disponibile e gentile.
Paolo
2016-07-05T00:00:00Z
Consiglio l'alloggio di Roberto, gentile e disponibile !
giulia
2017-03-19T00:00:00Z
Abbiamo soggiornato una notte a casa di Roberto, eravamo a Medole per un matrimonio. Roberto è una persona davvero molto gentile e disponibile e la casa è tutta nuova, bagno e mobili nuovi con pulizia ottima. Roberto abita in casa, visto che è la sua, ma non l'abbiamo quasi praticamente visto. Consiglio l'alloggio a chi fosse in visita a medole e dintorni.
Cinthya
2016-07-31T00:00:00Z
Roberto home was nice and comfortable. He was a great host and I suggest anyone going to the a small town Medole to stay here.
William
2016-06-20T00:00:00Z
La casa è nuova, molto carina e Roberto è una persona gentile e cordiale. Siamo stati bene.
Armando
2016-06-13T00:00:00Z
La casa era spaziosa, pulita e ordinata, con tutto il necessario, e di per sè perfettamente adeguata, peccato che io avessi cercato apposta un annuncio con l'intero appartamento per noi, eravamo quattro amiche in viaggio per un matrimonio e le chiacchere notturne erano piuttosto probabili, e invece Roberto ha residenza stabile all'interno dell'appartamento, cosa che oltretutto non ho trovato specificata. La cosa sarebbe stata fastidiosa ma tollerabile, se non fosse stato che una delle mie amiche si è svegliata trovando Roberto che la guardava dormire. Avevamo il pagamento di due posti in sospeso, aggiunti in seguito e d'accordo per il pagamento in loco (come da lui richiesto), ma un comportamento appropriato sarebbe stato telefonare o bussare, non osservare durante un momento di vulnerabilità; chiudere la porta era inoltre impossibile per la sistemazione del secondo letto, che bloccava il passaggio. L'esperienza è stata inquietante, non ripeteremo
Samantha
2016-07-09T00:00:00Z
Roberto è un host davvero gentile e disponibile, la casa è in ottimo stato di pulizia e situata in una zona tranquilla e con ampio parcheggio. Consiglio il soggiorno
Enrico
2016-10-29T00:00:00Z
Tipo de Quarto
Quarto privado
---
Tipo de Imóvel
Casa
---
Acomoda
4
---
Quartos
Medole, Lombardia, Itália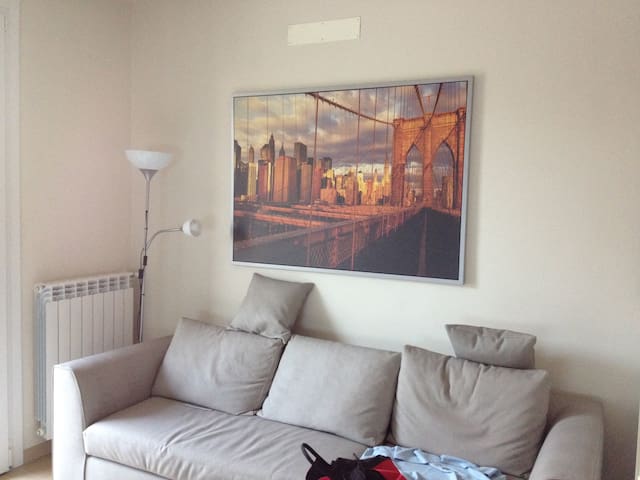 hermosa casa unifamiliar, amueblado con gusto y equipado con un montón de espacio para familias o grupos de amigos, en el corazón de Cavriana.
Se puede admirar la Madonna della Pieve Santuario (Santa María della Pieve). Simplemente llame a Pieve di Cavriana, la iglesia se encuentra solo en una colina y es una de las iglesias románicas más importantes y mejor conservados de mantovano.Castello. establecida estructura militar, probablemente, en el siglo XI, fue una de las fortificaciones más importantes de Mantua, con cuatro torres en las esquinas y se quedó en la colina con vistas al pueblo. Villa Mirra, Piazza Castello 5, el siglo XVI, fue reconstruido en 1770 bajo el dominio austriaco, utilizando los materiales causaron la muerte de las paredes y el castillo. La villa perteneció a la familia Gonzaga de Mantua y Carlo Gonzaga le asignó como dote a su hija en 1479 cuando se casó con el conde d'Arco Odorico.
Tipo de Quarto
Casa inteira/apto
---
Tipo de Imóvel
Casa
---
Acomoda
6
---
Quartos
Cavriana, Lombardia, Itália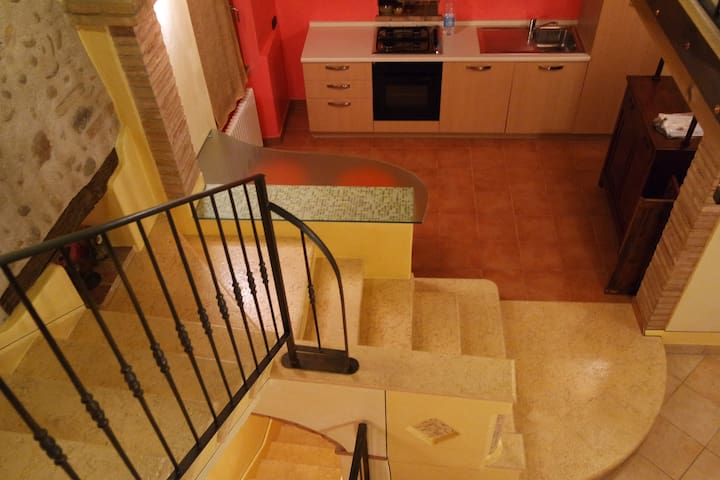 Uma casa de indipendent, perto do Lago de Garda
A casa está situada na cidade de Solferino della Battaglia, a poucos quilómetros do Lago de Garda. É o lugar ideal para relaxar, ler, caminhar, visitar cidades de arte e comer a cozinha tradicional italiana real. A localização é encontra-se profundamente nas colinas verdes de nossa bela região, junto ao Lago Garda e do Parque Natural Regional do rio Mincio, é o destino ideal para quem gosta de esportes e gostaria de passar umas férias entre deserto e fitness. Aqui você pode, de facto, jogar kitesurf, windsurf, vela, ciclo de bicicleta, escalada, caminhadas têm excursões. cidades famosas como Mantova, Verona e Brescia são apenas alguns quilómetros de distância, para que os nossos clientes a ter um feriado cultural, enquanto aprecia a boa tradição da culinária local. PARK para carros, motos e campistas. A casa é independente e é composto por dois quartos, um banheiro, uma sala, uma cozinha, um grande terraço e parque privado. Todos os quartos têm televisão, ar condicionado e frigo.
alloggio ordinato e pulito. Le camere sono ampie e la cucina ben attrezzata. Parcheggio comodo sotto casa dentro il cortile. Comodo per chi si reca come noi a Gardaland, in mezz'ora scarsa si arriva a Solferino ed è pure carina da visitare. Massima disponibilità da parte del proprietario. Ci torneremo.
clelia
2015-05-17T00:00:00Z
Just a one night stay, but the apartment was setup well and very spacious. Marco was organized and ensured we had a good stay. Thankyou.
Renaldo
2016-09-05T00:00:00Z
The stay is quite well. the rooms are clean and big. Marco is very friendly and kind. The city nearby is very awesome.
Chuan
2014-08-24T00:00:00Z
Apartment Zenzero was just what we needed for our trip to Gardaland and touring the area. Quiet neighbourhood and just a short drive to Mantova, Sirmione and other lovely places to visit. Clean and cozy apartment, fully equipped kitchen and secure parking. Marco was great, he was available to help for any needs or questions. Thanks Marco!
Melissa
2014-05-23T00:00:00Z
We stayed for 3 days at Marco's apartment. There was enough space for 7 people and the house was fully equipped. Marco even provided us with a wireless Internet connection. It's near the countryside in a quite location and very convenient for us that we wanted to visit the Garda lake, the Gardaland amusement park, Verona and Venice. I would definitely stay at Marco's apartment again.
Marios
2013-08-13T00:00:00Z
It was an ideal place for us to stay.
Taeko
2016-11-01T00:00:00Z
Хоть мы и не виделись, но хозяин был крайне вежлив и оперативно отвечал на все наши запросы.
Renat
2016-08-05T00:00:00Z
Ottima accoglienza. Appartamento descritto alla perfezione, pulito e accogliente. Completo di tutto il necessario.
SARA
2015-05-03T00:00:00Z
Tipo de Quarto
Casa inteira/apto
---
Tipo de Imóvel
Casa
---
Acomoda
6
---
Quartos
Solferino, Lombardy, Itália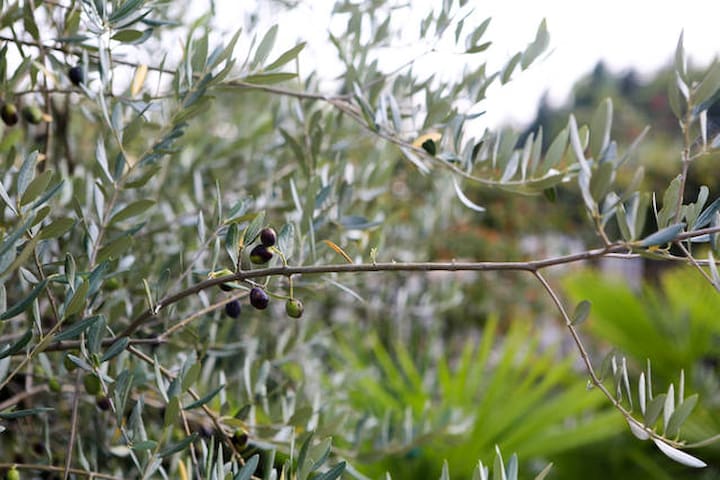 La camera fa parte di una villetta in zona tranquilla circondata dal verde lontana dal traffico delle grandi città ma in zona strategica a pochi chilometri Brescia, Mantova, Verona e il lago di Garda.
La stanza fa parte di una villetta con giardino immersa nel verde. La stanza è piuttosto ampia e moderna, completa di tutti i confort. A disposizione degli ospiti aria condizionata, accesso internet wi-fi, un bagno privato con vasca da bagno, uso della cucina per la prima colazione, lenzuola, asciugamani e prodotti da bagno, sala e soggiorno comuni con tv e camino. Ceresara è un piccolo paese di campagna a pochi chilometri dalle colline Moreniche, con una posizione centrale rispetto ad importanti centri quali Mantova, Verona, Brescia e alla parte sud del Lago di Garda. E' circondata da piste ciclabili che attraversano gli angoli più suggestivi del territorio ed è un ottimo punto di partenza per raggiungere la ciclabile Mantova-Peschiera del Garda. E' l'ideale per chi cerca una sistemazione tranquilla ma comoda ai maggiori punti di interesse tra cui località quali Brescia, Desenzano con il suoi locali notturni, Monzambano, Valeggio sul Mincio e Borghetto, uno dei più bei borghi d'Italia, Verona, Peschiera del Garda, Volta Mantovana e ovviamente Mantova.
L'accoglienza e stata calda e attenta. Un po' fuori mano l'ubicazione per i nostri obiettivi. Ma il materasso confortevole, il silenzio della campagna e la marmellata di uva appena prodotta a colazione hanno ripagato la distanza da Mantova
Luciana
2016-08-22T00:00:00Z
Silvia and their parents are super friendly. They gave us all we needed and also offered us breakfast with café. The room and the bathroom look very good and it's very clean. Also the size is fine, there's enough space. I can really recommend this place with those nice Italian people :)
Thomas
2016-09-11T00:00:00Z
Siamo stati solamente una notte a casa di Silvia e ci siamo trovati molto bene. Abbiamo conosciuto i suoi genitori che ci hanno accolti molto bene. La stanza è pulita e oedinata così come il resto della casa.
monica
2016-08-31T00:00:00Z
I really enjoyed my stay. The house is very clean, and even if her parents only speaks italian we found a way to comunicate. They were very welcoming. Everything is a bit far (market) but if you have a car it's not a problem. They also made us breakfast in the morning. I really recommend it ! It's a lovely family.
Frederique
2016-08-19T00:00:00Z
Location tranquilla nel verde della campagna, attorniati dai ciliegi, a due passi dal centro paese. Sistemazione spaziosa e pulita, l'accoglienza dei proprietari ci ha fatti sentire a casa nostra. Molto disponibili e presenti, ma senza invadenza. Per colazione la signora Nadia ci ha preparato la torta "sbrisolona", offrendoci così un assaggio della pasticceria tipica mantovana. L'ubicazione è strategica, a metà strada tra la città di Mantova e il lago di Garda. Buono il rapporto qualità/prezzo. Ideale per chi rifugge dal caos.
massimo
2016-04-26T00:00:00Z
The host canceled this reservation 16 days before arrival. This is an automated posting.
Igor
2016-07-12T00:00:00Z
Famiglia fantastica e super accogliente..... Ci siamo sentiti come a casa, sono stati tutti molto disponibili e gentili. La stanza è davvero grande così come il bagno il tutto è molto accogliente, la natura che circonda tutta la casa è davvero un bellissimo paesaggio che infonde tranquillità e serenità...... Consigliatissimo
Alessandro
2016-04-13T00:00:00Z
Tutto perfetto
Giovanni
2016-05-23T00:00:00Z
Tipo de Quarto
Quarto privado
---
Tipo de Imóvel
Casa
---
Acomoda
2
---
Quartos
Ceresara, Lombardia, Itália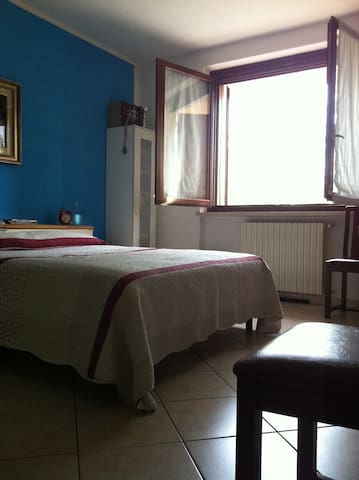 La Casa de la Rosa es una casa de dos plantas, reformado con gusto y con todas las comodidades. Situado en el corazón de Solferino, con hermosas vistas al campo, que está cerca de Lago de Garda, Desenzano, Peschiera, Mantua y Verona. A pocos pasos de restaurantes y actividades para la familia. Cómodo, relajante, íntimo nuestra casa te sumergirá en la naturaleza. Equipado con aire acondicionado y sistema de agua caliente solar. Para estancias con 5 personas por favor, póngase en contacto conmigo para el precio.
El alojamiento consta de dos habitaciones dobles: La habitación azul se compone de una cama doble y baño privado, mientras que la habitación de color rosa está amueblada con una cama doble y una cama individual con baño privado con ducha. También en la planta baja, en la sala de TV hay un sofá-cama. Caldera para calentar el agua, cafetera y nevera. Aire acondicionado en todas las habitaciones, palas a los techos de las habitaciones. Estrella kit de baño (gel de ducha / champú)
Hem passat una setmana molt agradable a Solferino. A banda de la història del poble, és un poble ben situat, i molt tranquil, que ens ha servit de base per explorar la zona del Llac Garda, Mantova i Verona. Pel petit que és, el poble té un munt de restaurants on hem menjat de meravella. La casa disposa de suficient espai per 5 persones, i l'aire condicionat s'agraeix molt. Per nosaltres, que som 5, un petit inconvenient ha sigut que no hi ha rentaplats.
Marc
2016-08-24T00:00:00Z
La maison est très bien située dans Solférino, à côté des commerces, dans une jolie rue. Village très sympa le soir pour l'apéro, la glace après la pasta... Les restos, bars et glaciers fermaient tard en août! Très jolie vue du balcon sur la campagne. A 10-15 km du lac de garde, lac que l'on peut voir du haut de la tour de Solferino. Incompréhension concernant le 2ème lit de la chambre., disponible seulement si vous êtes 5, et non 4. Maurizio, qui aide Rosa, est charmant et très arrangeant, un plaisir.
Caroline
2016-08-13T00:00:00Z
Un séjour formidable dans une maison ancienne de charme décorée avec soin, confortable, 2 sdb, 2 chambres un balcon, au coeur d'un petit village sympathique. Rosa et Mauricio ont été accueillant et bienveillant, des hôtes remarquables. La maison est située à 20 minutes du lac de garde. La région vaut vraiment le détour!
Victor
2016-08-06T00:00:00Z
Soggiorno molto piacevole in una casa molto bella, particolare e pulita, ben fornita di tutto il necessario. Ottima accoglienza da parte di Maurizio e Rosa. Ci ritornerei volentieri.
Chiara
2016-08-29T00:00:00Z
Tipo de Quarto
Casa inteira/apto
---
Tipo de Imóvel
Casa
---
Acomoda
5
---
Quartos
Solferino, Lombardia, Itália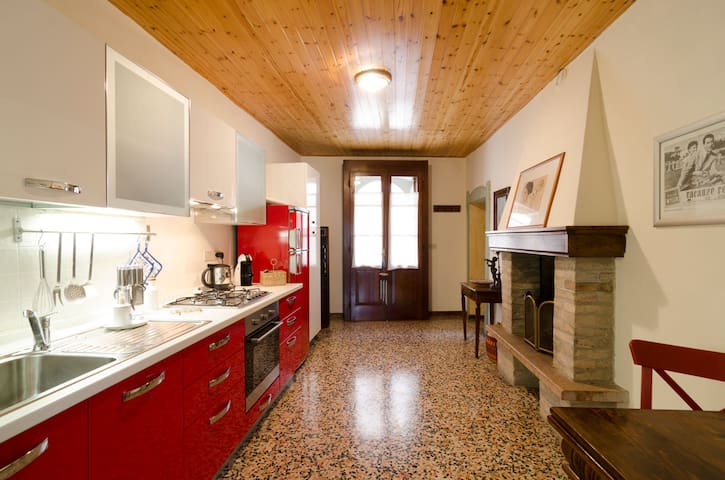 In the medieval village of Castellaro Lagusello located in the middle of the Garda Lake's hills you can find Casa Emanuela, an antique romantic country house with 2 bedrooms for 4-5 guests looking for absolute quiet but near the Garda Lake, Gardaland and the famous historic towns Verona and Mantova
CASA EMANUELA è una antica abitazione rurale che si sviluppa su 3 piani: al pianterreno ci sono 2 portoncini di ingresso, uno per la taverna abitabile con il soffitto a volta e una colonna in tufo centrale (in origine era la piccola stalla) e l'altro per l'ingresso principale con un imponente camino (in origine era la cucina) per l'accesso alle scale. Al primo piano ci sono un accogliente e luminoso soggiorno con angolo cottura, un bagno e una camera da letto matrimoniale con cabina armadio. Salendo una seconda rampa di scale si accede alla mansarda in cui sono presenti un ripostiglio privato e una seconda camera da letto matrimoniale con bagno esclusivo abbastanza grande da poter ospitare anche un letto singolo aggiuntivo. All'esterno della casa l'area del cortile-giardino puo' essere utilizzata come posteggio auto o come fantastica location per una cenetta all'aperto al chiaro di luna.
Castellaro Lagusello è uno dei 100 Borghi piu' belli d'Italia, situato nel cuore delle colline moreniche del lago di Garda a pochi Km dal lago e da moltissime attrazioni turistiche di ogni genere: Gardaland, Arena di Verona, Mantova tanto per citarne alcune. Nel borgo e nei dintorni sono presenti molti ristoranti e agriturismo per gli amanti della buona cucina e molte cantine in cui è possibile acquistare direttamente dal produttore i vini dei colli morenici. Le colline sono ricche di bellissimi itinerari per gli appassionati di mountain-bike e nordic-walking.
Sehr schönes Haus aus dem Ende des 17. (!) Jahrhunderts, liebevoll eingerichtet mit zum Teil antiken Möbeln so dass man sich eher in einem Heimatmuseum wähnt. Castellaro Lagusello ist ein schöner und typischer Ort für diese Region, es gibt ausreichend Trattorias und Retaurants (3) sowie eine Bar. Das Dorf ist sehr klein und ruhig, dennoch nicht weit vom Massentourismus des Gardasees. In etwa 15 Minuten erreicht man Peschiera und damit den See. Francesco war sehr um das Wohl unserer Familie mit drei kleinen Kindern bemüht, er stellt übrigens hochwertige Handtücher und Bettwäsche (aus eigener Produktion) in mehr als ausreichender Anzahl zur Verfügung. Das macht sich im Kofferraum bemerkbar! Ich kann diese Unterkunft nur empfehlen, bei Problemen steht Laura, die Nachbarin mit guten Deutschkenntnissen, helfend zur Seite.
Lothar
2016-07-30T00:00:00Z
Castellaro Lagusello is a beautiful tiny village in a reasonable distance form Garda lake. The place is quiet and peaceful what gives a relief, especially in summer when Garda lake is extremely crowded. Although the place is small you can find there several nice places to eat and vineyards in the surroundings. We can recommend this place.
Aleksandra
2016-08-20T00:00:00Z
Tipo de Quarto
Casa inteira/apto
---
Tipo de Imóvel
Casa
---
Acomoda
5
---
Quartos
Castellaro Lagusello, Lombardia, Itália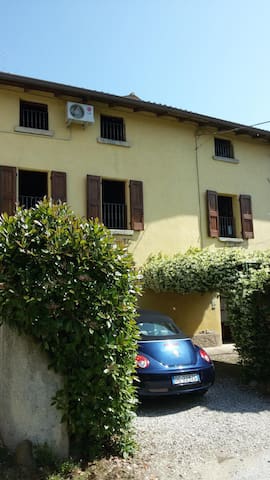 La casa di Novelle é adatta alla famiglia, si trova nel mezzo di una campagna tranquilla, poco distante dal Lago di Garda, ma lontana da traffico e confusione. Disponibile l'accesso alla piscina adiacente, parte di una bella struttura agrituristica.
The house is a restored country house located in the quiet village called "Novelle" of the Municipality of Volta Mantovana. The house, which is just 12,5 kilometers from Lake Garda, 20 from Therme Sirmione and about thirty from the cities of Verona, Mantua and Brescia, consists of a large kitchen, a spacious living room and two bedrooms connected, located on the first floor, both equipped with a large double bed, a single bed and a private bathroom. A third bathroom is located in a compartment outside, built at the right edge of the green garden that surrounds it. A large basement can admit your equipment. The house has a central heating system with radiant elements and two wood-burning fireplaces that make particularly comfortable stay home in the cold months.
la casa è inserita in un borgo rurale circondato da frutteti e colture intensive. raggiungibile a piedi (circa 1.5 KM) il parco acquatico Cavour. a 50 m servizio bar - ristorante con possibilità di accesso alla piscina ed alla zona benessere.
We enjoyed our stay at the country house of Vivian and Stefano! We loved the place because it was in the middle of the countryside near lake Garda and near Verona. It was out of the touristic zone of Garda lake but only 15 minutes by car if you want to go there. The house is very good equiped and personal decorated, very cosy and air conditioned which was needed at the time we were there. The garden is beautiful and there are lots of birds and ripe BlackBerries ready to eat (fruity breakfast!). We loved the two hens: Christina and Bianca who both offered us an egg every day : ) The beds and sofa's are very comfortable. You can walk around in the surrounding where you can have beautiful vieuws! The communication with Stefano was very good and Vivian showed us the house and suprised us with a bottle of region wine and fresh fruit. We would recommend the house to anyone who loves the countrysite, peaceful surrounding, nice and comfortable athmosphere in a house. Thank you Stefano and Vivian for having the opportunity to stay in your house. All the best, Pauline & Family
Pauline
2013-08-04T00:00:00Z
Nous avons été très bien accueillis par Vivian et Stefano, hôtes très prévenants. La maison est superbe et confortable et le jardin très agréable. Un délice pour les enfants! Nous avons passé une semaine de rêve. Une destination à recommander!
Jacques
2015-08-01T00:00:00Z
Stefano was great, responsive and welcoming, the house amazing in great location, fully equipped. best deal for families
koby
2014-08-13T00:00:00Z
Accueil sympathique d'Alessandro et de ses parents. Maison agréable située au calme et proche de lieux touristiques (30 mn) Vérone, Sirmione, Mantoue. La piscine de l'agrotourismo voisin est accessible moyennant une consommation est très utile quand il fait chaud.
delphine
2016-07-25T00:00:00Z
Jolie maison de campagne agreable a vivre et bien situee, assez proche de nombreux points d interets. Une piscine accessible dans l agroturismo voisin moyennant consommation. Accueil sympathique du proprietaire. Bons velos permettant d acceder aux pistes cyclables proches.
Caroline
2015-08-30T00:00:00Z
Excellent, serene, peaceful, spacious, rustic - a real find; our host Stefano could not have been more welcoming and friendly. The property comes fully equipped including things to keep our 4 year old busy (bikes, boules, toys, games, hens) and we enjoyed spending evenings in the private garden. The property does require a car but its not isolated, there are a couple of good restaurants nearby - La Sqola is an excellent pizzeria 1 - 2 km away, Agriturismo Bortolini is 100 metres away, its a 15 minute trip to all of the attractions of Lake Garda - really enjoyed our stay, well worth a visit.
Lynsey
2014-07-25T00:00:00Z
The house was awesome! Located in beautiful countryside with nothing but green all around, the house is like something taken out of a children's tale. There was ample room for the 5 of us (2 adults, 3 kids), and the house was fully furnished and great fun to stay in. In fact, we had a hard time talking our kids into leaving the place and going to the lake! The lake is about 20 minutes away, in a beautiful drive through the countryside. All in all, it was an awesome experience! Thanks Stefano, we've had a great time!
Noam
2014-08-01T00:00:00Z
La maison est dans un cadre de verdure . Elle est très agréable, très bien entretenue, et très bien équipée. Cette maison est très bien située pour aller visiter le lac de Garde, Vérone, Mantova ..... Nous avons beaucoup apprécié les vélos qui étaient à notre disposition. Ce sont d'ailleurs des bons vélos , bien entretenus, ce qui nous a permis de profiter au mieux des pistes cyclables qui passent juste devant la maison. Stéphano est un hôte attentif et très agréable . En conclusion , nous avons passé un excellent séjour à Volta Montavana.
Le Gras
2016-08-28T00:00:00Z
Tipo de Quarto
Casa inteira/apto
---
Tipo de Imóvel
Casa
---
Acomoda
6
---
Quartos
Volta Mantovana, Lombardy, Itália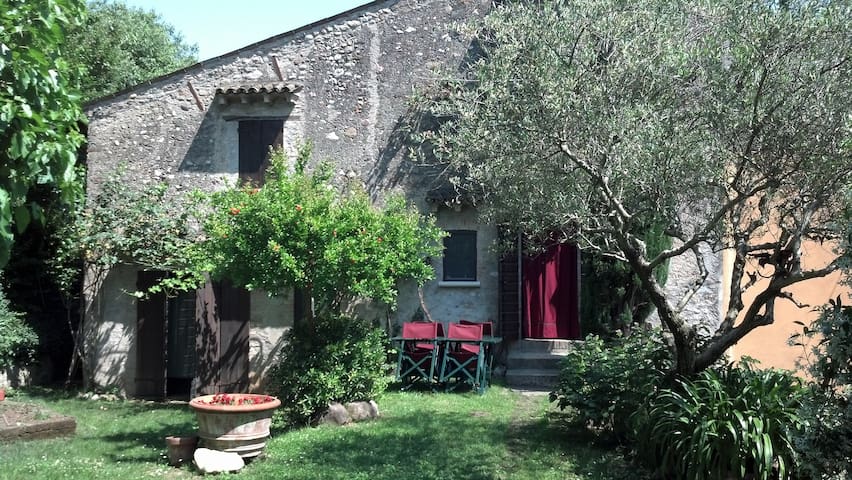 We are not too far from Verona Catullo Airport and from the railway station of Peschiera del Garda. Some amusement parks nearby (Gardaland, Movieland), little villages, Lake Garda, art and culture and beautiful panoramic views. You will enjoy the intimacy, the comfortables beds, the sky at night, sunlight, food and wine. My accommodation is suitable for couples, lone adventurers, business travelers and families with children (1 SINGLE, 1 DOUBLE BED) Info: see our blog "bb61p" on blogspot.
A well made of stone and tuff, from ancient times up to the 60s' people have continued to draw water from that. A slice of land with fruit trees, some poultries. An old country house, built in an ancient medieval court. The passion for nature, arts, travels. An empty attic, like a blank page on which we can finally write a small piece of our future. After 1 year, a simple unusable open space, has been transformed into a great example of restructuring in architectural terms and energy efficiency. Obviously, we have always worked only in the spare time, concentrating all efforts in a few available hours, every evening after our daily business hours, on all Saturdays and Sundays. Except the electrical and the hydraulic systems, every wall has been hoisted, isolated, putted and painted by us. Every finishes, cabinets, headboards, the doors, the chest, have been made with reclaimed wood; the few plasters in Biocalce (bio-matter). Nothing has been thrown, everything reused in the best way, in order to incorporate an ethical discourse, to that of pure aesthetics. The space, an entire floor inside of our house consisting of two bedrooms and a large bathroom, is now ready to host those who wish to spend some days in our beautiful borderlands, living and exploring the heart of the Morenic hills and the Lake Garda through our instructions and informative materials that will be available @ our B&B. Do you want to relax on the grass? You are in the country, many fruit plants, vines, olive trees, a vegetable garden where you will see the vegetables grow. Even barnyard animals to observe. Which animal represents you the most? Among the proposals accommodation, choose the high lair of the hare: it allows you to spy the sky at night comfortably lying on the bed, as well as the sunrise in the morning. So enjoy, you are welcome.
Pille is a little charming village frozen in time, located in the municipality of Monzambano. Walking through the streets of the village, few scattered houses and small isolated courts, you can get lost among vineyards and forests of oak and beech trees, or climb on the height of the Mount of the Cross, to admire the suspended atmosphere of the valley below. The legend says that the name of this village derives from the word "fowl" or "gushing": this place, in the past, was choosen from the shepherds for the transhumance of their livestock. Isolated from adjacent roads by the morphology of the hills sloping down to the river, the traffic noises are soon replaced by the singing of the birds and the foxes calls on summer nights. Every farm has a vegetable garden and a chicken coop, here the self is not a fad of recent years but a tireless tradition handed down from father to son. Observing from the lower lake glacial, the hills that sprout to create the High Mantua Area, on the first one you can find the castle of Ponti sul Mincio, on the second the manor of Monzambano. Both Scala family made - the territory came under the Lombarda administration only at the end of the 18th century - well explain the character of the countries in the area, arise on the fortified heights of the hills. At the beginning of time, the melting of huge glaciers that gave rise to the Benaco (the Lake Garda, today), made the moraines (glacial erratics rocks) rolling down in the valley, forming the moraine hills. Some boulders are still visible next to Castellaro Lagusello. The recent history of Monzambano, it's quite old and dates back to Roman times. Several archaeological finds, now collected in the Mantua Archaeology Museum of Cavriana ((URL HIDDEN) are evidences of this. Already in 1187 Monzambano belonged to the territory of Verona, then in 1495 came under the Serenissima Republic of Venice, as evidenced by the winged lion on the castle tower. At the end of 18th century, the Napoleon period, Monzambano came under the control of Mantua and many battles were fought here during the Risorgimento. In fact, this landscape was inside the famous "quadrilateral" defensive structure, whose vertices were the fortresses of Peschiera del Garda, Mantua, Legnago and Verona. One of the taverns in the center, "Il caminetto" (the "Fireplace"), hosted King Vittorio Emanuele II, who in 1859 met here the Count of Cavour, Camillo Benso. During the Third War of Independence, a decisive battle against the Austrians was fought right here. Even the famous heart-shaped lake of Castellaro Lagusello, is born in the post -glacial era. The fortified village that born on its banks, is a little jewel: from the legendary bell tower, to the walkway inside Villa Arrighi garden ( (URL HIDDEN) ) from which you can admire the splendor of the surrounding area. Recently, because of its importance, the "monzambanese" archeology has been declared World Heritage by UNESCO.
Il locale ben appartato sulle collinette a pochi chilometri da tutte le comodità,in casa ristrutturata con valide e belle accortezze, cortesia e genuinità sono di casa lì e la colazione di qualità. Bravi
Alessandro
2017-01-02T00:00:00Z
Sonia è un'ottima hostess, precisa e veloce nelle comunicazioni e molto disponibile. La casa è in una piccola località dove la calma e la natura fanno da regina. La camera molto accogliente e particolare, per fortuna essendo gli unici ospiti avevamo il bagno ad uso esclusivo. Ottima e genuina la colazione, che abbiamo molto apprezzato. Posto consigliato!
Paola
2017-03-19T00:00:00Z
Tipo de Quarto
Quarto privado
---
Tipo de Imóvel
Casa
---
Acomoda
3
---
Quartos
Pille, Lombardia, Itália
Uma casa de indipendent, perto do Lago de Garda
A casa está situada na cidade de Solferino della Battaglia, a poucos quilómetros do Lago de Garda. É o lugar ideal para relaxar, ler, caminhar, visitar cidades de arte e comer a cozinha tradicional italiana real. A localização é encontra-se profundamente nas colinas verdes de nossa bela região, junto ao Lago Garda e do Parque Natural Regional do rio Mincio, é o destino ideal para quem gosta de esportes e gostaria de passar umas férias entre deserto e fitness. Aqui você pode, de facto, jogar kitesurf, windsurf, vela, ciclo de bicicleta, escalada, caminhadas têm excursões. cidades famosas como Mantova, Verona e Brescia são apenas alguns quilómetros de distância, para que os nossos clientes a ter um feriado cultural, enquanto aprecia a boa tradição da culinária local. PARK para carros, motos e campistas. A casa é independente e é composto por dois quartos, um banheiro, uma sala, uma cozinha, um grande terraço e parque privado. Todos os quartos têm televisão, ar condicionado e frigo.
Tipo de Quarto
Casa inteira/apto
---
Tipo de Imóvel
Casa
---
Acomoda
6
---
Quartos
Solferino, Lombardia, Itália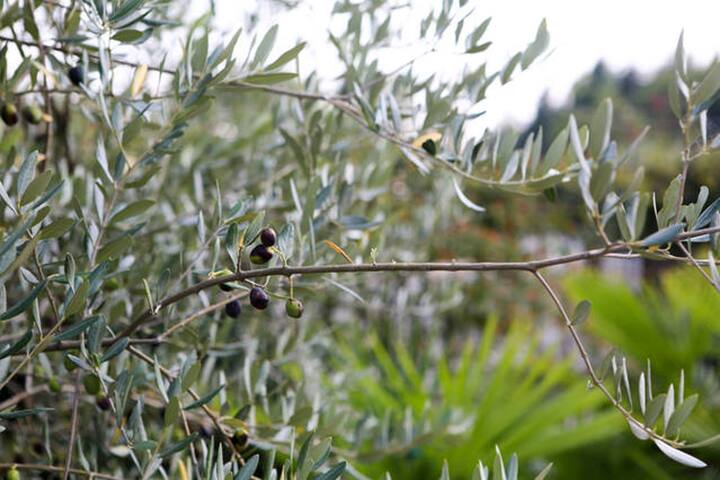 Unser wunderschönes Haus auf dem Land liegt nur 2 km von Borghetto sul Mincio eine herrliche mittelalterliche Landschaft in unmittelbarer Nähe zum Gardasee, zu allen berühmten Vergnügungsparks, Gardaland, Sigurtà, Wasserpark Cavour .Our hause in der Nähe von wundervollen Aussicht auf die Landschaft ist , typische Restaurants, und viele Aktivitäten für Familien. Sie werden den See sehr viel unser Haus. Es ist sehr gut für Familien, Gruppen von Menschen jeden Alters. die Tiere sind willkommen
Unser Haus ist ein wunderschönes altes Haus auf dem Land. wirklich wunderschön
Borghetto, Valeggio sul Mincio, Peschiera del Garda am Gardasee ist ein wunderbarer Ort, um Ihren Urlaub verbrachte,
Tipo de Quarto
Casa inteira/apto
---
Tipo de Imóvel
Casa
---
Acomoda
12
---
Quartos
Valeggio sul Mincio, Veneto, Itália
Dům se nachází ve městě Castel Goffredo 20 km od Gardského jezera, 45 km od Mantova-Brescia-Cremona a Verona. Nejbližší vlakové nádraží je Desenzano del Garda, na letišti Verona pohodlnější, doporučuje dálniční exit Desenzano del Garda nebo Mantova
E' tutto esattamente come da descrizione. La casa è molto bella, Marco e sua moglie sono molto gentili e ospitali, per cui non penso ci sia molto da aggiungere. Assolutamente consigliato.
Giuseppe
2015-10-05T00:00:00Z
Marco e sua moglie sono persone fantastiche! Ci hanno accolto come se ci conoscessimo da sempre. Avete voglia di fare due chiacchiere?.......beh loro non vi diranno certo di no! Il caffè la mattina è stata la ciliegina di un soggiorno perfetto. Casa bellllll(PHONE NUMBER HIDDEN)ssssssss(PHONE NUMBER HIDDEN)mmmmmaaaaa e pulitissssiiiimmmaaaa! Complimenti ragazzi!!
Francesco
2015-09-21T00:00:00Z
Tipo de Quarto
Quarto privado
---
Tipo de Imóvel
Casa
---
Acomoda
2
---
Quartos
Castel Goffredo, MN, Itália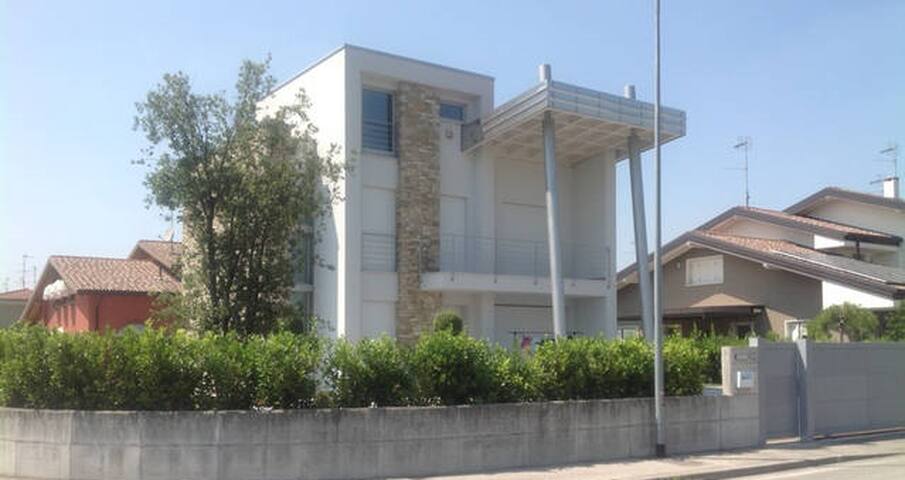 Bonita casa de 700 completamente renovado com elegância. Muito tranquila e bem servida; a menos de 100 metros existem bares, lojas, restaurantes, bancos, correios e parque perfeito para as crianças é fazer jogging. Composta por dois quartos, banheiro, cozinha, cave, arrecadação para bicicletas. espaço de estacionamento em frente à entrada da casa. É a 8 km de Desenzano del Garda e menos de 30 km de Gardaland, Movieland, Sigurtà e Caneva Park. Nós falamos Inglês e HOLANDÊS
L'alloggio rispecchiava a pieno l'annuncio, la casa è molto bella accogliente, grande e pulita. Consiglio a tutti coloro che volessero soggiornare in questa zona di scegliere questa casa.
Silvia
2017-01-01T00:00:00Z
Ottimo appartamento, pulito, ordinato e profumato
Paola
2016-12-26T00:00:00Z
Casa muy limpia, todo nuevo, con aire acondicionado. Ermanna es muy simpática.
Jennifer
2016-08-21T00:00:00Z
Ermanna é una padrona di casa a dir poco straordinaria! Una famiglia fantastica fatta di persone eleganti, distinte e solari. L'appartamento è meraviglioso. Appena ristrutturato con il massimo dei materiali e della cura. Ogni dettaglio non é mai lasciato al caso: il bagno di design ma comodo e funzionale, i prodotti per la cura del corpo a disposizione di qualità professionale, un'ampia cucina nuova dotata di tutto. Siamo davvero rimasti colpiti, non solo dalla splendida location ma soprattutto dalla genuina piacevolezza della famiglia proprietaria. Persone con cui é bello passare del tempo assieme. SE VOLETE UNA LOCATION DI STILE A POCHI PASSI DAL LAGO AVETE TROVATO IL POSTO PERFETTO!!!!!!
Marco
2016-02-16T00:00:00Z
La casa di Ermanna è stata restaurata di recente, alla perfezione, con gusto ed eleganza. Siamo stati molto bene, abbiamo apprezzato le finiture ed il silenzio che regnava a qualsiasi ora del giorno e della notte. Molto comoda la possibilità di parcheggiare di fronte all'entrata, nella corte, e di riporre le biciclette in un magazzino adiacente. Ci sono state fornite le lenzuola e gli asciugamani, consentendoci di risparmiare spazio in valigia. Ermanna è stata molto gentile, disponibile ed ha esaudito le richieste che le abbiamo rivolto durante il soggiorno.
Ulisse
2016-03-31T00:00:00Z
Alloggio carinissimo! Comodo parcheggio interno in una zona tranquilla, stanze curate e arredate con gusto, ottima pulizia, perfetto anche per noi con 3 bambine !
GIOVANNA
2016-09-25T00:00:00Z
Ok
Amedeo
2016-11-06T00:00:00Z
Posizione comodissima, a due passi da tutto ma allo stesso tempo molto silenziosa. Casa dotata di tutto quello che serve. Ermanna è molto gentile e precisa.
Michele
2016-10-31T00:00:00Z
Tipo de Quarto
Casa inteira/apto
---
Tipo de Imóvel
Casa
---
Acomoda
5
---
Quartos
Castiglione delle Stiviere, Lombardia, Itália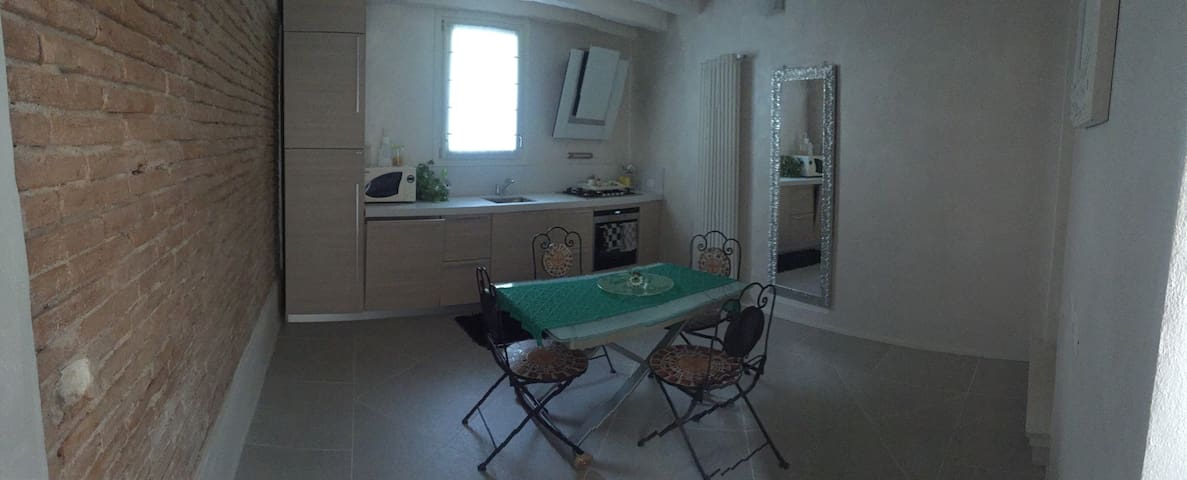 Ci troviamo su una collina in mezzo al verde adatto x chi ama camminare e biciclette
Tipo de Quarto
Quarto privado
---
Tipo de Imóvel
Casa
---
Acomoda
2
---
Quartos
Monzambano, Lombardia, Itália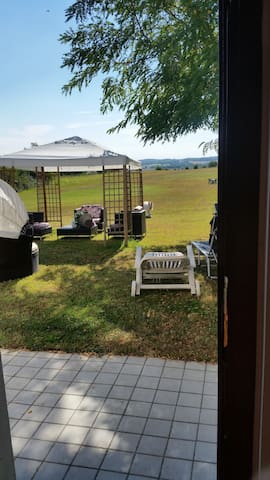 Vicini a Mantova e Verona (circa 20 km ognuna), al Lago di Garda, al Parco giardino Sigurtà (un parco naturalistico di 60 ettari), al parco divertimenti più grande d'Italia Gardaland, il parco Natura Viva, al Parco divertimenti Movieland e anche a uno dei borghi più belli d'Italia, Borghetto. Bagno con vasca idromassaggio per due a pagamento extra.
The house of mirrors is available to you, small kitchenette with microwave, sink and plates, everything needed for the stay, room for two people and amazing bathroom.
Completamente fuori dalla città, in ambiente isolato e tranquillo tra animali da cortile che starnazzano, galli che cantano e cani da guardia che abbaiano.
Beautiful and quiet place. Apartment looks better than in pictures. Welcoming family. We just stayed one night but it would have been a pleasure to stay another one
Pheng
2017-04-07T00:00:00Z
Appartato in zona di campagna, con ampio parcheggio e ben arredato. Vasca e doccia con sauna e bagno turco in un bagno molto (URL HIDDEN) letto è scomodo ma tutto il resto magnifico. Gentilissima host e colazione abbondante.
Lara
2017-03-26T00:00:00Z
Daniele è una persona gentilissima e molto disponibile. Bellissima casa. Grazie per l'accoglienza. Speriamo di tornarci presto!
Daniele
2017-04-09T00:00:00Z
Casa stupenda, ancora più bella che nelle foto, specialmente il bagno con vasca idromassaggio. Si trova in una zona molto tranquilla, perfetta per un week end di relax. Daniela, la proprietria, è molto gentile e cordiale.
William
2017-04-02T00:00:00Z
Tipo de Quarto
Casa inteira/apto
---
Tipo de Imóvel
Casa
---
Acomoda
2
---
Quartos
Turchetti, Veneto, Itália
Camera con terrazzo e bagno privato immersa nel verde vicina alle maggiori attrazioni turistiche e alle piste ciclabili. Ottima per cicloturisti con posto auto all'interno del residence. La seconda camera con letto singolo a disposizione della stessa famiglia.
La camera ha un ingresso indipendente che permette grande riservatezza all'interno di una splendida residenza privata con piscina e un grande parco condominiale dove poter fare delle bellissime passeggiate. Ideale per soggiorni e visite in tutte le stagioni, posizione perfetta per esplorare il Nord Italia e il Lago di Garda. Nel giardino c'è una piscina aperta da giugno al 20 settembre e incantevoli giardini che circondano gli appartamenti, il posto auto è scoperto ma all'interno del centro residenziale vicinissimo alla casa. L'accesso è dalla strada principale che porta al Lago di Garda attraverso un cancello di sicurezza con codice.
Peschiera Del Garda è a soli 10 minuti da dove si raggiungono facilmente i Parchi del Garda: Gardaland, Sealife, Movieland e Parco Natura Viva. E' facile raggiungere tutte le strutture termali e i parchi acquatici: Sirmione, Aquardens, Gardacqua e Villa dei Cedri di Colà. Sono inoltre a disposizione dei turisti escursioni di ogni genere adatte sia a famiglie che a sportivi esperti.
Posto molto bello, pulito, accogliente e con una bellissima piscina. Marina un ospite eccezionale, ci ha fatto sentire a casa nostra sempre disponibile gentile e presente per ogni nostra esigenza, pronta con preziosi consigli e informazioni rendendo cosi il nostro soggiorno indimenticabile. Le piacevoli conversazioni davanti all'abbondante colazione hanno reso il tutto speciale. Grazie Massimo A beautiful B&B located in a quiet residence. Marina our host was absolutely wonderful making us feel welcome and meeting our every need. She is a fountain of knowledge about the area, its history and places to visit. Thank you for everything and having made us feel at home. Alessia thanks you for providing rice milk! ☺ Sabrina
Massimo
2016-07-21T00:00:00Z
Marina e il suo compagno erano molto gentili e flessibili. Tutto come da descrizione, pulito e ordinato. Consigliata.
Susy
2016-05-16T00:00:00Z
Marina is a wonderful host and the room was perfect for us, plus we got great coffee in the morning!
Nisse
2017-04-11T00:00:00Z
Tutto come da descrizione. I proprietari disponibili, gentili e socievoli. Da provare!
chiara
2016-04-06T00:00:00Z
Una soluzione perfetta, tanta accoglienza e calore da parte di Marina e Massimo, due amici più che due Host. La posizione è strategica e a pochi passi da posti meravigliosi sia in riva al lago che non.
Justen
2017-01-02T00:00:00Z
Questa è la seconda volta che soggiorno da Marina... E' un posto giusto per ritrovarsi "a casa" dopo una giornata di turismo nei meravigliosi dintorni, oppure di lavoro. La camera è spaziosa, con un grande terrazzo che dà sul verde dei prati; la stanza da bagno è ottima. Marina e suo marito sono simpatici, gentili e sempre disponibili. Cosa di meglio?
Marina
2016-04-30T00:00:00Z
È stato un piacere conoscere Marina..Gentilissima, simpatica e schietta! Camera e bagno spaziosi e confortevoli. Torneremo per un altro giro nella stupenda zona del lago.
Laura
2016-03-28T00:00:00Z
We really enjoyed the stay. Marina is a very nice person and was always available and helpful from arrival to departure. Photos dont make place a favor, its much prettier in real. Very clean and cozy. Breakfast was tasty and rich with a very goo coffee! :) The pool is just amazing! Try it out after dark. The lightning is very nice. :) Thank you Marina for the great service. We'd love to visite you again next time. :)
Svetlana
2016-08-08T00:00:00Z
Tipo de Quarto
Quarto privado
---
Tipo de Imóvel
Casa
---
Acomoda
4
---
Quartos
Monzambano, Lombardia, Itália
1

–

18

de

74 Casas para Alugar
Insira as datas para ver o preço total. Taxas adicionais aplicáveis. Podem ser adicionados impostos.