6 Apartamentos para Alugar
It's a cosy place for solo-adventurists & business people that need a break out of their busy world. It's surrounded by big old trees. Hoek van Holland is a typical authenic village of the Dutch. We do almost everything by bike or foot. We say; "no stress, just relax" Walk to: Bush - 2 min. Busstation - 2 min. Trainstation - 10 min. Centre - 10 min. Harbour (waterweg) - 10 min. Beach - 15 min. Drive to: Scheveningen or Den Haag - 20 min. Rotterdam - 25 min.
1) Living room with Wifi and Television. 2) Kitchen with oven 3) Second living room, with a sleeping sofa (bank) 4) Bathroom with a very hard shower. 5) Bedroom with an Auping bed. Zo dicht bij het strand, lopend door de bossen en duinen is het maar 15 minuten. Je wakker wordt en overal groen om je heen hebt . Heel rustig . Genoeg parkeerplaats. 10 minuten lopen naar het centrum, haven en de Waterweg . Het is een heerlijke ruimte om te verblijven , 1 slaapkamer . En 1 slaapbank , voor een derde persoon . Of 2 kleine kinderen .
Uniek & rustige omgeving, omgeven door veel groen en een groot bos.
Het verblijf in Ankie's appartement was heel aangenaam. Ruim, schoon, goed geïsoleerd en heel rustig, voorzien van drie fietsen heeft het ons vier heerlijke dagen bezorgd!Heel erg de moeite waard.
arthur
2016-12-26T00:00:00Z
Wir hatten eine super schöne Zeit in Holland. Ein Grund war das wundervolle Haus von Ankie. Die Wohnung war mit so viel Liebe eingerichtet, so dass wir super entspannen konnten. Ankie war total freundlich, antwortete immer schnell auf unsere Anfragen und war sehr flexibel was die Ankunft bzw. Abreise betraf. Wir kommen sehr gerne wieder!
Lena
2017-01-02T00:00:00Z
"C'est un excellent choix pour votre séjour aux Pays-Bas. Il est spacieux, très propres et bien équipés. Nous avons été très satisfaits" Nous avons été très satisfaits, c'était un quartier calme et résidentiel de Hoek Van Hollande. La propriétaire "Mme Ankie" est très sympa, serviable et accueillante. Un super rapport qualité-prix - je le recommande sans hésitation si vous avez l'intention de visiter La Hollande. Aymen & Chems.
Med Aymen
2016-10-24T00:00:00Z
Ankie is a very communicate and very nice person. It was just everything perfect. We will definitely come again. To the beach it is just a 15 min walk from the Apartment. It is big enough and you got everything what you need. We stayed at the place for 3 days with two small kids. Around the Apartment are nice playground for kids. Supermarket and the centrum of Hoek van Holland are only 10 mins away by walk.
Bartosz
2016-10-31T00:00:00Z
Me and my boyfriend stayed just one night at Ankie's place, but we had a great time and enjoyed it very much. Ankie is a great host! She was so flexibel with check-in and check-out times and we could as well rent bikes at a bargain price. Calm neighborhood and very close to the beach. We will definitely come back. Thanks again Ankie!
Christin
2017-04-02T00:00:00Z
We stayed 2 nights with our 19-mo daughter and had a fantastic stay. Extremely friendly landlord, super cleanand equipped, Ankie even organized a babychair on short notice. Great place, great owner
olivier
2016-12-20T00:00:00Z
Nah am Stand. Wir bekommen sofort Antwort, obwohl uns wir recht kurz entschlossen haben, los zu fahren. Das Apartment war groß genug für meine zwei Töchtern, auszutoben. Denn draußen war kalt. Trotzdem sind wir zwei mal am Strand. Gerne kommen wir wieder, wenn es Frühling ist. Super Gastgeber!
Kwangsoo
2016-10-27T00:00:00Z
Tipo de Quarto
Casa inteira/apto
---
Tipo de Imóvel
Apartamento
---
Acomoda
3
---
Quartos
Hoek van Holland, Zuid-Holland, Holanda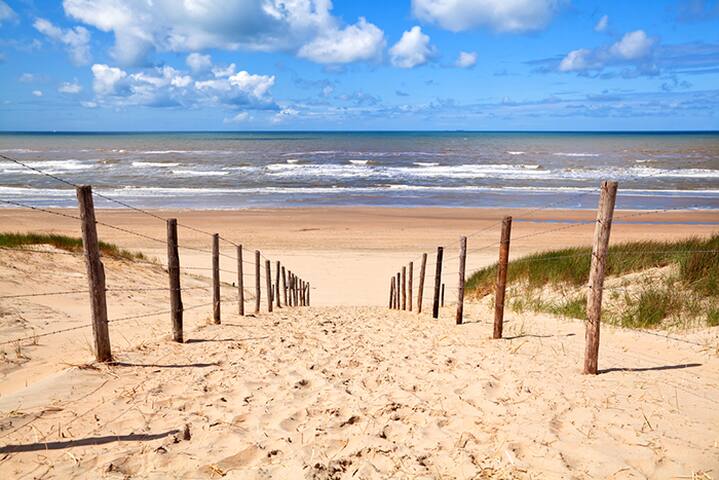 Op één van de mooiste plekjes van Hoek van Holland, aan de monding van de Nieuwe Waterweg treft u Villa Eb en Vloed. Alleen al het adembenemend uitzicht op het scheepvaartverkeer en het vergezicht op de Europoorthavens maken een bezoek aan dit vakantie-appartement tot een ware belevenis. Dit luxe vrijstaande, mediterraanse villa ligt in een rustige buurt, en op loopafstand van het strand en duinen. Als u Villa Eb en Vloed ziet, komt u al meteen in vakantiestemming.
De etage bevat een grote woonkamer met open haard en keuken. Het balkon aan de voorkant van het huis geeft een ruim uitzicht over het fort van Hoek van Holland en het scheepvaartverkeer van de Nieuwe Waterweg. Er zijn twee slaapkamer met ieder een badkamer, Op de gang is een extra toilet.
Very modern apartment with spectacular view and art design. Evrything you need from dish washer, washing machine, wifi, big kitchen. Close to beach, supermarket, train.
Marcus
2017-01-05T00:00:00Z
Awesome flat! We had 3 nice days there and enjoyed them !
Paul
2017-03-18T00:00:00Z
Riant huis, mooi ingericht, met een geweldig uitzicht op de Nieuwe Waterweg en de Maasvlakte.
Marianne
2017-02-03T00:00:00Z
Przepiękny dom ze świetnym widokiem! To był bardzo przyjemny pobyt :)
Dominika
2016-10-21T00:00:00Z
Tipo de Quarto
Casa inteira/apto
---
Tipo de Imóvel
Apartamento
---
Acomoda
4
---
Quartos
Hook of Holland, South Holland, Holanda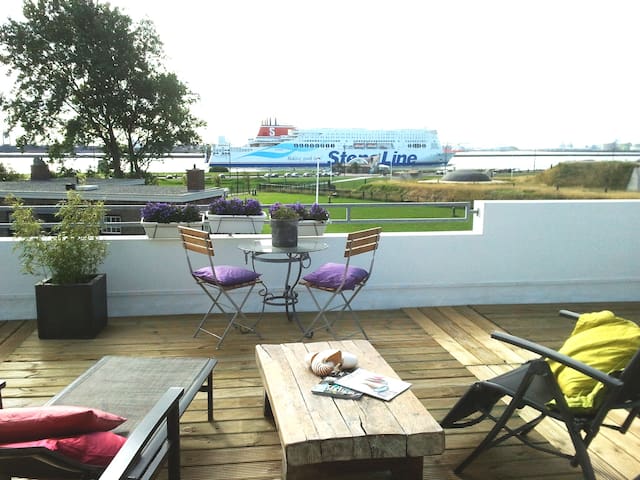 STRAND, ZEE, DUINEN, GEZELLIGE HORECA loopafstand. Gratis parkeren. Perfecte uitvalsbasis voor ROTTERDAM, DEN HAAG, DELFT 30 min, AMSTERDAM 50 min
Beautiful appartment situated on a unique location on the dunes with an ocean vieuw. 3 minute walk to the dunes and sea. From the balcony you can enjoy the nature in witch you can spot foxes en little rabbits. A 100 square meters of living enjoiment. 2 bedrooms, livingroom, kitchen with all suppliances like dishwasher and oven, a spacious bathroom with bathtub and schouwer aside, 2 toilets, walk-in closed, indoor garage with remote control. Washing machine and dryer also present. Train station, stores and restaurants within walking distance as is the little cosy center of Hoek van Holland At the beach you will find nice restaurants and beach cafes whith lounge beds, Interresting citys like Delft, The Hage and Roterdam 20/30 car minuts away From within the appartment you can admire the most breathtaking sunsets and you will believe to be in the middle of nature. Besides that the appartment is right next to forest where you can hike but also cycle to Staelduinsebosh or the "nieuwe waterkering" A crown juwel of the Dutch watermanagement. A perfect place to have an nice, interresting vacation!
De locatie van het appartement is uitstekend te noemen. Rechts een bos om fijn in te wandelen, links de zee en duinen. Een pier waar veel vissers komen vissen, de vele eetgelegenheden laten niets te wensen over. Allemaal op loop afstand. Ook het centrum van Hoek van Holland is niet ver met genoeg winkels en supermarkt die zelfs zondag open is zult u niets te kort komen. With car you can go to Maeslandkering. Is interesting work from the Dutch delta work. There is also an information hall from the making of it. You also can take a ferry to the maasvlakte. That is the industry of the important port of Rotterdam. But I hope you have good wether and can chill at the beach. At the beach are a lot of places for food and coffee and always open. If you want a really good lunch or dinner. Het Jagershuis. It is not cheap but the food is good quality. (A little classy old fashioned) De jutter is at de waterweg, and very cosy, good food and not expensive. You can walk two both. If you like Italian. In the city center there is only one italian. Very very very simple ugly old fashioned:) but they are real Italians in the kitchen and make tasty pizzas and chili chicken that is very tasty.
The flat is really nice simple and calming, with a great view of dunes and the sea. We went there for a long weekend, and even though Eva had a personel emergency getting the keys went smooth and was not problem at all. It was great!!! You can spend days walking the beach and watching the big boats leave the harbour to return to the stylish but compfy flat. The one thing I missed was a sofa big enough for two people to be comfortable at the same time. But then it is like on the pictures, so noone to blame but myself.
Anissa
2013-07-01T00:00:00Z
Een week in het appartement van Eva doorgebracht. Zeer vriendelijk ontvangen in een mooi en opgeruimd huis. Er stond zelfs een bloemetje. Heerlijk schoon beddegoed en badkamer. Een keuken die uitnodigt om te gaan koken. We hebben enorm genoten van de prachtige luchten die ruimschoots te zien vanuit het appartement. Zorg dat je het ochtendgloren ziet. Zooo mooi!
Gerda
2016-10-22T00:00:00Z
Wir hatten eine tolle Zeit in Evas Apartment, die Beschreibung war sehr gut, es war alles wie beschrieben. Die Unterkunft ist sehr empfehlenswert für ein paar entspannte Tage am Meer für ein Pärchen.
Tina
2014-09-01T00:00:00Z
Eva's Wohnung hat unseren Aufenthalt in dieser schönen Gegend perfekt gemacht- die Lage, die Einrichtung und auch die Kommunikation mit Eva war super! Sehr empfehlenswert und zum Wohlfühlen- thanks Eva!
Nadine
2016-08-22T00:00:00Z
Everything was absolutely perfect down to the last detail! Thank you Eva, we had a great time and warmly recommend your apartment!
Zoe
2013-10-24T00:00:00Z
Wir haben uns sehr willkommen gefühlt. Das Appartment ist super schön, gut ausgestattet und entspricht absolut der Beschreibung. Eva ist sehr hilfsbereit und unkompliziert in allen Dingen gewesen. Wir haben uns wirklich wohlgefühlt und können das Appartment uneingeschränkt empfehlen!
Silvia
2014-08-12T00:00:00Z
Very relaxing stay with lovely views! We enjoyed seeing the bunny rabbits, and we even got to see the elusive red fox. There are several nice restaurants within walking distance and the flat is very close to the train station for arrival and departure. Walking the dunes and on the beach is wonderful, and also seeing the ships coming and going into the Hoek is fun. Super quiet and peaceful.
Allison
2014-06-21T00:00:00Z
Evas apartment is a lovely place to relax for a couple of days. Hoek van Holland is pretty small but yet you have everything you need and if you want to go to one of the bigger cities The Hague & Rotterdam are very close. The beach is pretty large, nice sand and quite a few possibilities to eat & drink. The apartment itself was as described - cozy and relaxing with a stylish interior. Eva is a lovely host - very friendly and caring. Even though we couldn't meet in person she always answered very quickly and helped us out with our questions.
Frank
2015-01-03T00:00:00Z
Tipo de Quarto
Casa inteira/apto
---
Tipo de Imóvel
Apartamento
---
Acomoda
2
---
Quartos
Hook of Holland, South Holland, Holanda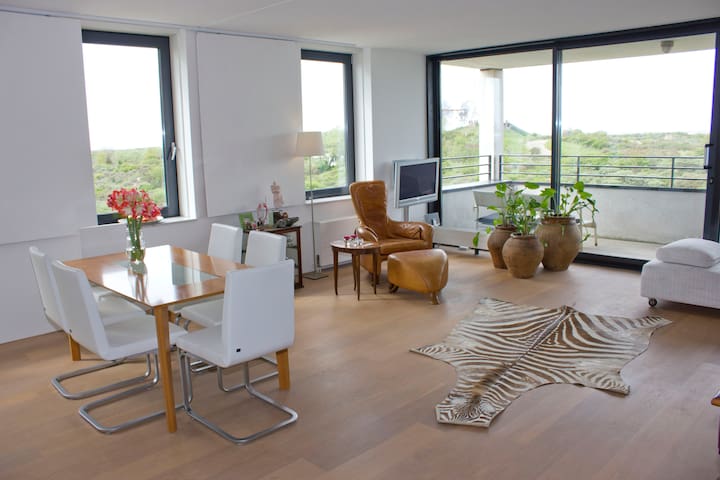 Welkom in Monster, beach dicht bij, fietspad, surf school, eat en angle. Dit apartment beschikt over een own ingang, groot bed 1,80x2,00m, plekje in de tuin, badkamer, koelkast, koffiezetapparaat, waterkoker en twee gezellige mensen met kat :)) Dear guests, we have a real kitchen, it is to make everything available to cook yourself tea and coffee and breakfast. Dogs are welcome free on request and extra
Ruim nieuw gemaakt van apartment 60 meter met eigen ingang, groot bed (1,80 x 2,00m), en luxe badkamer met bad en stortdouche alsmede een heerlijk bad. 4-plaat inductie, We have a kitchen, you can now cook everything, have breakfast or to make coffee and tea, of course there is a refrigerator.
Welcome to the Westland.Monster is a small place, yet one you can find everything here that you need to not get bored. Beach, sand motorcycle, hiking and biking trails, beach tents, boat cruises, horseback riding on the beach and yet no mass tourism in Monster. And historic garden grapes. The largest flower in the world in 10 minutes ........
Hätten wir noch Wünsche gehabt: sie wären erfüllt worden. Da aber alles so war wie erwartet und wie man es sich wünscht vorzufinden, waren wir wunschlos glücklich. Die Unterkunft sauber, die Gastgeber freundlich und aufmerksam, das Umfeld ruhig. Und auch wenn das Wetter nicht mitspielt, gute Erholung ist ist immer drin. Der Strand einen Katzensprung entfernt, Geschäfte in Laufweite. Was braucht man mehr?
Sina
2015-04-07T00:00:00Z
Rita ist eine sehr nette Gastgeberin! Wir durften vor 15.00 Uhr Einchecken! Wir haben alles so wie auf den Fotos vorgefunden! Gerne wieder!
Claudia
2016-07-22T00:00:00Z
Een leuk appartement onder het huis van de verhuurder. Het contact met de verhuurder verliep erg goed. Heerlijk bad in de badkamer!
Karin
2016-11-13T00:00:00Z
Wir wurden bei unserer Ankunft direkt freundlich vor der Tür empfangen. Das Badezimmer und Schlafzimmer sind sehr geräumig und das Bett groß und bequem. Die Wohnung befindet sich unterhalb von Ritas Haus, wie ein Keller, der auch durch eine Treppe mit dem Haus verbunden ist. Deshalb würden wir es genau genommen nicht als 'Ganze Unterkunft' sondern eher als einen privaten Bereich im Haus bezeichnen. Monster ist eine kleine, ruhige Stadt und alle nötigen Geschäfte fußläufig zu erreichen. Zum Strand haben wir zu Fuß ca. 15 Minuten gebraucht. Vielen Dank, Rita, dass wir bei dir zu Gast sein durften.
Kirsten
2016-09-11T00:00:00Z
Thank you Rita and Jan, our stay with you was perfect!
Michael
2016-04-25T00:00:00Z
Wir hatten nur wenige Tage zur Erholung, doch die hatten sich verdoppelt. Wir hatten nur Glück: Glück mit den lieben Gastgebern Glück mit dem schönen Appartement,dem kuscheligen Garten und dem genialen Sommerwetter. Scheveningen und Den Haag nur um die Ecke und Meer und Strand kann man vom Bett aus riechen. Wir kommen wieder!
Angelika + Klaus
2015-08-09T00:00:00Z
A wonderfully welcoming family and the apartment was just what we expected. Rita and her family are very friendly and helpful. There are playgrounds near and Monster's centre for food, shopping, etc. are within walking or biking distance. The beach is about a 10-15min walk and is peaceful and serene. A great place to relax but still near the Haag if you want some city time. Would stay again!
Kristy
2015-10-02T00:00:00Z
Rita and Jan are very lovely and welcoming persons. I really had an absolutely nice stay at their appartment. They gave me helpful advices what to do in the area of South-Holland. I do like to come back some time to relax again at their location. In total: their hospitality is exemplary. In the end I also got a little souvenir. Everything was as described in the ad. Perfect!
Thomas
2015-06-27T00:00:00Z
Tipo de Quarto
Casa inteira/apto
---
Tipo de Imóvel
Apartamento
---
Acomoda
2
---
Quartos
Monster, Zuid-Holland, Holanda
Quiet location and lots of privacy. Cosy furnished and fully equipped, Wi-Fi, use of large garden and locked storage room. Including bed linen and towels. 1 km distance from the town centre, beach, sea, dunes and train station. Bus stop in front.
The appartment is situated in a quiet area. Only 15 minutes walking distance from the sea side and city centre. On the boulevard you find lots of nice restaurants to enjoy your lunch/dinner or just for a drink.
We spent three nights at Sabine's apartment and had a really good time. The place is spacious, clean, well-equipped and good located... you'll reach the beach in about 20 min. We have been welcomed by her husband Hans with a few beers and crackers :) Sabine and Hans are really friendly hosts and we can only recommend... Communication beforehand was perfect!
Denis
2015-10-18T00:00:00Z
A very great weekend in Hoek van Holland, at Sabine and Hans ! A very friendly and welcoming couple. The apartment is spacious , bright and very practical with a baby. A wonderful memory of Holland for us! Thank you very much Sabine&Hans! Jeanne, Sila, Amélie et Gwen
Gwénaëlle
2015-10-25T00:00:00Z
Tipo de Quarto
Casa inteira/apto
---
Tipo de Imóvel
Apartamento
---
Acomoda
4
---
Quartos
Hoek van Holland, Zuid-Holland, Holanda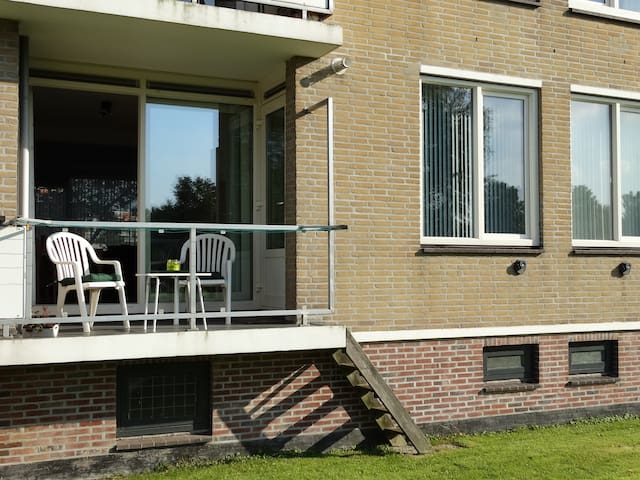 One bedroom with king bed. One bathroom with bath and shower. Modern kitchen. Internet and interactieve tv. In the middle of shopcenter. Free parking. On the beach parking 5€ a day. Walking to train, boat and buses. Excellent view.
Tipo de Quarto
Casa inteira/apto
---
Tipo de Imóvel
Apartamento
---
Acomoda
2
---
Quartos
Hook of Holland, South Holland, Holanda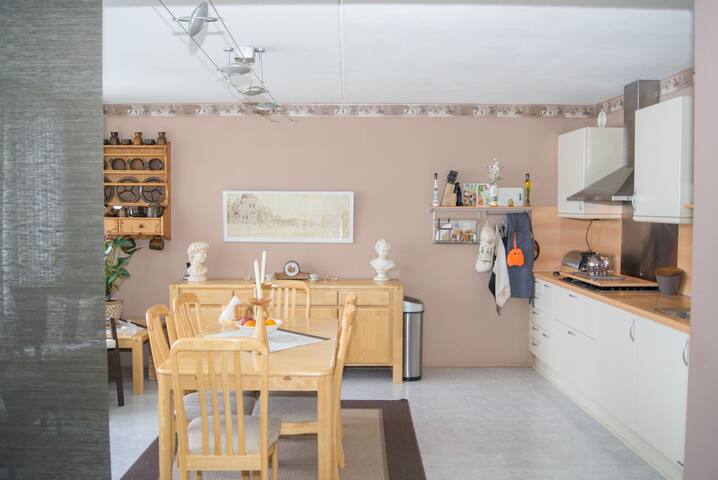 1

–

6

de

6 Apartamentos para Alugar
Insira as datas para ver o preço total. Taxas adicionais aplicáveis. Podem ser adicionados impostos.