Nosso confortável quarto privado em um apartamento limpo bem conservado, está apenas a 10 minutos de carro, para a balsa ilha Staten livre w / serviço 24/7 em Manhattan. Aproveite os passeios de barco diários que permitem vistas incríveis do close-up da estátua da liberdade em Ellis Island e arquitecturas da cidade de Manhattan, Brooklyn, Staten Island e Nova Jersey. (Você também pode beber cerveja no barco!) O espaço do apartamento pode ser compartilhada com outros aventureiros que procuram desfrutar desta grande cidade!
O quarto tem uma boa closet, cama de casal, roupa de cama e multi dresser empate. Casa de banho completa com banheira, sabão, shampoo, secador de cabelo, ferro. O espaço de jantar tem uma mesa de bar altura, alta velocidade de acesso à internet Wi-Fi, uma geladeira, fogão de tamanho completo, forno de microondas, cafeteira e uma cozinha equipada com panelas, frigideiras, pratos, copos e mais. O apartamento é perfeito para viajantes de baixa manutenção. Normalmente, somos fora de casa e raramente são na premissa. Os hóspedes que estão felizes ficar no nosso apartamento são as pessoas normalmente auto-suficientes.
Nossa estadia no quarto anunciado pelo Michael foi ótima. Sua esposa nos recepcionou muito bem. Não temos nada do que reclamar. Caso precisássemos, ficaríamos novamente no quarto.
Rafaella
2016-12-11T00:00:00Z
Michael a été très serviable avec nous et a tout fait pour nous rendre le séjour le plus agréable possible. Nous sommes arrivés avec 5h de retard et cela n'a posé aucun problème, il nous a gentiment attendu. La chambre était propre et conforme à la description. La salle de bain était propre malgré qu'elle soit partagé avec d'autres personnes.
Kelly
2017-01-01T00:00:00Z
Michael is the best!
Paige
2017-03-11T00:00:00Z
Clean, organized, looks as advertised. Michael is a great host.
Colron
2017-03-16T00:00:00Z
Quiet, neat, and safe--a bundle of excellence packed into one house. Michael's home is near bus stops that will take you to NYC without a problem. Convenience stores are scattered throughout the area and are within walking distance. One of my favorite quirks about the home is that there is a gym located within one of the houses. If you're looking for a warm-hearted stay and great value, come to Michael's place.
Claudia
2017-03-14T00:00:00Z
The room was very mod. There was a Key Food about 20 minutes away from the house (by foot). To get to the city you take the bus to the ferry and the ferry ride is 30 minutes long then you can transfer to the 1 train to go anywhere in the city. Michael was very nice. Very good price and clean place. One of the best airbnbs I've stayed in. I would stay here again.
Clare
2017-03-25T00:00:00Z
Michael and Jade are one of the best hosts I've stayed with! They are very accommodating and are willing to help you with anything you need! I would recommend staying here whenever you visit the city.
Alyssa
2016-12-16T00:00:00Z
The hosts were very nice and we're very good about communicating with us before our arrival. We were able to ask questions about traveling to the area and they were very helpful with answering questions. The room was very clean and neat. It would have been great to have our own bathroom, but we did have access to it along with other guests and full kitchen. Overall, it was a pleasant stay.
Camille
2016-12-28T00:00:00Z
Tipo de Quarto
Quarto privado
---
Tipo de Imóvel
Casa
---
Acomoda
2
---
Quartos
Staten Island, Nova Iorque, Estados Unidos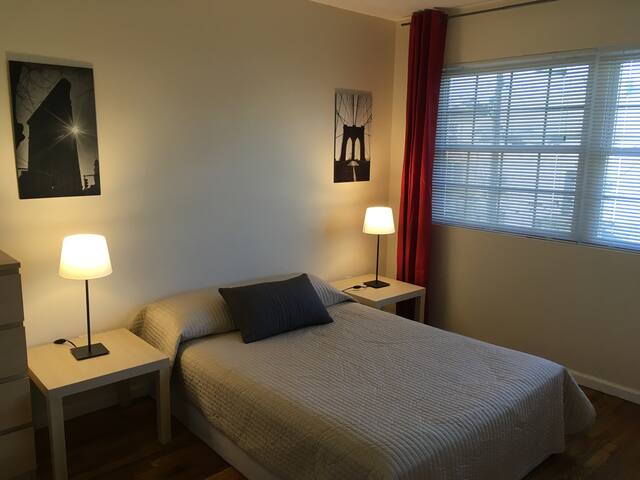 Meu lugar é perto de restaurantes e de jantar, arte e cultura, bancos, supermercados e atividades para a família. Bom para casais, aventureiros solo, e viajantes de negócios. limpos, espaçosos, e aconchegante, muito acessível para os cinco distritos de Nova York. Seguro, tranquilo, simpático bairro. acesso à Internet, filmes ilimitados sobre Netflix, Hulu, Amazon. 25 minutos para Manhattan. sala privada, e acesso ao andar inteiro. tem própria ferro, & TV. O apartamento tem tudo que você precisa em uma casa. Ela vai se sentir como em casa.
Lois's was a gracious host. We arrived early and she turned the room around for us fairly quickly. The location was prime and getting to and from manhattan was easy.
Jeffrey
2017-01-01T00:00:00Z
The apartment is a very short walk from the bus that takes you to the ferry from Staten Island to downtown Manhattan. A trip to downtown Manhattan will usually take 45 minutes (Bus trip + 25 minutes ferry every half an hour). The apartment itself was very pleasant and we enjoyed our stay there. The hosts were also incredibly hospitable and friendly.
Lina
2016-12-27T00:00:00Z
Eddie & Lois were fantastic and kind hosts who provided anything we required.
dowon
2016-12-21T00:00:00Z
Eddie and Lois were great hosts. Lois met us out front when we got to the house and showed us around the home. She even explained the bus system and how to get to and from places well. The room was well kept and everything was clean. They were very sweet hosts and I'd recommend them to anyone coming to New York!
Beth
2016-12-30T00:00:00Z
This home is lovely. Lois was very helpful and a gracious host. The location was very convenient as the bus stop to catch the Staten Island Ferry is right across the street. The Ferry is a great opportunity for fantastic photos of the Statue of Liberty and the Manhattan skyline and it's free. Great Bagel shop just a short walk from the house.
Joy
2017-04-06T00:00:00Z
Lois and Eddie welcomed us into their home. I can't say enough about how warm hearted they both are. I'm very thankful for all of the time they took to show us all around and make sure that we were OK during our stay. The communication was fantastic and they were always available to us. Really easy to access NYC with the ferry. Bus stop is a 1 min walk away.
Keeley
2017-04-09T00:00:00Z
Tipo de Quarto
Quarto privado
---
Tipo de Imóvel
Casa
---
Acomoda
4
---
Quartos
Staten Island, Nova Iorque, Estados Unidos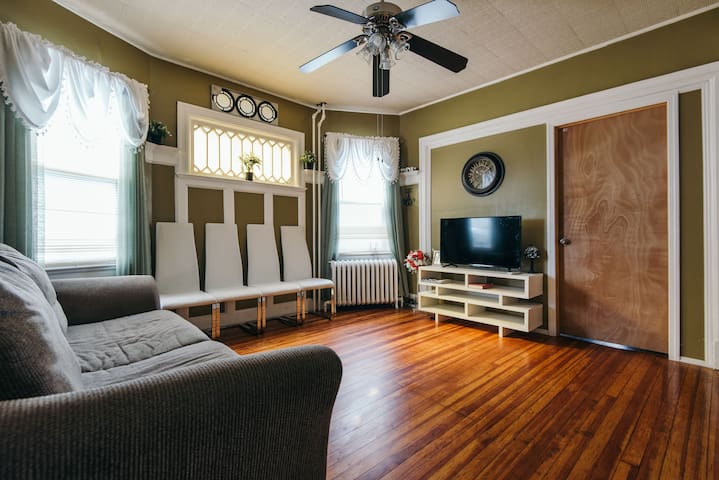 240 pés acima Hudson. 93 Arnold Staten Island St., NY. 24h de ferry livre para Wall St. 20 minutos a pé. 7 min de ônibus é de US $ 2. $ 7 CAB é 5 min passeio.
Você tem o espaço para si mesmo, sem quaisquer outros ocupantes. É um edifício eficiência de duas famílias em um bairro de classe média ao lado de um bairro de alta renda
Grande bairro tranquilo em cima dela ele vai tudo o que você vai ouvir é Birds você pode caminhar até o ferry em 20 minutos que vai deixá-lo a Wall Street ea 25 minutos você também pode apanhar o autocarro s42 diretamente para casa e ônibus s44 a poucas quadras a partir de casa o ônibus é de US $ 3 um táxi é de US $ 7 para a balsa a unidade para Manhattan é menos de 30 minutos
Tipo de Quarto
Casa inteira/apto
---
Tipo de Imóvel
Casa
---
Acomoda
4
---
Quartos
Nova Iorque, Nova Iorque, Estados Unidos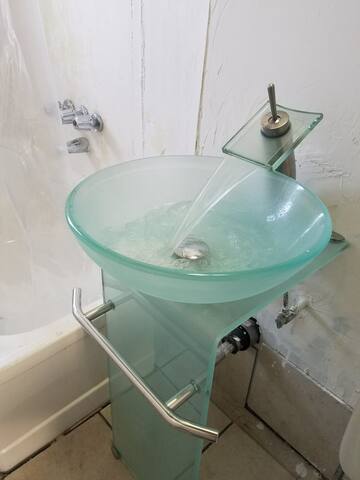 recentemente renovado Estúdio no 2 ° andar com um enorme deck de madeira em uma casa particular, na melhor área, entrada privativa, o acesso EZ a todos, meia quadra da paragem de autocarro para Manhattan e Ferry. Wifi grátis. Nós pode pegar a partir do aeroporto com um custo separado se o tempo disponível
unidade de independência, banho própria e entrada, desfrutar de grande deck no quintal. Fique no bairro segurança !!!
neighbohood tranquila e superior paz
My partner and I stayed at Gavin's place for 2 nights and the place was clean and Staten Island is a quiet and nice area to stay. The only problem we had was our bed was not as comfortable as we wished and we found it very hard for us to get a good sleep after a tiring day walking around New York City. Overall, it was a good stay.Accessible to the bus stop going to St. George where you can get a "free" ferry ride to Manhattan and the view was amazing at night for a free ride! Make sure to give yourself some time as travelling back and forth to Gavin's place and Manhattan will take almost an hour (25mins bus ride plus 25mins ferry ride). Also, Mandy (Gavin's wife) is very nice but I was wondering why I never met Gavin? He was the one who answered my messages and I even called him for the key and still I did not see him only his wife. Would recommend their place only if they can change the beds? :)
Joy
2016-09-19T00:00:00Z
After booking, Gavin immediately reached out to confirm my stay. He stayed in contact with until my arrival to ensure I had transportation. He also provided parking for my rental. Gavin and his wife checked up on me during my stay to ensure I was comfortable. Gavin's place was better than pictured. It's bigger and comes with everything you'd need for a hotel stay and even more. The area is safe and quiet. I didn't have any ensures or encounter any disturbances. It's primely located for trips into the Manhattan and surrounding areas. The bus stop to the ferry and city are only a few feet from the house. Gavin also provided the bus routes/schedules and a map of the restaurants and shopping area around the neighborhood. Gavin and his wife were very polite, friendly and also answers questions I had about the city. I greatly enjoyed my stay! Thank you for your hospitality.
Cecil
2015-05-30T00:00:00Z
This was our first airbnb experience and we enjoyed it. It is a clean bedroom and bathroom with a private entrance. It was cold outside so we did not use the garden deck. There was also a small fridge and a microwave which we could use and a TV. The only bad thing was the hard bed. But for 3 nights it was acceptable. We took the bus or the ferry to go to Manhattan! Both worked very well and we needed around an hour to get to midtown. Gavin was really helpful all the time! He quickly responded on any question we had. Thank you again for hosting us!
Michelle
2015-10-28T00:00:00Z
Gavin was a nice and welcoming host and gave us some good Information about restaurants and things in the area. It's a good area if you want to escape from busy Manhattan, since it is very quiet.
Simone
2016-05-19T00:00:00Z
Everything was as we expected it to be. Gavin and his wife are very pleasant and want you to have the best possible trip.
Robin
2014-11-09T00:00:00Z
Gavin and mindy were super helpful! We had no trouble with the place. The bed is a little hard, but both mine and my husbands back prefer the hard mattress. The place was super clean, I usually bring my own sheets and towels, but the place was really clean I felt comfortable immediately. Thank you gavin and Mindy for a great first time Airbnb experience
Hayat
2016-04-12T00:00:00Z
I love Gavin's place! The price is affordable and room is spacious and clean! Personally, I prefer staying suburb than crowed city, if you are a person who don't like city, Gavin's place will be great choice for you! You can stay there with calm and private! And more than that Gavin is a great host! Thank you for everything!
Jackie
2014-05-22T00:00:00Z
In Staten Island hatten wir unsere erste Unterkunft auf unserem ersten USA-Trip. Wir hatten Probleme mit unserem Gepäck, aber Gavin hat uns sehr geholfen. Er war wirklich sehr freundlich und zuvorkommend - trotz Verständigungsschwierigkeiten :) Egal, was man über New York hört, wir machten nur positive Erfahrungen und lernten jede Menge nette Leute kennen. Wir nahmen immer den S61 oder S91 Bus zur South Ferry. die Fähre ist kostenlos und der gesamte Weg nach Manhatten kostete uns ca. 1 Stunde unserer Zeit. Mit dem Express-Bus (Kennbuchstabe X) braucht man eine halbe bis dreiviertel Stunde für 6,50 USD pro Fahrt - meiner Meinung nach unrentabel. Vorher sollte man sich an einer U-Bahn-Station einen Metro-Pass besorgen (Kosten: 31 USD für 7 Tage, gültig für lokale Busse (Kennbuchstabe u.a. S) und U-Bahn (nicht aber Express!)). Zur Unterkunft selbst: es war relativ sauber, leider kein Warmwasser in der Dusche, ansonsten für einen Kurzaufenthalt in New York völlig ausreichend. Preis-Leistung stimmt für NYC-Verhältnisse. Thank you so much Gavin.
Katharina
2015-08-14T00:00:00Z
Tipo de Quarto
Casa inteira/apto
---
Tipo de Imóvel
Casa
---
Acomoda
3
---
Quartos
Staten Island, Nova Iorque, Estados Unidos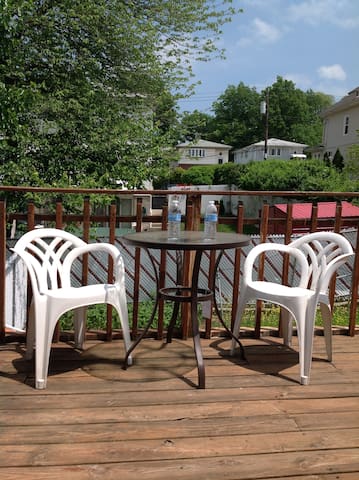 Dies ist ein privates Studio-Apartment in einem Einfamilienhaus. Das Hotel liegt in Staten Island Bezirk von New York City, ist es ca. 1 Stunde von Manhattan entfernt.
Mein Studio ist ein warmes und gemütliches Zimmer befindet sich in Staten Island Stadtteil von New York City mit einfachem Zugang zu der Wall Street, Brooklyn und Manhattan senken. Staten Island ist bei Familien sehr beliebt wegen seiner rustikalen Charakter und ein starkes Gefühl von Gemeinschaft.
Die Nachbarschaft ist ruhig und ruhig und sehr nah am Strand - wenn Sie genug von Manhattans verrückt Energie gehabt haben, es ist ein schöner Ort, um einen Atemzug zu nehmen und zu verlangsamen. Der Strand hat eine lange Promenade perfekt zum Radfahren und Laufen. Und wenn Sie besonders abenteuerlich fühlen, können Sie das alte Fort Wadsworth unter der Verazzano Brücke erkunden.
Tipo de Quarto
Casa inteira/apto
---
Tipo de Imóvel
Casa
---
Acomoda
3
---
Quartos
Staten Island, Nova Iorque, Estados Unidos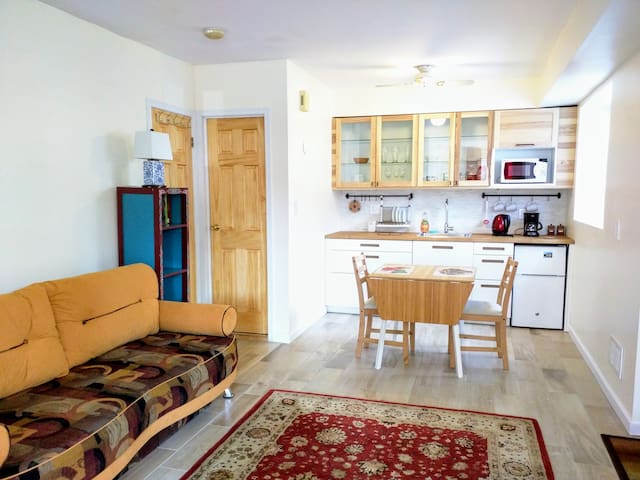 Espaçoso e confortável apartamento de 1 quarto no porão de uma casa velha de 100 anos totalmente renovado em Staten Island, 3 paragens de metro do ferry. A casa fica no meio de uma enorme e selvagem jardim, 2 quadras do porto de Nova York.
Este espaço é um apartamento de quarto do porão uma, para até 4 pessoas, com a sua própria entrada do lado da casa. A área da cozinha tem uma geladeira, uma pia, uma torradeira, um micro-ondas (adicionado recentemente, foto não atualizado), uma máquina de café italiana (coador) e uma placa eléctrica, mas não forno ou fogão. Toda a casa foi renovado a partir do zero e tem aquecimento e isolamento eficiente. O espaço é fresco no verão (sem A / C necessária a todos) e muito confortável no inverno devido ao aquecimento por piso radiante. Há estacionamento gratuito na rua e espaço sempre disponível. Esta é uma rua tranquila mortos.
Meu bairro é calmo, com uma mistura de casas recente e centenárias (como o meu) e árvores altas, e apenas um par de quadras da costa leste norte com vista para o porto de Nova York. De lá você pode ver Brooklyn, Manhattan e Nova Jersey, assim como a ponte Verrazano todo o tráfego de barcos no porto. A uma curta distância irá encontrar supermercados, delicatessens, lavanderias, farmácias, um take-out chinês, um lugar de hambúrguer e muito mais.
Aurelie is a great hostess. The place is exactly as described. It is clean, well kept and with ample room. If you plan to stay in Staten Island you can't find a bigger, more private and reasonable place to stay.
Laura
2014-11-04T00:00:00Z
Aurelie was the best host we could ever have! She welcomed us in person and picked us up at the ferry station by car. She showed us around the apartment, gave us precious advice about restaurants, good places in NYC and was always thoughtful during our stay. The apartment is amazing : spacious, clean and has everything you could possibly need for a great holiday. The bed is incredibly comfy, the kitchen is fully functional and the bathroom is awesome. All in all : if you want to have a great stay in NYC with a perfect host, be only 40 minutes away from Manhattan and enjoy a ride on the ferry with the most outstanding view ever (The Statue of Liberty and the downtown Manhattan!!) : pick Aurelie's place in Staten Island!
Allison
2016-04-08T00:00:00Z
séjour très agréable chez Aurélie, le logement est tel que décrit, nous avons pu profiter du grand jardin, du trampoline, de l'adorable Kosmo et des très bonnes tomates du potager !!!!! Aurélie est vraiment très sympa, et disponible. Si un jour nous revenons à NY, nous n'hesiterons pas à resoliciter Aurélie :)
fred
2016-08-18T00:00:00Z
Nous avons adoré notre séjour chez Aurélie. C'est une excellente hôtesse. L'appartement est spacieux et très bien décoré. On s'y sentait comme à la maison. Nous avons trouvé l'emplacement génial et avons apprécié nos ballades en ferry. Nous n'hésiterions pas un instant à y retourner pour notre prochain séjour et à le recommander à nos amis.
Julie
2015-08-07T00:00:00Z
La joie d'être reçu bien plus comme un hôte AirBnb, le bonheur de (re)découvrir Manhattan par le ferry de staten Island, d'être au vert à quelques miles de Brooklynn. Le plaisir de visiter New York dans un vrai bon rythme. Tout cela chez Aurelie.
gilles
2015-08-24T00:00:00Z
Voilà le parfait compromis à réaliser. Loger à Staten Island permet de faire une coupure avec la vie trépidante de Manhattan. Qui plus est, cela coûte moins cher. Certes, il faut prendre le ferry tous les jours, mais ils fonctionnent 24/24 et il y en a un toutes les 1/2 heures (1/4 heures aux heures de pointe) et ils sont gratuits. Le logement d'Aurélie est situé à moins de 5 minutes à pied de la gare de Clifton (troisième arrêt en venant du terminal de Ferry). En gros il vous faudra compter 40 minutes (train+ferry) pour vous rendre à Manahttan le matin et pareil le soir au retour. Aurélie est super accueillante. A plusieurs reprise, elle s'est inquiétée de savoir si tout allait bien et nous a proposer de changer nos serviettes de bain et draps de lit. Elle s'est également proposée si nous le souhaitions de donner des appels téléphoniques pour d'éventuelles réservations. Pour notre part, nous avions déjà tout préparé avant de partir (resto, théâtre, ...) donc nous n'avons pas eu besoin de cette aide gentillement proposée. Le gros avantage aussi : le tout en français, car New York vous fera vite comprendre que votre anglais scolaire ne vaut rien... L'appartement est situé à cinq minutes d'un supermarché, mais vu les prix pratiqués, cela revient au même prix de manger dehors (ce que font d'ailleurs les New Yorkais). Le quartier est très calme et vert et on y rencontre beaucoup d'écureuils... Au fait si comme nous vous êtes du genre à apporter un cadeau à votre hôte, en bons liégeois que nous sommes nous avons fait goûter les chocolats Galler à Aurélie qui les a adorés, donc amis belges, vous savez quoi apporter... ;-)
Michaël
2016-11-21T00:00:00Z
Loved our stay, such a great place! At first I thought the location would be out of our way to visit Manhattan, but it was perfect. We loved the ferry ride and easy walk to the metro from the house. And the place is so fresh with all of the renovations and I was pleasantly surprised with how much light there was for a basement location. There are several good sized windows that can even be opened for fresh air. My son had the best time playing with her dog Kosmo, he is very sweet and easy going. And Aurelie was a great host who communicated well and was even gracious enough to give me extra time at checkout.
Diane
2016-07-30T00:00:00Z
aurelie was helpful and good. nice place ,house
seokbin
2016-02-18T00:00:00Z
Tipo de Quarto
Casa inteira/apto
---
Tipo de Imóvel
Casa
---
Acomoda
4
---
Quartos
Staten Island, Nova Iorque, Estados Unidos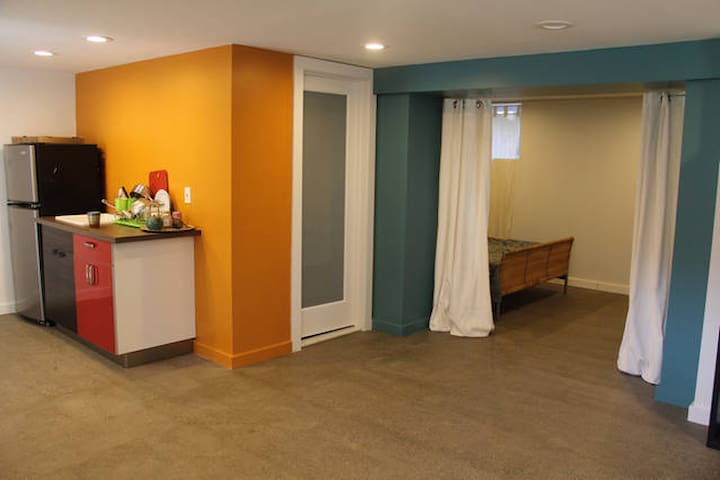 elegância vitoriana no seu melhor com esta virada do encantador de século. Passos para Historic Snug Harbor Cultural Center, e a 20 minutos, passeio de balsa GRÁTIS para Manhattan.
elegância vitoriana no seu melhor com esta virada do encantador de século. Passos para o ferry gratuito em Manhattan e próximo ao histórico Snug Harbor Cultural Center, com jardins botânicos, da Chinese Scholar Jardim, Tuscan Garden, Visuais e Artes Cênicas do Centro e da Infância Museu torna esta mansão um dos lugares mais procurados para a NYC. Logo-à-estar em casa da maior roda gigante do mundo, o bairro é definitivamente um lugar para check-out. Anteriormente castelo de um artista bem conhecido, a casa possui 12 'tetos, 10' Windows (todas as novas), 6 lareiras, 8 quartos, com sala de estar formal e sala de jantar, biblioteca, e comer -in cozinheiros cozinha. terceiro artista andar inteiro (escritor, arquitetos) estúdio de sonho / espaço de trabalho com luz incrível @ 931 pés quadrados. Tomar um chá ou chocolate quente na rodeia varanda, apenas uma quadra da água com infame restaurante Blue, lojas de conveniência, cafés, igreja, frutas / mercado de vegetais dentro de 1 quadras do apartamento. Outro belo parque (Clove Lakes Park) com um restaurante no lago, pedalinhos, ciclovia, pista, campo de beisebol, pista de patinação no gelo, etc. e Silver Lake Golf Course estão em estreita proximidade. O St. George Teatro e marcador do fazendeiro estão todos a uma curta distância, bem. As visualizações do 3º andar do porto NYC. ** Por favor note: este não é um hotel. Esta é a nossa casa. Portanto, pergunte a qualquer um que gosta de criticar cada pequena coisa e oferecendo as suas sugestões "votos" a considerar ficar noutro local. Fazemos o nosso melhor para tornar este um local excepcionalmente limpo e seguro para ficar, bem como proporcionar um local histórico e encantador para se sentir em casa em Nova York. Aqui é lindo. Não estamos aqui para você escolher distante de nossa casa por isso pedimos que você tem o respeito básico comum e cortesia para não fazê-lo. Nós não chegar a sua casa e fazer isso por isso pedimos o mesmo em troca. Obrigado!
ONDE COMER: Beso: (website hidden) Bayou: (website hidden) Azul: (website hidden) Tapas: (website hidden) 120 Bay Cafe: (website hidden) Enoteca Maria: (website hidden) Maizal: (website hidden) Zest: (website hidden) Pier 76: (website hidden) Klipper de Karl: (website hidden) O QUE FAZER: Staten Island Ferry: (website hidden) Snug Harbor Cultural Center: (website hidden) Staten Island Zoo: (email hidden) Staten Island Yankees: (website hidden) Harbor Lights Theatre: (email hidden) St. George Theatre: (email hidden) Fort Wadsworth: (website hidden) Staten Island Childrens Museum: (email hidden) Staten Island Museum: (email hidden) Silver Lake Golf Course: (website hidden) Clove Lakes Park: (website hidden) Alice Austen House: (website hidden)
An easy, quaint stay in a really cool town. The room was clean and basic, just what i wanted.
Xavier
2016-04-30T00:00:00Z
We didn't actually meet with Lissa, but she was very good about emailing us the information we needed about the room and the location of the house. She provided detailed instructions for the living space, how to get around Staten Island, how to get to New York and more. The house was spotless and more beautiful than the pictures. Our room was perfect for four people. We all had our own space and were close to the bathroom on our floor. We were there during a full house and ran into people frequently, most were really nice. The house had really good Wi-Fi and air conditioning in the rooms, which was much needed. Because the house is older, plugs were limited in the rooms, but we managed on just fine. You are literally across the street from the bus that takes you to the ferry, which was beyond convenient. We had a really great time here and would definitely return!
Lauren
2016-07-16T00:00:00Z
Alissa has a wonderful big old English Victorian home. She and her husband who we happened to meet one day are warm friendly people and reply almost immediately to any query posted online. The kitchen is well equipped and cleaned everyday. The dining area can seat almost 10 people comfortably. Although, They could do with some more light fixtures around the house. It gets really dark after sunset.
JUZER
2015-10-29T00:00:00Z
Good house, very clean. Pictures was a great description.
Jonathan
2014-08-13T00:00:00Z
We were there second time and once again it was great without any problem.
Jakub
2015-08-15T00:00:00Z
房子位置很好,一开始的房子比较旧,房东免费给我们换了另外一个房子,还认识了其他房客,很好的体验,谢谢Lisa
毅
2017-02-05T00:00:00Z
Beautiful house with a lot of character. Don't miss it.
Donato
2014-08-11T00:00:00Z
The home is exactly as pictured/described. Beautiful old home on a quiet street. The bus service to the ferry is literally steps away from the home which takes you to the Staten Island Ferry. I wish I had known that bus service stops at 12 midnight (at least that's what the bus app stated) so we found ourselves racing each night to the ferry to get back to Staten Island to catch the bus back to the house. Get yourself a metro card $30 unlimited rides on buses/subways for 7 days. Even if you don't stay for 7 days it's worth it! I bought mine from the Heidi's Milk & Grocery down the street. Walked there from the house and caught the bus across the street to the ferry. For the most part I did not see other guests except maybe 2/3 times,and most everyone was considerate of others staying in the home. The room was as described and Alissa even provided a cot for my 4th guest. Would recommend this place to others.
Elizabeth
2014-07-16T00:00:00Z
Tipo de Quarto
Quarto privado
---
Tipo de Imóvel
Casa
---
Acomoda
4
---
Quartos
Staten Island, Nova Iorque, Estados Unidos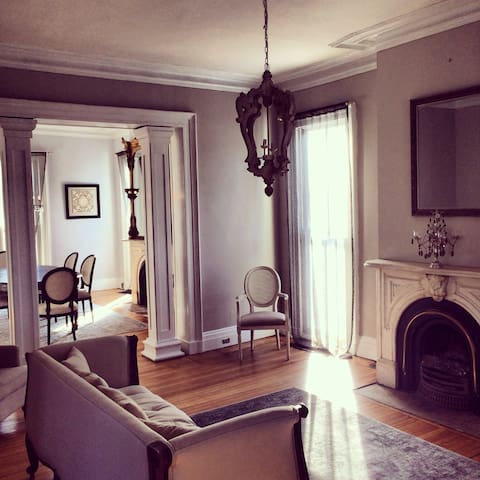 Tipo de Quarto
Casa inteira/apto
---
Tipo de Imóvel
Casa
---
Acomoda
6
---
Quartos
Staten Island, Nova Iorque, Estados Unidos

Tipo de Quarto
Casa inteira/apto
---
Tipo de Imóvel
Casa
---
Acomoda
6
---
Quartos
Staten Island, Nova Iorque, Estados Unidos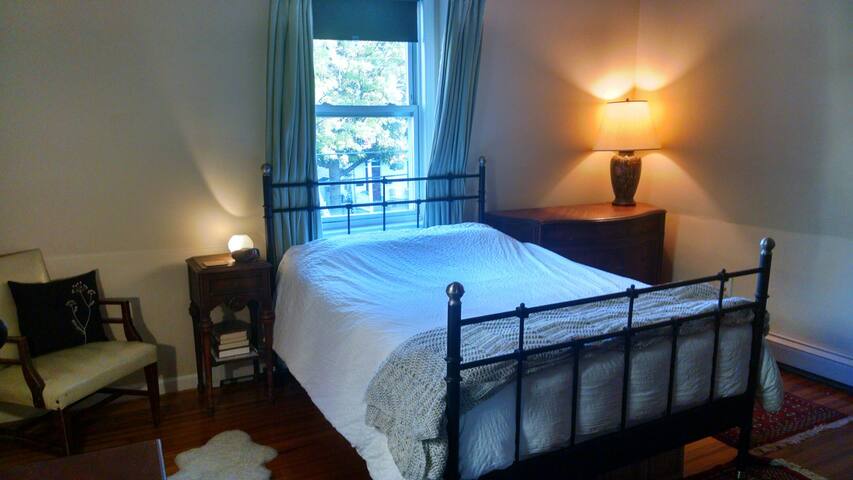 Considere o nosso limpo, confortável estúdio para o seu acesso fácil para NYC. Ele dorme 6 confortavelmente e é uma viagem de ônibus 15 min à livre Staten Island Ferry. Localizado no lago de prata a uma quadra do parque. Muitos locais e restaurantes. estacionamento garagem para 1 carro.
Se você está 3-4 pessoas e gostaria de aproveitar o espaço extra que você pode perfurar em 5 convidados pagar a diferença de preço e teria a adição de um quarto lock-off com uma casa de banho adicional. O preço seria de R $ 159 por noite com uma taxa de limpeza $ 30. Temos um espaço limpo e confortável, com mobiliário novo. O estacionamento privado está disponível sem custo extra. Driveway é protegido por câmeras de CCTV externas. Desfrute de uma partida de golfe ou um passeio ou correr ao redor do parque à direita até a rua. Tomar uma bebida ou jantar na varanda ... bela vista do campo de golfe. Snug Harbor Cultural Center e uma série de bons restaurantes nas proximidades. NYC, claro, é o verdadeiro empate com o fácil transporte da nossa porta para a balsa. Uma variedade de sites locais e literatura serão fornecidos para sua conveniência.
Nosso bairro tem um belo parque que é um hospedeiro para os corredores locais, pescadores e famílias. Desfrute de uma partida de golfe em Silverlake Golf Course. O lago é um local de encontro para a comunidade. Quaisquer e todas as comodidades estão convenientemente localizados.
Peter and Linda's place was perfect for our stay. It's in a great location if you plan to take the ferry into New York City . Their place was quite lovely and the complimentary coffee in the morning might have been the best part for me. With such a busy night on the town exploring NYC the night before, it was the perfect morning "pick me up" before heading back out the next day. The driveway was also super nice to be able to park your car off the street, to easily load and unload our things. We would 100% recommend this place to anyone who is looking to enjoy a place they can stay that feels like a little home away from home. I wish we could have stayed longer to have been able to have enjoyed the other amenities their place had to offer, such as a full eat in kitchen! Thanks Peter and Linda for the great stay.
Emily
2016-10-06T00:00:00Z
Linda was right there to greet us upon arrival. She showed us around the apartment and made it known that she was available to answer any questions we might have. The neighborhood was very nice and conveniently located not far from the Staten Island ferry. The off street parking was a plus.
Michelle
2016-11-30T00:00:00Z
Had a really nice stay! The apartment was just as described in their page. It can comfortably fit 4 people, and would fit one more person, if you don't mind sleeping in the couch. They had kept some stuff in the refrigerator for us to use. Furniture and electrical appliances were as shiny as new. Would definitely come back here for our next trip to NYC!
Ram
2016-06-29T00:00:00Z
Linda and Peter were wonderful hosts. From the very beginning, Linda waited up late for us to arrive because we arrived much later than expected. Midway through our stay she checked in on us to see if we needed anything such as towels, information about New York, etc. The listing is very accurate. It was the perfect space for us, four adults and two children. It was clean, private, and in a nice neighborhood. I would definitely recommend this listing to anyone who is looking for a cozy place to stay, far enough from the hustle and bustle, but close enough to visit all the sites in NYC. We parked at the municipal parking approximately two miles from the listing, caught the Staten Island Ferry (20 minute ride), and either rode the Subway or our hop-on-and-off tour bus that was conveniently right outside of the ferry terminal in Manhattan.
Martha
2015-10-18T00:00:00Z
Just perfect!! We have just returned home after a 4 night stay at this super apartment on Staten Island belonging to Peter and Linda. Linda was so helpful right from our initial enquiry. When we arrived, we were delighted with the accommodation which was absolutely ideal for our family of 5. It is very nicely furnished and extremely well equipped, especially the kitchen utensils. The main bed was really comfortable and we all slept brilliantly. Linda & Peter had very kindly left great provisions for breakfast which were greatly received by our hungry 3 boys! There were also nice touches, like toiletries if needed. Linda helped out with all our questions about how best to get to the city and what was nearby etc. We hired a car and there was parking outside the apartment. Each morning we parked at the ferry (€8 for the day and free on a Sunday) and took the free ferry to the city which is really convenient and only takes about 20 minutes. Lovely to do in the evening when the city is lit up and it goes right past The Statue of Liberty. We would love to come back and will definitely be recommending the experience to our friends and family. Thanks again to you both for a fantastic stay! Polly, Colin, Sam, Freddie & Archie from UK.
Polly
2016-04-06T00:00:00Z
Our host Peter and Linda are great. The little touches like having milk, bacon and eggs etc. ready for when we first arrived were a nice surprise and greatly appreciated. When I had a parking concern at the Ferry dock they assisted immediately and solved our problem. We can't wait to return and visit New York again. Will definitely book with them again.
Cathy
2016-05-14T00:00:00Z
Linda and Peter have a zillion great reviews for a reason...they are just that great!! I WAS a first timer on Airbnb! They communicated with me every step of the way, very accommodating and just nice folks!! The home was easy to find, clean and comfy!! Would totally come back!!
Anissa
2016-10-22T00:00:00Z
Nous avons été parfaitement accueilli par Peter et Linda, le logement est parfait avec un accès a Manhattan très simple. Nous recommandons !
Maxime
2015-05-07T00:00:00Z
Tipo de Quarto
Casa inteira/apto
---
Tipo de Imóvel
Casa
---
Acomoda
6
---
Quartos
Staten Island, Nova Iorque, Estados Unidos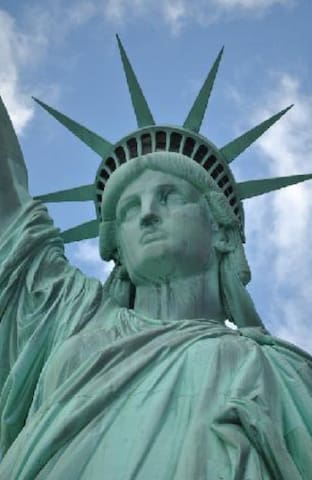 Super limpo e confortável apartamento de primeiro andar, apenas a 3 quadras do trem para Manhattan e 1/2 a uma quadra do centro de compras. bairro seguro. Não pague mais de bilhetes de trem, Staten Island Rail dá-lhe a transferência para Nova York de trem! Excelente localização!
Privado apartamento cheio ,. Consiste em 2 quartos, uma cama de tamanho completo e duas camas de solteiro. Se existem 5 pessoas, pode-se usar o sofá. acesso completo e exclusivo para cozinha, com todos os aparelhos, panelas, frigideiras, pratos utensílios necessários. A casa de banho completa com banheira inclui torres, shampoo, sabonete e papel higiênico. pleno acesso ao quintal, incluindo um churrasco e um :-) figueira Este bairro residencial é uma das áreas de melhor e mais seguro em New York City. É ideal para (URL HIDDEN) uma sala de estar, TV e espaço comum para partilhar com a família e amigos. Perfeito pendurado para fora, culinária e ótimo para passar o tempo dentro ou para fora como você deseja. Sinta-se confortável em seu próprio espaço!
A uma curta distância para treinar. Metade de um quarteirão da casa você tem: Super mercado, 2 bancos, farmácia, lavandaria e limpeza, loja de bebidas, chinês, deli e restaurante italiano, Pizzeria e 10 outras lojas
A viagem e estadia foram maravilhosas!!! A casa fica bem perto do trem que leva ao ferry boat e perto, também, de mercados, padarias e restaurantes. Miguel e Patricia são um casal adorável e sabem receber muito bem. A casa estava muito limpa e com tudo que precisávamos, além de nossos anfitriões serem muito prestativos, nos ajudando com qualquer dúvidas sobre Nova York. Adoramos a expêriencia e recomendo!!!
Melissa
2014-02-07T00:00:00Z
Everything was perfect,Apartment was clean and cozy. Staten Island is nice place. Patricia is nice and Helpful. Thank you Very much Patricia
Michal
2015-04-10T00:00:00Z
Be ware of the location. This place is a quite a distance away from Manhattan. Took us 45 minutes by car. That's 1,5 hours of daily travel. The get to the terminal for the ferry to Manhattan will take approx. 20 minutes. Not exactly nearby either. The apartment is clean but not comfortable. The lack of curtains is annoying and the place is dilapidated. The house is noisy and both us as well as the other inhabitants of the house have been awkwardly 'whispery'. Prior to our arrival the communication with Patricia was adequate, during our stay we didn't see her or talk with her much.
Miriam and Anton
2015-12-11T00:00:00Z
This was our second stay at what we now consider our home away from home. We always feel very welcome, safe, and comfortable there. The apartment is very clean with plenty of space when traveling alone or with our children. Riding the train and free ferry (plus gelato, steak sandwich, and chocolate croissants at the ferry terminal) are now part of our NYC traditions. It's a very relaxing and scenic diversion from the otherwise busy city environment. Bonus is Net Cost, the wonderful Russian Market, just a block away from the apartment. Thanks for the great place to stay and hospitality. We'll be back.
Tracy
2013-11-12T00:00:00Z
Good place and clean. Perfect for 4 guests. But be organize with the transportation to go on manathan and be seat on the 5 first wagons of the red metro line or you will miss the ferry... The host are very helpfull and friendly. Thanks.
Vicky
2013-10-16T00:00:00Z
Patricia has been a very kind host. Communication has been easy and she made sure, we had everything we need. She gave us good advice what to do and where to go for Lunch etc. The apartment itself is nice and comfortable and has all you need. Just enough for us and our two kids. It is a quiet and nice neighbourhood. Supermarkets etc. are just around the corner and you can park your car right in the driveway. Staaten Island has a very nice beach area, too. People, who look for a quiet vacation but with good access to NYC, this is a good alternative. You can easily take the ferry (no charge!) - very nice with great view onto statue of liberty and skyline. But to go to the harbour you will need a rental car (or take the train).
Daniela
2016-06-05T00:00:00Z
Micki and Patricia are lovely and wonderful hostesses. The first day Mickey gave us a tour in the neighborhood and provided us with helpful tips. They were always ready to help even late in the night. The neighborhood is quiet and very safe. Even after midnight we walked home. In the neighborhood was everything we needed such as supermarket, drugstore, restaurants, ice-cream shop etc. The apartment is nice and clean and is as described on the site. The apartment was spacious enough for six people and we also might use the garden. To go to Manhattan we used the train and ferry. We experienced traveling with the ferry very pleasant. We went a lot out and had a great time. We would recommend this apartment to anyone who will stay in New York.
Rich
2014-07-14T00:00:00Z
Endroit privé et tranquille. A 5 minutes du train de banlieu, a 10 station du traversier. Épicerie au coin de la rue et autres commodités. Cela nous a permit de voir comment les New-Yorkais se rendaient au travail et vivaient.
Savard
2015-05-19T00:00:00Z
Tipo de Quarto
Casa inteira/apto
---
Tipo de Imóvel
Casa
---
Acomoda
5
---
Quartos
Staten Island, Nova Iorque, Estados Unidos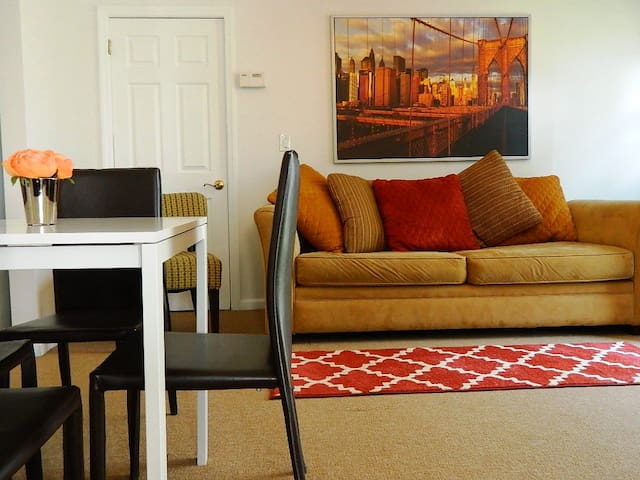 Ciao :-)) Calling all Mavericks - Il mio nome è Dine e ho un Funky, Impressionante Stile vittoriano casa che è letteralmente a un isolato da New York Harbor Visualizzazioni, e la libera Staten Island Ferry. Sto ristrutturando 5 Rm apt. w / bagno privato, 750sq ft +/- ... sarò finito in 2 settimane. Per ora ho messo qualche foto incompiute dello spazio - Riprova !! Se invece siete coraggiosi e libro prima foto finiti Otterrete un accordo ... Non vedo l'ora di incontrarmi con voi, mi piace questa città ;-)) pace
Saint-Georges a reçu beaucoup de buzz ces derniers temps comme « la prochaine grande chose » Il y a un grand centre commercial avec l'Empire court de nourriture va à l'automne 2017 et la plus grande roue de Ferris dans l'hémisphère occidental en développement pour 2018. Il y a aussi une lumière House Museum restauration Projets à côté du terminal de ferry qui est maintenant la moitié ouverte et si vous êtes un type réel de l'explorateur - vous apprécierez ce oublié, front de mer la chair de poule qui sera bientôt occupé et aussi actif que tous les autres fronts de mer. Nous avons aussi un grand système Greenbelt Park et des plages avec Boardwalks et si vous visitez pendant les mois plus chauds, vous pouvez passer une journée à la plage, puis le lendemain au sommet de la Statue de la Liberté. J'ai vécu dans de nombreux quartiers de New York et St. George est unique. Il est urbain et pratique pour le reste de la ville, mais calme, avec beaucoup d'arbres, et une ambiance douce. Il fait partie de la ville fait encore une grande oasis de l'agitation. Le monde célèbre Staten Island Ferry se trouve à Saint-Georges et le front de mer qui entoure le terminal a une vue imprenable sur le port, y compris la silhouette de Manhattan. Le trajet en ferry est l'une des 10 attractions à New York et est un excellent moyen de « navette » pour le reste de la ville. La présente partie de New York est aussi un favori pour ceux qui aiment conduire parce que nous sommes le seul arrondissement avec un parking gratuit et cavaliers de bicyclette aiment ici! il est typique de voir la plupart des navetteurs ici montes à Ferry et arrière.
Tipo de Quarto
Casa inteira/apto
---
Tipo de Imóvel
Casa
---
Acomoda
6
---
Quartos
Staten Island, Nova Iorque, Estados Unidos
Private entrance,kitchen and bathroom. Great for long stays Located on a deadend street, free parking. 5 minute walk to Silver Lake public golf course, Clove lake park and Wagner College . Close to restaurants, bars and shopping. Express buses to the city or the free ferry.
This is in a private home in a very safe, pleasant neighborhood, very spacious, everything you need. Located on a double dead end street plenty of free parking.
I love that we live on a dead end street. There is beautiful scenery with clove lake park to one end and silver lake park on the other end. We are a 10 minute bus ride to the free Staten Island ferry which brings you into Manhattan 24/7
This was my first time using airbnb and I gotta say, Mona and Wally made the experience awesome and made my wife and I feel like we were at home. It was just as beautiful as it looked in the photos and smelled wonderful! It was zero degrees when we first got there and the apartment was warm and cozy for the entire stay. Everything you would ever need is in the apartment for your use. It was simply perfect for our Valentines trip. I would definitely recommend this listing to anyone wanting to explore NYC and have a getaway from the busy city at the end of the day. Thank you so much for accommodating our unexpected early arrival as well. Overall great experience.
Brandon
2016-02-17T00:00:00Z
We enjoyed our time on Staten Island , it was very easy to commute back and forth to Manhattan. Very nice suite in a beautiful area . A great restaurant Marie's just around the corner, we would stay again if I ever come back to NY.
Hal
2016-11-09T00:00:00Z
nice house。
一凡
2016-04-03T00:00:00Z
Mona & Wally were very accommodating and welcoming to there house. The apartment was very clean and comfortable, the gym was great also. It was exactly as listed on Airbnb. I look forward to staying there in the future.
Ciro
2015-12-21T00:00:00Z
Great experience stay was remarkable at Mona's! They are so accommodating & carried my luggage in & grandsons when we arrived after dark! Very accessible whole trip and nice touches for stay, with gym access, toilitries, & kitchen supplies, utensils! Very nice neighborhood & felt safe after dark coming & going!This is my new home away while visiting young grandson who adored the razor scooter!Mary Ann from NC
Mary Ann
2015-10-14T00:00:00Z
The place is great, just like the description and pictures. Very quiet neighborhood and easy to get to Manhattan by bus/ferry. Private apartment, very comfortable, great for longer stays! Mona and her husband are very nice and respond to the messages really fast, so you always have what you need! I recommend the place!!
Lê
2015-11-01T00:00:00Z
I will be honest to day unfortunately I never met them however there was absolutely no reason to. Although I never met them I received messages asking if I needed anything which I did not but I will say I would in a heart beat stay at their place again. It was absolutely beautiful and way better then a hotel for the price and in a very nice and in a very convenient and safe neighborhood. Thank you Wally and Mona for having me and my sons there.
Fernando
2016-02-22T00:00:00Z
Wally is very friendly and helpful . The pictures unfortunately we had slightly different expectations . There is only a small window on the door . " Our daughter said , unfortunately, there is no sunlight . The apartment is nice , some units are a bit noisy and you hear a lot when being run upstairs. Thank you very much
Ulf
2016-05-08T00:00:00Z
Tipo de Quarto
Casa inteira/apto
---
Tipo de Imóvel
Casa
---
Acomoda
4
---
Quartos
Staten Island , Nova Iorque, Estados Unidos
É uma casa de dois andares. O quarto no segundo andar. Ao lado do banheiro. Nossos hóspedes podem usar a sala de estar, cozinha e quintal.
Tipo de Quarto
Quarto privado
---
Tipo de Imóvel
Casa
---
Acomoda
2
---
Quartos
Staten Island, Nova Iorque, Estados Unidos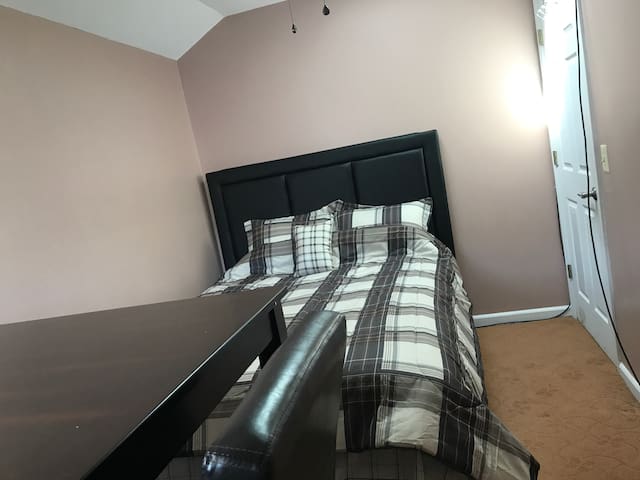 acolhedor quarto (10 'x 11'), mas se sente confortável com tectos altos 11 'e original piso de madeira em toda a prancha. cama de solteiro com armários antigos, armário e tapete persa. Confortável no inverno com todas as novas janelas.
Grande Post House guerra civil construído em 1870, no bairro histórico de St George. Uma vez na rota Underground Railroad. Grande casa de banho em mármore no final do corredor, compartilhada com 1-3 outros hóspedes. alpendre com bom tempo. Apenas a 15 minutos a pé ou 5 minutos de ônibus para o Manhattan Ferry. Em 4 linhas de ônibus. Também a uma curta distância de Snug Harbor Cultural Center e Centro da Cidade St. George negócio.
Bairro é seguro e diversificada culturalmente. Além de ser um passeio de ferry 30 minutos de Manhattan, há arte, música e eventos de teatro todas as noites em vários locais a uma curta distância da casa. restaurante chinês comida, lavagem a seco / taylor, e 3 delis (com take-out) a alguns metros de distância. Vários restaurantes, St. George Theatre, biblioteca e área de negócios / governo edifícios a poucos quarteirões de distância.
Had another great week at Ann Marie's. I returned again because it is right on the bus line to the Ferry or u can walk the mile if it is good weather. The bed is very comfortable and the bathroom is vefy nice. The kitchen is small but available to cook whatever you want and eat it in the dining room. She is a very nice host and very accommodating. Great place for a single traveller.
Michael
2017-03-24T00:00:00Z
Lovely house and pleasant, easy stay! Thank you for opening your home to us.
Lindsay
2015-10-09T00:00:00Z
I could not have asked for a better host then Ann Marie. The space was a great place to come home to after a long day. The only real downside is that for the first few days the ferry is fun awe inspiring and charming. But after awhile it gets to be a 30 minute annoyance each way if you're going to Manhatten. Overall the experience was great and I would recommend it to anyone.
Donald
2015-07-11T00:00:00Z
A very nice house and host! Totally recommend it. Just don't forget: Staten Island is an interesting place, the ferry ride is always beautiful with the view and everything, but keep in mind that you need more time to go to grand central to catch the airport shuttle or in general need more time to go and see places in Manhattan, Brooklyn, etc.
Medea
2015-10-24T00:00:00Z
Ann Marie was relaxed and easy to talk to. The room was perfect - comfy - warm but with windows to open when I got too warm. I just needed to sleep - so it was great. The house is older and full of character, bathroom is lovely. Especially great to have a dog to love on when I was nervous before the marathon!
Gina
2015-11-01T00:00:00Z
Ann Marie was so sweet! Bed was comfortable and warm! Def would recommend for a place to lay your head! Also it's walking distance to the ferry !
Ashley
2015-01-30T00:00:00Z
This was my second stay at Ann Marie's place and she welcomed me like a friend. It's a beautiful place, quiet and lovely. Ann Marie is a wonderful host, kind and friendly. It looked like I'm getting a cold and she provided me with zinc and vitamins, very much appreciated gesture. Had a lot of great AirBnB experiences, this one definitely stands out as my favorite!
Monika
2015-07-16T00:00:00Z
Lovely apartment sits on Staten Island near several bus stops. The hostess is welcoming. Her apartment is clean and well organized.
HongHao
2015-05-20T00:00:00Z
Tipo de Quarto
Quarto privado
---
Tipo de Imóvel
Casa
---
Acomoda
1
---
Quartos
Staten Island, Nova Iorque, Estados Unidos
Meu lugar é perto de arte e cultura, excelentes vistas, restaurantes e restaurantes, a praia e atividades para a família. Meu lugar é bom para casais, aventureiros individuais, viajantes de negócios, famílias (com crianças), e grandes grupos.
Tipo de Quarto
Casa inteira/apto
---
Tipo de Imóvel
Casa
---
Acomoda
8
---
Quartos
Staten Island, Nova Iorque, Estados Unidos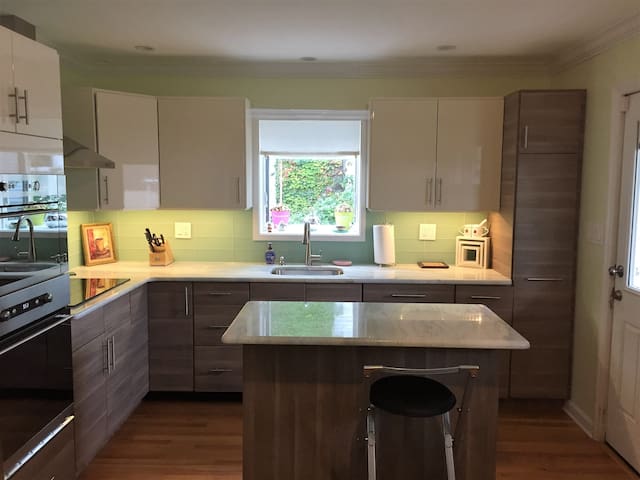 Meu lugar é perto da praia, Verrazano Bridge, e autocarros expresso para Manhattan (30 minutos), excelente se você ama um bom pequeno almoço
Great place to stay if you want to be close to the city but want to have peace afterwards. Close to buses and the nearest subway stop is a short bus ride away. Friendly host.
Lisa
2017-04-07T00:00:00Z
Tipo de Quarto
Quarto privado
---
Tipo de Imóvel
Casa
---
Acomoda
2
---
Quartos
Staten Island, Nova Iorque, Estados Unidos
Meu lugar é perto de transportes públicos, parques, centro da cidade, eo aeroporto. Meu lugar é bom para casais, aventureiros individuais, viajantes de negócios, famílias (com crianças).
2 BR apartamento, com cozinha, sala de estar e banheiro. PRÓXIMO AO ferry com restaurante muitas nas proximidades, supermercado, farmácia, lavanderia etc.
Great apartment, If you're not worried about location then Staten Island is a good area to stay!
Kadishia
2016-11-12T00:00:00Z
The host canceled this reservation 3 days before arrival. This is an automated posting.
Lurdes
2016-12-23T00:00:00Z
Tipo de Quarto
Casa inteira/apto
---
Tipo de Imóvel
Casa
---
Acomoda
4
---
Quartos
Staten Island, Nova Iorque, Estados Unidos
1

–

18

de

130 Casas para Alugar
Insira as datas para ver o preço total. Taxas adicionais aplicáveis. Podem ser adicionados impostos.