137 Apartamentos para Alugar
Fantástico apartamento estúdio privado com uma bela piscina. Você tem um privado entrada (acessado por etapas ao lado da casa) para ir e vir como quiser. Cronulla praia e do Royal National Park são incrivelmente perto, para você explorar. Grande quarto duplo com uma sala de estar de plano aberto e uma kitchenette bem aprovisionado. Além disso, um churrasco está disponível para obtê-lo no espírito australiano. Esta propriedade é realmente uma jóia e para um casal, simplesmente perfeito. Como você pode ver pelas fotos, o lugar é apenas bonito e tem aquele toque de Bali. O bairro é bonito e seguro, e o retiro está situado na borda da Royal National Park. Temos alguns bons restaurantes nas áreas circundantes. A estação de trem fica a 15 minutos a pé da casa. Da estação de trem você pode obter para a cidade e para a praia com muita facilidade. Check in / out vezes são muito flexíveis, a menos que novos convidados estão chegando no mesmo dia como partida convidados. Nesse caso, pedimos que os hóspedes que partem desocupar até às 10:00 horas, e que os novos convidados chegam após 2:00 (para permitir a remodelação quarto). Tratar isso como o seu próprio retiro privado.
Our stay at John & Maryellen's was a wonderful experience and a great value. We were treated like royalty from the minute we arrived. They spent much time with us visiting and were very helpful in directing us to highlights of the area. The room was even better than expected (very clean and comfy) and the pool was a wonderful added feature. We would definitely stay here again if ever in Sydney!!!!
Nola
2013-01-08T00:00:00Z
WOW! This place is not only beautiful, peaceful, clean, and very well presented the hosts made me feel like I was a friend visiting! Thank you so much John and Maryellen for such a lovely stay. Monica
Monica
2014-03-24T00:00:00Z
This was perfect and just what we needed. Having a wedding close by and errands to run, this tranquil cosy bush retreat was warm and lovely. They gave us some lovely treats such a fresh crossaints, bread, cereal and milk with jams and honey. We werent expecting condiments to be available (tea & coffee) this too was a lovely to have if you needed it. This is a beautiful part of Sydney and i would highly recommend this area to get away from the hussle and bustle. Thanks so much, we will recommend to any family or friends visiting the area.
Bea
2013-10-21T00:00:00Z
We were welcomed and received great attention. The apartment was lovely with a real tropical atmosphere and everything that was needed.
Susan
2016-05-15T00:00:00Z
Este lunar es como una suite de un hotel. Esta en la planta baja de la casa junto a la piscina. Tiene baño privado y una pequeña cocina con salita de estar. La cama es la más cómoda en la que he dormido en mi vida. La decoración estiló balines es preciosa. Todos los detalles están cuidados. Nuestro anfitrión John fue muy amable. Nos dio una vuelta en su coche para conocer la zona, nos llevo al súper a hacer una pequeña compra y nos acerco al aeropuerto.
Paloma
2013-07-21T00:00:00Z
Beautiful, quiet and lovely place. Maryellen and John are great host! They provided us information about the attractions nearby and so that we can have hang gliding on stanwell beach which is our first time ever. Thanks again!
NetBugs Curtis
2014-04-17T00:00:00Z
My friend and I stayed here for two nights and had a wonderful time. The abode is conveniently located by the train station so we had no troubles getting to and fro. John was super welcoming and helpful upon greeting and made sure we knew our way around. By the pool is an idyllic view of the Royal National Park, which was a bonus. Our room was perfectly decorated, an absolute gem. Would definitely come back for a second stay.
Ricki
2016-11-24T00:00:00Z
HIGH EXPECTATIONS WERE MORE THAN MET WONDERFUL Very happy experience, from the genuine welcome, till the warm goodbyes. Maryellen and john welcomed us with a cuppa in their home ,as previously arranged , we arrived early before the retreat was vacated , we left our bags with them and went to town for business apointments. Upon our return our bags were in the beautifully decorated retreat. Very pleasantly surprised with well stocked kitchenette , loaf of fresh bread , bowl of fresh fruit , cereal ,milk , coffee tea bikkies etc etc. Clean bright space well furnished with modern appointments, overlooks the beaut pool deck , which is level with the tree canopy. "Generosity of spirit is felt here, in the little touches" Our hosts provided us with privacy and yet were always happy and approachable To sum up Lovely hosts Clean bright fresh space secluded Lovely setting, with tame wild parrots appearing for hand feeding from the surrounding bush We always looked forward to getting back to our accomadation after our days activities and were just as happy to loll about. Thankyou Maryellen and John for the wonderful stay.
Ralph
2015-05-14T00:00:00Z
Tipo de Quarto
Casa inteira/apto
---
Tipo de Imóvel
Apartamento
---
Acomoda
2
---
Quartos
Kirrawee, New South Wales, Austrália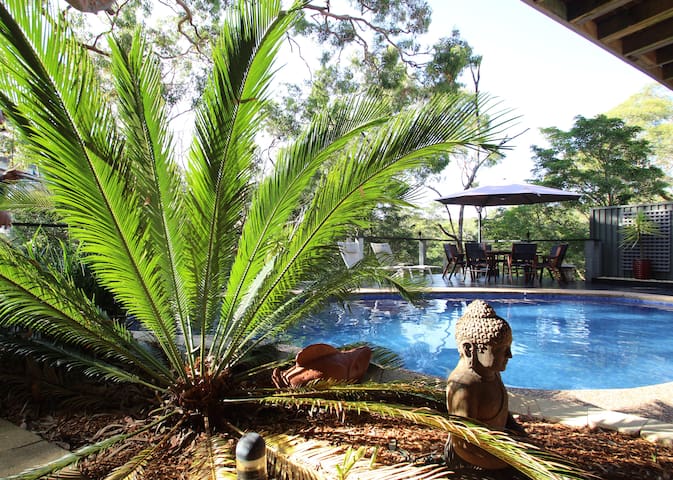 search engine: Sutherlandshireaustralia Located in the Sutherland Shire this is very comfortable accommodation. Convenience is at your doorstep as your room is opposite the Westfield Shopping Centre and within close proximity to Cronulla Beach. The ideal place to stay for holiday, business, medical, family. Situated along Jackson Avenue, mere moments from a plethora of shops, cafes, bars,restaurants & transport, you can access the city and make the most of the Miranda Precinct.
Hi All and Welcome to My City. You will be welcome in spacious and comfortable accommodation that provides convenience to all that Sydney has to offer at an affordable rate. Features, Including Gym, Pool, jacuzzi hot tub ,outdoor BBQ area. - You will be sharing the apartment with myself (the owner) - Your 'Own bathroom' (bath+shower, shampoo,soap,hairdryer) - Kitchen and laundry for your use. - Internet: Wi-Fi access included in price. - Your room has : 2 separate King Single Beds.( standard rate able to accomodate 2 people) - Apartment can sleep up to 4 people, ('extras $15 per person.) - Swimming pool, gym, sauna/spa available. - Outdoor BBQ facilities and eating area. - close to Airport (30 min), beaches and 40 minutes(train) to city centre - located in Miranda (opposite the Westfield Shopping centre and cinema) About My City: search engine: sutherlandshireaustralia Miranda is a suburb in southern Sydney, in the state of New South Wales, Australia. Miranda is located 24 kilometres south of the Sydney central business district. I urge you search : 'CRONULLA' + 'Royal National Park' to see the excellent Tourist Attractions on my Doorstep. Miranda also has a shopping strip, running along The Kingsway and Kiora Road. Numerous commercial developments are also located on these roads and the surrounding streets. search: .(westfield miranda) A smaller shopping centre containing a supermarket and various grocery shops is located nearby in Wandella Road. - Please search: 'Westfield Shoppingtown Miranda' - We even have 'Event Cinemas' across the road.
- 'Sutherland Shire' this area is one of the cleanest, safest and sort after place to live in Sydney. internet search : 'sutherlandshireaustralia' - This area is less cluttered than the city precinct. Parks, bushland and beaches abound Miranda, you will be able to relax in peace whilst you explore Sydney. - Spend your time trying new eateries or shopping up a storm at Westfield shoppingtown, at your front door and home to over 400 retail outlets. Or try Gymea Village, less than 20 minutes away by foot; here, be sure to pop into Nina's Chocolates to sample some of the best cocoa delights in the Shire.
Glenn,we had a wonderful and great week at your place. We received from you a very warm welcome and felt instantly at home. You are the perfect host. Everything was as advertised and your apartment was clean and comfortable. We would definitely stay again.
karl
2016-03-02T00:00:00Z
My wife and I stayed at Glenn's place for more than a month. A perfectly located unit in the neighborhood of Miranda! It is less than 5 mins walk from train and bus stations. Direct train to CBD takes about 40 mins and about 25 mins from the airport by car. Westfield mall is right opposite and a few seconds walk. Its a huge mall which has banks, ATMs, showrooms, medical shops and many restaurants. Miranda is a very safe neighborhood with lots of greenery, beautiful neighborhoods, shops and hospitals. For Indian travelers, there are about 2-3 good Indian restaurants, about 5 mins walk from the house. The house looks exactly like the way it is on airbnb. Now it has brand new carpets! Kitchen is well equipped with utensils, stove, oven, fridge etc. Other features include free laundry, a nice balcony, free internet, iron box, dining table, TV, heaters in the living room and the bedroom. Bedroom is quite spacious with a big built-in cup-board. A fan is also provided. Private bathroom is quite big and clean with a tub and a shower with hot water 24/7. Glenn is a very humble and down-to-earth guy. We checked-in quite late in the night. He was there to welcome us and gave a quick tour of the house. As a true Sydney sider and the Shire guy, he has thorough knowledge of life in Sydney, which is of great help to anyone visiting Sydney for the first time! He always helped us with his generous and precise tips on neighborhoods, places to visit and the Sydney's transport network. We had a wonderful stay and we highly recommend Glenn's place for short and long stays. He's a great host, but more than that, a great human being! Thanks for everything Glenn!
Subramanya
2016-08-01T00:00:00Z
Highly Recommended! Family Friendly & a Wonderful Host. 3 Kids loved the pool & didnt want to leave, they felt at home. We look forward to staying again.
Saz
2011-04-23T00:00:00Z
I had a pleasant stay.
Stine
2017-01-03T00:00:00Z
Glen is very welcoming and friendly. His apartment is safe, secure and quiet, and is in a really good location for : shopping, restaurants, trains etc.. Suiting our needs exactly for visiting family and getting around Sydney.
Marg
2015-04-25T00:00:00Z
This our second time at Glenn's place. It is a great base to explore Sydney and surrounding, close to transport and shopping. Glenn is a very nice guy and made us feel very welcome. We would like to stay at his place again. Thank you. K&K
karl
2016-05-10T00:00:00Z
Wifi hit and miss. Great laundry facilities nice kitchen and living room area. No TV in room. Bathroom/shower OK. Birds come in morning nice to see. Glenn very nice kind and helpful young man. If you wanna go Westfield a this is the spot to stay. Pub local and lots of fast food restaurants close by.
kira
2017-03-17T00:00:00Z
Glenn is very nice. We have a nice stay. The house is in a good location with a cheap price. I really recommend Glenn'place。 Thank you, Glenn!
Cassandra
2015-07-17T00:00:00Z
Tipo de Quarto
Quarto privado
---
Tipo de Imóvel
Apartamento
---
Acomoda
2
---
Quartos
Miranda, New South Wales, Austrália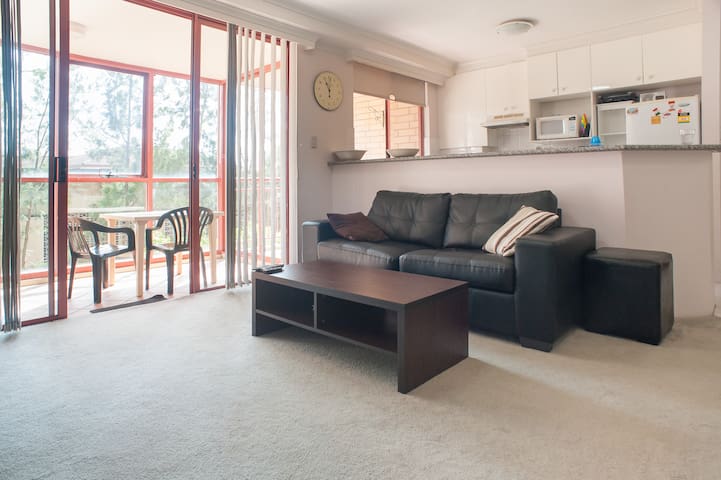 That is perfect for any family/couple looking for a conveniently located place to stay in Sydney. you'll be having the entire home to yourselves for the duration of your stay. Free unlimited wifi and underground lockup parking space。 A few minutes walk to Riverwood station And local shops,Restaurants
Apartment is very neat and cosy, fully furnished, conveniently located near International Airport (12 min)and Sydney 's central attractions (26 mins) by train. - 3 mins walk to Riverwood station - 2 mins walk to local shops, restaurants, cafes, pubs and supermarkets - Have an underground lockup parking This apartment has everything you need to make your stay in Sydney comfortable and enjoyable.
Angela's apartment was spacious, comfortable and convenient. Close to shops and transport. Secure parking was great. She left us with a full shampoo and conditioner and soap which was handy! Free WiFi was very fast also. Angela ensured she met us on time and gave us a quick run through of everything.
Danielle & Ruth
2016-10-21T00:00:00Z
Nice house, perfect experience with the host. Will stay there again.
Lee
2016-05-26T00:00:00Z
The place was magnificent, clean, spacious and very comfortable as you step in. We would certainly re-consider staying at Angela's place again in the near future. The location was also very close to the train station which was so convenient to catch the train to the city. Overall speaking, this is the sort of accommodation that I would not hesitate to introduce my friends to stay, unless they wanted a 5 stars hotel.
Lam
2016-05-17T00:00:00Z
Angela was very lovely, helpful & cooperative. We absolutely loved our stay at her place. It was clean and tidy as described. The bed linens, blanket, towels were super clean as well, which was very important to me. It felt like home and Angela made sure that we were comfortable at her place. The kitchen had all the basic stuffs we needed during our stay. The toilet and laundry were clean and provided with basic stuffs. We will definitely stay at her place again when we visit Sydney again. Thank you Angela.
george
2016-04-06T00:00:00Z
Angela is a very warm hearted host and capable manager of her properties. Conveniently located in a residential zone beside the biggest Chinese community Hurst Ville, the apartment was clean, quiet and well maintained with an artistic touch on the furniture, paintings and small decorations such as tissue boxes and glassware in the side cupboard. Would love to choose to stay again.
Crystal
2016-02-23T00:00:00Z
Ms Angela and her sister met and welcomed us when we arrived. The place is neat and tidy (it is really what you see in the pictures), we really felt at home. She even bought us new quilts as the following nights got colder, we really appreciate what she did. She is really friendly and made sure that we are always comfortable in her apartment during our stay. It is our first time to be in Australia and she gave us the impression that we should come back soon :) The place is highly recommended as it is near to all amenities. Coles, Woolies and MRT are just few minutes walk (about 3 minutes). Hope to see you again Ms. Angela. Thanks much for accommodating us. Cheers!
Yolan
2016-05-08T00:00:00Z
It was my wedding coming up, and I need a place for my family to stay. It was my 1st time trying Airbnb. Lucky I found Angela's place which is close to my place. I was quite surprise to see the apartment is very roomy and clean. And it is very close to train station which is a big plus for my family to tour around in Sydney by train. My parents were extremely happy with the place, they had a great time attending my wedding as well as visiting Sydney. thanks Angela !
Iris
2016-07-06T00:00:00Z
Enjoyed our stay in Angela's well kept spacious apartment. As a tourist we liked its location with train station just a few minutes walk and also easy access to CBD by car. Angela is a very good host , ensured our stay in her apartment is very comfortable.
Gopal
2015-12-17T00:00:00Z
Tipo de Quarto
Casa inteira/apto
---
Tipo de Imóvel
Apartamento
---
Acomoda
5
---
Quartos
Riverwood, New South Wales, Austrália
Located in the heart of Hurstville - the biggest Chinatown in Sydney. Located conveniently near a shopping complex - Westfield. 470m from Hurstville train stations where there are continuous services arriving at short intervals. 2 minutes from travel coach station, 16km from Sydney's CBD and 7km from Sydney airport.
Getting to Cronulla beach by train takes a mere 15 minutes and a short walk from the station. Hurstville presents a wide selection from various Asian delicacies including Chinese food, Japanese food, etc and many Australian Cafés and restaurants.
Hurstville is a diverse suburb and even if you lack the ability to fluently speak English, there are still many services accessible to Chinese speakers. 公寓位于好事围市中心,无论出行还是购物都十分便利,距离悉尼市中心也仅有16公里,7公里到达悉尼国际机场,和十五分钟火车程到海边,沙滩。好事围(hurstville)火车站是周边片区最大的火车站,几乎所有火车都经停此站。公寓距离火车站仅450米,步行5分钟到达。步行50米到达旅游车上落点,火车20分钟直达悉尼市中心,悉尼歌剧院。悉尼大桥。同时,这里还有四通八达的公交车系统,即使市区周边也非常便利,公寓,仅需2分钟就可步行到澳大利亚最大的连锁购物中心之一Westfield。这里,你可以见到琳琅满目的本土商品,可以品尝最地道的咖啡。还有大量的华人超市几乎可以满足你所有的需求,当然,这里还有数不胜数的地道中国菜。海鲜酒家,免税店,旅行社。首次来澳也不会有语言问题,广州话,国语,都通行无阻,很好的治安,公寓全新落成,设备一流,整洁卫生,提供生活用品,煮食用具,公寓内还可以观看hurstville市中心街景。
We can almost shop everying in Hurstville nowadays. A big shopping arcade Westfield and the biggest Chinatown now in SYD provide us the daily need easily during our stay. Plenty of choices for restaurant along Forest Road. The apartment itself was almost brand new so everything was clean and in good shape. Host May was very helpful and she stay very close to the apartment. We can easily find her if we need anything extra (which is very unlikely since the apartment has everything in particular the kitchen). Fantastic stay for 2 families.
Anthony
2016-01-31T00:00:00Z
Space are spacious to accomodate group of people or families with many members. Bedroom and bathroom are clean. Location is good, near to train station and walking distance to the westlife shopping mall and groceries. Many restaurants at surrounding places. May is very fast in responding and thank you to help us for our late check in the first day.
Herman
2016-03-19T00:00:00Z
房主很热心,中国人好沟通,房子很大,厨房好用,有中国菜刀,楼下购物方便,对面街的港式叉烧烧鸭非常好吃,离火车站很近,有免费停车五星推荐
世平
2016-07-26T00:00:00Z
We had fantastic three nights stay. Location is convenient. It was an amazing apartment, fantastic spacious bedrooms and living areas with outstanding views. May is very nice and helpful. We are hoping we'll stay there again in the future. Thanks again May.
Jade
2016-04-01T00:00:00Z
Hi Thank you so much for having us,May was very welcoming and super friendly,the TV was broken and May ran out and bought a new one that evening May was always available during our stay.The apartment was amazing plenty of room and very clean.perfect neighbour hood close to shops / airport etc.Some of us that stayed thought the beds were very hard to sleep on.Thanks again May
Jodie
2016-06-06T00:00:00Z
Highly recommend this apartment, very good location close to Westfield shops restaurants and train station.
King
2016-10-05T00:00:00Z
Great spacious modern apartment conveniently located in the heart of Hurstville.
Gary
2016-07-10T00:00:00Z
一如既往的好,感谢May,非常好的房东
Jade
2016-12-02T00:00:00Z
Tipo de Quarto
Casa inteira/apto
---
Tipo de Imóvel
Apartamento
---
Acomoda
8
---
Quartos
Hurstville, New South Wales, Austrália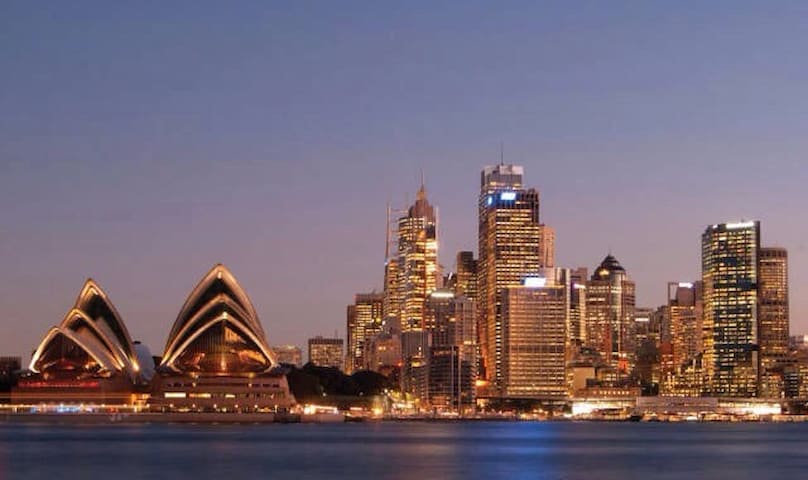 Pricing(110$) is for two bedrooms and each bedroom has 1 queen size bed.That means suitable for 4 adult or a family.Brand new apartment with the big yard and BBQ area.Easy access to public transport.You get a private bedroom with queen bed for your comfortable stay in Sydney. Bathroom not be shared All other areas such as living room, kitchen etc is shared. (I live in the master room!)An additional single bed for extra guest,upto 5 people to stay will cost you 20$/per night,
新的三房公寓、现代化客厅、多功能厨房、独立卫生间、底楼带后花园及室外BBQ,有地下车库可供客人免费使用,免费WIFI。 附近设施:步行12分钟可到RIVERWOOD 购物中心,那里有各式口味的饭店、酒吧和咖啡屋及COLES、WOOLWEALTH 等大型超市。 交通:步行14分钟可到达 RIVERWOOD火车站,火车30分钟直达悉尼市中心、悉尼国际机场各航站楼,步行5分钟可到附近公交车车站 *110$(Two bedrooms and Two queen size bed) *New appartment,There are two bedrooms available and each has a queen size bed. *Modern living & kitchen *Free secure car park & unlimited wifi. *Backyard & BBQ aera. *Riverwood shopping centre - 12 minute walking distance. *Riverwood train station within 14 minute walking distance from the (URL HIDDEN) to CBD & airport by train. *Multiple bus lines just outside the apartment. *Very quiet environment
We stayed in 1 of the room in Jing's apartment. Jing's place is very nice and clean, true to the photos. Jing and her husband are very friendly and responsive to our queries. Towels and toiletries are provided. Bed was comfortable. 15-20 mins walk to the train station where you can find many restaurants too. Will recommend this place!
Lai
2016-05-17T00:00:00Z
非常好的房东,房间清洁,床品漂亮,地理位置较好,值得住的地方。
湘炬
2016-10-03T00:00:00Z
房屋干净、安静,在悉尼郊区,但悉尼公共交通发达,到市区非常方便。室内各种生活设备俱全,停车库和阳台都非常大,主人态度和蔼,而且为客人考虑得非常周到,一切生活用品都准备得很好。主人是华人,因此沟通起来也没有障碍。一定是中国朋友的首选。
Chenqianjin
2016-10-27T00:00:00Z
3 of us stayed with Jing for 5 nights and it was absolutely delightful. Beautiful apartment with everything that you could possibly need. The beds were very comfortable and the bathroom was well equipped. Jing's husband, James, greeted us upon arrival and gave us a tour of the apartment. They were both great with respecting privacy, yet still available to help out if we needed anything. Would stay again in a heartbeat!
Rikki
2016-07-10T00:00:00Z
They are very nice and gave us a warm welcome. We arrived late in the evening and they helpd us with parking and access. The place is clean and new. Pictures are real. Well recommended!
Dicky
2016-04-05T00:00:00Z
静姐的房子非常干净整洁,非常舒适且方便,关键是静姐夫妻都非常热情,帮助我们规划行程,推荐!
zhiheng
2016-02-10T00:00:00Z
Jing a été très sympa, il nous a aidé a nous installer, l'appartement est très bien, proche des commerces, nous avons eu une place de parking au sous sol. Bien que nous ayons eu très froid au départ nous avons mis le chauffage et cela à été, contrairement a ce qui est écrit le logements n'est pas entier, jing y habite, très discret il est vrai mais cela nous a pour le moins surpris.
David
2016-05-28T00:00:00Z
This was a convenient location for an overnight stay while passing through Sydney. The rooms were very quiet and the bathroom immaculately clean. We had private access to all amenities with an outside courtyard. Thank you Jing
Denise
2016-10-22T00:00:00Z
Tipo de Quarto
Quarto privado
---
Tipo de Imóvel
Apartamento
---
Acomoda
5
---
Quartos
Sidney, New, Austrália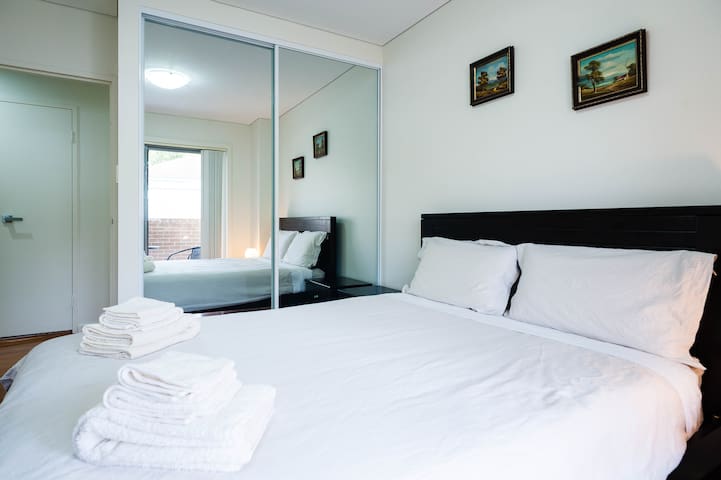 This apartment in southern Sydney is close to parks, restaurants and dining. It's a short driving distance to National Parks, beaches, Woronora and Georges Rivers, local and major shopping centres. Peak hour buses at our door and 35 minute train trip to the city. You'll love our little oasis because of the beautiful views, quiet surrounds, clean comfy living space, expansive veranda and plenty of parking. This listing is good for couples, solo adventurers, and business travellers.
Main bedroom features queen bed, bedside tables and lamps, ceiling fan, underfloor heating, balcony access, built in robes with draws and internal mirrors, chest of draws and plenty of floor space for a portable cot. You have your own bathroom and full laundry. I provide linen, towels, hand towels, table cloth, tea towels, a range of pots, pans, mixing bowls, oven wear, utensils plus alfoil, cling wrap, baking paper, zip lock bags, storage containers, serviettes, a range of teas, espresso coffee and machine, coffee plunger and coffee, small skim and full cream milk, dried herbs and spices and some oil. A microwave, 2 burner hotplate, toaster, electric kettle and upright 2 door fridge/freezer are in the kitchen and a toaster/oven in the laundry. There is plenty of soap, laundry and dishwashing detergent, hair dryer, iron and board. Living area is spacious enough for two single mattresses or I can push them together to make a king. There is a large flat screen TV, DVD/Blue Ray player with 5 speakers in the room plus some DVD's for your enjoyment, large dining table with comfortable chairs and modern lounge with ottoman. A piano sits in the corner that you're most welcome to play. The well equipped kitchen area has bar stools and breakfast bar. On the balcony are benches and coffee table to sit and enjoy the views. We have wifi but it's slow and unreliable so not ideal to work remotely.
Enjoy the tranquillity of the river, the bird life and you may even glimpse our resident wallaby. There are expansive views where you can track planes but not hear them, see the trains in the distance crossing the river and in the evening watch as colours change in the sky. Pretty lights on the horizon at night. Illawong is set between two rivers and is a quiet family orientated suburb with lovely restaurants, coffee shops, bushwalking tracks, extensive bike tracks, beautiful riverside parks and village shopping centre. Nearby are Georges River National Park, the Royal National Park, Westfields Miranda, Como boatshed, historic Como Hotel, Woronora Canoe Hire boatshed, EG Waterhouse Camellia Gardens, Hazelhurst Art Gallery and the weekly Saturday farmers markets at Sutherland from 8am to 1 pm
As we tavell a lot round the world and we are looking all the time for new and beautiful houses we just got it to Marie, and we recommend it.
Michele
2016-12-06T00:00:00Z
Marie was a great host. Everything was nice and clean. The views where amazing.
Sina
2017-03-19T00:00:00Z
Lovely location, quiet, secluded. Marie is a great communicator. Apt is lovely and clean. Our two night stay was pleasant.
Anne
2017-02-08T00:00:00Z
Escape to paradise :) Stunning views, lovely hosts, beautiful retreat space, everything you could want in a getaway. Thank you!
Erin
2016-12-10T00:00:00Z
Had a very pleasant and comfortable stay at Marie's place. Great location , quiet surroundings, clean apartment,all the aspects of our stay were well looked after. Very happy and would definitely recommend .
ranjeeta
2017-03-25T00:00:00Z
Fantastic location with serene river views, close to shops. Really clean, spacious and modern place. With everything you need.
Gray
2016-12-09T00:00:00Z
Absolutly beautiful place with amazing views! Marie's place was super clean and spacious. We were also left clear instructions on everything and a booklet on the local area which was so very phelpful. We would personally recommend hiring a car as this will give you access to the Royal Park which has stunning beaches, lovely walks and views which you can't reach via public transport. The train station was a little further away than we expected, however having a car made it easy to get around and explore. We loved going in to Menai which was a ten minute drive away to grab sushi at Moon's and Pizza at the local pizza joint, both of which are amazing!! The only few downsides of this beautiful place is that the internet sometimes didnt work or was very slow, which i must say was only and issue for us as i work remotly and sometimes needed to use the internet. Perfect though if you want an escape. If people were in the main house you could hear them talking quite clearly! Lastly the balcony isnt very private so we kept the blinds closed alot. Not major issues though! I would definitelu recommend Marie's place to friends, family and strangers! Its very clean, comfortable and the views are breathtaking!
Sam
2017-02-06T00:00:00Z
Marie's place is everything you can ask for and much more. It's spacious, modern, beautiful as well as catering for all your needs. I strongly recommend this place to anyone that is looking for a quiet and comfortable retreat.
Sam
2017-02-17T00:00:00Z
Tipo de Quarto
Casa inteira/apto
---
Tipo de Imóvel
Apartamento
---
Acomoda
4
---
Quartos
Illawong, New South Wales, Austrália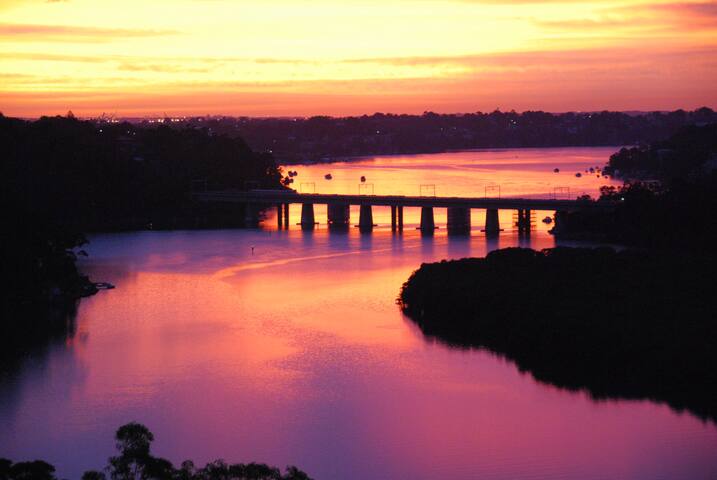 Garden Rooms is close to restaurants and dining, public transport and the local shopping centre. You'll love our place because of the garden setting, the comfy beds and the cleanliness. Garden Rooms is good for couples, business travellers, and families (with supervised kids). Our house is situated in a quiet cul de sac. We are a half hour drive from the airport. (In non peak times.) Public transport from airport - train 21 minutes plus bus 15 minutes. 100m walk to our back gate.
2 sunny bedrooms are separated by an ensuite bathroom and a kitchenette. Both bedrooms are accessed from the garden and are separated from the residence. There is a queen size bed, and a single bed each with electric blankets. The third bed is a single blow up mattress, if required. Each bedroom has a ceiling fan. There is also an electric room heater. There is NO full kitchen. A small kitchenette has a microwave, jug and toaster with crockery and cutlery. There are limited cooking facilities. (Similar to a motel.) Complimentary tea and coffee is supplied.
Illawong is a southern Sydney suburb bounded by 2 rivers. There are fire trails which provide easy access to bushland areas, and lots of bushwalks. Our home is within 300m of the local shopping precinct, for those forgotten items. There are a number of restaurants and coffee shops within this precinct catering for varied tastes and budgets. There is a park with children's play equipment approx. 300m walk from our place.
This apartment was the perfect place for our stay over 4 nights. The bedrooms and bathroom were perfectly clean and pleasant. Just next to the rooms there is a lovely garden, with a water feature, providing a relaxing environment. We had a loaded trailer and the host helped to park the trailer at the back of the property. Julie was very understanding to allow an extra guest to stay at short notice and responded quickly to my many requests. Many thanks to the hosts.
Greg
2017-02-11T00:00:00Z
Julie's place was perfect for what we needed. We were two sisters traveling with our 3 babes and had lots of space to sleep and spread out. Although we never met Julie as she was away for the weekend, She was quick to respond to any questions and transit was close enough to catch the train into down town and the beach. Thanks for everything.
Jennifer
2017-03-26T00:00:00Z
Nice place to stay in
Ameen
2017-02-22T00:00:00Z
Amazing little place with a gorgeous garden set up. Great locality with close proximity to shops, restaurants and easy public transport access to the city or airport while still managing to be a quiet area to relax and enjoy yourself.
Michael
2017-02-15T00:00:00Z
This is a lovely place to stay in a quiet residential area. The rooms are tidy and clean. Julie and Chris are friendly and gave really clear instruction and the place is really easy to access. Would love to stay again. Thanks!
Joel
2017-03-12T00:00:00Z
Hosts are being really helpful and welcoming. The place is clean and comfortable, especially the bathroom. We are really pleased to stay here and will definately recommend to friends with cars
Shuo
2017-02-27T00:00:00Z
We've stayed for about 7days.Julie and Chris are really kind to us. Julie has always kept in touch.Also the house we stayed is soooo nice and clean:)!!!!! We really appreciate for them !!!! If we have enough time and money, wanna go and stay there:)!! I recommend! Thank you Julie and Chris !!!!!
Takashi
2017-03-07T00:00:00Z
nice room
佳熹
2017-04-03T00:00:00Z
Tipo de Quarto
Casa inteira/apto
---
Tipo de Imóvel
Apartamento
---
Acomoda
4
---
Quartos
Illawong, New South Wales, Austrália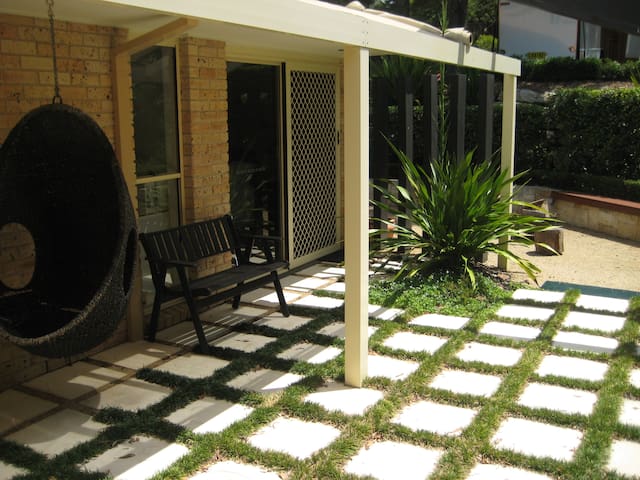 2 bedroom apartment with large kitchen. Situated in a quiet leafy southern suburb of Sydney. Close to local shops and restaurants. Boat and canoe hire is a 10 min walk. 5 minute drive to Sutherland Train Station ( frequent trains to Sydney take 45 min). 25min drive to beaches.
The apartment is under the garage, built into ironstone rock, thus keeping the temperature neutral. Ceiling fans and a humidifier is available in summer. Electric blankets and heater is available for winter. Please find tea and coffee and basic cooking needs in the kitchen. Book lovers will enjoy a variety of books with comfy spots to read. Water access is available from the local parks (not via the property). Woronora has 5 eateries and lovely walks and an abundance of bird life.
Woronora River winds through the valley. You can hire canoes and stand up paddle boards from The Boatshed - 10 min walk. There are lovely walks and much bird life to seek. eateries - The Boatshed, Woronora RSL, The Wonnie cafe and convenience store, Fish and Chip shop and The Bridge.
Tipo de Quarto
Casa inteira/apto
---
Tipo de Imóvel
Apartamento
---
Acomoda
3
---
Quartos
Woronora, New South Wales, Austrália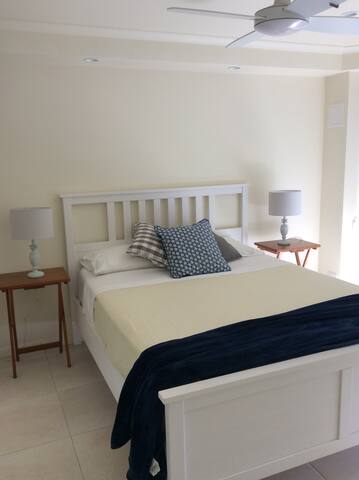 You'll love this quiet suburban setting for your stay in Sydney. Only 30 minutes by train to Sydney's Central Station and easy access to airport train stops. Royal National Park and other parks less than an hour's drive by car. Local shops, super market, cafes etc all within a short drive from the apartment. We are located in a beautiful quiet peaceful suburb with plenty of space for your group. The Apartment Situated in a lovely garden with outdoor seating and BBQ, the apartment also features: - two bedroom flat for rent (preferred 2 week minimum rental period) - Fully furnished - Complete kitchen and dining area - Cable TV - Free WIFI - Laundry facilities - Private bathroom with shower, vanity, medicine cabinet - BBQ, lots of outdoor seating and gardens - Easy Airport access, 10 min. to train line - Easy access to the M5 and M7 motorways - Lots of on street parking - All utilities included in the price! Pricing: 1 week: $850 2 weeks: $750/wk 3-7 weeks: $690/wk 8 or more weeks: $620/week
Quiet suburban neighborhood with a small playground for children around the corner. Neighboring houses are quite close by so we appreciate your observance of quiet after 11 pm inside and outside.
Les photos ne sont pas tres clairs dans l'annonce. Le prorietaire habite juste au dessus, ils ne faut surtout pas parler sur la terrasse apres 23h au sinon steven se feras une joie de descendre par votre jardin pour vous le rappeler. Egalement pas de lumiere sur la terrasse apres 23h. La maison n'est pas dans un parc immense comme le montrent les photos, c'est juste le parc de la ville qu'il y a en photo. La derniere semaine des ouvriers travaillees chez steven et il passait toutes les 5 minute sur notre terrace , donc impossible de prendre le petit dejeuner ou autre. Pendant 1 semaine les travaux du matin 7h30 a 15h. Je vous le déconseille fortement! Et la premiere station de train et a 1h a pied! Ne partez pas dans l'idee d'etre dans un logement seul comme le dit l'annonce car steven se permet de descendre chez vous sans sonner a 11h du soir pour vous dire d'eteindre les lumieres de l'exterieur et de ne plus parler car ils sont juste au dessus de la terasse avec les fenetres grandes ouverte!
Nicolas
2016-11-24T00:00:00Z
The host of this place is absolutely brilliant - caring and welcoming. The place is outstanding - nice, secluded area, good size rooms, powerful WiFi, full Foxtel, amazing garden and many more things for really enjoyable stay... Great attractions - places to visit are close by, around this area - can't wait to come back here again !! Definitely recommend to everyone - great to stay for pleasure and good for business stay (only 30 min on the train to CBD).
Boris
2016-09-08T00:00:00Z
Steve is a great host which was fantastic as we stayed for two months. The flat is quiet, has lots of space and all the necessary amenities. The location is in beautiful Lugarno, everything is in reach as long as one has a car. Thanks, highly recommendable
Chris
2013-11-03T00:00:00Z
We had a fantastic stay at Lugarno lodge, Both Steve and Cathy are down to earth very friendly and classy people whom will not be comfortable until they make sure their guests are . Definitely I will recommend a peaceful and fun stay at their garden apartment.
khalid
2013-05-01T00:00:00Z
Steven and Cathy were great hosts. Both of them were very understanding very accommodating to our needs as we had our 20 month old son with us who didn't transition very well to the trip and was quite sick. They understood our problems.
matthew
2016-10-22T00:00:00Z
The host canceled this reservation 9 days before arrival. This is an automated posting.
Fintan
2017-01-23T00:00:00Z
We thoroughly enjoyed our stay here, there was nothing to dislike. The local area is not easily accessible unless you have a car. The neighbourhood is very pleasant and we loved the bird life in the adjoining gardens.
Kate
2016-12-24T00:00:00Z
Tipo de Quarto
Casa inteira/apto
---
Tipo de Imóvel
Apartamento
---
Acomoda
4
---
Quartos
Lugarno, New South Wales, Austrália
The large, lockable apartment is on the first floor of the house. It is located in a quiet dead-end street, the garden is adjacent to a valley with many birds and beautiful views. There is a lovely pool. The apartment is also suitable for a family with children.
The apartment is on the first floor and has a spacious living room with balcony, three bedrooms, two with a double and a single bed. There is a cot and a highchair available. The bathroom has a shower, bath and toilet. The kitchenette has a coffee maker, toaster, kettle, fridge, microwave, crockery and cutlery. Use can be made of the gas bbq in the garden.
In the nearby Menai are many shops and restaurants. Miranda is a huge shopping mall with over 200 shops and many restaurants. In the area: Cronulla Beach, Royal National Park, playground and plenty of opportunity to walk in the valley. By train you in 25 minutes in the center of Sydney.
房子位于悉尼附近的一个山谷中,环境非常好。主人Ruby 非常热情的接待了我们一家人。房子后面的游泳池也非常棒,我儿子玩的很高兴。推荐路过悉尼,想歇歇脚的游客。
Han
2015-01-24T00:00:00Z
Ruby and Gerrie are amazing hosts. They really make you feel like home. Nice and spacious apartment on a good location. It was great to see all those birds in the valley behind their back yard. Also the pool was very nice. We would definitely recommend this place.
Linda
2015-03-09T00:00:00Z
Ruby and Gerry are amazing hosts. They welcomed us warmly and provided everything we needed for a thoroughly enjoyable stay. Ruby generously cared for the washing and ironing that our daughter brought on her return from overseas. They provided lots of goodies for us to enjoy during our stay and cared for all the washing up. The view over the valley is just delightful and their home is a haven of peace.
Christabel
2016-10-23T00:00:00Z
Second time staying at The Holland House.. A beautiful stay again. Ruby is a greats do lovely host!
Lauren
2015-12-05T00:00:00Z
Holland House is in an Australian bush location - with lovely bush views in a quiet street. The outlook over the bush was beautiful and peaceful. The accommodation was modern and immaculately presented. Ruby and Jerry went above and beyond to make us feel welcome and comfortable. They are wonderful hosts! I would highly recommend Holland House.
Ruth
2016-08-01T00:00:00Z
Ruby and Gerry are amazing hosts! We call them uncle and auntie now cause they made us feel so welcome and it felt like staying with our own family. Warm, kind and beautiful people that left a special place in our hearts. We also had a lot of fun with them and they are both amazing cooks!! And last but not least the cat and the dog they have are so adorable! About the house: you absolutly have your privacy because you have your own appartement on the top Floor. Relaxing ambiance waking up with singing birds and a great lookout over the valley. In summer you can jump in the swimming pool and relax in the garden. We recommend this beautiful house with awesome hosts to everyone! thank you so much for heaving us Ruby and Gerry .
Shirley
2015-09-16T00:00:00Z
Thoroughly enjoyed a second stay with Ruby and Gerry. There house is a haven of peace, but also full of the sounds of the bush. The birdlife, and visit by a flying fox, was delightful. Thank you for your hospitality and we look forward to visiting again.
Christabel
2017-01-30T00:00:00Z
Ruby and Gerry reside in a beautiful home 'Holland House' situated in a serene location over looking the Bangor Valley. They have a lovely apartment with a large comfortable balcony overlooking the swimming pool and valley and 3 immaculately presented bedrooms. It is located within easy reach to one of the nicest beaches, Cronulla Beach, Woronora River, a lovely large shopping centre in the small town - Menai, near to Sports Facilities, The Royal National Park, Westfield at Miranda and and the City Centre of Sydney. Ruby and Gerry provide books and leaflets on the local area for many ideas and there is also free internet access in the house. Our family thoroughly enjoyed staying at Holland House and found the apartment very comfortable and relaxing. There is also a very spacious lounge and dining area, separate kitchen to prepare some food and drinks and a large private bathroom. We really enjoyed watching the wildlife from the balcony and we often saw many beautiful lorikeets, kookaburras and Cockatoos that are so pretty and fascinating. The swimming pool is wonderful too and there is plenty of space outside to relax in the garden and admire the scenery and wildlife. Ruby and Gerry are both very warm, kind, friendly, accommodating, approachable and caring people. Ruby kindly provided some supplies of food and drink on our arrival from the UK and was so kind to do our laundery everyday. Both Ruby and Gerry ensured we had everything we needed to make our holiday more pleasant. We would like to thank Ruby and Gerry for all of their hospitality. You are very lucky if you have the opportunity to stay at Holland House, it's such a beautiful home.
Elizabeth
2017-02-20T00:00:00Z
Tipo de Quarto
Casa inteira/apto
---
Tipo de Imóvel
Apartamento
---
Acomoda
5
---
Quartos
Bangor, New South Wales, Austrália
Brand new appartments building. Fully furnished. Luxurious. Brand new TV, Wi-Fi and brand new everything else.
Great for Business Person with family. Short walking distance to all amenities. 30 minutes by train to city. 10 minutes by train to beaches. 5 minutes by train to huge shopping centre.
Close to all kinds of shops. Short walking distances.
Tipo de Quarto
Casa inteira/apto
---
Tipo de Imóvel
Apartamento
---
Acomoda
3
---
Quartos
Sutherland, New South Wales, Austrália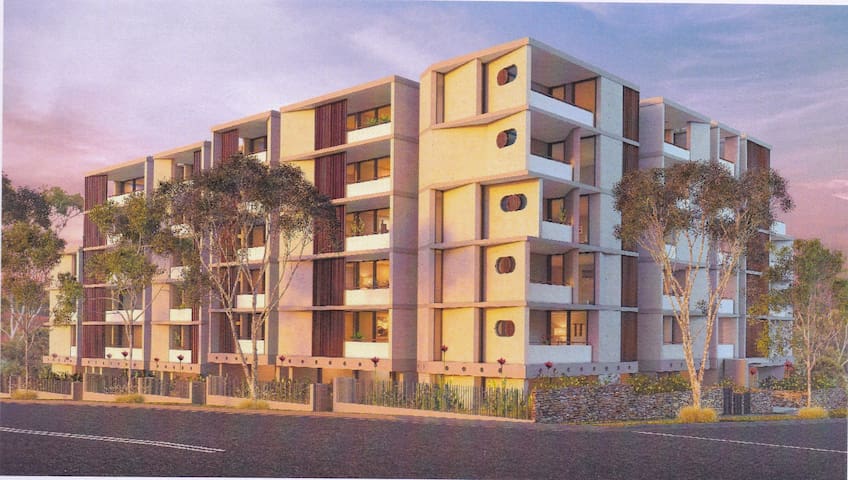 We've got a lovely whole level unit without direct neighbours, there's only this awesome chocolate shop underneeth with the owner being a very nice guy. the unit is nice and clean and it has a massive terrace you are welcome to use.
Tipo de Quarto
Casa inteira/apto
---
Tipo de Imóvel
Apartamento
---
Acomoda
2
---
Quartos
Jannali, New South Wales, Austrália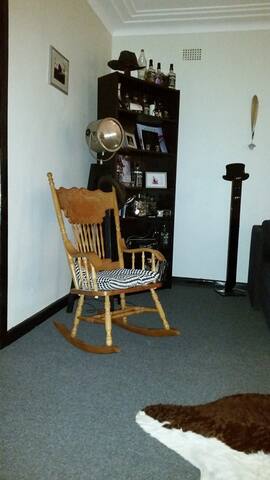 Large outdoor patio (gets beautiful morning sun) Small private courtyard out front. Parking. Own bathroom. Convenient location near M5 & short bus trip to train station on Airport line. Older style but simple, neat & warm feeling! Plenty of space!
You will have your own bathroom
Quiet and friendly
This was the worst experience I ever had in my whole life and I will never book accomodation from airbnb anymore. When I reached to owner house with all my big luggage , owner wasn't there. I texted her on airbnb, emailed, send msg on watsapp ans also text her but no reply at all. I called corrinne (owner) million times but her phone was off so I sent her Voice msg too but no reply at all. Before reaching from airport I updated corrinne that I'm coming at this time but no reply from her. Me and my wife was waiting like a stupid on road as stranger with all our luggage. It was super embarrassing to you when all people around are looking at you because I was been waiting there for almost 4hrs. Still didn't bother to reply, at she should have some courtesy that other person had came all.the way from different country and already paid the money she should reply at my text,call or msg on airbnb. In the end I had no.choice I booked hotel immediately and moved to hotel after waiting for 4hrs. How disgusting people can be. The owner has replied me next day morning and she said she didn't receive any msg , how could be that possible and simply said I'm very sorry and she said I have kept keys outside. How would I know where did she keep keys and how can some one enter inside the house directly specially when you had pet (dog) in your house. Sorry is not gonna heal everything. My money and time was totally wasted, on top of it was all inconvenience. I called airbnb too to report at that time after reaching hotel but couldn't connect. Hope you will understand my situation if you were in my (URL HIDDEN) was really sad and depressing specially when happens on your 1st day of arrival
Nilesh
2017-03-17T00:00:00Z
We had a perfect stay at Corrinne's home. The house itself is really lovely and the room is very comfortable. It's great to have your own bathroom and access to the whole kitchen equipment as well. The house is just a short bus drive (or little longer walk) away from Padstow Station, where you can catch a train directly to Circular quay. Corrinne is such a lovely person and was very welcomming. We would love to stay there again! ;)
Sarah
2017-01-03T00:00:00Z
We enjoyed our stay :) you were very friendly and the was was a pleasure to stay in
Michael
2017-01-07T00:00:00Z
Comfortable Living Space, wonderful host. A few minutes walk to the bus stop.
David
2017-02-25T00:00:00Z
Clean bathroom. Large bedroom with very comfy king bed.
Kristy
2017-03-06T00:00:00Z
Corrinne's place is a lovely townhouse in a residential neighbourhood. There is a bus stop nearby and about 20min walk to the train station and supermarket. The room and bed was very comfortable and we had a private bathroom and tv room. Corrinne was very accommodating with check-in and check-out, as we arrived at odd times. We had everything that we needed for our stay.
Daniel
2017-02-05T00:00:00Z
Even though I was only there for the night, Corrinne and Rob made me feel very welcome and made me feel like I'd been living there for ages! Thanks guys, I look forward to next month! :)
Cavan Lee
2016-10-08T00:00:00Z
I was satisfied with the living space
Addison
2017-03-11T00:00:00Z
Tipo de Quarto
Quarto privado
---
Tipo de Imóvel
Apartamento
---
Acomoda
2
---
Quartos
Padstow, New South Wales, Austrália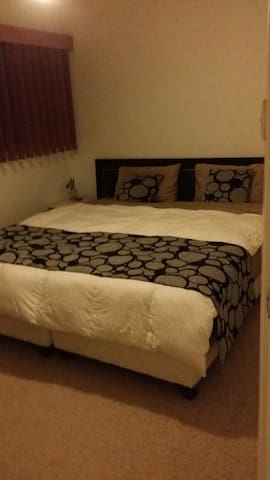 My place is close to restaurants and dining, parks. My place is good for couples, solo adventurers, business travellers, and families (with kids).
Sam and Gabby were wonderful hosts. The location was perfect for us - close to the railway station, good eating places and local shops. Can be noisy outside throughout the night. Basic amenities but the bed is really comfortable. For us the sharing of one bathroom/ toilet posed some morning problems at times. Great value for money. Always good to be provided with excellent wifi. The unit is on the third floor so you need to be able to manage steps. Thanks
Jacqueline
2017-03-25T00:00:00Z
Thanks for hosting us, Sam! It was very comfortable and well organized. And thanks for your help with the opals cards! ;P
Jennifer
2016-09-22T00:00:00Z
We stayed one night as we were going to a family get together nearby. Comfortable bed, good internet. Thank you Sam and Gab.
Adam
2017-03-04T00:00:00Z
Sam is a great host, place is nice and quiet, closed to everything, plus we were able to come and go as we pleased, thank you Sam :)
Caroline
2017-02-18T00:00:00Z
sam是个很好的房东,当天晚上十点才到mortdale给sam打电话很快就下来了,家里有冰箱和洗衣机,很方便。走路到train station只需要五分钟,点赞
立栋
2017-03-03T00:00:00Z
Was a nice stay at Sam's very private for me and my partner felt like I was in a house of my own
Ryan
2016-12-17T00:00:00Z
Sam and Gab were great hosts. They welcomed us really warmly and were very friendly. Their appartment was nice and pretty. We highly recommend them!
Lou
2016-11-29T00:00:00Z
Friendly easygoing hosts, comfy bed, quiet neighbourhood. Subway, take aways, train station 5 minutes walk. Nice & relaxed stay. I'd go there again :)
Janina
2017-01-08T00:00:00Z
Tipo de Quarto
Quarto privado
---
Tipo de Imóvel
Apartamento
---
Acomoda
2
---
Quartos
Mortdale, New South Wales, Austrália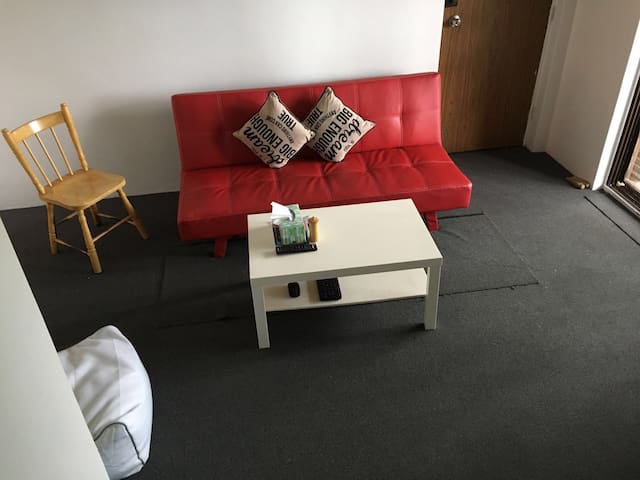 Beautiful and spacious apartment with swimming pool in Bangor, close to Menai. This is a very quiet location. Bushland setting with great views over the valley. Also suitable for families with children.
Spacious apartment on the first floor with fantastic view. Living room with balcony. There are three bedrooms, two with a queen bed and one with a single bed. The bathroom with bath, shower and toilet. In the apartment is a simple kitchenette with toaster, coffee maker, water cooker, fridge, macro wave and crockery.
The house is located in a quiet cul de sac in Bangor. Bangor is a suburb close to Menai in the Sutherland Shire. Beautiful nature, lots of birds and great view over the valley. Amenities and public transport in walking distance. CBD in 25 minutes by train. Close to Royal National Park
Our group arrived at Ruby's at 2 different times, both times Ruby was there to greet us and we were made very welcome. The listing description was accurate with plenty of room for the six of us. The garden and pool area overlooks a valley with great walks. A peaceful sanctuary away from home. Ruby and Gerry went above and beyond in making our stay that much better than expected and nothing seemed too much trouble for them All in all, a great apartment, great location, great hosts Thanks Phill, Kath, Babs and families
Phillip
2016-04-02T00:00:00Z
Lovely place to stay. Clean, luxurious and wonderfully stocked with treats and essentials. Our hosts were delightful, helpful and co-operative without being intrusive. Our stay here helped to make this trip an absolute pleasure. I would highly recommend staying here.
Nick
2016-09-30T00:00:00Z
Ruby is one of the best hosts I have ever stayed with.
Scott
2017-01-25T00:00:00Z
Ruby and Jerry were really warm and hospitable. During our stay, Ruby was so sweet and thorough, she helped us wash and fold our clothes ,wash our dishes when finishing meal, clean garbage we made everyday and provide all stuff we might need, made us totally feel like home and relaxed !!! They always gave us good advice and recommendation on the scenic places worthy visiting, even worried about and phoned us when we came home late at night in a bad weather condition , which touched us a lot . The house was fabulously spacious , neat ,full of fantastic decoration with wonderful artistic atmosphere , truly better than seen in the picture provided. As an animal lover, it couldn't be better waking up every morning with birds singing . I strongly recommend the house is a perfect place to watch , enjoy , even feed ,( if u like ) a variety of lovely birds....Indeed, we had a memorable and unforgettable time when staying here... We have experienced different homes in different places during holiday time , this one could be the best experience!!!! Thank u Ruby and Jerry Mr. & Mrs. Chen from China 卢比家周围的野生鸟儿们实在是可爱极了,简直就像自家养的,从来没有机会见到这么大的各种鸟儿,有机会去的中国朋友们太应该去他家住了,不会后悔的。
先生
2016-01-21T00:00:00Z
Your hosts Ruby and Gerry are the best hosts you could ask for, they will go above and beyond to cater for your needs and make your stay a pleasant one.. Holland House is set in a beautiful, quiet neighbourhood and once you venture round the back you'll be blown away by the sparkling pool and amazing Australian wilderness with an abundance of wildlife, including residential kookaburras'.. The accommodation upstairs is immaculately clean with beautiful views of the Bangor forest and native residents .
Robert
2017-01-02T00:00:00Z
Oh goodness we feel like we were on holidays with friends. Ruby & Gerry were very welcoming and even helped us move our luggage in. The apartment was really lovely, clean, spacious and a gorgeous view to the bushland. Very relaxing and quiet, a terrific location, close to transport, shopping and many sites.
Carmel
2015-09-25T00:00:00Z
Ruby was a great host and her B&B was every thing she listed. We had a large section of upstairs to ourselves, including a large living/dinning room. Her home is within a very nice and quiet neighborhood and it is right next to a forest were one safely walk.
David
2016-08-17T00:00:00Z
Na een reis van 3 maanden is onze laatste stop het Holland House bij Ruby en Gerrie. We verblijven hier 11 nachtjes met onze dochters van 1,5 en 4 jaar. Het appartement op de bovenetage is gezellig ingericht en van alle gemakken voorzien. Voor de kinderen is er veel speelgoed wat ze geweldig vonden! Ruby heeft er voor gezorgd dat er wat eten en drinken ligt en dat is altijd fijn na een lange reis! Ze hebben ons steeds leuke tips gegeven om te kunnen doen in de omgeving. Ben je er van bewust dat je geen eigen ingang hebt en door hun huis naar boven loopt, dit vonden wij overigens geen probleem. We hadden geen keuken en wasmachine maar Ruby was zo aardig om de was en de vaat voor ons te doen en koken konden we beneden doen. Super luxe dus! Ruby heeft zelfs heerlijke Hollandse pannenkoeken gebakken, ze waren heerlijk! We mochten gebruik maken van het zwembad wat heerlijk is op de warme dagen. De locatie was voor ons perfect, een rustige wijk met veel mooie vogels in de achtertuin. Dichtbij de supermarkt en speeltuin. En op circa 30 min. van het Royal National Park, Cronulla Beach, Symbio wildlife park en Sydney City. Bedankt allebei voor jullie goede zorgen
Tessa
2016-02-09T00:00:00Z
Tipo de Quarto
Casa inteira/apto
---
Tipo de Imóvel
Apartamento
---
Acomoda
5
---
Quartos
Bangor, New South Wales, Austrália
Very closely located to shops and transport, is our beautiful room for your convenience and comfort. Please have a stay in my room and feel the experience of nice friendliness, care taking and respect. I respect your privacy and down to earth to fulfil your stay a very comfortable one.
1. Average Size room, can fit two people and one kid. 2. Study desk. 3. Large wardrobe. 4. Fan. 6. Bed side Table. 7. Large balcony.
2 seconds from shops and transport. Very reliable and luxurious unit. Please come along. Close to Cronulla beach.
Good stay for a good price. Thanks
Evan
2016-03-09T00:00:00Z
Nice clean room very good for last miniute stay!
Catherine
2017-02-11T00:00:00Z
La chambre était comme sur les photo, propre et spacieuse. Il est vrai qu'avec un jeune enfant il est important de faire le moins de bruit possible le soir et pendant la sieste mais je trouve dommage que ça ne soit pas réciproque. Meme si il est normal qu'un enfant pleure la nuit, nous avont entendu beaucoup de cris et de pleures la nuit. Hormis cela nous avons passés un bon séjour !
Thomas
2016-12-05T00:00:00Z
Generally a good place to stay. The unit is secured, close to Sutherland train station which can take you anywhere in Sydney comfortably. There are also good restaurant nearby and Coles which you can you buy your grocery.
Edwin
2017-02-25T00:00:00Z
Very good value at the price with a friendly hosts
Alex
2017-01-21T00:00:00Z
Really accommodating for our last minute request to stay- literally 1 hour before we arrived. Clean and friendly host. Thank you again Ricky.
Carly
2016-11-26T00:00:00Z
I had a great experience with Ricky and his family. They were very accommodating - as I arrived quite late. A good spacious room - which is fine if you are only using it as night accommodation and spending the majority of your time out and about. Good location and an easy walk to centre of Sutherland (The Shire) and the train station.
Dave
2016-10-01T00:00:00Z
I had a good stay at Ricky's place. No complaints!
Rosie
2016-03-19T00:00:00Z
Tipo de Quarto
Quarto privado
---
Tipo de Imóvel
Apartamento
---
Acomoda
2
---
Quartos
Sutherland, New South Wales, Austrália
Quiet and cozy two bedroom unit located in Sutherland Shire. Ten minute walking distance to Sutherland Train Station, local shops and grocery store. Easily accessible, one straight train ride to Central Station and the heart of Sydney city. Seven minute train ride to Miranda where a massive Westfield Shopping Center is located, and fifteen minute train ride to the beautiful Cronulla Beach.
Tipo de Quarto
Casa inteira/apto
---
Tipo de Imóvel
Apartamento
---
Acomoda
4
---
Quartos
Sutherland, New South Wales, Austrália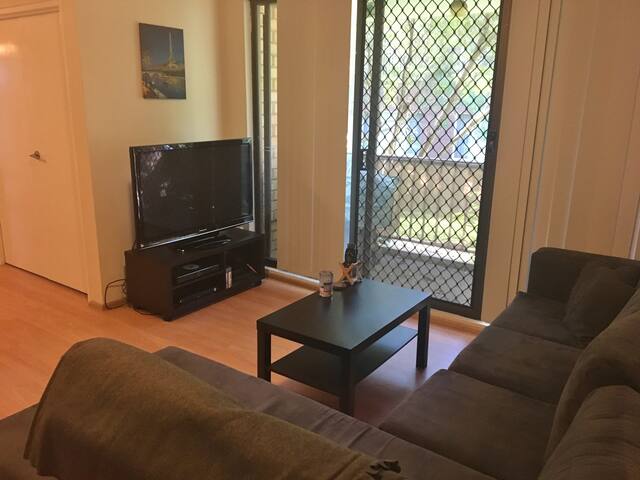 Located in lovely oyster bay this fully furnished room is a steal at cheap price. Located in a shareholder with two other quiet young males, the house has plenty of.room and very relaxing
Tipo de Quarto
Quarto privado
---
Tipo de Imóvel
Apartamento
---
Acomoda
1
---
Quartos
Oyster Bay, New South Wales, Austrália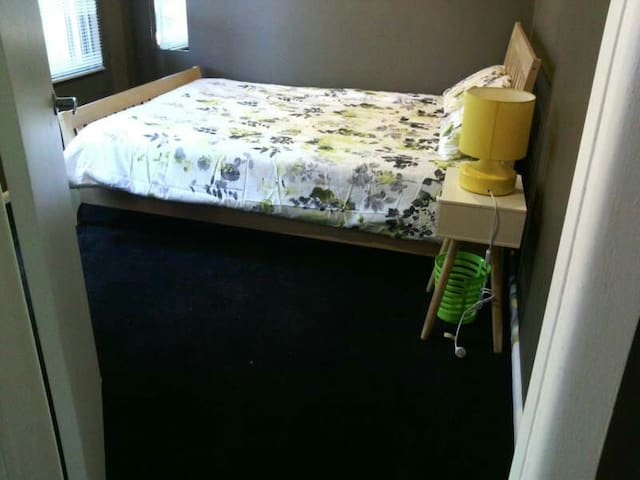 1

–

18

de

137 Apartamentos para Alugar
Insira as datas para ver o preço total. Taxas adicionais aplicáveis. Podem ser adicionados impostos.