Located on a sprawling hilltop in the area of Ysterni, Traditional villa offers a breathless panoramic view of the everlasting horizon as far as the eye can reach. Preserving the traditional stone-build Cycladic architectural style yet with all the modern luxuries of a contemporary home the villa welcomes guests to indulge in a haven of unrivalled calm and privacy only a breath away from the vibrant town of Naoussa and some of the most stunningly beautiful beaches of Paros.
The Villa is composed of one double bedroom and 2 bedrooms with 2 single beds. Two bathrooms and one WC. A living area with sofa beds and a fully equipped kitchen. A large veranda with panoramic view of the Aegean.
The house is located just 500m from the beach in the neighborhoud of Ysterni. Ysterni is 6km from Naoussa town.
Tipo de Quarto
Casa inteira/apto
---
Tipo de Imóvel
Casa
---
Acomoda
8
---
Quartos
Paros, Egeo, Grécia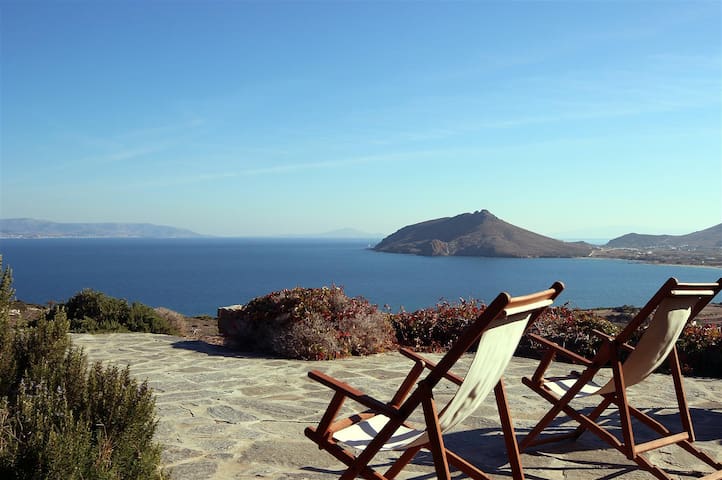 My house of 125sq.m is located 4 km from Naousa and 600 m from the nearest beach.The house is surrounded by a nice garden and has two verandas,from one of which you can admire the sea.
The house is fully equipped and a BBQ in the garden is available.
The area is perfect for walking,hiking ,biking,horse-back riding etc.
Tipo de Quarto
Casa inteira/apto
---
Tipo de Imóvel
Casa
---
Acomoda
6
---
Quartos
Paros, Egeo, Grécia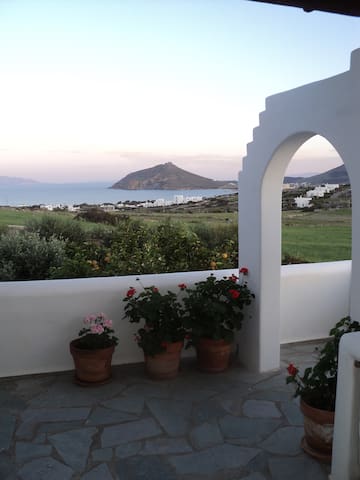 Fyrogenis Palace Hotel, χτισμένο αμφιθεατρικά γύρω από την πισίνα είναι προνομιακή με όλα τα δωμάτια με μαγευτική θέα στο Αιγαίο Πέλαγος. Το ξενοδοχείο σε μόλις 150 μέτρα από την γραφική παραλία του Αμπελά και 3χλμ από το κέντρο της Naoussa.Its θέση
The Fyrogenis Palace Hotel Paros has 16 rooms equipped with kitchen, refrigerator, washing machine, Telephone | Fax, Daily cleaning, TV Set, Air Conditioning, Internet In addition, the hotel has a dining room, swimming pool for adults and a smaller one for children, available for all kinds of events (weddings, birthday parties, etc.). Parking. All credit cards accepted. Pets are allowed. The ideal destination for families. Wonderful facilities with service, low prices, pleasant surroundings and warm hospitality will make your stay at Fyrogenis Palace axechasti.Prosvasimes facilities. Additional services / amenities / facilities on property. Air Conditioning. * Transfer to the airport. * Child care. Continental Breakfast. * Doctor on call. (upon request). High speed internet access for your laptop in public places. * Laundry / Service. Outdoor pool. * Pets Allowed. Restaurant. Box. * Services gamou.Gipedo basketball. Children pool. Direct beach access. Garden. * Riding. * Diving, Surfing, tour the island by private boat to pristine beaches, fishing. * Markets. * Sightseeing tours.
In the small fishing village of Ambelas, a few kilometers away from Naoussa, you will find three amazing beaches .The rich seabed is ideal for fishing enthusiasts. Of course you should try in the taverns of the traditional food of Paros such as fresh fish, for which it is renowned village Also, the coastal zone of Ambelas appropriate for unique walks, jogging, cycling, for gathering herbs, ideal for lovers nature
Dimitrios was very friendly. The place is good, quiet and clean, but you really need a car because the nice spots are not close.
Adrien
2016-05-17T00:00:00Z
We absolutely loved our stay here. Lovely place to relax. We had a studio with view on the egean sea and the island Naxos, very quiet and super clean. Beautiful pool. Christina is a really friendly host and made us feel welcome. She as well as her son and Dimitrios are always reachable if you have a question or want to make a reservation. The staff is friendly and was cleaning our studio every day. We rented a car to see Paros and we loved it. We would surely recommend this place !
Mark
2015-07-14T00:00:00Z
AMAZING ALL AROUND!
Fanis
2016-06-30T00:00:00Z
We had a very enjoyable time in Ambelas! Such a beautiful little village and a stunning hotel. The pools were fantastic and all the toys for children were an absolute bonus! My 3 year old had so much fun and so did us adults! The only negative thing I could say is that the beds weren't very comfortable, however this wasn't too much of a problem because we only stayed a couple of nights. The family also has a restaurant right next door to the hotel which was excellent! The food and cocktails were great! Would definitely stay here again!! Paros is absolutely beautiful
Jenna
2015-07-02T00:00:00Z
Christina was very friendly and kind. The apartment was beautiful and secluded which was lovely for an off-season vacation. The beach right by us was beautiful and the local restaurant was very nice.
David
2016-04-16T00:00:00Z
Very nice place for a family. Christina and her family were very kind and helpful to discover their beautiful island!
Emmanuel
2016-08-23T00:00:00Z
Nous avons passé un très agréable séjour, l'endroit est simplement magnifique avec des gens accueillants. C'est vraiment un lieu à recommander pour venir entre amis ou en famille.
Sebastien
2016-08-06T00:00:00Z
Superbe location très calme et propre avec une magnifique piscine. Nous avons passé un excellent séjour au Fyrogenis palace. Les hôtes ont été adorables et nous avons passé un super moment. En plus écran géant pour suivre l'euro et crier allez les bleus en compagnie des grecs présents. Nous y reviendrons avec plaisir!
Eglantine
2016-07-14T00:00:00Z
Tipo de Quarto
Casa inteira/apto
---
Tipo de Imóvel
Apartamento
---
Acomoda
5
---
Quartos
Paros, Αιγαίο, Grécia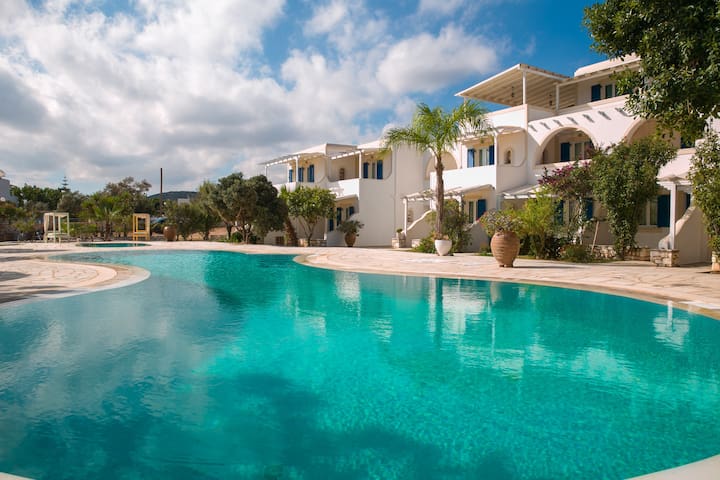 My place is situated in Ampelas port a picturesque seaside village famous for top restaurants and greek fish-taverns close to Naoussa known as the centre of nightlife in Paros. Walking distance from our home there are plenty of beaches as well as a hip beach bar and seaside restaurant. Close-by there is also a horse riding farm, owned by a passionate greek horse-whisperer Thanasis. My place can be ideal for up to 3 couples, business travelers, families (with kids) or big groups
Tipo de Quarto
Casa inteira/apto
---
Tipo de Imóvel
Casa de campo
---
Acomoda
6
---
Quartos
Ampelas, Egeo, Grécia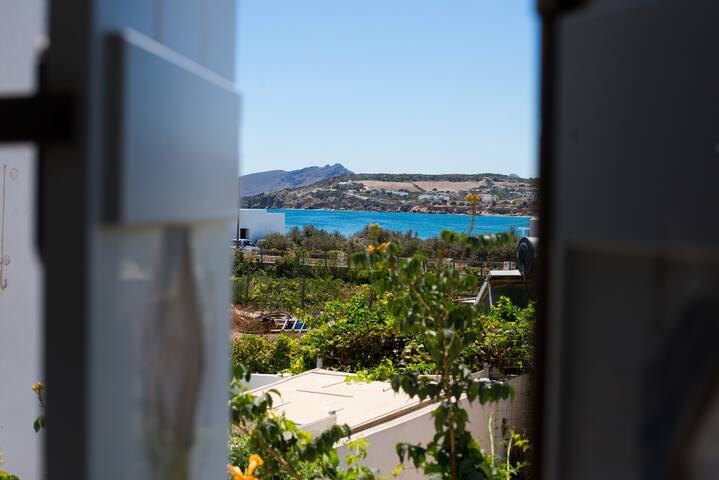 TRANQUILITY-PRIVACY-SEAVIEW☺ 57 sqm Detached Cycladic studio in a 5500sqm plot with olive trees Can host 2-4 persons 1 bedroom 1 bathroom, modern Kitchen. Amazing sea view to Naxos Ysterni Beach 1,7 km,Naoussa -market 2 ,5 km,Paroikia -Sea port 12km
This really special apartment is located in a traditional plot  of 5500sqm with olive trees and flowers  A picturesque stone oven in the yard is at your disposal if you like cooking on the traditional way! In the plot there is only our  independent house  and another similar studio next. The entrance opens to an impressive and well decorated living room and open plan kitchenette. The design is unique! The stone walls and the well design contemporary furnishing give a fresh and modern atmosphere on the interior. The kitchenette is fully equipped with all modern comforts for your accommodation and the living room provides  two very comfortable sofa bed, a nice wooden table and some chairs. In the living room, there are two   wooden steps  to the main bedroom   (low ceiling about 3 m) with the double bed with extra ecological and comfort  The living room and the bedroom provide the same which is adequate for all the apartment. The bathroom is absolute new  in modern style with a shower in a  traditional way builded   cabin. Visiting the beautiful balcony, you could enjoy the sea view to Cycladic island Naxos only a  half an hour trip  away from Paros   and the nice atmosphere of the open space of the earth LAYOUTS GROUND FLOOR - Living room and dining area, TV, - Fully equipped open plan kitchenette - Bathroom - Balcony - BEDROOMS CONFIGURATION Bedroom 1 – Double bed, bathroom Two single beds are in the living place in front of the bedroom (en suite ) ΤΑ ΠΛΕΟΝΈΚΤΗΜΑ ΤΗΣ ΡΟΗΣ Ο αρχιτέκτονικός σχεδιασμός του, η εξαιρετική θέα και η ηρεμία, η διασφάλιση ιδιωτικότητας, το κτήμα με τα ελαιόδεντρα η εύκολη πρόσβαση στην Νάουσα και τις πιο όμορφες παραλίες του νησιού. Το οικογενειακό και πολιτισμένο περιβάλλον. Νεόκτιστη ,σύγχρονη & πλήρως εξοπλισμένη εξοχική κατοικία για 2 -4 άτομα στο Υστερνι της Πάρου 2km απο τη Νάουσα ,με σεβασμό στο Κυκλαδικό τοπίο,privacy,ησυχία,υπέροχη θέα στη Νάξο&πολύ κοντά σε όλες τις απαιτούμενες υποδομές για υπέροχες διακοπές!
Tranquility and sea view and the ability to quickly popping the cosmopolitan environment of Naoussa or in one of the beautiful beaches. The neighboring houses are few and far enough to see without being bothered.
Hola a todos, la descripcion y las footos se quedan cortas ante la realidad...el lugar donde esta la casa y la misma casa son de ensueño!!! Fueron unas vacacione perfectas y la casa de Eleni tuvo mucho que ver en eso!
Ariel
2016-07-18T00:00:00Z
Host (Mrs. Eleni) was extraordinary and magnificent! A friend to win! I always change the islands I visit and also the places I stay - This place is so far the only one my family and myself want definitely to come back !!!! Location of the house and the host are unbeatable!!! Everything was perfect! Thanks for everything! We think of you!
Savas
2016-08-28T00:00:00Z
Το σπίτι είναι ακόμα καλύτερο απο τις φωτογραφίες σε μια εξαιρετική τοποθεσία. Η Κ. Ελένη μας βοήθησε σε ότι χρειαστήκαμε.
Nikos
2016-07-02T00:00:00Z
La casa se encuentra muy cerca de Naussa en un lugar un poco elevado, lo cual proporciona unas vistas fantásticas sobre la costa. Está muy bien decorada y el espacio es muy convivial para dos adultos y tres niños. La terraza, estupenda para desayunar y cenar antes de que caliente el sol. Muy práctica la ducha en el exterior y el grifo en la terraza para quitarse la sal de encima al volver de la playa. El trato de la persona que se ocupa de la casa y con la misma propietaria es muy agradable.
Goretti
2016-08-12T00:00:00Z
Tipo de Quarto
Casa inteira/apto
---
Tipo de Imóvel
Casa
---
Acomoda
4
---
Quartos
Υστέρνι, Αιγαίο, Grécia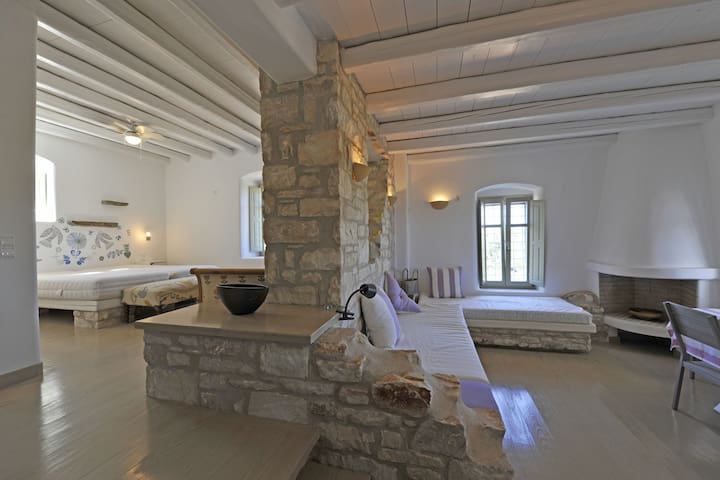 Beautiful maisonette with see view
Tipo de Quarto
Casa inteira/apto
---
Tipo de Imóvel
Casa
---
Acomoda
6
---
Quartos
Naousa, Grécia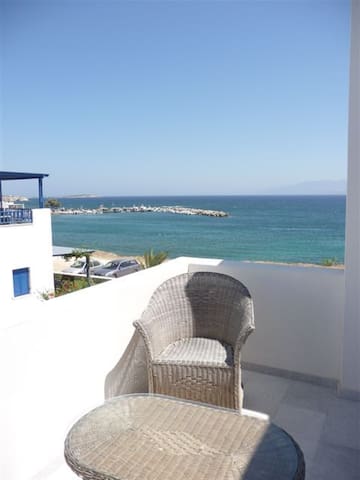 Ένα υπέροχο σπίτι 100 τ.μ. με 2 υπνοδωμάτια, 2 μπάνια και 5 μεγάλες βεράντες. Σε οικόπεδο 8000 τ.μ. Σε απόσταση μόλις 10 λεπτά από την Νάουσα και 5 λεπτά από την θάλασσα.
Ένας ιδανικός χώρος για χαλάρωση και ηρεμία!!!
Η ησυχία και η ηρεμία είναι το βασικότερο προτέρημα του σπιτιού και της περιοχής!
Tipo de Quarto
Casa inteira/apto
---
Tipo de Imóvel
Casa
---
Acomoda
5
---
Quartos
Ιστέρνι, Αιγαίο, Grécia

The villa is built on a 7000 s.m. land. the 240s.m of the house may accommodate up to 10 persons The ground floor consists of a spacious and modern designed living room with a marbled fireplace. The first floor consists of 3 bedrooms 2 bathrooms
The outdoor area features a lounge,a pergola shaded dining area with BBQ and a traditional and functional wooden oven. The large private swimming pool will add refreshing moments in your day. The estate is located 4 km from cosmopolitan Naousa, while no more than 5 min. On foot there are quite and clean water beaches. There are lots of activities around the island.from daily boat trips along Paros and antiparos,horses riding,waterspout,hiking visiting the ancient quarries to just a stroll at the traditional village roads.
Privacy, safety, quite, easy access to the beaches
Tipo de Quarto
Casa inteira/apto
---
Tipo de Imóvel
Casa
---
Acomoda
8
---
Quartos
Naousa, Egeo, Grécia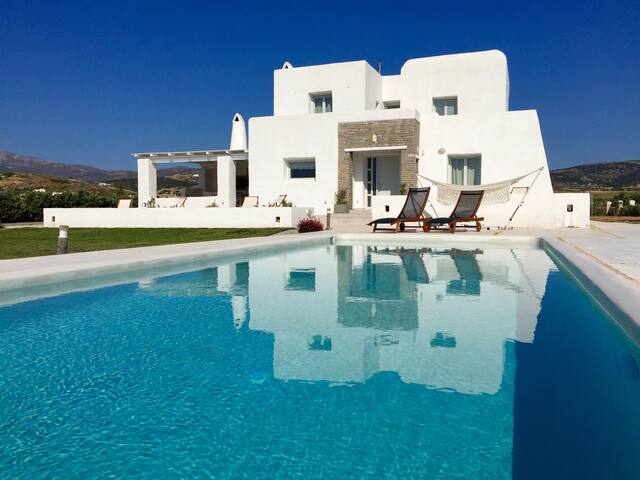 The house is located in the northeast side of Paros, near village Ambelas,enjoying bright light, the peacefulness of the countryside and a pleasant sea breeze mixed with the smells of levanter, thyme and oregano which derive from the fields that surround the house. From the large veranda and the garden of the house you can enjoy an extensive view over the Aegean Sea and the island of Naxos. The house expands in two levels.Its interiors boast a fresh and bohemian - ethnic feeling.
Tipo de Quarto
Casa inteira/apto
---
Tipo de Imóvel
Casa
---
Acomoda
4
---
Quartos
Paros, Egeo, Grécia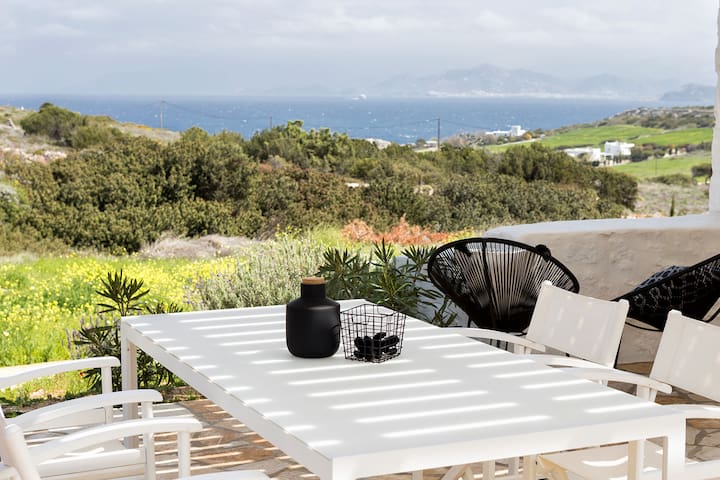 Located on a hilltop, in the gated community "Medittera" at Isterni, Villa Castanea offers a breathtaking panoramic view of the everlasting horizon as far as the eye can reach.
Located on a hilltop in the gated community "Medittera" at the peaceful area of Isterni, close to the vibrant town of Naousa, this villa charms with its traditional Cycladic architecture and modern, youthful spaces. Surrounded by the stunning Mediterranean landscape and offering breathtaking unobstructed views of the Aegean sea and the island of Naxos, it combines rural beauty and sea-view ambience. The location is ideal for those who would like both to experience privacy and peace, while being close to the famous beaches of the island, and the vibrant nightlife, elegant restaurants and unique boutique shops of Naousa town. The style of this villa respects the traditional local architecture but is also contemporary and fresh, yet warm and homey, providing for convenience and comfort. On the ground flour it offers a nice living room with white relaxing seating blended with wooden dining furniture affording an earthy feel and a fully equipped kitchen, ideal for parties who enjoy dinner together, as well as one of the four bedrooms and a bathroom. A large patio allows for great outdoor gatherings, wither in the shaded dining and lounging areas or in the lounging corner for a drink under the stars. On the ground below, there is the master bedroom with its own private bathroom and the remaining two bedrooms sharing one bathroom. The swimming pool, shared with the three other villas of the residential complex, is situated at the far end of the complex offering further privacy to the villa, compliments the summer enjoyment, while for those who prefer the sea, the beaches of Isterni and Molos are at walking distance. This is a wonderful property with an overall comfortable and youthful feel, making it ideal for modern families.
The Medittera neighborhood is perfect for families. Ampelas is only 5 minutes away either for swimming or for fresh fish. Naoussa is a 7 minute drive away. Also very close by, Thanassis' farm provides horseback riding arround the area and all the farm animals for the kids to experience. The bakery with the wooden stove will provide anything you need for a perfect breakfast or a nice afternoon delight.
We had a very lovely stay! The house is great, very confortable and very well-equiped; nice swiming pool, great barbecue, a lot of cooking equipment. 4 big rooms and 3 bathrooms. It was great for us (6 adults). The house was very clean, lots of towels were available, and cleaning lady came at mid-week. The location is as described - close to Naoussa (10min) and just in front of the sea (5min) with very quiet beaches. Greatand helpful host - always available, helped us with our arrival, found taxis for us..etc. I would definitely recommend staying there !
Romain
2016-08-21T00:00:00Z
Tipo de Quarto
Casa inteira/apto
---
Tipo de Imóvel
Casa
---
Acomoda
7
---
Quartos
Isterni, Egeo, Grécia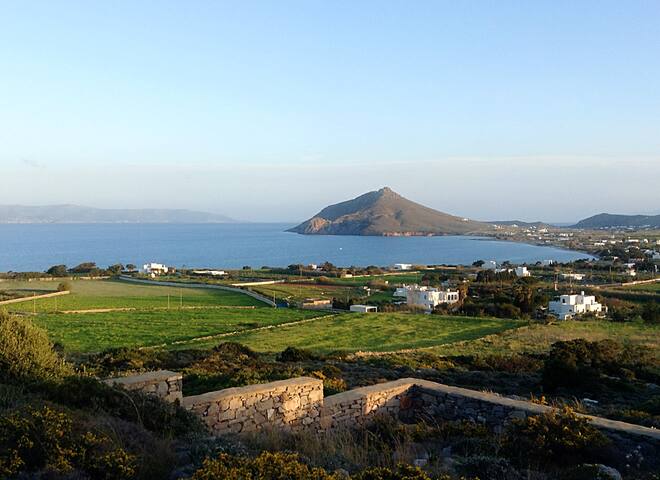 ~ VILLA de CHILLOUT ~ YES the beach is only 75m away so you can hear the waves on the beach at night in bed ! a Beautiful Designer Style VILLA in a unique Private Peaceful Provincial Beach Front location. Surrounded by adjoining olive trees and vineyards. Outstanding Views from the villa of the Beach/ Sea /Coastline and Naxos Island. Picture postcard Naousa Village fishing village is less than 10min drive away.
~ VILLA de CHILLOUT ~ a beautiful Designer Style Villa in a unique Beach Front location only 75m away. Provincial location that is Peaceful, Relaxing and Private in a green garden settings. The Villa has outstanding views of the beach, coastline of Naxos Island. A Villa of high quality and standard with white Parian marble floors inside and out. Set in a lush flowering garden and protected from the coastal winds - unusual for Paros and not the usual dry desert style of landscape! The villa has 2 large shade sail pergola covered terraces and the villa remains cool all day long from being really close to the beach with lots of constant cooling seas breezes - instead of the normal hot urban or rocky areas that most villa are located on Paros. The Villa is only a 4 min. walk to beautiful Tsoukalia Beach 75m away and shown in all my photos. Picture post card Naoussa fishing village is less than 10min drive away. The Villas location is green and Provincial surrounded by a vineyard on one side and olive trees on the other. The Villa has outstanding views of the beach, coastline, Naxos Island and can accommodate 2 to 8 persons due to a flexible floor plan and various bedding options. The Villa is 4 bedrooms over 3 internal levels - with a bedroom and bathroom on each level which gives greater privacy and making it fun for children too - 2 kitchens (1 main and a 2nd in the cellar) - 2 lounge rooms with a fireplace in each for the cooler months which is Romantic and Cozy. The Fireplaces , BBQ and Pizza Oven are all supplied with lots of firewood ready to go and are very popular with guests. WI-FI internet connection and MP3/ player CD player with lots of great Chillout music to relax. Also a large refrigerator that makes ice and chilled filtered water - a dishwasher and a washing machine. The Villa is open and bright with 5 glass doors that open from the Lounge Room out to the alfresco Dinning Room / BBQ/Pizza Oven Terrace – a great place to enjoy breakfast lunch and dinner. White sails on the pergolas gives the a "sailing the Mediterranean" feeling to the Villa. Quality Designer and Greek antique furniture. A good sound system with chillout CDs. 3 terraces -1 on each level. A covered Alfresco Dinning Terrace with Pizza Oven and BBQ - a covered Chillout Terrace on the 2nd level - - PLUS a Rooftop Terrace with a Chillout Lounge area with 360 degree Panorama views. The views at night of Naxos Island twinkling lights look amazing perfect with a glass of local Paros vino in hand ! Sunsets are heavenly ........... YES you can hear the waves on the local beach while in bed at night ! A relaxing way to fall asleep with help of high quality "Dream Top"Orthopedic mattresses and 100% pure cotton linen - its all Dreamy Perfect ! Rates vary according to number of persons, length of stay and time of year - kindly supply your details for an exact quote :) SPECIAL DISCOUNTS for a Romantic Couple on request outside Peak Season - please ask! A Villa for all seasons including the cooler months too - a great fireplace that warms the whole villa. Also with 5 large glass doors that give a flood of light and warmth even in the winter ! New draft proof seals on all the doors and windows to keep the villa extra cozy. Olive tree firewood is supplied too :) The Villa is designed for comfortable living all year - unlike most villas on Paros which are designed for the heat of summer - as they are summer houses ! This location is sheltered from the winds also having wind protection walls and an outdoor setting facing south for when its sunny!.... a truly great Villa for all seasons !!! Tsoukalia Beach has pale blue water and is sandy with small white marble pebbles scattered along it - like stars in clear night time sky ! ~VILLA de CHILLOUT~ a Romantic and Beautiful Villa in a unique provincial Beach Front location - the perfect stylish place to Chillout on Paros Island !
A unique Beach Front location set in a Peaceful Private Relaxing Provincial style location. ...and YES you can hear the sound of the waves on the beach at night while in bed - which is a very relaxing way to fall asleep ! :) There are many kms of walking /treking trails along the water front and beaches - see my local area photos. Tsoukalia Beach shown in all my photos is a 4 minute walk from the villa - even in Peak Summer there are very few people - its like the local secret beach - unlike the rest of the island can be very busy at times.
Ganz ehrlich: Wir hatten Angst, dass diese Villa gar nicht existiert. Denn die Fotos, die Bechreibung - es klang einfach alles zuuu gut! Als wir dann kurz vor Mitternacht, von unserem deutschen Verwalter Klaus umsichtig geleitet, das Haus betraten und meine Tochter kleine Freudenschreie ausstieß, während sie ein Zimmer nach dem nächsten entdeckte, da erst wussten wir: Es ist alles richtig, und wir würden wunderbare Ferien haben. Die Villa de Chillout trägt ihren Namen zurecht. Sie ist riesig, perfekt ausgestattet, einen dreiminütigen Fußweg (zugleich die Zufahrt, also bitte nicht mit überbreitem Campingbus anreisen) vom Strand entfernt. Dieser Strand war Mitte Juni meist menschenleer, wir konnten baden, Beachball spielen oder einfach unter den Schatten spendenden Bäumchen ein Buch lesen. Auch die nahe gelegene Taverne hatte noch nicht offen - unsere Moped-Ausflüge zum erstklassigen Bäcker, dem "Gurkenmann" (Gemüseverkäufer an der Straße) oder zum Mini-Market versorgten uns gut, abends haben wir auf dem Außengrill Fisch gebraten. Nur mit dem Pizzaofen sind wir gescheitert und haben die Pizza dann doch lieber im Backofen gemacht. Gregorys große, gut ausgestattete Küche bietet Raum für alle Experimente. Und wer, so wie wir manchmal, die Nacht durchmacht, kann von der Dachterasse aus den Sonnenaufgang betrachten. Die Hähne der umliegenden kleinen Farmen kündigen den auch an. Kurzum: nach knapp zwei Wochen in der Villa de Chillout sind wir alle so entspannt, dass wir unsere vertraute häusliche Umgebung rocken werden! Danke, Gregory!
Elske
2016-06-18T00:00:00Z
I can only describe our stay as wonderful! The house is perfectly depicted in pictures and Gregory's fun comments. Both Gregory and Klaus are super kind and attentive. Naousa is the best place in Paros by far. 100% happy stay! Thank you very much Gregory, missing it already! ( maybe Ibiza next time! ;)
Luciana
2016-08-28T00:00:00Z
The villa exceeded all of our expectations for a beach holiday getaway. The house is luxuriously chic without losing its traditional and rustic charm. Loved all the different options for lounging outdoors and the rooftop with a splash pool was a nice touch! The kitchen is fully equipped if you plan on cooking many meals at home (which we did) and we loved using the BBQ grill as well as the outdoor pizza oven! Klaus, the contact person while on the island, was very easy to communicate with and so helpful. We had a really hot day with no winds and we discovered that the fans in the house were not working. We called Klaus and he brought over two fans by mid afternoon! The location of the villa is also perfect! It is tucked away from any main roads so you can fully enjoy the sounds of the waves crashing and the sounds of the neighborhood farm animals (goats and chickens!). You are not too far from Naoussa (less than 15 minutes drive) so you have easy access to all the amenities a town has to offer but still come home to peace and serenity. It is also within walking distance to Tsoukalia Beach (maybe 10 minutes on foot), while Molos Beach was less than 10 minutes by car (this beach is perfect for families with young children as the water is very shallow and no waves). The famous Kolymbithres Beach is also only 15 minutes by car! I can't say enough wonderful things about this villa. We really did not want to leave! My husband and I are already discussing plans to come back next year!
Dhale
2015-06-21T00:00:00Z
La maison est exactement comme sur les photos, incroyable! On se sent bien dedans et dehors, les terrasses avec vue sur la mer sont à tomber par terre. Joliment décoré et équipé, simple et fonctionnel. Le soir il y avait trop de vent pour se poser sur le toit mais la journée on bronzait volontiers. La plage est à 50m, si vous aimez le vent ou faire du windsurf c'est parfait, sinon, la plage de Molos à quelques minutes est très bien pour se poser à l'abri du vent. C'est une jolie île et on a passé un très bon moment. Le seul bémol est la connexion internet limité et lente.
Marcela
2014-09-22T00:00:00Z
La villa était plus qu'à la hauteur de nos espérances! Nous n'avons pas rencontré Gregory mais chaque fois que je l'ai contacté par courriel il m'a répondu rapidement et Klaus, son ami qui s'occupe des locataires était au rendez-vous au bon moment! La plage qui est à côté est belle mais sauvage et trop violente pour la baignade avec les enfants, sauf qu'il y en a une parfaite à 5 minutes en auto et au fait, il vous faut un moyen de transport car c'est un peu reculé, parfait pour ceux qui veulent avoir la paix;) Ça vous permettra également de découvrir la beauté de l'ile de Paros que nous avons adorez!
Montreuil
2015-07-19T00:00:00Z
We had a great time here. Communication was great from the start and the house was very clean and well equipped. A car is necessary to move around Paros but the house is located 2 min walking from a beach...
Ximena
2016-07-02T00:00:00Z
The villa exceeded our expectations. We loved the whole area of the East coast of Paros, more authentic, less touristic and beautiful breathtaking beach 5 min walk from the villa. We were 10min by car from Livo Pisadi a beautiful fisherman village with cute little beach where we went to our favourite fish Taverna at least 4-5 times during our 2 weeks stay. Klaus and his wife on the ground were very responsive and discreet with the repairs or minor things to be fixed. We were two families which comprised of 4 adults, 3 teenage girls of 12, 13, 14 and 2 younger girls 6 and 8. So quite a lively bunch. We initially were worried that the villa would be too small but it was just perfect. With enough private space to enjoy all of us some privacy and down time through the 3 different floors. Being kite surfers, we liked the ability to choose to go around the island and try different spots. I would highly recommend this beautiful tastefully decorated villa to any family. We had a great time and even tried out the pizza wood fire oven outdoor. Would love to come back.
Rosa
2016-07-31T00:00:00Z
hey gregory first thank you for your help, your tips your beautiful house, and your beautiful collection of chillout music,we really enjoy, just the only thing that was a problem was the shower and also a lot of ant in the kitchen, but all the rest amazing and klaus very hepfull thanks for all and hope to be back soon regards Lea and keren
Lea
2016-09-08T00:00:00Z
Tipo de Quarto
Casa inteira/apto
---
Tipo de Imóvel
Casa de campo
---
Acomoda
8
---
Quartos
Paros Naousa, Egeo, Grécia
studio (35m2)up to 3 persons double bed and one single with greak island traditional decoration whit kitchen, air condition, tv, 2 large terrace, sea view, BBQ, parking, 1500m from Naoussa, bus stop in front (3prs 70euros)
Funy is a very nice person and she gave us advices and available to our request. The apartment would be good but it is small and isolated; the bathroom was not very clean at our arrival but Funny cleaned IT after our request. Finally due to electricity issues the shower was not Pleasant .
SERENA
2016-08-18T00:00:00Z
The studio was comfortable and nice. Fany and her sister explained to us everything we need to know, answered our questions and gave to us what we needed; we had a wonderful time in Naousa!
Elise
2016-07-21T00:00:00Z
Fany and George were really nice giving us some hints on how to enjoy and visit the Island. They were always available for question and so kind to let us taste typical Paros food and drink. Fany helped us with the scooter rent to have a better fare and a pretty new scooter. We had a perfect stay.
Alessandro
2016-08-27T00:00:00Z
Other problems were the electrics in the property, we would get a small electric shock each time we washed our hands or had a shower! Our host said that we need to switch of the mains switch, but there still was a shock eat time. Our host said that it was not dangerous! It may not be dangerous, but it hurt and was extremely annoying, we had showers at the beach (also as we had no shower curtain). the light bulb above our bed exploded showering the room in glass. We were not hurt. We had to clean up the tiny pieces of glass (sweeping more dis off the dirty floor). We advised the host, who said nothing. She did not even apologise or ask if we were OK. She didn't even replace the bulb despite our repeatedly asking her, she left us without a light for 3 days and with a very dangerous empty socket.
andrew
2016-08-15T00:00:00Z
Tipo de Quarto
Casa inteira/apto
---
Tipo de Imóvel
Apartamento
---
Acomoda
3
---
Quartos
Naousa, Egeo, Grécia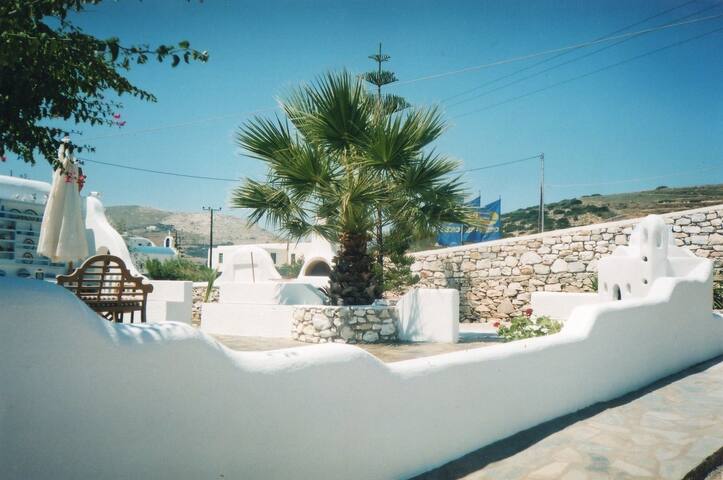 A beautiful maisonette in Isterni (very close to Naousa and the best beaches) with private garden and sea access only 100m away. It can easily accommodate 5 people making it ideal for families or 2 couples (2 separate bedrooms with private bathrooms)
A 94 square meters 2-floor maisonette with traditional cycladic decoration. On the ground level there is a fully equipped kitchen and living room with fireplace, along with the first bedroom (2 single beds) and a bathroom. On the first floor there is a master bedroom with its own private bathroom and access to a balcony with a stunning view to the Aegean islands (Naxos, Ios) Besides the 2 bedrooms, there is also a sofa-bed in the living room that can easily accommodate an adult allowing the stay of up to 5 people. The ground floor has access to a veranda and a very big garden, as well as a kiosk on the other side, both of which as perfect for relaxation moments with the aegean in view. On the backside there is plenty of space for private parking.
The villa has access to a small beautiful beach that can be reached on foot (just 100m from the house) that is ideal for isolation and relaxing moments. There is also a nearby beach (Tsoukalia) that is famous for windsurfing. There are also horse-riding activities provided nearby.
Notre séjour a été parfaitement réussi grâce à la qualité de la maison : ravissante décoration intérieure, très bien équipée, très bien conçue pour une famille de 4 personnes, avec 2 terrasses, un jardin bien entretenu avec pergola (idéale pour lire ou prendre un apéro en fin de journée), et un bel emplacement (malgré accès un peu difficile sur route caillouteuse) avec vue magnifique sur Naxos et la mer ! Autre point d'importance : l'accueil adorable de notre hôtesse et sa fille, qui se sont montrées très attentionnées et disponibles pour nous pendant tout notre séjour, avec petits cadeaux à l'arrivée, liste des restaurants et commerces où aller, toujours réactives à nos questions et de bon conseil. En résumé, nous avons passé des vacances formidables dans cette charmante petite villa en bord de mer et n'avons qu'un espoir : pouvoir y retourner un jour !
Laurence
2016-08-27T00:00:00Z
Tipo de Quarto
Casa inteira/apto
---
Tipo de Imóvel
Casa
---
Acomoda
5
---
Quartos
Isterni, Egeo, Grécia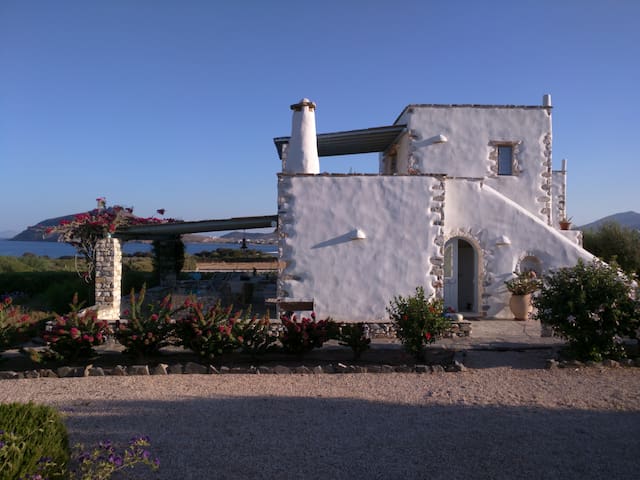 The place is suitable for couples, families (with children) and pets. Ideal for people seeking tranquility and contact with fysi.Konta sea, 5 km from Naoussa, pea meadow, poplar and 15 mile apart the port of Paroikia.Einai in central simeio the island where you can enjoy absolute tranquility any period of summer. For your accommodation there will cheiasteite car or motorbike. You can help you if you want to rent it.
The area of idieterotita is the feeling of freedom and independence that collects during your stay there.
In the neighborhood you can find better for the oven of the island "the wood oven" (1mm.) Kaliergimena kiosk with organic vegetables and fruits (800met.). At 1.5 km from the hotel there is the beach "Tsoukalas" ideal for wind surfing there, we there beach bar- restaurant where you can enjoy during the lasts of imeras.Episis a 2.5 kilometer distance you can enjoy two unique anorganotes (URL HIDDEN) "mole" and "KALOGIROU".
We spent 3 fantastic nights in this quiet studio. The location is nice, in a very quiet place. Be aware to have a scooter or a car to go from the studio to the beach, or in all the island. But the location is good because it is central in the island (very close to Naoussa, Piso Livadi and Lefkes, and 15km from the noisy Parikia). There is in the studio a pretty nice view to the sea and a big garden, you can do bbq. Thanks a lot Yannis
Daniel
2016-09-04T00:00:00Z
Livadia studio est situé dans une partie isolée de Paros, ce qui donne beaucoup de charme a l'endroit, calme et reposant. Campagne magnifique, route ou chemins, les villages sont à trois km. Hôtes adorables et disponibles. Chambre propre, petit équipement pour cuisiner. Super séjour.
Mirabelle
2016-08-24T00:00:00Z
Me and my boyfriend had an over-all very enjoyable stay as the first guest in one of the Hotel Livadia owners' countryside studios. We arrived a little late at night by ferry in Parikia, so Yiannis and his wife offered us a nice room at their hotel until the next day, where we rented a car for the week and drove to the studios on the opposite side of the island with Yiannis. We had to realize that it is absolutely necessary to have either a car or a motor bike to get around - and to get there at all - since the studios, despite the beautiful surroundings, are situated on a rather remote location with 5 kilometers to the closest town. The studio has a pretty view over the sea, but actual beaches are not within walking distance. The studios are surrounded by a big, beautiful garden, and the greek-speaking caretaker family live in the building as well; they are very welcoming and helpfull and offered us a lot of figs, tomatoes and fresh herbs from the garden. They have two mostly peaceful dogs, who welcome you by the car, when you come home at night. Because the studios are a bit in the middle of nowhere, there is a magnificent starry sky at night. We would recommend good driving as well as map and sign reading skills (or good mood and plenty of time), since the (often narrow, curvy, steep and/or dusty roads; standard greek island conditions) have no names and the houses no numbers; and it gets very dark at night. Nonetheless, we managed to get to and fro the studio every day, and within 20-30 minutes of driving, you can reach most of the eastern island's cosy villages and nice beaches. We mostly dined out, except from breakfast, since the kitchen in the studio could still improve by adding some basic tools like a cutting board, kitchen knifes, a potato peeler and a frying pan, as well as salt, pepper and oil; and also because it is both rather cheap and very delicious to eat out. We strongly recommend the harbour restaurants and the beach at Pisa Livadi, the bakery close to the studio situated by the main road and the rocky beach Kolymbithres - especially the family driven tavern situated at the main road just when you turn right for the parking spaces by this beach.
Anne Sofie
2016-08-07T00:00:00Z
Tipo de Quarto
Quarto privado
---
Tipo de Imóvel
Apartamento
---
Acomoda
3
---
Quartos
Tsoukalia, Egeo, Grécia
You'll love my place because of the views, the location, the ambiance, and the outdoors space. Air-conditioned, each villa has its own 50 square meter Infinity view swimming pool, German and Italian Kitchen furniture, modern minimal design and furniture, alarm system, 3 TV sets per villa. Villa A has an outdoor Jacuzzi. Construction with local stones, very luxurious and minimal decorated. NOTE: each villa is rented separately and listed prices are per one villa hosting up to 8 persons
Only 4 klm from the amazing nightlife of Naoussa, the villas offer complete isolation and relaxation away from any noise.
I cannot recommend this place more, if it's in your budget. Most probably one of the nicest place I've ever stayed, beautiful architecture, exquisite design, great layout, all the amenities you need (minus the internet but that should be added soon) and a host that really puts the extra effort to cater to all your needs. Overall just a wonderful experience.
Theodoros
2016-08-13T00:00:00Z
Tipo de Quarto
Casa inteira/apto
---
Tipo de Imóvel
Casa
---
Acomoda
8
---
Quartos
Kostos, Egeo, Grécia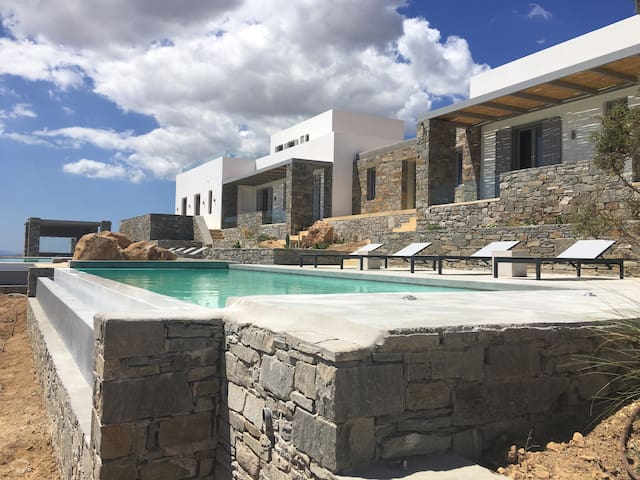 Find your perfect maisonette by the beach on the beautiful Greek island of Paros. There you will find a true refuge from a hectic life. Escape the noise of traffic and city life--in our homey cottage you will be lulled to sleep by the sound of waves.
The home has 4 bedrooms and 2 bathrooms, reliable air-conditioning, free high-speed internet, a dishwasher and a washing machine. The master bedroom features a french doors that open to a lovely outdoor patio with views of the sea and of Naxos. The double mattress is firm yet comfortable, and the bed sits on an ornate iron frame. Ample storage space. The other bedroom on the second floor has views of the lovely fields behind the house, and also has a double bed with ample storage space. The first-floor bedroom off the kitchen also features french doors that lead to the backyard patio and barbecue area. The room also has antique wood furniture, lots of closet space, and two single beds. The garden-level room is simple but comfortable, with two small windows and two single beds. There is also an area in the living room that can be used for sleeping. It's most appropriate for a child. The kitchen contains all basic kitchen utensils to help you cook your first Greek feast! There is an electric oven, dishwasher, large sink, full-size refrigerator, and an electric stove-top. There is a toaster oven, a toaster for bread, a microwave, and a kettle for tea or coffee. Feel welcome to use whatever you find in the cupboards--it's for your use! The living room features a large TV with ample seating space. There is also an outside seating area in the front, amongst the flowers, where you can enjoy breakfast or dinner by the sea.
In the high season, you will still find peace and tranquility in Ampalas. It is a pastoral and quiet village, with agriculture and outdoor activities. From our door, there is a gorgeous beach that is 30 seconds from our door, small and private, with rocky sand and roaring waves. There are also small, sandy beaches in both directions within a five-minute walk. Next door there is a Taverna called Christiana that is open during the high-season, and a five-minute walk away there is a more upscale restaurant To Thalami
Tipo de Quarto
Casa inteira/apto
---
Tipo de Imóvel
Casa
---
Acomoda
8
---
Quartos
Ampelas, Paros, Grécia
Enchanting guesthouse in a quiet area on the east coast of the magic Cycladic island Paros , 50 m from a lonely sandy beach, 2 rooms designed in the typical local cycladic style . There is one bathroom located within the bigger room as well as a small kitchen with mini-fridge and hot plate. Outdoor stairs lead to a flowers-lined roof terrace offering a nice view into the garden and a glimpse to the sea . 1300 m2 beautiful garden containing some chill-out places can be used as well.
Tipo de Quarto
Casa inteira/apto
---
Tipo de Imóvel
Casa de hóspedes
---
Acomoda
4
---
Quartos
Paros, Egeo, Grécia
Fully equipped studio with kitchenette, small refrigerator, flat screen TV, A/C, private bathroom(with shower) and terrace, located in a quiet area, only 2-4' driving to the cosmopolitan Naousa village.
Within an area of twelve acres, there are built 17 bungalows of traditional architecture. The bungalows are one or two bedroom apartments that can accommodate 2-6 people. All bungalows are independent to each other, with personal entrance and a terrace with sea or garden view and there is unlimited space for parking (free of charge). In the bungalow for two persons, there are 2 single beds. Babies up to 2 years old can sleep in a cot upon request & availability(free of charge) or a child up to 3 years old can sleep in the already existing beds (free of charge). There is also a kitchenette with basic equipment for 2 persons (cups, plates, cutlery, cups for coffee – tea, pot), 2 hob, coffee maker, a small refrigerator, air conditioning (cooling – heating), flat screen TV, a bathroom with shower, 24 hour hot water supply, toilet paper and soap and complimentary on arrival hotel toiletries (shampoo, shower gel, body cream) and the north terrace which looks to the sea and the garden. In the daily rate there is included daily bathroom cleaning (10 am - 14 pm), and change of bed linen (sheets, pillowcases, face and bath towels) every three nights. Check in is after 14:00 pm and check out until 11:00 am. Also, there is the ability to connect to WiFi internet, wherever signal is available.
The studio is located in a very quiet area with nice sea or garden view, and has easy access to the local community of Naousa, and the Kolimbithres and Monastiri beaches, that are organized with umbrellas and sunbeds. The location is ideal for relaxing, as the area is about 2 km before the village of Naousa and about 7 km from the main port of the island, Parikia. Also, the main crossing Naousa-Kolimbithres is about 600 m away.
We had a great time at Marias place in Paros! We enjoyed our privacy in our clean apartment and could even see the sea from our terrace. Maria was very helpful and always ready to share her recommendations. The Apartment is nicely located outside of Nousa(lovely City!),however you will need transportation to reach the center or beaches (bus,bike,Scooter etc) we would recommend her for sure!!
Carolina
2015-07-23T00:00:00Z
Maria is definitely a great hostess!!! she gave us all the info requiered before we arrived to the studio and she answer all the emails very fast. Once in Paros she recommended us beautiful places to visit and gave us a list about the most tipical food in Greece. The studio is very comfortable, clean and provided with everything we needed. Moreover Maria was always around in the mood to help everyone! I totally recommend this wonderful place in Paros!
georgia
2015-07-29T00:00:00Z
The place is very close to Naoussa and is nice and comfortable for 2 people. Mariachis very kind and she has been very helpful for us.
Tommaso
2016-08-20T00:00:00Z
Maria and her family are great hosts!! I have enjoyed every single minute with their company and the accommodation is perfectly located to rest and has an astonishing view on the sea! thanks a lot maria for making my stay unforgettable. Thanks also for the figs and the tsipouro :)
Anas
2015-08-13T00:00:00Z
Tipo de Quarto
Casa inteira/apto
---
Tipo de Imóvel
Bungalow
---
Acomoda
2
---
Quartos
Naousa, Paros, Kyklades, Greece, Grécia