135 Apartamentos para Alugar
My place is close to public transport/Stop 8054, the City Center, parks), Memorial City Mall, delicious restaurant and the famous Shakespeare Bar. For just $1.25 you can move around any part of the city. It is 0.9 miles to I-10 and Energy Corridor. Breakfast area and the kitchen for your service. WIFI and free parking are available. It is perfect for a person who wants to rent a room for few months or few weeks. And if you want to practice Spanish, this is a good place to do so.
Clean, comfortable, and a great value! Muchas gracias!
Paul
2017-03-28T00:00:00Z
Tipo de Quarto
Quarto privado
---
Tipo de Imóvel
Apartamento
---
Acomoda
2
---
Quartos
Houston, Texas, Estados Unidos
My place is good for couples, solo adventurers and/or business travelers. It's 15 min from Galleria and about 25-30min from NRG stadium.
Great location and very clean!
Mikeal
2016-09-07T00:00:00Z
Bohemia's place was wonderful. It was so much better than a hotel, in that Bohemia left out different flavored coffees, tea options, oatmeal, and a bowl of candy. There was ample shampoo, body wash, and even scented lotion! There were plenty of towels and toiletries here. The space was clean and very spacious for a one bedroom apartment. It rained while I was here, but it was nice to stand on the large balcony and look out at the rain. The apartment is on the third floor and faces the street, but I slept soundly on the comfortable bed. I loved the garden tub in the bathroom and the water pressure of the shower head was fantastic. Bohemia's brother met me to give me the keys and go over what they had to offer. He was very friendly and I enjoyed speaking with him. No complaints about communication. I highly recommend this place as it is close to the Tollway or to 290. There are plenty of eating options close to 290 and Hollister. Go down a little further and you get into the Jersey Village and then Cypress area, which offers more shopping and dining choices. Downtown Houston is about 30 minutes away, give or take with traffic. It may be longer but you can go up to I-10 and skip the headache of 290 altogether. There is ongoing construction along 290 but the apartment isn't where it usually backs up so you can get to and on the freeway easily if need be. I enjoyed my stay very much. I loved the effort the host went to in order to make the guest comfortable. A+!
Shannon
2016-08-15T00:00:00Z
First time using Airbnb and was nervous about it. I had my reservations and didn't know what to expect. Bohemia and family were very prompt in their relplies and easy to communicate with. They provided a very clean space and included a lot of amenities I never expected: plenty of towels, details on the area, water bottles in the fridge, even bubble bath soap. Great first experience.
Dong-Hyun
2016-09-06T00:00:00Z
I was not familiar with the neighborhood even though I know Houston pretty well but was surprised to find it very nice and safe. There are restaurants very nearby and it is very close to the freeway. The condo is just as described except maybe cleaner. It is so clean everything smells clean and just overall good. I communicated with Bohemia and her brother excellent. They both respond quick and are friendly.
Yessica
2016-11-30T00:00:00Z
Nice and CLEAN spot to stay while visiting family in the Houston area for Christmas. The host was very responsive to all my questions which allowed for a very smooth arrival and departure.
Matthew
2016-12-26T00:00:00Z
My wife and I were very satisfied with our stay here. We were in the condominium for four days and it was very comfortable and very clean. The bath tub was great. The bed was comfortable. The wifi worked well. We didn't use the kitchen for cooking but it was very nice with everything we would have needed to cook. We were also both pleased with the interior décor. It was modern and elegant. The neighborhood was private and safe. Bohemia and her brother were both kind and generous hosts. If needed I would definitely rent anything Bohemia had available.
Kevin
2016-10-08T00:00:00Z
I did not meet Bohemia personally but she arranged to have her family who lived close to by to check us in. The place was just as described and seen in the photos and is spacious and roomy with everything you need. Would recommend, great value!
Tony
2016-08-26T00:00:00Z
It's a nice quiet apartment in a great neighborhood. Very close to stores and food. It's decorated simple and tasteful. The host is super great and was very attentive to questions or concerns. I will stay here again.
Jeremy
2016-11-08T00:00:00Z
Tipo de Quarto
Casa inteira/apto
---
Tipo de Imóvel
Apartamento
---
Acomoda
3
---
Quartos
Houston, Texas, Estados Unidos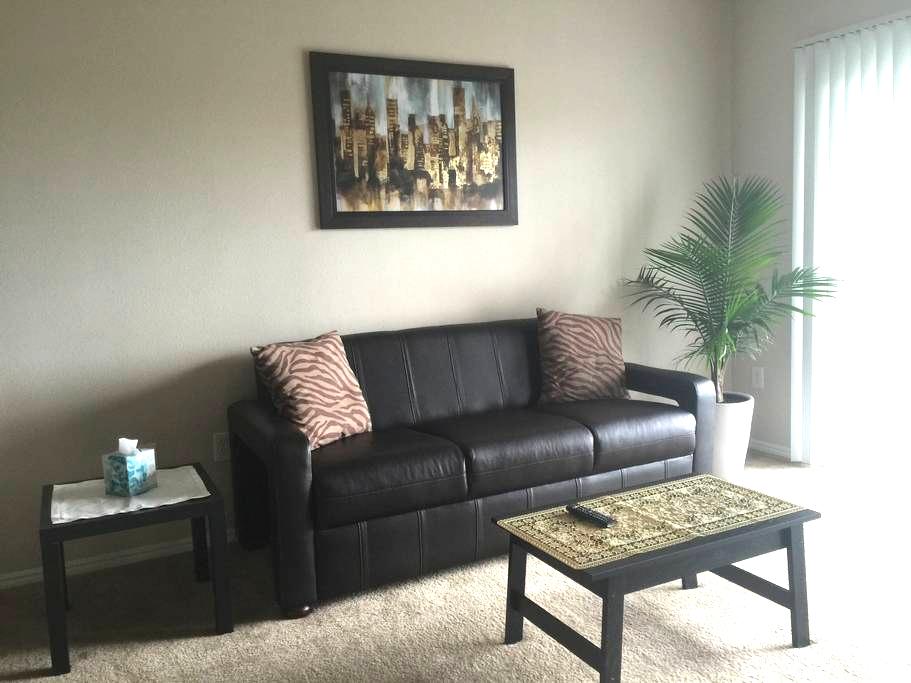 My place is good for couples, solo adventurers, business travelers, and families (with kids).
Tipo de Quarto
Casa inteira/apto
---
Tipo de Imóvel
Apartamento
---
Acomoda
4
---
Quartos
Houston, Texas, Estados Unidos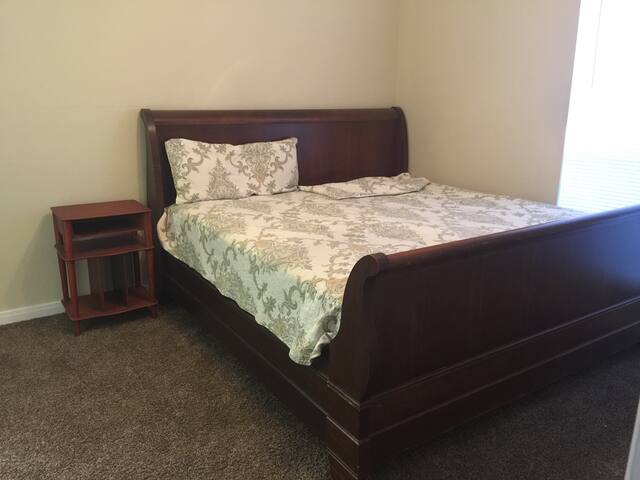 Clean safe neighborhood.Inside my parents home
Tipo de Quarto
Quarto partilhado
---
Tipo de Imóvel
Apartamento
---
Acomoda
2
---
Quartos
Jersey Village, Texas, Estados Unidos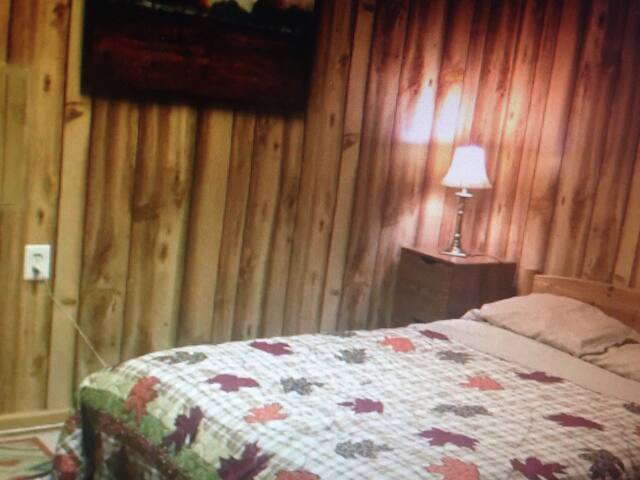 2 king size Bedrooms upstairs
Tipo de Quarto
Quarto partilhado
---
Tipo de Imóvel
Apartamento
---
Acomoda
2
---
Quartos
Jersey Village, Texas, Estados Unidos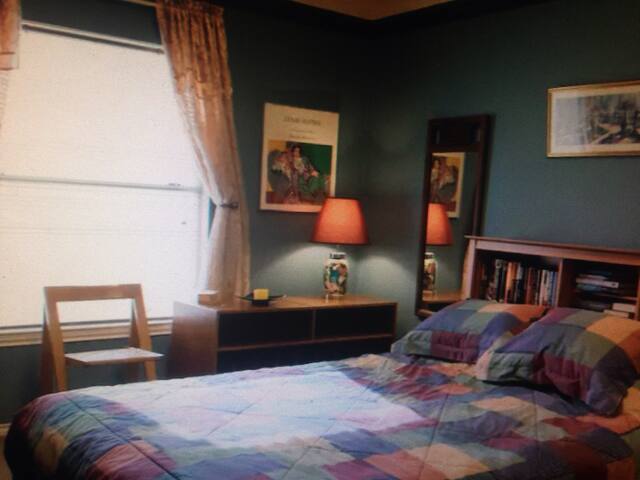 My place is close to restaurants dining and parks . You'll love my place because of the coziness, the location, the high ceilings . My place is good for couples, solo adventurers, business travelers, and families (with kid).
Hardwood floors, 870 sqft and plenty of parking
Near Willowbrook Mall, Vintage Park, a host of restaurants
The host canceled this reservation 2 days before arrival. This is an automated posting.
Chad
2017-02-04T00:00:00Z
This place was absolutely marvelous to stay in. It was tidy and well put together. Sharonda's place is conveniently located near many great eateries and bars. She was very knowledgeable about the area, great communicator, and she responded back quickly. I highly recommend staying here in Houston.
Robert
2017-02-20T00:00:00Z
Nice area and very easy to work with. Sharonda was on top of everything and any problems quickly resolved.
Bobby
2017-02-06T00:00:00Z
The host canceled this reservation 11 days before arrival. This is an automated posting.
Alexandra
2017-02-09T00:00:00Z
Sharonda was most of all very sweet and accomodating making me feel right at home. Sharonda is a gifted communicator and readily made herself available if I needed any assistance. Her home was nicely appointed and sparkling clean. One of my favorite amenities was the large size soaking tub and shower, seems like anymore these days hotel showers and airline seats are shrinking. I also was able to walk three blocks down a tree lined street to a number of stores and wonderful restaurants. I would definitely call Shondra the next time Im in Houston.
Ric
2017-01-21T00:00:00Z
Sharonda was very easy to communicate with and quick to respond. She knows all the local spots to go to so that you don't have to fight the downtown Houston traffic. She was a great host and I would recommend her place again for someone looking for a place to crash!
Zackary
2017-04-02T00:00:00Z
Tipo de Quarto
Casa/apto inteiro
---
Tipo de Imóvel
Apartamento
---
Acomoda
2
---
Quartos
Houston, Texas, Estados Unidos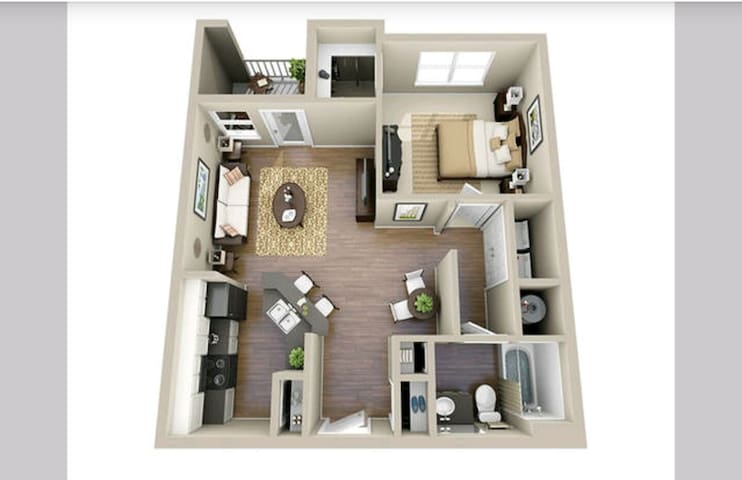 Experiência estilo resort de estar em trilhas do Rock Creek. Esta bela 2º andar 1298sqft apartamento casa inclui uma banheira de jardim de imersão, stand up chuveiro, grande espaço varanda, fácil acesso às amenidades e muito mais !!
Esta casa apartamento virado de nossas Crianças tribunal Campo de jogos e vôlei de areia. A casa apartamento é 1298sqft e é perfeito para uma reunião de família, viagem de negócios ou apenas um fim de semana!
Excellent choice if you have things to do in the north part of Houston! Kelly and her team are really nice.
Fernando
2016-08-16T00:00:00Z
Kelly's place was very accurate to the photos. We were able to check-in in the middle of the night which really helped. Both bed rooms were really clean and spacious and all of the amenities were available. We were unsure how to enter and exit the facility at first because we didn't see any pedestrian walkways, but we got the hang of it quickly and were able to direct Uber right to the unit. We didn't contact Kelly during our stay but in the correspondence leading up to our trip Kelly was very prompt and helpful for any questions that we had. I would recommend this place for anyone looking for somewhere quiet to stay especially families.
Quinn
2017-02-06T00:00:00Z
The apartment, host (Kelly) and neighborhood were lovely and accurately described in the listing.
Lee
2016-11-29T00:00:00Z
Kelly was great! We came into town much later than expected and she took personal time to come and meet us at the front gate to show us the apartment. The apartment was just like the images online and the community was very nice.
Mike
2016-10-09T00:00:00Z
The host canceled this reservation 112 days before arrival. This is an automated posting.
Christina
2017-03-13T00:00:00Z
Kelly responded quickly to my questions. The place was clean and exactly as described. Me and my kids had fun and used the nearby playground, pools, and tennis court.
Brock
2017-04-01T00:00:00Z
Tipo de Quarto
Casa inteira/apto
---
Tipo de Imóvel
Apartamento
---
Acomoda
4
---
Quartos
Houston, Texas, Estados Unidos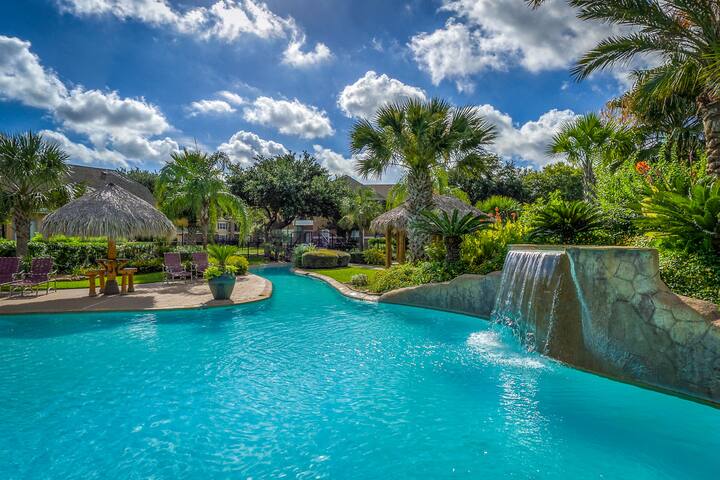 My place is in a gated community in Northwest Houston close to US-290, Sam Houston Tollway, and Willowbrook Mall. The entire apartment is ready for your use with reserved garage parking.
Has cable TV with the sports package. A washer and dryer inside the apt. is available to use.
Located across the street from Kroger Food/Pharmacy, retail, shopping and restaurants.
2nd time staying here, will be booking again!
Jordan
2017-03-10T00:00:00Z
Great place
Nagesh
2017-03-05T00:00:00Z
Beautiful apartment, exactly as it was displayed online.
Jordan
2017-02-24T00:00:00Z
Tipo de Quarto
Casa inteira/apto
---
Tipo de Imóvel
Apartamento
---
Acomoda
4
---
Quartos
Houston, Texas, Estados Unidos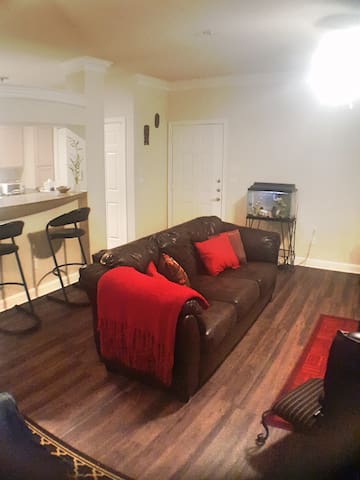 *** Semanal, quinzenal e mensal disponível *** Este belo grande Apt. fica em um bairro tranquilo e seguro ligado a minha casa e ao lado da piscina. Tem entrada privada, estacionamento, WiFi, closet, escritório e área de jantar, banheiro, geladeira, microondas, pratos, copos e talheres. Ideal para profissionais que visitam Houston para o trabalho, um turista e participando de eventos. Porquê pagar mais para um hotel ou alugar um quarto e banheiros são compartilhados e comprometer a privacidade? Não procure mais, começar este negócio.
Este apartamento está acima de minha garagem, perto da piscina e tem uma entrada privada que leva até o apartamento. O apartamento acomodar 2 hóspedes no total.
Meu bairro é muito tranquilo e seguro. Fiz sugestões de locais próximos. Se houver alguma coisa que eu possa ajudar, por favor, não hesite em perguntar.
Lex has a really nice place in a quiet neighborhood that was perfect for my business trip. Covered parking was a plus due to a lot of rain while I was there. The suite is completely private, quiet, and had all the basics I needed. The sheets and comforter were fresh and luxurious. The space is a second level built above the homes garage. I never head the garage door open. There's tons of room. Communication with Lex was great despite he being out of town on business. He made sure everything was acceptable and that I enjoyed my stay. Thanks Lex!
Adam
2017-01-18T00:00:00Z
Lex was a fantastic host. He kept great communication the entire time and his place was exactly as advertised. A simple room and bathroom to keep us comfortable on our trip. A sweet note, folded towels, and a few mints were there to welcome us. The neighborhood was very nice and safe. The location was also on the outskirts of Houston, so we didn't have to worry about dreaded Houston traffic. I would encourage anyone to stay here who just needs a simple place to rest their head. A sparkling backyard pool is also a major bonus of this place. Lex is a kind soul, an obvious hard worker, and a great conversationalist. Thanks for the stay Lex, we hope to see you again!
Chase
2016-08-01T00:00:00Z
Lex was a wonderful host and always available. I enjoyed my stay because the place was in a quiet, clean and a nice, safe neighborhood. No problem with parking I would stay again and recommend to others. Thanks Lex!
Victor
2017-03-18T00:00:00Z
What I like most is it is a private space that fit my basic needs. Very quiet and located in a nice neighborhood. Easy access to 249 and 290. Vintage Park is right down the street..
Cherry
2017-01-29T00:00:00Z
Lex is an excellent host - very friendly, responds quickly to messages, and is also super accommodating! The apartment was very clean and spacious for our weekend stay. It's in a quiet, residential neighborhood that's located close to the major roads and highways so it's very easy to get around. I highly recommend him for anyone who is looking for a place to stay in Houston!
Jaine
2017-02-20T00:00:00Z
Lex is a great host, very accomodating. Thanks Lex!
John
2017-02-07T00:00:00Z
Lex waited for me and was there upon arrival to give a full tour and get to know each other. I felt very safe in this loft which is accessible to many parts of Houston. I would definitely stay again.
Josh
2016-11-04T00:00:00Z
Super nice host. Quiet and peaceful and worked well for remote working.
Lindsey
2016-11-19T00:00:00Z
Tipo de Quarto
Casa/apto inteiro
---
Tipo de Imóvel
Apartamento
---
Acomoda
2
---
Quartos
Houston, Texas, Estados Unidos
800 sq. ft. modern space w/balcony in gated community within short distance of fine dining and nightlife in the Energy Corridor area. High-end finishes throughout the apt, stainless steel appl., granite countertops, washer/dryer, office area, & more.
This is a one bedroom, one bath apartment. Extra bedding will be provided for additional guests to sleep on the couch or queen-sized air mattress.
This unit is on the corner of Memorial Dr and Eldridge Parkway, across the street from the BP building, right in the heart of the Energy Corridor. Terry Hershey park and trails is 0.3 miles away.
The apartment was very clean and smelled great upon arrival. The home was beautiful and had enough space for my husband and me. We enjoyed using the nearby walking trail both days we were there.
Wendy
2015-07-20T00:00:00Z
The experience was seamless and just as expected. The apartment was very tidy and clean and the bed was extremely comfortable. Great stay in the Energy Corridor!
Eduardo
2016-04-04T00:00:00Z
Appartement confortable, avec aménagement élégant et équipement parfait : balcon avec salon de jardin, lave-vaisselle, lave-linge et sèche-linge, aspirateur, télévision avec Netflix, parking couvert, piscine, espace de travail partagé avec imprimante, etc. ; Josh a laissé à notre disposition tous les produits d'entretien nécessaires et les produits alimentaires de base (sel, poivre, sucre, thé, café, épices). L'appartement est proche de l'I10 mais sans nuisance sonore et assez proche d'un petit centre commercial et d'une promenade sur rivière.
Françoise
2016-05-05T00:00:00Z
A great place to stay with easy access to many amenities.
Darryl
2016-08-16T00:00:00Z
Great apartment in 770! Josh made us feels like at home. One of the neighbors is noisy at night with loud volume.
Brian
2016-05-09T00:00:00Z
I had a great stay. Nice apartment, exactly like the pictures shown, and good community as well. Loved the modern interiors (interesting artifacts), enjoyed the well equipped fitness center during my 3 day stay. Located and equipped conveniently for the purpose of my visit. Josh, the host, was very flexible about the check-in time (appreciate that) and carefully explained about the apartment to make the stay very comfortable. Will look to stay again.
Anurag
2015-10-15T00:00:00Z
First time using Airbnb. I stayed at Josh's apartment a few times within the month. Exactly like the photos. It felt like home! Great amenities and location was perfect.
Jen
2016-05-28T00:00:00Z
The apartment was very clean and as decribed. The location was convenient as there was a CVS and grocery store nearby and right off the highway. I would definitely stay here again!
JENNIFER
2015-12-21T00:00:00Z
Tipo de Quarto
Casa inteira/apto
---
Tipo de Imóvel
Apartamento
---
Acomoda
4
---
Quartos
Houston, Texas, Estados Unidos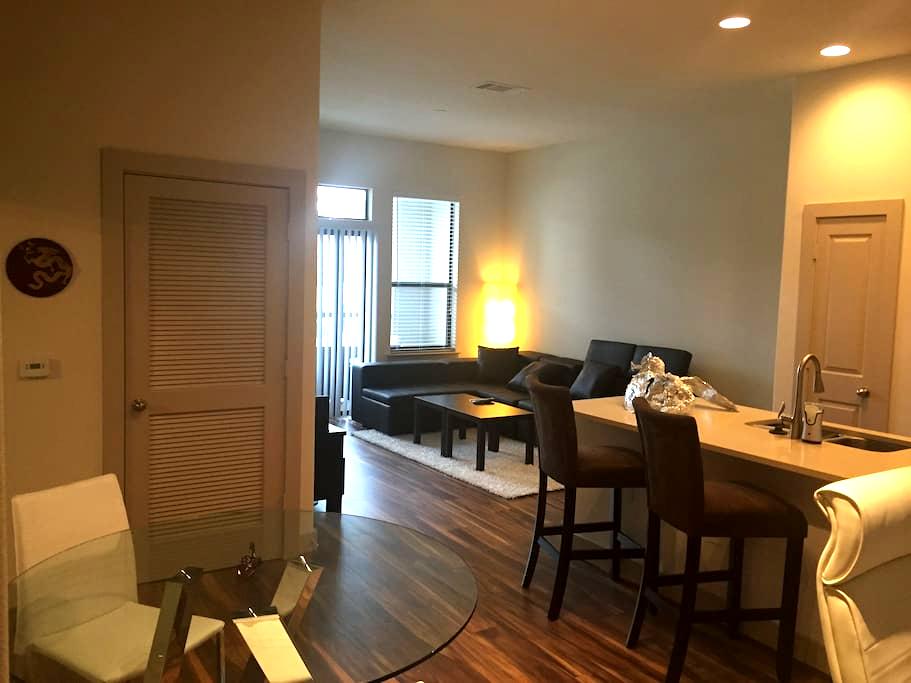 Two bedroom single story townhouse for rent. Property is convenient to Interstate 10, just minutes from City Center and Energy Corridor. Unit comfortably sleeps 4 with a king and queen size bed. Towels, toiletries, cable TV, and internet all included
Everything was perfect. Personally, I was really happy to find some extra bottles of water upon arriving. I was parched and wasn't sure where the closest grocery store was... which lead me to leave behind 6 bottles for the next guest. It was a welcome sight. Towels were cleaned, almost new! Everything was in order. I wish there was an extra blanket... being a southerner, I could use a layer of warmth. However, turning off air and the nice weather the last few days helped! I also didn't know how to use the main tv. I am old school and couldn't figure out the subscription tv. The main room has the basic channels, but my guest mate hogged it with the room. The house was clean, practical, contemporary, stocked with Keurig coffee, basic toiletries (really nice touch...we also left full size bottles for next guests). Totally met my clean, hassle-free, lifestyle with a (big) touch of charm and warmth. I would rent again in a heartbeat!
Josephine
2016-11-13T00:00:00Z
The place is exactly as it looked in the pictures. It was perfect for my family. We used the kitchen to prepare small meals. Jerry replied to our questions promptly. I give this place a 5 star! Thank you Jerry!!
Brooke
2016-04-12T00:00:00Z
The communication with Jerry was great. The check in was easy and the property was very clean and neat. I was just confused with the 1.5 bath listing which I thought meant one full bathroom and a powder room which usually includes the toilet. However, it meant one full bathroom with two sinks. Guest parking was not a problem on the street on top of the designated parking spot. Great place to stay!
Caroline
2016-11-27T00:00:00Z
Had a great experience at this location. Will definitely be staying here my next time in Houston. I would recommend this location to friends.
Arthur
2016-04-06T00:00:00Z
Jerry's place was absolutely a pleasure to stay at. The area is quite and located very close to the highway making it easy to travel. The unit is very very clean and modern and has more than everything needed for a good stay. Jerry is very helpful and reasonable. He even helped me out with letting me check out a little later since I was sick the day of check. He was very professional, very welcoming, and very kind. I would highly suggest Jerry's place again.
Diego
2016-04-18T00:00:00Z
My family and I really enjoyed staying at Jerry's place! The place was extremely clean and cozy! Jerry is absolutely a very very very good host. He provided everything you may need in the condo. Upon check out, I forgot my Jacket at his condo, and Jerry expedite it to my home through mail. I really appreciate his help, thank you Jerry!
Yuhao
2016-05-13T00:00:00Z
Jerry's place was very nice and clean! I was able to contact him through the Airbnb message even at late night. The place has pretty much everything you need for your stay and I loved the location! Only fall back was a pretty tight covered parking space, but other than that, I had no complaints. I will definitely go back and stay at his place next time I go back visit my hometown :)
Hyeyoung
2016-05-16T00:00:00Z
Very responsive and helpful when we've got into some minor problems
Anh Tho
2016-10-16T00:00:00Z
Tipo de Quarto
Casa inteira/apto
---
Tipo de Imóvel
Apartamento
---
Acomoda
4
---
Quartos
Houston, Texas, Estados Unidos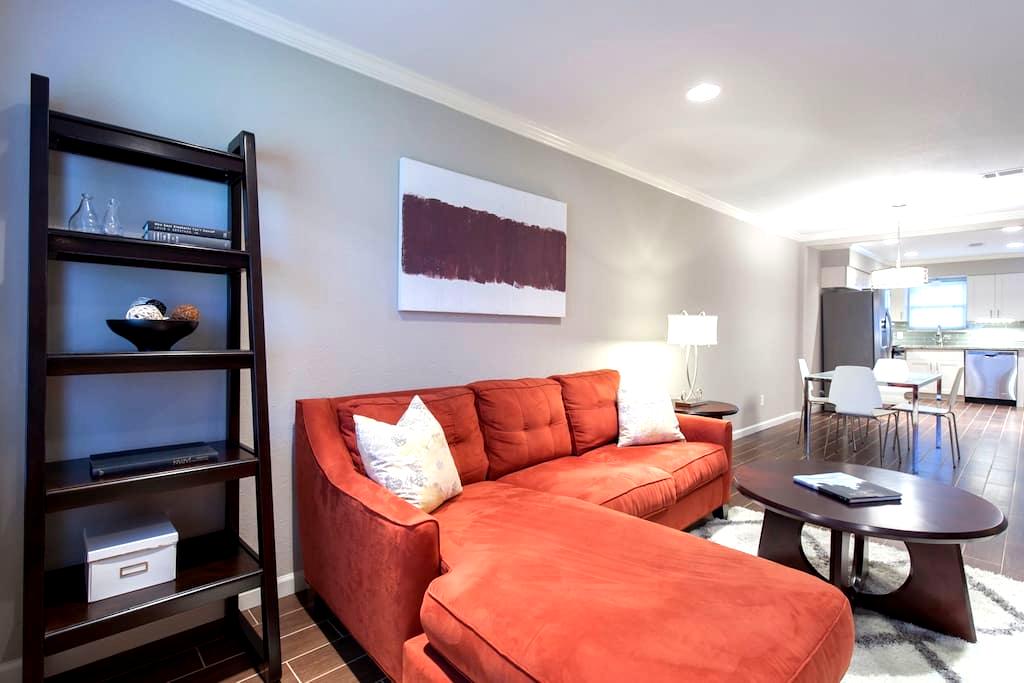 My two bedroom two bath easily accommodates 4 with a very nice view on all windows. Full kitchen for those who cook as well as open patio. There is a garage attached for your vehicle. Happy ventures!
Tipo de Quarto
Casa inteira/apto
---
Tipo de Imóvel
Apartamento
---
Acomoda
4
---
Quartos
Houston, Texas, Estados Unidos
Whether you are a single traveler or a couple looking for a cozy overnight stay, this is the perfect little place for you! Located near the Historic Houston Heights, just minutes away from restaurants, retail shopping centers, major freeways, and parks. You will have unlimited Wi-Fi, a private car port, and access to a stainless double-load washer and dryer. You will not be disappointed. Let me be your host!
Private entry, walk-in closet, ceiling fan, high vaulted ceilings, fireplace and stainless appliances. You will also have a large flat screen tv with cable in your bedroom.
The property is quiet with 24 hour security patrol on duty. There is a pool and fitness center on site.
Keoni was a great host. One of the nicest people you can meet. He is very accommodating, helpful and willing to do anything to make your stay as comfortable as possible. His place is very clean. Everything is put in place and the room was cleaned to perfection. The room is very spacious with a nice walk in closet and a nice big bathroom and a very comfy pillow top queen bed. You also have access to the kitchen and a washer a dryer that is inside the apartment. The complex has a beautiful pool and gym that I visited often. Along with his place being 5 minutes from all your local grocery stores and shopping. The complex is gated and very safe with a security driving around all day. Keoni also has a small dog that is very well behaved and will never get in the way. This place was definitely a great find and I would stay there Again.
Brittani
2016-10-03T00:00:00Z
Keoni's place is amazingly clean, spacious and the aura is great. This was my first stay of Airbnb, yet I have stayed in multiple hotels in the past being an avid traveler. This was much better than any hotels I have stayed. Keoni is courteous and easily approachable, he helped me in every aspect he could. He newly installed a big television with all available channels. The moment I entered the house, the smell and aroma of the candles were awesome. I made a friend for life. I had a wonderful time.
devesh
2016-12-02T00:00:00Z
The host canceled this reservation 64 days before arrival. This is an automated posting.
Jennifer
2016-12-02T00:00:00Z
Keoni was an excellent host & made me feel at home. His apartment was very clean & is located in a quiet & safe neighborhood. I would definitely stay in his apartment again if I visit Houston.
Mahesh
2016-09-04T00:00:00Z
Keoni is not just my host, he is my lifelong friend now. I like staying in his place, it is clean, quiet, peaceful...Besides, he is so kind and helpful. I will certainly stay at his place for the next visit to Houston because I feel like home staying in his place.
Goo
2016-09-11T00:00:00Z
Was a great hosting person 1 of a kind! Super friendly recommend! !!
Ran
2016-11-30T00:00:00Z
Tipo de Quarto
Quarto privado
---
Tipo de Imóvel
Apartamento
---
Acomoda
2
---
Quartos
Houston, Texas, Estados Unidos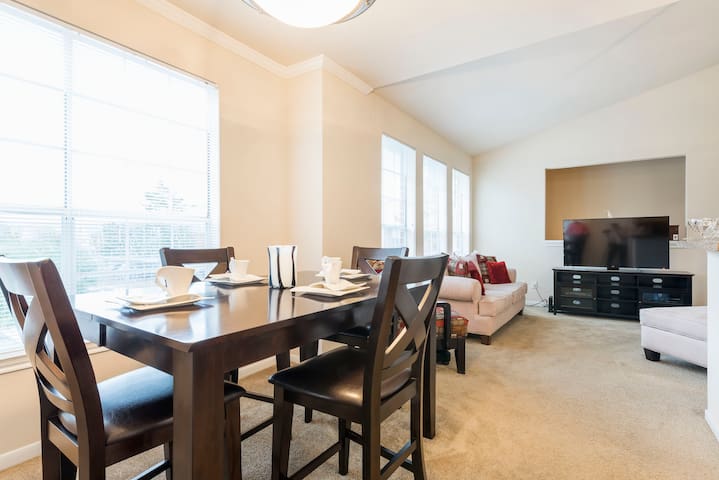 You'll love my place because of Access to the Memorial City Mall, Memorial Hospital, Bunker Hill Shopping Center and more. Pet friendly, private bedroom and bath with access to common living area and kitchen. Washer and Dryer available. My place is good for solo adventurers, business travelers, and furry friends (pets).
I didn't see much of Hillary, and never met Gary. I was out of the house most of my stay, visiting family. And just needed a bed at night. But Hillary was very communicative and easy to get in touch with whenever I needed anything. I enjoyed my stay there, slept very well and loved their very friendly cats :)
Zoe
2017-02-15T00:00:00Z
Every aspect was as convenient & hospitable as I expected, & as Hillary advertised. Easy to coordinate with on check-in & check-out, entry & exit. Friendly people, friendly cats. Clean, quiet environment.
Jared
2016-12-19T00:00:00Z
Good place for the price.
Goutham
2016-12-27T00:00:00Z
If you like quiet, very hot water and loving cats, you will enjoy this humble home. And the hosts were very respectful.
Halldor
2017-02-12T00:00:00Z
The host canceled this reservation 2 days before arrival. This is an automated posting.
Charles
2017-03-07T00:00:00Z
The house and the room were super clean.Hilary pick me from the airport and her husband drop me off at the bus station. The room was pretty cozy and it has its own bathroom.
Luis
2016-12-21T00:00:00Z
Hillary's place was just as advertised. Great for an affordable getaway right outside the city.
Jonna
2017-01-03T00:00:00Z
Clean and simple place. Hillary and Gary are welcoming. Room is on the second floor with a private bathroom. Great pressure, shower head, hot water. Fast wi fi. Ample parking. Not much around besides commercial eats but near highway. Bed was comfortable. I use my own pillow and I didn't use the kitchen. Definitely fairly priced and welcoming my massive dog was the clincher!
Michael Adam
2017-01-20T00:00:00Z
Tipo de Quarto
Quarto privado
---
Tipo de Imóvel
Apartamento
---
Acomoda
2
---
Quartos
Houston, Texas, Estados Unidos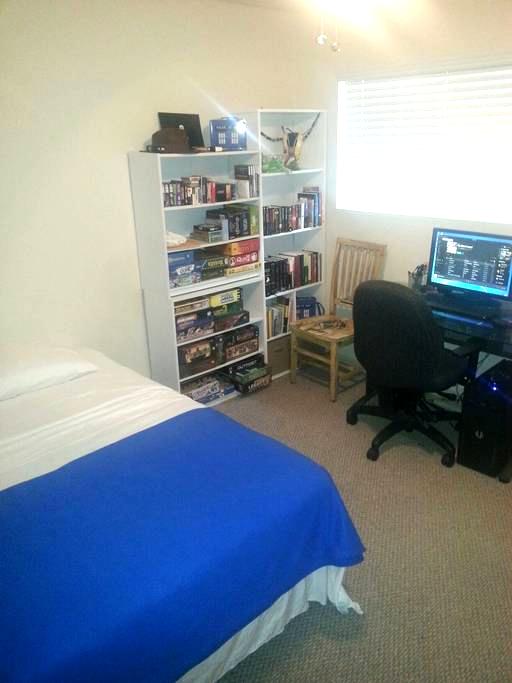 Excellent Hardwood Floor 1 Bedroom/1 Bath that can accommodate up to 4 people for SUPER BOWL 2017. Awesome kitchen with microwave, refrigerator, and dishwasher!!! Washer & Dryer also in unit that makes this the perfect stay for visitors. Stadium is only 30 minutes away!!!! DONT WAIT, THIS WILL GO FAST!!!!
Very close to Highway 290 which takes you straight to Interstate 610 which is where the stadium is located.
Tipo de Quarto
Casa inteira/apto
---
Tipo de Imóvel
Apartamento
---
Acomoda
4
---
Quartos
Houston, Texas, Estados Unidos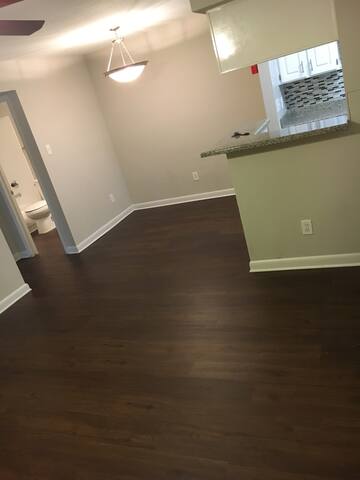 Near Energy Corridor. Accommodates 2, very spacious, window blinds, nice and quiet/fresh linens and toiletries, full closets, desk, lamps, WiFi, parking, pool. One corner from buses, restaurants and parks area for exercising .
Super private small suite in a very good and quite neighborhood. Parking available. Super cozy place. Big close. Bed accommodates two. Desk, chair and lamps.
Beautiful neighborhood in between Memorial Drive and Dairy Ashford Rd. Beautiful parks and walking areas. Close to restaurants, stores, gyms, pharmacies, hospitals and more.
Great experience!! Carmen was very nice from the very beginning and her house was a perfect option for me, not only because the location was convenient, but also because the room was large, nice, clean and comfortable. I would definitely stay again at Carmen's home, thanks a lot Carmen for your hospitality!!
David
2016-10-02T00:00:00Z
Comfortable, Clean and very pleasant people... the morning birds singing was icing on the cake!
L.A.
2016-12-27T00:00:00Z
Carmen and Rene are wonderful hosts. I stayed here for 1.5 months and I was very comfortable. She is easy to get in touch with. You can come and go as you please. I would definitely recommend their home if you're looking to stay near the energy corridor.
Shree
2017-02-13T00:00:00Z
Carmen and Rene are great hosts. They really make sure that my stay was comfortable, and tried their very best to meet my needs during the stay.
Sean
2016-12-16T00:00:00Z
Good value. Friendly, accommodating hosts. Flexible. Recommend.
Steve
2017-03-16T00:00:00Z
Carmen is a great host. Very friendly and responsive. Highly recommend.
Steve
2017-02-17T00:00:00Z
Carmen and Rene were amazing hosts, made me truly feel at home. The location is far from Downtown, there is a bus stop nearby but buses in Houston are notoriously bad and infrequent. However it is near companies in the energy corridor, and walking distance to a lot of food and grocery places.
Hoang
2016-08-20T00:00:00Z
Carmen and René were both very courteous and accommodating. In addition, they know the city well enough to give directions if needed. I enjoyed my stay in their quiet, well-kept room.
D.
2016-01-27T00:00:00Z
Tipo de Quarto
Quarto privado
---
Tipo de Imóvel
Apartamento
---
Acomoda
2
---
Quartos
Houston, Texas, Estados Unidos
Simple decor,very nice updated.. Surrounded by three grocery stores, approximately 25 min from downtown houston. Conviently located off of Highway 290..
Tipo de Quarto
Casa inteira/apto
---
Tipo de Imóvel
Apartamento
---
Acomoda
3
---
Quartos
Houston, Texas, Estados Unidos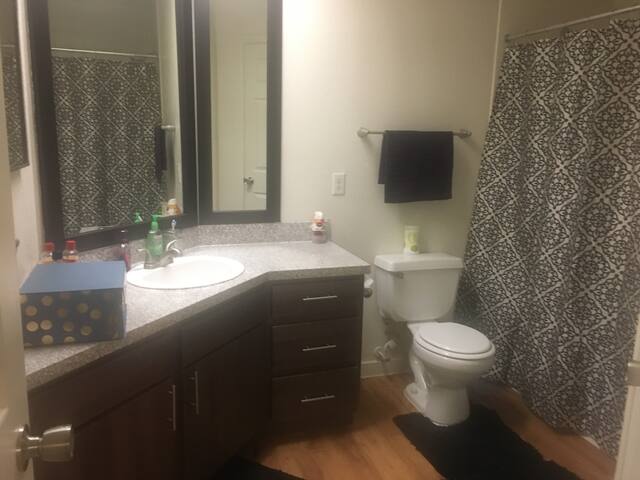 If you cherish living in an ideal setting with unparalleled amenities then coming home to this cozy apartment will be your dream come true. Convenience and comfort combines to create an unrivaled living experience that exudes elegance and style. Contemporary features, cool conveniences, and a perfect location combines to create a true oasis.
We have a beautiful one bedroom, one bathroom fully furnished luxurious apartment home in Houston, TX near Willowbrook mall and minutes to The Woodlands area. It is spacious with over 800 sqft of living space, a separate office area and private balcony. The community is minutes to incredible shopping, vast entertainment and dining locations.
Our elegant apartments in Houston, TX are perfectly situated to allow you easy access to major freeways so you can enjoy everything the vibrant metro area has to offer. Close to Sam Houston Race Parkway, Northwest Indoor Soccer Center, Elizabeth Kaiser Meyer Park, and Willowbrook Mall you will never have to travel far from home to enjoy your favorite activities. We pride ourselves on exceptional service and management, and our friendly staff is here to assist you. From our spacious and well-appointed floor plans to our luxury amenities, coming home to the Tradewinds at Willowbrook is the experience you deserve.
Tipo de Quarto
Casa inteira/apto
---
Tipo de Imóvel
Apartamento
---
Acomoda
3
---
Quartos
Houston, Texas, Estados Unidos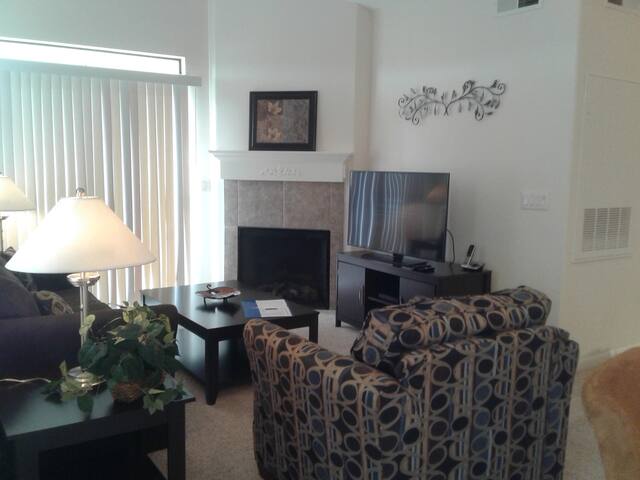 Jersey Village - Airbnb
:
Média de

4.81

de

5

estrelas, de acordo com

212

avaliações de hóspedes
1

–

18

de

135 Apartamentos para Alugar
Insira as datas para ver o preço total. Taxas adicionais aplicáveis. Podem ser adicionados impostos.