Insira a sua data de check-in no formato dd/mês/ano
Insira a sua data de checkout no formato dd/mês/ano
Anúncios que pode reservar sem ter de esperar pela aprovação do anfitrião.
Insira as datas para ver o preço total. Taxas adicionais aplicáveis. Podem ser adicionados impostos.
Em julho e agosto deste ano poderá experimentar hospedar-se num dos nossos 100 espaços mais bem avaliados, em todas as gamas de preço, e experimente Sonoma pelo olhar de quem mora lá. Check-in 24 horas, Reserva Imediata e vinhos e petiscos da região permitem-lhe simplesmente relaxar e aproveitar a sua viagem.
Our place is quiet, peaceful and relaxing. Great for couples, solo adventurers, business travelers, & families (with kids). It is the entire 2nd floor of our 125 + year old home w/3 bedrooms, one bathroom and a commons area the top of the landing. It has just been recently restored to it's original wooden floors and door & window trim. Private entrance. Separate A/C and Heat. Off street parking. Close to the historical downtown. Unique (summertime) outdoor living space, great place to relax.
Relaxing. Friendly atmosphere. Victorian style setting. Original woodwork. All three bedrooms (and private bathroom) are just off the commons area at the top of the landing of the staircase. There is a natural gas fire place and a coffee nook and refrigerator in the commons area. All bedrooms have ceiling fans. An independent thermostat controls the heat and A/C on the second story for your convenience and personal heat/cool preference. The Heritage House is located in an old part of the city, which has many historical features including the Union Pacific Railroad mainline tracks that are still in use today. Most guest say they never hear the trains at night, but be aware that UP runs 24 hours a day through our city. Our home was one of the first houses to be built in our neighborhood and has a colorful history. If you are interested ask Chuck about it during your stay with us. The entire second story of our home and our kitchen if desired. All outdoor living areas and the hot tub. Laundry facilities if you so desire are also available to you. There are three entrances to our home, A personal and private access is available to you as one of those choices. Each guest is provided a four digit code (typically your last four digits of your phone number) to gain access to the home. Ample off street parking and access to our private secret garden area always available. Just come a relax and enjoy our beautiful old home. As often as you would like to interact. We are very social and unassuming people. We understand, appreciate and will respect your privacy.
Mostly residential. Quiet. Safe. Close to shopping, parks, local attractions and restaurants. 5th Avenue is a major street running North/South in our city and is generally free of visitor traffic. Most locals choose to use 5th Avenue over the main street (Second Avenue) running thru the city North to South. Using 5th Avenue will allow you [for the most part] stop sign and stop light free travel. Cab service and UBER available. All East-West streets are typically numbered and all North-South streets are called Avenues and are numbered as well. We live on the corner of 15th Street and 5th Avenue. There are two major highways that intersect our city dividing it in four quadrants. No point in our city is more than a 15-20 drive from our home at the very most. We are close to the University of Nebraska - Kearney campus and a 10 minute drive off the Interstate 80 at Exit 272. Close to the city hiking and biking trails. A 10-15 minute walk to the old downtown area called "The Bricks" that has numerous pubs, bars, eatery's and unique shopping experience. Close to coffee shops and grocery stores. There is a 9-hole disc golf course and children's municipal swimming pools three blocks away. A second municipal Olympic sized swimming pool with a incredible water slide is only 10 blocks away. If you like to canoe or kayak, we have them for you to use if you wish to try that out on The Turkey Creek just only minutes from our home. We are only about a 15-20 minute drive from the airport, that flies to/from Denver, Colorado twice a day.
Mary and Chuck are the kindest and best hosts one could imagine. The accommodations were comfortable and clean and very close to the University.
Daniel
October 2016
Tipo de quarto
Casa inteira/apto
---
Tipo de Imóvel
---
Acomoda
6
---
Quartos
3
Kearney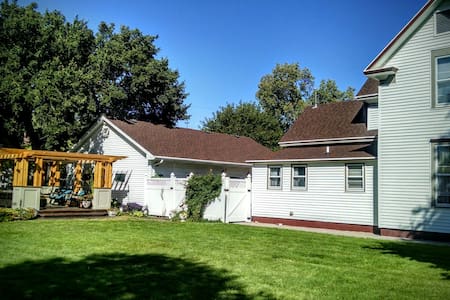 My home is conveniently located 10 minutes off I-80 in the NW part Kearney. Ideal for an overnight stay. Prefer couples, women traveling, etc. Not suited for single male travelers or long term rentals. Sorry!! Late day bookings OK. Entire basement including 2 separate bedrooms (one queen and one twin) and private bathroom. No street noise so you can sleep like a baby. Minutes to any location in Kearney. Confirmed guests will have access to complete address and directions.
I have always enjoyed the concept of B & B from my experiences through the years. And yes I do provide a self serve continental breakfast featuring a variety of foods including coffee, tea, OJ, muffins, yogurt, granola bars, etc. Convenience at your fingertips! You have the whole basement to yourself which includes a private bedroom with Queen bed, additional small bedroom with twin bed, bathroom with shower as well as a sitting area with cable TV. Relax in a comfortable chair while you read or watch your favorite show. Late night food cravings? Not a problem with snacks and soda in the mini frig. Egress window in smaller bedroom can be used as fire exit. Depending on length of stay access to washer and dryer possible. Iron and ironing board available. Off street parking is available. Safe and secure but locking car doors is a good precaution. Guests will need to use front door and outside lights will be turned on when it gets dark for your safety. I will try my best to be home when you check in. I do substitute teach often but am usually home by 4:30. I am more than happy to offer suggestions on places to eat, things to do, etc. Just ask!
I am located in a neighborhood close to the Kearney Country Club golf course. It is a nice area to talk a walk and feel perfectly safe while enjoying the outdoors. It is especially handy for people visiting UNK, in town for sporting events, business, etc. You will not have to deal with outside noises making sleep difficult. Very nice neighbors all around me. Taxi's are available to public transportation. 5 to 15 minute drive to most food and activity locations in Kearney. Walking to UNK is approx 10 minutes. I believe there is a Uber service also. I do own two small Yorkshire Terriers that will be in the house but not in your space...unless you invite them! If you enjoy being outside you are welcome to enjoy sitting in the gazebo in my comfortable glider rockers. Can't beat the relaxation there!!
A very nice and clean suite, since it has two bedrooms, great price for what it offers.
Alfredo
September 2016
Beg is so very gracious and helpful, she is going to be an asset to Airbnb for sure. Our spaces were comfortable, clean, cute, cozy, what could be better? She made us fresh iced tea for finishing our road trip from Wisconsin to Colorado.
Jill
August 2016
Bev was a wonderful host, she made us feel welcome and comfortable. She gave us space but was also happy to visit with us. My daughters enjoyed visiting with Bev and playing with Tobey. Her yard is beautiful and it was wonderful to sit in the gazebo and sip tea. I highly recommend a stay with Bev.
Joe
September 2016
Bev was nice enough to accept our reservation last minute as we were passing through on a cross-country roadtrip. She was incredibly kind, and her home is very comfortable, stocked with all the amenities you could ever need. And she has very sweet puppies!
Peter
October 2016
Absolutely a lovely experience! We were traveling cross country and very tired when we arrived. Bev graciously greeted us and made us feel so welcome. She has a great location and has thought of everything we could have possibly needed. Our stay was only for one night however we wanted to alter our plans to stop thru on our way back!! My daughter enjoyed spending time in Bev's park-like backyard with her and her dog just hanging out. My son went for a long run and couldn't say enough great things about the neighborhood. A very clean and comfy place.
Barb
August 2016
Bev was an amazing host she made my friend and I feel right at home after a long 10 hour drive her home was just what we needed. Bev helped us feel very welcome and was very kind since we were in the midst of a snow storm and trying to move back home. I would recommend to anyone that stays here you won't regret it! You will feel right at home and maybe get to see her cute puppies!!
Chelsea
December 2016
Bev is a wonderful host. She made my birthday on the road extra special, even checked out the new restaurant in town and gave us a coupon to use :) I agree with all the positive posts, great place to rest for both my adult daughter and I. Wish we could have stayed longer than the one night.
Teresa
October 2016
I couldn't have asked for a better host or place to stay. Bev's cottage is immaculate and she was very welcoming. Every amenity you could ever need was provided, including a wonderful breakfast spread. It was exactly like a bed and breakfast but more. Her two yorkies are adorable and the neighborhood was safe and quite. Incredible value and I would definitely stay here again.
Bridget
September 2016
Tipo de quarto
Quarto privado
---
Tipo de Imóvel
---
Acomoda
3
---
Quartos
1
Kearney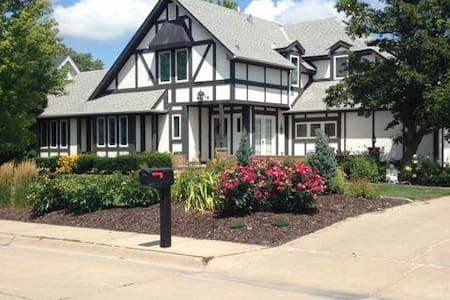 Beautiful 3 bedroom 2 bathroom home just outside of Kearney. Very private location with attached 2 car garage. End of the road location with wildlife viewing opportunities. Live stream in the backyard and a pond in the front. Fire pit and hammock in the backyard.
Private, end of the road location yet close to town. Lots of room, the property sits on 4.5 acres with a live stream and a pond. Beautiful kitchen with stainless steel appliances. Indoor gas fireplace. Outdoor grill and fire pit. Two flat screen TV's with Direct TV, Wifi, DVD's. As often as needed.
Lots of elbow space. Wildlife. Peaceful. Taxi cabs are available. Check in 3:00 p.m. Check out 12:00 p.m. Flexible upon request
Justin was a great host, easy to work with and very responsive. The home is comfortable and in a beautiful setting.
Kimberly
October 2016
Great place to stay. It was clean and beautiful. The fireplace was so cozy.
Dawnielle
November 2016
We had a great time down in Kearney, our stay was short only one night. The sunset was gorgeous and then the moon lit up the sky. We were wishing we had some firewood for the fire pit to enjoy outside a little longer as the night grew colder(next time) because we will be back...wonderful house and Justin was great to work with very easy!
Kelly
October 2016
Awesome relaxing place, very quiet, deer in back yard. Well stocked facility. Would highly recommend
Mike
November 2016
Tipo de quarto
Casa inteira/apto
---
Tipo de Imóvel
---
Acomoda
6
---
Quartos
3
Kearney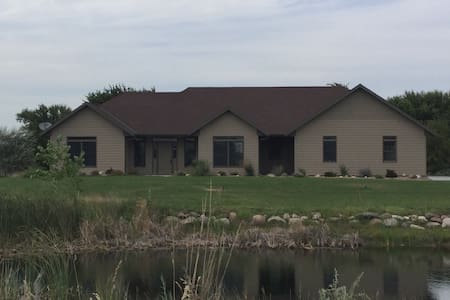 The Caribbean ambience has been quasi recreated in this 1,800 sq. foot walkout basement NW of Kearney. The property sits amidst the Nebraska prairie with no neighboring houses to obstruct incredible views of the sunrise, sunset, and moonrise.
The quiet calming Caribbean decor recreates the owner's Pisces passion for sun, surf, and sand. The main floor has two additional bedrooms – one w/ a queen bed and the other is a large master suite w/ jet tub. There is an additional full bath, kitchen, living room, and roomy deck with gas grill, built-in seating, table, and chairs. Main floor of house is accessible from basement. Door is locked for privacy unless guests request otherwise.
The peacefulness of the prairie is only intermittently interrupted with soothing echoes of an occasional train whistle from the south. Paved road access to the north end shopping center and UNK campus -- 10 minutes each direction. Only transit to the city is via cab.
Anita and her assistants were very responsive and helpful during our stay. The place was clean and comfortable and it made for an excellent quiet reprieve midway through our long cross country trip. We would definitely stay again.
Diane
March 2016
We were the first Airbnb guests to rent Seas the Day. Much thoughtful effort was invested into creating a comfortable, relaxing environment playfully decorated around a beach theme, including a peaceful water fountain and a large fish tank in the living room. The rental is located outside of Lincoln in the county also lending to the quite, restfulness of the place. There is still work to be done to complete the outside entrance stairs and walkway, including landscaping and especially exterior lighting which is in the works but not completed. So bring a flash light. The owner suggested we enter through the main house but that felt a bit awkward and it wasn't a big deal to walk outside with the full moon. Stacy, who manages the property for Anita who is out of the county for the semester, was very helpful and welcoming. We had hoped to use the gas fire place the first evening to take the chill off after bird watching into the night, but after several calls back and forth with Stacy and the owner, we never got to the bottom of the problem. One of the bedrooms has novel twin beds which hang from ropes and it took us awhile to figure out how to level one of the beds after one of us slept at an odd tilt the first night. Also, there were no sheets on the twin beds but we found new sheets for those beds and put them on ourselves. The kitchen was well-organized. Our stay at Seas the Day was all we had hoped it would be - a comfortable place for old friends to reunite and share time together over leisurely meals and treks along the Platte River to witness the great spring migration. We appreciate all the effort that went into making our stay comfortable. Seas the Days is off to a great start.
Rebecca
March 2015
We had a great time and really enjoyed the space. It was close to town, yet felt like you were in the country. The space was decorated so cute, so many unique pieces. It was also outfitted with all the necessary items as well. The hosts were really helpful and friendly. We would definately come back to this space!
Jo
March 2015
What a comfortable home away from home for my family & me. We found a peaceful privacy on the edge of town with a view primarily of prairie. Even though it was an unexpectedly hot week, we were cool at the seaside oasis provided by Anita. Lots of hot water, tasty water!, comfortable bed choices & a very entertaining fish tank completed our experience. We had several choices of routes into town, just minutes away so organic food, restaurants, conttonmill park & my parents' home were all easily available to us. I would certainly stay there again when in, or near, Kearney, Nebraska. Thank you again, Anita!
connie
July 2016
Fantastic experience. Nicest people in the world and Class A space.
Nicholas
June 2015
Five adults stayed here while in Kearney for watching the sand-hill crane migration on the Platte River. This quiet, peaceful place is surrounded by rolling prairie hills, with Kearney being a short 5 minute drive away, and crane-viewing about a half-hour away. The space is uniquely decorated with ocean/sea items. It is a very comfortable place with plenty of lounging room for 5 adults. The kitchen is small, but well-stocked with all the cooking utensils and dishes you need to make your own meals. The king-sized bed is very comfortable! There is a nice patio area outside the living room where we ate our meals while listening to the birds in the nearby fields. We would highly recommend this clean and roomy place for anyone who appreciates the solitude and natural surroundings of the Nebraska prairie. There are outdoor steps to get to this lower-level apartment, with no hand-rails, so make sure to unload your belongings while it is still light enough to navigate the stairs well. There are night-lights that line the steps.
Barbara
March 2015
Thank you for a most relaxing and peaceful stay in your house! It's spacious, wonderfully decorated , comfortable and very clean. We would have loved to stay longer!!
Claudia
July 2015
The spot was in immaculate condition, and Anita was very helpful. We very much enjoyed our stay and would highly recommend 'Seas The Day' to anyone travelling through the Kearney area!
Matt + Cat
April 2016
Tipo de quarto
Casa inteira/apto
---
Tipo de Imóvel
---
Acomoda
8
---
Quartos
3
Kearney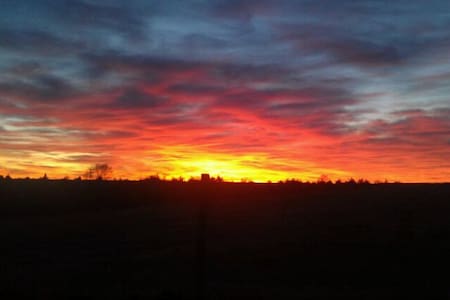 We built a new 2 bedroom 1 bath duplex in 2015. Bedrooms have 1 Queen, 1 Full, and 1 Twin bed. Living room has a couch and love seat. Open floor plan. Full kitchen and includes washer/dryer. Cable and Internet are included. Located in the city limits of Kearney.
Brand new, clean and very comfortable, open space. The amenities were the best we've ever had in a rental.
Deb
December 2016
Beautiful place located in a quiet neighborhood. Newly constructed, it has been very nicely appointed to make settling in much easier. Leather seating in the living room, all new stainless appliances. Kitchen is fully furnished to allow almost any cook to get started making a meal off the road. Small details make it even better, all the necessary items like hand soap and paper towels, including nice touches like popcorn were included. Overall, incredible stay with a very nice host. Would definitely stay again.
Joshua
August 2016
Die Unterkunft war fast neuwertig mit allem ausgestattet, was man so braucht. Die Lage war ruhig und man war schnell bei allen nötigen Einkaufsmöglichkeiten. Wir werden die Unterkunft weiterempfehlen und würden sie auch selber wieder buchen.
Michi
May 2016
Tipo de quarto
Casa inteira/apto
---
Tipo de Imóvel
---
Acomoda
8
---
Quartos
2
Kearney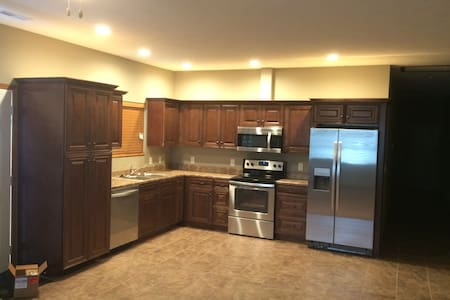 New duplex, two bedroom with queen beds and one bath. Fully furnished kitchen with Refrigerator, Dishwasher, Stove, Coffee Pot, Toaster, and Microwave. Washer and Dryer included. Nice central location about 5 minutes from CHI Good Samaritan Hospital.
Tipo de quarto
Casa inteira/apto
---
Tipo de Imóvel
---
Acomoda
4
---
Quartos
2
Kearney
My place is close to the airport, nightlife, the city center, and parks. You'll love my place because of the views, the ambiance, and the location. My place is good for couples and solo adventurers.
Tipo de quarto
Quarto privado
---
Tipo de Imóvel
---
Acomoda
2
---
Quartos
1
Kearney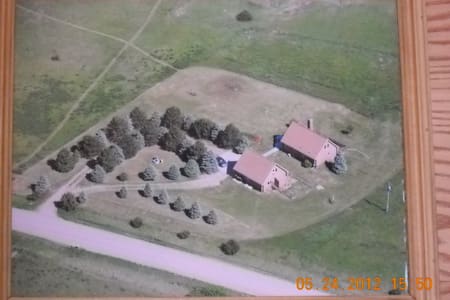 My place is close to art and culture. You'll love my place because of the coziness, the high ceilings, the location, and the views. My place is good for couples, solo adventurers, and business travelers.
We live just outside the city limits of town where it is nice and peaceful. Come relax and play some pool on our pool table or take a walk on our 13 acres of grass land. We have updated our queen bed to a new one with a cozy pillow top and flannel sheets for the winter. You will have access to the whole basement which includes home theater room bedroom, and game room. The kitchen, dining room and laundry facilities are available as needed. Bathroom downstairs is private with Jacuzzi tub and nice big shower and heated floor. We would give you your privacy or visit with you which ever you prefer. If you need anything or have any questions please feel free to ask if I do not know I will find out.
We are only 15 miles from Kearney, Ne where their is always something going on. Please eat supper before you get to Elm Creek as we only have a Subway and a bar that is not open on Mondays and Sundays.
Great place. Had plenty of privacy. Very nice people. Have already referred friends to stay there.
Scott
September 2016
Eddie and Michelle were excellent communicators before we arrived, accommodating a late arrival with grace. The basement apartment is amazing in so many ways. The bedroom is comfortable and the bed soft, with the company of a large menagerie of (images and figurines of) wild African animals. The jacuzzi is as pictured: huge and inviting. We had all the privacy we wanted. Michelle helped us get situated and figure out kitchen details, and both she and Eddie answered all of our questions. Just off I80, a perfect location for travelers such as us, and a fabulous value.
Lizzy
August 2016
Very easy access on/off the interstate for travelers. The bed was quite comfortable, lots of space in the basement area to stretch out, watch tv, etc. The sofa was also extremely comfortable. I did not have time to do much, as I only needed a place to sleep and shower, but I definitely would have enjoyed a longer stay. The hosts were friendly and I would have liked to chat with them more than I had a chance to.
d
December 2016
It was a great place to rest after a very long trip! Great value! Michelle was extremely accommodating and kind about our arrival time and set us up nicely for a good night's sleep.
Laura
July 2016
Michelle and Eddie were a delight to meet. I wish I had more time to chat with them! The house was easy to find with the bright and festive house decorations. Expansive, private basement space with a large, clean bathroom. The bedroom was nice and dark (which I love), and I felt completely comfortable staying here. It was a perfect stopping point to break up the drive from Des Moines to Denver. They provided coffee in the morning, and I was on my way without delay. I highly recommend!
Carolyn
October 2016
Spacious area and and convenient location! Michelle and Eddie were kind and helpful.
Harper
November 2016
We have made a very good decision to stay at Michelle and Eddie home! Room was perfectly clean and the bathroom - wow :) Michelle was really nice host. I would definitely stay here again.
Monika
October 2016
Eddie and Michelle were very responsive and helpful. We arrived late (10pm)on a cross country trip and they were welcoming and accommodating. I would definitely recommend staying here for anyone who needs a safe and comfortable place to stay.
Brian
August 2016
Tipo de quarto
Quarto privado
---
Tipo de Imóvel
---
Acomoda
4
---
Quartos
2
Elm Creek
Studio apartment situated on the ground floor, equipped with everything you need for your vacation .
Tipo de quarto
Casa inteira/apto
---
Tipo de Imóvel
---
Acomoda
4
---
Quartos
2
Ravenna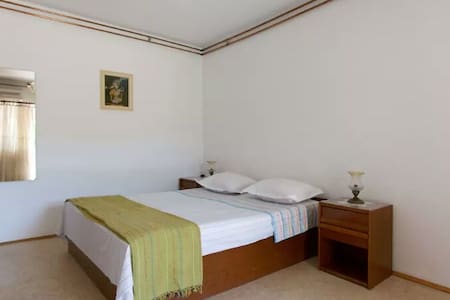 we love our house: high ceilings, wood floors, modern anemities within an industrial building, hot tub, private drive, large kitchen, parking garage, each bathroom has its own whirlpool tub and connects to each bedroom, walkin closets.
south bedroom has 3 beds- double, futon, a single bed , a walkin closet, attached bathroom with a whirlpool tub with shower. middle bedroom has 2 double beds, and a futon, a walkin closet and an attached bathroom with whirlpool tub with shower. travelers are welcome to use the weight room and hot tub. we offer a continental breakfast depending on time of rising
we live 3 miles from minden, ne that is famous for Pioneer Village and Christmas display. there is a mexican restaurant, pizza hut, subway, runza, cozy corner cafe, several realtors, parks, swimming pool, tennis courts; the usual businesses found in a town. Kearney and Hastings are approximately 20-30 miles away in opposite directions. Grand Island is about 60 miles away. no public transportation other than amtrak with pickup and drop off points in hastings or holdrege, nebraska and there is driving involved wherever you want to go. We own & operate a business at this address thus someone may be on a forklift upon your arrival, have a tenant above our business office and a tenant that operates a pallet rebuild business. we have a beeper that lets us know when someone has come in or left the property. We also have some livestock. And our dogs are friendly.
Tipo de quarto
Quarto privado
---
Tipo de Imóvel
---
Acomoda
5
---
Quartos
1
Minden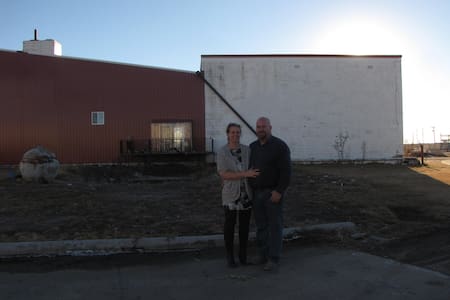 My place is close to restaurants and dining and family-friendly activities. My place is in the country but only 15 minutes from Kearney, NE that has multiple activities and dining areas. My place is good for couples, solo adventurers, business travelers, families (with kids), and furry friends (pets). We do board dogs so you have to be okay with pets. We have lots of open space and love hearing about adventures.
We are a farm location in Nebraska. Nothing gets more Nebraska than that :-) Access to whole first floor. Includes 1.5 bath, kitchen, dinning and family area, couches and your private bedroom with a Queen bed. We are home at night and will be able to interact with guests, however you are not required to interact with us. Feel free to hangout in your bedroom
I love that we have large open space, but are no more than 15 minutes away from a large town. No public transport except for taxis. You are 15minutes from Kearney, NE which has many acivities and dining areas. Anything from bowling and movies to sushi and indian food.
They made me feel very welcome even tho I'd gotten lost (not their fault), and what with the time zone change, I was 2 hours later than I expected. Their dogs were quiet - Helia is a good trainer. My private bath was right next to my spacious room. My bed was very comfy. They live out in farm country, on a dirt road. Their home is lovely. I was honored to be their first guest.
debbie
July 2016
Tipo de quarto
Quarto privado
---
Tipo de Imóvel
---
Acomoda
2
---
Quartos
1
Axtell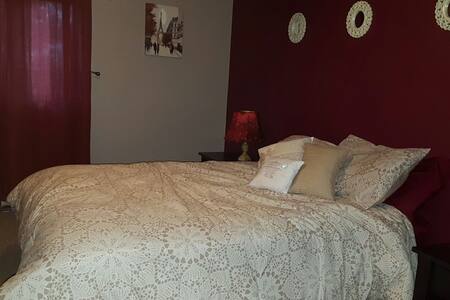 Quiet country setting in historically registered farmhouse located 3.5 mi southwest of I-80. Three bedrooms can accommodate six peeps. Two of the rooms have a queen bed and one room has two twins that can be made into a king. Baths are shared, hot breakfast provided, player piano in the front room and a enclosed porch with swing. Pet friendly. Please talk with the owner. There is a dog on the premises. Biz phone: 308-987-2121.
Hundred year old farmhouse..comes with a history and a fresh coat of paint. There are nods to the yesteryear along with more modern pieces. The cedar beds, found in two of the bedrooms, are handmade, rustic and fun along with the half bath vanity. Sing along to your favorite piano roll churning through the player piano or watch the beautiful sunset from the west window bench as you enjoy a leisure read. You can also retire to the south porch and laze on the swing while gazing at the crops that surround the area and bring a tranquility to your day. LR, DR, south porch (common areas) Feel free to explore the farmstead with an eye toward safety. There is a small telescope to star gaze if you're so inclined. Very little light pollution here! It is my hope to provide a serene, fun and relaxed atmosphere. If you want to chat...please find me; otherwise, I will leave you to it. Will provide info about local attractions, restaurants and events. Optional meals (lunch & dinner) are available upon request for an additional charge. I will just need to plan ahead for those.
The nearest neighbor is a half mile away. The view is mostly corn and soybean fields. Quiet and safe. Starry, starry nights when the sky is clear. Accessible for large rigs with space to park, stake horses, run dogs, etc. No public transport available. We are IN the country! BROC (Bring your own car) If you're celebrating a special event, please me know! If you need to hold a meeting the DR table seats ten and we can cater the event.
Tipo de quarto
Quarto privado
---
Tipo de Imóvel
---
Acomoda
6
---
Quartos
1
Overton
My place is close to parks and a short drive to downtown.. You'll love my place because of the ambiance, the outdoors space, the light, the neighborhood, the comfy bed. My place is good for couples, solo adventurers, business travelers, and families (with kids). We have a large back yard and a newly built deck with patio lights that is good for reading and relaxing or having dinner outside. We live at this space so we will be sharing the space with you unless we are out of town.
Newly renovated house with an open floor plan and great outdoor space. Guests have access to the entire home. We will more than likely be in the house as well and happy to answer any questions or give guidance on activities in the area.
Josh and His family made me feel so at happy. Highly recommend them! Great family!
Josie
October 2016
Tipo de quarto
Quarto privado
---
Tipo de Imóvel
---
Acomoda
2
---
Quartos
1
Hastings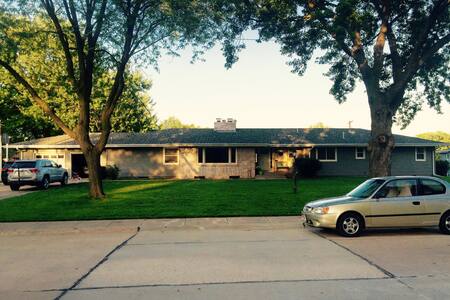 If the private apartment that I have listed is full, I will offer my basement for your stay. Or... If you're traveling with a large group you can rent the basement as well as the apartment! There is a large bedroom in the basement each with a queen bed.
This space is in the basement of my 1920's home. It would be a semi shared space, meaning that I do not have a door that closes to the basement. It is only available if the attic apartment is not available or you are traveling with a large group and need more rooms. You can relax and enjoy the entire basement for yourself. The space is very well lit with natural light and taller ceilings. You will have access to wireless internet and cable. If you need laundry facilities, those can be available. There is also a deck that you can lounge on located at the entrance. This space is only available for short term rents. Feel free to lounge on the deck. If laundry facilities are needed, those can be arranged. Don't like to cook but don't want to go out? Arrangements can be made for meals. :) our goal is to make your stay as comfortable as possible. We will help you out however we can! Whether looking for your own private space and solitude, or relaxing on the deck with conversation and a beer or glass of wine, we'll be happy to grant you what you're looking for! Let's face it, sometimes you just want to be alone. And we get that. But we also know that great memories are made when people get together. :)
The neighborhood is a pretty quiet area. We are located 4 blocks from downtown, 2 blocks from the library. There are quite a few beautiful, older homes in the area. Several churches are only a few blocks away and we are minutes from the hospital. There is no public transportation, but we are only 6 blocks from the train station! No smoking inside the apartment. If you are traveling with pets, please let us know. Special accommodations can be made. After all, pets are family too! Please just be aware that I have indoor cats myself and do have access to this space.
Bridgette was very welcoming and the neighborhood is nice.
Cameisha
June 2016
it was wonderful, The host was warm and welcoming. she left us fresh cookies, waters and travel amenities from her coffee shop and made us feel right at home.
Pamela
July 2015
Tipo de quarto
Quarto privado
---
Tipo de Imóvel
---
Acomoda
2
---
Quartos
1
Holdrege