Esta casa privada es perfecto para su viaje de negocios asequible y vacaciones. Aquí es una espaciosa casa, donde podrá relajarse en el sofá o patio privado y disfrutar de las impresionantes vistas de 180 grados al mar. Esta unidad de autoservicio incluye una bañera de baño / ducha, y cocina completa. Más de 70 grandes comentarios! La ubicación es ideal para su zona tranquila y segura, lejos del ajetreo de la ciudad. Estamos a unos pasos de las playas locales y sólo 20 minutos en coche del centro. Tenemos aparcamiento vigilado garaje.
Esta casa privada e encantador é perfeito para suas férias a preços acessíveis. É uma casa de um quarto auto-suficientes com vista para o mar deslumbrante de seu próprio pátio. Os proprietários vivem na casa ao lado da porta com seus cães. Configurado como uma casa de praia, que estão localizados no Bluff, um subúrbio de Durban. Esta casa inclui uma sala de plano aberto, que inclui uma cama queen-size, uma casa de banho e uma cozinha separada totalmente mobilado. A casa leva a seu próprio pátio privado e jardim com uma vista maravilhosa do mar de 180 graus. Os hóspedes podem utilizar a piscina e área para churrasco compartilhado, que em Durban pode ser facilmente apreciado direita até o inverno. O lugar é anexado a uma casa principal, mas separados pela cerca branca para a sua própria privacidade. Além do que está listado acima, temos estacionamento off-road em uma garagem para um veículo de tamanho sedan de. Não há acesso a wi-fi. Há uma loja de conveniência em frente à estrada (com lavanderia), e uma loja de mini-supermercado, que é menos do que uma unidade de dois minutos. A propriedade também é servida por duas linhas de ônibus municipais e privadas. Os hóspedes podem desfrutar de toda a privacidade que eles gostariam. Nós também vivemos ao lado em nossa própria casa e estão disponíveis caso você precise de assistência durante a sua estadia. É apenas 2 minutos de carro para a praia local e apenas 20 minutos de carro do centro da cidade. Faça uma pausa de uma vida movimentada da cidade. O Bluff tem a sua própria história única e é a jóia em Durban. Ele tem algumas das melhores praias da região e pode se sentir mais como alguns pontos tropicais ilha do que centros urbanos. O lugar tem vista para o Oceano Índico e há acesso rápido a um dos segredos mais bem guardados de Durban. Há rockpools para snorkeling com peixes tropicais, surf de classe mundial e praias virgens para passeios de verão. Este bairro Bluff tranquila é pacífico e para a espaçosa área tira a correria da vida movimentada da cidade. Estamos a apenas 15 minutos de distância do centro da cidade e do campus universitário principal. Esta casa faz parte do património de pesca da Bluff, uma vez que o lar de baleeiros noruegueses e permanece perto da antiga estação baleeira, agora abandonada, mas ainda um lugar fascinante para se visitar. A cinco minutos de carro também pode levá-lo para o restaurante Green Dolphin ou Cafe de Heidi na Praia de Anstey, bem como o shopping center local e ginásio. A propriedade é servida por linhas de ônibus municipais e privadas. Há estacionamento off-road atrás de seu próprio portão eléctrico, adequado apenas para um veículo pequeno. Caso contrário, o estacionamento pode ser encontrado à beira fora da propriedade. Temos dois dálmatas que são amável. Eles ficam ao lado da entrada casa de campo, e eles estão felizes para manter uma vigília noturna para você. Eles também vivem na propriedade e sua área é mantido limpo e arrumado.
O Bluff tem a sua própria história única e é a jóia em Durban. Ele tem algumas das melhores praias da região e pode se sentir mais como alguns pontos tropicais ilha do que centros urbanos. O lugar tem vista para o Oceano Índico e há acesso rápido a um dos segredos mais bem guardados de Durban. Há rockpools para snorkeling com peixes tropicais, surf de classe mundial e praias virgens para passeios de verão. Este bairro Bluff tranquila é pacífico e para a espaçosa área tira a correria da vida movimentada da cidade. Estamos a apenas 15 minutos de distância do centro da cidade e do campus universitário principal. Esta casa faz parte do património de pesca da Bluff, uma vez que o lar de baleeiros noruegueses e permanece perto da antiga estação baleeira, agora abandonada, mas ainda um lugar fascinante para se visitar. A cinco minutos de carro também pode levá-lo para o restaurante Green Dolphin ou Cafe de Heidi na Praia de Anstey, bem como o shopping center local e ginásio.
Awesome experience! The accommodation is very nice, clean and comfortable and with a stunning view. Its just a few minutes to the beautiful beach and a 15 minutes drive to Durban downtown. Sean and Kathleen are incredibly hospitable and made our short stay very comfortable. They are very flexible and told us a lot of interesting things to do in and around Durban!
Joël
2016-08-02T00:00:00Z
This has been an amazing experience staying with Kathleen and Sean and of course their adorable little daughter and their sweet dogs...this is redo for sure...if I happen to be back in Durban area...definitely is a rebook...Sean and Kathleen has been so kind, loving and very caring couple... I adored every minute of my stay with them...their apartment in private was perfect..everything I needed if not more.. Thank you Kathleen and Sean for your amazing generosity.. You have been incredible!!! I definitely recommend my lovely hosts and their place!!! Very pleased and happy we have met!! Cheers!!! Xxxxx
vanda
2016-08-10T00:00:00Z
Sean and Kathleen were very warm and welcoming hosts. The cottage is really spacious with a spectacular view. Great serene location right by the beach. Thank you very much!
Lesedi
2015-07-05T00:00:00Z
Great place! Awesome ocean view!Right as shown in the pics. And go for a swim in the pool, you will love love it! But above all: Kathleen and Sean are the best hosts you will ever meet. We got a nice and warm welcome. Although we only stayed for one night, Kathleen and Sean invited us to join for dinner just because of the fact it was the evening of Christmas day and we weren't able to get a meal easily. Right after arrival Sean asked us to join him for a nice walk at the beach with their lovely dogs Dotty and Spotty. So great! Highly recommended. Tot ziens!!
Paul
2014-12-26T00:00:00Z
Absolutely lovely people. Of course, Steve. st of course, Steve. stay there. Large, lovely space, I didn't have the time to sample the pool beyond a little taste, but it was delicious.
Josee and Franco
2017-03-09T00:00:00Z
Lovely seaside cottage with a great view of the ocean and swimming pool. Cottage has everything you need for a self-sufficient stay. Not near much nightlife/restaurants but it was very easy to uber to and from the house. Sean and Kathleen allow you to park in the garage which is a nice bonus! Sean was super helpful with things to do/places to go. Dottie and Spottie were a wonderful addition to our stay- such friendly and cute dogs! really enjoyed our stay- would stay here again if ever back in Durban!
Sydney
2017-02-21T00:00:00Z
Хозяева были весьма гостеприимны. Жилье полностью соответствует описанию, даже лучше. Для меня район подходит. Полностью уединенное место. Относительное неудобство: тэйк эвэй и Спар расположены в 1,7 км. Неплохо бы оставить предупреждение, что короткая дорога к пляжу представляет крутой спуск (150-200 м) Мне это не составило проблем, другим -может.
Игорь
2015-10-04T00:00:00Z
Stunning views over the Indian Ocean, beautiful cottage, lovely hosts and cute dogs. :) Enjoyed my time at Kathleen and Sean's place while I was in Durban... it was fully equipped with everything I needed for the weekend, with the added bonus of a really great hair salon across the road to help tame my hair for a wedding I was attending in Durban. Would definitely recommend this place to everyone looking for a great place to stay while in Durban. Sean, Kathleen and their family are wonderful hosts... really friendly, warm and helpful! Spotty and Dotty were awesome (and funny) company as well. :)
Emily
2015-11-01T00:00:00Z
Tipo de Quarto
Casa inteira/apto
---
Tipo de Imóvel
Casa
---
Acomoda
2
---
Quartos
Durban , KwaZulu-Natal, África do Sul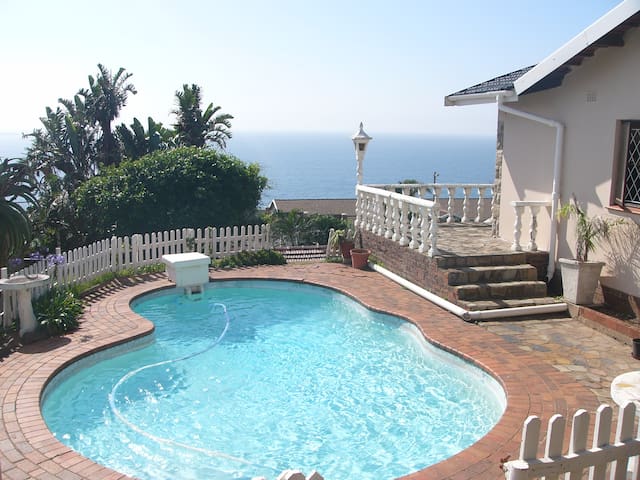 Esta casa aconchegante jardim é o lar longe de casa. O clima subtropical e descontraída atmosfera proporciona um relaxante se e muito perto de todas as comodidades. Há muitas lojas grandes atmosféricas café, bares e restaurantes na esquina. Fácil acesso para a M4, que traz para você em 8 minutos para as praias centrais Umhlanga e Durban.
I was traveling for Business and Anneke waited for my arrival at 11pm. Host was friendly, welcoming and polite. Thank you for the great overnight stay.
Christopher
2016-10-08T00:00:00Z
The cottage was very clean and cosy, and anneke and her husband were very kind and helpful with us. Thank you again for your advices and hospitality.
Loic
2016-05-12T00:00:00Z
Anneke was warm and welcoming, she eased us into our stay. What was described in the Airbnb post was accurately offered. The only problem I faced was the location pin that was linked in the email that we received was inaccurately pinned into (SENSITIVE CONTENTS HIDDEN) Maps but I don't think that it was Anneke's fault. I highly recommend this cosy stay in Durban North.
Tom
2016-11-05T00:00:00Z
Clean
Gina
2017-01-31T00:00:00Z
Anneke and Kees' cosy garden cottage is the best. Exactly what you see in the pictures and it is a home away from home. They are very friendly, helpful, give ideas on where to go and communication was very well. Kees was very helpful with transporting us and showing us all the beautiful places. Anneke made sure we had everything we needed. Not forgetting the goodies stocked up in the fridge, we are very grateful. We really enjoyed our stay and didn't want to leave. Definitely coming back to their home!
Naledi
2017-02-26T00:00:00Z
The house is very nice, clean Android confortable. Anneke and his husband are always available to help you, either to organise your trip por whatever you ask them. I ll recommend it!
Melisa
2017-01-13T00:00:00Z
Our stay with Anneke and Kees exceeded any expectations we had. They were very kind, helpful, and went out of their way to accommodate us. We felt pampered and welcomed as if we were one of the family. The clean, cozy cottage was in a safe neighborhood surrounded by lovely gardens and a pool. The extra touches of homemade goodies, fresh flowers, juice, milk, beach towels and chairs, as well as transportation were icing on the cake! The location is central to shopping and the beach. We would return in a moment! Loved it!
Cyndee
2016-05-11T00:00:00Z
Anneke and Kees were great hosts, and made our stay at their cottage very easy and enjoyable. The space was very clean and well kept over our two week stay. The area was very good too, close to shops and amenities. The garden was very nice too!
Anne
2016-05-28T00:00:00Z
Tipo de Quarto
Casa inteira/apto
---
Tipo de Imóvel
Casa
---
Acomoda
2
---
Quartos
Durban North, KwaZulu-Natal, África do Sul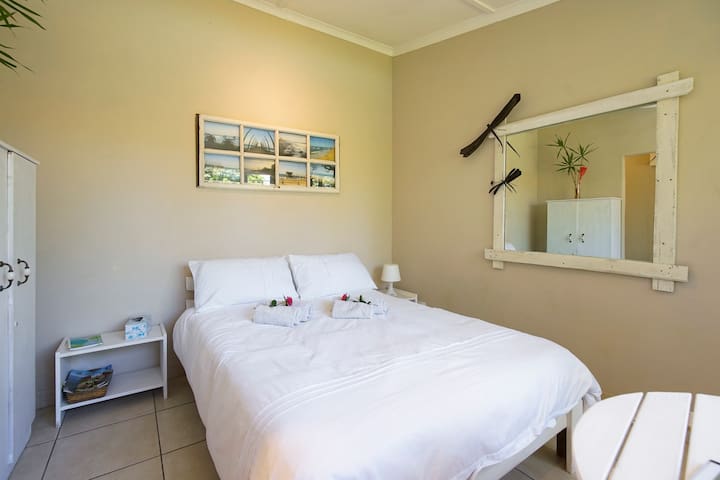 Estamos em uma estrada muito bonita frondosa que tem humps de controle de velocidade e como você cruzeiro de e para a casa que você sempre vai se deparar com macacos e muitas vezes mangusto e pintadas e fanfarrão. É uma grande estrada para fazer uma caminhada ou uma corrida. Estamos ligados a empresas de segurança 2 patrulhamento dedicados a nossa estrada e ter controlado remotamente portas. A vila ea praia estão a 2 minutos de carro De junho a setembro, você muito provavelmente vai ver baleias e muitas vezes golfinhos durante todo o ano. Umhlanga Rocks, a apenas 10 minutos de carro, é um centro de restaurantes, supermercados e qualquer outra coisa que possa precisar.
A phenomenal experience in a great house, fantastic location and stunning views combined with excellent hosts. If you want to spend time at the beach in KZN then this is the place to be..!!
Berry
2016-05-01T00:00:00Z
A fabulous spot that was tremendously safe and secure. We were throughly spoiled by the view. A must for all.
Simon
2016-04-11T00:00:00Z
Gill was so welcoming from the first day we met her. The place was spotless and it looked exactly what the pictures on airbnb showed. The views from the house are absolutely incredible, and the location is great just a few minutes drive from the beach shops and resturants. Keep up the great work Gill. Regards Jason & Merri
Jason
2016-07-28T00:00:00Z
It was wonderfull time in Durban!!! And house very nise and pretty with amasing view to ocean. We will come again there. Gillian was very hospitality. And monkeys very funny)))
Irina
2014-04-14T00:00:00Z
Gill is lovely! She made us feel very welcome and the house was absolutely beautiful! It is spacious and as described in the post. A very relaxing weekend away. Thank you!
Dennis and Chanelle
2014-10-06T00:00:00Z
The host canceled this reservation 16 days before arrival. This is an automated posting.
Meri
2015-12-02T00:00:00Z
We had such a fantastic holiday here. Gillian and Dez were superb hosts - they made us feel so welcome, gave us great advice on where to eat, shop and beach AND even baby sat our 1yr old so that the whole famly could go out for a dinner one night! Despite being on the same property, they perfectly walked the line between making us feel welcome and letting us have our own space. Gillian also provided us with baby gates, a cot and high chair for our little girl. Fantastic hosts all round! The location is great too. Such a beautiful sea view to wake up to in the morning. As the crow flies the beach is actually only a few hundred metres away, but unfortunately there's no cut through to reach it. Nevertheless, in only a 2min drive you're there. Our baby girl loved the rock pools. We hope to be back!
DanNKate
2015-12-01T00:00:00Z
Hi Gill. Had a really good stay with my family at your accommodation. Views were spectacular. House was spacious and well equipped. Will recommend your place to others. Many Thanks Iain
Iain
2015-08-25T00:00:00Z
Tipo de Quarto
Casa inteira/apto
---
Tipo de Imóvel
Casa
---
Acomoda
6
---
Quartos
Umdloti, KwaZulu-Natal, África do Sul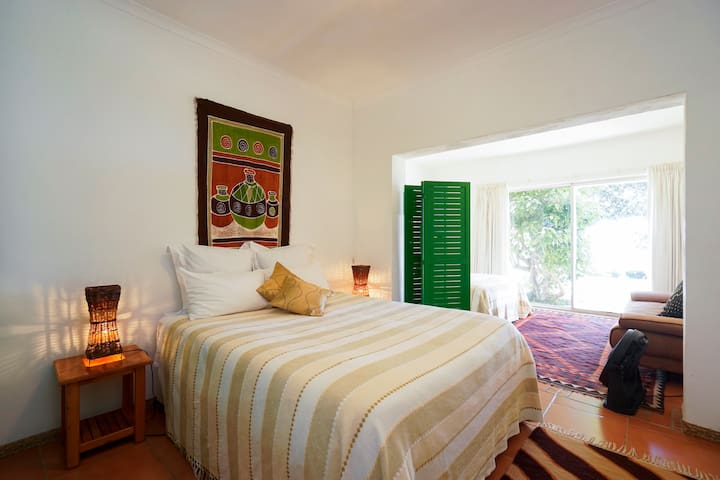 Our comfortable thatched cottage is set in an enormous, established garden which is connected to a beautiful Security Estate. This is a gardener's retreat! Listen to the birds sing, explore the garden spaces and soak up the peacefulness found in this place.
Our secret garden cottage is peaceful, comfortable and private. Access from the highway is quick and easy and once you are here, you will feel like you are miles away from the world we live in. This makes it a really convenient and rejuvenating base from which to explore the Midlands. The covered verandah overlooks the expansive garden : the perfect place to relax and have your coffee while enjoying the dawn of a new day. Inside the cottage the space feels cosy and spacious with the high thatched roof wrapping around you. The flow between all the open plan spaces is well thought through, giving a sense of great ease. You will love to watch the stars twinkle at night from this little haven.
Howick is well known for its absolutely beautiful weather, its gentle scenery and more recently its become famous for its very popular lunch destination, The Farmers Daughter at Yard 41 ! The setting is awesome, it overlooks the spectacular Falls gorge and the architecture is getting rave reviews. What a great new place to savour, with a trendy gift and decor shop, a world class nursery, a hip cycling shop and a busy hair salon to add to the vibe. This is a friendly part of the world! There is lots to do ! The Midlands Meander is popular for all sorts of reasons : The world famous Mandela Monument is close by, Midmar dam is across the road, Steampunk is within easy reach. ( Best coffee in town ) Piggly Wiggly is a great place for a family outing and hosts the popular weekly Park Run on a Saturday at 8am. Children love the putt putt course, the train ride and dipping candles. The Karkloof Market on a Saturday morning also is a great way to start the day. Cycling routes abound in the area.This is cycling heaven! The Karkloof Canopy tour is an exciting experience. And if you enjoy a good hike, the Howick Falls Gorge Walk gives you a really rewarding experience at the foot of the mighty waterfall. The Wessa Umgeni Nature Reserve is right on our doorstep. The zebras are as tame as ever you might imagine! You may even like to volunteer some time looking after wild animals at Freeme... There is more than enough exploring to do in this well loved part of South Africa. Welcome to hospitable KZN. And remember... our sectet garden cottage has quick access onto the highway, which makes it the perfect stop-over and the perfect base ! We will look after you with good old fashioned hospitality standards!
We absolutely enjoyed Angela´s place. It is a pretty little cottage set in a beautiful big garden. Everything you need is there. Very convenient and close to the N3. Angela spoiled us with delicious goodies for breakfast. Would love to come again.
Andrea
2017-03-24T00:00:00Z
We had a great stay at River Goose Cottage. Angela and Wayne were lovely and very helpful and welcoming. The cottage was great, a beautiful thatched roof that was wonderful to look at. We had a great time in the area "meandering" and it is a perfect location for many of the midlands activities. A great stay overall.
Theresa
2016-03-28T00:00:00Z
What a wonderful stay! Just as pretty as in the pictures. Beautiful country setting and comfy cottage. We appreciated your thoughtful touches and the delicious muesli you made us for breakfast. Thank you Angela and family - it was wonderful to meet you and enjoy your kind hospitality. We'll definitely be back :)
Ruth
2016-10-22T00:00:00Z
What a wonderful 2 nights stay at River Goose! We were welcomed late in the night with sherry, filtered coffee, the most delicious brownies and a warm and cozy cottage. In the morning we enjoyed a walk around the beautiful estate with Angela's 3 dogs in tow, it was so peaceful and tranquil as we had driven through to Howick from the hustle and bustle city-life of Johannesburg. Angela and her family couldn't have been more welcoming, we had everything we needed and we so enjoyed our stay. The garden is absolutely exquisite! Thank-you for the most lovely time, we will certainly be back.
Stacey
2017-02-11T00:00:00Z
Angela's place was the perfect place to stay while in Howick. A quaint cottage in a beautiful garden and totally private, the swimming pool was a bonus on a hot February morning. Angela was a great host, she organized a ready cooked meal for us so that we didn't have to go out for our evening meal. A perfect place to stay when visiting relatives in any of the Amber retirement villages in Howick. Wish we could have stayed longer & hope we get the opportunity to visit again!
jennifer
2017-02-18T00:00:00Z
What an awesome place to stay!! Really great place to feel away from it all. My only wish is that we could have stayed longer!!
Greg
2016-11-27T00:00:00Z
Ein wunderschönes kleines Cottage. Die Gastgeberin war sehr nett und zuvorkommend. Wir würden wieder dort übernachten. Kann man nur empfehlen.
anja
2016-11-22T00:00:00Z
A quiet, comfertable and secluded idilic cottage in a beautifuly lush garden. The private cottage was cozy but spacious and beautifuly decorated with all the necessities at hand. We were happy to have booked a full week and would have loved to stay longer and enjoy the wonderful company of Angela and Wayne
Anneke
2017-01-16T00:00:00Z
Tipo de Quarto
Casa inteira/apto
---
Tipo de Imóvel
Casa
---
Acomoda
3
---
Quartos
Howick, KwaZulu-Natal, África do Sul
Genießen Sie den Pool und tolle Aussicht, ein paar Schritte entfernt von den Annehmlichkeiten und den Ozean. Zu Fuß disctance 800 m vom Strand
Had a great time. Beautiful location, beautiful home. Host was very good with communication and compromising. Gwyn the house keeper was very sweet and helpful.
Jolene
2016-12-27T00:00:00Z
The photos don't do this house justice, the reality is even better. Really well thought out design and decor -loved it. In a great location near the hotel, and all that Zimbali offers. New mall and restaurants in Ballito. Stunning space to live, would highly recommend, especially for families. Felt like home after a few days, will definitely be back.
Divyang
2017-04-07T00:00:00Z
karine
2017-03-05T00:00:00Z
Large modern, well equipped home, well located in Zimbali for privacy and serenity. Zimbali has loads to offer, golf restaurants pools bars and you are very close to Ballito. Not only would I recommend I will hopefully return. Ted
Ted
2017-02-18T00:00:00Z
If you ever want relaxing luxurious comfort, this place is what you are looking for. The communication was superb, the house was just glorious. My family loved it, we wished to have stayed longer. The weather was a bit miserable, but the house said, stay in doors and play games. The home had everything you needed for a restful holiday, inside a gorgeous estate.
Bongani Michael
2016-09-13T00:00:00Z
This home was even more beautiful in person than in the pictures! Andre has staff available every day to help with any needs. Gwen, his house helper, kept the home sparkling and Candice, the self proclaimed miracle worker, went out of her way to make sure all needs were met. Zimbali itself was so gorgeous with tons of things to do for the family-multiple pools, nature walks, play grounds, tennis courts, walks on the beach, etc. This was one of the best vacations I have had in a long time. I can 100% highly recommend this place! Thank you Andre for letting us experience a bit of your slice of heaven on earth!! :) What a treat!
ashley
2016-12-08T00:00:00Z
Candice was there to meet us with the keys and help us settle in. She was most helpful. Gwen did a fantastic job of cleaning every day. The house is stunning and has fantastic views. The pool has a net but with all the steps and open areas perhaps not suitable for small children. There is wifi throughout but it does drop out on a regular basis. Beds were fab and all the amenities you can think of. Overall a most enjoyable stay and we would highly recommend this house.
Catherine
2016-07-11T00:00:00Z
Lovely home in a great location. Great communication and the host was most helpful for ensuring we had a great stay. Thanks
Salim
2016-03-23T00:00:00Z
Tipo de Quarto
Casa inteira/apto
---
Tipo de Imóvel
Casa
---
Acomoda
10
---
Quartos
Dolphin Coast, KwaZulu-Natal, África do Sul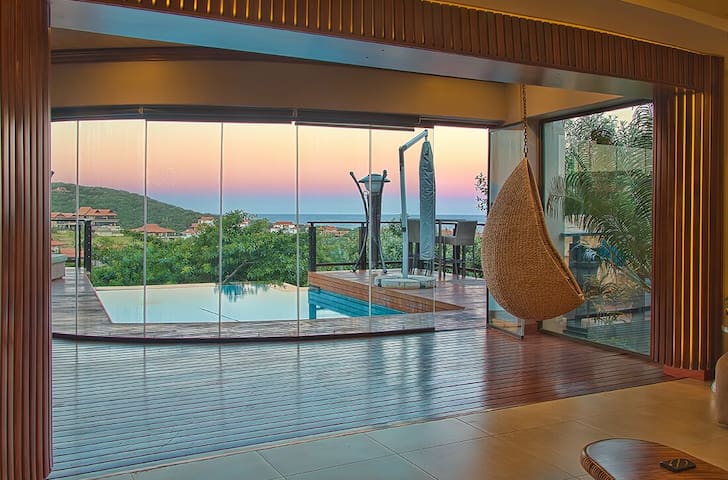 Tipo de Quarto
Quarto privado
---
Tipo de Imóvel
Casa
---
Acomoda
2
---
Quartos
Queensburgh, KwaZulu-Natal, África do Sul
Nossa flatlet confortável situa-se acima da nossa garagem dupla na propriedade seguro Durban Norte. Perto de todas as principais amenidades, incluindo praias e centros comerciais. Aproximadamente 15kms do aeroporto internacional de King Shaka. Idealmente posicionado para os turistas e visitantes de negócios.
Abra sala de plano aproximadamente 50 metros quadrados. Oferecendo cama de casal, facilidades básicas de cozinha e pátio coberto. Casa de banho com banheira (para converter para chuveiro)
Kelly was very accommodating. I booked 2 days before arrival. She quickly confirmed availability. The flatlet was nice and spacious and also clean. Nice book collection of you are a bookworm. Nice touch with the chocolates on the bed ;) We had everything we needed for our short stay. I especially liked the fact that the property is secure and safe. Thanks for your hospitality Kelly.
Yolanda
2015-08-23T00:00:00Z
What lovely accommodation! Kelly is such a wonderful host and very accommodating! I will definitely stay here again!
Lauren
2016-06-13T00:00:00Z
The accommodation was perfect for us. Owners are really fantastic and respected our privacy. Overall an amazing comfortable stay. Loved it:-)
Ruben
2016-09-06T00:00:00Z
A very nice and comfortable stay in a spacious flatlet. It was the perfect place to come back and relax after a day of exploring. It is set in a great neighbourhood and close enough to Durban city and Umhlanga. Kelly was a great host and made sure we were looked after. Would definitely recommend!
Lauren
2016-01-31T00:00:00Z
Thank you very much! We enjoyed our stay just as much as we did last year. Kelly is so helpfull and accommodating! Hope to see you again soon!
Elke
2016-10-09T00:00:00Z
We loved our stay! It was neat and comfortable and we will definitely be visiting this airbnb again. We relaxed and the location was great as well!
Monique
2017-01-07T00:00:00Z
Great host and great place to stay! Kelly is a welcoming host and the. communication was very easy. The flat is lovely: neat, clean and a cosy outside area
Hanna
2016-11-19T00:00:00Z
Kelly's place is wonderful! If you're looking for a cosy and stylish bachelor pad well situated between a string of novel restaurants, a Woolworths, Checkers and a quiet beach, then this is your place! It's far enough away from the city that you can relax and have a good night's sleep but close enough that you can zip down to uShaka with no stress. The room is private, quiet, cool, clean and comfortable. What's more, it's on a secure property in a beautiful neighbourhood and we felt safe. Kelly is very friendly and the housekeeper Chief was very helpful and took great care to ensure that our stay was memorable. Many thanks to them both!
Emilia
2015-12-23T00:00:00Z
Tipo de Quarto
Casa inteira/apto
---
Tipo de Imóvel
Casa
---
Acomoda
2
---
Quartos
Durban North, KZN, África do Sul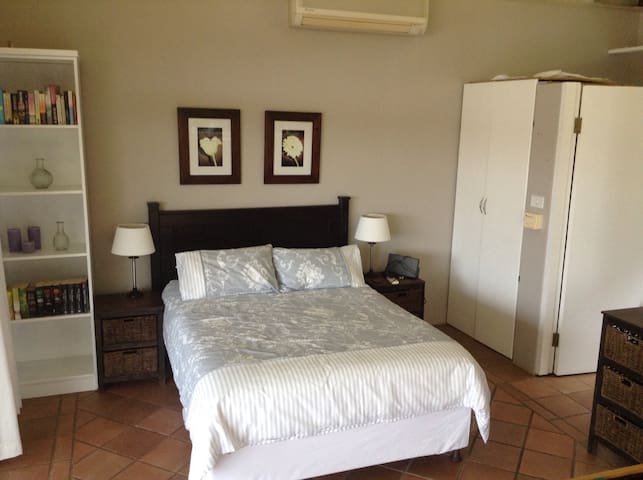 Cosy home on quiet avenue with stunning Indian Ocean views. 10 minutes walk from Anstey's and Brighton beaches. Close to supermarkets. 15 minutes from Durban centre, 45 minutes from International Airport. Minimum 2 nights.
Thank you Nico for making us feel welcome in your home. You went through a lotnof trouble to accommodate us, even after our plans changed slightly. We had a wonderful relaxing time with breathtaking views.
Inge
2016-05-31T00:00:00Z
My stay at Nico's made my trip to Durban a memorable one,we received great hospitality from Dineo the housekeeper. Thank you you for your generosity. Best Mandla
Mandla
2016-09-06T00:00:00Z
We travelled as a group of 12, the place was big enough to accommodate us. Thank you for the chilled wine in the fridge. I love the quirkiness of the decor in the main house and spending evenings on the deck. The "basement" flatlet could do with a bit more work, it was not up to standard for paying customers. Your house keeper was not warm friendly or welcoming to us in addition to that on the day we were leaving she said to me towels were missing I asked her have you checked all the rooms, she seemed to want me to go through the house and find the "missing" towels for her.
Thandi
2016-12-20T00:00:00Z
It was definitely a great place to be. Nico was very helpful since the time we booked the place and the house staff was very welcoming. The house is perfectly located near the beach and the city without losing the charm and the quite of the hill where it is located. Thank you Nico. Ciao Mauro & Paula, Sandro & Adriana, Luca & Flavia.
Mauro
2016-04-03T00:00:00Z
This is an amazing and "home feeling" accommodation. It has great views and a wonderful setting on top of the hill in Bluff. We were greeted by Mary, the domestic helper, and she immediately showed us around and made us feel welcome. Every morning she was in cleaning and making the beds up. I would recommend this accommodation to anyone in the area looking for a place to stay. Thanks Nico for keeping in touch and letting us feel welcome during our stay for the Ironman 70.3. Easy communication and friendly help. Thanks.
Derek
2016-06-21T00:00:00Z
Lovely house, very homely and clean. Quiet neighbourhood , suitable for big family, but not so much friends as we couldn't make as much noise through music and laughs ) . The view of the Indian ocean was beautiful to wake up to .
Mandipa
2016-03-31T00:00:00Z
Reallyy great place with good hospitality and amazing views.We really recommend.
Richa
2017-03-21T00:00:00Z
This house was amazing, it looks like what the picture says, it is spotlessly clean. The beds are great to sleep in, their recommendations for food was great. While we didn't really use all the amenities because our schedule but had a wonderful stay.
Chandré
2017-04-10T00:00:00Z
Tipo de Quarto
Casa inteira/apto
---
Tipo de Imóvel
Casa
---
Acomoda
13
---
Quartos
Bluff, KwaZulu-Natal, África do Sul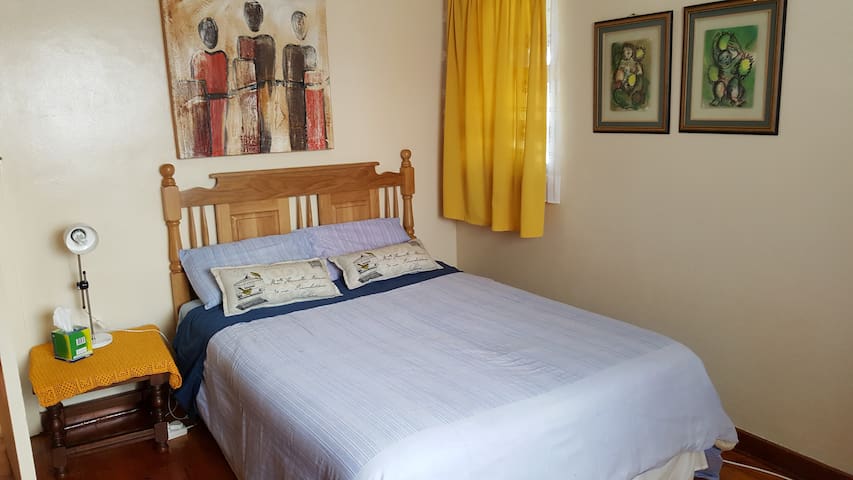 Ein Stil Strandhaus für bis zu 10 Personen mit herrlichem Meerblick und einen kurzen 250m Spaziergang zum Clarke Bucht Strand (mit Bademeister), lokale Geschäfte und Restaurants. Die überdachte Terrasse mit eingebautem Grill & großer Esstisch bietet eine perfekte Outdoor-Einstellung. B'Lenghi ist eine 20-minütige Fahrt vom internationalen Flughafen King Shaka entfernt mit einer Auswahl an lokalen Flughafen Taxis sowie Uber für Ihre Bequemlichkeit.
Ein sehr schönes, geräumiges und luftig Strandhaus mit drei großen Schlafzimmern, zwei Säle, eine voll ausgestattete Küche, große überdachte Terrasse mit integriertem Grillplatz und zwei separate Studios auf dem unteren Boden für Kombinationen von 6/8/10 Personen mit Übernachtungsmöglichkeiten. Das Haus ist gut ausgestattet und dekoriert mit einem modernen Touch in ganz und Meerblick aus allen Zimmern. Ein Balkon führt aus der Küche mit den besten Blick auf das Meer vom Haus entfernt und ist ideal für die ersten Morgenkaffee und spektakuläre Sonnenaufgänge über dem Indischen Ozean. Die Küche selbst ist mit einem Ventilator ausgestattet Backofen, Induktionskochfeld, Geschirrspüler, Waschmaschine und Trockner. Die Lounge und die beiden unteren Boden Studios sind mit einem LCD-TV-Bildschirme und DSTV-Anschluss ausgestattet. Wir bieten auch kostenlose WiFi. Es gibt Deckenventilatoren in allen Räumen des Hauses mit Klimaanlage in allen Schlafzimmern. Beide Studios auch eine Klimaanlage für zusätzlichen Komfort haben. Das Haupt-Schlafzimmer im Haus mit Kingsize-Bett verfügt über einen eigenen Bad. Die anderen beiden Schlafzimmer im Haus mit jeweils zwei Einzelbetten teilen sich ein Badezimmer mit Badewanne und Dusche und separatem WC. Studio B auf dem unteren Boden dient als Erweiterung des Hauses für Gruppen von 8 Personen. Dieses Studio mit einem Doppelbett ist mit einem eigenen TV, Waschmaschine, Wasserkocher, Mikrowelle, einen kleinen Kühlschrank und ein Bad mit Dusche. Auf der Außenseite ist eine Terrasse mit Tisch und Meerblick. Studio A auf dem unteren Boden ist gut Studio mit viel Platz für zwei Personen proportioniert. Es ist mit einem Doppelbett, ein Bad mit Dusche und eine komplette Küchenzeile mit Waschmaschine, Mikrowelle mit Grill, bissig Koch, Kühlschrank, Wasserkocher, Geschirr und sogar einen eigenen kleinen Grill ausgestattet. An der Vorderseite hat das Studio eine große Größe Terrasse mit Meerblick. Das Haus und die Studios sind mit Alarmanlagen und die Gäste ausgestattet sind mit Fernbedienungen ausgegeben Zugang zu den relevanten Bereichen zu steuern. Der Strand, Geschäfte und einige der besten Ballito Restaurants können zu Fuß durch den Boden Gartentor zu erreichen. Clark Bay Strand mit Rettungsschwimmern und einem Gezeiten-Pool ist nur 5 Minuten zu Fuß entfernt. Eine sichere elektrische Einfahrt Tor führt zu einem offenen Doppelgarage für zwei Autos mit großzügigen Platz für zwei weitere Autos zumindest. Schließlich fragen Sie bitte die verschiedenen Preisoptionen zu. Die angegebenen Preise auf Air BnB ist für das Haus zu sechs Personen schlafen und variiert für die verschiedenen Jahreszeiten wie auf dem Kalender gezeigt. Unterschiedliche Preise werden an Gruppen von 8 oder 10 Personen gelten und auch für die verschiedenen Jahreszeiten variieren.
B alt Ballito '' Lenghi Strandhaus befindet sich in 'und ist eine der ursprünglichen Häuser in der Gegend. Üppige tropische Plantage, aktive Tierwelt (kostenlose Roaming-Affen), die allgegenwärtige Klang brechender Wellen und konstant frische Meeresbrise hinzufügen, um die Schönheit und entspannende Erlebnisse der Dolphin Coast.
Had a great long weekend, great location and house was well suited to our needs. Will certainly recommend to anyone going to Dolphin coast.
Dave
2016-05-05T00:00:00Z
B'Lenghi Beach House surpassed our expectations. Communication from our host, Ian was warm and detailed. Arrangements and directions were spot on and no hassle. The location is beautiful and everything you need is within walking distance. The house was very clean and easy to maintain during our stay. For a relaxed beach holiday with a touch of luxury I would highly recommend B'Lenghi Beach House.
Natasha
2016-06-21T00:00:00Z
The place is amazing. It is situated in an excellent location, walking distance from town and the beach. There is loads of space and everything in the property just works. From collecting the keys to dropping them off was made so easy. We felt at home and would definitely use this place again when we return to Balito... A must if you want a place that feels like home.
Greg
2016-04-17T00:00:00Z
Fantastic large family friendly house close to the beach and restaurants. Fab host with excellent communication and details - which is what's needed when arriving in an unknown area. Many thanks for Ian's quick support as we needed a last minute place to stay due to a hotel mix up!
Sarah
2016-11-24T00:00:00Z
Our host Ian was just at the other end of the phone if we had any questions. The agency were also very welcoming and helpful. The accommodation was more than expected and just had a lovely feel to it. We spent a lot of our time relaxing there and barbecuing on the balcony. The beach is just a short walk away and the area was quiet as we were there through the week. I would definitely recommend this to anyone visiting the area and would stay again in a heartbeat. Lovely, thank you.
Hollie
2016-02-12T00:00:00Z
Our accommodation at B'Lenghi Beach House was absolutely fantastic. The process to get keys to the house was smooth and painless. The highlight of our stay was walking into a well-maintained, clean and welcoming space. The house felt like our home away from home. Everything we needed was available from kitchen appliances to clean linen. The children loved the garden and the beach which is a stone's throw away. This house is definitely recommended to anyone who wants to have an effortless self-catering option at the coast.
Mamokete
2016-06-13T00:00:00Z
The house is really well located next to the beach, bar, restaurant etc. The deco is adequate for a beach cottage and the dstv and wifi is a big plus. Ian made sure everything was perfect. Thanks for your hospitality.
julie
2016-10-16T00:00:00Z
We had an amazing time. The house is perfectly situated close to the shops and walking distance to the beach. The house was exactly as advertised and we were very comfortable. We will definitely be coming Back. Thank you Ian
Brendan
2016-04-29T00:00:00Z
Tipo de Quarto
Casa inteira/apto
---
Tipo de Imóvel
Casa
---
Acomoda
10
---
Quartos
Dolphin Coast, KwaZulu-Natal, África do Sul
We love sharing our family home in Durban North. It is sunny, open, airy and is family firnedly. A beautiful indigenous garden and a sea view, centrally situated and close to all amenities & restaurants. The two rooms within our home are comfortable and spacious each with their own private bathroom. (en suite) Guest have fee access to every part of the common areas of the house - kitchen, dining room, lounge, verandahs, pool etc.
Our home offers a luxurious self catering option with access to all of the common areas of our home: living, dining and kitchen, verandahs, pool and outsdie entertainment, for the duration of your stay. We have a relaxed outdoor braai area alongside the pool and plenty of garden to relax in.
Central Durban North with vibey upmarket shops, takeouts, cafes, restaurants, shopping malls all within walking distance. One of my favourite eateries is the Wok Box an Asian fusion restaurant. Great burgers can be had at both Rocco Mama and Union Square. We have a great cycle route close by and you can hire bikes at Bean and Bike on the Beachfront as well as pick up a fabulous early morning coffee. Great city bus tours and walking city market tours are available. Umhlanga has a great promenade as does the Durban beachfront for awesome early morning or early evening walks or cycles.
É decididamente um local onde vale a pena ficar, excelente casa, atenção pelos hóspedes. Faz-nos sentir como se fosse a nossa casa.
Maria
2017-01-01T00:00:00Z
Irene & Dudley, thank you so much for hosting me and Victor last minute. We enjoyed our stay and Dudley's dinner suggestion where we savored a pint at Connor's nearby. Thanks again!
Ashley
2016-11-30T00:00:00Z
Irene and Dudley made us feel like we were part of the family. From the first time we spoke to them over Airbnb to the last goodbyes they were warm and kind. They gave us th run of the house and went out of their way to assist us. When we needed anything their first question was always 'how can we help?'. A truly lovely couple . We highly recommend this stay.
Kim
2016-05-31T00:00:00Z
All positives. We loved staying with the Reids. They welcome you as family if you wish, and give you plenty of support and space. Loved the shower, and the amenities. We were also greeted with fruit and sweets. The location is close to shopping and there is good security. Great location, great hosts!
Donald
2016-10-01T00:00:00Z
Dudley and Irene have been amazing hosts to my entire family. They welcomed us warmly and made us feel completely at ease. The area is great with lots of nice restaurants to choose from and the beach a short drive away.
Ivancka
2015-09-30T00:00:00Z
Really lovely host with a beautiful home and a fantastic see breeze from the garden. Irène & Dudley were Incredibly warm and welcoming felt at home. The house is Wonderfully located close to everything u could hope for. Plus Dudley is amazing cook had the best braii ever ! looking forward coming back we found are new home in Durbs. I highly recommend staying here!
Nadia
2016-05-04T00:00:00Z
Fantastic hosts! Wish we had spent more time.
Garreth
2016-07-04T00:00:00Z
We enjoyed the personal touch. Everything from chocs on the bed, to shampoo in the shower. It was all there. The direct entrance into the accommodation was great.
Michelle
2017-03-25T00:00:00Z
Tipo de Quarto
Quarto privado
---
Tipo de Imóvel
Casa
---
Acomoda
6
---
Quartos
Durban, KwaZulu-Natal, África do Sul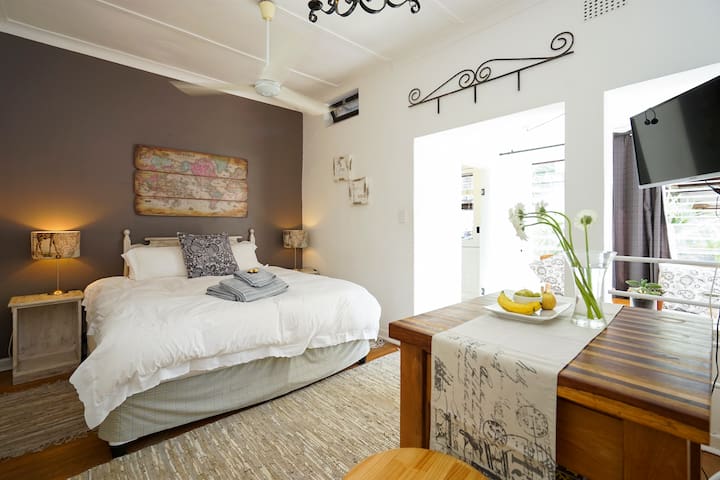 Sun facing, with fantastic 180degree elevated views across the scenic 'Valley of a Thousand Hills'. Pool is exclusively yours for the duration of your stay. Mountain Bike and Walking trails within the Park you'll be staying in. Giraffe, zebra, wildebeest, blesbok, kudu, impala, bush buck, bush pig, jackal and much more roam freely here at Phezulu, and frequent your garden. Note: There are numerous verandahs, a possible danger if your have children who are going to be unsupervised.
The property is largely constructed with curved walls, giving a cosy feeling inside, like that of a traditional African rondavel. At over 400m2, and open-plan with private bedrooms, there is plenty of space for everyone to relax.
We have well maintained Mountain Bike and Walking routes in the Park which are a wonderful way to experience nature. Bothas hill has many curios and restaurants. There is a lot to explore. Guided game drives (into our park by 4x4), Zulu dancing, crocodile park, snake park and curios are all available next door at Phezulu Safari Park. They hold talks and courses from time to time on wildlife in our area, feel free to contact them and get involved in what they are hosting. Our area is Botha's Hill and offers numerous restaurants and bars within 5 minutes drive. We are midway on the Comrades Marathon route and we are well positioned for lots of other sporting events including:- rugby, soccer, cycling, sani-to-sea and the Dusi Canoe Marathon. This property is superb as a base to explore the greater Durban and Pietermaritzburg area as we are roughly halfway between the two. Hillcrest is 12 minutes drive and offers excellent shopping, restaurants and coffee bars. The beach in Durban is under 45 minutes drive. King Shaka International Airport is less than an hours drive. Tala Game Reserve is 30 minutes away. The Midlands Meander is a fantastic day out with lots to see, do, buy and eat. The biggest treat of all is sitting on the verandah from late afternoon into the evening listening to the birds. First the piet-my-vrou and the black collared barbets, then later the nightjars and owls as the night rolls in. The zebra graze on the lawn at night while the wildebeest wander past either side of the house.
We had a wonderful week in Phezulu. The views from the house are fantastic and freshness of the air and surroundings are a treat. Will definitely consider visiting again.
Ryan
2016-08-09T00:00:00Z
Das Haus liegt mitten in einem großen Game Resirt Park. Antilopen, Gnus, Blessböcke laufen über das Grundstück! Alles ist super idyllisch. Das Haus ist super groß und funktionell eingerichtet. Alles funktioniert ohne Probleme. Wer Ruhe mag, und Tiere sehen will ist hier genau richtig.
claus
2017-02-12T00:00:00Z
This was our first experience with Air BNB and we were very impressed with everything from booking to arriving. Detailed info was provided and everything went smoothly. Beautiful house, spacious, comfortable and everything we needed for a relaxing holiday.
Robynne
2016-05-31T00:00:00Z
Would stay here again!!! The security at the gate were very helpful and found it easy to find our way. Very friendly. Open space and very relaxing. Clean, tidy and found everything we needed. Especially enjoyed the Zebras etc walking around the estate, so did my 4 year old. Host Paul was easy to reach via email.
Bathabile
2016-12-02T00:00:00Z
What a gem!!! We had an amazing holiday at Paul's house in Phezulu. The setting and views are spectacular and you can't help but unwind and relax. The house had everything we needed. Our favourite spot was on the couches on the big sunny balcony, where we watched the animals and the sun go down. There are loads of walks and trail runs that we did in the mornings and the kids enjoyed a dip in the pool. The house is super close to the shops and tourist attractions which was very convenient. We'll definitely be back!
Robyn
2016-07-17T00:00:00Z
Pauls place is the epitome of tranquility. Extremely comfortable and all the necessities needed. Will definitely stay there again. Shops are within ten minutes and very convenient. One can get whatever you need to enjoy a relaxed holiday in the country side. Awesome views of the Valley of a Thousand hills and sunsets. Great bar area toe joy evenings by the fire place.
Ajit
2016-06-20T00:00:00Z
awesome place to spend Last night in africa exactly what we where looking for
Nicolas
2016-01-03T00:00:00Z
This was a truly wonderful experience - unbelievable value for money, in a lovely place, upmarket and modern.
Francois
2016-07-25T00:00:00Z
Tipo de Quarto
Casa inteira/apto
---
Tipo de Imóvel
Casa
---
Acomoda
8
---
Quartos
Durban, KwaZulu-Natal, África do Sul
私の場所は空港レストランやビーチに近く、海を見渡すことができます。
Dave was very welcoming and the property lived up to all our expectations. Would definitely stay again if we were in this area.
Sandy
2016-11-01T00:00:00Z
Dave's place was amazing!! As much as we may try, words will fail to capture the relaxation we experienced. It's a short stroll to the beach or amazing restaurants. The balcony is the perfect place to savour the views of the ocean while attending to a braai (barbeque for some). Dave was so accommodating, making the effort to call and make sure we really were enjoying our stay. We have agreed to make our return to Umdloti an annual tradition.
Tinashe & Angel
2016-08-28T00:00:00Z
Very comfortable accommodation, fantastic setting with a lovely view, and we had everything we needed. Dave was the perfect host - unobtrusive but always available.
Bryan
2017-01-29T00:00:00Z
The place was amazing! We felt at home and we'll definitely be back! Thanks Dave
Nyaki
2016-10-23T00:00:00Z
The host canceled this reservation 122 days before arrival. This is an automated posting.
jennifer
2016-08-26T00:00:00Z
Great stay, great place, great host! Place is exactly as in the pictures. Clean, spacious, and everything you need for a nice getaway/holiday. Definitely recommend this place and we hope we get a chance to come back!
Marieke
2017-04-01T00:00:00Z
Dave was an amazing host. He made us feel home away from home . I can confidently recommend anyone there anytime. We had a great time.
Pnash
2017-04-07T00:00:00Z
Great place with good ambience and facilities and in a very convenient location for great restaurants and bars and the beach. Highly recommended for a stay in Umdloti
Ricardo
2017-03-25T00:00:00Z
Tipo de Quarto
Casa inteira/apto
---
Tipo de Imóvel
Casa
---
Acomoda
6
---
Quartos
Umdloti, KwaZulu-Natal, África do Sul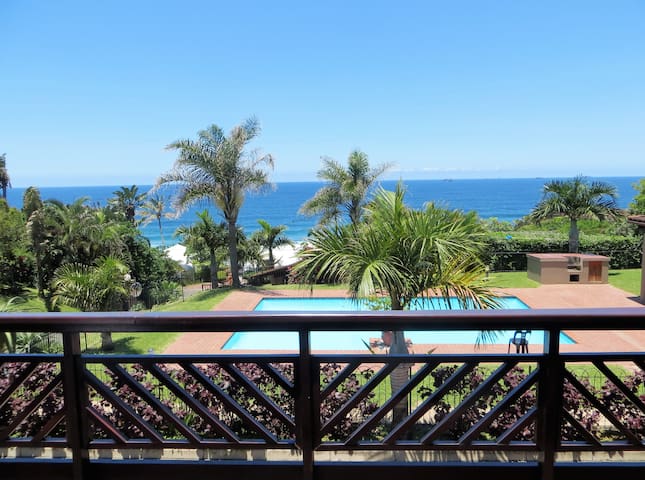 casa moderna y espaciosa en un tranquilo fincas cerca de las atracciones
Really enjoyed staying in this home. The pictures don't even fully portray what the house looks like, so much better in person. The house is very spacious and homey. The hosts are wonderful people and are always willing to make your stay pleasant. Will definitely go back! :)
Ntsaki
2016-07-05T00:00:00Z
Exquisite experience.
Tshepo
2016-08-22T00:00:00Z
Beautiful, well appointed and cozy house. Everything was ready on arrival, including a lovely touch of fresh flowers. Carol (housekeeper) looked after us really well and is an asset to the house. Internet was a little weak, which forced us to switch off and enjoy the holiday. A Golf cart was made available to us with no charge - the best way to go around the very large estate. Overall a lovely stay in Zimbali.
Sophie
2016-10-08T00:00:00Z
You won't regret staying here. The home is unbelievable and the Zimbali resort is amazing.
Trevor
2016-10-17T00:00:00Z
Our second stay at this lovely home for our family, a super, very comfortable house which stays cool even on very hot days. Lovely housekeeper Carol and Andre and Candice were very considerate and responsive hosts. Highly recommended.
Katie
2016-06-03T00:00:00Z
Our stay at Andre's beautiful house was even greater than we expected and nicer than shown on the pictures. The location is perfect. Andre and Candice were very helpful and quick to respond and ready to help with anything we needed. We will absolutely stay there again. Thank you.
anneke
2016-07-11T00:00:00Z
Was a great holiday with our South African family and friends. Andre, Candice and Ian were very responsive and the home was located in a great neighbourhood! Wonderful amenities within the Estate and we had a wonderful time! Carol, the housekeeper, had a wonderful attitude and was always eager to help out as much as she could. We had a wonderful time and so many amazing memories! Thanks guys!
Brett
2016-10-25T00:00:00Z
If you're traveling as a family this is definitely the house to stay in. The pictures don't do it justice, it felt like a home away from home. Andre was a great host.
Mmule
2016-08-10T00:00:00Z
Tipo de Quarto
Casa inteira/apto
---
Tipo de Imóvel
Casa
---
Acomoda
10
---
Quartos
Dolphin Coast, KwaZulu-Natal, África do Sul
Centrally located luxury in a quite residential area. Secure remote access parking. Kitchen & living room is open planned & fully equipped with modern equipment & turnkey furnishings. Looks onto the garden & entertainment area with a salt water pool, heated ozone jacuzzi & gas barbecue. Walk to the Glenwood bakery & restaurants. The beach, shopping malls, International Congress Centre, Casino, Aquarium, Harbor, Golf, Rugby, Cricket & Swimming Stadiums all +/- 5km. Air Conditioned, WiFi & DSTV
The house is fully furnished with its own entrance. The open plan kitchen & lounge is fully equipped, & looks onto the beautiful garden, entertainment area, pool & heated jacuzzi. The bedroom is en suite & air conditioned in addition to ceiling fans throughout. There is full sattelite TV and free WiFi. There is a cottage & a house on the same property. Each is independently booked. You do not share your unit with anyone else. However, the pool, jacuzzi & entertainment area is common space where there is a chance that you might bump into another guest. We are centrally located, with the ocean, most major attractions, the International Congress Centre and sporting facilities about 5 - 7km away. Five major hospitals, two universities and the medical school are all within a close proximity. The fabulous Glenwood Bakery, Parc Restaurant & Gouden's the best indian take away are just a short walk away. The restaurant rows of Wilsons Warf, Silverton and Davenport Road's are just around the corner as are the Pavilion and Musgrave Centre shopping malls. The 2010 Moses Mabhida soccer, Kings Park Rugby, Kingsmead Cricket, the athletics and swimming stadiums are all close by. The casino, yacht basin, harbour and magnificent promenade including "Ushaka" our world class aquarium,and fabulous beaches are just a short drive away. Tennis, surfing, snorkelling & diving, kite surfing, deep sea fishing, sailing & cycling can be arranged with equipment hire. Due to the close proximity of the swimming pool, it is not suitable for small children who are not water safe.
We are centrally located in a quiet suburban neighbourhood, with local schools, the university & medical school, shopping, a fantastic bakery, restaurants & coffee shops, all within walking distance. We are very close to the Medical School and the University as well as 4 hospitals. The beachfront promenade, congress centre, cricket, rugby as well as the world cup stadium's and the aquarium are +/- 5 to 10 minute or less drive away.
Nikky's place is an experience in and in itself.. Highly recommended.
Tshepiso
2017-01-20T00:00:00Z
The Hosts were great they provide many snacks and small gifts to make a person welcome.They were very organized. It is very secure . The pool and jacuzzi area is great. The place looks exactly like the photos. I was studying in Durban for courses when I rented the room and I was very happy with its location and the proximity to all amenity`s.
Ashleigh
2016-02-06T00:00:00Z
Great stay with Nikky and Tom! They were super helpful and informative. A very safe and secure property. The one bed apartment was perfect for our needs and fully furnished. Really enjoyed the use of the pool and hot tub.
Keri
2016-12-10T00:00:00Z
Nikky's place is really private, spacious and relatively close to the restaurants and nightlife of Florida Road. The pool and jacuzzi is a great bonus if you need to unwind and the room itself has a great kitchenette area. Nikky is a helpful, present and friendly host.
Andrew
2017-03-09T00:00:00Z
Wow!! I've been using AirBnb for a while now and I can hands down say this has been the best place I've stayed at. Location, comfort, beauty!! Pool and Jacuzzi are amazing! I'll definitely be coming back here when I can! Nikky is a great host and very helpful!
Lungani
2017-01-31T00:00:00Z
This was a great place to stay- central, homey, quiet and with all the amenities you could need. Nikky was lovely, so helpful and always available if ever we needed it. We would definitely stay there again.
Phoebe
2017-03-25T00:00:00Z
Nikky is an amazing host, goes the extra mile to ensure her guests are comfortable and are enjoying their stay in Durban.
Izzat
2017-01-01T00:00:00Z
This place is awesome! It's spacious and clean and in a great neighbourhood close to a very trendy nightlife area. In fact its central so you are close to everything really. The flat has everything you need and is super comfy! We really enjoyed using the pool and the jacuzzi - what a bonus! I definitely recommend this place!
Jenna
2016-12-23T00:00:00Z
Tipo de Quarto
Casa inteira/apto
---
Tipo de Imóvel
Casa
---
Acomoda
2
---
Quartos
Durban, KwaZulu-Natal, África do Sul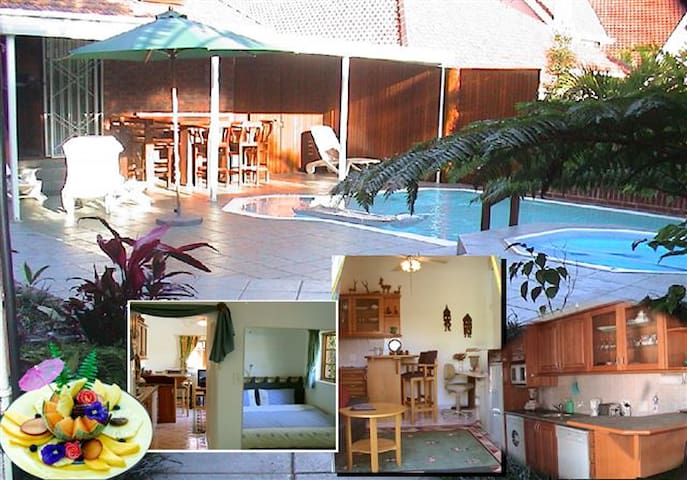 Room in private home. First guest full price second guest pays R160. Home has spacious bathrooms with shower and baths .Relaxed environment .Tea and coffee available in room. Includes self help health breakfast (yogurt, muesli, fresh fruit) .
Relaxed creative environment shared with people with a love for life , good food and good wine. Walking distance from neighbourhood shopping centres and restaurants
Green peacefull garden that boarder on forest and stream
Rheinier was a friendly host. Communication was excellent before and during the stay. The bedroom and bathroom were clean and well equipped - we especially liked the excellent shower and the light breakfast that was provided. Although we had booked only a room, Rheinier left us most of the common spaces to be used as well and was not around most of the time. The dogs were all friendly. On site parking was provided, the WiFi worked like a dream
Hans
2017-01-03T00:00:00Z
What a lovely experience! Beautiful room, lovely neighborhood. Expect to get exactly what you see in the photo's and more. Rheinier was an awesome host. Highly recommended!!
Daleen
2016-12-01T00:00:00Z
Perfect location, safe scenic surroundings, a home away from home. Fantastic hosts, won't find better value in Pietermaritzburg
Matthew
2017-01-26T00:00:00Z
really a nice place to stay. The host is sooooo nice. there is some little welcome gift as a big surprise , and the most important thing is they are very very warmhearted , very very nice to me, it is just like as home
ping
2016-02-17T00:00:00Z
I have no hesitation in recommending 24 Taunton Rd Pietermaritzburg as a lovely little oasis just outside the central business district. This secure, comfortable and friendly home is a pleasure to stay at. The dogs are all so calm and friendly as are their owners ;) The best part of the bnb is it's amazing bathroom...has to be experienced to be believed! It's location is great as it's elevated slightly from the valley so a bit cooler on very hot days and view of forest is lovely. I am sorry my stay was so short and busy that I could not get to know my hosts better.
Andrew
2016-12-31T00:00:00Z
Rheinier was a great host, he treated me as a member of the Household. Made me feel right at home. He was vary knowledgeable about area and about where I could find things of interest to me.
Jacques
2016-04-06T00:00:00Z
We had such a Nice stay with Rheinier! Warm welcome, clean room and thoughtfull host. We enjoyed the evening talks. It was a perfect stop on our way to the wildcoast. In pietermaritzburg we could grab An interesting museum . Thanks a lot ! Ps i overwon my fear of dogs with Buddy! What a sweet animal!
Anna
2016-08-13T00:00:00Z
Rheinier has a beautiful house! I felt immediately very welcome and at home. The room was very neat and tidy with the most beautiful view. The tea and coffee corner in the room with the breakfast the next morning was an absolute bonus! Thank you for one of the best airbnb experiences I have had at your house
Petra
2016-07-03T00:00:00Z
Tipo de Quarto
Quarto privado
---
Tipo de Imóvel
Casa
---
Acomoda
2
---
Quartos
Pietermaritzburg, KwaZulu-Natal, África do Sul
Grande quarto com casa de banho privativa localizado no procurada Morningside área de Durban. Apenas 2 min. da popular Florida Road. A casa é separado da casa principal e, portanto, muito particular. Tem uma cama de casal com edredom, ventilador de teto, mão e toalhas de banho e se abre para a piscina e jardim. Os hóspedes podem fazer uso da cozinha ao lado, com frigorífico, máquina de lavar roupa, microondas, cafeteira, torradeira etc.
Nossa casa piscina é uma suíte de hóspedes que é separado da casa principal. Ele abre para o jardim com área de estar ao ar livre e piscina. O quarto é mobiliado com uma cama de tamanho duplo, armário, cadeiras, ventilador de teto, edredão, mão e toalhas de banho. O banheiro privativo é configurá-lo com um chuveiro, WC e bassin. Próximo ao quarto de hóspedes, há uma kitchenette, com frigorífico, máquina de lavar roupa, microondas, cafeteira e torradeira. Bem como alguns talheres e pratos também é fornecido para sua conveniência. Lavandaria disponível por uma taxa adicional.
A casa fica em um bairro calmo e seguro e uma curta distância de lojas e outras facilidades. Morningside é uma área procurada de Durban, com a sua vibrante Florida Road, os dois bela Mitchel e Parques Jamieson e vários centros comerciais. Também o grande Beach Boulevard fica apenas a 5 min. carro. Nossa casa está localizada em uma tranqüila cul-de-sac, mas ao virar da esquina tudo que você precisa está por perto.
Rhanda is very kind and welcoming. The cottage is quaint and perfect for short stays!
Megan
2016-08-18T00:00:00Z
Lovely cottage! Great location to discover Durban!
Laura
2016-12-04T00:00:00Z
Great accommodation and host. The room is nice and private with a kitchenette and pool in front of the door. Everything is clean and all what is needed is available. With just a 10 minute walk or an Uber you are at Florida street where they have nice bars and restaurants. Also Durban beach is close by and a great place to stroll over the boulevard. Thank you Rhanda for hosting us.
Lisette
2017-03-13T00:00:00Z
Rhanda is so friendly and her space provided my parents a delightful brief stay. The space was comfortable and homey with quick access to all we needed.
Didi
2017-01-28T00:00:00Z
Rhanda is warm and welcoming. Great energy. Gracious host.
Imaan
2017-01-31T00:00:00Z
Rhanda was a great host, very helpful and the apartment was clean. It was perfect for us!
Nina
2017-01-07T00:00:00Z
Logement dans quartier calme de Durban. Wi-Fi qui fonctionne parfaitement. Lit confortable, chambre propre, petite mais quelques rangements. Rhanda est une personne accueillante et agréable.
PASCALE
2017-03-07T00:00:00Z
Lovely area, lovely room and an absolutely amazing host. We had to check in earlier than the agreed time & our host was very accommodating. She also assisted with fun activities to do while in town. Safe & quiet neighborhood with security guards, the house was close to great social places and everything was easily accessible. Definitely coming back!
Bati
2016-08-15T00:00:00Z
Tipo de Quarto
Quarto privado
---
Tipo de Imóvel
Casa
---
Acomoda
2
---
Quartos
Berea, KwaZulu-Natal, África do Sul
Dieses schöne Haus befindet sich in Musgrave bietet 2 klimatisierte en suite Doppelzimmer und einen geräumigen Wohnbereich. Es hat leichten Zugang nach Durban zu den besten Restaurants, Strände, Einkaufszentren, 4 Krankenhäuser und das International Convention Centre
Perfect apartment, good service and help, we felt safe! Thanks a lot!!
Claudia
2017-01-02T00:00:00Z
Daniyel and Graham both very friendly and available to ensure we had a easy and great stay - the welcome gifts were a nice touch and the dinner recommendation for Cafe 1999 was one of the best restaurants we have been to for ages . Will be back. G
Gary
2016-10-02T00:00:00Z
We had a great time in Daniyel's apartment. Great location, great communication - highly recommended! Will definitely be back.
Michael
2017-03-19T00:00:00Z
We loved our stay here. The house looked exactly like the images so we were not dissapointed. Daniyel is lovely and we really enjoyed her warm hospitality. The house is really stunning and cosy and we especially enjoyed having a full suite of DSTV services. I would definetly recommend a stay here!!!
Zeenat
2017-01-08T00:00:00Z
I have never trusted reviews because for some reason I thought people get paid to write good reviews .... Until I had the pleasure of staying at Daniyel and her amazing husbands house . The house excellently located in Berea stone throw awa from taxi's , cabs , mini markets and restaurants Cafe 99 and the Market which were great recommendation by our host . The house is a 2 bed house with a modern home feel to it. I usually struggle to sleep in foreign places on the first night , but not in this case. The hosts are humble , friends and very accommodative. . . To a point were you feel like you have a butler just a call or a text away. The place is exactly at it appears in the pictures. And their repose time when doing your booking is ultra efficient in less than hour I had my request responded to . If you looking for a great stay in durban I recommend this guys. Best and super fast wifi Full bouquet dstv Electric blanket Were the best
Dannyboy
2016-05-23T00:00:00Z
Daniyel and Graham really made sure that I felt welcome from the first second and have been very attentive during the whole stay. The flat is the perfect Airbnb formula: roomy and very well equipped, 10 min max from the International Conference Centre and Durban's beautiful beach, absolutely independent yet just in front of Daniyel and Graham's flat in case you need any help. I warmly recommend.
Xavier
2016-07-18T00:00:00Z
A home away from home. Great hospitality. We'll definitely be back!
Belinda
2016-12-19T00:00:00Z
Very friendly hosts. Accommodation centrally located. Parking was perfect. Had a wonderful time.
Yassar
2016-12-06T00:00:00Z
Tipo de Quarto
Casa inteira/apto
---
Tipo de Imóvel
Casa
---
Acomoda
4
---
Quartos
Berea, KwaZulu-Natal, África do Sul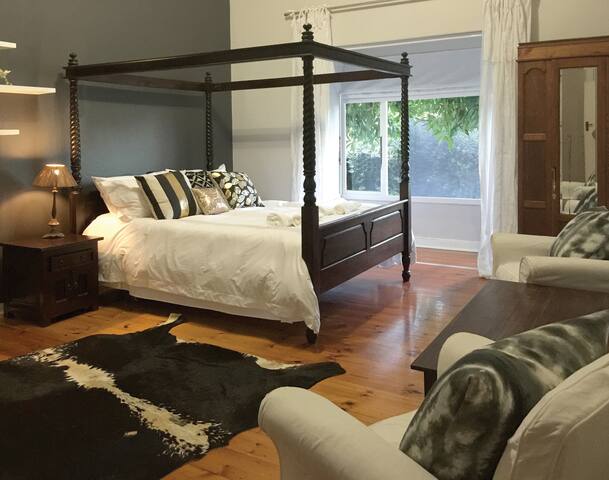 1

–

18

de

300+ Alugueres de Casas
Insira as datas para ver o preço total. Taxas adicionais aplicáveis. Podem ser adicionados impostos.