215 Apartamentos para Alugar
Lugares de interés: Es un caserío que esta en el corazón de Gipuzkoa, cerca del caserío tenemos, bosques de ayas, rió donde poder darnos un baño, barrancos, cueva de la diosa Mari... La familia nos dedicamos a la agricultura y tenemos huerta de la cual comemos, animales como caballos, cabras, ciervos.... Mi alojamiento es bueno para parejas, aventureros, familias (con hijos), y mascotas
La naturaleza que lo rodea, los animales que tenemos y la tranquilidad que se respira son únicos en este caserio.
la única pena, no haber podido quedarme mas tiempo
Juanjo
2017-02-14T00:00:00Z
nous avons passé une nuit dans dans cet endroit vraiment magnifique. Je reviendrais prochainement pour profiter au maximum de cet endroit et passer plus de temps avec les propriétaires .
Matthieu
2017-01-05T00:00:00Z
Con algun palabras de dos alemans. Una habitacion perfecto en el natura solitario. Pedemos recomendar esta casa con sus anfotrìons.
Dominic
2016-09-09T00:00:00Z
Un ambiente de paz y tranquilidad donde los problemas cotidianos se desvanecen. Ainhoa y Agus son unos anfitriones estupendos y deferentes. Vale la pena visitarles.
Jose Manuel
2016-08-26T00:00:00Z
Cadre magnifique et naturel, idéal pour se ressourcer.
Florian
2017-02-12T00:00:00Z
La casa de Agustín y Ainoa se divide entre tres espacios: el suyo, el del anuncio y uno que se renta a otros viajeros, por lo cual no es tan aislada como lo deja pensar la descripción. Sin embargo, el entorno natural es maravilloso, entre otras cosas gracias al paisaje y los animales del caserío.
Amélie
2016-08-11T00:00:00Z
El caserío está en medio del bosque, seguimos las indicaciones de Ainhoa y Agustín porque el GPS se piede por ahí. Es un lugar rodeado de naturaleza, para desconectar. La pena que solo teníamos una noche, porque es para estar allí relajado y disfrutar de la naturaleza olvidándose del móvil (no hay casi cobertura). Para todo tipo de públicos, con niños, en pareja... La casa limpia y ordenada. Si vais a pasar más días es mejor llevar comida, pues el pueblo queda algo retirado y así podéis centraros en la naturaleza. Un lugar al que volveremos!
Alberto
2016-10-31T00:00:00Z
C'est un gîte magnifique au fond de la montagne, on se sent loin de tout, la nature est magique et l'hôte adorable. On a adoré, juste frustré de pas rester un peu plus ! Petits villages aux allentours, forêt à perte de vue, idéal pour une escapade. Impression de petit paradis au bout du monde ! Merci encore !
Sofia
2016-08-15T00:00:00Z
Tipo de Quarto
Casa inteira/apto
---
Tipo de Imóvel
Apartamento
---
Acomoda
4
---
Quartos
Beasain, Basque Country, Espanha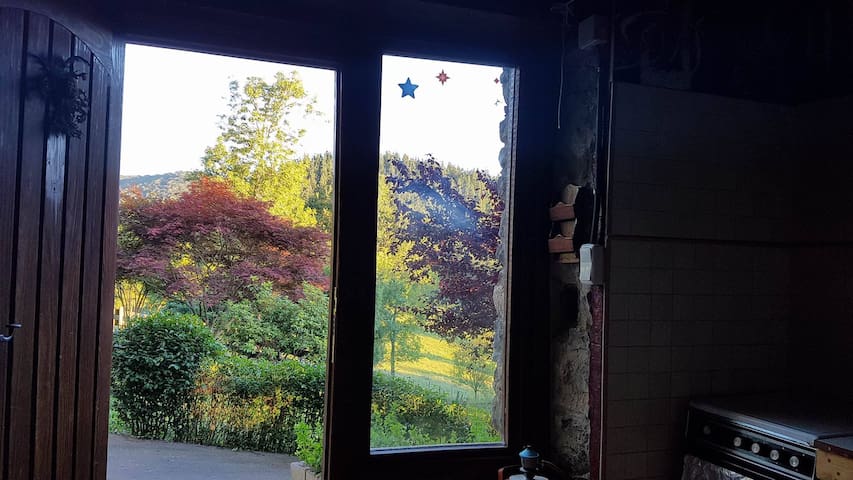 El apartamento Atari se encuentra a 3 minutos de Amezketa y 25 minutos de Donostia-San Sebastian, en pleno Parque Natural de Aralar, completamente rodeado de naturaleza y tranquilidad. El apartamento cuenta con una habitación de una cama doble y una litera de dos camas individuales, con baño y un espacio destinado a cocina, comedor y sala de estar. El apartamento está perfectamente equipado y dispone de calefacción, juegos de mesa, televisión, jardín, terraza, barbacoa y zona de aparcamiento.
Augustin et sa femme nous ont gentiment accueillis, ils ont été très arrangeants sur les horaires d'arrivée et de départ. L'appartement est très propre et pratique. Très bien pour une famille avec deux enfants. Merci
Damien
2016-07-27T00:00:00Z
La casa de Agustin y el entorno son muy bonitos! Es un lugar tranquilo, lleno de animales y con unas vistas que enamoran. Se pueden hacer muchas actividades y San Sebastian queda muy cerca! La familia entera han sido muy hospitalarios y simpáticos!! Gracias por todo!
Rosa
2016-07-28T00:00:00Z
Ha sido una semana extraordinaria!! La acogida en Casa de Agustin es fantástica, seguramente repetiremos. Destacar la tranquilidad y las vistas encantadoras en la montaña. Sitios muy bonitos a visitar en los alrededores. En Casa de Agustin nos sentimos realmente como En Casa!!!
Betsy
2016-07-10T00:00:00Z
Nous avons passé 3 jours merveilleux. Le logement est lumineux et la vue sur la montagne depuis le salon est magnifique et l'endroit est tranquille. La famille est sympathique et Maider est disponible et nous a donné de nombreux conseils pratiques pour visiter la région, nous sommes allés à San Sebastian en train par exemple. Les enfants ont adoré le cadre et la présence d'animaux. C'était l'idéal pour faire une pause avant de remonter dans le Nord en venant de L'Andalousie. Pasamos 3 días maravillosos. El lugar es bonito y tranquilo. La vista desde el salón es estupenda. La familia es muy simpática, Maider estaba presente cuando lo necesitamos y nos dio muchos consejos para visitar la región más facilmente (por ejemplo fuimos a San Sebastian en tren). A nuestros hijos les encantaron la presencia de animales.
Annie
2016-08-01T00:00:00Z
Alojamiento rodeado de naturaleza, tranquilo y acogedor, además en la finca hay animales (ideal para niños), el apartamento es nuevo y con un bonito diseño . Maider y Agustín no se encontraban allí esos dias pero igualmente nos fácilitaron todo tipo de ayuda. Muy recomendable, gracias por todo
Daniel
2016-09-10T00:00:00Z
El apartamento es estupendo, parte de un caserío precioso en un entorno natural espectacular. Muy recomendable para planes tranquilos y en familia. Familia encantadora, comida de calidad y muchos paseos y actividades en plena naturaleza, solo a media hora de San Sebastián. Totalmente recomendable. Muchas gracias Maider y Agustín por vuestra hospitalidad, los niños han pasado unos días de fábula. Volveremos :)
Joan
2016-08-18T00:00:00Z
Una experiencia, muy buena en un entorno inpresionante, frente a Txindoki. Muy recomendable con niños pequeños, la nuestra de 2 años se lo paso pipa con las gallinas y ovejas. No coincidimos con Maider y Aguntin, pero en todo momento estuvimos en contacto. Transmitian mucha confianza. Eskerrik, asko.
Eneko
2016-10-31T00:00:00Z
Hemos estado muy bien en el apartamento de Agustín y Maider. Es tal cual aparece en la descripción, limpio, bien equipado, las vistas geniales. En un entorno en plena naturaleza privilegiado, tranquilo y con una fantástica sensación de amplitud ya que tienes hasta jardín con mesa y sillas. Los anfitriones muy agradables y dispuestos. Totalmente recomendable!!! Felicidades a los dos.
Inma
2016-08-22T00:00:00Z
Tipo de Quarto
Casa inteira/apto
---
Tipo de Imóvel
Apartamento
---
Acomoda
4
---
Quartos
Amezketa, Euskadi, Espanha
Nous sommes dans le centre de Ordizia, à 2 minutes de la gare qui nous unit à San Sebastian-Donostia, entouré de montagnes verdoyantes et au coeur du Pays Basque.
Ici vous réconforter, d'une terrasse, armoire, chauffage, WiFi, etc. Idéal pour les couples, les célibataires et les aventures d'affaires.
Inara ha sido una anfitriona genial. Si vuelvo, repito con ella seguro. Un abrazo.
Juan Luis
2017-03-20T00:00:00Z
La habitación de Inara es excelente. Amplia, cómoda, bien iluminada, muy bien localizada ...todo está a la mano. El baño y la cocina son también excelentes. Ellos como huéspedes son también óptimos! ...siempre atentos mirando que todo vaya bien. El único pequeño inconveniente es que es un problema aparcar cercano a la casa. Eso para mi resultó un inconveniente un poco mayor dadas mis circunstancias, y sobre todo que mis expectativas eran de que no había problema. Aparte de eso no tengo más que comentarios positivos de mi estancia con Inara. La recomendaría ampliamente. Ordizia y sus cercanías son preciosas!
Xavier
2017-03-02T00:00:00Z
Tipo de Quarto
Quarto privado
---
Tipo de Imóvel
Apartamento
---
Acomoda
2
---
Quartos
Ordizia, Euskadi, Espanha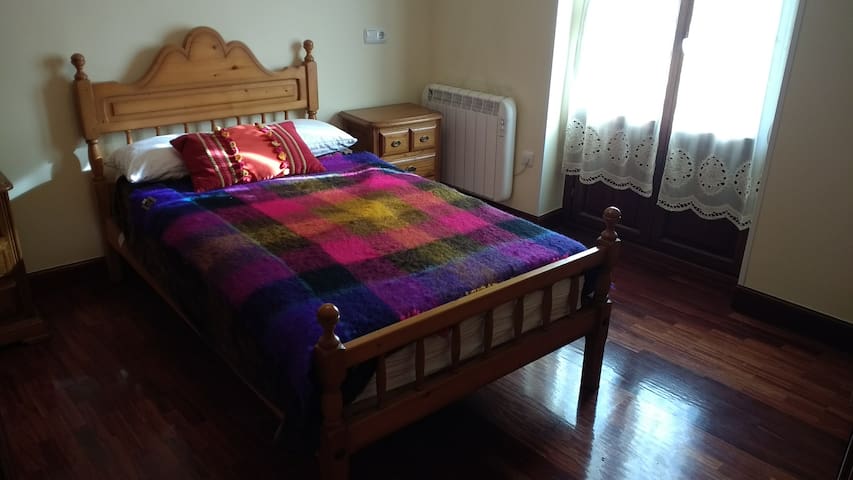 Set in a beautiful village 5 mn from Toulouse and 20 minutes from San Sebastián.Para nature lovers and tranquilidad.Muchas walking or biking routes.
This was a great place. It has been refurbished recently and well. It is in a beautiful location with a creek running by and plum, fig and apple trees. The host gave us supplies to get through the first night, a Sunday, and then continued to give us fresh produce from the garden. And, it is an easy 20 minute drive from the pintxos of San Sebastian. Our six and three year old loved wandering outside and walking up the creek. Highly recommended.
Tommy
2016-07-25T00:00:00Z
Todo lo que podemos decir de nuestra estancia es positivo :). El apartamento está totalmente reformado, tal y como se puede ver en las fotos, y es moderno, bonito, y acogedor. La calefacción es estupenda, la cocina es preciosa y tiene todo lo necesario, y los 2 baños estan fenomenal. Xabier es un gran anfitrión, pues estuvo pendiente no sólo de que estuviéramos agusto, sino de informarnos de todo lo que podíamos visitar en la zona y alrededores, y para cualquier duda pudimos recurrir a él y nos ayudó sin problemas y muy rápido. El apartamento está muy bien situado, y desde aqui visitamos varios pueblos y ciudades de la zona, que es preciosa. En resúmen, estuvimos muy agusto y lo recomendamos sin duda, y si en el futuro volvemos por allí nos encantaría alojarnos aquí de nuevo.
BEGOÑA
2016-03-30T00:00:00Z
Génial ! Nous avons été accueilli par Xabier qui nous a fait un petit radio-guidage, tant la maison est isolée, au milieu de la nature. Et comme nous étions en plus très en retard à cause des embouteillages, il a été super compréhensif. L'appartement est vraiment chouette, très spacieux, très confortable, et notre hôte a été formidable : il nous a indiqué les coins à voir, et nous avons passé trois jours vraiment top. Toutes les autoroutes et les voies rapides sont à moins de 5 minutes, on peut vite se rendre n'importe où dans la région à partir de ce point. Bref, très bon séjour, et un grand merci à Xabier !
Nicolas
2016-05-09T00:00:00Z
La ubicación y el entorno es muy agradable y tranquilo, al lado del río... Muy relajante. Ideal para disfrutar con niños en familia. Xavier muy atento con nosotros, nos dio todo tipo de informaciones del lugar. Muchas gracias Xavier!
Teresa
2016-04-25T00:00:00Z
Hemos pasado el fin de semana un grupo de 6 personas, apartamento moderno y muy agradable, ideal para pasar un fin de semana de amigos o para visitar Tolosa y alrededores.
Jairo
2017-03-26T00:00:00Z
Una estancia genial! Una casa muy arreglada con todo lo que necesitas. Gracias por todo Xabier.
Sara
2016-06-09T00:00:00Z
Definiría la estancia de 10. La casa es tal cual se ve en las fotografías, muy amplia y prácticamente nueva, perfectamente equipada y super confortable, calidad-precio inmejorable. La ubicación, en medio de la montaña justo antes de llegar al pueblo de Hernialde, hace que sea un lugar muy tranquilo e ideal para desconectar. Situado a menos de 5 minutos de Tolosa donde hay grandes almacenes para comprar todo lo que se necesite. Geográficamente esta situado en un lugar ideal para visitar todo el País Vasco, que es lo que hicimos nosotros... A 25 minutos de Donosti, 1:20 de Bilbao y 1h de Biarritz , todo a tiro de piedra. El trato con Xabier inmejorable, desde el momento que hicimos la reserva se ha mostrado siempre muy comunicativo y preocupado por todas nuestras inquietudes, siempre proponiéndonos sitios para visitar y actividades para hacer. Hemos estado 7 días y hemos estado como en casa, tanto Xabier como su familia que vive al lado de la casa se ha portado de lujo con nosotros, muy atentos, muy agradables... Recomiendo 100%. ESKERRIK ASKO XABIER!!
MIGUEL
2015-08-24T00:00:00Z
El apartamento está muy bien equipado, muy amplio y la situación nos ha gustado mucho, fuera del núcleo urbano pero a la vez muy cerca de Tolosa con todos los servicios necesarios y a 25 minutos de San Sebastián. En plena naturaleza hemos podido disfrutar de muchas caminatas y de preciosos paisajes. Los familiares de Xabier que viven allí nos han tratado superbien y Xabier y su encantadora familia han sido unos anfitriones insuperables, nos han tratado como a grandes amigos. Nos hemos marchado con muchas ganas de volver, repetiremos.
Antonia
2016-09-03T00:00:00Z
Tipo de Quarto
Casa inteira/apto
---
Tipo de Imóvel
Apartamento
---
Acomoda
6
---
Quartos
Hernialde, Guipúzcoa, Espanha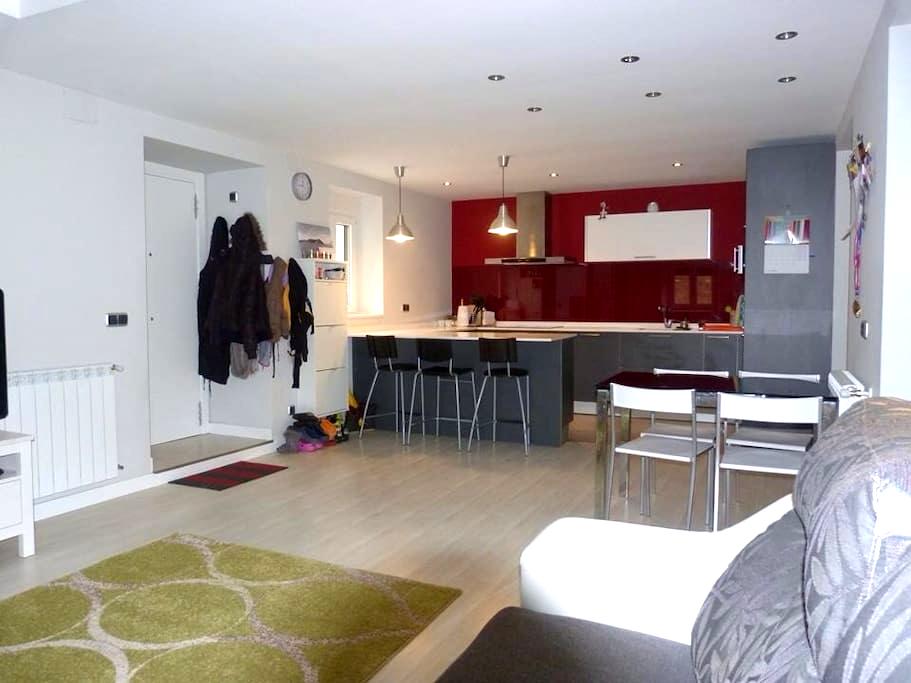 Coqueto apartamento situado en la Parte Vieja de Tolosa, en una de las calles de acceso a la Plaza Nueva, zona peatonal y llena de vida para el día a día cotidiano, junto a las tiendas y bares pero a su vez, por su ubicación lateral vivienda tranquila y nada ruidosa. Tolosa situado a 20 minutos de San Sebastián-Donostia es una ciudad que dispone y ofrece una amplia oferta de transporte público (Renfe + autobús público). Para cualquier duda o aclaración nos dudéis en comentárnoslo.
La vivienda se sitúa en un inmueble muy cercano a la "Plaza Nueva" de la Parte Vieja de Tolosa, en una de las calles que da acceso a la plaza , con lo cual, desde el balcón se puede ver la plaza sin dificultad. Zona peatonal y llena de vida para el día a día cotidiano, centro de ciudad, junto a las tiendas y bares de la Parte Vieja; pero a su vez, por su ubicación lateral a la plaza, es una vivienda tranquila y nada ruidosa.
Hemos estado muy a gusto la casa es tal cual sale en las fotos acogedora y limpia no falta de nada La ubicación perfecta en pleno casco antiguo de Tolosa y a solo 20 minutos de Donostia ,aunque no pude conocer a Imanol me recibieron sus padres que son unas personas encantadoras y muy amables en todo momento han estado pendientes de nosotros y me llevo un grato recuerdo Gracias por todo
Mayte
2016-08-01T00:00:00Z
El apartamento se ajusta perfectamente al anuncio:limpio, práctico, muy bonito y bien situado. Gracias a Imanol, Amaia y sus familiares por todas las atenciones que tuvieron con nosotros para que nuestra estancia fuera perfecta. Y lo consiguieron.
Paloma
2016-09-09T00:00:00Z
Apartamento en el centro de Tolosa con todo lo que puedas llegar a necesitar. Si visitas Guipuzcua y vas en cocheces perfecto porque tienes todo muy cerca, la costa , la montaña, Donostia,... El anfitrion estaba esperandonos en la casa y nos facilito el tema del aparcamiento que en Tolosa esta un poco complicado.
Fernando
2016-11-09T00:00:00Z
Excelente es poco para describir mi estadía en Tolosa, la casa de Imanol es increíble, es muy linda, está perfectamente distribuida por dentro, la casa está perfectamente aseada, está cerca a todo, tiene dos mercados cerca, tiene 4 bares de pintxos cerca, a pesar de estar en medio del centro no se siente ruido y es muy tranquilo en la noche, Imanol es una excelente persona y Amaia siempre estuvieron pendientes de nosotros, Tolosa es un pueblo hermoso que vale mucho la pena visitar, tiene fácil comunicación con San Sebastián. Fue una estadía excelente y la casa muy linda.
Jose
2016-07-16T00:00:00Z
Imanol y Amaia son encantadores, nos ayudaron y nos aconsejaron en sitios para ver y cosas para hacer. El apartamento es ideal para una familia con 2 peques!!! Esta en buena zona, con ambiente, tiendas, bares... Repetiremos seguro!!! Gracias por todo!!!
Vanesa
2016-07-31T00:00:00Z
El alojamiento cumplía con todas las expectativas que deseábamos. La descripción en la web es completa con todo lo ofrecido. La situación del alojamiento es perfecta, ya que tiene todos los servicios necesarios en un entorno de 50m2 (supermercados, farmacia, entidades financieras, bares,...). Combina de manera perfecta el poder estar en el casco viejo de una ciudad (con todo su encanto) con la facilidad de poder desplazarse hacia otros lugares de la zona a visitar. La tranquilidad de la comunidad y el buen aislamiento de la vivienda, provocan que una vez regreses a la casa, se pueda descansar sin ningún tipo de problema. Finalmente, los anfitriones, Imanol y Amaia, al llegar nos habían preparado todo tipo de información turística de la zona que nos facilitó nuestros días de estancia
David
2016-05-17T00:00:00Z
La casa está tal cual se anuncia, la ubicación es perfecta, en pleno casco antiguo, muchas tiendas alrededor y la estación de tren a 2 min. Aunque no pudimos conocer a Imanol y Amaia nos atendió su familia perfectamente, nos indicaron lugares de interés para visitar. Nos sentimos como en casa, repetiría sin dudarlo,totalmente recomendado.
FRANCISCO JAVIER
2016-08-16T00:00:00Z
El apartamento es tal cual aparece en las fotos. Limpio, aseado y decorado muy bonito; de forma práctica. Además es silencioso y se descansa de maravilla. Está muy bien situado en el centro de Tolosa que, a su vez está muy bien comunicada con el resto de ciudades. En las calles de alrededor tiendas, panaderías, fruterías y pescaderias con productos frescos, riquísimos. Gracias, Imanol y Amaia, porque habéis aportado con la estancia el cumplir el sueño que teníamos de visitar esas tierras tan increíbles. Agur!
Carolina
2016-09-02T00:00:00Z
Tipo de Quarto
Casa inteira/apto
---
Tipo de Imóvel
Apartamento
---
Acomoda
6
---
Quartos
Tolosa, Euskadi, Espanha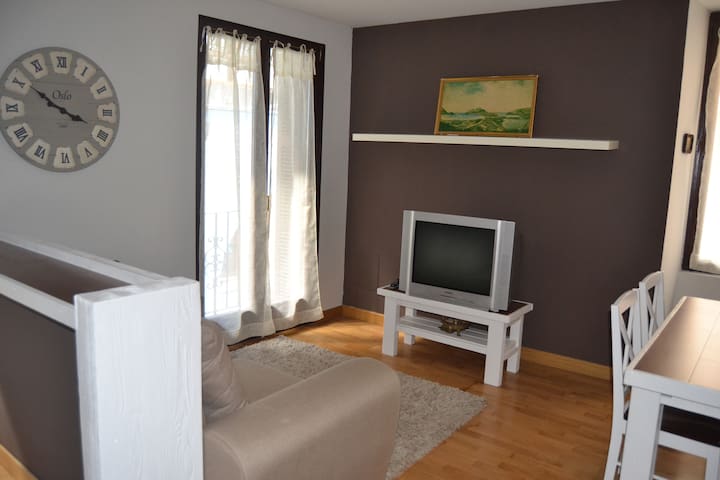 Appartement wi décoration rustique dans la deuxième usine d'une maison historique (S. XVII). Avec une capacité de 8 personnes, il compte avec une cuisine-salle à manger, salon, deux chambres avec lit double, double et un canapé-lit. 2 salles de bains. Garaje.
La maison Kaxintone est un exemple clair et typique de ce que les maisons dans une ville fortifiée. Son origine remonte au XVIIe siècle. Situé dans le centre de Segura, il a été construit à côté d'autres maisons, partageant avec eux les parois latérales qui restent debout. Sa façade préservée aujourd'hui, après une rénovation complète qui a pris fin en 2003, son ancienne structure en bois et briques de parement, donnant au bâtiment une très belle apparence rustique. Kaxintonea est une maison familiale rénovée avec tout l'enthousiasme et d'affection par les propriétaires suite à son acquisition par rapport à 1995. Plus précisément Kaxintone au deuxième étage est destiné à un touriste utiliser votre voiture pour les personnes qui veulent savoir et Segura de nombreuses tâches différentes offertes dans leur environnement, sur le terrain à la fois culturel et architectural et naturel et sportif. Au premier étage, vit la sœur du propriétaire.
Village construit sur une colline au pied du Parc Naturel Aizkorri-Aratz et Aralar. Situé dans la région de Goierri, il dispose d'un centre historique magnifique et préservé,. Il est l'une des villes médiévales les mieux conservées qui mérite votre visite, tant pour sa valeur historique et architecturale et son charme et son intérêt culturel. Aujourd'hui, cette ville a 1400 habitants. Pendant le Moyen Age, elle était la capitale de la région et était un abri et un point de passage obligé pour tous les échanges entre la vallée de l'Ebre et la côte (Gasteiz, Agurain, Ordizia, Tolosa, Donostia). Segura conserve aujourd'hui de grandes et belles demeures et palais de l'époque, tels que la maison Ardixarra (centre Siège interprétation médiévale), le Palais Lardizabal (actuel hôtel de ville), le palais Bergara et Arrue, l'église paroissiale de l'Assomption, le couvent ... Segura, a différentes constructions qui enregistrent ce qui était autrefois une ville fortifiée. Des exemples sont le mur de l'église, le mur peut être vu à la périphérie autour de la ville, avec en forme d'amande vu de l'air, qui reste actuellement intact. Autrefois Segura, avait deux entrées principales et trois entrées latérales ou portails (oxine, Zerain et Jauregi). Autrefois, les clocher de l'église, un point de vue exceptionnel a été utilisé pour surveiller les routes environnantes. Situation Segura: Sa situation centrale en Euskal Herria, peut aller dans les capitales de ses 7 provinces sans grands déplacements pour la plupart. Puis distances différentes villes: • Donostia - San Sebastian 50 km • Vitoria - Gasteiz 66 km • Iruñea - Pampelune 73 km • Bilbao - Bilbo 88 km • Bayona - 97,1km Baiona • Saint-Jean-Pied-de-Port - Donibane Garazi 139 km • Mauleon - Maule 185,2km
Tipo de Quarto
Casa inteira/apto
---
Tipo de Imóvel
Apartamento
---
Acomoda
8
---
Quartos
Segura, Euskadi, Espanha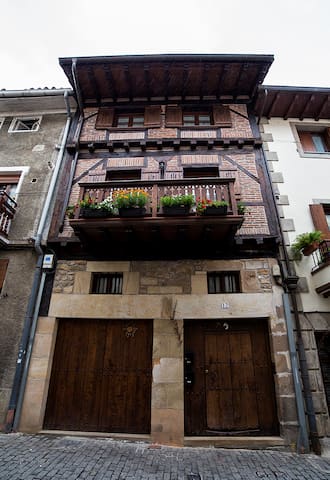 Somos una familia de agricultores, como familia tenemos a las cabras, ciervos, caballos, gatos, perros... vivimos en la naturaleza y de la naturaleza en un lugar en medio de los montes donde el vecino mas cercano se encuentra a 5 km. La parte de arriba de la casa la destinamos al turismo, estaremos encantados de recivir vuestra visita y enseñaros nuestra gran familiay la forma de vida.
La casa está rodeada de naturaleza y de animales, con un paisaje indescriptible en su belleza, desde el que se contemplan grandes bosques y montañas que se pierden en el horizonte, incluso se divisa el mar; es un sitio ideal para descansar y conectar con uno/a mismo/a.
Tipo de Quarto
Casa inteira/apto
---
Tipo de Imóvel
Apartamento
---
Acomoda
8
---
Quartos
Beasain, Euskadi, Espanha
En la bonita villa de Tolosa, a 20 minutos de San Sebastián, y a una hora tanto de Bilbao, Vitoria, como de Pamplona, te ofrecemos este piso (70m2) todo exterior con amplia terraza (15m2) y plenamente equipado. A un paso tanto el mar como la montaña. Número de registro de empresa turística ESS 00129.
Tolosa es una localidad de 18.000 habitantes con mucha vida, que conjuga lo rural y lo urbano. Brilla por su gastronomía, comercio, y actividades culturales. Son muy conocidos sus carnavales, festivales internacionales de masas corales y títeres, las ferias del dulce, la chuleta, especial de Navidad, flores y plantas... A quien le guste la montaña, está a los pies del monte Uzturre (730 m.), y muy cerca del Txindoki (1346 m.), Ernio (1075 m.), y la sierra de Aralar. A 20 minutos, San Sebastián y la costa guipuzcoana.
El piso está en el centro de la localidad guipuzcoana de Tolosa. En un radio de 200 m se puede encontrar todo tipo de comercio; carnicerías, fruterías, supermercado, estanco, delicatessen... También 3 parques infantiles.
Estuvimos cuatro noches en Tolosa en el apartamento de Jon. Es muy acogedor,tiene todo lo que puedes necesitar cuando estás fuera de casa,muy bien ubicado si qiires dejar el auto e ir a San Sebastián en tren. Sin problemas de estacionamiento cerca. Volvería a alquilarlo.
Adriana
2016-09-08T00:00:00Z
Gracias Jon por recibirnos en ese muy lindo pueblo que es Tolosa. El departamento está impecable, tiene todo lo que indica y más. La terraza con vista a la plaza de toros es una gran experiencia. Súper recomendable, una de las mejores opciones para visitar esa zona del país vasco. Jon es muy amable, nos ha recibido y nos ha indicado y recomendado todo lo que se puede hacer por allí. Además la comunicación es muy fluida y siempre atento a lo que le hemos consultado. El departamento muy limpio, muy bien decorado y en una buena ubicación. Un saludo! :-)
Jose Maria
2015-07-13T00:00:00Z
Jon se convirtió en el anfitrión perfecto desde antes de nuestra llegada. En cuanto formalizamos la reserva se puso en contacto conmigo para interesarse por nuestros planes de viaje y sugerir rutas y actividades turísticas, así como realizar una (merecida) promoción de la villa de Tolosa y algunas de sus opciones turístico/gastronómicas. Desgraciadamente, compromisos laborales le impidieron recibirnos personalmente como hubiera sido su deseo pero eso no supuso ningún problema a la hora de acceder al apartamento, magníficamente situado en la villa de Tolosa, con servicios muy a mano (hay un Eroski a prácticamente 100 m, así como tabernas y pastelerías muy cerca), y al lado del río, lo cual permite un agradable paseo hasta el centro del pueblo, que tiene el atractivo innegable de lo que fue capital de Gipuzkoa. Estamos deseando volver :).
Oscar
2016-07-19T00:00:00Z
En la casa nos sentimos muy agusto. No le faltaba detalle y estaba muy limpia. Ha sido muy buena experiencia. Y con Jon fenomenal.
Elitxo
2016-09-21T00:00:00Z
Jon nous a très bien accueillis, dans son appartement douillet et chaleureux (petite terrasse très sympa notamment), avec plein de petits détails rappelant sa présence (une passion pour le cinéma semble-t-il...) tout en contribuant à se sentir "comme à la maison". Un bonheur ! L'appartement est en outre très bien situé, pas loin de la rivière et de la vieille ville.
Jérôme
2015-10-24T00:00:00Z
Très bon accueil. Magnifique logement dans lequel on s'est sentis très bien, ce qui était bien appréciable quand il a plu. Qualité des équipements. Accès facile à la ville. Un logement où l'on sent qu'il y a de la vie habituellement, donc vrai principe de peer to peer. On a apprécié. Merci.
Marie-Ange
2016-07-24T00:00:00Z
El piso, a tan solo cinco minutos andando del centro de Tolosa, cumple con lo prometido. Es como ir a casa de un amigo que te ha hecho un huequito para tus cosas y ha tenido la consideración de prepararte documentación para que puedas hacer turismo en la zona. Todo muy limpio y con absolutamente todo lo que puedas necesitar. La relación calidad-precio es muy buena.
elsa
2015-12-09T00:00:00Z
La casa de Jon es muy acogedora. Somos una compañía de teatro que hemos venido a trabajar al TOPIC. La casa esta muy bien situada porque nos ha permitido ir a pie a todos los sitios. La terraza es un puntazo y la calle es muy tranquila. La casa es totalmente recomendable!
Centro De Iniciativas De Tolosa
2016-03-20T00:00:00Z
Tipo de Quarto
Casa inteira/apto
---
Tipo de Imóvel
Apartamento
---
Acomoda
4
---
Quartos
Tolosa, Euskadi, Espanha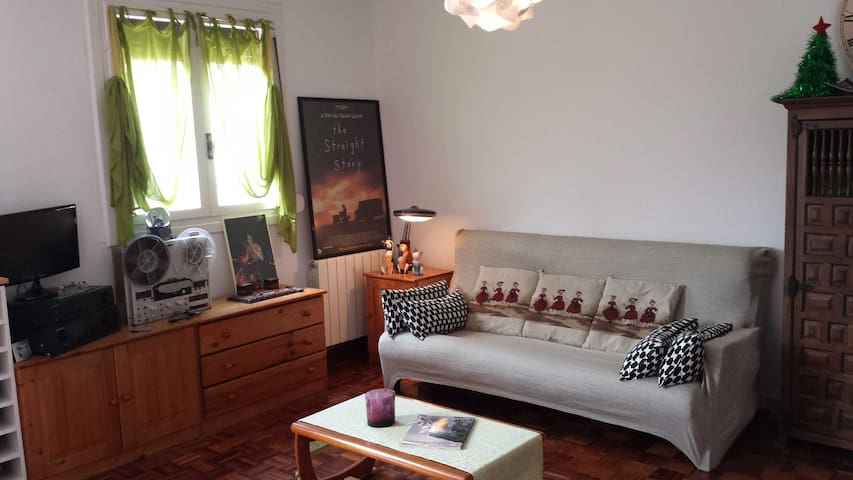 Se trata de un apartamento sencillo con luz. Consta de dos habitaciones dobles, un baño con bañera y ducha, una cocina y una sala con sofás cama. Te sentiras como en casa y podrás disfrutar de nuestro valle situado entre dos parques naturales Urbasa y Aralar donde hacer bonitos paseos en la naturaleza . Aqui en el pueblo hay bonitas rutas de senderismo. Ademàs nos encontramos en un enclave perfecto para ir a San Sebastián, Pamplona y Vitoria
Tipo de Quarto
Casa inteira/apto
---
Tipo de Imóvel
Apartamento
---
Acomoda
6
---
Quartos
Alsasua, Navarra, Espanha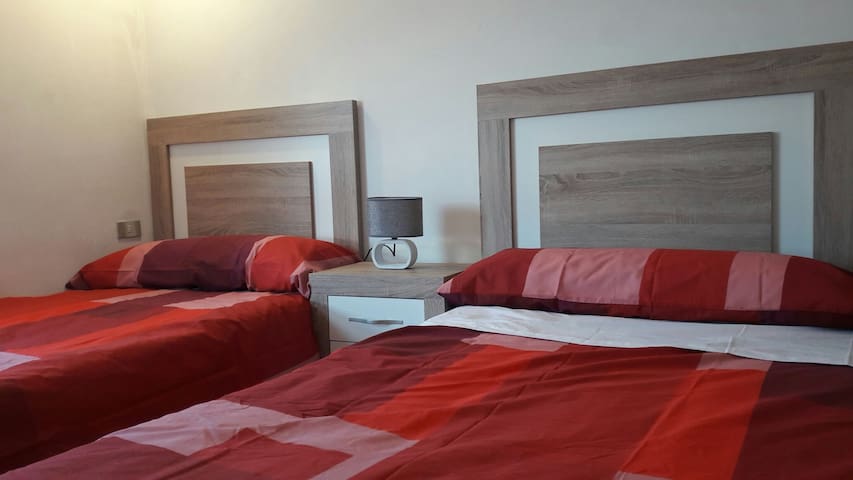 Appartement (Juin 2015), 3 chambres (1 lit double et 4 lits simples), 1 salle de bain, cuisine et salon récemment rénové. Salle de bain, mobilier et cuisine toute neuve. Il trouve dans un endroit magnifique et paisible, tout comme la vallée de Sakana
Il trouve dans un endroit magnifique et paisible dans Sakana Valley, entre le Aralar et Andia - montagnes Urbasa, où vous pouvez effectuer une variété d'activités et de divertissement, y compris la randonnée pédestre, équitation, grottes, artisanat alimentaires. ... Situé à seulement 50 minutes de la plage de Donostia -San Sebastian.
La casa perfectamente situada para la sierra de Urbasa, y la de Aralar que era lo que necesitábamos. además Iolanda nos informó de sitios y nos comunico como hacerlo. Recién acondicionada como dice el anuncio y limpio como muestran las fotos. todo correcto.
Iñigo
2015-08-02T00:00:00Z
Appartement conforme à la description, intérieur refait avec goût, agréable pour un couple avec 2 enfants. Situation intéressante pour découvrir les vallées qui se situent autours.
Céline
2015-08-15T00:00:00Z
El piso esta muy bien, completamente reformado y cumple con las expectativas que buscábamos. Es un cuarto sin ascensor, hay que tenerlo en cuenta.
Loli
2015-08-13T00:00:00Z
Iolanda nos tenia prepara un par de listas con lugares para visitar,el pueblo donde esta el apartamento es muy tranquilo y la gente muy acogedora. El barrio proximo al centro del pueblo por lo que te puedes desplazar a pie.
Ramon
2015-07-27T00:00:00Z
Hemos estado muy a gusto en el piso de Yolanda , muy nuevo y espacioso , gracias
Lola
2015-08-23T00:00:00Z
Yolanda es muy simpática y agradable, nos ayudó a encontrar el piso y nos recomendó sitios de por la zona. Hubo un problema con la ducha y lo solucionó ese mismo día. La vivienda está toda nueva y es muy amplia. Nos encontramos muy a gusto. La zona es preciosa, todo el parque natural Urbasa-Andia merece la pena.
Eugenia
2015-08-09T00:00:00Z
Tipo de Quarto
Casa inteira/apto
---
Tipo de Imóvel
Apartamento
---
Acomoda
6
---
Quartos
Etxarri-Aranatz, Navarra, Espanha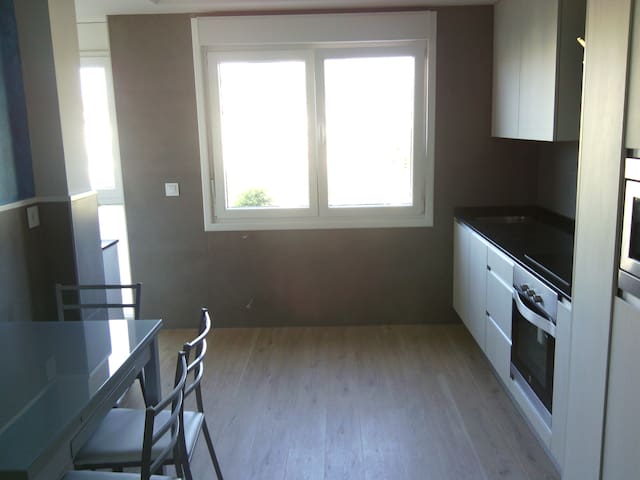 Tolosa es una villa ubicada a 20 minutos de San Sebastian, 45 de Pamplona, 45 de Vitoria, 60 de Bayona y ha una hora y cuarto de Bilbao. Un municipio histórico, rodeado de montañas, y con una gran oferta cultural. Conocido también por su gastronomía, siendo famosas las chuletas, alubias y dulces... Os podéis alojar en un ático (quinto piso) en pleno casco histórico de Tolosa, donde disfrutaréis de tranquilidad y comodidad.
Gorka nos hizo sentir como en nuestra casa! Con detalles y facilidades para que nuestra estancia por el Pais Vasco sea perfecta. El piso es muy bonito, tal como aparece en las fotos! Con unas vistas espectaculares desde el balcón. En pleno centro de Tolosa, un pueblo con mucho encanto cerca de San Sebastián.
Ana
2016-10-28T00:00:00Z
Hemos tenido una estancia muy agradable en la casa de Gorka. El trato fue excepcional preocupándose de nosotros 15 días antes de llegar hasta el mismo día que nos fuimos. La casa tiene todas las comodidades y la ubicación no puede ser mejor. Todo ello acompañado de un gran clima. Por todo ello ha sido una experiencia muy positiva que esperamos repetir pronto.
Marcos
2016-11-01T00:00:00Z
Tipo de Quarto
Casa inteira/apto
---
Tipo de Imóvel
Apartamento
---
Acomoda
4
---
Quartos
Tolosa, Euskadi, Espanha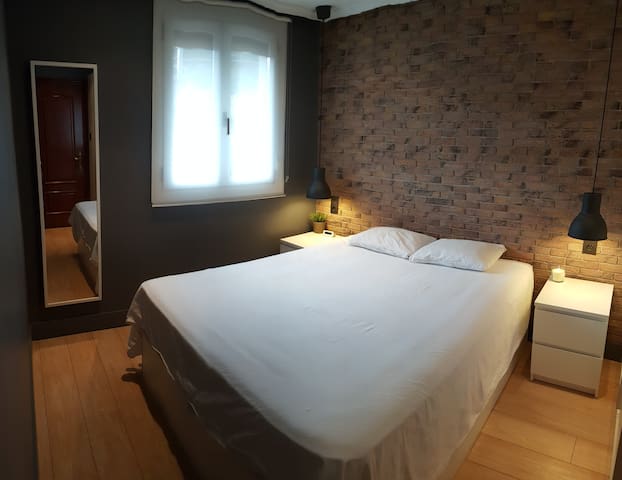 Amplio piso situado en el centro rural totalmente restaurado recientemente. Con una terraza cubierta en la cual se puede disfrutar de unas vistas excepcionales a la montaña, viviendo muy de cerca la naturaleza.
Amplio piso situado en el centro rural totalmente restaurado recientemente. Con una terraza cubierta en la cual se puede disfrutar de unas vistas excepcionales a la montaña, viviendo muy de cerca la naturaleza. El apartamento cuenta con 2 habitaciones, 1 salón comedor, cocina con chimenea y baño completo con bañera. En caso de necesitar alguna cosa pueden contactar en el nº (PHONE NUMBER HIDDEN) El lugar cuenta con innumerables zonas para pasear. Situado cerca de Leiza (10 min), San Sebastián (25 min.) y Pamplona (25 min).
El lugar cuenta con innumerables zonas para pasear. Situado cerca de Leiza (10 min), San Sebastián (25 min.) y Pamplona (25 min).
Con su amabilidad. El sitio es tramquilo y acogedor. La descripción del anfitrión correcta.Nos dejo unos croissant para desayunar.Todo detalle es importante.
Carlos
2016-05-02T00:00:00Z
Estupendas vacaciones en un paraje precioso y con una comunicación fantastica con otros pueblos y ciudades. Además de un recibimiento magnífico.
Roberto
2017-01-04T00:00:00Z
Espectacular! La casa es enorme y muy bonita y la terraza es un lujazo. Estaba todo limpisimo y no nos faltó de nada. Además Elena y su marido nos atendieron muy bien y nos dieron muy buenos consejos sobre qué visitar. Si hubiéramos podido nos habríamos quedado una semana más! Totalmente recomendado.
Ignacio
2016-08-17T00:00:00Z
Dos amigos y yo nos alojamos en la casa de Elena en Semana Santa y la verdad es que estuvimos muy a gusto. Todo era como en las fotos. Elena se adaptó a nuestra hora de llegada (entre 19:00 y 21:00), y, cuando llegamos, nos estaba esperando con la chimenea y la calefacción encendida y con unos dulces para el desayuno del día siguiente. Dormimos muy bien, porque además el pueblo es muy tranquilo, además de bonito, y el enclave en general es espectacular. Sin duda, lo recomendamos.
Rocío
2016-03-27T00:00:00Z
La propietària és una metressa molt atenta. En tot moment va facilitar l'accés al pis. L'indret on està ubicat l'establiment és un racó de món, molt encalmat. a les nits es dorm molt tranquil. La cuina està molt ben equipada. tens la sensació d'estar en un pis habitat i que te l'hagin deixat uns dies per a tu.
Jordi
2016-08-30T00:00:00Z
Muy buena experiencia, pueblo muy tranquilo, todo muy bien cuidado. Entorno espectacular.
Lola
2016-08-01T00:00:00Z
Espectacular!! Tanto la casa, totalmente equipada, como el entorno, sin olvidar el amabilísimo trato de Elena. Nos hemos sentido como en casa, ya que dispone de todas las comodidades!! A pesar de que no aparezcan fotos del baño, este está en perfecto estado!!
Seila
2016-07-24T00:00:00Z
El piso era perfecto, todo y absolutamente todo detalle previsto y controlado para que no te tengas que preocupar de nada en absoluto. Los dueños amables y disponibles en todo momento. No consigo encontrar ningún defecto, de verdad. El único "pero" no va al piso si no al pueblo que está un poco fuera de la ciudad, tanto de San Sebastián como de Pamplona, y tiene poca cosa a parte un bar. El más cercano es Leitza, a 2km, encontrándose en la euskal erria más profunda . . . Por otro lado tienes a ambas ciudades a media hora de coche, que no está nada mal. Muy bonito el pueblo, por cierto.
vito
2016-03-30T00:00:00Z
Tipo de Quarto
Casa inteira/apto
---
Tipo de Imóvel
Apartamento
---
Acomoda
5
---
Quartos
Areso, Navarre, Espanha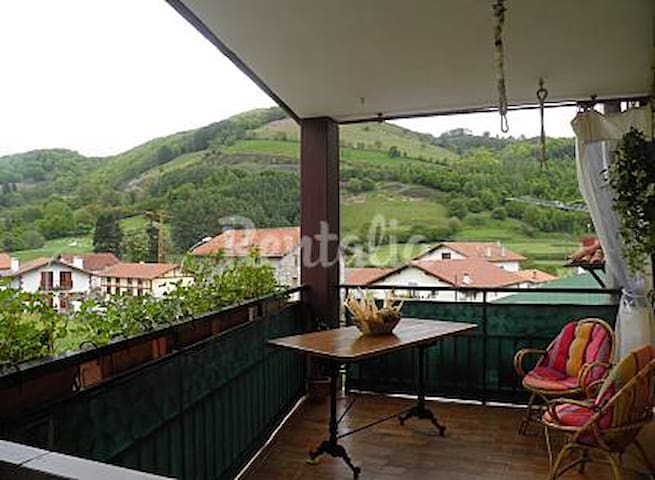 Los 5 apartamentos son adosados, se encuentra en Alsasua . Desde los apartamentos se ve el Parque natural de Urbasa. Estan ubicados a la entrada del pueblo.Estan bien situados para visitar S.Sebastian,Bilbao,Pamplona,Vitoria... Jardines a ambos lados para disfrutar, organizar barbacoas... Mascotas bienvenidas!!
Naturaleza y forma de vida rural. Perfecto con niños y mascotas. Clave WIFI: fa(PHONE NUMBER HIDDEN)
Están en las faldas se la sierra de Urbasa. Preciosos
Tipo de Quarto
Casa inteira/apto
---
Tipo de Imóvel
Apartamento
---
Acomoda
2
---
Quartos
Alsasua, Navarra, Espanha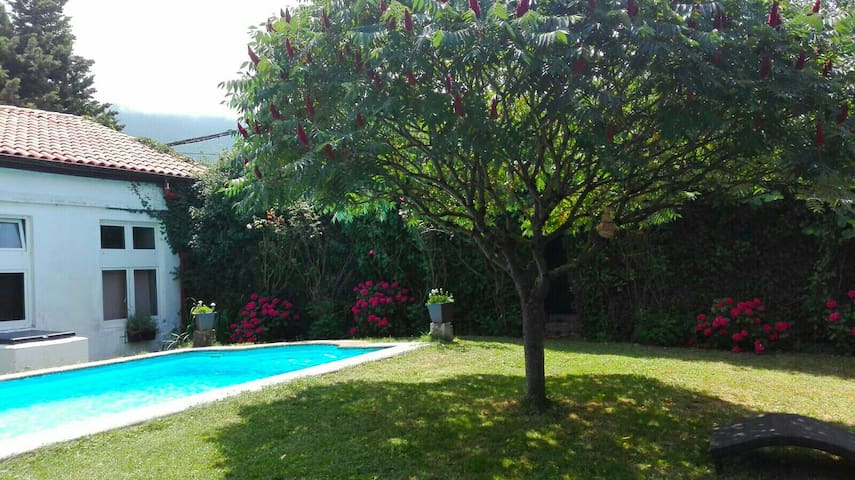 Apartamento de 180m2, decorado con mimo. Ideal para parejas, para practicar senderismo o simplemente desconectar del estrés cotidiano. Con todas la comodidades, lenceria de hogar, electrodomesticos, TV y un paraje inigualable.
La casa se encuentra en lo alto del valle de Azpeitia, muy proximo a Zarautz, Zumaia y San Sebastian, y el santuario de Loyola. Es una zona ideal para practicar senderismo y disfrutar de la gastronomia de la zona.
Tipo de Quarto
Quarto privado
---
Tipo de Imóvel
Apartamento
---
Acomoda
2
---
Quartos
Azpeitia, Basque Country, Espanha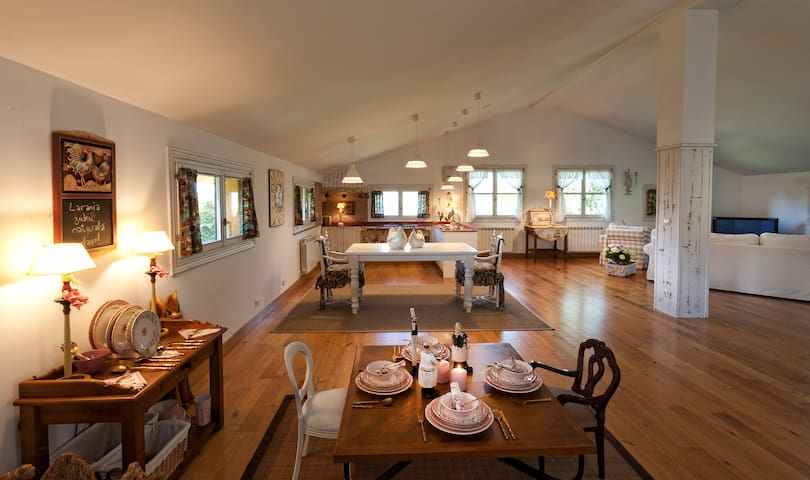 Amaia our host was very sweet. She was so helpful and gave us information about Fiesta De San Fermin. The area we stayed was a nice small quiet town and really beautiful. It was about a half hour outside of Pamplona. The apartment was very nice and had 4 beds with a little patio deck.
Josh
2014-07-09T00:00:00Z
Amaia was amazing! She was such a great host and provided us with all of the information we needed and even more in regards to our stay and us attending San Fermines. The apartment is about 30 minutes from Pamplona and the bus station is 2 mins away from it. The town is small and quiet but very peaceful. The apartment is very spacious, 2 rooms and the living room, it also has a large balcony which you can see the country side. We loved staying here and would definitely recommend it to anyone thinking of going to San Fermines or just looking for a peaceful place to stay. It is close enough and also far enough to get away from the chaos if desired. Wifi was the only thing we missed having but aside from that our experience was amazing and Amaia made sure it was great.
Alejandra
2015-07-12T00:00:00Z
Gracias Amaia por tu hospitalidad, nos dejaste i distes información de varias actividades que se podían hacer i siempre es de agradecer cuando vas a un lugar desconocido. El apartamento perfecto i la hospitalidad de los habitantes del lugar muy agradable. Un rincón esplendido para pasar unas vacaciones muy agradables. Anna
Anna
2014-06-13T00:00:00Z
The host canceled this reservation 187 days before arrival. This is an automated posting.
Josu
2017-01-21T00:00:00Z
Tipo de Quarto
Casa inteira/apto
---
Tipo de Imóvel
Apartamento
---
Acomoda
5
---
Quartos
Etxarri-Aranatz, Navarre, Espanha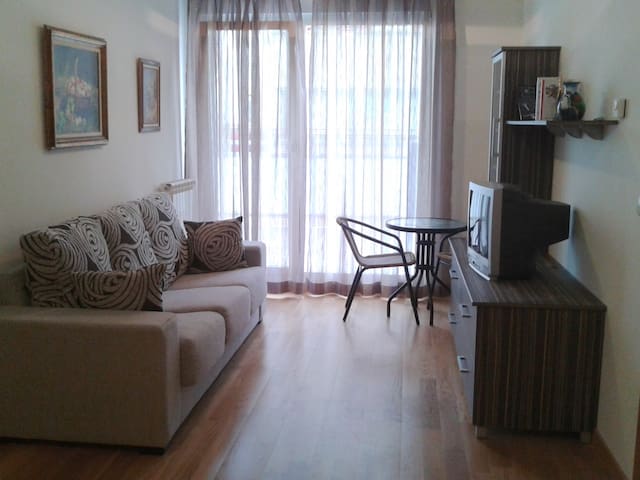 Der Eichenwald und die Buchenwälder in den Farben grün, braun, rot. Ein Teil von Navarra anders und erfreut. Unter den drei Naturparks, Wasserfälle, Weiler, grünen Weiden gefüllt mit Schafen, Kühen, Stuten. Unser Käse, geronnen, Koteletts und mehr
DAS HAUS Das Haus befindet sich im Stadtgebiet platziert, nur 100 Meter vom Arrano Beltza Platz. Kapazität für 6 Personen. Haustiere gestattet, mit Vorwarnung. Wohnzimmer: Kamin, Schreibtisch, 3-Sitzer-Sofa, Sessel, TV, VHS, DVD-Player, Spiele und lokale Informationen. Voll ausgestattete Küche: Küchenutensilien, Geschirr und Elektrogeräte. ZIMMER: a) Schlafzimmer mit zwei Einzel 105 cm Betten (eines davon ist elektrisch artikuliert) und einem Sofabett (135 cm) b) Doppelzimmer (135 cm) c) Kleiderschrank BAD: Geräumig und mit Handgriffen und Sitz in der Dusche angepasst. GARTEN: Gemüsegarten, Hühnerstall und ein Ruhebereich. CASA RURAL NEMESIO wird Sie mit allem inklusive Bettwäsche und Handtücher. W-lan
Iturmendi, mit nur 400 Einwohnern, hat die Vorteile einer kleinen Stadt: Ruhe und Freiheit für die Kleinen, und es gibt viele andere Möglichkeiten für eine gute Zeit wie der Kinderspielplatz mit, geschützten frontón, Schwimmbad, Wälder ... Jungs! Vergessen Sie nicht die Schläger, Bälle, Fußbälle, Schlittschuhe und bycicles !!!
What a wonderful place and wonderful host who so clearly loves her homeland. We were made to feel very welcome and were presented with homemade cheese and bread on arrival which was fantastic. Lovely home and Gema had thought of everything we might need. Gema is very friendly and a natural communicator with great sense of humour. She was very caring about her guests and we wish we could have stayed longer. We will definitely come back and stay again. Would highly recommend her home and hospitality. Thank you Gema!
Frances
2015-08-24T00:00:00Z
La estancia ha sido muy buena. El alojamiento es sencillo pero correcto. La casa tenía todo lo que se necesita, incluso un poco más. La cocina y el baño perfecto, la habitación correcta y muy grande. El entorno es maravilloso. Lo mejor: sus anfitriones. Han sido muy amables y muy cariñosos. RECOMENDABLE!!
Aniceto
2014-08-28T00:00:00Z
Dias fantasticos en casa Nemesio! Lo hemos pasado genial en ese entorno y nos han cuidado un montón. Gema y Familia nos han dedicado su máximo tiempo. La casa perfecta sin falta de nada. Enamorados de Sakana y de la experiencia. Totalmente recomendable!! Para repetir!!
meritxell
2015-08-21T00:00:00Z
This is a wonderful place to stay and get away for a rural vacation. The apartment is huge, ideal for a larger group. We were only able to stay one night, but would love to come back for a longer stay and be able to really explore the beautiful natural surroundings. The home has a large desk/corner with tons of useful information on local activities, especially hikes and outdoor activities. We felt very welcome, Gema gave us a tour and later came by with bread and some local cheeses. She is close by if you have any questions or concerns. Would certainly recommend. Thank you so much Gema!
Keilani
2016-01-06T00:00:00Z
A pesar de haber estado una noche solo, ha sido suficiente para darnos cuenta de que es un precioso lugar, con vistas y paisajes preciosos. Nemesio la verdad que fue un buen anfitrion, nos ayudo en todo y mas! Hasta nos trajo queso para que probasemos. La casa muy bonita, habia de todo, y lo mejor,a chimenea!!! Asi que como quien dice, puedes ir "con lo puesto". Eskerrik asko eta laster arte familia! :)
Silvia
2016-01-25T00:00:00Z
Solo encontramos una palabra para resumir nuestra experiencia en Nemesio Etxea: EXCELENTE!! La casa es senilla, bonita, sumamente límipia, tiene todo lo necesario e incluso más. Literalmente puedes ir "con lo puesto". Nosotros viajábamos con nuestras dos hijas pequeñas y a parte de cuna, trona, barandilla para la cama de la mayor, también había juguetes, cuentos, dvd, etc. La casa está provista también de mucha información turística de la zona, mapas, guias y los amfitriones han hecho un recopilatorio excelente sobre lugares de interés. Sobre Gema, Nemesio y sus hijos, solo decir que su amabilidad, simpatia, entrega, entusiasmo, hacen que te sientas como en casa! Decir tambien que su amor por su tierra, gentes y costumbres te contagían y pasas unos días inolvidables. Nosotros tenemos claro que volveremos por la Sakana y tenemos aún más claro que nos volveremos a hospedar en Nemesio Etxea Landa!!Eskerrik asko i fins molt aviat!!
Coralí
2015-07-27T00:00:00Z
Very warm welcome from Gemma and Nemesio. They are lovely and very honest people and made all the efforts to ensure our comfort. Although they couldn't speak English, they arranged one of their friends to translate. Superb location and a very authentic house in a relaxing environment. Planning to call again next year.
Nathan
2016-08-17T00:00:00Z
The reservation was canceled 21 days before arrival. This is an automated posting.
Ana
2013-10-23T00:00:00Z
Tipo de Quarto
Casa inteira/apto
---
Tipo de Imóvel
Apartamento
---
Acomoda
8
---
Quartos
Iturmendi, Navarre, Espanha
Bela apt na quinta restaurada. entrada separada, com acesso ao jardim e estacionamento privado. É rodeado por natureza e bem conectado com praias de San Sebastian, Zarautz, Orio, cidades como Toulouse, Pamplona. Muito bom transporte público.
O apartamento está localizado em um cenário idílico para os amantes da tranquilidade e caminhadas e uma etapa de grandes cidades, por isso não jogue nada em falta; com uma infinidade de roteiros para visitar a pé, belas aldeias rodeado com belas montanhas e rios. Um passo do NI, a partir do qual você acessa a poucos minutos de San Sebastian-Irun e sul da França. 50 min. Bilbao (Vizcaya) e Pamplona (Navarra). A 6 km da antiga capital de Guipuzcoa, é Tolosa, com uma grande oferta cultural durante todo o ano e um dos melhores produtos da horta mercado a partir de aldeias vizinhas, que é realizada todos os sábados. A poucos quilómetros de distância é a praia de Orio, com ótimos restaurantes. Getaria, Zarautz, surfar único e desfrutar do mar e seus grandes enclaves gastronómicas. San Sebastian a 18 km por estrada NI. cenário incomparável para desfrutar de passeios à beira-mar, chutando a cidade, vá em "pintxos" (experiência única) e "putt" para o velho. Donosti é especial, você vai ver ... sua cultura torna ainda mais atraente. Em setembro ele fica "super linda" para receber o melhor em seu Festival de Cinema, mas isso é apenas uma parte. Jazz Festival, Horror Film, Quinzena Musical, Balés, Teatro, irá surpreendê-lo tudo o que dá de si mesmo. Os franceses Basco do Sul: Bayonne, Hendaye, San Juan de Luz, Ciboure, Biarritz, a apenas 30 minutos de San Sebastian. Vai perder? "Estamos ansiosos recirbirte !!
A vila é cercada por prados e aldeias verdes, alguns antiga. Antes de montar Ernio, formação rochosa 1.075 metros acima do nível do mar; É responsável pela previsão do tempo, porque quando ele aparece com "Txapela" quase certamente acabar chovendo ... O vale tem uma igreja com belo retábulo em madeira e na praça, uma fonte de pedra "Iturri goxo" datando de 1867. A poucos metros da aldeia, para cima, há uma lavanderia, onde "etxeko andre" (donas de casa) lavava a roupa e tomou a oportunidade de ver e conversar. O cenário é espetacular durante toda a viagem, não importa onde você vai.
Bei Marisa war alles top. Ich war überrascht wie gut die Wohnung ausgestattet ist. Man hat alles, aber WIRKLICH ALLES was man auch zu Hause hat. Es ist ein grosses Hilfe, wer mit Familie reist. Sehr gemütlich, alles bis zum kleinste Detail gemacht, man fühlt sich wie zu Hause. Schön warm im Wohnung. Wirklich tip-top. Marisa und Javier sind sehr nett, wir haben auch ein kleines Willkommensgeschenk bekommen. Danke vielmals. Ich komme gerne wieder jederzeit....
Kamilla
2016-10-20T00:00:00Z
Hemos estado mi pareja y yo muy cómodos en tu casa Marisa. Es una casa muy acogedora y tiene de todo, no hechas en falta de nada. Me sentí como en casa y un trato increíble. Muy recomendable, sin duda
Maite
2016-11-01T00:00:00Z
Marisa es encantadora y no le pone pegas a nada. El apartamento es tal y como se ve en las fotografías, super acogedor y con todas las comodidades, además de estar muy limpio y ordenado. Sin duda, volvería a repetir.
Sonia
2016-03-29T00:00:00Z
La casa está en un lugar precioso, en las montañas, pero a 2 minutos de la carretera que te pone en San Sebastián en 15 minutos. Se respira el aire fresco y te sientes en pleno campo. Es una autentica gozada. La casa está puesta con mucho mimo y es tal cual se aprecia en las fotos, preciosa. Se nota el cariño que le ponen Marisa y Javier en cuidar el más mínimo detalle. Y además de lo simpáticos y atentos que son. Hemos disfrutado unos días estupendos allí. Hubo que pelear con nuestros 2 niños para conseguir meterles en el coche cuando nos teníamos que volver a casa. Sin lugar a dudas, un sitio para volver y para recomendar. Si le tuviera que poner un pero, sería: "¡Pero que bien hemos estado!". Gracias Marisa por tener una casa tan estupenda que podamos disfrutar.
Jorge
2016-03-25T00:00:00Z
Excelente departamento, en un ambiente semirural, delicioso, muy tranquilo. El apartamento tiene todo lo necesario e imaginable, muy cómodo, amplio, muy acogedor. Los anfitriones son excelentes, dispuestos a ayudar en lo necesario. En fin, una estadía excelente.
Raul
2015-09-21T00:00:00Z
Todo perfecto en casa de Marisa y Javier, piso igual que en las fotos, no Falta nada y de todas maneras si se necesita cualquier cosa Marisa te lo encuentra! Encantados de nuestra estancia
Adei
2016-05-01T00:00:00Z
La casa es muy cómoda, bonito jardin y el trato de marisa y su marido excelente.
Sandra
2015-05-03T00:00:00Z
Nos la pasamos genial, la casa es exactamente como sale en las fotos, Marisa y Javier nos dieron un trato muy amable y cariñoso...seguro en otra oportunidad repetiremos la experiencia, totalmente recomendada. Rafael
Rafael
2015-06-09T00:00:00Z
Tipo de Quarto
Casa inteira/apto
---
Tipo de Imóvel
Apartamento
---
Acomoda
4
---
Quartos
Amasa-Villabona, Euskadi, Espanha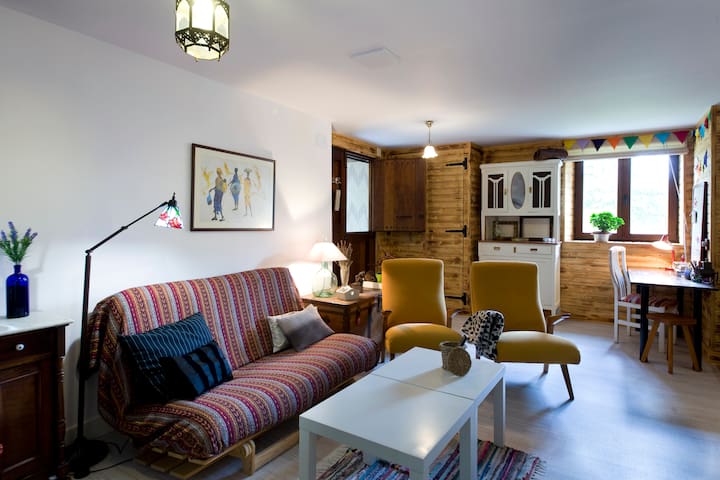 Registration No. ESS00076- Duplex with wonderful views of the valley. Located 800 meters from the Sanctuary of Loiola. A 15 minutes from the coast, 40 of San Sebastian, Bilbao 50 and 60 of Vitoria. By mountain trails and 22 km of greenway. Ideal for relaxing after an excursion. It offers the opportunity to learn both the coast and the inland villages. Azpeitia has lovely walks to enjoy on foot or by bicycle.
Nice duplex with capacity for 6 people which can be available entirely or partially. There is less than 1 km to Loiola Sanctuary. Surrounded by religious buildings. Distribution: spacious hall and lounge - dining room, two doubled rooms, one of them inside the room with bath. In the upper floor another double room with bunk bed, and bathroom. Internal stairs and balconys are risky for children. It offers stunning views from the fith floor. Free public parking. The preservation of gardens, swimming pool, tennis and fronton is excellent.
The residential area is at less than one 1 km from Loiola's Sanctuary. There are shops nearby to supply food and others. It's a perfect place to relax after enjoing a nice trip.
This flat is just as described! The views are wonderful and the layout is very comfortable for a group traveling together ! Esther was very helpful! We truly enjoyed staying here - very comfortable place with amazing views !
Laura
2017-02-22T00:00:00Z
Casa amplia y bien equipada. Buenas vistas y buen ambiente del pueblo.
Ana
2017-02-28T00:00:00Z
Esther es una magnifica anfitriona y el alojamiento es excelente, las fotos no le hacen justicia. El alojamiento presenta todo tipo de detalles, como si estuvieras en casa, incluso nos dejo el desayuno!! Sin duda repetiremos.
Andrés
2017-03-08T00:00:00Z
Beautiful apartment, Esther is very helpful and kind, I would have wanted to stay more! Great!
Mariana
2016-12-07T00:00:00Z
Genial! Perfecto para quienes quieran alejarse de las ciudades grandes y respirar aire puro. Esther es un encanto y nos propuso muchos planes y rincones que visitar. Sin duda recomiendo alojarse en esta casa.
Kevin
2016-12-31T00:00:00Z
Fue una estancia muy agradable en casa de Esther, la decoración es muy chula, está todo nuevo y limpio y la ubicación es muy buena. Además, la casa es enorme y a un precio asequible. Un acierto!
Daniel
2017-03-20T00:00:00Z
Appartement spacieux et confortable . Esther est muy simpatica
Mathias
2016-11-02T00:00:00Z
Esther es organizada, atenta, amable y abierta a ayudar para que la estadia sea agradable .
Yohandre
2016-11-20T00:00:00Z
Tipo de Quarto
Casa inteira/apto
---
Tipo de Imóvel
Apartamento
---
Acomoda
6
---
Quartos
Azpeitia, Basque Country, Espanha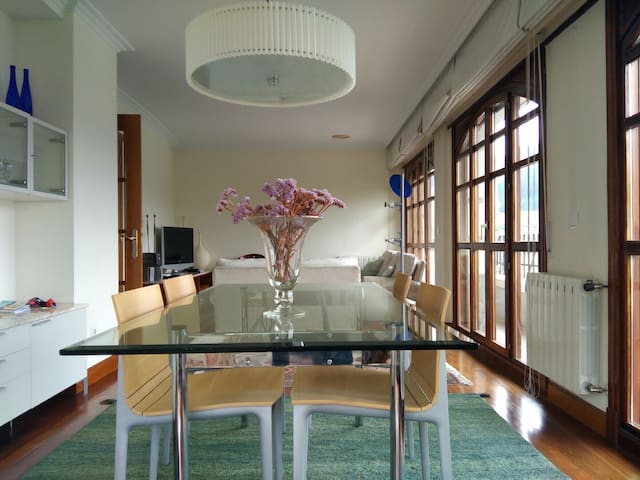 1

–

18

de

215 Apartamentos para Alugar
Insira as datas para ver o preço total. Taxas adicionais aplicáveis. Podem ser adicionados impostos.