Das Ferienhaus ist ein Bauernhaus mitten in dem kleinen Örtchen "Roßhaupten" im schönen Allgäu. Das Dorf liegt am oberen Ende des Forggensee und ist ca. 20 min vom Schloß Neuschwanstein entfernt (mit dem Auto). Es ist ein optimaler Ausgangspunkt zu den Seen und Bergen für Wanderungen und Radtouren. Rad- und Motorradfahrer herzlich Willkommen. Es besteht aus fünf Zimmern (zwei mit Balkon): zwei Doppelzimmer, drei Einzelzimmer eine Küche, ein Esszimmer/Wohnzimmer, ein Bad, zwei Toiletten, ein Trockenraum (für Ihre Wäsche), ein Garten (mit Grill) Besondere Features: - kostenloser Parkplatz - geeignet für bis zu 7 Personen - eine Waschmaschine und Trockner vorhanden (Nutzung gegen Auspreis) - Grill steht im Garten zur Verfügung (kostenlos) Kinder unter 16 Jahren bekommen eine Ermäßigung. Die Entfernungen: - 1 Gehminute zur nächsten Metzgerei - 5 Gehminuten zum nächsten Supermarkt und Bäcker - 10 Min. zum Forggensee (mit dem Auto) - 20 Min. zum Schloß Neuschwanstein (mit dem Auto) - 10 Gehminuten zur nächsten Bushaltestelle - 15 Min. zum nächsten Bahnhof (mit dem Auto) Wir freuen uns auf Besucher und sind Ihnen bei Fragen immer gern behilflich. Hoffentlich bis bald!
We are a family of two adults and 3 children and Fini's house was perfect. It was great to be in a real village and away from the tourist world yet Rosshaupten was close enough to everything. We even loved a simple walk around the village followed by dinner in one of the local restaurants. Fini is a very kind and helpful host and would like to thank her and her husband very much. We will recommend to friends, also the house is huge if you need a break from your kids. Thanks, Justin
Justin
2015-09-05T00:00:00Z
Beautiful cottage in a great location, ideal for exploring the nearby castles and the picturesque Lake Foggensee. Plenty of space, comfortable beds and fully equipped kitchen and laundry facilities. Fini was a terrific, warm and helpful host. There's a nice cafe and bakery a few steps from the house, along with a small shop. Also just across the street is a sports shop where we rented bikes to ride near the lake. Overall a great experience!
Erik
2012-07-06T00:00:00Z
A very nice place to stay! Conveniently located ~20 minutes from the castles and even closer to the beautiful lake. The house is very big and well equipped. Fini was a great host.
Igor
2015-08-30T00:00:00Z
This is probably one of the greatest places to stay for the price. Fini was very helpful and spoke a fair amount of english (her husband doesn't speak it at all) and we couldn't have chosen a nicer place to stay. Ample room, clean beds, most conveniences are within easy walking distance. Rosshaupten is a tiny town located very close to major tourist locations without being in it. We'd go back in a heart beat.
Doris and Kenneth
2013-10-03T00:00:00Z
What a great place to stay! The house is huge with plenty of space for us and our three kids. Fini and her whole family were so friendly and such gracious hosts. We loved the town and the ability to walk to get groceries, two bakeries, and two great outdoor parks for our kids to play. The house is very close to the castle, great lake for swimming, mountains for exploring, and we were even able to catch a local festival. We were so happy to have found this charming house in a fantastic town to explore Germany and it's culture. Would highly recommend this property to anyone who wishes a true cultural experience in a safe environment, especially if you have children! We would love to go back in the future! Thank you for such a great holiday!
Danielle
2016-08-04T00:00:00Z
The house is nice, tidy, warm and clean. Our room was big, very comfortable and nice, provided with everything we needed. The bathroom was nice and clean as well, and the shower was great. Mrs Kast was a very kind guest, she prepared for us delicious breakfasts and allowed us to use her washing machine for our laundry, we appreciated this so much. The house is located in a sweet village close to some beautiful lakes, 20 minutes far from the Royal Castles. We really enjoyed Mrs an Mr Kast hospitality.
Clara
2011-08-30T00:00:00Z
This house is fabulous - very spacious, beautifully decorated and very well equipped. It had everything we needed to make our stay comfortable and the use of washing machine and tumble dryer were particularly helpful as we were touring through Germany with 3 teenagers so clean washing was important. The village was lovely with 2 bakeries, a butcher, supermarket, bank and plenty of places to eat. It is very near to Fussen and the Neuschwanstein castle, as well as great for walking, cycling and swimming. The hostess was very friendly and helpful making sure that we had everything we needed. We only stayed for 3 days as we were touring but this presented no problem.
John
2013-08-06T00:00:00Z
Fini y su marido fueron muy atentos con nosotros en todo momento. Nos ayudaron en todo momento en todo aquello que pedimos. La casa es muy amplia y el pueblo muy tranquilo. Perfecto para tenerlo como base para poder explorar la zona. Un fuerte abrazo a ambos.
Eugenia
2016-07-09T00:00:00Z
Tipo de Quarto
Casa inteira/apto
---
Tipo de Imóvel
Casa
---
Acomoda
7
---
Quartos
Roßhaupten, Bavaria, Alemanha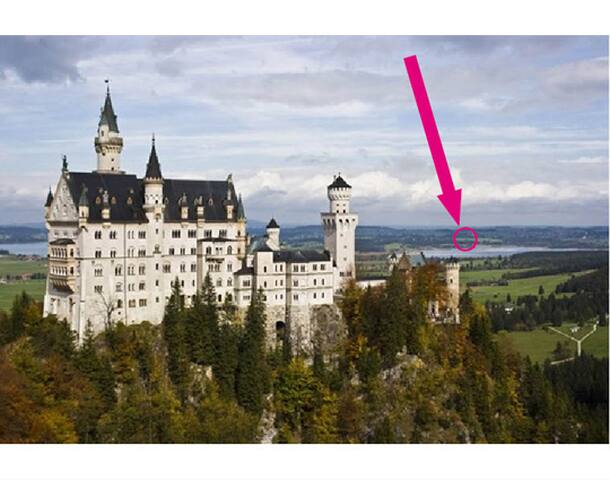 Enjoy the beautiful Allgäu countryside in this unique former hunting mansion about 1 mile outside of the quaint village of Roßhaupten. Set among the typical pastures of the alpine upland it offers a tranquil and peaceful environment for a holiday to remember. With its 8 beds, 1400 square feet of living space, 7500 square feet of beautiful grounds and a terrace overlooking the glorious Ammerberger alps and the famous Neuschwanstein castle, it provides the perfect base to explore the many attracti
The property has four bedrooms, two with double beds and two with bunk beds. The ground floor comprises the kitchen and dining area, the first floor the bedrooms, bathroom with shower and separate restroom and an living room area. The location of the house is exceptional, less than a mile outside of a village on a small hill with magnificent views of the local Alps. The house is furnished in a rustic style, yet very comfortable, at the moment though we do not offer wifi and television, instead many board games and a childrens room with toys. A wonderful place to retreat, find quietness and solitude, spent time with family and friends close to nature. The lovely garden is perfect for games and barbecue, children especially enjoy the tree house there. If you have any questions please call us at…
Surroundings Cow meadows, woods, lakes and cultivated areas, owned by the local organic farmer, surround the house. The village of Rosshaupten is less than a mile away. There you find all shopping amenities like a supermarket, a bakery, a butcher and great local restaurants. A little further away the town of Fuessen offers even more of these, plus sport outlet stores, a musical hall and many tourist attractions. Hiking, biking, swimming, sailing, riding, climbing, downhill and cross country skiing – all of these sports and many more can easily be executed around the house or nearby. Also many famous cultural attractions like the Neuschwanstein castle and the Wieskirche are very close by. Important
Die Kommunikation mit Kathrin war freundlich und einfach! Sie hat alle Fragen schnell beantwortet und eine super Empfehlung für ein Restaurant gegeben. Leider war sie selbst nicht da.
Julia
2016-10-09T00:00:00Z
这栋矗立在辽阔田野上的小房子特别可爱,房间里都是主人自己的布置,还有很可爱的儿童房和玩具,孩子非常喜欢自己的高低床,还有乐高积木。不过房子里没有Wi-Fi,没有网络,住在这里可以好好地放松一下,忘记外界的一切。但是开车出去三分钟就能回到罗森豪普腾镇子,买东西什么的完全不成问题。kathrin给的指路信息非常准确,很容易就找到了房子。
荪乐
2017-02-11T00:00:00Z
Schönes uriges Haus . Top sauber und Kathrin ist ein sehr netter und hilfsbereiter Kontakt. Wir haben uns sehr wohl gefühlt
Wim
2017-01-29T00:00:00Z
Wir waren leider nur 3 kurze Tage im schönen Haus von Kathrin, doch alles war zu unserer Zufriedenheit. Der Blick auf die Alpen und die Natur um das Haus herum sind einfach nur traumhaft. Auch die Kommunikation mit Kathrin und Frau Mendler waren stets freundlich. 100% empfehlenswert!
Alexandra
2016-10-16T00:00:00Z
Nice large place at a great price! Perfect for a quick getaway!
Matthew
2016-12-21T00:00:00Z
We really enjoyed our quiet, rustic stay in the Bavarian countryside. The house fit our family well, plenty of rooms and beds to separate the children. They enjoyed the treehouse as well. Fussen and Neuschwanstein castle are a short drive away. A couple of things to note: this is an older, wooden home, so squeaky floors could disturb light sleepers. Also, for those new to Germany, grocery stores are closed on Sundays.
Scott
2017-02-20T00:00:00Z
We had a lovely weekend at this wonderful place. It was started with an 'Allgäuer' and hearty greeting from the lovely Fr. Mendler, who kindly followed up during our stay with information about local or regional events. The spacious and well appointed lodge is located in the middle of an open pasture, surrounded by small patches of woods and even a small lake. A local supermarket (Nahkauf) is easily accessible either by foot / bicycle / car. We made a day trip to Neunschwanstein (~30mins), and another trip to the Zugspitze (~1.5 hours). For future reference, if you take the Austrian B179 route, you will not need a Vignette as long as you stay on the 'B' roads. We were thrilled to discover an unlisted treasure in the living / dining room - an old piano, and spent many of our resting hours around this piano reliving tunes from 'The Sound of Music' or Christmas carols. For those few days, the hills were truly alive with the sound of music. =) Our two young nieces (4 and 6 year olds) laid claim to the treehouse which had been affectionately built by the owners of the house. This gave the adults plenty of free space and time to explore the surroundings, or just get some much needed quiet time. All in all, this has been one of the most positive and endearing trip we have made together as a family, and I would definitely recommend the lodge to any others in search of an Alpine 'farm-stay' experience. Thank you once again for the amazing memories. We look forward to revisiting in the near future.
Joseph
2016-12-12T00:00:00Z
This is a great place to stay for a family! Great communication with the host! Close to all the great tourist attractions!
Matt
2016-11-14T00:00:00Z
Tipo de Quarto
Casa inteira/apto
---
Tipo de Imóvel
Casa
---
Acomoda
8
---
Quartos
Roßhaupten, Bayern, Alemanha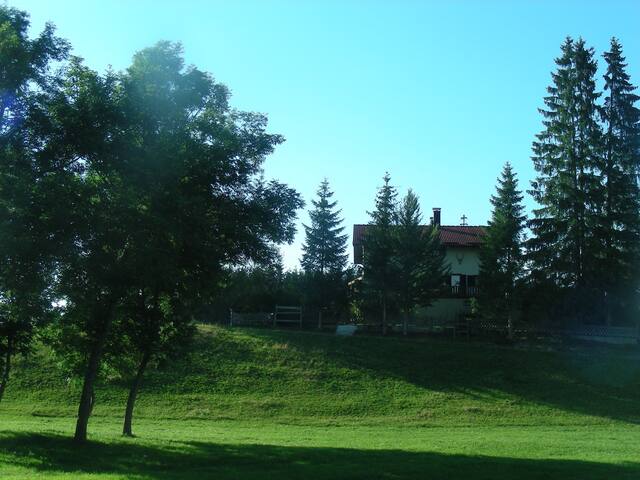 Meine Unterkunft ist der ideale AUsgangspunkt für Ausflüge aller Art. Der Ort Oberthingau hat eine gute Verkehrsanbindung in die Berge,zu den Königsschlössern oder nach München. Du wirst meine Unterkunft lieben wegen der liebevollen Einrichtung,dem urigen und charmanten Charakter mit Kachelofen und Kaminofen,der gutbedachten Ausstattung,dem großzügigen Garten mit Grill und Lagerfeuerplatz,der traumhaften Natur, dem hügeligen Voralperland, den freundlichen Leuten.Gut für -4Paare o. Großfamilien.
Tipo de Quarto
Casa inteira/apto
---
Tipo de Imóvel
Casa
---
Acomoda
11
---
Quartos
Unterthingau, Bayern, Alemanha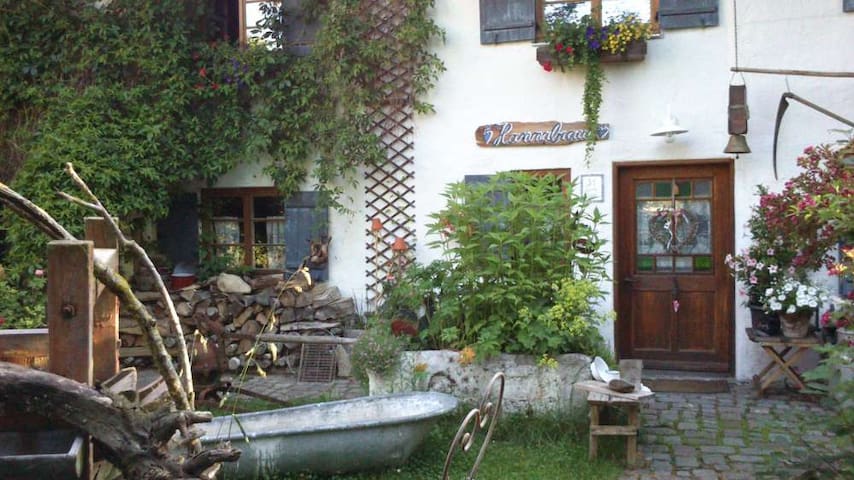 My property is located in the foothills of the Alps with stunning views of the Alps, a few kilometers from the castle Neuschwanstein. The rural area offers many recreational opportunities and lakes. Eisenberg is a brilliant location for excursions (hiking, cycling, Motrradtouren etc.) Many restaurants are within easy walking distance. You'll love my property because of the cozy wooden house with comfortable furnishings. The houses are named after our ruins.
Unsere Unterkunft bietet eine Infrarotkabine für bis zu vier Personen und eine Whirlpoolbadewanne. Die ideale Entspannungsmöglichkeit nach einem Tag auf der Skipiste oder nach einer Wanderung. Ein separater Raum für Ski oder Fahrräder steht, direkt neben dem Carport, zur Verfügung. Sollten Sie mit 7 bzw. 8 Personen anreisen, befindet sich die Schlafmöglichkeit im Wohn-Essbereich.
Tipo de Quarto
Casa inteira/apto
---
Tipo de Imóvel
Casa
---
Acomoda
6
---
Quartos
Eisenberg, Bayern, Alemanha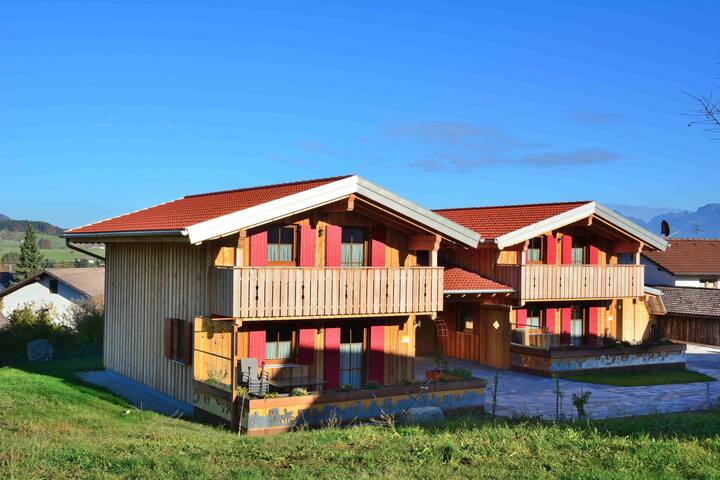 Unser Häuschen liegt in der kleinen Stadt Marktoberdorf im Allgäu. Es gibt hier alles, was man braucht. In ca. 20 Minuten erreicht man Füssen, wo das Schloss Neuschwanstein und viele Seen und Ausflugsziele warten.
Unser Haus hat eine große Küche mit Herd und allem, was man zum Kochen benötigt. Außerdem gibt es einen riesigen Garten mit der Möglichkeit ein gemütliches Lagerfeuer zu machen und ein großes Trampolin für Kinder. Am besten geeignet ist die Unterkunft für eine 2 Erwachsene mit Kindern, da eines der Schlafzimmer ein Kinderzimmer ist. In 5 Gehminuten erreicht man den Bahnhof, mit dem man bequem nach Füssen fahren kann. Hier gibt es die Königsschlösser und viele Seen und natürlich die Berge. Das Allgäu ist sehr abwechslungsreich und ein optimales Urlaubsziel für Familien. Mit dem Auto ist alles relativ schnell zu erreichen.
Hallo Sabine, ja wir haben die Zeit in Marktoberdorf sehr genossen. Die Location in Ihre Haus war sehr schön in ruhiger entspannter Lage. Genau das was ich gesucht habe.
Andrey
2015-08-27T00:00:00Z
Tipo de Quarto
Casa inteira/apto
---
Tipo de Imóvel
Casa
---
Acomoda
5
---
Quartos
Marktoberdorf, Bayern, Alemanha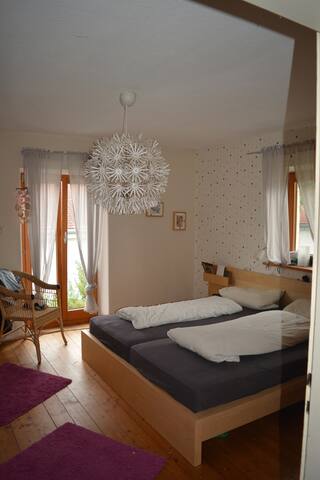 The house and all the property is Non smoking area and a rural area in the middle of the village of Zell, directly below the castle ruins "Eisenberg and Freyberg. There is a garden and enough parking. Walks from the house. Many lakes are within 12 Km.
2 bikes can be borrowed. JE3 € / day 1 week 19 € 2 weeks 35 €. Small scooters, Kettcar and bicycle (Pink), free for children up to 5 years. Plenty of space, offers the ambience. There are 2 stoves that create in winter a cozy and warm atmosphere. We ask street shoes undress in the entrance area. There are 3 bedrooms with a double bed. The bed sizes are: 180 cm x 200 cm 160 cm x 200 cm 140 cm x 200 cm On request, the laundry room can be used with, so the laundry pile is kept within limits, when it comes back on the journey home. Our neighbors are friendly and helpful. Those arriving public, find their way to us easily by train and bus. The bus stop is located 3 minutes walk away and from there are (3km), feet (12km) and the "fairytale castle" Neuschschwanstein (16 km) of the station Weizern-Hopferau easy reach. (Website hidden) For guests arriving by car (or motorcycle) to arrive. , There is a beautiful Alpentherme in Reutte. There falls a slightly off times completely. Of course, the Crystal Spa in Schwangau as top bath. - And sauna.
Our neighbors are friendly and helpful.
Es war wirklich rundum toll. Als wir ankamen, hatte Tom bereits im Kamin ein gemütliches Feuer gemacht und überall Kerzen angezündet. Am Tag meines Geburtstages hing eine Überraschung für mich an der Tür, das war wirklich sehr rührend. Wir haben uns sehr wohl gefühlt in der schönen Wohnung und konnten kaum glauben, dass Tom sie nicht selbst bewohnt ;) Ausstattung super, es fehlte uns an nichts. Vielen Dank nochmal, wir haben es schon weiter empfohlen!
Linn
2016-10-26T00:00:00Z
Tom est très agréable et très prévenant. Il répond rapidement aux demandes faites avant le séjour. Le logement est très confortable, les chambres sont grandes, meublées avec goût, chaleureuses. La cuisine est fonctionnelle et il y a tout ce qu'il faut pour profiter du soleil sur la terrasse. Pendant le séjour, Tom est disponible et à l'écoute : il nous a fourni 1 vélo supplémentaire en plus des 2 qu'il a déjà sur place. Voyant que mon mari fait du vélo de course, il est revenu avec une carte présentant des circuits. Il passe régulièrement pour prendre des nouvelles et savoir si tout se passe bien. La maison se situe dans un petit village au pied d'une petite montagne. Il n'y a pas de commerce sur place sauf un dépôt de pain ouvert tous les matins. Mais la ville la plus proche est à 3 Km donc cela se fait facilement même en vélo. La région est superbe, il y a beaucoup de choses à découvrir. On peut y faire de très belles randonnées dans les montagnes, des balades en vélo et aussi se reposer et se baigner dans les nombreux lacs de la région. Nous sommes donc enchantés de nos vacances en Allgäu et nous y reviendrons avec plaisir. Merci à Tom !
Françoise
2016-08-21T00:00:00Z
Sehr gute und offene Kommunikation mit dem Gastgeber, sehr schön eingerichtete Ferienwohnung - es war ein sehr schönes Wochenende mit Freunden im Allgäu!
Fabian
2017-02-12T00:00:00Z
Quel bonheur d'arriver dans une telle maison. Elle est meublée et décorée avec un goût très sûr et visiblement l'amour des belles choses. La communication avec Tom a été excellente, aussi bien à l'arrivée que pour notre départ. La maison est également bien équipée et très spacieuse. Nous avons profité du foyer vitré les deux soirs afin de passer une fin de journée agrémentée d'une chouette flambée. Absolument à recommander !!! Nous y retournerons.
Joseph
2016-12-30T00:00:00Z
La casa de Tom es inmensa, y está muy bien decorada y equipada, es muy comoda, la recomendaría a cualquiera que vaya por la zona. Tom se preocupo de estar pendiente de nuestra llegada, fue muy amable.
Roberto
2016-08-29T00:00:00Z
Wir haben einige sehr schöne Tage im Haus verbracht. Tom hat sich um uns und alle Fragen direkt gekümmert. Das Haus war sehr sauber und die Zimmer gemütlich eingerichtet. Die Küche war auch super ausgestattet.
Lisa
2016-11-27T00:00:00Z
Dieser Host ist großartig! Wir sind als Familie, mit 7Personen, angereist und waren begeistert. Man fühlt sich wie Daheim. Die Zimmer sind großzügig und stilvoll eingerichtet. In der Küche fehlt es an nichts. DANKE TOM
Sophia
2016-11-01T00:00:00Z
Sehr angenehmer, aufmerksamer Gastgeber! Tolles Haus, entspricht mehr als der Beschreibung, wir haben viele gemütliche Stunden am Kamin verbracht und ausgiebig in der großen Wohnküche gekocht. Es hat an nichts gefehlt!
Nora
2016-04-02T00:00:00Z
Tipo de Quarto
Casa/apto inteiro
---
Tipo de Imóvel
Casa
---
Acomoda
8
---
Quartos
Eisenberg, Bayern, Alemanha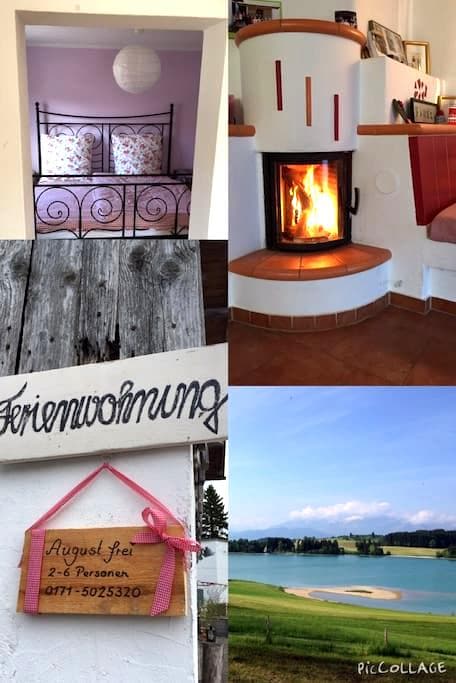 quarto de dormir com cama de casal (2,00x2,00m) e um quarto com beliche e guarda-roupa. Janelas Sudeste - maravilhosa vista para a montanha! Vestíbulo com assento de acomodações e guarda-roupa. Cozinha com mesa de jantar e kitchenette. sala de banho com duche e WC.
localização tranquila, a Quellhof não só oferece uma esplêndida vista sobre as montanhas, mas também uma entrada directa para belas caminhadas e ciclismo trilhas. A sala de reuniões iluminado com lareira e grande pomar convidar tanto no verão como no inverno a ficar.
O Quellhof localizado em Weiler Bachtel, um subúrbio separadamente gelegenem de Oy-Mittelberg (cerca de 4 km). As lojas mais próximas estão em Nesselwang ou Oy-Mittelberg.
Valeska's place is in a beautiful location and the whole house and our apartment were clean, comfortable and nicely decorated. A lot of thought has gone into making guests feel at home in the communal area in particular - lots of space, light, toys for children etc. Kitchen facilities in our apartment were great for our requirements, I'm not sure whether there are more in the communal area if you needed an oven or microwave? A very comfortable stay in a lovely area, definitely recommended.
Barbara
2015-07-16T00:00:00Z
Apartment was super cool. It was a bit difficult to locate the home address because the house numbers were not sequential and we were using a stupid navigation system which was not able to find her apartment. Once we reached the apartment, there was no hiccups at all. Apartment was situated in a beautiful location which is surrounded by small hills. We loved the location so much that we canceled our trip to top of Zugspitze and instead spent some quality time near the apartment. Valeska was very friendly and helped us to find the way to her apartment. Apartment was nice and clean and well maintained. We would love to stay again in this apartment :)
deepak
2015-04-06T00:00:00Z
Appartement propre et très fonctionnel. Grand espace commun disponible. Merci à Valeska.
Julien
2016-07-18T00:00:00Z
Sehr schöne kleine Wohnung. Der Kontakt mit der Gastgeberin war problemlos und sehr herzlich. Genauso mit ihrer Schwester die uns in Empfang genommen hat :) auf jeden Fall weiterzuempfehlen !!
Lena
2016-08-21T00:00:00Z
My family and I absolutely loved this place! We wanted a place to stay while taking a day to visit Castle Neuschwanstein and Hohenschwangau, and it was perfect. Only a 40min drive to Hohenschwangau! The beds were comfortable and Valeska was incredibly nice and welcoming. Everything was spotlessly clean and warm for the cold nights—would definitely recommend for anyone looking to enjoy a nice quiet stay in the scenic Allgäu region of Bavaria! Just make sure to have a GPS or navigation system and to follow Valeska's instructions for getting there—there are a few small roads with hidden turns you need to take in order to reach the location.
Hayley
2016-12-30T00:00:00Z
Une maison immense partagée en plusieurs petits appartements très confortables et calmes. Le charme de la campagne bavaroise. Une accueil très chaleureux.
Juline
2016-07-30T00:00:00Z
This made a great home base to explore the area. We were in a two room unit where I had the softest sheets imaginable and my daughter had a bunk bed. The huge window view out the common area is over beautiful green pastures. We drove easily to Castle Neuschwanstein and then to an amazing forest of climbing at the Alpsee Berghof. Valeska helped us find activities in the area perfect for me and my daughter. Impeccably clean and beautiful. Grocery stores are a quick trip into a cute nearby village. I liked it much better than staying in a busy area. Quiet and beautiful.
David
2014-08-22T00:00:00Z
Nice appartment en big common room. The appartment was clean and the bed sleeps fine. We enjoyed the neighbourhoud: lots of green, hills and farmers. It's just 30 minutes by car to castle Neuschwanstein! The supermarkets were closed because of a national holiday. Valeska gave us a the name of a good restaurant for dinner. We asked also for a place to drink something and Valeska explained how to get there (on walking distance). Valeska is nice: she showed us the appartment and answered our questions.
Agnes
2016-08-17T00:00:00Z
Tipo de Quarto
Casa/apto inteiro
---
Tipo de Imóvel
Casa
---
Acomoda
4
---
Quartos
Oy-Mittelberg, Baviera, Alemanha
My property is located in the foothills of the Alps with stunning views of the Alps, a few kilometers from the castle Neuschwanstein. The rural area offers many recreational opportunities and lakes. Eisenberg is a brilliant location for excursions (hiking, biking, motorcycle tours, etc) Many restaurants are within easy walking distance. You'll love my property because of the cozy wooden house with comfortable furnishings.
Our accommodation is an infrared cabin for up to four people and a whirlpool bath (for 1 person). The ideal way to relax after a day on the slopes or after a walk. A separate room for skis or bicycles is, right next to the carport, available. If you arrive by 7 or 8 people, the sleeping space is located in the living-dining area.
Tipo de Quarto
Casa inteira/apto
---
Tipo de Imóvel
Casa
---
Acomoda
6
---
Quartos
Eisenberg, Bayern, Alemanha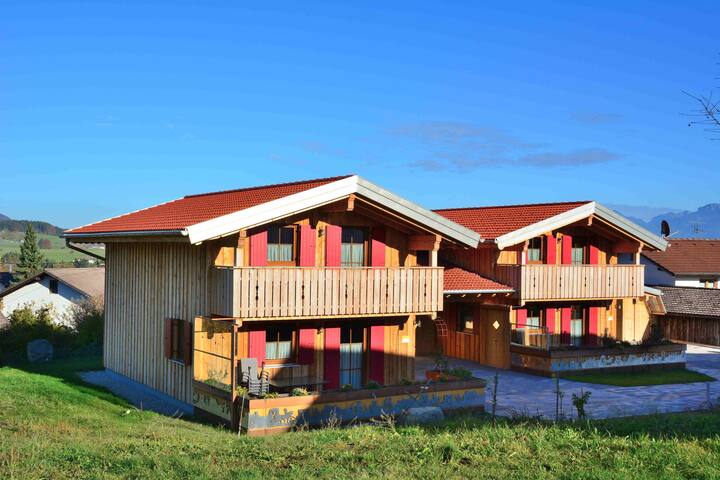 Two separate rooms with single bed, wardrobe and sitting with south-east facing windows. The two rooms share a bathroom with shower and toilet.
Quiet location, the Quellhof not only offers a splendid view of the mountains, but also a direct entry to beautiful hiking and biking trails. The sunlit meeting room with fireplace and large orchard invite both in summer and in winter to linger.
The Quellhof located in Weiler Bachtel, a separately gelegenem suburb of Oy-Mittelberg (about 4 km). The nearest shops are in Nesselwang or Oy-Mittelberg.
Great spot, friendly and easy going. Super annoying church bells ring every 15 mins 24/7. First night I couldn't sleep, second night was ok with ear plugs.
Peter
2014-07-25T00:00:00Z
Eine super Unterkunft mit netter Gastgeberin!!! Ist auf jeden Fall weiter zu empfehlen
Lila
2015-11-08T00:00:00Z
Der Quellhof ist wunderschön mitten im Allgäu gelegen. Direkt vom Haus weg gehen idylische Wanderwege, mit dem Auto sind in kurzer Zeit interessante Ausflugsziele zu erreichen z.B. Schloss Neuschwanstein. Die Zimmer waren schön hell und sauber. Der Gemeinschaftsraum mit Küche bietet die Chance sich selbst zu verpflegen und bei herrlichem Bergpanorama zu essen. Definitiv ist ein Urlaub hier zu empfehlen.
Anja
2016-07-16T00:00:00Z
This is an incredible location for exploring southern Germany. I spent several days here, and it is very peaceful and quiet. The house is very accommodating and it has everything you need for a stay. Great place to enjoy a cup of coffee or tea in the morning and look out over the fields and mountains. Valeska was very helpful and has a large amount of information about the local area for visitors to reference. Also, this is close to Neuschwanstein about a 30 minute drive. I would highly recommend this location if you have the chance to stay here.
Bryan
2016-05-09T00:00:00Z
Valeska is a kind and welcoming host, always answering any message in a matter of minutes. Her place is quiet and cozy, nicely located in a small country village, just a few minutes drive from beautiful lakes, castles and hiking trails. Surely recommended
Lorenzo
2016-08-27T00:00:00Z
The place is lovely with beautiful landscape, Valeska is very friendly and helpful:) we had good time there and enjoy our staying!
Yi-Hua
2015-06-27T00:00:00Z
Hallo . also Valeska und ich haben und nur einmal gesehen, kam sehr spät an, Zimmer und alles entsprach dem Inserat, gerne jederzeit wieder, Umgebung ist absolute Erholung aus dem Alltagsstress!
Hans-Gerd
2016-10-09T00:00:00Z
Ich hatte ein paar wunderbare Tage bei Euch - vielen Dank für alles. Wenn man Ruhe, sehr sympathische und herzliche Gastgeber und eine sehr gemütliche Unterkunft sucht, dann ist der Quellhof genau das Richtige.
Franziska
2015-09-06T00:00:00Z
Tipo de Quarto
Quarto inteiro
---
Tipo de Imóvel
Casa
---
Acomoda
2
---
Quartos
Oy-Mittelberg, Baviera, Alemanha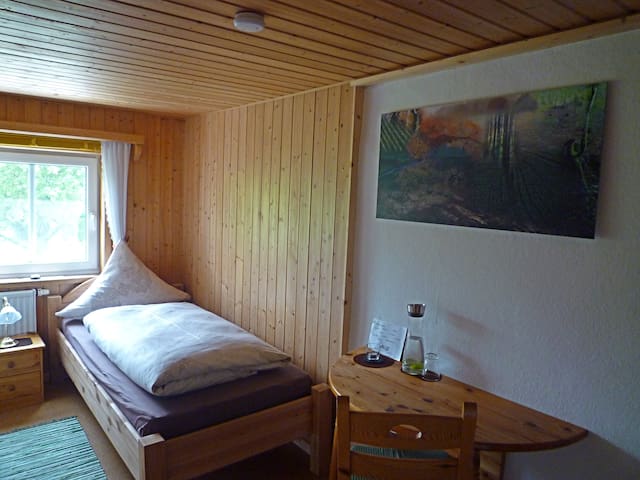 Our very nice 2-room holiday rental apartment offers enough space for up to 2 adults and has approx. 40m². It is in a quiet, sunny location. The apartment is equipped with kitchen, bedroom, bathroom (underfloor heating) and balcony. KönigsCard: more than 250 activities (nature, culture, sport,…) INCLUDED, in 4 holiday regions (Allgäu, Tirol, Ammergauer Alpen, Das Blaue Land).
Our holiday apartment rental is the perfect spot for all kind of activities.
Nesselwang is a popular winter sports and hiking region near the famous castle "Neuschwanstein", at the foot of the Alps in Allgäu in southern Germany.
Die Wohnunh von Edeltraut war ideal für unseren Aufenthalt. Sauber, ruhig und perfekt ausgestattet. Mit dem Auto sind alle Aktivitäten in der Region in Kürze zu erreichen und durch die KönigsCard auch meistens kostenfrei!
Jan
2016-10-21T00:00:00Z
Nous avons passé un superbe séjour en Bavière dans cet appartement où nous nous sommes sentis comme chez nous. Tout était très propre, bien décoré, bien organisé, pleins de documentations sur la région ainsi qu'une carte donnant des réductions sur pleins d'activités en Bavière. De plus Edeltraud nous a reçu très gentiment. Nous recommandons vivement cet appartement très bien situé pour visiter la region et les nombreux châteaux ;)!
Amandine
2016-08-09T00:00:00Z
The apartment was great; very clean, roomy and modern. Üwe and Edeltraud are wonderful hosts. They explained everything and made some great suggestions about the area. The rental came with 2 Königcards which provided huge discounts for many activities in the area. We saved 75€ easily using it for lift fees, indoor swimming and spa. It was within walking distance of town. We will be back.
'Chip' Daniel
2016-09-29T00:00:00Z
Ich hab nur positives von der Gastfamilie, sowie dem App. zu berichten. Die Schlüsselübergabe war problemlos, das App. schaut genau so wie auf den Bildern aus. In der Whg. ist wirklich alles vorhanden was man braucht. Es war super sauber. Eine Mappe mit allen wichtigen Informationen ist vorhanden; so etwas organisiertes habe ich zuvor noch nie gesehen. Die Lage ist ruhig und super für Ausflüge in alle Richtungen. Für mich ausschlaggebend war die Buchung dieses App. die Badewanne ... wo bekommt man schon so was (außer im Hotel, wo keiner hin möchte ;-) Wie toll, nach einem Wandertag sich abends in die Wanne zu legen. Jederzeit wieder! Michaela
Michaela
2016-03-30T00:00:00Z
Total unkompliziert, sehr schöne Wohnung, alles wie auf den Bildern zu sehen. Das mit der Königscard ist super! Das Wlan könnte besser sein und eine Couch würde sich auch sehr gut machen anstelle der Sessel, aber wenn man ins Allgäu fährt um fern zu sehen oder im Internet zu surfen, sollte man sein Urlaubskonzept überdenken. ;-) Achja, grillen vor Alpenpanorama war auch problemlos möglich, den Grill hatten wir dabei. Also alles in allem ein super Aufenthalt, gerne wieder.
Felix
2016-07-10T00:00:00Z
Sehr zu empfehlen!!! Von der ersten Kontaktaufnahme, über vorzeitigen Austausch bis hin zum Beziehen der Wohnung lief alles sehr freundlich ab. Die Wohnung ist genau wie auf den Bildern beschrieben und eignet sich wunderbar für zwei Personen. Die Wohnung ist mit allem ausgestattet was man benötigt. Die Wohnung ist gut gelegen und man kann zu Fuß sehr schnell das Zentrum erreichen, wo einige Lokale zu finden sind. Uns hat nur ein Sofa gefehlt um nach den anstrengenden Wanderungen vor dem Fernseher den Tag ausklingen zu lassen:)
Philipp
2016-05-09T00:00:00Z
Für uns war die Unterkunft ideal. Im Appartment ist alles neu, modern eingerichtet und extrem sauber. Der Standort liegt landschaftlich genial und bietet tausend Ausflugsmöglichkeiten. Die Gastgeber sind sehr nett. Wir haben uns rundum wohl gefühlt und kommen gerne mal wieder.
Ina
2016-10-03T00:00:00Z
Super nette Gastgeber. Die Wohnung ist modern, sauber und reicht für zwei Personen gut aus. Es wurde mit Liebe zum Detail eingerichtet. Wir würden immer wieder kommen.
Christina
2016-12-26T00:00:00Z
Tipo de Quarto
Casa inteira/apto
---
Tipo de Imóvel
Casa
---
Acomoda
2
---
Quartos
Nesselwang, Bayern, Alemanha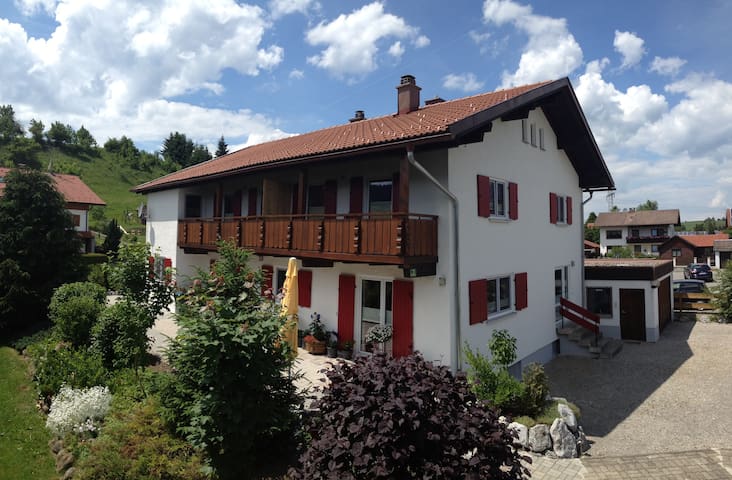 The apartment, which may host 2 to 6 people, is located on the first floor of our house and was built taking account of environmental aspects in (URL HIDDEN) consists of living room with integrated kitchen and a sofa bed, a spacious bathroom, a double bedroom, a twin bedroom and a single bedroom. The walls were daubed with clay and there are wooden floors throughout the whole house and a mains cut-off mechanism. The whole equipment is of high quality and provides great comfort. The apartment has a large balcony and there is a stairway leading directly to the garden. Internet connection as well as television is available too. Numerous recreational facilities make your stay an unforgettable experience - relax and enjoy in the unique natural landscape of the Alpine Foothills Walking, jogging and cycling over 100 km of well-marked paths Swimming 5 minutes away in the Notzenweiher, a picturesque pond Ballooning for those looking for a different perspective Mountain biking or cycling Cross-country skiing, skating and about 30 km of groomed trails for sports activities in winter The mountains are in about 30 km distance offering many opportunities for mountaineering, climbing and skiing Culture enthusiasts visit the Archaeological Museum in Kempten - Cambodunum (Germany´s oldest city), or excursions to the castles, Lake Constance, to Austria or Switzerland
Natur pur
Eine gemütliche, große, sehr schön gelegene und 100% zu empfehlen Unterkunft, die wir nur weiter empfehlen können!
Antonia
2016-10-13T00:00:00Z
I am very surprised by the beautiful house. The landscape is sooooo gorgeous. I hope I can be there again.
jiajia
2015-12-16T00:00:00Z
We stayed for 2 nights and our family loved Eva's apartment so much! We regret that we can only spend 2 nights this time and will come back for sure to spend our whole vacation here. The apartment is perfect and well equipped. Surrounded by breath-taking natural environment and supermarket is just 10 mins drive.
Brian
2015-09-04T00:00:00Z
Vielen Dank für ein paar schöne Tage im Allgäu. Die Wohnung ist sauber, ruhig gelegen und sehr groß. Wir hatten eine gute Zeit!
Alke
2016-05-27T00:00:00Z
Die ökologisch renovierte große Ferienwohnung liegt außerhalb von Kempten mitten in der Natur. Ruhig und erholsam. Sowohl für Paare wie auch für Familien sehr geeignet. Dank der nahen Autobahnanbindung sind auch andere Ziele im Allgäu gut erreichbar.
Jürgen
2013-02-14T00:00:00Z
Det lå slik til som bildene viser, rolig ute på landet. Ble møtt hyggelig av verten. Bildet litt misvisende da leiligheten er i 2.etg i utbygget til venstre. Derfor er den enda bedre enn bildet viser, da man kan tro det er underetasjen.
Arnfinn
2016-06-22T00:00:00Z
Super schöne Unterkunft, idyllische Umgebung!
Heidrun
2016-08-14T00:00:00Z
Great apartment in a great location. Very quiet and remote area in the hills with cows and horses. The apartment was spacious, and clean, and great for a family of 4. Eva was there and let us in, she was very friendly and gave us info on the area. Felt very welcome to share their house. Enjoyed our stay!
Josef
2015-09-07T00:00:00Z
Tipo de Quarto
Casa inteira/apto
---
Tipo de Imóvel
Casa
---
Acomoda
6
---
Quartos
Betzigau, Bavaria, Alemanha
I have two rooms in my woodhouse. You can also use the kitchen, the living room, the garden with terraces and view at the mountains. If you have children, they can sleep at your room at the "podest". They have to climb up a ladder, and i´m sure, they will like the sleeping "cave" there. Primavera (10 min by foot) Neuschwanstein (30 min) Kempten (20 min) Füssen (30 min) summer toboggan run (10 min) interactive mountain farm Museum (35 min) climbing park (5 min)
你也可以把你的孩子和你,因为我的孩子们的房间,有一些讲台用床垫。我敢肯定你的孩子会喜欢爬上梯子,像睡在一个山洞里...
安静,友好的邻居。在房子前面没有交通。
Gabriele ist eine freundliche und sehr hilfsbereite Gastgeberin in einem suaberen, sehr schön eingerichteten und ruhigen Haus. Wir haben den Aufenthalt sehr genossen. Für unsere Kinder war der Kater eine Sensation! Sollten wir in der Gegend wieder Urlaub machen, ist Gabrieles Haus die erste Wahl.
Theodoros
2017-02-05T00:00:00Z
Gaby's house is so lovely . Gaby was friendly and nice to us, also the Oscar the cat. Our family loves to house design, also the size fit us well for 6 people. The location is easy to find, and very close to castles (20-30 minutes drive).
supunchalee
2016-10-21T00:00:00Z
Super Unterkunft mit Kindern. Das Haus ist sehr schön, vorallem der Blick in die Ferne, traumhaft! Alles sehr familiär gehalten. Vielen Dank noch mal!
Lei
2017-02-19T00:00:00Z
Gabis Unterkunft war unsere mit Abstand schönste Unterkunft. Das Haus ist wunderschön und unkompliziert zu erreichen. Der Ausblick vom Balkon ist sehr schön mit Blick auf die Berge. Wir hatten viel Platz für Fahrräder, Gepäck und uns selbst. Gabi ist sehr gastfreundlich, hilfsbereit und menschlich. Auch Kater Oskar haben wir sofort lieb gewonnen. Danke!
Lars
2016-09-02T00:00:00Z
Das Haus liegt sehr idylisch und man hat einen ganz wunderbaren Ausblick auf die Berge. Ideal für Wander-Ausflüge und Besichtigungen der Königsschlösser. Gaby, die Gastgeberin, wohnt ebenfalls in dem Haus und kümmert sich prima um alle Bedürfnisse, ob Tipps zur Umgebung oder Handtücher für den Schwimmbad-Ausflug :-)
Elena
2016-08-23T00:00:00Z
房东人超级好 很热情 很nice 房间又大又暖 隔音效果好 最喜欢浴室 超级超级大 很暖和 又干净 早上起来阳光很好 窗外风景优美 强烈推荐!
Leijinzi
2016-11-01T00:00:00Z
Wir wurden super nett empfangen und haben uns sofort zu Hause gefühlt! Grandiose Lage und wunderschöner Ausblick. Gerne wieder
Jago
2016-10-16T00:00:00Z
Liebe Gabi, nochmals vielen Dank für die tolle Aufnahme in Deinem wunderschönen Haus. Es hat uns sehr gut gefallen. Beste Grüße (auch an die Schnurmaschine) aus HH
Volker
2016-09-25T00:00:00Z
Tipo de Quarto
Quarto inteiro
---
Tipo de Imóvel
Casa
---
Acomoda
6
---
Quartos
Oy-Mittelberg, Bayern, Alemanha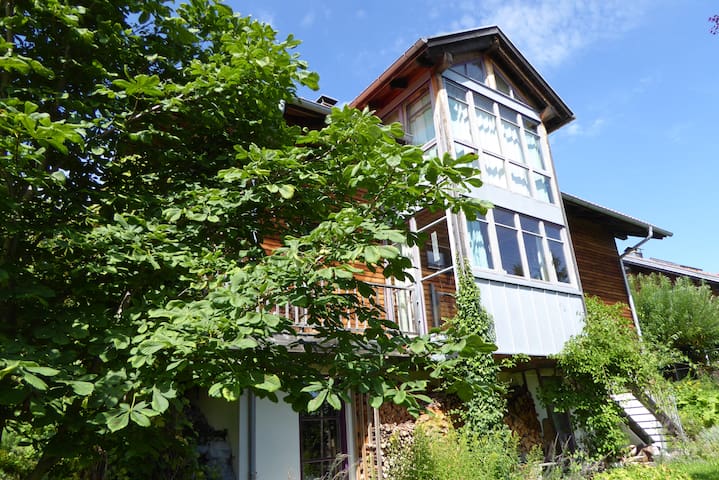 Spacious room with double bed (2.00 x 2.00 m) and wardrobe and mountain views. Window southeast oriented (beautiful sunrise). Between room with a table, two chairs and sink. Bathroom with shower and toilet.
Quiet location, the Quellhof not only offers a splendid view of the mountains, but also a direct entry to beautiful hiking and biking trails. The sunlit meeting room with fireplace and large orchard invite both in summer and in winter to linger.
The Quellhof located in Weiler Bachtel, a separately gelegenem suburb of Oy-Mittelberg (about 4 km). The nearest shops are in Nesselwang or Oy-Mittelberg.
Unser Aufenthalt bei Valeska war super :) Die Unterkunft war sehr schön und hatte alles zu bieten, was man braucht. Valeska ist sehr nett und hilfsbereit. Ich würde gerne wiederkommen :)
Inès
2016-08-01T00:00:00Z
Our room was very nice, cozy and clean, had enough space for our clothes etc. The room's view on to the field of cows was amazing especially when you love the country side. The village has plenty of nature, cycling roads and hiking trails and a pretty lake in walking distance! There is a big living room and kitchen for sharing with other guests. Free tea and coffee are provided and everything is really nice and clean. Valeska was a great host, gave us tips and was always available if we had any question. The next town with shops and supermarkets is just a 5 k drive away. All in all it was a very good experience. We would stay there any time again! Thanks Valeska!
Silke
2016-08-16T00:00:00Z
Great accommodation in a quaint Bavarian village, quintessentially German. Friendly and attentive host. Wish I could have stayed longer.
David
2015-06-17T00:00:00Z
Valeska's place is located in a very beautiful village, we were amazed my the spring flowers flourish with well trimmed grass land. the room is very clean, spacious, and value for money...i'd highly recommend this place to other guests.
wu
2015-05-19T00:00:00Z
Valeska was very nice. We arrived late night at 11 pm because of train delays and she also called a taxi for us at the station. The house was very clean and beautiful. I would definitely recommend staying at her place!
Damish
2015-09-18T00:00:00Z
Valeska ist eine sehr freundliche und nette Gastgeberin. Das Zimmer und die Unterkunft war sehr hübsch und sauber. Bei Gelegenheit würden wir gerne nochmal Besuchen.
Farhad
2015-06-28T00:00:00Z
Valeska ist eine sehr aufgeschlossene und nette Gastgeberin, die uns sehr herzlich in Empfang genommen hat. Unser Zimmer war sehr groß, hatte Athmosphäre und war sehr sauber! Wir haben uns sehr wohl gefühlt und würde sofort wiederkommen und es auch allen weiterempfehlen!
Catherine
2016-10-03T00:00:00Z
Ein fantastisches Haus und umwerfende Landschaften kann man hier finden. Valeska ist außerdem eine überaus umwerfende Gastgegnerin, die einem problemlos weiterhilft und mit Rat und Tat zur Seite steht. Sehr zu empfehlen und ich komme bestimmt wieder.
Heiko
2014-07-22T00:00:00Z
Tipo de Quarto
Quarto privado
---
Tipo de Imóvel
Casa
---
Acomoda
2
---
Quartos
Oy-Mittelberg, Bavaria, Alemanha
Unsere Unterkunft liegt in der Nähe des Stadtzentrums , Autobahn, Bahnhof. Ca. 15 Minuten in die Innenstadt zu laufen. Da wir gleichzeitig auch eine Wellness-Massage Schule haben, ist es möglich, Massagen und Kosmetik zu buchen. Das Zimmer hat nur ca. 12 Quadratmeter, aber zum Schlafen reicht es völlig aus. Wir haben drei Hunde, die sehr ruhig und menschenfreundlich sind. Wenn Ihr also ein familienfreundliches Umfeld haben möchtet, ist dies der richtige Ort.
A hospedagem na casa da Marika foi ótima! A casa fica em uma regiao um pouco afastada, mas há um supermercado por perto e vagas para estacionar o carro. O sofá cama e bastante confortável e a casa muito bem arrumada e (URL HIDDEN) certeza vale a pena ficar lá para recarregar as energias após um dia no Neuschwanstein :)
Nathalia
2016-06-26T00:00:00Z
Marika en haar partner hebben mij zeer welkom geheten. Zelf was ik later als voorzien aan gekomen maar dat was geen probleem. Om de Romantische straße te bezoeken en zeker schloss Neuschwanstein Is het zeker een goede plek. Ook om op door reis te gaan.
Julie
2016-09-08T00:00:00Z
Marika's place was nice and exceptionally clean. A comfortable place on a small suburban street near city center and the train station. Very quiet and comfortable. Marika was friendly and helpful in suggesting where to hire bikes and how to spend our time in Fussen. Our favorite aspect was the large private bathroom.
Matt
2016-08-31T00:00:00Z
퓌센에서의 하룻밤은 정말 좋았다! 물론 바이에른티켓이니 이런 금액적인 부분엔 손해가 있었지만 숙소나 동네에서 하루 머물수 있었던건 뭐랄까 여행 중에서도 나에게 선물을 주는듯한 느낌이었다. 숙소도 깨끗하고 위치도 좋아서 나는 매우 만족! 침대는 약간 카우치같은 느낌이었지만 그래도 편히 잘 잤다. 욕실도 완전 깨끗하고 호스트도 완전 짱짱 Staying at Füssen was like gift for me. Füssen is so lovely city and peaceful. The location of BNB is also great and cozy. The hosts also are so kind. There are 3 dogs but hosts care of them always. The room that you will use and the bathroom is very cleaned and organised.
Soyeon
2016-09-28T00:00:00Z
Marika is a very nice host. My wife and I decided to extend our stay in the area at the last minute after visiting the nearby castles and decided to try our luck on Airbnb. Marika accepted our request to stay in her apartment when we would arrive in just a few hours. That was very nice of her, especially since we did not expect to find anything given the last minute booking. Marika and her family made us feel very comfortable in her apartment. Her apartment is easy to find, centrally located, and very quiet and clean. We also enjoyed talking to Marika. Her apartment is a great location to visit either the castles or the nearby activities in Füssen.
Glenn
2016-05-28T00:00:00Z
Ein wunderschöner, perfekter Aufenthalt! Alles wie beschrieben und die Gastgeberinnen super nett. Absolute Empfehlung und gerne wieder!
Michael
2016-08-07T00:00:00Z
Das Zimmer ist sehr gut, Marika & Ela sind auch sehr nett, aber es ist ein bisschen schwer, das Haus zu finden.
Christina
2016-12-22T00:00:00Z
Marika's place was the perfect accommodation in Fussen. She was very kind and hospitable. Her place had everything we needed and was very clean for a reasonable price. I would highly recommend her.
John
2016-06-12T00:00:00Z
Tipo de Quarto
Quarto privado
---
Tipo de Imóvel
Casa
---
Acomoda
2
---
Quartos
Füssen, Bayern, Alemanha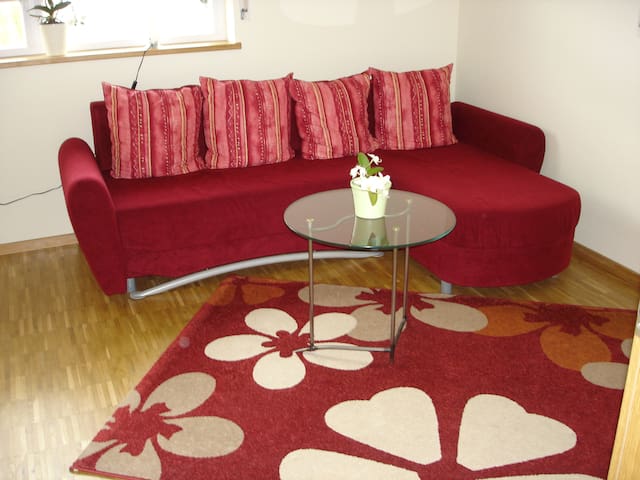 Our 150 year old and stylishly renovated house has EC and 1st floor. Total about 130 square meters with slopes on the 1st floor. max.5 people. Optimal are 2-3 adults and two children. The place is and close to all local attractions.
A house of this kind can be found in the area a second time. It differs quite extreme from the usual holiday homes. It is equipped with great attention to detail. You feel very safe and it is ideal to retreat from the hectic world. On comfort must not be waived. The kitchen has a stove with four ceramic hotplates, oven and dishwasher. Dishes and cooking utensils are plentiful, just a Senseo pad coffee maker, espresso machine for stove, milk frother, toaster, kettle and a large fridge. The house is equipped with towels, linens and kitchen towels in sufficient numbers. There is central heating, which provides warmth in the Wintermonmaten. For cozy warmth, or alternative heating stoves more available. Firewood is plentiful in the garden shed and can be burned without additional costs. In the bathroom is a washing machine available.
Bernbeuren is a very original place with about 2,500 inhabitants. there are about 25 km to the famous royal castles of Ludwig II.. In summer, countless excursions right outside the door. The Haslacher lake (about 1km from the house) is ideal for children to swim. Many other natural lakes are located within a short distance. For winter fun, whether alpine or cross-country skiing are ski resorts nearby. Location Information for can be found, inter alia, on the website of the place. The house is located in the center behind a former large farm and formerly served as Austragshaus.
We had a wonderful stay in this delightful property. Alice and Helmut are very attentive hosts, and Helmut was there to greet us on our arrival and welcome us into their lovely home. We were made to feel very welcome, and it became our 'home from home' very quickly. The property is superbly equipped, and charmingly furnished. It's full of character and is warm and cosy. We really couldn't have wished for a nicer property in which to stay. It's situated in the most beautiful country, and a trip up the Auerberg is highly recommended. Once there, you can climb up the bell-tower of the church for the most spectacular view imaginable. The spectacular Neuschwanstein Castle is only a short distance away, as is the extraordinary baroque church at Wieskirche. There's a good supermarket a few kms away where you can get everything you need. So if you are looking for a cosy Bavarian home, I can highly recommended this one. I very much hope that we will be back one day. Alice and Helmut, thank you so much. A perfect stay.
Simon
2015-09-10T00:00:00Z
Eine niedliche Herberge, mit mehreren Kaminöfen. Erinnert an ein Hexenhäuschen, aber mit modernisierter Ausstattung (Bad, Küche, Heizung). Sehr individuell, wir haben uns sehr wohl gefühlt.
Corinna
2017-02-04T00:00:00Z
schöner entspannter aufenthalt küche ist super ausgestattet immer wieder gerne
Sarah
2017-02-08T00:00:00Z
Velmi srdečné uvítání od Helmuta, který nás provedl domem a se vším seznámil. Ve smyslu "Můj dům je i Váš dům", jsme prožili příjemný víkend v tomto krásném historickém domě. Díky počasí jsme měli čas prozkoumat i stolní hry, které jsou v domě k dispozici a opravdu jsme si ho užili. I naše dvouletá dcera byla nadšená.
Iva
2015-05-04T00:00:00Z
Alice und Helmut haben ein zauberhaftes, gemütliches Bauernhäuschen im bayerischen Stil, in dem wir uns direkt total wohl gefühlt haben. Das Haus wirkt auf den Bildern kleiner als es in Wirklichkeit ist und wir waren erstaunt über den Platz. Rein theoretisch könnten dort auch 4 Erwachsene und 2 (kleine) Kinder schlafen. Unsere Kinder haben die Schlafnische geliebt und waren total begeistert von dem schönen, großen Garten inkl. Trampolin. Wir wurden sehr nett und persönlich begrüsst und bekamen sogar ein kleines Begrüssungsgeschenk in Form von Allgäuer Bier. Bernbeuren ist ca. 20-25 Autominuten von Füssen und dem Schloß Neuschwanstein entfernt und hatte für uns eine super Lage.
Nadine
2014-07-14T00:00:00Z
Die liebe Alice hat uns persönlich begrüßt, uns das gemütliche Haus gezeigt und uns alles erklärt. Prima Tipps für Ausflüge, zum Essen gehen und Baden haben wir auch bekommen. Das Haus ist wirklich ein Kleinod im Voralpenland. Es ist so schnuckelig und auch was für große Menschen. Es war uns für eine Woche ein schönes Zuhause.
Alice
2014-07-22T00:00:00Z
This house was our home for one and half weeks. We were nicely greeted by Morris who showed us the place. It has charm, cosy and whatever one needs for all the family. The garden was also super fun for our children. Bernbeuren is peaceful and it is situated very near Lechbruck from where you can buy anything you need. We found it also perfect to go around southern Bavaria from Lindau to Bad Tolz, Lake Starnberg to Oberstdorf ... and up to Zugspitze! Many thanks to Alice for our holiday.
Aldo
2016-04-04T00:00:00Z
We had a wonderful stay at this amazing house. It is great for a family with kids and even our dog was allowed to come along. Equipped with everything you need, your vacation starts from the moment you walk in. On top Alice was very helpful and ensured during the stay we had everything what we needed. Overall a wonderful experience with a great host & house. We will definitely be back in the future.
Sven
2015-11-09T00:00:00Z
Tipo de Quarto
Casa inteira/apto
---
Tipo de Imóvel
Casa
---
Acomoda
5
---
Quartos
Bernbeuren, Bavaria, Alemanha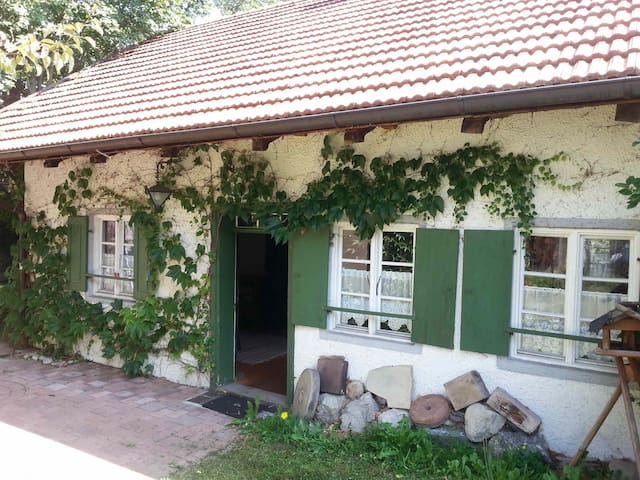 Room with double bed (1,40x2,00m), closet & seating. Skylights oriented southwest. Transition with kitchenette (fridge, sink, 2 hotplates) and cozy reading room with sloping & couch. Bathroom with shower and toilet.
Quiet location, the Quellhof not only offers a splendid view of the mountains, but also a direct entry to beautiful hiking and biking trails. The sunlit meeting room with fireplace and large orchard invite both in summer and in winter to linger.
The Quellhof located in Weiler Bachtel, a separately gelegenem suburb of Oy-Mittelberg (about 4 km). The nearest shops are in Nesselwang or Oy-Mittelberg.
This place is located in a very quiet and beautiful place. Perfect for people who love to into nature. A very positive thing was the fully equipped kitchen with spices, oil, teabags and coffee. Perfect to cook in! And every day there was a plate full of chocolate and sweets in the main living area. Greet people! Love to come back.
Nicole
2016-12-30T00:00:00Z
Danke für die erholsame Woche. Die Wohnung und die Lage waren ein guter Ausgangspunkt für unseren Winterurlaub (Skifahren, Rodeln, Neuschwanstein). Danke für den unkomplizierten Kontakt.
Selina
2015-02-19T00:00:00Z
Very nice apartment and very friendly host.
antonio
2016-07-31T00:00:00Z
Es war ein kurzer, aber toller Aufenthalt bei Valeska. Die Ferienwohnung ist zwar klein und kuschelig, aber mit allem Nötigem ausgestattet und ein Betthupferl gab`s auch. Die Gemeinschaftsbereiche sind toll und laden zum Verweilen ein. Wer sich nicht durch die ausliegende Info-Lektüre kämpfen will, fragt einfach Valeska, die uns sehr herzlich empfangen hat und für alle Wünsche und Fragen offen ist.
Fruzsina
2016-05-08T00:00:00Z
My boyfriend and I absolutely loved our stay at Valeska's apartment! The region is incredibly beautiful and very relaxing, and the apartment had everything we needed to make us feel at home. There is also a shared common room downstairs that allows you to sit in a larger area and mingle with others who are staying or living in the building. Valeska also provided us with some helpful tips on where to go grocery shopping and other things like that. We would definitely recommend staying in Oy-Mittelberg to those who don't mind the quiet country life! It's also not too far away from Neuschwanstein Castle, which we visited during our stay in the region. It only took 40 minutes or so!
Sarah
2015-07-17T00:00:00Z
Valeska ist eine nette, hilfsbereite und super vorbereitete Gastgeberin. Es fehlt an nichts! Super sauber und ordentlich. Tolle Unterkunft zum Skilaufen!
Robin
2015-01-04T00:00:00Z
Eine tolle Unterkunft und eine nette Gastgeberin. Es ist genügend Platz für 2 Personen vorhanden.
Monika
2016-01-22T00:00:00Z
Wir haben uns bei Valeska super wohl gefühlt. Traumhafte Landschaft, Tolle Unterkunft. Jederzeit wieder!
Laurens Und Natalie
2016-10-03T00:00:00Z
Tipo de Quarto
Casa inteira/apto
---
Tipo de Imóvel
Casa
---
Acomoda
2
---
Quartos
Oy-Mittelberg, Bavaria, Alemanha
Fazer amigos em Allgäu Fique exclusivamente no Villa lindamente decorado e renovado em 2017, com 3 quartos. Tranquila, mas com localização central, você pode desfrutar de todos os confortos para uma inesquecível Urlaub.Nur 5 km do Castelo Neuschwanstein ea uma curta distância da estação rodoviária e ferroviária e do centro histórico de Füssen. Lagos e trilhas são Nähe.Unser pensão pessoal é um ponto de partida ideal para excursões relaxantes e desportivas.
Viva como um alemão! --- Bem, quase. Estou originalmente do Co. Limerick, na Irlanda e foram viver em Fϋssen durante os últimos 28 anos e tem uma riqueza de experiência no negócio de turismo, e eu acho que sei o que faz uma viagem única e inesquecível, oferecendo bom valor para o money.Fϋssen é uma base perfeita a partir da qual você pode descobrir Munique e sul da Baviera, com o Zugspitze e Garmisch um pouco mais de uma hora de distância, Munique é ca. 2 horas de trem (a cada hora até às 23:00 pm e menos caro do que de carro. Eu espero que nós criamos um alojamento quase perfeito para você, oferecendo bom valor para o dinheiro. Nossa casa tem uma localização central em Venetianerwinkel, a apenas 10 minutos a pé do centro da pitoresca cidade de Fϋssen e da estação de ônibus e trem. A natureza área protegida com trilhas para caminhada em frente da porta da frente e uma zona de tráfego limitado vai dar-lhe um ambiente calmo e relaxante durante o seu terraço e jardim stay.Our ainda não terminaram, mas com um grande terraço coberto, você pode desfrutar da sua ficar com um copo de vinho ou cerveja local à noite ou relaxar em uma das espreguiçadeiras no jardim com vista para a montanha mais alta na área, o "Säuling" Todos os recém-renovado, com lotes de sangue, suor e lágrimas nos últimos 18 meses !!!! Decorado em estilo elegante e contemporâneo, esta casa pode acomodar até 6 pessoas com 3 quartos e 2 banheiros, ideal para famílias ou pequenos grupos. Tendo tido experiência muito positiva com o nosso primeiro Airbnb apt. "Bergoase" em Schwangau percebemos que era um pouco pequeno para quatro pessoas e que a nossa casa em Füssen preenche esse suporte perfeitamente. Eu tenho um amor genuíno desta área e é definitivamente vale mais do que dois dias de (URL HIDDEN) mais de um críticas positivas hunderd no nosso apt. em Schwangau, estou certo de que posso lhe oferecer o mesmo padrão para os meus 130 sq. metros no nosso oásis casa da (URL HIDDEN) estacionamento subterrâneo diretamente sob a casa e 2 bicicletas (há um aluguer de bicicletas na cidade, se você precisar de mais bicicletas ou você pode trazer o seu próprio) para mantê-lo apto e permitem-lhe explorar Füssen e os arredores. Ficaríamos felizes em recebê-lo como nossos convidados e ansioso para conhecê you.Therese & Gerhard. Destaques de férias da área: Neuschwanstein e Hohenschwangau. atração turística número um da Alemanha e provavelmente o mais famoso no mundo, no sopé dos Alpes Munique, mais perto do que você pensa e fácil de passar em um dia se você partiu cedo. dia de viagem a Castelo de Linderhof, Garmisch eo Zugspitze (a montanha mais alta na Alemanha) A pitoresca Oberammergau, a vila famosa internacionalmente para o Passion Play, que ele monta a cada dez anos em agradecimento por ser poupado durante a peste bubônica. Tomar o teleférico até a montanha Tegelberg em Schwangau, com espectaculares vistas panorâmicas a partir do topo. Ciclo em torno dos numerosos lagos da região, tudo dentro de 5 km. e Forggensee Lake, Hopfen Am See, Alpsee, Weissensee, e experimentar cores deslumbrantes e pontos de vista, todos com ciclovias. Wieskirche, a Igreja nos Prado, uma das principais atrações na Rota Romântica, um oval igreja rococó construído entre (PHONE NUMBER HIDDEN) como um santuário para um novo local de peregrinação sagrada. A pitoresca Oberammergau, a vila famosa internacionalmente para o Passion Play, que ele monta a cada dez anos em agradecimento por ser poupado durante a peste bubônica. O Highline 179, a maior ponte suspensa para pedestres no mundo está localizado no Reutte nas proximidades, ÁUSTRIA- Uma divertida aventura, e não para os mais sensíveis! Assim que chegar ao sopé dos Alpes, você será capaz de relaxar em um dos muitos spas como as Termas Koenigliche Kristalltherme Spa em Schwangau e e e ... Um imposto de turismo local obrigatório de 2,20 € por dia por pessoa a partir da idade de 15 anos será cobrado extra. Ele permite que você libertar ônibus e certos descontos para algumas atrações turísticas. Stadt Füssen verlangt pro Pessoa ab 15 Jahren pro Übernachtung 2,20 € Kurtaxeernachtung: (kostenlose Nutzung ÖPNV und andere Preis Ermässigungen.
Tipo de Quarto
Casa inteira/apto
---
Tipo de Imóvel
Casa
---
Acomoda
6
---
Quartos
Füssen, Bayern, Alemanha
waterfront tranquila casa está localizada em (URL HIDDEN) vista a Castelo de Neuschwanstein, montanhas e lagos ir 5 minutos para a cidade velha ... o preço vai custar por pessoa!
Nosso Hostel está equipado com vários tipos de (URL HIDDEN) ter um quarto com 4 camas Quarto com 3 quartos de cama e um quarto duplo 6 cama
a localização da pousada está localizada numa zona tranquila
Der Gastgeber war sehr freundlich. Die Unterkunft war sehr sauber und alles notwendige war vorhanden. Für einen kurzen Aufenthalt ist diese Unterkunft gut geeignet
Alexandra
2015-07-25T00:00:00Z
We were welcomed very warmly, although we arrived very late. The papa of Cano was really helpful, always there when we needed something (for example he procured some towels for us, since we had forgotten them, and he even bought a hair drier that we could use. We had a big room with four beds, and we spent four nights there with our two kids. The town centre is very close and the zone is very quiet at night. The furniture is very basic, ok for a night stay, but a few small improvements would make longer stays more comfortable. All in all a nice experience, in a very special town.
Alessandro
2017-02-28T00:00:00Z
Very worm place! They are so nice and help us with everything! Clean place with great view.
ilan
2015-10-06T00:00:00Z
Cano est très accueillant et très sympathique. Malgré qu'il ne parle qu'allemand, il se fait très bien comprendre. J'ai juste un peu galèré à trouver sa maison qui se trouve en arrière-rue. La maison est propre et très calme et idéalement placé pour les chateaux de Louis 2 comme pour le centre Ville de Fussen.
Guillaume
2015-07-27T00:00:00Z
We did not meet Cano but his father accommodated us. He was extremely welcoming, friendly and helpful even though he speaks limited English and we understand few German words. We had a clean and private bedroom during the stay. The room was a little bit cold during night but Cano's father offered us extra blankets. The location of their apartment is quite convenient and closed to downtown area, the train station, local restaurants and a grocery store.
Heyi Hazel
2015-10-11T00:00:00Z
Good location. Host Uncle Papa (father of Mr Cano) is very kind. Facilities in our 2 person room is very basic with 2 single bed, 1 chair and 1 trash bin. There was WiFi connected but not really working as the speed is extremely slow. Maybe the modem need to be restart? It was fine as we still can be connected with our own mobile data.
Gee Hong
2016-05-31T00:00:00Z
Der Gastgeber war super nett, total flexibel und hat immer sehr schnell reagiert. Uns wurde alles gezeigt und wir haben Tipps fürs Abendessen und für Unternehmungen in der Nähe bekommen. Die Unterkunft war genauso wie in der Beschreibung. Die Nachbarschaft war sehr nett. Das Haus steht nicht direkt an der Straße, sodass man wirklich seine absolute Ruhe hat. Ins Zentrum von Füssen waren es nur 5 Minuten Fußweg und von dort aus fuhren Busse in alle möglichen Richtungen. Alles sehr empfehlenswert.
Antje
2014-05-27T00:00:00Z
Cano was a very kind host. He was very helpful and the place was as described. Views were great and the place was beautiful.
Joshua
2016-06-13T00:00:00Z
Tipo de Quarto
Quarto privado
---
Tipo de Imóvel
Casa
---
Acomoda
13
---
Quartos
Füssen, BY, Alemanha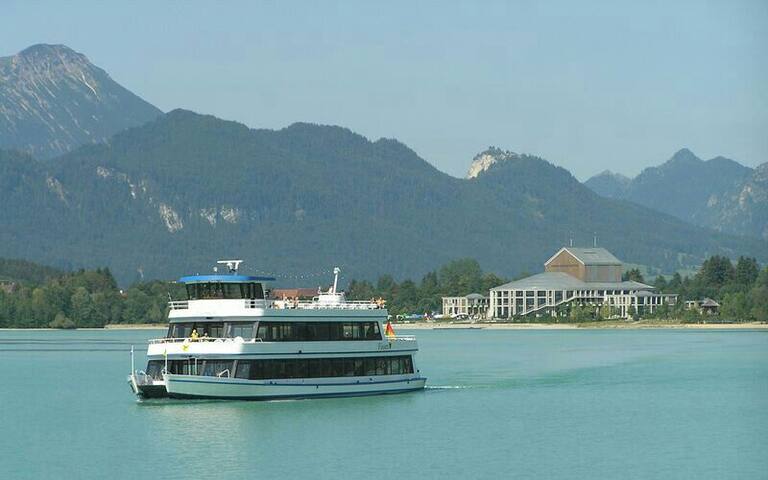 1

–

18

de

25 Casas para Alugar
Insira as datas para ver o preço total. Taxas adicionais aplicáveis. Podem ser adicionados impostos.