Nehmen Sie in wahrem Delta Gastfreundschaft in diesem charmanten Hause im Herzen von Greenwood entfernt. Direkt auf der anderen Straßenseite von Little Red Park, zu Fuß in der Innenstadt, Yazoo River & Yazoo River Trails, ist dieses Haus ideal für die Besucher einen Eindruck von der Delta Verlangen.
Der Nordosten Greenwood Nachbarschaft ist voll von Bäumen gesäumten Straßen, freundliche Nachbarn, und ist ein wunderbarer Ort zu laufen, gehen oder mit dem Fahrrad.
It was an absolute honor to be Brantley's first guests! Our entire experience was great from start to finish. Brantley was very easy to get in touch with and very willing to help us out with suggestions for activities in the area. The house was super easy to find and located in a beautiful part of town. We had no problem getting in and were amazed at how gorgeous the house was (even better than the pictures)! We cooked dinner and spent the evening Netflix bingeing--loved the Apple TV! If it wasn't raining we would have enjoyed the porch with its cute patio lights. In the morning we enjoyed fresh coffee and homemade muscadine jam on English muffins supplied by Brantley. The place was clean, comfortable, and everything you'd hope a southern cottage would be. I highly recommend this place and hope to visit again!
Kait
2016-07-11T00:00:00Z
Brantley's home is amazing! Comfortable, beautifully decorated, and so close to the shops and restaurants in Greenwood. We would have walked had we not run the Viking Half Marathon that morning! We had never stayed at an AirBnB before, and Brantley answered my many questions quickly and was so friendly. Brantley thoughtfully left a list of local restaurants and shops with great descriptions. Brantley also graciously let us check-in a little earlier than scheduled since we were in need to a post-race shower. We are already planning our return trip for next year!
Jessica
2017-03-26T00:00:00Z
Everything was great and accurate! Great home!
Michael
2016-12-11T00:00:00Z
The most restful weekend I have had in months, a wonderful experience a Brantley's home! Extremely clean, thoroughly organized and everything laid out for the most delightful experience.
Bill
2016-07-17T00:00:00Z
The house was perfect for our trip to visit family! Exactly what we needed, beautifully decorated, and in a great location!
Aryn
2016-09-23T00:00:00Z
Charming may be an understatement! Brantley's place is absolutely gorgeous, with beautiful décor and regional flair. The neighborhood was also very nice and quiet, and conveniently located. Brantley was incredibly accommodating and very responsive to any questions I had. My friends and I thoroughly enjoyed our time there, as it was a perfect place to relax and rejuvenate and Brantley included a guide of suggested places to visit in Greenwood. We were so glad we chose this place and will definitely be back!
Treshika
2017-01-01T00:00:00Z
The term "charming" accurately describes this beautifully decorated home, which is full of southern character. It is easy to find in an interesting, quiet neighborhood. Brantley has thoughtfully prepared a detailed description of her home and the surrounding area along with suggestions for dining and local activities. Also, she provides brochures with the added bonus of a surprise to take home. She quickly responded to emails and answered questions before and after we arrived. The beds are comfortable, the kitchen and bath are well-stocked, and the furnishings are delightful. As a native delta girl myself, I promise you will have a dose of southern hospitality at its best if you stay here. It is a hidden gem, which will not remain a secret for long!
Paula
2016-07-13T00:00:00Z
This home is a perfect location for everything Greenwood. It is decorated wonderfully and so much more comfortable then staying in a hotel.
Esther
2016-12-30T00:00:00Z
Tipo de Quarto
Casa inteira/apto
---
Tipo de Imóvel
Casa
---
Acomoda
4
---
Quartos
Greenwood, Mississippi, Estados Unidos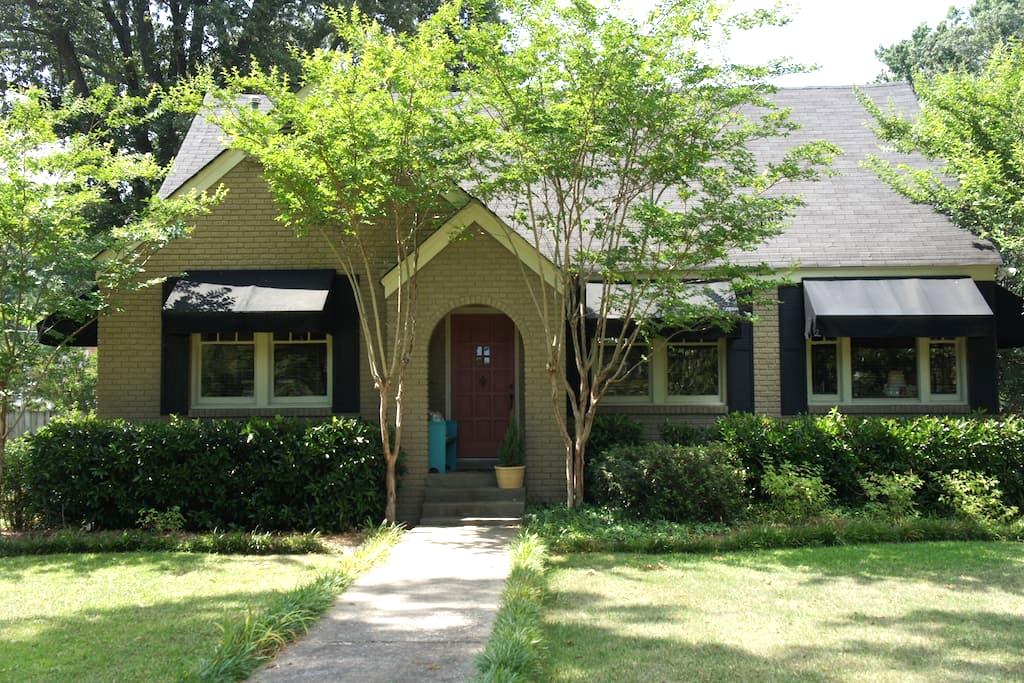 Profitez de votre séjour dans la maison de ce charmant 1920, situé dans la ville historique de Canton, MS. Canton est célèbre pour son marché bi-annuel aux puces, étant la capitale du cinéma de l'état de sclérose en plaques et pour ses fêtes de Noël sur la place historique.
pittoresque historique et charmante maison dans la belle Canton, MS. Pour 8
Belle charme historique dans un quartier pittoresque et sûr.
As many reviewers already said - you get so much more than the pictures portray. This house is big! And full of detail and character. The bed was comfy and amenities were just what I needed to have some quiet and rest for my work weekend.
Ariel
2017-03-19T00:00:00Z
The main picture of this house doesn't do it justice. It's the most beautiful house I have ever been in, and is close access to everything you'd need, while not very busy. We decided to stay two nights instead of one within five minutes of arrival. The washer and dryer isn't inside the house, but it's only 75 feet away and was extremely convenient. The kitchen couldn't be more fully stocked. There is room upon room to spread out and relax. At least 2 or 3 TVs with directv. We simply can't say enough good things about this house! A must stay if you're in the area!
Sam
2017-02-03T00:00:00Z
Fantastic home, beautiful! Warm, well lit when we arrived. My stay for future visits! A must..... Close to town. Just lovely.
Shelley & Niles
2017-03-04T00:00:00Z
House was clean, well lit, and decorated. Susie was accessible and friendly. Everything we needed was available. Neighborhood is wonderfully old and we could have sat on the front porch for many hours, in fact we did! Town square is beautiful and within walking distance.
John
2017-01-01T00:00:00Z
While traveling from Memphis to Fairhope, Alabama, my husband and I got sidetracked by the many fascinating sites along the Delta Blues trail and were not nearly as far along as we'd expected to be. We'd heard that Canton was a lovely place and rather than face another night in an awful highway-side hotel, we looked up places to stay right in the historic downtown and found Susie's "Corner House." Wow! We are so glad that we did. The photos of the house simply don't do it justice - as others here have said. It is gorgeous! While it was more space than needed for just the two of us and our little dog, we could easily imagine it as a location for a large family or other group traveling together. Lots of space with lots of privacy. The kitchen, though somewhat old-fashioned, had everything we needed to cook meals, including a pantry with some spices (good thing, because we hadn't packed any!) The house is a quick walk (less than 5 minutes) from Canton's historic courthouse square, which is lined with interesting shops run by friendly, welcoming people. We are fans of the film "O Brother, Where Art Thou" and spotted numerous sites used in the making of the movie. If you are traveling in Mississippi and want a chance to live downtown in a unique home instead staying of on the outskirts in a same-old, same-old highway hotel, you should definitely look into Susie's house. As a host, Susie was prompt in her response to our inquiry, set up the check-in so that it was simple and free of concern, and gracious in pointing out many of the sights to see nearby. It is clear she is proud of this home and Canton, and well she should be. Thank you, Susie!
Shelter Island
2017-01-25T00:00:00Z
We had to check in late at night and there were lights on in and around house, which was nice to arrive to. The house was beautiful and the bed was comfortable. We really enjoyed our stay!
Amanda
2015-10-10T00:00:00Z
A completely unique stop on our way to New Orleans. Topped off with a complimentary bottle of wine and muffins in the morning. Great value.
Joshua
2015-03-05T00:00:00Z
My family of 4 had a fine night having the house as base. It is a nice place that easily fits 8 persons
Lars
2015-07-29T00:00:00Z
Tipo de Quarto
Casa inteira/apto
---
Tipo de Imóvel
Casa
---
Acomoda
6
---
Quartos
Cantão, Mississippi, Estados Unidos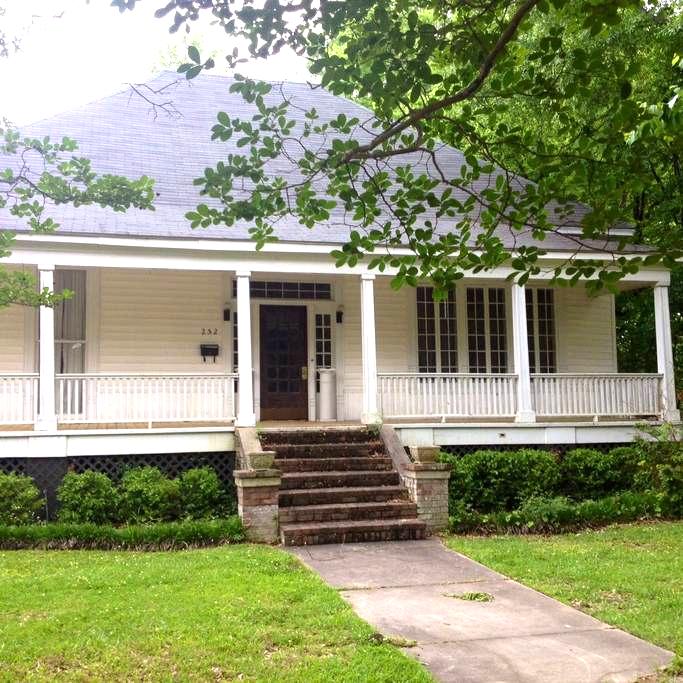 This was one of the best AirBnB I've been to. Maybe we've been lucky and Lisa liked us, but she was incredible, welcoming us with a good bottle of wine ! The rooms were absolutely amazing, beautifuly decorated, spotless, and I would have been happy to stay there for a couple of months ! We will be happy to come back probably next year if the place is not crowded with tourists from all over the world...
Florent
2015-05-03T00:00:00Z
Tipo de Quarto
Quarto privado
---
Tipo de Imóvel
Casa
---
Acomoda
4
---
Quartos
Yazoo City, Mississippi, Estados Unidos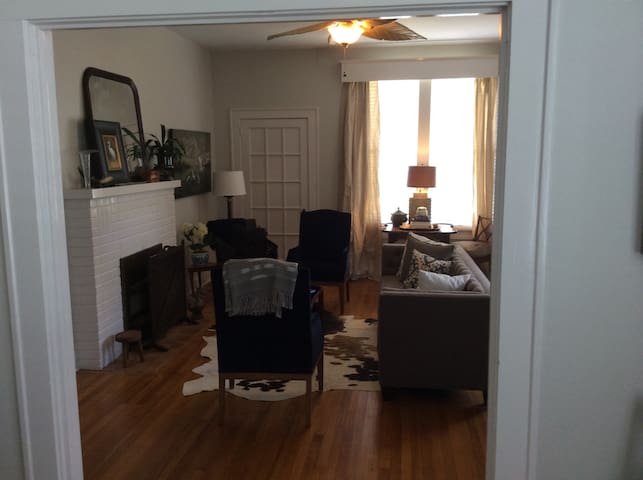 Insira as datas para ver o preço total. Taxas adicionais aplicáveis. Podem ser adicionados impostos.