15 square meters room with private shower and toilets. Free internet WIFI. Free parking. Mini fridge, Flat screen TV, Air Condition, Out door kitchen, Computer, Tea/Coffie. The location is 5 minutes from the galilee sea. Check IN from 15:00 - 20:00. Check OUT 12:00.
החדר מוצע במחיר סימלי ללא כוונת רווח. מטרת האירוח בחדר הוא לאפשר למי שאין ברשותו סכום כסף גדול להכיר את הצפון. החדר כולל מיטה זוגית בגודל 1.4 * 2 מטר ומיועדת לזוג בלבד ללא ילדים.יש מטבח חיצוני עם אפשרות לבשל מזון. ישנם בעלי חיים בחצר כגון כלבים וחתולים ולא ניתן להביא את בעלי החיים שלכם לאירוח בשום תנאי.
החדר נמצא במושב קהילתי הכולל חדרי אירוח נוספים. ייתכן שייגרם רעש או הפרעה מהחדרים של הבתים ליד ולכן יש לקחת נתון זה בחשבון. במושב יש בית כנסת הפעיל בעיקר בשבות וחגים אבל לא באופן קבוע. משפחת פלנר אינה שומרת שבת וכך גם המשפחות בבתים השכנים.
The room was excellent for price and location for us as we had rented a car from Tel Aviv. Livnim is a quiet town on top of a hill couple kilometers from the main road 90. We found it very convenient to drive around Galilee during daytime and then retreat to Livnim for night. Golan heights and Nazareth only one hour drive away and there was good grocery store at Magdala within somewhat 15 minutes drive. Adi welcomed us with tea and told us everything we needed to know and helped us with directions. Note that during winter time it can get cold at night, but fortunately there was good AC to tackle that. Overall it was a great stay.
Erno
2016-12-21T00:00:00Z
Thank you Adi and Tamy for making this stay so familiar and unique. We enjoyed ever minute! On Shabbat we were invited to have dinner with the whole family - thanks again to the best chief Tamy! There is a nice hotpot swimming pool which you will love when it is cold outside! We also recommend the restaurant Roberg in the village. This location is perfect to visit all the sights in the north of Israel such as the Golan heights, Sea of Galilea etc. We would definitely return!
Steffi
2017-01-15T00:00:00Z
It's a nice quite place up the galilee sea. You have all what you need. It's a perfect place to start your tours in the north of the country. You get from Adi and Tamy all information what you need for to plan a trip. The familie is so friendly and if you need something ask them. You get all support.
Swen
2016-02-03T00:00:00Z
We stayed at this Zimmer for two nights. It is very quiet and beautiful place. The silence and the singing of the birds! Just great! Adi and his family - very pleasant and hospitable people! They invited us for dinner. It was a pleasure to live in their Zimmer. We highly recommend to visit this place and get to know such wonderful people !!!
Oleg
2014-09-14T00:00:00Z
Очень симпатичная комнатка. Описание полностью соответствует действительности. Могу рекомендовать любителям серфинга (до озера Кинерет на машине не более 10 минут). Есть бесплатная парковка.
Olga
2015-09-18T00:00:00Z
I stayed with my husband two days in Adi's apartment. Like all the other people before we really appreciated the hospitality of Adi and his family! The apartment was like described. Livnim is well located nearby Tiberias. Thanks for all your effort Adi!
Jenny
2015-05-09T00:00:00Z
משפחת פלינר היקרה. תודה על האירוח לו זכינו בעת ששהינו אצלכם לילה אחד. לכל הממתעניינים מדובר ביחידה נוחה. נקייה. ונותנת את כל מה שצריך . המקום שקט ומאוד נעים.לנו היה ממש כיף להתארח במקום ואנו מאוד ממליצים למי שמגיע לאיזור לטייל.
Moshe
2015-03-13T00:00:00Z
Beautiful room in a beautiful moshav with wonderful hosts.
Robbie
2016-10-20T00:00:00Z
Tipo de Quarto
Casa inteira/apto
---
Tipo de Imóvel
Casa
---
Acomoda
2
---
Quartos
Livnim, Israel
The unit has a great location, 10 minutes from the sea of Galilee and 5 minutes from Hukuk spring. The kitchen is full equipped. There is a bedroom with a double bed and a sofa that can open to another double bed in the living room.
We enjoyed our stay in Hukuk very much. The furnishing is very tasteful and comfortable. We will definitely come back and recommend this apartment! @ Neda and Tomer: Thank you so much, for providing us such a nice stay :-).
Andreas
2017-03-02T00:00:00Z
We had a pleasant stay, enough room for 4 persons. Very friendly hosts. Thanks a lot.
Robin
2017-03-23T00:00:00Z
This is a beautiful property at a great scenic location. The apartment is spotless and each object was chosen for its wholesomeness. I was very well received and all in all it was one of my favorite places in Israel.
Frederico
2017-03-31T00:00:00Z
The place is even more beautiful than at the pictures! The whole place is cozy, was extremly clean and the landlords did everything to make us feel welcome. Highly recommendable.
Elisabeth
2017-01-01T00:00:00Z
My stay with my family was very pleasant. Neta is lovely and was very respectful of our space and provided all the necessary items one would need when on vacation, kitchen items, soap, towels,etc. When we needed suggestions Neta was very helpful. She even converted the sofa into a bed before our arrival, as we arrived late in the eve. Definitely recommend this cozy place.
Eyal
2017-04-06T00:00:00Z
Tomer's Charming living unit was indeed charming. We had a great weekend at the unit. It is a very quiet place with stunning view, the unit is beautiful comfortable and clean. We didn't meet Tomer but the communication was very easy and the flexible hours of check in and check out is a huge plus!
Lotem
2016-07-24T00:00:00Z
Neta and her family were wonderful hosts. They made us very welcome and went out of their way to ensure our stay was an enjoyable one. The unit is exactely as described and well supplied. It was in an ideal location for the things we wanted to do. I would highly recommend.
Karl
2016-09-18T00:00:00Z
We chose Tomer and Netta's place because we wanted to be close to the Golan and Galilee sights and we like quiet, scenic locations. The road up to the kibbutz from the Sea of Galilee was a beautiful drive. They were charming hosts and made sure that we had everything we needed. The apartment was well-equipped and nicely decorated and the air conditioning was especially welcome after an unusually hot day in March! Water, milk, tea and coffee were supplied along with a lovely bowl of fruit. We had a very relaxing stay.
Julie
2017-03-11T00:00:00Z
Tipo de Quarto
Casa inteira/apto
---
Tipo de Imóvel
Casa
---
Acomoda
5
---
Quartos
חוקוק, מחוז הצפון, Israel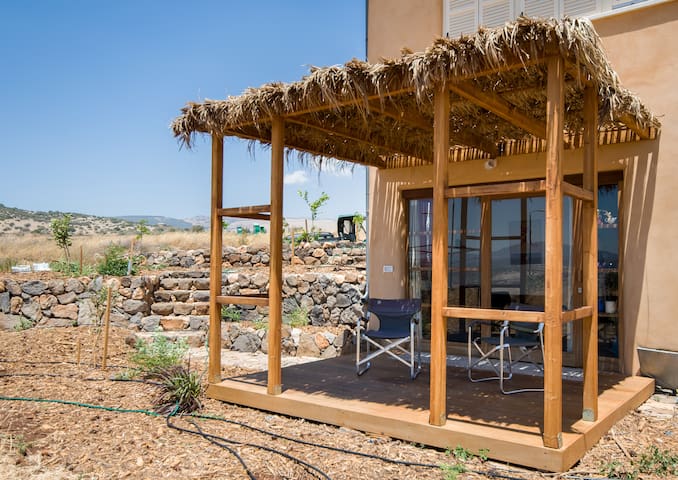 We are a familly that loves to have guests. We live with an amazing view of the Sea fo Galilee. 10 minutes from the Churches and the Lake. We Have no neigbhors and The apartment is with a separate entrance !!! Just You, The View and the Quiet. up to 2 Childrens with parents will be also availble. Small refrigerator and a coffee & tea table also included.
looking for a queit place ? want to get up early and practicing a Yoga? nead a place for walk in the wild nature ? we are just in the end of the village in a corner with amazing quiet and insperation place .
Dikla and Ofer were super nice hosts! The apartment is very nice and has a great view on the Sea of Galilee. Communication was perfect, the always replied within minutes and helped us wherever they could. They even supplied us with water, a bottle of wine, shampoo, body wash etc. and made us feel very welcome. Thanks!!
Elisa
2016-09-19T00:00:00Z
This place is just indescribably. The view is beautiful. If you will spent the time together on a quiet place then go to Diklas home. Dilia is just a lovable person. He is doing everything that you feel comfortable. Is also a good place for trips to Golan.
Phil
2016-06-26T00:00:00Z
une famille exquise,accueillante vraiment très chouette, et le logement très beau,Dikla à décorée avec beaucoup de gout,on à un vue à couper le soufle
dominique
2017-02-16T00:00:00Z
Our stay at Dikla and Omri's was amazing! The apartment and view and location were perfect; it sits on the edge of a small quiete village overlooking the lake, it was very clean and just as pictured. But more than this, Dikla, Omri and their daughters invited us in as family, helping to make our stay in Israel great.
Karalie
2017-02-22T00:00:00Z
Wir hatten eine tolle Zeit in Kahal. Die Unterkunft ist einfach großartig. Ein großes Zimmer mit einer wunderschönen Aussicht, sehr sauber, und am Ende war es tatsächlich noch schöner als auf den Fotos. Dikla und Omri sind sehr herzliche Gastgeber und tolle Tipps gabs auch noch. Wir kommen gerne wieder!
Gaby
2017-03-09T00:00:00Z
It was more than I could expect! Very welcoming. Clean and beautifull great view Defenetly worth the money. Dillard and Omri treats you as if you are precious guest!
Gali
2016-10-22T00:00:00Z
We highly recommend this place If you are looking for a beautiful and quite place to stay while traveling around the Sea of Galilee, The hosts are very friendly and welcoming, and gave as a lot of tips and ideas on sites and restaurants around, The room itself has a breathtaking view of the galilee sea and the mountains around it, with the sun rising over the Golan heights
Lee
2016-02-21T00:00:00Z
We received a warm welcome from Dikla, and Omri & Dikla were perfect hosts throughout our stay. Dikla gave wonderful recommendations on places to go. There is a fantastic view of the lake and the lights of Tiberias are gorgeous at night.
Jade
2017-01-26T00:00:00Z
Tipo de Quarto
Quarto privado
---
Tipo de Imóvel
Casa de campo
---
Acomoda
3
---
Quartos
Kahal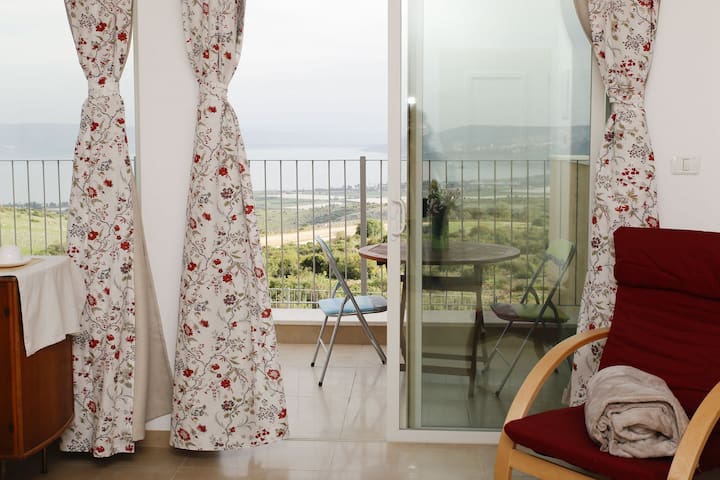 For those looking to experience a more local feel, in a central location of the christian sites in the Sea of Galilee area. 5 min walk from the lake shore 15 minutes drive to the Mt. of Beatitude, Tabgha, Capernaum and Tiberius. A place to rest after a day traveling and a great launching point to the next adventure.
This fully autonomous floor has a separate entrance, parking is 60 meters (60 Yards) from the location. Fully air conditioned and insulated, large patio for morning coffee and evening relaxation. At the hart of the Village, 10min walk from the lake
We live in a 300 families strong community. and relationships matter to us very much. please consider our neighbors as you would your own.
התארחנו אצל אביב במשך ארבעה לילות והיה נהדר! הדירה ממש חדשה, מעוצבת ונקייה, ונותנת הרגשה טובה מאוד. בנוסף גינוסר נמצאת במיקום מעולה לטיולים רבים באיזור או למנוחה בכינרת והקיבוץ ממש מרגיע. היה בדיוק מה שרצינו והיינו צריכים. את אביב אמנם לא פגשנו אבל אביו הנחמד עזר לנו בכל מה שהיינו צריכים. לסיכום, ממליצים בחום!
Omer
2017-02-25T00:00:00Z
Perfect to explore galiläa. We was three days with our 3 years old child and hat a really good time. By the way very interesting to see kipputz-live.
Andreas
2017-03-23T00:00:00Z
Thanks to the a gracious hosts of the house, everything was great. Very nice house in a green place. Quiet and comfortable.
Maria
2017-04-04T00:00:00Z
Tipo de Quarto
Casa inteira/apto
---
Tipo de Imóvel
Apartamento
---
Acomoda
2
---
Quartos
Ginosar, North District, Israel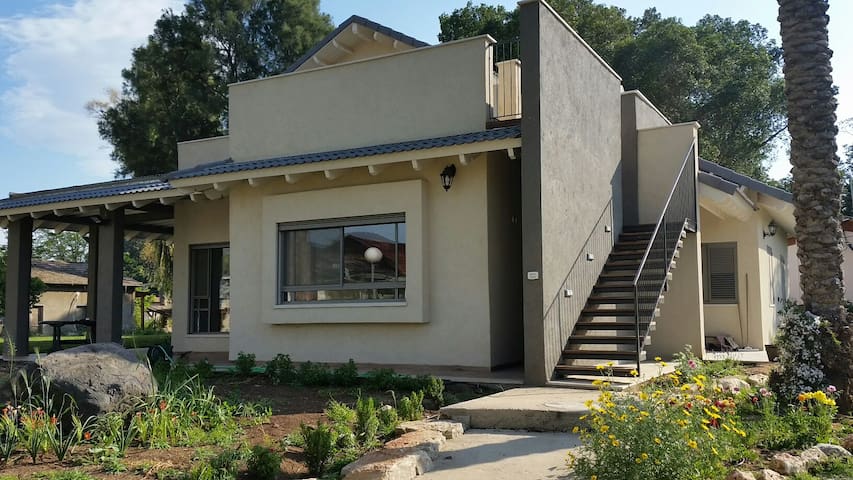 Our unit is located in peaceful neighborhood in kibbutz hukuk 10 minutes from the see of gallile very close to many Biblical and tourist sites.
big bedroom , small bedroom that is partly open to the commune space equipped kitchen facing quiet village road ,green fields and galilee mountains.
Tipo de Quarto
Casa inteira/apto
---
Tipo de Imóvel
Casa
---
Acomoda
4
---
Quartos
Hukok, North District, Israel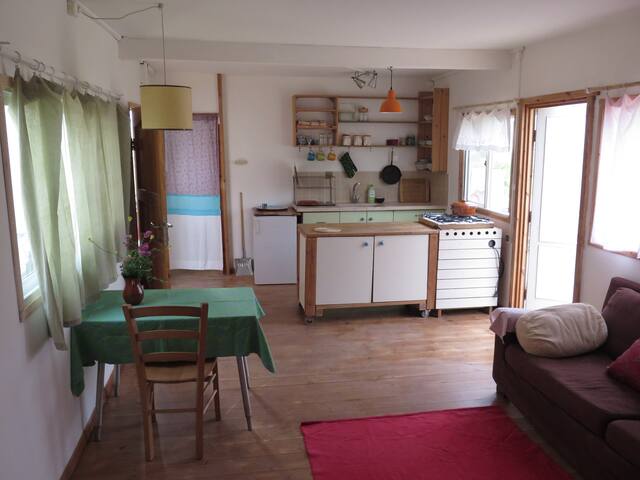 Stay on a Kibbutz by the Sea of Galilee, only 3 min walk from the lake and gorgeous garden view. The kibbutz beach is wonderfully rural, natural and amazing for bathing all hours of the day. The hotel private beach is free when you walk from the kibbutz. The nearest supermarket is just across our back yard and is open sunday-friday 8am-7pm, parking is unlimited. You can enjoy kosher restaurant at 'Nof Ginosar' and numerous hiking trails, holy sites, tourist attractions all around the Kinnereth.
The apartment on the first floor have a separate entrance and you will be staying in one of two large rooms. You can use the kitchenette with cooking stove, micro, family size fridge and freezer and a dining table for 6. The view from the balcony is lush tranquil kibbutz garden and the view from the back is breathtaking Golan Heights. The interior design is mostly sun washed clean lines that creates peace that is part of this quite stay experience, away from the stress, close to nature and simple old world. You will enjoy precious silence and farm fresh air.
Here you can experience the unique kibbutz way of life and get a glimpse of the peace and quality of once an agricultural community. Nest among the pastoral farm land and on the shore of the Sea of Galilee. You can enjoy a peaceful stay, enjoy three kibbutz beaches, the ancient boat museum, the established restaurants of hotel Nof Ginosar, a gorgeous coffee house at the old library, a supermarket just across our back yard and the kibbutz bar. It is a great "base-camp" as you explore North Kinerreth, Jordan valley and Golan Heights. we recommend a trip to Rosh Pina, Tzfat, make sure you eat once at Abu-Salach across from Amiad on your way North. The Scottish hotel in Tiberius and Pagoda restaurant are just few of our favorites.
Tipo de Quarto
Quarto privado
---
Tipo de Imóvel
Casa de hóspedes
---
Acomoda
3
---
Quartos
Ginosar, North District, Israel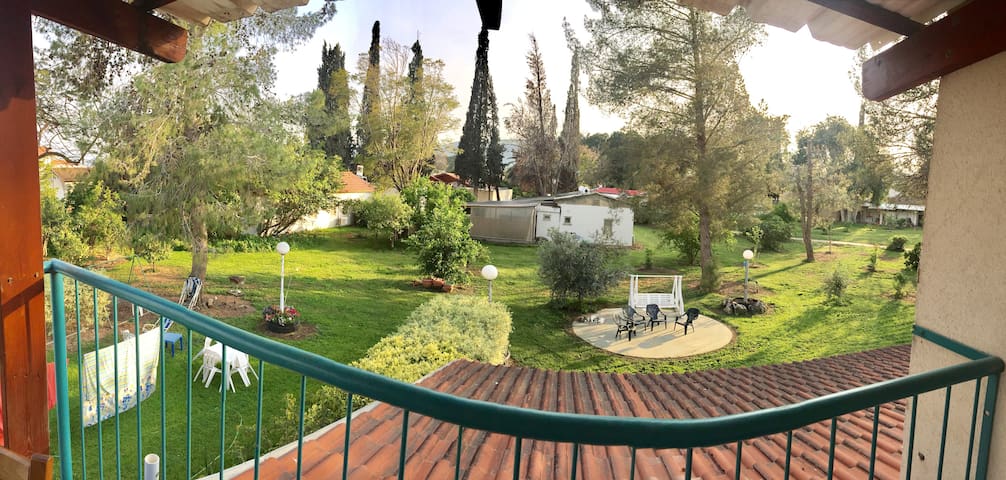 Large apartment in the center of the Galilee. Provides comfort and warm hosting which includes a delicious decadent breakfast. Apartment provides 2 bedrooms with a queen sized bed, a spacious living room, brand new kitchen, and bathroom.
A large apartment, garden and sitting area. Free parking. Walking distance to the touristic pathway to the view point's overlooking the sea of Galiliee, Wadi Amud, Meron Mountains.
A beutiful small village in the middle of the
wonderful spot, great hosting.
Gilly
2016-10-20T00:00:00Z
Anat was great hostess. She was very welcoming and generous. In addition to the grocery for breakfast she filled the house with all kind of thing you might need as her guest- Shampoo, soap, tooth past, all kind of games for leisure time and fresh fruits from her garden. The house was clean and tidy and had fragrant linens :) The house located in Kachal which is good starting point for hiking in the Kineret, Galil and Golan area. We had an excellent vacation and will be happy to come back again.
Amit
2016-10-17T00:00:00Z
Anat, the host, was very welcoming and helped a lot with advice of places to visit. The fridge was stocked with all sorts of delicious food - this made us feel at home. The property is in a quiet village. But because it is near a main road it was easy to get to visit sites in the Galilee. We had a lovely time.
Adam
2016-09-03T00:00:00Z
What a great experience. We spent 10 days at Anat's lovely home, and it was just what we were looking for. First of all, Anat is awesome - she made us feel right at home, treated us to some great homemade goodies for breakfast, and helped us out with anything we needed throughout the stay. The apartment offers plenty of room for a family of 5, and it's a great base for travelling in the north. If you're looking for a quiet little place up north, this is a great option.
Eyal
2016-08-14T00:00:00Z
Anat was such a kind and caring host: always nice having a talk with her. She was giving lots of advices how to discover Galilee. She as a tourist guide was a very good adress for getting informations and she never was too busy for anwsering our questions. She was well-caring for breakfast and brought us the most delicious Mangos and Olives and homemade Hummus we ever ate. The appartment had good smelling laundries and was at quiet village place with kind dogs. It was q good base to travel the whole north -- so: we really enjoyed our stay!
Sarah
2016-09-11T00:00:00Z
Anat's place was perfect for our needs. The house was prepared very well - was clean and contained everything we needed and more! Anat spoiled us with surprises in the fridge, and kept our boys busy with fun puzzles and games. The place is a great base for trips in the area, and a beautiful walk starts just across the street. Great value.
yaron
2016-07-29T00:00:00Z
Anat is a born hostess. She is warm, welcoming, helpful and generous. Staying with Anat in Kahal is Israeli hospitality at its best. It felt like a visit to friends or family - she filled our fridge with delicious Israeli treats, invited the children into her home to meet her animals and went out of her way to make a family of five feel comfortable.
Phyllis
2016-08-05T00:00:00Z
We had a wonderful stay at Anat's house in the country. Anat was extremely welcoming and hospitable. It was a pleasure to meet her and stay in her AirBnB. She was very prompt in all of her communication with us and flexible on our arrival time. Upon arrival, we were greeted by Anat's son and later met Anat. She invited us to have dinner with her family, which was such a wonderful experience. Anat is a very kind and welcoming person. The AirBnb is right next door to Anat's house so there is plenty of privacy while Anat is not far away if anything is needed. The house is very spacious and clean. The refrigerator was stocked with food for breakfast, and Anat checked in to see if we needed anything else from the grocery store during our visit. Kahal is the perfect base for exploring northern Israel. The village is quiet and has a beautiful view of the Sea of Galilee. It's located an hour or less from Rosh HaNikra and Akko to the west, as well as Qatsrin and great hiking in the Golan Heights to the east. The town of Rosh Pinna is just about 15-20 minutes away by car. I hope that we have the chance to return again!
Loren
2016-07-11T00:00:00Z
Tipo de Quarto
Casa inteira/apto
---
Tipo de Imóvel
Bed & Breakfast
---
Acomoda
5
---
Quartos
Kahal, North District, Israel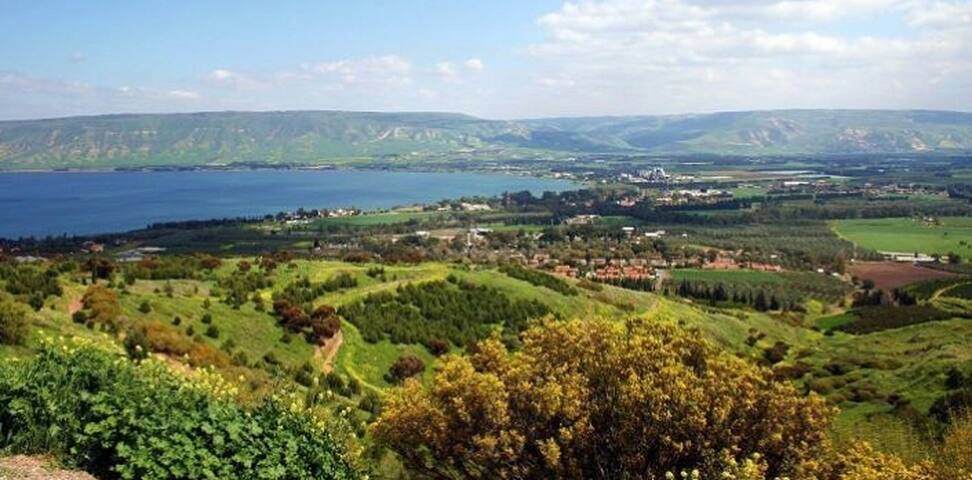 Private 80 sqm house with beautifull veranda. 5 minute drive from the Sea of Galilee and 12 minutes from Tiberius, 20 min from Rosh Pina and 30 min from Zefat. Ideal for couples or families with 2-4 children. Warm, feng shui inspired, lovely place for your vacation and travlling
The host canceled this reservation 2 days before arrival. This is an automated posting.
Larisa
2017-03-06T00:00:00Z
Tipo de Quarto
Casa inteira/apto
---
Tipo de Imóvel
Casa de campo
---
Acomoda
6
---
Quartos
Hukok, North District, Israel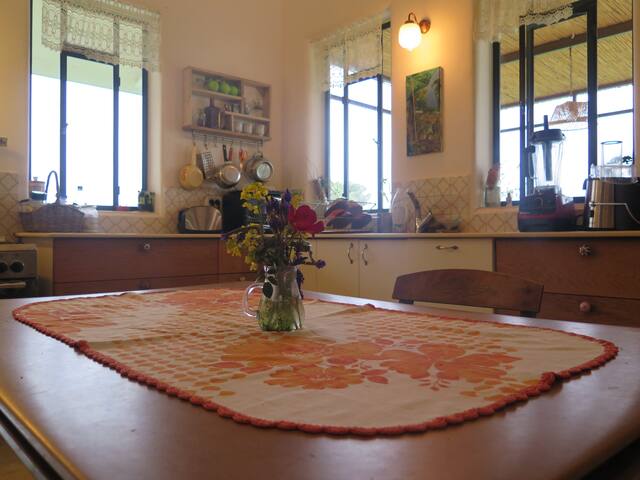 "The Lake House" is close to family activities, public transport, sea of Galilee beaches, many important sites of Christianity and restaurants and dining. 7 min fron Tiberias city. "The Lake House" is a large and open compound, with 3 cottages, a big heated pool and outdoor jaccuzi , barbeque spot, seating places, and peace and quiet. Central area to explore the sites and the nature of Israel's northen region. "The Lake House" is best suited for families, solo travelers, and couples.
In "The Lake House" Compound we have 3 cottages; This one is constructed by wood outside and modern inside. It has two bedrooms, private toilet and shower, a fully equipped kitchen, living room with a cable TV. For sleeping it has Large double bed, two single bads and a sofa- there is a possibility for a baby crib. Outside it has a private seating area by several fruit trees and a large common yard with a Large and fenced swimming pool heated and cover on winter and big outdoor jaccuzi for lovers and family. The swimming pool, The seating areas and the barbecue spot are observing towards a spectacular view of the "Sea of Galilee", Mount Arbel and The Golan Heights from every corner.
Migdal is located near Ginosar, and about 8 km north of Tiberias. It has a shoreline by the Sea of Galilee, and under Mount Arbel. The town is named after the old city Migdala Nunia , home town of Mary of Magdala. In Migdal, you can find grocery stores, post office, playgrounds, restaurants, gas stations, synagogues and more .
הגענו, זוג עם תינוק להתארח בבקתה ומאוד נהננו. כל הציוד חדש, ירון עזר לנו בכל צורך שרק צץ- אם זה בשמיכה נוספת,לול לתינוק ואפילו לתקן פנצ'ר ברכב. היחידה מאובזרת היטב נעימה ומבודדת, הנוף יפיפה והבריכה מפנקת.. בלילה השני הצטרפו זוג חברים והרגיש שיש הרבה מרחב למרות החדרים הקטנים... סהכ נהנינו מאירוח נפלא נוף וחוויה מדהימה. We enjoyed our trip to Migdal, we came with our baby and Yaron was so helpful and nice the view is gorgeous and the place is so nice, clean and quiet. you can find super market near by and a lot of places to eat.. we cooked there and the kitchen was orgenized with everything that is neccsery. the pool is so nice and with a great view... and also all of the sitting spots all around the place... we would love to come back!
Lee
2016-10-02T00:00:00Z
היה ממש מעבר למצופה וממש נהנינו . מאוד מומלץ.
Yisrael Rohn
2017-02-18T00:00:00Z
Ausgezeichnet. Jederzeit wieder
Michael
2017-02-26T00:00:00Z
We had a great stay at The Lake House! The location is perfect for touring around the North, and the views from the house are spectacular! The hosts are friendly and helpful and have thought of all the details. The house was spacious, well-stocked, and spotlessly clean--our family of six was very comfortable. The pool and yard are great--our kids did not want to leave! The price is excellent as well--it would be hard to find another deal like this.
Sharon
2016-10-23T00:00:00Z
Tipo de Quarto
Casa inteira/apto
---
Tipo de Imóvel
Bed & Breakfast
---
Acomoda
6
---
Quartos
migdal, israel, Israel
Hey we have 14 country houses that are suitable for both couples and families as well as groups. 8 rooms have a double Jacuzzi and 6 rooms suitable for parents looking for privacy. In the village we have a large pool and a baby pool. There are barbecue areas in the yard and a large heated spa. we will be glad to host you.
Tipo de Quarto
Quarto privado
---
Tipo de Imóvel
Casa de férias
---
Acomoda
6
---
Quartos
Migdal, North District, Israel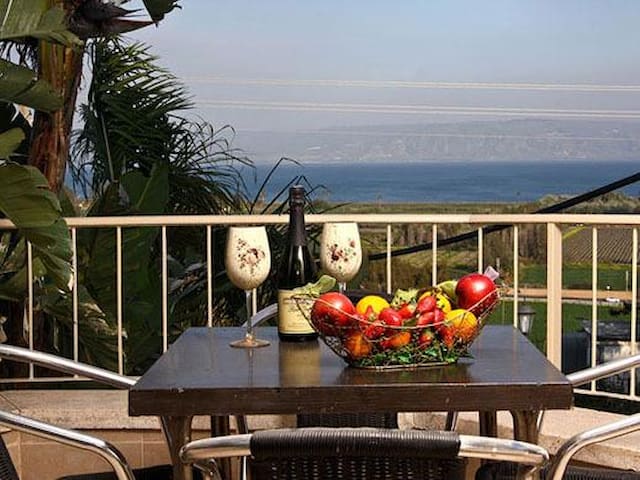 Romantic. Pampering cabin. In a pastoral area . Nice to ture around 5 minutes by car from sea kineret. Surround by trees and flowers breakfast on request. A chef resturant is 2 minets away. Privet pool . 3 cabins.
The cabin enhanced the romance of an amazing Israeli honeymoon experience! The view was spectacular. The restaurant next door to the cabin was also very good. The cabin was warm,cozy, and very welcoming. Although it is only a picnic cabin because there is no stove or oven, we would most definelty recommend this cabin those looking for a romantic getaway.
Vincent
2017-03-16T00:00:00Z
Tipo de Quarto
Quarto privado
---
Tipo de Imóvel
Cabana
---
Acomoda
2
---
Quartos
ליבנים, מחוז הצפון, Israel
Sweetzimmer features large suites with hot tubs and Sea-of-Galilee views. It offers free Wi-Fi, a spa and an outdoor pool .. Guests can also enjoy the free wine, biscuits, milk and espresso coffee machine provided in the rooms. neשr Sea of Galilee.
The suites offer wood-beamed ceilings and marble floors bare. All suites are of a private entrance and kitchenette, LCD TV and DVD player with satellite channels. The bathroom is equipped with soap.Each suite has a balcony view.
There is a nearby restaurant within walking distance of half a minute.
Tipo de Quarto
Quarto privado
---
Tipo de Imóvel
Outro
---
Acomoda
2
---
Quartos
Livnim, North District, Israel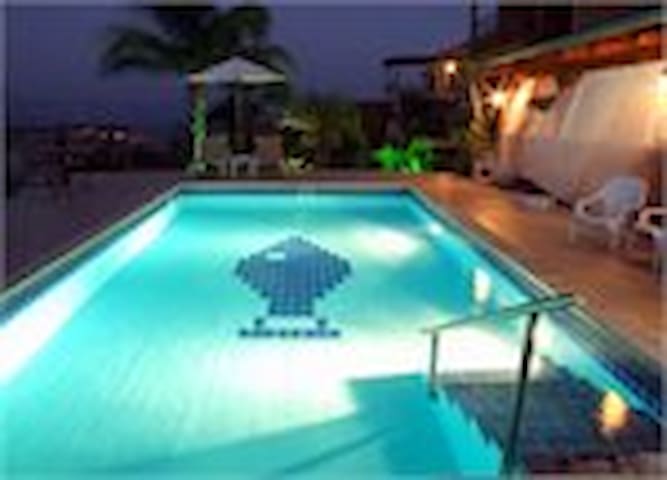 You'll love my place because of My place is 5 min from sea of Galilee, a spring near by and Jordan river is very close too. We live in Kibbutz Hakok together with an ecological community. The kibbutz is beautiful, bordering on the nature reserve called "Nachal Amud" which overlooks the Kinneret. we billed our home from strowbale with a lots of love. a very cozy home. . My place is good for couples, solo adventurers, business travelers, and families (with kids).
Tipo de Quarto
Casa inteira/apto
---
Tipo de Imóvel
Casa
---
Acomoda
5
---
Quartos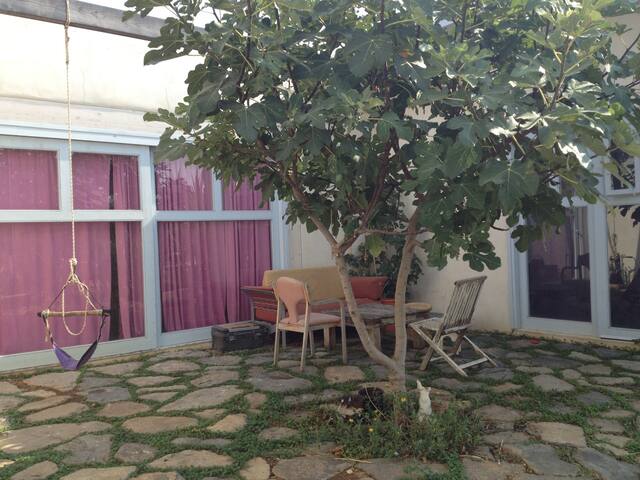 5 quartos ac - incluem entre 3 e 4 camas cada.O taxa é por quarto. cozinha totalmente equipada. 5 chuveiros e banheiros não no interior dos quartos. um pátio verde com áreas de estar. belos cenários.
Famílias, amigos, indivíduos - São convidados a conhecer e descansar na casa de férias que permite intimidade e conforto. espaço articular, com cantos de estar, mesas de jantar, quartos privados ou compartilhados, uma cozinha totalmente equipada onde pode cozinhar juntos. Durante a semana, aulas de ioga têm lugar - os hóspedes são convidados a juntar-se com o pagamento.
kibbutz Hokuk está em uma linda localização acima do mar da Galiléia, tranquila e amigável, e nossa casa hospitalidade fica em uma área tranquila, no coração do kibbutz
A perfect description of the house, a very friendly atmosphere, a lovely quiet place in a beautiful landscape above the sea of Galilee! Thank you for your warm and helpful welcome! A very kind neighborhood with the other guests! Kitchen and bathrooms nice, clean and well equipped! Thanks a lot; if we ever will be in Israel again, we will certainly join you! Kind regards, Majka and Carsten and kids
Carsten
2015-04-09T00:00:00Z
the location and Kibutz are great, for ppl who will come here - just make sure you know what is a kibbutz! and understand you are not coming into hotel. other wise great also to have hat water at any time :) at night there is a great that is closed so just make sure to get the code from the host, we stay in house with few rooms, in each room you will find up to 4 bads (if you want or need it ) at the same hose there are few restrooms and showers. any question i had i also got an answer so that also great!
Shimon
2015-01-07T00:00:00Z
Great place for a relaxing stay near the the lake. Especially for a young family or a group of friends searching for the simple and good life, this place is perfect.
Max
2014-11-14T00:00:00Z
de verhuurder was op de plek om ons welkom te heten, liet ons het huis zien. Ruimte genoeg maar alles bezemschoon. Keuken klein en niet schoon. De deuren konden niet op slot en er liepen kakkerlakken.(zoals bij ons meerder
Henk
2015-07-16T00:00:00Z
Lee's rooms were really clean and it was fun to stay in a kibbutz community (we were lucky enough that there was a dance class going on the night we stayed!).
Jake
2014-10-20T00:00:00Z
The reservation was canceled 4 days before arrival. This is an automated posting.
Anat
2015-02-03T00:00:00Z
Hokuk kibbutz is very beautiful and is located in a wonderful area of the Galilee, close to the Kinneret and great hiking. If you have kids, the kibbutz playground 1 minutes walk away is also great. If you are several families coming to stay, this will be a great place to stay, there are nice areas to eat outside and a yoga studio to play in (when there are not yoga classes being held). Unfortunately, this place is problematic if you are a single family sharing a single room, if there are also other families staying at the house. There were 3 other families staying at the same time as us, and our room was just off the kitchen, and so we had loud voices coming through the thin door/walls till quite late. Also, the kitchen is not really big enough for several families to use at the same time, unless they know each other well (i.e. are cooking together). With these 3 other families staying, we found it hard to get access to the kitchen either at lunchtime and in the evening. We eventually decided to eat out. Lee was very nice about everything and even reimbursed us for the last night because of this. We stayed the week before Passover, so it was probably busier than other times. Im sure it would be fine out of season. So I recommend it if you are several families, or if you are travelling out of season.
Adam
2015-04-03T00:00:00Z
Tipo de Quarto
Casa/apto inteiro
---
Tipo de Imóvel
Casa
---
Acomoda
15
---
Quartos
Hukok, Israel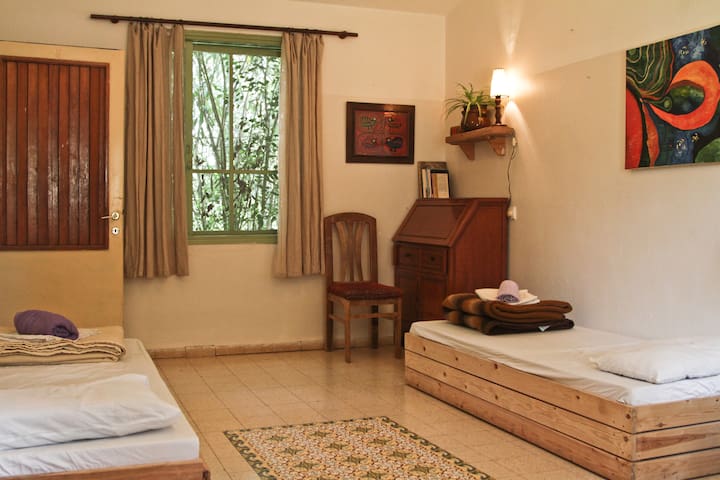 Al Azipor's vila includes a large private swimming pool , with breathtaking view to the kinneret it's ,also has a big private yard with BBQ place , ping pong table , soccer table , and different seating areas . Two equipped kitchens
Great place, the view is breathtaking, Fredy was very helpful and friendly, he even brought us some things from the store that we forgot to bring.
New
2016-10-23T00:00:00Z
Great place and views you can't beat. Freddy was great host. Loved the place. Highly recommended
MOTI
2017-02-18T00:00:00Z
Not a Vila. 2 apartments (2 bedroom & 1 bedroom). living-rooms are big. great view to Kineret, close to Tiberias (by car). owner was always available to help with anything. we had a great time there, lots of space for kids to have fun. on the other hand: has only 1 Jacuzzi and it doesn't work (no bathtub and there wasn't enough hot water for everyone to shower). oven didn't work. very dusty. many screws were laying around next to the (unclean) pool. pool is mutual to owner's home. owner's dog was always wondering around us (which was very upsetting to some of us) wifi is only near the pool. the apartments were sprayed too much with air freshener, we had to ventilate it location: no stores around. can get there only by car.
Yael
2017-02-25T00:00:00Z
it's romantic lodge, very common in Israel.
Igor
2017-02-04T00:00:00Z
准确真实的房源描述、热情、反应迅速的房东,十分可靠!
笑予
2016-10-06T00:00:00Z
Very spacious and nice simple vila with amazing view. Great host was very helpful and also not intrusive.
Yotam
2016-10-22T00:00:00Z
The host canceled this reservation 7 days before arrival. This is an automated posting.
nir sharon
2016-10-07T00:00:00Z
Tipo de Quarto
Quarto inteiro
---
Tipo de Imóvel
Vila
---
Acomoda
12
---
Quartos
Migdal, North District, Israel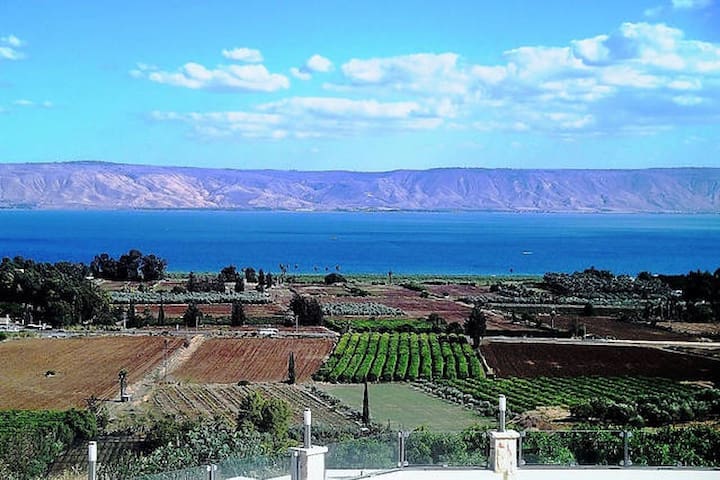 My place is close to great views and the beach. My place is good for couples, solo adventurers, and business travelers.
The host canceled this reservation the day before arrival. This is an automated posting.
Igor
2017-02-02T00:00:00Z
Tipo de Quarto
Quarto inteiro
---
Tipo de Imóvel
Pousada
---
Acomoda
2
---
Quartos
Migdal, North District, Israel
our beautiful house is a great place for a family or a couple vacation. a big garden with an out door bathtub, composting toilet and many children facilities. it is a 5 min drive from the sea of galilee and 15 min from rosh pina and tiberias. welcome
We had a great time. awesome place in a quiet area in the north. We loved the cabin feel in a natural setting. There were a lot af cats on the property which we needed to get used to but that's ife in the woods. It is very hot in the summer but there's a nice afternoon breeze. The bedroom was cool but a little stuffy. Would recommend it to anyone who wants to visit the north and enjoys living in a cabin like setting. The outdoors is really nice and cozy. Even better then the pics.
Rafi
2016-08-27T00:00:00Z
Tipo de Quarto
Casa inteira/apto
---
Tipo de Imóvel
Casa
---
Acomoda
5
---
Quartos
Hukok, North District, Israel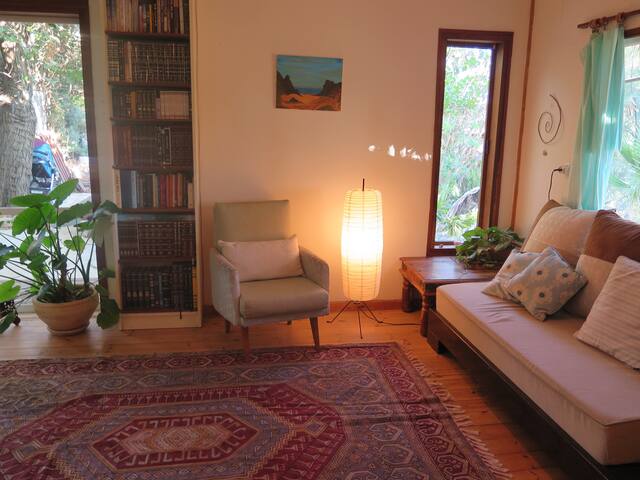 Our lovely wood cabin is located in our yard, one of three beautiful cabins. The cabin contain small kitchen with refrigerator, microwave, coffee, tea, milk and cookies (plate, glasses..), bathroom and shower, jaccuzzi and t.v. in the bedroom. We can open the sofa for up to 2 kids (sleeping together) for extra charge. Our guests can also enjoy shared swimming pool and sauna with the other 2 cabins. We will be glad to host you and provide you everything you need for a perfect vacation and relax.
Our guests enjoy a complete privacy, their own sitting area and B.B.Q We have 2 more cabins (separately, each cabin have its own privacy) all the three cabins share swimming pool and sauna.
Tipo de Quarto
Casa/apto inteiro
---
Tipo de Imóvel
Casa de campo
---
Acomoda
2
---
Quartos
Migdal, North District, Israel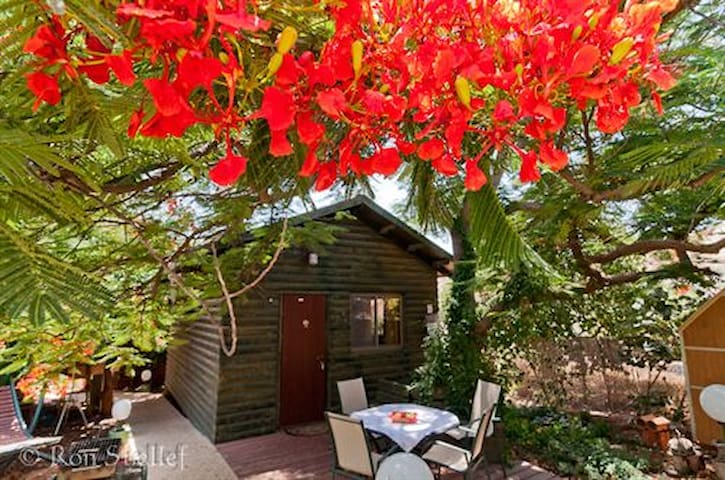 Insira as datas para ver o preço total. Taxas adicionais aplicáveis. Podem ser adicionados impostos.