14 Apartamentos para Alugar
Nestled in the forest on Lake of Bays, you will find Deer Trail. Deer Trail is the perfect getaway for your family or friends in both summer and winter. Just a short walk to your own private dock and swimming area, with access to two kayaks.
The lot is very private, great for outdoor games or hanging around reading a book or board game. Satellite TV and DVD library available to use by our guests.
Lake of Bays is the 2nd largest lake in Muskoka , with over 550kms of shoreline. Deer Trail is approximately 35kms to the west gate of Algonquin Park, and is located on snowmobile trails.
Talking with Eileen was easy. She got back to any questions right away! The cottage was fantastic. Everything was ready for us when we got there. We had an amazing stay and saw a few deer right on the property! We would definitely stay again:)
Kristen
2016-07-19T00:00:00Z
great location. Near the park. Everything was there. Clean and beautiful. 1 minute walk to lack and 20 minutes drive to the park.
Ivy
2015-10-18T00:00:00Z
We had a great time at the cottage, it was well equipped, clean and in a great location for exploring Algonquin and the surrounding area. Unfortunately the weather wasn't great when we visited so we didn't get a chance to try out the kayaks or bikes but we were kept nice and warm inside!
Emma
2016-05-17T00:00:00Z
We had a great time at this cottage! Everything was clean and just as pictured on the listing. The dock is not far at all, and the water is nice and clear.
Adam
2016-07-06T00:00:00Z
Deer Trail cottage is a nice place to stay. When we checked in, the gas heater was on, just like you came back your own home. House is clean and comfortable. We will book it again. Thanks Eileen.
xiaohui
2015-10-06T00:00:00Z
Eileen's cottage is beautiful! She provides you with everything you need to enjoy your stay. The dock is something everyone should check out - the water is clear and scenery is mesmerizing. I really enjoyed my stay, would definitely come back! Thank you Eileen.
Valentina
2016-08-23T00:00:00Z
The cabin was great, it was nice and clean. The heat was on for us when we arrived, everything went smoothly and was super easy. I would definitely recommend deer trail to anybody who is looking to go to Muskoka for a couple days.
Kevin
2016-01-05T00:00:00Z
The chalet is clean, quaint and cozy and very well equipped (even has a Tassimo coffee maker, bring your own pods). The neighbourhood calm and relaxing with everyone (neighbours) so friendly and chatty. It is so peaceful to just seat by the dock with a mug of coffee in the early morning. We were a family of 8. Old and young all had a great time. Everyone wished we could stay longer. We made good use of the private dock, the kayaks, the croquet game, the bikes, the bbq and the deck, the firepit. We hit a heatwave during our stay however it was fine with the fan. Communication with Eileen was great. We didn't to meet her in person but she was readily available when we had questions or needed something. Thank you Eileen for this great family vacation. I definitely recommend this place and hope we can come back next year.
Y C
2015-08-23T00:00:00Z
Tipo de Quarto
Casa inteira/apto
---
Tipo de Imóvel
---
Acomoda
7
---
Quartos
Dwight, Ontário P0A 1H0, Canadá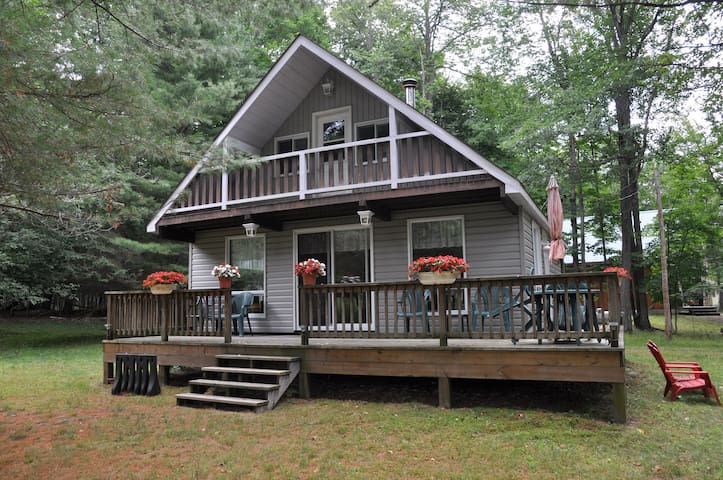 Family Cottage with 100 ft of lakefront on 5 private acres. Enjoy the best of Lake of Bays with space for your whole family. Only 2.5 hours from Toronto, minutes away from grocery and liquor stores. Sit out on the dock, canoe, and enjoy the outdoors.
Complete privacy in one of the most beautiful lakes in the whole province. Quintessential cottage country escape for the family.
Close to the city but a true private cottage oasis
Jeff was a very nice host and his family cottage is amazing. It was very clean upon our arrival, tons of activities on site (table tennis table, croquet set, a tv with a dvd player for movies), and it is right by the water. It is also a very spacious and comfortable cottage. The cottage is also a short drive into town, about 15-20 minutes, if you need to get some more food or supplies. I would definitely plan another weekend outing at Jeff's cottage.
sterling
2016-08-29T00:00:00Z
Great value. Loved the smell of wood as we walked in. Surprised to find two very nicely renovated modern bathrooms. Awesome induction stovetop allowed us to prepare meals fast. Fantastic view for fall colours. Jeff was very responsive to questions and his mom was very helpful as well. We had a great weekend at this place.
Sam
2016-10-19T00:00:00Z
Jeff was very friendly and helpful. The cottage and lakefront views were amazing, the pictures don't fully capture how lovely a spot it is. Overall we had a very enjoyable and relaxing experience!
Meagan
2016-07-12T00:00:00Z
The cottage is perfect . It's cosy and has beautiful lake view. Thanks to Jeff for making our stay memorable. Route to reach the cottage is beautiful. We enjoyed a lot and we will come back again.
Sepideh
2016-11-14T00:00:00Z
Wonderful Cottage on Lake of Bays Well situated on a quieter leg of the Lake, this cottage was a great find. Easy to get to, with two towns close by via some of the nicest meandering roads that I've seen in a while. Jeff, our host, was both accommodating and available to answer questions and help with details. The house guide pdf was perfect, and covered everything we needed to know. The lot is beautiful, very nicely landscaped and with great light. Quiet neighbours, fantastic swimming, a lovely dock. The cedar strip canoe was a really nice treat with lots to explore close by. The cabin itself was large and spacious and very well furnished. All the appliances and gear are top of the line, and everything worked! So, all in all, we were delighted and we're happy to recommend it to others who are lucky enough to discover this wonderful Cottage on Lake of Bays.
George
2016-08-27T00:00:00Z
Jeff was very helpful, patient and responsive when I was planning for the trip there ( and asked loads of questions lol). And the cottage was just PERFECT. It was everything I expected and more, thank you so much Jeff! We loved your place and had a wonderful time !
Sherry
2016-10-03T00:00:00Z
Gorgeous cottage on Lake of Bays. Way more living space than expected, we really loved the cottage, property and the location. Thank you so much Jeff for a great stay, we would absolutely book this again.
Allie
2016-07-09T00:00:00Z
Jeff's home is wonderful. Everything a cottage should be, and the size makes it ideal for family gatherings. It's very accessible, and easy to find - close to town for anything you may forget to bring up with you, and very picturesque. Great for kids and adults alike. I would definitely come back.
Sean
2016-10-31T00:00:00Z
Tipo de Quarto
Casa inteira/apto
---
Tipo de Imóvel
---
Acomoda
12
---
Quartos
Dwight, Ontário P0A 1H0, Canadá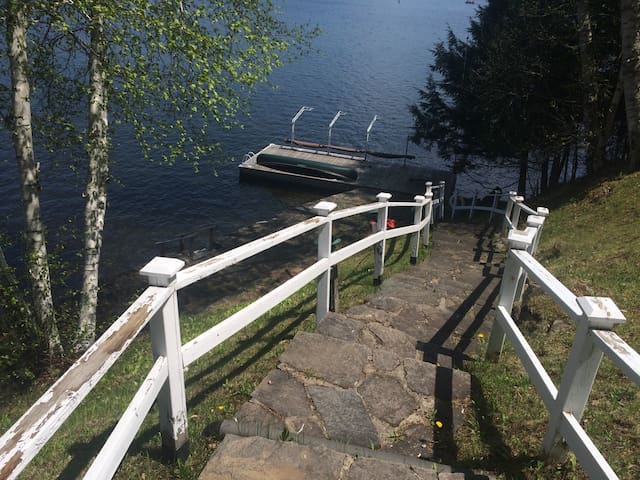 Two cottages on beautiful lake and close to hiking trails, restaurants/cafes, great views, Algonquin and Arrowhead Provincial Parks, Deerhurst Golf Resort, Huntsville, Muskoka. You'll love my place because of the perfect balance of nature, leisure and amenities. Great for couples, solo adventurers, and families (with kids).Witness the heat of summer, cool down in the water and take in the beauty of fall starry nights and leaves changing colours. A great place to retreat and connect to nature
Waterfront dock (you can dive off) surrounded by beautiful trees and across from an island for short hikes. Canoe and paddleboard included. And a fire pit. 2 Fully equipped cottages. Total number of bedrooms: 6 Total number of baths: 2 Main Cottage - Fully equipped with 3 private bedrooms. Layout: - Main bedroom has view of the water and trees. - Room with double bed and room with bunk bed view forest and trees. - Full bathroom and shower. - Fully stocked Kitchen with oven, fridge, toaster, kettle, pots, pans, plates, mugs etc. - Electricity, hot water and baseboard heating. - Outdoor wrap around deck with seating and table and BBQ - Indoor living room and dining room with huge bay windows of trees. - Muskoka room with mosquito netting and hardwood floors - Blankets, pillows and towels provided. Guest Cottage Layout: - 3 bedrooms with view of surround forest and trees. - 2 rooms with double bed and room with bunk bed. - Full bathroom and shower. - Kitchenette with small fridge, sink and double burner. - Indoor living room with couches and coffee table - Electricity, hot water and baseboard heating. - Laundry machines (washer and dryer). Price: For entire property - both cottages and private dock: $2000/week, $6000/month Preference will be given to longer-term rentals. Price is negotiable if you would like to lease the cottage for longer than one month. Minimum rental is 1 week. Available: July 18 – July 31, September 1 - Octob(PHONE NUMBER HIDDEN)) Witness the heat of summer, cool down in the water and take in the beauty of fall starry nights and leaves changing colours. Celebrate with friends and family, wind down and simplify. A great place to retreat, connect to nature and people and/or work remotely. There is plenty of space for all of it. For more direct info: email fa(EMAIL HIDDEN)
20 minute drive from the charming town of Huntsville full of cafes, restaurants etc. Close to Hiking and Swimming at Arrowhead Provincial Park (20 min drive) and Algonquin Provincial Park (30 min drive). 15 minutes from Deerhurst Golf Resort, Highway 60's trading shops, (Kawaratha dairy ice cream and Farmer's Daughter).
Tipo de Quarto
Casa inteira/apto
---
Tipo de Imóvel
---
Acomoda
8
---
Quartos
Dwight, Ontário P0A 1H0, Canadá
Family Cottage with breathtaking views - enjoy your morning coffee on a large deck overlooking a quiet bay. Explore Lake of Bays and area: only 20 minutes to the West Gate of Algonquin Park, Shopping and Dining in Dwight and Dorset, Historic Downtown Huntsville, Dorset Lookout Tower, Muskoka Heritage Place, Algonquin Theatre, and a number of Golf courses. Newly built - still moving in.
Year round cottage, on private road with 275' lakefront on fabulous Lake. Great outdoor spaces, dock installed for summer 2017. close to snowmobile trails and Skiing at Hidden Valley Highlands.
Private road and quiet bay, great for relaxation and fun. Please keep the noise down after 11 pm, noise travels on the lake.
The Muskoka Maple cottage is wonderful for a winter getaway and Linda is an excellent host. Great communication throughout and the place was just as advertised--beautiful setting, perfect space for two families, and easy access to Algonquin Park. We'll be back!
Matt
2017-01-23T00:00:00Z
We would like to personally thank Linda who was an amazing and super helpful and honest host. She had left us many nice gestures such as theme related napkin-wear and glasses and many more, she ensured that we all had extra towels and soap, shampoo and beds. The house was super clean and whenever we had a question she was always super fast and friendly with her answers no matter what time of day both prior and during and even post trip! We would most definitely visit again!
Ali
2017-01-03T00:00:00Z
Had an awesome weekend.
jeff
2017-02-22T00:00:00Z
My friends and I had a great time at Linda's place. The place was very clean and well equipped. The view was absolutely amazing. The cottage is also close to Hidden Valley Highlands Ski Resort, which was a plus. If you're looking for a nice and relaxing getaway, I would definitely recommend Linda's place.
Giselli
2017-02-26T00:00:00Z
Tipo de Quarto
Casa inteira/apto
---
Tipo de Imóvel
---
Acomoda
8
---
Quartos
Dwight, Ontário P0A 1H0, Canadá
Muskoka cottage on its own point provides a spectacular view of Lake of Bays, one of the biggest of the Muskoka lakes. The main cottage has three pine-panelled bedrooms, all with a lake view. A bunk house has two additional bedrooms.
The cottage consists of a main cottage, bunk house, boat house and docks, situated on a private point and surrounded by trees. The main cottage, built in the 1950s, is set back 10 to 15 feet from the lake - a distance not allowed by current zoning laws, but making for a spectacular 240 degree view of Lake of Bays. The living and dining area of the main cottage has a large working stone fireplace, wraparound couch and large dining table comfortably sitting 8. A large, sunny Muskoka room adjoins the living/dining area and overlooks the lake. The kitchen features new appliances and all necessities - coffee maker, microwave, large set of dishes, utensils, mixing bowls and cookware, etc. There are three cozy pine-panelled bedrooms in the main cottage, each with a set of drawers, a closet and a lake view. One bedroom has a double bed, the other a single bunk bed, and the third a bunk bed with a double bed on the bottom. The bathroom is recently renovated and features a combined shower/bath. A self-contained Panabode cedar log sleeping cabin set back from the main cottage has a bathroom with shower and one bedroom with two bunk beds, and a double bed in the main room. Superb swimming and boating, great for families. Small sandy beach, stepped access to large shallow area, and three docks - all get great sun and are steps from the main cottage. Large stone bonfire pit. 25 minute car ride to Algonquin Provincial Park, and its hiking trails, public beaches, and many lakes. Other comforts and amenities: - Hot water - Parking space for 4 cars - 2 kayaks, 1 canoe, 2 paddle boards - BBQ - Picnic table - Panasonic flat screen TV with DVD player - Lots of boardgames - DVDs
Overall great stay. Nice part of Lake of Bays with easy access to amenities. Cottage is very cute and cozy and comfortable. Water is shallow for those that like that and very nice lake to kayak as well. The bunkie, though apart from the cottage, could accommodate many more people if needed. Beds were comfortable. Plenty of pillows and blankets. Porch at the front was nice to have morning coffee. The only suggestion I would make to improve was because we had such a hot week, a ceiling fan (with light) in the dining room might help move the air around especially when it is so hot. Dock with plenty of chairs got sun the majority of the day. Overall, a fantastic week on Lake of Bays.
Kathi
2016-08-14T00:00:00Z
We had a fabulous time at the Cottage, Lake of Bays. The setting is beautiful and the cottage very comfortable. We were looking for an authentic Muskoka cottage experience and were delighted with our stay that included use of the canoe and kayaks. Our host was most helpful in providing information before hand and making us feel welcome.
Dorothy
2015-06-19T00:00:00Z
Emma was excellent with quick communication - before, during and after our stay. Was very accommodating with all our questions, and when we had a few issues at the cottage (some out of control of anyone - storm power outage), she was very quick to respond and tried to help solve the situation. Overall a decent cottage for a nice getaway, with a great and fair host.
Mike
2016-09-03T00:00:00Z
Beautiful location-exactly as described. The perfect lake retreat! We loved it.
Mara
2016-07-25T00:00:00Z
We stayed here with my husband and his family who were visiting from Australia. Emma made us feel super welcome in her family cottage. The cottage is set right on the lake, the water is perfect for swimming, the property is very big and and absolutely beautiful. Check in was easy, the kitchen is well stocked if you are planning on cooking family meals, the fire pit is great and there is also a BBQ. We had a great week and would highly recommend this cottage if you are looking to spend some time with your family in the wilderness.
Nina
2016-07-14T00:00:00Z
Tipo de Quarto
Casa inteira/apto
---
Tipo de Imóvel
---
Acomoda
8
---
Quartos
Dwight, Ontário P0A 1H0, Canadá
Perfect place for family reunion, groups, clubs or friends, with ten to 18 people. Next to Algonquin Provincial Park. Large shallow sandy shoreline. Provides room to gather, and room to be private. Access to all the amenities at our superb cottage resort. An authentic Muskoka Canadian cottage experience, Kayaks, canoes. Other boat rentals available. Uncrowded autumn colours. Winter nordic ski trails. Organic garden and free range chickens. Wifi. Rec room and so much more.
The LODGE is an ideal base for family gatherings, groups, reunions or even business team-building. With six bedrooms upstairs (4 have private 4 piece bathrooms; 2 share a 3 piece ensuite) and an extra bedroom on the main floor adjacent to two washrooms, it can accommodate up to 18 people -- and if you have a larger group, we do have other cottages close by. We've had groups of 30 enjoy get-togethers in the spacious lounge/dining area -- facing to the lake across our expansive sloping lawn. Rates are based on ten people minimum in the unit -- and increase per person beyond that, but children under 12 would be half-price provided the base of 10 people can be met for the fee structure. This unit is nestled into our long-established cottage resort -- Here since 1905, we are not only the longest operating family cottage resort on Lake of Bays, but the premier destination for cottage vacations. With all the privacy you could want - including a secluded gazebo, the Lodge has full access to all the amenities of a full service housekeeping resort. The main floor of the Lodge features a large fireplace lounge, spacious dining room, a library complete with a piano, two washrooms, and a large well equipped kitchen -- two fridges, microwave, oven, dishwasher, etc. All plateware and cutlery are provided. Picnic tables and lawn chairs are of course all right there. The view to the lake offers superb sunset views. We began life here as a farm -- not an easy thing to do in Muskoka! We still retain our roots, with an expansive organic garden from which we sell produce to our guests in season, and a small flock of friendly free-range hens that provide eggs. A stable associated with the property houses competition horses (not available for guests, but they do enjoy coming to watch the horses train over fences!) and a delightful small Shetland pony who is happy to offer rides to the little ones. We do have a dog and several cats on the property -- they live with Nancy, and are not in the rental cottage, they are all very socialized and happy to provide cuddles to our guests, but we cannot accept additional pets due to other guests potential allergies in the cottage. There is 24/7 on-site management assistance if anything needs attention, and we can provide Office Assistance as well. Wifi is on site, tv, dvd -- all those toys, but you won't want to be there long -- you will want to be outside enjoying the lake. Our property is very large -- that means that you can always find a place of total solitude, or, if you prefer, find an area to mingle in. With over 1200' of shallow sandy waterfront, our beach area is NEVER crowded.
We are located just 10 minutes from Algonquin Provincial Park, 20 minutes from Arrowhead Provincial Park, and 5 minutes to Ragged Falls Provincial Park. We can arrange for you to canoe the Oxtongue River from Marsh's Falls to Dwight. Take a trip to Dorset, sail on the S.S. Bigwin, enjoy the village with its old-style General Store; shop the antique and artisan stores in Dwight and Baysville. Huntsville is just 20 minutes away. There is a Community Health Hub in Dorset, and a Walk-In Clinic in Huntsville should you have need of their services. Heritage sites, museums, art festivals, theatre and cultural events take place here all year round. Zip lining, tree-top treks, the Haliburton Wolf Reserve and so much more are all within an hour of us.
Very well
Eli
2016-06-20T00:00:00Z
Tipo de Quarto
Casa inteira/apto
---
Tipo de Imóvel
---
Acomoda
16
---
Quartos
Dwight, Ontário P0A 1H0, Canadá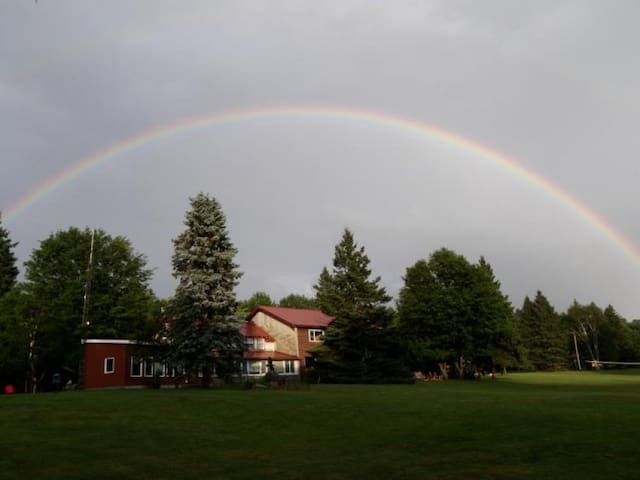 Blue Water Acres Resort sits on the pristine shores of Lake of Bays offering sweeping views of grand vistas, a long beach and many other great amenities, discover what a full service resort gets you! - Huntsville shopping and dinning - Proximity to Algonquin park Internet and Satellite TV Free Kayaks and paddle boats In door heated pool, hot tub and sauna Games room with pool table, shuffle board, and ping pong Gym Basketball and tennis courts Play Ground Gas BBQ .
Tipo de Quarto
Casa inteira/apto
---
Tipo de Imóvel
---
Acomoda
4
---
Quartos
Huntsville, Ontário P1H 2J6, Canadá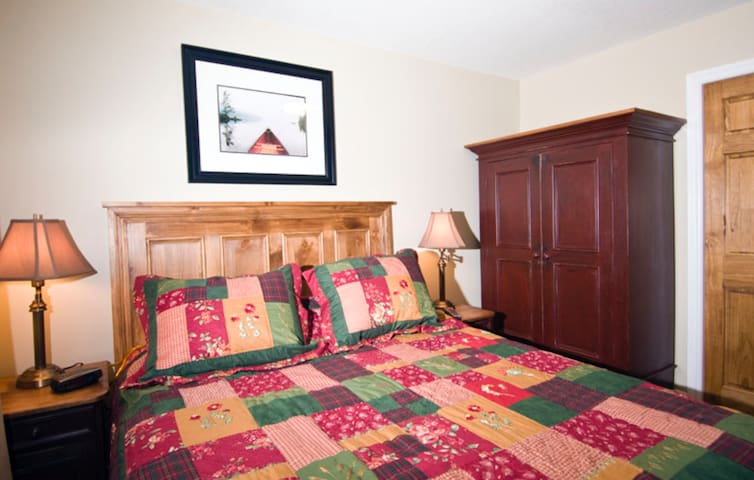 Spectacular point of land, private with deep/shallow water and sandy water access.Close to Portage Marina, quiet bay overlooking a larger bay and easy access to the open part of Lake of Bays.Excellent location, near Huntsville and Dwight in the NW area of the lake.Enjoy all Lake of bays has to offer- huge open water boating, fishing, water sports, fine dining and golf at Bigwin Island, numerous small town tourist destinations and with excellent proximity to Arrowhead/Algonquin provincial parks.
Please note: excellent cottage for those with their own boat (or wishing to utilize my pontoon boat (extra fee). Water access only despite being on mainland. Parking options available in nearby Dwight- please contact Host for details.
Private and quiet, ample property for games and children's play. Pet friendly (as long as your dog(s) are well behaved and do not roam.
Tipo de Quarto
Casa inteira/apto
---
Tipo de Imóvel
---
Acomoda
10
---
Quartos
Huntsville, Ontário P1H 1A5, Canadá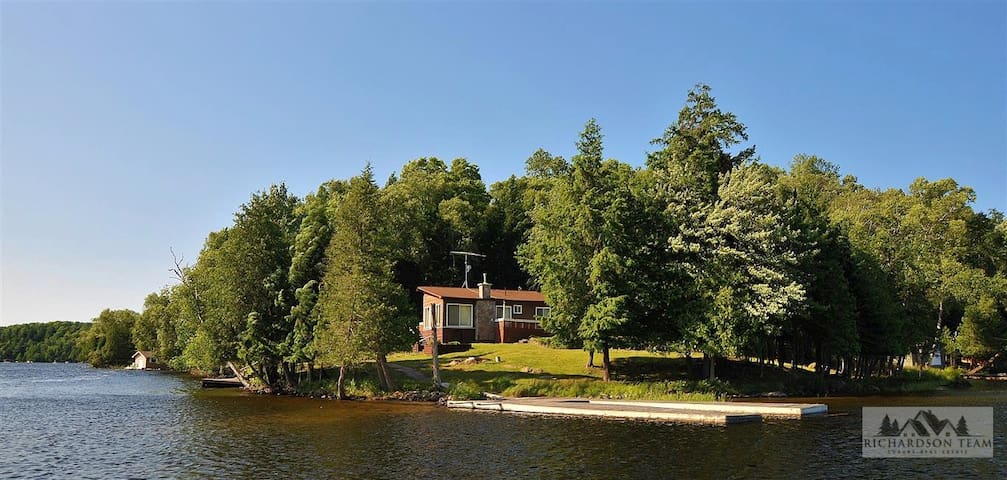 Private cottage, with all the amenities of a long-established cottage resort, close to Algonquin Park, right on the Lake of Bays. This cottage is tucked in beside our huge organic garden, and one of the horse pastures, facing down to the waterfront with a big front deck.All the privacy you could want, plus access to resort facilities right on site for young and old. Canoe and bbq are included. Ideal for families or friends travelling together. Wifi and tv, but you'll be outside anyway...
Our family has lived on this property since 1905, and we continue to be the premier housekeeping cottage resort on the Lake of Bays. With an extensive property, our updated cottages are widely spaced for maximum privacy, but still have access to all our facilities and activities. Please note that our property began as a farm, and there are still some farm aspects to our place. We have horses on site at a private stable -- although there is a small pony who gives pony rides to the little ones. We have free range hens, and we sell the eggs to our guests. We have a large organic garden, and sell produce directly to our guests from that as well. This property is also our home -- we have a friendly dog, and cats that live with Nancy. We do not permit other dogs/cats/pets in the cottage or property, due to allergies in other guests but if you need a 'pet fix' Nancy's critters can provide that. And for your own pet, there are excellent kennels/dog resorts in the immediate area that will give your dog a vacation experience as well while you are here. We are surrounded by our own private 600 acre wilderness, which contains a network of hiking trails and a frisbee golf course -- in winter we maintain 20 km. of groomed ski and snowshoe trails. Sunflower is located beside our organic garden, facing down the slope directly to the lake. It has access to a private beachfront just to the left of the cottage. If this space is not available for the time you are requesting, please have a look at the Bondi Village Resort website (URL HIDDEN) for other available cottages on our site.
We are well located, close to both Algonquin Park, our flagship Provincial Park, ten minutes away; while still close to shopping and attractions in Huntsville, Dorset, Baysville. There is a lot to do in the neighbourhood, you can be as busy as you want to be, or you can just stay here, and set your own pace. We can direct you to the 'best bakery', 'best pies', 'best meat deli', 'best shopping experience,' and 'best attractions' and are happy to do so. We've been part of this area for over a century -- we know where the 'good stuff' is.
Tipo de Quarto
Casa inteira/apto
---
Tipo de Imóvel
---
Acomoda
6
---
Quartos
Dwight, Ontário P0A 1H0, Canadá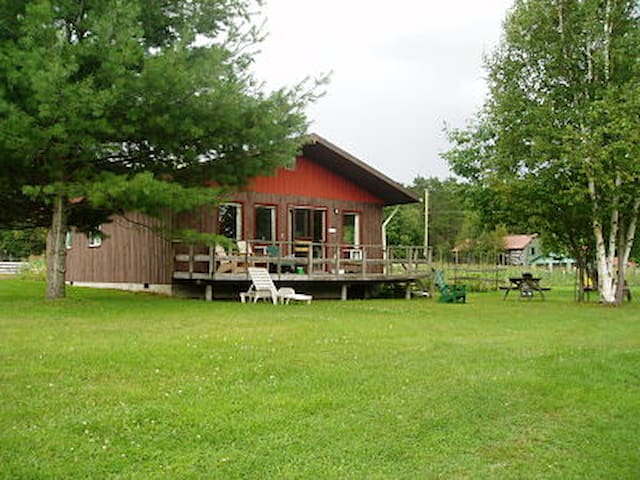 Enjoy all the comforts of this totally self-catering 3-bedroom, 2-storey Muskokan cottage (1380 sq. ft.) located in Muskoka only 2½ hours north of Toronto on Lake of Bays, between Dwight and Huntsville, near Algonquin and Arrowhead Provincial Parks ... just grab your family and/or friends, your clothes and stop at one of the local grocery stores! Check us out for your next vacation ~ a beautiful Muskoka getaway at affordable prices!!
Cottage is located between Dwight and Huntsville Minutes from Hidden Valley Ski Resort and numerous golf courses Near Arrowhead and Algonquin Provincial Parks Onsite Amenities: Beach with volleyball net and slide (use of kayaks, canoes, paddle boats) Indoor pool, whirlpool and sauna Nightly fires at large resort fire pit (summer) New games room (shuffle board, ping pong, pool table & fuse ball) Playground, tennis courts, basketball/volleyball & hiking trails Exercise Room with an assortment of equipment Outdoor skating rink and snow tubing hill (winter)
Tipo de Quarto
Casa inteira/apto
---
Tipo de Imóvel
---
Acomoda
6
---
Quartos
Huntsville, Ontário P1H 2J6, Canadá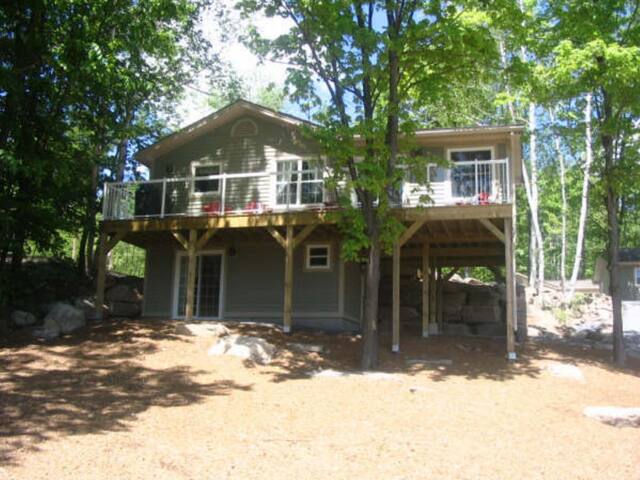 350 foot frontage on Lake of Bays. Gorgeous 4 bedroom, 4 bathrooms, central air conditioning, lake front with sandy private beach, hot tub and exceptional views. 4.5 acres of property with lush lawn, volleyball net, badminton net, waterfront and woodland. Excellent proximity to Huntsville and Algonquin Park.
Enjoy an expansive lawn that is perfect for badminton, croquet, bocce ball, Frisbee, etc. The waterfront is sandy beach that is very shallow on one side making it perfect for young children and deep on the other so you can moor your boat on the other side of the dock. There are two beautiful stone fireplaces, one in The Great Room and one in the Family Room.
We are ideally situated within 1/2 an hour of Huntsville, Bracebridge, Baysville and Dwight. 45 minutes from the west gate of Algonquin Park.
Tipo de Quarto
Casa inteira/apto
---
Tipo de Imóvel
---
Acomoda
10
---
Quartos
Huntsville, Ontário P1H 2J3, Canadá
Beautiful modern cottage on Lake of Bays in the popular Muskoka region of Ontario, Canada. Swim the clear waters, relax on the dock, enjoy the bonfire, admire the fall foillage or explore the winter wonderland in this year round vacation property.
Beautiful, new, clean 2000 square foot cottage on Lake of Bays. All new appliances, private lake front with dock and proximity to beautiful sights in the famous Muskoka region of Ontario. No WiFi.
My three friends and I enjoyed our stay. The house was very tidy and extremely cozy. Checking in was quick and easy as was communication with Julie. The kitchen was fully stocked and we made some great meals while gathered around the huge island. She also offered a pile of firewood for an extra charge which was very convenient. The fire pit outside was perfect for enjoying some tasty brews and listening to the waves lap against the shore. I would definitely recommend staying here.
Greyston
2015-12-14T00:00:00Z
A group of us stayed for 2 nights at Julie's cottage for our annual cottage retreat. Julie was very accommodating and let us have a later check out as most of us arrived late the first night. The cottage is spacious and we were all comfortable. I loved waking up to all the light the windows offered us; as well a the lakeview. One couple would have appreciated blinds, but on a positive note the cottage was extremely private. The sunrise in the morning is spectacular if you wake up for it. We all enjoyed sitting at the dock during the day and the firepit by the water at night. The kitchen was fantastic and we made some great meals and had some awesome talks. To wrap this up, the space was great and we all felt very happy to be there. THANK YOU JULIE!
Anthea
2016-03-18T00:00:00Z
My 6 friends and I were stayed during a weekend in January. Julie was an amazing host. She was quick and prompt with her responses. The cottage was amazing. Beautiful view, rooms were comfy and the place was clean. We definitely would love to visit this place again during the summer!
Louisa
2016-01-28T00:00:00Z
Tipo de Quarto
Casa inteira/apto
---
Tipo de Imóvel
---
Acomoda
8
---
Quartos
Huntsville, Ontário P1H 2J3, Canadá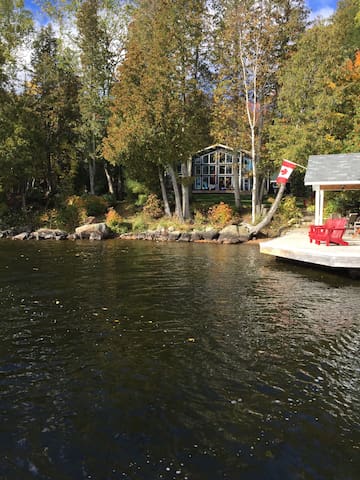 On Lake of Bays, this spacious 3 bedroom cottage has a direct view of the lake and features a Muskoka Room, deck and bbq. It is located in the Blue Water Acres Resort on Lake of Bays. Resort includes amazing sandy beach, indoor pool and whirlpool.
The cottage has 3 bedrooms and two bathrooms and is approximately 1400 square feet. The Master has a king bed and ensuite bathroom, the second bedroom has a queen and the third has two twin beds. The cottage has a deck as well as an enclosed Muskokan room. The cottage is the Blue Water Acres Resort, a large 40 acre property on Lake of Bays. You have exclusive access to your cottage (including deck and BBQ) and shared access to the resort amenities. The property has walking trails, two tennis courts, a playground, games room and exercise room.
Located in Muskoka just outside Algonguin Park, Lake of Bays is ideal for swimming, fishing, boating, canoeing, kayaking, waterskiing, sailing, hiking, cycling, mountain biking, golfing, alpine and nordic skiing, skating, snowmobiling, ice fishing and dog sledding.
We just came back from Jamie's cottage and it was great. The facilities were exactly as promised and my family had a fun winter getaway. The cottage is modern and everything was clean. We had a bit of confusion with the dates when we first booked but once that was sorted everything went very smoothly. We can't wait to go back.
David
2016-02-20T00:00:00Z
Great, worry-free experience. The cabin had an amazing view and everything we needed for a super fun family get away. I would recommend to anyone.
Amanda
2017-02-28T00:00:00Z
We had a wonderful time at this place. We were 6 adults and two infants. The resort and the cottage we rented was beautiful, facing lake, very clean, good condition. Everything was as described and as the photos showed before renting. Owner was very helpful on answering queries and allowing us for early check in. Great place for family with lot of things to do. We loved it.
shirley
2015-05-19T00:00:00Z
Tipo de Quarto
Casa inteira/apto
---
Tipo de Imóvel
---
Acomoda
8
---
Quartos
Huntsville, Ontário P1H 2J6, Canadá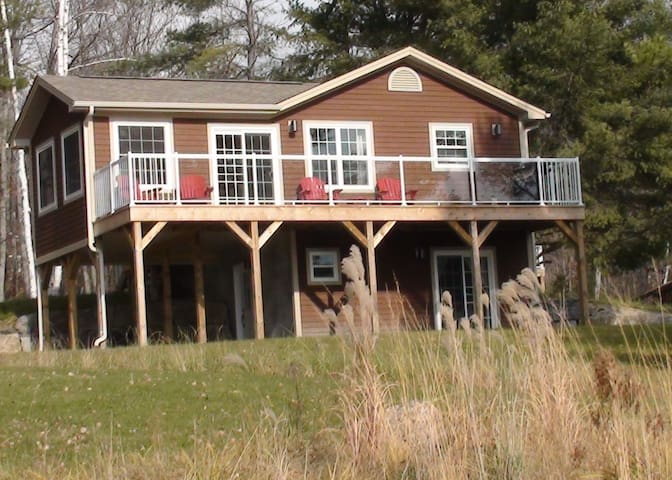 Studio condo on Bigwin Island 2 week minimum rental due to condo regulations I cannot rent for less than 14 days. Suitable for 1 or 2 people maximum
Renovated and very comfortable for a relaxing time on Historic Bigwin Island.
Leave your cares on the mainland as you travel by 10 minute ferry ride to Bigwin Island
Tipo de Quarto
Casa inteira/apto
---
Tipo de Imóvel
---
Acomoda
2
---
Quartos
Lake of Bays , Ontário Pob1a4, Canadá