White wave is a luxurious villa next to the sea. It is built at the waves edge, 20m from sandy beach. It is 50m away from supermarket, pharmacy and medical center. It is 20km from Ierapetra city, 35km from Elounda and 30km from Agios Nikolaos, 2km from Makri Gialos, 30km from international airport, 15min from Koufonisi island. It has a seeviewed terrace, a bedroom, a bathroom, a fully equipped kitchen, a sitting area with TV. Free wifi and parking. Everything you need for a comfy holiday!!
White wave consists of self-standing luxurious and uniquely styled villa built with strong Cretan influences next to the sea. Guests will enjoy Sea views from the spacious terrace!
The Villa is in a quiet neighborhood next to sandy beaches, pastry shops, pharmacy, café, restaurants, supermarket, medical center.
We had a great stay in the apartment, everything was as descriped. Loved to stay right next to the seaside with a wonderful view. Many thanks to Manos for good support - we definitively recommend it!
Martin
2016-09-28T00:00:00Z
Thanks a lot to Manos - arrival and communication were easy and fast. The appartement is as shown on the pictures and the balcony/view incredible! A perfect location to visit eastern Crete. At a very good value for money. I definitely recommend the place. Nicolas
Nicolas
2016-08-21T00:00:00Z
Casa molto carina, pulita, spaziosa e con vista sul mare. Manos è molto accogliente e abita al piano di sopra, quindi per qualsiasi necessità è presente. Posizione ottimale per visitare la parte sud-est di creta, con anche una piccola spiaggia sotto casa!
Serena
2016-08-17T00:00:00Z
Die Unterkunft ist einfach nur toll. Meine Freundin und ich waren 6 Tage zu Gast bei Manos und haben uns sehr wohl gefühlt. Die Unterkunft ist wie beschrieben und entspricht auch den Fotos. Sie ist sehr sauber, schön eingerichtet und auch alles Nötige für den täglichen Bedarf ist vorhanden. Manos ist ein hervorragender Gastgeber: freundlich, hilfsbereit und sehr zuvorkommend. Die Umgebung ist genau richtig um einfach mal abzuschalten. Richtung Osten: ca. 20m von der Wohnung entfernt ist ein kleiner Strand, ca. 5 Gehminuten entfernt ist ein etwas größerer Strand mit Bar/Café, ca. 20 Gehminuten entfernt ist ein großer Sandstrand mit mehreren Bars/Cafés und Restaurants. Richtung Westen: ca. 5 Gehminuten bis zum "Ortskern" mit allen nötigen Geschäften (Supermarkt, Bäcker, Apotheke), wenn man vor dem "Ortskern" links abbiegt, kommt man zum Strand und kann schön die Promenade entlang gehen. Dort kommen dann ca. 10 Gehminuten von der Unterkunft entfernt weitere Bars/Cafés und auch Restaurants (ideal zum Abendessen). Alles in allem war es ein gelungener Urlaub. Ich kann Manos mit seiner Unterkunft nur weiterempfehlen.
Thomas
2016-08-15T00:00:00Z
Sehr schöne Unterkunft. Wir haben uns sehr Wohl gefühlt:-) Die Unterkunft war genau wie auf den Bilder sehr schön am Meer gelegen.
Marcel
2017-03-29T00:00:00Z
Tolle Lage direkt am Meer. Alles sehr gut vorbereitet. Schönes Studio. Komme gerne wieder.
Tim
2017-03-25T00:00:00Z
L'appartement est parfait. La vue sur la mer magnifique. Manos est accueillant et chaleureux. Nous recommandons ce logement pour découvrir le sud de la Crête!
Esther
2017-03-13T00:00:00Z
Mein Freund und ich waren für eine Woche in Manos Unterkunft und sind eine Stunde früher angekommen, als ursprünglich gedacht. Das war für Manos kein Problem und er hat uns sehr freundlich empfangen. Das Apartment war genau wie beschrieben und der Blick auf das Meer einfach toll (genauso wie der kleine Strandabschnitt in unmittelbarer Nähe). Bei unserer Anreise war bereits Wasser, Saft und Wein im Kühlschrank und auch ein Obstteller - was uns sehr gefreut hat! Im Laufe der Woche wurden zu unserem Überraschen einmal die Handtücher gewechselt und seine Frau hat uns sogar einmal Muffins auf den Tisch gestellt. Die Küche ist mit allem notwendigem ausgestattet, sodass wir auch zweimal dort gekocht haben. Wir hatten einen Mietwagen und waren auch wirklich froh darum. Je nachdem wie viel man von der Südküste sehen will, ist das auch empfehlenswert. Die Unterkunft befindet sich direkt an der Hauptstraße, ab 24 Uhr fahren aber deutlich weniger bis keine Autos mehr. Wer mit offenem Fenster schläft und sehr empfindlich ist, sollte sich das überlegen; obwohl auch eine Klimaanlage vorhanden ist. Für uns war das kein Problem, aber vielleicht spielt die Lage für andere eine Rolle. Wir haben die Woche sehr genossen und würden jederzeit wieder zu Manos. :)
Beate
2016-10-06T00:00:00Z
Tipo de Quarto
Casa inteira/apto
---
Tipo de Imóvel
Apartamento
---
Acomoda
3
---
Quartos
Koutsouras, Crete, Grécia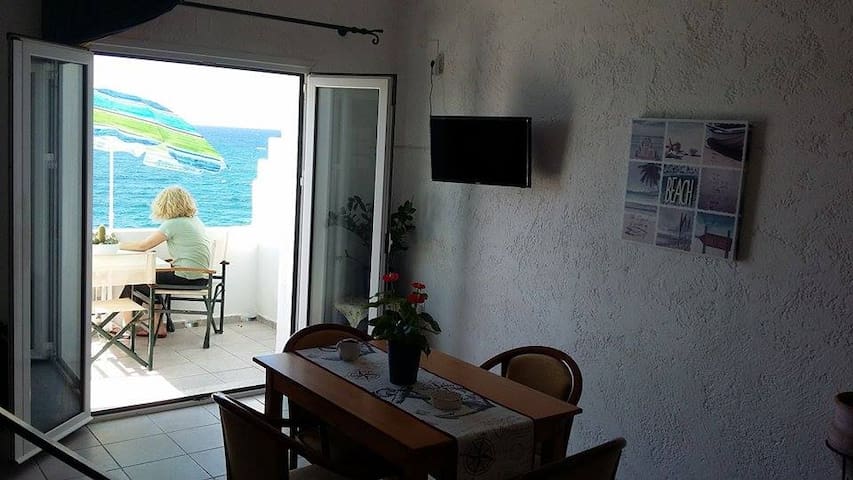 My room is close to nightlife, parks and public transport. Reasons that my room will like: the view, the location, the people, the environment and outer space. My space is suitable for couples, activities for an individual and business travelers.
Die Unterkunft ist super und der Preis ist sehr gut. Wir wurden herzlich empfangen und konnten uns bei Fragen jederzeit an die Familie wenden. Jederzeit wieder!
chiara
2016-08-16T00:00:00Z
The place is within walking distance to the town but far enough to be real quiet at night. I loved it and would seek to stay there again.
Sebastian
2016-08-22T00:00:00Z
Πολύ ωραίο διαμέρισμα με θέα στη θαλασσα.Ο Ιωσήφ είναι πολύ καλός οικοδεσπότης,εξυπηρετικός και ευχάριστος άνθρωπος.
Mariellen
2016-07-06T00:00:00Z
Cet appartement est vraiment très bien très propre et fonctionnel. la vue est vraiment magnifique. coucher de soleil expetionel. Les hôtes sont vraiment très gentil a l'écoute. et au petit soin. Je recommande grandement ce logement. a proximité de plage de rêve. et de l'île de koufonissi.
Julien
2016-09-03T00:00:00Z
Ο ιωσήφ ήταν ο οικοδεσπότης ο οποίος ήταν υπερβολικά φιλόξενος !!!! Το σπίτι ήταν καθαρό με ωραία θέα. Όλη η οικογένεια ήταν διαθέσιμη φιλόξενοι και πολύ ευγενικοί !!!! Όποιος θέλει να έρθει στο μακρύ γυαλό πρωτείνο ανεπιφύλακτα το δωμάτιο του σήφη!!! Πρώτη φορά κλείνω δωμάτιο απο εδώ και φύγαμε με τις καλύτερες εντυπώσεις !!!!!
Ilias
2016-08-12T00:00:00Z
Oui
Hugues
2016-10-10T00:00:00Z
Everythings was nice....
Vincent
2016-08-22T00:00:00Z
De kamer ligt aan de rand van het dorp met prachtig uitzicht over de baai. Rustig gebied. Fijne grote kamer met alle gemak zoals kook en eetgelegenheid. Goede badkamer.
Edwin
2016-09-20T00:00:00Z
Tipo de Quarto
Quarto privado
---
Tipo de Imóvel
Apartamento
---
Acomoda
2
---
Quartos
Makrygialos, Macedônia e Trácia, Grécia
- # - Neben dem Strand, nehmen Sie Ihren Partner, Kinder oder Freunde und versuchen, die perfekte Wasser knapp unter. - # - Cafés, romantische Restaurants, Souvlaki, Mini-Märkte, Parkplätze, Banken mit einem 50-Meter-Strecke. - # - Die Aussicht auf den großen Balkon Ecke ist hypnotisierend. - # - Makry Gialos ist voller Leben, mit vielen verfügbaren Aktivitäten zur Auswahl. Ob Sie es vorziehen, mit dem Boot nach Koufonisi reisen, eine Wanderung zu den nahe gelegenen Schluchten nehmen oder einfach nur ein Sonnenbad nehmen, werden wir dort um Rat Unterkunft Themen sein.
Die Wohnung verbindet die Sicherheit von in der Mitte von Makry Gialos bleiben während unmittelbaren Zugang zum Haupt Strand. Der Teil des Strandes, direkt die Wohnung unter, ist nicht nur ideal zum Schwimmen, sondern auch für kleine Kinder und Kleinkinder (das Wasser ist warm und flach). Der Ort eignet sich sowohl für romantische und Familienurlaub.
Die Nachbarschaft ist ruhig, sicher und mit viel Platz zum Parken. In 50 Meter Reichweite, können Sie, Mini-Märkte, Parkplatz, Geldautomaten, Cafés, Restaurants und natürlich der beste Strand von Makry Gialos finden.
Very nice and clean apartment! A five star host, highly recommended!
Sgouridis
2016-10-21T00:00:00Z
Το διαμέρισμα είχε μπαλκόνι με απίθανη θέα. Δίπλα στη θάλασσα και στα μαγαζιά. Η επόμενη διαμονή μας,θα είναι για πολλές μέρες.Ο κρυφός φωτισμός ήταν μια όμορφη και ρομαντική έκπληξη.
Michalis
2016-10-20T00:00:00Z
Μοντέρνος και άνετος χώρος , δίπλα στη θάλασσα , ζεστός αν και πήγαμε τη πιο κρύα νύχτα του χειμωνα.
Al
2016-12-31T00:00:00Z
Nikos' apartment is very conveniently located right next to Makry Gialos' beach with a great view over the bay. It is very clean, comfortable and everything is in an excellent condition. Nikos was very accommodating to help find places to eat in the area, especially since I was there off-season. I will definitely come back in the summer!
Eleftheria
2016-12-28T00:00:00Z
Awesome place, next to the beach and the restaurants. Had a wonderful time with my girlfriend. The apartment was spacious and very clean The view was fantastic and the comforts were as described.
Δημήτριος
2016-08-23T00:00:00Z
Makris Giallos is a long beach and it is a good choice for family and quite vacation! You can walk for a long distance on the beach. Excellent apartment's location (you can really hear the wave sounds), very fast internet!
Emmanuel
2016-12-29T00:00:00Z
Good host and good appartment, would do it again !
Quoc Viet
2017-01-01T00:00:00Z
Tipo de Quarto
Casa inteira/apto
---
Tipo de Imóvel
Apartamento
---
Acomoda
3
---
Quartos
Makrygialos, Grécia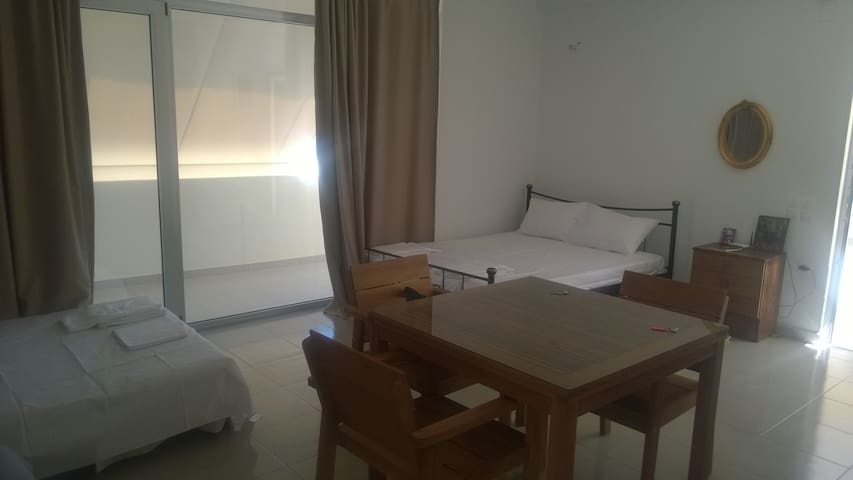 Petite traditional cottages suited on the hillside among olive groves and carob trees overlooking the Mediterranean sea. In the valley of the White River and the gorge of Pefki. Ideal for nature lovers,only 900m away from the heart of the village.
The cottage concludes of a small sitting space which leeds to the cooking area (small kitchenette : 2 electric cooking stoves, fridge,boiler,coffee maker etc..), then there are two ways.. One to the bathroom (standing shower), One to a private bedroom. The bedroom has a double bed, a window and a way out to the veranda. "Veranda" is a space out side, filled with flowers and olive trees. There is a dining table you may have your meals and relax wile enjoying the peaceful atmosphere, and the fresh air of the country side. The view of the Mediterranean sea only 900m away on the one side, and the beautiful high mountains of the gorge of "Pefki" rising up behind you. Solar energy provides hot water. Air-condition is placed in the bedroom.
900m from the hart of the picture graphic fishing village of Makrigialos, in the valley of the "White River" and the foothills of the gorge "Pefki", 3 welcoming and cosy cottages are available for our guests : NATURA homes : Stepping into nature and historic dwellings,in the area of the the valley of the "White river" and the foothills of the gorge "Pefki", one can find cottages and country homes scarred and hidden around the hillsides. In the past the cottages were used as a shelter by the olive farmers from the village Pefki, built about 300 years ago and then became abandoned 100 years ago. The old stone and soil built houses have been renovated and fully restored Stone, slabs, marble, lime, earth from the gorge, ochre, cypress and olive wood are the natural materials of the island that were used for the construction and equipment of NATURA homes, by local craftsmen, who resurrected old designs and techniques. The area is paradise for walkers and nature lovers: as soon as you move away from the coast you're surrounded by beautiful nature with verdant valleys, beautiful mountains, gorges and caves. The location is spectacular with densely covered mountain sides and valleys giving an intense green foliage. The valley on the south side reaches all the way up to Analipsi and the stream Aspros Potamos, which the settlement takes its name from, runs through it. "Makrygialos" in the greek language, means "long sea shore" It is characterized by some of the best beaches in all of Crete (and that says something) There are many secluded coves,all gently lapped by crystal clear waters of the mediterranean sea. The peaceful area,the idyllic scenery,the beautiful beaches and the hospitality of the inhabitants,offers a nice combination for really relaxing holidays,especially for families with children,group of young teenagers,retired couples and youngsters in love. The area is famous for its natural beauty,which comprises of numerous unspoiled beaches with clear blue water which you can discover at the nearby area Also,traditional picturesque villages and its four magnificent gorges. It is an ideal location,since the area combines both beaches and mountains covered by lush greenery and endogenous pine,olive,citrus and carob trees. A mountain ridge runs West to East across the island and it is this which gives Southern Crete it's own very special climate. The mountains shield this part of the island from any 'inclement' weather. Additionally Makrigialos itself is surrounded by it's own mountain range.This geography means that the area of Makrygialos, has the best climate in all of Crete,and possibly in the entire Mediterranean. It is a fact that the area produces what is considered to be the best olive oil in the world.
very sweet little house, perfect for making day trips in the area! many beautiful beaches close by!
Alexandra
2016-07-23T00:00:00Z
WhiteRiver is unique--with many of the qualities of traditional Cretan village, on a smaller scale. Quiet. Great views of the sea and Makry Gialos below, especially at night.
Ernest
2016-08-17T00:00:00Z
The sweet little stone building lies in a very quiet and natural place, perfect for relaxing. Emma responded very fast to any questions we had.
Hendrik
2016-10-08T00:00:00Z
We stayed for 5 nights in march. The place is located in the middle of the nature, in a beautiful spot!. 5 min drive from the closest city, and very close to a hiking area... It is beautifully decorated! We only had a small issue: it was a bit too cold. Even if we had a heater, the place is not really equiped for the winter... however, we had a very comfortable stay :)...
Ale
2017-03-18T00:00:00Z
Tipo de Quarto
Casa inteira/apto
---
Tipo de Imóvel
Casa
---
Acomoda
2
---
Quartos
Aspros Potamos, Crete, Grécia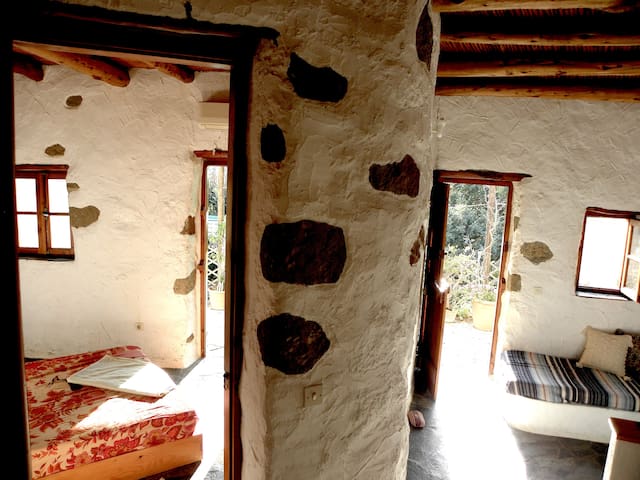 Το σπίτι είναι 85τμ και αποτελείται από 2 υπνοδωμάτια με διπλά κρεβάτια (το ένα με δικό του μπάνιο), σαλόνι με καναπέ που γίνεται διπλό κρεβάτι και full εξοπλισμένη κουζίνα. Επίσης διαθέτει πλυντήριο ρούχων, τζάκι και κλιματισμό. Η Villa Dimitra βρίσκεται στο καλύτερο σημείο του Μακρυγιαλου με απεριόριστη θέα στην θάλασσα, ακριβώς πάνω από το λιμανάκι. Απέχει μόλις 50μ από την πλαζ, τις ταβέρνες και τις καφετερίες τις περιοχής.
Άνετος χώρος με απεριόριστη θέα στην θάλασσα.
Katerina doesn't speak English but we were easily able to see the location, sounds and sights of the main floor apartment. It was a beautiful sitting patio that overlooks the bay and harbor directly. Its less than a 5 minutes to walk into the sandy beach area but you're walking by water in about 1 minute! The house is as detailed with both beds being quite firm. The "en-suite" bathroom is quite small with a shower that has a sloped wall in it. As there were just the two of us, we used the other bathroom that is large, in European standards. The shower door needs to be fixed as there's a wheel missing and the hand shower wall attachment is falling off. All nothing that couldn't be easily dealt with. For the community there were many placing closed and closing but that still left a good selection still operating. There's something to be said about walking for fresh bread, grabbing a yogurt to have with coffee while listening to the waves and watching the boats come and go in the morning!
Randy
2016-10-16T00:00:00Z
We spent a wonderful week at Villa Dimitra with Katerina as our warm and hospitable host. Everything was exactly as we hoped. The villa was perfect for us as a couple but would be equally spacious and well appointed for two couples or a family. We loved lounging outside in the sun over our morning coffees, with all of Makrygialos stretched before us. The villa is perfectly located above the beech and easy walking to cafes, tavernas, restaurants and small shops of all types. We would not hesitate to recommend Villa Dimitra, or happily return ourselves.
Al
2017-03-06T00:00:00Z
Tipo de Quarto
Casa inteira/apto
---
Tipo de Imóvel
Casa
---
Acomoda
6
---
Quartos
Makry Gialos, Crete, Grécia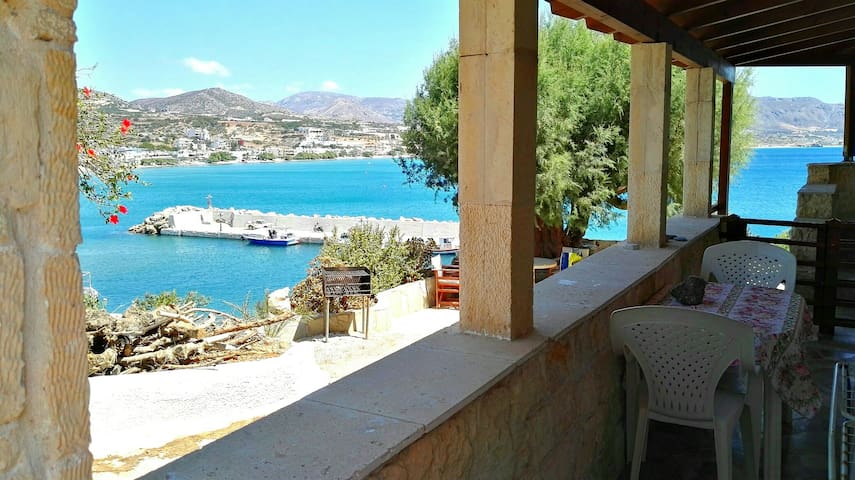 3 rooms appartment on seaside. Front of the bay, Balcony with view on bay and beach. Cross only road to be on the beach. Possible Survey child on the beach from balcony.
You are front of the beach, only to cross road. 1st floor apartment, the balcony overlooks a fantastic view of the sea and the beach. Ideal for snorkeling. If you want you have another sandy beach with gentle slope (ideal for children) in Makrigialos center. It is located on a quiet lane, almost pedestrian ... Having a closed room with its own balcony, sea view and a large queen size bed with mosquito net on window and door. Also a small bed(on request). Opportunities for special order folding beds. Well equipped kitchen: knives pro, salad bowls, wine glasses, electric coffee machine, manual espresso type, microwave, electric and manual juicer, toaster, fridge freezer, and another big freezer(very important here in summer), table indoor and balcony table with chairs and two umbrellas, etc. ... Makrygialos is a small resort offering many amenities including choice of restaurants right on the water, summer rental ''seadoo", water skiing, paddle boats, etc. ... , Bike rental, scooter and car, or sea fishing boat; A few miles away, do not miss the Kapsa monastery clinging to a cliff and bordered Gorges Pervolakia. Also, many picturesques villages like Pefki Schinokapsala and others ... with their flocks of sheep and their shepherds. Sitia and Ierapetra bus several times a day.
You have only a quiet small street to cross to the beach. We are between two restaurants and If you take a lunch there, they offer you free the beach chair and parasol.
Great location (yes, I love Makry-Gialos), great apartments! Sandy beach to the left, rocky beach to the right. Great view to marina.
Pavel
2014-08-24T00:00:00Z
Tipo de Quarto
Quarto privado
---
Tipo de Imóvel
Apartamento
---
Acomoda
3
---
Quartos
Makry Gialos, Crete, Grécia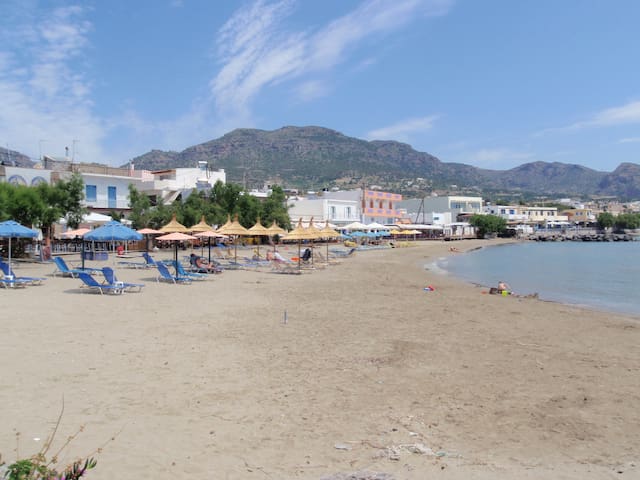 Blue wave is a luxurious villa next to the sea. It is built at the waves edge, 20m from sandy beach. It is 50m away from supermarket, pharmacy and medical center. It is 20km from Ierapetra city, 35km from Elounda and 30km from Agios Nikolaos, 2km from Makri Gialos, 30km from international airport, 15min from Koufonisi island. It has a seeviewed terrace, a bedroom, a bathroom, a fully equipped kitchen, a sitting area with TV. Free wifi and parking. Everything you need for a comfy holiday!!
Blue wave consists of self-standing luxurious and uniquely styled villa built with strong Cretan influences next to the sea. Guests will enjoy Sea views from the spacious terrace!
The Villa is in a quiet neighborhood next to sandy beaches, pastry shops, pharmacy, café, restaurants, supermarket, medical center.
Wer einen entspannten Badeurlaub am Meer sucht ist hier genau richtig!Das liebevoll eingerichtete und saubere Appartment bietet alles wie beschrieben u man kann schon beim Frühstück am Balkon den Blick aufs Meer genießen!Am Strand,der 5 Gehminuten entfernt ist,gibt es eine kleine nette Strandbar und wenig Rummel,dafür viel Ruhe!Alles was man braucht an Geschäften ist in unmittelbarer Nähe zu finden!Manos war schon im Vorfeld unheimlich bemüht u sehr hilfsbereit!Ein wunderbarer Gastgeber!Wir waren mehr als zufrieden und kommen sehr gerne wieder!
Anna
2016-07-31T00:00:00Z
All was perfect. Manos is very friendly and helpful host. The appartment was nice, clean and comfortable with beatiful balcony on the sea. Fall asleep and wake up to the sound of waves was unforgettable for us. I would not recommend this apartments to anyone , because I'm afraid that they will be occupied when I decide to go back to Crete))
Aleksei
2016-09-06T00:00:00Z
A great place we would recommend without hesitating. Manos and his wife were lovely, can't be closer to the sea and some really nice beach, villages and tavernas around.
Thomas
2016-08-16T00:00:00Z
Wonderfull host! Wonderfull place what else can i say? As a crète lovers we found here exactly what we were looking for. Magic.
Thomas
2016-08-28T00:00:00Z
This appartment is just wonderful ! Big, clean, cosy, with a terrasse on the sea and everything you need nearby !
jennifer
2016-08-02T00:00:00Z
This is a charming appartment with all you need. The view is really wonderfull!!! Wakup with this is a paradise. Manos is very helpfull and avaiable. We spend a lovely time!
Marie
2016-08-19T00:00:00Z
Unser Urlaub bei Manos war wirklich toll. Das Apartment direkt am Meer ist sehr sauber und gemütlich eingerichtet. Es verfügt über ganz viele nützliche Kleinigkeiten wie Moskitonetze an den Fenstern, Haartrockner und einer einfachen aber gut einerichteten Küche. Bei Ankunft fanden wir Früchte sowie Getränke im Kühlschrank. Zu unserer Überraschung wurden 2x die Bettwäsche und Handtücher gewechselt. Manos Frau stellte uns dabei immer noch Gebäck auf den Tisch.
Bettina
2016-10-23T00:00:00Z
We had a very good time in Koutsouras and Manos and his wife were great hosts, providing us with everything needed and even filled the fridge with fruits, yoghurt and wine to welcome us. Communication before and during the stay went smoothly and it was no issue that we needed to cancel some nights in advance. The apartment is a typical holiday apartment and exactly as seen on the pictures. We didn't really spend a lot of time inside though as our favorite spot was the balcony that goes out towards the ocean - fabulous, you could just sit there in the evening have a glass of wine, listen to the waves and watch the stars. The area itself might not seem very attractive at first sight but there is a quiet little pebble bay just next to the apartment and some bigger beaches close by. Supermarkets, bakeries and good restaurants all in walking distance, some good hikes in the area as well and Ierapetra and Makrygialos are easy to get to if you need a bigger town or feel like partying ... all over recommendable and a good spot to explore the southeast/south of the island.
Katja
2016-09-09T00:00:00Z
Tipo de Quarto
Casa inteira/apto
---
Tipo de Imóvel
Apartamento
---
Acomoda
3
---
Quartos
Koutsouras, Crete, Grécia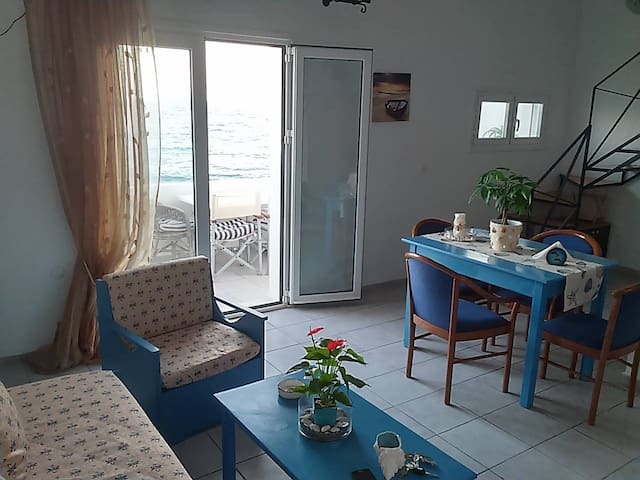 Apenas a 10 minutos do pitoresco porto de Makrigialos você encontrará o Villas Zervakis. Assista a configuração para o mar a partir da varanda espaçosa sol. Apreciar a sua bebida ao lado da piscina e fazer suas férias inesquecíveis. De qualquer casal ou família Villas Zervakis é o lugar ideal para relaxar e se sentir em casa.
As moradias estão localizadas em Makrigialos Koutsouras na região
Se você está procurando calmo e relaxado, em seguida, nossas vilas estão perfeitamente posicionados. Perto do mar em um bairro tranquilo que você vai aproveitar a sua estadia.
Tipo de Quarto
Casa inteira/apto
---
Tipo de Imóvel
Casa de campo
---
Acomoda
7
---
Quartos
Makrygialos, Grécia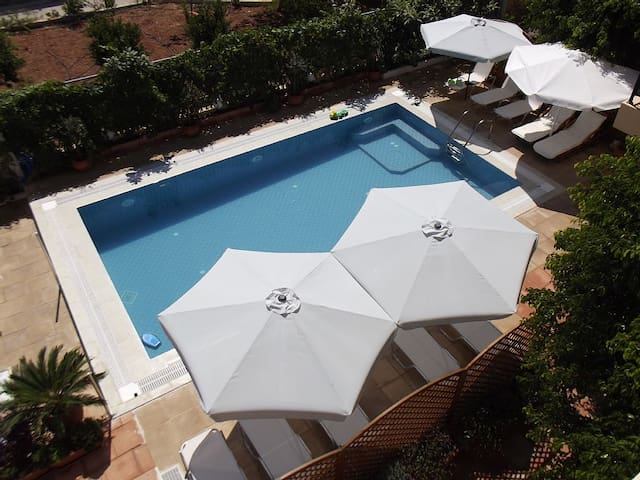 Mesodokia studio is part of a traditionally build small complex, build by the well known greek architecture Anastasios Zervas. A petite holiday home suited in a very strategic point. Placed In between of a five star resort we have access to some of the hotels facilities like the big swimming pool , jaccuzi etc. The common gardens of Mesodokia homes ,provides you with the luxury of enjoying a peaceful surrounding, looking at the stunning view of the blue ocean and listening to the waves.
The holiday studio, consists of: One space with a double bed, a fold up bed may be added if you wish for a third guest/child to accommodate. a dinning table and an LCD tv + dvd player Air-condition is provided Walking through an opening, there is a fully equipped small kitchen, with 2 electric stoves, fridge, coffee maker, boiler and a toaster. Also a bathroom with a bath tub. Solar energy provides hot water. There is a balcony veranda outside the main entrance with a sitting area. There are spaces in the gardens which are for common use to relax and enjoy your diner and drinks in a peaceful surrounding,looking at the stunning view of the blue ocean and listening to the waves. The sandy Beach is fully organised and offers sun beds and water sports. Mesodokia studio is suited in a very strategic point.Placed In between of a five star resort which is divided in two sections , "SUNWING" ideal for children on the East & "OBC" adults only, on the West, We have the advantage of direct access to some of the hotel's facilities such as the big pool with water slides & Jacuzzi area, the restaurants, breakfast buffet, mini market etc. On the South A beautiful sandy beach that lays in front of Mesodokia Homes - private, only for the use of our guests and the guests of the resort. On the north side, above the parking area -is the main high street of Makrigialos. If you decide to step out of the premises, you will find yourself in the heart of the village… mini markets, pharmacy, banks, restaurants, bars, souvenir and jewellery shops and a beautiful picture graphic small harbour were you can eat fresh fish at the tavernas or enjoy a cocktail in the evening, only minutes away.
When you step outside of the privacy, the facilities and the peacefulness of "Mesodokia Homes" you will find all the civilisation you may need… restaurants ,bars, supermarkets, banks, pharmacies, souvenirs shops etc. If you walk to the west side of the cost line you will find yourself by the small and graphical fishing port where you can enjoy the relaxed atmosphere. The village Makrigialos and the surroundings, offer a variety of restaurants and tavernas with very high gastronomical standards, based on the local products as well as fresh fish and organic meat. Some of our favourites places are: "Haris" at the main street opposite "Sunwing" resort "Elia" at the harbour "Robinson" at Koutsoura village 4km away "Kaliotzina" at Koutsoura village next to Robinson 4km away "Piperia" at PefkI village 9km away "Cave of the dragon" for bbq 2km away
Bodde i en månad i Emmas fantastiska charmiga lägenhet, rent och fint och behövde man något fick man snabb hjälp Läget är jättefint med havsutsikt från balkongen och nära till pool på sunwing och stranden nedanför Rekommenderas varmt ! Tack Emma för en härlig månad !
Linda
2016-07-21T00:00:00Z
Our stay at the Mesodokia studio was really good. The town is really what we looked for: calm, AWESOME beaches, very nice people and great restaurants.. Emma did every thing to make us feel welcomed and to help us installing our selves. She was very patient, accessible and responsive. The Studio was as described.
Amine
2016-08-27T00:00:00Z
Emma studio apartment was great. Very authentic just like discribed on her page. Location was excellent. Close to the beach, shops, harbour, restaurants. Are was great and very peaceful. Emma was amazing host. She made sure that everything went well during my stay. I would definitely recommend her place. Definitely will be back.
Zuzana
2016-06-06T00:00:00Z
We had a wonderful stay at the Mesodokia studio. The studio is set up as displayed with easy access to the beach of the SUNWING resort. Having access to the SUNWING facilities is great when you are traveling with kids, since it is a family resort. Restaurants, bars and shops are in walking distance. The view over the ocean from the small terrace is just beautiful.
Cornelia
2016-08-11T00:00:00Z
Logement décrit correctement, la decoration est annee 70, sans mauvais gout. L'intérêt de ce logement est l'accès aux équipement du sun wing ( piscines et plage privée). l'Air con était en panne, Emma a su être réactive, en effet celle ci a etait changée très rapidement.
Betty
2016-08-01T00:00:00Z
The Mesodokia studio we stayed in for 10 days was small and quaint but very well-equipped. Although sandwiched between 2 hotels it had a nice sea view from the balcony and was very convenient for accessing the best beach in Makrygialos through the grounds of the Sunwing Hotel. We were also able to use the hotel pool and Jacuzzi. The entrance to the studios was also opposite the best restaurant (in our opinion) in the area which was very handy - we thoroughly recommend Zorba's Taverna for an evening meal.
Kate
2016-09-20T00:00:00Z
We have really appreciate our stay at Mesodokia studio. It is a beautiful and confortable place, close to the beach. Emma has answered very quickly to our demands. Absolutly nothing to complain. Thank you Emma. Lyne and Alan (Montréal, QC, Canada)
Lyne
2016-05-15T00:00:00Z
Das Appartment ist sehr schön und gemütlich eingerichtet. Die Küche beinhaltet sämtliche Kochutensilien umd Geräte, die benötigt werden. Wir haben uns sehr wohl gefühlt ;)
Sandra
2016-11-19T00:00:00Z
Tipo de Quarto
Casa inteira/apto
---
Tipo de Imóvel
Apartamento
---
Acomoda
2
---
Quartos
Makry Gialos, Crete, Grécia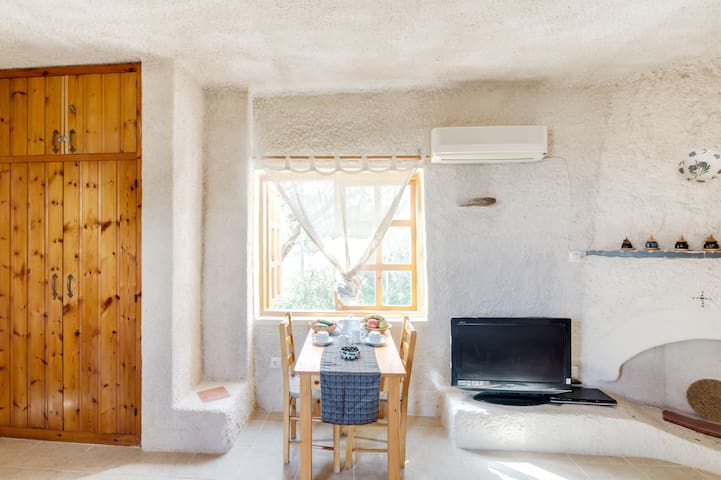 Attractive self contained apartments finished in the traditional Cretan style; offering peace and tranquillity, yet ideally located in the rural outskirts of the charming and lively village of Makrigialos. Just a few minutes walk from the blue waters
First of all the appartement is super nice and in an excellent location, calm and near to the beach. Makry Gialos in general is a beautiful place with lots of traditional tavernas and paradisiac beaches. Last, but definitely not least, Pam is a lovely and very helpful host!
Nicola
2014-08-31T00:00:00Z
Pam was a really lovely host. We had fresh fruits and something for breakfast in the frigde, because we arrived very late. The describtion of the apartment was also very good and we loved our three balconies and the very short way to the beach. For a couple, it is very fine, there was nothing around the apartment. We enjoyed this loneliness a lot.
Ramona
2014-09-10T00:00:00Z
Pam was waiting for us with a big smile. The apartment was great and the short walk to the beach was an unexpected surprise.
John
2015-06-29T00:00:00Z
Pam picked me up and drove me back the bus station and was very kind and welcoming. There was bread and fruit, a nice extra luxury! Your private beach is nearby and the 3 balconies are fantastic. Internet didn't work in the room, but outside it did, which eventually made my stay even more relaxing. And I think Pam's son was gonna fix it in 2 weeks time.
Evelyn
2015-06-17T00:00:00Z
Pam is a very careful host. The apartment is much better live than in fotos. Is full of every basic comfort. Me and my girl enjoyed very much especially for its strategic position and despite we remained for 2 nights only. The place is calm, there is nothing around further the nature and two roads,but a beach and a small village are very close on foot. Pam welcomed us with some fruit and every advise and she is often avalaible and reply in a few moments by phone for every need. I loved her puppies too. We hope to stay there again in the future. Thanks of all. Fulvio e Vivi
Claudio
2016-07-31T00:00:00Z
Très bon accueil, appartement très propre et très bien situé. A recommander. Anne et Sebastien
Anne
2014-07-27T00:00:00Z
Great property, great host! We felt at home at the moment we arrived. Thanks PAM!
Giampaolo
2015-05-10T00:00:00Z
Great host. Beautiful location. Enjoyed the time and can for sure recommend to stay here. All topped by a private beach just 5 minutes walk away
Tobias
2014-11-06T00:00:00Z
Tipo de Quarto
Casa inteira/apto
---
Tipo de Imóvel
Apartamento
---
Acomoda
2
---
Quartos
Makry Gialos, Crete, Grécia
A brand new apartment infrond of the sea. 150m from the sandy beach. Just next to the apartment you will find supermarket, pharmacy and medical center. It has a sea view balcony, two bedrooms (one with a bouble bed and one with 2 singel beds), a bathroom, a fully equipped kitchen, a sitting area with TV. Free wifi and parking.
*Living room It is a comfortable room with air-codition, TV overlooking the balcony with sea view. *Bedrooms It has 2 bedrooms with double and two single beds and storage areas. *Kitchen It has a full equipment kitchen with electric stove and oven, fridge freezer etc.
Makrigialos is located 58km southeast of Agios Nikolaos and 23km east of Ierapetra. It is a large village, located near the exit of the lush canyon of Pefki. Being initially a humble harbor with no roads in the '50s, Makrigialos has faced a strong growth and has become the largest tourist destination in the region. It actually consists of two settlements, Makrigialos and Analipsi, which are now united. In the village you can find large and small hotels, taverns, restaurants, bar and cafes, super markets, bakeries, ATMs, doctor and pharmacy. The main growth driver of Makrigialos is the beautiful beaches of the village and the surrounding area, the calm shallow sea and the magnificent mountainous scenery that rises north of the village. The main beach of the village lies in front of Analipsi and is 1km long. It is known as Makrigialos, but you might hear locals call it, Hani or simply Long Beach. It is a well organized narrow beach with fine gold sand, surrounded by numerous cafes and restaurants. Here you will find free umbrellas, water sports and showers and big tamarisk trees. The water is very shallow and calm, while the temperature is high up in the winter. Thus, the beach of Analipsi is very suitable for children and for not very good swimmers. West of the village, behind the port, there is the unknown beach of Kalamokanias, with its wonderful coarse sand. North of the port, in Katovigli, there is a small sandy beach, which is actually the extension of Makrigialos beach. The beach Katovigli (or Limanaki) is well organized with free umbrellas and several facilities around. Trademark of the area are the ruins of the Roman villa of the 2nd century AD, with baths and mosaics, which is the unique in eastern Crete. Instead, on the other side of the village there are the two bays of Lagoufa, next to two large hotels. It is worth staying in Makrigialos and use it as a base for exploring the beauty of the wider area. Apart from the beautiful beaches stretching from Ferma to Goudouras, it is worth visiting the surrounding villages, walking in the canyon of Pefki or in the lush Orino Gorge. In Makrigialos town you can visit the local churches, the Roman Villa in Katovigli and the Minoan villa at Plakakia ((PHONE NUMBER HIDDEN)BC), which has the architecture of Minoan palaces. The nightlife is not intense here, but there are a few bars offering drinks on the beach. You can also till the harbor of Makrigialos and see the picturesque boats and the fishermen.
The apartment is so comfortable and it has a wonderful sea view! Close to Sitia town and Ierapetra town and perfectly situated to access all the sites-attractions-beaches of the area. We found free parking easily near the apartment. Free WiFi. We had a lovely stay and would highly recommend this apartment. Thank you for your truly Cretan hospitality!
Artemis
2017-03-31T00:00:00Z
Tipo de Quarto
Casa inteira/apto
---
Tipo de Imóvel
Apartamento
---
Acomoda
4
---
Quartos
Makrigialos, Ierapetra, Lasithi, Crete, Grécia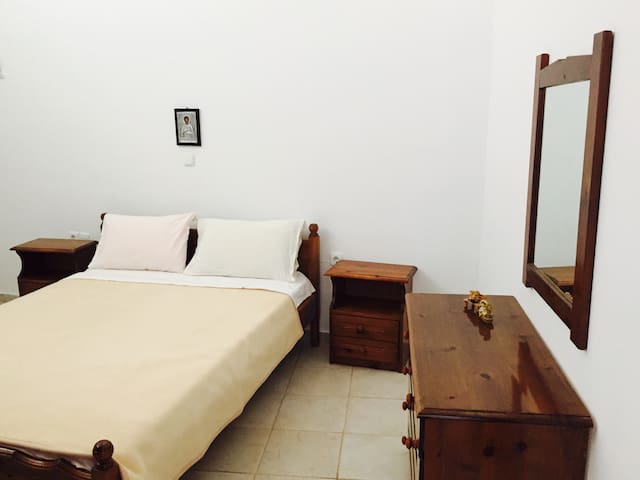 Just 150m from Makrigialos beach with balcony overlooking to the Libyan sea & Mountains. A self - catered single space sea view apt. that can be up to four people.
Set back from the main road, the accomodation is situated in a low hill only 150m from the well known organised sandy beach of Makrygialos. The location of Golden Star accomodation offers garden, sea & mountain view in a relaxing enviroment.
Tipo de Quarto
Quarto privado
---
Tipo de Imóvel
Condomínio
---
Acomoda
3
---
Quartos
Makry Gialos, Crete, Grécia
Ofrecemos un edificio de 10 apartamentos que están alojados en cuatro edificios separados, que le ofrece así la privacidad. Los apartamentos están rodeados de árboles, plantas y varias hierbas que crecen normalmente en Creta.
Nuestros apartamentos (45 m2) pueden alojar hasta 3 personas y están situados en la planta baja de nuestro complejo. Nuestros apartamentos constan de un dormitorio independiente, una cocina totalmente equipada con electrodomésticos, como una nevera, una cocina, una cafetera y una tostadora, una sala de estar (conectado a la cocina) y un cuarto de baño. Lo ideal para 2 adultos y 1 niño.
Tipo de Quarto
Casa inteira/apto
---
Tipo de Imóvel
Apartamento
---
Acomoda
3
---
Quartos
Makrygialos, Grécia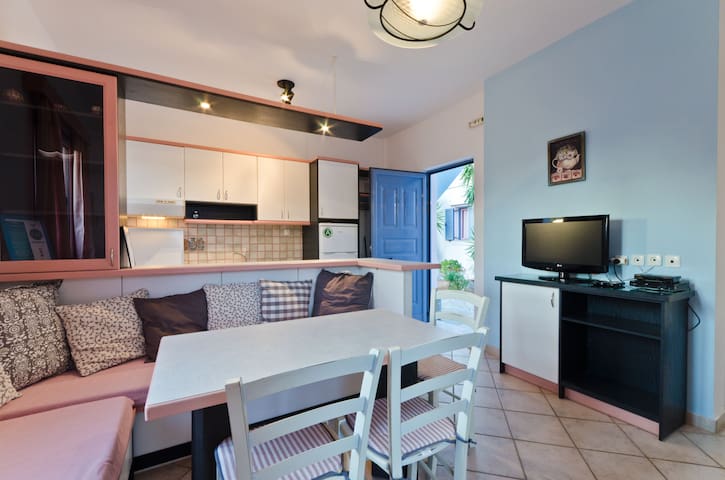 Kamara in Makrigialos of Creta in Greece! Fully equipped apartment is available for you to enjoy your vacation, quiet, next to the sea in hospitable and traditional Makrigialos of Crete!
We had a great time in Manos Apartment direct on the beach. Actually it´s very cool to have your "own" small part of the beautiful sandy beach at Makry Gialos :-)
Gilbert
2016-10-22T00:00:00Z
It was fantastic to wake up every morning to the sound of the waves! Also it was a nice touch to find some fresh fruit and beverages on arrival. Due to circumstances I stayed in 3 different appartments and they were all fine, but I preferred the groundfloor ones because I loved being able to walk out straight onto the beach!
Sandra
2016-10-06T00:00:00Z
Tipo de Quarto
Casa inteira/apto
---
Tipo de Imóvel
Apartamento
---
Acomoda
2
---
Quartos
Makry Gialos, Crete, Grécia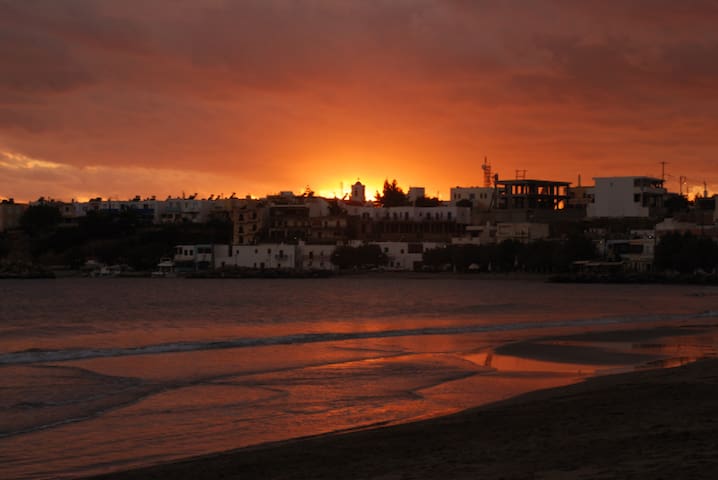 Studio leilighet er på taket av en tre butikk bygning, med en stor terasse på taket. Det er en stor sofa med bord, solsenger og grill på taket, og du har sol hele dagen. Det er også en fantastisk utsikt til havet, 100 meter til stranden.
The host canceled this reservation 16 days before arrival. This is an automated posting.
DOMINIQUE
2016-07-31T00:00:00Z
Tipo de Quarto
Casa inteira/apto
---
Tipo de Imóvel
Apartamento
---
Acomoda
4
---
Quartos
Makrygialos, Grécia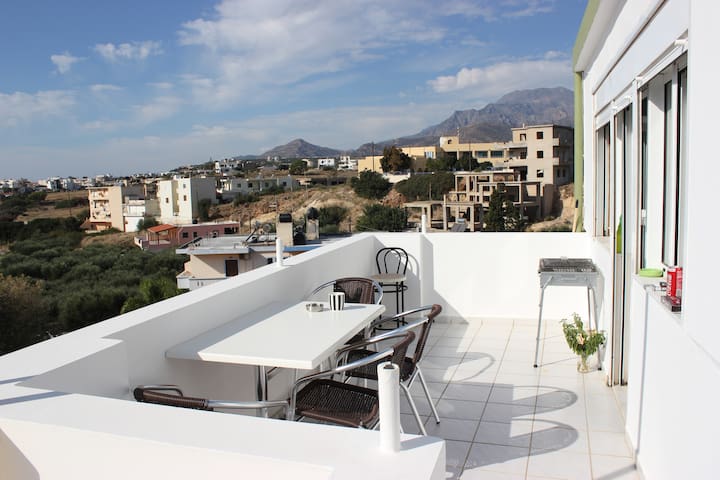 Ikaros sea view studio located on the ground floor and consists of a room with 2 single beds, a fully equipped kitchen with fridge and coffee maker, a bath with shower and a furnished terrace. The studio is air-conditioned with a satellite TV & WI-.
The apartment was excellent with beautiful views over the city. It was also in a good location, very close to themrestuarants, bars and shops on Avenida Barcelona, a minutes walk away. Nota is a friendly, helpful host and I would recommend this to as a great place to stay to anyone.
Robert
2016-05-08T00:00:00Z
Bella accoglienza e grande cordialità. Splendida posizione e ambiente pulito, attrezzato e confortevole.
Ivan
2016-04-22T00:00:00Z
Tipo de Quarto
Casa inteira/apto
---
Tipo de Imóvel
Casa na Terra
---
Acomoda
2
---
Quartos
Makry Gialos, Crete, Grécia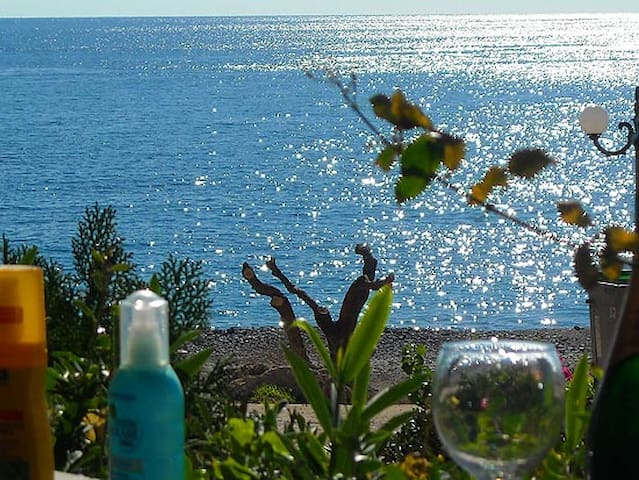 Apartment in Strandnähe mit Wohlfühlgarantie!
Das gepflegte und hochwertig eingerichtete Apartment besteht aus einem schönen Schlafzimmer, großzügigem Wohnraum - zwei weitere Schlafmöglichkeiten auf Sofas - mit Zutritt zur möblierten Terrasse, einer bestens ausgestatteten Küche und einem modernen Badezimmer. Die Einrichtung ist hochwertig, Annehmlichkeiten wie Kamin, Klimaanlage in allen Zimmern und WLAN gehören zum Standard.
In Laufnähe befinden sich der kleine Hafen, Tavernen, Cafés und Einkaufsmöglichkeiten. Sehenswürdigkeiten wie der Palmenstrand von Vai oder der antike Palast von Kato Zakros sind mit dem Mietwagen schnell erreicht. Ebenso wie zahlreiche einsame Strände und Buchten in der Umgebung.
A perfect apartment / location to visit eastern Crete. The apartment has been done with great skill and flair. It has everything we needed , was very comfortable and (URL HIDDEN) was even cleaned in the middle of our stay and we also got fresh towels. The terrace has full morning sun and is a great place for outdoor eating, to read, to talk, generally relax and enjoy the stunning view to the harbor and sea. Makrigialos has great beaches, a lovely harbor, small traditional restaurants, a bakerie and supermarkets, all in walking distance of the apartment. Claudia was very helpful and friendly and we hope to go back next year to pick up where we left off.... Seriously, it's the kind of place you would rather NOT recommend to keep it for yourself ! ;-)
Jacqueline
2016-10-11T00:00:00Z
Tipo de Quarto
Casa inteira/apto
---
Tipo de Imóvel
Apartamento
---
Acomoda
2
---
Quartos
Makry Gialos, Crete, Grécia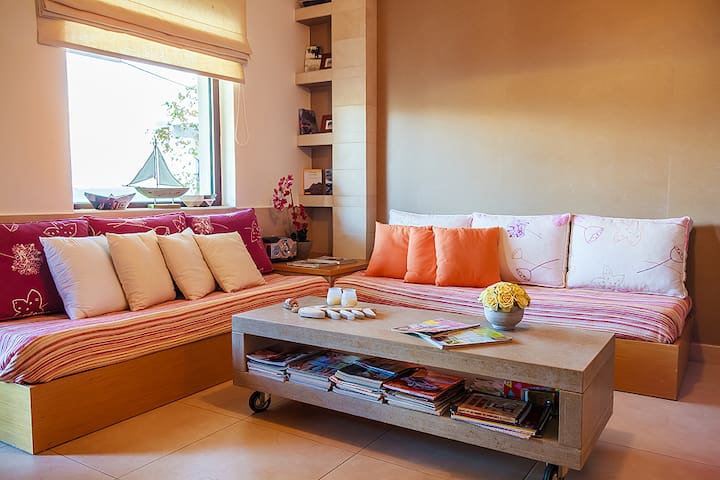 The rooms are featured with big balconies of unique view to the Makrigialos bay. The studio, which can accommodate up to 2 people, consists of 1 bathroom, 1 bedroom with 1 double bed combined with a kitchen and a dining table.
The rooms are featured with big balconies of unique view to the Makrigialos bay. The studio, which can accommodate up to 2 people, consists of 1 bathroom, 1 bedroom with 1 double bed combined with a kitchen and a dining table. The kitchen is fully equipped. The studio has a bathroom with shower and toilet. 'Afroditi' is famous for its cleanness. Sheets are changed once a week and towels twice a week . There is a swimming pool with sun-beds in our wonderful garden full of flowers.There is also a small library for your sunny days.
'Makrigialos' means long beach. This village combines both sunny beaches with crystal,blue waters and Cretan hospitality. Along the beach,which is awarded with "blue flag",there is a good variety of taverns and the fishing harbour being the most scenic part of the village.Makrigialos has also plenty of amenities e.g. supermarkets,boutiques,banks, pharmacy ,doctor, dentist, florist, "rent a car" offices, bars, pubs, travel agencies for organising excursions,marine for yachts and fishing.Also,there is a street market (9.00-14.00) each Friday on the cross road to Agios Stefanos near the harbour entrance. Makrigialos is the ideal starting point for daily all-day long visits to archaeological or other interesting places such as ancient Zakros,Toplou monastery,Vai palm tree forest,ancient Itanos,ancient Gournia,Kritsa,Panagia monastery,Lato etc. There are excellent foot paths for people who like being near to nature:Kapsa monastery, St.Stefanos forest, Pefki. There are daily cruises to various islands:Koufonisi,Chrisi. Local Activities: Diving, fishing, mountain biking, paragliding, swimming, tennis, walking, water skiing, windsurfing, water sports.
We had a super holiday in Crete. The apartment was fine, but we were glad we had a hire car as there wasn't much happening in the small town.
Maggie
2015-10-06T00:00:00Z
Nous avons été très bien accueillis par Afroditi qui avait déjà été très réactive à nos mails de demandes de renseignements. Le logement correspond bien à la description et nous avons eu le plaisir de trouver des fruits, parts de gâteau et raki à notre arrivée. Le petit déjeuner optionnel est délicieux et copieux et la piscine est appréciable. Nous avons passé deux jours bien sympathiques à Makry Gialos.
Jean-Michel
2016-05-21T00:00:00Z
It was a fantastic stay. The apartment was situated in plain sight of the sea with a perfect view over the nearby bay and mountains. We could even change our apartment and chose a better one when we first arrived, which was great. The time we spent there was very special and we'll gladly return. We highly recommend the stay at Afroditi's B&B. Michael and Nora
Nora
2015-05-27T00:00:00Z
L'appartement est charmant et fonctionnel. Les chambres ont vu sur la piscine et la mer. Il n'existe pas de parking et il faut se garer à quelques mètres de l'hôtel le long de la route. L'accueil est agréable. On nous a offert des fruits frais, des biscuits et une petite carafe de raki. Nous avons passé un séjour reposant. Merci
Julien
2015-09-07T00:00:00Z
The studio is small and simple but really cute and clean. The furniture looks self-made and everything is painted in blue and orange. Afroditi has an eye for detail. We immediately felt at home - and there was ouzo, nuts, vegetables and fruits as a welcome gift! The pool area is great too. And there are parking spots available outside. We only stayed two nights which we regretted. We explored Crete and stayed in different air bnbs. There are better areas (Kissamos to visit Elafonissi and Balos beach), but there wasn't a better air bnb. If you have a car, you can get to Sitia in 30min and to Vai beach in 50min. If you stay longer, you can go on a boat trip that starts in walking distance of the studios. It is a really nice little hotel which we highly recommend to explore the east of Crete!
Alisa
2016-06-19T00:00:00Z
We had a wonderful time at Afroditi studios! The accommodation was just perfect, so clean and beautiful. It was everything that the pictures on the web had described and so much more. We were welcomed with a delicious home made cake and our room was kept perfectly clean every day. We would surely recommend Afroditi and hope we can come back soon. Makry Gialos is a wonderful place, short walk to the beach, and it was also wonderful to relax by the nice pool with a good book or enjoy the view and the sunrise from our beautiful balconey. Thank you so much for everything! Klara & Jon from Iceland
Klara
2016-09-07T00:00:00Z
Tipo de Quarto
Casa inteira/apto
---
Tipo de Imóvel
Bed & Breakfast
---
Acomoda
2
---
Quartos
Makry Gialos, Crete, Grécia
Insira as datas para ver o preço total. Taxas adicionais aplicáveis. Podem ser adicionados impostos.