Check also my other apartment on my profile, or here!! https://www.airbnb.com/rooms/1132152?s=wqho
Renovated in March 2014. CHECK MY OTHER STUDIO ON MY PROFILE IF THIS ONE IS UNAVAILABLE. :) This delightful studio is in an old stone house situated in a quiet historical district surrounded by typical Dalmatian stone homes. The studio is on the top floor. Very comfortable, easy access, completely restored with new interior furnishing and decorating. Separate entry, 1 double bed, single pull sofa bed, wardrobe, a fully equipped kitchenette with all amenities, 2 hotplates, refrigerator, satellite TV, air-conditioning, Wi-Fi ADSL internet, bathroom with glass enclosed shower. 27 m2
The neighborhood is very safe and the district surrounding our house is historical and peaceful, so you'll stay close to all most important attractions but in a quiet district.
Tea arranged for a friend to meet us at the apartment after we arrived in the evening. The apartment was clean and comfortable. The location is good for exploring split, just a few minutes walk from the centre.
Clare
2015-09-28T00:00:00Z
Perfect location!!! Very friendly host, explained the map, recommended places to eat. 1-2 min walk to fabulous restaurants, wine bar Paradox (went twice it was so good), 5 mins walk to Riva. Highly recommend! Thank you!!!
Jennifer
2015-07-01T00:00:00Z
Nice apartment in super position in Split. Nicely furnished & very clean. Be aware it's on top floor up 60+ stairs!
Valerie
2016-05-02T00:00:00Z
Antonija welcomed us at the apartment, explained everything and handed over the key. We received a very friendly and warm welcome and the apartment was exactly as described and pictured on the website. The location is excellent. Whenever there was a question or a small problem, Antonija responded right away. We would definitely recommend this apartment and gladly stay there again ourselves.
Joseph
2015-04-08T00:00:00Z
As Antonija had to work, her father showed us the apartment and handed us the keys. Everything went smoothly. The apartment is located right at the edge of the historical center, which is very convenient. Parking space is a bit hard to find but it wasn't a big problem to park a bit further away and walk to the apartment.
Ninnaya
2015-03-25T00:00:00Z
My time spent in split was amazing, the location of Tea's apartment is perfectly located right in the centre of Split, Minutes walk away from the main port which made getting around very easy. Tea was a lovely host and provided us with information on the best restaurants in split, we went to a few and they lived up to expectations. Her father also picked us up from the airport and delivered us back there at the end of the trip. The apartment is absolutely perfect for couples I would definitely consider returning
Maisha
2015-08-05T00:00:00Z
This apartment has a great location just on the edge of the old part of the city. Tea was unavailable to meet us when we arrived but didn't matter because her sister Antonia greeted us and gave us a good recommendation to eat in Bokeria a fairly new restaurant to the city. The apartment is very cosy and all you need for a couple of nights stay.
Vaughan
2015-09-11T00:00:00Z
Tea's studio is perfectly located close to most points of interest yet is really quiet allowing for a great nights sleep. It is a compact space at the top of a building ( not suitable for anyone with mobility or fitness issues) with basic essentials such as soap and loo roll. The studio is finished to a very high standard. Tea did not meet/greet. We received some restaurant recommendations via text and responses to queries were helpful. Based on location and studio we would recommend.
Sinead
2016-09-30T00:00:00Z
Tipo de Quarto
Casa inteira/apto
---
Tipo de Imóvel
Casa
---
Acomoda
2
---
Quartos
Split, Split-Dalmatia County, Croácia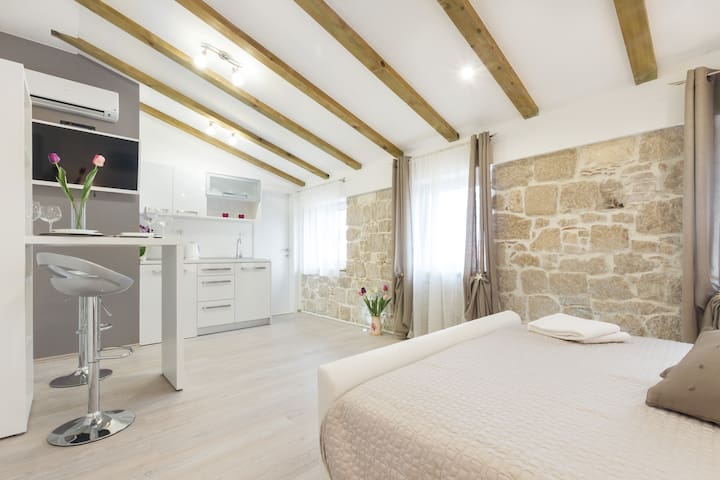 Our picturesque one bedroom house with an amazing green garden gives you a true Mediterranean feeling! It fits two grown-ups+1 child,and is located in the park forest Marjan, with a private parking lot and exit to the beach
Our place is unique because you have a perfect privacy and isolation, but, at the same time, you are close to the centre (5 minutes by car, 10 by bus or 15 by bike).
The neighborhood is special because of its nature (it is surrounded by woods on the one side and the sea on the other). It is basically a protected green area where people who live in Split come on weekend to enjoy, relax, ride bikes, rolleskate, walk...Still, it is very close to the historical centre of the city. You should definitely experience a bike ride through the woods, then go for a swim (we are only 30 m from the beach) and later enjoy a pleasant dinner at one of many restaurants only 15 minutes from the place.
Ivana's place was so beautiful and cozy. It was exactly what we needed--private, practically on the beach, your own little place in the sun. The bicycles Ivana provides are a great help! Driving can be perilous in Split, and the pleasant bike ride just ten minutes or so to the Palace really helped keep the stress down during our vacation In short, perfectly situated, perfectly peaceful, and perfect hostess! Hvala, Ivana i obitelj!
Laura
2017-03-31T00:00:00Z
Un emplacement unique, proche de la ville et pourtant super calme, au milieu d'un parc naturel de toute beauté avec une vue superbe. Ivana très gentille et très énergique prête des vélos ce qui est une riche idée qui nous a énormément séduite. Un séjour au top malgré l'exiguïté du logement et surtout de la salle de bain !
Donatienne
2016-04-07T00:00:00Z
We absolutely loved our stay in this wee house! It had easy access to a nice beach just down the hill and a lovely bike ride around the surrounding park. The house was very clean and tidy and perfect for 2 people. Ivana was very friendly and welcoming. I highly recommend this place.
Clare
2015-09-22T00:00:00Z
We have had a beautifull stay un ivana's bungalow. The place Is quit, without being to far away from the center of split. 5 min by car. There Is a beach with a small bar below the bungalow, very cool !!! The bikes where perfect to visit marjan. But the best thing was the outside shower !!! To enable you to cool down quitely just before "l'apéritif" how we call oit in french. Ivana was there to help us, and communication was great. If you have to go to split and do not want to be in to much noise. This place Is for you !!!!
Vincent & Gaëlle
2015-07-20T00:00:00Z
Great host, very welcomming, available and flexible concerning our arrival time. Her apartment is very well located, at 2 min by foot to the beach Kasuni, 30 to 40 min by foot to Split city center (also accessible by bus or with the bikes she provides) and the view is just wonderful. The area is calm, perfect to relax and spend great holidays. The place was clean, modern and comfortable.
Mary-Ambre
2015-09-09T00:00:00Z
Ivana & her husband made us extremely welcome and went out of their way to assist us. The pictures and description of this beautiful location were all very indicative of what we found. Having direct private access to the beach below was a big bonus for us.
Diane
2015-07-29T00:00:00Z
It is all just perfect. We've got an unforgettable stay in such a lovely place. If you see that house is available to rent, do not hesitate. We've got the best experience ever. All we need was near - the beach, the park, the center of split. We were glad to get acquainted with Ivana and her family. They all are great and so friendly.
Ilya
2016-07-19T00:00:00Z
We thoroughly enjoyed our stay at this holiday home. We were met by Ivana's mother in law who made us feel very welcome and showed us around the house. We were also contacted by email a few times by Ivana to make sure that we were OK and to check if we had any problems which was very nice. We found the house big enough for the two of us and it was lovely and clean and tidy when we arrived. The air con worked brilliantly as we had a heat wave whilst we were there but we were comfortable at night. We loved the view looking out to the sea and enjoyed eating outside and it was totally private and quiet. We also loved the fact that we had a private parking place within the gates of the property and everything was secure . There was hot water in the shower and a hob cooking facility with two rings. However no oven but this wasn't a problem to us. There is a private path through Ivana's mother in law's garden down to the beach . We loved this 2 minute walk onto the Beach (Kasjuni Beach) which was very beautiful and provides deck chairs and umbrellas for 160 kuna for the set. They were however very comfortable in white leather and a real treat. We also borrowed the two bikes which were provided to go for a bike ride early one morning. Half way through the week we were orovided with clean towels and clean bedding which was lovely. The only thing which we struggled with was not being able to get the wifi to work but we told Ivana about this and she will be sorting this out. There is also a regular bus which you can catch to Split or you can take a five minute car journey down to a car park then walk across the marina to the old town. We did walk it one night to the old town and it took us an hour which was really good . So overall we were very pleased with our accommodation and we found it very good value for money.
Jayne
2016-07-15T00:00:00Z
Tipo de Quarto
Casa inteira/apto
---
Tipo de Imóvel
Casa
---
Acomoda
2
---
Quartos
Split, Split-Dalmatia County, Croácia
Private room with an en suite bathroom and a beautiful sea view. The private room is conveniently located in central area, very safe, and yet less then 10 minutes of walk from everything; center (Diocletian palace), Bus station,Ferries,beaches, Marjan forest, ACI Marina and Poljud stadium (Ultra festival).
Private room with a beautiful view on the main harbor and ACI marina. In front there is a big park and a parking lot where you can park your car safely and for free. It consists of spacious en suite bathroom with tub and shower, and sleeping room with a king size double bed. facilities are : - Air condition -Free WI-FI (wireless internet) - washing machine - hairdryer -TV - towels and linen included in price - city tax included in price The house is in a very central position in the first line by the sea, with a great view on the city harbor and the surrounding islands. One of the most famous Split restaurant FIFE is located in the building across the street and a well equipped supermarket is just next door. If you're coming with a car there are loads of city parking spaces in the vicinity of the house , and most of the city rent a car offices are in the 100 meters radius. If coming by bus/train/ferry it's a 10 minutes walking distance as all of the stations are located in the city ferry station. Diocletian's palace is just 5 minutes walking distance. We can store your bags when you check out if you want to take day trips so you don't have to carry all of your luggage.
House is located at the end of the main promenade in Split, The Riva. It's a lively area filled with bars and restaurants, the main sightseeing area The Diocletians Palace is less than 5 minutes walk from the house. This neighborhood is considered one of the best in Split because it is a 10 min. walk from the Diocletian's Palace and center, 5 min.ACI MARINA and from forest hill Marjan which is surrounded with beautiful beaches, all different, tracks for running biking, walking, climbing, tennis, medieval churches, views that takes your breath away.... and it has a lot of parks and green areas with a free parking spaces. Several markets, groceries are located in the neighborhood as well as local green market where people from villages around Split bring freshly grown food and sell it.
This was the perfect place to stay. It was perfectly close to literally everything, we never needed public transportation! Food and live music were a short distance away which we reveled in every night. Our host was absolutely lovely, very accommodating, and made spectacular breakfasts each morning which were included in our stay! We would stay here again, no question.
Sonya
2016-06-16T00:00:00Z
Marin was very easy to speak to over messaging prior to arrival. He was eager to make our stay in Split enjoyable! This is by far the best location I've experienced using air B&B
Kathryn
2014-10-08T00:00:00Z
Our hostess was very kind and waited up for us late into the evening. Tea with muffins were served for breakfast and it was a very comfortable and cozy room . We enjoyed our stay in Split and would come back to this bnb again .
michaela
2015-06-23T00:00:00Z
버스터미날과 주요관광지에서 모두 도보거리에 소재함. 비교적 찾기 쉬움. 상세하고 친절한 안내.
Young Hwan
2015-05-31T00:00:00Z
the host is just so nice to give us a warm welcome. they provided a very clear instruction to get to the apartment. they also prepared breakfast for us in the morning. this is what we didn't expect! the apartment is neat n tidy, also with a great view!
Janice
2016-05-17T00:00:00Z
The place was awesome. Milva greeted us and walked us upstairs, explaining how to get in and out along the way. The room we were in was clean, cute and in a fantastic location. She walked us through the amenities, showed us the wifi, etc. She even brought us breakfast and coffee the next morning! We also loved the bottle of wine that was in the room as a welcome gift. The bed was big and comfortable and we had a fantastic view of the Marina. The room is on a busy street but to my surprise, the room was super quiet when the windows were closed. We heard no street noise at all! The bathroom was big and clean and their was a small AC unit to cool us down. The wifi worked wonderfully too, which was awesome. Would definitely recommend as somewhere to stay!
Elyse
2016-07-17T00:00:00Z
This room was nicely situated near to the Riva and the harbour. It was very clean and equipped with a small fridge and washing machine. The air conditioning was a great option as the street was pretty noisy. Our host was very accommodating and even kept some of our luggage for us when we left to visit the islands for a few days. She brought us coffee each morning and our choice of omelette or bread and jam. Although the room was small the location is great
Rosaleen
2015-09-16T00:00:00Z
Ideal location and lovely, tidy room with spacious ensuite bathroom. Most friendly hosts, flexible on checkin/out.
frank
2015-05-10T00:00:00Z
Tipo de Quarto
Quarto privado
---
Tipo de Imóvel
Casa
---
Acomoda
2
---
Quartos
Split, Split-Dalmatia County, Croácia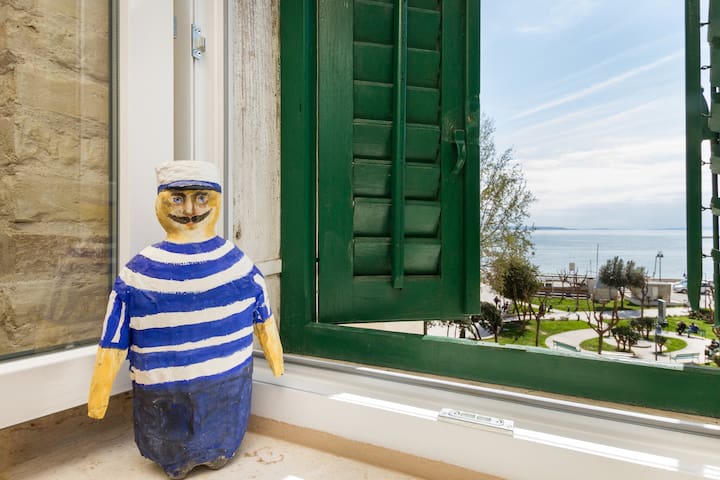 Studio Daisy is in the heart of Varoš and located on the stairs of Marjanske Skale that take you to the beautiful Marjan hill. The old stone villa is perfect for a couple that want to escape into Varoš but still be close to restaurants and the city, which is only a five minute walk. The villa has a great sundeck that sits among the trees, and birds, a very large open plan bedroom with working area, and a great bright kitchen. Studio Daisy is a three minute walk to the center of town.
The open plan and airy feel of Studio Daisy is perfect for summer months and our kitchen is great for entertaining. The sun deck is surrounded by trees and a great place for your morning coffee or afternoon drinks. It really is a great feature of the apartment
Studio Daisy is located in the heart of Varoš, one of Splits oldest areas outside of the Diocleatian Palace. The winding stone roads and charming old stone villas are clustered together to form a beautiful and authentic vista of Split. Marjan hill is only a five minute walk and the stairs that lead you there are located at your front door step.
Pete war ein super Gastgeber. Er war immer erreichbar und stand uns bei all unseren Fragen rund um unseren Aufenthalt in Split jederzeit zur Verfügung. Die Lage der Wohnung ist sehr zentral, man kann von dort vieles zu Fuß erreichen. Der nächsten größere Supermarkt ist maximal 5 Minuten von der Wohnung entfernt. Zum Hafen sowie ins Zentrum der Stadt sind es nicht mal 10 Minuten. Die Fotos der Wohnung entsprechen auch der Realität. Wir waren zwei Mädels und haben uns sicher und wohl gefühlt. Wir würden Studio Daisy jederzeit wieder buchen. Danke für die tolle Gastfreundschaft.
Sarah
2016-08-26T00:00:00Z
The apartment is very spacious and conveniently located near the city center. The terrace was my favorite part because it's surrounded by lush greenery and was very peaceful in the mornings. Pete was a kind and attentive host. My only issue was that there was no air conditioning installed and I happened to be in Split during a heatwave. Pete did apologize and mentioned that it would be installed soon.
sara
2016-06-25T00:00:00Z
Pete was great! We were in touch prior to our arrival, and we met up pretty close to the apartment. He was very helpful in getting us settled and even had fresh fruit ready for us to snack on. We were very close to everything - Riva, the beach, the Diocletian palace. It was wonderful! We hope to stay with you again when we return next summer. We will make sure to book more in advance this time!
Julia
2016-08-28T00:00:00Z
My partner and I stayed at Pete's place for a month. Pete was a very helpful and responsive host- he gave us great tips for restaurants and entertainment during the off season. The flat was well equipped for our stay, and is superbly located. Nestled at the foot of the beautiful Marjan Hill, the flat is also just a few minutes walk into town.
Tess
2017-03-17T00:00:00Z
Pete's studio is lovely, clean, private, well located, safe and an excellent value. Even in the winter, it felt a bit like a treehouse, with so many trees and greenery right outside your door and window. While it was too cold for use while I was there, I can imagine in the summer that the patio is great. Five minute walk to town and right on the path to Marjan Hill. I would definitely stay here again.
Dana
2017-02-10T00:00:00Z
Pete is an amazing host. He recommanded the most amazing restaurant ! The place is lovely clean and charming.
Flore
2017-01-29T00:00:00Z
Great, clean and comfortable place which is very close to all of the main attractions in Split. Great host also, speedy replying to queries and very helpful! Great stay
Florence
2017-04-05T00:00:00Z
Loved it. Great location, quiet and everything was exactly what I was looking for to get some work done. A+++
John
2016-12-05T00:00:00Z
Tipo de Quarto
Casa inteira/apto
---
Tipo de Imóvel
Casa
---
Acomoda
2
---
Quartos
Split, Splitsko-dalmatinska županija, Croácia
Cozy room on the 3rd floor, 2 min walk to the Diocletian palace, 10 min walk to the city beach, 5 min walk to the split harbor and the railway station, surrounded with numerous shops,restaurants and supermarkets, 10 minutes away from Marjan hill, 100 meters to the national theatre!
Clean and simple room for 2 - 4 guests!!!
Just about everything, come and see it for yourself!
We thouroughly enjoyed the flat and Luca!!! Although she couldnt speak english this was never a problem. We felt at home and the room was big enough and had airconditioning. the bathroom was small and shared with the other room but all in all it was great. thank you luca! Afrika Paprika and ruben:)
gen
2015-07-25T00:00:00Z
Luca is a very sweet and welcoming host! We got in to Split in the early morning, and though we couldn't get into our room because the previous guests had not left yet, Luca welcomed us with drinks and hugs--much appreciated to help us get out of the morning's unexpected rain! The location was perfect, and the wifi was strong enough to make some FaceTime calls to folks at home. The only thing we would have liked to know was that this room has a shared bathroom, and the hot water is not as reliable as it could be--we had a couple lukewarm showers. Still, it was a wonderful stay!
Mary
2015-08-20T00:00:00Z
Luca was very nice and welcomed us to the room hassle free. Doesn't speak any English but didn't seem to be a problem. Room is very well located, exactly as advertised and would recommend staying.
Cameron
2015-08-22T00:00:00Z
Luca's daughter communicated with us clearly and promptly. Even though Luca didn't speak English communication was never an issue. Luca is one of the sweetest, most caring persons I have ever met. She greeted us warmly with juice and smiles. She made sure we were comfortable for the night. The morning we were supposed to leave she made us coffee and had breakfast out. Unfortunately, I fell ill and was unable to depart. Luca's daughter quickly made last minute arrangements for us to stay another night. Luca checked on me, brought me tea and food throughout the day. her daughter even made sure I had medication that I needed. Their kindness was remarkable. The home beautiful and clean. Although hard to find at first the location was superb, close to everything, but on a quiet side street. We highly recommend staying with Luca.
Shannon
2014-10-21T00:00:00Z
Great experience, the place is clean and comfortable and Luca was lovely! Very conveniently located
Andrew
2016-07-23T00:00:00Z
Luca was the best host we have had ever! This woman radiates happiness and genuine kindness. She greeted us with lovely cool juice before showing us to room. Room was very clean and spacious. Luca has no English but the universal language of a smile got us by. She even made us a traditional breakfast. She appreciated that I learned a few basic phrases in Croatian and we Had a great conversation via (SENSITIVE CONTENTS HIDDEN) translate. A super host, we loved split And your wonderful hospitality :)
Sorcha (Sarah)
2015-07-19T00:00:00Z
Bon accueil, chaleureux et arrangeant. La chambre correspond à la description et le logement est très bien localisé.
Magalie
2016-07-28T00:00:00Z
Great location. Easy to find. Luca was lovely... No English but very friendly. Good value for money. Clean room with air con.
Louise
2015-08-26T00:00:00Z
Tipo de Quarto
Quarto privado
---
Tipo de Imóvel
Casa
---
Acomoda
2
---
Quartos
Split, Split-Dalmatia County, Croácia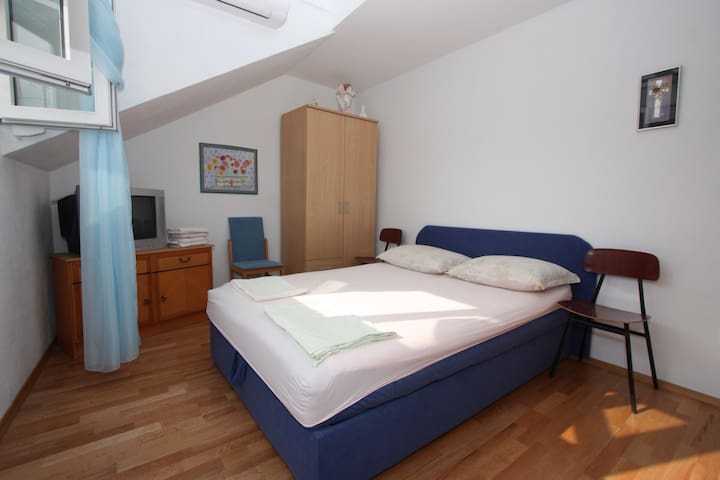 My place is close to public transport, the city center, and art and culture. You'll love my place because of the outdoors space, the neighborhood, the light, the comfy bed, and the kitchen. My place is good for couples, solo adventurers, business travelers, and families (with kids).
Free and safe parking in the courtyard for motorcycles and bikes.
Ivana was a great host. She even offered to pick us up from the bus terminal due to the inclement weather at the time. She helped us with our bags and made sure we had everything we needed before taking off. The place was as described and walking distance to all the sights, restaurants, and nightlife in Split.
Kunal
2016-08-08T00:00:00Z
The appartment is beyond clean and very cosy. Ivana is really sweet and helpfull and flexible. Would recommend it to anybody who visits the city.
Xenia
2016-09-10T00:00:00Z
Ivana's apartment was lovely. It was clean and very modern and perfect for a three day stay in Split. Ivana was the perfect host, went to a lot of trouble to make sure we found her place ok, and helped us when we had a mix up with the dates. She could easily find an alternate career in the tourism business if she wanted
Andrew
2016-09-29T00:00:00Z
Ivana was an amazing host!! She was so helpful with recommendations and very accommodating to our late arrival time. This is a small place good for 1 or 2 people but it was perfect for us and in a great central location. Would recommend!
Miranda
2016-09-25T00:00:00Z
The apartment is located in the old town nearby to many restaurants and Rivera. There are all needed amenities like aircon, kitchen corner and not small bathroom. The place looks like recently renovated and has nice standard. Ivana was a great host, very helpfull with the tourist information, avaiable just a phone away. Arrival and check out went smoothly. I recommend this place for a longer stay.
Malgorzata
2016-08-29T00:00:00Z
Perfect apartment, everything was perfect !!
Alexis
2016-08-18T00:00:00Z
We stayed 3 nights at Ivanas appartment and really enjoyed our time. The appartment is all new, clean and nice and really cozy. Its located in the center (but very quiet!) and you can reach everything in a short walk. We would absolutely recommend her place and want to thank Ivana for her friendly welcome.
Maike
2016-09-07T00:00:00Z
Ivana was a great host and extremely helpful. Even arranged a pick up for us! The studio apartment was very clean and had everything we need. Was in a great location for the old town! Would stay again :)
Rebecca
2016-08-06T00:00:00Z
Tipo de Quarto
Casa inteira/apto
---
Tipo de Imóvel
Casa
---
Acomoda
2
---
Quartos
Split, Splitsko-dalmatinska županija, Croácia
Villa Diva is traditional and romantic Dalmatian stone house, located in the very centre of Split, 2 minutes walk away from Diokletian's Palace, main seaside promenade Riva. The owner can provide transfer to end from the airport, other places and trips, dental studio and beauty salon with 10% discount.
Resistence (80m2) very beautiful decorated, is spread over two floors. There are two nice bedrooms with big and comfortable double beds and fully equiped bathroom. Each room has TV. Upstairs is massive open plan living dining kitchen area with two sofa beds, leading on to an amazing balcony, including free internet and good airconditionary on each floor. The kitchen is equiped with everything needed(espresso,refigerator,dishwasher)
All around are restaurants, caffe, winebar, clubs, busstation, taxistation, ferryport are just few minutes away
Had a great stay in Split for one night. Anja and her father were very helpful with communicating with us before and during our stay. The apartment was in a great location close to the riva and all the popular places. The place was very spacious and had a unique flair! There were many stairs to get to the apartment but Anjas dad was more than helpful to assist. Definitely would recommend.
nicole
2016-07-20T00:00:00Z
Anna was an amazing host and her place is beautiful. Her parents checked us in and out and were the most accommodating people I have ever worked with on Air B & B. They gave us directions, restaurant recommendations and even a phone to make local calls as we were from the U.S. Not to mention they held our bags after we had to check out. Would DEFINITELY recommend! Amazing first night to our trip!
Adeline
2016-07-24T00:00:00Z
What an amazing stay! The apartment had everything we needed and comfortably fits 6 people. Perfect location and terrace with a view. Coffee machine, fridge with some local food, fully equipped bathroom. Anja and her dad were extremely helpful, even leaving us a local phone to call them if we need anything. Her dad picked up ferry tickets for us so that we don't have to lose time queuing in the morning. Fabulous hosts!
Ilma
2016-08-15T00:00:00Z
All fantastic. Nice spacious apartment with every facility you could want. Very close to everything you need including Harbour and old Town and restaurants and hill top Forrest.
Al
2016-10-10T00:00:00Z
The place was wonderful, perfect location for a stay in Split. Anja was very helpful and easy to deal with. Would 100% recommend. thank you!
Juliet
2016-08-26T00:00:00Z
We stayed here 2 nights on two separate reservations. See my other review for details, but this place is awesome.
John
2016-05-26T00:00:00Z
By far the best host! Anja and her dad, Robert were the nicest persona we've met. Starting from helping us with our big luggage( since weve been travelling for a month in Europe) to the apartment. We fell in love with the apartment even more, its so beautiful decorated with such great taste. Very modern and parisian chic and steps away from the old town. the best location. We didnt wanted to leave, they really made us fell like home and the terrace is just breathtaking. They even gave us local mobile in case we needed something and to be contacted. One of my friends, accidently disconnected a cable and the apartment went out, but in just minutes, Robert was there to help us back on. By far, the best hospitality and the nicest persons. They even offered us a ride to the airport the next day. Thank you Anja and Robert for your hospitality, truly the best attentions. Definitely this place is the best!
Ale
2016-06-12T00:00:00Z
Our family of six spent three nights in "Vila Diva". Apartment was in a great location for exploring Split, which is a really nice town. Anja's father met us in town and helped us with our bags to the apt. The apt had everything...great terrace, wifi, air con and a couple of bottle's of the family's wine waiting for us. Perhaps best was Anja's mother and father picked us up (on a hot day) and drove our family and all our bags to our ferry. It was just a 5min walk, but they did it anyway. I'd highly recommend staying at Anja's when visiting Split.
Michael
2016-06-19T00:00:00Z
Tipo de Quarto
Casa inteira/apto
---
Tipo de Imóvel
Casa
---
Acomoda
4
---
Quartos
Split, Splitsko-dalmatinska županija, Croácia
Apartment is situated within walking distance of the major tourist sites- Diocletian palace, Marjan hill, ACI marina, bus station, ferry port... Newly renovated (July 2015) old stone house has all you need to enjoy in the Split city.
Apartment offers very comfortable and peaceful accommodation in center of Split located in historic neighborhood known as Varos. Apartment is situated in original stone house with all necessary amenities located just few min from Unesco protected area of the old town of Split Diocletian palace. 100 meters around apartment are all necessary facilities such as a restaurants, supermarkets, coffee bars, pharmacy, museums, galleries, tourist information offices etc...
Safe and secure neighborhood, charming ambient.
Very beautiful house and kind host. I appreciate him. Location is also good. 주인장이 참 친절하고 잘대해줘서 좋은시간 보냈습니다
Songsoo
2016-02-25T00:00:00Z
Our host Vice was excellent. He always responded quickly to our inquiry's. Checking in and out was simple. The space was very comfortable and clean.
Chris
2015-09-08T00:00:00Z
Excellent location, excellent decorated, everything you might need you have. Vice was great! Totally recommended!
Cecilia
2015-08-22T00:00:00Z
Very recently renovated appartment which has evertything you need. The bathroom but also the rest of the room is nice and clean. The location is perfect if you want the center on walking distance, less than 5 minutes. Vice and his wife were easy going and very kind and helpfull hosts
Jos
2015-07-15T00:00:00Z
Vice was amazing. He was extremely accommodating making our short stay nothing but pleasant and comfortable. I would most definitely come back and recommend to all one persons traveling or couple. Thank you vice.
Reece
2016-05-15T00:00:00Z
Vice was a great host. Super communication. Very central Apartment with everything you'll need. Thanks
Simon
2015-08-10T00:00:00Z
We spent one day in the beautiful apartment of Vice and in the amazing city of Split. Both places deserve much more time for a proper visit ;) Vice was a very nice host, always available for information and flexible with our needs. Hopefully we will be back
Irene
2015-08-08T00:00:00Z
Great location. Very clean and comfortable.
Maja
2017-04-09T00:00:00Z
Tipo de Quarto
Casa inteira/apto
---
Tipo de Imóvel
Casa
---
Acomoda
2
---
Quartos
Split, Splitsko-dalmatinska županija, Croácia
- Complete peace, privacy and spectacular view from a terrace - Located in protected park forest Marjan - 30 min walk to center (5 min with bus) - 2 bedrooms for 4 persons, extra 1 can sleep on sofa - Terrace, WiFi, parking, SATV, air conditioning
This is really one of kind rental house in Split :) Complete privacy and amazing view from your terrace is something you can't find anywhere else in Split. You can enjoy looking at islands Brač, Hvar, Šolta from your chair drinking wine. Choose to stay at comfortable, clean and secure house. I know it's important to have a quailty accommodation, where you can relax after spending whole day swimming on the beach, exploring unique and authentic old town, or enjoying mediterranean culture, music and gastronomy by the sea (ocean).
Former Yugoslavian leader Josip Broz Tito made a house below ours (Tito's villa - that tells you everything about location). Park forest Marjan is famous hiking, biking and beach destination for all domestic and foreign people. Sandy beach Kaštelet - one of the most famous beach in Split is 600 meters bellow the house. Around us, there are two houses, but our house is hidden from their view. No one will pass around, because street is only for us, and it's ending in front of our house. In Split you'll have great deal of daily activities and excursions to beautiful natural destinations as national parks Plitvice lakes and Krka falls, or nearby islands Hvar, Brač, Vis. Also you can have private tours to untouched places, coves, beaches for real getaway from daily life, to strengthen your family or romantic relationships in peaceful atmosphere.
Ivo was a great host and we had a brilliant week in his house. He picked us up from the airport - our flight was very delayed, but he met us just as we got out - drove us back and then to a supermarket and back again. All of this saved us a lot of hassle after a very long trip with a small child. The house was lovely. The 2 (!) kitchens were very generously stocked with provisions and well equipped with anything you might need for making some great food and drink. The beds were comfortable and we slept well. The air conditioning made the house a welcome retreat from the heat. Apart from occasional and very faint music coming from the direction of Tito's palace, which never went on for very late, it was idyllic and blissfully quiet - all we could hear were the crickets and the wind rustling the leaves of the fig, lime and olive trees. Our son was particularly enchanted by the beautiful terrace and garden. The nearest beach was roughly a 10-15 minute walk away, and we spent quite a lot of time there. We also hired bikes in the centre of town and explored the Marjan Forest Park, literally just minutes from the house. There is a gorgeous beach there, shaded by the pine trees, and complete with playground & restaurant. We had a great week there and can recommend both Ivo and his lovely house without hesitation.
Jessica
2016-07-10T00:00:00Z
C'est une très belle location, dans un endroit magique! Avec une vue exceptionnelle! Ivo est super sympa;) Je recommande!
marjorie
2015-08-23T00:00:00Z
Five of us stayed in this amazing villa for 6 nights during July. When we arrived at the bus station Ivo was there to greet us and transported us to the villa. Ivo was an outstanding host, easily contactable at all times and very friendly. He happily helped organise any trips or activities that we wanted to do allowing us to experience the very best of Split and its surroundings. The villa itself is beautifully furnished, with spacious rooms and a good dining/cooking area both inside and out. The terrace was stunning, with possibly the best view of the sea and islands off the coast. Mario the owner of the property was also very friendly and helpful; he even helped cook us a barbecue! We would recommend this excellent property to anyone looking for a relaxing stay in Split. The unique villa combined with Ivo's boundless hospitality made for a perfect week away! We are very grateful to him.
Polly
2015-07-22T00:00:00Z
Ivo was very friendly, helpful and quick to respond to all questions. The house was indeed absolutely unique and gorgeous and really fully equipped. We were absolutely spoiled finding there everything we could possible need to use, coffee, tea, all sorts of drinks, fresh fruit and candy for our daughter. The house, the garden and terrace, the surroundings and the view were even better than in the pictures. And equally important, the house was very clean. We will certainly return here.
Jasper
2016-05-15T00:00:00Z
Absolutely wonderful! This airbnb listing is going to be hard to beat! The location of this home is amazing - situated away from the busy city (but still very easy to reach by car or bus), it offered a wonderful retreat for our family. It is so peaceful and quiet, with a lot of privacy. The views from the home are amazing and there is a LOT of space to play in the yards and eat out on the patio. We ended up cooking most of our meals there because it was such a nice place and the grill was fantastic. You can walk to two different beaches which are more private than the big ones in Split downtown and the forest trails are close by, as well. The house itself was immaculate and offered all of the amenities that we could have wanted. Clean, cozy, airy, beautiful. To top it off, Ivo was an incredible host. He went out of his way to help us settle in and plan our trip, even offering rides to and from the airport and arranging a private meal cooked at the home for us on our first night. Couldn't have been better!
Kathryn
2015-06-06T00:00:00Z
Vi havde den mest fantastiske ferie i dette hus. Alt gik bare op i en højere enhed. Fantastisk udsigt fra huset og i det hele taget et fantastisk sted. Kan kun anbefales og vi vil garanteret vende tilbage hertil på et senere tidspunkt, hvor vi har mere tid til rådighed for ferie.
Marianne
2016-08-10T00:00:00Z
Our stay here was amazing! Ivo was extremely helpful and made our stay perfect. He helped us book excursions and helped us get around. It made the stay so much easier and less stressful. Th house itself was wonderful and the view is even more breathtaking in person than in pictures. If you are thinking about staying in Split, this is the place for you! The house and Ivo's help is one of the things that made our trip. HIGHLY RECCOMEND!
Marianne
2015-07-11T00:00:00Z
Хороший хозяин. Отличный дом, новый, с кондиционером, есть вся посуда и техника. Прекрасное место. Красивый вид на море. Понравилось все.
Olga
2014-07-30T00:00:00Z
Tipo de Quarto
Casa inteira/apto
---
Tipo de Imóvel
Casa
---
Acomoda
4
---
Quartos
Split, Split-Dalmatia County, Croácia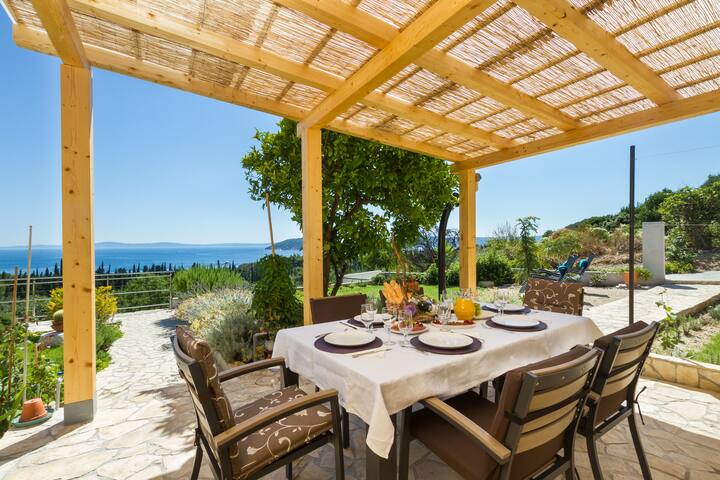 This romantic apartment is located in one of the oldest parts of the city, an area containing many ancient houses set along winding cobbled streets.Just a few minutes away form the cities most attractive sights.
Decorated in a rustic-modern style , with exposed stone and wooden furniture. The apartment is entered form a cobbled street into a hallway where there are steps leading down into an open plan kitchen/diner /lounge area with french doors opening out into a private courtyard complete with table and chairs for outdoor eating. On the top floor a charming bedroom is located equiped with a TV and sattelite with an acces to a balcony where you can enjoy a romantic night cap.
The neighborhood consits of origin stone houses separated with small streets where there is no acess to cars. The streets are rich with small domestic restaurants with origin dalmatian dishes. Riva is less than 50m away from the apartment , Bačvice beach is the most famous sand beach in Split, is 10- 15 minutes walk from the apartment and at night it turns into one of the most interesting places for a night out. Also the green market ,supermarket, bakery, fast food and caffe bars are very close to the apartment (1-5 min walk) Pebbled beach Zvončac and Jadran Pools are at 10 min. walking distance. Few of the most distinguished restaurants are located at the ACI Marine, and Matejuska just a few minutes away from the apartment.
Ana foi muito atenciosa e prestativa, nos deixou muito a vontade na casa, oferendo inclsuive um late check out antes mesmo de pedirmos. A localização do apartamento eh incrivel, muito perto de tudo: Bar, restaurantes, baladas, etc... Ana nos deixou dicas para tudo. Muito bem equipado e recentemente decorado, uma otima opção.
Marcio
2016-09-14T00:00:00Z
The flat is very central in a quiet little side street close to everything. Ana is a great host and even left us snacks in the fridge as we arrived late at night. She also patiently waited for us as we got lost on thee way. The place itself is absolutely beautiful with a balcony that you could sunbathe on and a little courtyard downstairs perfect for a lazy breakfast. Will definitely be back again!
Olya
2015-07-11T00:00:00Z
Ana was fantastic as she greeted us at the apartment with some refreshments and local wine. She also helped facilitate the resolution of a billing issue with Airbnb quickly. Ana is very hospitable. The information on Ana's place is very accurate and one of the most well-equipped places that we have stayed with Airbnb. Ana's place has everything you need. Location is perfect as you are no more than 5 minutes from the harbor promenade and Diocletian Palace (which is an excellent place to explore). Small note that Trip Advisor's #1 Split restaurant is at the beginning of Ana's street. Apparently, people book days in advance. Split is a gem and made better by staying at Ana's!
Chris
2015-04-22T00:00:00Z
Ana ist eine tolle Gastgeberin. Alles hat super funktioniert und sie hat immer sehr schnell auf alle Fragen geantwortet. Das Apartment ist erstklassig mit der Terrasse, dem Balkon und dem kurzen Fußweg in die Altstadt. Wir wären gerne länger geblieben und können diese Unterkunft sehr empfehlen. Wir kommen gerne wieder.
David
2014-08-19T00:00:00Z
Very nice flat in a perfect location. Ana was very friendly and showed us everything. She left her iPad so we were able to have Internet. The connection was not too good but it worked. We would definitely come back and recommend this place! We had an awesome stay.
Stefanie
2014-10-20T00:00:00Z
Had a truly fantastic stay in what was a wonderful apartment in a great city. Ana was excellent in organising the check in and departure details. She even sent us a message mid holiday to ensure all was in order. Full marks and thank you!
Edward
2015-08-19T00:00:00Z
Ana's place was absolutely gorgeous and provided the perfect location for us to reach the beaches, port, cafès and restaurants, the old town and Marjan hill with ease. The two outside areas were a gift when the sun shone! The apartment was equipped with everything we needed for our stay, including a phone which Ana kindly said we could take with us during the day to use as a wifi hotspot. Ana was always at the end of the phone during our stay and incredibly quick to respond if we had a question. We had a wonderful time, thank you Ana!
Alice
2016-09-21T00:00:00Z
Great apartment in a fantastic location. Ana really has thought about everything and made our holiday stress free. The two terraces in the apartment are amazing and made our stay in Split even more enjoyable.
Stephanie
2015-07-29T00:00:00Z
Tipo de Quarto
Casa inteira/apto
---
Tipo de Imóvel
Casa
---
Acomoda
2
---
Quartos
Split, Split-Dalmatia County, Croácia
frenky rooms located in Split, next to the park forest Marjan,Marjanski put 19, 10 - 15 minutes walk from the city centre and famous Diocletian palace, the city port, railway and bus station.
Nous sommes restés 3 nuits chez Jela avec un ami. Ils ont été très accueillant ! Jela ne parle pas très bien anglais, mais sa fille parle assez bien anglais. Nous avons eu le droit à de l'eau fraiche à notre arrivée, ce qui était fort apprécié avec la chaleur qu'il faisait. Logement très bien situé, 10 minutes du centre de Split en marchant, dans un quartier calme et boisé sur les hauteurs du parc Marjan. Logement à recommander si vous avez besoin d'une chambre et d'une salle de bain !
Jocelyn
2016-07-23T00:00:00Z
Jela was very welcoming and friendly. The place is in a fantastic location, just a 5min straight forward walk into the old town and to the sea front. It is a five min walk from marjon park and 20 min walk from bene beach which is a quieter but still beautiful beach. The room had everything we needed; private bathroom, fridge and toiletries. I would definitely stay again.
Kate
2016-08-11T00:00:00Z
I liked the place! It was just like on pics. It's close to the center, very clean and cosy. What I liked the most was that I had a separate bathroom. It's on the hill so I did lots of cardio after the beach after climbing back home :) my hosts were really nice people, very friendly and helpful. Jela's mother even gave a present, it was so sweet and unexpected! I will definitely recommend this place!
Кристина
2016-09-16T00:00:00Z
Great little room in good location. Next to Marjan Forest (with bene beach which is much nicer than all the other beaches in split),5 minutes from the top of the hill where you can see all of split and only 10 mins walk from the town centre. Lovely and quiet. Comfortable air-conditioned room which has everything you need for the price. Jela was very friendly and contactable easily by text if we needed anything. Would recommend this place!
Caighli
2015-09-07T00:00:00Z
He house was great!!!
Nicolas
2016-08-17T00:00:00Z
Jela was a wonderful host, the room was really clean and the apartment is 5-10min walk from the city centre.
Trehan
2016-09-08T00:00:00Z
Friendly host and a clean, tidy room with everything you need close to the old city. Would stay again.
Nick
2016-09-05T00:00:00Z
This was a great room to stay in Split- only a few minutes walk into the historic centre and about 15 mins to the ferry port. The perfect location just set up on the hillside. Lovely air con room and comfy bed - we were only here for a night before catching a ferry to one of the islands but Jela was very friendly and came to pick us up when we got lost en route!
Emily
2015-07-17T00:00:00Z
Tipo de Quarto
Quarto privado
---
Tipo de Imóvel
Casa
---
Acomoda
2
---
Quartos
Split, Croatia, Split-Dalmatia County, Croácia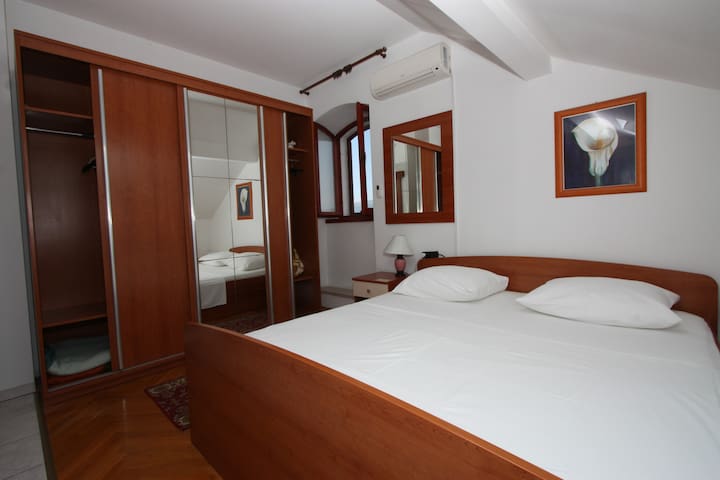 Villa Robert can accommodate up to 8 people. Spacious house on two floors located 150 meters from the famous beach in quiet elite residential area Meje in Split. Combines relaxation and convenience by offering an idyllic beach escape and only a short distance from the city center. Villa Robert is ideal for guests who are looking a vacation on the beach in nice ambient in Split.
Dear guests, This is our first year renting Villa Robert. Looking forward to meet you and see you in city Split Villa Robert has 250 m 2 on two floors. It has 4 large bedrooms, living room with dining area, kitchen and bathrooms and nice terrace for relaxing with outside furniture with amazing view to islands. House is spacious with big yard with grill and garden and football playground. Private area around Villa Robert, 500 m2 is at guests disposal for the whole time of their stay. This is our second year of renting so far we had great guests and it was really great experience. Looking forward to meet you and see you in city Split. House itself Is nicely decorated - feels cozy and comfortable where you can relax after an exciting days of sight seeing or spending day on beach. House have 4 bedrooms. In 3 bedrooms there is a double bed dimension 160*200 and in last bedroom is king size bed. There are two spacious bathrooms with shower and 1 bathroom with toilet.. Kitchen is fully equipped with all nessesery utilities you may need for nice vacation. There are 3 balconies. House can accommodate up to 8 people. We offer free public parking. There is a public parking area around the house where you can park easily.
Located in quiet elite residential area near lovely park Marjan, with Mediterranean pine forest and beautiful beach which are most popular place in Split for swimming and sunbathing. Also by locals popular place for jogging or ride a bike and tennis play.. You can fully enjoy in walking, running, cycling, hiking or climbing along the forest paths and also swimming during the summer season. 150 meters from Villa Robert is attractive beach Obojena svjetlost. Also near is beautiful Kasjuni beach with Joe's Beach Lounge & Bar which offers massage on beach. - 15 minute walking distance to center - 150 meters distance to beach - park Zvoncac with playgrounds near by for children's - 10 minutes walking distance to ACI yacht club with restaurants and bars - 5 minutes from museums and Mestrovic galleries in the neighborhood
We had a very positive experience with Sasa and Villa Robert. The house is very spacious with a combination of modern decoration and furnishings and some more traditional furniture and has been tastefully refurbished. The 4 bedrooms were good sized double rooms and there was an attractive outside space with outside balconies on the 1st floor for 3 of the bedrooms and a large sun terrace on the ground floor and outside bbq and eating space at the rear of the property. The villa is located in the most sought after neighbourhood in Split which is very safe, clean, quiet and close to 2 local beaches. Split itself is about 20 minute walk or 5 minutes on the bus (about every 15 minutes). The nearest shops and cafes are about 10 minutes walk away. Sasa is a very nice, friendly and helpful guy. He responded very quickly to any questions that we had and was available to advise on anything that would make our holiday more enjoyable. He was available without being intrusive. He was happy to arrange transport for us to and from the airport and offered to take us to the large supermarket in order to stock up on groceries. Overall I would rate the experience as 5* for Sasa and Villa Robert.
Mark
2016-08-05T00:00:00Z
The host of this lovely villa is just fantastic - he oriented us not only to the home, but to the town by driving us around briefly when we arrived. The house has been nicely remodeled and had all of the essentials, everything was in working order, the view from the terrace is fantastic, you can walk to the beach and to town, and it was a place we would have happily stayed for many more days. Just terrific!
Nenad
2016-09-12T00:00:00Z
This is a fantastic beautiful Villa in a wonderful location. ideally located equidistant from the old town, beaches and countryside. The villa was luxurious and went way beyond what we could ever have hoped for. Our host Sasa was exemplary taking the time to drive us around the local area to help us get acquainted. The area around the villa is extremely quiet and peaceful yet you can be in town and by the bars and beach within 20 minutes. The villa was spotlessly clean and had everything we needed. I would highly recommend this villa and very much hope to return.
Joseph
2016-09-20T00:00:00Z
It was perfect. The listing and photos were better than expected. 4 star airbnb ****. This apartment is amazing!
Jane
2016-09-07T00:00:00Z
Our host was very friendly and helpful. He arranged taxi transfers and even took us to the supermarket on the first day - nothing was too much trouble. The villa was incredibly spacious and kept cool even in the hot weather; it was a pleasure to stay there.The bedrooms were all of a good size and airy - two were exceptional! Generously sized beds, plenty of wardrobe space, extremely large and light with amazing views. The terraces were extensive and a great place to eat meals or chill watching the boats and sunset. The kitchen was well equipped and the washing machine was really useful. The setting of the villa was also great - our boys loved the football pitch. We would love to stay here again!
Lynne
2016-08-25T00:00:00Z
The Villa Robert is a superb place to stay. It is spacious, clean, and fully equipped, as advertised. There was everything we needed for a relaxing stay. The view is stunning, the area peaceful & the beds were comfortable. The bbq has to be seen to be believed - fantastic! Our host, Sasa, was really helpful, taking us to the supermarket the first morning, to stock up. The only drawback was the hill from the beach - rather steep but it kept us fit! We would certainly recommend a holiday here. Split is an amazing city, with so many interesting historical & beautiful areas and very good restaurants. All together a wonderful holiday for our family .
Pat
2016-10-02T00:00:00Z
Sasa made us feel like at home. Really kind and nice from the moment of the arrival. Really good views of the sea. Perfect location, 5 minutes walk to the beach and 5 minutes in car to the city centre.
David
2016-09-05T00:00:00Z
It was a fantastic place with a lot of space and the villa looked even better than photos with perfect location very safe neighborhood and close to the city center and great host. Sasa was very helpful and responsive and everything worked out very well. Thank you!!!
Fargol
2016-10-19T00:00:00Z
Tipo de Quarto
Casa inteira/apto
---
Tipo de Imóvel
Casa
---
Acomoda
8
---
Quartos
Split, Splitsko-dalmatinska županija, Croácia
A three star Room within easy walking distance of the Diocletian Palace, National Theatre, Ferries, Trains and Riva. Room Leon is a three star rated room on the bottom floor of a hundred and fifty year old house, in a nice courtyard
Room Leon is a three star rated room on the bottom floor of a hundred and fifty year old house, the house originally was one floor and has had at least one famous person living in it, an artist called Ljubo Ivancic who was born in Split ((PHONE NUMBER HIDDEN)) and who later became an academician professor in Zagreb where he died. Since then the house has had a few more floors added, and now stands five storeys high. The Leon room has a large double bed, air-conditioning fully fitted shower room, tea/coffee making facility, TV, fitted cupboards and wardrobe and a gaming table for chess and drafts. There is limit parking in the street plus a car park nearby, the Dalmatian Palace; National Theatre, Riva (Sea Front) and Old Split are a few minute walk away. The room in the centre of Split is in a street called Plinarska (which means gas), many years ago there was gas street lights. The street has retained the lamps that now have been up graded to electricity; they still seem to glow like the old gas lamps. It is a vibrant street with the bottom of the road in the centre of Split with its shops, bars, theatre, Palace and restaurants all within easy walking distant. The top of the road leads to a vast park full of trees and wild beaches. The park is called the Marjan, where you can rent bikes, swim, play tennis, soft ball, football or just sit in one of the cafes or restaurants, the beaches are pebbles with views of the distant hills a nice place to chill out in after touring the surrounding areas on the many tours on offer. Split itself has loads of history being over 1700 year old, there is the Diocletian Palace, museums, theatres, Roman ruins and miles of beaches all within walking distance of the room. To see the sights of the city there are walking tours, bus and coach tours, cycling tours and even Segway tours, for the surrounding areas there are coach trips, boat/yacht hire, mini cruises, canoeing and even rafting down a river. You can also rent a scooter or car and explore the sites yourself, nearby is an old Roman settlement of Solin, or another old town of Trogia which is surrounded by water but not an island so I am told? Talking of islands Croatia has over a thousand of which sixty plus are inhabited, the nearest island is Solta. Then there is Brac, Havar and Vis all are connected via ferry from the port of Split and run frequent services.
The Neighborhood is in easy walking distant to all the main transport of the centre of Split
5 stars for everything: - airport pick up (cant be more convenient) - room itself - very nicely decorated, CLEAN, A/C, High speed WiFi, very well located (just a few minutes of Split city center), easy access to the building, clear instructions on stuff like where to ring a door bell or where to turn the light on/off which take those little stresses off during your stay - owners - extremely friendly with awesome sense of humor All in all - if you look for something great - that is the place.
Eliza
2015-07-19T00:00:00Z
Nous avons été accueilli avec beaucoup de gentillesse et de sympathie Un petit verre de bienvenue nous a été offert ! Logement conforme aux photos , propre et coquet ! Petit mais fonctionnel
Julie
2016-09-25T00:00:00Z
Really nice house and houseowner, they are so kind to help me during my stay, highly recommend
Sharon
2016-06-15T00:00:00Z
The host canceled this reservation 50 days before arrival. This is an automated posting.
정인
2016-06-17T00:00:00Z
Very lovely room, well located (very close to the downtown of Split). Nigel and Lola are very nice hots. They brought us at our arrival for a visit of Split. We found everything we need on this charmons room.
Alexandra
2014-08-10T00:00:00Z
The room is very private (on a seperate level) and had everything we needed and more. Being on the bottom level we could come and go without feeling like we were disturbing anyone which was a major win! The room is exactly as pictured and only a really short walk into town 5ish minutes and both the hosts were super accommodating with holding onto our bags and giving us great food recommendations. Would definitely return it was a pleasure to Stay!
sophie
2016-08-10T00:00:00Z
Excellent accueil, humour et bonne humeur de rigueur. Chambre fonctionnelle, très bien située ! Très bon séjour.
Arnaud
2016-08-02T00:00:00Z
Great place, conviently located, easy to walk to town.Located in a typical Split neighborhood Room cozy and clean. Nigel is a wealth of knowledge about the city, places to eat, places to go. Enjoyed our time in Spilt and recommend this place.
Ani
2016-07-04T00:00:00Z
Tipo de Quarto
Quarto privado
---
Tipo de Imóvel
Casa
---
Acomoda
2
---
Quartos
Split, Split-Dalmatia County, Croácia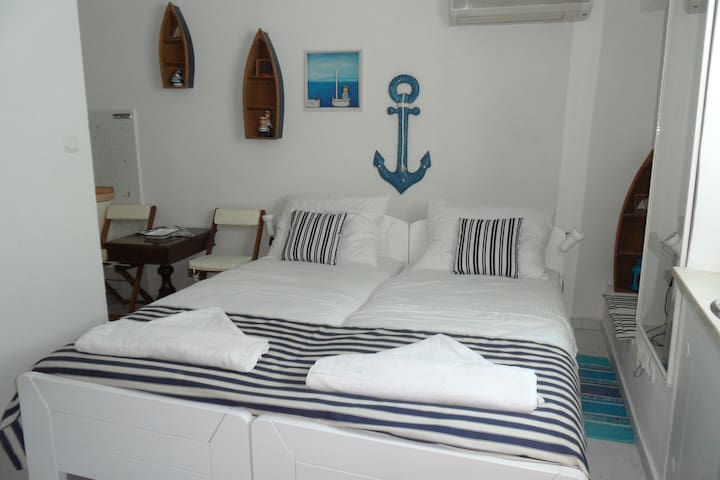 Perfect location, under the Marjan Hill , atractiv and romantic place, away from city crowd , but close enough to walk to the city center. One of the best Nudist beaches is just 10 min walking ! Marjan Hill is paradise for bicicles and walking toures, And beach is under the house!
Unique accomodation in Split. Very private.
very welcoming and so helpful in every respect thankyou
Michael
2016-07-03T00:00:00Z
Unbelievable nice place. We really enjoyed watching the sunset from your place. Unfortunately we spent only one night. Next time we will stay longer!
Marco
2015-09-29T00:00:00Z
Monika è stata davvero gentile. La casa è curata in ogni minimo dettaglio. È dotata di tutti gli accessori. Monika aveva anche lasciato per noi cibo e bevande, cosa inusuale e sempre gradita. La casa è appena fuori dal centro e dalla confusione, ed ha un accesso privilegiato alla spiaggia.
Sara
2016-08-18T00:00:00Z
Monika is so far the best host we've ever had! We loved our start at her place. She offered us so many things (chocolate, wine...). The location is perfect for those looking for a quiet area. It's very close to the best beach in split and to the park. Thanks Monika for your hospitality, we highly recommend this place and would love to come back. Cheers. Najlaa & James
Najlaa
2016-08-21T00:00:00Z
The apartment is in a gorgeous part of Split. An easy 5 minute bus journey ( or 40 minute walk) into the lovely old town, or a 2 minute walk to the beach. Highly recommend exploring the beautiful national park area. Monika was a perfect host and so warm and friendly, she was so helpful and organised a shuttle service to and from the airport for us! Such a lovely apartment in a gorgeous part of Split
Billy
2016-07-12T00:00:00Z
The welcoming by Monica was very warm, she was very helpful and made everything comfortable everything we needed was given to us, the apartment was lovely and in the most perfect location, the beach (which is so nice) and nature park was all so close. A walk to the city of split could take you between 20-60m depending on your walking pace but buses are reliable, besides the walk is beautiful ! I absolutely recommend staying here, you really do experience the best of croatia and are away from all the touristic part of it, you get to experience it personally.
brie
2015-09-08T00:00:00Z
Monika nous a accueilli de façon très sympathique elle avait rempli le frigo et nous a offert quelques fruits de son jardin. L'appartement est agréable avec un beau salon/salle à manger/cuisine et une grande chambre et salle de bain/sanitaire séparés La terrasse aménagée dans le jardin donne une belle vue sur la mer il y a une plage à 10 minutes à pied Le logement est situé dans un quartier calme et privilégié à 5 minutes en voiture du centre-ville
Philippe
2015-10-01T00:00:00Z
Perfect day
Renata
2016-10-02T00:00:00Z
Tipo de Quarto
Casa inteira/apto
---
Tipo de Imóvel
Casa
---
Acomoda
2
---
Quartos
Split, Hrvatska, Croácia
This nice house is situated in old part of city (Varos), and is a short walking distance from the Diocletian's Palace, a 10-15 minute walk to the beach and close to local restaurants, shops and markets. We have big terrace with grill and outdoor shower.
I stayed with my family at Ante's place and the experience was so good. The house is so clean and well located, you can easily (for Split standards) park in the surroundings and be in the Palace in less than 5 min. The area is so chill and you have a wonderful terrace with bbq. Plus two well sized balconies in the second floor. So is a really good choice for spending your vacation days. And best thing, if you have any problem or question Ante will manage it. Communication is not a problem because he speaks fluent German and English. Next time in Split I will repeat this AirBnb without a doubt.
Rafael
2016-08-25T00:00:00Z
We had a great stay at Ante's place. It is very well located, in a quiet part of the old city close to any interesting spot (Palace, beaches, shops...). The house itself was nice, clean, with a fantastic terrace you could enjoy at any time of the day. As a host, Ante does everything to make his guests feel welcome. Always available when needed and providing good advice on the different places to see around. He ensured we had all needed at any time.
Florent
2016-07-11T00:00:00Z
Ante`s appartment is pretty nice and very central. Everything was ok and like we imagined us. He speaks german very well and was always there for us when we had some questions =) Thank you for the nice stay and maybe see you next year again.
Fabio
2016-07-19T00:00:00Z
Ante was a great host. He met us at the bus stop and showed us round the centre of split. When we got to his place he went out of his way to tell us about the city and give us recommendations. The house was amazing, even better than the pictures. All in all we loved our stay and if we came back to split we would definitely try to stay here again.
Hollie
2016-08-20T00:00:00Z
Ante was very helpful and always responded when we needed him. He picked us up and gave us a small tour to begin with. The house was very clean and had everything needed for our stay. It has a very nice terrace with a outside shower that is ideal during warm days. It's a 5 minute walk to the center where you can go out and eat or do your groceries. We had a very pleasant stay here and would definitely recommend staying at Ante's place while visting Split.
Can
2016-08-03T00:00:00Z
Super semaine à split ! Ante est très accueillant, il a prit du temps pour tout nous expliquer la ville , où aller . L'appartement est comme sur les photos , très bien équipé , la terrasse très agréable on ne manque de rien . Je recommande vivement ce logement de plus il est à 10 min à pied du centre .! Merci à Ante !
charlène
2016-09-13T00:00:00Z
Ante was a great host, he texted me to find out our arrival time and gave us information to get the airport transfer bus. He then met us at he bus station and gave us a small guided tour through the palace which was great. It was a very short walk to the house but he helped to carry our bags which was lovely! The house was beautiful and out did our expectations. The terrace was particularly lovely with the swing and that wonderful BBQ which we used almost daily. The house had two ACs which was great and a washing machine that was very useful. Although the kitchen was a little small, there were lots of pans and sharp knives for cooking and was perfect for us. The house is in a great part of the city with a 5 minute walk to the centre, 10 minute walk to Park Šuma Marjan (a wonderful national park with beautiful bays) and 15/20 minute walk to the port. We thoroughly enjoyed our time in Split with Ante and the house playing a huge role. I think I can safely say for both me and my boyfriend that we would love to come back to Split and stay here again.
Phoebe
2016-08-15T00:00:00Z
We had a great time at Ante's place. We were welcomed already at the bus stadion and Ante guided us through the old city of Split on our way to his lovely appartment. The appartment is as you can expect from the pictures, and the terrace is excellent. We have spent a lot of time there. The place is well equipted and very clean. The neighbourhood is cosy and authentical and everything is within walking distance – the forest, the beach and the palace. Ante took us through the maps and gave us good recommendations. We won't hesitate to come back or recommend his accomodation.
Bente Aas
2016-09-20T00:00:00Z
Tipo de Quarto
Casa inteira/apto
---
Tipo de Imóvel
Casa
---
Acomoda
5
---
Quartos
Split, Splitsko-dalmatinska županija, Croácia
The house is beautiful with a huge garden (olive trees, vegetables, flowers) and the bedroom. It is very big and has an access to the balcony which offers an amazing view of the mountain and the sea and it is simply perfect for relaxation.
The house is beautiful, has two apartments, a huge garden (olive trees, vegetables, flowers) and the bedroom that is available for the rent is on the first floor. It is very big and has an access to the balcony which offers an amazing view of the mountain and the sea and it is simply perfect for relaxation. Inside there is a comfortable double bed that can also be separated into two smaller beds and, if necessary, it is possible to add one more bed for a third guest. The room is equipped with TV, Internet and air conditioning. Bathroom is spacious and guests can use fresh towels as well as the washing machine . All the utensils and pans in the kitchen are available as well as the refrigerator. On the balcony there is a stove and a big table (with a view of the garden) that guests can also use to prepare lunch and eat. Last but not the least, they can use a special grill in the garden if they want to organize a barbecue which certainly adds to a cozy atmosphere.
Now this is the best part! The house itself is situated in one the best and most beautiful parts of the city of Split. The center of a city is only ten minutes away (walking distance) so you don't even need neither a car nor a bus. If you choose to use transportation a bus station is 5 minutes away and there is a free parking space that is available for use. On the same distance from the house you can find a restaurant, beach, a wonderful (already quite famous) bar and some sport terrains that can be available for rental. 10 minutes away (again walking distance) in the other direction and you get to see an amazing forest because the house stands at the bottom of the Marjan, a hill that is under the protection of the state because of the nature and its beauty. There you can enjoy a peaceful walk, rent a bike, run, exercise, take a swim or drink a cup of coffee that the Croatians like so much. For those who love to party we are 15 minutes away (walking distance) from the Poljud stadium where all the important music festivals are held (primarily Ultra music festival).
The host canceled this reservation the day before arrival. This is an automated posting.
Laura
2016-07-04T00:00:00Z
Это место для тех кто любит природу, погоду, общение и ощущение из детства, может юности - гостеприимство бабушки:). Госпожа Милка очень добрая, общительная и заботливая хозяйка. Поразило, что не смотря на свой уважаемый возраст она очень активна и интересна. Все , что указано в объявлении соответствует действительности. Но самое для меня значимое по мимо утреннего завтрака с видом на море, это ежедневные путешествия в Марьян на предоставленном мне велосипеде. Они сделали мой отдых вдвойне приятнее и полезнее. Дорогая Милка, я была счастлива все проведенные у Вас дни и действительно отдохнула, хотя и не много!!! Спасибо!!!
Татьяна
2016-09-08T00:00:00Z
Hvala na sve! Bilo nam je predivno kod vas. K'o da sam bila u svojoj kuci. Milka nas je lijepo docekala, i apartman je bio sve sto smo ocekivali i vise!!!
Teodora
2016-07-27T00:00:00Z
The stay at Milkas place was wonderful. The location is beautiful, peaceful, near the see, beach, but also a short walk from the city center. Milka is a great host, very warm and caring, as if we were visiting our own grandma. She made us a nice breakfast almost every morning. The house is very big, clean, the bathroom hygienic. The kitchen is also very spacious and always free to use. All in all, a beautiful, peaceful and pleasant place to stay.
Mateja
2016-07-19T00:00:00Z
Milka is a wonderful host - we really felt like visiting our own grandmother and felt like home. We will stay at Milkas place next time too - everyhing was perfect. The room is huge, very clean, and very well situated in a nice neighbourhood close to the marina. Thank you very much for everything, especially for the coffee and breakfast in the morning and your special food we were allowed to taste!
Kathrin
2016-07-28T00:00:00Z
Tipo de Quarto
Quarto privado
---
Tipo de Imóvel
Casa
---
Acomoda
3
---
Quartos
Split, Splitsko-dalmatinska županija, Croácia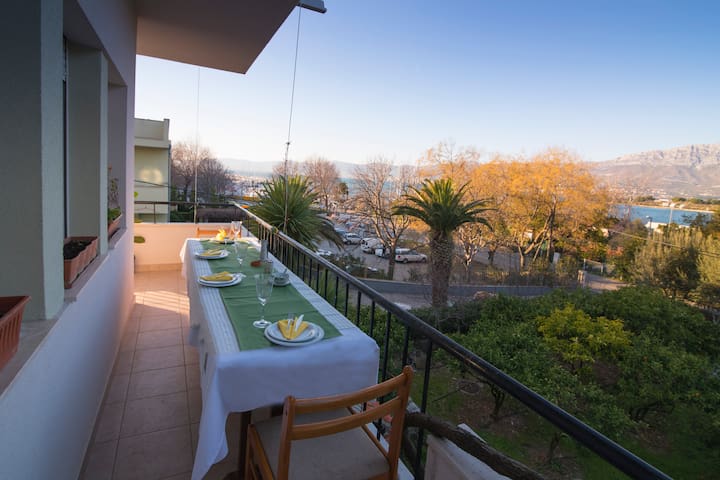 It is only 5 minutes walk from city!
Maja contacted me about a week before my stay to arrange for my arrival. She met me at the bus station and we walked to her place which was very central. It was a lovely start to my holiday. There are many shops, restaurants and a bakery close by (handy for breakfast). Maja was a fantastic host and offered to show me around Split in the morning. She took me to amazing places. I would recommend this accommodation and if you are heading off to an island the next day then it's ideally located for that. Maja let me stay on later in the room (presumably no guests that night) which was great.
Dawn
2016-06-24T00:00:00Z
Desde el primer momento todo perfecto, me ayudaron a aparcar el coche en el centro, Luca me dio un tour por la cuidad y Maja ha sido muy maja y me ha hecho sentir como en casa desde el primer momento. La localización es perfecta, la habitación tiene baño dentro además de llave y Split es una ciudad con muchísima vida en verano, 100% recomendable muchas gracias chicos !
Jose Fran
2016-09-03T00:00:00Z
Very nice people, I enjoyed talking with Maja and her son who also took me on a tour, both excellent hosts. Basic room but perfect location if you just need a bed with private bathroom in the city. The location is extremely central but quiet at night. Thanks to you both
Rhys
2016-10-24T00:00:00Z
Maja for very friendly and helpful. She picked me up at the bus station and explained me a bit about the city. Moreover, her son gave me a very interesting tour through all the most important sites around the city centre. It was a perfect opportunity to explore Split with a friendly local guide. The communication with the hosts was without any problems. I could also keep my luggage at Maja's place and pick it up later, which was very practical. The room looked slightly different than on the picture as the interior was changed a bit in the meantime and it was not particularly charming. There is a private bathroom for the room,which is not nice, but usable, if you don't mind old equipment and occasional encounter with a centipede. If you are looking for a really cosy, beautiful place with modern interior, you have better have a look elsewhere. On the other hand, if you are looking for a basic place at a perfect location in the city center with friendly hosts for a very reasonable price, this place is a good choice.
Kryštof
2016-05-23T00:00:00Z
Maja was a very friendly and laid back host and even picked me up from the close by station. The room and the bathroom are just perfect: clean and comfortable and right in the center!
Josie
2016-07-23T00:00:00Z
The host canceled this reservation 31 days before arrival. This is an automated posting.
Manu
2016-07-01T00:00:00Z
My stay at Maja's place has been greet. The home is really well located in the city centre,close to everything.But especially Maja is a great persona,it was one pleasure to stay at her place
Francesco
2016-08-18T00:00:00Z
I liked it so much I came back a second time :)
Grace
2015-08-19T00:00:00Z
Tipo de Quarto
Quarto privado
---
Tipo de Imóvel
Casa
---
Acomoda
1
---
Quartos
Split, Splitsko-dalmatinska županija, Croácia
This newly renovated central studio will offer you everything you need on your vacation. It is located in 'Varoš', old part of Split,just 5 minutes from Diocletian palace, Riva promenade, lots of restaurants and bars.We are always here for our guests
Renovated in March 2014. This delightful studio is in an old stone house situated in a quiet historical district surrounded by typical Dalmatian stone homes. The studio is on the top floor. Very comfortable, easy access, completely restored with new interior furnishing and decorating. Separate entry, 1 double bed, single pull sofa bed,wardrobe, a fully equipped kitchenette with all amenities, 2 hotplates, refrigerator, satellite TV, air-conditioning, Wi-Fi ADSL internet, bathroom with glass enclosed shower. 27m2
The neighborhood is very safe and the district surrounding our house is historical and peaceful, so you'll stay close to all most important attractions but in a quiet district.
It was such a luck to have chosen this place for our 2-night-stay in Split. I and my friend have tried a few different airbnb places in Croatia this time (first ever airbnb) and Antonia&Tea's place and her host were THE best in all senses. She was naturally a great person and helped us to figure out everything during our short stay: from the driving skill to park the car in the old town to restaurant choices as well as activities to do. Eventually, we had great time in Split and she was the one we talked about on our way back to Asia. Thanks Antonia &Tea for your warm welcome and great host. We really appreciated it. All the best from Tokyo and Seoul.
Kyungjin
2015-09-30T00:00:00Z
The room was just has it is in the pictures. Close to just about everything, restaurants, music, the palace, the sea. The room was comfortable and had everything we needed for our stay, wish we could have stayed longer.
Stacey
2014-05-26T00:00:00Z
The apartment was lovely, very close to the centre, very clean and perfect size for 2 people. Tea was easy to contact and everything was smooth. Thanks for the stay!
Vanessa
2016-09-21T00:00:00Z
The host was already at the apartment when we arrived, everything was nice and clean and she gave us extra towels when we asked for them during the week! Also, the host was very welcoming, and gave us directions to see and visit the sights in Split, and gave us information about Tours and excursions that we could go on while in Split. I recommend this apartment for anyone who is staying in Split!
James
2016-05-15T00:00:00Z
Very nice apparment! Good location and very friendly host. Would def stay here again!
Alexandra
2016-08-28T00:00:00Z
This beautiful apartment is the perfect spot for a stay in Split. It's very cozy and extremely comfortable; exceptionally clean and perfectly located. The owners are very friendly and bent over backwards to accommodate me on short arrival notice. I will definitely be recommending this place to my friend for her honeymoon.
Ann
2015-08-13T00:00:00Z
Tea and Antonija were great hosts! Tea waited for me in front of the apartment and showed me everything in the apartment! She even allowed me to late check out due to my late ride! Really good hosts and would reccomend this apartment to anyone who is visiting Split!
Ian
2015-10-19T00:00:00Z
Tea's apartment is really lovely! You can tell she has taken a lot of care doing the place up; it was very clean and comfortable. The location was fantastic; right in the middle of everything, yet quiet enough to get a good night's sleep. Tea was also a very friendly and helpful host, and she recommended some great places to eat and drink. We really enjoyed our stay in Split!
Sophie
2016-08-16T00:00:00Z
Tipo de Quarto
Casa inteira/apto
---
Tipo de Imóvel
Casa
---
Acomoda
2
---
Quartos
Split, Split-Dalmatia County, Croácia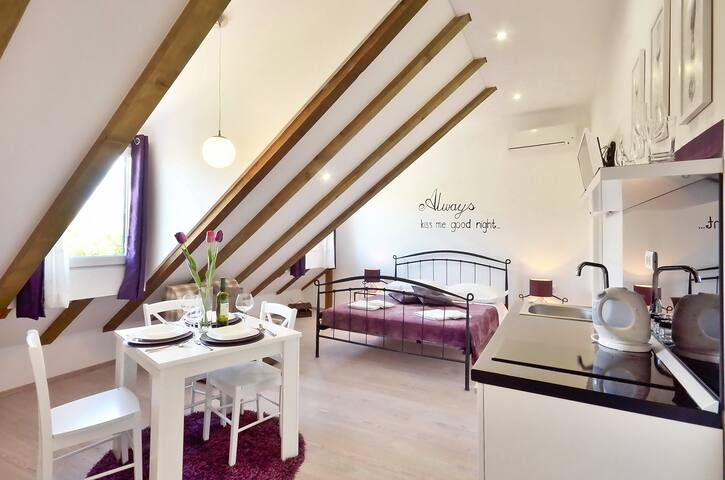 Marjan - Airbnb
:
Média de

4.92

de

5

estrelas, de acordo com

1171

avaliações de hóspedes
1

–

18

de

105 Casas para Alugar
Insira as datas para ver o preço total. Taxas adicionais aplicáveis. Podem ser adicionados impostos.