300+ Alugueres de Apartamentos
Convento San Lorenzo is a beautiful Basilica built by the Order of Servite Monks from Florence in the16th century. Three years ago, my wife, Madalena and I began passionately restoring the building.
The fully equipped apartment has been tastefully styled by Nik and Madalena and includes an open kitchen-dining room. French windows open internally direct to the magnificent nave where breakfast can be enjoyed under an open sky. Outside, there are two beautiful garden terraces looking onto an orchard of almond trees and the hills beyond. There is also a barbeque area and summer kitchen. The magnificent nave is lined on both sides by six great arches. The nave may be used for a number of purposes such as yoga, painting, making music or just simply as an inspiring place to relax.
The friendly village of Vila-Rodona is just five minutes walk away and has all ameneties; Bank, butcher, baker, grocer, chemist, swimming pool, cinema, bars and restaurants. Vila-Rodona also produces an excellent selection of wines and delicacies which can be found at the local wine cooperative. The pretty countryside surrounding the convent is ideal for cyclists and walkers and lovers of nature. On our doorstep, ten minutes drive or an hours walk, is the magnificent Monastry of Santes Creus which can be reached on foot directly from the convent through picturesque countryside. Guests in search of adventure can visit Porta Ventura, a theme park on the coast just 3/4 of an hours drive. Barcelona is also within easy reach and just under an hours drive with highway access ten minutes from the convent. The Roman town of Tarragona is also well worth a visit. Just a 25 minute drive to the coast. A very pretty town with lots to see and do. The fact that it is directly on the coast means that you can walk down to the beach from the centre of town and plunge into the mediteranean. The Costa Dorado boasts miles and miles of many wonderful beaches waiting to be discovered.
Tipo de Quarto
Casa inteira/apto
---
Tipo de Imóvel
Apartamento
---
Acomoda
2
---
Quartos
Vila-rodona, Catalunya, Espanha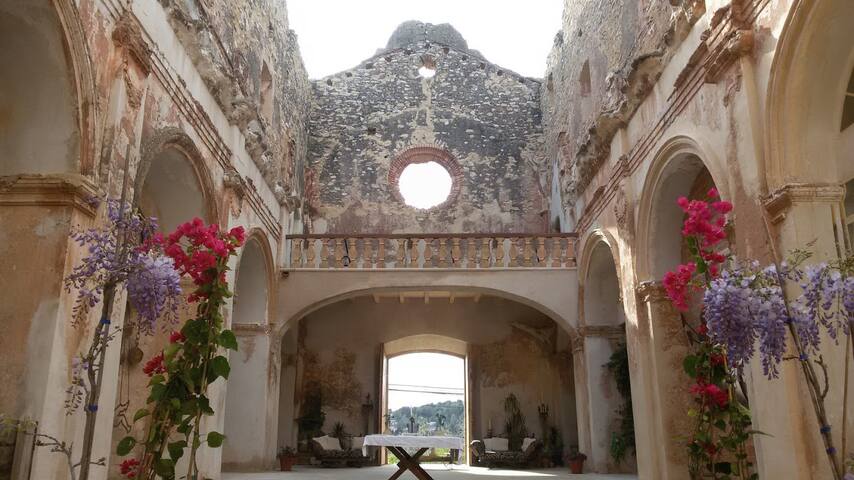 Convento San Lorenzo is a magnificent Basilica built by the Order of Servite Monks from Florence in the 16th century. A great place for artists and lovers of peace and quiet. Also, if you enjoy cycling, walking and nature, this is the place for you. Inspiring and full of history going back 400 years. Perfect for couples, small groups or families.
A comfortable apartment with two double bedrooms and one single situated on the first floor. Beautiful views to the garden and hills beyond. Tastefully decorated with one bathroom, a kitchen and all ameneties.
Tipo de Quarto
Casa inteira/apto
---
Tipo de Imóvel
Apartamento
---
Acomoda
5
---
Quartos
Vila-rodona, Catalunya, Espanha
Pequeno, mas muito bonito, com todas as comodidades para estada longa ou curta. A 800 metros do centro da cidade e 3,5 km da praia. plana pequena, mas muito acolhedora e confortável totalmente equipados para estadias curtas ou longas. A 800 metros do centro da cidade e 3,5 km de praia
Todos Alojamentos ano está disponível para 7.200 € ano. renda anual 7.200 € todas as despesas incluídas.
Zona muito calma.
Hemos estado muy agusto, Marc ha sido muy atento en todo momento. El apartamento está perfectamente equipado hasta el mínimo detalle.
Irene
2016-09-02T00:00:00Z
The host canceled this reservation 43 days before arrival. This is an automated posting.
eliane
2016-11-13T00:00:00Z
Un superbe accueil ainsi qu'un appartement charmant (décoration, aménagement, etc...) Marc a pris le temps de nous aiguiller sur les sites et activités à faire dans la région. Nous recommandons fortement les prochains visiteurs à venir séjourner ici.
Vincent
2016-09-12T00:00:00Z
logement très bien décrit, propre et très bien équipé. idéal pour 2 personnes.
jose
2016-10-27T00:00:00Z
Aunque no tuve el placer de conocer a Marc, siempre tuvimos buena y efectiva comunicación. La zona residencial es muy tranquila y el departamento cumplía con todo lo estipulado, habitación aunque pequeña, pero acogedora y confortable, así como el cuarto de baño. La cocina, bien equipada. Mi hijo había adquirido un equipo en Reino Unido el cual no llegó en su momento, así que tuvimos que regresar, Marc se preocupó por dejarnos el envío en casa de sus padres, señores bien amables y gentiles y así logramos obtener dicho equipo. Te estoy muy agradecido. En general, todo muy bien.
Ronald
2016-09-30T00:00:00Z
Nous avons passé un très bon séjour de 2 semaines. L'hôte est vraiment très agréable et prévenant, toujours prêt à nous renseigner ( nous ne parlons pas espagnol). L'appartement est parfait, propre et très bien équipé (il suffit d'emmener seulement ces vêtements et sa brosse à dent) . La situation de l'appartement dans un joli village permet de visiter tranquillement la région de Barcelone et toute la côte. Nous recommandons sans hésiter cette location.
Corine
2016-08-17T00:00:00Z
Hote très agréable et disponible, il fournit de très bon conseils touristique, l appartement est très propre et tout équipé il suffit juste de ramener ses vêtement et sa brosse a dent
Alexandre
2016-08-03T00:00:00Z
Muy acogedor, se tiene que ir en coche para bajar a la playa, Marc estuvo atento y nos explicó todo concretamente, también nos facilitó información referente al turismo y ocio.
Pol
2016-09-16T00:00:00Z
Tipo de Quarto
Casa inteira/apto
---
Tipo de Imóvel
Apartamento
---
Acomoda
2
---
Quartos
Roda de Berà, Catalunya, Espanha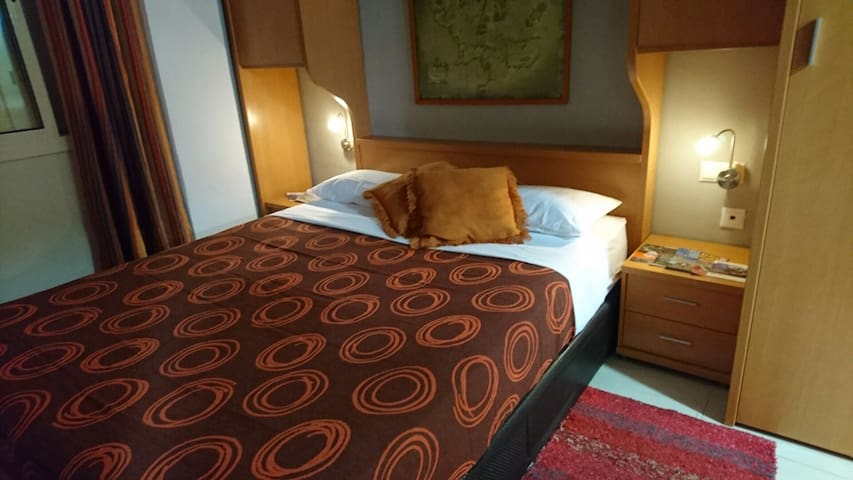 Plano na cidade de El Vendrell a 10 minutos de carro da praia de San Salvador, Comarruga com serviços, supermercado, farmácia, hospital, restaurantes, museus, pizzarias, etc. Nós precisamos que você é responsável para o chão, limpa e respeitosa .
A propriedade está situada no centro de El Vendrell. Província (Tarragona). 60 km. Barcelona. 45 minutos de Barcelona para El Vendrell.
no supermercado, salões de hipermercado Dia, Mercadona, farmácia, biblioteca, restaurantes, cabelo.
Hôte très accueillante, logement spacieux. Grand parking à proximité. Plages à 10 minutes. A recommander.
Frédéric
2016-07-23T00:00:00Z
Très bon accueil. Malgré les problèmes de langue nous avons pu communiquer. Mariloli est très disponible . De beaux endroits à découvrir mais il ne faut pas hésiter à prendre la voiture. Très bon rapport qualité prix.
Celine
2016-08-07T00:00:00Z
Tutto sommato, alla fine, è stata un'esperienza positiva. Si tratta di un'abitazione che ha una certa età, però è molto pulita, spaziosa e con tutto ciò che serve per viverci comodamente. Inoltre dispone di una buona connessione internet. Mariloli è stata molto cordiale e, al momento dell'uscita, ci ha salutato con un bellissimo "pensierino". Senz'altro, se non si hanno troppe pretese, è un'appartamento da consigliare.
Giuseppe
2016-06-11T00:00:00Z
Un accueil très chaleureux et agréable malgré notre retard et notre manque de compréhension de la langue. Hôte disponible, à l'écoute et serviable. Le logement est grand et très bien situé pour des vacances. Un peu de passage dans le quartier mais calme dans l'ensemble. Nous y retournerons sans hésitation et avec grand plaisir.
Ildiko
2016-08-27T00:00:00Z
Un beau séjour à El vendrell et ses alentours. Accueil très chaleureux de la part de Mariloli et sa famille, gentille et très sympathique. On se sent à l'aise dès le début. L'appartement est fidèle aux photos, agréable et bien tenu. Si nous sommes amenés à repasser dans la région, c'est avec grand plaisir que nous reviendrons.
Dina
2016-06-27T00:00:00Z
La casa de Mariloli es una casa antigua, pero muy limpia y con lo necesario. Mariloli es muy amable y se ha ofrecido a ayudarnos en lo que necesitáramos. El salón se nos quedaba un poco justo para 4, pero la wifi llegaba bien a las habitaciones y hemos estado bien.
Ana
2016-11-01T00:00:00Z
hola nous avons passés une agréable et excellente séjour dans votre maison
Estania
2016-08-22T00:00:00Z
Fuimos a pasar 3 noches en fin de año, dos matrimonios. El piso es aceptable, fiel al anuncio. La anfitriona muy amable, incluso nos hizo un regalo de bienvenida. Aunque llegamos de madrugada, no tuvo problema en esperarnos y atendernos y estuvo disponible en todo momento. La única pega que hacía mucho frío y no fue suficiente para nosotros con las estufas con que contaba el piso.
Miriam
2017-01-01T00:00:00Z
Tipo de Quarto
Casa inteira/apto
---
Tipo de Imóvel
Apartamento
---
Acomoda
5
---
Quartos
El Vendrell, Catalunya, Espanha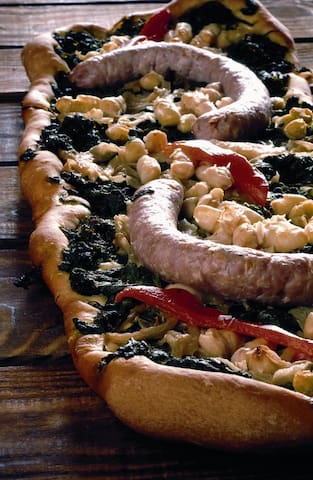 Cómodo y tranquilo apartamento de dos dormitorios situado en el pequeño y armonioso pueblo de Creixell. Está decorado con amor, moderno y con todas las necesidades. Cuenta con aparcamiento gratuito y dos piscinas en la zona común. Se encuentra a 15 minutos a pie de la playa y 5 minutos del campo. Ofrezco ayudar a buscar alquiler de coches baratos y existe la posibilidad de yo recogeros l aeropuerto.
Apartamento muy limpio, tranquilo, moderno, práctico y luminoso con todo lo que necesitas. Situado en una zona tranquila y 15 minutos a pie de la playa, a 5 minutos del campo, a 2 minutos del mercado los domingos, a 5 minutos de supermercados (abiertos 7 dias a la semana), restaurantes, parques infantiles.
Los vecinos son agradables y respetuosos. La comunidad es muy tranquila. Por la mañana, al abrir la ventana se escuchan los pajaros. Supermercados, restaurantes y bares están a 5 minutos a pie del apartamento. Muchas zonas verdes. Zonas de paseo por elcampo a 2 minutos del apartamento. Playas con arena fina y totalmente seguras para los niños. Viñedos cerca del pueblo. Museos: Pau Casals en El Vendrell, Museo de Arte Moderno en Tarragona y muchos otros en Barcelona. Karting El Vendrell. Port Aventura (parque de atracciones) Restaurantes y bares en el pueblo. Chiringuitos en la playa. Aquopolis (parque acuatico). AquaLeon (parque acuatico y zoológico)
Gracies Oscar perque vam estar molt a gust. El poble es maco i aquells dies hi havia fira medieval. Les nenes sho van passar d allo mes be. Nomes va ploure un dia i amb el cotxe es un moment anar a la platja. I despres tens la piscina que s estava super be. Ho recomano.
Marc
2014-08-17T00:00:00Z
Un grand merci a Oscar et a sa famille pour l accueil si chaleureux! Merci Oscar de nous avoir mis a l aise des notre premier contact téléphonique! Oscar est un hote discet qui s est toujours rendu disponible jusqu a nous trouver l adresse d un excellent carrosier ( de plus pas cher!) suite a notre accrochage avec la voiture... ses parents qui etaient presents pour la remise des clés sont tout aussi sympatiques! L apparement est propre et cosy, nous nous sommes sentis comme a la maison. La residence est tranquille, ce sont pour la majeure partie des familles charmantes qui y vivent a l année. Pour acceder a la piscine il suffit de descendre un petit etage, meme pieds nus tellement c est propre! La plage , un endroit calme,n est qu a 12 minutes a pied, faisable avec bébé en poussette et notre grande a suivi sans probleme. Le village est agreable il y a une delicieuse pizzaria ,un epicier (bien pratique), plusieurs petits cafés et des aires de jeux pour les enfants. Bref un endroit que nous recommandons aux parents qui veulent des vacances loin du tourisme de masse...
fabrice
2015-08-22T00:00:00Z
The host canceled this reservation 55 days before arrival. This is an automated posting.
Ruben
2016-06-27T00:00:00Z
Bien que nous n'avons pas rencontrés Oscar il a été très chaleureux au téléphone, les clés nous ont été remis par son voisin très sympathique qui nous a bien guider. L'appartement est conforme à la description, très propre et équipé de tous même avec beaucoup de jouets pour enfants. La piscine magnifique sans oublier parking sous terrain. L'appartement est a coté de la place du village avec des cafés et restaurants. La plage de creixell est superbe. Nous avons aimé l'endroit très calme loin du grand tourisme de masse
Tahar
2014-08-24T00:00:00Z
The host canceled this reservation 36 days before arrival. This is an automated posting.
Isa
2016-06-16T00:00:00Z
We were 5 adults and everything was perfect ! We totally enjoyed our 13 days in this awesome apartment. We felt like it was home, it was very clean and well furnished. We had fun time in the swimming pool as well. Creixell is a beautiful and quite place, we loved it and were a quite bit sad to come back home. Oscar was caring and attentive, answering all our questions and asking us if everything was fine during our stay. All positive experience, we hope we will go back there one day ! Thank you Oscar !
Dyhia
2015-08-08T00:00:00Z
The host canceled this reservation 47 days before arrival. This is an automated posting.
valérie
2016-06-27T00:00:00Z
Nous avons passé une semaine très agréable dans cet appartement. Il est bien équipé et propre. L'appartement est conforme à la description. C'est un endroit parfait pour une famille de 4. Seule la climatisation manque d'efficacité dans le salon. La piscine est également spacieuse et surtout chaude. L'endroit est calme et situé à proximité d'une très belle plage. Oscar est un hôte très disponible et à l'écoute. Un très bon séjour. A recommander ! -------------------------------------------- We spent a lovely week in this apartment. It's well furnished and clean. The apartment is as described. This is the perfect place for a family of four. Only the AC is laking of efficiency in the lounge. The pool is also spacious and warm. The place is calm and located near a beautiful beach. Oscar is a great host, available for any request or question. A very good stay. Recommended !
Thomas
2013-08-09T00:00:00Z
Tipo de Quarto
Casa inteira/apto
---
Tipo de Imóvel
Apartamento
---
Acomoda
4
---
Quartos
Creixell, Catalonia, Espanha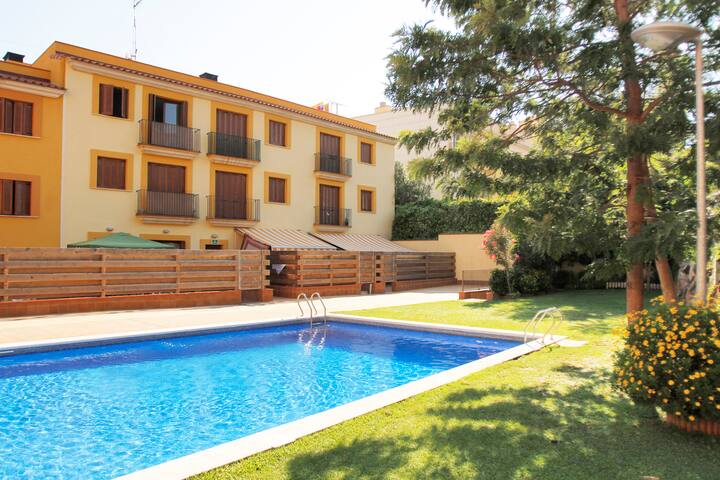 Atrações: Praia 5 min cumaruga Comunicações: comboios, autocarros Barcelona 40 min de trem, restaurantes e comida, centro da cidade, arte e cultura, vistas incríveis. Você vai adorar o meu lugar por causa da Tranquilidade, a localização, as pessoas, as áreas ao ar livre. Minha acomodação é bom para casais, viajantes de negócios, famílias (com crianças), e grandes grupos.
I would only recommend this accomodation for one night. There are no beds, just small matress on the floor. For the price (we payed 34€ for 2), it's not enough I think. On the good points, you can park your car in the private garage, and Bouziane was very nice to welcome us very late at night. He was also very reactive when we needed to communicate before our arrival.
Céline
2017-02-18T00:00:00Z
agréable accueil de Meziane et appartement confortable bien situé . à recommander
redouane
2017-04-01T00:00:00Z
Tipo de Quarto
Quarto privado
---
Tipo de Imóvel
Apartamento
---
Acomoda
3
---
Quartos
El Vendrell, Catalunya, Espanha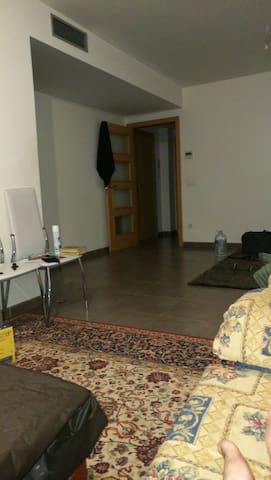 Al lado de la zona educacional. Piso con piscina, terraza y parking. Piso soleado con amplia terraza y vistas a la piscina, con parking de propiedad y a 10 minutos de la playa. Zona tranquila.
Sunny apartment with a wide balcony looking at the swimming pool, with its own parking and 10 minutes from the beach. Calm area with a nearby sports center and a recreational area 5 minutes away. Tranquility and rest in front of the swimming pool to refresh yourself with views from the balcony Exclusive parking in the building, swimming pool with solarium, and at 10 minutes from the beach. Very calm, with social services (health center, police station, fire station) a few minutes away. You can arrive by train, by bus, and of course, 40 minutes from Barcelona by car.
Muy tranquilo, con servicios sociales a pocos minutos.
гостеприимный, чистоплотный, доброжелательный хозяин.
Андрей
2014-07-26T00:00:00Z
Tipo de Quarto
Casa inteira/apto
---
Tipo de Imóvel
Apartamento
---
Acomoda
6
---
Quartos
El Vendrell, Catalonia, Espanha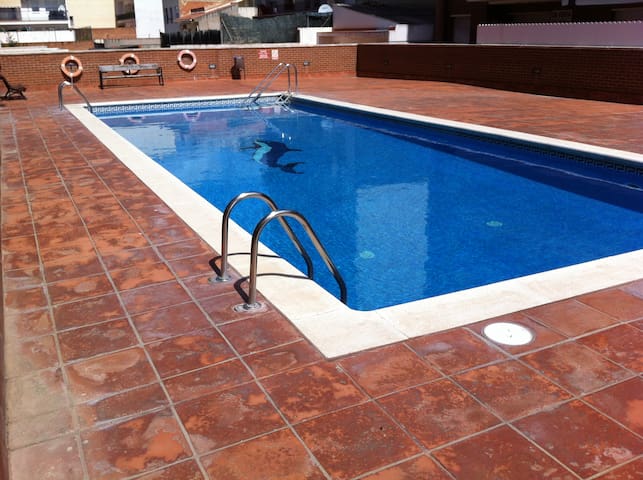 Descriptif de l'appartement : 2 chambres à grands lits, cuisine américaine, salle à manger, salle de bain wc, canapé d'angle, balcon (8 mètres) avec salon de jardin. Equipements : Micro-ondes, Réfrigérateur, lave-linge, plaque 4 feux, cafetière, assiettes, verres, couverts, télévision.
Tipo de Quarto
Casa inteira/apto
---
Tipo de Imóvel
Apartamento
---
Acomoda
6
---
Quartos
Roda de Berà, Catalunya, Espanha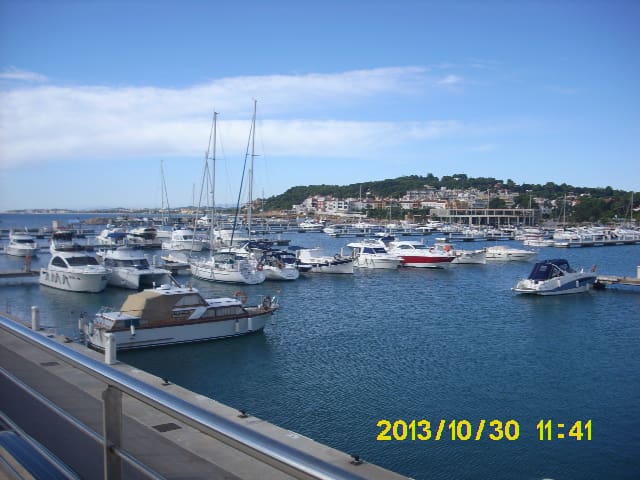 2 bedroom apartment frontline sea. No promenade in front, leading directly to the beach. Private parking area and common area with barbecue. Minimum stay 1 week. Very quiet, refrain seeketh lot of partying.
Härligt läge! Vi tillbringade två veckor med våra två barn (6 och 8) i Jordis lägenhet. Lugnt och skönt. Första morgonen vaknade jag av vågorna som slog mot stranden. När vi kom fanns förfriskningar, dricka och frukt, i kylskåpet, mycket välkommet efter bilresan. Jordis föräldrar bor i lägenheten intill och tog emot oss när vi kom. De svarade på alla frågor och visade helt snabbt runt. De fanns hela tiden i närheten och tillgängliga, men utan att vara påträngande eller övervakande. De bistod oss med hjälp när vi behövde, lånade ut parasoll och så vidare. Vi kände oss omhändertagna men vi skötte oss ändå alltid själva. Stranden ligger verkligen precis utanför tomten. Gillar du inte att ha sand precis överallt hela tiden ska du kanske åka någon annanstans. Stranden är allmän och inga solstolsuthyrare finns här. På dagarna fylls den av en skara brokiga parasoll. Stället är genuint, spartanskt utan att sakna något och charmigt. Finns ett litet enkelt kök (syns inte på bilderna, inte när vi hyrde iaf) med två spisplattor, micro, tvättmaskin och diskho, fullt tillräckligt för vår familj. Kylskåp med frys i allrummet utanför. Här finns inte många restauranger på gångavstånd, men den som finns ligger 20 steg från huset och är fantastisk, god mat mitt på stranden. (Bordsbokning både till lunch och middag). På dagarna finns flera strandbarer på stranden på gångavstånd. Bil är bra att ha. Creixell by ligger på andra sidan motorvägen och på väg till den finns supermarket och i byn/staden finns några restauranger i små trånga gränder. Ingen kan engelska och kan man inte spanska är det omöjligt att veta vad man beställer in. Bara 10 minuter med bil söderut ligger en lite större ort med fler butiker och stranddelen är en turistort med restauranger vägg i vägg utmed strandpromenaden. Vi tyckte det var fantastiskt skönt att komma tillbaka till "vår" lugna strand när vi varit där en kväll. Rekommenderar verkligen det här stället, speciellt om man gillar lite genuinitet.
Elina
2016-08-13T00:00:00Z
Tipo de Quarto
Casa inteira/apto
---
Tipo de Imóvel
Apartamento
---
Acomoda
4
---
Quartos
Creixell, Catalonia, Espanha
Camping la plana offers you an apartment(30m2) with 1 bedroom ( 2 individual beds), 1 bathroom, 1 kitchen with kitchenware , refrigerator, double hot plate, living room with sofa-bed, balcony with sea-view. Less than 1 minute walking to the beach.
A familiar, quiet and surrounded by beautiful nature camping beaches, sea sand and sun. Camping La Plana it located on the Costa Dorada in the beach of Creixell, with over fifty years of history since 1962. Camping La Plana is ideal for families who want to escape the city and stress where you can relax throughout the day with a natural and peaceful surroundings. Where you can discover the cuisine, culture, festivals and traditions of the area, both on foot, bicycle or car. We make sure to have a vacation that you will tune to return fresh and energetic. We have 9 apartments at unbeatable prices. Do not miss it!!! We hope to see you soon.
Places of interest such as -Arc de Bara; Honorary arch in the Via Augusta -Roc de Sant Gaieta and Radio museum -Roman Amphitheater; Site used for shows as gladiator fights -Port Aventura; Huge amusement park ...and more activities.
The apartments are all having a large balcony from which you have a wonderful sea view, it is within walking distance from the beach where you can find peace. Rooms were large and clean and with all comforts included fridge, cooking facilities.
Ruggero
2016-09-12T00:00:00Z
Tipo de Quarto
Casa inteira/apto
---
Tipo de Imóvel
Apartamento
---
Acomoda
2
---
Quartos
Creixell, Catalunya, Espanha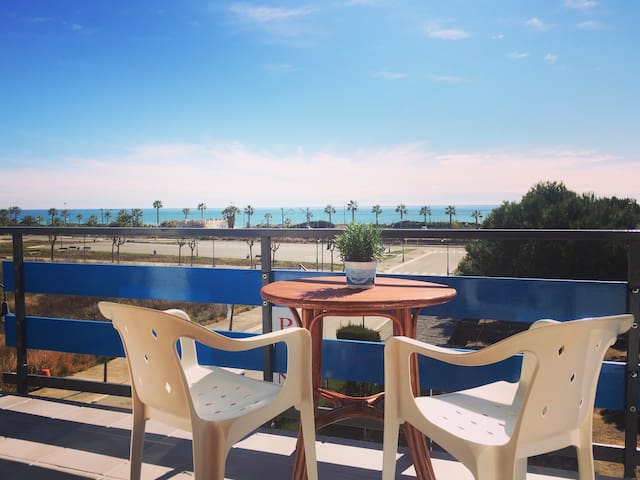 Apartamento com jardim privativo e terraço para refeições. acesso privado directo à praia. Muito tranquilo e área segura. férias em família ou casais. Super equipada. sofá-cama de casal e quarto com cama de casal + cama de solteiro. casa de banho privativa.
Apartamento com jardim privativo e acesso directo à praia. Muito tranquila e segura. Muito bom também para o turismo familiar ou casais. águas claras Long Beach cristal. apartamento super equipada. decoração mediterrânica. Muito espaçoso. Ideal para combinar sol e praia turismo, com visitas a Barcelona e Tarragona. Espaçosa sala de estar com sofá-cama, kitchenette com máquina de lavar louça, um quarto com cama de casal e cama de solteiro no andar de cima, casa de banho com acesso a partir do quarto. Bares e restaurantes na praia. jardim privado com terraço com mesas e cadeiras, e acesso directo à praia. Ideal para quem procura calma e desfrutar de uma das praias não lotadas da Catalunha.
pessoas da família de Excelente.
Nous avons été très bien accueillis par le fils du propriétaire, avec qui nous avons pu communiquer en anglais. Il nous a présenté l'appartement le jardin, l'accès à la mer et nous a laissé ses coordonnées dans le cas où nous aurions besoin de le joindre. L'appartement est idéalement situé, depuis le jardin, un couloir mène à une porte qui donne directement sur la plage. La plage est agréable, et presque déserte en semaine. Nous recommandons totalement cet appartement pour des vacances familiales au calme.
abdelkrim
2016-05-29T00:00:00Z
Acogedor apartamento, excelente situación para pasar unos días tranquilos cerca de la playa. Con una terraza con mucha sombra. Joan ha sido un propietario muy cercano y amable. Es realmente lo que describe el anuncio.
Albert
2015-07-05T00:00:00Z
Juan et sa femme nous ont aimablement accueilli le jour de notre arrivé et nous ont donné toutes les explications nécessaires à notre séjour. Un emplacement garage pour notre remorque et Vespa nous a été confié à titre gracieux. Merci pour leur amabilité et bonne continuation à eux. Le logement est vraiment à côté de la plage et ça c'est absolument formidable. Une plage calme et fréquentée juste ce qu'il faut.
Hubert
2015-08-02T00:00:00Z
Tipo de Quarto
Casa inteira/apto
---
Tipo de Imóvel
Apartamento
---
Acomoda
5
---
Quartos
Creixell, Catalunya, Espanha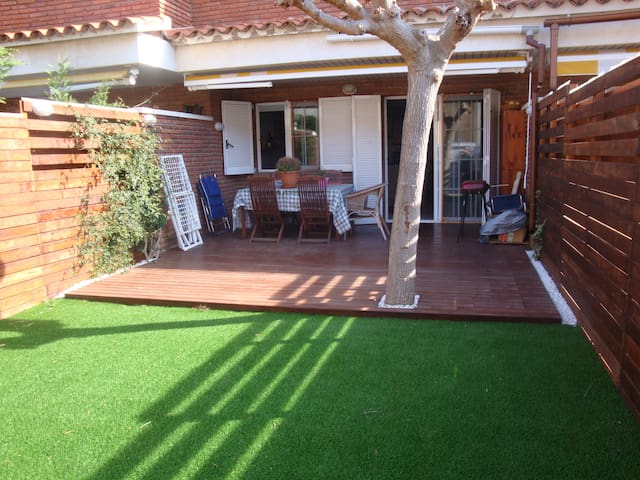 Es un apartamento situado en la planta baja, no hay escaleras, con una altura de techo de 2.00m, muy alegre, bien ventilado y cómodo y a 50 pasos de la arena.
Es fantástica la proximidad al mar, te pones la toalla alrededor y vas a darte un baño, como si de una piscina particular se tratase. La playa esta muy agradable a principios de verano y finales, que no hay gente.
Es una zona tranquila con el Roc de San Cayetano a 2 minutos a pie de la vivienda, con paseos al borde a acantilados para ir a las playas contiguas o bien por la calle de la Pineda, bajo la sombra de los pinos ir a otra de las playas.
Tipo de Quarto
Casa inteira/apto
---
Tipo de Imóvel
Apartamento
---
Acomoda
6
---
Quartos
Roda de Berà, Catalunya, Espanha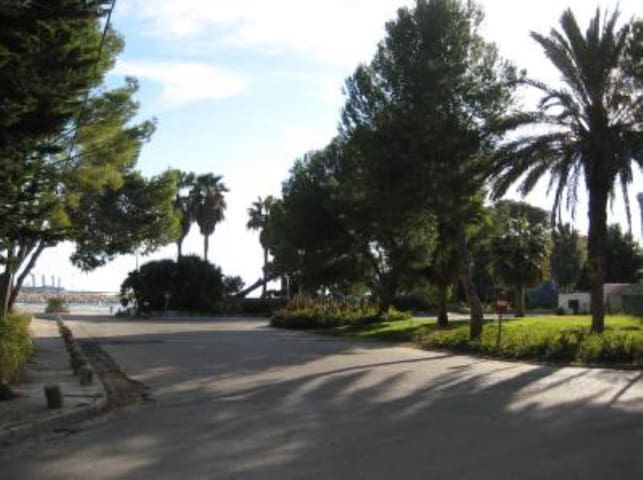 Dispone de 3 habitaciones dobles, amplia cocina y comedor con terraza de 25m2. Jardin comunitario de 2000m2 y parking privado. Està situado a 500 metros de la playa y a 30 minutos de portaventura y Tarragona. Todos los servicios muy cerca.
Bon accueil disponible quartier calme résidentiel bel appartement
patrice
2017-01-01T00:00:00Z
Très bon accueil et emplacement pratique pour la plage et Port Aventura
Celine
2016-10-31T00:00:00Z
El apartamento está muy bien y se encuentra en una zona muy tranquila. Volveremos seguro. Gracias por todo!
Ariadna
2016-10-01T00:00:00Z
El apartamento es muy acogedor. En muy buena zona para poder ir a la playa. Tiene mucho encanto. Nos dió muy buenas vibraciones. Con mucha luz y mucho color!!! Los anfitriones fueron encantadores. Seguro que repetiremos. Gracias por todo.
Sonia
2016-05-17T00:00:00Z
La casa es fiel a las fotos. Nos atendió un familiar que estaba esperando cuando llegamos. Muy amable.
Jorge
2016-06-20T00:00:00Z
The host canceled this reservation 26 days before arrival. This is an automated posting.
sabrina
2017-03-20T00:00:00Z
Tipo de Quarto
Casa inteira/apto
---
Tipo de Imóvel
Apartamento
---
Acomoda
6
---
Quartos
Francàs, Catalunya, Espanha
Apartamento recién reformado de 65 metros habitables, muy luminoso y a 2 min a pié de playa ( 100 metros). Consta de 2 hab de matrimonio y un baño, con dos terrazas, una de ellas con 30m2 y zona barbacoa y otra con trastero-lavadero.
Personne très disponible , bon accueil , appartement propre et clair quartier agréable et vivant près d'une belle plage ; commerces et restaurants proches .
jean charles
2016-07-28T00:00:00Z
Hemos pasado unos días cerca de la playa. Zona tranquila y familiar. Piso un diez!! Todo nuevo e impresionante terraza con barbacoa, sin duda lo mejor. El anfitrión Rafa muy correcto, atento y agradable en todo. Gracias por todo!!!
Laura
2016-06-27T00:00:00Z
Nos hemos alojado una semana en Agosto en este apartamento y ha sido genial, todo es tal y como se describe, el apartamento es precioso, muy acogedor, todo nuevo y muy limpio, esta cerquita de la playa, de un supermercado y varios restaurantes y bares en los que comer o tomar algo. La zona es tranquila y la playa familiar y nada masificada. Perfecto para desconectar y cargar pilas, muy recomendable.
ANABEL
2016-08-28T00:00:00Z
We had an absolutely lovely time in Rafael's appartment. The place is even more great than it looks in the pictures! Superclean. The great terrace is much bigger than you would expect and looking out on the very green-leaved trees. Rafa is the friendliest and most hospitable host. He showed us everything and is most generous in letting you use all the facilities; washing machine, basic supplies in the kitchen like oil and vinegar, spices, sugar and coffee & tea. Also there are parasols to take to the beach. Then he walked us to the beach and reccommended his favourite 'chiringuita' (beach café) wich serves a fabulous paella. We hope to come back soon!
Pieternel
2016-08-10T00:00:00Z
Uns hat das Apartment, der Ferienort (auch wenn unter der Woche wenig los ist) sehr gut gefallen. DIe Wohnung ist neu und schön, insbesondere der Abstellraum vor der Wohnung ist super für Badesachen usw. Die Küche gut ausgestattet und die Terasse ist absolut herrlich. Rafael ist sehr freundlich und hilfsbereit und ist innerhalb kürzester Zeit mit Informationen und Tipps zur Stelle! Der Ort ist familiär und ein super Ausgangspunkt für Ausflüge. Wir werden wiederkommen!
Doris
2016-07-23T00:00:00Z
El apartamento es tal cual se ve en las fotos o mejor, lo encontramos muy limpio y está decorado con mucho gusto, muy bonito. Dispone de aire acondicionado por conductos, así que no se pasa nada de calor. Todo está muy nuevo y cuidado. Tienes la sensación de estar como en casa. La playa al lado y más arriba una gasolinera a la que se puede llegar andando, varios supermercados y un mcdonalds. No hemos tenido el placer de conocer a Rafael, aunque la atención vía chat ha sido rápida. Sus padres que vinieron a recoger las llaves muy amables.
Maria
2016-09-10T00:00:00Z
Un apartamento muy cerca dela playa y reformado precioso. Lo mejor la terraza y la barbacoa, las noches sentado son relajantes. Rafael un propietario muy recomendable.
Cristian
2016-08-17T00:00:00Z
Rafael is a great host- very helpful and kind. His apartment is great/ very clean, modern, newly renovated with a great tarrace where we had a barbecue. Walking distance to the beach- great neighbourhood. We will definately come back to his place. Thank You Rafael.:)
Karol
2016-07-09T00:00:00Z
Tipo de Quarto
Casa inteira/apto
---
Tipo de Imóvel
Apartamento
---
Acomoda
4
---
Quartos
Roda de Berà, Catalunya, Espanha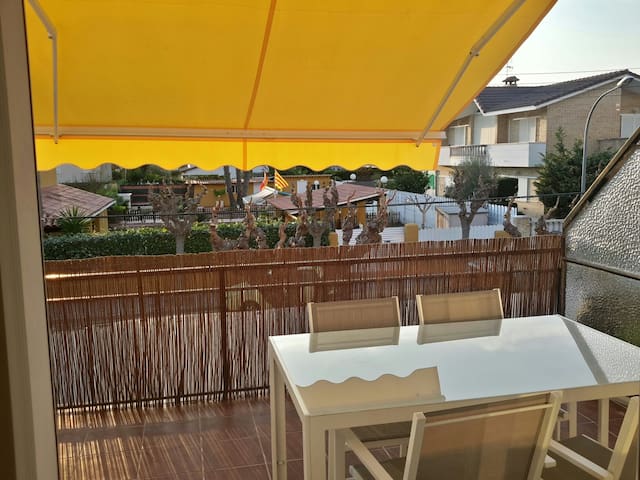 Wonderful apartment with two bedrooms in a residential area, wooden loft, terrace 30m2, sea, beach (cove) 2 min walk, very quiet, between pines and eucalyptus, cool even in summer, 5 minutes Roc Sant Gaieta walk.
Se alquila el piso superior de la casa y la buhardilla. 100m2 habitables + 30m2 de terraza. Vivienda unifamilar, muy tranquila, con acceso a la playa para vecinos, a solo 2 min a pie. Regalo de bienvenida.
Zona residencial, super tranquila,
Perfect location and the Appartments itself with the nice view from terrace for the see and trees. Very quite and calm place with really silent nature around. There is a very nice village in 500 m placed in rocks on the beach: old one and historical place. Nearest shops are in 1km but no problem if you have car. Sleeping rooms quite small but in such place you have just to sleep and the rest of day go to the beaches very close to house. Very kind owner Natalia who met us and explained everything. Kitchen and Appartments itself are fully equipped to feel you like at home: wash and dry machines, kitchen equipment, everything good. The only thing to add - wifi, as far we were in the international roaming and it was limited even to check the weather forecasts
Pavel
2016-11-04T00:00:00Z
Fuimos a casa de Natalia con mis padres, mi marido y mi hijo de 4 años y tuvimos una experiencia preciosa. La terraza es una delicia, rodeada de árboles, pájaros y 1 ardilla! y con vistas al mar. Incluso en la hora de máximo calor se está bien en la terraza. Sitio muy tranquilo para relajarse y desconectar, muy bien situado con playas muy cerca y el Roc de San Gaietà a 5 minutos a pie. Camino de ronda para pasear, correr o ir en bici. Natalia y su familia fueron muy amables y nos trajeron una coca típica del pueblo de bienvenida.
Laia
2016-07-04T00:00:00Z
The host canceled this reservation 2 days before arrival. This is an automated posting.
elimartinspires
2016-05-11T00:00:00Z
Tipo de Quarto
Casa inteira/apto
---
Tipo de Imóvel
Apartamento
---
Acomoda
6
---
Quartos
Roda de Berà, Catalunya, Espanha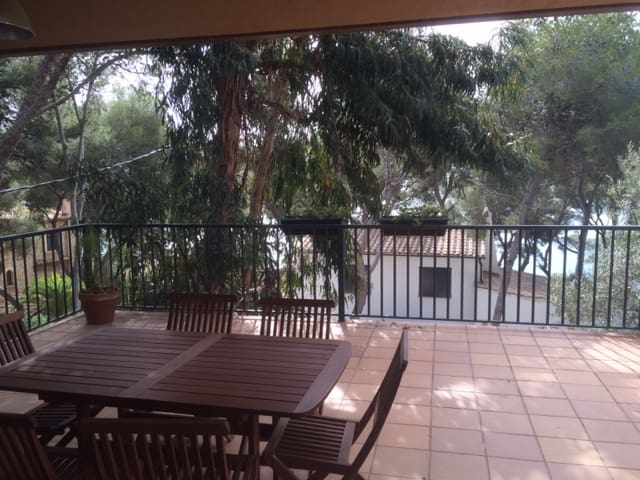 Luminoso piso a 100 metros de la playa. El piso es muy acogedor y tiene todas las comodidades para pasar un mes en el mar. El edificio tiene parking, juegos para niños y duchas para después de la playa. La playa de Roda es muy tranquila incluso en julio y agosto. Mi alojamiento es bueno para parejas, aventureros y familias (con hijos).
Отличная квартира в минуте ходьбы от моря. Очень милая и приветливая хозяйка, всегда на связи. Внизу оживленная улица с кафе, магазин. Есть подушки на любой вкус и теплые одеяла. Кондиционер. Станция жд в 5 км.
Sindell
2016-09-09T00:00:00Z
Tipo de Quarto
Casa inteira/apto
---
Tipo de Imóvel
Apartamento
---
Acomoda
4
---
Quartos
Roda de Berà, Catalunya, Espanha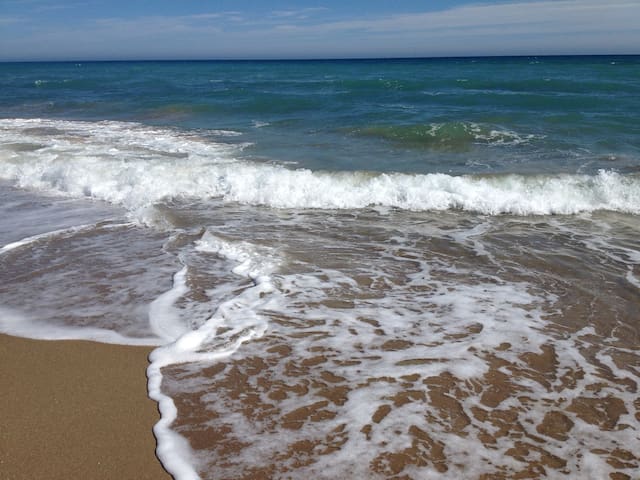 Meu lugar é perto da praia, Tarragona, El Vendrell Valls, Port Aventura. Você vai adorar o meu espaço para todos os quartos têm vista para a piscina, a sala é brilhante, o verão é muito ocupado, mas o resto do ano é um lugar muito tranquilo. Minha acomodação é perfeito para casais e famílias (com crianças).
Hemos pasado un fin de semana en la casa de Joaquim estupendo. La casa está fenomenal. Muy amplia. La terraza es ideal para desayunar o tomar un picoteo. Zona muy tranquila y a cinco min de la playa andando. Todo muy cuidado y muy limpio.
Ana
2017-04-09T00:00:00Z
Joaqium is a good person even he cannot speak English. He has a great clean house and close to beach. his communication prior to our arrival was also great. Highly recommended for a family or a group that looking for an apartment near beach.
Zairol
2017-02-24T00:00:00Z
Muy buena gente y el lugar preparado para una estancia tranquila.
Eric
2017-01-01T00:00:00Z
Tipo de Quarto
Casa inteira/apto
---
Tipo de Imóvel
Apartamento
---
Acomoda
6
---
Quartos
Roda de Berà, Catalunya, Espanha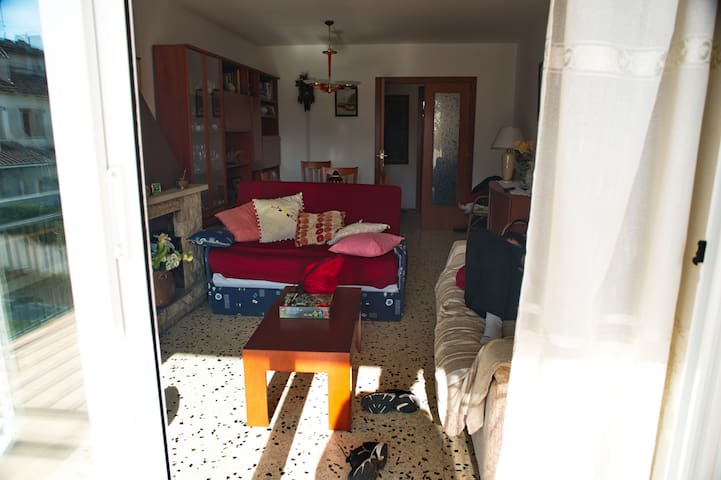 Nuestro apartamento está a unos 400m. de la playa de Creixell, y cerca de Torredembarra, Altafulla y Roda de Bará, con sus increíbles playas y zonas de ocio. Tiene 2 habitaciones y 4 plazas (cama doble y literas). Parking gratis en finca.
¿Buscas unos días de relax cerca de la playa? Tanto en Creixell, como en Torredembarra, Altafulla y Comarruga se pueden encontrar playas preciosas. ¿Quieres aprovechar para montar a caballo, hacer snorkel, o alquilar una embarcación? En Torredembarra hay hípica y puerto deportivo con zona de ocio, bares musicales, etc. Todo muy cerca de nuestro apartamento
El apartamento se encuentra a unos 20 minutos en coche de Port Aventura. Se puede coger el tren en Torredembarra, que lleva directo a Port Aventura.
Appartement calme et propre les propriétaire accueillant ,parking privé quartier résidentiel très calme pour passer de bonnes vacances seulement la plage est a 25mn a pied
abderahmane
2015-08-01T00:00:00Z
Quiet and peaceful place. The apartment is bright and clean. Near the apartment there is everything necessary for living: a grocery store, a household shop, shop of prepared dishes, cafe, bar. I think, this apartment you will like too.
Aleksey
2014-07-24T00:00:00Z
Appartement suffisamment grand pour une famille de 4 personnes, confortable et pratique. A 20 min à pied de la plage, à 15 min de Tarragone et 20 min de Portaventura. Raquel a été très agréable, tout comme ses parents qui nous ont accueilli.
Murielle
2016-08-14T00:00:00Z
Tipo de Quarto
Casa inteira/apto
---
Tipo de Imóvel
Apartamento
---
Acomoda
4
---
Quartos
Creixell, Catalonia, Espanha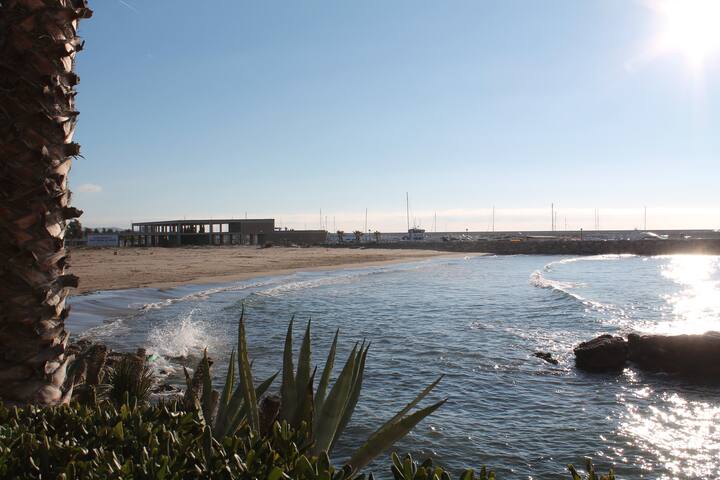 Masllorenç - Airbnb
:
Média de

4.37

de

5

estrelas, de acordo com

97

avaliações de hóspedes
1

–

18

de

300+ Alugueres de Apartamentos
Insira as datas para ver o preço total. Taxas adicionais aplicáveis. Podem ser adicionados impostos.