Egal, ob Sie Lake Tahoe gerade besuchen Ski fahren, wandern, schwimmen, tauchen oder einfach nur auf einem Deck hängen, sollte die Stelle meine Großeltern gebaut zu arbeiten. Unsere saubere gemütliche Landhausstil Hütte liegt in der Nähe Meeks Bay Trailhead + Strand + Marina. Bitte lesen Sie alle Informationen über unser Angebot vor der Buchung. Eine Anmerkung über den Winter: Dieses Haus befindet sich in einem ziemlich abgelegenen Gegend, abseits von vielen Dienstleistungen. Es ist nicht ein "Full-Service" Unterkunft. Am besten von denen gemietet für "alte Schule" Erfahrung suchen.
Dies ist ein kleines, sauberes und komfortables Haus gebaut von meinen Großeltern in den 50er Jahren. Zwei kleine Schlafzimmer und ein Badezimmer. Aktualisiert und von uns in den letzten 30 Jahren geschafft, haben wir viele Komplimente über die Jahre darüber, wie ruhig, einfach und gemütlich ist es empfangen. Nichts Besonderes, aber alle Annehmlichkeiten sind da. Der Kamin ist voll funktionsfähig, aber wir entmutigen Brände. Die Luftqualität in der Tahoe Basin hat wegen Holzfeuer in den letzten Jahren gelitten hat, und ein Kamin ist kein wirksames Mittel, um das Haus zu erwärmen. Wir haben einen Gas Boden Ofen und fünf Raumheizungen für dieses kleine Haus. Wenn Sie ein Feuer haben müssen, müssen Sie Ihr eigenes Holz zu versorgen. Keine TV-Kabel. Begrenzte Fernsehempfang. Kein WiFi, Netflix. Im Winter pflügen Service nur einmal pro Tag kommt, in der Regel vor Mittag. Eine späte Anreise kann Schneeansammlung im Sturm Situationen, in denen.
Wir sind 10 Minuten zu Fuß vom vielleicht besten Sandstrand am See. Freie Fußgänger Eintritt. Tolle Aussicht, ein großes Licht.
Family friendly. Everything as described if not better. My 3 year and 6 year old boys loved the place and asked to come again. Scott & Maryam's place is about 10 minutes drive from Homewood ski resort where my son went to ski schools during our stay. Very convenient. We even get the chance to do lunch at home to avoid the crourds in Sky resort's café because of the proximity. The house is cute, clean, quiet and has a nice view of lake Tahoe. Bathroom/shower are new and modern. Kitchen has everything you need for a nice family dinner. Scott has been helpful and very responsive to al the questions we raised. Thanks again Scott & Maryam. !! We'll come again.
Tony
2017-02-26T00:00:00Z
We had the greatest time! The cabin was very well kept and was in the perfect location! We definitely plan on returning back for another glorious weekend in Tahoe! The cabin is close to all amenities, and walking distance from the lake! And we even BBQ'd our last night there, great out door patio with spectacular views!
Melissa
2016-05-17T00:00:00Z
Incredibly accommodating, just the right size for four people, and the fireplace was a delight. The movie and boardgames selection was stupendous.
Esteban
2015-02-22T00:00:00Z
My friends and I had an wonderful time at Scott's! The living room had numerous games and dvd's to keep us occupied at night. We very much enjoyed our stay here!
stephanie
2016-01-12T00:00:00Z
We loved our stay in Meeks Bay! The house was just as described, and even better, you could see the lake through the trees. Very cozy; great home-like feeling. The kitchen was stocked with everything we needed. Very clean home and most enjoyable. We will definitely come back in the future!
Megan
2015-09-12T00:00:00Z
Really nice cabin. We had enough space for 4 people. The location was great with very little noise from the highway and at the same time easily accessible. I would recommend this place to any of my friends visiting Tahoe.
Vignesh
2015-05-31T00:00:00Z
We had an amazing time at this cottage in Meeks Bay. It is a perfect cozy home close to the beach and every communication with the hosts was pleasant, quick and helpful. We will definitely be returning in the future and it may even become a annual adventure. Thank you again Scott for sharing your home with my family and for making the entire experience a joy.
Aaron
2016-07-06T00:00:00Z
There is a 2-lane highway that travels the perimeter of Lake Tahoe. This house is located about 50 yards from the road on the 'non-lake' side. This means that in order to access the lake, one has to cross the busy 2-lane highway. Easy to do as an adult but I would be cautious if I had small children. There are houses of similar size and era spread throughout the woods. This house is easy to find. It required about 25 minutes to drive to Truckee. The kitchen was well-equipped. We purchased food items for breakfast and enjoyed sitting outside in the sunshine each morning. At night, the neighbors did have a family gathering that included music but from inside the house, the music could not be heard. There is no wi-fi and internet access (Verizon) was spotty around the lake. There was ample hot water for two persons to take back-to-back showers. The host, Scott, was quick to respond to emails. He provided helpful directions as well as suggestions for nearby hikes. Overall, this house provides a simple, uncomplicated place to sleep, shower and eat. I thought it completely lived up to my expectations.
bjorn
2015-06-07T00:00:00Z
Tipo de Quarto
Casa inteira/apto
---
Tipo de Imóvel
Casa
---
Acomoda
4
---
Quartos
Meeks Bay, Califórnia, Estados Unidos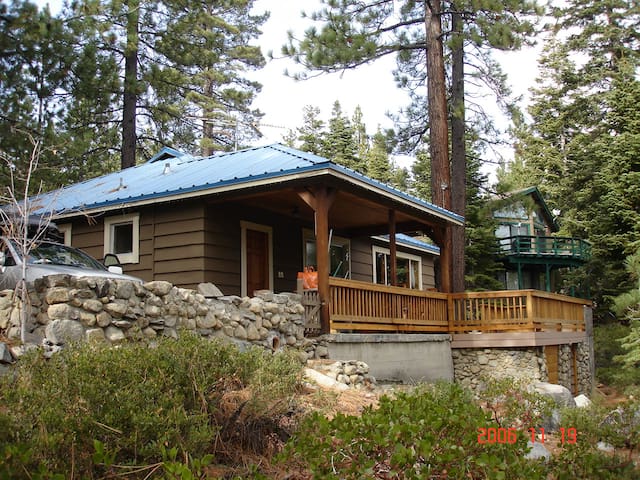 WICHTIG: So wir Ihre Airbnb Gebühren so niedrig wie möglich halten können, beinhalten NICHT wir die 10% Auslastung Steuer oder die $ 50 Eigentumsschutz Gebühr in der Miete enthalten. Sie müssen die Steuer und Gebühr nach der Buchung mit Airbnb zu bezahlen, wenn Sie Tahoe Luxury Properties 'Vacation Mietvertrag unterzeichnen. Airbnb werden Sie für die Miete berechnen, Endreinigung und ihre Servicegebühr; Tahoe Luxury Properties berechnet Ihnen separat die 10% Kurtaxe und $ 50 Eigentumsschutz Gebühr. Wir hoffen, dass Sie zufrieden sind!
Cedar Ridge in Meeks Bay verschlingt Sie im kompletten Komfort in dem Moment Sie in Schritt. Die goldene Kiefer Gewölbedecken eine gemütliche, den artige Atmosphäre zu schaffen, während die mehrere Fenster gleichermaßen in den wunderschönen blauen von See und Himmel begrüßen. Eine kürzlich durch Umbau mit aktualisiertem eingerichtet hat, die vorhandenen Merkmale der Kunst geschmückten Wände verstärkt, während moderne Annehmlichkeiten für Zwecke der Unterhaltung hinzuzufügen. Die Einrichtung ist klassisch Tahoe und Wärme und Charme. Dekomprimieren Sie auf dem weitläufigen Wrap-around-Deck unter den aromatischen hoch aufragenden Kiefern wie die Sonne aufgeht am Morgen und genießen Forstdienst Land der benachbarten einen großen Hauch wirklich frische Luft von einem großen auf Morgen geliefert. Das Tempo des Lebens in Meeks Bay ist ausgesprochen ruhig, aber die Gäste der Suche nach Spaß wird es nur wenige Minuten zu den Sandstränden von Meeks Bay, Bliss State Park, Sugar Pine State Park oder auf den Pisten für fantastische, überlaufenen Skifahren im Homewood Mountain wohl finden Resort. Cedar Ridge ist der ideale Ort für diejenigen, sowohl ein hochwertiges Haus zu suchen, eine atemberaubende Kulisse und wohl die beste Lage am See. Schlafzimmer: Schlafzimmer # 1 King - Meister Schlafzimmer # 2 King # 3 Schlafzimmer Königin # 4 Schlafzimmer Freistehendes Guest House - Queen Murphy Bed & 2 Doppelbetten in Loft-Bereich 3.400 Quadratfuß - Tri-Ebene Haus mit Treppen Die schönsten Panorama-See-und Bergblick von jedem Zimmer Neue Sport-Deck mit Gasgrill, Gesunken Whirlpool, Terrasse Tisch und Chaise Lounge-Sitzmöbel mit Blick auf den See Umgeben von Forest Service Land für Datenschutz und Lush Rasenfläche mit Tiered Landschaftsbau Steinböden in der gesamten Hauptfläche mit schönen Teppiche und Strahlungswärme, Kiefer Decken, warme Farben Farben und Skylights Wohnzimmer: River Rock Offener Kamin, 42 "Plasma TV / DVD, Schöner Blick auf den See Familienzimmer: Mehrere Fenster, 60 "Flat Screen TV / DVD, (2 Zusatzbetten für den Einsatz auf Anfrage) Esstisch bietet Platz für 8 komfortabel - Bar Sitzplätze für 2 Küche: 6-Brenner Wolf Range, Edelstahl-Geräte, Granit, kundenspezifische Beleuchtung Separat Guest House über Garage: Billardtisch, Plattform, Herd Heizung, 60 "Flat Screen TV, Bad, Queen-Murphy-Bett, Loft mit zwei Doppelbetten, Balkon 2 Sets von Waschmaschine / Trockner 1-Auto Garage Kabelloses Internet 5 Minuten zu Fuß zu Meeks Bay Beach & Marina mit einem herrlichen Sandstrand (siehe Fotos in der Bildergalerie), Boot, Kajak und Paddleboard Rentals 10-minütige Fahrt zu Homewood Ski Resort - ein Einheimischen Favorit für unglaubliche Ski / Snowboard mit herrlichem Blick auf den See - mit Parkplätzen, nur wenige Schritte von den Liften, Homewood ist ein fantastischer Ort für Familien für die Bequemlichkeit der einfachen Zugang zu einem Berg suchen und große Skischulen Die gut provisioniert PDQ Market & Deli ist eine kurze 7-minütige Fahrt nach Tahoma Viele Häuser sind tierfreundlich, aber diese spezielle Hause ist es nicht. Bitte erkundigen Sie sich über tierfreundlichen Häusern.
We loved the place, it was very well maintained.
Karthik
2016-09-18T00:00:00Z
Beautiful house with a really great view. The pool table was great and the hosts were attentive and responsive on email. Very satisfied!
Cameron
2016-05-09T00:00:00Z
Tipo de Quarto
Casa inteira/apto
---
Tipo de Imóvel
Casa
---
Acomoda
10
---
Quartos
Meeks Bay, Califórnia, Estados Unidos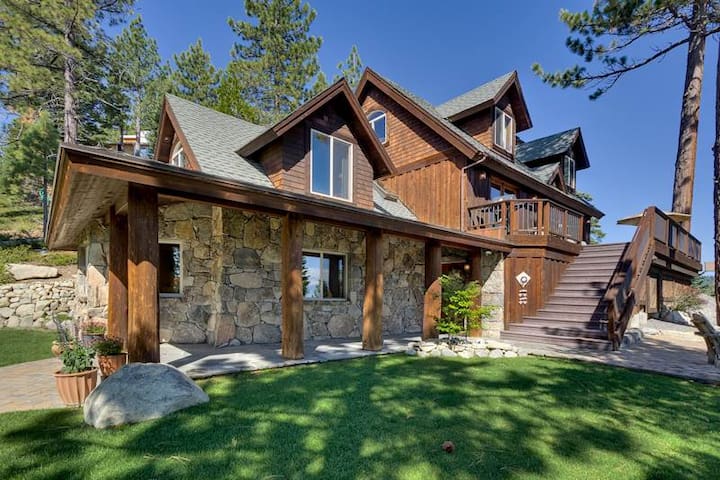 This home's location is perfect for enjoying Lake Tahoe. It is walking distance from Meek's Bay (10 mins or less, taking a path through the neighborhood), and close to beautiful hiking. The home is spacious, perfect, as advertised, for a large group. It has plenty of open space that connects with a large kitchen; and it has enough segregation to allow privacy when needed. The home was clean and tidy; the hot tub was clean and well maintained; the pool table in the guest house was a lot of fun. This home is a great staging area for trips around Tahoe, and a great place to simply hang out and let the beauty seep into your bones. The close proximity to the lake is such a convenience. When I would walk down in the early mornings for a swim, the beach was quiet, except for some Canadian geese honking their way on the air cushion just above the water. Incredible. The host, First Accommodations, was very responsive to any requests; we were quite impressed with Trent and his team. Their description of the home and what they provide is accurate and helpful. The neighborhood was quiet, mostly families and other vacationers. No parties or loud people. You could sit out and hear the wind in the trees. We really enjoyed walking through the neighborhood and exploring the hiking available at the end of some of the streets. This place is great for a family group or group of friends, close to everything and yet off the beaten track enough to be quiet and beautiful.
Bill
2015-08-19T00:00:00Z
We had a wonderful Memorial Day Weekend. The house was exactly how we expected it to be - spacious, cosy and comfortable. Internet was a little slow and we had to keep restarting it to make it work but honestly we were having too much fun walking to the lake (literally 5-7 min away), barbecuing and sitting in the hot tub.
Roha
2016-05-31T00:00:00Z
We had a fine time at this home. There was plenty of room for 6 adults to stay comfortably, and they layout nicely separates social areas from sleeping areas. The location is good and there's a lot of natural light. We found the decor warm and cozy. However there were significant issues that were not mentioned by the property managers (this is a vacation rental, not a homey home) before we arrived and that had a negative effect on our stay. In order of importance: we could not get the hot tub to work. It was at 84 degrees when we arrived and though we tried turning it up to 104 degrees, it stayed in the 80s. There were no instructions on how to use the hot tub and the property managers didn't give us any guidance when we emailed them. Second, wifi didn't work on any of our devices despite restarting modems a couple times. Third, one of the showers didn't work at all. Minor things like poorly-shoveled walkways and a bad coffee bean grinder were dings. Overall, we appreciated the home but wouldn't go back and would not have rented it for the price we did had we known of all of the issues above.
Andrew
2017-02-12T00:00:00Z
A perfect first thanksgiving in California for us. Thought we were dreaming: snow all around but roads fine, walked to Eagle Lake, skated at Squaw Valley, walked down to the lake to see snow-covered pontoons, and ended every day in the hot tub staring at stars!. Cabin was a perfect escape from the rat race.
Ian
2015-11-29T00:00:00Z
The house is great, my family really enjoy the stay over the weekend here. The large deck has incredible lake view, and the hot tub is fantastic. We also very much like the quiet location and neighborhood, plus is very convenient drive to grocery stores, emerald bay state park and other local places
Hua
2015-10-05T00:00:00Z
Amazing place, we had such a good time. We were 4 couples there for a long 3 days weekend. There is plenty of space, great fireplace, so relaxing hottub. And the cabin is so quiet... Perfect spot to stay at Tahoe. Trent was nice and really accomodating, thanks!
Laurie
2016-02-16T00:00:00Z
The house is really nice. Well stocked, and super cozy. The layout is fun, and great for groups. However, the Internet did not work at all.
Lindsay
2016-03-09T00:00:00Z
We really loved the house and the large deck with the view of the lake was amazing. Our kids enjoyed the smaller house and the yard in between the two.
Whitney
2015-06-09T00:00:00Z
Tipo de Quarto
Casa inteira/apto
---
Tipo de Imóvel
Casa
---
Acomoda
8
---
Quartos
Meeks Bay, Califórnia, Estados Unidos
Perfectly situated in the midst of West Shore`s adventures, this mountain home is the perfect spot to spend some quality time in the Sierras. Minutes from Meeks Bay Resort, Sugarpine State Park, Homewood Mountain Resort, and the famous Emerald Bay.
Hot Tub, Internet, HOA Private Beach and Pier access Perfectly situated in the midst of West Shore`s adventures, this mountain home is the perfect spot to spend some quality time in the Sierras. Minutes from Meeks Bay Resort, Sugarpine State Park, Homewood Mountain Resort, and the famous Emerald Bay. When it is time to relax after a day of expeditions, enjoy this homes comfort and amenities which include rustic wood stoves for warm evenings, flat screen TVs to enjoy late night movies, fully stocked kitchen for homemade dinners, and top it all off with some time in the hot tub, yes please. We also have you covered with Interweb Access. The entry level of this home has a lot to offer, including a fully equipped kitchen, dining room, a half bath and lively, spacious living room featuring a wood-stove with a lovely brick backing. There is a large 42 inch flat-screen television with Direct TV hook up and DVD included as well. In addition to all of this, there is a large deck off of the living area with a soothing hot tub where you can enjoy views of the lake and mountains. Upstairs there are 3 bedrooms and 2 full baths. The master suite has a balcony with lake views, king size bed as well as a full bath. The second bedroom has a balcony also, and another king size bed. The third bedroom accommodates extra guests with a bunk bed. The additional full bath is located in the hallway close to the second and third bedrooms. The lower level of this home has a large bonus room with another warming wood-stove, large flat screen television with Direct TV and DVD. Both TVs include HBO as well. There are two full sofa sleepers in this room, making this home able to house larger groups or larger families. THE TWO CAR DRIVEWAY BACKS DIRECTLY ONTO HWY 89 AFFORDING EASY ACCESS -EVEN DURING A SNOWY WINTER! Meeks Bay Resort & Marina is only a few minutes drive, and offers amenities such as water sports rentals, hiking trails, a brand-new biking trail, private beach with swimming area, BBQ / Picnic area, beach volleyball, and fishing The Meeks Bay hiking trail-head to the Desolation Wilderness is also a short distance away, and Sugarpine State Park with its own beautiful beach, the Hellman-Ehrman mansion, and numerous short hiking trails is only two miles up the highway. Emerald Bay is only 7 miles away where you can hike down to the lake, picnic at the top, or visit Fannette Island: home to the Vikingsholm Castle. In the winter, Homewood Mountain Resort is just a ten minute drive away for all your skiing and snow boarding adventures. Additionally, Squaw Valley, and Alpine Meadows are 20-25 minutes away as well. Please be considerate, this is a smoke and pet free home. We do not consider Service Animals to be "pets". Bedroom 1 - King, Master - Upper Level Bedroom 2 - King - Upper Level Bedroom 3 - Single/Single Bunk - Upper Level Den/Bonus - 2 Full Sofa Sleepers - Lower Level Bath 1 - Half - Entry Level Bath 2 - Full, Master - Upper Level Bath 3 - Full - Upper Level Approximately 2,134 Square Feet. The minimum stay for this property ranges from 2 to 5 nights, and the nightly rate varies based on the season. Beach Access Lake View Internet Private Hot Tub
Really liked the house and the location was great for a nice getaway from the city!
Rish
2017-02-05T00:00:00Z
The house is very spacious and has an amazing view over the lake. It is a great place to stay at if you're a bigger group.
Anna
2017-01-29T00:00:00Z
Cozy cabin with nice patio. Close to water and highway. Great place to stay at any season. Few minutes drive to Emerald bay.
Artak
2016-10-23T00:00:00Z
Très belle expérience, une grande maison! Super en famille ou entre amis! Une vue magnifique, et un lieux tranquille!
Ouassila
2017-03-03T00:00:00Z
Tipo de Quarto
Casa inteira/apto
---
Tipo de Imóvel
Casa
---
Acomoda
10
---
Quartos
Tahoma, Califórnia, Estados Unidos
This lake front home rents with a Sat. to Sat. arrival-departure only from June 25 to August 20. Only Sat. to Sat. patterns will be confirmed during this timeframe.  Shorter stay available between July 22-28. Spend your vacation in a classic Old Lake Tahoe lakefront home on a quiet street with spectacular panoramic views. A private pier, buoy, decks, and the view make this an ideal vacation home. The main house includes three floors, five bedrooms, 2 1/2 baths, laundry room, and an historic log cabin, (available summer only - sleeps two). Maximum occupancy in the winter is 8 people and in the summer, with the additional of the log cabin, 10 people. The main floor features an open floor plan with living room, dining area, kitchen, bathroom, 2 bedrooms (each with Queen sized bed), TV, and a spacious deck, all with fabulous views. Upstairs is a half bath, two small bedrooms (each furnished with one twin bed) and a common area with futon -- great for the kids! The stairs going downstairs does have a lift chair installed for the owner, who is handicapped. The lower floor has a TV and sofa bed, a large bedroom with a California King bed, a full bathroom, and laundry (washer and dryer). Helpful, friendly longtime caretaker resides in unattached upper cabin (not pictured). This home has stairs to log cabin and pier and is a perfect vacation home. The views are breathtaking, especially at sunset. PLEASE NOTE THIS HOME HAS LIMITED PARKING FOR 2-3 CARS ONLY, SO PLAN ACCORDINGLY.  This home no longer accepts pets. MAIN HOUSE SLEEPS 8 LOG CABIN (SUMMER ONLY) SLEEPS 2, max occupancy in the summer is 10 people.   with a sofabed and another bedroom, one with a cal king bed, The studio cabin has a new futon bed and is NOT winter in the winter. *Long Term Caretaker resides in unattached front cabin (not pictured)* PLEASE NOTE THIS HOME HAS LIMITED WINTER PARKING FOR 2-3 CARS ONLY, SO PLAN ACCORDINGLY.  Transient Occupancy Registration Permit Number #0446
Meeks Bay
Tipo de Quarto
Casa inteira/apto
---
Tipo de Imóvel
Casa
---
Acomoda
10
---
Quartos
Tahoma, Califórnia, Estados Unidos
My tranquil 5BR/3BA custom built home is located on the western shore of Lake Tahoe, close to Desolation Wilderness National Park and world-class skiing at Alpine Meadows, Squaw Valley and Homewood resorts. Total privacy surrounded by several acres of forest. Designed for entertaining, it has a fully equipped Chef's kitchen, wet bar, second media room (great for kids!), walking distance to one of the greatest white sand beaches in Lake Tahoe. Sleeps 14.
INSIDE THE HOUSE The best feature about this house is that it is designed for entertaining. It was built by a high end home builder for himself and his family. The entry to the house is on the ground level. Upon ascending the stairs, the area opens into a grand living room (Great Room) connected to a gourmet chef's kitchen and dining room. Highlights of this house include wool carpets, antique oriental rugs, down comforters and deluxe bedding, wet bar, second living/media room, vaulted ceilings and a spacious deck with gas BBQ grill and large teak dining table. The Family/TV room has a brand new large flat screen Samsung TV with Samsung blue ray DVD player and is hooked up to DISH network. Outside, there is a bocce ball court and outdoor hot tub- perfect after long days on the ski slopes, swimming in the lake, playing volleyball on the beach, or long hikes in the woods. The house sleeps 14 guests between 5 bedrooms. Two of the bedrooms, located upstairs, have en-suite bathrooms. Both of these bedrooms have queen-sized beds. The comfortable master bedroom suite contains a deep soaking tub, a double walk-in shower and a fireplace. The master bedroom suite also has a new flat screen Samsung TV and Samsung blue ray DVD player.
The location of this house could not be more perfect. Walking distance to Lake Tahoe's best white sand beach at Meeks Bay, this home is protected by spectacular trees overlooking Lake Tahoe. The home is also walking distance to Desolation Wilderness National Park. This home makes you feel like you are away from it all, however, there are so many activities to enjoy if you feel like being more active. Meeks Bay has a great fun, social vibe and there are loads of restaurants to choose from in Tahoe City and South Shore Tahoe, located just minutes away. Skiing, snowboarding, sledding are the highlights of the winter. Summer offers boating, swimming, golfing, jet skiing, parasailing, fishing, kayaking, tubing, just to name a few. This is particularly a hiker and mountain bikers' paradise during the late-spring and early-fall when there are virtually no crowds anywhere.
We LOVED staying at Mallory's cabin. We visited with 2 families of 4 making it a total of 6 kids and and 6 adults! This cabin is not only beautiful but spacious with a functional layout. The cabin has a warm homey feel to it that made our stay that much more pleasant to stay at. Mallory is a wonderful host and easy to get in contact with. We opted to stay an extra night due to a snow storm and Mallory was very accommodating to our request. I highly recommend staying here.
Monica
2017-01-23T00:00:00Z
This place is a perfect vacation home for anyone who wants to be close to the ski resort, to enjoy the beautiful Lake Tahoe, or just to have a quiet and peaceful time with his family and friends. We stayed here to enjoy the lovely snow this year and boy it was such a blast. The 3 toddlers in our group had their first snow tubing experience in front of the house! We cooked most of our dinners in house and the house has everything that we need (we brought all the groceries). Living room is very spacious with plenty of space for kids to play in. Beds are large and comfortable. Checkin was a breeze. Mallory was always on top of his game and responded each request or question within a very reasonable time. I highly recommend this vacation home to anyone who reveres the natural beauty of Lake Tahoe.
wenjuan
2017-01-30T00:00:00Z
My family and I had an awesome time during our Tahoe trip, and were very comfortable in this great home. Good location, communicative host, clean and comfy (and spacious!) home. We loved the fully stocked kitchen and had everything we needed space and amenities wise. Would stay here again!
Sara
2017-02-26T00:00:00Z
I was nervous about booking a house without reviews. The host mentioned he's been renting the house since 2001, but given all of the problems we had, we can't be the only ones dissatisfied with our experience. The house was very large and there were plenty of sleeping spaces for everyone. It isn't what I would describe as luxury, given the following issues we had. The most horrifying was a lack of a working coffee pot :-( followed by DVD player glitches and inoperative issues. I was really frustrated that when I let Mallory know about these issues, he ignored the coffee pot issue and denied there was a DVD issue. Other issues included, broken countertops, stair rail, spoon holder, water damage in the master bath. Hot tub never reached above 97 and it should have been 102 and it was also murky when we arrived. Luxury to me means above and beyond with the quality of the products in the home, and this house had horrible knives (borderline dangerous they were such poor quality), stained couches and super old tvs (like late 80s tube tvs). The size makes it spacious but these issues detract from the luxury feel.
Stephanie
2016-12-04T00:00:00Z
I absolute love this home! This was just right for my family and I. This was our first time vacationing in this area. The owner was available to message and responded right away! I would definitely save this home to my favorites for any future get always!!
Rubi
2016-12-20T00:00:00Z
The house was large and could easily fit a large group. The house had everything needed for a great getaway, stocked kitchen, gas BBQ, hot tub, etc. You just need to buy food. The property is large so there was a lot of room for the kids to play in the snow. This included a long sledding path, a snow fort and that was just a small part of the property. Its located in a very quiet neighborhood and the homes are spread out very nicely. The home is in a secluded area but not too far to the general store or shopping in Tahoe City. Mallory was great about information about the area, and was very responsive to any questions I had. I would definitely recommend this house.
Daren
2017-02-06T00:00:00Z
Mallory's cabin is really amazing if you want a spacious relaxing cabin with a lot of privacy and backyard snow access. Our stay really exceeded all expectations we had, especially given the value of this large home. The hot tub is perfect considering the weather, especially after a day of sledding and snowshoeing around Lake Tahoe (the cabin is a five minute drive from nearby Sugar Point Park). If you are considering staying for skiing, the cabin is also very close to the major highway yet totally quiet and isolated, and close to Squaw and other ski resorts. During our weekend we had some questions about the wifi and Mallory was very communicative. One thing of note - all carriers but Verizon have very spotty reception in the house but the provided Verizon MiFi worked pretty well. Definitely would like to return to this place again.
Vadim
2017-03-13T00:00:00Z
We gad a great time at this House during Thanksgiving week. We were 13 people, all accommodated comfortably. The house location was just what we wanted, surrounded by trees, yet close enough to other cities for groceries and shopping. Mallory was very patient and helpful before, during and after our stay, responding promptly to every query. The yard has some nice slopes, so kids had a blast sliding. We will be probably staying here again next year.
Luciano
2016-11-26T00:00:00Z
Tipo de Quarto
Casa inteira/apto
---
Tipo de Imóvel
Casa
---
Acomoda
14
---
Quartos
Tahoma, Califórnia, Estados Unidos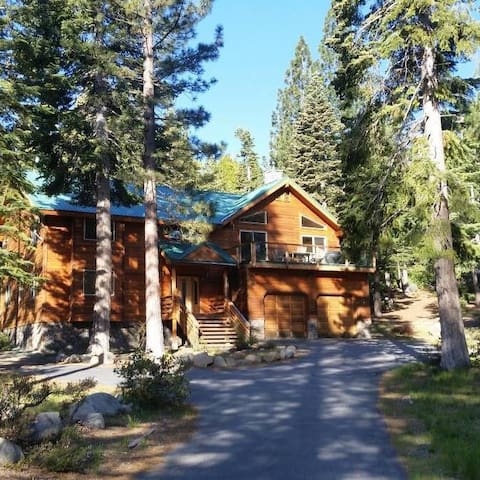 This fantastic lakefront property is perfect for a family vacation! It easily accommodates 3 families with 5 bedrooms + includes a dock/bouy for your boat. Just 30 minutes to Squaw and Alpine Ski Resorts! Available also for a winter ski lease.
This is a beautiful, lakefront location in the heart of Rubicon Bay. It is just minutes from Meeks Bay Beach and a ten minute drive to picturesque Emerald Bay. Also just 10 minutes from Homewood ski resort and 30 minutes to Squaw Valley. There is a buoy and dock for your boat, and two kayaks provided. Lots of space for many kids, families and good memories! Inquire about a winter ski lease - a great place to share between multiple families for the ski season.
Meeks Bay Avenue is a quiet one lane road off of Highway 89. It has close-knit, friendly neighbors looking to appreciate the best Lake Tahoe has to offer.
Great house with everything needed included. The view is unbeatable and the proximity to local beaches and the kayaks made the trip worth every penny. Thanks for everything!
Alex
2016-07-11T00:00:00Z
The house was clean and welcoming. Beautiful views. The beds were all very comfortable. Plenty of extra sheets and towels. We would be happy to come back.
Eileen
2016-07-24T00:00:00Z
Relaxing lakeside getaway. Gorgeous lakeside views. Great for families with kids.
Argyrios
2017-02-20T00:00:00Z
Beautiful place in a magnificent environment!!
Francoise
2016-10-11T00:00:00Z
Perfect location, great view, very nice place. The deck and dock are perfect.
David
2016-09-05T00:00:00Z
Really beautiful view!
Irvan
2016-11-27T00:00:00Z
Great and charming cabin! The hosts were very accommodating. Would totally stay there again, thanks!
Eugene
2016-02-22T00:00:00Z
The house was great and in the most wonderful location. It was so nice to have the sun deck next to the water and to be able to go for a canoe. The house is also very well kitted out in the kitchen and has a great bbq to enable you to enjoy staying in.
William
2015-09-11T00:00:00Z
Tipo de Quarto
Casa inteira/apto
---
Tipo de Imóvel
Casa
---
Acomoda
15
---
Quartos
Tahoma, Califórnia, Estados Unidos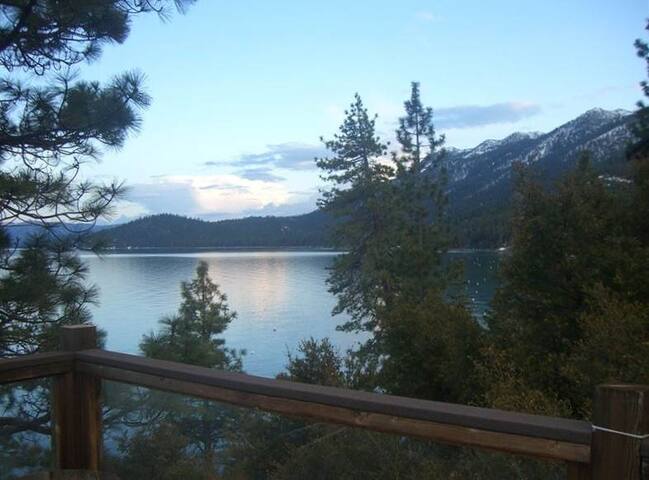 HOUSE FRONTS SANDY BEACH ON LAKE TAHOE'S WEST SHORE. House fronts private HOA Beach & Pier. Buoy provided for your boat. Upscale Lake Tahoe vacation rental offers expansive Lake views, and easy beach access. Just minutes to Homewood Resort for family-friendly winter skiing. This Rubicon beach home comfortably accommodates 1-8 people. Dog may be considered by prior arrangement only. 4 BEDROOMS - 5 BATHROOMS: FANTASTIC LAKE VIEWS OFF 4 DECKS. INQUIRIES OR RESERVATIONS: CALL ((PHONE NUMBER HIDDEN).
HOUSE FRONTS SANDY BEACH, PIER, AND MAGNIFICENT LAKE TAHOE! Beautiful sandy beach (HOA) with barbecue area, 200+ foot pier (HOA), and buoy. Beach chairs and kayak provided. For guests with boats, a buoy is available. Marina for fuel and launch nearby. DESIRABLE WEST SHORE LOCATION: Convenient access to restaurants and shops in nearby Homewood, Tahoe City, or drive past Emerald Bay to South Shore casinos. Enjoy world famous ski resorts: Squaw Valley, Alpine Meadows, Northstar, or nearby Homewood Resort (less than 10 minutes by car). Close to State Parks where hiking, biking, and other activities are available. The home is perfect for couples, families, or friends.
DESIRABLE WEST SHORE LOCATION: Convenient access to restaurants and shops in nearby Homewood, Tahoe City, or drive past Emerald Bay to South Shore casinos. Enjoy world famous ski resorts: Squaw Valley, Alpine Meadows, Northstar, or nearby Homewood Resort (less than 10 minutes by car).
Tipo de Quarto
Casa inteira/apto
---
Tipo de Imóvel
Casa
---
Acomoda
8
---
Quartos
Tahoma, Califórnia, Estados Unidos
Charming Tahoe Cabin. The great room has a warm family feel plus a big rock fireplace! The upstairs bedroom is a childs delight.Large laundry room and 2 more bedrooms on the 1st floor. The kitchen is well equipped for those family gatherings. Walk to Rubicon's famed gold sand beach and pier.Bedroom 1, has a queen bed 2nd bedroom has 2 singles 3rd br has 2 singles.
It's super cool to live in this house.
Shiyu
2016-12-26T00:00:00Z
I loved this cabin! Super spacious and well equipped with dishes, pots and pans, blankets, pillows, and towels. Loved the homey feeling. The location is great because Homewood ski resort was only 10 min away and if you stay in the summer Meeks Bay is very close too. I would definitely stay again.
Linda
2017-02-20T00:00:00Z
Tipo de Quarto
Casa inteira/apto
---
Tipo de Imóvel
Casa
---
Acomoda
7
---
Quartos
Tahoma, Califórnia, Estados Unidos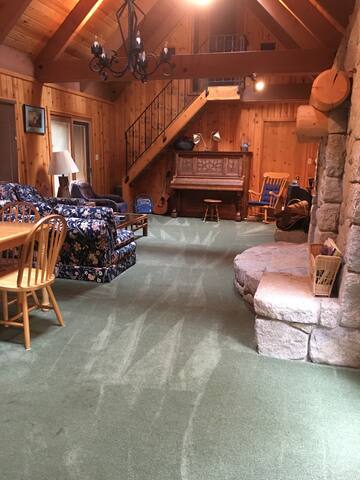 Minutes from Emerald Bay State Park, one of the most photographed places on earth, this sprawling 4-bedroom, 4.5-bathroom vacation is the king of all cabins in the woods.
Minutes from Emerald Bay State Park, one of the most photographed places on earth, this sprawling 4-bedroom, 4.5-bathroom vacation is the king of all cabins in the woods. Inspired architecture and well-appointed furnishings make this jaw-dropping home the perfect blend of comfortable and stunning: sure, there's plush couches and pool tables, but there's also four private balconies and floor-to-ceiling windows with 180-degree views of the Rubicon Bay and Rubicon Peak. Tasteful mountain-inspired décor can be found throughout this elegant home, from each of its bedrooms to both of its living areas. Hardwood floors and exposed ceiling beams lend charm to spacious common areas. Warm up by a gorgeous stone fireplace or enjoy a cup of coffee on the deck while watching the sunrise over the bay. The unforgettable view and stately evergreens scattered across the yard are just reminders of all there is to explore on the shores of Lake Tahoe. Hiking trails begin just outside your front door while natural landmarks and historic sites are all a short drive (or paddle) away. INSIDE THE HOUSE Two living areas with unrivaled lake views open onto private decks: the first is ideal for lounging with chic furnishings and a large plasma screen TV while the second offers a pool table and telescope through which you can explore the Rubicon Bay and surrounding peaks without leaving home. An open, island kitchen with all-wood cabinetry and granite countertops offers everything you need for home-cooked meals made with groceries from Tacoma PDQ, which is just down the road. The lakeview dining room that seats 8 in leather chairs around a polished table is separated from the kitchen by a breakfast bar that seats 4. There is a new Keurig coffee maker for that fresh cup of morning coffee. Sleep 9 in 4 bedrooms and an in-home theater that's also home to a twin bed. There's nothing short of special about two sumptuous suites with king-size beds and en-suite baths boasting stand-up showers and jacuzzi tubs. One offers a private deck while the other has a gas fireplace. A third bedroom offers a queen-sized bed, seating area and en-suite bath while a bedroom/office with a dark wood desk and sleeper sofa provides access to the deck.
Reap the benefits of staying in a beautiful lakeside community that offers access to a beach on a pristine bay. Or venture out to Emerald Bay State Park where you can hike to the Vikingsholm Castle and to overlooks that support Mark Twain's claim that Lake Tahoe is "the fairest picture the whole earth affords." When you've worn out your land legs, boat rentals on the South Shore let you paddle out to Fannette Island. Quirky Lake Tahoe eateries, like local breakfast favorite The Red Hut Café and homemade Mexican food joint Jalisco Grill are minutes away on Lake Tahoe Boulevard. NOTE: Long very steep driveway. 4WD is required to go up driveway to the home. The home cannot be accessible without it. No street parking in the winter.
Beautiful cabin with beautiful views!!! A couple of challenges: 1.) working with Turnkey. I much prefer working with one host who owns the property. Those hosts seem to care more and personalize your stay. But overall the responses from Turnkey were very quick 2.) We didn't have internet the entire time we were in the cabin and were offered $50 (which I didn't bother to accept). It was a hassle calling over and over and they didn't understand that without internet having wifi doesn't do anything. They blamed it on the cloudy sky, however the first day we checked in the sky's were clear and still we didn't have internet. So we were unable to watch Netflix, etc
Danielle
2016-12-16T00:00:00Z
Beautiful home with no surprises. Amazing view of the lake and excellent amenities (theater room, fireplaces, large master jacuzzi bath tub, pool table, big kitchen, even heated bathroom floors). Short drive to Homewood ski resort and not too far from South Lake Tahoe. Nice, quiet neighborhood. No restaurants or markets within walking distance but short drive away. Great location to get away, unplug and enjoy the beauty of Tahoe!
Frank
2017-03-07T00:00:00Z
This home is truly an amazing place. To wake up to the power and beauty of the lake and the trees surrounding you is a gift to be cherished. Really! Quiet, with sunrises and sunsets that fill you with peace. Amenities are there, three decks and hikes right behind the home. We had perfect weather which made it all even more enjoyable.
Nicole
2016-07-01T00:00:00Z
Beautiful views. Great location. Big house. Lots of amenities. Need I say more.
Timothy
2016-05-02T00:00:00Z
The place is even more stunning in person than in the pictures! We absolutely enjoyed staying there. The TurnKey management team was wonderful. They were available 24/7 and were very helpful in resolving any issues or questions we had. Two thumbs up!
Thomas
2016-05-16T00:00:00Z
This truly is an unforgettable stay in Lake Tahoe! The home was immaculate, well-designed, well-appointed and very comfortable. The views and ambiance are unparalleled! You have one of the best "Tahoe Vistas" right from the privacy of your own vacation home! Sunrises are particularly magnificent from this property. We will definitely be back! Instructions and communication from Bob at Turnkey Vacation Properties prior to, during and upon departure were clear and concise. Honestly, we were amazed in every way possible with this stay!
Linda
2016-10-23T00:00:00Z
The check I process was very streamlined and they responded quickly to any questions we had. Beatiful home with stunning views. This was quite the memorable vacation.
Jonathan
2016-10-02T00:00:00Z
This house was absolutely beautiful and so spacious! I would definitely recommend this as a place to stay in Tahoe and I can't wait to come back!
Emily
2016-11-13T00:00:00Z
Tipo de Quarto
Casa inteira/apto
---
Tipo de Imóvel
Casa
---
Acomoda
9
---
Quartos
Tahoma, Califórnia, Estados Unidos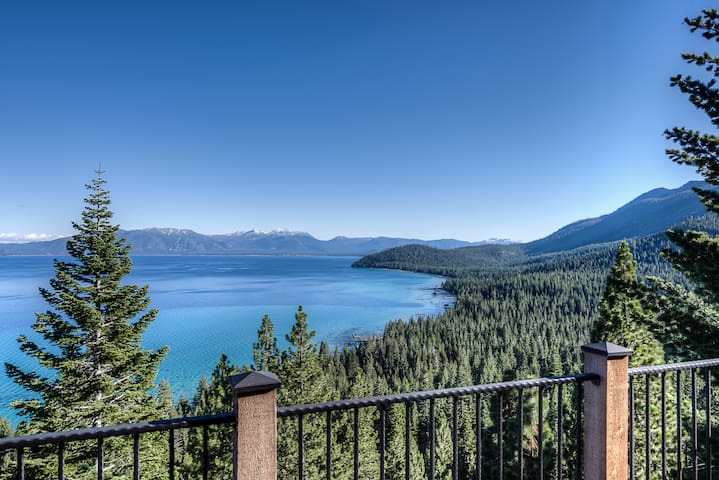 Luxury and Comfort offer this Majestic Lakefront Estate in Tahoe with 300ft of private beach/lakefront, and lush green landscape. Perfect for 24 Persons! The breathtaking Tahoe clear blue waters, lush green landscape and large boulders offer you with a relaxing get away! It is near restaurants, Sugar Pine State Park, Homewood Ski Resort, Hiking Trails, Desolation Wilderness Park, Emerald Bay State Park, Tahoe City, Obexer's Marina for any water sports rentals, and Alpine/Squaw Valley ski resort.
This Majestic 15,000 sq. ft. Rockhaven Private Gated Lakefront Estate in Lake Tahoe sits on a 1.5 acres with 300 feet of private beach/lakefront. Beautiful lush green landscape perfect for entertaining outdoors. Sleeps 24 Persons. Luxury and comfort are offered by this Majestic Luxurious estate. You'll love your time in the estate relaxing and entertaining your family. You'll also love sitting out on the pier while you meditate, watch boats glide by, go fishing or get ready for boating! Create memories by watching the breathtaking sunrises, sunsets and marvel at the incredible alpenglow across the lake in the evening. Enjoy all the numerous activities that Lake Tahoe has to offer. From renting paddle boards, kayaks, boats, snowmobiles, XC skis and Down hill skis to hiking or riding your bikes. You will definitely create lifetime memories at Rockhaven Estate. This Estate offers: Description of Bedrooms: Second Floor- Bedroom # 8 Cal King - Main Master Suite with Private Steam shower, 2 Private Bathrooms, Private outdoor Hot Tub, Large Jacuzzi, Fireplace and majestic views of Lake Tahoe with access to an outdoor Private Balcony Bedroom # 1 Cal King - Master Suite with Private Steam shower, Private Bathroom, Fireplace and majestic views of Lake Tahoe with access to an outdoor Hot Tub and Private Balcony Lower Level- Bedroom #2 Two (Fish Room) Twin/Full/Twin Bunk Bed with a Private Bathroom Bedroom #3 (Bear Room) Queen Bed with Private bathroom Bedroom #4 Two Queen Wall Beds with Two Private Bathrooms - one with a steam shower, and a fireplace Bedroom #5 and #6 (Two Bedroom Private Guest House) Two Queen Beds, Queen Sofa Bed, Two Private Bathrooms, Kitchen, Living Room, Fireplace, and Access to an outdoor Hot Tub for 8 People, and Barbecue Area Bedroom #7 (One Bedroom Private Guest House) Queen Bed, Queen Sofa Bed, Private Bathroom, Kitchen, Living Room and fireplace Other Amenities: Game/Television Room offers Four Double Electric Recliners, 75" Television, Card Table, Billiards Table, Shuffle Board Table and a Bar Executive Office: Desk, Poker Table or Executive Meeting Table, Television Main House: 13,000 Square Feet Private Beach/Lakefront: 300 Feet Four Buoys Private Pier Two Hot Tubs - 1 hot tub 8 Person, 1 hot tub 6 Person 3 Washers / Dryers 4 Kitchens: Top-of-the-Line Appliances Main Dining Room: Beautiful Custom Live Edge Table seats 16 persons, decorated by a Chihuly Chandelier perfect to entertain your family and friends. Living Room: Card Table, seating area to enjoy the fireplace and views of the Majestic Lake Green Lush Landscape Large Outdoor Entertaining Area with Fire Pit, Barbecue Grill, and a small house to place your wetsuits and/or bathing suits
This private Estate is in perfect proximity to restaurants, shops, 5 minutes to Sugar Pine State Park, Homewood Ski Resort, Hiking Trails, Desolation Wilderness Park, Emerald Bay State Park, Tahoe City, Obexer's Marina for any water sports rentals, and 20 mins to Alpine/Squaw Valley ski resort, XC Tahoe City,
Tipo de Quarto
Casa inteira/apto
---
Tipo de Imóvel
Casa
---
Acomoda
16
---
Quartos
Tahoma, Califórnia, Estados Unidos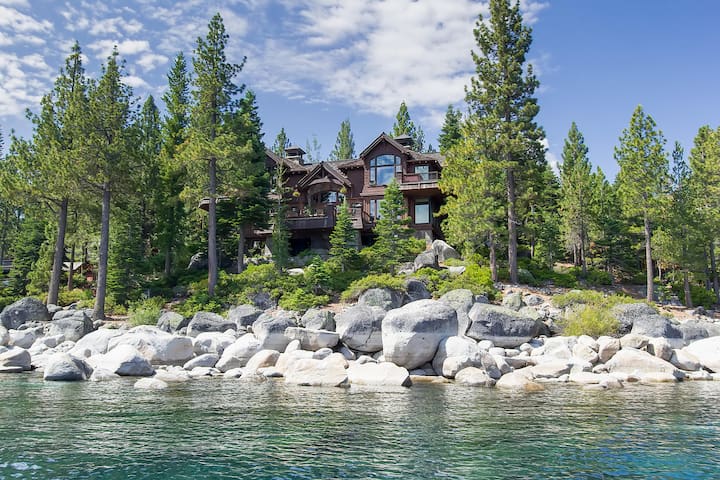 This cozy Rubicon cabin welcomes you the minute you walk in the door! A great place for family gatherings w/ large dining table and a bunk room with 5 beds for kids. 1 block to a pier/sandy beach, 10 minutes to Homewood ski resort and Emerald Bay!
We loved staying in the cabin! All the comforts of home in rustic Tahoe style. Location was perfect - quick walk to the lake, serene neighborhood and conveniently close to Sugar Pine Point park and Homewood. Master suite down and 3 bedrooms & bath up can sleep a big group comfortably. Cozy but roomy great room is great for hanging out. Karla is an excellent host, very responsive and easy to work with. We plan to visit again.
Molly
2016-02-16T00:00:00Z
We had a great time in Tahoe over the MLK weekend staying at this lovely and comfortable cabin in Rubicon. The hosts Barry and Karla made us feel like we were in our own cabin. The decor was exactly as I would personally choose.. Big comfortable red couch, games and books a plenty and lots of musical options!!! We loved everything about it!! The neighbors were friendly and everything imaginable was spelled out and at our fingertips if needed. Karla was always quick to respond and most thoughtful and considerate of all our family needs!! I would love to come back in the summer and highly recommend this comfortable family home!!! Warmest regards, Michele and Mike
Michele
2016-01-19T00:00:00Z
The cabin is really amazing! It's worm and clean,there are nine beds and we got everything we need !karla is very nice,she gave us a very comprehensive information, we played very happy.hope the summer come back to play kayaks;)thanks again,karla!
Denise
2016-02-08T00:00:00Z
We spend a perfect few days at Lake Tahoe. The house is very convenient. For the five of us too many rooms and beds
Erik
2016-08-08T00:00:00Z
Karla and Barry have an amazing house setup in Tahoma!! It perfectly housed the 10 of us in complete comfort with plenty of extra blankets and all the amenities needed for the entire weekend. The house is really close to a private beach and they even had kayak's available. Karla was also very responsive with messages through AirBnB and made us feel welcome. There were tons of games to play and they even left a bottle of champagne for my wife's birthday! All in all we had a great time, and would definitely rent here again!
Nilit
2015-09-21T00:00:00Z
We had a great time in Tahoe. The house was located as descripted. The house was clean and comfortable. The beds are comfortable - which to us is very important.
Buck
2015-07-03T00:00:00Z
We took our corporate team of five here as an offsite/retreat for the week and had an amazing trip! The house had more beds than we knew what to do with (9 in total with plenty of additional couches), there was plenty of gear for cooking, and the cabin was stocked with tons of board games. Located about 30 minutes from the town/Casino area, there were plenty of walking trails around the house and a dock on the lake just a two minute walk away. We can't wait to rent it again next year!
Matt
2015-11-14T00:00:00Z
I booked the cabin for my family while we were in the area for an extended family reunion. Karla was very helpful and welcoming, staying in contact in case anything was needed or if there were any questions. We loved the cabin! It was cozy and quiet - we loved the private beach access (with kayaks!), plus being so close to Meek's Bay. The main area on the first floor is a great open and social place for the family to hang out while having breakfast, playing games, reading, or whatever else. We especially loved the dedicated board game table and space, since we're big fans of playing games together! I highly recommend Barry and Karla's place, especially as a great place to hang out with family and friends together when not out and about enjoying the greater Lake Tahoe area. It is in a great quiet community with wonderful hosts.
Liesl
2016-07-17T00:00:00Z
Tipo de Quarto
Casa inteira/apto
---
Tipo de Imóvel
Casa
---
Acomoda
10
---
Quartos
Tahoma, Califórnia, Estados Unidos
Charming cabin in the woods of pristine Rubicon Bay. Short walk to Rubicon Bay's beautiful private, sandy beach with pier and volleyball court. Three bedrooms, 1.5 baths, sleeps 6. Close drive to Emerald Bay, Sugar Pine Pt., and DL Bliss State.
Charming, rustic cabin with classic Tahoe ambience and Swiss chalet design, just a short walk from Rubicon Bay's pristine beach. Rubicon Bay is one of Tahoe's most beautiful areas. With a private, sandy beach with a pier for boating and a sand volleyball court, it's known as one of the nicest areas in Tahoe. It's a quiet community that's a close drive to Emerald Bay, Sugar Pine Point, DL Bliss State Park, Chamber's Landing or Homewood. It's also one of the only areas in Tahoe with an easy drive to both North and South Shore restaurants, ski areas and casinos. The cabin is located on the lake side of Hwy 89, in the center of the highly sought-after Rubicon loop. It's just a five minute walk to the beach. The pier is available for boat users, and buoy rentals are available through Rubicon Tahoe Owners Association. This is a great family vacation rental with three bedrooms and 1.5 baths. There's a kitchen/dining room/living room that's open and comfortable with knotty pine interior and rustic furniture. The dining room table has ample room, and there's a large deck with a BBQ grill and outdoor dining set that's a perfect setting for enjoying any time of day. There's a small bedroom ideal for kids, with a bunk bed, futon and adjacent half bath. And there are two spacious bedrooms with a queen and king bed, plus one full bath, all with partial lake views. July-August six night minimum. Sept.-June: two night minimum. Maximum # of adults: 6
We had a great family vacation at Marc's cabin. Marc provided us with all the information needed prior to our stay. We found the house just like it looks on the pictures. Located in a quite neighborhood with easy access to a wonderful private beach with volleyball court, the cabin is cozy and comfortable and has a great outdoor patio. The house is well equipped with everything you'll need for your stay, including wi-fi. We'd love to come back sometime. Thank you so much!
Monika
2015-08-01T00:00:00Z
We had the best experience at Marc's place. Lake Tahoe is absolutely stunning and the walk to the beach was quick and easy. Once on the beach, it was pleasant and not crowded. The beach was clean and had the crystal clear water. The cabin was cute and rustic and had everything we needed for the weekend. I 1000% recommend this place if coming to Tahoe.
Cristin
2016-09-05T00:00:00Z
My family of 4 enjoyed our stay at Marc's cabin. It is exactly as depicted in the site, and the location was very private and the beach was awesome compared to the more crowded public beaches. The fridge was broken when we arrived but Marc was very responsive and made up for the minor setback. Our family had a great experience at Marc's cabin and will be back as the location and atmosphere can't be beat at any casino or hotel in South Tahoe.
Bryan
2015-08-15T00:00:00Z
We had a wonderful time at Marc and his family's cabin. Marc was very attentive both before and during our stay. He even had internet installed some days before and let us know so that we could have wifi access during our stay. The cabin is very well equipped with everything one needs to spend a good time there. The house was very clean and comfortable. It was great to have access to washer and dryer so that we could go back home with everything clean (no extra work upon our arrival back home :) The beach is amazing!!! It is a private sandy beach (a treasure in the area), and the lake has very few rocks and they are big so, it is very easy to swim and for the kids to play. And the view is breathtaking. A real gem! Thanks Marc and Family for making our stay such a pleasant one!
Maria
2015-06-29T00:00:00Z
Marc is a welcoming and carrying host. He made sure we are well informed before our visit and gave us hints about the area during our stay. We felt genuinely at ease to communicate with him personally. What ever was amiss he had gladly offered solutions and help. His family cabin stands in a very private and quite neighborhood away from the tourist crowds. The house is small and clean. It felt very comfy for one family who prefers its privacy. Upstairs bedrooms have a nice forest views through the tall windows facing East. Plenty of shade from the surrounding firs, yet really pleasant patio sitting, gentle sun rays and birds chirping. Our family had many wonderful breakfasts and dinners there al fresco. We felt lucky to stay in such a place that offered us a safe comfort after long days by the lake. Great thanks to Mark for sharing his little gem with my family. We fell in love with Tahoe and will be back.
Tatyana
2014-08-12T00:00:00Z
Tipo de Quarto
Casa inteira/apto
---
Tipo de Imóvel
Casa
---
Acomoda
6
---
Quartos
Tahoma, Califórnia, Estados Unidos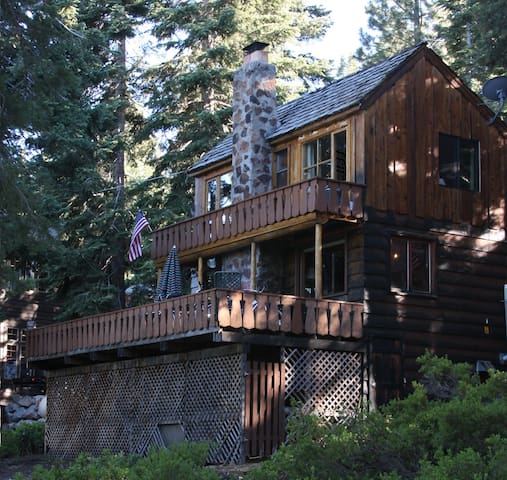 Near all major ski resorts with special ski entryway to dump your gear. A brand new hot tub awaits you on the deck overlooking the lake 100 yards away. The house includes access to a private pier where I recommend watching the sunset!
HOME: - 3 story, 3 bedroom, 2.5 bath cabin with large bonus room - 2 decks, 2 working fireplaces, gas grill, 2 42inch TVs - Fully equipped kitchen and dining room - Living room opens on to a spacious pine-surrounded deck - Master BR with balcony, king bed and in room full bath - 2nd BR has a balcony and king bed - 3rd BR has bunk beds - Bonus room sleeps up to 6 - Bonus room has fireplace, tv, 2 sofa-beds, 1 futon - Brand new 4-6 person hot tub on the deck
LOCATION: - Cute wooded neighborhood 100 yards from a private pier - 10 min drive to Homewood mountain for ski/snowboard - 30 min to Squaw or Heavenly for ski/snowboard - Boaters can rent or launch at Meeks Bay beach (5 min walk) - Dock on pier or anchor at private buoy in front of cabin - Walk to Desolation Wilderness or Sugar Pine State Park
The house was located in a nice little neighborhood, about 100 yards from the lake. This house is in an ideal location for summer, but not necessarily for the dead of winter. The power went out the second night we were there and didn't come back on before we left (we stayed 3 nights). The fireplace was very efficient and the house was well insulated. There was no kindling or dry firewood (there were 5 logs that had been left in the rain) present when we arrived, which was an issue because 3 feet of snow fell that first night. I informed Quinn via text about the lack of firewood. He offered to have some delivered, but it never happened. I spent 3 hours digging out the next morning in order to drive to the store to buy wood. Snow removal was mentioned in the welcome binder provided at the house, but it never came. All the appliances in the house are electric except for the water heater, so when the power went out, we were in a tough spot. Luckily, the gas BBQ had a burner on it that we could use to boil water. If you're going to stay here in the winter, be sure to come prepared!
Nathan
2017-01-10T00:00:00Z
This place is a true gem for both winter and summer. Extremely spacious, well-stocked (everything from towels to firewood to sleds), and a beautiful view of the lake right from the living room. I was there for a winter trip and enjoyed the easy access to several ski resorts, but also made a trip down to the pier to see the lake. It's probably even more beautiful in the summer. It's secluded enough to make it feel like a getaway, but only a few minutes drive from a pizza place/bar, market, and a few other essentials. Quick excursion to Tahoe City/Heavenly/Squaw as well to see more of the surrounding area. Book this place you will be happy.
Andrew
2017-01-02T00:00:00Z
The description and the pictures provided understated the true beauty of the cabin. The location of the house was beautiful, only a minute walk to the dock. The size of the house was huge, three stories with plenty of space for all types of activities. The cleanliness of the house was absolutely spotless. The house was stocked with much more than we expected. There were literally blankets in every cabinet to keep us warm and towels for multiple showers for the entire stay. First off, the house had everything we needed. As I have already said, there were blankets and towels for everyone there. There was a kitchen to cook any meal you like a dining area to hold any feast. The living room had plenty of sitting space and the patio had a BBQ grill with a hot tub with beautiful lighting and even a mini waterfall. The house had wifi which was not great but who needs wifi when the house has so much other cool stuff to enjoy. The house has two TV systems setup with a bunch of board games if you want to play some board games. The basement has a bunch of sofas that can be used as pull-out beds which is a great hangout spot. There was a washing and drying machine that we did not use but was a nice addition. The bedrooms upstairs were absolutely gorgeous. There were two rooms with queen beds and one with a bunk bed. The lighting was sufficient and the beds were clean! As for the heating system, it was more than enough. The house is equipped with a heating system located in the basement and the top floor. In addition to that, there are also two fire places on the first floor and basement. There is an abundance of firewood outside to burn, which saved a lot of time. The thing that surprised me the most was the kitchen. Wow, it is more equipped with silverware, glassware, cooking ingredients, etc than my own house. The fridge was jammed pack with a bunch of cooking ingredients that was passed down by other renters. We left some of the extra things we purchased too, so is a pretty neat system. We had fun cooking up meals on the grill and in the kitchen. There is plenty of space to work as a team in the kitchen and plenty of space to feast up at the dinner table. As for Quinn, he was a great host. The only downside is that he is extremely busy most the time and his response time may be a little on the slow side. Rest assured, you will receive a response promptly, but do not expect him to pick up his phone the first time around. Overall, he was very understanding when a problem did come up and he is cooperative. He provided great instructions prior to our arrival and we had a awesome first time experience inside a cabin at Tahoe.
Raymond
2014-12-24T00:00:00Z
The Swiss Chalet was just perfect. It was in a great location (Close to the water, slopes, grocery store, and Emerald Bay.) We loved the place itself, so spacious and comfortable. I would be very happy visiting again. Quinn was very responsive, answering the phone right away and seemed genuinely interested in helping us in anything that could have come up. You feel comfortable and at home at this rental.
Vincent
2015-01-12T00:00:00Z
Quinn was very responsive. The house is great, it is well maintained and very clean, carpets are all new. It has a comfortable cozy feeling and the pictures are accurate. A few reasonably priced alternative to much more expensive hotels. Hot tub was a real plus. Located on a quiet part of the lake, there isn't any nightlife to speak of and few restaurants in the area.The area is a good choice for groups that want to cook most of their own meals. Great hiking above Eagle Falls which is about a 15 minute drive. Highly recommended.
mark
2014-06-11T00:00:00Z
Great place, had everything we needed for daily living. Wifi wasn't very great, which is good for a vacation but for directions was hard. Power died the last night, they had everything we needed to make it through
Joshua
2017-01-05T00:00:00Z
Quinn's place was exactly what the doctor ordered; the kitchen was fully equipped, the hot tub was the perfect size for our group, and the location was great (you can see the lake from the cabin!). The place was super homey with lots of blankets and couches.... The beds were really comfortable too! The private pier was fun to lay out at and with south lake just 30 min away we were close to many beaches, hikes, and activities.
Sanchita
2016-05-31T00:00:00Z
The rental was just what we needed. Plenty of room, we'll equipped and in a great location. Quinn was responsive and ensured the house was in great shape when we checked in.
Bharath
2016-03-28T00:00:00Z
Tipo de Quarto
Casa inteira/apto
---
Tipo de Imóvel
Casa
---
Acomoda
10
---
Quartos
Tahoma, Califórnia, Estados Unidos
Large home with hot tub, private dock, great outdoor space - right on the lake
Picture a place that caters to all your family's vacationing needs. From lively water activities and in-home amenities to the quiet serenity of a lakeside retreat. With plenty of space to entertain any impromptu festivity, the place you picture just feels like a home. Your home. And tucked away high above the west shores of Lake Tahoe, this home awaits. Just pick up all your supplies on the way, and get ready to hunker down for the length of your stay. An ideal home for families of all sizes, this 5-bedroom, 3.5 bath lake house combines all you love about Tahoe in just one place. Enjoy beautiful panoramic views of the lake and mountains from high on your perch. Tie up the water vehicle of your choice at the buoys right off your own private dock. Afterward, catch your breath on one of your balconies or porches, complete with breathtaking sightlines of the scenic nature all around you. But at some point, you will have to head inside. And you won't believe what you'll find. Let's start in your modern kitchen. Equipped with plenty of casually tabled seating and pristine tiled countertops, the whole family can get involved in preparing an evening's meal. Just don't get too distracted by your view from the sink, because those pots will need to be cleaned at some point. And the adults in your group can feel free to bring that special bottle of wine, as there is even a wine fridge to ensure you cork it at the perfect temperature. The 3rd-floor living room is where you'll be lounging lodge style, with rustic decor, soaring ceilings, and a cozy fireplace to increase the ambiance. As if it needed to be. A simple glance across the water from the telescope, you'll be left wondering if anyone has it better than your family right now. The formal dining area can comfortably seat about 6, but with your custom-made bench, probably even more. More is also the operative word when it comes to sleeping arrangements. From the expansive master bedroom with its exposed beams and ensuite bathroom to the carefully crafted bunk beds the kids will adore, there's no shortage of places for your entire group to rest. And that's because you'll need it. As the dock has a few kayaks. The game room has a pool table. The bar room has foosball. And you'll be sure to have a ball, no matter what activity you choose at Meeks Bay Getaway on Lake Tahoe.
Tipo de Quarto
Casa inteira/apto
---
Tipo de Imóvel
Casa
---
Acomoda
11
---
Quartos
Tahoma, Califórnia, Estados Unidos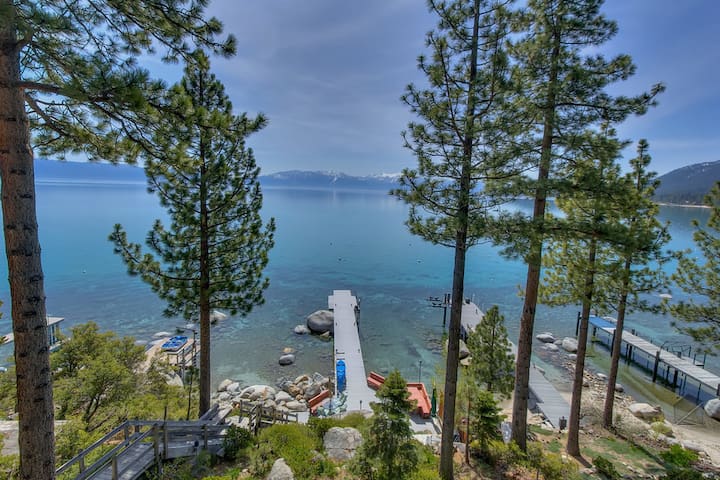 THIS PROPERTY REQUIRES 7 NIGHT STAYS DURING PRIME SUMMER MONTHS **PETS PROHIBITED** Amazing lakefront property with private pier and buoy (availability depends on sufficient water level)
Exclusive setting on Meeks Bay with panoramic lake views from almost every room. Lots of glass in this spawling ranch-style home featuring a stone entry with bench seats and coat closet, large kitchen with 4 island stools and indoor grill, back laundry room, spacious carpeted living/dining area with cathedral style ceilings, wood burning fireplace, audio/visual center, and sliding glass doors leading onto ample decks and stone patio. Master bedroom off living room with King bed, unobstructed window view of Meeks Bay across to Nevada and South Lake Tahoe, plus private full bath. Two full renovated mirror-image bathrooms in hallway with jacuzzi tubs, and back-to-back bedrooms with Single beds and sliding glass doors to deck. Great 4th & 5th bedrooms designed as a loft and den for the kids with each level featuring TVs, built-in bunk beds, 2 Single beds, a card table & more! Winter parking is only for 2. This house is located in Meeks Bay. WEEKLY RENTALS ONLY DURING PRIME TIME SUMMER. NOT AVAILABLE TO BOOK ONLINE- ALL RESERVATIONS MUST BE APPROVED BY HOMEOWNER 5 Bedrooms 4 Baths Max Occupancy: 12 West Shore House/Cabin BBQ: charcoal (summer) Beach: Private Beach Boat Facility: Yes Cable Package: Basic Cable Dishwasher: yes Fireplace: wood fireplace Garage: Carport High-End: Yes Internet: Yes Lakefront: Yes Laundry: Yes Pets: pets not allowed Pier: Private Pier Setting: Lakefront Town: Meeks Bay
Tipo de Quarto
Casa inteira/apto
---
Tipo de Imóvel
Casa
---
Acomoda
12
---
Quartos
Tahoma, Califórnia, Estados Unidos
IMPORTANT: So we may keep your Airbnb service fees as low as possible, we DO NOT include the 10% occupancy tax or the $50 property protection fee in the rent. You will need to pay the tax and fee after booking with Airbnb, when you sign Tahoe Luxury Properties' Vacation Rental Agreement. Airbnb will charge you for the rent, cleaning fee and their service fee; Tahoe Luxury Properties will separately charge you the 10% occupancy tax and $50 property protection fee. We hope you are pleased!
Enjoy a break from your hectic pace at Sittin' on the Dock of the Bay, a charming four bedroom lakefront with a detached guest house. Relax and enjoy the breathtaking lake views from the dining room or step outside to the white sandy beach and the HOA pier shimmering in the sun. The kitchen offers sweeping views of the lake while the scent of culinary delights drifts in from the adjoining kitchen. The master bedroom and family room take full advantage of the southern windows for prime sunrise views glistening over the mountains. Sittin' on the Dock of the Bay is a cozy and classy Old Tahoe home, that is sure to provide a wonderful vacation experience. So go ahead...set sail for your idyllic vacation full speed. Bedrooms: Bedroom #1: King Bedroom #2: Double Bedroom #3: King Bedroom #4: 2 Twins Bedroom #5: King - Guest House Additional Sleeping: Additional Sleeping: Two Twin Chair Sleepers in Family Room Upstairs - (best for kids) 2,200 square feet in Main house - 600 square feet in Guest House - 3/4 Acre Lot Beach Directly in Front of Home and to the Right is HOA Beach and kayaks are for owner's use only. Please note, no dogs are allowd on this beach Shared HOA Amenities: Pier, Beautiful Sandy Beach and Volleyball Court Hot Tub with Stunning Views Kitchen: Fully Stocked, Stainless Steel Appliances Living Room: Wood Burning Fireplace, Apple TV only (no cable access), Gorgeous Lake Views Family Room Upstairs: Pool Table with Ping Pong Table and Poker Table Converter, Flat Screen TV Guest House: Large Windows for Sunshine, Gorgeous Hardwood Floors, Stainless Steel Appliances in Kitchen, Flat Screen TV in Living Area and Master Bedroom in Loft, Full Bath, Deck Internet Garage - 1 space Pets Considered. Please Inquire. Prior Written Approval and $100 Pet Fee Required PER PET. Please note: dogs are not allowed on the HOA beach in front of the home. Sorry!
Minutes to Sugar Pine State Park and Ehrman Mansion with Sandy White Beach & Lengthy Biking & Hiking Trails (Forest Service Gift Shop & Wildlife Museum) Minutes to Chambers Landing for Restaurant Dining, Beach Access, Pier & Grill 5 Minutes to Meeks Bay Resort for Beautiful, Sandy White Beach, 2 Boat Ramps, Ski Boat Rentals, Canoe and Kayak Rentals, Guided Fishing Excursions (fishing licenses are available at the Meeks Bay General Store), Paddleboats, Water Toys, and Accessories 7 Miles to Tahoe City for Summer Farmers Market, Free Concerts, Beach Access, Truckee River Rafting, Shopping, Bike Trails, Restaurants
Beautiful view- comfortably fit our 11 person group
Isaac
2016-10-17T00:00:00Z
This property was even better than advertised! Perfectly located on the water with a beautiful beach and dock. The home and guest home were very spacious with excellent amenities. The jacuzzi has an incredible view over the beach and the outdoor deck is huge, capable of hosting plenty of people. Would recommend this location highly. Only downside is that it is about a 30 minute drive from South Lake Tahoe. But the seclusion is nice too.
Alain
2016-05-31T00:00:00Z
What more could I ask for... the property was in Rincon Bay with a gorgeous view of the treeline. Community was easy to get to and pictures were accurate. Instructions are neatly kept in a folder by the kitchen. Staff was attentive to emails and calls. Not shown in the pictures is a separate apartment. Amazing!
Gabriel
2016-05-09T00:00:00Z
stayed 2nd week of Oct. was very fortunate to have beautiful beach weather which you can't always count on in Oct. The main house was a perfect layout for our family of twelve. The convenience of walking down a few stairs to the beach was amazing, especially with children. Because of this, we only left the property one day. The kids and adults loved playing on the lake. The photos on the site show a few kayaks on the beach in front of the house which made me believe some of them went with he use of the house which they did not. They belonged to surrounding neighbors. Fortunately a nice neighbor offered for us to use theirs. One of the reasons i chose the property was for being able to kayak without leaving the beautiful beach we were paying for. The detached apt. is amazing and was perfect for a couple. The photo shows a wonderful outdoor fire pit which i envisioned doing smore's with our grandchildren. after i booked the property, i was advised that the fire pit cannot be used because of the drought. I understand why, but thought it would have been nice to disclose this info on the site or remove the picture. Over all we had a wonderful time with our kids and grand-kids.
Barbara
2016-10-12T00:00:00Z
My family enjoyed a great weekend in Tahoe. Amazing lakefront property! Steps away from the beach. Spacious home. Sleds for this kids to use on the snow hill next to the beach. Tons to do in the home- Boardgames, billiards, and ping pong. Kitchen was stocked with all of the cookware, utensils, and place settings needed for our meals. Separate guest house was a great space. The host was extremely accommodating and a pleasure to work with. Very smooth reservation process. I highly recommend and look forward to returning to Tahoe Luxury Properties!!
JR
2016-02-28T00:00:00Z
This is a beautiful home with unbeatable views of the lake and the mountains. In our opinion, it's the prettiest part of the lake. There was so much snow this year, the property looked very different from the pictures. The inside of the house is exactly what we expected from the pictures though. We were able to ski Homewood and Squaw Valley and sled at the house. It was a wonderful week with family.
Angie
2017-03-18T00:00:00Z
Tipo de Quarto
Casa inteira/apto
---
Tipo de Imóvel
Casa
---
Acomoda
12
---
Quartos
Tahoma, Califórnia, Estados Unidos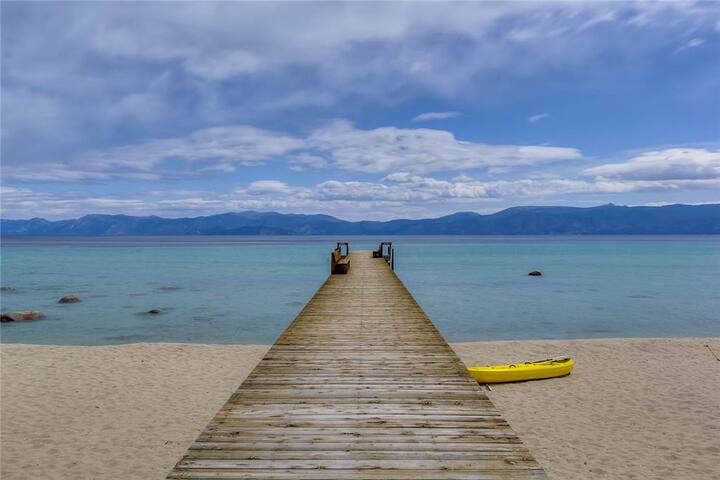 IMPORTANT: So we may keep your Airbnb service fees as low as possible, we DO NOT include the 10% occupancy tax or the $100 property protection fee in the rent. You will need to pay the tax and fee after booking with Airbnb, when you sign Tahoe Luxury Properties' Vacation Rental Agreement. Airbnb will charge you for the rent, cleaning fee and their service fee; Tahoe Luxury Properties will separately charge you the 10% occupancy tax and $100 property protection fee. We hope you are pleased!
In Emerald Shores, contemporary meets mountain to flawless effect in a design combining the sleek elegance of slate with the rich feel of leather and wool. From the outside, Emerald Shores resembles a classic Tahoe lodge. But step inside and descend the gently curved staircase and you are in for a surprise. Huge exposed beams frame the cathedral ceiling which appears to soar to the sky. A massive stone fireplace immediately draws your attention to the center of the room, reminiscent of the days when groups gathered around sharing the day's stories during apres ski back at the lodge. Oversized windows and doors welcome in crystal blue visions and majestic views to join you. With full southern exposure, Emerald Shores evokes images of indoor/outdoor living, with the sunrise joyfully greeting you in the morning and the moon illuminating barbecues and late summer nights on the stone patio in the evening. But nothing truly compares to the spectacular, clear emerald waters of Rubicon Bay. The lake glistens and sparkles like nowhere else. The warm, smooth sand invites the gentle waves up onto the shore, creating a union of emerald waters and sandy shores. Experience Emerald Shores. Bedrooms: Bedroom #1 King - Suite Bedroom #2 King - Suite Bedroom #3 Queen - Suite Bedroom #4 2 Twin/Twin Bunk Beds 4,500 Square Feet Stunning Lake Views 1 Buoy - NO Pier (Due to low water levels, the pier and/or buoy may not be available for use this summer. Please take this into consideration when determining whether to bring your boat.) Large Stone Patio with Hot Tub, Patio Furniture and Gas BBQ Sandy Beach and Lawn Area, Professional Landscaping with Perennial Bushes and Flowers Open Floor Plan with Soaring Ceilings, Slate Flooring, Hardwood Floors, Thick Custom Carpet, Luxurious Furnishings Great Room: 48" Flat Screen TV, Wet Bar with Counter Seating for 5, Stone Wood-Burning Fireplace, Impressive Views Kitchen: Granite Countertops, Oversized Center Island with Seating for 3, Stainless Steel Viking Refrigerator, 2 Ovens and Stainless Steel Appliances Impressive Circular Dining Table with Seating for 8 Family Room: 48"; Flat Screen TV / DVD, Game Table, Gas Fireplace NOT available for Use Upstairs Den: 32"; Flat Screen TV Master Bedroom: Seating Area, Large Master Bath with Over-sized Shower and Soaking Tub, Gas Fireplace NOT available for Use No Garage - Must park boat trailer at alternative location as the home is at end of cul-de-sac with no outlet - inquire about details) Many homes are pet friendly, however this specific home is not. Please inquire about pet friendly homes. High-Speed Wireless Internet Large, Sandy HOA Beach just down the street with Volleyball Court, Swim Raft, Shared Pier (a fabulous place to meet kids of all ages!) 5 Minutes to Sugar Pine State Park and Ehrman Mansion with Sandy, White Beach & Lengthy Biking & Hiking Trails (Forest Service Gift Shop & Wildlife Museum) Minutes to Chambers Landing for Restaurant Dining, Beach Access, Pier & Grill 5 Minutes to Meeks Bay Resort for Beautiful, Sandy White Beach, 2 Boat Ramps, Ski Boat Rentals, Canoe and Kayak Rentals, Guided Fishing Excursions (Fishing licenses are available at the Meeks Bay General Store), Paddle Boats, Water Toys, Moderate / Easy Walking Trails 5 Minutes to Emerald Bay and Vikingsholm for a Gorgeous Hike and Beach Experience - Also Access to The Pacific Crest Trail and Tahoe Rim Trail 15 Miles to Tahoe City for Summer Farmers Market, Free Concerts, Beach Access, Truckee River Rafting, Shopping, Bike Trails, Restaurants 20 Minutes to South Lake Tahoe for High End Gaming, Camp Richardson for Horseback Riding, Fallen Leaf Lake for Kayaking, Valhalla Theatre Events 5 Minutes to Homewood Ski Resort - a locals' favorite for incredible skiing/snowboarding with stunning lake views - (see photos in image gallery of trail map & views) - with parking lots just steps from the lifts, Homewood is a fantastic resort for families looking for the convenience of easy access to a mountain and great ski schools 25 Minutes to South Shore for Multiple Golf Courses, Upscale Gaming, Shopping and Restaurants
The house was as descirbed and beautiful
Jason
2017-02-04T00:00:00Z
Beautiful Home, Beautiful Location
Cheryl
2017-03-20T00:00:00Z
Tipo de Quarto
Casa inteira/apto
---
Tipo de Imóvel
Casa
---
Acomoda
10
---
Quartos
Tahoma, Califórnia, Estados Unidos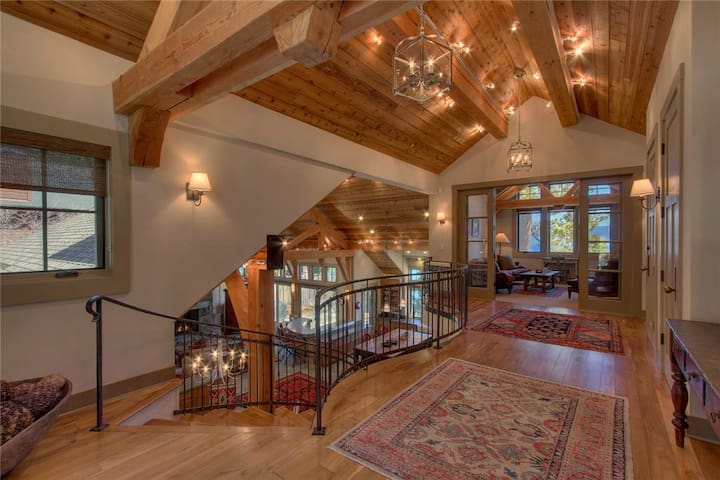 1

–

18

de

156 Casas para Alugar
Insira as datas para ver o preço total. Taxas adicionais aplicáveis. Podem ser adicionados impostos.