Nietzsche: "Rare things are for rare people". What I wish is a guest, who seeks more than just a bed for sleeping. We exchange culture and beliefs.
73 year old fully wooden house, surrounded by fields, breath taking views, never restored, but slightly changed, a place of tradition, colorful, charming, in nature, 20 min by bus from city of Lucerne, 15 min walking to the lake, 5 min to forest, free parking, no luxury, but unique, double bed of 1.60 m, a matt for a third person can be added, huge garden with hang matts, very quiet, we sleep with open windows, the owl calls at night, fox and storch are neighbours, birds singing you a night song and waking you up, the room is in the basment (no stair). We breed norwegian woodcats and have a young Labradoodle (dog).
The farm is family's property. The house is embraced by fields, trees. Neighbours are brother and father, fox, owl and rabbits.
Susanna ist einer aussergewöhnliche, humorvolle und herzliche Gastgeberin und wir haben mit ihr und ihrem Sohn einen sehr schönen Abend verbracht. Das Haus liegt in einer wunderschönen Gegend und ist auf seine Weise einzigartig. Es ist schon "in die Jahre" gekommen und es knarzt hier und da Mal. Was jedoch nicht weiter schlimm ist. Um das Haus herum schwirren die 8 Katzen von Susanna, die zwischendurch auch Mal ins Haus kommen.
Katharina
2016-08-21T00:00:00Z
Die Wohnung liegt in einer sehr ruhigen Umgebung, umgeben von der Natur. Eine wirklich entspannende Erfahrung :) . Susanna ist sehr sehr freundlich, nett und open minded. Es ist sehr angenehm mit ihr zu plaudern, oder zu chatten, oder diskutieren, oder die Gedanken zu austauschen.
Pietro
2016-08-03T00:00:00Z
The house is definitely located in a paradise, with all the spectacular views of the lake, the mountains and the forests. Nevertheless, it takes less than half an hour to get to the city center by a direct bus. And the house it self, made of wood and dwelled in by the warm family of cats, is just like what is told in fairy tales. The landlady is kind, friendly and humorous. We enjoyed our trip very well, and we really wished we could stay for more days in this place.
Haining
2016-08-22T00:00:00Z
Susanna was very friendly and even provided dinner for us at eleven o clock at night. The location of the house is beautiful if you are fond of quiet nature. There were many little cute cats running around and the house itself is very colourful and charming. There are lots of flies and mosquitos due to a riding farm besides the house though and she does not have a net in front of the window. Although there should be space for three people we had our problems being a couple on the mattress....The house itself is quite old and not well maintained and because of that smells a bit mouldy. By car you will get to Lucern in about 15 minutes, and there is a nearby trainstation, too.
Boemo
2016-07-27T00:00:00Z
By far the best AirBnB experience I've had so far, we booked and arrived late at night by motorcycle under a heavy rain, and Susanna waited for us under a pouring storm to make sure we'll found our way to her house in the dark, then offered the best to make us feel at home. Absolutely beautiful little house, colorful, full of live (including the cats), a perfect and comforting stop in our adventure. Susanna is really a great host, many many thanks and hopefully see you again some day !
Charles
2016-07-26T00:00:00Z
Das Ort Meggen ist unglaublich schön....von Susannas Haus ist eine wunderschöne Panorama....Susanna ist sehr offen und freundlich und hilfsbereit ...
Cristina Maria
2016-08-12T00:00:00Z
Susanna s place is just fabulous and she is the nicest host I had so far. The communication was very easy with her and in the evening, we had some nice dinner together as well as the one or other bottle of wine. She is the perfect example of what an airbnb experience is about. Her hosting competences are superb and her advices were fabulous. She recommended some marvelous walking tours as well. If you are considering going to this place, then just do it, if you are not, you should ;) see you next time Susanna!
Dennis
2016-08-17T00:00:00Z
Liebe Susanna Du bist eine wunderbare Gastgeberin. Hast dir Zeit genommen und mir einen sehr schönen Aufenthalt in deiner Villa kunterbunt beschert. Danke dir. Schade dass du aufhörst. Ich wünsche dir alles gute. Liebe Grüsse, Alex
Alex
2016-08-29T00:00:00Z
Tipo de Quarto
Quarto inteiro
---
Tipo de Imóvel
Casa
---
Acomoda
3
---
Quartos
Meggen, Luzern, Suíça
Unsere Unterkunft bietet eine tolle Bergsicht, einen sehr schönen familienfreundlichen Garten und eine ÖV Anbindung bis Bhf Luzern. Du wirst meine Unterkunft lieben weil die Sonne Dich morgends im Schlafzimmer weckt und sich am Abend beim Grillen im Garten von Dir verabschiedet. Die hohen Decken, das Kaminfeuer, der direkte Gartenzugang sorgen für wohlige Gemütlichkeit. Unsere Unterkunft ist gut für Familien (Sandkasten&Spielsachen sind vorhanden), Paare sowie alleinreisende Abenteurer geeignet.
Im Garten bist Du völlig ungestört und er ist von den Nachbarn nicht einsehbar. Du hast die Wahl zwischen 3 Aussensitzplätzen, welche abwechslungsweise den ganzen Tag besonnt sind. Im Garten wächst viel Obst und Gemüse, welches du gerne ernten kannst! Für Pianisten steht ein Klavier zur Verfügung und ein Grossbildfernseher versüsst das Abendprogramm.
Die Nähe zu Luzern, sowie die gute öffentliche Anbindung mit dem Bus sind sehr attraktiv. Gleichzeitig bist du aber auch schnell im Grünen. Der Wald liegt nur 5 Gehminuten entfernt und vor dem Haus führt ein sehr beliebter Spazier- und Wanderweg vorbei, auf dem du bis Küssnacht am Rigi laufen oder mit dem Fahrrad fahren kannst. In 200 m Entfernung befindet sich zudem ein grosser, attraktiver Spielplatz. Die Gemeinde Meggen hat zudem eine wunderschöne, alte, kleine Badi.
It is a great location, house is very nice with the open garden, house has all the amenities, rooms are very huge, going to Luceren is not a problem from there, bus runs every 20 min, perfect place for staying in central Switzerland.
Hemang
2016-09-26T00:00:00Z
Quartier calme . Tout parfait . Marc repond de suite aux attentes .
Edwige
2016-09-06T00:00:00Z
Staying at Marc's house is like a friend asking you to stay at his place. Don't expect any frills; just take it as it is. The house exudes a cottage like feel and is homely & comfortable. Whatever you need, you will probably be able to find, with a little effort. Marc is friendly and sincerely offers assistance and shares suggestions on how to make the most of your trip.
Richard
2016-09-19T00:00:00Z
Thanks Marc for hosting us. Really a beautiful house and well equipped & does have every thing a family would need to stay for few weeks.
sandeep
2016-09-14T00:00:00Z
시내에서 좀 떨어져 있는 조용하고 멋진 동네였어요.
Sera
2016-08-28T00:00:00Z
是个坐落在乡间的house,东西极其丰富,房主家有小baby,玩具很多,所以如果带孩子旅行这套房子非常合适。房东很好。我们开车去的,离琉森市中心十分钟车程,非常方便。
Han
2016-12-30T00:00:00Z
Tipo de Quarto
Casa/apto inteiro
---
Tipo de Imóvel
Casa
---
Acomoda
4
---
Quartos
Meggen, Luzern, Suíça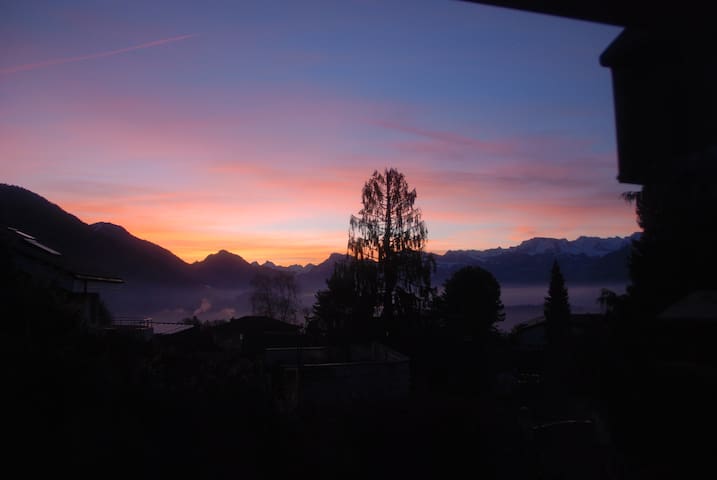 Quiet, bright rooms in a family house with a beautiful view of lake and mountains. 20m2 room with a nice balcony. Bus stop 3 minutes away. Parking available. Centrally located.
Views, hospitality
The mountains and the city of Lucerne are within easy reach.
Tipo de Quarto
Quarto inteiro
---
Tipo de Imóvel
Casa
---
Acomoda
2
---
Quartos
Meggen, Luzern, Suíça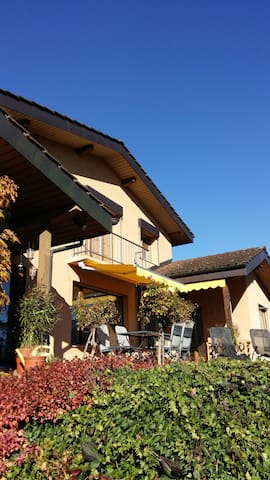 ..ideal auch für Familien mit Kinder. Wir vermieten in der Zeit zwischen dem 7. Juni - 27. Juli 2017 und in der Zeit zwischen 13.Dezemb(PHONE NUMBER HIDDEN).Januar 2018 unser Haus. Das ganze Haus ist Rauchfrei. Das Haus ist Rollstuhlgängig mit aussen und innen Lift, plus Dusche/Wc Rollstulgängig. !! keine Partys erlaubt!! Ruhezeiten im Quartier einhalten
Wir vermieten in der Zeit zwischen dem 7. Juni - 27. Juli 2017 unser Haus. und in der Zeit zwischen 13.Dezemb(PHONE NUMBER HIDDEN).Januar 2018. Unser Haus hat 3 Stockwerke, unten befindet sich der Keller, mit einer Waschküche (Waschmaschine, Trockner, Wäscheleine) die mit der separaten Untermieterwohnung geteilt wird. Vom Parkplatz zum Eingang befindet sich ein aussen Treppenlift. Im Eingang / Erdgeschoss befindet sich die Küche, Bad mit Dusche/WC (Rollstuhlgängig), Floor, Wohnzimmer, Esszimmer, Arbeitszimmer und Ausgang zur Terrasse. Im 1. Stock befinden sich 2 Schlafzimmer und ein Badezimmer mit Badewanne, WC und Lavabo. Bei der Treppe in den 1. Stock befindet sich ein Treppenlift. Während der dieser Zeit sind wir abwesend, die Schlüsselübergabe erfolgt durch unsere Mutter. Da 4 Katzen im Haushalt leben, die auch nach draussen gehen, ist es für uns wichtig, dass die Katzen 2 mal täglich gefüttert werden. Katzenfreunde willkommen! Das ganze Haus ist Rauchfrei. Wir sind ein junges Paar, eine Person im Rollstuhl, eine nicht. Wir sind in dieser Zeit auf Reisen, unsere Mutter ist für die Schlüsselübergabe zuständig und die Ansprechperson in dieser Zeit.
Stadtnah zu Luzern, 8 km.
Tipo de Quarto
Casa/apto inteiro
---
Tipo de Imóvel
Casa
---
Acomoda
4
---
Quartos
Ebikon, Luzern, Suíça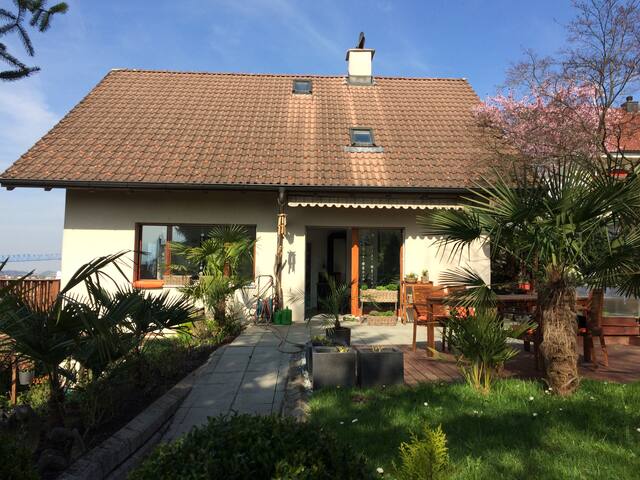 Die Unterkunft befindet sich oberhalb des Dorfes Vitznau an ruhiger und sonniger TRAUM-Lage. Sicht auf See und in die Berge! Von hier aus sind es ca. 5 Min. bis zum Dorfkern, wo sich die Geschäfte, Bushaltestelle, Rigibahn/Schiffsstation befinden.
Das Zimmer ist mit allem eingerichtet um sich wohl zu fühlen. Wasserkocher, Kaffeemaschine und Kühlschrank stehen bereit. Das Badezimmer samt Toilette befindet sich direkt neben dem Schlafzimmer und wird einzig von ihnen benutzt. Ein Willkommensgruss, ob in Form von Blumen, Süssem etc. ist selbstverständlich. Ein Ort der Ruhe, eine Oase der Meditation und der Erholung.
In 5Min. Gehdistanz zum Haus befindet sich die Bushaltestelle. Im Dorf, der Dorfladen der den Bedarf für ihr tägliches Nahrungsbedürfnis und vieles mehr abdeckt und weitere Einkaufsläden. Der Landesteg für die Kursschiffe , sowie der Bahnhof der Rigibahn sind leicht zu Fuss erreichbar. Restaurants und Hotels gibt es in diesem Feriendorf für jedes Budget . Teilweise unmittelbar am See gelegen und auf /am Berg .
Wir wurden von Judy und Pius herzlich willkommen geheissen und sofort über alles Wesentliche informiert. Wir genossen die gemütliche und wunderbar warme Unterkunft mit dem dazu gehörenden Gartensitzplatz sehr. wir schätzten die Einrichtung des Zimmers mit Kaffeemschine, Wasserkocher und kleinem Kühlschrank. Sehr praktisch war der Heizungsraum wo wir unsere nassen Sachen trocknen konnten. Herzlichen Dank für die schönen Tage! Jacqueline und Hanspeter
Hanspeter
2016-10-12T00:00:00Z
You can't ask for better hosts than Judy and Pius. Judy picked us up from the bay, with a warm smile. Made us feel at home. She gave us a tour around the village as well as useful ideas for day trips. She Made sure we have everything we need for a pleasant stay. Very friendly and attentive. The place itself is cozy, clean and functional. It's located at a short walking distance (3 minutes) from the local supermarket and transportation. During your stay here, you will have your privacy and peace of mind as if you just rented a small cabin by yourselves in mountains, only with a friendly neighbor. 24/7 hot water, central heating, good Wi-Fi, coffee, dishes and kitchen tools for a quick meal and a lovely garden table with a view to die for. Highly recommended for anyone who loves to hike or just chill up high in this magical area.
Asaf
2016-10-07T00:00:00Z
Unsere Tochter hat uns besucht und wir konnten die wunderbare Unterkunft von Judith und Pius für Sie reservieren. Die Gastgeber waren sehr zuvorkommend. Die Unterkunft ist sehr sauber und wie beschrieben. Ideal um sich vom Besuchsalltag zurückzuziehen. Danke!
Luis
2016-07-04T00:00:00Z
Judy was very helpful in helping us find the place (we rented a car and took a road from Brunnen that was closed - do not go there!) and accommodating us late in the evening. We liked the place and would stay there again.
Andriy
2016-09-29T00:00:00Z
One cannot find nicer hosts than Pius and Judy. Even though their house is so close to the boat/bus station, they picked us up and saw us off by car. Judy also kindly drove us around town to get us familiar with Vitznau. We had a very private room in their house with a self-contained bathroom. Pius and Judy had breakfast cereal, fruit, chocolate, snacks, juice and milk for us. This is the best experience I had so far with AirBnB.
Nancy
2016-07-07T00:00:00Z
Wonderful place to stay with a waterfall in the background and view of the lake from the patio. Very friendly, helpful and lovely host. I would stay again.
AUBREY
2016-05-20T00:00:00Z
Pius und Judy sind die wunderbarsten Gastgeber die man sich nur vorstellen kann. Gepaart mit der Rigi, dem Vierwaldstätter See und überhaupt mir der gesamten romantischen Örtlichkeit ein absoluter Traum. Ich komme sehr sehr gern wieder :-)))
Anne
2016-09-22T00:00:00Z
Judy nous attendait à l'arrivée du bateau et nous y a même reconduites le jour de notre départ ! Nous nous sommes senties très à l'aise : chambre confortable avec terrasse indépendante et petit jardin , calme , dans la verdure , donnant au soleil couchant . Très agréable pour l'été .
Roselyne
2016-06-23T00:00:00Z
Tipo de Quarto
Quarto inteiro
---
Tipo de Imóvel
Casa
---
Acomoda
2
---
Quartos
Vitznau, Luzern, Suíça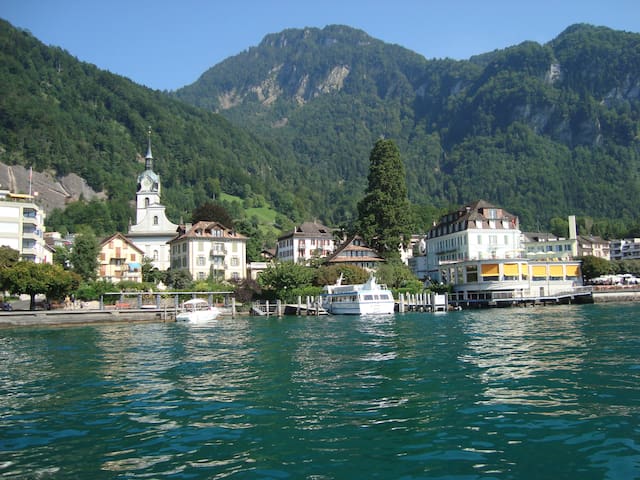 Bright room, space, countryside. Our room is situated in central Switzerland, between Zug and Lucerne, on a small farm in the beautiful countryside of Meierskappel. Easy to reach by bus (ca. 7 mins walking distance) or car. Suitable for Singles, adventurers, Businesstravelers
In your room you will find a single bed, a desk, a wardrobe (incl. clothes hangers), a kettle. We change your bedclothes and towels during your stay upon request. In your wet room you will find a fridge, a shower/toilet , towels, toilet paper and hairdryer at your disposal during your stay. Terrace with gardentable and chair. Private parking space in front of the house.
Tipo de Quarto
Quarto inteiro
---
Tipo de Imóvel
Casa
---
Acomoda
1
---
Quartos
Meierskappel, Luzern, Suíça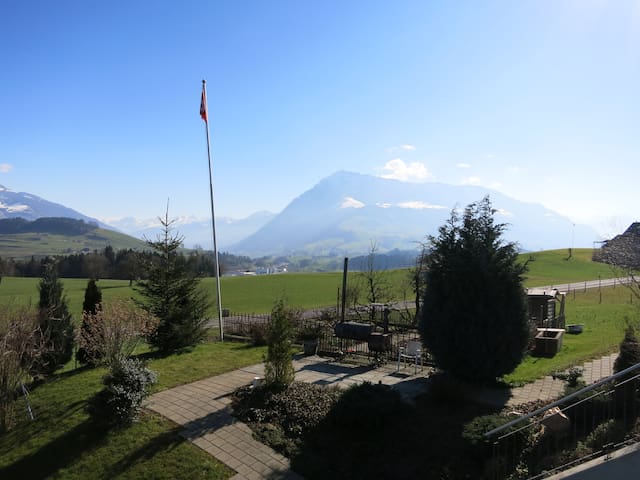 Modern, bright and comfortable guest rooms. Coffee bar and refrigerator. Nice terrace with great views.
New and modern double room (bed 160x200) with coffee bar and refrigerator. Bathroom with double vanity and large shower. Private garden terrace with great views of the mountains. Beware, the garden is not suitable for small children (pool, danger of falling). The room has a private access through the garden.
Our modern family home located in a quiet residential area with a slope and beautiful views and tanning.
Tipo de Quarto
Casa/apto inteiro
---
Tipo de Imóvel
Casa
---
Acomoda
2
---
Quartos
Adligenswil, Luzern, Suíça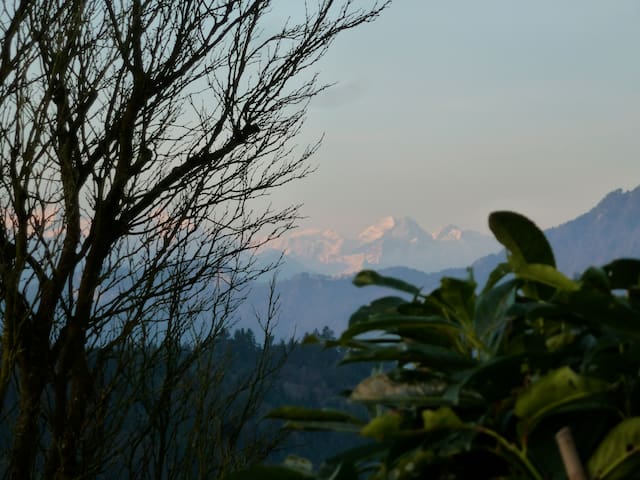 A professional holiday apartment on the sun-filled rooftop with a fantastic terrace, located on a quiet street within 20min walk to the main attrations like old town, kappel-bdg. Perfect for a family or small group. A free parking inclusive. Save & Enjoy Lucern in your own flat!!
It is a professional holiday apartment which is available only for tourists all year round. (which means any messy stuff from the owner won't be found in this flat:-)) An experienced housekeeper is in charge of cleaning the space, hence the standard for the hygiene and cleanliness of this property is very high. A cosy 2 bedroom flat on the sunny rooftop floor has a spacious terrasse overlooking Mt. Pilatus. The flat is suitable for 2 to max. 6 persons. The facilities are: -terasse -two Bedrooms (specially one bedroom with a new box spring bed!) -dining room -shower -wc -Kitchen
Just within 25min walk from our house, you can reach any lovely spots as tourists want to see in Luzern. Also there are good restaurants newly opened or changed around this area where the locals love. We also love to dine out, and will keep you informed!!
Had a great time in lucerne. Apartment was close to town and easy to find. Great communication. We even borrowed a cup of vinegar for cooking as owners live downstairs. 2 separate bedrooms was great and a separate shower and toilet. Everything was clean and lots of things provided for us to use. Coffee pods were a nice touch too. we were given a map and any help we needed. Safe area and parking out the front.
Christine
2015-11-15T00:00:00Z
Wir haben sehr gern in Tricia`s flat gewohnt. Es war sauber, gemütlich, stadtnah, mit sehr schöner Umgebungen genauso wie wir es uns gewünscht hatten. Jederzeit wieder!!!
Gudrun
2016-01-03T00:00:00Z
The host canceled this reservation 222 days before arrival. This is an automated posting.
CHANGHO
2017-02-21T00:00:00Z
Nice flat with a good situation (10min from city center). It is a calm place. We could even have accès to a parking Area which was really convenient ! Tricia is a person who welcomed us in a really nice way.
Anne-Flore
2017-02-22T00:00:00Z
Gemütliche und saubere wohnung mit toller terrasse! War alles wie beschrieben. Super!
Patrick
2016-07-26T00:00:00Z
Tricia's place is one of the best option for one visiting Switzerland with family and choose to stay away from cosmo city. House is spacious and to my surprise it even had some essentials stored like.. Soap, towel, oil, salt, etc. The view of the mountain was just great from the house. To say about Tricia, she was a wonderful host and a very prompt person. For me and my family, heating was a bit low and we felt cold in common area. Tricia s kind enough to explain how it works. Overall a good and memorable experience
Shobana
2016-05-08T00:00:00Z
Tricia's flat is very great! My family enjoyed a lot! It's so close to the bus stop that we could go to the city center and other sight viewings very quickly. The flat is big enough for my 7-persons family and quiet all the time. Tricia is very nice and provided us much helpful information on our visiting. I strongly recommend her flat to the ones who will visit Luzern. 房东Tricia的公寓非常舒适,很适合我们这样的大家庭。公寓宽敞、安静、便捷:离公交车站很近,很容易往返市中心和各个景点。房东人非常好,提供了地图和各种旅游信息,对我们帮助很大。强烈推荐Tricia的公寓给那些想来卢塞恩的旅游人士。注:建议请乘坐公交车抵达住处,瑞士山坡多,牵着行李箱步行抵达将是一件令人痛苦的事。
Lin
2016-08-19T00:00:00Z
Clean and close to the bus station, and by bus, only about 10 minutes to the train station, very convenient. Highly recommended for small group of people to stay.
Lin
2017-02-05T00:00:00Z
Tipo de Quarto
Casa/apto inteiro
---
Tipo de Imóvel
Casa
---
Acomoda
6
---
Quartos
Lucerne, Luzern, Suíça
Meine Unterkunft ist gut für Paare, Alleinreisende, Abenteurer, Geschäftsreisende, Familien (mit Kindern) und pelzige Freunde (Haustiere). Die Zimmer haben WLAN Verbindung. Ein grosses Badezimmer mit WC für meine Gäste. In wenigen Minuten bist du in Luzern. Gute ÖV Verbindung No 22,23, 26 No 7, 26. Einkaufsmöglichkeiten in der Nähe. Im Rotsee ist baden möglich. Es ist ein 1 und ein 2 Bettzimmer auf der gleichen Etage. Das Badezimmer mit WC ist für beide Zimmer. Es ist kein Appartement.
Die Zimmer haben WLAN Verbindung. Ein grosses Badezimmer mit WC für die Gäste. In wenigen Minuten bist du in Luzern. Gute ÖV Verbindung No 22,23, 26 No 7, 26. Einkaufsmöglichkeiten in der Nähe. Im Rootsee ist baden möglich. Es ist kein Appartement.
Ruhige Nachbarschaft
Romy was welcoming and easy to deal with.
clare
2016-07-20T00:00:00Z
Romy ist eine sehr nette und zuvorkommende Gastgeberin. Die Unterkunft ist klasse und es ist alles da, was man braucht.
Claudia
2016-11-01T00:00:00Z
Alles tip top gerne wieder
malli
2016-12-04T00:00:00Z
Très bon accueil, très propre dans un cartier tranquille.
Pierre
2016-06-24T00:00:00Z
Un hôte a notre disposition qui a su s'adapter à l'heure tardive de notre arrivée et qui nous a gentiment préparer un petit déjeuner pour le lendemain matin.
Jacky
2016-08-13T00:00:00Z
war einfach super
hubert
2016-09-27T00:00:00Z
The location was perfect to us. it takes just 10 minute by car from downtown of luzern. romy's house was antique and clean. if i visit switzerland again i would stay there.
EJ
2016-08-02T00:00:00Z
Ein sehr ruhiges Haus mit einer sehr netten, natürlichen + hilfsbereiten Vermieterin.
Jutta
2016-09-04T00:00:00Z
Tipo de Quarto
Casa/apto inteiro
---
Tipo de Imóvel
Casa
---
Acomoda
3
---
Quartos
Ebikon, Luzern, Suíça
This house has four bedroms and a diningroom with extra bed. There are two badroom available. A lot of nature is around the house and the house is near Luzern only 5 minutes walk to the busstation.
A nice house near to the nature and near to the busstation
Die Natur und die unkomplizierten Nachbarn.
Environnement rustique ; literie excellente, tout est dans un état irréprochable.
Anne
2017-01-27T00:00:00Z
Really enjoyed our stay. We were shooting a movie in the neighboorhood. Location is perfect.
Lucah
2017-02-13T00:00:00Z
Très bon séjour, logement bien chauffé en hiver! :)
Bruno
2017-01-22T00:00:00Z
First day we landed in Basel and came to Emanuel's place (visiting Rheine Fall + Coop grocery shopping) late in the night by 10:30 pm. Although it was too late than usual check-in time but Emanuel send his company's car to bus stop to pick us up. It was really a great gesture from his side since we were having 3 small kids and lot of luggage. Apart from small issue of WiFi we found everything as per promise. And the WiFi issue also he resolved by putting his personal machine to the apartment. On our request he bought new bigger cooking utensils because we were staying altogether 3 families. And on last day he personally visited us and said good bye with 3 nice box of wonderful Lindt chocolate (One for each family). We had Indian food together. And he dropped us till bus stop in his personal car. The house is located at very nice and calm place nearby biological farming area owned by owner of the house where he grows flowers. During our stay flowers were not bloomed but during june-july it must be very beautiful when they grow. So guests who will stay during that time will be blissful. Connectivity to Lucerne bahnhof is very good. Bus 1 can be found every 7-8 min 600m away from the house. Emanuel - Thank you for lending your house. You made the vacation nicer and beautiful. And I liked the way you live your life.
Manish
2016-05-13T00:00:00Z
15 mins bus journey is all it takes to reach Emanuel's place from luzerne central station. The house itself is very beautiful with all modern amenities. It was so clean and neat. Utensils are in plenty and kitchen is equipped with a dishwasher as well. Weather was so good that we didnt get the opportunity to use the heater, but Emanuel lit it up for us and we enjoyed the wood heating as well. Emanuel is a great host. Very prompt with the responses, respects your privacy and ll be there to help you at any time. The prices are very much reasonable and i will definitely recommend Emanuel's place to everyone.
MANOJ
2017-03-19T00:00:00Z
Emanuel is a great host. He left us our privacy from the start however popped by the second day to greet us and bring us homemade jam from his Trees in the garden:) The house is perfect for a big group, clean spacious and fully equipped with all you need to cook and relax after a long day skiing or hiking.
Alessia
2017-02-26T00:00:00Z
Everything was as described, very nice house, heating is very good. We were tree families with small children, there is nice forest just beside the house. Emanuel is very nice and helpful host. We really enjoyed our weekend at his place and I highly recommend it, especially for families.
Natasa
2017-02-05T00:00:00Z
Great location for family just that you need a transport to get to the house.
Arif
2017-01-06T00:00:00Z
Tipo de Quarto
Casa inteira/apto
---
Tipo de Imóvel
Casa
---
Acomoda
10
---
Quartos
Obernau , LU, Suíça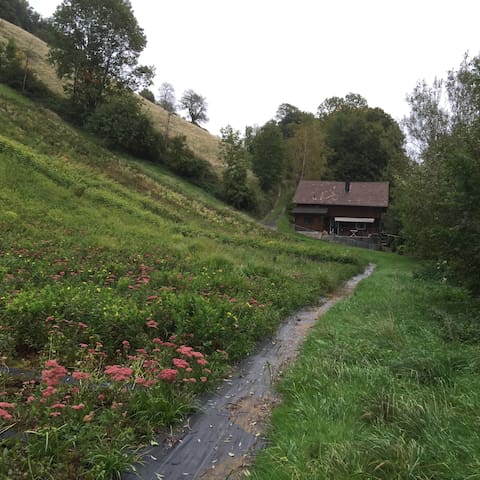 You live in a small, private Baroque house , idyllically situated on the edge. The center of Lucerne is easily accessible on foot . The house is ideal for 1 or 2 persons, with in all you need for an indipendent and calm stay (15 m2). Try it!
Du wohnst in einem eigenen kleinen Barockhäuschen, idyllisch am Waldrand gelegen. Das Zentrum Luzerns ist gut zu Fuss erreichbar. Vom eigenen Gartensitzplatz hörst du Vögel zwitschern und den Gütschbach rauschen. Ideal um Luzern zu entdecken oder ungestört ein Buch zu schreiben, zu musizieren oder ... In diesem liebevoll und professionell eingerichteten Ein-Raum-Häuschen (15 m2 Fläche) ist alles Notwendige vorhanden: bequemes Bettsofa für 2 Personen (140 cm breit). Mittels Leiter erreichbares Matratzenlager (4 m2) für weitere 2 Personen. Kleine, gut ausgestattete Küche. Ausziehbarer Esstisch für 2/4 Personen. Dusche/WC. Vom Gastgeberhaus unabhängiges Gästehaus, Gartensitzplatz mit Brunnen Je nach Bedürfnis der Gäste: wir können beste Tips und Insider-Infos für den Stadtbummel geben. Bushaltestelle in 3 Min. Fussdistanz
Unser Quartier ist sehr ruhig, aber nahe am Stadtzentrum. Alle Sehenswürdigkeiten Luzerns sind bequem zu Fuss erreichbar.
Karin was very nice and welcoming. The house is so charming and a great space. We felt very comfortable and at home here. If we ever return to Lucerne, we'd definitely want to stay here again.
Meaghan
2014-11-15T00:00:00Z
Très bel endroit original, très proche de la ville et en pleine nature. Nous avons passé deux belles journées à Lucerne et découvert de très bons endroits sous les conseils des très sympathiques M et Mme Simmen.
Rafael
2016-07-27T00:00:00Z
Ein stylisches, charmantes und sauberes Häuschen mitten in Luzern. Wir haben es absolut genossen am morgen vor dem Häuschen zu frühstücken. Die Karin war eine wunderbare Gastgeberin und Sir James(der Hund) war eine Freude.
SabinaAndTahir
2016-08-01T00:00:00Z
Karin's little cottage is the ideal place to stay in Lucerne -- it is a very easy walk into this very beautiful town - and though compact it is very comfortable with everything one could possibly need right at hand -- I was very very happy staying there and look forward to returning -- Karin could not have been more helpful --so very kind
Nigel
2016-08-14T00:00:00Z
Nice place to stay good shower! and nice area nearby the old town of luzern
Robbert
2014-01-24T00:00:00Z
Karin, Martin and lovely James are the amazing host, and the great architect, musician and designer! Sorry for the late review as we just finished our Europe honey moon trip for 3 days. This is the most memorable stay during the trip. The house are perfect, everything are ultimate new, clean and tidy, I would give 5 stars out of 5. This house fulfilled all our needs during the 2 nights stay. The location is wonderful, just few minutes walk to the city center. We don't need to take any transportation to train station even we have 3 big baggages. Karin recommend two restaurants as per our request, and both are tasty and in reasonable price. I wish I would stay in your house again if I will come to Luzern. This is our luck to meet your family and stayed in your house. Highly recommended!
Eric
2014-05-18T00:00:00Z
My husband and I stayed here for two nights and loved it! Perfect location, a short walk to the train station but in a very peaceful area. Use of kitchenette facilities was ideal. Highly recommend for your stay in Lucerne
Rachel
2015-09-25T00:00:00Z
The micro house was just like we expected and Karin and her husband were very friendly! We had everything we needed for our stay, they even had some fresh fruit, coffee and chocolates sitting out which was very nice. The house is very high quality and the details are amazing. The location is perfect, right up the street from downtown Lucerne. I would definitely recommend!
Laura
2015-09-28T00:00:00Z
Tipo de Quarto
Casa/apto inteiro
---
Tipo de Imóvel
Casa
---
Acomoda
2
---
Quartos
Lucerne, Lucerne, Suíça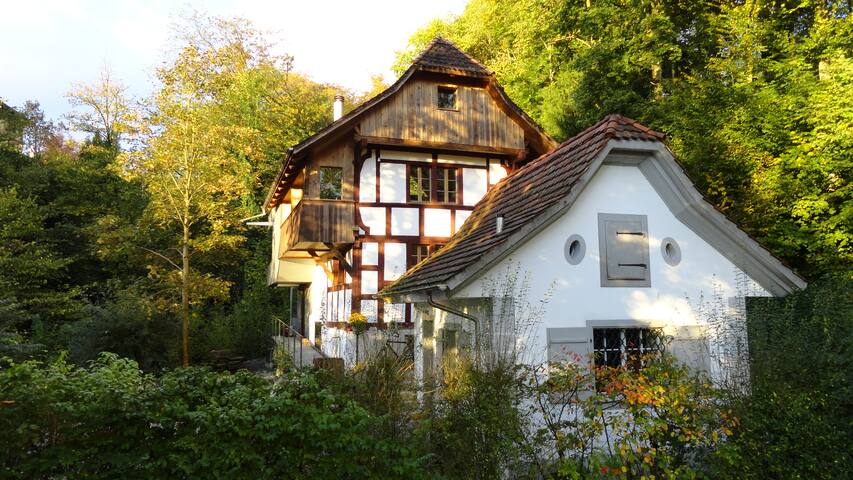 Room with separate entrance, TV, internet, refrigerator, coffee maker, kettle, no cooking facilities. Private access to the lake. (Vierwaldstättersee) Quiet location, yet close to town. As a starting point for excursions in central Switzerland the nozzle is 1 min to public transport connections, or 5-minute drive from the highway.
Daria is a great host and has an awesome place! She was not only kind enough to pick us up from the station, but helped us a lot in planning our trip. Her place is really beautiful and cozy. The room has a large comfortable bed, a nice couch and is very spacious. Both the room and bath are updated and very clean. The room is a short bus ride to the train station/city center. I would strongly recommend her place to anyone visiting Luzern!
Gaurav
2013-11-04T00:00:00Z
Daria's place was really nice and very comfortable! It has everything you need and feels very welcome. There even was a bottle of wine and some fruits and snacks when we arrived. We could use her bikes, which was very nice. And there was a really nice spot at the lake were we could sit and also a nice place in the garden to relax. I would recommend this room to everyone!
anke
2014-04-14T00:00:00Z
Great little place, the hosts were very helpful and welcoming. The bus stop was very close to the house which made it easy to get into town and on wards. The info packs that had prepared were very helpful. We would stay here again in the future!
Jessica
2015-07-18T00:00:00Z
This was a wonderful place to stay. Roland went above and beyond expectation. He even picked us up at the train station and showed us main roads to various points of interest. The wine, fruit and chocolate were the icing on the cake!
Jennifer Kessler
2015-06-29T00:00:00Z
We followed Roland's clear directions via bus from Lucerne train station to reach apartment in about 12 minutes. Quiet lakeside property, cozy clean bedsitting suite with large, modern bathroom. Microwave, coffeemaker, kettle and dishes made it possible to prepare light meals during our one week stay. Complimentary wine and fruit much appreciated, as was use of laundry facilities. Special thank you to Darja's daughter, Graziella and husband Thomas for their friendly welcome, their gift of Easter treats and making sure all our needs were met. We would definitely recommend this accommodation to others.
Malcolm and Lynne
2015-04-08T00:00:00Z
We stayed at Daria's place for a total of 3 nights and it was really the highlight of our trip. The location is great with a short walk to the bus system and the lake is steps outside your door. We loved relaxing in the clean and comfortable apartment. Daria was excellent at coordinating our arrival and was always available to answer any questions we had. The apartment is even better than the pictures provided, we will stay again on our next trip to Lucerne.
Nelson
2014-05-03T00:00:00Z
Very very pleasant room , clean and full facilities . The host family is very nice,kind and helpful. Location is just perfect 8 mins away from main station and attraction. If u r considering to stay at lucern , this room is perfect room to choose.
Wint Mo
2016-05-26T00:00:00Z
My family and I felt welcome since the first comunication with our nice host Graziella , communication was perfect she always respond in time , the room is cosy we felt as we are in our home from the begining as Graziella described every detailes and welcomed us , there is many amenities ,the bed is comfortable , it was one of the best places i ever stayed in , beautiful garden in the back where you can see the lake and in scenic area , i highly recommend Graziella place and if i have the chance i would love to stay there again.
Abdulmajeed
2016-06-20T00:00:00Z
Tipo de Quarto
Quarto inteiro
---
Tipo de Imóvel
Casa
---
Acomoda
2
---
Quartos
Lucerne, Canton of Lucerne, Suíça
Minha casa é perto do centro da cidade e transportes públicos. Você vai adorar a minha propriedade por causa do ambiente, a situação com vista sobre o Pilatus. Minha acomodação é bom para casais, viajantes individuais, famílias "Cradle livres" ainda, aventureiros e viajantes de negócios. Incl. café da manhã
Alles bestens!
Hans
2017-01-10T00:00:00Z
Sehr nett, viel Platz, sehr sauber, sehr komfortabel, in der Nähe des Bahnhofes
Marie-Louise
2017-02-14T00:00:00Z
Silvia's place was very comfortable and good if you want something more quiet. The beds were soft and comfy. My friend and I were only here for 1 night and left really early as we spent the next day in Mt. Titlis. Silvia was very nice and welcoming. The breakfast she made available to us was a great addition. Her dog was so cute too!
Silver
2016-12-28T00:00:00Z
Slyvia is really nice and the puppy there is so cute! The rooms are cozy and well equipped! Good choice for traveling in luzern!
Miranda
2016-12-24T00:00:00Z
We have a wonderful time in Luzern thanks to the the amazing host, Fr. Wej. We had the feeling of a home away from home. We were especially grateful that she was so kind and understanding with our 3 year old fellow traveller. .
Apeksha
2016-10-03T00:00:00Z
Alles sieht genau so aus wie auf den Bildern. Das Haus ist sehr heimisch, man fühlt sich richtig wohl. Alles war sehr sauber und bequem. Silvia war sehr nett zu mier und hat mich herzlichst empfangen. Das Frühstück am morgen war super, einfach nur toll! Gerne wieder! :D
Iko
2017-02-22T00:00:00Z
Silvia is a very nice host! She is quick to answer any questions and solve problems quickly. Her room is clean and tidy. And the heater is really good! She is also a good talker. Really enjoy my time with her. Hope to see her again!
xue
2017-01-21T00:00:00Z
She is very nice
Ck
2017-04-04T00:00:00Z
Tipo de Quarto
Quarto inteiro
---
Tipo de Imóvel
Casa
---
Acomoda
3
---
Quartos
Horw, Luzern, Suíça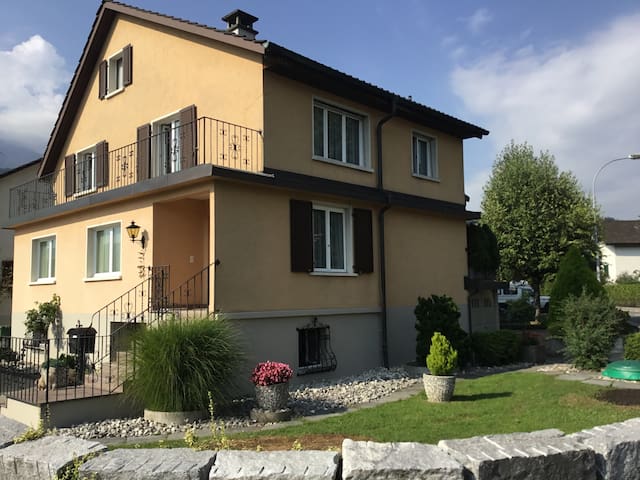 This beautiful and stylishly furnished villa in Lucerne city is a wonderful choice for families and groups alike. Spread out over two levels, everyone in your party will have plenty of space to relax.
There's a fully equipped kitchen, washer-dryer, free wireless Internet access etc. On the ground floor of Villa Celeste you will find a big entrance hall, a bathroom, the spacious kitchen and a capacious living room that invites you to relax, watch TV or dine. A queen size bedroom is also located on the ground floor. The first floor has three bedrooms (a queen-size bedroom, a queen-size bedroom with a single bed and the third bedroom with to single beds). Also on this floor there are two bathrooms with shower.
Villa Celeste is located in a uptown area of Lucerne city. Just footsteps away from the lakeside and all the touristic sights in Lucerne. You can reach the house arriving at the main train station of Lucerne either by taking a taxi (5-10 minutes) or by public transport (bus number 6, 8, to "Würzenbach/Verkehrshaus" in 8 minutes.
We stayed at Villa Celeste in Lucerne this March for four days and I can say without a doubt that it was our best holiday experience thus far!!! We were a group of 10 and were warmly greeted at the train station by Mr.Giuseppe and he kindly transported us in batches to the villa. The villa was just perfect! The location, the garden and impeccable interiors all added to what translated as One swell vacation!!! The lake is just 5 mins walk and bus stations in close proximity as well which makes it very accessible. We thank Mr. Guiseppe for this very memorable holiday for us and our family. Hopefully we will be back :)
priya
2014-03-30T00:00:00Z
Das Haus ist toll, war sehr sauber und alles nötige war vorhanden. Der Gastgeber antwortet sehr schnell auf Anfragen. Super Erlebnis!
Niklaus
2016-03-19T00:00:00Z
We loved staying at Villa Celeste! It's just a minute's walk from the lake and a playground, and an easy stroll along the promenade into the main part of town. The house is beautiful and well equipped, and we really enjoyed the lovely garden and view of Mt Pilatus. The house would easily sleep 8 people, and the sunroom is an especially lovely place to eat breakfast or dinner. A great place to stay in Luzern!
Amber
2015-05-12T00:00:00Z
The house is very big and beautiful, my friend passed a very good night!
Tianfan
2016-03-16T00:00:00Z
Giuseppe's place was really wonderful. A great place to relax and yet a walkable distance to the city center and the lake. Our stay was enjoyable and meeting Giuseppe was a delight.
Karina
2015-11-25T00:00:00Z
Giuseppe was very helpful before our arrival, providing information on the destination. The listing description was very accurate, I would say the actual house is even better than described, very comfortable,a lot of space, clean, very close to Lucerne centre. The house has everything you can think of, well equipped and enough space for 8 people. Giuseppe even organized parking for us from the hotel nearby, it is very appreciated. If I am going to Swizerland again, I will definitely stay with Giuseppe again.
Wendy
2014-10-24T00:00:00Z
어른 6명과 아이 2 명의 세 가족이 갔는데 정말 좋았습니다. 실내공간이 모두 넓직해서 유럽의 작은 호텔에 지내다가 오랜만에 편히 쉬었습니다. 주방에도 각종 도구들이 갖추어져 있어 편리하게 이용했고, 아이들은 정원에서 신나게 놀수 있었습니다. 저희는 렌트카를 이용했지만 시내에서 가까운 곳에 있어서 버스를 이용하기도 쉬워보였습니다.
선아
2015-05-03T00:00:00Z
Fantastic house, close to the city center! Giuseppe is really helpful. Totally suggest!
Jonathan
2015-12-18T00:00:00Z
Tipo de Quarto
Casa/apto inteiro
---
Tipo de Imóvel
Casa
---
Acomoda
8
---
Quartos
Lucerne, Lucerne, Suíça
In einem Mehrfamilienhaus im Herzen der Luzerner Altstadt befindet sich das lauschige und ruhige Gartenstudio mit moderner Küche und einem geräumigen Wohn-/Schlafzimmer mit privatem Badezimmer.
Das Gartenstudio steht ganz dem Gast zur Verfügung und hat einen eigenen Eingang. Die Unterkunft ist perfekt gelegen. In nur wenigen Minuten erreicht man Luzerner Sehenswürdigkeiten, wie zum Beispiel die historische Museggmauer welche sich hinter dem Haus befindet oder die berühmte Spreuerbrücke. Trotz der zentralen Lage ist das Studio sehr ruhig und man kann sich bestens erholen. Einkaufs-, Ess-, und Ausgangsmöglichkeiten sind ebenfalls nur wenige Gehminuten entfernt.
My 2-week stay in the studio apartment was very enjoyable. It is well furnished, in impeccable condition and with a modern kitchen and bathroom. In addition, it is located in one of the best areas of Lucerne for easy walking to major attractions, the train station, boat docks, food markets, etc. Also it is on a narrow, essentially pedestrian-only and leafy street, so thus provides great peace even in the heart of the City. Margrit provided me with much helpful information upon my arrival, and assisted me with the use of the laundry facilities elsewhere in the building and provided answers to any questions I had about other matters during my visit. I highly recommend the apartment as a fantastic alternative to a hotel experience, and I would definitely return.
Michael
2016-09-13T00:00:00Z
Lage und Ausstattung der süßen Wohnung sind perfekt. Es fehlt nichts. Wir wurden herzlich empfangen und Gioia war jederzeit für uns zu erreichen. Bei einem nächsten Mal wünschen wir uns besseres Wetter, um die lauschige Terrasse genießen zu können...
Marie
2016-09-18T00:00:00Z
We've been in Lucerna for two days, the house of Margrit and Gioia was perfectly furnished and very well located, I hope to come back there!!!
Giuseppina
2015-09-01T00:00:00Z
Convenient location just outside the city center. Walkable from the train station and on a quite street. Hosts provided us with good information on what to do during our short stay.
Matt
2016-09-14T00:00:00Z
Everything was as expected. Great location, nice and neat unit.
Ivan
2016-11-21T00:00:00Z
Great location, just ideal for short trip to Lucern.
John
2016-11-05T00:00:00Z
We really enjoyed our stay here. The place is really good and has everything you might need, also very relaxing and comfortable! The kitchen is well equipped and big enough to make a nice meal in it. The location is great too, an easy 10min walk from train station and close to everything in the old town of Lucerne.
Kate
2016-10-22T00:00:00Z
Wonderful stay! The apartment is great and it's in the best location! The accommodation is bigger than it looks in the photos and has a nice kitchen and lovely bathroom. The bed is very comfortable. It was spotless and has it's own outside area to sit in. It's in a lovely character building too. The location is what makes it stand out though - it's a 3 minute walk to the heart of the old town (and a supermarket which is very handy). Margrit was lovely and gave us great information for exploring the area. Wifi was fast and the washing facilities handy. I highly recommend this place - and Lucerne!!
Michelle & Bill
2016-06-20T00:00:00Z
Tipo de Quarto
Casa inteira/apto
---
Tipo de Imóvel
Casa
---
Acomoda
2
---
Quartos
Lucerne, Luzern, Suíça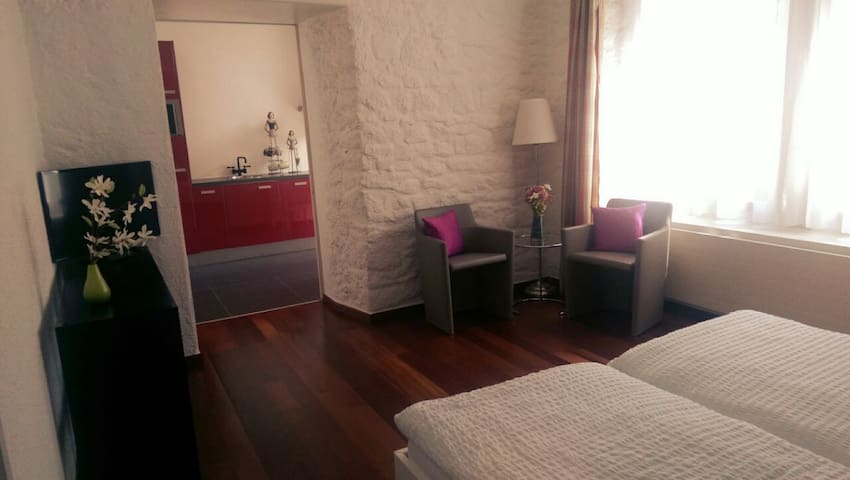 300m Fussweg zum Vierwaldstättersee, 2.5km zu den Schiffstationen Weggis und Vitznau. Die Wohnung ist geht über 2 Etagen und bietet eine fantastische Sicht. Du kannst Dich in der ganzen Wohnung (120qm) frei bewegen, also incl. Küche, WC, Dusche, Wanne, Waldgrundstück, Terrasse, Wohnzimmer usw.
Die Terrasse kann benutzt werden und bietet eine unglaubliche Aussicht auf See und Berge.
Hinterm Haus die Rigi (Königin der Berge), rechts der Pilatus, gegenüber hinterm See das Skigebiet Klewenalp, links der Wald. Mittendrin - DU!
Tipo de Quarto
Quarto inteiro
---
Tipo de Imóvel
Casa
---
Acomoda
1
---
Quartos
Weggis, Luzern, Suíça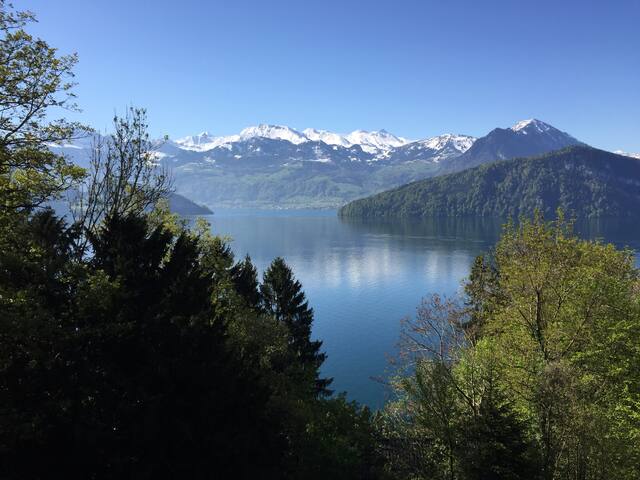 The top floor of my house, comprising 2 bedrooms with twin beds + an additional queen size bed, suitable for max 4 adults and 2 children up to 12y. the floor is featuring 1 private bathroom with jacuzzi. Kitchen, living, etc. are shared amenities. Please check my other listings for smaller or bigger parties.
Ze House is situated in a quiet, residential area in the Lucerne suburb of Adligenwil, a 10 minutes' car- or a 14 minutes' bus ride from the city center. Since on a slightly elevated sited, Ze House is suitable for guests traveling by car, coach or taxi. People traveling by public transportation will find more convenient accommodation at one of my other listings next to the bus stop in the center of the village.
Guests will appreciate the location of Ze House for its peace and tranquility, being set in a natural, green environment with great views of Mt. Pilatus and Mt. Rigi, yet having the city center nearby. Lots of amenities, such as a big supermarket, several restaurants, children's playgrounds, public transportation etc. are found within minutes walking only.
It was a wonderful experience staying at Ralph's apartment. The place is really nice especially when you talk about the scenic beauty. A good place to stay in Lucerne. Definitely recommended.
Akshay
2015-09-25T00:00:00Z
Ze house was really beautiful and nice. There was great view on the terrace. Ralph was a great host and cool guy. And Jiwa was such a cute dog who loved my baby daughter even though my two years daughter was a little bit scared about her coz Jiwa was really too big to my daughter. LOL.....if you stay in the Ze house, you will never regret your choice, trust me!
Yu
2015-11-21T00:00:00Z
Ralph was a great host for our family during our short stay in Switzerland, when we arrived later than expected, he even got some supplies at the supermarket for us! Great views, great location, great host, would recommend staying here! :)
Jane
2014-06-17T00:00:00Z
We loved Lucerne, friendly people & a lovely clean city. Stayed in the loft at Ralph's accommodation nice and clean, friendly host. Ralph even whipped us up a nice feed and shared a drink & a laugh with us. Accommodation is in an excellent proximity to the heart of Lucerne & public transport was a dream to use. Just remember bus #73.
Kim
2014-09-01T00:00:00Z
The host was nice , he pick us up and send us to bus stop. His place was as described.
Min
2015-12-16T00:00:00Z
Ralph was very detailed in his explanations of his place and all the use of the different facilities. He's very well Organised and everything was wonderful! He even went the extra mile to show some Swiss love with an authentic fire in his fireplace. Jiwa was also a sweetheart to have around :)
jessie
2015-12-12T00:00:00Z
Great experience. Ralph was very friendly and helpful with everything we needed. Kids friendly. Great location and view. Would definitely go back.
Jenny
2015-12-20T00:00:00Z
We had a wonderful time at Ralph's place . He was an excellent host and was very helpful in guiding us and giving us suggestions about our trip there. The house has stunning views and the surroundings are breathtaking .Public transport is easily accessible as well .
Sarvesh
2014-09-27T00:00:00Z
Tipo de Quarto
Quarto inteiro
---
Tipo de Imóvel
Casa
---
Acomoda
6
---
Quartos
Lucerne, Suíça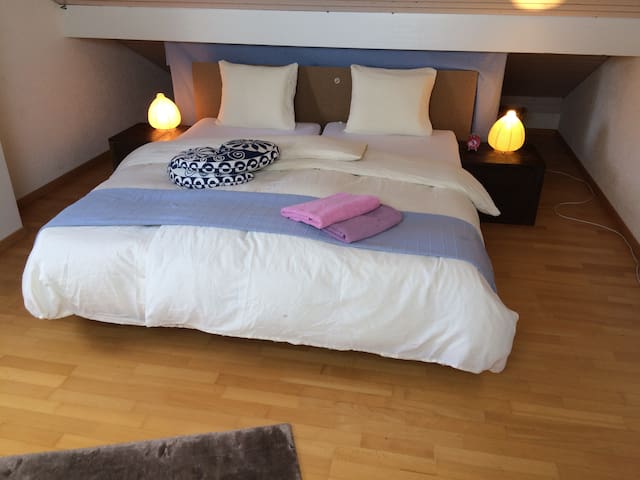 private room with washbasin - single bed bathroom, seperate toilet, kitchen, dining, lounge, outside patio to share monthly rent possible too 5 minutes' to SCHINDLER, MALL of SWITZERLAND, M-PARC, Ebikon center, Bus/S-Bahn close by, 7 km to LU and hospital
This private house is situated slightly up the hill with nice views over the Rontal and towards Lucerne. Its very central to Ebikon and public transport (Bus 23/22 + train station). Yet it's a quiet residential area to relax in the lovely garden around the house. You reach the centre of Ebikon with many shopping facilities and public transport by foot. Wanna do some hiking? Just start in front of the door steps and explore the area. Besides your room you have access and use of kitchen, dining, lounge area, bathroom, seperate toilet, laundry, outside patio, garden. Your private room consists of 2 smaller rooms (+/- 15 m2 in total) interlinked with a door. There is a wash-basin in the room. In the laundry there is a washing machine which can be used for a small fee. There are 1-2 other people staying in this house.
Das Haus liegt in einer ruhigen und erhöhten Wohnlage mit Aussicht auf die Umgebung. Zum Haus gehört ein schöner Garten mit Feuerstelle und gedecktem Sitzplatz, welcher zum Verweilen einlädt. Im Garten können schöne Sonnenuntergänge mit einem Sundowner genossen werden.
Host was promptly available and very welcoming upon arrival. Room was spacious and clean.
Gary
2016-07-01T00:00:00Z
Everything was as advertised. Amin was good host! I would return.
Lynne
2016-05-30T00:00:00Z
Tipo de Quarto
Quarto privado
---
Tipo de Imóvel
Casa
---
Acomoda
1
---
Quartos
Ebikon, Luzern, Suíça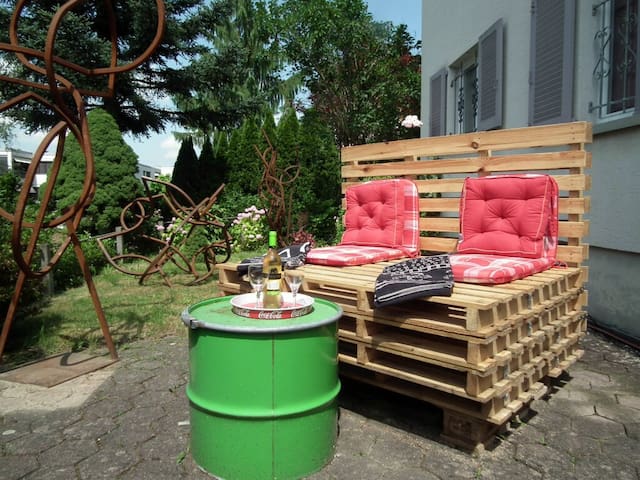 Meggen - Airbnb
:
Média de

4.87

de

5

estrelas, de acordo com

766

avaliações de hóspedes