Beside Moncton hospital. Exceptionally clean, quite, free parking, full kitchen, Fiberop TV with NHL Center ice. Free gym membership 5 min drive away. Entire unit has been newly renovated.
All renovations done in the past year. furniture is clean and new. Bathroom is a newly renovated 4 piece bath with full tub and shower. Free parking
Great neighborhood that is close to everything. Trinity Shopping center is 5 min away that has all stores. Shoppers drug mart is a 5 min walk from house. Hospital is on the next block with a Tim Hortons in the lobby.
Bright, clean, and comfortable. I would stay here again.
Dawn
2017-03-24T00:00:00Z
Amazing stay. Very private and clean. Would highly recommend!!
Jordan
2017-03-11T00:00:00Z
Jeanette's place is perfect for a couple or single traveller wanting a weekend stay in Moncton. The suite was very comfortable.
Roisin
2017-03-05T00:00:00Z
Jeanettes place was very clean and tidy. She met with me at the confirmed time and gave me the key to the apt.
Elaine
2017-02-06T00:00:00Z
Clean, perfect place for a couple. Kitchen has all the basics!
Sylvie
2017-03-19T00:00:00Z
Tipo de Quarto
Casa inteira/apto
---
Tipo de Imóvel
Apartamento
---
Acomoda
2
---
Quartos
Moncton, New Brunswick, Canadá
Great space for 1 or 2 to spend the night and not a fortune. There is room for 4 with the queen sized air mattress provided. Kitchen including fridge, stove snd sink. There is parking for 1 vehicle available onsite and an additional spot just around the corner.
Newly renovated with hardwood flooring, kitchen sink and cabinets, new toilet, vanity and shower, new queen sized bed with storage drawers underneath, new kitchen cart, new paint throughout. You won't be disappointed. There is a new queen sized bed for two and there is a queen sized air mattress if needed. Coin operated laundry is available onsite. It is shared with tenants but I've never had an issue of availability.
Quiet street close to downtown and local theatres.
Great value for money. A short 10 minute walk to downtown restaurants.
John
2017-04-01T00:00:00Z
Tipo de Quarto
Casa inteira/apto
---
Tipo de Imóvel
Apartamento
---
Acomoda
4
---
Quartos
Moncton, New Brunswick, Canadá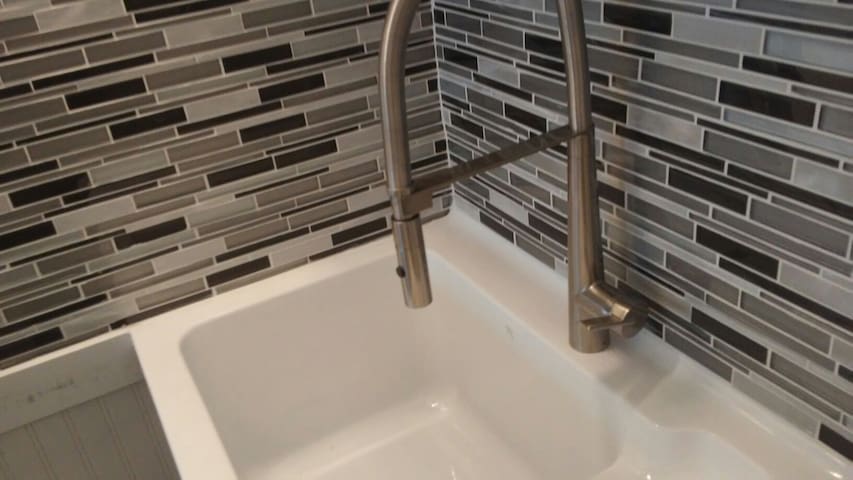 My house is located close to downtown Moncton and 1km from Wheeler Blvd. allowing you access to every location you may want to visit. You'll love the quiet setting and the view being a water front property on the Petitcodiac River. The upstairs east wing of the house is all yours, a private bedroom and private bathroom await your arrival. Smoking is permitted outside or in the 3 season room. House is "friendly" as well so book now and start enjoying the peace and quiet.
Quiet stetting close to downtown and all amenities, you'll absolutely love this place. Guest quarters are located in the east side of the house upstairs with its own private bathroom. You'll have your choice of either health sheets or bamboo sheets, towels are provided as well. Guests will have access to the theater room to watch what ever programming you like on the big screen.
Terry's home was an exceptional place to stay. Though I only stayed one night it was worth the commute. The pictures depict Terry's home with accuracy. He was polite, generous and inviting. I would definitely recommend staying here.
Kat
2017-01-26T00:00:00Z
Tres bien
Simon
2017-01-30T00:00:00Z
We just needed a place to lay our heads for the night- but Terry's place turned out to be more than we could've expected. Terry offers a private wing of the house in which he lives. It includes a private bedroom and beautiful modern washroom. We thought we were going to call it a night early- however, after a tour from Terry, we decided to take in a movie in his awesome basement theatre. Terry even joined us for the second half of the movie after firing up popcorn in the vintage popcorn machine! It was a cool experience we didn't expect, but really made our stay special. Terry was a superb host who gave us our privacy, while at the same time being great to chat with. I'd highly recommend this to anybody visiting Moncton. It's close to both the casino as well as downtown. Thanks so much Terry!
Josh
2016-12-04T00:00:00Z
Our stay was perfect. Terry is a very nice host, who will do anything to make your stay better. The (bath) rooms were great, the movie theater experience was one of a kind and the fact that terry was always in for a talk made it an unforgettable experience. We would recommend this to everyone going to Moncton.
Lars
2016-11-02T00:00:00Z
Terry was a great host! He has a wonderful quaint home that is perfect for a stay! The hot tub and theatre room add extra relaxation time, and the private upstairs for guests was perfect. Terry was great at letting me putter in the kitchen, share a meal, and chat. He was gracious in offering suggestions and help in my exploring the area in Moncton. I had all I needed, comfy great bed, private bathroom and I felt like it was my home away from home.
Donna
2017-01-06T00:00:00Z
Terry was a very gracious host. He is friendly and personable. His house was very clean, and we loved how private our accommodations were - We had the whole east wing to ourselves with a private bathroom. we had a comfortable bed, and he provided everything that we needed. His theatre room was really cool with a huge movie selection of all the latest movies and shows (and an old school popcorn maker!) Overall, you definitely get more than what you pay for with Terry. We felt safe and comfortable in this beautiful water front home. Also super close to downtown Moncton and a 30 min drive to the hopewell rocks :)
Effie
2016-10-09T00:00:00Z
Our stay at Terry's place was brief but very pleasant. Although we arrived late due to weather delays, Terry was extremely accommodating. He is very personable and easy to talk to. Even made us coffee in the morning! His home is beautiful, and in such a pretty location. The rooms were spotless and the bed so comfortable. Never got a chance to use the hot tub or theater room, but looking forward to checking them out next time we are back in the area!
laura
2016-10-10T00:00:00Z
Terry was very friendly and welcoming for my stay. The house was extremely neat and tidy, and it was wonderful having my own area with a bedroom and bathroom. Bed was so comfortable! Would stay again & would recommend to anyone.
Janine
2017-01-27T00:00:00Z
Tipo de Quarto
Quarto privado
---
Tipo de Imóvel
Casa
---
Acomoda
2
---
Quartos
Moncton, New Brunswick, Canadá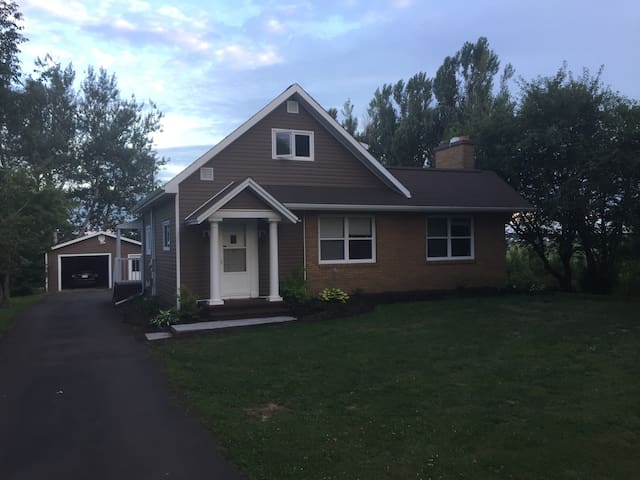 Lovely home in a nice neighborhood situated directly across from the Mapleton Nature Park. We are minutes away from all major attractions in and around Moncton (Casino, Magnetic Hill, Tidal Bore, etc). We are close to restaurants, shopping and public transport. You'll love our place because of its central location and the comfortable, warm ambiance. Our place is suitable for couples, solo adventurers, business travellers, and families of four.
The first bedroom is 9' x 12' with a queen size bed, closet and dresser. The second bedroom is 10'' x 12" with two double beds, closet and dresser. The washroom is a full bath with shower. All beddings, towels and bath soaps are included. The foyer area is equipped with a quaint breakfast corner for serving morning coffee, tea, juice and a light breakfast. The living room is equipped with plush furniture, reading lamps and a propane fireplace available for use during the cold winter months.
Our home has a cozy and comfortable ambiance with central heating and air conditioning and a propane fireplace for cozy winter reading. You can walk out the front door and find yourself in the Mapleton Nature Park for your morning walk or run, or even a bike ride.
Janice's home was beautiful, clean and organized, there was ample parking and plenty of privacy. She provided us with a beautiful breakfast, and great company. The location of the home is within walking distance to many restaurants and shopping, and located close to the nearest highway for easily accessibility out of the city. Janice took extra care to make my daughter feel welcome. We would recommend to anyone travelling as a couple, alone or with young children.
Tesa
2016-12-01T00:00:00Z
Janice was a great host, their house was very clean, comfortable beds, and access to the living room. Their place is close to shopping and easy access to downtown. Janice makes great homemade soaps too which you can buy from her. I would stay there again.
Liette
2016-11-18T00:00:00Z
Excellente expérience. Comme une seconde famille. Janice est très prévenante. Excellent petit-déjeuner. Super bons tuyaux sur les choses à faire et à visiter dans les environs. Maison très bien tenue.
Thierry
2017-02-13T00:00:00Z
Janice et son mari sont des hôtes très accueillants et disponibles . Attentionnés et soucieux de recevoir leurs invités dans les meilleures conditions possibles . La maison est d'un grand confort et décorée avec goût. Le quartier est très calme facile d'accès avec parking gratuit. Wifi à disposition très utile . Le coin petit déjeuner très appréciable avec la possibilité de le prendre en terrasse et d'autant plus très copieux. Adresse incontournable à Moncton
Joël
2016-09-22T00:00:00Z
Janice wasn't there the night we stayed at her house, but her husband was a very friendly host. The house and our room was very clean,the bathroom as well. The breakfast was the perfect way to start our day:) so, all in all we had a great stay!
Lea
2016-10-29T00:00:00Z
Janice and her husband were great and very helpful. The house is beautifully decorated, the bed vey comfortable and it is a quiet place. The breakfast were very appreciated and I would recommend the place for people who look for comfort and quietness
Michel
2017-02-04T00:00:00Z
This was just what we needed for a place to rest in Moncton.
Tim
2017-02-25T00:00:00Z
Belle maison très propre avec des hôtes accueillants. Nous recommandons ce lieu pour toute personne souhaitant de la tranquillité.
Melanie
2016-11-11T00:00:00Z
Tipo de Quarto
Quarto privado
---
Tipo de Imóvel
Casa
---
Acomoda
4
---
Quartos
Moncton, New Brunswick, Canadá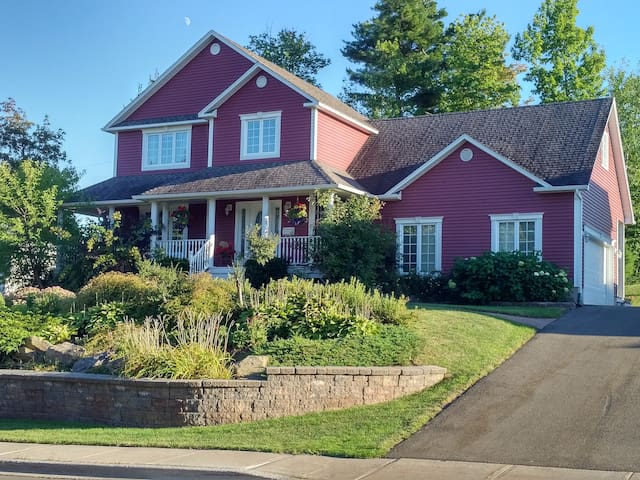 Best location in Moncton!! FREE PARKS CANADA PASS! Free Parking, Free WIFI! Just off main street, you'll be walking distance from major bars, restaurants, theatres, shopping, groceries and transit! It's the perfect place for couples or small groups to visit Moncton and experience our vibrant culture or use it as a hub to explore the beautiful national parks of New Brunswick!With a fully equipped kitchen, bathroom, laundry and everything else you might need, it's the perfect home away from home.
Welcome to downtown Moncton! Our cozy 1 bedroom apartment is located on the ground floor of a small 6 unit building just off main street in a quiet spot. We have a beautiful open concept living room that flows into our fully equipped kitchen that has everything you need to make yourself a nice meal. Our bedroom has a dresser which will have lots of space for your things and a VERY comfortable queen sized bed with a memory foam mattress! (We LOVE sleeping) Our bathroom is fully equipped with everything you need from towels to soap and shampoo, we even have in suite laundry! It's the perfect spot for a couple or small group of friends to stay and enjoy the city, walking distance from the mall, all major restaurants and bars, the capitol theatre, the tidal boar and so much more!
We're located just off of main street, stumbling distance from The Pumphouse, the keg and less than a 5 minute walk from the rest of the great bars in Moncton. Tons of local restaurants, coffee shops, yoga studios, farmers markets, parks, vehicle rental spots, walking trails and more just a stone's throw away from your front door!
Charmand endroit au centre ville de Moncton. Proche de tout, tranquille et très bien acueilli a notre arrivé. Ne pas hésité!
Hugues
2016-08-09T00:00:00Z
This was the perfect location for me during my week in Moncton.
dianne
2016-07-30T00:00:00Z
We had such a nice time staying in Marcel's apartment this past weekend. It fit our needs perfectly and was so close to the mall, the superstore... And just steps away from some nice restaurants! The way Marcel communicated with us was very professional. He was quick to respond and even sent a nice document through email giving us more details. His neighbour Caroline was very sweet and hospitable! Oh and the bed- was s(PHONE NUMBER HIDDEN) comfortable!!! Lol Thanks Marcel for sharing your place with us!!
Alex & Elise
2016-08-08T00:00:00Z
The place was accurately described. Right in downtown. Perfect for our little family. We did a late check in with no problems. Marcel was away so his neighbor Josephine took care of us. Excellent communication and flawless check in check out. Recommended!
Prabuddh
2016-08-15T00:00:00Z
Marcel's place was great and in a great location. The bed was very comfortable and the kitchen had everything we needed. Both of his neighbours were very friendly and helpful, and I really appreciated all the details that Marcel provided in advance.
Kari
2016-08-13T00:00:00Z
Marcel's apartment was a great place to stay during our night in Moncton. Eveything was clean and in order, and the location was perfect. Also, the welcome document he sent me before my arrival was very useful. Thank you for everything!
Diana
2016-07-31T00:00:00Z
Even though we haven't met Marcel directly as he was on vacation, he was very communicative and sent all the necessary information to get us in, including some recommendations for the Fundy Bay Park. The place was very clean and agreable with all the amenities. The apartment is also very well located next to Main St.
Pascal
2016-08-02T00:00:00Z
We really enjoyed our stay at Marcel's place, it was the perfect apartment for us! Marcel replied very fast when we were first messaging. He sent us a very detailed document with all the information about his place, it was great! When we arrived, Josephine, his neighbor, was there to greet us, she's a lovely women! She gave us recommendations of places to visit in Moncton. The apartment was nice, clean and very well organised, it had everything we needed. Thank you Marcel for letting us stay at your place!
Pamela
2016-08-02T00:00:00Z
Tipo de Quarto
Casa inteira/apto
---
Tipo de Imóvel
Apartamento
---
Acomoda
3
---
Quartos
Moncton, New Brunswick, Canadá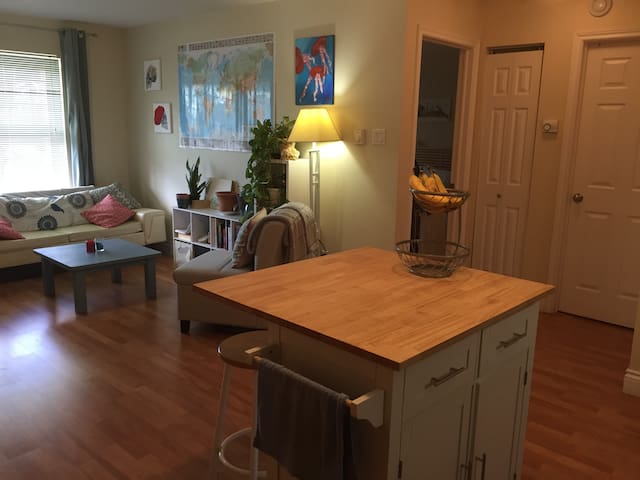 I open my home to travellers alike and give them a home away from home feeling! I love hosting and is very flexible with each guests needs, please feel free to ask. My dog Ben has been enjoying everyone for the past 3 years and is excited for new guests! As I will be moving in the Fall this will be my last summer hosting and I'm thrilled for what's to come!
It's not just a space that you're renting, It's the entire experience that's makes Airbnb so great!
Though my place is not walking distance to downtown, it's a quick and easy access to the highway if you're just passing through and the airport is 4mins from my place. Downtown is a short 6min drive and for those looking for tourist attractions: Hopewell Rocks 45min Fundy National Park 1h 20mins Coastal Beaches 15mins
Ideal location, close to everything in Moncton. Well-organized, polite, real nice host. Adorable dog, Ben!! Extremely comfy bed. Very clean. Cozy backyard patio. This is a real good place to stay in Moncton.
Jeff
2016-07-17T00:00:00Z
Rebecca's place was very clean and comfortable. It was easy to come and go as we pleased, and we had everything we needed (along with some nice extra little details that Rebecca attended to!) Great stay! : )
Heather
2016-08-05T00:00:00Z
fantastic stay at Rebecca's. She was on we wedding when we checked in but made sure we can enter the place. The room itself is very clean and you have everything you need (and more).
Peng
2016-08-02T00:00:00Z
Très accueillante!! Rebecca est simple , pas de complication! m'a fait sentir comme à la maison!!! je recommande!!!
Milly
2016-07-25T00:00:00Z
Was able to accommodate a last minute booking. Went above and beyond my expectations. Highly recommend for any travellers!
Daniel
2016-06-27T00:00:00Z
Very clean and nice place, close to the airport.
Sara
2016-08-25T00:00:00Z
Our stay at Rebecca's was great! Everything looked just like the photos, and Rebecca was extremely welcoming and accommodating. I would highly recommend staying with her. Was a great introduction to Airbnb!
Daniel
2016-07-12T00:00:00Z
Rebecca and her adorable dog Ben were great hosts! They were very welcoming and flexible when accommodating to our needs and schedule. Although our different schedules did not permit us to meet very much, we did have a great chat when we arrived and Ben was always there to give us a warm welcome. The bedroom and the washroom was very clean and tidy.
Jeannette
2016-05-28T00:00:00Z
Tipo de Quarto
Quarto privado
---
Tipo de Imóvel
Casa
---
Acomoda
2
---
Quartos
Moncton, New Brunswick, Canadá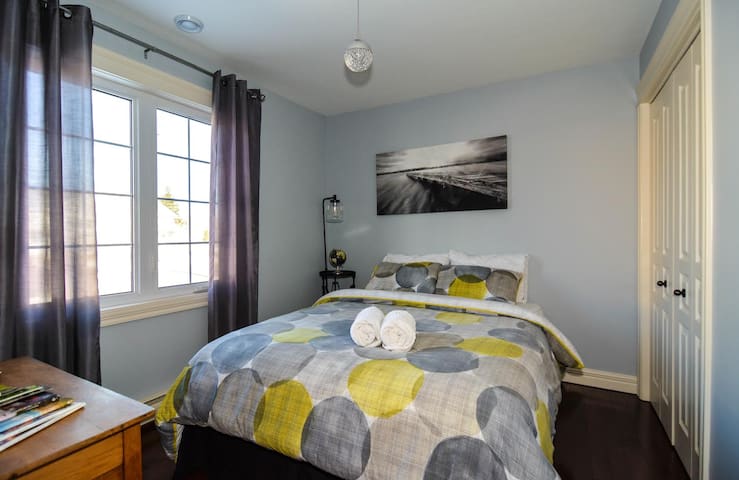 My place is close to the city centre. You'll love my place because of the location. My place is good for couples, solo adventurers, and business travellers.
Lorraine is a great hostess, apartment very clean, comfortable bed....we will rebook when back on business!
Diane
2016-11-18T00:00:00Z
dsl du retard ;) un grand merci nous avants eux une tres bonne expérience tres belle maison et bien situer merci a toi :)
Lydzy
2016-10-01T00:00:00Z
Lorraine a tout prévu dans son appartement pour rendre notre séjour agréable. Elle n'a rien oublié, il y a même ce qu'il faut pour faire le lavage. L'appartement est propre et confortable. Il est bien situé au centre de Moncton , le stationnement à l'arrière permet de laisser la voiture et de se promener en ville. Le quartier est assez calme la nuit. Nous avons vu Lorraine uniquement à notre arrivée.
Steve and Olivia
2016-11-04T00:00:00Z
Excellent endroit pour le centre de ville et les restaurants: 10 minutes de marche. Belle grandeur de logis pour un séjour, propre, tout fourni : poêle, refrigérateur et ustensiles. Stationnement dans la cour arrière. Bons services d'accueil.
Chantal
2016-09-28T00:00:00Z
Thank you very much for accommodating me the last few days. When I am back in Moncton I will totally be coming back.
Ryan
2016-09-15T00:00:00Z
Very prompt
Nelson
2016-12-30T00:00:00Z
Our host was wonderful and so understanding! Everything you would think to need was provided, dishes, silverware, toiletries and all. Everyone involved was incredibly communicative and nothing but helpful. I would stay with them again if the opportunity arose!
David
2017-02-07T00:00:00Z
Tipo de Quarto
Casa inteira/apto
---
Tipo de Imóvel
Apartamento
---
Acomoda
2
---
Quartos
Moncton, New Brunswick, Canadá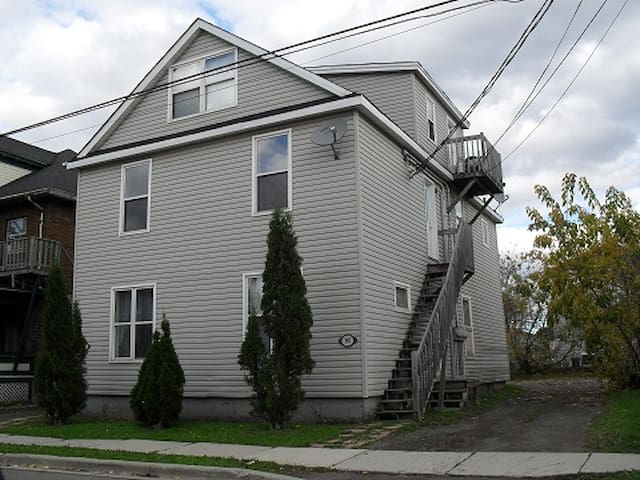 Our place is close to restaurants and dining, the beach, great views, family-friendly activities, art and culture, also has nice walking trails in the backyard! . You'll love my place because of the neighbourhood, the outdoors space in a nice quiet location. Our place is good for couples, solo adventurers, and business travellers.
Only 4 minutes to downtown Moncton and 2 minutes from both main highways!
Danielle and Marc were wonderful hosts - very accommodating to our late night check in. The accommodation was warm and inviting - looking forward to staying with them on our next excursion to Moncton!
Scott
2016-11-27T00:00:00Z
Lit très confortable, appartement spacieux et propre, décor superbe (forêt à l'arrière de la maison), petit déjeuner fort sympathique. Bref, je n'hésiterais pas à louer de nouveau ! Un grand merci !
James
2016-10-07T00:00:00Z
Marc and Danielle made us feel like family immediately upon arrival. They got us situated quickly, offered us info and directed us to an excellent restaurant. They also provided us with a nice breakfast. We were very pleased with our stay.
Don
2016-10-05T00:00:00Z
We really thought was a beautiful space..very modern.super clean..very well put together and spacious. We didnt get to meet Danielle but Marc was super friendly and willing to answer questions we had. They were thoughtful and left us the cutest little breakfast ( reminds me of something I'd see on a movie) we wish we had gotten to stay longer but definitely would come back and stay longer next time. We loved how quiet the area was. Thanks for the pleasant stay
Jen
2016-10-26T00:00:00Z
Lovely people! Very accommodating. Great little space - would definitely rent again.
Danielle
2016-12-04T00:00:00Z
Wonderful space. Owners were nice and hospitality was great. Even left us delicious muffins, strawberries and mints. This is our first airbnb experience and I will say that we will definitely do it again. Thank you!
Shelly
2016-10-09T00:00:00Z
Beautiful spacious apartment. Danielle and Marc were wonderful hosts. Very helpful and informative. Very clean new apartment. Bed was very comfy. Excellent neighbourhood and great location. Coffee and breakfast was a really nice touch.
Minnie
2016-09-26T00:00:00Z
We loved our stay at Danielle and Marc's place. They were so accommodating and responsive and even arranged for a bed for our little toddler. The unit it lovely, clean and perfect for quick access to the Moncton airport. Would definitely stay here again!!
Jenna
2017-01-08T00:00:00Z
Tipo de Quarto
Casa inteira/apto
---
Tipo de Imóvel
Apartamento
---
Acomoda
3
---
Quartos
Moncton, New Brunswick, Canadá
Private main floor bedroom with walk in closet for luggage storage, across the hall from the main shared bath, use of kitchen, laundry, wifi, television in sun room, parking in driveway and BBQ on back deck. Located in Sunny Acres area of Moncton, one block from wooded ravine with trails, two 21 speed mountain bikes available for guests' use, excellent bird watching. 10min 2 airport 5 min to downtown, 5 min to TCH, 15 min to Shediac, 30 min to Hopewell Rocks
Private main floor bedroom with large walk in closet for luggage storage, across the hall from main floor shared bathroom. Queen size bed with a mattress that is a comfortable mix of firm and soft, you will feel like you are sleeping in the clouds. Shared main floor 4 piece bath with adjoining laundry/vanity room use of kitchen, sun room, living room and in season the spacious back deck
steps from a wooded ravine with trails and birdlife, two 21 speed mountain bikes available for guests' use, 5 minutes from Trans Canada Highway or downtown, 10 minutes from Moncton International Airport, 15 minutes to Shediac, 30 minutes to Hopewell Rocks, one hour to PEI. A QUIET PEACEFUL AREA MINUTES FROM ALL LOCAL POINTS OF INTEREST.
We had a great experience at wendell and Alton place. We were very well welcome by Wendell and he gave us a list of things to do and place to eat at Moncton and at Bouchtouche. The room was very cleaned ( and the hosts let a Fruit basket and a plate of cookies for us which is very kind of them). The nest time we will go to Moncton, we will come back for sure at wendell and Alton place
Stéphanie
2016-10-14T00:00:00Z
Wendell was very hospital. He welcomed us late at night and he offered tea with cookies. Breakfast was delicious! Recommended
Magdalena
2016-07-07T00:00:00Z
Wendell had all settled for our coming, homemade biscuits, fresh fruit, and really the best bed in all our travel. Also a superb breakfast. Alton was really cool helping me cooking, thank you so much for let us stay at your place! :)
Clarice
2016-10-08T00:00:00Z
L'affabilité et la disponibilité de nos hôtes malgré l'obstacle linguistique ont facilité grandement notre étape. Le patio et la cour sont très accueillant et nous garderons un vif souvenir du copieux petit déjeuner offert. À première vue, la hauteur du lit de la chambre suscite quelques craintes et provoque à coup sûr l'hilarité lorsqu'une personne d'un peu plus de cinq pied doit en faire l'ascension :)
Sylvie
2016-08-15T00:00:00Z
Wonderful stay in Moncton! Wendell and Alton were fabulous hosts. We had a warm welcome and they made us feel at home as soon as we arrived. They were available to answer all our questions. Cosy bedroom and lovely house. I recommend it 100% . Many thanks
Marion
2016-09-15T00:00:00Z
The room was exactly as described. Wendell was lovely enough to make us toast and coffee every morning and there were cookies and fruit in our room when we arrived. The room is small which was fine for my husband and I. We had nice conversations with both Wendell and Alton and they offered great suggestions for food and activities. It was a $10 cab ride to get to most of the downtown locations from their home.
Miranda
2016-07-31T00:00:00Z
Wendell left us a message that they would not be able to meet us when we arrived, but ensured access with having someone there to let us in. We had already been there 2 days earlier in the week, so were already familiar. He is a great conversationalist and makes his guests feel at home. The house is well set up for privacy for your stay. He made a fresh Malbec wine and we got to taste. Yummy !
Gaborj
2016-10-08T00:00:00Z
The room was very comfortable, especially the tall bed! Wendell and Alton were great hosts and even helped me answer questions about renting in Moncton. Cheers!
Liang
2016-05-28T00:00:00Z
Tipo de Quarto
Quarto privado
---
Tipo de Imóvel
Casa
---
Acomoda
2
---
Quartos
Moncton, New Brunswick, Canadá
Clean, modern, spacious home is conveniently located in a quiet residential neighbourhood close to hospitals, Trinity Drive shopping, Casino NB, Magic Mountain, Magnetic Hill Zoo, etc. Enjoy the big back yard, home gym, fully-equipped kitchen and dedicated office space. Great for families travelling with children or couples and friends travelling together. For longer-term stays, please send us an enquiry before booking to discuss pricing.
This house is fully-equipped with everything you'll need for a long or short stay. Linens, towels, cookware, etc. are provided. Just bring your luggage and groceries! ON THE MAIN LEVEL: Open-concept kitchen, dining and living areas are great for preparing meals and hanging out together Kitchen is fully-equipped with everything you need to cook a delicious meal. Large master bedroom has a comfortable queen bed, large workspace, and large his and hers closets A second bedroom has a large closet and comfortable double bed The bedrooms are conveniently separated by the main bath, which equipped with towels and some toiletries A separate office allows you to work comfortably during your stay ON THE LOWER LEVEL: Downstairs bedroom and ensuite bath are separated from the main area of the house, providing privacy Washer and dryer are available for guest use Fitness room includes squat rack, weight bench, barbells, elliptical trainer, yoga mat etc. OUTDOOR SPACE: The partially-covered back patio is complete with outdoor living area and a barbecue guests can use The back yard is fully-fenced--perfect for children The house backs on a groomed walking trail which connects our neighbourhood to the rest of the city Help yourself to fresh herbs from our vegetable garden!
The neighbourhood is very quiet and family-oriented. Our big back yard backs on a groomed walking trail that connects our area with the rest of the city. Our home is detached, so a little noise in the house is fine, but common sense applies when being respectful of our neighbours.
Jenn and Steve were a very friendly couple and were very knowledgeable about the area. It was a very clean and cosy room that I needed for a quiet weekend away from town. Their communications were excellent and they worked around my schedules to make sure things were working out for me as seamlessly as possible. Thanks for the wonderful hospitality!
Timothy
2017-03-06T00:00:00Z
This place was fantastic! You felt like you were staying at a friend's house. Incredibly comfortable, Jen was a great host. Good communication and went above our expectations especially with the excellent breakfast setup for us. And honestly you can't beat the price. Now our go to place to stay in Monon and surrounding area.
Dylan
2017-01-29T00:00:00Z
Jenn and Steve are very friendly, welcoming, fun and easy going. The room downstairs is private, large and comfortable with own bathroom and laundry access... a great place to stay in Moncton!
Lisa
2017-04-06T00:00:00Z
Jenn est acceuillante. Elle est disponible pour rendre notre séjour agréable. Un petit déjeuner délicieux avec des prodruits frais
ghislain
2016-09-03T00:00:00Z
Jenn was amazing. She was super easy to get a hold of. And she made our arrival go smooth. We arrived at around midnight after an event and she was more than welcome to be accommodating. The room was so cute, with an ensuite bath. She provided many things in her bathroom such as shampoo, toothpaste, cleansers etc. Her place was very modern and cute. I love her dog Maggie. She came in and gave us an excited greeting. The bed was comfortable but a bit squeaky, I'm hoping she couldn't hear It all night since I move a lot in my sleep :P. But overall, she's a great host and the accommodations are amazing.
Sabrina
2016-11-05T00:00:00Z
Jens place was very clean and tidy. Her dog is super friendly as well. She's a great host and I'd recommend her place if visiting Moncton.
Cal
2016-10-22T00:00:00Z
It was a fantastic place to stay in Moncton. The neigborhood is excellent and the house is perfect. You have a lot of personal space in the basement room, which is very well set up. Jenn was very friendly, nice and helpful , if we come again to Moncton we will stay here :)
Daniel
2016-09-07T00:00:00Z
Jenn was a great host! Even though she had to be out of town for an emergency she still made sure I was well taken care of ! Her room was very clean. Her bed was so comfortable from the mattress, blanket and even pillows. This was a great location where we could get onto the highway quick and continue on our journey. The bedroom was in the basement so you felt like you had some privacy in her home. It was nice to have your own bathroom with great shower pressure. I would recommend this place to anyone !
Lauren
2017-02-09T00:00:00Z
Tipo de Quarto
Casa inteira/apto
---
Tipo de Imóvel
Casa
---
Acomoda
6
---
Quartos
Moncton, New Brunswick, Canadá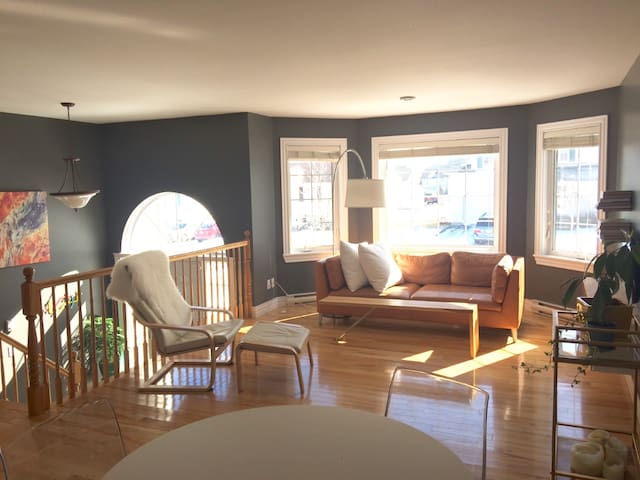 Older home in a mature neighbourhood with beautiful flower gardens in the summer. This two storey home has a bedroom in the basement, with a large couch, chair and desk, that can be rented.
Friendly family neighborhood with beautiful mature trees next to the charming Jones Lake. There is a playground within a few blocks and up the street is trail system linking to Centennial Park. A ten minute walk and you are downtown Main Street with lots of restaurants, city market and other urban amenities. You are only a 15 minute walk to Bore Park where you can view a natural phenomenon caused by the surging Bay of Fundy tides (the highest in the world), the Tidal Bore activity occurs twice daily.
Cathy was spot on accommodating us - we had a late arrival and early departure and she went out of her way to get us in and set up. She was great on communication and answered all my queries quickly while we were getting things arranged. The rooms (and house in general) were immaculate, beds were comfy (mine had a body pillow which I seriously enjoyed) and the house has a very warm, cozy and loving feeling to it. We had some tasty banana bread in the morning with our coffee. Her dog Haley(sp?) is such a sweetie and also was a nice touch as I am very fond of animals. Very friendly and a wonderful demeanor. The location is especially awesome if you're heading to Maritime CrossFit for anything. It was quiet, but very near a major street so you could quickly get where you want without having to weave through suburbs out/around Moncton or Dieppe. Cathy was super friendly, we had a great stay and I'd firmly endorse for any prospective people wondering.
Devon
2016-09-17T00:00:00Z
Cathy was so welcoming, she was there to greet us when we arrived and was eager to show us around her place. Cathy was also very willing to share her experience about Moncton and where we could get the most moncton experiences during our short stay. The house was just as it was shown and described, with strong wifi, hot water and ample parking space.
Alcan
2016-04-18T00:00:00Z
The house was perfect. Thx!
Js
2016-05-08T00:00:00Z
Cathy was an extremely gracious host! She had a lovely suite put together, recommended some restaurants and bars for me to visit while in Moncton, even offered to watch my dog while I darted out for a bite to eat! Would definitely stay with her again or recommend her to any friends travelling through the area.
Hasan
2016-06-08T00:00:00Z
Cathy was a wonderful host, her home was so cozy and inviting it felt just like home. She was extremely accommodating with our short notice and really made our stay in Moncton a great one. I highly recommend staying with Cathy on your next Airbnb adventure !
Stephanie
2017-01-16T00:00:00Z
You just would not believe how welcoming, attentive and positive Cathy is. You would not believe it until you visit her.
Alexey
2017-02-02T00:00:00Z
We are really satisfied about this Airbnb.We were very well welcomed. Our hostess was really friendly and warm. We recommend this Airbnb without hesitating!
Islande
2017-02-26T00:00:00Z
Cathy was an amazing host who took time out of her busy schedule to check-in with us on a regular basis. She is patient, friendly and kind. We stayed for a total of 10 days (with 2 small children!) and truly enjoyed her hospitality and gentle dog! The neighbourhood is central and safe. We enjoyed walking Hailey a few times and took in the scenery and conversations with friendly neighbours too!
Beth
2016-10-11T00:00:00Z
Tipo de Quarto
Quarto privado
---
Tipo de Imóvel
Casa
---
Acomoda
3
---
Quartos
Moncton, New Brunswick, Canadá
Second floor room completely remodeled : new queen bed, new paint, new decor. Feel at home in a cozy environment with an antique flair. Shared bathroom / restroom on same floor. Extremely quiet neighbourhood, only 5 mins from Main Street on foot. Great walking park on the same street. Parking available in the driveway / street.
We just bought and remodeled this 1916 house in Downtown Moncton. We have 3 rooms for guests on the second floor of the house. Our bedroom is on the same level. We love decorating and hope you will enjoy the mix of antiques and trendy accents scattered around the house.
The house is within walking distance of all the amenities the town has to offer. The neighbourhood is very quiet and secure. Victoria Park is 2 minutes from home.
We have had the pleasure to be their first guests in their new home in Canada! They welcomed us very warm, and had prepared some good options to go for in the city. Nice decorations everywhere, and perfectly clean. We would stay there again for sure! Very close to downtown, in a quiet neighborhood. We also loved the friendly dog, Marcel!
Nils
2016-10-20T00:00:00Z
Clo was super nice upon arrival. She showed me around this gorgeous, CLEAN house! My room was clean and if you think the pictures are great, wait till you see the room! It was fantastic. Cozy, the bed was comfortable, it was nice and neat and super spacious! Their dog is wonderful as well, big dog with a big heart. Super helpful couple! Loved my stay, thank you so much!
Natasha
2016-11-26T00:00:00Z
Great place! Great location! Great people!
Jon
2017-02-08T00:00:00Z
Clo and Martial were wonderfully kind and gracious hosts. It was a joy to stay with them.
Harry
2016-11-19T00:00:00Z
Had a great stay with Clo & Martial. Their home is beautiful and they were so kind and accommodating! Their dog marcel is so sweet and well behaved.
Lorena
2017-04-09T00:00:00Z
Tipo de Quarto
Quarto privado
---
Tipo de Imóvel
Casa
---
Acomoda
2
---
Quartos
Moncton, New Brunswick, Canadá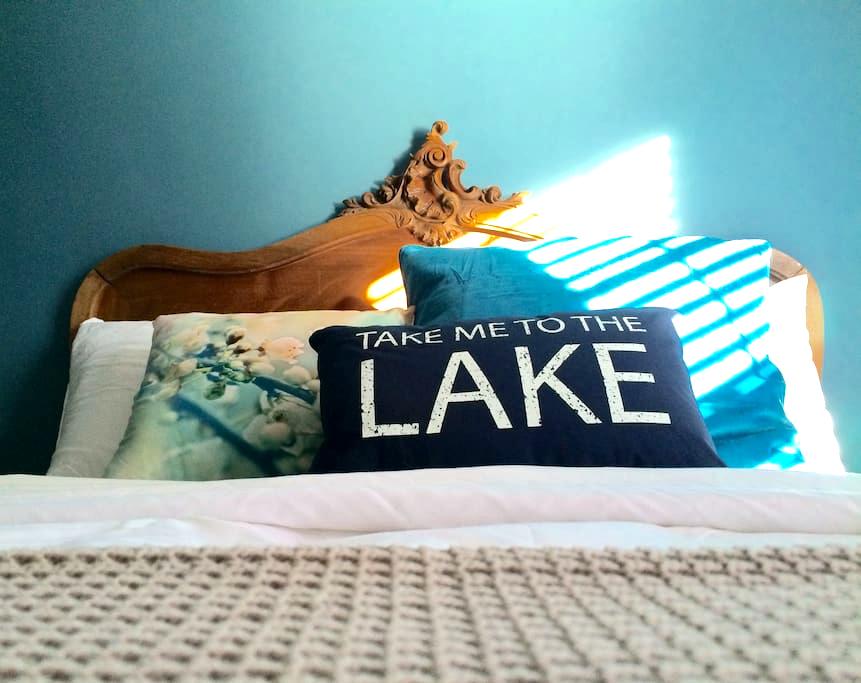 We have a nice two bedroom suite fully furnished with two queen size beds, locate in Moncton NB. You have access to a fully equipped private kitchen, private bathroom and can stay as long as you want at $60 a night. We can accommodate couples on a budget and friends travelling together to visit love ones or just tour the Moncton city. This is a great and economical way to save money and live better. We are located conveniently and close to the Moncton Hospital, bus route, shopping and more.
The unit has a fully equipped kitchen which will allow you to prepare healthy meals to save money.
We have arrived early morning yet still Robinah accommodated us. The apartment is lovely. It has cable and fast internet. All the things you will need are available in her house. Robinah and George are very accommodating. Thank you, our family had a great time.
Al
2017-03-22T00:00:00Z
Convenient. Excellent price for value. Full kitchen is an asset if you don't want to eat out.
Pauline
2017-04-02T00:00:00Z
The host canceled this reservation the day before arrival. This is an automated posting.
Wesley
2017-03-01T00:00:00Z
A great quiet private 2 bedroom apartment in a mature building. The superintendent lives down the hall and was very helpful, making sure we had everything we needed. He even cleaned the car off for me after the blizzard. They have a plow service as well, so there was no worry about getting out after the storm. Communication with the host of the unit was excellent. She always got back to me super quick and allowed us to check in with short notice. The Internet is very fast and the cable HD TV is great. Everything is only a 10 min drive away, the hospital is 2 min away, a 4 min walk. I'd definitely return next time I'm in town.
Theresa
2017-02-14T00:00:00Z
Tipo de Quarto
Quarto privado
---
Tipo de Imóvel
Apartamento com serviços incluídos
---
Acomoda
4
---
Quartos
Moncton, New Brunswick, Canadá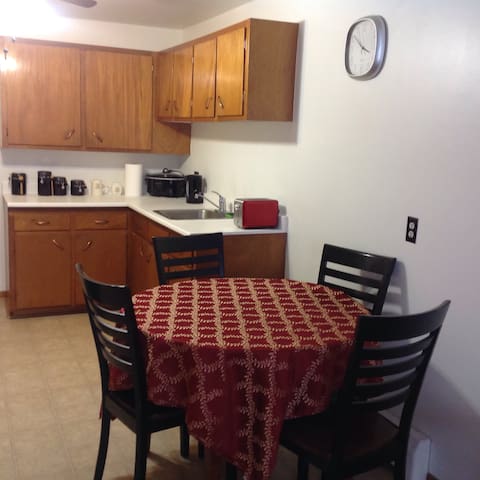 Country Home with modern amenities close to restaurants and dining, the beach, Casino, Waterpark, Zoo, family-friendly activities, nightlife, and public transport. You'll love my place because of Country living within City Limits, the ambiance, the outdoor space, the comfy bed. My place is great for couples, solo adventurers, business travellers, families (with kids). Wonderful back deck with peaceful surroundings and a fire pit for summer evening bonfires. House overlooks the city. Have pets!!
Space is equipped with coffee maker, dresser, closet space. Flat screen television with Netflix. Queen Size Bed with bedding and towels. Morning snack breakfast included. Room is equipped with your own fridge.
Fresh country air yet minutes drive to the city centre. My home has a very warm and inviting atmosphere with a great bike trail for mountain bikers, as well as ATV/ snowmobile trail beside the property. Hop on a road bike for miles of country side views of the city.
Had a relaxing night at Diane's house. I arrived late but that was not a problem at all. The room is clean and more than spacy enough to open my big bag ;) Diane is a friendly and polite host, I can recommend to stay with her! I also liked that there's a lot of pets in the house :)
Dennis
2016-09-06T00:00:00Z
We felt welcome and Diane and her daughter were friendly. The location was great and we loved the dogs and the cats!
Heather
2016-10-24T00:00:00Z
Diane was a nice host, she made us feel at home and she gave us advices where to go for dinner in town. She has two funny dogs , who love people, cats and a parrot. Her house is beautiful and near to town. The bedroom is big and the bed comfy. We enjoyed a self-made breakfast in the morning.
Dominik
2016-07-17T00:00:00Z
Was a bit disappointed that host was not there when we arrived. We would have loved to be able to ask about local restaurants etc. Enjoyed her cats...what personalities! Room was okay. Bed was noisy but comfortable. The toilet flushing handle was broken. Her airbnb sign made locating her house easier.
Glen
2016-08-29T00:00:00Z
Jolie maison très propre peuplée de nombreux animaux tous plus mignons les uns que les autres. Hôte attentionnée.
Gabriel
2016-08-06T00:00:00Z
Diane is a fabulous host! We spent two nights at her gorgeous house, very comfortable room and bathroom! She is close to Hopewell Rocks, Magnetic Mountain and Shediac. We were welcome to use their deck to relax with a glass of wine and enjoyed her two dogs, cats and lively parrot. We highly recommend staying here and would love to come back. Thanks Diane!
Bill
2016-07-21T00:00:00Z
Diane's home was basically ours. Perfect location, well equiped, peacefull and warmfull pets that make you want to stay longer. We would have brought them all with us : dogs and perrot. I recommend this place to anyone that are just looking for a place to rest aswell as a base point to visit the surroundings.
anthony
2016-08-16T00:00:00Z
Diane was a Delight :) Charming Old Farm House in a Lovely Country Setting offering all Modern Amenities ♡ Art Work abounds! Pets a plenty... Must stay in Moncton :)
Karen
2016-07-22T00:00:00Z
Tipo de Quarto
Quarto privado
---
Tipo de Imóvel
Casa
---
Acomoda
2
---
Quartos
Moncton, New Brunswick, Canadá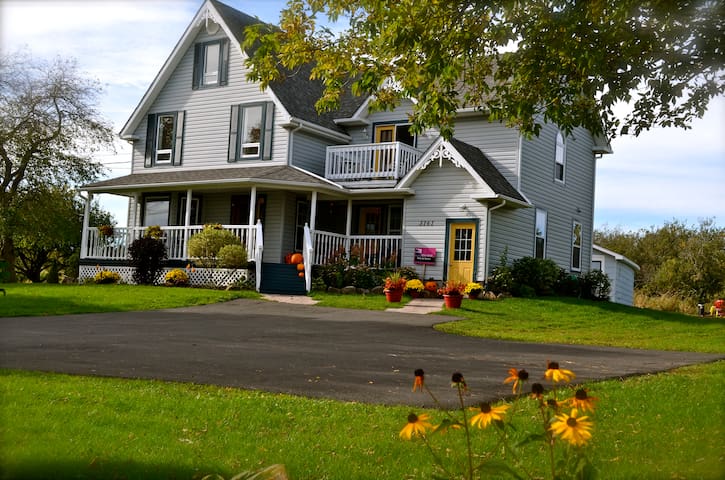 This is a cozy luxury space open to renters. It includes wifi, shared bathroom, and kitchen and has laundry. It's in a quiet neighbourhood, with very little traffic and is walking distance to major shopping centres like Trinity Drive and Plaza Blvd. If you need a nice place to stay this is your spot.
This is a rental property, you have your own cozy room with a very comfortable bed and there's a good sized common space and kitchen. The other renters are very polite and quiet. Place is very clean. I enjoyed being able to make my own breakfasts in the morning. Linda was prompt to respond and getting in late at night from a delayed flight was easy. Place gets very little traffic being at the end of a road, but it's quick to get anywhere in town.
Jasmin
2017-03-13T00:00:00Z
Linda's place was exactly as described: a luxury stay! The bed was very comfortable, and the bathroom was clean and well lit. I only stayed there to sleep, so we didn't officially meet but she remained in full contact when Needed! Her place is very modern and yet still traditional and I was almost stunned when I first walked in! The pictures are great but truly you have to visit to really see how nice the place is. Very thankful for her allowing me to stay!
Natasha
2017-02-12T00:00:00Z
Good price and value. Comfortable bed and nice and quiet. Shared the house with other guests and they were great.
Tamara
2017-03-04T00:00:00Z
This is the second time I've stayed at Linda's place, so always a pleasure! The other guests were up very early and a bit loud while making breakfast but I understand that its shared space! This is such a great place to stay, so clean, so convenient
Natasha
2017-03-19T00:00:00Z
Tipo de Quarto
Quarto privado
---
Tipo de Imóvel
Casa
---
Acomoda
2
---
Quartos
Moncton, New Brunswick, Canadá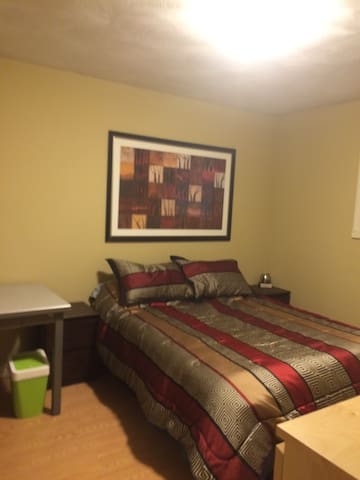 My place is located close to restaurants, public transport, family-friendly activities like Magic mountain&Board walk, Shopping ,nightlife (casino) all within a 5 min drive.Fundy Park is 50 min away.You'll love my place because of the location, the space, the ambiance, we also have a fully furnished kitchen and WIFI . My place is good for couples, solo adventurers, business travellers, families, and big groups. All we ask is that you have a great time and treat our place like it was yours.
My house is located on a quiet residential crescent near Costco, grocery, liquor store and a variety of great restaurants. It's also close to the main highway.
My staff loved the house.
Delivis
2017-01-16T00:00:00Z
Lisa was a great host. She was in constant communication before, during and after our stay. The house was exactly as pictured with everything clean and ready to go. We truly enjoyed our stay and would stay there again!
Carrie
2017-01-08T00:00:00Z
This was our second time staying at Lisa's place for our work project- absolutely perfect and met all our needs.
AM
2017-02-25T00:00:00Z
Lisa was quick to respond to any request we had and left detailed instructions which we found helpful. she was extremely hands off- which made it easy to feel at home.
Gurdeep
2016-08-30T00:00:00Z
Maison au calme dans un bon quartier a 5 min de toutes les commodités Merci Lisa
Amandine
2017-04-07T00:00:00Z
Well appointed and located. Lisa was very responsive to all of our enquiries.
Lori
2016-10-31T00:00:00Z
The accomodations were great, especially liked the covered and screened deck out back, great for sitting back at the end of the day and relaxing. Location is minutes away from everything you need and want to do in Moncton. Would highly recommend to anyone planning to visit the city. We will be back next time we are in the area visiting family.
Roger
2016-08-17T00:00:00Z
Close to all amenities. Easy access to Moncton and surrounding areas.
Bill
2016-09-28T00:00:00Z
Tipo de Quarto
Casa inteira/apto
---
Tipo de Imóvel
Casa
---
Acomoda
7
---
Quartos
Moncton, New Brunswick, Canadá
I have an apartment in my home which offers 2 bedrooms dbl beds, full bath, kitchen& dining area, liv/room. Guest will have breakfast foods available such as eggs,bread,butter,milk,coffee,tea etc. Air conditioning system for your comfort.
Beautiful spacious and private apartment which is within walking distance to the downtown core of Moncton. This unit has 2 bedrooms with double beds which can accommodate 4 people. A huge kitchen/eating area which contains a fully equipped kitchen for my clients who wish to apply their culinary skills. Guests can make their way to the side of the house where the entrance is situated off the huge patio which holds a patio table with 6 settings. The Universite De Moncton is in my back yard and the Dr. George Dumont Hospital is within walking distance. Walking and biking trails are abundant close to my home. Breakfast foods for one morning will be available for my guests.
My neighborhood is upscale and quiet. The University of Moncton is within walking distance. The downtown core of Moncton with it's popular bistro's and entertainment will make your stay a memorable one.
Had an amazing time at her place, Ronalda was so polite and kind to give upgrade us to a bigger space. The house was clean and well organized. She had anticipated our every need and made sure we were happy there. Definitely a place I would recommend for people to stay.
Hasnain
2014-05-05T00:00:00Z
Ronalda has an amazing, clean space available! She's super friendly and has great recommendations on where to go. One of her suggestions was the best part of our trip.
Heather
2014-07-28T00:00:00Z
Ronalda's place was lovely! It was very cozy, clean, and had everything you would need for a stay. I would definitely stay there again.
Colleen
2014-08-11T00:00:00Z
The stay with Ronalda was great. There was prompt communication throughout and the place is perfect-easy access to the Bay of Fundy area. Ronalda recommended a place to eat in Alma and we ended up going there; the lobster was awesome. Would definitely stay there again.
Brian
2015-08-24T00:00:00Z
Great place to stay, owner was really nice, everything you needed and more was there from bottle openers to robes!
Dylan
2017-04-02T00:00:00Z
Très aimable. Appartement parfait dans un quartier paisible, à proximité de l'université. Excellente communication.
Isaac
2015-06-01T00:00:00Z
Very nice apartment, super quiet, very functional. Ronalda is very nice, she provided lots of food for the breakfast. This is the perfect place to stay some days in moncton, I can only recommend it! We loved the location too.
Nicolas
2015-08-04T00:00:00Z
I didn't actually meet Ronalda for the first few days, we didn't stay around the house much. We were very busy taking all the sights in! The apartment is well located and equipped, it was nice to show up to find Ronalda had left a baguette and some essentials in the kitchen. We felt welcomed even though we didn't meet right away. When she did introduce herself she was very pleasant and asked if everything was ok for us! Very nice. The only negative is that the apartment is a little more dated than it appears in the pictures, but all in all it was perfect for our working vacation. Thanks Ronalda!!
Dan
2014-08-24T00:00:00Z
Tipo de Quarto
Casa inteira/apto
---
Tipo de Imóvel
Apartamento
---
Acomoda
4
---
Quartos
Moncton, New Brunswick, Canadá
Two bedroom apartment available in a charming home in the Garden Hill area of downtown Moncton. Apartment is close to downtown, Université de Moncton, Garden Hill and Victoria park.
Apartment is close proximity to downtown. Enjoy our many coffee shops, boutiques, restaurants, parks and public spaces.
Nous étions de passage à Moncton pour une nuit et nos hôtes furent très accommodants! Nous sommes arrivés tard avec un délai sur ce que nous avions estimés mais il fut très facile d'avoir accès à la maison et nous avons pu avoir de l'aide pour trouver restaurant en ville. La maison elle-même est parfaite; tout ce dont on peut avoir besoin est sous la main. Très propre, très mignon et bien située. Merci!
Karyne
2016-08-09T00:00:00Z
A group of family & kids stayed here while we were visiting Magic Mountain and the Moncton zoo. We had cars so it was easy enough to get to and from the sights and activities. Also it was relatively close to downtown where we ate dinner one night. The hosts were very communicative and kind. The inside of the house is very well kept. There were snacks left for us, lots of towels, robes etc to make our stay special. The house was quite hot, as the downstairs rooms were only vented with fans, which made it hard to sleep on the rare hot summer night. The upstairs room had AC which was nice.
Jaclyne
2016-07-28T00:00:00Z
We arrived to find a fridge stocked with fresh food, as well as a house stocked with all sorts of things that made travelling with children that much easier. It wasn't "a place we were staying": they helped make it "home away from home." There was baby shampoo, bath toys and a tub. There were toys for our 3 year old and for our 6 month old. There was a high chair, a baby gate at the stairs, wipes, plastic dishes and cutlery. They even had bath robes in child and grown-up sizes! Their attention to detail added to the loveliness of their gracefully aged and conveniently located home to make for a perfect stay in Moncton! Thank you, Raphaël and Christiane! Hope to see you again next time!
Michael
2016-07-23T00:00:00Z
The listing provides everything we need while traveling.
Chantira
2016-08-26T00:00:00Z
Raphael and Chriatiane's place was great. Very spacious and well furnished. The place was well furnished and we had everything we needed. The area is very nice and quiet. We really enjoyed our stay.
Mihail
2016-07-13T00:00:00Z
Les hôtes sont disponibles en tout temps pour répondre à nos questions et ils font tout en leur possible pour faciliter notre séjour dans leur logement. Je recommanderais sans hésiter!
Joelle
2016-08-02T00:00:00Z
Pros: Clean, tidy, lots of towels plus 2 bathrobes a bonus, kitchen adequate, living room comfortable and TV worked fine once Source solved; both bedrooms comfortable; good parking; quiet locale. Overall a quaint good place; highly suitable for students or young to middle aged active couple. Cons: bit difficult to see exterior #81 on arrival; steepish entrance stairs a bit of a challenge if elderly/infirm
Reg
2016-09-02T00:00:00Z
I travelled to Moncton with my parents and we stayed at Raphael and Chriatiane's place. It was very clean, spacious, and comfortable. We felt right at home. They have everything you need, and even included some delicious breakfast foods. They were perfect with their communications and got back to us promptly. Overall, an excellent stay. I would highly recommend Raphael and Christiane's place for your next stay in Moncton.
Soraya
2016-07-11T00:00:00Z
Tipo de Quarto
Casa inteira/apto
---
Tipo de Imóvel
Apartamento
---
Acomoda
4
---
Quartos
Moncton, New Brunswick, Canadá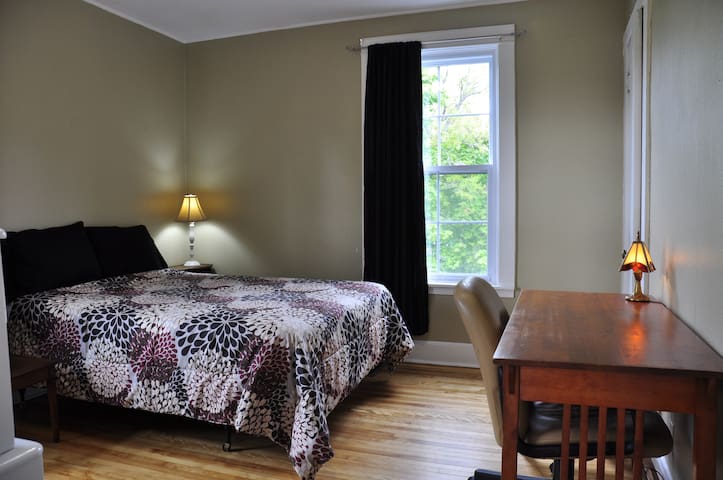 Insira as datas para ver o preço total. Taxas adicionais aplicáveis. Podem ser adicionados impostos.