52 Apartamentos para Alugar
I am offering the perfect place to stay if you enjoy the great outdoors and being active in South Wales. You will be staying in a private double room which is clean and modern and has access to its own bathroom. On your doorstep there are a couple of really great mountain biking centres which I frequent and I can definitely recommend how to get the best out of cycling in the area. I provide secure basement storage for all your gear whilst you are here so you can relax knowing your canoe or mountain bike are safe! I am situated roughly halfway between the Gower and Brecon Beacons which means you can be in either in about half an hour. I am about five minutes from the train station and the town centre and it is possible to cycle to mountain bike trails if you don't have a car. If you are coming by car then I am easily located just a short hop off of the M4 (J43) The room comes with access to the communal area, including kitchen and living room. We will provide a continental breakfast inclusive in the price. Wi-Fi is provided and there is a Blue-Ray player, some DVDs and a nice TV with HD FreeView to enjoy after a hard day on the slopes. Gnoll country park is a short distance away which is great for walking in. There are also waterfalls a short distance away which make for a great discovery when out cycling in the summer. All in all, this is a great base for all those seeking a bit of fun and adventure in South Wales.
Andrew was very helpful and kind. The room was lovely and the bed was comfortable. He had breakfast and tea for us in the morning plus he also kindly gave us a lift to the train station the next day when we were leaving. Thanks!
Zen
2015-09-22T00:00:00Z
Tipo de Quarto
Quarto privado
---
Tipo de Imóvel
Apartamento
---
Acomoda
1
---
Quartos
Neath, País de Gales, Reino Unido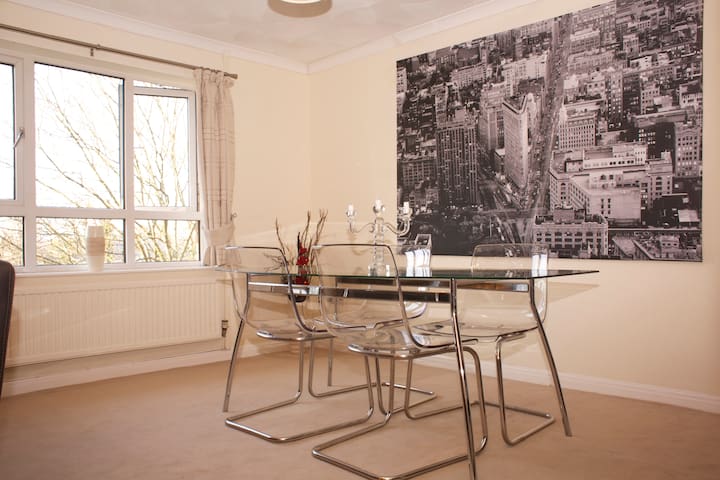 Space is very fresh and clean, modern and bright. An uplighting oasis in the centre of Swansea. Centrally located, the apartment boasts stunning views of the city and coast. The lounge leads onto a spacious balcony - perfect for R&R.
Clean, minimalistic style with natural light and open plan living and entertaining space. Large balcony with fantastic views of the city and towards Mumbles.
In the heart of the city - lots to see and do
Great central location, bed was very comfortable. Beautiful early morning view
Hayley
2016-12-01T00:00:00Z
Nice views over Swansea close to the centre
Tony
2016-10-07T00:00:00Z
Alice was very fast to reply to any messages/enquiries through the site. She arranged for us to pick the keys off Mike, who works and lives in the same building so was there the second I arrived - accompanied with some handy parking advice! The apartment was exactly, if not more, than what we expected - beautifully furnished with unbelievable views of the city and Mumbles. I couldn't have asked for more and won't hesitate to contact Alice to stay at one of her properties in the future. Thanks!
Ryan
2017-03-10T00:00:00Z
Nice and spacious flat, in a good central location. We had a lovely sunny weekend away
Gemma
2017-04-09T00:00:00Z
Great location and very clean and comfortable flat. Highly recommend.
Robert
2017-03-05T00:00:00Z
Very nice flat in the very centre of Swansea. Parking became a bit of a pain, but, if you don't have a car, it'd be the perfect flat. Even with a car, it was great. Spots nearby, but the 24hr pre-paid tickets mostly run out at 09h00. Very accurate description and easy to deal with team - Mark looks after the flat and the building, so is onsite to assist.
James
2017-03-17T00:00:00Z
Great location, just off the top of Wind Street. Plenty of good restaurants and bars within a few minutes walk. There is a great view from the balcony over the bay, even on the standard grey day. The flat is quiet, clean and modern. Would stay there again very happily.
Ross
2017-03-19T00:00:00Z
3 friends and I had a fantastic stay in this flat, the balcony is huge with lovely views of the city and the apartment is spacious and clean and very comfortable. Alice and Mike were very helpful with rearranging to pick up the keys us despite not arriving in Swansea until midnight. If we come back to Swansea we'll definitely be looking to stay here again :).
Tom
2016-05-30T00:00:00Z
Tipo de Quarto
Casa inteira/apto
---
Tipo de Imóvel
Apartamento
---
Acomoda
4
---
Quartos
Swansea, West Glamorgan, Reino Unido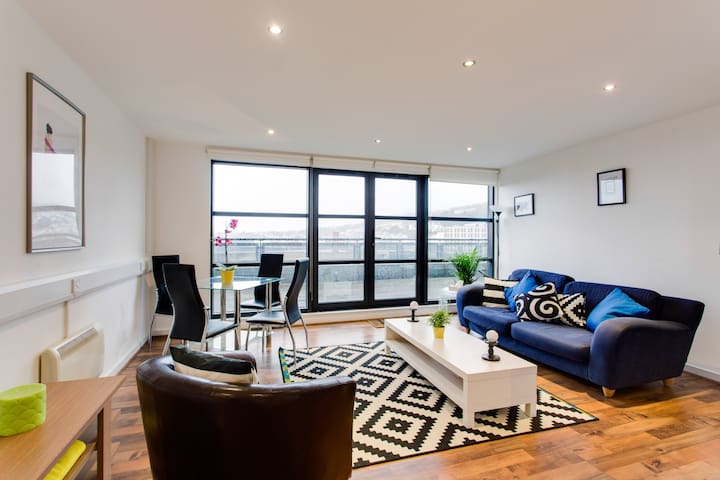 Stunning Waterfront apartment with beautiful sea views in the heart of Swansea Marina, on the beach, great restaurants and bars nearby, art and culture, and family-friendly activities. You'll love my place because of the neighbourhood, the outdoors space, the light, and the ambiance. My place is good for couples, solo adventurers, and business travellers.
The view from the apartment is spectacular. The contrast from low to high tide is a view that must be seen. Getting up for sunrise on a clear day is also highly recommended.
The view from the Grape and Olive Restaurant is a must when visiting Swansea. This is located at the top of Meridian Tower (Wales tallest building) and is only a 100m walk from the apartment. I would recommend the food at Quay 3 restaurant located between Meridian Tower and the Co-Op store.
Thank you Marc for your amazing accommodation. It ticked all our needs, including restaurants, supermarket, private car parking on site, wonderful view of the ocean etc being at the 'doorstep'. Your professional and friendly manner made us feel very much at home. We would highly recommend your apartment to all. We would definitely be returning.
Garry
2016-09-10T00:00:00Z
Check-in was smooth & communication was good with everything clearly explained. High standard of cleanliness & fantastic facilities - pretty much home from home! I enjoyed my stay and hope to return.
emma
2017-03-14T00:00:00Z
Fab view and great location
Paul
2017-03-27T00:00:00Z
The flat has the most incredible views of the sea. Marc was a very helpful and accommodating host and I highly recommend this flat.
Francesca
2017-04-07T00:00:00Z
很舒适,风景也不错,房东人好好~
lu
2017-02-02T00:00:00Z
Marc's was the best Air bnb that we have stayed at. It has the most magnificent views of the beach and the apartment was very new and immaculately clean. Marc was incredibly welcoming and helpful.
Marshall
2016-10-10T00:00:00Z
Brilliant location, lovely decorated and clean rooms. The skyline is great, you can see right over the water. Great communication, and some essentials provided! (Tea, coffee, bottled water) saucepans, cutlery, plates, cooking utensils all provided. Also soap and shampoo in the bathroom. No oil or salt and pepper, so bring some with you/buy some if you'll need to use it! Also has two TVs, with DVD player, freeview and Netflix account. Overall a fantastic stay!
Lexie
2017-01-25T00:00:00Z
The host, Marc, is very nice. I feel very comfortable and relex when he accommodate us. The house is vey clean, modern style and best view to see the swansea beach. it has a very good environment from quiet neighnour, grocery shop nearby and nice view from a bundle of the yautch parking.p
Satetha
2016-09-11T00:00:00Z
Tipo de Quarto
Casa inteira/apto
---
Tipo de Imóvel
Apartamento
---
Acomoda
2
---
Quartos
Swansea, País de Gales, Reino Unido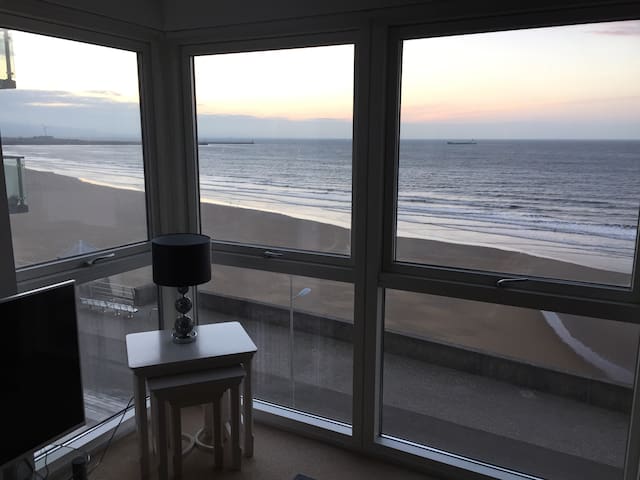 Spacious studio flat, central location, opposite the LC2 and Wind Street and next door to the Travelodge. Secure underground parking.
After a number of comments (all very politely put) about how the mattress was getting lumpy, we realised that our future guests would not be comfortable. We want our guests to be comfortable so we have invested in a new mattress.
I loved my stay at Su"s apartment, the apartment had everything I needed to be comfortable. Lovely place I will certainly stay at the apartment when in Swansea again.
Mushtaq
2016-05-07T00:00:00Z
lovely apartment, good location. We really enjoy the three days stay in Swansea. Thanks for your hospitality!
YAJIE
2016-02-14T00:00:00Z
This is a lovely little apartment which was perfect for our needs. It's very central, and the hosts were very easy to communicate with.
Nadine
2016-11-07T00:00:00Z
The apartment was easy to find and it has everything I needed for my stay. It was very secure, clean and tidy. Ideally situated for the city and getting to the Gower Coast.
Alison
2016-12-27T00:00:00Z
Would highly recommend Su's apartment. Great location and is central to all the bars, restaurants and shopping streets. Very spacious and spotlessly clean. Su's husband Mark was extremely helpful and orientated us to the place on arrival. He had fresh fruit, milk, orange juice as well as cereal, coffee and tea as well as recommending great restaurants for our stay. 10/10
Zaira
2016-05-01T00:00:00Z
I was welcomed into this home very well. I enjoyed my stay and will definitely visit again. Thank you for your amazing flat and hospitality.
Tino
2016-03-11T00:00:00Z
Overall, it's a lovely stay. Good location, good commutation! But sometimes the fridge was little bit loud.
Jinni
2017-03-31T00:00:00Z
The place was in a great location close to the bus station and restaurants. Su made it easy to check-in and out and was available when needed. We had a good experience at this place.
Emily
2017-01-06T00:00:00Z
Tipo de Quarto
Casa inteira/apto
---
Tipo de Imóvel
Apartamento
---
Acomoda
2
---
Quartos
Swansea, País de Gales, Reino Unido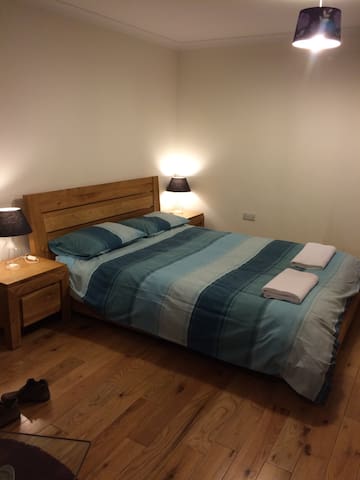 Our cool and comfortable modern apartment is set in a perfect location with balcony doors that open out onto the sea front promenade. Two double bedrooms with en suite to master bedroom, spacious open plan lounge and diner.
Roberts apartment is in a lovely setting for the Swansea bay walk...Unfort we were in depths of winter, but a few brisk strolls along the waterfront really set the scene for how great it could be on a sunny day!! Apartment super functional, clean and Robert was excelllent as a host- even welcoming us with some Welsh cakes!
Tim
2017-02-12T00:00:00Z
The host canceled this reservation 2 days before arrival. This is an automated posting.
Syomara
2017-02-04T00:00:00Z
Lovely place to stay and right along the beach. Was a lovely setting for a short stay
Simon
2017-04-06T00:00:00Z
Tipo de Quarto
Casa inteira/apto
---
Tipo de Imóvel
Apartamento
---
Acomoda
4
---
Quartos
Swansea , País de Gales, Reino Unido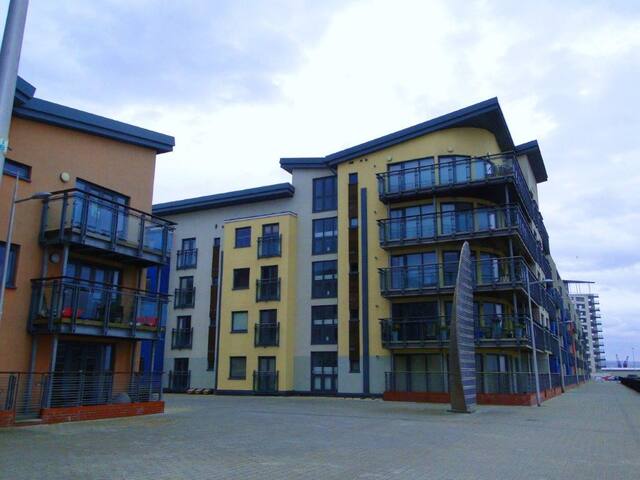 One bedroom flat, suit a single person/couple. Walking distance from city centre and all transport links. Open plan living/kitchen space with all modern amenities. Bi-fold doors opening onto slate patio. Designer bathroom with shower, sink and w.c. Spacious entrance area leading into all rooms.
The ground floor flat is part of a recently constructed architect designed modern building. The property is private within own grounds. The flat is totally self contained with own entrance area. The beauty of this property is its central location while affording privacy and location to local beaches, the spectacular Gower coast, city centre and transport links.
The property is centrally located. Local shops are a five minute walk with supermarkets, bars, restaurants. Five minute walk from promenade and local Swansea beach. The city centre is a 10 mins walk away.
Me and my girlfriend had an amazing time at Stewart's place. Him and his partner are incredibly welcoming and kind. The property is truly stunning and very well located. LGBT Friendly.
Jo
2016-11-28T00:00:00Z
Great stay. Booking was helpful and hitch free. Lovely apartment in good location. Close to town,Mumbles and the Gower. Suited us as a family of 4 with two young kids. Very friendly hosts. Right balance with lovely welcome but also letting us do our own thing. Would stay again
Ronan
2016-08-24T00:00:00Z
Beautiful newly built property. 15 minute walk into centre of Swansea, close to other restaurants. Hosts very friendly. Clean, well equipped and quiet location. Will stay again if we are in the area.
Karen
2016-08-18T00:00:00Z
Great place that felt like home in a quiet and convenient location close to the sea. Winkie and Stewart were very nice and helpful.
Michal
2016-08-29T00:00:00Z
Great place i really enjoyed my stay will stay again for sure very soon, the owners are very kind and always smiling and always asking if you need anything! Highly recommended and very clean!!
Faniel
2016-09-14T00:00:00Z
Stewart was waiting for us when we arrived and helpfully allowed us to park two cars on the property. The apartment is very comfortable and tastefully furnished. The fact it is in a built up location is hardly noticeable as the front of the apartment is very private and quiet, with some gorgeous trees in the grounds. The apartment has everything anyone needs including by-fold doors opening on to a slate patio and a coffee espresso machine!
Kerrie
2016-08-03T00:00:00Z
Great flat as described, with very friendly and helpful hosts. They know what they are doing which made our stay entirely stress free and enjoyable. They even managed to arrange 3 straight days of sunshine in October in Wales!
Corbin
2016-10-23T00:00:00Z
Wow what can I (URL HIDDEN) uplands oasis! I half expected the grand designs production crew to show up. Beautiful ground floor apartment with everything you need for business or holiday. Lovely clean bedding, lots of space and storage. Welcome refreshments were well received after a long drive down. Many thanks for a wonderful stay. Will recommend to friends and colleagues.
Tom
2016-08-10T00:00:00Z
Tipo de Quarto
Casa inteira/apto
---
Tipo de Imóvel
Apartamento
---
Acomoda
2
---
Quartos
Swansea, País de Gales, Reino Unido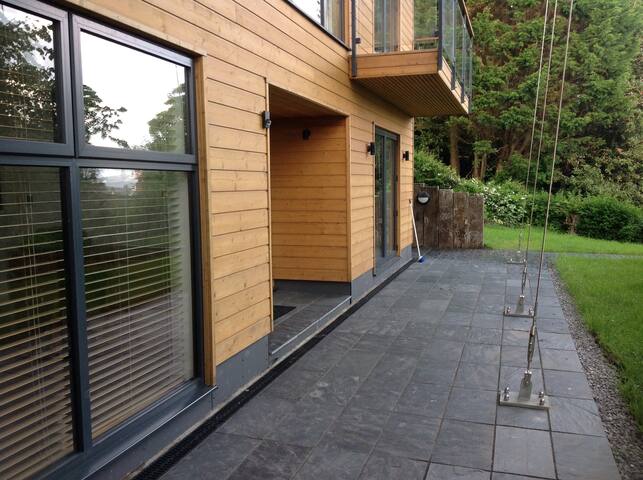 Studio is ideally situated in the heart of Swansea. The flat is fully equipped and furnished with a contemporary look. Perfect for a city break and sightseeing. A great base to explore Swansea. Fresh bedding, towels and linen provided. Good views.
Light, spacious studio in the centre of the city.
We enjoyed staying at Alice's house. The flat is exactly as the picture shown. Its location is surprisely close to the city centre. In general, nice served and clean flat. I would definetly choose it again when I go to Swansea.
Siyang
2016-09-03T00:00:00Z
Clear communication from Alice who we didn't meet but we received a great welcome by Mike. The studio was bigger than expected and was perfectly situated in the centre of Swansea, a short walk to the marina/beach and to buses to different parts of the Gower peninsular. The studio had everything we needed, the kitchen was well equipped, the bathroom very clean and the bed was comfortable. We felt right at home and would love to come back !
Viktoria
2016-08-17T00:00:00Z
It was a great flat and great location! the accuracy of the pictures were spot on! Would definitely stay here again if I am back at Swansea!
Huang
2016-09-07T00:00:00Z
My friend and I enjoyed the trip. When we arrived at the house, Mike came to show us how to use key and intruded the house. The room is very big and clean. We can also use the wash machine that is very useful. The tv is so amazing, Netflix is available on it. The most surprising thing was that Mike sent us a box of chocolate and some flowers. Everything is good, except that wifi was a little slow. Anyway, if I go to Swansea next time, I will still choose this house!
Yuan
2017-04-08T00:00:00Z
Lovely flat, very modern and clean. Mike the caretaker is a very nice person!!
Smudger
2017-04-10T00:00:00Z
Lovely time. Studio exactly as described, really bright and clean. Very cosy and beautifully furnished. Well looked after and communication with Mike was really good! Would recommend. Easy walk to the beach and town center with lots of fab restaurants and pubs. Really comfortable stay! Thanks! x (only negative is the oven has no markings so took a while to figure out!)
Laura
2017-04-03T00:00:00Z
Comfortable flat in a great location. This is the third apartment I've had from Mike and Alice and all have been great, as have Mike and Alice.
Greg
2017-02-02T00:00:00Z
This apartment is fabulously central. It made my work in Swansea so easy. It was clean. The caretaker mike who let me in was so friendly and helpful. And it was the perfect studio apartment stay. Thank you so much!
Samy
2016-10-09T00:00:00Z
Tipo de Quarto
Casa inteira/apto
---
Tipo de Imóvel
Apartamento
---
Acomoda
2
---
Quartos
Swansea, Reino Unido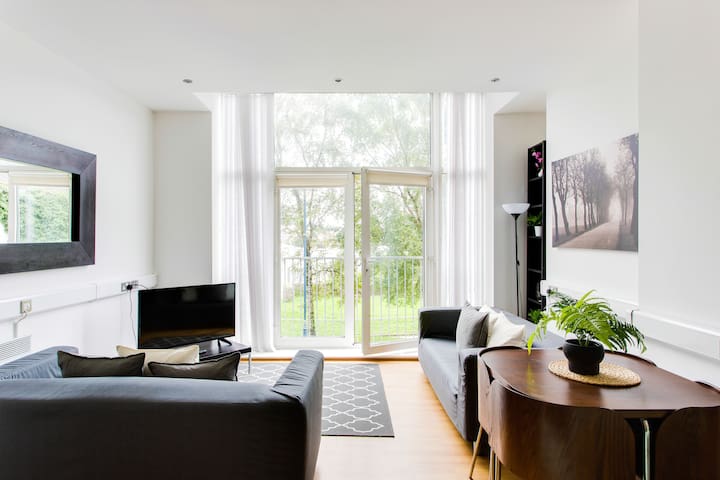 The house is beautiful and located in a very quiet and calm place. it is very close to the swansea beach and the view is beautiful , also the view of the boat is very beautiful and it is also in the centre of swansea town which makes it close ti the city centre, its also ten minutes drive from the swansea university.There are restaurants nearby like fresco, pump house which is also a bar also salons near by. it is 5 minutes walk from the cooperative store and two minutes walk from marina stores.
Really nice room with a very friendly and helpful host..would DEFINETLY recommend
ciaran
2017-04-01T00:00:00Z
very kind and flexible host,she came all the way walking with us making sure we found the right shops. very much flexible with timings , stay at the city centre 2mins walk to the beach. excellent organisation. thank you . had a great time.
Pushkin
2017-04-09T00:00:00Z
Tipo de Quarto
Quarto privado
---
Tipo de Imóvel
Apartamento
---
Acomoda
2
---
Quartos
Swansea, País de Gales, Reino Unido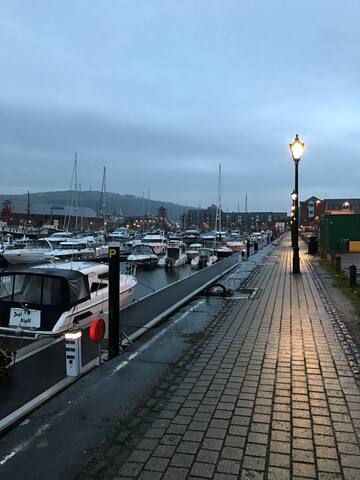 My place is close to the beach, public transport, nightlife, family-friendly activities, and the airport. You'll love my place because of The stunning views across Swansea bay towards Mumbles lighthouse. The neighbourhood, the light, the comfy bed, the kitchen, the cosiness. My place is good for couples, families (with kids), and furry friends (pets). You have direct access to the beach so it great for Kayaking or paddle boarding you have an ice cream parlour and coffee shop three doors away.
Bay View is a self contained annex with tea and coffee making facilities a fridge and microwave. However there is No oven/cooker. The space consists of a generously proportioned bedroom with en suite shower room/toilet and fabulous views out over Swansea bay and Mumbles Light House on the first floor. On the ground floor you have a half kitchen a sofa bed and kitchen table with seating for four and for those musically inclined there is even a baby grand piano.
Mumbles has all the major banks, a selection of shops and boutiques and an excellent selection of bars and restaurants. We can give you a list of the dog friendly bars upon request.
Lovely location right on a beach an hour's walk from Swansea or 30 min drive to Llangennith for surf. Friendly hosts and well equipped house. V comfortable and clean. Thank you for having us!
Christianne
2016-08-29T00:00:00Z
David was friendly and helpful. The place is in a fantastic location. Perfect for a stay in the Mumbles.
Monika
2017-01-16T00:00:00Z
Great location, close enough to do anything we needed to do. Good host with an informal and friendly approach. Only negative was that we had no cooker. But overall had a great break and would definately recommend. Great for dog lovers too.
Warren
2016-08-24T00:00:00Z
We were made very welcome -ideal situation.
Viv
2016-10-23T00:00:00Z
Our weekend away here was lovely. Quite literally a stones through from the beach and a gentle flat walk into town where there are a nice variety of shops, restaurants, cafes and pubs. The property itself is situated on the main road with easy off road parking. The annex has a lovely well presented bedroom with balcony overlooking the bay and en-suite shower room. It was also lovely and warm. Communication with Dave and Jean was excellent and they gave very good recommendations for dog friendly pubs. Would be happy to stay again.
Andy
2016-12-18T00:00:00Z
We were welcomed but the house smelt of stale smoke each time we entered. The general upkeep of both the house and gardens left a lot to be desired. We felt that given the price of the rental it did not live up to the photos/description posted.
Ann
2016-10-06T00:00:00Z
Enjoyed our stay. Cosy accommodation, great location, a few metres from the waterfront and nice areas for walking. Worked well for our family with 2 young boys. Heated up quickly on the days which are starting to get colder. Others have already mentioned the cooker. Would be a help, although we worked around with the microwave.
Tom
2016-11-13T00:00:00Z
Lovely place situated walking distance from Mumbles centre and easy to get to from Swansea. Perfect for a weekend if you like the sea as well as green....lovely places to walk to.... The host is very friendly and any doubts he is there to answer. ..we certainly recommend it...
Paola
2017-03-19T00:00:00Z
Tipo de Quarto
Casa inteira/apto
---
Tipo de Imóvel
Apartamento
---
Acomoda
4
---
Quartos
Swansea, País de Gales, Reino Unido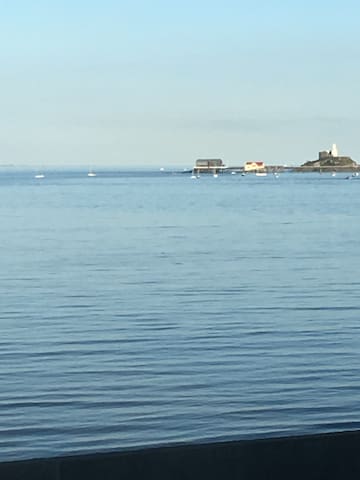 A modern 1 bedroom apartment based in Swansea's Copper Quarter development which is situated within walking distance from the Liberty Stadium as well as a variety of shops and restaurants. It comes complete with views over the River Tawe and the stadium itself as well as benefiting from off road private parking.
Tipo de Quarto
Casa inteira/apto
---
Tipo de Imóvel
Apartamento
---
Acomoda
3
---
Quartos
Swansea, País de Gales, Reino Unido
A one bedroom flat with Ensuite, open plan livingroom and kitchenette. Self contained facilities for your own use. Double bed. Wifi and microwave included. Ideally located within Walking distance to town centre, beach and university.
Abdul is a great host and a perfect gentleman - very flexible and reasonable, easy to communicate with
Eoin
2016-10-09T00:00:00Z
Abs met me at the flat and was very welcoming. He answered all my questions with ease. Very clean and tidy. The bed is very comfortable and the shower is great. Absolutely perfect for an easy short stay for a few days. I had one slight issue but it was not Abs fault and it was sorted very quickly. Overall I would highly recommend staying here. A tv would of been a bonus but it was nice to have a break from having one.
Philip
2017-01-20T00:00:00Z
Only book this property if you are looking to act like the noisy students who are accommodated in all the surrounding properties. We were so disappointed we moved to a hotel in the city centre.
Adrian
2017-02-13T00:00:00Z
Great little studio flat to spend a weekend in. Perfect for the uni. A short walk into town with busses running very often as well. There is some student living in the same building but wasn't too much of a problem!
Declan
2016-10-24T00:00:00Z
Very clean, and Abs was very organised in being at the place for my arrival. Great accomodation for a budget. Very clean and comfortable (it feels like it's been renovated in the past few months so everything is new). It is a 20 minute walk away from the city centre though, but that is reflected in the price. Good stay. Recommend.
Luke
2017-01-10T00:00:00Z
Loved our stay at Abs place it was perfect for 2ppl and has all you need. Thank you. X
Katy
2017-03-12T00:00:00Z
We had a good stay at Abs's place. It is very clean and spacious, and we had no problem accessing public transportation. The apartment is very basic, with only plates, bowls, mugs, and two individual sets of cutlery so it is probably not the best place if you are planning to cook. It was, though, nice and warm, and a great price per night.
Lindsay
2017-03-11T00:00:00Z
Friendly, communicates easily and just what you need for a weekend away!
Lewis
2017-03-19T00:00:00Z
Tipo de Quarto
Casa inteira/apto
---
Tipo de Imóvel
Apartamento
---
Acomoda
2
---
Quartos
Swansea, País de Gales, Reino Unido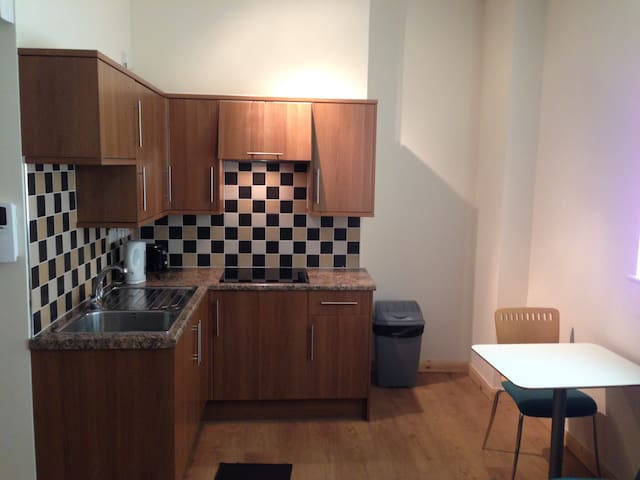 Lovely 1 bedroom apartment in the centre of the thriving Swansea Marina. Minutes walk from the beach and town centre this is a great base for exploring the local surroundings with plenty of bars and restaurants to choose from. A short drive away and you have access to the Gower and all its beautiful award winning beaches. The liberty stadium, home of Swansea City Football club is also close by.
1 Bedroom apartment with en suite and master bathroom just off the main hallway. Sofa bed in the living room.
Tipo de Quarto
Casa inteira/apto
---
Tipo de Imóvel
Apartamento
---
Acomoda
4
---
Quartos
Swansea, País de Gales, Reino Unido
Located just of the high street close to all the restaurants, takeaways, shops and pubs this newly refurbished studio has it all, kitchen, ensuite and comfotable living space. Can be set up as twin, double or we can add a pullout bed if requested.
Helen was so lovely, and the room was clean and just as described. We went to a pub down the road on Helen's suggestion and had a lovely time. Would stay again if ever in the area!
Allie
2016-12-11T00:00:00Z
Ideal for extended stsys and better value than more expensive hotels. Wetherspoons and shops alll provide for breafast lunch and dinner or you can cook in the apartments. Ideal for visiting Morriston hospital ..only 15 minutes away.
martyn
2016-11-28T00:00:00Z
Much better than we expected, I can highly recommend staying here
Griffler
2017-03-14T00:00:00Z
Lovely place for a little getaway! Close to a few shops.. And just a short drive to Swansea central! Saw bus stops outside to so public transport is readily available.. Very comfy apartment, has all necessities! Also has a gorgeous view...
Kerry
2017-01-01T00:00:00Z
Stayed here for one night for work purposes and it was fine, only downside was the wifi. States on the listing that the apartment had it but couldn't find one to connect to. Otherwise it was clean and a nice modern apartment.
Charlotte
2017-03-08T00:00:00Z
Great place - very comfortable bed!
Katie
2017-03-12T00:00:00Z
Lovely spacious studio apartment which is excellently equipped and very cosy! If we are were in the area again we'd definitely stay here!
Lucy
2017-02-12T00:00:00Z
Tipo de Quarto
Casa inteira/apto
---
Tipo de Imóvel
Apartamento
---
Acomoda
2
---
Quartos
swansea , País de Gales, Reino Unido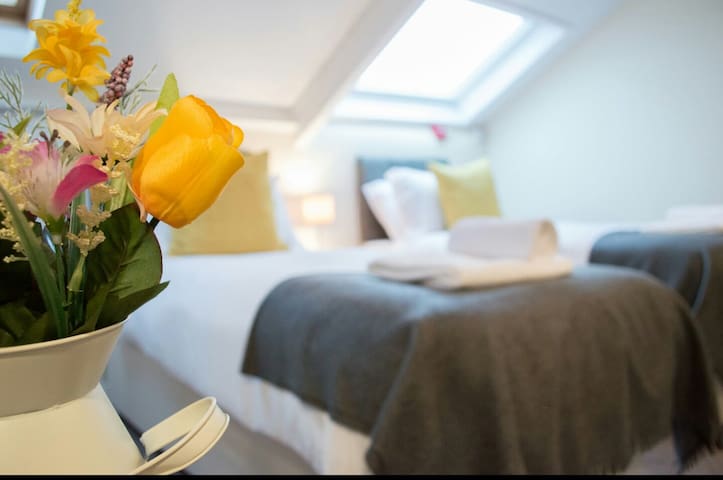 Quiet single or double room in chic city centre apartment. Close to all amenities directly opposite local restaurants and supermarkets. Ample parking ,
Minutes from the centre. 500 my foment the beachfront
We instantly felt welcomed and at home, Sharon is such a relaxed and lovely hostess and she has created a very warm space to stay in with thoughtful touches both throughout the house and in her hosting. Highly recommended.
Sam
2016-09-26T00:00:00Z
el anfitrion muy atento para ayudarme tanto dentro de la casa como en la ciudad.El barrio centrico
eukene
2016-03-20T00:00:00Z
Sharon was incredibly accommodating with my time of arrival that kept changing due to bad traffic on the motorway. I was welcomed to use the kitchen and all things. The bedroom I stayed in had very comfortable and big bed so I had a good rest. We had a good chat with Sharon but equally lots of privacy . if you are lucky you may see Sharon's cat too. The flat is close to the city centre and has off street parking which was a massive bonus for me.
Jo
2016-10-23T00:00:00Z
Unfortunately due to sickness I had to cancel , but I have to say that I was made feel most welcome before I even got there! Nothing was too much trouble for Sharon and I was looking forward to staying. Ah well, next World Cup!
Paddy
2015-10-18T00:00:00Z
Sharon was an amazing host, and her place was nice and cozy! She kept great communication with me leading up to my stay, and making sure I found the place! Her place is really nice and cozy, the bedroom is also really nice, and the bed is comfy. Place is nice and warm, and she has a really cuddly cat! Overall Sharon is just the best host, really helpful and generous, I would definitely stay here again and recommend her to other Airbnb'ers!
Emma
2016-07-02T00:00:00Z
Sharon was a wonderful host! The place was really clean and cosy, with fresh towels and a comfy bed. Sharon was so friendly and welcoming and it's a great location. Can't recommend enough!
Michael
2017-03-18T00:00:00Z
房东人非常非常好 很热情 房子住的也很温馨 离海边以及吃东西的地方的距离都很适中 交通也比较方便 非常开心的体验
冯
2016-02-14T00:00:00Z
Had a lovely stay, very pleasant greeting. No complaints what so ever.
Neesha
2016-06-16T00:00:00Z
Tipo de Quarto
Quarto privado
---
Tipo de Imóvel
Apartamento
---
Acomoda
2
---
Quartos
Swansea, País de Gales, Reino Unido
Our stylish and comfortable one bedroom flat gives you that true home from home feeling. It has ample space for 2 adults and is located in the heart of uplands with its trendy bars and cafes. Enjoy the added luxuries of underfloor heating, sea views and your own decking area.
This fantastic one bedroom flat is situated on the ground floor of a detached Victorian property with uninterrupted views across Swansea bay. The bedroom contains a double bed and has French doors with views across the bay. A travel cot and high chair can be provided if required. There is an ensuite which includes a freestanding bath as well as a separate shower cubicle. The modern kitchen features underfloor heating, an exposed stone wall and bespoke concrete worktops. Off the kitchen is a large storage room, a utility room and a separate WC. The open plan living and dining room has wooden flooring and French doors leading out to your own decking area with sea views.
Uplands is a vibrant Suburb of Swansea with trendy bars, boutique shops, cafes and restaurants. It boasts a local produce market once a month. There are three lovely parks within easy walking distance and the city centre itself is less than a 20 minute walk away, as is Swansea marina. Swansea bay is just a 10 minute stroll away with its glorious stretch of sand and promenade. Also the breathtaking Gower peninsular is just a 30 minute drive down the road. With excellent public transport links and most amenities almost on your doorstep, it is hard to rival a property such as this.
Despite an inconvenient time of arrival due to our delay and tricky time finding the house, Cheryl was helpful and understanding. Location is great, and the property is comfortable and complete with everything you might need. Welsh cakes, tea and coffee were most appreciated on arrival. Thank you for our stay!
Jennifer
2016-12-09T00:00:00Z
My girlfriend and me stayed here for 3 nights and had a great stay. The apartement is absolutely great. The place is very spacious and bright and has a stunning view over Swansea Bay. Everything is provided for, from all kind of kitchen utensils to even a nice collection of books. The location is excellent, the street is very quiet and nice but the lively area of the Uplands is literally around the corner. I would recommend this place to anyone who is going to Swansea for a few days and wants to feel a little bit at home.
Jorge
2017-01-10T00:00:00Z
Simply put. My stay was comfortable and easy going. Key box check in and out was an absolute perk considering my night time arrival / departure. Would stay again.
Andrew
2017-01-18T00:00:00Z
Cheryl's place is fantastic. Clean, welcoming, quiet, charming. Everything is taken care of before you arrive. Thoroughly recommended.
David
2016-08-09T00:00:00Z
Our stay here in mid October was great. The flat is bright and spacious with everything you could possibly need, including a particularly well equipped kitchen, and all very clean. Cheryl has made useful folders for things to do, places to eat and the 'rules' of the flat. We were welcomed with Welsh cakes, but there was also milk, tea, coffee,herbs, spices, dishwasher tablets, interesting books, and some games. The bed was comfy, - we woke to sunshine pouring in (lucky with the weather) and views to the sea. The bathroom was luxurious with plenty of hot water. We would be happy to recommend and will hopefully return!
James
2016-10-23T00:00:00Z
Cheryl made us feel very welcome and communicated well with us durinv our stay. The flat was amazing and everything we could've wanted. Will definitely book this flat again.
Joshua
2016-09-15T00:00:00Z
I wouldn't hesitate to recommend Cheryl as a thoughtful and friendly host, and her flat which was comfortable, extremely clean, and higly well equipped. The flat is private and peaceful, and is in very easy walking distance of the shops in Uplands, Brynmill Park, and the beautiful sweeping sandy beaches. The exchange of keys was smooth, there were plenty of extra touches to make us feel welcome, and the welcome pack drew our attention to anything that wasn't self-explanatory. For example I had forgotten to mention that my husband has an allergy to feathers which could have been problematic as the quilt on the bed was feather, however we were directed to a synthetic quilt, and there was extra bedding available. There were plenty of interesting and fun books dotted around, the chest of board games was a great idea, and being supplied with milk, ketchup and welsh cakes was wonderful. Many thanks indeed Cheryl, we will remember our stay in sunny Swansea for all the best reasons.
Jenny
2016-05-31T00:00:00Z
Cherly and Her Husband were excellent hosts. The flat was beautiful and in a central location as stated. Everything was provided and when there was a small issue Cheryl's husband was there within 30 minutes to sort it. Great Host and Amazing apartment. Would recommend to everyone!!
Anand
2016-06-10T00:00:00Z
Tipo de Quarto
Casa inteira/apto
---
Tipo de Imóvel
Apartamento
---
Acomoda
3
---
Quartos
Swansea, Swansea, Reino Unido
This Swansea Marina Apartment is fully furbished to a high standard. This large ground floor, one bedroomed apartment has a modern fitted kitchen with washer, and fridge/freezer.
Visiting Swansea Marina means that you will be within easy reach of the Gower Peninsula.  The Gower Peninsula was designated the first area of outstanding natural beauty in the UK, and has many picturesque bays to anchor up in and relax.
Tipo de Quarto
Casa inteira/apto
---
Tipo de Imóvel
Apartamento
---
Acomoda
2
---
Quartos
Swansea, País de Gales, Reino Unido
Situated overlooking Castle Square, this studio penthouse apartment has floor to ceiling windows overlooking the city and bay and a large open balcony! Spectacular views whatever the weather. Double bed, sofa, armchair, breakfast table, 2 chairs, desk and deckchair. Bathroom has bath and shower. Washing machine. Available for at least a week from May 11th. Possibly 5 to 6 weeks Some flexibility with dates. Enquire if interested. No free WiFi. Black and white TV, radio, CD player and books.
Right in the heart of the city close to Wind St. Open plan space with curtains on the floor to ceiling windows. Double bed with new memory foam mattress. Small sofa and coffee table plus a small armchair. Desk and chair and small dining table and 2 chairs. Bean bag and deck chair which can be taken on the balcony if it's not too windy!
Easy to walk straight into the city centre with the Grand Theatre just 8 mins walk away. Loads of light and when the sun is out, the flat is lovely and warm. Great sunsets! Beach is also just 10 mins walk away ... miles of sand around the bay. Wind St is nearby and full of pubs, so there is some noise at weekends with late night revellers!
Cara è gentilissima. Dall'appartamento, situato all'ultimo piano si gode uno stupendo panorama, dalla Marina al centro città e a tutta la Swansea Bay. E' inoltre realmente al centro della vita diurna e "sopratutto" notturna della città. L'abitazione è buona e ben accessoriata; difetti? A manca il guardaroba
Sebastiano
2016-05-31T00:00:00Z
Cara è stata molto accogliente e disponibile. Mi ha dato molte informazioni utili per il mio soggiorno a Swansea. L'appartamento è carino e confortevole come in foto. Cucina e bagno sono attrezzatissimi, e ho trovato tutto pulito. La posizione è ottima sia per girare Swansea che i dintorni visto che a pochi minuti ci sono la Bus Station e la Train Station. Anche la zona dello shopping è a pochi passi. Consiglio vivamente Cara come host a chiunque avesse intenzione di trascorrere qualche giorno a Swansea.
Simona
2015-11-11T00:00:00Z
My contract with student accommodation ends so I moved to this lovely place. As a person who lived in Swansea for 2 years, I have to say that the flat is at the best location in Swansea, just right on the heart of the city. It only takes you 2 minutes walk if you fancy a night out. Also it is close to attractions and shops. The view from the balcony is fabulous, the room is cozy and you have everything you need except a closet
Suranee
2016-09-17T00:00:00Z
Cara was awesome. She took some time to show me what attractions and events were in the city at that time. The listing was exactly as advertised, and the neighborhood was perfectly located within a 10 minute walk between walking along the beach, touring the harbor, several museums, and night life.
Tom
2015-10-19T00:00:00Z
Cara was at the apartment to meet me and show me around. Polite, chatty, and explained everything I needed to know and was happy to answer questions. The apartment was clean, spacious, and well presented. It's located right in the city centre with great views across the city and coast from a private balcony. The noise carries from the pubs and clubs on Wind Street on busy nights (noticeably on Sat and Wed), but it's to be expected from the central location and is more background noise than intruding.
Mathew
2015-07-25T00:00:00Z
Great Location and very Welcoming Host. My wife and I stayed at Cara's apartment and enjoyed it very much. The place is verey clean and tidy and had everything we needed. It's in the heart of Swansea city center and just 6 minutes walk from bus station and 7 minuets from train station. Cara was extremly friendly and explained everything to us(URL HIDDEN) I would recommend this place to anyone visiting Swansea.
Ahmed
2017-01-09T00:00:00Z
Wonderful location and views, close to transport and local points of interest! Although a wardrobe would improve it, it is really spacious and the kitchen has everything you need in case you feel like resting and cooking in the apartment. Cara always tries to stay in touch with you and make sure everything is fine.
Álvaro
2016-08-10T00:00:00Z
Cara is a terrific host. She left lots of information on things to do in the area and gave me great tips about the city in general. Her place is a spacious studio, very clean, and with enormous windows and stunning views of the city and out to the water. The kitchen is well - equipped. Recommended for anyone who wants to stay in the city centre.
Kim
2015-09-09T00:00:00Z
Tipo de Quarto
Casa inteira/apto
---
Tipo de Imóvel
Apartamento
---
Acomoda
2
---
Quartos
Swansea, Reino Unido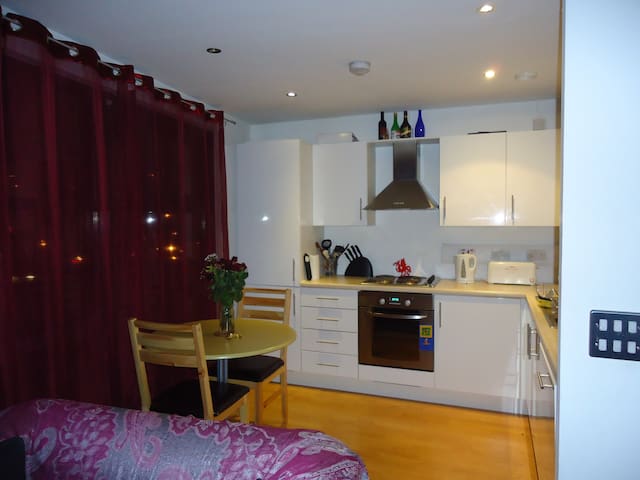 A Stunning Waterfront apartment with beautiful sea views in the heart of Swansea Marina, on the beach, overlooking Mumbles. Situated in the iconic Meridian Tower which occupies The Grape & Olive Restaurant. CCTV monitored parking for 1 car. Concierge service. You'll love my place because its good for couples, solo's, & business travellers. Perfect for a short weekend break in a coastal city, experience the delights the Gower has to offer, voted one of UK's natural beauties.
Paul went out of his way to make the stay as enjoyable as possible. Furthermore, the view doesn't disappoint
Panashe
2016-08-23T00:00:00Z
Paul was a wonderful host, he met and helped us with our luggage then showed us around the apartment. He was very Helpful and made our stay a very pleasant one.
PRISCILLA
2016-08-29T00:00:00Z
Great views and very secure including the locked car parking very good restaurant next door
Tony
2016-09-02T00:00:00Z
The host canceled this reservation 155 days before arrival. This is an automated posting.
Jill
2017-02-19T00:00:00Z
Tipo de Quarto
Casa inteira/apto
---
Tipo de Imóvel
Apartamento
---
Acomoda
2
---
Quartos
Swansea, País de Gales, Reino Unido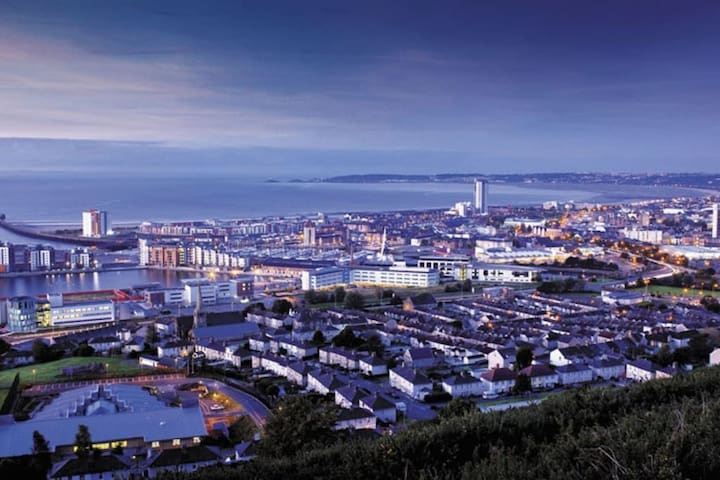 Neath - Airbnb
:
Média de

4.63

de

5

estrelas, de acordo com

476

avaliações de hóspedes
1

–

18

de

52 Apartamentos para Alugar
Insira as datas para ver o preço total. Taxas adicionais aplicáveis. Podem ser adicionados impostos.