O Brandy Bus é um autocarro da velha escola que foi renovada em um lar acolhedor e distinto Airbnb. Aninhado nas belas subúrbios serenos de Karen é um lugar perfeito para fugir. O autocarro está perto de muitas atracções turísticas, restaurantes, bares e 25 minutos de ambos os aeroportos. Todas as lojas, bancos etc são acessíveis nas proximidades. Há duas camas de casal no andar de cima e duas camas de solteiro pequenos no térreo que também servem como sofás. Há lugares ao ar livre e uma lareira externa.
O ônibus de dois andares foi completamente refeito para acomodar os viajantes aventureiros à procura de um tipo diferente de pernoite. Não importa onde você se encontra no pequeno ônibus, existem excelentes vistas para o exterior através das muitas janelas que revestem as paredes.
Para aqueles de nós que chamar Nairobi casa, musculares, encantos cosmopolitas da cidade incluem uma vibrante vida cultural, lugares fabulosos para comer e vida noturna agitada. Se você está só de passagem, este caldeirão de pessoas e atrações tem um parque improvável nacional (rinocerontes negros e todos), um orfanato de elefantes irresistível, o marco zero para o girafa de Rothschild, antiga casa de Karen Blixen e muito mais. Bem-vindo a uma das cidades mais dinâmicas da África! Por favor, tenha em mente que Nairobi é notoriamente ruim para o tráfego, especialmente no momento, enquanto obras rodoviárias disseminadas estão em andamento. Eu aconselho que você tente evitar viajar em todos os momentos de pico hora do rush. A maioria das sugestões que eu fiz aqui são fáceis de obter a partir da área de Karen para evitar todas as batalhas de tráfego dia! Eu só ter incluído meus lugares preferidos neste guia de modo a manter em mente que existem muitas mais opções para você lá fora para descobrir. ACTIVIDADES Nairobi National Park Situado na periferia sul da cidade, Nairobi National Park (em 117 quilômetros quadrados, é um dos da África do menor) tem uma abundante vida selvagem que pode, em alguns lugares, ser visto num contexto de arranha-céus da cidade e aviões que chegam à terra - é o único nacional estacionar na terra que faz fronteira com a cidade capital. Você vai precisar do seu próprio carro para dirigir ao redor ou você pode organizar uma excursão através de uma empresa local. Localização: Cerca de 20 minutos do Bus Brandy ao portão principal KWS Telefone: +(PHONE NUMBER HIDDEN) Website: (URL HIDDEN) David Sheldrick Wildlife Trust Ocupando um terreno no Parque Nacional de Nairobi, essa confiança sem fins lucrativos, foi criada em 1977, pouco depois da morte de David Sheldrick, que serviu como o diretor anti-caça furtiva do Parque Nacional de Tsavo. Junto com sua esposa Daphne, David foi pioneira técnicas para a criação de rinocerontes e elefantes pretos órfãs e reintroduzi-los de volta na natureza, e da confiança mantém laços estreitos com Tsavo para estes e outros projetos. O centro é uma das atrações mais populares de Nairobi, e merecidamente. Depois de entrar, às 11h, os visitantes são acompanhados a uma pequena área de visualização centrada em um furo de água barrenta. Alguns momentos depois, muito parecido com uma equipe de esportes marchar para o campo, os tratadores de animais vêm em ao lado de uma dúzia de elefantes do bebê. Para a primeira parte da visualização, os manipuladores de garrafa-alimentar os elefantes do bebê - uma visão emocionante. Uma vez que os pequenos sujeitos beberam seu preenchimento, eles passam a brincar ao redor, como bebês grandes. Os elefantes parecem ter alegria em se comportando bem na frente de seus mestres, por isso não se surpreenda se alguns quebra de patente e começar a esfregar-se contra a sua perna! Os elefantes do bebê também usar este intervalo de tempo designado para o seu banho de lama por dia, o que faz para algumas ótimas fotos; manter seu guarda-se como eles foram conhecidos para pulverizar um turista ou dois com um baú cheio de lama. Enquanto os elefantes gambol ao redor, os guardas falar sobre os órfãos individuais e suas histórias. Explicações também são dadas sobre o quadro mais amplo do projeto órfãos e alguns dos outros projectos do David Sheldrick Wildlife Trust está envolvido. Há também a oportunidade de "adotar" um dos elefantes. A confiança é também o lar de um número de rinocerontes órfãos, muitos dos quais, como os elefantes do bebê, se misturam com rebanhos selvagens no Parque Nacional de Nairobi durante o dia. Uma exceção é Maxwell, um rinoceronte cego que vive em uma grande paliçada para sua proteção. Localização: Cerca de 20 minutos de carro do Bus Brandy Telefone: +(PHONE NUMBER HIDDEN) Website: (URL HIDDEN) O Centro Giraffe Este centro, que protege girafa o altamente ameaçadas de Rothschild, combina a conservação sério com atividades agradáveis. Você pode observar, mão-feed ou até mesmo beijar um dos girafas de uma estrutura de madeira levantada, que é uma experiência bastante. Você também pode manchar javalis que cheiram na lama, e há uma auto-guiada interessante floresta passeio pelo adjacente Gogo Rio Bird Sanctuary. Esta é uma das histórias de conservação com boas notícias do Quênia. Em 1979 Jock Leslie-Melville (o neto queniano de um conde escocês) e sua esposa Betty começou a levantar um girafa do bebê em sua casa Langata. Na época, quando o Fundo Africano para Endangered Wildlife (AFEW) foi apenas sair do chão, não havia mais do que 120 girafas de Rothschild (que diferem das outras subespécies girafa em que não há padronização abaixo do joelho) em estado selvagem. Ao contrário dos girafas reticuladas e Masai mais comuns, girafa de Rothschild tinha sido empurrado para a beira da extinção por perda de habitat grave no oeste do Quênia. Hoje, os números da população mais de 300, e o centro lançou com sucesso essas criaturas carismáticas em Lake Park Nakuru National (lar de cerca de 45 girafas), Mwea Reserva Nacional, Parque Nacional Ruma e Nasalot Reserva Nacional. Localização: Sobre 10 minutos de carro do Bus Brandy Telefone: +(PHONE NUMBER HIDDEN) Website: (URL HIDDEN) Bomas do Quênia Os artistas residentes talentosos neste centro cultural executam danças e canções tradicionais tiradas de vários grupos tribais do país, incluindo árabe-influenciada taarab música suaíli, danças guerreiras Kalenjin, Embu drumming e cerimônias de circuncisão Kikuyu. É turística, é claro, mas ainda assim uma tarde espetacular fora. O complexo é composto de uma série de '' bomas ou vilas, cada uma construída no estilo arquitetônico dos principais grupos étnicos do Quênia. Performances: 2.30-4pm Mon-Fri, 3.30-5.15pm Sat & Sun, 'aldeias' dez horas - seis horas Sat & Sun Loaction: cerca de 15 min de carro do Bus Brandy Telefone: +(PHONE NUMBER HIDDEN) Website: (URL HIDDEN) Karen Blixen Museum Se você amou Out of Africa, você vai adorar esse lugar. Este museu é a casa da fazenda onde a autora Karen Blixen viveu entre (PHONE NUMBER HIDDEN). Ela deixou após uma série de tragédias pessoais, mas a bela casa colonial foi preservada como um museu. O museu está situado em jardins extensos, e é um lugar interessante para passear. Dito isto, o filme foi gravado em um local nas proximidades, por isso não se surpreenda se as coisas não parecem inteiramente certo! Guias (não obrigatório, mas útil) estão incluídos na taxa de admissão, mas eles esperam uma dica. Loaction: Cerca de 5 minutos de carro (ou 20 minutos a pé) do Bus Brandy Telefone: +(PHONE NUMBER HIDDEN) Website: (URL HIDDEN) Kazuri Beads e Pottery Center Uma desvio interessante em Karen, este centro de artesanato foi iniciado por um relaxarem Inglês em 1975 como um lugar onde as mães solteiras podem aprender uma habilidade comercial e alcançar a auto-suficiência. De origens humildes, a força de trabalho floresceu a mais de 100. Um passeio gratuito leva você para os vários edifícios da fábrica, onde é possível observar o processo, desde a moldagem de barro cru para os vidros dos produtos acabados. Há também uma loja de presentes com preços fixos. Localização: Cerca de 10 minutos de carro (ou 30 minutos a pé) do Bus Brandy Telefone: +(PHONE NUMBER HIDDEN) Website: (URL HIDDEN) Se você não se importa de passar o tempo no trânsito e gostaria de verificar o coração da cidade, algumas outras idéias de atividades incluem: Go Down Arts Center O Centro Go-baixo Arts, um armazém convertido na Zona Industrial, contém 10 estúdios de arte separadas e está rapidamente se tornando um hub para a cena artística florescente de Nairobi, reunindo visual e artes cênicas com exposições regulares, espectáculos, workshops e noites culturais abertas Localização: cerca de 30 minutos sem tráfego (sempre haverá tráfego!) A partir do Bus Brandy, com tráfego quem sabe! Telefone: +(PHONE NUMBER HIDDEN) Website: (URL HIDDEN) Kenyatta International Conference Center plataforma de observação Elevando-se sobre o quadrado cidade no City Hall Way, construção assinatura de Nairobi foi concebido como uma fusão de estilos africanos modernos e tradicionais, embora a torre pires distintivo parece um pouco datada lado de alguns dos edifícios de vidro novos e vistosos da cidade. Pegue o elevador até a plataforma de observação e heliporto no telhado para vistas maravilhosas sobre Nairobi. A linha de visão vai todo o caminho para os subúrbios e em dias claros você pode até ver Mt Quênia. Você está autorizado a tirar fotografias a partir do nível de visualização, mas não em outras partes do edifício. Localização: Cerca de 40 minutos de carro com nenhum tráfego (sempre haverá tráfego!) A partir do Bus Brandy, com tráfego quem sabe! Telefone: +(PHONE NUMBER HIDDEN) Website: (URL HIDDEN) Comendo e bebendo ao redor KAREN (Eu incluí meus favoritos aqui, mas há uma lista completa de restaurantes Nairobi no guia impresso no ônibus) Talismã Este café-bar-restaurante icônico e elegante permanece na moda com a Karen em multidão, e rivaliza com qualquer um dos melhores restaurantes do Quênia para imaginativa comida internacional. The New York Times proclamou melhor restaurante do Talisman (URL HIDDEN) um interior encantador de tapeçaria Oriente Médio e do artesanato queniano e inigualável refeições ao ar livre à luz de velas, quem pode culpá-los. O Talisman é muito mais do que o seu restaurante típico, servido de anfitrião a uma série de exposições regulares sobre Africano arte e eventos foodie mensais. O menu continental se estende do Japão para Zanzibar, Limuru para Mombasa. Comece com o feta e coentro samosa do mergulhados em jam chili. Reserva é altamente recomendado. O bar também é um ótimo lugar para tomar um cocktail ou provar o melhor Bloody Mary em Nairobi. Esteja preparado para pagar preços europeus! Localização: Cerca de 15 minutos de carro do Bus Brandy. Telefone: +(PHONE NUMBER HIDDEN) Website: (URL HIDDEN) Tin Roof Café Este lugar tem todos os ingredientes necessários para ser um favorito Nairobi - a gar tranquila
The Brandy bus is a unique home and very tastefully done and very comfy - outside and inside. The area is very quiet and safe ... the wifi could be better ... but other than that ... a great place
Thinley
2017-03-24T00:00:00Z
The bus is great for spending time together in a fun environment. It is calm and offers everything you need, including a good shower, small kitchen and a fireplace outside.
Carolina
2017-03-09T00:00:00Z
Our family of 6 stayed for 2 nights and loved it! The bus was a very unique and fun get away, exactly as described. We loved staying in Karen, the property was beautiful, peaceful and close to everything. Highly recommend, we definitely hope to return!
Shannon
2016-12-13T00:00:00Z
Fantastic Tiny Home full of original solutions! Great base in Karen!
Pepijn
2017-02-06T00:00:00Z
What an amazing and unique place to stay. Full of character and different from a mainstream Airbnb, we all enjoyed the quirkiness of staying in a converted double decker bus. We loved the relaxed and refreshing ambiance this bus provided. I stayed here with my two adult daughters and their friend and we loved it. The beds upstairs were very comfortable but the ones downstairs would be best suited for a smaller person. The shower was the best we had the whole month in Kenya. Rhoda met us when we arrived and was very welcoming and helpful. Our driver Robert was very flexible and accommodating. We enjoyed a nighttime fire in the outdoor fire pit. We had no issues other than one or two of the windows do not close all the way so Mosquitoes were an issue at night especially if you are sleeping downstairs. But plenty of repellant solves that issue. There was coffee, tea, sugar, milk and water available for our use which was a nice surprise. There are beautiful dogs on the property that we enjoyed. I also enjoyed a trip to the Karen Blixen Museum and coffee house which was very close to the property. We would have liked to stay and rest on the property longer as it provided a peaceful atmosphere for anyone needing a good rest. I would stay again if I ever go back to Nairobi.
Zinnia
2016-12-29T00:00:00Z
We had an incredible time on the bus. A much needed escape from infant twins and a toddler. The bus was cozy and quiet. We cooked a few simple meals and enjoyed them on the patio. The bus is on a compound with a few other houses but secluded in a quiet corner behind mature greenery. Close to shopping and restaurants. Technically sleeps 6 but since it's an old bus you'll hear everything going on inside. Oh and the water pressure in the shower was incredible!!! Definitely recommend.
Aaron
2016-11-06T00:00:00Z
Everything was perfect! Communication, organisation, everything was great. The bus is magnificent!
Hendrik
2017-04-03T00:00:00Z
You don't know a true getaway until you live in the bus. Everything about it is just perfect!
Tapfuma
2016-12-23T00:00:00Z
Tipo de Quarto
Casa inteira/apto
---
Tipo de Imóvel
Casa
---
Acomoda
6
---
Quartos
Nairobi, Nairobi, Quênia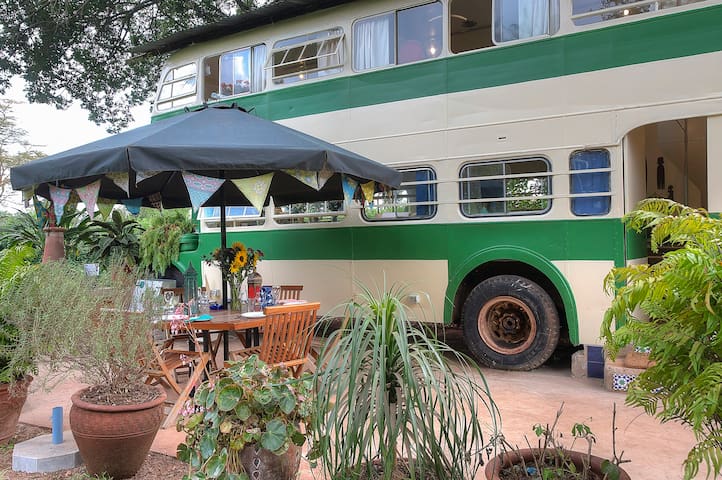 Muito aconchegante Penthouse com vista para Ngong Forest, a meio caminho (4 Km de cada lado) entre Karen Shopping Center e junção Mall. 500 m a partir do desvio do Sul, 15 minutos de distância do aeroporto.
TV a cabo duas varandas - um para cada acessível a partir de quarto e sala, shopping center e piscina no interior das instalações. Apartamento é limpo pelo menos duas vezes por semana e tem um monte de espaço de armazenamento
Localização com vista para Ngong Forest, muito tranquilo, privado e seguro com grande comunidade no complexo
The flat is exactly as it looks in the photos. Victor was a great host. I only met him once but he was always quick to respond to any queries. The location was great and close to public transport. Taxis to Junction Mall are cheap. The flats are also manned by 24 hour security. Housekeeping at hand to change linen and spruce up the flat on request.
Patrick
2016-06-15T00:00:00Z
I just loved the place. I felt at home. The apartment was very clean . The neighborhood as well. Everything I need was provided. Victor was very welcoming and was prompt for any questions I had. The public transport was just outside the gate which made easier for me to get to town. Karen is only a few minutes away. Just outside the main gate was a Mall / supermarket to get anything I needed. Internet was working perfectly... Cleaning services also provided. I must say I was impressed as a woman to Stay there. Enough space for my clothes and my cosmetics...
Lilian
2016-08-21T00:00:00Z
Victor was wonderful host. He provided us with snacks and water when we arrived. Victor also went out of his way to help us when we had issue with our tour and transportation. The apartment is very clean and safe, and the wifi works well. The location is also good. There is a public bus that took us to the mall (has a huge grocery store) down the street where we got food and clothing.
Kerri
2015-09-01T00:00:00Z
This is a very nice apartment. Victor was friendly and unobtrusive. Showed me round the flat that let me settle. I recommend the apartment if this is the location you are looking for. I had three nights there and could relax after a long overland Africa trip and before flying back to England.
Paul
2015-12-07T00:00:00Z
Very flexible on arrival and departure times, flat was cleaned during our stay at a time convenient to us, kitchen had some essentials which made life very easy!
Becca
2016-10-30T00:00:00Z
Really nice flat and perfect host!!! Always Viktors flat, when returning to Nairobi !
Till
2015-04-09T00:00:00Z
Victor was great, and the place was super nice. It was well-kept, very clean, etc. I would not hesitate to stay in his place again.
Robert
2016-07-19T00:00:00Z
Victor was an amazing host and his condo is clean and perfect!
Pilar
2015-03-06T00:00:00Z
Tipo de Quarto
Casa inteira/apto
---
Tipo de Imóvel
Apartamento
---
Acomoda
2
---
Quartos
Nairobi, Nairobi, Quênia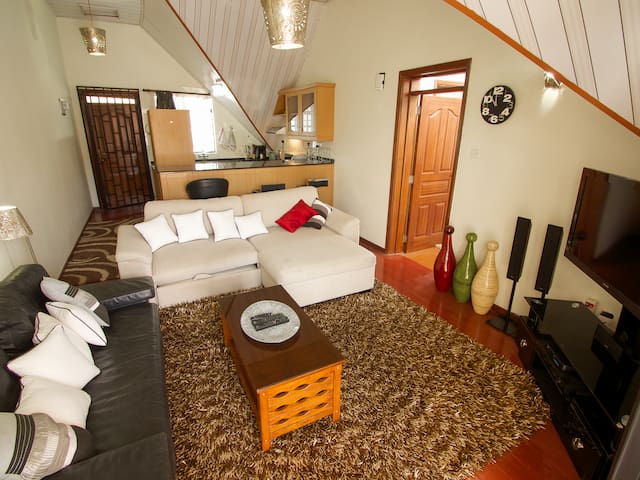 Localizado na frondosa periferia de Nairobi, este elegante totalmente mobiliados apartamento de 3 quartos oferece uma oportunidade para os viajantes para desfrutar de sua estadia em casa queniano longe de casa. Localizado a 10 minutos a partir da junção, de carro, a 10 minutos do centro de compras Karen de carro, e ao lado Ngong road Forest Sanctuary e Ngong Racecourse, o apartamento tem acesso a restaurantes, clubes e lojas de curiosidades locais. O apartamento tem uma cozinha aberta, sala espaçosa com varanda, quarto principal suíte, e área de serviço todos elegantemente decorados com mobiliário e arte contemporânea peças africanas. Facilidades: - Um quarto de banho com uma cama king size - Queen Size - duas camas de solteiro - Cama de bebê - Cozinha totalmente equipada - Acesso à internet - TV a cabo e DVD - Segurança 24 horas tripulada Pequeno-almoço pode ser providenciado por um custo extra Amplo estacionamento, e uma piscina bem conservado em jardins bem paisagísticos. Faxina e lavanderia é feito duas vezes por semana. As excursões podem ser providenciado com antecedência e um táxi está disponível na chamada, tudo a um custo adicional. Nós também dar-lhe um traslado aeroporto na chegada se você optar por ficar por mais de uma semana !!! :-) Além de conseguir um grande anfitrião :-)
Localizado longe da agitação do centro da cidade, mas perto de várias comodidades que os hóspedes desfrutar de uma estadia tranquila.
Tivemos uma estadia muito agradável no apartamento da Shiko. Pontos positivos: - Ao chegarmos de longas viagens Lucy havia preparada um jantar caseiro delicioso para nós. Adoramos este carinho recebido. - Shiko pensa em detalhes que fazem a diferença, contando com filmes e jogos em sua sala de estar. - Próximo ao apartamento há um mini mercado e um pequeno restaurante-café onde pudemos fazer compras e algumas de nossas refeições. - Shiko foi muito flexível e manteve nossas bagagens maiores durante cerca de 7 dias enquanto viajamos a Tanzania para fazermos um Safari. - As camas são confortáveis e contam com rede de proteção contra mosquitos. Pontos a melhorar: - O aquecedor de agua é um pouco lento, então tivemos que espaçar bem os banhos (cerca de 20 minutos). E não conseguimos usar os dois chuveiros simultaneamente. - As torneiras devem ser giradas para o lado contrário (em direção ao símbolo azul e não vermelho) Shiko, muito obrigada por este período que estivemos em seu apartamento em Nairobi. Definitivamente recomendaremos aos amigos!
Juliana
2017-03-16T00:00:00Z
Shiko made us feel welcome into her home. After a tedious road trip with multiple delays, we would not have wished for a better place to rest. There was excellent communication before and during our stay. The place was neat and to top it all off, we found a nice homemade dinner! The location was excellent (just near the rugby stadium) with shopping centers either side: towards Karen and town. We'd come to watch a rugby match between Uganda and Kenya and on learning the we lost, Aunt Lucy gave us that motherly consolation and we departed in good spirits. Thank you Shiko for the hospitality. I hope to be back soon! PS: we were 5 people and there was a unanimous decision that indeed the place was awesome. So this is feedback from 5 people!
Victor
2016-08-02T00:00:00Z
We had a lovely stay at Shiko's apartment. It is very clean and well furnished with lots of security and in a good location between Kilimani and Karen. Any small issues we had were resolved quickly by Shiko who was a great host.
Jess
2013-06-04T00:00:00Z
Very nice time at Shiko's place. Quite, easily accessible from Ngong road (Karen area). No major issues, a couple of hiccups but were fixed promptly by Shiko (she is great).
Vikalp
2014-05-13T00:00:00Z
While the apartment is good and is easily accessible from Ngong Road, we had a bad experience in the hands of a ruthless lady by the name Lucy Gichuru. On Monday Jan 13, I requested to extend our stay to Sunday Jan 19 instead of Saturday. Shiko accepted and made it complementary given that we checked in two days late and never requested a refund. On Tuesday Jan 14, Shiko called me around 4pm and said the owner was shocked to find the house filthy and decided not to host us up to sunday. I explained that we have two kids 2&3 years who could throw things around and offered to pay for saturday but Shiko declined saying it was not about money. I asked to speak to the owner but Shiko said the owner didn't want to speak to us. I called my wife who noticed Lucy driving out when she was entering the apartment complex and I asked why the house was so dirty. She said the house is cleaner than it was when we checked in. I suspected Lucy was the owner and I called her and stated what my wife told me. Intrestingly, Lucy came into the apartment without notifying us and when she came the cleaning lady had just completet cleaning the house. With these facts, Lucy apologized and said Shiko misrepresented her and Shiko never told her our extension to sunday was complementary. Lucy expected to collect payment for the extra day but offered complementary because Shiko had already approved it. Though we were dissappointed, we just requested both Shiko and Lucy to be careful in the way they deal with guests. On Thursday, Jan 16, Lucy called me around 5pm and said our electric usage was way above average and she wanted us to share the cost. I declined because we were using the house just like ours. She then ordered us to check out Saturday by 10am. Because the cleaner did not come on Thursday, I told Lucy we may end up with wet laundary but she said we have to check out at that time anyway. On saturday, we folded wet launday and left at 9.45am. Prior to our leaving, Lucy called around 9am and asked us to stay until the laudary had dried. This was not possible because we had movers outside waiting for us. I think Lucy and Shiko never expected that we will be cooking at home everyday but that is what we like even while in the USA. They didn't have to give us a complementary stay, but they had no reason to ruin our vacation by extending our stay and then abruptly retracting it at the 11th hour. I think Lucy is mostly driven by greed but she shouldn't take it to innocent guests. PROSPECTIVE GUESTS, BE CAREFULL, THESE HOSTS ARE UNPREDICTABLE.
Nathan
2014-01-19T00:00:00Z
The apartment was exactly as described. Shiko and her team made sure my family and I were welcome e.g. lovely fresh flowers, clean towels, stocked bathrooms. We also requested items for the kitchen which were purchased promptly and other accommodations were met with similar effectiveness. I would stay here again in a heartbeat. Only downfall, which is out of Shiko's control, is the traffic on Ngong Rd.
Melissa
2015-01-15T00:00:00Z
We love staying at Shiko's place. It is always very clean and in a great location.
Ellen
2016-11-11T00:00:00Z
Shiko was an excellent communicator, all questions were responded to quickly and accurately. The apartment was just as seen in the pictures, it was a lovely place to stay; me and my family enjoyed our experience. The beds were very comfy, the free WiFi and TV channels were appreciated, we were also thankful for the bread, eggs and fresh flowers we found. The neighborhood was quiet and it did feel secure while we were there. The Junction Mall was close by and the matatu (bus) stop was right at the gate when i wanted to go to town. I would say this is a good choice for any traveler heading to Nairobi.
Gloria
2015-09-06T00:00:00Z
Tipo de Quarto
Casa inteira/apto
---
Tipo de Imóvel
Apartamento
---
Acomoda
5
---
Quartos
Nairobi, Nairobi, Quênia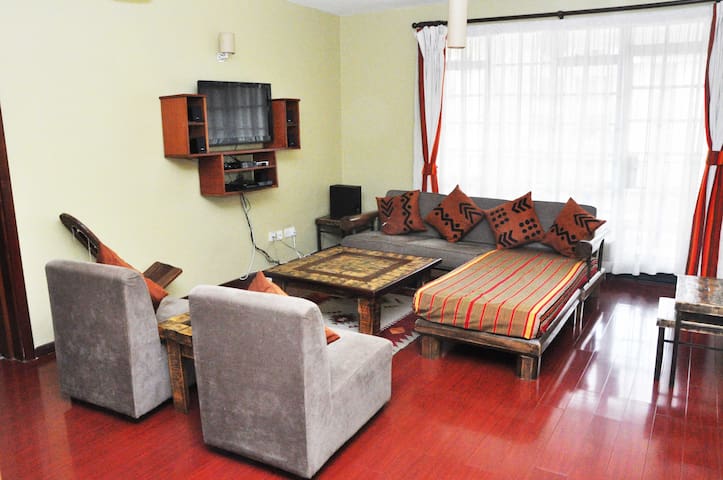 Self catering log cottage with integrated lounge/dining/kitchen area, 2 double bedrooms, separate bathroom, open wood fire. Magnificent view down an unspoilt valley. Fully secured and remote controlled electric gate. Cottage cleaning included.
A casa está localizada em um grande jardim ao lado da casa principal. saladas frescas e vegetais são cultivados na horta
Karen está localizado ao lado do Parque Nacional de Nairobi e tem muitos pontos de interesse, incluindo orfanato de elefantes, centro de girafa, Museu Karen Blixen. Existem muitas boas lojas, supermercados, restaurantes e bares. Estamos a menos de 10 minutos de carro do centro comercial Hub
Our stay at Alistair's cottage was lovely. The house was perfectly appointed, the beds and pillows super comfortable and we were so proximate to the Giraffe Center, David Sheldrick Wildlife Trust and Nairobi National Park. We loved eating at the local restaurants Tin Roof Cafe for breakfast and Talisman for dinner. Alistair was a wonderful warm host and even though I initially completely flubbed our arrival date he helped me block out our actual dates and was really gracious about my mistake. Thanks so much for a wonderful stay!
kendall
2016-05-02T00:00:00Z
My stay at Alastair's cottage was great. It's the perfect place for a stay in Nairobi. On the edge of the forest so great views and felt very secure. Thanks for a great few days.
Alexander
2016-09-14T00:00:00Z
Had a great stay. We was made to Feel very welcome from booking with Allistair. Allistair welcomed us upon arrival showed us around. I was surprised at how large the annex was, it was very clean and had the makings of tea & coffee which was great, the kitchen was well equipped and managed to cook a good few meals. Felt very secure inside and the grounds were well guarded. We got there later in the evening and the water was lovely and hot for all 3 of us to enjoy a shower had lovely large towels. The bedrooms were good sizes and beds were very comfy, alot of storage space for clothing and hangers to hang clothes up. The lounge was very comfortable and one night we had a open fire which warmed up the whole place ready for bed, it wasnt cold but was nice to have it. And it was all set ready for us. We woke up the next morning and joined allistair for a morning coffee! Very easy going and lovely to chat to. His staff were very friendly especially the driver Sam he drove us to the local shops and airport all arranged by Allistair which was great for us not to worry. He did offer us a trip to the elephants & giraffes at a brilliant rate but we was very tired After our trip it was nice to just relax and that we did! Will definitely use again. Thankyou
Rachael
2016-10-26T00:00:00Z
Alastair was a fantastic host, can't recommend staying here enough! He answered all our question and provided his driver Sam to pick us up at the airport and ferry us all around. The cottage is beautiful, set on the edge of Karen backing on to a valley so quiet and peaceful. Would love to go back, a truly wonderful stay!
Hailey
2016-11-17T00:00:00Z
Excellent stay from start to finish. Our arrival was delayed but Alastair was still there to greet us and offer a refreshing beer. The house was as described and fully equipped. He had catered for our 1 year old with a great cot and high chair. everyone was really friendly, looking forward to our return.
Andy
2016-08-08T00:00:00Z
I was really stressed out when I got to Alastair place. My first week in Nairobi was a nightmare. 1st time using Airbnb didn't know all the rules and stuff. Soon as I got to his place, it was wonderful and relaxing as vacation should be. His cottage is the perfect place to get rest and relaxation. Alastair and Sharon are wonderful hosts, we shared conversation drinks and Pizza. Really wonderful people, could not recommend more 10/10. I will stay there again when I come back to Nairobi in a few years time. Thanks a lot for getting me back into being on vacation Much Appreciated
Clayton
2016-04-25T00:00:00Z
This is an honest review. I was disappointed with the place, It didn't feel safe and secure and to lock the main door you had to use a padlock which was available for anyone to put there hand through to open from the outside. And it was very dirty!! Pictures of the bathroom are not provided (now know why as the only way I can describe it is it's filthy and falling apart) The welcome we got when arrived by Alistairs wife was not acceptable , we were an inconvenience as she was tired and we were basically told by her she was tired and going to bed! (never mind the flight and journey we had been on to get there) It was so cold at night the bed felt damp. Gaps in the wall where you could see day light and gaps around Windows and some didn't even close. If you want a good nights sleep that isn't happening here as the dogs barked aggressively all night. Having spoke to Alistair at 2am saying I had concerns about the health issues of my son staying in this place, he replied with he would meet me at 9am. Me and my family had no sleep, very upsetting and a distressed night to then be rather disappointed to have to pay out £200 for staying 9 hours.
Martin
2016-08-26T00:00:00Z
We had a wonderful time! Alastair and his wife and staff were all very kind, helpful, and accommodating. The place is restful, calm, and quiet. Great for a couple of small family to stay and have a place not too far from town but also away from the hustle and bustle of Nairobi. We hope to be able to stay again next time we are in Kenya!
Bethany
2016-10-16T00:00:00Z
Tipo de Quarto
Casa inteira/apto
---
Tipo de Imóvel
Casa
---
Acomoda
4
---
Quartos
Nairobi, Nairobi County, Quênia
Enjoy exclusive access to your own private wilderness set in a tranquil spot within a woodland in Karen. The rustic barn style charm, open plan living with exposed beams and large windows, frame the outstanding natural outdoor Kenyan beauty. This idyllic and cosy cottage in Karen is perfect for couples or singles on business or safari. A perfect haven to relax, yet just 5 minutes drive to the local shopping center. For relaxation, the large outdoor verandah are a bird watchers heaven for numerous varieties of birds as you enjoy Al fresco dining.
Alice's place is in a nice, quiet area outside of Nairobi. She has a number of cottages on the property, hence the variety of photos in the listing. I didn't meet Alice during my stay, but her various staff around the property made it easy to check in and manage my stay with Alice always a text away.
Julie
2016-01-31T00:00:00Z
A wonderful cottage in the forest! Wonderfully peaceful. Alice was very responsive and super helpful and her staff are very friendly and helpful too.
Catherine
2015-11-22T00:00:00Z
Alice was incredibly response and the place was perfect! A sweet little cottage in a wooded area. My folks stayed there recently as it was close to our house in Karen. They were completely comfortable the whole time and the staff were incredibly warm and accommodating! I would highly recommend this place to anyone looking for an affordable and comfortable accommodations in a great location in Karen
kim
2015-07-23T00:00:00Z
We had a very good time in Karen and in The place of Alice. We will be back.
Ole
2016-03-24T00:00:00Z
Good experience. Nice lush and green environment. A good getaway out of the hustle and bustle from town
Bram
2016-01-12T00:00:00Z
Beautiful, quiet place away from the commotion of the city but still near fun things to do.
Peter
2017-03-08T00:00:00Z
I was made extremely welcome and felt secure here. The cottage is lovely and brilliantly located in Karen. The price is also good value. Thank you Alice for a great stay. I will be back.
Joanna
2015-11-13T00:00:00Z
The cottage in Karen is wonderful. The grounds of the property are beautiful and tranquil. The location is perfect to explore Karen and the surrounding area. The wifi is strong and the dogs on the property are very friendly. Alice and her team on the property were excellent and I look forward to staying again during future visits. Thanks for the recharge...
Sean
2015-11-28T00:00:00Z
Tipo de Quarto
Casa inteira/apto
---
Tipo de Imóvel
Cabana
---
Acomoda
2
---
Quartos
Nairobi, Nairobi, Quênia
Situated at the end of a quiet, leafy cul-de-sac, 2 minutes off Langata Road and 10 minutes from Karen Centre, the place is a light and airy guest wing with an en-suite master bedroom with its own balcony (hence the view!) and a separate, private entrance and a private garden veranda, sitting room and kitchen. Therefore, this is perfect for both single travellers or visitors to Kenya or Nairobi as well as couples who need a little bit of privacy, space and comfort.
Situated at the end of a quiet, leafy cul-de-sac, 2 minutes off Langata Road and 10 minutes from Karen Centre, the place is a light and airy guest wing with an en-suite master bedroom with its own balcony (hence the view!) and a separate, private entrance and a private garden veranda, sitting room and kitchen. Therefore, this is perfect for both single travellers or visitors to Kenya or Nairobi as well as couples who need a little bit of privacy, space and comfort.
We are about 10 minutes from Karen Shopping Centre and in quite a central location to access bars and restaurants and many of Karen's tourist attractions and the Nairobi Game Park.
We loved a Room with a View. It was just the right space for us and very well equipped. My daughter adored the dogs on the property who were very friendly. We can't wait to cone back.
Claire
2016-12-25T00:00:00Z
Lovely place that I wish I could've stayed longer at. The dogs make you feel at home at once. Everything was great!
Elsa
2017-03-18T00:00:00Z
We loved our stay at Lucy's secluded and beautiful guest house. We will definitely stay here again!
Kaylee
2017-03-16T00:00:00Z
Lucy & Peter were the perfect hosts and very polite and accommodating. The guest wing was very clean, comfortable and safe. Their staff was more than helpful and I had such a great experience in Kenya. I would highly recommend staying here and if I come back this will be my first pick.
Janee
2015-12-19T00:00:00Z
I'm staying again in two weeks and probably again in May 2017. Go figure.
Jeff
2017-02-09T00:00:00Z
All is like prommised a very fine place very clean and just wonderfuld
Niels Micalis
2017-04-05T00:00:00Z
Very beautiful place, well decorated, nice furniture, with good Wi-Fi and washing machine. Loved the dogs, and loved Fred and Jacinta, who took care of us with nice big smiles. The property is In a very reserved area, so is advisable to go in and out by car (we used Uber a Lot, and Worked Just fine!). You will Love it!!
Henrique
2017-02-18T00:00:00Z
Lucy's place is really nice. Staff was really helpful and over-friendly dogs are always welcomed me. I would recommend anyone. Just one thing, it's a bit isolated from the town central so you need to take a taxi or uber for everything-whichi is fairly cheap.
JaeWoong
2017-02-25T00:00:00Z
Tipo de Quarto
Casa inteira/apto
---
Tipo de Imóvel
Casa
---
Acomoda
2
---
Quartos
Nairobi, Nairobi, Quênia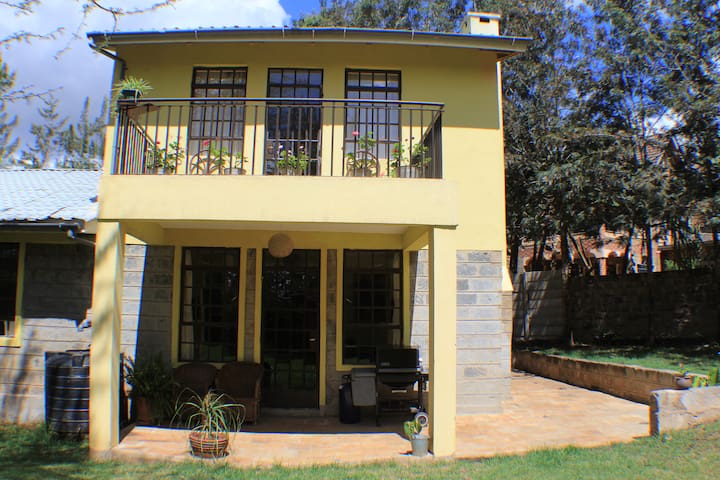 The Castle on Champagne Ridge is the perfect getaway for those who want peace and tranquillity. Sit on the balcony and soak in the incredible views while antelope graze on the sweet grass in front of this self sufficient eco friendly home. The Castle is located only 18kms from Kiserian town on an all weather dirt road in the heart of Masai land away from the hustle and bustle of the city. It is not unusual to have to give way to herds of cows and goats while herdsman welcome you to the area
Please Note: The map showing our location is incorrect, this is due to G Maps not recognising our location! We are located on Champagne Ridge which is off Magadi Road near the far end of the Ngong Hills not the Ngong Town end; which also explains why we have such amazing views and wildlife! The Castle on Champagne Ridge runs on solar and wind power and we harvest our own water; so very eco friendly. The house is an open plan design maximising the stunning outlook and outdoor living areas. The living area boasts the most comfortable Italian leather sofa guaranteed to induce an afternoon nap, the open plan kitchen offers the best views of any kitchen in Africa and the large mahogany dining table is perfect to enjoy meals with family and friends. The balcony is kitted with an outdoor dining table with comfortable safari style chairs while the BBQ grill tempts anyone to grill dinner! There are a couple of lazy chairs which are perfect for chilling while reading a great book or staring at the view or for that sneaky cat nap. The Castle on Champagne Ridge also has a library filled with a range of books for you to enjoy while staying and some games like monopoly, cards and dominoes. Other useful items include a TV and DVD player with a range of movies on DVD as well as an ipod docking station so you can listen to your favourite music. We have also included a water filter so you don't have to bring bottled water with you (better for the environment!) and there is tea, coffee and sugar as well as salt and pepper and a few other spices in the kitchen. There are 5 sleeping areas, 2 bedrooms downstairs and 3 sleeping areas on the mezzanine floor separated with a unique indoor canvas tent! The mezzanine has an indoor balcony and living area with stunning views of the Rift Valley. The area is very safe to go walking on top of the cliff or if you are up for more energetic exercise then you can hike in and out of the valley, we have a few regulars who bring their mountain bikes or motor bikes to explore the area. Hiking in our area is fantastic, we have a natural spring and traditional Masai caves which can be visited (Masai caves subject to not being used by the Elders or young Masai warriors); there is also a huge old twisted yellow acacia tree which will have you wondering how it got its shape! The views are incredible and if we are lucky we will spot dik dik, rock hyrax, vervet monkeys and eland!! We are located only 10 minutes from Champagne 4x4 Park an up and coming 4x4 off road and rally event centre. 30 minutes from Kiserian and 45 minutes from Ngong Town.
Situated in the middle of Masai Land, Champagne Ridge is 1 hour from Nairobi, the area is classic Africa with Acacia trees, zebra, eland, antelope, gazelles, an abundance of wildlife and the occasional ostrich roam freely throughout the area. The Castle on Champagne Ridge is not far from Ngong, Kiserian, Ongata Rongai or Karen in distance but feels like an entirely different World. Away from the hustle and bustle of city life we enjoy a chilled relaxed rural lifestyle. We are only 8kms from the new Champagne 4x4 Park where several 4x4 off road and rallying events are held throughout the year. It is also home to the amazing Masai 7s rugby event!
Thiemo and Deborah were great hosts! The scenery was amazing, definitely would recommend this beautiful home to anyone. Will definitely be back!
Riley
2017-02-02T00:00:00Z
Deborah was a great host - she made the whole experience laid back and even took us on a hike
Alex and Natalie
2017-03-21T00:00:00Z
Debroah was awesome in communicating and answering all my questions leading up to our trip. We were welcomed by bottles of wine for our birthday celebration which was so thoughtful. The house is just lovely, gorgeous view, beautiful big layout. We were 6 people but never felt like we were in each other's faces. It is one of the easier homes to get to in champagne ridge. Our group did a walk with Deborah and got to see the masai caves. Their pups are super cute and sweet but allergies prevented me from playing with them. I loved that they were self sustainable and powered by solar and rain water. We will definitely be back and hope to stay more than one night. Thanks for everything Deborah!
Ghoncheh
2017-03-26T00:00:00Z
We had a fantastic time at Deborah's place relaxing on the big balcony deck, walking down the valley and BBQ-ing with sundowners. Check in was super easy, we had a cleaner each morning and loads of hot water and a fantastic shower! V comfy beds, nice and peaceful and well equipt kitchen. We drove from Karen with no traffic in about 45 minutes, roads a bit bumpy so recommend you a 4x4 for sure! Overall highly recommend for anyone looking for some peace and quiet and a break from Nairobi. Stunning views of Rift Valley and the best sunset we've seen in Africa during our two years living here :) Deb's was a great host, always on hand and gave us charcoal for the BBQ and a list of items available to purchase if needed. Loved having the dogs around and the big group of guinea fowl on arrival!
Amy
2016-10-09T00:00:00Z
The Castle is an excellent new addition to Champagne Ridge. The house is spacious, comfortable and fully equipped and for this price range it's unbeatable value. Debs and Timo were on hand to ensure a welcoming stay. They've got all the basics covered and even had a stock of cold Tuskers, charcoal and other necessities in case of need! The views from the deck are second to none, there's a gorgeous sundowner spot nearby (if you can drag yourself away from the deck). Overall a thoroughly enjoyable stay. Would definitely return.
Sara
2016-08-22T00:00:00Z
The Castle is a great quiet place to relax and enjoy the view of the rift valley. The house is well equipped, spacious, and comfortable. We got a warm welcome from the host and the two wonderful dogs. We will return!
Coen
2016-09-19T00:00:00Z
Debs is a great host! Always willing to help out and the house is really beautiful and well equiped.
Wouter
2016-08-19T00:00:00Z
One of the most stunning places you could stay in Kenya. The scenery and views are breathtaking, and the house itself is brilliant, really light, spacious and comfortable. I fully recommend this for anyone to stay. Deborah and her partner were the most brilliant hosts ever, really going out of their way to make sure we had the perfect stay. She even guided us on a small hike in the area, and gave two of our group (who had to leave early) a lift to the nearby town. Incredible hosts, and so friendly. I cannot wait to go back!
Ed
2017-02-19T00:00:00Z
Tipo de Quarto
Casa inteira/apto
---
Tipo de Imóvel
Casa
---
Acomoda
6
---
Quartos
Ngong, Kajiado County, Quênia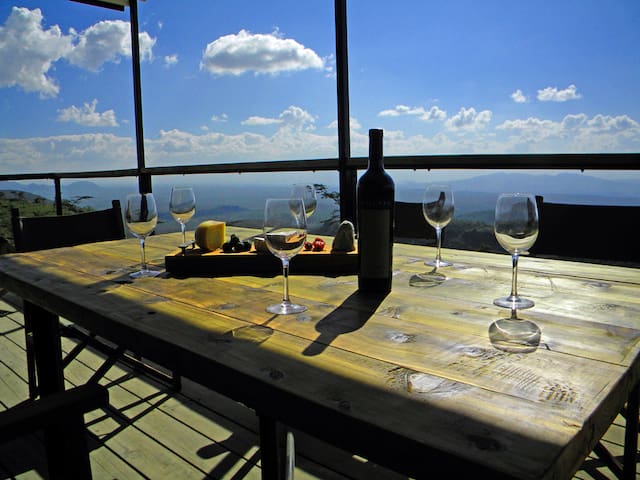 Just outside Nairobi towards Ngong Hills is the small agricultural farm "Karen Little Paradise" with fresh vegetables, fruits, cows, goats and small animals. In a quiet location, you can enjoy the view over the fertile forest to the Ngong Hills, as Karen Blixen lived. Spend the night in round houses with Makutti roof (thatched roof), with hot / cold water, veranda, every comfort and amenity and friendly service to the home. Karibu ! (welcome)
There are three areas in our property: First our guesthouses, then the relax area with gazebo, bar and our farm. Cast your next safari with a drink at the gazebo with like minded guests. Or order nyama choma (roasted meat) in traditional style or ask for a grill and do it yourself.
Karen little paradise is located in the area of the Nairobi working people. There are all origins of Kenyans around. This make us unique. We have a very good relationship to our neighbors - some are our employee's.
Tipo de Quarto
Casa inteira/apto
---
Tipo de Imóvel
Apartamento
---
Acomoda
4
---
Quartos
Nairobi, Nairobi County, Quênia
A home away from home ,serene,beautiful and secure.A view of the undulating Ngong hills with the wind power turbines is a sight to behold.40Km from Jomo Kenyatta International (URL HIDDEN) pick ups available at $25.Safari tours to Maasai Mara National Reserve,Amboseli national park and other tourist destinations around the country can be arranged for the client.
It is a spacious and quiet environment with flower gardens along the driveway ; hence making it suitable for relaxation. It is in close proximity to shopping malls with social amenities like supermarkets,banks , Forex bureau , food courts, chemists and hospitals. Trips to Nairobi national park , The giraffe center and David Shedrick wildlife trust can also be arranged as they are also in close proximity of the guest house.
Quiet and friendly people.
Tipo de Quarto
Quarto privado
---
Tipo de Imóvel
Casa
---
Acomoda
1
---
Quartos
Ngong, Kajiado County, Quênia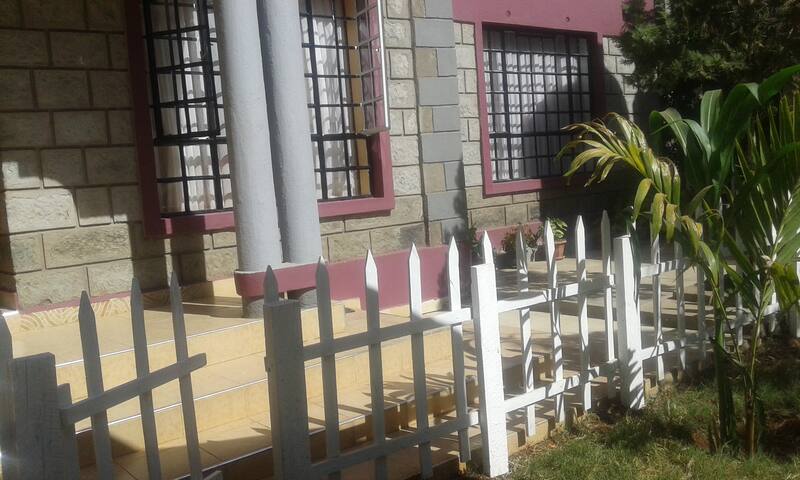 The River Cottage is close to Hemingway Hotel, the Giraffe Center, Nairobi Game Park, the Sheldrick Elephant Sanctuary, Karen shopping, the Hub Mall and many restaurants. You'll love The River Cottage because of the amazing surroundings, beautiful river, all the trees, the high ceilings, the people and the cosiness. The River Cottage is good for couples, solo adventurers, and business travelers.
The River House is unique due to its setting on the river with a quaint bridge to cross in order to access it. It is also in central Karen giving you easy access to many restaurants, shops and tourist destinations.
We are next door to Hemingway Hotel so you can walk to dinner or have a cocktail at sunset. The Purdy Arms is also walking distance and has a wonderful organic market on Saturdays.
The River Cottage is delightful! Shabby Chic meets the East. The cottage is cozy and beautiful. You feel like you are alone in the wetlands far from the city. Bird sounds surround you. You have access to the cottage as well as the large stand-alone deck next to the river fitted with comfy furniture, floor cushions and rug. There is also a little bamboo grove with a curved bamboo dock around it to sit on. Jonny was very welcoming. He met us on arrival and showed us all around his place.
Karen
2016-10-16T00:00:00Z
You surely want to make a friend out of him. Jonathan's place is what you would expect heaven on Earth to be. Quiet, close to everything yet surrounded by Nature Inspirational !
Jean-Joseph
2017-03-13T00:00:00Z
Beautiful, secluded property tucked away in a scenic and unique setting. Lovely place! Enjoyed my stay and the amazing hospitality of Jonny!
Carmen
2017-04-04T00:00:00Z
I absolutely LOVED my stay at Johnny's cottage. I've traveled using Airbnb through-out the US and other countries. Despite the fact that I've stayed in many wonderful places, this definitely ranks among my favorites. Johnny was incredibly hospital and made me feel right at home. And the place is absolutely gorgeous with all these unique and wonderful pieces of art about. What a great spot to relax and enjoy.
Jackie
2017-03-05T00:00:00Z
One of a kind house in a great neighborhood. An oasis of nature amidst of the chaos of Nairobi. Jonny is a kind and generous host who went out of his way to include us in his community and made sure we had a fun stay.
Ajax
2016-11-28T00:00:00Z
Tipo de Quarto
Casa inteira/apto
---
Tipo de Imóvel
Casa
---
Acomoda
2
---
Quartos
Nairobi, Nairobi, Quênia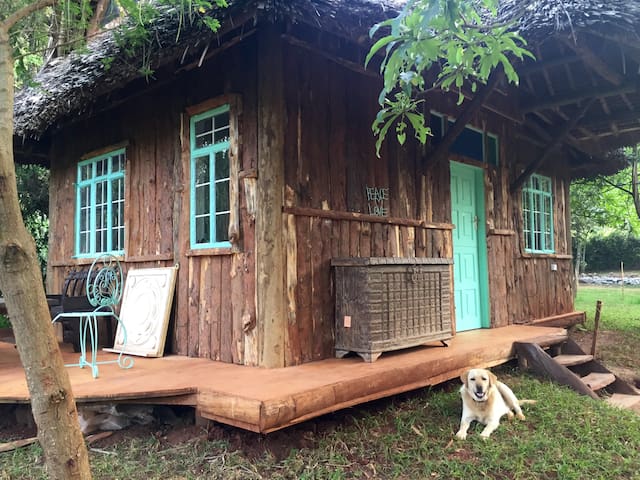 My place is close to great views - located in Ngong Hills, we have a fantastic view of the airport and the country scenery of Kenya. Proximity to Karen Giraffe Center and small african markets. Hub Karen shopping mall is only at 18 kms and transportation to the shopping mall can be arranged - at a small fee. . You'll love my place because of the views, the location, exposure to African rural life while you are in Nairobi. My place is good for couples, solo adventurers, and families (with kids).
We are a friendly family of two - with our young child in a boarding school. We like hosting people and sharing our various experiences - in traveling the world. Our home is located in mountains with beautiful view of Nairobi. The location has good weather, fresh air from the mountain with a almost present breeze. Guest will enjoy local birds in the garden! We speak fluently French and English.
Tipo de Quarto
Quarto privado
---
Tipo de Imóvel
Casa
---
Acomoda
2
---
Quartos
Ngong, Kajiado County, Quênia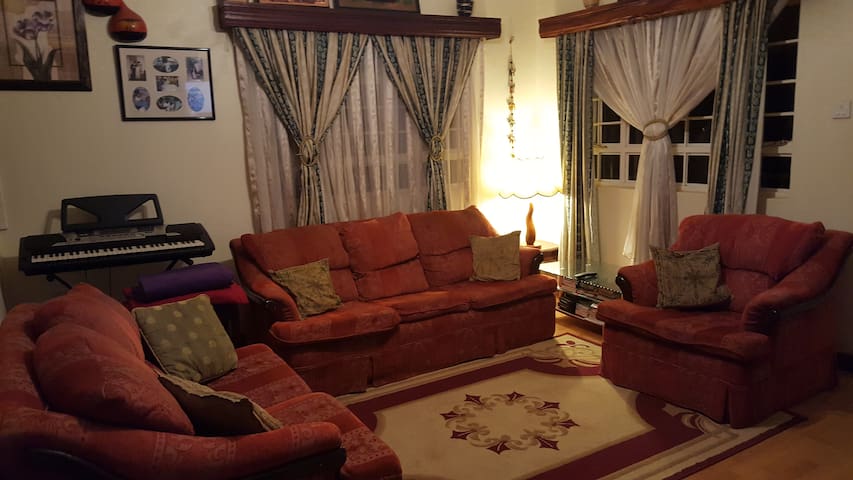 A place in the green, with view to Ngong Hills, yet in good reach to Nairobi City & the tourism attractions of Karen Blixen Museum, Giraffe Centre, Elephant Orphanage & Rift Valley. Cosy & clean rooms for little money. Your hosts are Kenya experts.
ABOUT THE HOUSE Hazina House is an accommodation with its very own charm, as the walls of the one storey building have been turned into a photographic gallery with large format images from some of Kenya's most beautiful sites by the well known photographer Hartmut Fiebig, who is also living here whenever he is in Nairobi. Hazina in Swahili means 'Treasure' as the house is also the home of the 50 Treasures of Kenya Trust and you can expect to find people with a lot of passion and expertise on Kenya's most beautiful spots and endless travel tips here! To learn what the 50 Treasures of Kenya are about, (SENSITIVE CONTENTS HIDDEN) for the 50 Treasures of Kenya website. ABOUT THE ROOMS: 2 furnished rooms, each with a broad (1,20 m x 2,00 m) bed that can sleep two loving people, blanket, pillow, bed sheets, mosquito net, wardrobe, curtains and mirror. So we can house a max of 4 guests. Shared shower and toilet. WHO WILL FIT IN? A practical, attractive budget option if you are working in Ngong, Kiserian, Karen, Langata or along Ngong Road Long term rent-out (1 month or longer) preferred
OUR NEIGHBORHOOD We are living in a Kenyan middle class surrounding and our landlord is living in the rear part of the house. So relaxed interaction with our Kenyan neighbors and their two kids who love playing in our garden is granted. THE SURROUNDING - ATTRACTIONS, ACTIVITIES Wonderful green surrounding; the hill we are on is good for walking and cycling. Ngong Hills are just 2km away and we often go to the top of the mountains for sundowners and serious hiking. The Rift Valley is also merely 3km away, where you have good chances of encountering giraffe and other game. Karen-Langanta with their tourist attractions like Karen Blixen Museum, Giraffe Centre and Daphne Sheldrick Elephant Orphanage are in easy reach by public means. SUPPLIES There are good shopping facilities in Ngong-Vet with a Naivas supermarket, vegetable and fruit stalls, wines & spirits store and a good butcher just down the hill. A bit further (2,5 kilometres) Ngong Town with its central market, another Naivas supermarket, a Barclays Bank with ATM and other facilities are available.
Margerate is so nice, she's a good friend, nice chef. Definitely, I will recommend to anyone.
Li
2016-04-03T00:00:00Z
I was well received in hazina house and feel like at home. The neighbors are nice and always ready for a conversation. Especially the housekeeper is to be salvaged one the feeling .. The hazina house is a bit out of town and therefore greener and the air is fresh. In the small shops in the neighborhood where will you can find everything you need. I would recommend the house hazina each other further. Thanks alot dear Hardy and Maggi for a wunderful time Juli
Julia
2016-09-03T00:00:00Z
Hardy and his guys are just awesome. Always here to help and assist, and very nice evening chats after long days at work. As for the Hazina House, it is just the perfect place to relax and get out of the busy Nairobi. On top of the hill, magnificent view on the Ngong hills, perfectly located between Ngong Town and Karen, you can easily reach pretty much every part of Nairobi from Ngong road. House itself is brilliant, you'll feel just like at home. Keep it going !
Quentin
2015-04-16T00:00:00Z
Hazina House has been a gem. I enjoy the homeliness, the location and the people (Margaret's beautiful companionship). I haven't met Harty but his communication has been great. This place will suit anyone who wants to feel at home, and stay for the longer term.
Fiona
2016-04-09T00:00:00Z
It´s a beautiful place little bit outside of the city, very spacious and nice people! A lot of green around and laid back atmosphere. Definitly recommendable if you´re looking for a homely, relaxed and friendly stay in Nairobi! It takes you 10 minutes walking distance to Ngong road from where you can take matatu to the city. It´s well equipped and if you´re lucky you might even have a internet stick for you.
Philipp
2015-01-03T00:00:00Z
I always enjoy my stay at Hazina House (S(PHONE NUMBER HIDDEN)). It is as per the hosts description and I especially appreciate the location at Ngong-Vet/Zambia in proximity to Ngong Hills where you can enjoy hikes with great Rift Valley view. You might have Hardy's and/or another guest's company and sometimes employees of The 50 Treasures Trust come to the office which is in the same house and which is also open for your use (desks and office chairs). Also Margaret the houskeeper and "sunshine" is around during the week who assists you with cooking and laundry as you wish. All friendly people who will help you to find your way round and can give you useful travel tips. Rooms are nice and clean, the kitchen well equiped and toilet and shower are clean and functional. If you are not into cold showers, calculate 10 min. to heat water with the immersion heater. All together: good value for your money. Thank you ALL for making my stays great and memorable ones!
Karin
2015-06-16T00:00:00Z
It´s true: cosy, clean and green! And I want to add a word: quiet. In Hazina House you feel comfortable and really like at home. It´s not only Hardy, who cares for everything you need. There also is Margret: she manages the housekeeping and helps in any case. She really is a very nice lady. I am sorry, that I only had one night to stay there, but I am sure to come back whenever I will be in Nairobi again. And I have to return, because I have to climb the nearby Ngong hills and have a look at Great Rift Valley from there. To stay there is like a short trip: relaxing while looking over green scenery - and nevertheless near the city of Nairobi. Also you can discover the "50 Treasures of Kenia" at Hazina House and Hardy will explain you everything about this great project. And you can have a look at his galery of the large-sized pictures from all over Kenya, which decorate the walls of all the rooms there. All things considered: it is a great place to stay and feel well - for only one night or longer!
Barbara
2015-06-23T00:00:00Z
We had a great stay at Hazina house! It is located in a nice and quiet neighborhood, everything is neat and clean. Special thanks to Margret who cared for us in such a great way and Ali who made sure everything went smoothly, including the airport pickup.
Lea
2015-08-19T00:00:00Z
Tipo de Quarto
Quarto privado
---
Tipo de Imóvel
Casa
---
Acomoda
2
---
Quartos
Nairobi, Quênia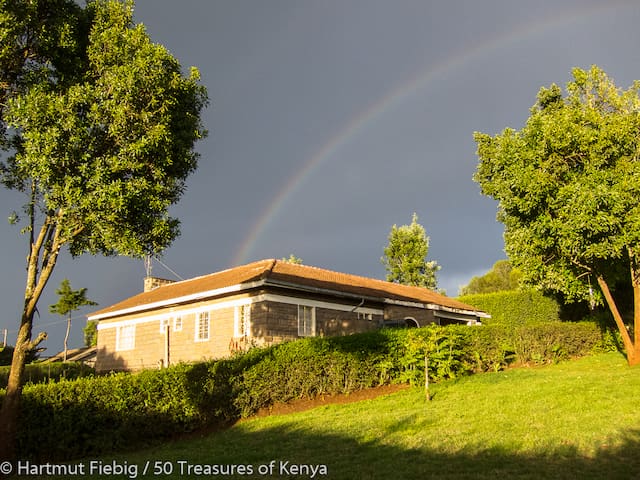 We are a German family based in Karen We are located just 5 mins drive to malls and restaurants. It is 5 mins drive to Nairobi national park. The house is located in quiet serene environment for those who love privacy. The trees and beautiful nature will make any guest feel at home immediately. It is really family friendly.
This cottage is accommodating to any guest..from one person to couples and a small family. This is because of its uniqueness . Small kitchen...a bedroom and a living room.
My neighborhood is unique. Really quiet and full of nature.
Catherine and Ronald are just the best. I found a stocked fridge, they made us dinner on the first night, baby sat my daughter while we were unpacking, I was beyond amazed. Catherine was always available whenever I had queries. The cottage was clean and is quite specious. My family and I loved it here and would love to stay here again.
Maren
2017-03-14T00:00:00Z
I had a wonderful stay with Catherine: the room was perfect for my needs, in a very secluded (and safe) part of Karen, and she was very generous, both stocking the fridge and offering a delicious dinner with her family in the evening. I would strongly recommend this BnB to anyone visiting Nairobi. Please note that, at time of writing, the AirBnB map shows the location incorrectly off Karen Road - the correct location is off Magadi Road (approx grid coords -(PHONE NUMBER HIDDEN)) which is excellently located for getting to Galleria (a large shopping mall) and also convenient for getting to the airport down the new Southern Bypass.
David
2017-01-02T00:00:00Z
Thank you so much for the warm welcoming and hosting! Very nice family stay!!
Martin
2017-01-04T00:00:00Z
Catherine's cottage is not fancy and does not advertise itself to be such. Having said that, everything is here that you need to have for a comfortable stay. It is located on Magadi Rd (not Karen Rd as indicated on the AirBNB site), not far from the Galleria, in an ideal location for Nairobi National Park and the Karen area. Catherine and her family were excellent hosts.
Chris
2017-02-07T00:00:00Z
The host canceled this reservation 5 days before arrival. This is an automated posting.
Thomas
2017-02-22T00:00:00Z
Tipo de Quarto
Casa inteira/apto
---
Tipo de Imóvel
Bungalow
---
Acomoda
2
---
Quartos
Nairobi, Nairobi County, Quênia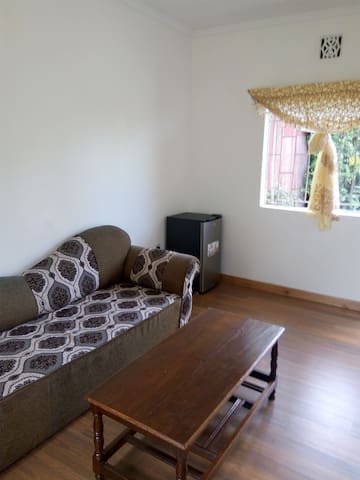 My place is close to the city center, public transport, parks,. You'll love my place because of It has scenic views away from the conjested town life and , the ambiance, the outdoors space, the neighborhood, the light, the comfy bed. My place is good for couples, solo adventurers, families (with kids), and furry friends (pets).
Tipo de Quarto
Quarto privado
---
Tipo de Imóvel
Complexo de Casas
---
Acomoda
2
---
Quartos
Nairobi, Nairobi County, Quênia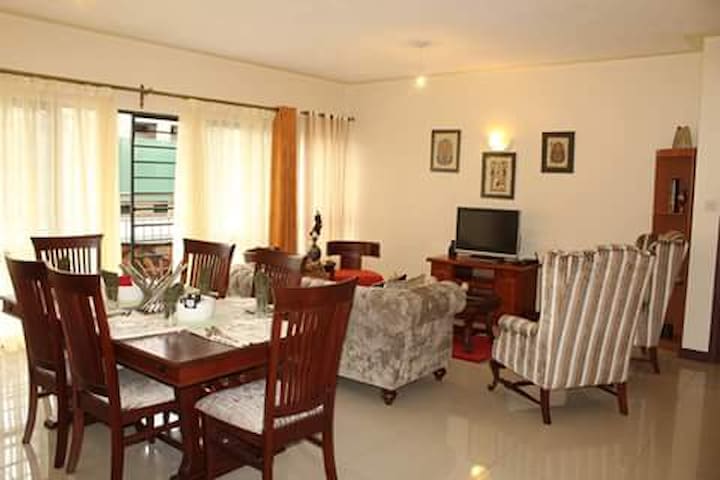 We are at the top and yet at the foot of Ngong hills. We enjoy amazing views of Ngong hills ,Nairobi, Riftvalley and beyond.
We have the most amazing views of Ngong hills, The Great Riftvalley , Nairobi and beyond with easy access to the Airport, Nairobi National Park, Karen and The Hub.
It's quiet, safe ,sparsely populated.
Tipo de Quarto
Quarto privado
---
Tipo de Imóvel
Apartamento
---
Acomoda
2
---
Quartos
Ngong, Kajiado County, KE, Ngong, Quênia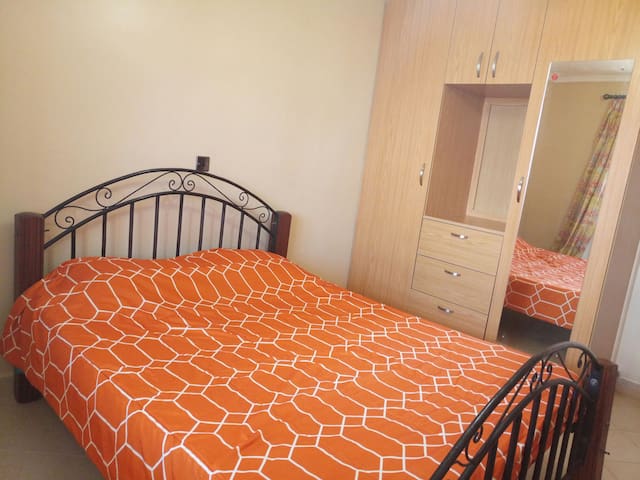 * Wifi internet * Ensuite room (private shower/toilet) * Hot meals/Packed lunches with fresh ingredients can be arranged * 100meters from bus stop * Large supermarket/mall (Tuskys) 200meters away...great coffee shop with wifi * High altitude walking or running - elite marathoners train here * Additionally, an incredibly scenic bush lunch or camping can be arranged 30 kilometres away in the Rift Valley (along the Magadi Road)
You will love my place for order and cleanliness. I like my home to be a comfortable sanctuary for myself and now for you. The apartment is newly built and am the first resident. Am on a top floor and running up and down the stairs is an everyday exercise.
Its the Ngong hills and the marathoners...did I say this already? I can show you their routes. Its also 10-15 minutes drive to Karen and its restaurants and shopping.
Wamuyu is a considerate host and one of the best communicators I have met on airbnb. Even before I booked, I messaged her a number of questions, which she answered honestly and quickly. Throughout my stay, I found her to be helpful and knowledgeable about many things. She took me to the organics food market and arts village, which I thoroughly enjoyed. The bedroom is hotel standard. Everything in the apartment is clean and high quality. There can be some noise during the day which quietens down at night. I stayed for one month, and enjoyed both the apartment and Wamuyu's company.
Fiona
2016-08-12T00:00:00Z
We stayed with this host for ten nights in July 2016. Our group comprised of three friends. Wamuyu was an excellent host and a wonderful cook! She did everything in her power to make our visit comfortable. We found her to be very informative and helpful for local knowledge and arranging trips and tours. We would happily stay here again!
Sharon
2016-07-16T00:00:00Z
Staying at Wamuyu's place was a wonderful experience. The room is comfortable, cozy, and has everything one can ask for and the house is located in a quiet area but still very close to transport and supermarkets.
Pia
2017-02-05T00:00:00Z
Our stay with Wamuyu was great. She is a friendly, reliable and supportive host. Her apartment felt safe and cosy and is conveniently located near public transport, shops, markets etc. Would definitely recommend her place if you are looking to stay around Ngong.
Tamara
2016-12-06T00:00:00Z
Tipo de Quarto
Quarto privado
---
Tipo de Imóvel
Apartamento
---
Acomoda
2
---
Quartos
Ngong, Kajiado, Quênia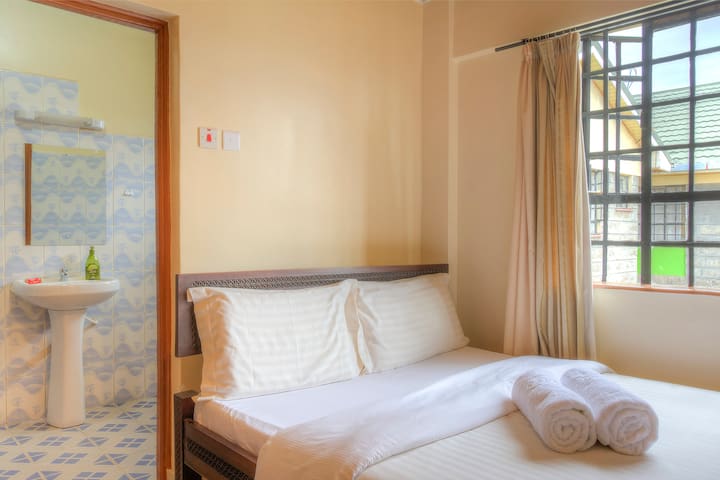 Our studio is close to restaurants, shops and supermarkets. You'll love our place because of the views, the location and the coziness. It is ideal for couples, solo adventurers, and business travelers. We can organise transport to and from the airports.
The studio is located on a large garden adjacent to the main house. It comprises a spacious double bedroom, ensuite shower room, dining area and galley kitchen. The double bedroom has ample hanging space and storage. The galley kitchen has a sink, gas hob, microwave, fridge, kettle and toaster. Fresh salads and vegetables are grown in our kitchen garden.
Karen is located adjacent to the Nairobi National Park and has many points of interest including elephant orphanage, giraffe centre and Karen Blixen museum. There are many good shops, supermarkets, restaurants and bars. We are less than 10 mins drive from The Hub shopping mall
This is definitely a place you want to go if you are looking for a nice private get away
Derek
2017-01-01T00:00:00Z
A lovely place if you want to be away from the noise of town
Ijeoma
2016-12-08T00:00:00Z
Alistair was a great host. The place was clean and very nice
Sankei
2017-02-04T00:00:00Z
Great accommodation, friendly hosts and perfect for quiet and peaceful stays.
Jeff
2017-03-01T00:00:00Z
Secure, economic location close to Nairobi but you do definitely need a car to get to & to get around. The host , Alastair, can arrange a convenient(URL HIDDEN)Karen has excellent restaurants.
kyeong
2017-01-24T00:00:00Z
This was a lovely, safe, welcoming, affordable stay. Highly recommended.
Donna
2016-12-20T00:00:00Z
Tipo de Quarto
Casa inteira/apto
---
Tipo de Imóvel
Apartamento
---
Acomoda
2
---
Quartos
Nairobi, Nairobi County, Quênia
This new home belongs to a family who live in Australia. Enjoy large living areas, open kitchen and bathrooms complete with with Jacuzzi. Easy access to Karen shopping centre and tourist attractions eg the Karen Blixen Museum, Giraffe Centre etc.
Enjoy the great views of the Karen suburb. Only a short distance to many tourist attractions including the Nairobi national park. With 3 bedrooms, 3 living areas and 3 bathrooms, you can share the home with other travellers or get the whole home for your family or travelling group. This is great value. Carol your host, will be dedicated to your comfort. She is willing to arrange for your meals, laundry, market trips and travel needs.
Carol and her uncle were so lovely. Carol picked me up from the airport and had already prepared an event for me according with what I was interested in. Her decision was great! She looked after me and helped in all needs I had during my stay. I could not have a better host. Also his uncle was very nice and kind. I fully recommend this place. Thank you so much for your welcoming
Mercedes
2016-08-15T00:00:00Z
Tipo de Quarto
Quarto privado
---
Tipo de Imóvel
Casa
---
Acomoda
1
---
Quartos
Nairobi, Nairobi, Quênia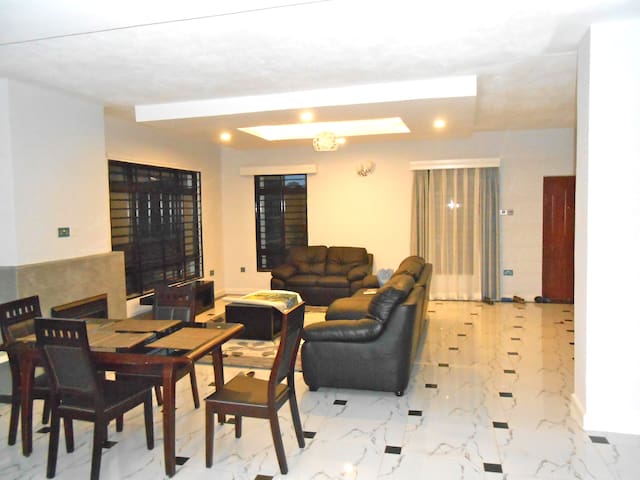 Insira as datas para ver o preço total. Taxas adicionais aplicáveis. Podem ser adicionados impostos.