White Oak Canyon Cottage est un chalet confortable niché dans une belle vallée des Blue Ridge Mountains près de la rivière Robinson. Il est situé à côté du parc national de Shenandoah et est littéralement à quelques pas de la White Oak Canyon sentier de randonnée.
Notre chalet vous propose de petits logements modestes et est idéalement situé pour la randonnée, la pêche, l'observation des oiseaux, observation de la faune, visiter des vignobles, ou tout simplement se détendre. Il est entièrement meublé. Nous avons deux petites chambres à coucher - une chambre avec un grand lit et une chambre avec lits superposés. Notre cuisine est fourni avec une cuisinière, réfrigérateur, four micro-ondes et lave-vaisselle. Le chalet est meublé avec une cafetière et filtres, grille-pain, vaisselle, casseroles et poêles, des oreillers, des draps, des couvertures et des serviettes. Il est également fourni avec du savon à vaisselle, serviettes en papier, papier toilette, shampooing, savon de bain. Juste apporter de la nourriture! La salle de bain a une combinaison baignoire / douche. De plus, nous avons un grand jardin avec un barbecue Weber, foyer, bâtons de torréfaction, et les fers à cheval pour votre plaisir. Bois de chauffage est fourni pour votre commodité. Le gîte est une maison préfabriquée qui a été modifié avec un rétroprojecteur, toit permanent et le bardage.
Le gîte est très éloignée et de la faune est abondante. Blanc cerf de Virginie sont répandues dans cette région vers le crépuscule et la nuit. En outre, il est pas rare que des ours à venir se promener devant le chalet au cours de Juin, Juillet et Août. Les ours aiment aussi grimper dans les arbres de pomme dans l'arrière-cour de manger les pommes. En outre, il devient très sombre la nuit ..... très agréable pour stargazing.
We spent Thanksgiving here and loved it! Bill was very nice and accommodating. The cottage was perfect for our family of four. There is everything you need! We especially loved the fire pit and spent hours just sitting around it. The surrounding area is beautiful.
Michelle
2015-11-29T00:00:00Z
This was a perfect place for our two day mini trip. It truly is within a super close walking distance to one of the best trails at the park. We also had the chance to see a mother bear and her cub early in the morning. I enjoyed our stay and everything was really easy and accommodating.
Zach
2015-06-27T00:00:00Z
We stayed at Bill's cabin for one night during a road trip and it was awesome! We loved walking to and on White Oak Canyon trail to stretch our legs and take in the amazing beauty of Shenandoah, and we made use of the fire pit to make some s'mores. The cabin itself is no frills, but clean and comfortable with good wifi. Highly recommended for anyone wanting to have their own place with easy access to Shenandoah!
Nathan
2016-07-11T00:00:00Z
Overall a lovely weekend with fantastic access to the White Oak Canyon trail that had absolutely stunning waterfalls along the path. Accommodations were definitely rustic, but interior was air conditioned and bug free and had all the basic amenities that one would want. The outdoor fire pit was also a nice perk.
Elena
2016-09-24T00:00:00Z
We enjoyed our quiet night in before hiking Old Rag Mountain in the morning. The place was not anything fancy, but it met our needs and was a perfect location. Thank you Bill!
TJ
2016-08-14T00:00:00Z
Bill's house is in an amazing location. Perfect for a weekend getaway. He told us everything we needed to know for a good trip, and we really appreciated it. I would definitely recommend this house.
Katie
2016-02-16T00:00:00Z
Bill was wonderful to work with from start to finish. He provided great information about the area, was generously flexible about check in and check out times, and responded quickly to any questions. The house was just as described and perfect for our weekend away. The yard was wonderful and a fire in the fire pit was a relaxing way to end a day after hiking and swimming at the falls.
Judy
2016-06-13T00:00:00Z
The cottage was simple and clean and is in an excellent location.
Ross
2015-05-04T00:00:00Z
Tipo de Quarto
Casa inteira/apto
---
Tipo de Imóvel
Cabana
---
Acomoda
4
---
Quartos
Syria, Virgínia, Estados Unidos
Unsere Kabine ist auf Wanderwegen wie Old Rag Mountain and White Oak Canyon Fälle schließen. Es schmiegt sich auf 4 abgelegenen, bewaldeten Morgen in den Blue Ridge Mountains. Die Kabine mit Blick auf einen ruhigen Teich voller Fische. Rose und Robinson Flüsse sind nur einen kurzen Spaziergang entfernt. Genießen Sie Wandern, Angeln, Rundfahrten, Lagerfeuer, Weinprobe, Bürgerkrieg Schlachtfeld, Apfelernte, Reiten und vieles mehr. Es ist der ideale Ort für ein romantisches Wochenende oder einen Familienurlaub. Nur 90 Minuten Fahrt von DC Ziehen Sie !!!
Bewaldete und ruhig gelegen, befindet sich die Kabine auf 4 Morgen Blick auf den Teich. Es gibt noch andere Hütten in der Gegend, aber nicht, dass Sie von uns sehen können.
The cabin was rustic and comfortable. It had everything you needed and is close to lots of hiking trails. Book if you want to be around nature in a peaceful, solitary place.
Katrina
2017-03-12T00:00:00Z
This is a charming, cozy cottage situated in a beautiful stretch of forest and mountains. We had a great stay here - loved the woodstove, the open space in the cottage, and the general setting, off in the woods. Would love to come back at some point in the future.
Julie
2016-12-26T00:00:00Z
Had a fantastic long weekend at Jane's cabin. It was so beautiful, the weather was perfect for a fire, I couldn't have asked for more!
Babs
2016-11-28T00:00:00Z
This cabin is the perfect little get-away. Not having wifi or cell reception was refreshing. It's the perfect size, and it was very cozy. We had a great time! Planning on returning in the future!
Katie
2017-01-01T00:00:00Z
The cabin is cozy and in a great location for Shenandoah Park, wineries, and other outdoor activities. You definitely feel like you have your own space, even though there are a few neighbors. The indoor fireplace and fire pit are nice features.
Kelly
2016-10-24T00:00:00Z
This was all the description said and much more. The cabin is a wonderful place to get away from it all and enjoy nature mountain, hiking and a beautiful pond.
William
2016-07-11T00:00:00Z
Great place! The pond is beautiful. It's secluded without being too far away from the amenities.
Keith
2017-02-19T00:00:00Z
I have stayed here many times, and each time, it's exactly what I needed - a chance to unplug and be off the grid. Thanks for making this place available and I look forward to staying here again!
Amanda
2016-08-07T00:00:00Z
Tipo de Quarto
Casa inteira/apto
---
Tipo de Imóvel
Cabana
---
Acomoda
6
---
Quartos
Syria, Virgínia, Estados Unidos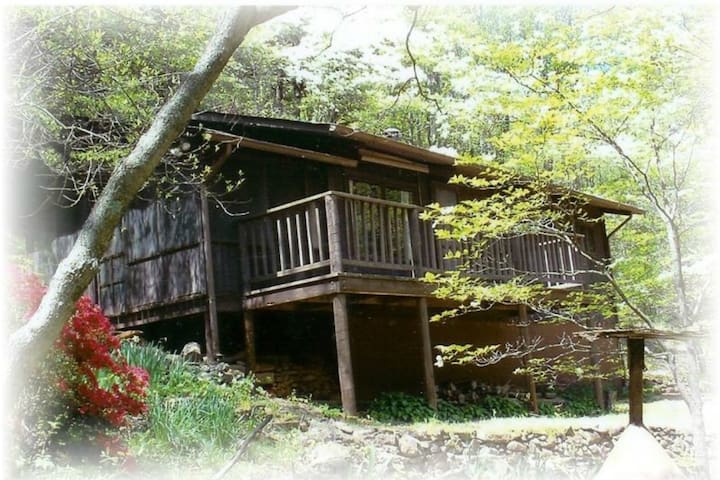 LOCATION, LOCATION, LOCATION and so much more! Spruce Creek Retreat is the ideal location for anyone planning to hike Old Rag Mountain and/or White Oak Canyon. It's also the ideal location for a group of up to 12 people who want to enjoy nature and a comfortable home away from home without the distractions of social media and television. We were concerned about forgetting some vital cooking ingredient, but our thoughtful hostess had stocked the kitchen with basic ingredients and plenty of pots and pans—as well as batteries, flashlights, bug spray, and so much more. Our small group was very comfortable, enjoyed preparing meals, eating breakfast on the porch overlooking Spruce Creek, playing board games, and just plain talking while admiring a lovely fire in the fireplace. We're already talking about making this an annual event!
Cindy
2016-11-20T00:00:00Z
We had a group of 10 for New Year's Eve. It was clean, comfortable, and spacious and an easy weekend for a group trip. Also, the perfect location for hiking in the Shenandoah National Park region. Definitely recommend. Thank you Helen!
Arlene
2017-01-01T00:00:00Z
Helen had the house stocked with all the essentials for a great weekend- from kitchen utensils, some toiletries, and even woods. The house was just as expected and extremely clean. The directions were easy to follow, and the surrounding area was gorgeous. I would definitely stay again, and recommend others to stay there as well.
Elisa
2016-11-13T00:00:00Z
A group of 9 people rented this house for a hiking weekend. This house is in a beautiful location- next to a flowing creek and down the street from the two most popular hikes in the Shenandoah Valley. The house itself was large, clean, fully stocked, and incredibly charming. We hiked all day on a Saturday and used the grill to make some food and the fire pit to relax by at night. It was exactly the type of break we needed from an urban environment. I have to say, we rent locations like this all the time and yet this house was one of our favorites. Many thanks to the owner Helen for being readily available by email to answer questions and give us hiking tips. I highly recommend this location, you will not be disappointed.
Kelly
2017-04-09T00:00:00Z
Helen's house is beautiful! The house was extremely clean and organized. Everything is perfect for a great vacation. The trails are about a mile away and are wonderful any time of year. Many of the houses I've stayed in don't have any condiments, spices, or pantry items but house has the things that most people forget on a trip like this. There were also many movies, games and books available to use. All around a great place to stay!
Ruth
2017-03-13T00:00:00Z
Unfortunately I was unable to be there with our group that stayed, but my brother's family and my son and husband all said it was very nice. There was lots of room, and they enjoyed building fires each evening they were there, and just hanging out together. The location was really pretty and part of the group took advantage of the hiking trails nearby because the weather turned out to be very pleasant. It sounded perfect for a large group. The only draw back might be there's no cell service or wi-fi, but sometimes that can be a good thing.
Karen
2016-12-29T00:00:00Z
Spent the weekend here to serve as a base to hike old rag and enjoy the foliage and had a wonderful time. Helen and Mark were responsive and very easy to work with. The place had plenty of room for 12 of us. A very peaceful setting with a great stream running through the backyard which the boys enjoyed fishing/playing in. The berry hollow entrance to old rag was close and made accessing it very easy. Lots of firewood. A very nice stay and will strongly consider it on our next trip to shenandoah.
Michael
2016-10-30T00:00:00Z
We had a group of 12 friends at Helen's house for a weekend getaway over Presidents' Day and we had an absolutely wonderful time! The house is large and very thoughtfully outfitted - fully-stocked kitchen so we never had to worry about running out of utensils or needing extra pans, etc; spotlessly clean; plenty of fluffy towels and nice linens, and there were thoughtful touches throughout (including a high chair, extra seating in the bedrooms and outside the bathroom; games, books and toys to keep everyone entertained); beautiful handmade quilts; that all combined to make it a functional and comfortable for many types of groups. Two of the bedrooms and one bath are ground-floor. We lucked out with the weather and spent a lot of time enjoying the porch and its view of the stream as well as the living room fireplace. And the White Oak Canyon trail head is just a 10-15 min walk down the road, so we took advantage of the opportunity to get out and see some waterfalls, too! We absolutely loved staying here, and would love to come back again!
Emily
2017-02-20T00:00:00Z
Tipo de Quarto
Casa inteira/apto
---
Tipo de Imóvel
Casa
---
Acomoda
12
---
Quartos
Syria, Virgínia, Estados Unidos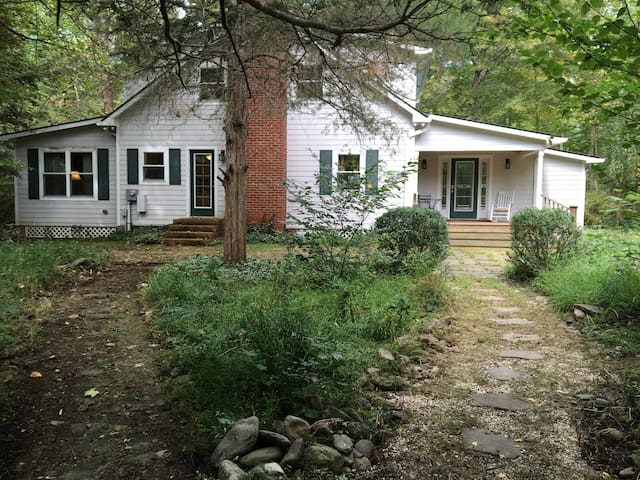 This place provided everything one would need such as cooking supplies, coffee, tea, also show gels. We were very surprised on how prepared the host was - they understand the basics and got everything right!
Rebecca
2017-02-13T00:00:00Z
I would definite recommend Kerry's cabin in the woods. The location was perfect for our hikes; the space was clean, well-designed with wonderful attention to detail; and the kitchen had every implement we needed. The wood-burning stove was great as well. Thank you for such a wonderful stay!
Mehrdad
2016-12-20T00:00:00Z
Perfect house in the woods! Great getaway for two, a few couples, or a family. Hot tub was wonderful after a long day of hiking. Would definitely book again!
Mandie
2017-04-05T00:00:00Z
Thumbs up! Clean, comfy, and the perfect romantic get away.
Christine & Greg
2017-01-16T00:00:00Z
Great cabin in a great location! Nice kitchen, gas stove (cooking), wood stove (additional heating), hot tub, outdoor fire pit, and screened in porch, close to Old Rag and a nice little country store for supplies! Definitely would stay here again!
David
2017-03-12T00:00:00Z
Great location, the cabin is nice and clean and well maintained. Would book again!
Michael
2017-03-20T00:00:00Z
Tipo de Quarto
Casa inteira/apto
---
Tipo de Imóvel
Cabana
---
Acomoda
6
---
Quartos
Etlan, Virgínia, Estados Unidos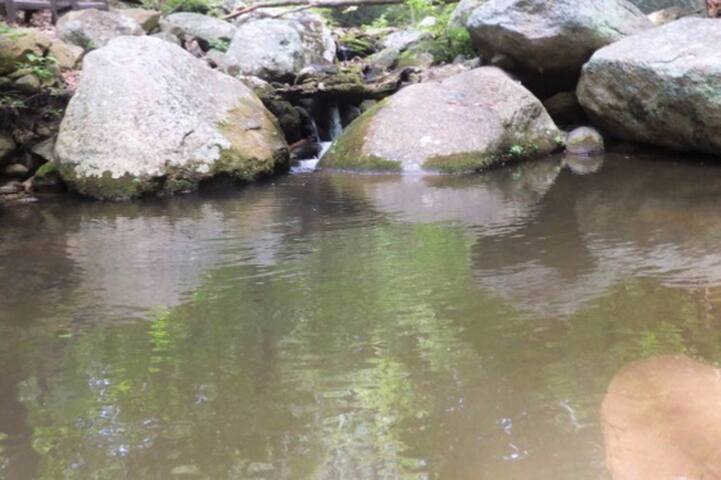 Had a awesome time at the yurt! Relaxed and unplugged and Just like everyone else, I loved hanging out on the porch during the day. Would love to check it out in the fall/early spring. I think building a fire at night would've been great. Thanks for everything Heather!
Zachary
2015-09-08T00:00:00Z
The yurt is at a very secluded location and yet convenient to get to. We have everything we needed there. Highly recommended!
wendy
2016-09-06T00:00:00Z
Beautiful place, a little slice of paradise. We'd always wanted to live in a yurt and this was a great chance to see what it's really like. All of us thoroughly enjoyed the experience. My 9 year old loved staying there. (Heather was great about both our 9 year old daughter and a 13 year old dog. : ) We were close enough to spend the day at Luray Caverns (35 minute drive) and do the Adventure Rope Park, also at Luray Caverns (fun for the whole family, pretty exciting too). We also did the hike at Old Rag. We have our own 10 acre country spread elsewhere in Virginia, so we're not easily impressed - nevertheless, we were thrilled with the natural beauty and wildlife. Heather was as good a communicator as anyone could hope for, lots of notes beforehand and and clear instructions throughout the yurt. Plus lots of little extras (candles around, wonderful smelling essential oil shampoo/conditioner samples, good coffee, loads of tea, etc) that really made the whole experience a treat from start to finish. There were also books, movies and games for any down time. And we had all our meals out on the porch, or by the fire pit. There's a store down the hill "The Little Country Store" which is very handy for anything you've forgotten - not to mention excellent ice cream, decent beer & cider. If we'd had more time in the area, we probably would have visited the Rescue Zoo, Jellystone Water Park and the Zip Line Course also nearby. Guess we'll have to go back. But clearly, this place has it all!
midori
2016-06-20T00:00:00Z
Our stay in the yurt was peaceful and tranquil. Its close to great hiking trails and not too far from the grocery store, the perfect location. We really felt refreshed and connected to nature and eachother. Heather and Tom thought of everything inside to make the stay comfortable. We enjoyed candles on the porch and the fire pit at night. Heather was available to us and provided us with all the information before we arrived and with notes/maps inside the yurt to make our stay comfortable. The sounds of the birds around the yurt was lovely.
Diedre
2016-06-17T00:00:00Z
Heather's Yurt oasis was a great escape! It rained while we were there but the screened in porch allowed us to hang out and watch the storm and kept all the critters away. You are surrounded by farmland - it's a great place to get away! If you have a small car you have to floor it to get up the driveway. Make sure to do all your research before you get near Etlan as there is absolutely no cell reception for miles.
Julia
2015-09-15T00:00:00Z
Already hurtin for another yurtin!! Stayed a week here and it was awesome!! The place is soo nice and the location is perfect! Close to all the best hiking trails, white oak canyon and old rag mtn are pretty much right in your backyard. Skyline drives only about 30 min away. There are wineries, vineyards, and orchards everywhere. Just a fantastic area and the yurt is the perfect base camp to all of it. Also Heather and Tom are great, quick to answer any questions you might have and really make you feel welcome. Neal keeps up the place and if you run into him hes also a great guy, Shenandoahs his backyard and if you like he can give you a little history on the place and whats goin on in the area. If solidarity and quick access to all the best trails in shenandoah are what you want, look no further! Definitely plan on goin back!
Court
2016-08-09T00:00:00Z
The yurt was so cozy and perfectly-appointed! Heather was very responsive and helpful. It was cool enough to build a fire inside and the yurt was plenty warm once it was going. We used the area maps to plan a hike to White Oak Falls, where we enjoyed the peak foliage. Coming from DC, we stocked up in Middleburg, which was VERY expensive, and then found a similar smaller provisions store in Flint Hill that was far more reasonable. It was wonderful to get off the grid, take in the Virginia Byways, and sleep soundly amidst the trees.
Heather
2015-10-26T00:00:00Z
Heather was a delight in all her communication. We purchased this as a birthday gift and the couple that stayed here raved about their great stay. They were very impressed with all the attention to detail and found the Yurt experience to be a unique one. I'm told that it was very peaceful and perfectly maintained. Hopefully we can enjoy the same sometime this year. Thank you again, Heather!
Kari
2016-05-02T00:00:00Z
Tipo de Quarto
Casa inteira/apto
---
Tipo de Imóvel
Tenda
---
Acomoda
4
---
Quartos
Etlan, Virgínia, Estados Unidos
Dream 'caminhantes. A propriedade fica ao lado do Parque Nacional Shenandoah e está a uma curta distância das populares trilhas montanha velha Rag and White Oak & Cedar Run. Retiro tranquilo: As cabines são definidas em 5 acres de frente para o rio Robinson, com um prado quintal, 2 lagos e uma casa de tela onde você pode cochilar pacificamente aos sons do rio borbulhante e rãs. Desligue e realmente relaxar. Cabine da montanha CHARM: comodidades modernas em um ambiente rústico de madeira natural quente e extensa fieldstone.
Quando você chega na Biblioteca de Birch, você vai perceber que você está em uma localização de sonho - é a última casa antes do Parque Nacional Shenandoah. Você pode sair a porta da frente para as cabeças trilha para Old Rag Mountain e White Oak Canyon / Cedar Run. Estes são dois dos passeios mais populares no Parque devido à linda vista na cimeira de Old Rag e as belas cachoeiras ao longo White Oak e Cedar Run. Você não terá que entrar em um carro durante toda a sua visita. Desfrute de umas férias desligado! Com nenhuma recepção de telefone celular, internet ou televisão, você pode realmente ficar longe de tudo e mergulhar na natureza. No prado de volta para fora você vai ver a Turquia, veados, coelhos, pássaros e borboletas, dependendo da época. Uma casa tela está empoleirado na borda das duas pequenas lagoas, onde pode cochilar pacificamente ao som do rio borbulhante e, na primavera, rãs peeper Há duas cabines em Old Rag Cabins. Se a Biblioteca de Birch não está disponível ou que você gostaria de alugar duas cabines adjacentes para uma festa maior, confira nossa lista AirBnB para o adjacente Potlikker House. Além disso, veja nossos OldRagCabins site. Biblioteca de Birch, construído em 1982, é um ano inteiro, casa isolada com charme rústico e amenidades modernas. Os painéis de madeira, um extenso trabalho de pedra e piso plano aberto, criar o ambiente de um refúgio de montanha maravilhoso lodge. A expansiva Grande Sala tem um manto enorme coração-de-carvalho sobre a grande lareira de pedra. A cozinha é aberta para a sala grande com uma mesa de jantar de 8 pés. O quarto tem duas camas individuais levantadas, uma mesa, cadeira de balanço e fogão a lenha. As camas são muito alto do chão e você vai precisar usar o banquinho stepping para entrar e sair das camas. Dormir por mais duas pessoas é encontrado no sofá-cama de casal Great Room. Facilidades: * Great Room - sofá-cama, cadeiras de balanço 5 de carvalho resistente, grande mesa e mesa de jantar para 8, lareira, Jotul lenha. * Cozinha - gama e forno eléctrico, geladeira, microondas, máquina de lavar louça, separados wet-bar pia, utensílios, pratos, panelas e frigideiras. * Casa de banho completa * Lavandaria com lavadora / secadora * Large BR - dois elevou duas camas com gavetas embaixo (você vai precisar usar as fezes de passo para entrar e sair das camas), roqueiro, mesa para 4 pessoas, fogão a lenha * Grande pátio com vista para prado para trás e lagoa * Aquecimento central e ar condicionado (bomba de calor) com aquecedor montado na parede a lenha e propano para calor suplementar. * No exterior existe um grande pátio com vista para o prado e da lagoa com um carvão para churrasco. * Temos um acordo especial com Graves montanha lodge para nossos clientes a utilizar a sua piscina para uma pequena taxa diária por pessoa. O que trazer: • Se você quiser usar o churrasco, trazer o seu próprio carvão e fluido de isqueiro • Vamos fornecer madeira para o anel lareira e fogueira, mas você pode querer trazer fluido de isqueiro e jornais. Nós pedimos que você contribuir com US $ 5 em direção a lenha para cada fogo que você faz. • Mercearia - há uma loja geral na Síria que carrega algumas noções básicas, mas sem produtos frescos. O supermercado mais próximo "real" está em Madison, que fica a 25 minutos de distância. Você pode querer trazer a comida que você precisa com você. • Repelente de insetos • Lanterna
O Parque Nacional Shenandoah tem uma riqueza de caminhadas, natação e pesca - todos a curta distância. Há refeições, natação e passeios a cavalo na Síria, VA em Graves Mountain Lodge. Por favor me avise se você quiser usar a piscina no Lodge como temos um arranjo especial lá para os nossos clientes. Há também muitas vinícolas locais e opções de refeições nas proximidades. A região está cheia de sites e campos de batalha históricos da Guerra Civil, e as casas de James Madison e Thomas Jefferson são viagens de um dia fácil. Temos um notebook na cabine de atrações locais. Além disso, consulte o nosso site para mais informações em OldRagCabins.
Such a fantastic place to stay! Loved everything about the cabin and the quick walk up to Old Rag was a plus! Would most definitely stay here again.
Amanda
2016-11-13T00:00:00Z
Maureen was great to work with. Everything was as presented. Great location. Hope to come back again someday.
Thomas
2016-10-31T00:00:00Z
The cabin represented a perfect base camp for hiking, enjoying fresh air, relaxing and being warm and comfy in a cabin well stocked with all your needs. Pond outside turned out to be a great place to teach someone to fish for the first time; it took me a while to realize that the pond actually had fish but then it was game on. Fish caught and returned. Highly recommend.
Pat
2016-10-10T00:00:00Z
Our stay at Birch's Library was everything we expected and more! Nicely decorated with historical memoirs that gives you a good perspective of the cabins history. Our host, Maureen was very welcoming and made us feel right at home. The cabin's location was perfect; it truly is a hiker's paradise, with walking distance to beautiful and adventurous trails, along with a babbling creek and two ponds you can explore.
Patrick
2016-11-20T00:00:00Z
Maureen made us feel very welcome. She is very considerate and generous host. Maureen left her contact information in the cabin and came right away after we called her to tell that we arrived. She gave us a full tour of the place/amenities and a lot of good tips on local hiking trails. The cabin is bigger and better looking in real life than on Airbnb pictures. Very spacious and cozy, lovely decor, beautiful and very private setting. Super nice full size kitchen with all pots and pens and flatware you ever need. All appliances - electric stove, full size refrigerator, dishwasher, toaster, microwave, washer/dryer - work perfectly. Very nice and clean full bath with fluffy towels. At night we spent hours sitting by the camp fire outside by the bubbling creek; went to bed at 2 in the morning ... it was magic. What else can I say - it was PERFECT!!! Another great bonus of this cabin is that you do not need to spend any time/money on Shenandoah National Park parking - the cabin in a walking distance from 2 major trails, White Oak and Old Rag (0.3 mi up or down the road). You can connect to several other trails from the White Oak and Old Rag trails and hike all day long without driving an inch! We will be back for years to come if Maureen will have us!
Julia
2016-10-16T00:00:00Z
Maureen was most accommodating and helpful before and after my stay. The photos if the interior don't do justice to this rustic gem which has many recent improvements. The cabin features elements of Old Virginia country charm with modern conveniences. If you love hiking, the location could not be better. I would enjoy staying here again!
Robert
2016-09-26T00:00:00Z
Tipo de Quarto
Casa inteira/apto
---
Tipo de Imóvel
Casa
---
Acomoda
4
---
Quartos
Syria, Virgínia, Estados Unidos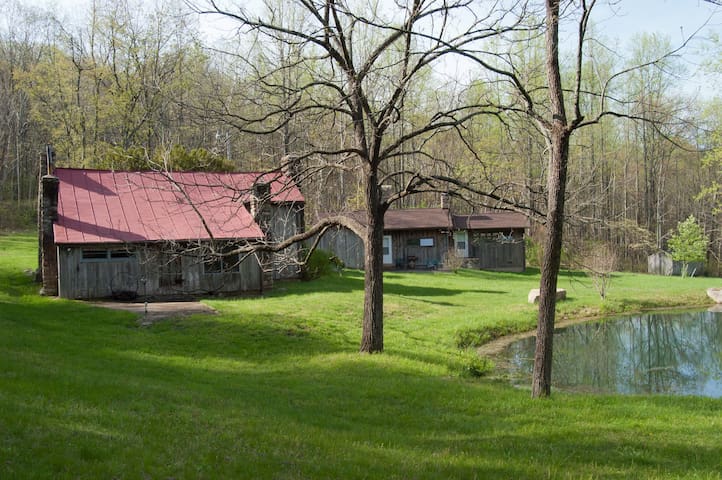 The host canceled this reservation 81 days before arrival. This is an automated posting.
Dana
2016-11-28T00:00:00Z
We had a wonderful time at this cabin. The house is beautiful, the property is amazing, and setting is just perfect. Fair warning there is zero cell service, but you won't need it because you'll be so busy enjoying yourself. 10/10 would come back. Our Spirits Danced!
Oliver
2016-10-04T00:00:00Z
Great secluded place for our ten person super bowl weekend. Living room/kitchen area was fantastic place to hang out. Nice and secluded in the woods, great hot tub. Lots of games downstairs. Plenty of space for even more people. A few antlers and taxidermied animals shy of full on Indian graveyard - which made for lots of interesting conversation.
Sean
2017-02-06T00:00:00Z
Came here with a group of friends for a birthday weekend. It was exactly what we were looking for. Very spacious house, beautiful view, and trials leading into Shenandoah National Park. The extra amenities were a great additions; sauna, hot tub, game room, corn hole. There is no service but we had a Verizon hotspot and were able to pick up some wifi.
Sarah
2017-03-12T00:00:00Z
Our group of 15 had a lovely stay at Spirit Dancer Lodge. The location was PERFECT - just a few minutes from wineries and Old Rag. The rooms were spacious and clean, plenty of dishes and linens, and a wonderful porch.
Lindsey
2016-09-12T00:00:00Z
We had a great stay at Spirit Dancer Lodge. There was ample room for all our guests, beautiful views from the great room and many nice furnishing touches. It is private and very close to great hiking, which is what we were looking for.
Peter
2017-01-16T00:00:00Z
Tipo de Quarto
Casa inteira/apto
---
Tipo de Imóvel
Casa
---
Acomoda
15
---
Quartos
Etlan, Virgínia, Estados Unidos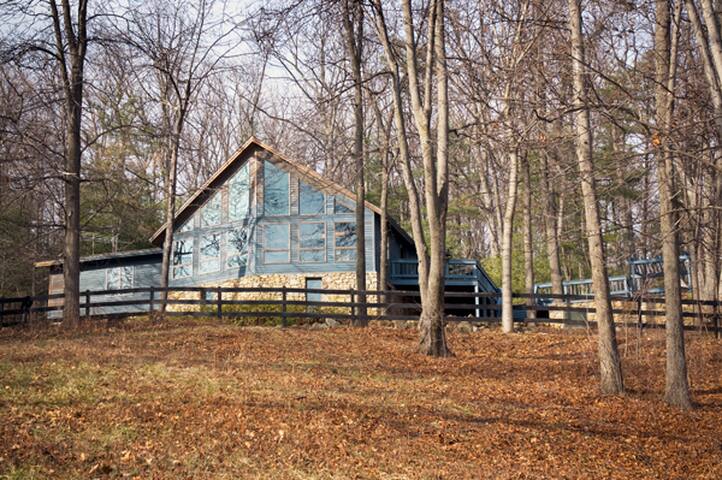 Insira as datas para ver o preço total. Taxas adicionais aplicáveis. Podem ser adicionados impostos.