300+ Alugueres de Apartamentos
Apartamento de 2 habitaciones, muy luminoso con bonitas vistas, en una zona muy tranquila y cerca de las principales empresas de Pamplona. Muy bien comunicado con El Centro de Pamplona con autobús. Es un excelente lugar para sentirte como en casa en tus viajes de negocios o para pasar unos días conociendo Navarra.
Orkoien es un pueblo muy cercano a Pamplona con una bonita zona residencial, pero a la vez muy cercano a la zona empresarial Navarra. Es una zona ideal para aquellas personas q viajan por trabajo y sentirse en casa.
Un buenluegar para alojarse si vienes de viaje de negocios y tienes la empresa en el Parque Empresarial la Muga. Hemos tenido muy buena comunicación con los anfitriones y en todo momento han sido muy amables. Totalmente recomendable!!
David
2017-01-20T00:00:00Z
De 10!
Marta
2017-03-26T00:00:00Z
The host canceled this reservation 5 days before arrival. This is an automated posting.
Lorea
2016-12-12T00:00:00Z
Si fue correcta y hasta mejor
Richard
2017-01-04T00:00:00Z
Todo muy bien
Adela
2017-04-06T00:00:00Z
Estupenda estancia, tranquila, comoda y muy cerca y accesible del centro de pamplona. Estupendos anfitriones 0% problemas 100%recomendable gracias
NICOLAS
2017-01-29T00:00:00Z
Tipo de Quarto
Casa inteira/apto
---
Tipo de Imóvel
Apartamento
---
Acomoda
4
---
Quartos
Orcoyen, Navarra, Espanha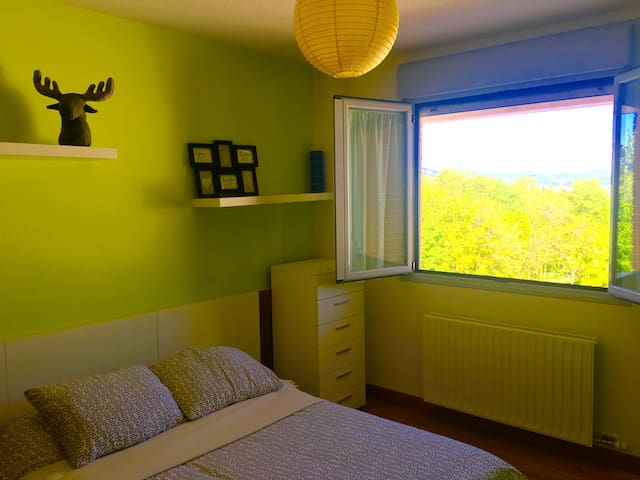 4º piso con ascensor, cocina abierta al salón, un baño con ducha y tres habitaciones, dos camas individuales y dos camas dobles. La cocina está totalmente equipada . A 50 metros del portal está la parada del autobús urbano, pasa cada 12 minutos, hacia el centro de la ciudad de Pamplona. Berriozar es un pueblo tranquilo para las vacaciones con servicios para aprovechar: piscina cubierta, gimnasio, parque infantil, aparcamiento gratuito, con supermercados para hacer la compra nada más salir.
El apartamento está situado en Berriozar, a las afueras de Pamplona, en un barrio tranquilo, muy bien comunicado con el centro, y con todas las dotaciones de una gran ciudad al alcance de la mano. Pamplona es los Sanfermines, toros y fiesta durante 9 días de Julio. Pamplona es más que los Sanfermines. Capital del Reyno de Navarra; guarda en sus calles y alrededores tesoros de la historia. Los caminos que van a Santiago atraviesan la ciudad y la provincia, mostrando a los viajeros los bosques profundos, las vegas de los ríos, los campos de cereal, los viñedos, los desiertos. Berriozar era un pueblo pequeño que creció y crece con la cercanía de Pamplona. Desde el apartamento se puede visitar en un paseo el "pueblo viejo" con la iglesia, el lavadero, la plaza, las antiguas casas de agricultores, alejados del ruido y las prisas de la ciudad. Alargando este paseo se puede subir al monte Ezkaba, donde hay un fuerte militar. Es un bonito mirador de la "Cuenca de Pamplona" y de los montes navarros. Berriozar es un barrio moderno, con todas las dotaciones culturales, deportivas y de ocio disponibles. Desde el apartamento se va andando al polideportivo con piscina cubierta, a la biblioteca, al auditorio, y a la casa de juventud; todos ellos municipales y con una amplia oferta de actividades. A 50 m. del portal del apartamento está la parada del autobús urbano (linea 16) de Pamplona. A la estación de tren se llega en 10' y al centro en 15'. Los propietarios ponemos a disposición de los viajeros tarjetas electrónicas de transporte urbano, fácilmente recargables en tiendas cercanas. Berriozar es un sitio muy cómodo desde el que moverse en coche. En menos de hora y media puedes estar en los bosques del Pirineo, o en las playas de San Sebastían y Biarritz, o cogiendo hongos en los bosques de Basaburua, o en el museo Jorge Oteiza, o en una bodega catando vinos, o en una iglesia románica entre bosques de encinas, o perdido en el desierto de las Bardenas. Nosotros los propietarios podemos facilitar información sobre estos destinos y ayudar en el plan de viaje. Los viajeros tendrán a su disposición el vino que hacemos en nuestra pequeña bodega en Dicastillo, con uvas de Garnacha de viñas viejas, cultivadas con mucho amor y cariño. Deseamos que los viajeros disfruten de nuestra tierra como lo hacemos nosotros. Buen Viaje.
Amazing place.
Espedito
2017-03-29T00:00:00Z
todo muy muy bien, lo recomendaría sin duda.
NUNILA
2017-03-20T00:00:00Z
Tipo de Quarto
Casa inteira/apto
---
Tipo de Imóvel
Apartamento
---
Acomoda
6
---
Quartos
Berriozar, Navarra, Espanha
Este cómodo apartamento de 3 dormitorios en un edificio de ladrillo rojo tiene una sensación de la ciudad pero está situado en una de las más seguras y más tranquilas areas.Opposite la biblioteca y conservatorio central, cerca de los parques ya pocos minutos de hospitales, esta zona es fácilmente accesible desde el centro vibrante ciudad.
Tranquila y segura zona a sólo unos minutos del centro de la ciudad. Buen ambiente para aperitivos y es ideal para pasear.
Hemos pasado 15 dias en Pamplona estupendos. Aunque no hemos podido conocer a David el anfitrión, ha estado en contacto con nosotros frecuentemente para asegurarse de que la estancia nos estaba siendo agradable. En este caso sus padres ejercieron de anfitriones, fueron muy amables y atentos. El piso reune todas las características para proporcionar una estancia de lo más confortable, muy luminoso, amplio, muy limpio y no le falta detalle. La zona es excepcional, sobretodo para ir con niños, avenidas peatonales amplias, muchos parques y zonas de columpios, en general un entorno muy tranquilo. Desde luego que volveremos a Pamplona, nos encanta la ciudad y sus gentes, tienen un carácter muy abierto y campechano. Y por supuesto repetiremos en el piso de David, sin duda. Altamente recomendable.
Cris
2016-08-22T00:00:00Z
Todo bastante bien
jose juan
2016-12-16T00:00:00Z
El piso está tal y como se muestra en las fotos. Es cómodo y está muy limpio. Está a media hora del centro pero hay buena comunicación de autobuses que tardan 15 min. Hemos difrutado una estancia de una semana y nos hemos sentido muy bien. No hemos podido conocer a David, por su trabajo pero su madre nos ha atendido con mucha atención y hospitalidad. Recomendable.
Rafa
2015-10-26T00:00:00Z
I stayed at David's apartment for a month, and he was very helpful and available all throughout my stay. The place is exactly as described and seen in photos. I was welcomed by his whole family with coffee and snacks. He gave me suggestions for things to do, how to take public transportation, etc. I would definitely recommend staying here to a friend.
Andy
2016-11-27T00:00:00Z
El piso tiene buena ubicación( zona tranquila y bien comunicada). Es muy confortable, soleado y con moderna decoración hizo que nuestra estancia fuera muy agradable. David es atento y si volvieramos a Pamplona, sin duda repetiríamos, experiencia 100% recomendable.
Luis M
2015-12-21T00:00:00Z
The reservation was canceled 5 days before arrival. This is an automated posting.
Cheryl
2015-05-11T00:00:00Z
Excelente Piso, me quede un mes ahi y la pase espectacular, bien situado, muy cómodo limpio y ordenado, todo es como en las fotos y remodelado, lo recomiendo ampliamente. David el dueño del piso es Super atento y muy pendiente de toda mi estadia, y en ningún momento le tuve que reclamar nada mas bien agradecido de lo bien que la estaba pasando.
Jose A
2016-09-25T00:00:00Z
La zona en la que se encuentra, aunque no muy céntrica, está bien comunicada y provista de todos los servicios necesarios para pasar unos días en la ciudad o los alrededores. El piso es muy acogedor, todas las estancias de la casa está amuebladas con cuidado y la cocina, aunque sólo la utilizamos para desayunar, nos pareció muy funcional. Durante el fin de semana que hemos pasado allí hemos disfrutado de las sobremesas en la zona de comedor y las charlas en los sofás o el balcón. Además, la comunicación con David antes, durante y después de la estancia ha sido muy fluida y cordial. Y su madre fue muy atenta a la de darnos la bienvenida.
Rebeca
2015-10-12T00:00:00Z
Tipo de Quarto
Casa inteira/apto
---
Tipo de Imóvel
Apartamento
---
Acomoda
5
---
Quartos
Pamplona, Navarra, Espanha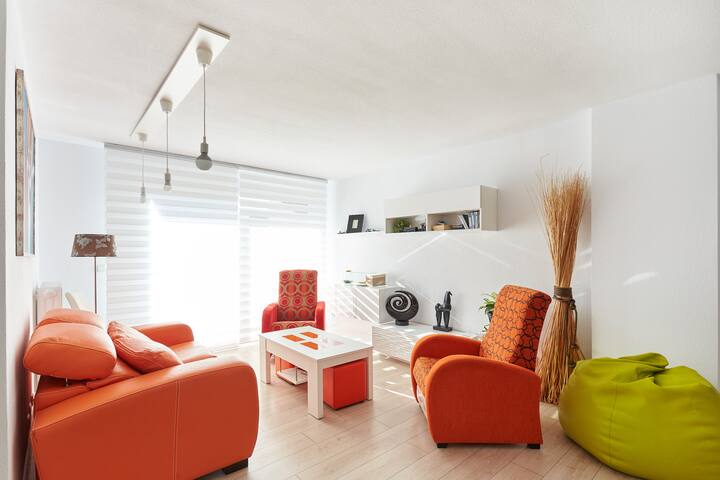 This is a very bright and welcoming apartment that has a living room, kitchen, bedroom and dressing room, fully equipped for short and long stays. It has a double bed in the bedroom and living room has a sofa bed (double) and a single bed, so that in principle it is perfect for two people but can also accommodate up to 4 people. In addition to rent a garage.
Ha sido una experiencia excepcional. El apartamento es tal cual aparece en las fotos, muy bien cuidado, limpio y con mucha luz. Cama y sofá muy cómodos, calefacción central, cocina perfectamente equipada y una habitación/trastero que hacía de armario para la ropa, con espacio más que de sobra. El piso es muy grande, perfecto para una familia o un grupo de amigos. Sin lugar a dudas, recomiendo este apartamento a todo aquel que quiera tener una estancia cómoda y tranquila en Pamplona. Si bien este algo lejos del centro andando (aunque no más de 20 minutos), hay varias líneas de autobuses que lo hacen estar muy bien comunicado, también dispone de comercios de todo tipo en los alrededores, así como la zona de hospitales. Joaquín ha sido un muy buen anfitrión, atento y pendiente en todo momento, incluso cuando tuve un pequeño percance en la cocina, lo solucionó rápidamente enviando a un técnico
Miguel
2016-10-24T00:00:00Z
El apartamento genial, buena localización y tienes de todo en el barrio y además tiene parking aunque es fácil a aparcar en los alrededores, muy limpio prácticamente nuevo y los anfitriones geniales y muy simpáticos, sin duda repetiría en este apartamento mi próximo viaje a Pamplona, estas cerca del centro y de la ciudadela unos 10-15 minutos andando, es un sitio tranquilo y además al mismo tiempo el edificio funciona como hotel muy bien todo recomendable a tope
Iker
2015-06-15T00:00:00Z
El departamento es muy cómodo. Está muy cerca de la Universidad de Navarra y siquieres ir al centro puedes hacerlo caminando o en colectivos que se toman prácticamente en la puerta. El entorno es silencioso y tranquilo. No está alejado de la estación de trenes tampoco. Tiene muy cerca un supermercado importante. La calefacción es perfecta, al igual que el wifi y el baño. Las fotografías que muestran el departamento son completamente ciertas. En fin, un muy lindo lugar para estar en Pamplona pocos o muchos días.
Hugo
2017-02-28T00:00:00Z
Un apartamento muy acogedor y cómodo para pasar el tiempo que quieras en Pamplona. Bien comunicado con el centro de Pamplona y fácil de llegar andando. Muy recomendable.
Amparo
2016-09-01T00:00:00Z
Lovely, bright and relaxing apartment, exquisite decorated full of owner experiences around the world. Mostly complete for couples or families, the four of us (including 2 little children) settled in as our basecamp for enjoying Pamplona at its best. Taking into account that in a 20 minutes walk anyone could reach the crowed city centre, this apartment provides best-in-class staying, due to its quiet and green neighborhood, surrounded by small shops and restaurants. At least but not at last, Viajero (owner) is exceptionally kind and friendly, what increases final satisfaction.
Cristiana
2015-04-05T00:00:00Z
El apartamento es igual que en las fotos tal vez le falte alguna costilla pero en general todo estupendo. Nosotros nos sentimos como en casa.
MARISOL
2016-07-24T00:00:00Z
Efectivamente un apartamento muy bien ubicado y muy acogedor. La visita a Pamplona ha resultado ser muy buena en gran parte gracias a la decisión de habernos quedado en este piso. Es muy confortable y bastante luminoso. El anfitrión fue muy amable y atendió a nuestras preguntas muy rápidamente. Una excelente opción.
Luis
2015-01-26T00:00:00Z
El piso está perfectamente amueblado, tiene mucha luz y muchos detalles de diferentes sitios del mundo. Además está muy bien ubicado, teniendo varios sitios para ir a comprar en las cercanías y el autobús al lado de casa para llegar al centro de Pamplona en nada más de 10 minutos. Aparte de esto, la casa tiene un parking privado por si uno viene en coche. Me sentí muy cómodo durante toda mi estancia y estoy muy agradecido al dueño del piso por su amable trato. Estuvo dispuesto a aclararme cualquier duda que tuviera y se mostró muy flexible en cuanto a la hora del check-in y check-out. Como tendré que volver varias veces a Pamplona por trabajo, pienso alquilar el piso más veces ya que estuve muy satisfecho. :-)
Benjamin
2015-07-31T00:00:00Z
Tipo de Quarto
Casa inteira/apto
---
Tipo de Imóvel
Apartamento
---
Acomoda
3
---
Quartos
Pamplona, Navarra, Espanha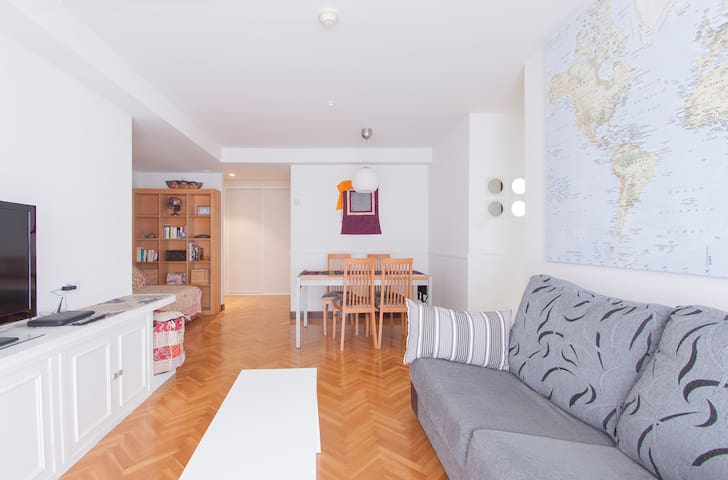 apartamento funcional para três ocupantes, simples e econômicas. Elevador (quarto andar). Bônus clientes dom-Bus. Um quarto com cama de 1,40, um com dupla 0,90. Toalhas e roupa de cama. Um banho. cozinha (exceto máquina de lavar louça) totalmente equipada. Aquecendo o gás natural (caldeira selada). sala de jantar. Adicional pequena sala de estar.
bairro popular na saída para Logroño. lojas básicos (padaria, açougue, comida, farmácia, tabacaria, bar, restaurante). Zonas verdes. Comunica-se com área de alto Pamplona através de um elevador público, dando caminhada fácil para a maioria das lojas, Carrefour, etc ...
luis es un anfitrión muy atento y siempre estuvo dispuesto a ayudarnos, nos sentimos como fuese en casa , me olvidaba cosas después marcharme y me antedndió luis al momento incluso cancelaba su cita suyo para buscarlo. El apartamento esta equipado de todo tal cual se muestra en el anuncio ,hasta tiene detalles muy generosos. dicho quería ampliar la reserva , pero lamentablemente fue ya cogida. seguro que lo repetiremos en nuestro próxima visit(URL HIDDEN)
Ahmed
2016-11-01T00:00:00Z
La casa es tal cual se muestra en el anuncio. Luis esta muy atento a todo lo que puedas necesitar y te explica cualquier duda que tengas. La casa esta muy bien ubicada para realizar excursiones por Navarra ya que el apartamento esta bien comunicado y cerca de la autopista pero algo alejada del centro de Pamplona.
Pablo
2016-07-25T00:00:00Z
We had a little misunderstanding first but then it was fine! I stayed a month and felt great!
Alex
2015-10-26T00:00:00Z
Luis nos indicó perfectamente la llegada aun antes de recibirnos muy cordialmente. El apartamento es tal cual se ve en las fotos y tiene todo lo que se necesita para sentirse como en casa. Se encuentra ubicado en un lugar súper tranquilo.
Juana Carmen
2015-06-17T00:00:00Z
todo ha ido perfectamente. El apartamento estaba muy limpio muy cómodo ...tal y como figura en el anuncio. Luis nos ofrecio su ayuda y sus consejos fueron muy buenos. volveremos!
Natalia
2015-08-21T00:00:00Z
la casa es igual como la anunciaron muy comoda y confortable ,equipada de todo , el barrio muy tranquilo pero con una buena comunicacion para el centro y el propietario muy amable y atento
Elena
2015-12-09T00:00:00Z
Quiet place. Clean apartment. Excellent host that even boroughs you the bus card to use during your visit .
Irene
2017-03-31T00:00:00Z
el piso esta perfecto, tiene de todo y luis es un excelente anfitrion......... la casa tiene de todo y hasta tiene detalles muy generesos.............. super recomendable, no creo que se arrepientan de elejirlo................
Javier
2016-04-18T00:00:00Z
Tipo de Quarto
Casa inteira/apto
---
Tipo de Imóvel
Apartamento
---
Acomoda
3
---
Quartos
Pamplona, Navarra, Espanha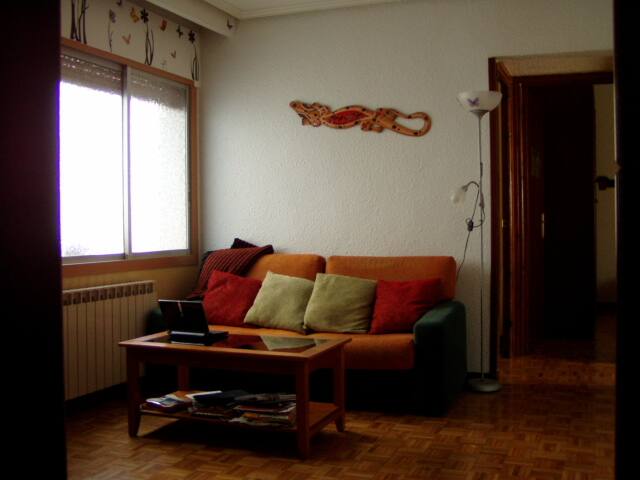 Apartamento para 4 personas reformado en 2014 y totalmente equipado. Situado a 5 minutos del Complejo Hospitalario de Navarra y de la Clínica Universitaria. Ideal para aquellos que se acerquen a Pamplona por motivos turísticos, laborales, médicos...
Apartamento de 65 m, acogedor, sencillo, muy limpio y luminoso. Está equipado al detalle para que nuestros huéspedes se sientan como en su propia casa. La casa dispone de: - Cocina de concepto abierto y totalmente equipada (placas de inducción, microondas, cafetera, tostador, exprimidor...) - 3 habitaciones, una doble (cama de 150cm) y dos individuales (cama de 105cm). - Baño completo (toallas, productos de acogida, papel wc, secador de pelo...) - Salón equipado con libros, juegos de mesa y DVDs. - 1 Balcón en el que encontrarás todos los productos y utensilios de limpieza (plancha, escoba, aspirador, jabón de lavadora y suavizante...) Para los que viajan con niños tenemos a su disposición cuna, barra de cama, cambiador, adaptador para el wc, bañera, juguetes, películas, cuentos...
Se encuentra en una zona tranquila, en el límite entre Barañain y Pamplona. Junto a Carrefour, la Biblioteca Pública de Navarra, el conservatorio de música. El aparcamiento es gratuito. Dispone de las comodidades de una ciudad pero con la cercanía y tranquilidad de un pueblo. El apartamento está directamente comunicado con la estación de tren por medio de la línea 7 de autobús urbano y con la estación de autobuses por medio de la línea 4. El aeropuerto se encuentra a 8 km (unos 15 minutos en coche y no más de 20 euros en taxi). Además la ubicación de la casa permite que el acceso a las autopistas sea cómodo y rápido, haciendo así más fácil la salida hacia cualquier dirección.
Gorane and sisters are great person. They were very interested in us. The apartment was very clean and nice. The neighborhood were quiet, clean and safe. We had a very nice 3 days and felt in our own home. Thanks Laila…..
Emine
2016-04-22T00:00:00Z
Nous avons passé un excellent séjour ! Un magnifique appartement décoré avec goût comme sur les photos. Très bien équipés et calme. Les hôtes très sympathiques. Nous reviendrons avec plaisir.
thierry
2016-10-23T00:00:00Z
La casa de Gorane ha sido toda una gozada, todo genial y su actitud con nosotros fue espectacular. Mi familia y yo recomendamos este apartamento en todos los sentidos.
Marta
2015-07-29T00:00:00Z
Este piso es hermoso muy limpio y bien organizado, tiene todas las comodidades y el autobús al centro pasa a una cuadra. Se encuentra en una zona residencial tranquila. La dueña es una persona muy amable y organizada me sorprendieron todos los pequeños detalles de el departamento. Definitivamente recomendable!!
Fabiola
2017-04-07T00:00:00Z
Ha sido una estancia genial. La ubicación es genial si tienes que pasar tiempo en el campus universitario o en la clínica universitaria y la comunicación con el centro en autobús es muy buena (buena conexión, parada de autobús muy cercana a la casa y llegas al centro en 10 minutos). Inmejorable!
Lucia
2017-03-05T00:00:00Z
Nos sentimos como en casa. Apartamento bien equipado y muy limpio. La amabilidad de Gorane es otro gran punto a favor. Si hemos de volver a Pamplona, sin duda repetiremos. Saludos desde Barcelona.
Ernesto
2015-06-25T00:00:00Z
La anfitriona es encantadora. El apartamento perfecto, lleno de detalles, muy cuidado. Tal y como se ve en las fotos.
Juan Jose
2016-03-29T00:00:00Z
El apartamento es muy cómodo y agradable. Está muy bien distribuido. Las camas son cómodas y hay muchos detalles por toda la casa. Tienes información actualizada de Pamplona y Navarra. Incluso había naranjas y leche en el frigo! Está cerca de los hospitales, un poco más lejos del centro, pero hay autobuses de los que Gorane te da información e incluso una tarjeta. Quedamos en el portal y luego en el piso nos dio toda clase de explicaciones. Hace lo posible para que estés a gusto. Muy recomendable
Fernando
2015-06-29T00:00:00Z
Tipo de Quarto
Casa inteira/apto
---
Tipo de Imóvel
Apartamento
---
Acomoda
4
---
Quartos
Barañáin, Navarra, Espanha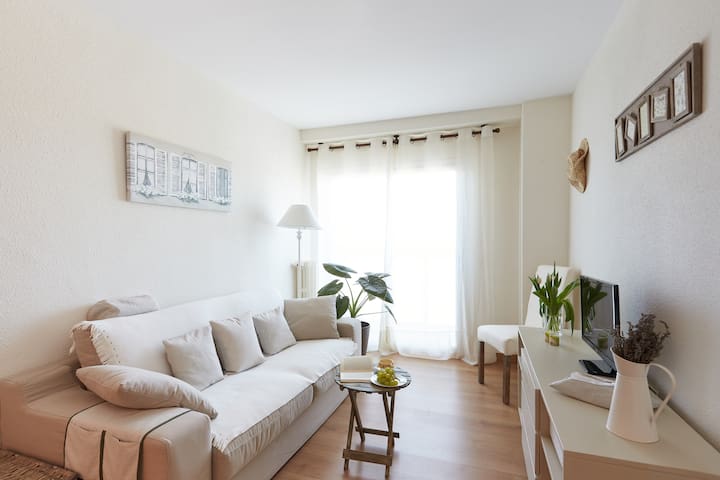 Activités: San Fermin, Parc de Yamaguchi, Université de Navarre, Hôpitaux, Université Cynique, Planétarium, Conservatoire. Vous allez adorer ma place à cause de la cuisine, le salon, espace confortable, quartier calme avec des cafés et des aires de jeux pour les enfants. Mon logement est bon pour les couples, les aventuriers, les voyageurs d'affaires, les familles (avec enfants), et de grands groupes.
Por mi parte solo me queda agradecer a Isabel por hacernos la vida mas facil este fin de semana. La casa esta muy bien, yo recomiendo este piso a todo el mundo que vaya en grupo. Es muy comoda y amplia. De 10
Xabier
2016-09-18T00:00:00Z
Alojamiento de 10. Isabel ha sido una anfitrión estupenda. Si vuelvo repetiré alojamiento.
Adrian
2016-11-13T00:00:00Z
Tipo de Quarto
Casa inteira/apto
---
Tipo de Imóvel
Apartamento
---
Acomoda
8
---
Quartos
Pamplona, Navarra, Espanha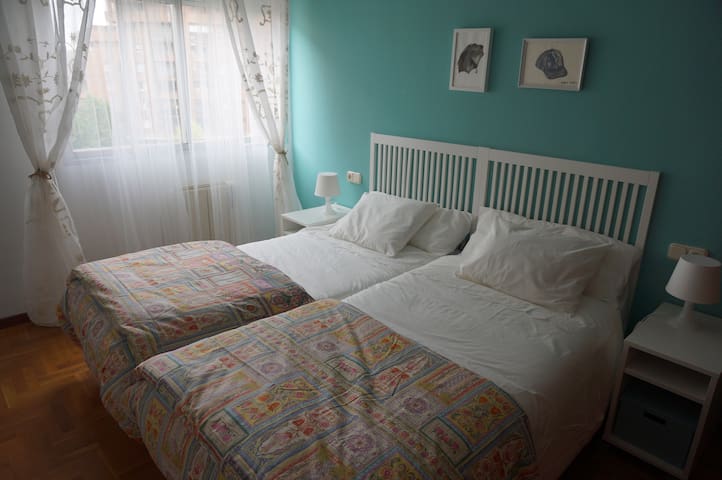 apartamento agradável e tranquila de dois quartos, está apenas a 8 minutos a pé da casa de banho cidade viejo.el foi recentemente renovado, como o elevador, é uma casa sem qualquer luz de ruído e de manhã, localizado em um dos ruas mais comerciais de Pamplona, supermercados e todos os tipos de lojas, perto dos bares (mas sem suas desvantagens) a uma curta distância de teatros e hospitais.
Tranquilidade, não um ruido.en a área e muito comércio
muito comércio
El apartamento está bien comunicado y es luminoso. Jorge se preocupó por arreglar un par de temas que surgieron, para que estuviéramos a gusto.
Lucía
2016-12-10T00:00:00Z
Jorge es un anfitrión de trato muy agradable, está pendiente de si necesitas algo, responde al instante, y fue my flexible con nuestra hora de llegada y salida para acomodar nuestras necesidades al 100%. El piso es como dice el anuncio muy silencioso. La localización es muy buena, muy cerca del centro y a pie de supermercados y cafeterías. No hay aparcamiento gratuito en la zona, pero hay sitio de sobra para aparcar al lado del piso en zona naranja (4,35 euros por día).
Cristina
2016-12-01T00:00:00Z
Very comfortable and, yes really quiet, apartment in a residential/shopping district with superb food shops all around. You won't need to go to any big supermercado as there is everything you need right on the doorstep. Jorge communicates well and is conscientious. You can walk to the old city in about 30mins. Be aware that you need to pay for parking in the street spaces - there are lots of traffic wardens on the case all the ti e. The parking costs 4.65 for 24 hrs and the ticket will run on to the next day whatever time you purchase. Try the local Navarra wine from the carnicerias (they are everywhere) - delicious. Two fresh fish shops within 100m of the apartment entrance.
Keith
2017-02-10T00:00:00Z
Si visitas Pamplona es una buena opción de alojamiento. Esta muy cerca del centro, con supermercados en la puerta. Siempre hay aparcamiento en la inmediaciones y Jorge es muy atento y esta pendiente de cualquier cosa que necesites. La comunicación con él ha sido perfecta.
Beatriz
2017-04-11T00:00:00Z
La atención por parte de Jorge, ha sido perfecta. En todo momento me ha ofrecido facilidades y ayuda. Aconsejable 100%. El apartamento es suficiente para pasar unos días en Pamplona. No tiene grandes lujos, pero tiene los servicios necesarios para estar bien.
Fernando
2017-01-19T00:00:00Z
Jorge es muy amable. El piso limpio y bien ubicado.
Mónica
2017-04-07T00:00:00Z
Jorge ha sido muy atento y respondió siempre a nuestras demandas. El piso esta en un barrio muy agradable y bien conectado.
Mateo
2016-12-31T00:00:00Z
Joseba was a very responsive and helpful host. Nice touches like leaving maps in the apartment. The apartment has everything you need and was perfect for a family of 5 during San Fermin.
Jim
2016-07-08T00:00:00Z
Tipo de Quarto
Casa inteira/apto
---
Tipo de Imóvel
Apartamento
---
Acomoda
4
---
Quartos
Pamplona, Navarra, Espanha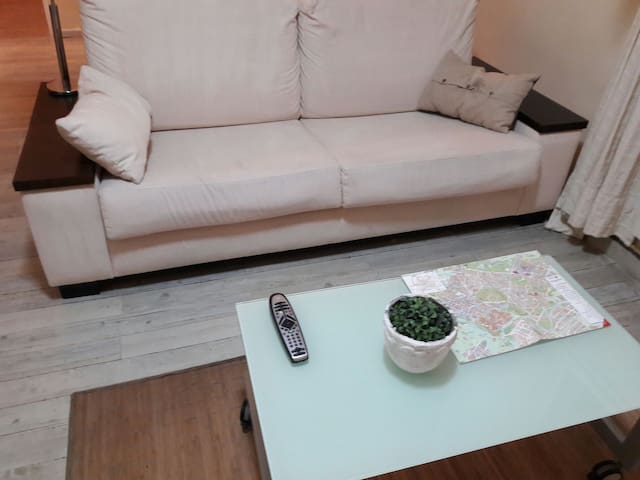 Nice apartment newly renovated and fully equipped located in a central area 10 minutes walk from the old town and the hospital area (University Hospital). Account nearby with the main services (supermarket, pharmacy, health center, entertainment and shopping, public transportation, etc). Perfect for stays for work or tourism purposes. Parking in the same building included in the rental price. Tourism Register of Navarre: UAT00560
Because of its location and modern equipment the apartment is ideal for tourists who come to know Pamplona and its surroundings, and professionals who have to travel to the city. Very good communication with the main access roads to Pamplona. Convenient access to the garage from the same elevator to the apartment.
central, quiet and equipped with all amenities. Close to landmarks of the city such as parks Citadel and Taconera, Old Town (City Hall, Cathedral, etc), hospital area and typical entertainment areas, bars and restaurants (Building Baluarte, Plaza del Castillo, Calle San Nicolas and Estafeta ).
Tipo de Quarto
Casa inteira/apto
---
Tipo de Imóvel
Apartamento
---
Acomoda
4
---
Quartos
Pamplona, Navarra, Espanha
Barrio tranquilo. Atico en nuevo ártica a 25 min andando al centro. Disponibilidad para aparcar en la zona sin problemas. La linea de autobus (num 17) esta a 200 metros y te deja en el centro de pamplona en 5 minutos
The host canceled this reservation 91 days before arrival. This is an automated posting.
Geoff
2017-04-06T00:00:00Z
Tipo de Quarto
Casa inteira/apto
---
Tipo de Imóvel
Apartamento
---
Acomoda
4
---
Quartos
Artica, Navarra, Espanha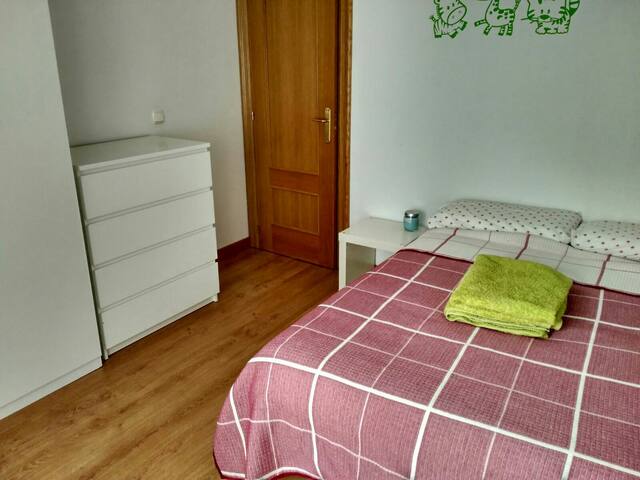 Dyna is very cute and obliging. We stayed at the room during Sanfermines. She gave us a lot of tips and even borrowed us her typical Sanfermines "pañuleo"! The apartment is located a little outside the city centre but you can catch the bus which brings you there within 20 minutes. She and her family made us feel like home :) we can really recommend it!
Regina
2016-07-14T00:00:00Z
Tipo de Quarto
Quarto privado
---
Tipo de Imóvel
Apartamento
---
Acomoda
3
---
Quartos
Pamplona, Navarra, Espanha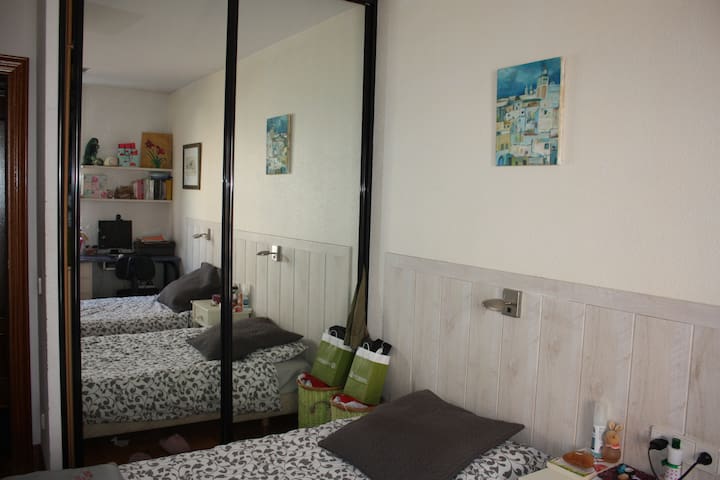 Spacieux appartement dans la zone de l'hôpital avec salon, chambre, cuisine et salle de bains, le tout dans des chambres séparées. Service de nettoyage hebdomadaire. accès internet wifi gratuit. Possibilité de louer un garage avec supplément.
Appartement dans un quartier résidentiel à côté de clinique universitaire de Navarre et zone industrielle Landaben (Volkswagen d'usine). Chambres séparées.
Zone résidentielle. Jardin . Spacieux
Muy buena estancia
Gabriela
2017-03-05T00:00:00Z
El apartamento está muy bien. El personal de recepción y de la limpieza muy amables y atentos.
Judit
2016-12-11T00:00:00Z
El apartamento esta muy bien, cómodo y limpio.
Isabel
2016-03-16T00:00:00Z
;;;
Michel
2016-03-06T00:00:00Z
Apartamentos muy amplios y cómodos, recepcionistas súper amables y a pesar de estar algo alejado del centro, muy bien comunicado ya q tiene una parada de autobús justo en la puerta. Muy contentos y seguro q si volvemos a Pamplona intentaremos volver a alojarnos aqui.
Daniel
2016-08-19T00:00:00Z
Lodging in one of the wonderful one-bedroom flats at Suites Mirasierra has contributed to making my stay in Pamplona a great experience! The flat was spacious, full with natural bright light and very clean! SM has dealt with my requests and questions in a very proficient and efficient way: they went the extra mile to give me info on how to arrive in Pamplona from the airport, what means of transport was best..., and happy to meet my requests to change my booking from originally 5 to 4 days and give me a refund. In the hall of the building there was always a person in charge of the flats, ready to answer questions or address issues - or even for a nice chat! With no reservations whatever do I recommend staying in these flats!! I hope the future guests will enjoy their stay as much as I did.
Ivan
2016-03-25T00:00:00Z
El apartamento estaba muy bien, tenía todo lo necesario y lo limpiaban a diario. Está en una zona tranquila a 10 minutos en bus del centro. En la recepción son muy amables.
Elena
2016-08-30T00:00:00Z
Wonderful! I will go back again!
Daren
2015-07-08T00:00:00Z
Tipo de Quarto
Casa inteira/apto
---
Tipo de Imóvel
Apartamento
---
Acomoda
2
---
Quartos
Pamplona, Navarra, Espanha
You'll love my apartment because it is very welcoming and recently renovated, modern with all amenities, fully equipped. Very bright and with all amenities. Cozy and well located, within walking distance of the old, centrally located on foot. Lift and easy parking. Located in a pedestrian plaza. Suitable for couples, adventurers, business travelers and families (with children).
Mikel es un estupendo anfitrión y la comunicación fue muy sencilla con él. El apartamento es mejor que en las fotos con una muy acertada reforma reciente. Zona tranquila a 20 minutos andando del centro. Recomiendo este alojamiendo
Merche
2016-07-28T00:00:00Z
El piso está muy bien ubicado y todo reformado casi a nuevo. Mikel ha estado muy atento a todas mis necesidades y ha respondido oportunamente a ella. Muy recomendado!
Luis
2016-12-19T00:00:00Z
Buena ubicación, bien calefaccionado.
Emilia
2017-04-01T00:00:00Z
Really nice apartment, very light and airy. We had a lovely stay thank you. Mikel was very welcoming and gave us tips on where to go and how to get around which helped a lot as we were not in Pamplona for long. Remember to pay for your parking ticket straightaway though, as the Pamplona parking wardens are very thorough, we nearly had our car towed away!
Lucilla
2016-08-11T00:00:00Z
Excelente sitio. Excelente trato. Perfecta la estancia. Mejor que en las fotos.
Jose
2016-06-25T00:00:00Z
La decoración es tradicional, como si estuvieses en casa , no es estirada, lo que hace que te sientas como en casa. La zona es tranquila pues está situada en una plaza peatonal, fácil de aparcar por la zona y muy cerca del centro , aunque sí no quieres andar tienes una buena combinación de autobuses que para casi en la misma puerta
José
2016-06-20T00:00:00Z
We were welcomed friendly by Mikel, he showed us the appartment and gave us some information about the city. However, when Mikel left and we took a better look at the appartment, we were quite disapointent by the look of it. It was very dirty. For example, the shower and toilet weren't cleaned, Mikels own wash was still in the machine, the beds had dirty linnen on it. Therefore, instead of staying two days we just slept one night and left the next day. So our stay in Pamplona was actually not such a nice experience as we wanted it to be.
Josephine
2016-08-02T00:00:00Z
Mikel was aardig en hielp ons goed om zijn apartement te vinden. (Was lastig te vinden). Ook gaf hij bij aankomst tips, welke bezienswaardigheden er waren. Het apartement zelf is ruim, maar niet echt schoon. Vooral de badkamer, het toilet en de keuken waren viezig. Apartement zelf is mooi ruim, met een klein balkon en op loopafstand van winkeltjes. Wel iets ver buiten het centrum. Tip voor Mikel, een goede schoonmaakbeurt van het apartement zou niet verkeerd zijn. Dan is het een prima apartement.
Mirella
2016-08-09T00:00:00Z
Tipo de Quarto
Casa inteira/apto
---
Tipo de Imóvel
Apartamento
---
Acomoda
4
---
Quartos
Pamplona, Navarra, Espanha
Precioso apartamento con vistas, ideal para una pareja. Bien comunicado con el centro de la ciudad por transporte público (número de autobús 4H). Varios servicios muy cercanos (supermercados , farmacia, cafeterias, hospitales).
One Room Appartment, Living Room , Small Kitchen And Bathroom.
Green Parks, Mountains Views, Quiet Place.
Tipo de Quarto
Casa inteira/apto
---
Tipo de Imóvel
Apartamento
---
Acomoda
3
---
Quartos
Barañáin, Navarra, Espanha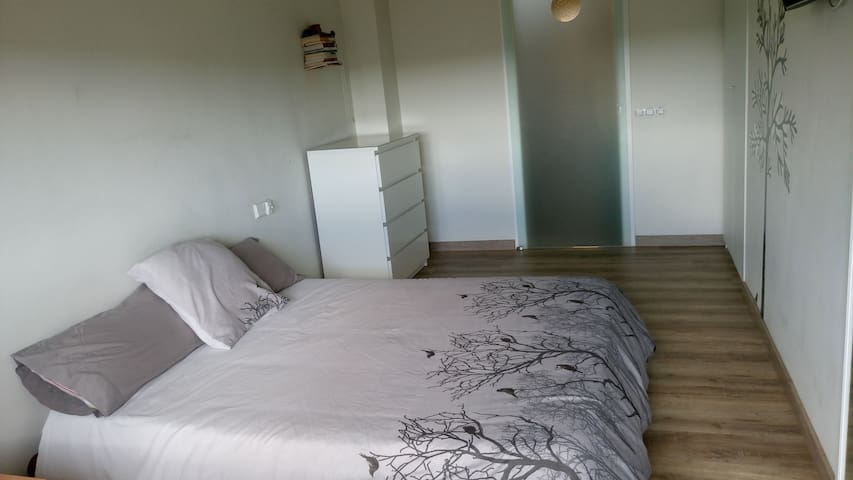 Nice apartment to explore the city, well connected with the center of Pamplona. Nice apartment to know the city. It's very well connected to the center of Pamplona.
Living in a neighborhood near the center of Pamplona, with three bedrooms, a bathroom, a living room and a large kitchen with all utensils for cooking. very sunny apartment. Other services: + Wi-Fi (a bonus of 1 GB with 4G speed every three days. Once consumed GB speed is reduced during those three days to 2G). + Kitchen and living room TVs. + Cafetiere + Hairdryer + Iron Registered in the Tourism Register of Navarre (UAT00405).
very dynamic neighborhood, with all the services they need close to home, as well as various parks and gardens.
Muy limpio y tal y como se ve en las fotos. Oscar es muy amable y os echará una mano con sitios que ver, donde comer, etc...
Edu
2017-04-10T00:00:00Z
Apartamento perfecto con todo lo necesario. Muy bien comunicado y un trato estupendo
Blanca
2015-05-31T00:00:00Z
Oscar was great! Very helpful and always available. The apt. was also great, very well kept. We had more than enough room with four people and the location was pleasant.
noah
2015-07-13T00:00:00Z
Oscar and his wife were very welcoming and very helpful. They took the time to give advice about getting to and around Pamplona. The flat is also really nice and clean. We had a great time. Thanks!!
Will
2016-07-13T00:00:00Z
L'appartamento è grande molto comodo, luminoso e pulito. Rimane in un quartiere di periferia, Oscar indica i mezzi da prendere per andare in centro che dista circa 20 minuti in autobus , è' comodo se si viaggia in auto perché si può parcheggiare senza problemi. Nel appartamento non funziona il wi.fi, forze è' stato momentaneo durante la nostra permanenza... Comunque lo raccomandarei è stata una buona esperienza
edgardo javier
2016-08-23T00:00:00Z
La casa esta bastante bien, limpia y tal como muestran las fotografías. El propietario muy atento,nos dio plano Pamplona ,horarios autobuses y un detalle. Recomendable.
Oscar
2016-07-26T00:00:00Z
Tuvimos una estancia muy agradable en Iruña. La ubicación de la casa para nosotros fue perfecta: no demasiado céntrico, sin problemas para aparcar, pero muy bien comunicado en autobús. En definitiva: MUY RECOMENDABLE!
ANE
2016-06-20T00:00:00Z
La casa es totalmente igual a las fotos. Muy limpio, ordenado y bien comunicado. Óscar es una persona muy cercana y dispuesta a ayudar a sus huéspedes.
Gustavo
2017-03-20T00:00:00Z
Tipo de Quarto
Casa inteira/apto
---
Tipo de Imóvel
Apartamento
---
Acomoda
6
---
Quartos
Pamplona, Navarra, Espanha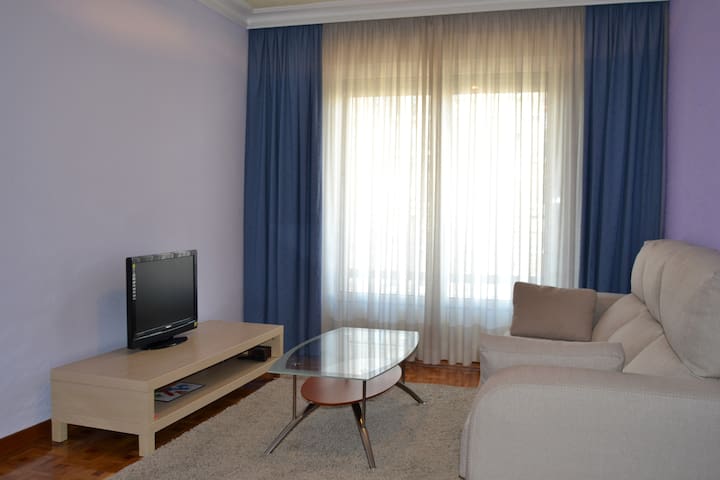 Perto de Hospitais e CUN. parque Yamaguchi ônibus urbanos e táxi área residencial tranquila, com serviços: supermercados, cinemas, planetário, cafés ... renovado piso superior: sala de estar e cozinha, banheiro e quarto espaçoso Banheiro com vaso sanitário, cabine de duche e lavatório pellet fogão Cozinha equipada com placa de cerâmica, frigorífico, máquina de lavar roupa e microondas Internet e Wi-Fi TV, aspirador, ferro e secador de cabelo Talheres, louça e roupa Ideal para casais e viajantes de negócios
Renovado sótão cuja distribuição é composto por uma sala de jantar com built-in kitchenette, casa de banho com pia, cabine de duche e WC e um quarto grande.
O edifício está localizado em um bairro residencial tranquilo e acolhedor com amenidades nas proximidades: mercado e supermercados, cinemas, planetário, parque, restaurantes, lojas ...
This is a lovely place. Very clean. Upgraded. He tries to help us the best. It is an upscale apt. Much better than we expected. Fast internet. Nearby park. Nice people. Everything was perfect.
Junsoo
2017-03-29T00:00:00Z
Perfectly located in front of a nice park, with public transportation close by. You can walk downtown in 20 minutes or take the bus there. José Mari is a most gracious host and the apartment has all the requirements you need to stay comfortably for an extended stay. I had a great vacation. Carlos González
Carlos
2017-01-01T00:00:00Z
Great place. Great host. Highly recommended. He even gave a ride to the airport when needed. Thanks.
Junsoo
2017-04-07T00:00:00Z
Hemos disfrutado 3 noches en el ático de Jose Mari. Del piso sin duda destacaría lo acogedor, bien equipado, cómodo y muy limpio que estaba. Además cuenta con todos los servicios en la misma zona. Jose Mari es un gran anfitrión, por la gran atención y simpatía que ha mostrado en todo momento. La ubicación para nosotros ha sido perfecta. Sin duda repetiríamos
Azahar
2017-02-01T00:00:00Z
El alojamiento de José Mari es perfecto: tiene de todo, hasta un kit de primeros auxilios! No falta un detalle. Esta todo muy limpio y muy nuevo. José Mari además es muy amable, te da información sobre Pamplona y se muestra disponible 100%. Sin duda que si vuelvo a Pamplona intentaré repetir. Muchas gracias.
ana
2017-04-10T00:00:00Z
Un piso acogedor, calentito incluso en los días más fríos de enero, con todo lo necesario para una estancia corta-media!! Muy cerca de la Universidad y de hospitales, supermercados, cine, bares y cafeterías! José Mari muy atento, respondió inmediatamente siempre y nos facilitó todo lo que pedimos! Estamos encantadas!
Verónica
2017-01-27T00:00:00Z
This is a perfect place for staying in Pamplona. Highly recommended. Very clean, cozy, quiet, upscaled, nice neighborhood,.. , everything is perfect.
Junsoo
2017-04-04T00:00:00Z
Un apartamento súper práctico, confortable y bien equipado. Para el propósito de mi viaje, que era laboral, un acierto total. Aunque la ubicación es buena y el area muy agradable si se usara como base para conocer Pamplona o hacer excursiones por la provincia. Jose Mari es un anfitrión abierto, atento y hospitalario.
nani
2016-12-02T00:00:00Z
Tipo de Quarto
Casa inteira/apto
---
Tipo de Imóvel
Apartamento
---
Acomoda
4
---
Quartos
Pamplona, Navarra, Espanha
Spacious room with beds of 135 cm and 140 cm, good lighting and access to private patio balcony. Very quiet area to rest, with green areas. Next to the General Library of Navarra and Superior Music Conservatory. Walk area and green areas. Free Parking, bus stop access to 2 minutes to go to the Estafeta street and continuous bus service 24h. Estafeta street walk 22 minutes to the city center by bus or car 10 min Spacious room with good lighting.
Situado en zona tranquila junto a Conservatorio Superior de Música, Biblioteca General, y cercano a Complejo Hospitalario. Located in quiet area near Conservatory of Music, Library General, and close to Hospital.
Very quiet neighborhood, well connected and close to hospital area. Well connected and quiet neighborhood next hospital area.
Muy buena primera experiencia con Edurne. Dispuesta a resolver cualquier tipo de duda en todo momento. Repetiré sin dudarlo.
Ion
2016-03-28T00:00:00Z
Hemos estado muy a gusto. Trato familiar y todo perfectamente limpio. Gracias!
Maria Luisa
2016-07-08T00:00:00Z
Estuvimos genial en nuestra estancia con edurne durante los san fermines. Muy hospitalaria y siempre dispuesta a ayudar-nos en cualquier cosa. Repetiríamos sin dudar-lo. La habitación era tal qual el anuncio y aunque el piso queda un poco apartado del centro está muy bien comunicado en bus.
Pau
2016-07-11T00:00:00Z
Edurne was very welcoming, knew the area well and was very helpful. Clean space with a good bathroom/ kitchen.
Alex
2016-07-16T00:00:00Z
Tipo de Quarto
Quarto privado
---
Tipo de Imóvel
Apartamento
---
Acomoda
4
---
Quartos
Pamplona, Navarra, Espanha
Attractions: public transport, city center, and parks. You'll love my space by light, the kitchen and the cozy space. My accommodation is good for couples, business travelers, families (with children), and large groups. NEWLY APARTMENT REFORMADO¡¡¡
Apartment very well connected with public transport at the door stop buses that go to hospital and university area. We are walking less than 10 minutes from the running of the bulls and 15 minutes from the historic city center.
The apartment is located in a working class neighborhood of the capital, well connected with many green areas and newly REFORMADO¡¡¡
The host canceled this reservation 183 days before arrival. This is an automated posting.
Chris
2017-01-05T00:00:00Z
Perfecto para conocer Pamplona. Ideal para familias o grupo de varias personas. Había de todo lo necesario y más. Jose Mari el anfitrión es un hombre encantador y muy amable. Si volvemos a Pamplona repetiremos seguro.
Nagore
2017-01-29T00:00:00Z
Todo perfecto! El piso reformado y muy bonito!
Pau
2016-12-29T00:00:00Z
Recomendado 100%
fabien
2017-02-05T00:00:00Z
Nous avons passé un excellent séjour. L'appartement est très bien équipé, propre et accueillant. Le propriétaire est accessible et à l'écoute. Il est disponible et de très bon conseil pour visiter la ville. L'appartement est très bien situé il est à un peu moins de 15 minutes à pied du Centre de Pampelune et il est entouré de nombreux de commerce. Il est idéal pour découvrir la ville et profiter de moment de tranquillité dans un appartement agréable et convivial.
Delphine
2017-01-01T00:00:00Z
Tipo de Quarto
Casa inteira/apto
---
Tipo de Imóvel
Apartamento
---
Acomoda
6
---
Quartos
Pamplona, Espanha