Insira a sua data de check-in no formato dd/mês/ano
Insira a sua data de checkout no formato dd/mês/ano
Anúncios que pode reservar sem ter de esperar pela aprovação do anfitrião.
Insira as datas para ver o preço total. Taxas adicionais aplicáveis. Podem ser adicionados impostos.
Em julho e agosto deste ano poderá experimentar hospedar-se num dos nossos 100 espaços mais bem avaliados, em todas as gamas de preço, e experimente Sonoma pelo olhar de quem mora lá. Check-in 24 horas, Reserva Imediata e vinhos e petiscos da região permitem-lhe simplesmente relaxar e aproveitar a sua viagem.
Wake up to the sound of Mustangs and enjoy an eye-catching South-Western view in a traditional Navajo Hogan located in the heart of the Navajo Nation ! 30 minutes north of Canyon de Chelly and 60 minutes south of Monument Valley. The one-room, dirt floor Hogan sleeps two and has no running water.
This is an extremely rural setting where you can really get off the beaten path on the Navajo Nation. The hogan has a traditional sand/dirt floor, an east-facing door, and is extremely peaceful, private and quiet. Since I have no running water, this means there is no bathroom. There is, however, an outhouse adjacent to the hogan. There is a queensize bed for sleeping, and a twin-size air mattress for additional sleepers if you give me advance notification. Basically, you want to come equipped for car or lean-to camping, and you will be pleasantly surprised by how much more comfortable it is than camping! Guests have access to the land for extended hikes and are welcome to visit the horse corral and hang out with my dogs. Please do not feed the animals, and please take basic safety precautions (when hiking: water, cell phone, allergy medicine, sun protection). There is a mini-fridge, Coleman camp stove, coffeemaker, and microwave in the hogan as well as cooking utensils, cutting boards, washing water, a bowl to wash dishes in, and an electric space heater. Intermittent wireless internet available in hogan. There is an outhouse but no bathroom. Also, in the summer there is a fan and two windows for cooling down (we're at high elevation so it cools down considerably at night, even in summer). In the winter, there is a wood stove for heat and cooking, Firewood will be provided during the winter season. Since there's no running water in either the hogan or the main house, the closest place to take a shower is 30 minutes south in the town of Chinle at the Chinle Aquatic Center ($1). Operating hours are: M & W, 6-7:30 am, 11am-1pm, and 6pm-8pm. T & Th: 6-7:30 am, 11-1, 5 pm-8 pm. Fridays: 6-7: 30 am, 11-1. Closed Saturdays and Sundays (always call ahead to verify they're open: (phone number hidden)). The Chinle Chapter house also has showers available for a small fee (M-F, 8-11:30 and 1-4:30).
I love that the nearest neighbor is 1 mile away! The night sky is *incredible* up here on Carson Mesa, as are the sunrises and sunsets. Experiencing Canyon de Chelly National Monument--the only national park on tribal trust land where tribal members live and farm in the canyon--is a must. Attending a local rodeo, country western dance or going to the flea market (swop meet) on Fridays in Chinle also highly recommended (best place for mutton stew, green chiles, tortillas, fry bread, navajo jewelry, traditional teas and medicines, etc.)! Finally, tune in to AM radio, especially KTNN AM 660! There are three amazing Navajo-language, country-format AM radio stations (AM 660, AM 930, AM 1330 on the dial), and you'll learn a lot about local events, dances, community issues and the Navajo language by listening to it. Enjoy your travels across Navajoland! Public transportation is very limited, however there is a bus, Navajo Transit, that will take you from close to here (along route 59) to Chinle once a day for $1. Parking is included and you may park inside the perimeter fence adjacent to the hogan. The area is at high elevation (6500 feet above sea level), which means in the summer it's hot in the daytime and quite cool at night. Conversely, in the wintertime it snows and can be quite cold (woodstove and wood supplied in wintertime). You will need to bring your own drinking water, hand sanitizer and/or wipes, and headlamps or flashlights for trips to the outhouse are recommended.
Quelle magnifique rencontre! Merci infiniment Arlondo pour l'accueil, gentillesse, hospitalité, générosité... Nous avons passé un moment incroyable dans ce lieu si magique. L'impression d'être seuls au monde face à ce paysage sublime est indescriptible. Merci de partager ce lieu et d'avoir partagé avec nous un si bon moment.
Johanna
August 2016
Arlondo (& co) made everything perfect for our stay. the place (hogan and landscape) is unforgettable. we loved spending these few days in the area and sharing some evenings with Arlondo. Thanks again
audrey
August 2016
Quelle nuit memorable. D'abord j'emprunte un chemin en sortie de route. Je me demande bien où je vais pcq je ne vois rien a l'horizon. Après avoir lu et relu les instructions, j'arrive enfin. Et la ca fait "wouaah". Une petite maison, le "hogan", un enclos avec des chevaux et l'horizon à perte de vue. 2 gentils chiens m'accueillent. Et Arlondo. Quel homme gentil. Très prévenant, m'explique tout le fonctionnement et me laisse m'installer dans cette incroyable endroit. Je décide d'aller faire un petit tour découvrir les environs. Les 2 chiens me suivent et jouent avec moi. En rentrant, Arlondo me propose une bière et nous restons là a regarder le ciel, à parler de sa culture, son mode de vie, c'est super. Le soir venu, j'installe une chaise dehors et je regarde les étoiles et les éclairs a l'horizon. Pas un seul bruit, excepté les chevaux. On se croirait coupé du monde. On l'est ! Je recommande a 200000% cet endroit. C'est le meilleur que j'ai pu faire !
Hugo
August 2016
The hogan is a truly unique place. The peace and solitude are invaluable. The setting is amazing. We were gifted some amazingly beautiful sunrises and sunsets.
Andrew
December 2016
The road to Arlondo is a little bumpy, but worth every mile. A great alternative perspective on rez life and a beautiful area to call home for your time there. Arlondo is also a great guy, and the dogs are friendly too!
Travis
September 2016
An amazing place to be and to stay! We only spent one night but it was incredible to sleep in a such place. Arlondo is a very interesting person, frendly, warm! We really recomend him and hope to see hum again !!!
Alexandra
October 2016
Arlondo is probably the most stand-up host you will come across on airbnb. We felt so welcomed, and so cared for -- the hogan was a WONDERFUL experience that made the roadtrip with my mom even that much more of an adventure. His home, and his animals, were such a treat. Arlondo even drove us out the back of the reservation upon our departure to make our trip a little shorter (gorgeous drive) -- Arlondo you are in our fondest memories and we can't thank you enough!
Niki
September 2016
2 nights in this hogan was an wonderful experience. conmfortable, quiet, with a scenery incredible on the montains. Arlando is a amazing host and man . i will always remember our discussions
marius
May 2016
Tipo de quarto
Quarto privado
---
Tipo de Imóvel
---
Acomoda
3
---
Quartos
1
Chinle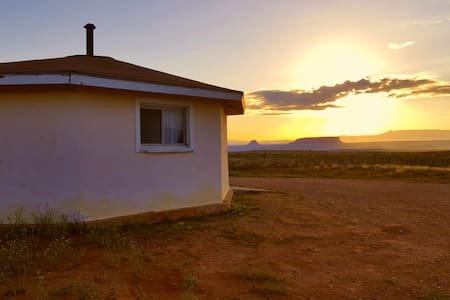 My place is in the middle of Chinle and Many Farms, AZ. You'll love my place because its a quite environment. My place is good for couples, business travelers, plus tourist coming through. We live on a farm, horses and sheep around.
This home as a lot of space living room, large kitchen and dinning area. The home as front deck access and a back door. I am a retired so I will accommodate my guest and welcome them to our home and give some direction while they stay. I will be available.
Our nearby town Chinle and Many Farms has convenient stores/gas stations, laundrymat, grocery store Bashas Market, Ace Hardware, Denny's, Burger King, Churches Chicken, and 3 hotels/motels. The home is also on a personal property and family members lives within the area on our farmland. This is a good tourist environment "Canyon DeChelly", very nice to see "breath taking" canyon. Other surrounding areas for site seeing is Monument Valley, Window Rock, etc. good sites to see on the Navajo Reservation.
Helena made me feel very welcome, she communicated well and often. It's in the country with horses nearby. The space is very roomy and has all the amenities I needed. I would recommend this especially if you have a family or larger group.
Veronica
November 2016
Tipo de quarto
Quarto privado
---
Tipo de Imóvel
---
Acomoda
2
---
Quartos
1
Chinle