300+ Alugueres de Apartamentos
Pretty flat three minuets from Newcastle airport by taxi, 20 minutes from the city centre and Metro Centre shopping mall. Very convenient for airport stopover or as a base to explore Northumberland. 1 minute from supermarket; 5 minutes from restaurants and sports centre; on public transport routes. Recently renovated, stylish decoration. Two bedrooms, one double bed, one two singles. Bathroom with large walk-in shower. New, well-equipped kitchen; cosy lounge with sofabed. Wifi throughout.
The flat is situated on the first floor in a quiet block, and has been recently renovated. It is used only occasionally by us and guests. There are two bedrooms, one with a double and one with two single beds, and a sofabed is available in the comfortable living room. The rooms are stylishly decorated, with attractive art and high quality furnishings. The kitchen is new and well equipped, containing all essential items, including microwave, coffee machine, DAB digital radio, Bosch washing machine and dishwasher. Tea, coffee, biscuits etc are all provided for guests. The newly-decorated bathroom has a large walk-in shower (no bath) and heated towel rail. Shampoo, conditioner and towels are all provided for guests. The living room has a comfortable corner sofa and smart TV (with Netflix), and contains books, games, DVD player and DVDs etc. High-speed wifi is available throughout. The flat has an iron and ironing board, hairdryer, Ipod docking station and most other items you might need. A travel cot and other baby items are available free of charge for families. Just let us know if you have any special requests, and we'll do our best to meet them.
Ponteland is a quiet town near to Newcastle airport, and around twenty minutes from central Newcastle. It provides very good access to Newcastle or the Metro Centre shopping mall, or as a base to explore the tourist sites of Northumberland. It has many amenities including a range of restaurants and two bars, pubs, a sports centre, library and park. Supermarkets include Waitrose and Sainsbury's, with a Tesco a short drive or taxi ride away.
This flat worked well for our short stay, with a cracking family friendly restaurant literally next door. Julia could not have been more accommodating, & we appreciated the provision of a cot bed along with the selection of games at our disposal, very good.
Lillian
2016-08-30T00:00:00Z
Great experience. The flat was immaculate, light, airy and roomy. Fresh food in the fridge and easy access to wifi and television.
Simon
2016-08-18T00:00:00Z
Julia made us feel very welcome. The flat was absolutely lovely as described, very clean and well equipped. Nice block of flats in a good neighbourhood, very convenient for local shops and restaurants. Only 1.6 miles from the airport so a 25 min walk or 4-5 min taxi ride. Would definitely want to stay here again if we come back to Ponteland.
Andrew
2016-09-11T00:00:00Z
Lovely and clean flat in a great location. Julia made us feel so welcome, there was fresh food provided and everything we could need for our toddler, including toys! Thank you Julia for being so accommodating.
Alex
2016-09-26T00:00:00Z
Tipo de Quarto
Casa inteira/apto
---
Tipo de Imóvel
Apartamento
---
Acomoda
5
---
Quartos
Ponteland, Reino Unido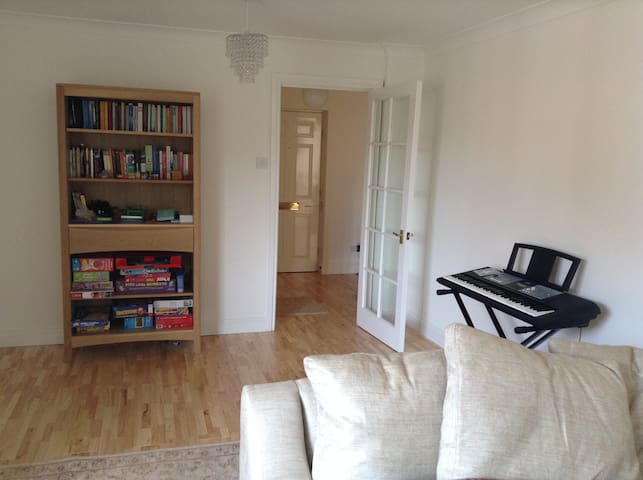 Meu lugar é perto do centro da cidade, o rio, locais bares / restaurantes / vida noturna, st parque james, transportes públicos, estação de trem. Você vai adorar o meu lugar por causa da vizinhança, a luz, as camas confortáveis, as vistas, proximidade das atracções locais. Meu lugar é bom para casais, aventureiros individuais, viajantes a negócios e famílias (com crianças).
My friends and I visited for my birthday weekend in which the flat was easy to locate and in walking distance from the train station. We had no hassle whatsoever with this apartment, it was clean and a great stay! The location is amazing for night life and the view from the living room is amazing for pictures. Overall a great stay and perfect value for money for a weekend away! Thanks again!
Hannah
2017-03-19T00:00:00Z
This place had the most amazing view of the tyne really enjoyed it! Very nice place to stay two big rooms with comfortable beds tv wifi The things that weren't great were the showers one didnt work just allowed the cold tap to work The hot water was great the initial night but went really cold the next morning even with both hot water boost buttons also i think it would have been nice to have some milk in the fridge that hadnt gone off its not the biggest thing so don't be put off at all Also the Fob doesnt work to exit the carpark via the 8th level so you do have to drive up park then go down the stairs then into the building, up the elevator but you do get a gated parking spot which is great to save money on parking my girlfriend and i loved the place but so got to give the honest review of this place
Yahya
2017-03-06T00:00:00Z
This is a large apartment and a short walk from central station. If you have a car the car park is floor 8 and you have to go to the ground floor of the car park via several flights of stairs and then enter the apartment block so if you have lots of luggage its a pest. Amazing views from the window across the river.
Karen
2017-03-31T00:00:00Z
This is the second time I have stayed here as it is so good I had to come back!
Fraser
2017-03-08T00:00:00Z
This apartment has possibly one of the best views you will see, as it overlooks the river Tyne and bridges. It was a lovely modern apartment and there was great communication from the start.
Fraser
2017-02-27T00:00:00Z
A great flat with a great view and great location. George was a wonderful host. Would definitely come to Newcastle again.
graham
2017-04-05T00:00:00Z
Fantastic view and very reasonably priced flat - could do with a bit of refurbishment but maybe that's reflected in the price. Also, if you're a real coffee drinker, you'll need coffee and a cafetiere, as that's not currently provided. Happy to recommend the flat though - and Newcastle is AMAZING!
Lu
2017-03-24T00:00:00Z
Very good location and easy to get around
Nathan
2017-04-01T00:00:00Z
Tipo de Quarto
Casa inteira/apto
---
Tipo de Imóvel
Apartamento
---
Acomoda
4
---
Quartos
Newcastle upon Tyne, England, Reino Unido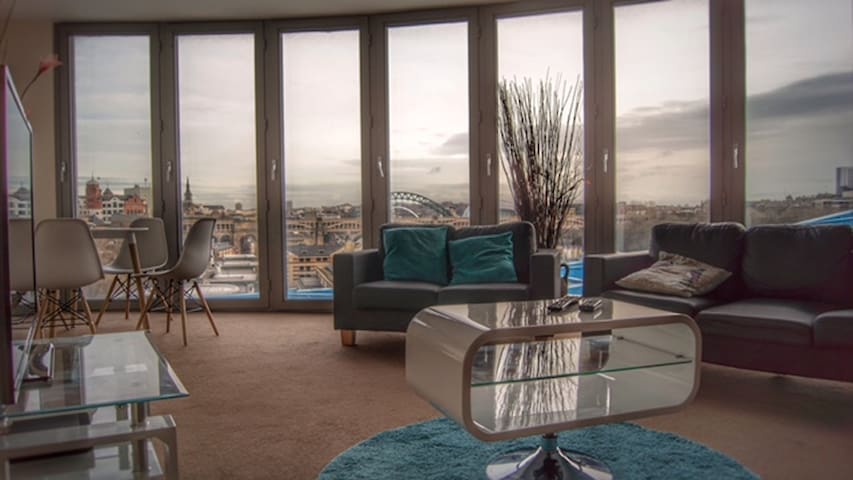 This 3 bed penthouse apartment is in the Central Exchange building next to Grey's Monument - it is in the most central location in the city of Newcastle. You'll love this place because of the location to all the bars, restaurants and shopping (including Grainger Market), oh and people watching along Grainger street from the lounge or dining room windows.
Magnus and his agent were great. No complaints!
Heather
2016-07-03T00:00:00Z
Great location, top class apartment!
Clarke
2016-07-24T00:00:00Z
Great apartment in the best location which was perfect for exploring Newcastle. Right near all the main shops and restaurants and not far to the Quayside. The apartment had comfy beds and nice bathrooms. The living space downstairs was very spacious and comfortable. Easy to access once you've memorised the various codes and the building and area felt safe. Despite being in the centre of town it was not noisy on an evening and we slept well. We had great communication from Magnus and thoroughly enjoyed our stay at the apartment. Thank you
Lauren
2016-08-10T00:00:00Z
Its a really nice place!! Good location, Clean space, especially they have got a fantastic kitchen room!!Also, they provided a free car park!! Thanks!! We all have a very nice night in this house...
Angie
2016-09-13T00:00:00Z
Clean and very spacious flat in an ideal central location. The flat is surrounded by pedestrian streets with tons of shopping. Magnus has a parking space in an covered, secure lot a few blocks away. There is very scarce street parking right near the flat, so check-in can be a trick since you need to retrieve keys before entering car park.
Joel
2016-08-02T00:00:00Z
Really nice place, came up for great north run with family and it was perfect. Great communication, plenty of space and amazing location.
Andy
2016-09-11T00:00:00Z
Great apartment. Right in the centre of Newcastle. Easy to get to with parking close by. Would definitely recommend had a great time.
Daniel
2016-08-15T00:00:00Z
Tipo de Quarto
Casa inteira/apto
---
Tipo de Imóvel
Apartamento
---
Acomoda
6
---
Quartos
Newcastle upon Tyne, England, Reino Unido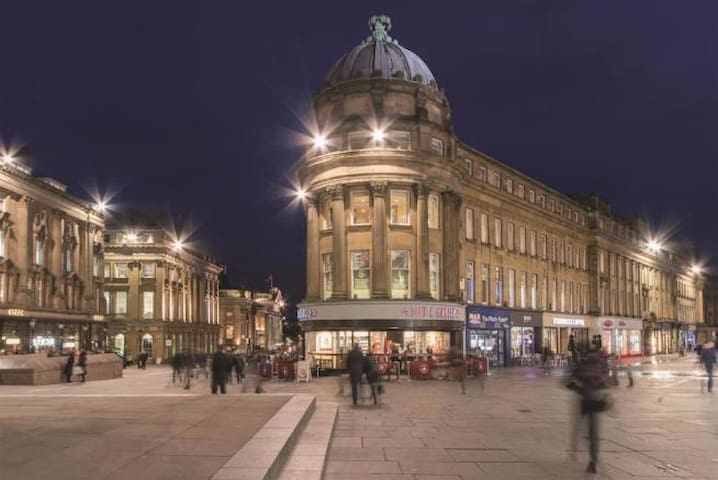 My Studio apartment is situated on Newcastle Quayside with a private balcony which looks directly on to the River Tyne. It is newly decorated, light and airy with simple, classic furnishings. The living / bed space is combined and spacious with a corner sofa unit which easily converts in to a generous double bed. The separate kitchen has a washer / dryer, fridge, oven and microwave and is fully equipped with all utensils. Clean bedding, towels and the essentials for a cup of tea are provided!
My Studio is just a short walk from Newcastle Central Station which is incredibly well connected for train, metro, taxi and bus travel. Monday and Thursday evenings are blocked out for getting the apartment ready for new guests but this is flexible if your trip requires one of these evenings - please just ask me and I am sure we will be able to make arrangements to suit both parties.
Tipo de Quarto
Casa inteira/apto
---
Tipo de Imóvel
Apartamento
---
Acomoda
2
---
Quartos
Newcastle upon Tyne, England, Reino Unido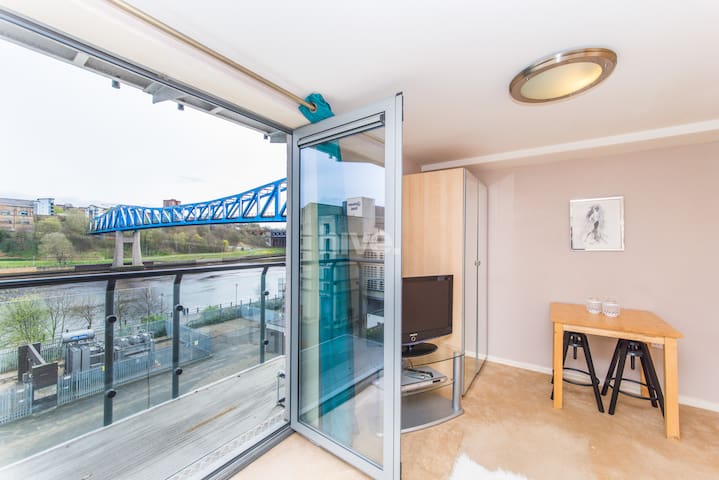 Este apartamento acolhedor é perfeito para uma estadia curto ou longo. Acolhedor quarto duplo, com um único puxe colchão em cima do pedido. Excelente acesso sem fio. Estacionamento disponível. Apenas a uma curta caminhada de 5 minutos; Universidade de Newcastle, St James 'Park, perfeito para assistir Newcastle United FC, A bela vista do Leazes Park, Pubs, Wylam Brewery, uma das gemas escondidas de Newcastle. Apenas a 10 minutos do metro. Apenas a 15 minutos a pé para o centro da cidade e Jesmond, ou 3 minutos de carro ou Uber por cerca de £ 4.
A sala é para uso à sua disposição com som surround que está disponível. Cozinha e utensílios são para seu uso.
Seguro e tranquilo bairro junto à Igreja de São Lucas e do hospital RVI.
Simple, clean, and a friendly host. Just what we were looking for!
Jeff
2017-03-28T00:00:00Z
Gianni is very kind and friendly and I enjoyed my stay immensely.
Steven
2017-03-21T00:00:00Z
Fantastic place! Very welcoming, clean and comfortable. Walking distance from everything you could need.
Jason
2017-04-02T00:00:00Z
It was a pleasure staying in this cozy apartment. The room was just as depicted, very tidy with a comfortable bed, clean sheets and towels provided upon request. The building and rest of the apartment was well maintained with a living room that was large and comfortable with a big bright window overlooking a nice view, the kitchen well equipped and bathroom very clean. Yianni was very nice and easily accessible since he was staying in the other room but did a good job of giving me privacy. He was very knowledgeable and helpful about the city and gave excellent suggestions! Would definitely stay here again, great value for my money. Highly recommend!
Panayiota
2017-03-16T00:00:00Z
Yianni was very help and made my travel easy. Check in was very easy. House was clean. And close to University.
Fahad
2017-03-24T00:00:00Z
Good host, good place and good location
Harry
2017-03-19T00:00:00Z
The host canceled this reservation 2 days before arrival. This is an automated posting.
Barby
2017-03-26T00:00:00Z
Tipo de Quarto
Quarto privado
---
Tipo de Imóvel
Apartamento
---
Acomoda
3
---
Quartos
Newcastle upon Tyne, England, Reino Unido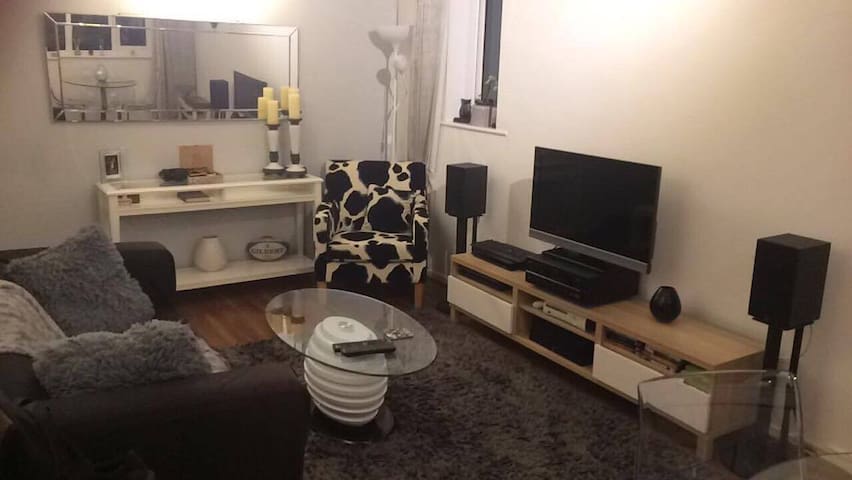 Um estúdio encantador perto de Regent Centro de Metro, útil para o aeroporto e ferroviário estação. A viagem de metro de 10 minutos leva você para o centro da cidade. É uma curta caminhada para Gosforth High St. Esta é uma grande área - estamos ansiosos para recebê-lo.
Lynne and her partner Gary couldn't have been more accommodating, they picked us up from the airport and gave us a very warm welcome. The studio was cosy, comfortable and we were pleasantly surprised to find amenities such as tea, coffee, breakfast, and a small bottle of wine. We would both recommend this stay and can't wait to visit Lynne and Gary again!!
sian
2017-02-02T00:00:00Z
Stayed here for a full month and had a great time. Lynne and Gary were really friendly and helpful and the living space was very cosy. They have really gone the extra mile to make sure there is every thing you need and the flat is really well located.
Joseph
2017-01-31T00:00:00Z
Booked this for my parents. They were delighted and would happily return. They were particularly appreciative of all the little touches and attention to detail that Lynne and Gary had provided
Jamie
2017-04-02T00:00:00Z
Staying with Lynne and Gary was an amazing experience. From the first moment my friend and I felt at home. Our hosts were extremely friendly and helpful in all respects. The communication prior to our arrival was uncomplicated and Lynne always replied within hours, and we'd felt welcome even before we arrived. The location is perfect as it's a few minutes' walk to the metro station which goes directly to the airport, as well as the city centre. It's very easy to buy groceries and so on as there are shopping opportunities 5 minutes away from the apartment. But most of all we absolutely loved the way the studio is presented - beautiful, absolutely clean and fresh, and homey. Thank you for making our stay so great!
Katerina
2017-01-02T00:00:00Z
Great service! They were very welcoming. They went above and beyond to make sure my stay was perfect! I would definitely stay here again. The place was clean and very comfortable.
Amreen
2017-02-04T00:00:00Z
This is a wonderful place and two famtastic hosts. Both Lynne and Gary were brilliant and made us feel very welcome. The studio is beautiful, cosy and very clean. There were also a number of lovely well thought out extras to make the stay even more enjoyable. I would definitely recommend this gorgeous place. 10 of 10
Adam
2016-12-18T00:00:00Z
Lynne's place was amazing. We had the entire flat to ourselves. They were knowledgeable of the area and helpful. Having a private kitchen in the flat was nice, there are a few grocery stores in walking distance. Would book again!!
Brent
2017-03-30T00:00:00Z
My boyfriend and I stayed here for two nights whilst visiting family in Newcastle. It's a fantastic studio flat in a great area, only five mins walk to the nearest metro and a short journey to the city centre. Lynne and Gary were excellent hosts - all of the thoughtful extras such as bread, milk, cereal were lovely touches! I would definitely stay here again.
Lindsay
2016-10-30T00:00:00Z
Tipo de Quarto
Casa inteira/apto
---
Tipo de Imóvel
Apartamento
---
Acomoda
2
---
Quartos
Newcastle upon Tyne, England, Reino Unido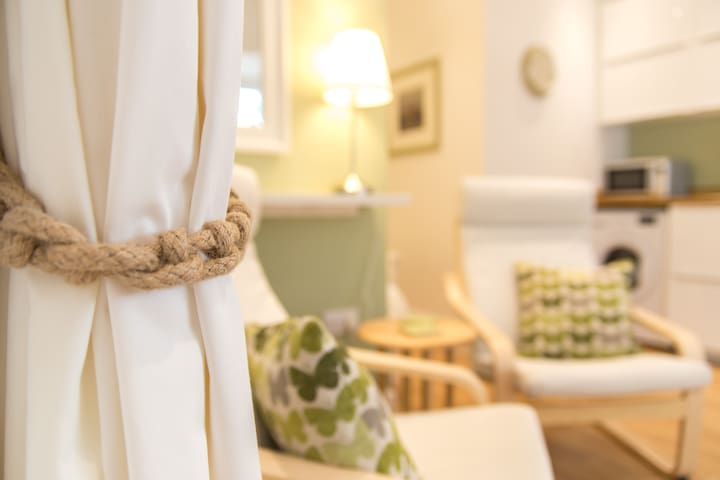 My place is only 2 miles from the city centre with lots of easily accessible public transport, chilling ham rd itself has lots to offer with cafes and restaurants and there is a tesco express just 2 mins walk away. The beach is 10 mins drive or catch the metro. My place is good for couples, solo adventurers, business travellers, families (with kids), and big groups.
Tim's apartment was well-located in Heaton - close to bus stops and 10 min walk to the metro. It is a big house, clean, and very comfortable. He met us when we arrived and was quick to respond to our questions. I'd highly recommend this apartment! Great value for money.
Michal
2016-09-01T00:00:00Z
A really nice appartment that felt like comming home after a couple of B&Bs. Both Tim and his wife were very helpful and nice.
Helena
2016-08-09T00:00:00Z
The host was great throughout the stay, really friendly and easy to reach as well as really understanding. Made the whole trip enjoyable. The apartment was ideal for our needs and worth the price. Clean, airy and well lit. 1 mins walk from shops and a few places to grab groceries if need be. Free parking via the side road was a great help too. Overall really great stay, lovely place and it's definitely highly recommend.
Baanji
2016-08-08T00:00:00Z
Very easy to contact host during the stay, easy access to town, lovely apartment.
Rebecca
2016-08-21T00:00:00Z
Tipo de Quarto
Casa inteira/apto
---
Tipo de Imóvel
Apartamento
---
Acomoda
5
---
Quartos
Newcastle upon Tyne, England, Reino Unido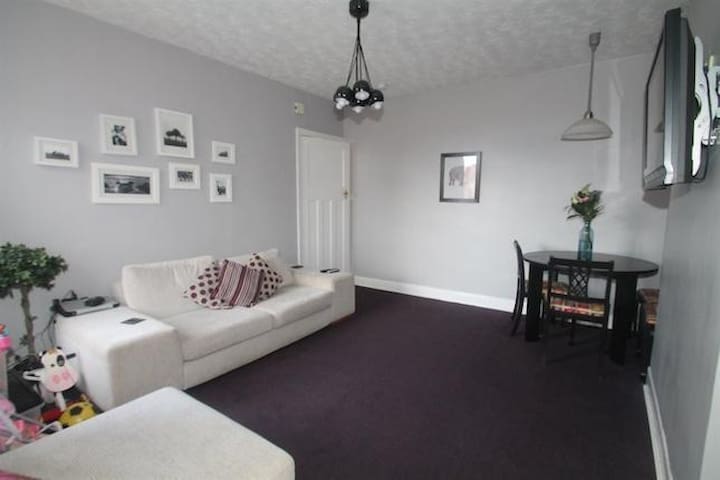 Our beautiful modern newly decorated apartment is set in the heart of the Newcastle quayside short walk from the main centre.
Luxury modern, newly decorated two bedroom apartment situated on Newcastle's Popular Quayside; which is only a short walk from the lively bars, award winning restaurants and top class entertainment the best of which Newcastle has to offer. We provide complimentary tea/coffee, fresh milk, bread, butter, jam and marmalade also a choice of breakfast cereals for guests to enjoy. Fresh clean towels and tea towels will be provided at the beginning of your stay. Both bedrooms consist of a double bed along with a wardrobe, bedside table with lamp, mirrored dressing table with stool and blackout blinds to ensure a good nights sleep. There is also a SMALL double sofa bed in the living area for two guests. Our apartment is great for single people, couples, people traveling to the city for business, families (travel cot can be provided if needed) and small groups (apartment sleeps up to 6 two full size double beds and a SMALL double in living area) Sky TV and Free Wi-Fi are also available.
Our apartment is in a residential block so please respect our neighbours and keep all noise to a minimum especially after 11pm
very nice
泽浩
2017-04-05T00:00:00Z
Sian and Mark were great hosts. They were very accommodating even when our plans changed slightly last minute. The apartment is modern, spacious and immaculate. We had a great stay and will definitely be back.
Nicole
2017-04-02T00:00:00Z
Tipo de Quarto
Casa inteira/apto
---
Tipo de Imóvel
Apartamento
---
Acomoda
5
---
Quartos
Newcastle upon Tyne, England, Reino Unido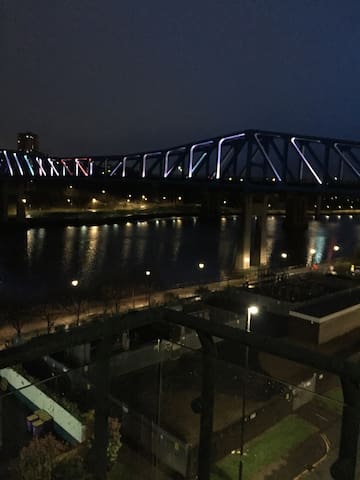 Legal moderno recém-decorado elegante apartamento de 3 quartos acomoda até 5 hóspedes. Localização no centro da 2 minutos para Northumberland rua e idealmente localizado perto de estações de metro. espaço de estacionamento disponível. Ao lado de Newcastle e Northumbria University de.
Quiet residential area but only a few minutes walking distance from the hustle and bustle of the city with its restaurants, bars and shops and Newcastles famous night life. All Newcastle museums and art galleries aswell as its famous attractions in close proximity.
very clean, central location 5 minutes walk into center with parking next to front door.
Darren
2017-02-23T00:00:00Z
Jeff and Ruby were very friendly and welcoming hosts. The flat was spacious and clean with everything you could need. Would recommend.
Cassie
2017-01-12T00:00:00Z
Very spacious and clean, great shower. Very near town centre, would definitely stay again! Helpful hosts too.
Natalie
2017-03-05T00:00:00Z
Spacious and clean, same as description. Will definitely recommend to others.
Lu
2017-02-06T00:00:00Z
Great flat, perfect location and spot for a weekend away. It had everything we needed and was so clean and tidy. Jeff was great with communication and everything was so easy. Shower was great pressure which is always nice and there were towels for us as well. Would definitely recommend for anyone heading up for a trip to Newcastle. 10 minute walk from the main high street with lots of shopping and bars. Great car parking spot just outside the apartment too which was really helpful.
Rebecca
2017-02-12T00:00:00Z
Quiet central location for universities and city shops restaurants and clubs, parking a city centre bonus.
Barbara
2017-03-12T00:00:00Z
The flat was very clean, had everything we needed and was in an excellent location only 5 minutes walk from the city centre. Would definitely recommend, thanks for having us!
Amanda
2016-12-29T00:00:00Z
Jeff and Ruby were great hosts who gracefully accommodated our late arrival at 11pm. The place was in a great location for city centre, Jesmond and Gosforth. Apartment was clean and had everything we needed.
Pauline
2017-01-20T00:00:00Z
Tipo de Quarto
Casa inteira/apto
---
Tipo de Imóvel
Apartamento
---
Acomoda
5
---
Quartos
Newcastle upon Tyne, England, Reino Unido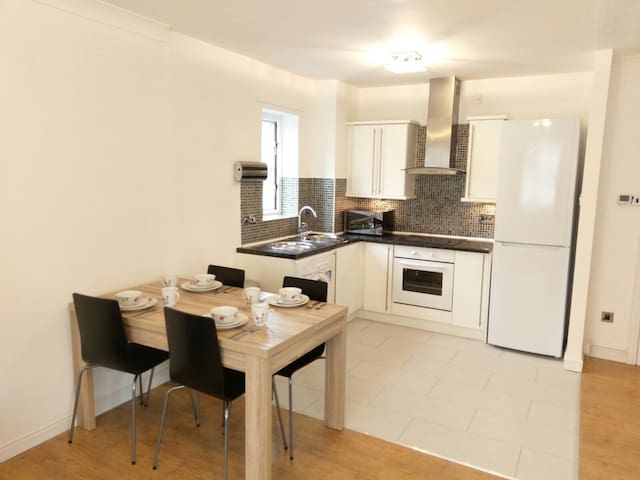 房间是两室两卫一厨两厅的合租公寓中的一个双人间,房间大概20平米,朝南,有大窗户,独立卫生间,厨房起居厅餐厅与人共享。附近有很便捷的asda超市,也有便宜的蔬菜瓜果铺和肉铺。 房间离公交车站很近,公交车很多,去市中心很方便。
this room has a big window facing east, so you can enjoy the sun indoor. The room is really clean, tidy and much more space you can store your suitcases and any other things. the private bathroom is also big and clean, you can enjoy the shower any time in the day. There is a parking place in front of the flat.
the neighbourhood is a young couple. They are nice people and easy going.
Tipo de Quarto
Quarto privado
---
Tipo de Imóvel
Apartamento
---
Acomoda
1
---
Quartos
Newcastle upon Tyne, Reino Unido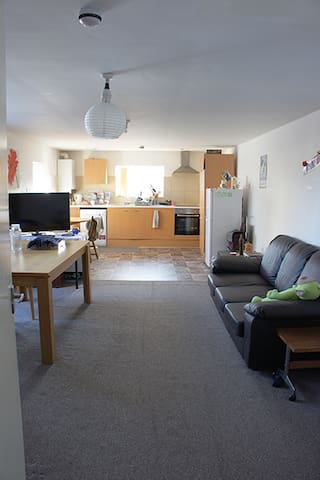 Fully Equipped Kitchen, Dining Table, Living Room, 43inch TV, Balcony, Bathroom (Bath and Shower), Bedroom with Double Bed and Wardrobes, Utility Room with Washing Machine and Games Cupboard (Free unlimited Broadband / WIFI). Designated parking spot
Fully Equipped Kitchen, Dining Table, Living Room, Balcony, Bathroom (Bath and Shower), Bedroom with Double Bed and Wardrobes, Utility Room with Washing Machine and Games Cupboard (Broadband / WIFI)
Positioned in a perfect location on the Newcastle Quayside next to Hotel du Vin. Only 5 mins walk to the nearest bars and restaurants of Pitch & Piano, Gusto, Los Iguanas and the Malmaison.
Tipo de Quarto
Casa inteira/apto
---
Tipo de Imóvel
Apartamento
---
Acomoda
2
---
Quartos
Newcastle upon Tyne, England, Reino Unido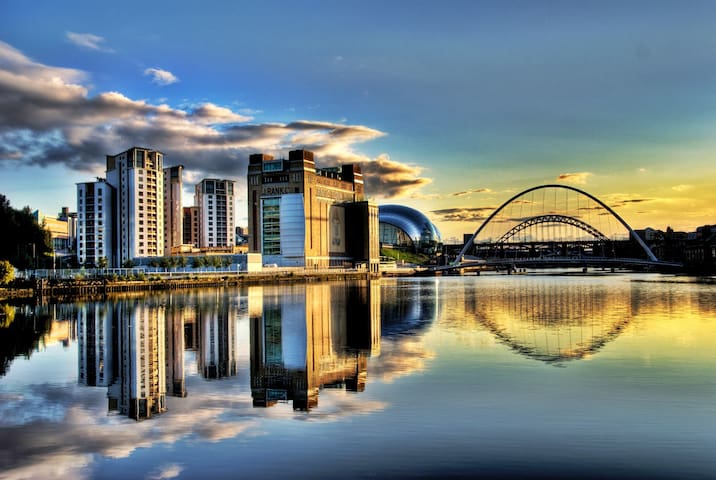 My place is close to restaurants and dining and family-friendly activities. You'll love my place because of the ambiance, the location, the people, and the high ceilings. My place is good for couples, solo adventurers, and business travellers.
Pretty but dirty. This flat is located in Gosforth in a very decent area of Newcastle and the flat it self is pretty good as well. however the flat was in an unacceptable condition when my parents arrived and everything was dirty - the cushions, the sofa, dirt and hair on the floor, dirty cutlery, .. The list was long. Just disgusting. Communication before arrival was great and even early checkin was possible, but as soon as we had checked in and the issue with the uncleaned flat occurred, it was hard to get hold of Laura. Disappointed
Kristin
2016-07-04T00:00:00Z
he place is fabulous , clean, tastefully designed with all amenities available for use , in a very safe , serene and well maintained green area , easily assessable to the main city centre . The wifi is slow and need to be boosted
Raman
2016-08-26T00:00:00Z
Very good service, responded to any queries in a quick manner and the apartment itself was very good.
LilVexzed
2016-07-24T00:00:00Z
Overall, it's a lovely flat. But during the staying, the Internet and the boil were not working... So I wouldn't say it was a pleasant experience...
Ruidi
2016-09-04T00:00:00Z
The place was as you see in the pictures and amenities available were a nice add on to the stay, however a couple of things that didn't go that well was that the wifi wasn't working and the fire alarm outside the frond door was beeping frantically throughout my stay. I contacted Laura to fix the issues as soon as however she didn't action any of them, blaming the buildings maintenance team for not sorting out the alarm and no feedback on the Internet
Dino
2016-07-18T00:00:00Z
Lovely bright room in a beautiful building, very contemporary and was very well maintained and clean, has a lovely outside garden area. Not too far away from shops and seems to have everything you could need for a trip to Newcastle
Calum
2016-06-04T00:00:00Z
This was indeed a fabulous flat. The outdoor entrance way in itself is worth the visit and the flat is a fun play on how to use space. Light and airy with lots of cool modern touches. The surrounding area is nice and feels safe. Laura was there to greet us when we arrived and was friendly and helpful. She responded quickly and helpfully to questions in the days beforehand. The shower worked well. The bed is a creaky futon-like bed but comfortable/supportive with nice bedding. Lots of hotel-like condiments were provided (soap, tea, coffee etc). The kitchen cutlery etc had a good range. The gas stove was easy to use. Things to note: the freezer buzzes, so you might want to turn it off to get to sleep (the heater too, but the fridge was fine); clothes storage is on the bottom floor, which might irritate some (not us). Things to improve: The upper surfaces were clean, but the floor needed more attention; the Wifi wasn't set up.
Duncan
2016-06-27T00:00:00Z
This is a stylish, classy apartment in a beautifully-converted, spacious, Georgian hospital building, within a quiet, residential area. We weren't expecting the delightfully-grand gated entrance nor the lovely, shared front courtyard. The apartment is perfect for a couple: a clever use of space gives a well-equipped modern kitchen/dining area, lounge space and mezzanine sleeping area plus a nice modern shower and loo. The whole thing was lovely and clean and had a 'just modernised' feel. It was all very tastefully done. We were also delighted with Gosforth's High street - there are plenty of restaurants within about 15 minutes walk and there is a 'Tesco Express' supermarket 5 minutes walk away. Newcastle centre is a short drive away, but we will explore the nearby metro next time we visit. (There will be a next time!) Laura was helpful, informative and responsive as a host. We had a lovely 2 night stay visiting our son at uni. This apartment is a real find!
Toni
2017-02-13T00:00:00Z
Tipo de Quarto
Casa inteira/apto
---
Tipo de Imóvel
Apartamento
---
Acomoda
2
---
Quartos
Newcastle upon Tyne, Reino Unido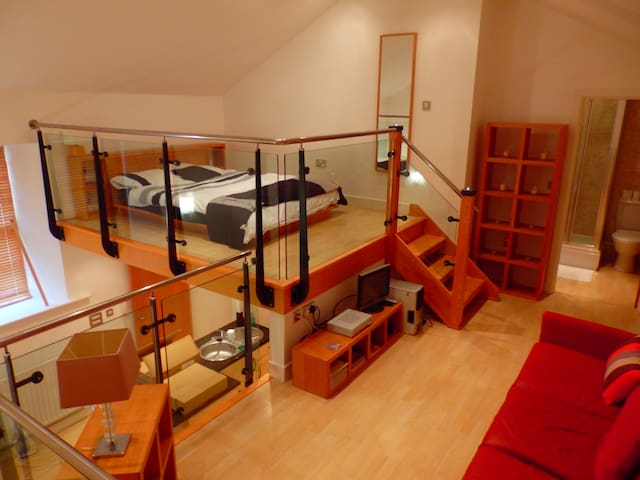 Here we have my apartment right in the heart of Heaton. Heaton is only 10 minutes outside of Newcastle City Centre and this property is located just off Chillingham Road where there are a variety of different shops.
The space is an upstairs three bedroom apartment. It is light and airy with nice tall ceilings and spacious rooms. The furniture is all new for this apartment and I'm always trying to add new touches. There is a large 50inch tv in the living room and also two double sofas and one single there too.
Heaton is a lovely neighbourhood area of Newcastle that centres around the two main streets. Heaton Road and Chillingham Road. On Heaton road there are loads of quirky little cafes like Heaton Ingredient or the Butterfly cabinet which are well known and very popular in the area. On Chillingham road, just at the top of the street there is anything from Starks Kitchen (a lovely family run cafe/bistro) and also the independent coffee shop, BLK Coffee. There are a lot of small locally ran and owned businesses in the area from Grocery Stores, Butchers, restaurants but also the usual Tesco Express and Dominos pizzas etc. People are friendly and the area has a mix of residents from young professionals to some people who have lived here for over 50 years. It's pretty diverse with friendly people and not just a dull soulless neighbourhood. There is also a large network of green areas and also lovely parks. Anything from Heaton Park which is just at the top of the road or Jesmond Dene which is connecting from Heaton Park and a lovely area to go for a jog or a walk.
Tony was a great host. Always replied to any questions and helped us out massively with where to go and what to see in Newcastle. Would highly recommend and the flat had everything you needed. Thank you very much
Kate
2016-12-04T00:00:00Z
Tony is a wonderful airbnb host. His communication prior to the visit was detailed and responsive to our questions. He met us at the flat and ensured we had all we needed including some lovely snacks and breakfast bits.
Jeremy
2016-12-07T00:00:00Z
Tony was an excellent host, as soon as we arrived he gave us a list of the best places to go while we were there and very helpful telling us about the best transport options. The flat was nice and clean, spacious, comfortable and in perfect location for going out in the middle of town. The kitchen already had essentials to help us cook so we actually ate in. Overall I would definitely recommend Tony's place.
Megan
2017-01-26T00:00:00Z
Had an awesome girls weekend away in Newcastle. Location was great, a short uber ride into town and house was perfect for the 6 of us. Tony was an amazing host - very friendly and helpful! We would definitely come back.
Alisha
2016-12-11T00:00:00Z
if have WiFi, it must be prefect home.xd
XINGCAN
2016-12-23T00:00:00Z
Great host and good communication! All the amenities we could need were there. We found it difficult to find a spot to park the car in the evening but apart from that an enjoyable stay.
Scott
2017-02-17T00:00:00Z
Really enjoyed our stay here. A lovely apartment in close proximity to the city centre. Tony was most helpful throughout our stay, offering great tips for restaurants and bars. Would highly recommend.
James
2017-03-14T00:00:00Z
Great experience and great host. Many thanks.
Daniel
2016-10-21T00:00:00Z
Tipo de Quarto
Casa inteira/apto
---
Tipo de Imóvel
Apartamento
---
Acomoda
7
---
Quartos
Newcastle upon Tyne, England, Reino Unido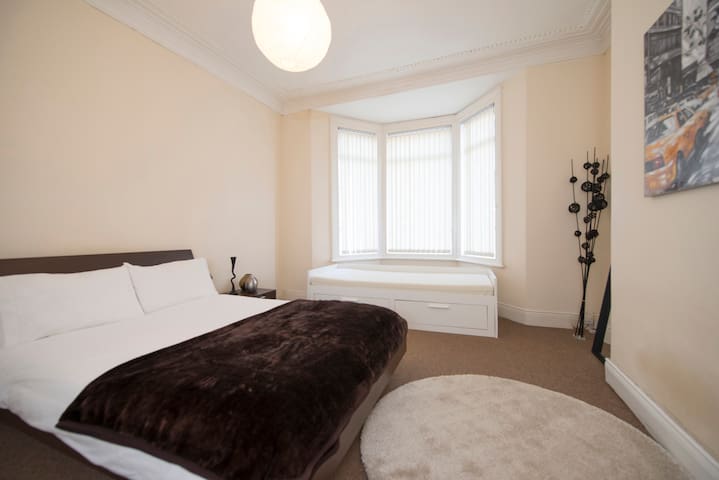 A beautiful two-bed apartment on the fourth floor of the upmarket Centralofts five mins from the exciting city centre. This fabulous apartment has two en-suite bathrooms, a sunny balcony, a large sociable lounge/kitchen and a spacious, luxury feel.
A beautiful, airy two-bedroom apartment on the fourth floor of the upmarket Centralofts development five minutes from Newcastle city centre. Situated in a lovely part of Newcastle, this stylish apartment has en-suite bathrooms off each bedroom, a sunny balcony leading off the lounge with views over the Newcastle rooftops and a spacious, luxury feel. Centralofts is an exclusive, modern development a short walk from the city centre and very close to Newcastle Central station. Newcastle quayside is also less than ten minutes away. Shopping, entertainment, high class restaurants and bars plus all the famous sites of Newcastle are all within walking distance of the apartment. The nearness of the train and bus stations mean that world class visitor destinations such as Hadrian's Wall and Durham Catherdral are easily reachable. The area around Centralofts features cafe's and restaurants, a sushi bar, a number of small craft bakeries and the lovely Charlotte Square. The apartment is very close to the exciting clubs and bars of Newcastle as well as its fabled Chinatown. The walk into town passes the historic Blackfriars with its award-winning restaurant and views of the ancient Newcastle city walls before arriving at The Gate, a fantastic entertainment complex with cinemas, restaurants and bars. The apartment has two bedrooms - one with a king-size double bed and a second with twin single beds, both bedrooms have en-suite bathroom - although the apartment can actually sleep up to six people. It's spaciousness means larger groups (up to six people) are easily and comfortably accommodated with plenty of seating and storage, plus the large kitchen/dining/lounge area is ideal for communal meals and socialising. The large, comfy lounge leads onto the west-facing balcony with views of Newcastle and a quiet courtyard, a 50" flatscreen TV, a DVD player with a selection of DVDs, an iPod docking station and free wireless broadband. The dining area next to the kitchen has seating for six people. The kitchen has a separate oven and hob, dishwasher, microwave and a fridge/freezer, a washer/dryer is also available. Two free, allocated, covered parking spaces are available in the basement of the Centralofts apartment block with a lift from the car park up to the apartment on the fourth floor. The apartment comes with many small items that make a stay enjoyable and hassle-free, such as a hair-dryer, ironing board and iron, free tea and coffee, secure entry to the building, on-call maintenance for any problems, extra towels/bedding if required, high chair and travel cot. In fact if there is anything you want us to do or put in the apartment, please tell us when you book and I'm sure we can accommodate you.
The apartment is located in a lovely part of Newcastle with the pretty Charlotte Square round the corner and cafes, craft bakeries and even a Sushi Bar on the doorstep. It is only five minutes walk, past the historic Blackfriars to the bars and restaurants, fabulous shopping, and exciting night-life in the city centre. The stunning quayside and the river Tyne's iconic bridges is also within easy reach. From its industrial past Newcastle-upon-Tyne has matured into a spectacular and elegant city with a world class cultural reputation, a fabulous and vibrant quayside, and a fondness for partying. Factor in some of the most beautiful and unspoilt scenery in the country only a short journey out of Newcastle, including Hadrian's Wall, a world heritage site, top class shopping, theatre and restaurants plus the world famous Tyne Bridge and you have a thriving modern city in touch with its past but looking to the future confidently.
We had a wonderful stay in this apartment. Communication was prompt throughout the booking process. They were very helpful on the day we booked in (we got slightly lost). Very welcoming. Apartment is beautiful as shown in the images. Very modern and clean. This apartment is only a short walk from the train, metro and shopping districts. It was perfect for our stay and I would recommend this apartment.
Kate
2015-06-28T00:00:00Z
Overall we enjoyed our stay here... The apartment was clean, comfortable and spacious. The location is central, although the immediate area doesn't have much to offer. However it is very close to the station and around a 10 minute walk to the main shopping area. We dealt with Mark, as Tracey was on holiday, and he was responsive and helpful.
Donna
2015-03-01T00:00:00Z
A fantastic experience from start to finish! Tracey swiftly answered my questions prior to booking, and once we had confirmed she kept in touch periodically until we arrived. The pictures of the apartment are great but do not do justice to what is an incredibly smart and well maintained apartment. The high ceilings create a real sense of space as well. The rooms were very well equipped and everything has been maintained to a high standard. Complimentary tea and coffee with milk in the fridge was a lovely touch on arrival as well! The location was superb - just off the centre in a quite street but within walking distance of shops and station. I can't recommend this apartment highly enough. My guests were thrilled with my choice and it helped to made our break in Newcastle a memorable experience.
David
2016-05-31T00:00:00Z
The apartment is in a good location and it was an easy excess to the city. The condition of the house was very good! Had a really good experience there!!
Aqilah Oon
2015-10-01T00:00:00Z
We had a fantastic time! Great location, a very short walk from shops and entertainment. The flat is really spacious, comfortable, clean and has everything you need. Tracey is brilliant with communicating really promptly and gave us clear instructions to let ourselves in. We didn't want to leave after 4 days!! Thank you Tracey.
Celine
2016-07-09T00:00:00Z
We had a great time in a very spacious, clean and comfortable apartment perfectly located for short walks to all of the City attractions. Car Parking is an added bonus. Communication leading up to the arrival and following departure was good.
John & Cathe
2015-12-31T00:00:00Z
Myself and a colleague stayed at Tracey's apartment for almost 2 weeks whilst attending university lectures as part of our post-graduate studies. The apartment itself was spotless, lovely and spacious yet homely and well equipped with everything we needed - we thoroughly enjoyed our stay. We received a warm welcome on arrival, shown where to find everything and made to feel at home. Just a 5 minute walk from the centre of town and a 20 minute walk to Newcastle university, the location was perfect for us. Hopefully we will be able to stay again in future! Thanks Tracey, Joanne & co for a lovely stay!
Jess
2016-03-19T00:00:00Z
The apartment is nearby city centre and stations which is convenient for us to go shopping and travel to another place. What you see online is as same as what you see in the apartment. The apartment is large and warm. I enjoyed my stay in Newcastle. Highly recommended.
ZENGBIN
2015-02-04T00:00:00Z
Tipo de Quarto
Casa inteira/apto
---
Tipo de Imóvel
Apartamento
---
Acomoda
6
---
Quartos
Newcastle upon Tyne, Reino Unido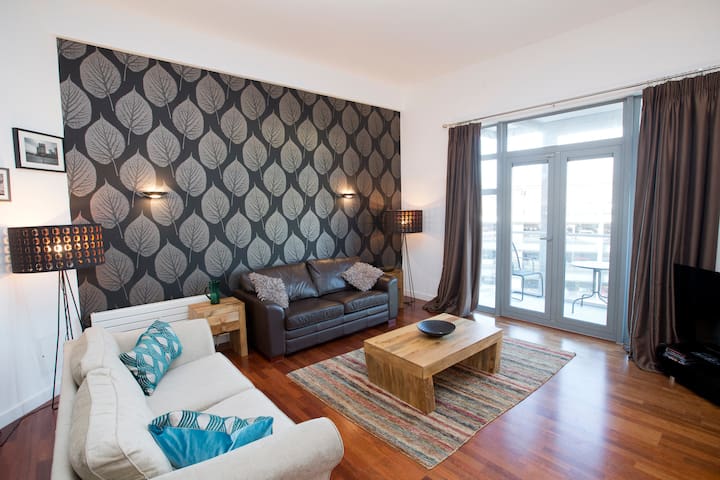 You'll love this retro inspired New York Loft Style apartment in the centre of Newcastle's trendy Quayside district: 5.1 cinema system and large screen TV, fully fitted kitchen with tea and coffee. Free Wifi too! Newcastle Quayside's has great pubs, bars and restaurants and other attractions like the Baltic Contemporary Art Centre, Sage Music Centre, Newcastle's Centre for Life. From Loft 10 you can walk to Newcastle's city centre & Central Train Station or just hop on the bus!
Enjoy this Grade II listed converted warehouse, with 6m high ceilings and industrial fittings set against a chic 70's inspired retro soft furnishings. Enjoy a home from home experience with a full 5.1 surround system and large screen 4k tv. So bring your own movies on a usb stick / drive / pc or log into your netflix account to enjoy full home from home living. Experience Newcastle's Quayside restaurants, or enjoy dining in as this apartment has a full range of appliances: a range cooker, washing machine, dishwasher, fridge freezer and combination microwave.
An awesome selection of pubs, bars, restaurants and interesting sights and places are all within walking distance.
Dennis + Tracey's Newcastle loft is fantastic. Location is perfect and you can walk everywhere. City centre shopping is 10-15 minutes walk. Views from all the windows are sensational, overlooking the bridges on the River Tyne. The loft is well equipped and extremely comfortable and we spent Christmas there and Tracey had even been so thoughtful to put up a Christmas tree, decorations and fairy lights. I will definitely return. Highly recommended.
Julie
2016-12-27T00:00:00Z
Dennis' place is exactly like it looks in the pictures - chic and modern decor whilst at the same time being extremely homely and cosy. The location could not be more central, with some of Newcastle's best bars and restaurants literally on the doorstep. The city centre shopping district is only a 5 minute walk away and the views of the famous river Tyne from the master bedroom and the living room are spectacular. Both Dennis and his wife Tracy were great hosts - very informative and attentive and were on hand to answer any of our queries throughout our stay. The only slight downside is that they are very strict about having guests to visit loft 10. Although it does actually refer to this in their description, they are very serious about it and it is not really something that is just a guideline, as we had presumed. Overall a fantastic apartment for the registered guests. You will thoroughly enjoy your stay however don't expect to entertain without proper approval from the hosts.
Alex
2017-01-03T00:00:00Z
The apartment is stunning and has everything you need for a comfortable stay. The location is great for art galleries, walks along the river, views, food and transport. The micro brewery nearby has great ales and food - nominated best in Newcastle and there's some lovely cake and breakfast cafes next door. I think its the best place to stay in Newcastle and the host was fantastic too!
Arlene
2017-02-18T00:00:00Z
The room is just like the pictures, it's so lovey just like home! Dennis and Tracy are very lovely. Thank you for everything! I will definitely come back to stay here again!
CHEN
2016-12-11T00:00:00Z
Tipo de Quarto
Casa inteira/apto
---
Tipo de Imóvel
Apartamento
---
Acomoda
4
---
Quartos
Newcastle upon Tyne, England, Reino Unido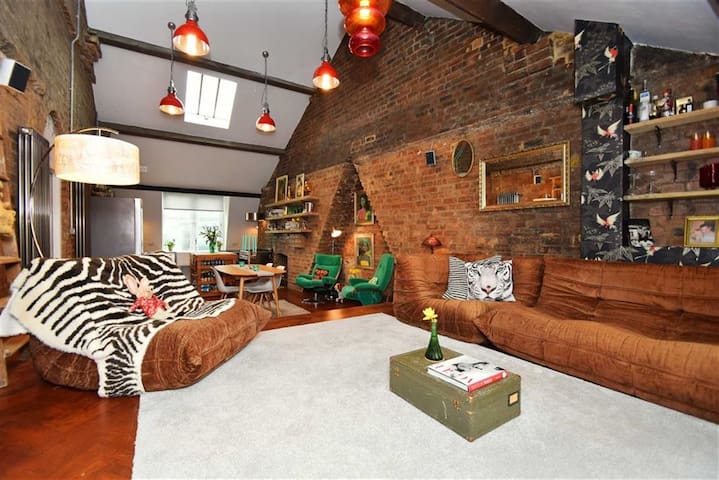 My place is close to nightlife and public transport. It takes 20 minutes to walk to the city 20 minutes to drive to the beach and 20 to drive to the countryside. You can walk to Osborne road known for it's great bars or hit the town for a late night. You'll love my place because of The great location and homely feel. My place is good for couples, solo adventurers, and business travellers. Henry (the black lab) and I will be happy to welcome you :)
Had a lovely stay with Tamara :)
Charlie
2017-02-18T00:00:00Z
We really enjoyed our time at Tamara's place, she is a helpful and nice person I hope we will visit Newcastle again
Aleksandra
2017-02-26T00:00:00Z
Been realy nice to stay in Tamara home. Next time in Newcastle i hope that will stay in the same place
Gabriel
2016-12-30T00:00:00Z
Was booked last minuet, communicated really well with me which was handy as I was traveling to the location while booking. Easy to find, and had a safe place to park my car. Didn't need city centre location. But it was still close to the major routes.
Adam
2017-02-28T00:00:00Z
Tamara is a lovely welcoming host! We had a very comfortable stay in her home :)
cate
2017-02-19T00:00:00Z
Tamara was a lovely host! Very friendly and welcoming and we felt like we are treated as friends! Great location and lovely flat!
Kendra
2016-12-27T00:00:00Z
Tipo de Quarto
Quarto privado
---
Tipo de Imóvel
Apartamento
---
Acomoda
2
---
Quartos
Newcastle upon Tyne, England, Reino Unido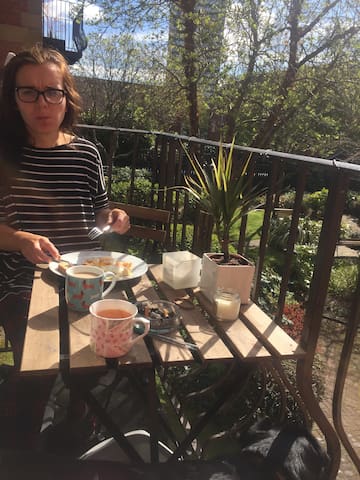 LOOKING FOR A PENTHOUSE WITH IT'S OWN PRIVATE ROOF TOP TERRACE PROVIDING STUNNING VIEWS OF THE QUAYSIDE & IDEALLY LOCATED IN A SECURE, PRIME LUXURY DEVELOPMENT FOR NEWCASTLE'S MAJOR CITY CENTRE ATTRACTIONS, RESTAURANTS AND VIBRANT NIGHT LIFE???
A newly refurbished top floor Penthouse apartment designed by world class designers, Conran & Partners with it's own private roof top terrace providing stunning views of the famous Tyne bridge and Newcastle's vibrant and scenic Quayside. The landmark Hilton hotel and the beautiful Millennium bridge can also be seen along with the iconic Sage music centre. Ideal for business and leisure travellers - prices negotiable for long term reservations. A free and complimentary guest laundry and dry-cleaning service with pick and drop off may be available for long term corporate bookings. UNIQUE FEATURES - * CENTRAL & PRIME LOCATION TOP FLOOR PENTHOUSE * PARKING SPACE INCLUDED * 2 MARBLE TRAVERTINE TILED BATHROOMS WITH WET-ROOM IN THE MASTER EN-SUITE * LARGE PRIVATE ROOFTOP TERRACE WITH STUNNING VIEWS * FLAT SCREEN TV IN LIVING ROOM AND MASTER BEDROOM * 'SONOS' WIRELESS MULTI ROOM SPEAKER IN THE LIVING AREA ALLOWING YOU TO CONTROL & PLAY YOUR OWN MUSIC AND STREAM DIRECTLY FROM YOUR SMART PHONE. JUST DOWNLOAD THE 'SONOS' APP AND YOU WILL BE READY TO GO * 'LIGHTWAVE' MOOD LIGHTING IN LIVING AREA * ASSISTANCE WITH RESTAURANT BOOKINGS, TRAVEL ARRANGEMENTS AND PREPARATIONS FOR SPECIAL OCCASIONS SUCH AS BIRTHDAYS, ANNIVERSARIES AND CORPORATE EVENTS * 24HR DRYCLEANING & LAUNDRY SERVICE (EXTRA CHARGE) WEEKEND RATES - PLEASE NOTE, A FIXED NIGHTLY RATE OF £225 FOR A MAXIMUM OF 4 GUESTS WILL APPLY FOR ANY FRIDAY, SATURDAY OR SUNDAY WITH A MINIMUM 2 NIGHT STAY. A ONE NIGHT STAY DURING THE WEEKEND MAY BE CONSIDERED FOR A FIXED NIGHTLY RATE OF £275.
Nav was an excellent and helpful host with a really beautiful apartment looking over the Quayside. Thanks ks for the stay
Eddie
2015-12-05T00:00:00Z
The location is amazing. It is being the side of river! It's very close to city center! The host is very warm welcome! He helped us much! I recommend it strongly!
Tony
2015-11-02T00:00:00Z
Nav was an excellent host from start to finish and catered for anything we could need. Property was flawless and in a great location-close to what Newcastle has to offer as well as being quiet and private. Hope to return and would recommend
Dean
2016-01-18T00:00:00Z
We had a great stay at Nav's apartment this Christmas. He was a wonderful and attentive host who made sure everything was just right for us. Whilst this is a very grown up and sophisticated apartment, it worked really well for our little family (we have a 2 yr old and a 3 month old). I didn't ever have to worry about it not being child friendly. I would love to go back in the summer to make use of the awesome massive balcony - the views over the Tyne are incredible!
Clare
2016-01-01T00:00:00Z
Nav was unbelievably helpful from the very beginning. A couple of days before we were due to arrive he called and asked if there was anything special we wanted in the flat, which was a lovely touch, as well as sending us directions and information on how to access the property. He called us on the Saturday to ensure that everything was ok. An amazing flat with stunning views across the Tyne (well, they would have been had the weather not been so bad when we were there!) Nav shared his plans for a hot tub on the balcony with me, so we will definitely be back when that has been installed!
Alex
2016-02-15T00:00:00Z
lovely apartment
Mhairi
2016-08-15T00:00:00Z
Nav was an excellent and welcoming host. He took extra time to show us around the flat and offered to fill the fridge with beer and food for a charge if required which was a nice touch. The apartment itself was stunning with amazing views over the River and a prime location for the city centre. Overall a 5 star trip and would highly recommend.
Alex
2015-12-11T00:00:00Z
Nav was the perfect host, considerate, showed us around a couple of weeks before to get an idea of size for a small gathering for my daughters 16th birthday, and it was bigger than expected, especially the outside balcony is suprisingly huge! The apartment was fantastic, a few minutes walk from central train station, my daughter absolutely loved all the mod cons, (flashing hallway lights and Sonos music app) all in all it was absolutely what we hoped for and couldn't have asked for more. We will definitely be back!
Paula
2015-12-14T00:00:00Z
Tipo de Quarto
Casa inteira/apto
---
Tipo de Imóvel
Apartamento
---
Acomoda
4
---
Quartos
Newcastle upon Tyne, Tyne and Wear, Reino Unido
My place is close to Newcastle Railway Central Station, Metro, Buses, , public transport, nightlife, bars, restaurants and the heartbit of the city!. You'll love my place because of the location, the people, the ambiance, and the neighbourhood.
Paul was a great host. He was very welcoming in meeting us at central station and walked us to the apartment. He allowed us a very flexible check out time and was readily available if a problem arose. The flat itself is perfectly located within the city centre, 5mins walk from central station. It has everything you need for a few days in the city. Would definitely stay here again. Great value.
Kieran
2016-07-22T00:00:00Z
Paul's flat was really central, close to transport, bars and shops. It had lovely large windows looking onto the cathedral. My partner and I had everything we needed for our weekend in Newcastle- there was a good selection of DVD's to watch too!
Jenny
2017-03-20T00:00:00Z
This apartment is in a fantastic location! It is exactly how described on the advert. In a very central location and walking distance from the station, city centre, Eldon square, The Quayside St James's and the Metro. Communication with the host was also exemplary. The price is very reasonable for the location you won't get a stay of that standard any cheaper than this location! I would and probably will, stay here again, if it's available for my next visit to Newcastle.
Leigh
2017-02-20T00:00:00Z
Very well located, 1 min walk from the Station. Close to everywhere/everything that you could need. Great views from the flat on to the lively street below. Great stay!
Thomas
2016-12-04T00:00:00Z
The flat is a great location in the centre of the city
Ginger
2017-02-26T00:00:00Z
We came to newcastle for the football match -which was perfect as it was like 15 min walking to the stadium. Apartment was really clean, easily accessible (we walked everywhere) as the town is quite small. Airport is about 25 mins away on metro with Central Station right around the corner from Paul's. Overall was a really great trip and would stay again.
Victoria
2016-12-13T00:00:00Z
Location is excelent, host is friendly, I can recommend.
Helena
2016-07-30T00:00:00Z
Lovely apartment in a great location. Was clean and pleasant, with everything we'd need for a few days. One think you should definitely be aware of is the noise. As a city centre apartment you expect a certain amount of noise, but there isn't double glazing and the Windows don't quite close properly so the noise is fairly loud. Even with ear plugs in the noise was noticeable. Similarly there isn't really anything to block the sun out so I wouldn't plan any naps or a lie-in, as you'll be up with the sun if you're at all sensitive to light.
Al
2016-07-31T00:00:00Z
Tipo de Quarto
Casa inteira/apto
---
Tipo de Imóvel
Apartamento
---
Acomoda
2
---
Quartos
Newcastle upon Tyne, Reino Unido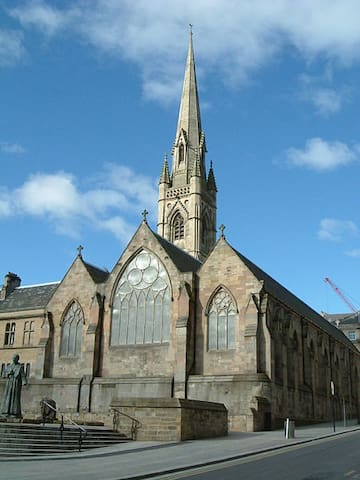 1

–

18

de

300+ Alugueres de Apartamentos
Insira as datas para ver o preço total. Taxas adicionais aplicáveis. Podem ser adicionados impostos.